Are you looking for the best cabins in the midwest?
Maybe you are planning a romantic midwest weekend getaway, family vacation, or corporate reunion.
It does not matter. From the shores of the Great Lakes to the lakes of the Ozarks, the Badlands to the Pictured Rocks, Chicago to Cleveland, the midwest is a very diverse area of the United States.
And there are epic midwest cabin rentals to enhance and complement your trip.
I am a midwest girl through and through having been born and raised in Youngstown Ohio!
I love everything about the midwest, and I love traveling to the midwest. Here I am going to share a wide variety of 16 of the best cabins in the Midwest United States.
Experience the midwest like a local by staying at an Airbnb. Get a $55 Airbnb coupon by using my code when you book!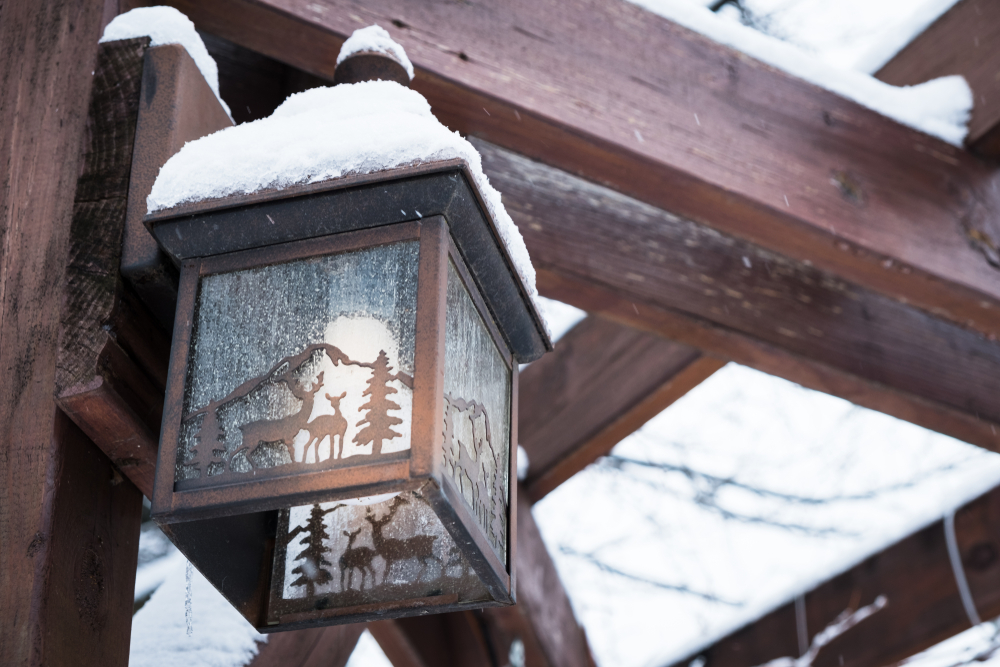 16 Best Cabins In The Midwest
Nature's Resting Place In Indiana
Located in Michigan City, not far from Lake Michigan is this 750 square foot two-story cabin.
On 170 acres of abundant trails and wildlife, this is the perfect location to relax and reconnect with nature. (This is not the only cabin on the property.)
Able to accommodate up to 4 guests, with 1 bedroom and 1 bathroom, this is one of the most unique Midwest cabin rentals.
Utilizing two floors, the bedroom, living room, and bathroom are on the first level. A wood-burning fireplace, with plenty of firewood along with stunning views of the outdoors, can be seen.
Up the stairs is the fully-stocked kitchen, along with an adjacent outdoor deck.
The firepit is the perfect way to end the day with dinner or smores at one of the most amazing cabins in Indiana!
Click here to check rates on Airbnb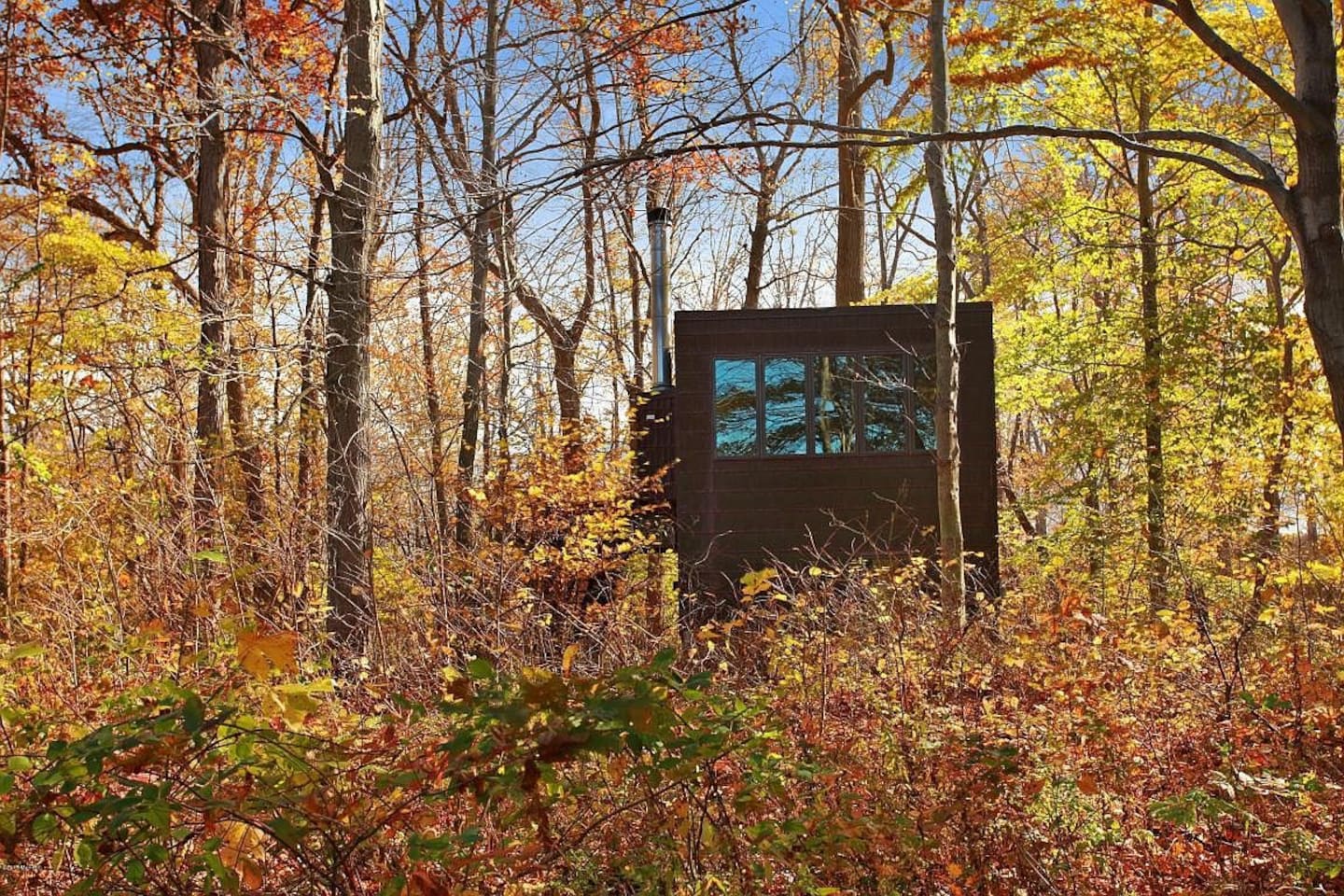 Newly Built Hampton's Hideaway VRBO Chalet In Missouri
Looking for a luxurious VRBO in Missouri? Located in Wright City Missouri, this gorgeous newly-built chalet is certainly one to consider. And it is only thirty minutes from St. Louis!
No detail was too small to consider when designing and building this property.
Located within a gated community, you will have access to kayaks which you and your family can launch from the private dock!
Able to accommodate up to 10 guests, in four bedrooms, with two bathrooms, this is perfect for a corporate getaway or a family reunion.
Floor to ceiling windows in the main open-concept living-dining room bring the outside in to you.
Begin your days with coffee out on the dock near the lake, or end them making smores around the firepit with your family. The opportunities are endless, making this one of the best VRBOs in Missouri.
Please click here for the current rates.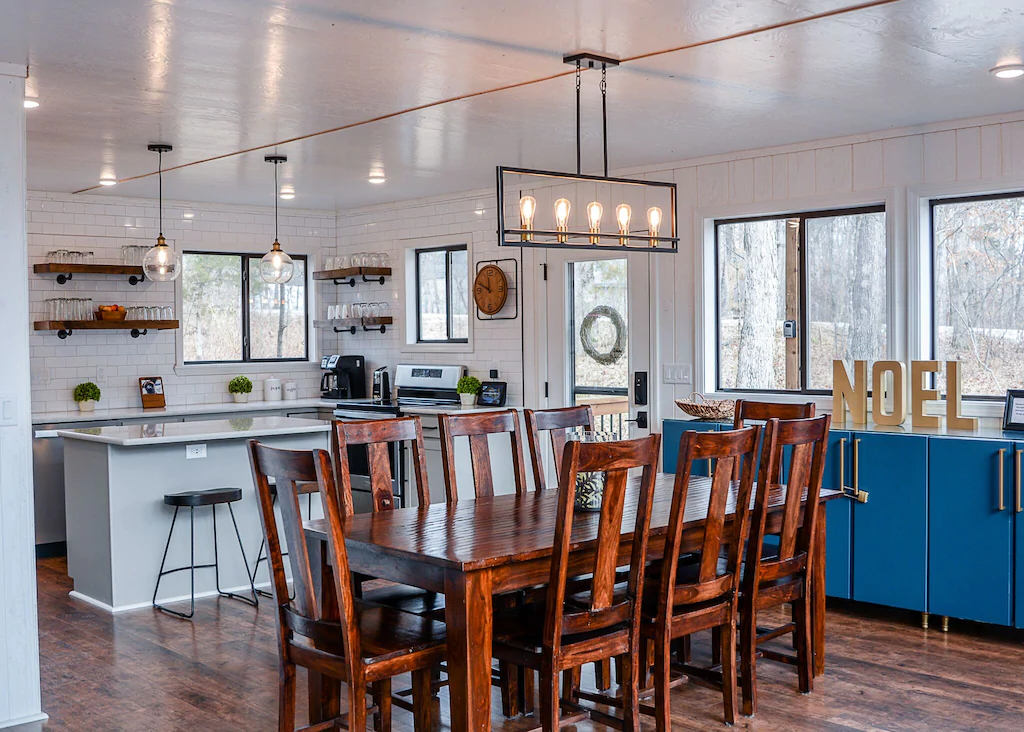 Lion's Lair Treehouse Cabin In Kentucky's Red River Gorge
Staying in a treehouse is what dreams are made of, right? Well, this rustic custom-made treehouse cabin towers through the trees of the Red River Gorge making it one of the best cabins in Kentucky.
While it oozes rustic charm, it comes with modern conveniences such as a fully stocked kitchen, heat, and electricity.
Able to sleep 4 guests, with 1 bedroom and 1 bathroom, this is one of the best midwest cabin rentals because it is on private property within the national park.
It is close to all kinds of outdoor options, yet you have your privacy.
This treehouse cabin offers lots to do. Start your day off with a hike, or heading down to the nearby creek to commune with nature. Have coffee out on the balcony deck.
End your busy days with a glass of wine on the stargazing deck, or making smores at the campfire area reminiscing about the fun things done that day.
Please click here to view the rates on Airbnb.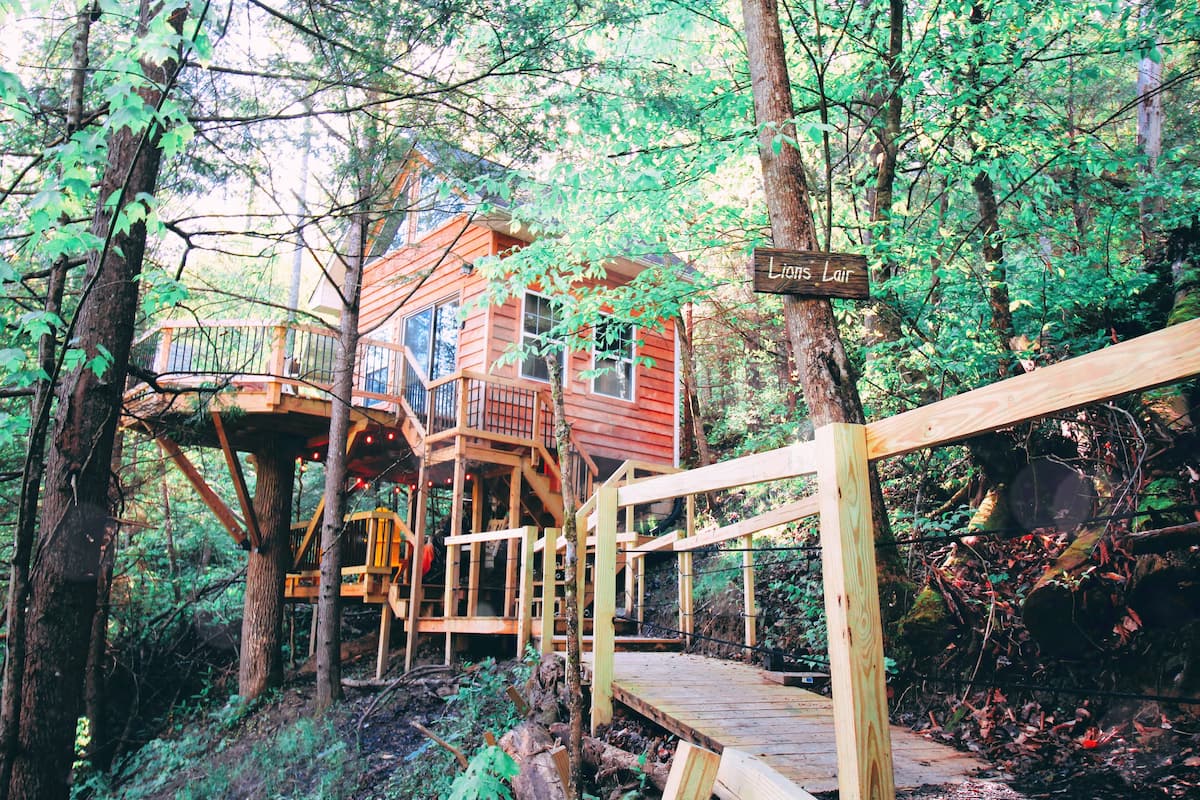 Wooly Bear Cabin In Ohio
Luxury is in no short supply in this beautiful cabin. Making it one of the best midwest cabin rentals!
The interior is tasteful with granite countertops, stainless steel, and hardwood floors.
Bring your hiking shoes because this cabin is on five acres with trails. And it is only a 5-minute drive to Salt Fork State Park which offers boating and golfing.
here is a generous loft bedroom with a king-sized bed and a pullout couch in the main living space allowing for 4 to sleep comfortably.
If listening to the birds, hiking, or simply relaxing in sumptuous surroundings, this midwest cabin rental is for you!
Click here to check the rates on Airbnb.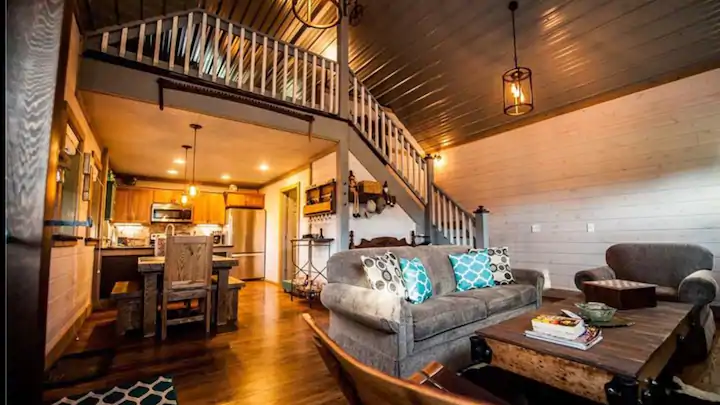 Mossy Hollow Cove Cabin On Lake Superior in Minnesota
Set in an awesome location directly on a private Lake Superior cove, Mossy Hollow Cove Cabin is the perfect choice for some quality time with family or friends.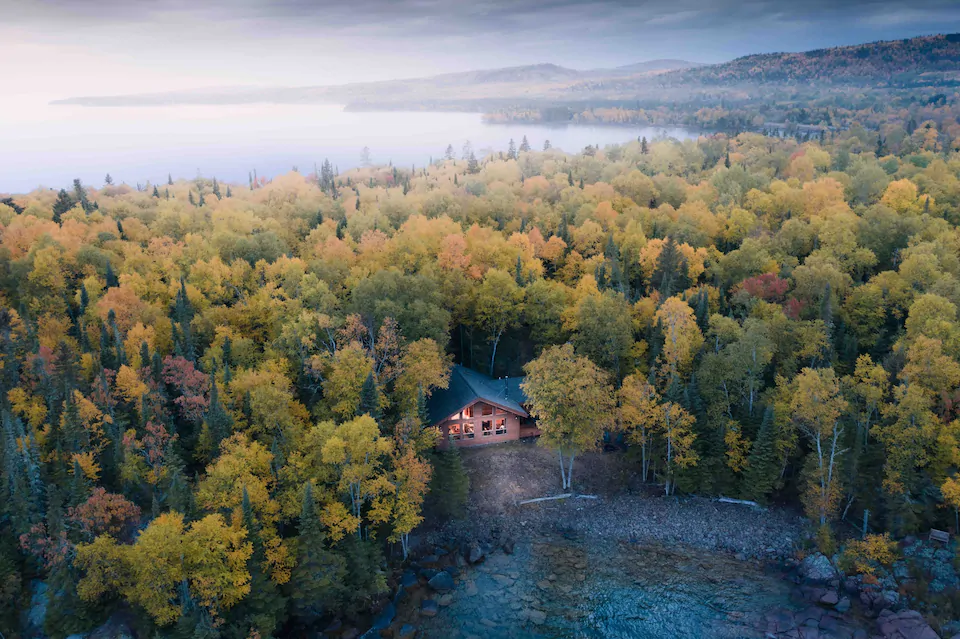 Observatory Treehouse Cabin in Stanton, Kentucky
The Observatory Treehouse in Stanton looks like it came straight out of an HGTV home renovation show.
While you'll have to climb quite a few sets of stairs to reach your bed for the night, it'll be worth it once you see the views of the treetops and the Red River Gorge.
And you don't have to venture out to the balcony to enjoy these views, one of the perks of being considered one of the best midwest cabins rentals.
Peer out the large windows while swinging in the hammock or curled up in the cozy double bed.
You could easily enjoy your entire getaway without seeing another soul making this one of the most coveted treehouse cabins in Kentucky!
You can also make the relatively short drives to Pilot Knob State Nature Preserve and Red River Museum.
Click Here to Check Rates on Airbnb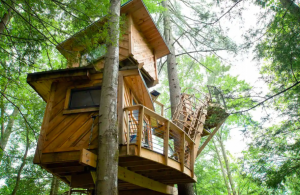 Eagle Ridge Cabin, Hocking Hills Ohio
This new modern picturesque cabin replaces an old cabin that was crushed by a tree. The builder carefully re-purposed materials from that cabin and adjacent barn into this gorgeous cabin.
There are windows everywhere that bring the outside in. Able to sleep up to 4 guests, this studio cabin of 484 square feet, has Eagle's Nest loft bedroom and a single bed in the living area.
This is one of the most epic midwest cabin rentals where you will want to disconnect from technology and to enjoy the amenities both inside and in the area.
Click here to check the rates on Airbnb.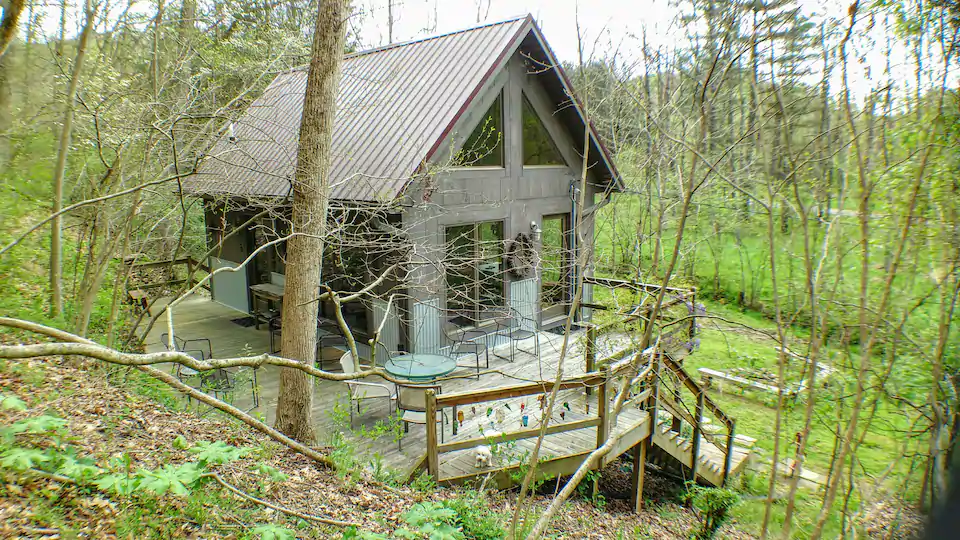 Serenity Now Treehouse Cabin In Michigan
Serenity Now Treehouse Cabin is the perfect place to relax and unwind.
Located in Whitehall, Michigan, it is perched on the banks of a river with stunning views to match.
This shabby chic cabin in the midwest sleeps two, with one bedroom and one bath. It is the perfect romantic cabin in Michigan because children are not permitted.
Enjoy a full kitchen to cook relaxing meals eaten out on the deck overlooking the creek. Or take the rowboat out for a ride on the creek!
A glass of wine or cup of tea would be a lovely way to end your day at this treehouse cabin in the woods overlooking a lake!
Click here to check the rates on Airbnb.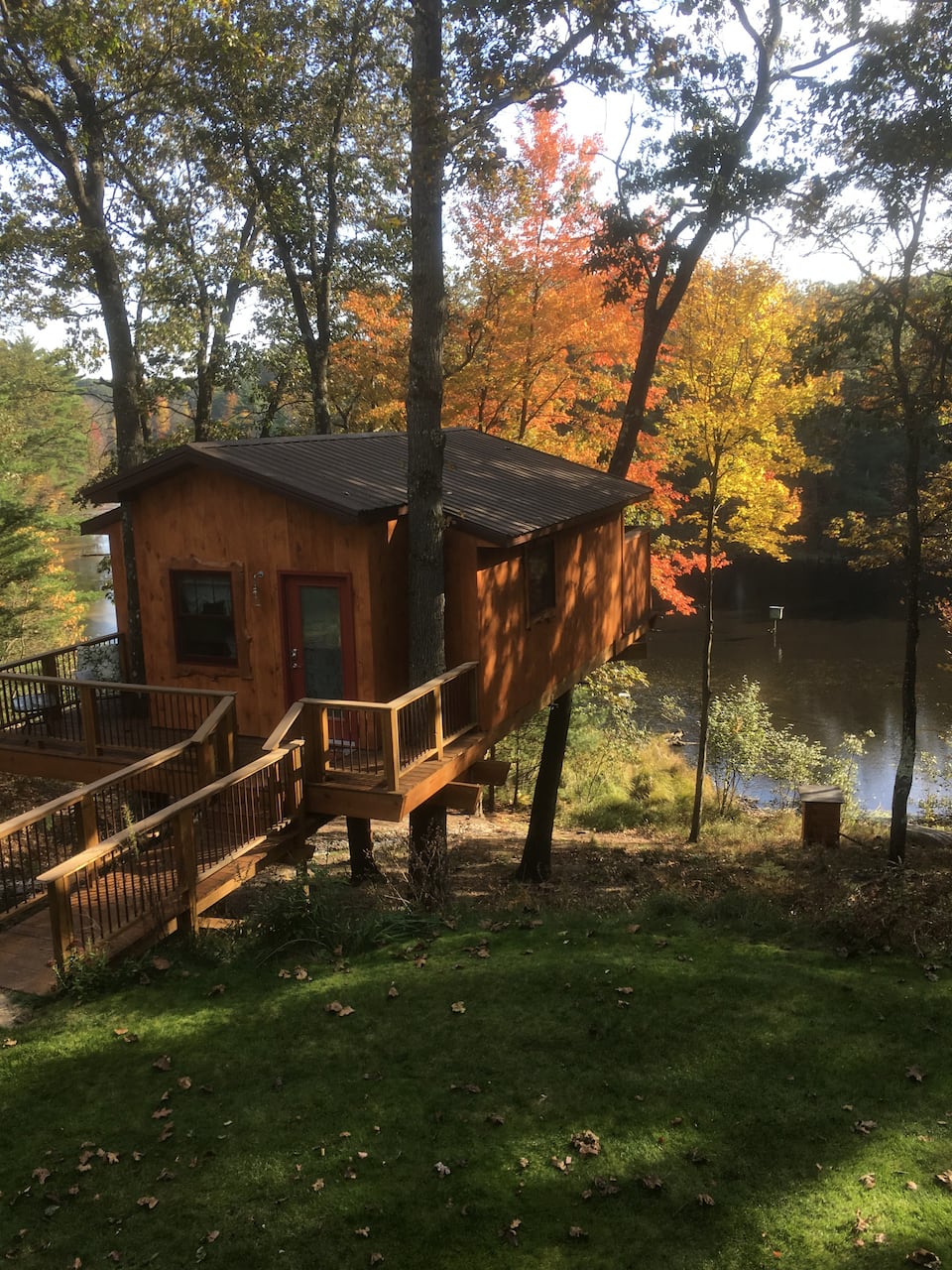 Stunning Bark Point Cabin On Superior's South Shore in Wisconsin
Located on Lake Superior's spectacular south shore, you will have access to this entire open-space loft cabin, truly one of the most epic cabins in the midwest.
It can accommodate up to 8 guests, in 3 bedrooms, and has two bathrooms.
Large glass windows throughout, bring the outside in!
The host wants you to carefully look at the stunning pictures he has listed. This unique cabin is the perfect definition of an open concept.
And he wants to make sure you will be comfortable without walls.
This beautiful property is one of the more unique lakehouse cabins in Wisconsin.
Click here for rates on Airbnb.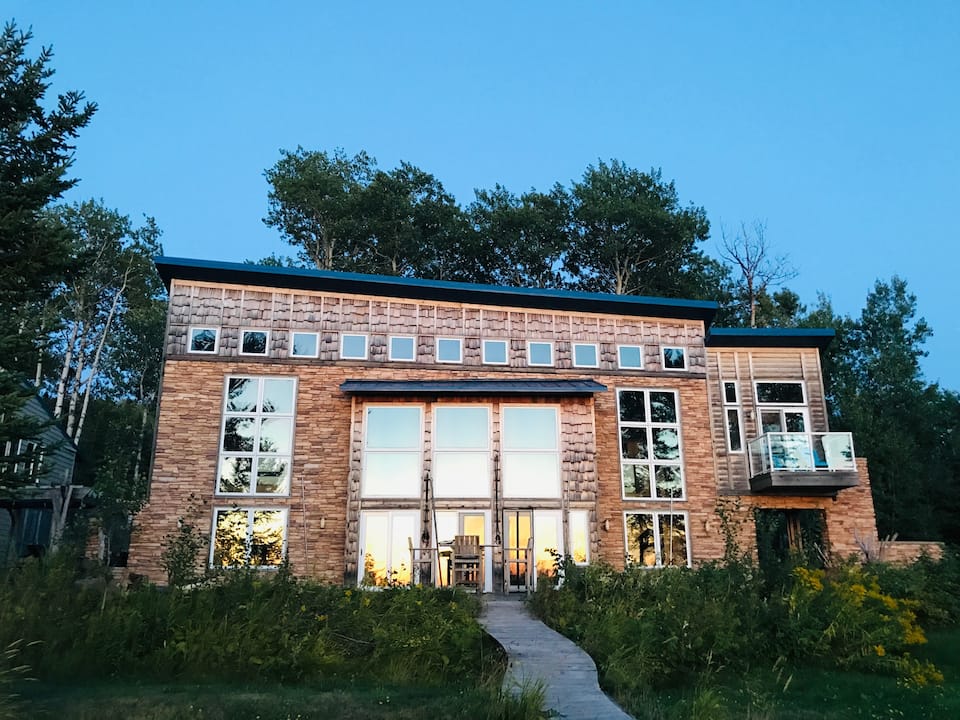 Ozark Tree Suite Is One Of The Best Cabins In Missouri
Looking for a charming getaway? Dreamed of staying in a treehouse? This treehouse cabin in the trees is your answer.
Able to sleep 2 guests in one bedroom with one bathroom Ozark Tree Suite is built within 7 trees on 10 wooded acres. and located one mile from Roaring River State Park.
The treehouse and heated bathhouse are joined together by a walkway bridge making this a spectacular cabin in the midwest.
There are amenities in this tiny house kitchen for you to make meals and a charcoal grill/smoker for you to use. Think smores after a long day hiking at the state park!
Located near grocery and convenience stores, this treehouse is one of the best Missouri Airbnbs.
Please click here to check the rates on Airbnb.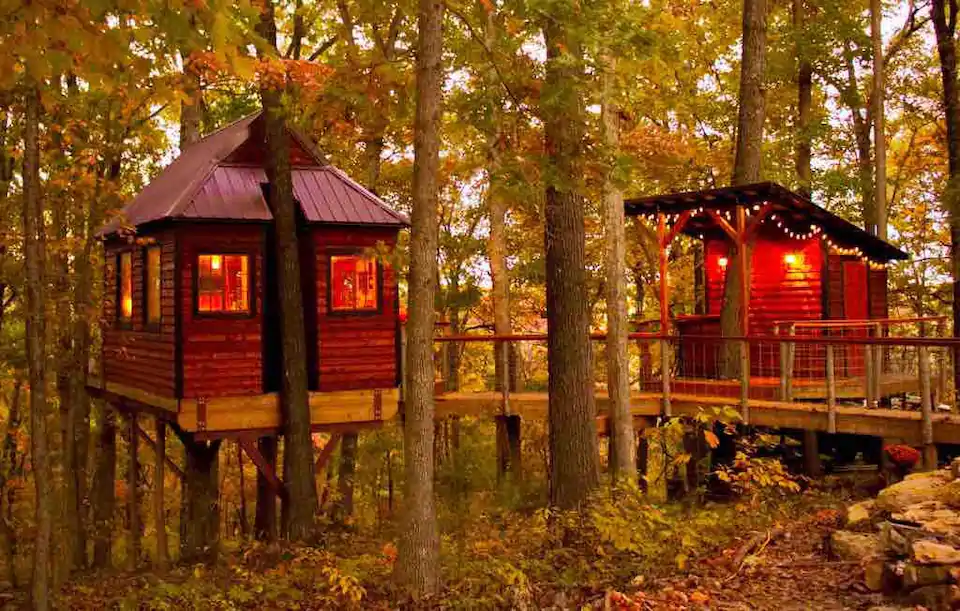 Luxury Treehouse Getaway With Treetop Views In Ohio
Remember when you were a little kid and you thought treehouses were the coolest thing ever?
I'm sure you still think so as an adult. And since treehouses are basically cabins up in the trees, they belong on this list of the best cabins in the Midwest!
This luxury treehouse getaway will fulfill all of your childhood dreams.
With treetop views, a cozy fireplace, and a comfy bed, you'll never want to leave!
But if you do find the motivation to leave this amazing hideaway, you can venture out into Ohio's Amish country or tackle a couple of hiking trails.
Click Here To Check Rates On Airbnb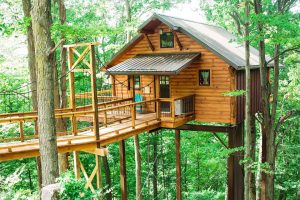 Beautiful Log Cabin On Private Lake in Minnesota
Everything you can think of is at your fingertips here at this private log cabin in Minnesota. Located only 30 minutes from Duluth, this is one of the perfect midwest cabin getaways!
Able to sleep up to six, with 2 bedrooms and one bathroom, the sunsets over the 300-acre lake are unforgettable from the large wraparound deck.
If it is chilly, you can see them through the large windows throughout the cabin. There is air conditioning when it is hot, and in-floor radiant heat when it is cold.
A kitchen full of high-end appliances and a myriad of outdoor activities to choose from makes this option one of the best cabins in the midwest for you to consider.
There are three state parks nearby to take advantage of for hiking, biking, skiing, and well white water rafting opportunities.
Click here to check the rates on Airbnb.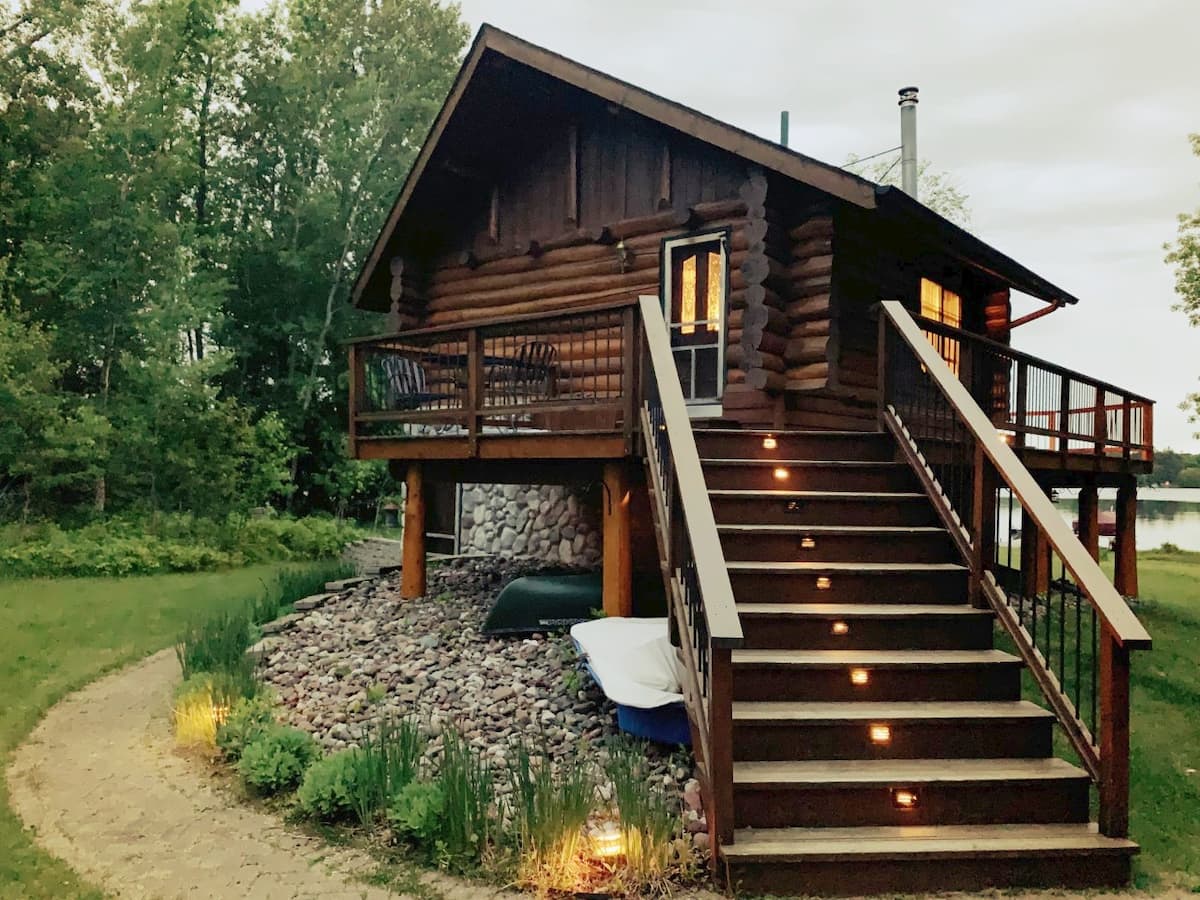 Gunflint Trail Camp Cedar Ridge Near Grand Marais Minnesota
Adjacent to the BWCA, this Adirondack-inspired cabin is an outdoor enthusiast's dream come true!
One of the few cabins in the midwest with direct access to the backwater canoe area from its back dock, you will enjoy canoeing, kayaking, and SUPing from its backyard!
Located just 40 minutes from Grand Marais, there are several other restaurants that are close by.
Able to accommodate up to 4 guests, with 1 bedroom and 1.5 baths, the log cabin interior is open living at its finest, with a very large kitchen, dining area, and living space.
Enjoying a cup of coffee or a glass of wine on the deck are great ways to end a perfect Minnesota day at one of the best cabins in the Midwest!
Please click here to check the rates on Airbnb.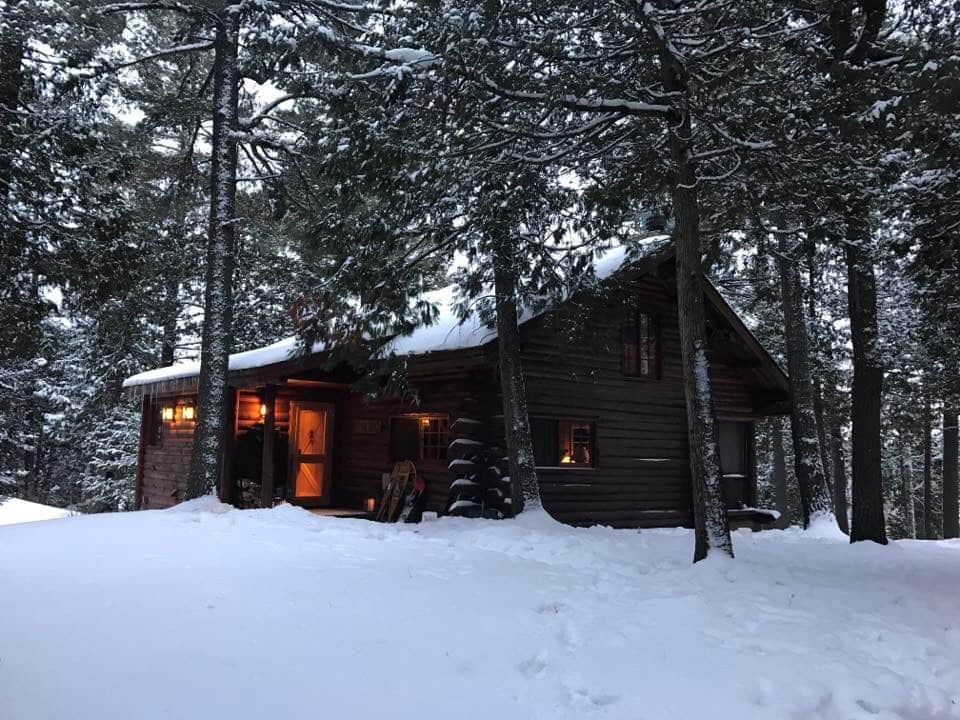 Mohican State Forest Cabin In Ohio
Location. Location. Location. This private cabin tucked into the trees is near the northern entrance to Mohican State Forest, in Ohio.
Less than a mile from Pleasant Hill Dam, and the less crowded entrance to the forest, it is one of the best cabins in Ohio to unplug and unwind.
Able to accommodate up to four, it is close to wineries, Amish country, and Malabar Farm.
The kitchen is equipped, and the loft bedroom overlooks the interior, and there are lots and lots of windows in this cozy cabin to show off the killer views of the area.
Pet-friendly, close to the forest, and with a fire pit perfect for roasting marshmallows, this private getaway in Ohio is one of the best midwest cabin rentals.
Please click here to view the current rates.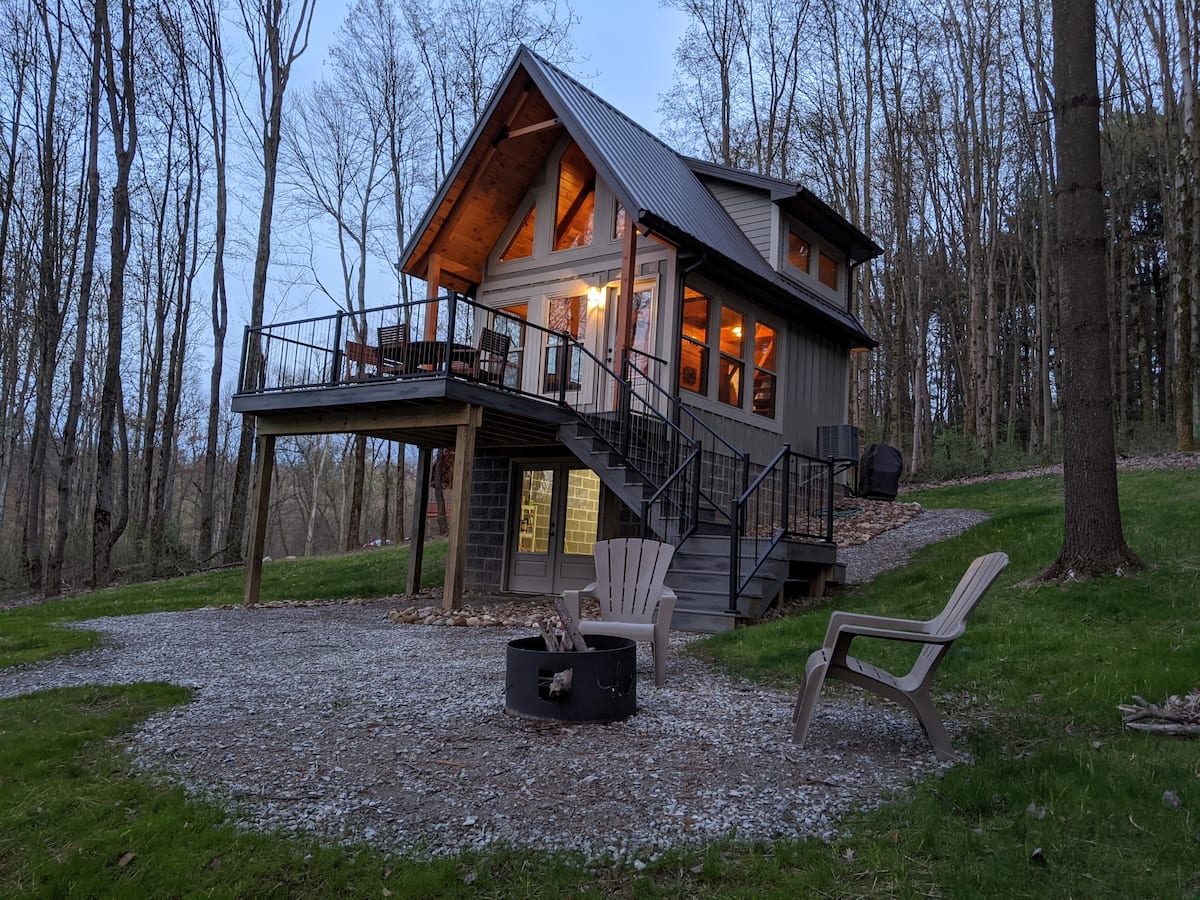 Shady Grove Treehouse Cabin In Missouri
This is one of the best cabins in the midwest because it is large enough for a family reunion or friends' getaway!
Able to accommodate up to 11 guests, Shady Grove Treehouse Cabin is literally a stone's throw from the beaches of Aspen Lake.
Matter of fact all you really need to do is take the path down the hill on the property to a marina and the beach.
There is a full-sized kitchen with everything you will need for memorable vacation meals. There is an eat-in kitchen table and another table in the dining room.
You can spend your days at the beach, or use the kayaks and SUPs to explore the lake. End your days on the deck with spectacular views through the treetops.
This is one of the most remarkable cabins in the midwest, and it merits your consideration!
Please click here to view the rates on Airbnb.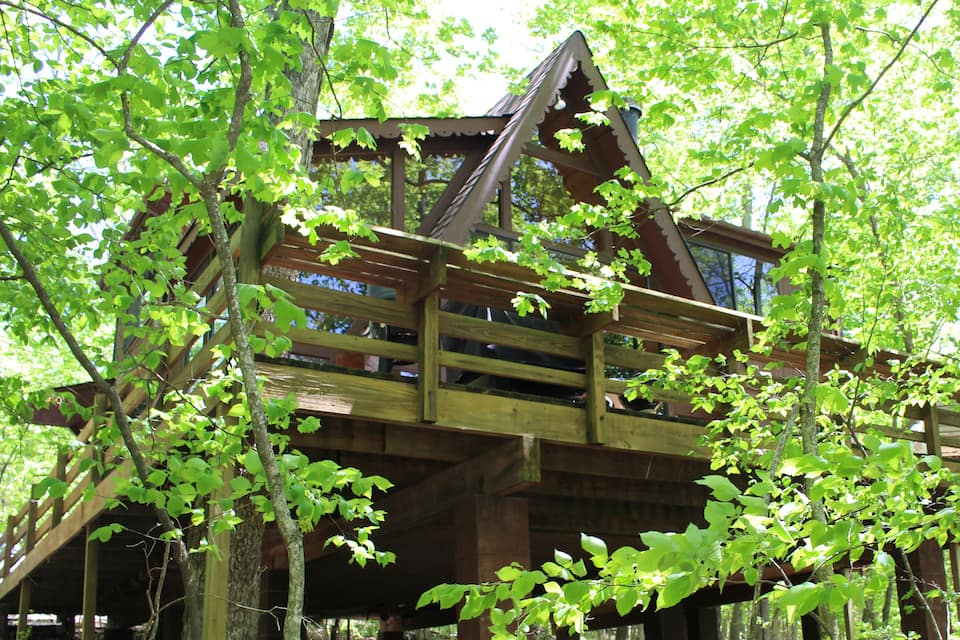 Audrey's Abode In Jacksonville, Illinois
Charming from the get-go, this fully restored log cabin was dismantled, relocated several cities away, and rebuilt using reclaimed materials.
You have the entire cabin, which includes the master bedroom (The Barn Room), and the large bedroom space upstairs (The Loft.)
Able to accommodate up to 8 guests, the fully furnished kitchen comes stocked with the amenities you need to cook that perfect meal!
You just may want to linger on the front porch with morning coffee or end the day with a glass of wine.
This is nature at its finest and one of the most charming cabins in the midwest.
Click here for the rates on Airbnb.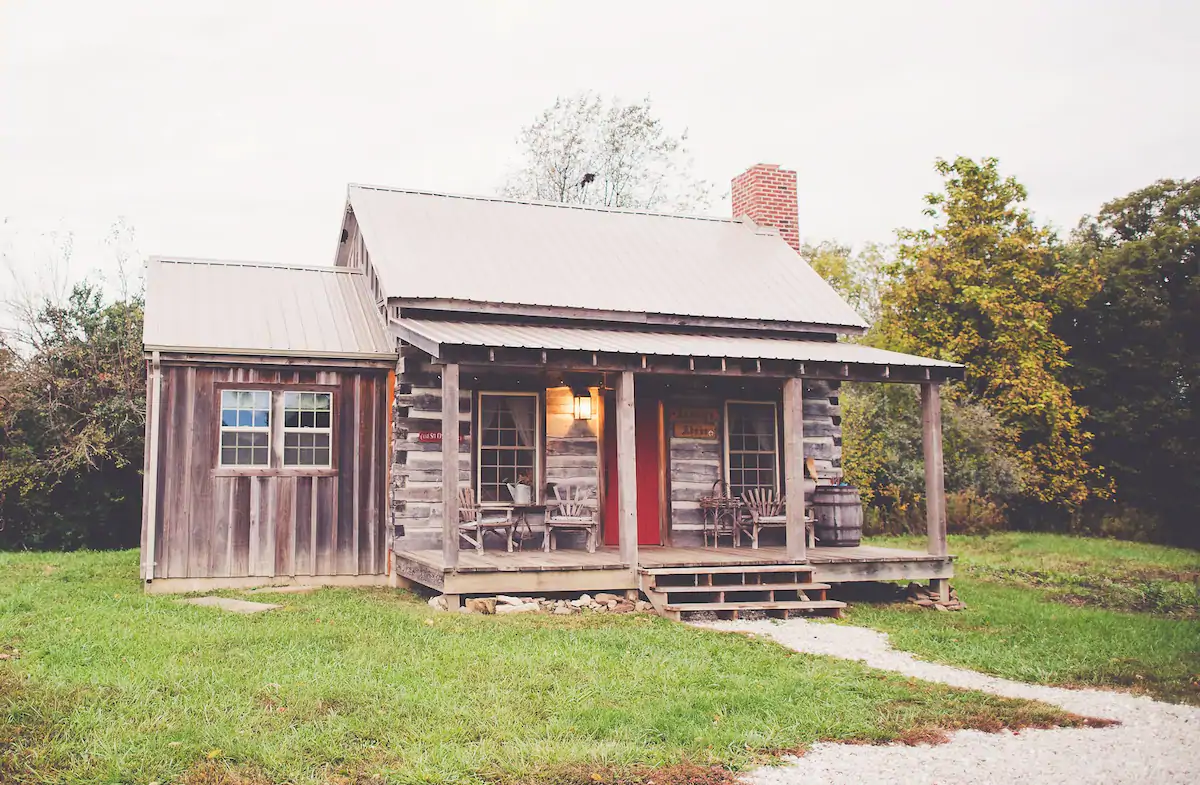 Isaak's Hideaway In Indiana
This spacious cedar log cabin has something to offer everyone!
Able to sleep 8 guests, with 3 bedrooms and 2 bathrooms, it is large enough to give everyone their own "space," yet small enough to give off that cozy feeling!
Surrounded by the Hoosier National Forest, there is a myriad of outdoor activities right at your fingertips such as biking and hiking.
The deck of this midwest cabin getaways spans the entire length of the cabin and welcomes you to sit and watch the Ohio River right in front of you.
There are tables and chairs to have a leisurely breakfast or dinner out on the back deck, and below there is a firepit to enjoy smores at the end of a busy day of exploring.
Stargazing with a glass of wine in the hot tub on the deck sounds like the perfect way to round out a day in one of the best cabins in the midwest!
Click here to view the rates on Airbnb.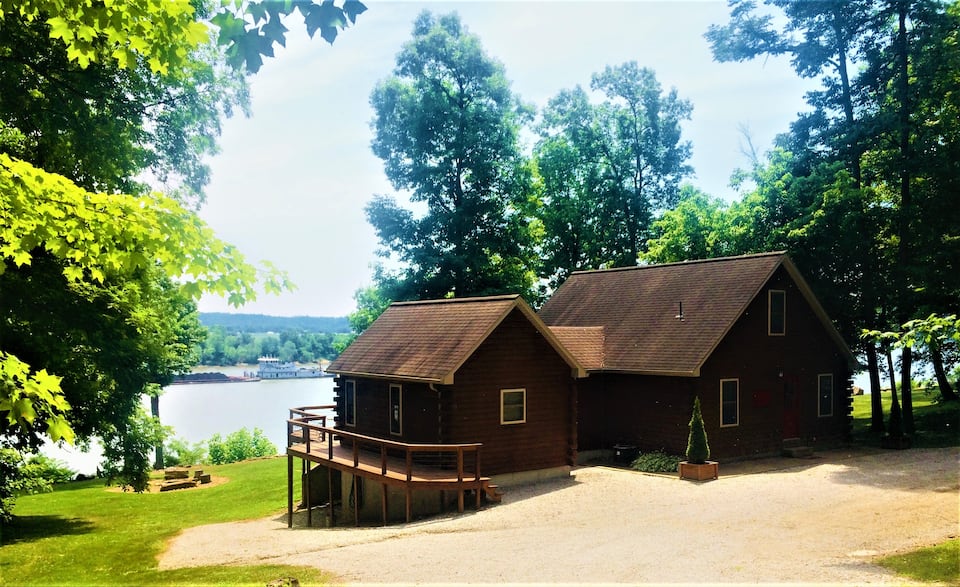 Packing List For A Trip To The Midwest
If you will be traveling, either by plane or by car to the midwest, here are some tips on how to pack lightly.
A concealed travel pouch may be one of the most important items you bring along when visiting the midwest. It is always important to protect your personal information. Identity thieves are everywhere.
his unisex RFID blocking concealed travel pouch is lightweight and comes in several colors. It has lots of organization to give you peace of mind.
You can place it under your hiking clothes next to your body to carry your ID safely.
If you have a pouch already that does not come with the RFID protection, as I do, these RFID sleeves are the perfect solution.
This configuration comes with enough credit card sleeves that the entire family would be protected. They are slim too, so they will easily fit into your pouch or wallet.
If you are planning on taking a lot of pictures with your phone you will definitely want to consider an external charging battery. This Anker high-speed phone charging battery is the exact one I carry with me on all of my trips.
It can be used on a variety of phones, not just an iPhone like I have. And wow is it fast!
I like that it holds its charging capabilities for several uses so I do not have to worry about it while out and about, and if I forget to recharge it at night, it will still be good to go the next day.
My daughter gifted me with this FugeTek selfie stick and tripod setup for my birthday. I absolutely love it! It is made of lightweight aluminum and so easy to use.
It has Bluetooth connectivity and is a breeze to use for taking selfies when staying in one of the best Airbnbs in Illinois.
Hydration is so important when traveling. You want to remain hydrated throughout your travels to support your immune system which in turn will be stronger to fight off any germs you will encounter during your travels.
You will want to bring your own refillable water bottle with you.
I never leave home on a trip without my Bobble filtration bottle. The 18.5-ounce size is perfect for hiking and it fits nicely in the pocket of a backpack.
When filled with water, it is not too heavy to carry. And the charcoal filter ensures fresh clean water whenever you fill the Bobble.
You can find filter replacements here.
Perhaps you are traveling a long distance and packing space is a premium in your suitcase, or in your car.
Then this set of collapsible silicone foldable water bottles would work well for you. Would not take up much space at all.
You will want a backpack or daypack with you to store snacks, your water bottle, phone, extra clothes, etc.. when hiking This foldable water-resistant backpack would be great
It is very affordable and is available in many color options for you to choose from. The fact that it folds down into a zippered pouch will make it easy to pack.
—
Here I have listed 16 of the best cabins in the midwest for your consideration. I hope you have so much fun!
Please leave a comment if you have stayed in one of these midwest cabin getaways. What was your experience like?