Are you looking for the best cabins in Ohio?
I was born and raised in Ohio, and it's the perfect place to both visit and live.
With big Ohio cities like Columbus, Cleveland, and Cincinnati, sometimes you want to get away from the hustle and bustle for a little while.
Take some time to get off the grid and stay at one of the many cozy cabins in Ohio.
As a midwestern girl from Youngstown, Ohio, I know just about everything there is to know in this state – including 15 of the best cabins in Ohio.
Experience a relaxing Ohio getaway by staying at an Airbnb cabin. Get a $55 Airbnb coupon by using my code when you book!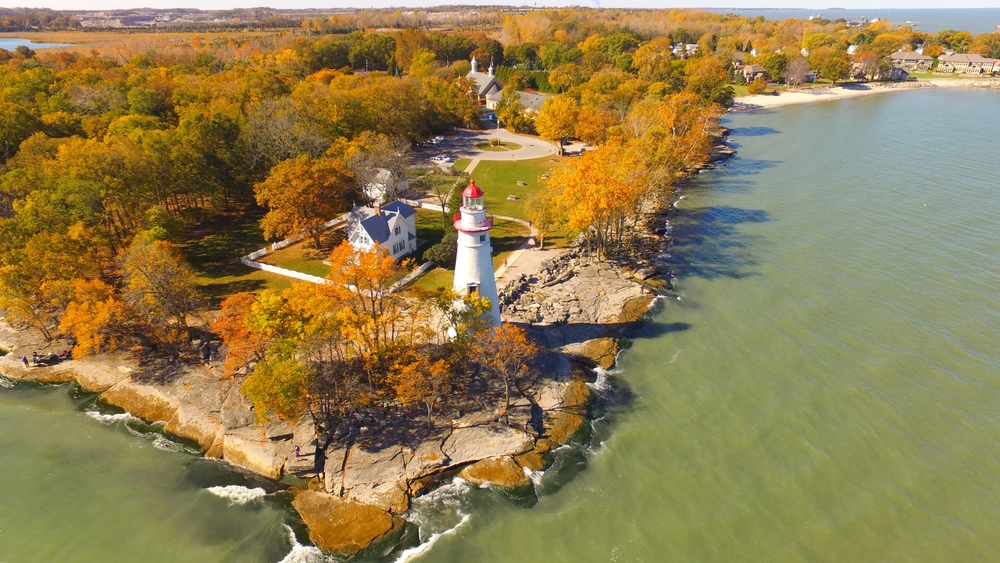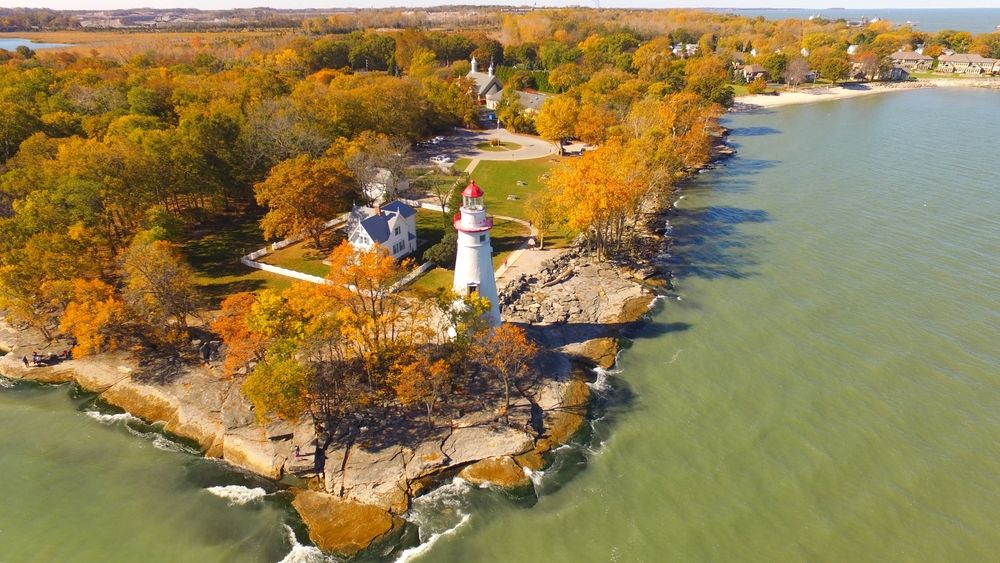 15 Coolest Cabins In Ohio For A Getaway
Dunlap Hollow Cottage
One of the most modern Ohio cabins for rent is Dunlap Hollow Cottage. Between the bright white interior, golden accents, and minimalistic design, you can certainly see the contemporary style shining through.
Yet the super hosts behind Dunlap Hollow Cottage have managed to intertwine the modern vibes with coziness. Warm-up by the stone fireplace or plop yourself into a beanbag chair after spending your day wandering through the nearby hiking trails of Hocking Hills.
Click Here To Check Rates On Airbnb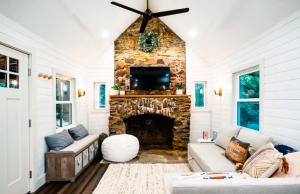 The Overlook Cabin
The adorable orange Overlook Cabin has something that most of the other cabins in Ohio on this list don't have: a waterfront location. Situated on a lovely stocked pond, the Overlook Cabin embraces the calming atmosphere provided by this body of water.
With the open-air patio, fun paddleboat, and winding hiking trails on the property, you'll likely find yourself spending all of your time outside, enjoying the fresh air.
When night falls, you can make your way back to the cabin, throw some wood into the fire pit, and continue to enjoy the beauty of nature until it's time to go to sleep.
Click Here To Check Rates On Airbnb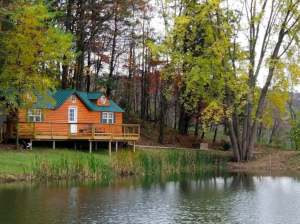 The Triangle: A-Frame Cabin
The first thing that most people notice about this Ohio cabin is its shape. Constructed as an A-frame building, this triangle-shaped home definitely has a unique style of architecture – one unique enough to warrant naming the whole structure after it.
Besides the architecture, the other highlight of The Triangle is the location. Situated in the small town of West Farmington, this Airbnb is one of the perfect cabins in Ohio to simply enjoy nature.
In the winter, build yourself a campfire with the provided firewood. In the summer, pick fresh berries from the nearby forest. Or in the spring, pluck a few wildflowers to add some bright colors to your hair or the cabin.
Click Here To Check Rates On Airbnb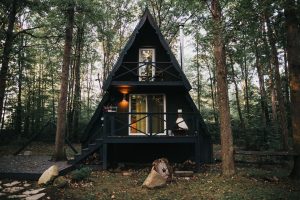 The Oasis Retreat Cabin
The Oasis Retreat Cabin is one of the newest cabins in Ohio. Constructed in 2017, this Airbnb has all of the modern luxuries in addition to the rustic touch that makes cabins so appealing.
Besides many of the traditional cabin highlights, like a lovely porch, a crackling fire pit, and hiking trails galore, the Oasis Retreat Cabin also has many contemporary amenities, including WiFi and a large TV.
The Oasis Retreat Cabin is also within relatively close proximity to many of Ohio's small towns, including Berlin, Walnut Creek, Millersburg, and New Philadelphia.
Click Here To Check Rates On Airbnb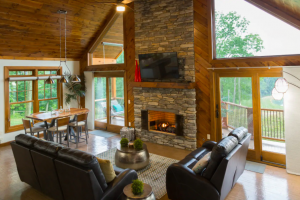 Sandstone Retreat
If you're looking to have a big family get together, Sandstone Retreat is definitely one of the cabins in Ohio that you should take a look at.
With accommodations for eight, you can bring the extended family along with you!
In case you're worried about keeping all of those extra family members entertained, Sandstone Retreat helps you out with that too!
With a hot tub, a pond with a dock, and a stocked game room, the whole family will be able to stay entertained for hours on end.
While you could easily spend all your time at this amazing Ohio cabin, there are many fantastic places to visit nearby, including Miner's Memorial Park, The Wilds, and Wayne National Forest.
Click Here To Check Rates On Airbnb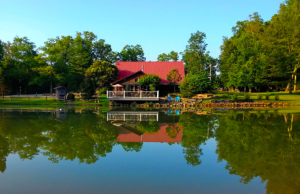 Wooley Bear Cabin
With over 200 reviews and a solid five-star rating, the Wooley Bear Cabin is unquestionably one of the best cabins in Ohio.
While guests could boast about the welcoming décor or stainless-steel appliances, they instead remark on the thoughtfulness of the super host.
In addition to providing all of the necessities, this Airbnb host stocks the yard with firewood, the fridge with treats, and the bathroom with candles.
The Wooley Bear Cabin also happens to have a fantastic location near Salt Fork State Park. While there, you can go for a swim, settle down for a picnic, or even do a little golfing.
Click Here To Check Rates On Airbnb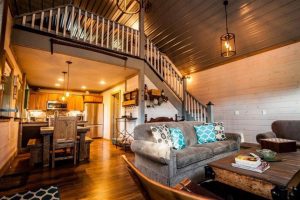 Pine Grove Cabin
Quite a few of the cabins in Ohio are part of a larger property, as is the case for Pine Grove Cabin.
Pine Grove Cabin is part of the Cedar Grove Retreat. This means that you'll also have access to the property's 65 acres of land filled with hiking trails and a catch-and-release fishing pond.
As for the cabin itself, enjoy two bedrooms, a fully stocked kitchen, a bubbling hot tub, and even a front porch with a swing.
In addition to the great amenities, Pine Grove Cabin is also located in the center of the Hocking Hills area. In other words, your trip to the famous Old Man's Cave is fairly easy.
Click Here To Check Rates On Airbnb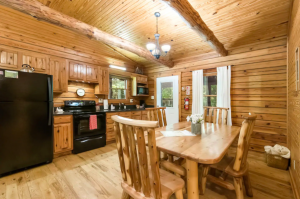 AZ Longhorns Cabin
While most of these Airbnbs on this list of cabins in Ohio reflects the vibes of the state, the AZ Longhorns Cabin embraces the atmosphere of the American Southwest.
With images of longhorn cattle and a rustic red color spread out throughout the cabin, you'll constantly be reminded of Arizona during your time in this Airbnb.
And while that might seem a little odd at first, the hundreds of previous guests gave this Airbnb an average rating of 4.99 stars, so it can't be all that weird.
As an added bonus, this AZ Longhorns Cabin also happens to be one of the cabins in Ohio with hot tubs, so you can simply soak and relax after your day of visiting the nearby parks.
Click Here To Check Rates On Airbnb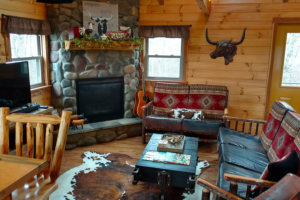 Fern Haven
The highlight of Fern Haven is the fact that one "wall" is constructed almost entirely of glass, making for a beautiful window streaming with natural light.
Even while you're inside, you'll be able to peer out at the beauty of nature all around you.
While you could easily spend your entire getaway curled up in this romantic cabin, the famed Hocking Hills is just a short drive away.
So if you'd like to see the natural wonders that this state park has to offer, the location of Fern Haven makes it easy enough for you to do so.
Click Here To Check Rates On Airbnb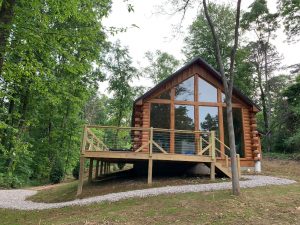 Luxury Treehouse Getaway With Treetop Views
Remember when you were a little kid and you thought treehouses were the coolest thing ever?
I'm sure you still think so as an adult. And since treehouses are basically cabins up in the trees, they belong on this list of the best cabins in Ohio.
This luxury treehouse getaway will fulfill all of your childhood dreams.
With treetop views, a cozy fireplace, and a comfy bed, you'll never want to leave!
But if you do find the motivation to leave this amazing hideaway, you can venture out into Ohio's Amish country or tackle a couple of hiking trails.
Click Here To Check Rates On Airbnb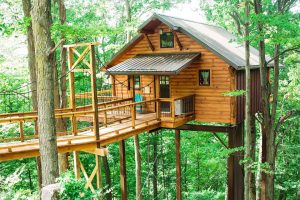 Romantic Treehouse Getaway With Treetop Views
While some treehouses are a child's dream, others make for some of the most romantic cabins in Ohio, like this romantic treehouse getaway.
With a bubbling hot tub, crackling fireplace, and plush bed, you really couldn't ask for a more romantic place to stay during your time in Ohio.
While the romantic touches are absolutely wonderful, the craftsmanship of this Ohio cabin should be appreciated as well.
Between the warm cherry hardwood floors, the many bright glass windows, and the Amish-crafted dining table, you can sense the hard work and skill that went into each and every single aspect of this Airbnb.
Click Here To Check Rates On Airbnb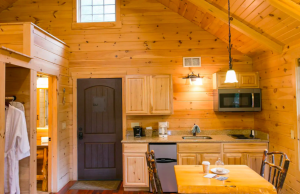 White Tail Dream Cabin And Private Basketball Gym
The White Tail Dream Cabin is easily one of the most over-the-top Ohio cabins. With a private basketball gym, private beach, and private dock, you'll feel like a millionaire during your time at this Ohio Airbnb.
In addition to the slew of outrageous amenities, the White Tail Dream Cabin also has practical features to boast, including WiFi, a basic kitchen, and a Keurig coffee machine.
It is also located near Hocking Hills State Park, so be sure to visit Old Man's Cave, go canoeing, and see Cedar Falls during your stay.
Click Here To Check Rates On Airbnb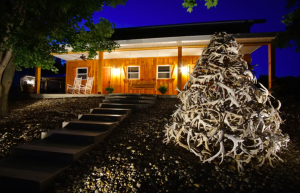 Unique Kabin In The Woods
When people think of cabins in Ohio, they often picture a wooden structure surrounded by trees and boasting a chimney. This unique cabin in the woods isn't quite that.
Rather than a wooden structure, this Airbnb is a repurposed round metal corn bin. That's right. Once upon a time, this structure held thousands of pounds of corn!
And now you can have the unique experience of staying in this Ohio "cabin."
This fun Airbnb has everything you need, including a fully-equipped kitchen and WiFi. It is also located near some of Ohio's best natural landscapes, such as Blackhand Gorge and Dillon State Park.
Click Here To Check Rates On Airbnb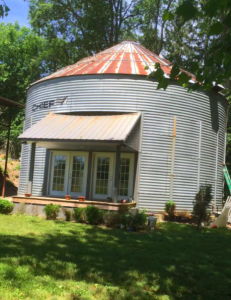 New Cabin In The Heart Of Hocking Hills
Thanks to the beautiful natural gems and amazing hiking trails found in Hocking Hills State Park, many cabin rentals in Ohio have popped up around it, including this new cabin in the heart of Hocking Hills.
As one of the coolest Hocking Hills cabins, this Airbnb boasts vaulted ceilings, an adorable front porch, and a gas fireplace.
This also happens to be one of those cabins in Ohio that is almost completely off the grid. While you will have cell phone service, there is no WiFi and a 4WD is recommended to get there.
Click Here To Check Rates On Airbnb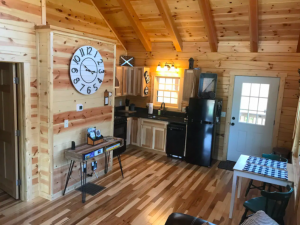 Cabin Near Mohican State Park
Most guests that have stayed at this cabin near Mohican State Park seem to have the same thing to say about it: it's both secluded and safe – a hard combination of traits to come by.
This Ohio cabin is the perfect place to stay for some relaxing, quiet family time.
Go for a hike around Mohican State Park. Whip out the board games for a fun night of friendly competition. Or simply spend some time chatting on the porch.
Click Here To Check Rates On Airbnb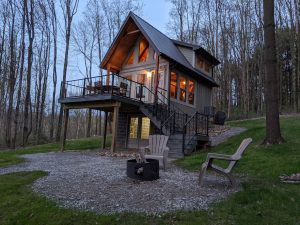 I have shared with you 15 of the coolest cabins in Ohio. I hope you have an amazing time in my home state!
Share your Ohio experiences in the comments below.
Here are some of my recommendations of incredible things to do in Ohio.