Are you looking for the perfect Ohio gifts for yourself and your loved ones?
I know shopping can be overwhelming, especially during this busy season.
Not only that, there are so many Ohio gifts to choose from! How can you make sure you select the right ones?
I was born and raised in Youngstown Ohio and I have done some of the work for you and compiled this list of my favorite Ohio gifts and souvenirs.
With these 20 carefully pre-selected Ohio gifts, there is definitely sure to be something unique for everyone on your list!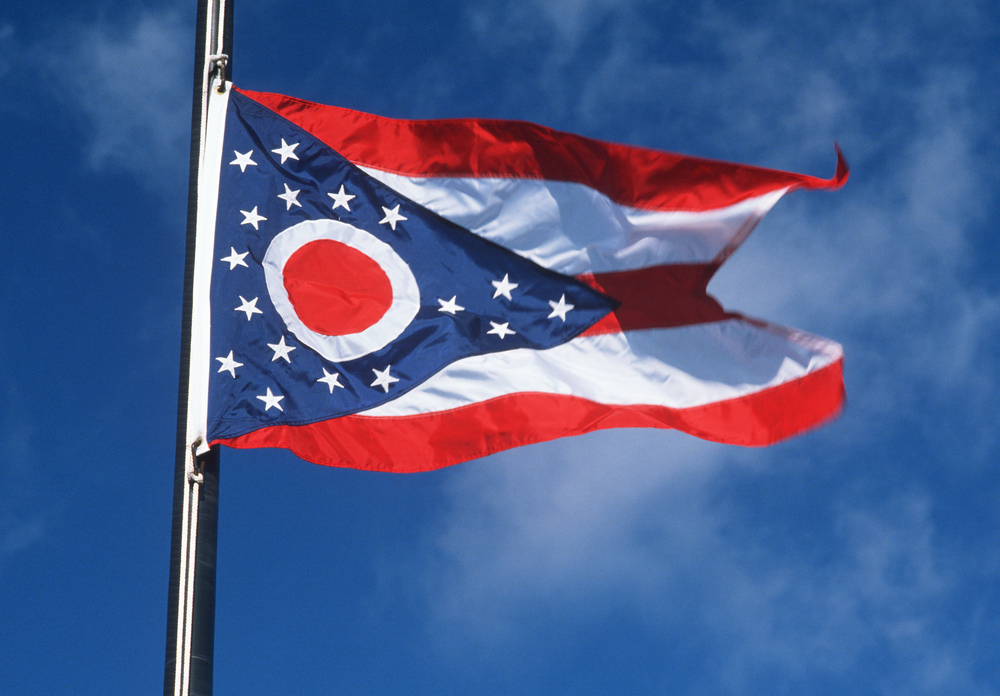 20 Best Ohio Gifts Anyone Will Love
Ohio Box Sign
One of the nicest Ohio gifts someone could receive from you is this Primitive by Kathy beautiful  Ohio Box Sign.
It is the perfect size at 6.75″ by 7.5″ with a distressed frame and is perfect for a male or female recipient.
It is a three-dimensional shadow box with the Ohio state silhouette, and its background lists Ohio's most populated cities.
Included as well is a red heart which your recipient can place in their hometown or favorite place in Ohio.
'Ohio' is hand-written on the side of the frame, and since it is free standing it will be a welcome addition to any decor, room, or shelf.
If hanging on a wall is preferred, there is a sawtooth hanger on the back.
This Ohio shadowbox would be a welcome addition to anyone's home and one of the best gifts from Ohio to anyone!
Award-Winning Peanut Butter & Milk Chocolate Buckeyes
We are after all called the Buckeye State, and what better gift to give someone than the gift of these award-winning chocolate Buckeyes!
Made with premium quality products, these Anthony-Thomas delectable treats are sure to delight everyone on your gifting list and make the list of best Ohio gifts!
Available in a variety of sizes to choose from, they are fabulous to eat straight out of the box.
Or you can choose to add them as a topping to ice cream or even yogurt.
They are melt-in-your-mouth and go quickly, so make sure you order enough for everyone on your list!
They are one of the most delicious gifts from Ohio you can gift anyone on your list!

OSU Expandable Bangle Bracelet
Perfect for the Ohio State University fan, student, or alumni, this slender expandable bangle bracelet features an OSU char. plus three other charms of various designs.
Lightweight, this expandable wire bangle bracelet allows you to adjust it to fit your individual wrist. Or that of the lucky woman on your gift list who will receive it!
Made in the USA, this stylish bangle is one of the most unique Ohio State Gifts!
Ohio "Home" Red Wood Holiday Ornament
Being from Ohio myself, I always love mementos that remind me of my roots.
This textured red wood Christmas Tree ornament is one of the best Ohio gifts to remind anyone where home is if their roots are in Ohio!
The shape of Ohio is laser cut onto high-quality wood and the ornament comes with a hanging cord. Matter of fact, I believe this could be part of anyone's home decor year-round!
At 3″ by 3.6″ it is the perfect size for any Christmas tree or hung on any wall around the house.  It is very personal and durable.
Ohio Homesick Scented Candle
If your special recipient moved away from Ohio, this hand-poured scented Ohio candle could be your perfect gift to them!
It is an all-natural soy blend and has a 60-80 hour burn time! Be sure to keep the wick trimmed to 1/4″ and burn the Ohio candle for at least  2 hours each time.
The fragrance is a blend of sweet flowers and earthy musk and the scent will blend effortlessly into the background.
One of the more unique gifts from Ohio, this beautiful Ohio candle would be a welcome addition to anyone's decor.
Ohio Beer Cap Holder
One of the most unusual Ohio gifts for the beer connoisseur on your list, or for a more whimsical gift from Ohio consider this Ohio beer cap holder.
Made from quality birch plywood, it holds 77 beer bottle caps from all kinds of beer: craft, imported, and domestic.
This will surely be a conversation starter as your gift recipient continues to add bottle caps while exploring brewery and bars.
It can easily be hung on the wall as mounting holes are included.
Ohio State Monopoly: Buck-Opoly
For all those Ohio State University fans on your list, this monopoly game is specific to Ohio State!
It is the perfect gift for OSU fans, whether students, alumni, or diehard fans!
The game will support from two to six players and can be played traditionally, or using the one hour version. And it is a little bit of strategy and a whole lot of fun!
This is one of the most entertaining Ohio State gifts for any of the Buckeye fans on your list!
Ohio Shaped Bamboo Serving And Cutting Board
This unique bamboo cutting and serving board is one of the best Ohio gifts on so many levels and sure to please anyone on your gift list!
First off, it is made of an environmentally friendly (and durable) material: bamboo.
Bamboo regrows at a rapid pace, making it a sustainable material, and bamboo is easy on your cutting knives.
The cutting board is in the shape of the state of Ohio and has laser-engraved artwork, featuring cities, towns, and locations that make Ohio such a wonderful state to live in and visit.
There is a hangtag on the reverse side if you or the recipient choose to hang it on the wall.
To cut on it, use the reverse (plain) side. To serve, use the laser-cut side up and a lively conversation just might ensue about the Buckeye State!
This is really one of the best Ohio gifts.

Road Trip: Ohio Monthly Wall Calendar
Your Ohio gifts shopping can be a lot easier if you choose this 2021 Ohio road trip calendar!
Your family and friends who receive this stunning calendar will be treated to an amazing Ohio road trip every month!
Enjoy twelve months of the most popular destinations in Ohio which can make planning an Ohio vacation a whole lot easier.
Each month offers a grid to help keep you organized. There is a special section featuring January through April 2022 to plan far into the future!
OSU Silicone Credit Cark Keeper/Phone Wallet
Display your team spirit all the time!
This silicone credit card keeper/phone wallet is a really unique Ohio State gift.
You or your student can hold up to 2 credit cards in the pouch. the interior of the pocket is textured so the cards stay put once inserted.
There is strong 3M adhesive that will easily bond it to the back of your cell phone proudly displaying the OSU logo on the iconic red-colored silicone pocket.
At about 2 inches in width, it is compatible with most smartphones and cases.
It is very functional making it one of the coolest gifts from Ohio.
Tervis NCAA Ohio State Buckeyes Water Bottle
Any proud Ohio State University fan will gladly and proudly use this 24-ounce OSU water bottle with its own lid!
What makes this one of the most unique Ohio State gifts is that it is proudly made in the USA!
Its double-walled insulation keeps hot drinks hot, and cold liquids cold! Handy in both the harsh Ohio winters and lovely Ohio summers.
It is BPA free and comes with a lifetime guarantee. When finished for the day, or your trip is over, you can toss it into your dishwasher to clean.
You can microwave it or freeze it to accommodate whatever drinks you will be bringing along with you.
No matter where your gift recipient lives, this is one of the best Ohio gifts you can give them!
Cleveland Watercolor Souvenir Shot Glass
This exclusive watercolor Cleveland shot glass may just be the unique Ohio gifts you have been searching for!
Constructed of high-quality ceramic materials, it showcases Cleveland's iconic buildings and monuments.
This is the perfect souvenir for someone heading back home after visiting Ohio or really cool addition to anyone's bar.
Ohio State Buckeyes Glitter Dangler Earrings
You will be able to show off your team spirit on game day or around town wearing these OSU Buckeye glitter dangler earrings.
Officially licensed by the NCAA these sparklers hang approximately one inch. They are the perfect size to show your Buckeye team spirit, yet not too large to be bothersome.
The glitter will catch everyone's eye, making these ones of the most unique Ohio State gifts.
 State Of Ohio Women's Relaxed T-shirt
This cotton/poly/rayon women's relaxed t-shirt is one of the ultimate Ohio souvenirs for a native Ohioan who now lives elsewhere (like me!). Or for any Ohioan who simply wants to boast about living in the Buckeye state!
It is machine washable and able to be tossed into the dryer, making taking care of it easy and convenient.
The style is a very trendy relaxed fit and that is so comfortable to wear.
Wear as is during the beautiful Ohio summers, or with a sweater into the fall when the weather turns chilly.
It will definitely be one of the ultimate Ohio gifts to give or receive!
OSU Color Block Hoodie
This unisex pullover hoodie is perfect for displaying your OSU team spirit.
Whether relaxing at home or out with friends the soft feel of this sweatshirt will great on both the guys and the gals.
Machine washable in cold water, and tumble dry on low, the care of it is easy peasy as well.
The grey and red color blocking and lettering on the front leaves no doubt who you support or where you are from!
Great to wear in chillier seasons this is one of the best Ohio gifts and should be added to your shopping list!

Ohio 5 Charm Keychain
This is the perfect Ohio gifts depicting all that is good about the Buckeye State!
The silver-toned charm keychain comes with five charms depicting Ohio symbols.
It includes the name of the state, the red cardinal, our state bird, a cow and barn depicting Ohio's agricultural roots, and our beloved buckeye.
Colorful and cheery, it is one of the practical gifts from Ohio that everyone on your list, or yourself, will love!
Ohio Black Campfire Mug
This stylish black campfire speckled ceramic mug is a great gift for anyone, especially the coffee or tea drinkers on your Ohio gifts list!
It is a convenient 13.5-ounce size and has a gold foil state silhouette.
The mug is made of stoneware and is handwash only because of the foil silhouette.
This is one of the coolest Ohio gifts to start the day off with your morning cup of coffee or tea!

Ohio State Buckeyes Spirit 3-Piece BBQ Set
Perfect for tailgating before the big games, or for use at home to celebrate team spirit, these NCAA OSU BBQ tools rule!
Included are a spatula, pair of tungs, and a large fork.
The handles are grey with red lettering to highlight OSU loyalty.
This BBQ set is ranks as one of the best Ohio State gifts you can give a Buckeye fan!
Ohio State Unisex Coozie
Perfect for showing team spirit at ANY time and ANY place, this NCAA officially licensed unisex flat coozie is one of the coolest Ohio gifts because it is inexpensive and functional!
Made of neoprene, it keeps all canned drinks cooler, longer, and comes in the iconic OSU red anad grey colors with the Ohio State logo on the front.
Perfect for any summer barbecue or get-together where Ohio State University conversation will ensue!!
OSU Lightweight Folding Chair
This lightweight folding chair is not just for tailgating. You can display your school spirit at a park, barbecue, and even the beach!
Easy to transport, this chair comes with a velcro strap attached so you can toss it over your shoulder when you are ready to leave.
It also has a carrying case with the OSU Buckeye logo for storage purposes.
The chair has the Ohio State logo on the front and back, along with a drink holder for your convenience.
This is one of the most unique Ohio State gifts everyone on your list will appreciate.
—
Here I have listed 20 of the best Ohio gifts anyone will love. I hope I found several gifts for those you love, or even yourself!
As a native Ohioan, I love them all! And I hope you do as well.
—
Please be advised Linda On The Run is an Amazon Affiliate. That means I make a very small commission on purchases made, at absolutely no additional cost to you.