Are you looking for the best Airbnbs in Indiana?
The Hoosier State definitely has a lot to offer. Located in the Great Lakes section of the midwestern United States, it is also sometimes called the Crossroads States because it is very conveniently located.
With an impressive history, large cosmopolitan cities, and diverse cultures within it, Indiana is truly a great destination to explore.
If your travels are bringing you to Indiana, or you are simply looking for a weekend getaway, allow me to help you with your accommodation decisions!
For you, here are 12 of the best Airbnbs in Indiana.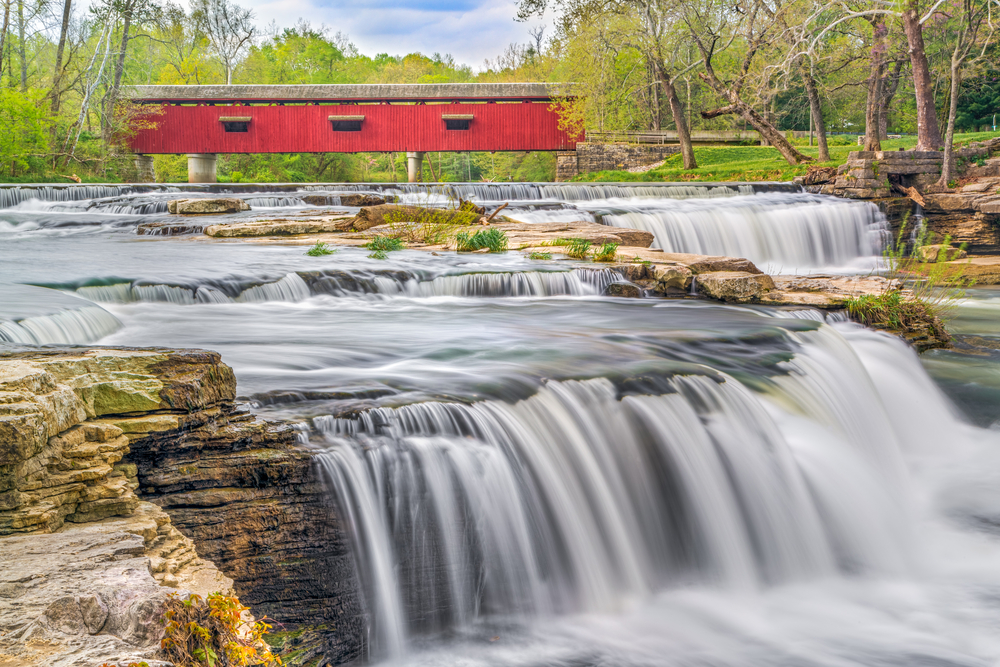 12 Best Airbnbs in Indiana (Cabins, Bungalows, & More!)
Nature's Resting Place 
Located in Michigan City, not far from Lake Michigan is this 750 square foot two-story cabin.
On 170 acres of abundant trails and wildlife, this is the perfect location to relax and reconnect with nature. (This is not the only cabin on the property.)
Able to accommodate up to 4 guests, with 1 bedroom and 1 bathroom, this is one of the most unique Indiana cabins.
Utilizing two floors, the bedroom, living room, and bathroom are on the first level. A wood-burning fireplace, with plenty of firewood along with stunning views of the outdoors, can be seen.
Up the stairs is the fully-stocked kitchen, along with an adjacent outdoor deck.
The firepit is the perfect way to end the day with dinner or smores!
Click here to check rates on Airbnb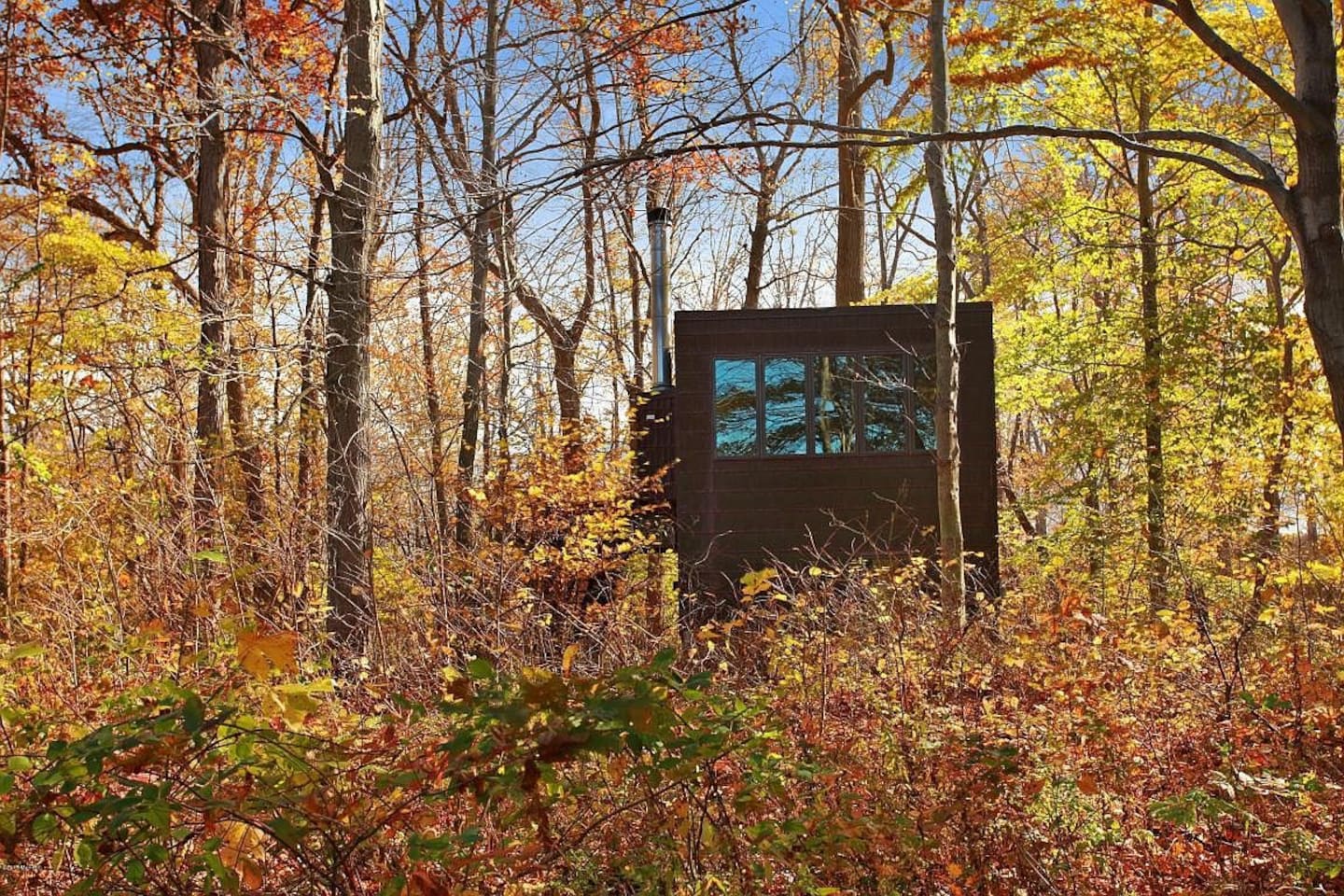 Log Cabin And Guest House On A Pond With Hot Tub
Ready to relax and unwind, in a quiet environment with all the creature comforts you are used to at home? Then this complex of buildings on Peaceful Pines is for you!
You will have the main cabin and smaller charming guest cabin at your disposal.
The main cabin has heated floors and a well-stocked kitchen. Two lovely bedrooms and a bathroom will meet your needs.
The secluded back deck looks directly onto a private pond. An absolutely stunning location morning cup of coffee or evening glass of wine.
Located adjacent is the guest cabin. The host describes the vibe as "Loft meets modern farmhouse."
With newly renovated concrete floors, a fully functioning kitchen, and a cute porch off the kitchen to relax the one-bedroom guest cabin is great for overflow guests.
This log cabin and guest house complex are truly versatile and great Indiana cabins to relax at!
Click here to check the rates on Airbnb.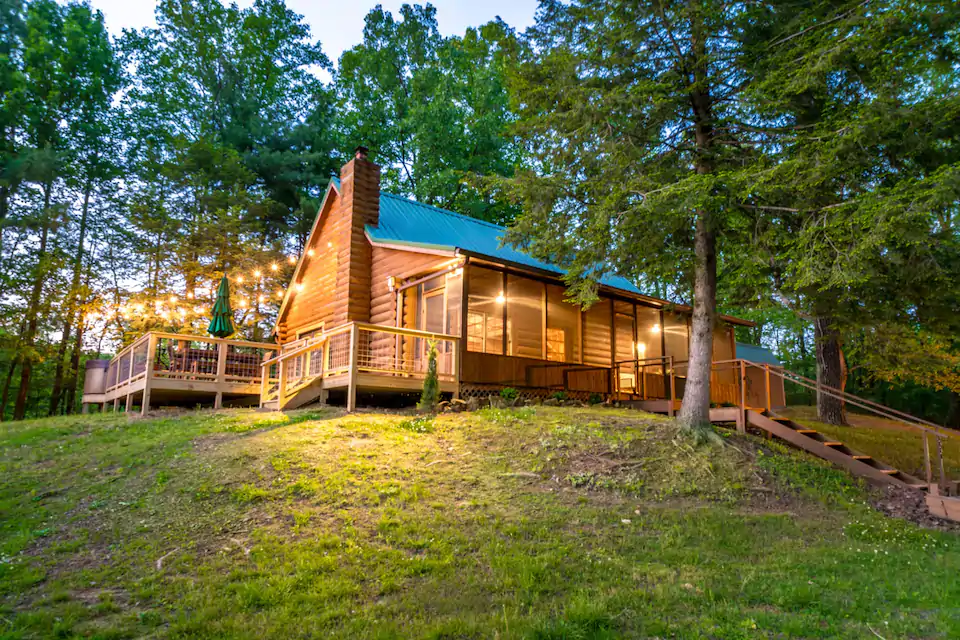 Beachy Keen Offers Beautiful Views
What is not to love? Located in Sheridan Beach, is this beautiful modern beach home has its own private hot tub!
Able to accommodate up to six guests, it has 2 bedrooms and two full baths.
With a tastefully appointed interior, it boasts a huge third-floor deck offering expansive views, and a lovely wood-burning fireplace.
You are literally a short walk to the sandy shores of Lake Michigan, with Harbor Country and New Buffalo nearby as well.
This modern beach house with its extensive amenities is one of the best Airbnb in Indiana.
Click here for the rates on Airbnb.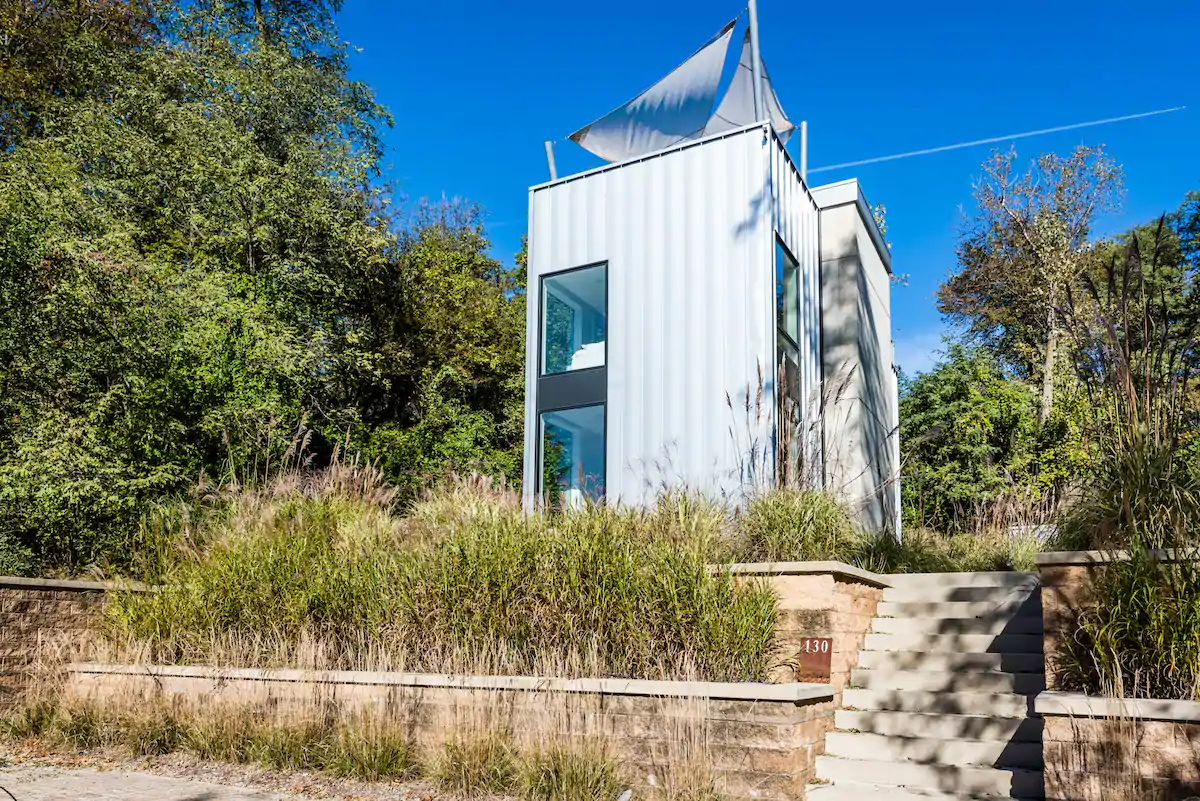 Glamping In A Yurt On The Tippecanoe River
Glamping at its best! Located in Monticello, on the banks of the Tippecanoe River, this yurt provides all the comforts necessary for a memorable experience!
You will have electricity, hot water, an outdoor kitchen,(stove, grill, small refrigerator) with utensils provided. There is a wood stove inside the yurt for heat. And hot water!!!!!
The inside is one large room with a wrap-around porch to enjoy your surroundings from all angles.
Just steps away from all the fun of the river, this is one of the best Airbnbs in Indiana to have fun at!
Click here to check the rates on Airbnb.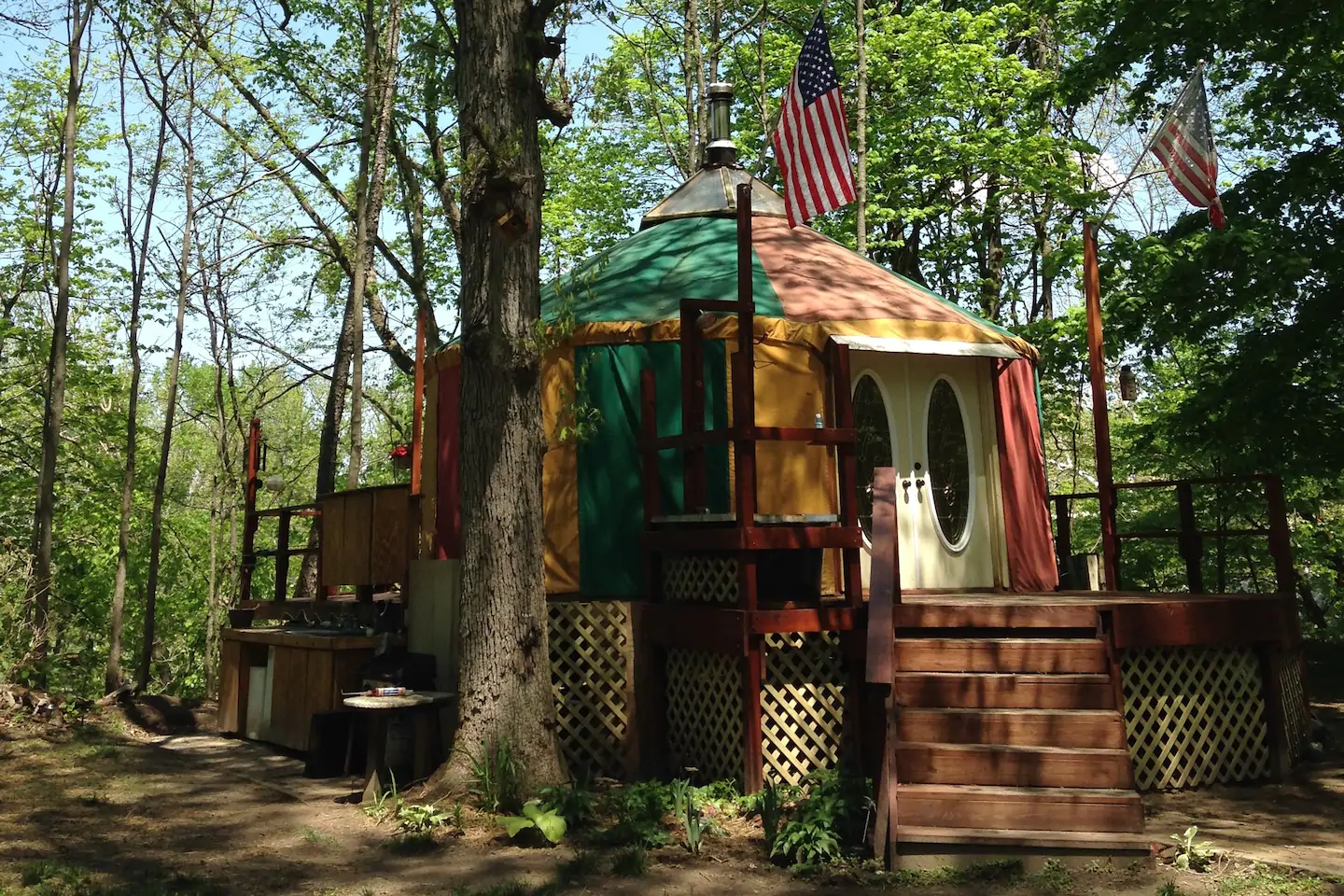 Hilltop Hideaway Is One Of The Unique Cabins In Indiana
If you are looking for a relaxing woodland retreat, this may be the Airbnb in Indianapolis for you.
It is located just 25 minutes from the Indianapolis International Airport and 30 minutes from downtown Indy with its trendy shopping and vast arrays of restaurants and breweries.
The peaceful wooded surroundings invite you to relax and detox from the noise of daily life.
The charming interior has one bedroom and one loft room and can sleep up to 4.
You will have one bath and a wonderful gourmet kitchen complete with granite countertops!
This conveniently located treehouse rental in Indiana is a great option for couples and families alike!
Click here to check the rates on Airbnb.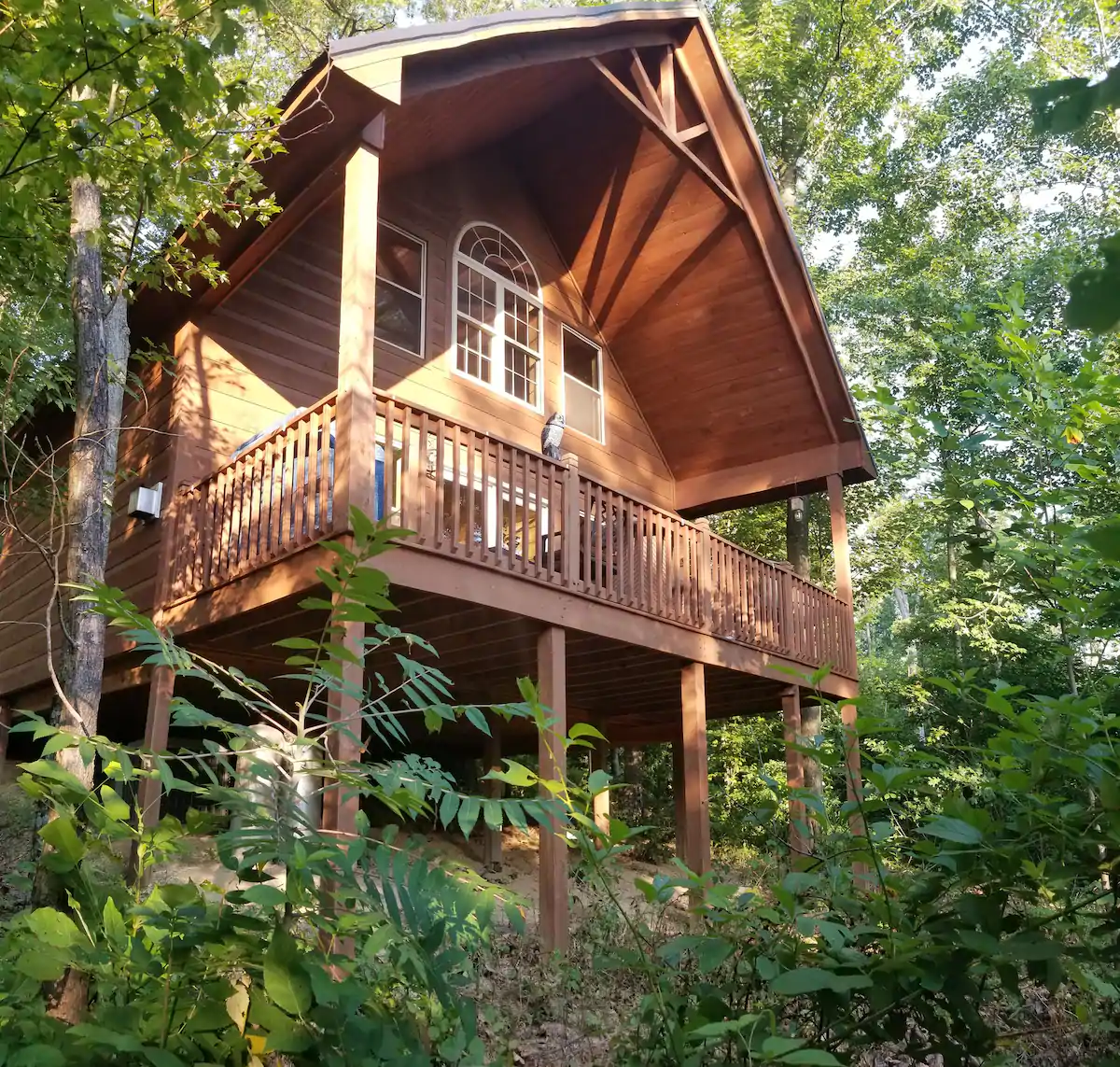 Cozy Small House In South Bend
Headed to South Bend? This recently renovated small house is a great option.
Located within a few minutes of both downtown and Notre Dame it is very ideally located.
Updated throughout, there are hardwood floors and a fully functional beautiful kitchen.
Able to accommodate up to 4, with 1 bedroom and one full bath this is a cozy Airbnb in Indiana!
Click here to check the rates on Airbnb.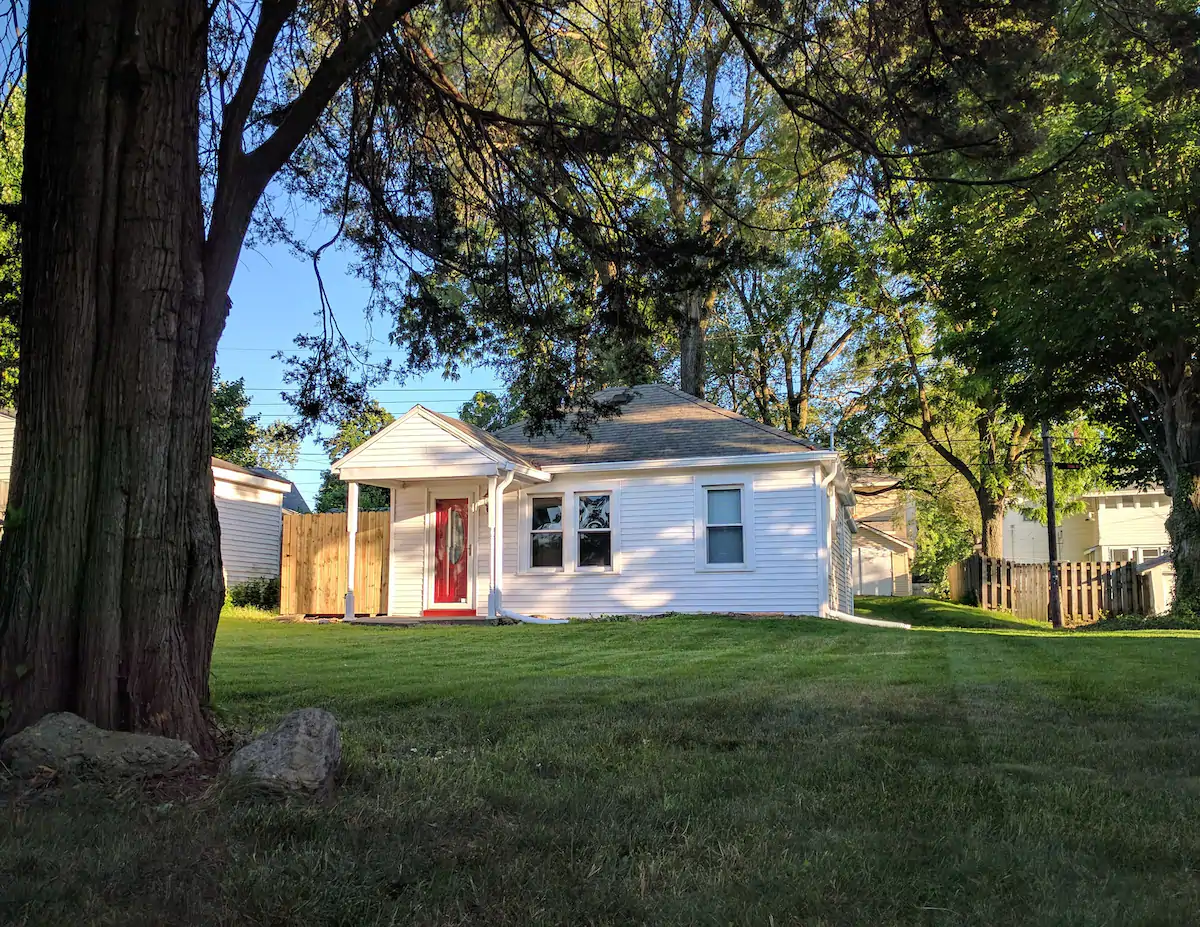 Private Charming Carriage House Downtown Indy
This cozy carriage house is centrally located to all that Indianapolis has to offer!
Able to sleep up to 4 guests it has 1 bedroom, and 1 bath.
It is 520 square feet with just about everything you can think of supplied for your convenience. So you can drop off your suitcases and go!
Four skylights brighten up the interior and high cathedral ceilings give the aura of abundant space!
Full-sized appliances and TV along with a washer/dryer unit make this one of the best Airbnb in Indianapolis.
Click here to check the rates on Airbnb.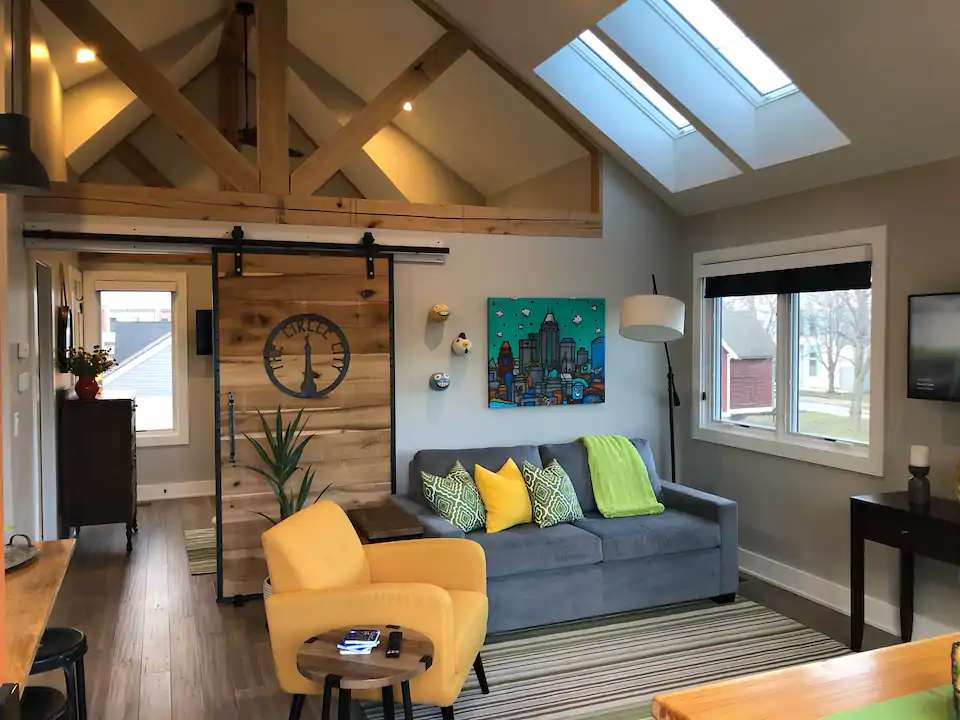 Soaring Eagle Cabin Is One Of The Best Indiana Airbnbs!
Whether you are looking for a romantic weekend getaway or a family-oriented vacation, the Soaring Eagle Cabin is one of the best cabins for rent in Indiana.
Able to sleep 4, with 1 bedroom, and 1.5 bathrooms, the location could not be more perfect.
Just 50 feet from the shoreline of Lake Monroe, you can enjoy beautiful views of the lake from the second-story deck.
And imagine soaking in the hot tub on the ground level with those same lake vistas! A gas fireplace provided heat and a charming ambiance.
There is wifi for your convenience, a tv, and a firepit to create smores memories!
And the memories made down at the lake make this one of the best cabins in Indiana to rent!
Click here to check rates on Airbnb.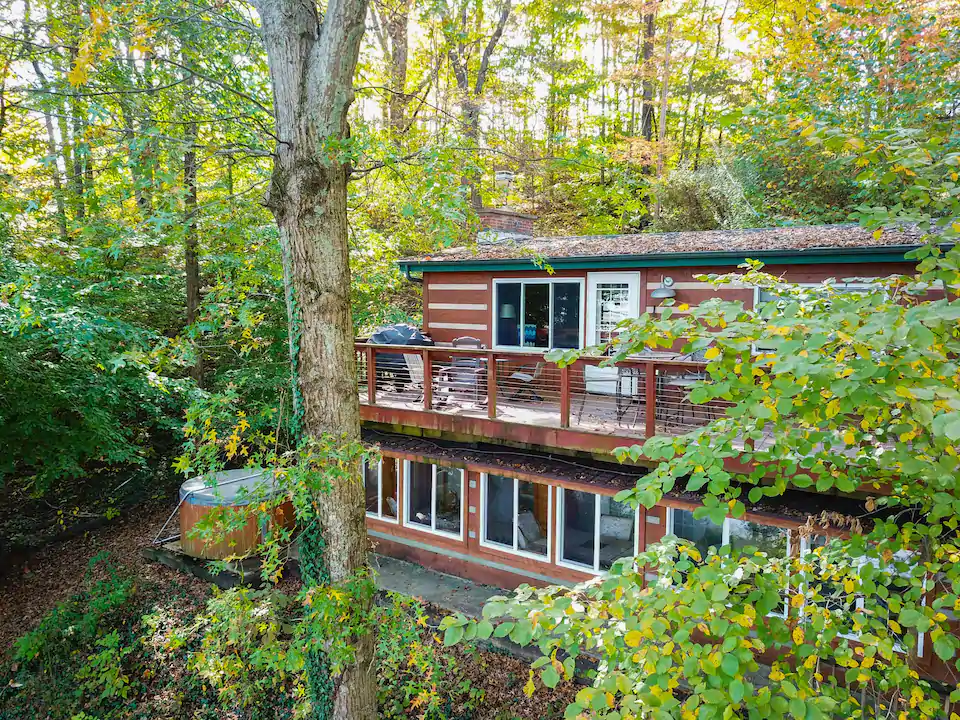 Modern Nashville Home In The Woods
Looking to enjoy the beauty and charm of popular Brown County? This modern newly constructed home is one of the most interesting Airbnbs in Indiana.
Named "Plahaus" by the builder/host, the interior is impeccably done.
Situated up on a hill, Plahaus can sleep up to 4 guests, in two beautiful bedrooms, with one bath.
There is a spectacular view from the balcony, and a fire pit to relax around to make memories! Firewood is provided by the host.
Located not far from Nashville, Indiana, so you will have access to the pubs and eateries.
Plahaus was constructed for you to enjoy the views, so kick back and relax at this modern Airbnb in Indiana.
Click here for the rates on Airbnb.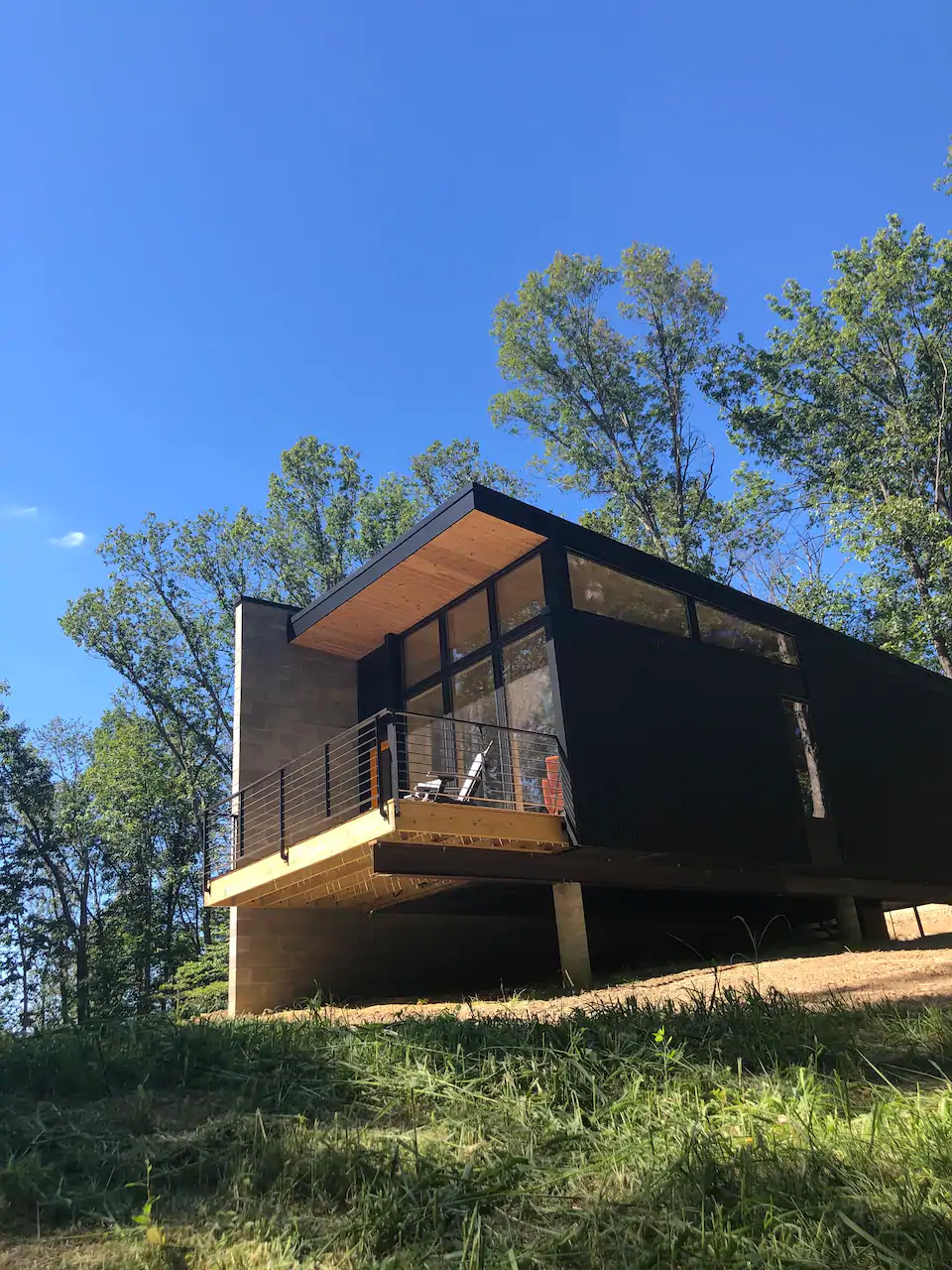 Love's Hideaway Minutes From The Water Salamonie
Located just minutes from the Salamonie Reservoir and the Salamonie State Forest, this tiny house is the perfect getaway.
Able to accommodate up to 7 guests, with 2 bedrooms and  1 bathroom, it is more spacious than you would think! The perfect opportunity to try out "tiny" living.
Situated on 27 acres, there is plenty to explore including 2 bridges, a natural spring, and trails. The host provides firewood if relaxing fireside interests you.
Plenty of room for parking, including your boat, makes this one of the best tiny house rentals in Indiana!
Click here to check the rates on Airbnb.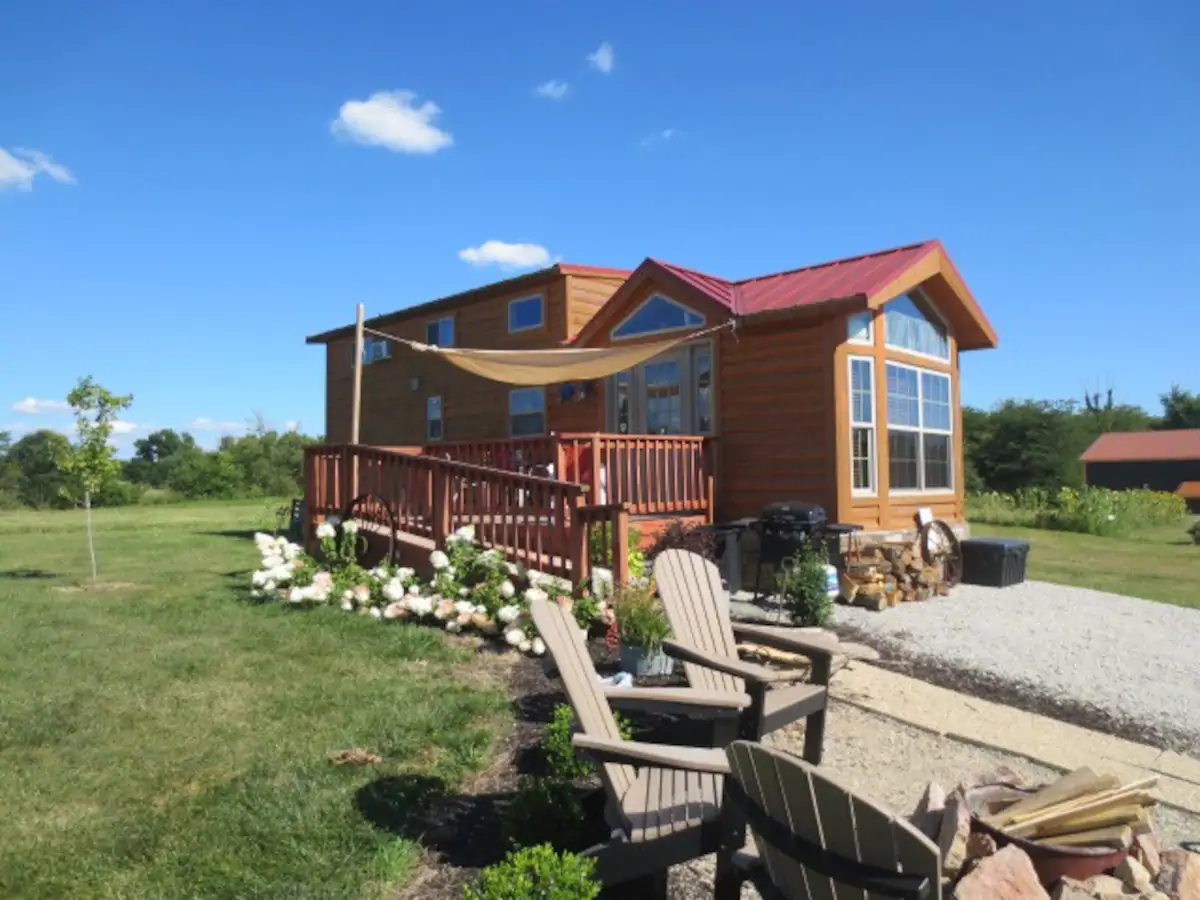 Beautiful Broad Ripple Bungalow
Located in the Indianapolis' charming neighborhood Broad Ripple, this cute bungalow is in the middle of everything!
Able to sleep up to six guests, it has two bedrooms and one bathroom.
The kitchen is stocked with essential cookware and utensils for your convenience. There is a large HD television and the spacious bedrooms have ultra-comfy beds.
Enjoy your coffee on the front porch, or relax in the generously-sized fenced back yard.
Located just blocks away from the popular Broad Ripple Village, you will have a wide variety of options to choose from when searching for shopping and dining.
That is why this is one of the most charming Airbnbs in Indiana.
Click here to check the rates on Airbnb.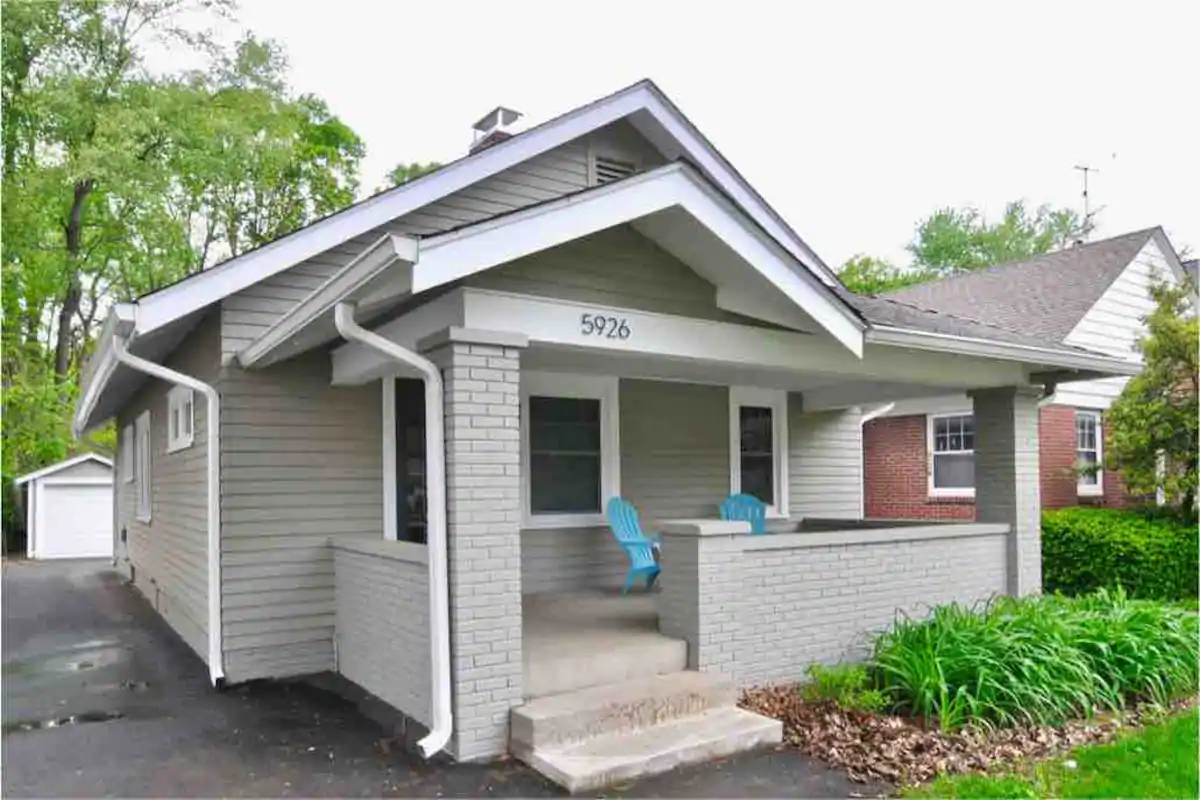 The King's Farmhouse Is A Unique Airbnb In Indiana
This beautifully-appointed farmhouse was built in the mid-1950s, yet has all the modern amenities necessary for a cozy happy experience. Including a charming fireplace.
The entire house is yours to enjoy, and it accommodates up to 5 guests with 2 bedrooms and 2 bathrooms.
The front porch swing is the perfect spot to welcome the day viewing the sunset, and the above-ground pool offers endless opportunities throughout the day.
The host wants you to be aware there is internet, but it is very slow.  Surrounded by open space this is one unique Airbnb in Indiana!
Click here to check the rates on Airbnb.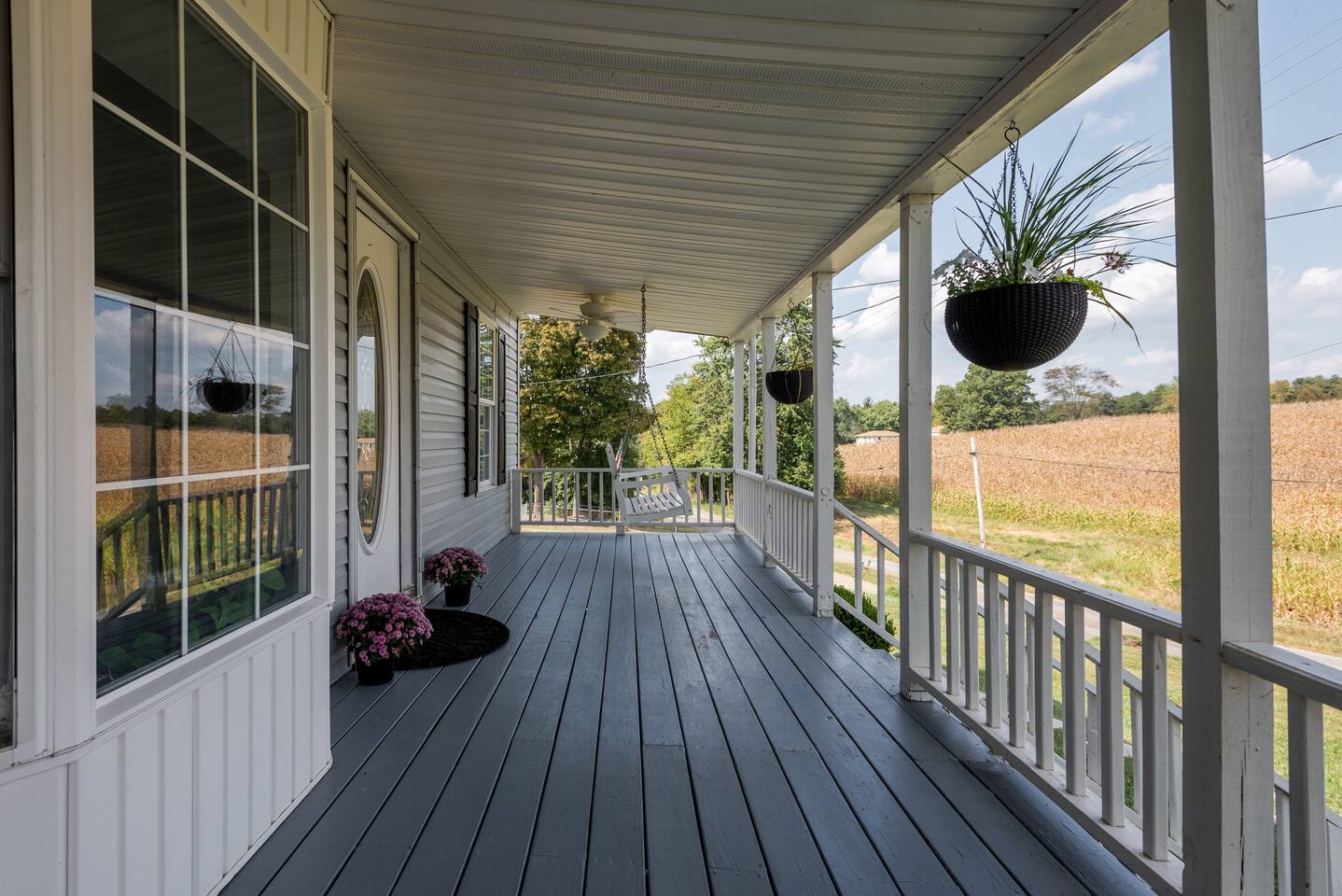 Here I have listed for you the 12 best Airbnbs in Indiana. I hope I have inspired you by one of my suggestions. If you do travel to the Hoosier State, and stay in one of the Indiana Airbnbs listed here, please share your experience in the comments section below!
No matter how you get to your best Indiana Airbnb, you may want some tips on how to pack lightly.