Looking for the best Minnesota Airbnbs?
Minnesota offers so much to choose from for both serious outdoor enthusiasts and those who prefer the more cosmopolitan life.
Minnesota is a midwest state in the United States of America, the most northern of the contiguous states. And one portion of this "Land of 10,000 Lakes" state, the Northwest Angle, is above the 49th parallel.
From its prairies to the west, and forests to the north and east, its urban amenities, and wild, unspoiled locales such as the Boundary Waters Canoe Area Wilderness, Minnesota have something for everyone.
Here you will find 11 suggestions for you to find one of the perfect Airbnb in Minnesotas for you!
Experience Minnesota like a local by staying at an Airbnb. Get a $55 Airbnb coupon by using my code when you book!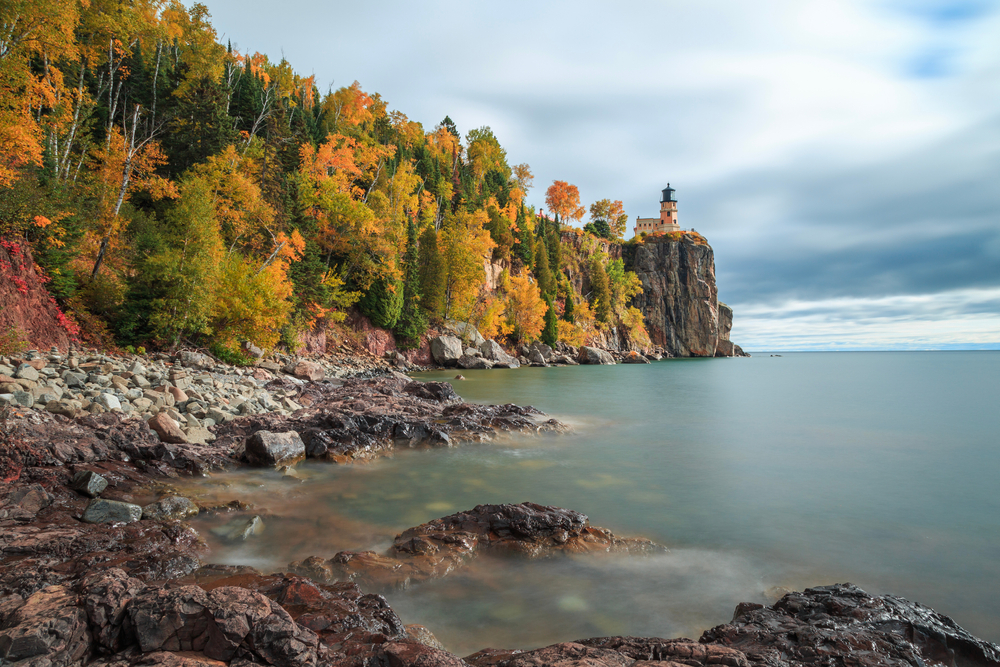 11 Best Airbnbs in Minnesota (Cabins, Cottages, & More!)
Mossy Hollow Cove Cabin On Lake Superior
Set in an awesome location directly on a private Lake Superior cove, Mossy Hollow Cove Cabin is the perfect choice for some quality time with family or friends.
One of the best northern Minnesota cabin rentals, it can sleep up to 4 guests, with 2 bedrooms and 2 bathrooms.
With walls worth of windows, you will be able to view first hand the sunrises, sunsets, and the moon rises. Wake up with a cup of coffee out of the deck.
End your days making smores around one of the several fire pits you can select from!
Drive into Grand Marais to shop or dine, or take advantage of the free canoes this property offers.
Explore all the hiking and snowmobiling trails or simply sit and enjoy the expansive views of Lake Superior.
All these epic options make Mossy Hollow Cove Cabin one of the best lake cabin rentals in Minnesota!
Please click here for the rates on Airbnb.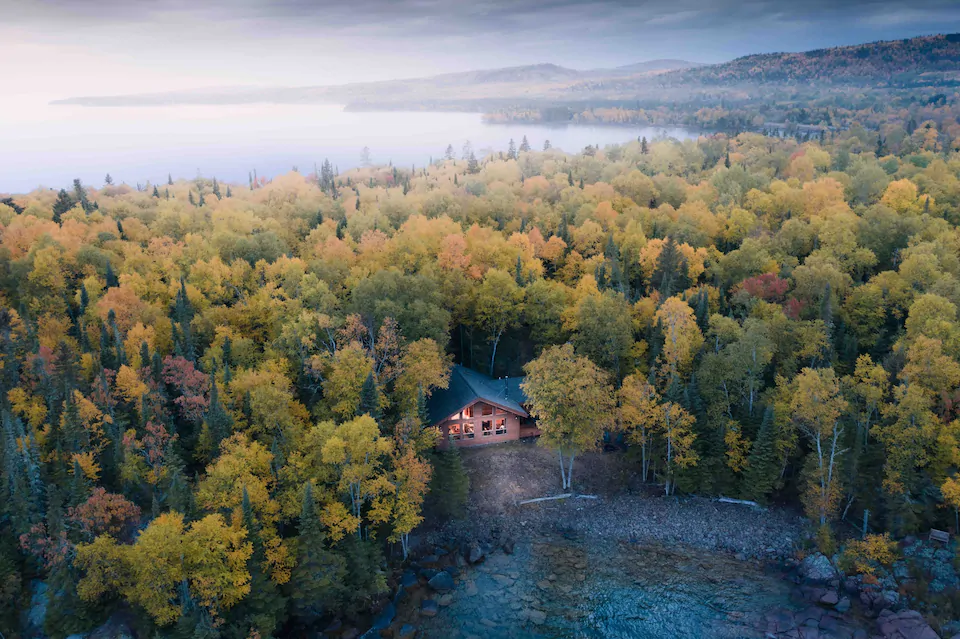 Grand Marais House Of Light Cabin
Just two blocks from Grand Marais Harbor, this custom-built cabin is located in the heart of the city. Matter of fact, you have downtown views from the front yard!
Sustainably built with cork floors, it has large ample windows that bring the outside in.
Able to sleep 3, with 2 bedrooms and 1 bathroom, you are within walking distance to the harbor and close to art galleries, trendy shops, and restaurants.
You are near to all outdoor amenities the North Shore has to offer including the Gunflint Trail.
Whether you choose to enjoy your coffee or glass of wine out on the porch or near the glass-enclosed fireplace in the living room, this is one of the best Minnesota Aribnbs!
Please click here for the rates on Airbnb.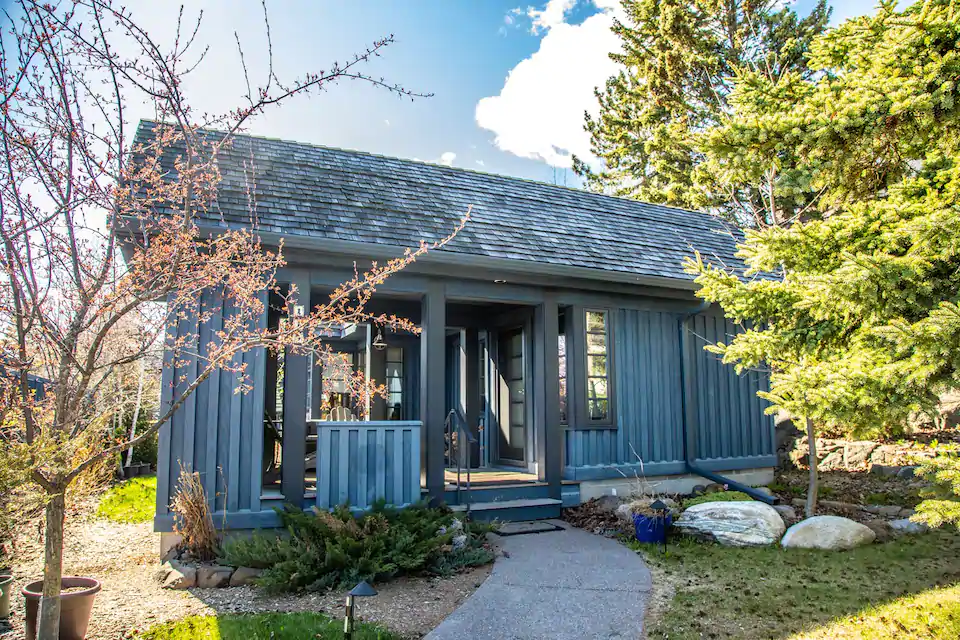 Fairytale Northern Minnesota Cabin Rental
This cozy Minnesota cabin was built by the hosts in 1995 as a secluded getaway from life's craziness. Now they share this spectacular space with you!
Able to sleep 3 guests, with 1 bedroom and 1 bath, it has a modern well-equipped kitchen and a spacious dining-living space making this one of the best cabins in Minnesota.
Located on the Baptism River and near the shores of Lake Superior, you are truly immersed in the woods.
You can sit and have hot chocolate on the deck and marvel at the North Woods of Minnesota and Lake Superior.
Outdoor amenities closeby to this best Minnesota Airbnbs to choose from are the Lake Superior Hiking Trail the Boundary Waters Canoe Area and swimming at nearby swimming holes!
Please click here for the rates on Airbnb.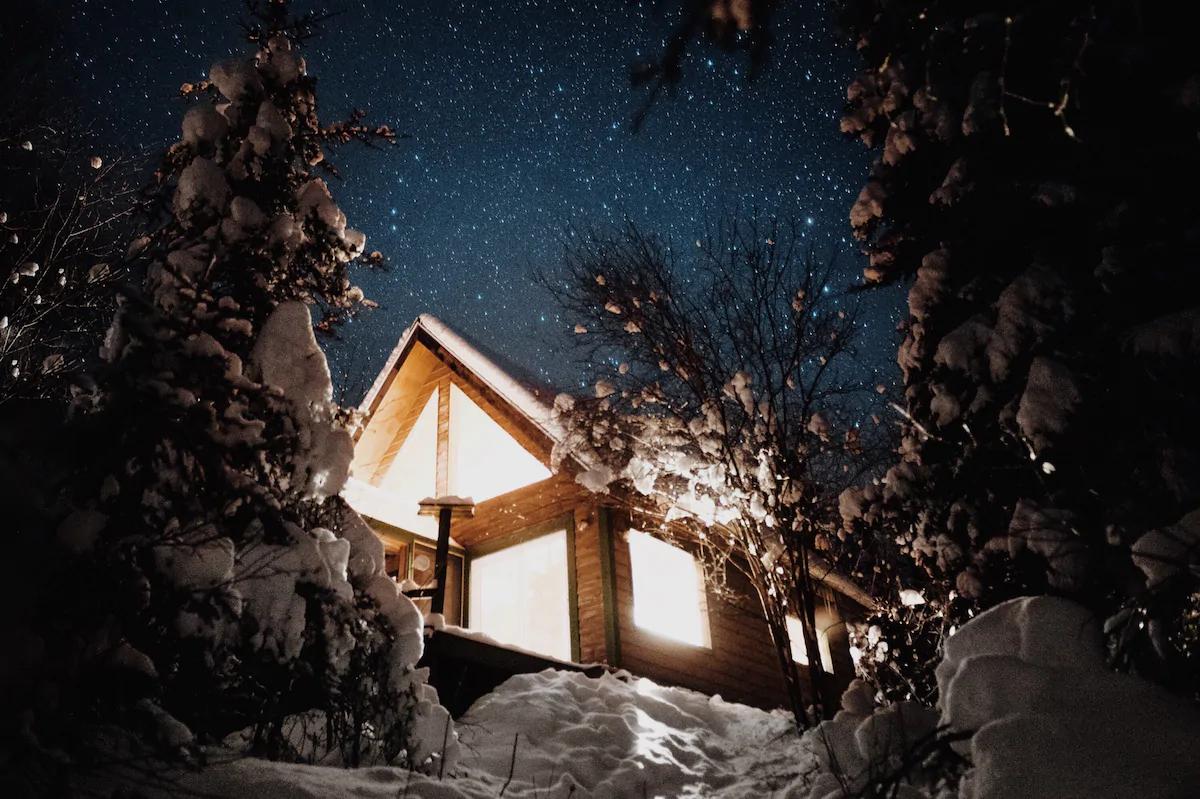 One Of The Best Minnesota Airbnbs Is Twin Cities Luxury Treehouse
This lofty lodge treehouse Minnesota Airbnb is luxury at its finest!
Located in the Twin Cities area, it is a seven-room treehouse suite experience amidst a historic farm.
There are 4 decks outdoors, several fireplaces, Jacuzzi, and is able to sleep 4 guests in its 2 bedrooms, with 1.5 exceptionally-appointed baths.
You will be close to parks, restaurants, shopping, and the beach.
The views throughout this treehouse Airbnb in Minnesota are spectacular, making it a great choice!
Click here for the rates on Airbnb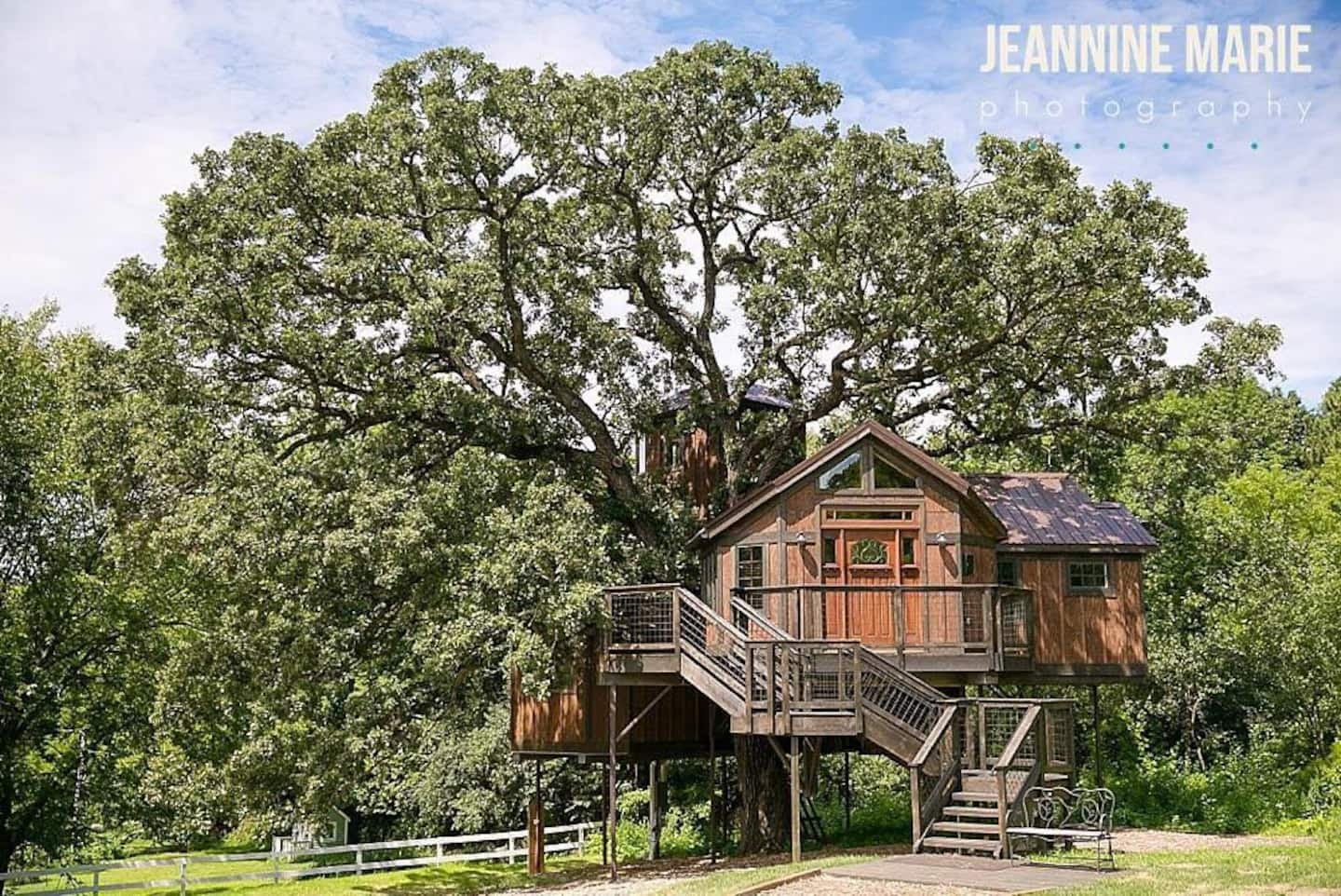 St. Paul 1853 Boyle Perry Historic House
Located in the historic West 7th/Upper Landing neighborhood, this unique Airbnb in St. Paul, Minnesota has been beautifully renovated and is close to many attractions.
It has 3 bedrooms, 2 bathrooms and can sleep up to 7 guests. The updated kitchen is quite large, as is the living and dining areas.
There are large porches on the front and side of the house, as well as a quiet patio area behind the house to dine al fresco during warmer weather.
This historic Minnesota Airbnbs is within walking distance to downtown St. Paul.
And it is close to the freeways, Mall of America, and downtown Minneapolis.
Please click here to check the rates on Airbnb.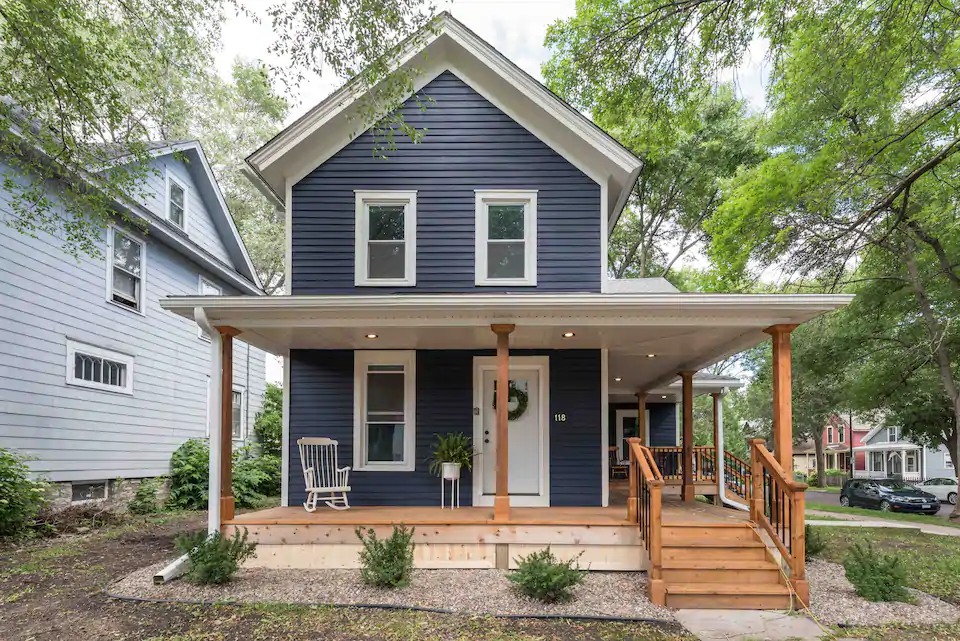 One Of The Best Minnesota Airbnbs Is The ReTweet House
This northern Minnesota cabin rental is a glamping experience you will not forget.
Completed in 2019 this cozy Minnesota cabin sleeps 3 with one bedroom.
Built among white cedar trees on the host's 30 acres of woods, you will have fantastic views of the outdoors from the huge windows throughout.
The heated outhouse is a short stroll from the house and there is a hot and cold water dispenser for you to use. The kitchen has all the essentials you will need for making meals and storing food.
You may want to begin your day catching the sunrise on the deck of this northern Minnesota cabin rentals with a cup of coffee.
Or sit around the fire pit making smores with your family after a day of exploring Lake Superior's North Shore.
Click here for the rates on Airbnb.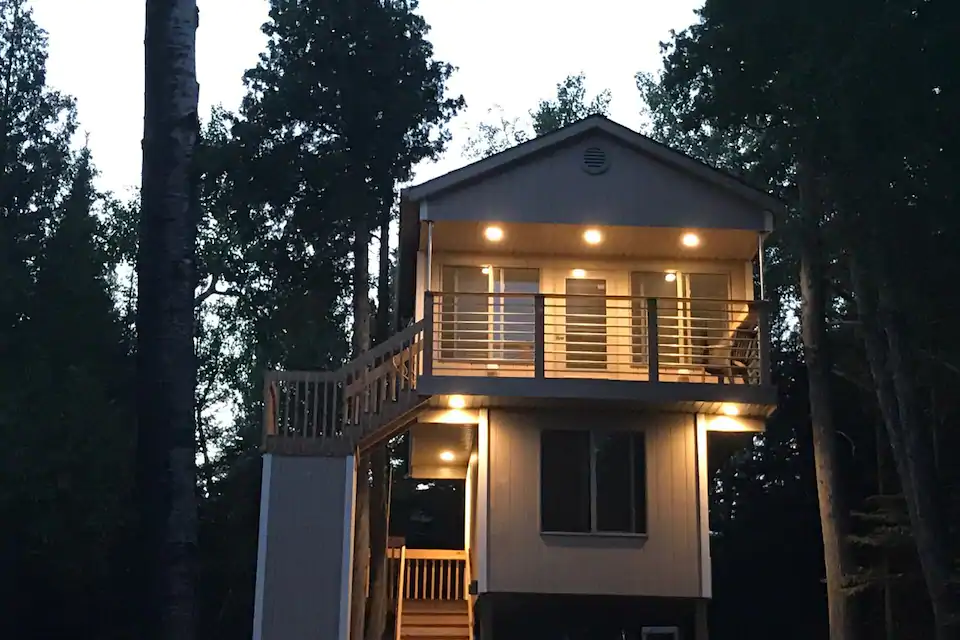 Sea Glass Cottage
This charming Airbnb in Duluth, Sea Glass Cottage, is close to everything!
Located less than one mile from Canal Park, lots of running, hiking, and biking trails, and public access to the 5 miles of Lake Superior's sandy beaches are right across the street.
Able to accommodate up to 5 guests, with 2 bedrooms and 1 bath, this could be the perfect Airbnb in Minnesota for you and your family or friends!
This thoughtfully decorated cottage has a bright cheerful kitchen and large living-dining space and one of the best Minnesota Airbnbs.
Be sure to spend time watching the boats sail by near the Canal Park Lift Bridge!
Please click here for the rates on Airbnb.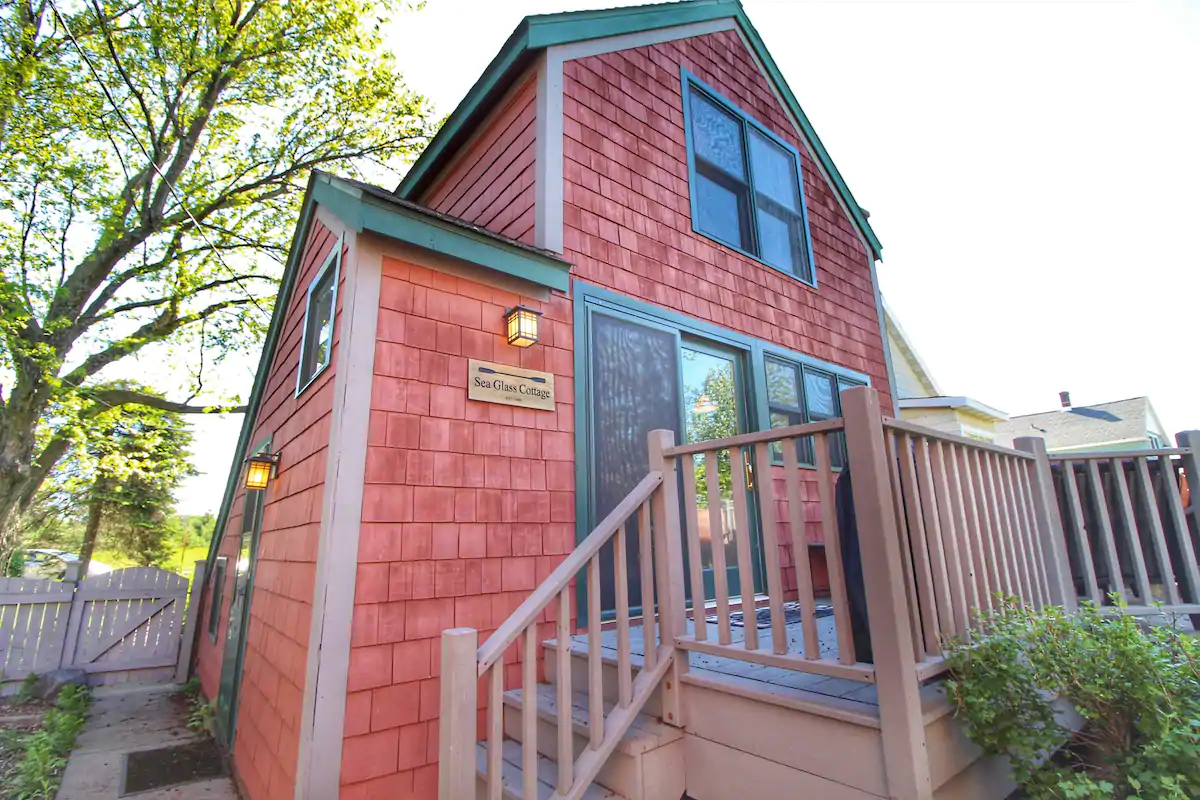 Minneapolis Penthouse Loft
If industrial chic is your vibe, then this Minneapolis Airbnb is perfect for you!
This fourth-floor loft in the heart of downtown Minneapolis boasts vintage wooden beams and wooden floors throughout!
This penthouse loft even comes with an intact elevator shaft from when the building was built in the 1900s. And it has a queen bed in it!
Shabby chic describes this large space that sleeps up to four with 2 beds and 1 bathroom. The modern kitchen is a dream and you can watch the sunset from the nearby table!
Rooftop views are amazing, and when you can tear yourself away, you are within walking distance of all a downtown Minneapolis Airbnb could offer!
Please click here to check the rates on Airbnb.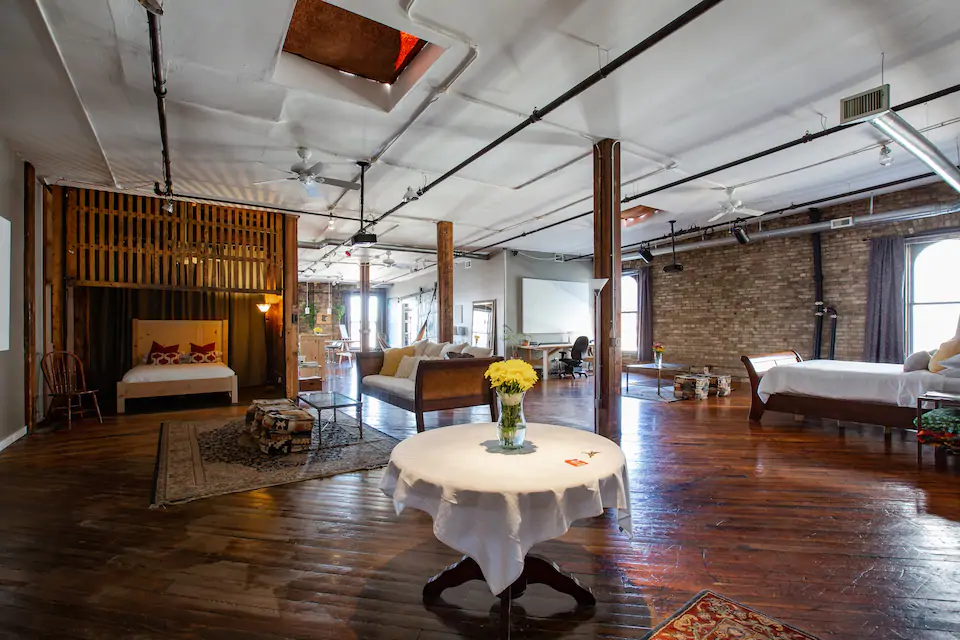 The Craftsman East Side Pioneer Home
Located close to downtown Rochester, this historic craftsman-inspired Airbnb in Minnesota is full of Americana charm.
Located in downtown Rochester, it sleeps six, with 3 bedrooms and 2 bathrooms.
The host has strived to fill this lovely two-story Minnesota Airbnb with American quality from the furniture to the bedding and towels.
The rooms are very spacious with hardwood floors throughout the house. The large kitchen is well-equipped with what you will need to prepare meals for your family or friends traveling with you.
Located within 5 minutes of the Mayo Clinic, there is also a bike/run/walk trail at the end of the street. Shopping and dining options are a few minutes away.
Click here to check the rates on Airbnb.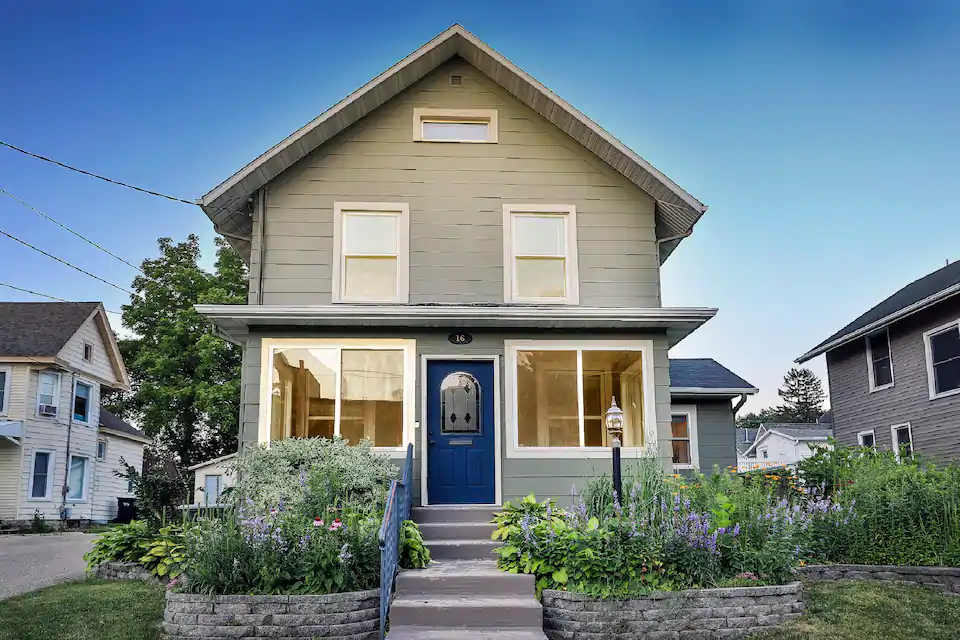 Charming Boxwood Cottage
Charming is indeed the word to describe this recently updated Airbnb in Minneapolis!
Once owned by an architect, it has interesting touches throughout, like an amazing staircase!
With hardwood floors throughout and spacious rooms, this cottage sleeps up to 6, with 3 bedrooms and 2 baths.
There is a lovely outdoor patio in the back of the house perfect for alfresco dining.
You will be within walking distance to two gorgeous lakes and amenities like restaurants and shopping!
This convenient Airbnb in Minnesota will win you over as soon as you step through the front door!
Click here for the rates on Airbnb.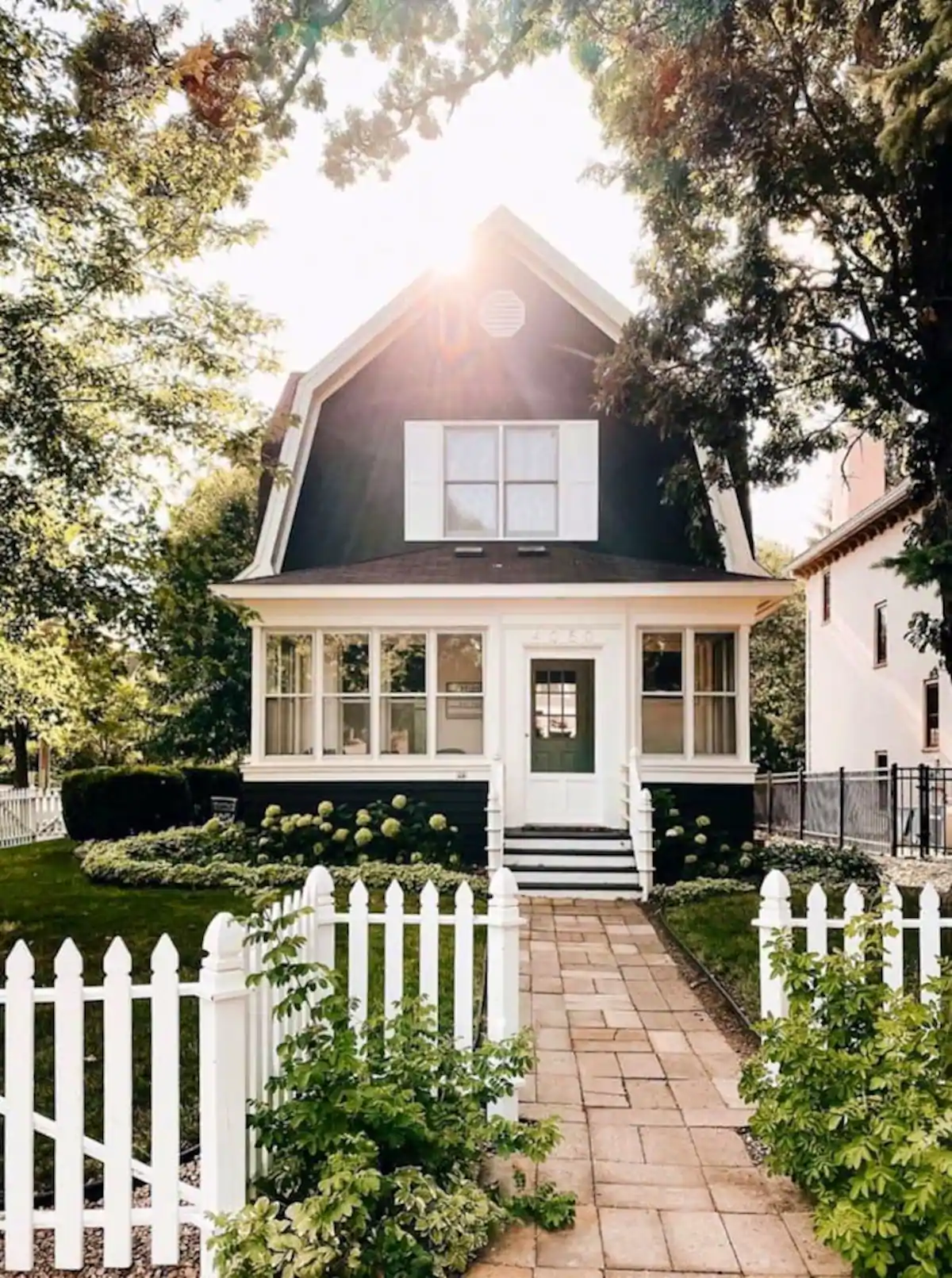 Atlas A-Frame Cabin On Lake Adney
If you are looking to get back to nature (any season of the year) or simply relax in a stunning location, Atlas A-frame merits your attention!
Able to sleep up to six guests, with 2 bedrooms and 1 bathroom, this is one of the best lake cabin rentals in Minnesota!
Close to amenities, you will want to unwind once you arrive. Located directly on Lake Adney and with 150 feet of shoreline, this is a splendid Minnesota cabins to do just that.
The interior has a bright Scandanavian minimalistic vibe with the living room, kitchen, one bedroom, and the bathroom on the first floor.
An additional bedroom, with killer views of the lake is up in the loft.
Swim and boat on Lake Adney, or in the winter take advantage of the extensive well-maintained snowmobile trails located close to the cabin.
No matter how you plan to spend your time here, you will have wisely chosen one of the best cabins in Minnesota!
Click here to see the rates on Airbnb.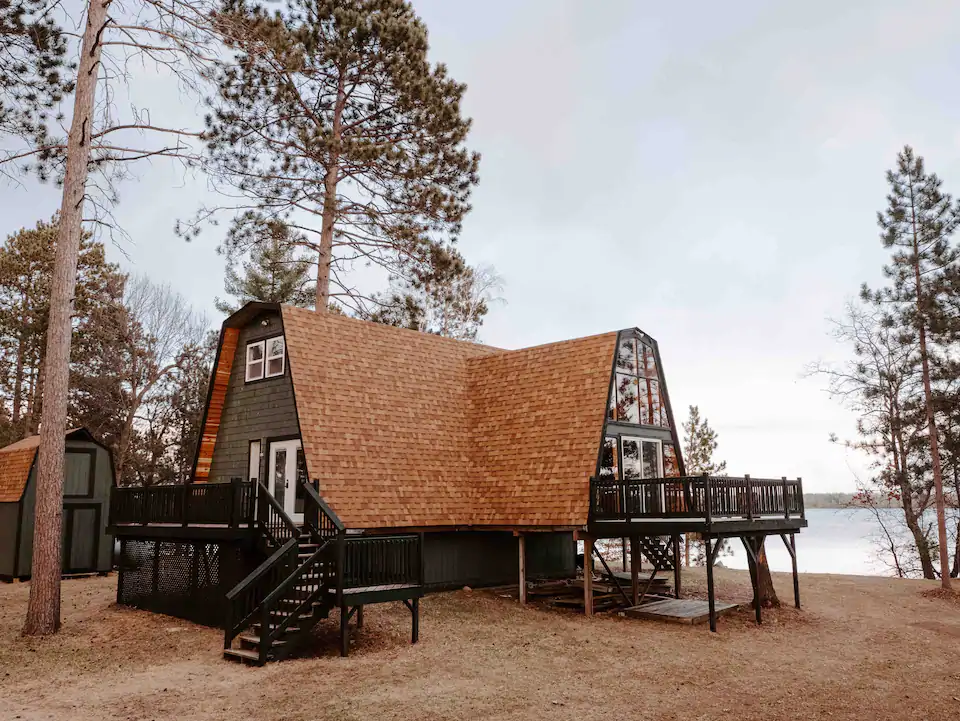 —
Packing List For A Trip To Minnesota
If you will be traveling, either by plane or by car to Minnesota, here are some tips on how to pack lightly.
A concealed travel pouch may be one of the most important items you bring along when visiting Kentucky. It is always important to protect your personal information. Identity thieves are everywhere.
This unisex RFID blocking concealed travel pouch is lightweight and comes in several colors. It has lots of organization to give you peace of mind.
You can place it under your hiking clothes next to your body to carry your ID safely.
If you have a pouch already that does not come with the RFID protection, as I do, these RFID sleeves are the perfect solution.
This configuration comes with enough credit card sleeves that the entire family would be protected. They are slim too, so they will easily fit into your pouch or wallet.
If you are planning on taking a lot of pictures with your phone you will definitely want to consider an external charging battery.
This Anker high-speed phone charging battery is the exact one I carry with me on all of my trips.
It can be used on a variety of phones, not just an iPhone like I have. And wow is it fast!
I like that it holds its charging capabilities for several uses so I do not have to worry about it while out and about, and if I forget to recharge it at night, it will still be good to go the next day.
My daughter gifted me with this FugeTek selfie stick and tripod setup for my birthday. I absolutely love it! It is made of lightweight aluminum and so easy to use.
It has Bluetooth connectivity and is a breeze to use for taking selfies when staying in one of the best Airbnbs in Illinois.
Hydration is so important when traveling.
You want to remain hydrated throughout your travels to support your immune system which in turn will be stronger to fight off any germs you will encounter during your travels.
You will want to bring your own refillable water bottle with you.
I never leave home on a trip without my Bobble filtration bottle. The 18.5-ounce size is perfect for hiking and it fits nicely in the pocket of a backpack.
When filled with water, it is not too heavy to carry. And the charcoal filter ensures fresh clean water whenever you fill the Bobble.
You can find filter replacements here.
Perhaps you are traveling a long distance and packing space is a premium in your suitcase, or in your car.
Then this set of collapsible silicone foldable water bottles would work well for you. Would not take up much space at all.
You will want a backpack or daypack with you to store snacks, your water bottle, phone, extra clothes, etc.. when hiking This foldable water-resistant backpack would be great
It is very affordable and is available in many color options for you to choose from. The fact that it folds down into a zippered pouch will make it easy to pack.
—
Here I have suggested to you 11 of the best Minnesota Airbnbs for you to enjoy.
I hope I have inspired you to stay at one or two of them. And if you do end up staying at one of these amazing vacation best Minnesota Airbnbs,, please share your experience here in the comments.
Please be advised that Linda On The Run is an Amazon Affiliate and earns a stipend from qualifying Amazon purchases.