Are you looking for the best Pennsylvania Airbnb?
The Keystone State definitely has a lot to offer. Located in the northeastern United States, It has the Appalachian Mountains running up its spine.
With an impressive history, large cosmopolitan cities, and diverse cultures within it, Pennsylvania is truly a great destination to explore.
If your travels are bringing you to Pennsylvania, or you are simply looking for a weekend getaway, allow me to help you with your accommodation decisions!
For you, here are 10 of the best Airbnbs in Pennsylvania.
Experience Pennsylvania like a local by staying at an Airbnb. Get a $55 Airbnb coupon by using my code when you book!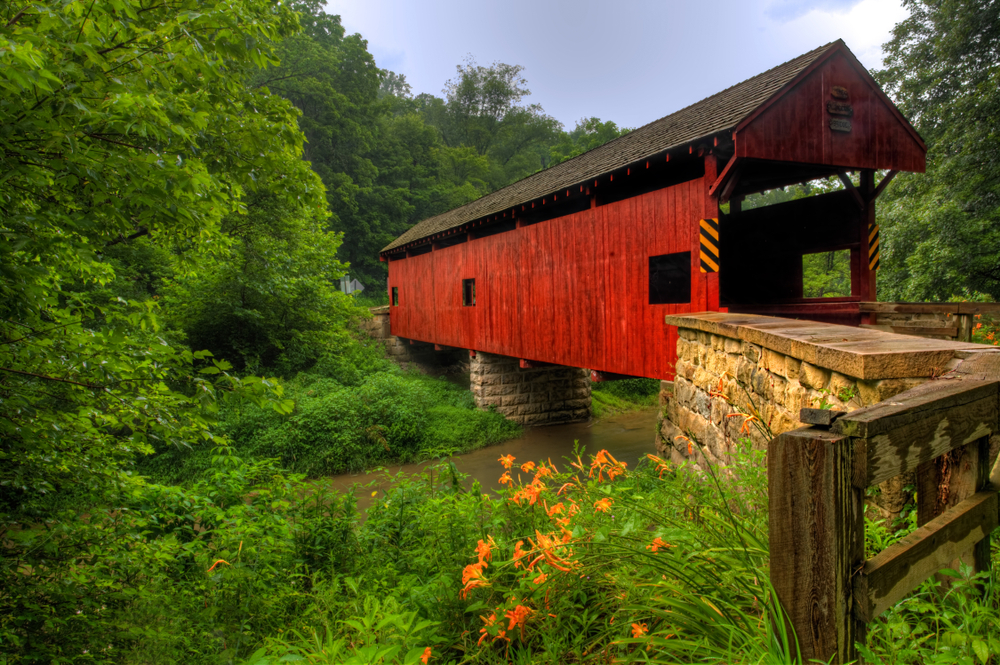 10 Best Airbnbs in Pennsylvania (Barns, Bungalows, & More)
The Treehouse At Fernstone Retreat
Much like the visions of treehouses you had as a child, this beautiful rustic tree house is surrounded by woods and situated near Ohiopyle.
Able to accommodate to 2 guests, with 1 bedroom and 1 bathroom, here is glamping at its finest.
Constructed with natural timber, there is a beautiful grand staircase leading up into the treehouse.
Large timber beams uphold the house, and recessed lighting enhances the wooden roof and its beams.
Here is where you come for your digital detox and to reconnect with nature.
Pets are permitted with advance notice.
The Treehouse At Fernstone Retreat is one of the best treehouse rentals in Pennsylvania!
Click here to check the rates n Airbnb.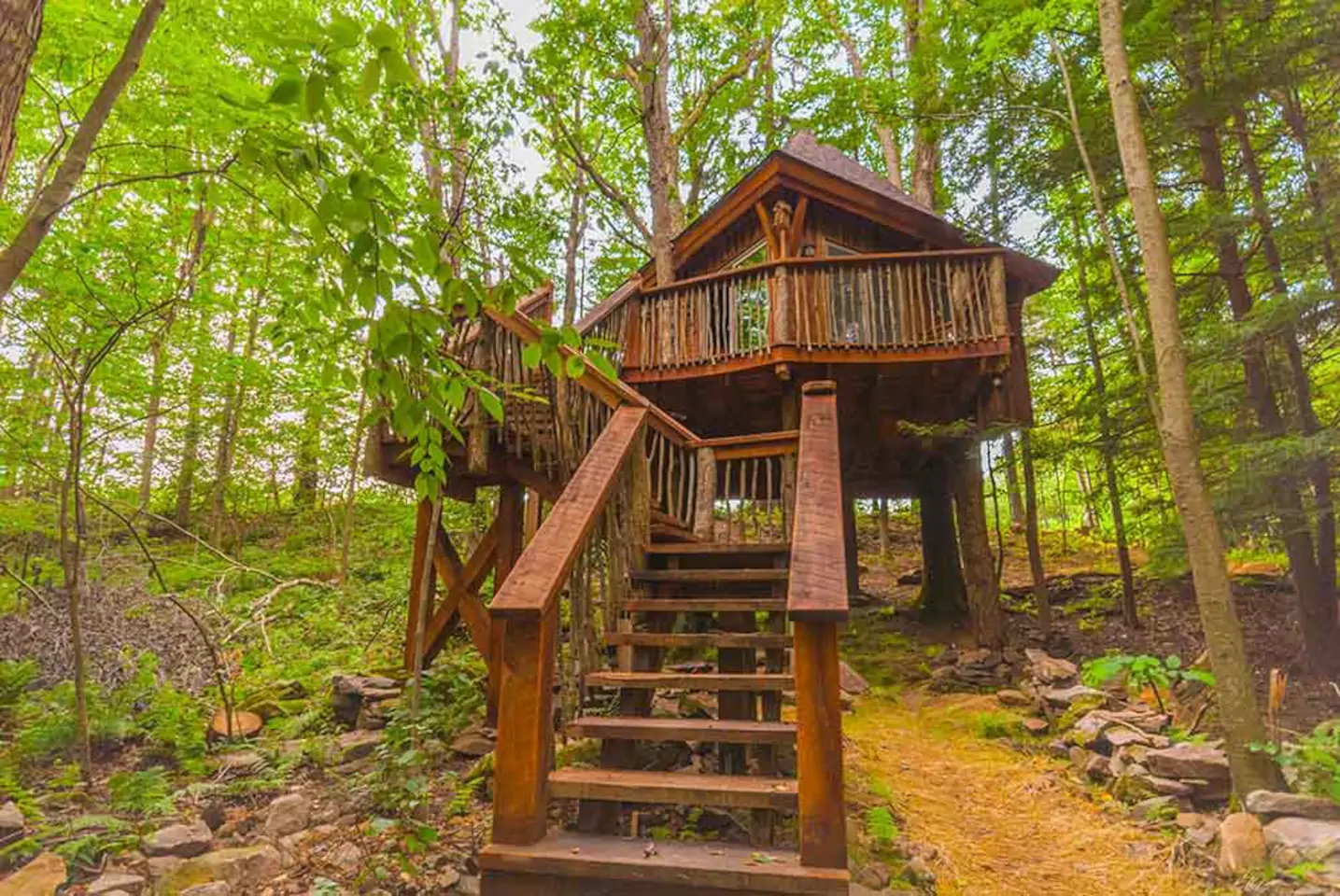 Modern Firetower Chalet With Majestic Views
Built in 2016 based on the fire towers out on the west coast, the Modern Firetower Chalet is a 2-story compact Airbnb.
Located near the charming town of Bloomsburg, yet so remote, this newly-built retreat was designed with your every comfort in mind!
There is a wraparound porch on the second floor that offers incomparable panoramic views of the 60 acres the chalet sits on.
With a full kitchen, bathroom, and upstairs bedroom, it is able to accommodate up to 4 guests.
You may choose to make use of the myriad of trails on the property or finish off your days having smores using the firepit and patio.
This fire tower chalet, with its majestic, seemingly endless views, is the best Pennsylvania Airbnb!
Click here to check the rates on Airbnb.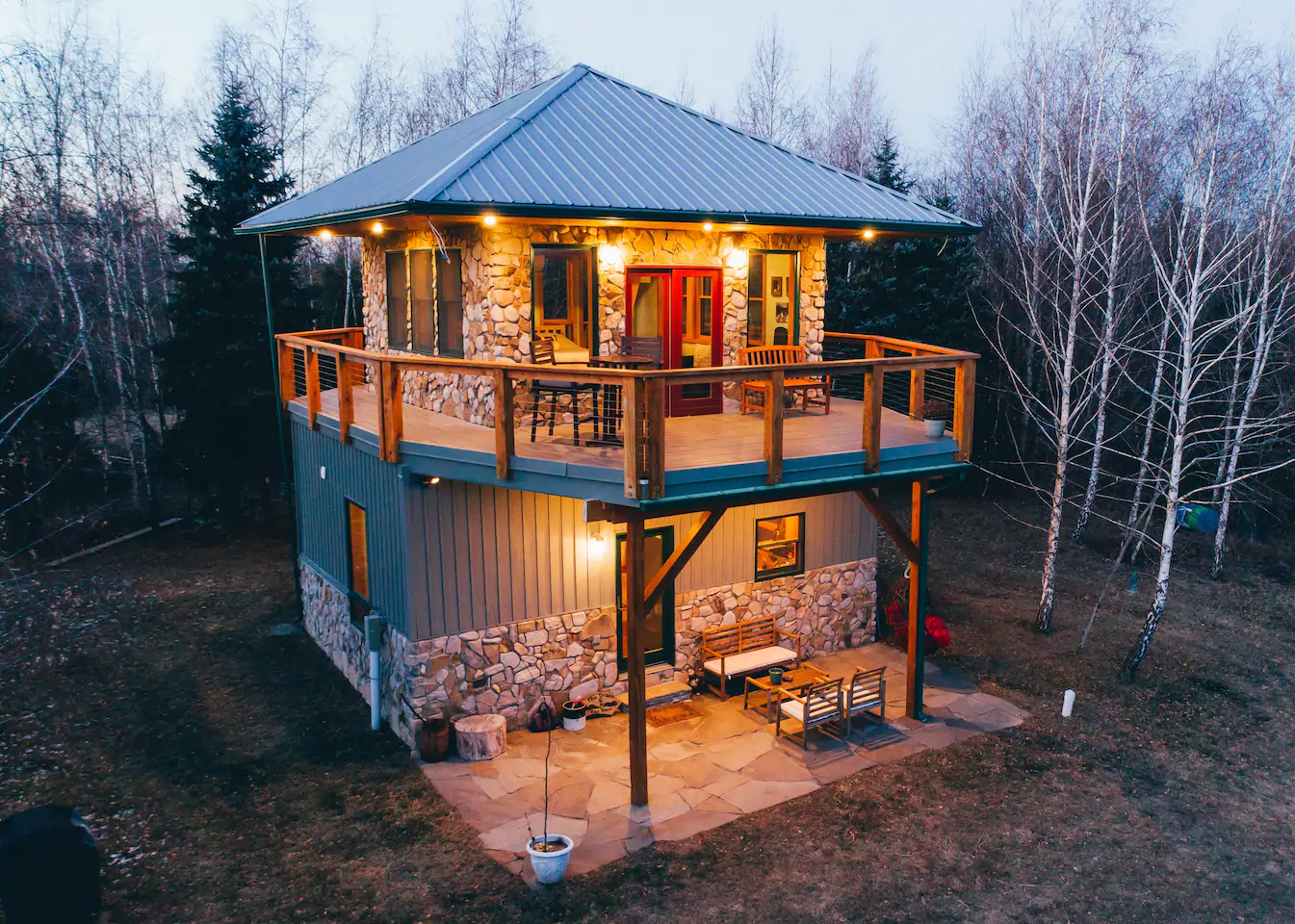 Glamping At Airydale (Near Raystown Lake!)
The ultimate adventure-lovers dream come true, Glamping at Airydale provides a luxury experience during your next camping trip.
Amenities are aplenty. Glamping in the springtime means warm water for showers and washing dishes (bottled water provided for drinking.)
Glamping in the fall, with the blazing autumnal colors surrounding you, means having a heater in your tent to ward off the chill. The host suggests you bring warm clothes and extra blankets as well.
Possibly the showers will be turned off for the winter due to the cold weather.
Your glamping tent will include basic cookware and a propane camp stove. Perhaps you can enjoy your morning coffee of breakfast out on the 14′ x 24′ deck.
A fire ring is located in front of your tent, and the host has firewood for sale.
Glamping is a unique experience, and this is the best Pennsylvania Airbnb to consider.
Click here to check the rates on Airbnb.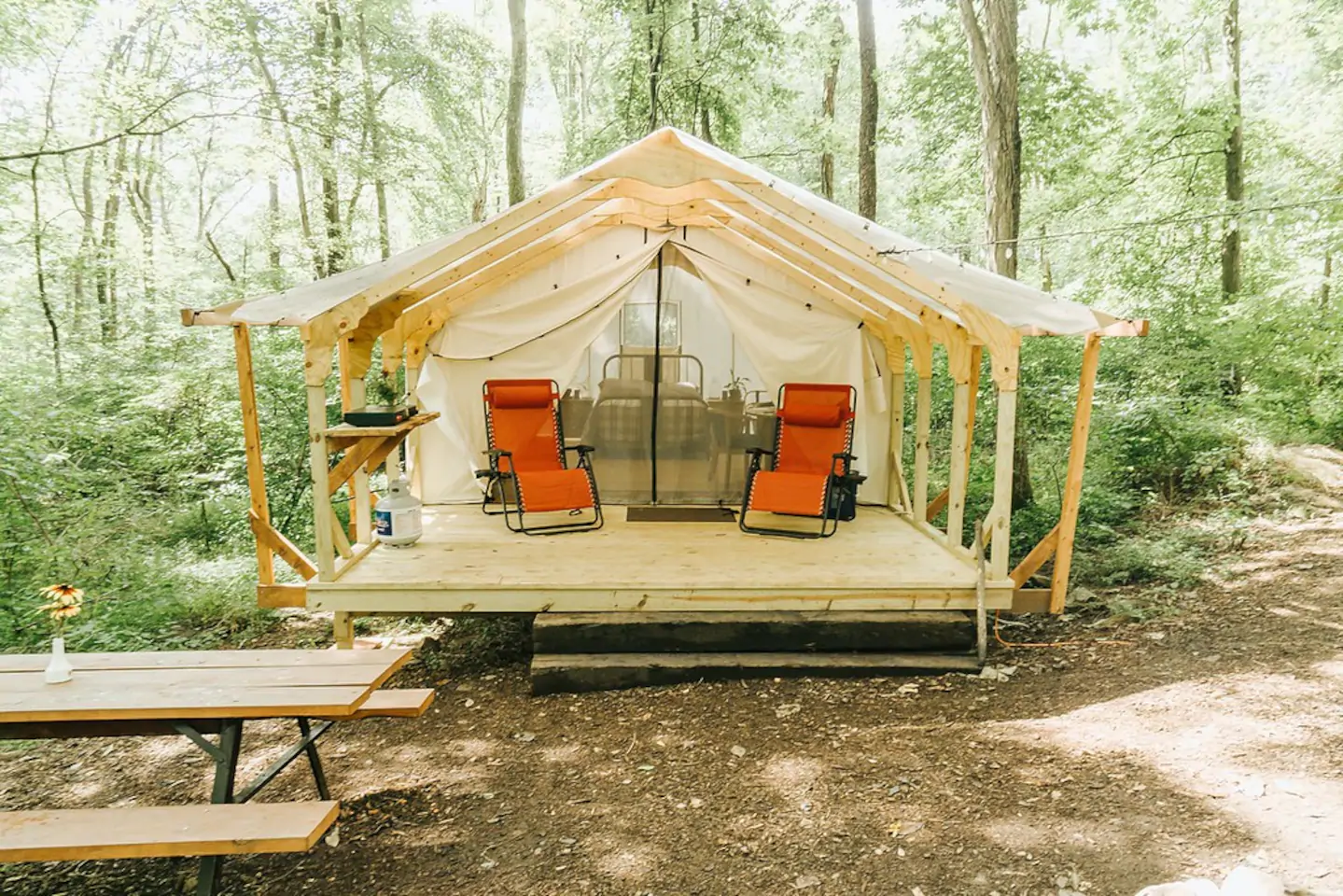 1941 Restored Vintage Caboose With Wifi
Here you have the unique opportunity to stay in a beautifully restored caboose in a historic train station!
Retrofitted to include all modern conveniences, this 1941 restored vintage caboose is located off Interstate 80 and Route 220.
Able to accommodate 2 guests, with twin beds, and a bathroom, there is wifi for your pleasure.
Remodeled to its original condition, this caboose has all the comforts of home: running water, flush toilet, air conditioning, and heat. The eat-in kitchen has a Kuerig and microwave.
Right adjacent to the caboose is a kiosk containing the history of the railroad station.
This caboose is the best Airbnb in Pennsylvania offering such a unique experience!
Click here to check the rates on Airbnb.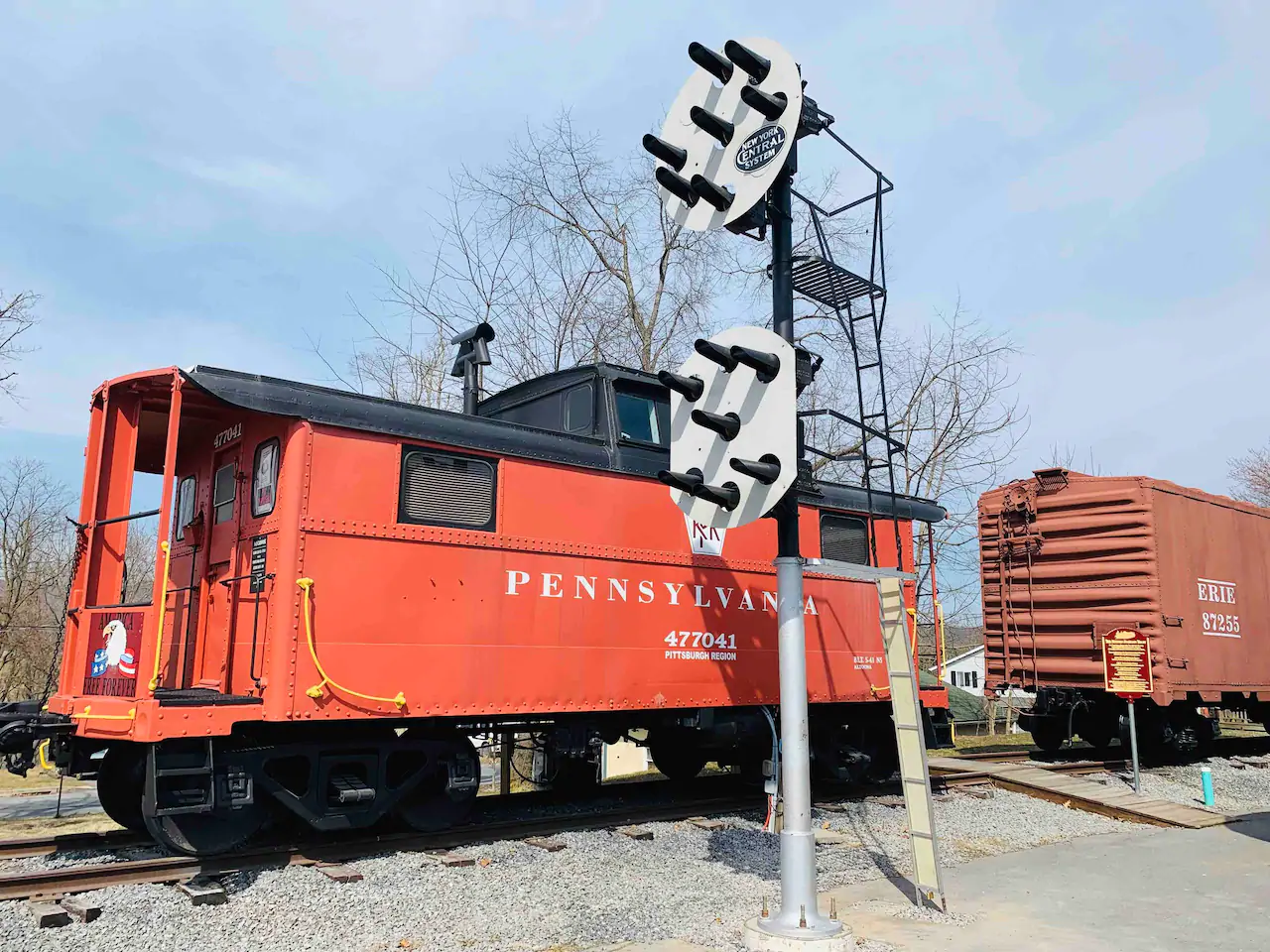 Mid Century Modern Getaway With Outdoor Hot Tub
Located in Wernersville, this midcentury modern getaway sleeps four, has 2 bedrooms, and one bath.
It sits above a lovely mountain stream and has the midcentury modern flair that is so very popular.
A beautifully appointed kitchen with a large dining and living room make this a more modern best Pennsylvania Airbnb.
A 60″ television and year-round hot tub are there for your convenience.
While situated in a quiet spot, a quick 15-minute drive will bring you to shopping and dining options.
Click here to check the rates on Airbnb.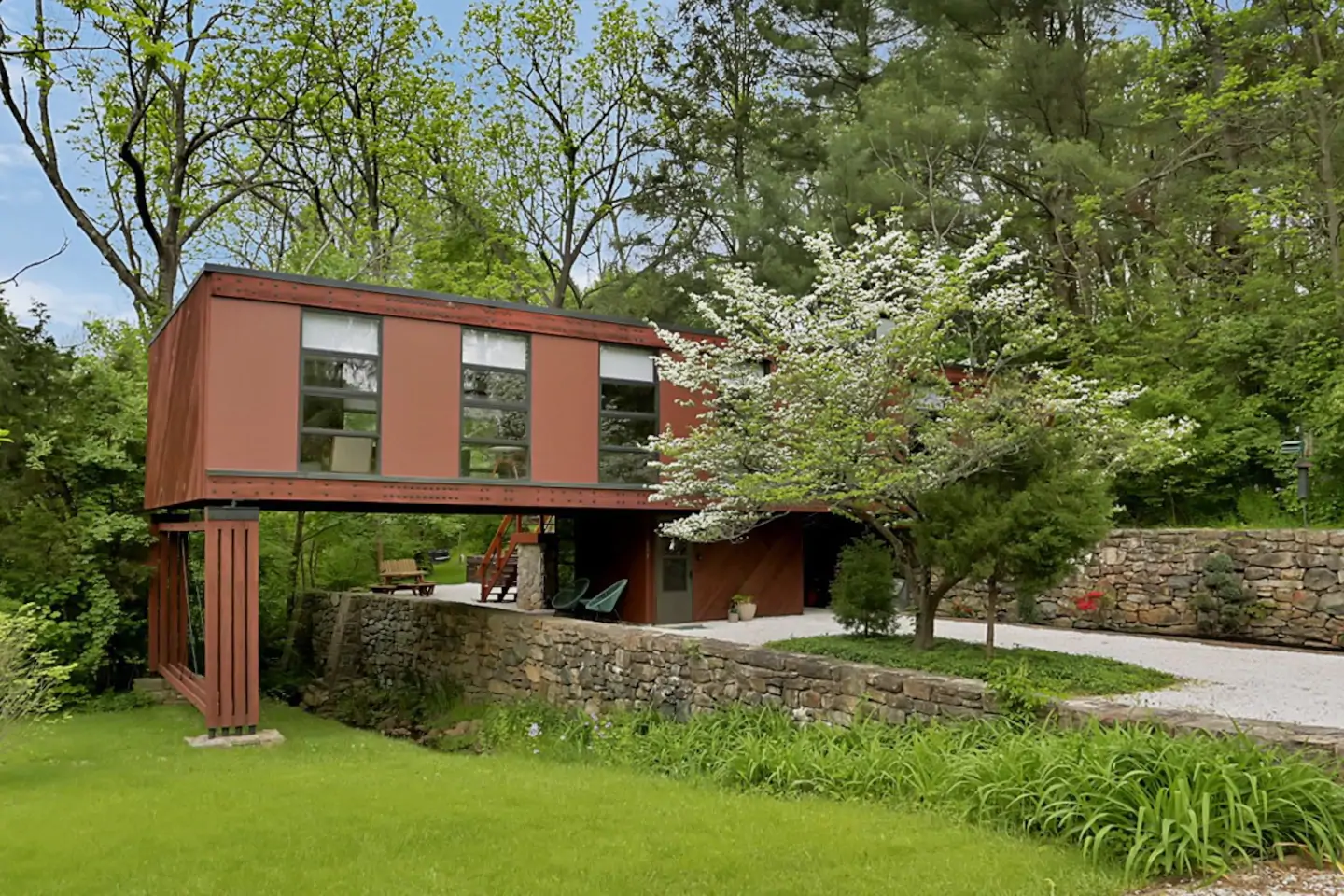 The Alder House – A Cabin In The Poconos – One Of The Best Pennsylvania Airbnbs
Located in the heart of the Poconos, the Alder House is definitely a mountain retreat.
The interior of the cabin was designed by the hosts, who are interior designers, so attention to detail is superb.
Able to accommodate 7 guests, it contains 2 bedrooms and 2 bathrooms.
There are plenty of amenities to take advantage of in this quiet cabin neighborhood. And the nearby Delaware River Gap offers unlimited choices for outdoor enthusiasts!
The Alder House with all of its amenities is certainly the most unique Poconos Airbnb.
Click here to check the rates on Airbnb.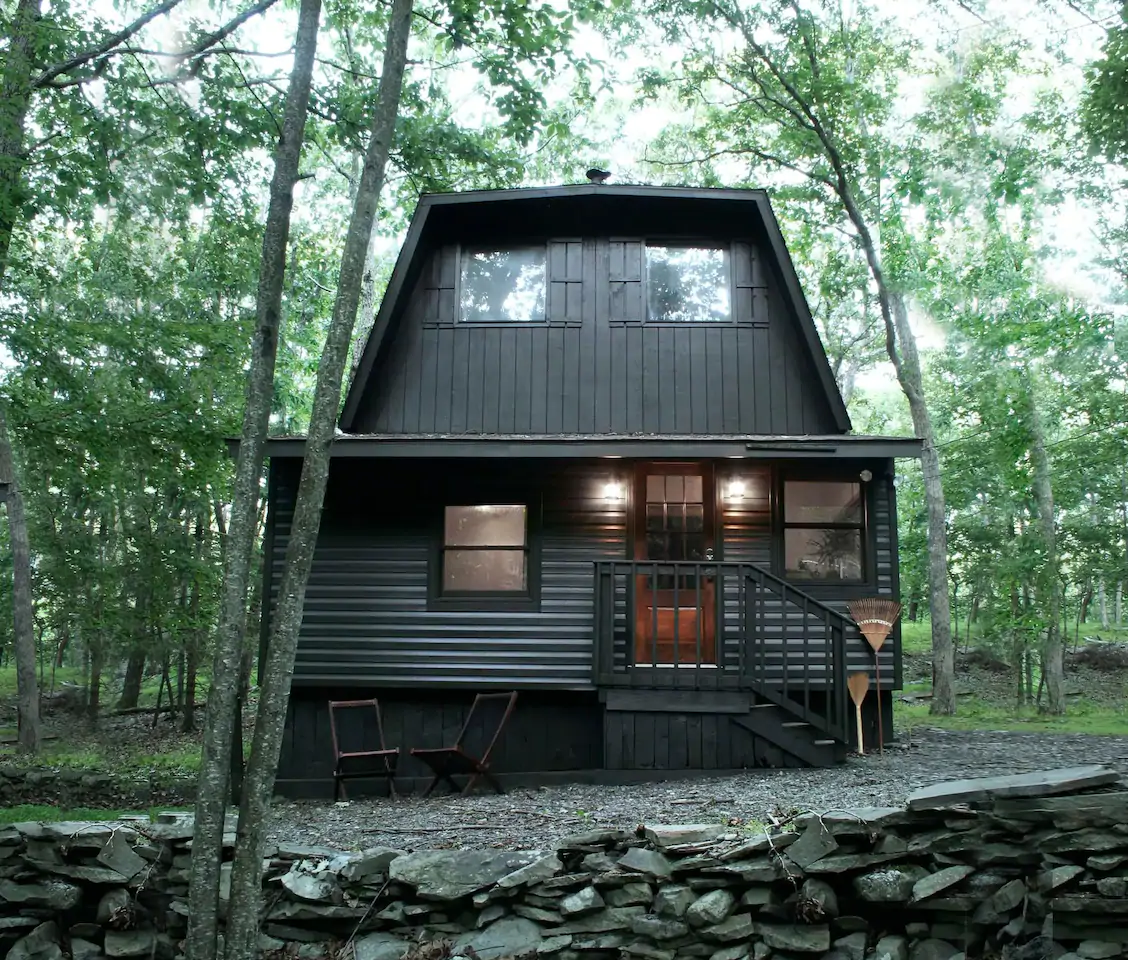 Enchanted Garden Retreat Is A Best Pennsylvania Airbnb
A charming stone carriage house located on two acres (near enough yet far away enough from the main house) reminiscent of southern France, can be your quiet retreat.
Able to accommodate 2 guests, with 1 bedroom and 1 bath, this lovely location with its well-manicured gardens is the perfect solution to burnout.
You will have access to the entire grounds which include a lovely gazebo to relax and unwind at, and a swimming pool to destress (opened seasonally.)
This enchanting property, with inviting gardens, is one of the best Airbnbs in Pennsylvania!
Click here to check the rates on Airbnb.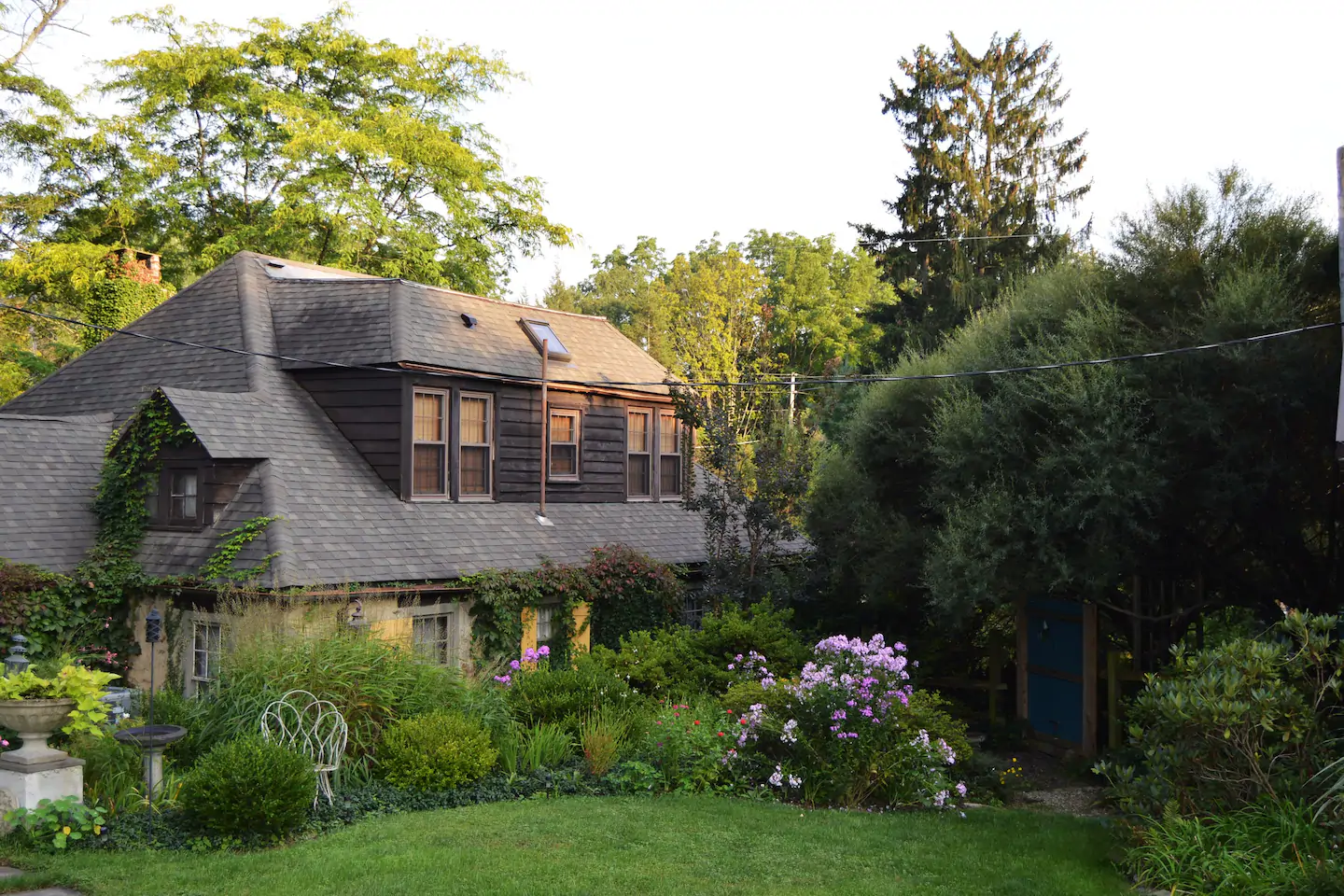 Cabin On The River Is A Woodsy Pennsylvania Airbnb
This rustic cabin on the river is a superb destination no matter what time of year you choose to visit!
Situated steps from the edge of Penns Creek at the end of a long dirt road, you can watch beautiful sunsets from the deck, and make s'mores at the fire pit.
Enjoy the entire cabin which sleeps 7, in 2 bedrooms, with 1 bath.
The host has two kayaks for you to use, and there is a myriad of hiking and ATV trails to explore. The cabin is very close to numerous forests and parks to take advantage of.
With a fully-stocked kitchen and a rustic flair throughout, this is one of the best cabins for rent in Pennsylvania.
Click here to check the rates on Airbnb.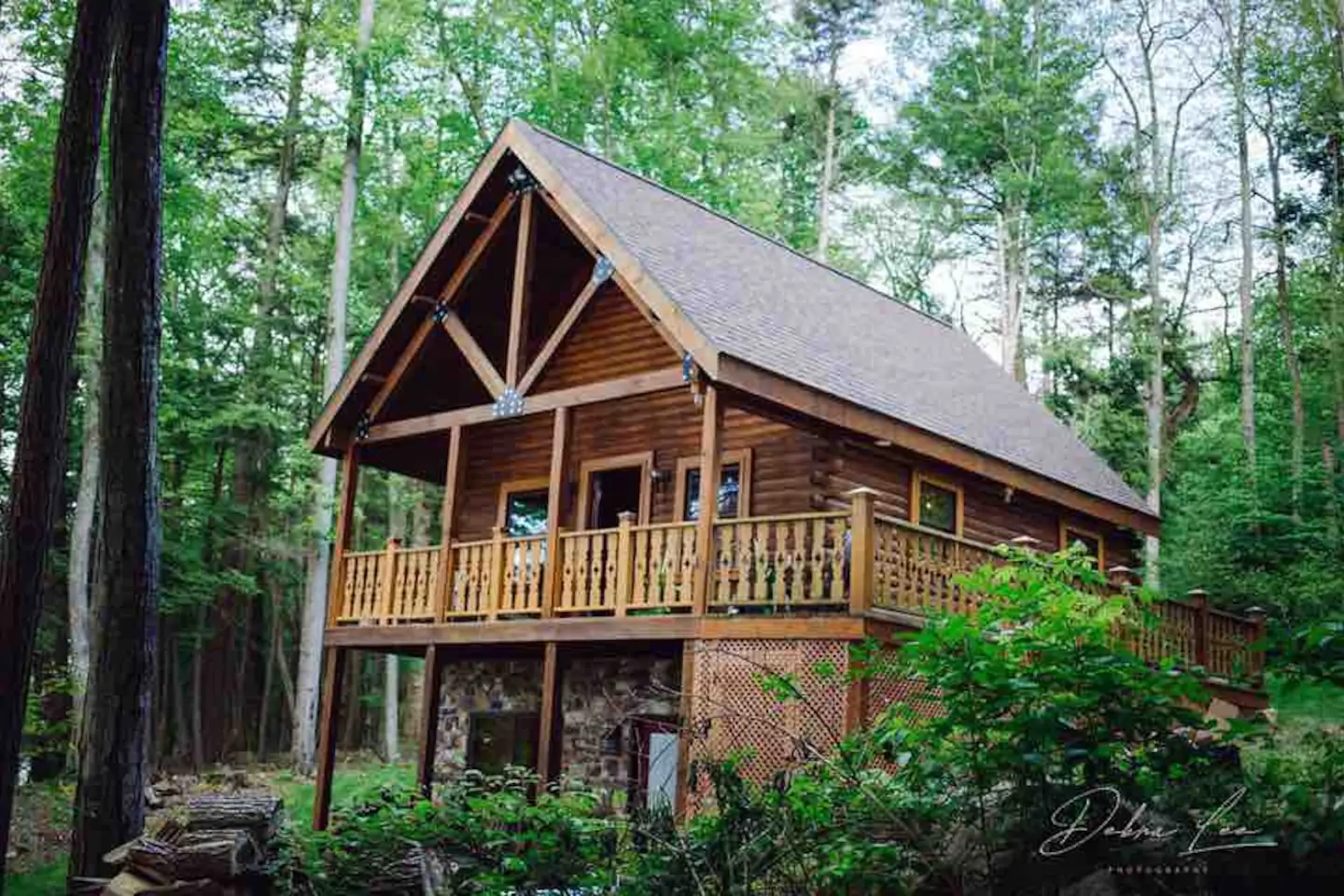 Beautiful Repurposed Barn
Open space living at its finest can be had at this beautifully repurposed barn in Lancaster County.
Able to accommodate up to 7 guests, with 1 bedroom and 1 bathroom, flexibility is key. With an open upstairs there are couches that open up for sleeping.
A charming rustic flair can be felt throughout, with heat, a/c, and wifi.
There is shared access to all outdoor amenities including a spacious pool, hot tub, and barbecue grill.
You will have all the modern conveniences at your fingertips at this barn Airbnb in Pennsylvania.
Click here to check the rates on Airbnb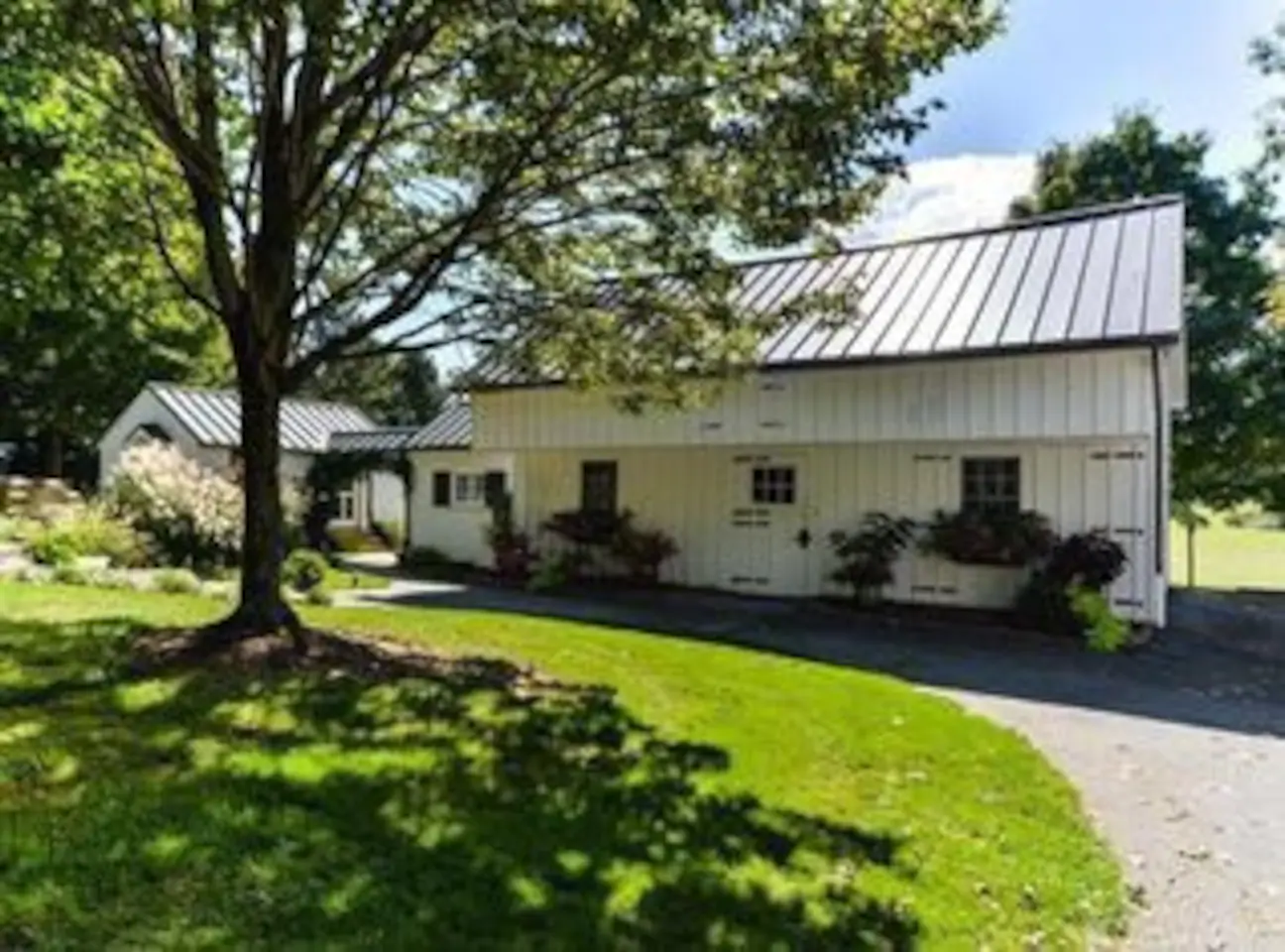 Bitty Bungalow – Curious About Tiny House Living?
If you find yourself near Erie or planning a vacation to Lake Erie, then the Bitty Bungalow is worth looking into. It is definitely the best Pennsylvania Airbnb to check into!
Newly renovated, this tiny house opportunity is centrally located to everything Erie has to offer. Presque Isle beaches, Waldameere/Water World, and two universities nearby.
Able to house 2 guests, with 1 bedroom and 1 bath, it is newly renovated and offers everything needed for a pleasant stay.
This cute tiny house is the best Airbnb in Pennsylvania offering convenience, amenities, and a great location.
Click here to check the rates on Airbnb.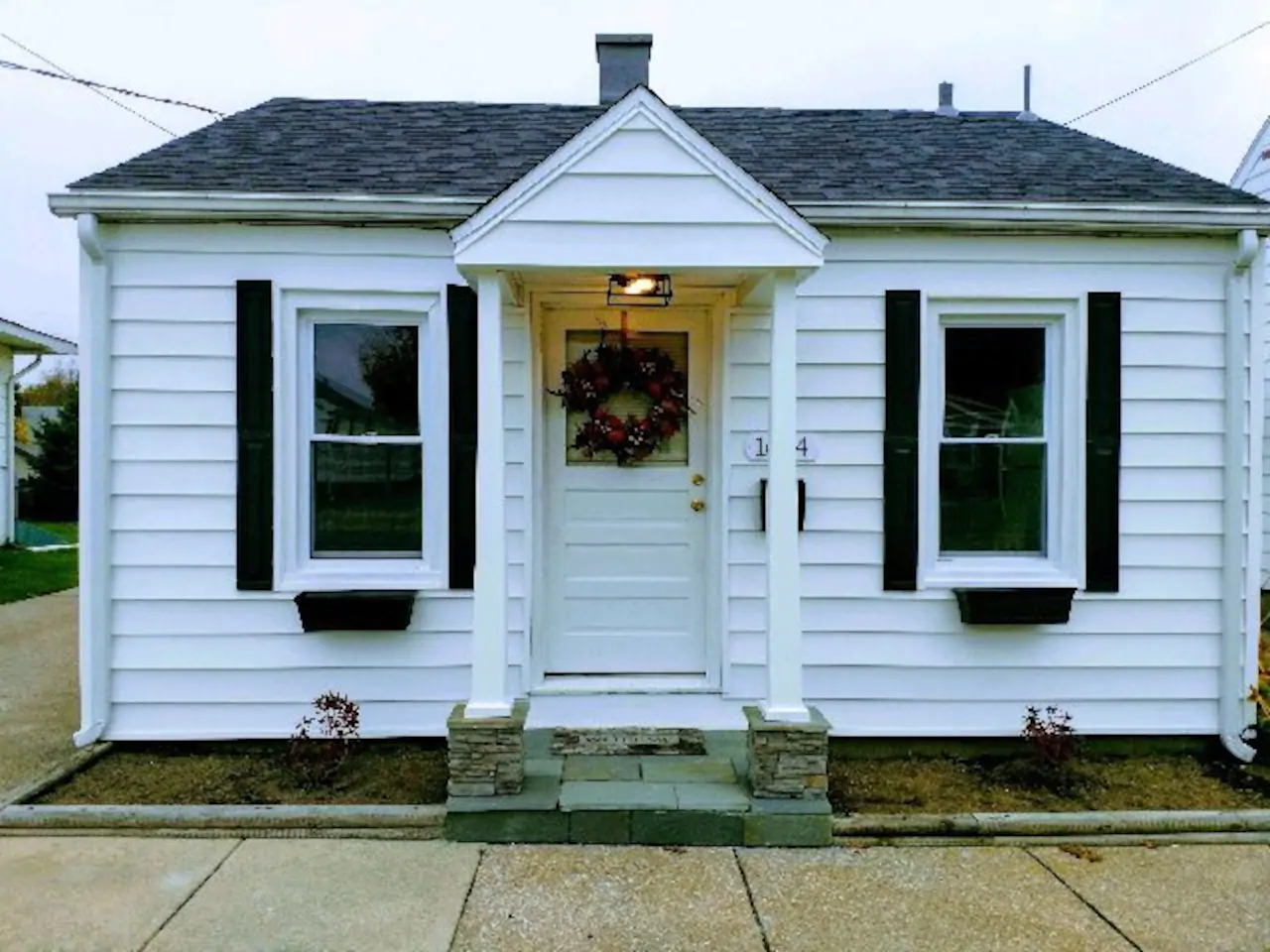 If you are planning a trip to Pennsylvania or a weekend getaway, here you have 10 of the best Pennsylvania Airbnb for inspiration!
If you want some packing tips, read my suggestions for packing lightly!
Leave a message in the comments below if you chose to stay at one of these epic Airbnbs in Pennsylvania and how you got along there. Have a great trip!