Are you looking for the best Airbnbs in Alaska?
I love Alaska. It is my heaven on earth. I have visited the North Star State several times, road tripping the entire state.
Alaska has some of the most jaw-dropping scenery on the planet. And offers some of the most exciting opportunities to get up close and personal with nature.
Here I have listed 12 of the best Airbnbs in Alaska for your consideration.
I hope your stay in Alaska helps you fall in love with it as much as I do!
Read 9 things to know before traveling to Alaska to help get you started with your planning.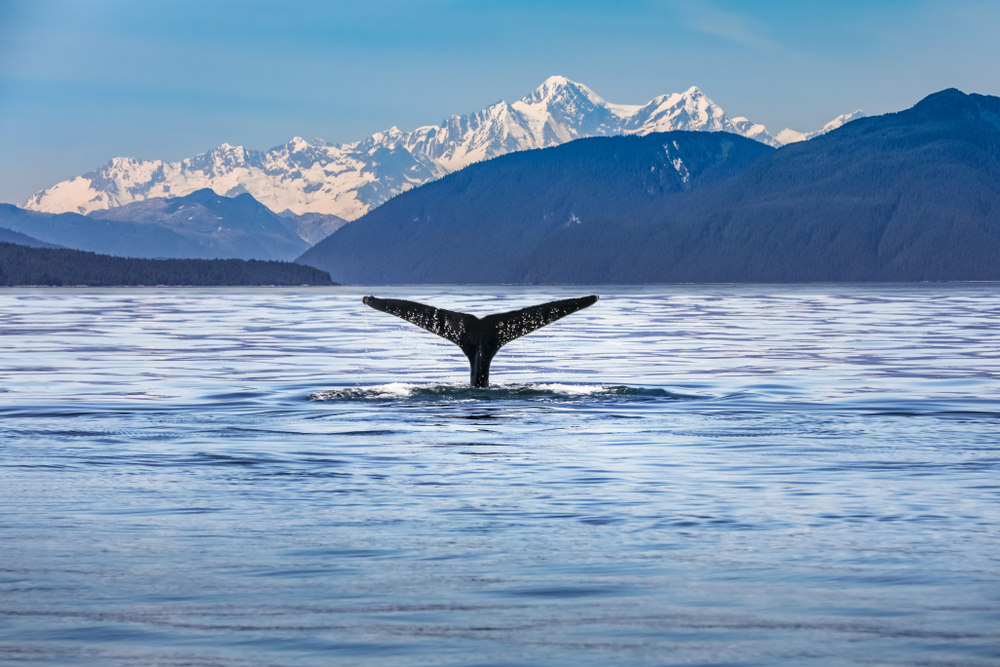 12 best Airbnbs In Alaska (Cabins, Yurts, & More)
Snow City Hideaway
When staying in Anchorage you want two things that this private guest suite offers: to be downtown, and to have epic views!
Located in the Bootleggers Cove neighborhood, Snow City Hideaway is one block from the Coastal Trail and all the amenities of downtown Anchorage.
Able to accommodate up to four guests, there is one bedroom and an additional futon out in the main living area.
Walkable to the shops, breweries, and restaurants in downtown Anchorage, this Alaska Airbnb has mountain and ocean views for days! A fully self-contained kitchen awaits you with everyday amenities.
For sunrise and sunset viewing, there is an outdoor patio for your convenience.
To make your planning easier, read 21 things to do in Anchorage.
For the location, this Airbnb in Anchorage is a great value!
Click here to check the rates on Airbnb.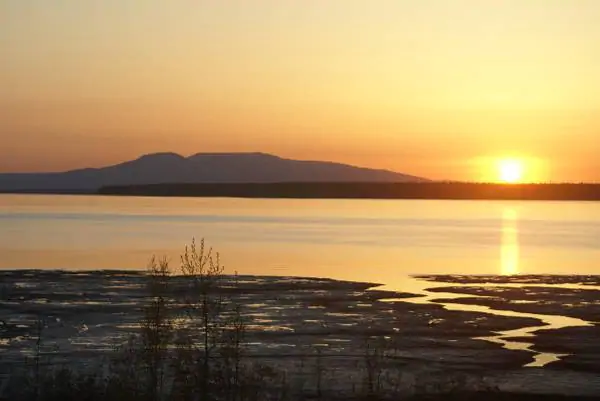 Alyeska Hideaway Log Cabins "Glacier Cabin"
Glacier Cabin is located in the cute resort town of Girdwood, Alaska, just south of Anchorage.
It sits on the border of the Chugach Forest. With stunning views and hiking/running trails within steps of the back door, this property is high on the list of best Airbnbs in Alaska!
Read about the sights from Anchorage to Seward on the Seward Highway here.
This private 400 square foot one-bedroom cabin has a bed on the first floor and another in the loft area. It sleeps four.
It has a fully functioning kitchen as well as a bathroom with a claw tub.
The iconic Alyeska Resort is nearby. It has world-class skiing in the winter and hiking in the offseason. Do not miss out on the tram ride to the top.
Whether you visit Girdwood in summer or winter, this is a fantastic Alaska Airbnb.
Click here to check the rates on VRBO.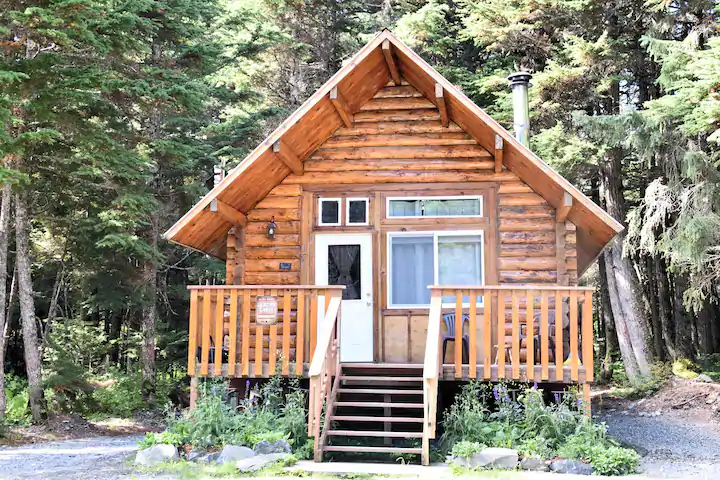 The Hobbit Cabin, Cozy and Unique
Calling all hobbit fans! Do not miss this opportunity to live like a hobbit!
Featured on HGTV, this mighty tiny house is a five-minute drive to Talkeetna, Alaska, the staging area for those aspiring to climb Denali.
This quirky Alaska Airbnb is situated on a lake. Enjoy your morning coffee, or plan to have dinner on the patio overlooking the pristine blue lake waters.
The cabin's interior has rustic Alaska decorations and an outdoor sod roof. The impeccable landscape utilizes local Alaskan flowers.
If you are road-tripping Alaska, read my Alaska itinerary for some tips.
This is the perfect location to stay when exploring the artsy and outdoorsy town of Talkeetna. Perfect for a stopover on an Alaskan road trip. This is one to consider!
Click here to check the rates on Airbnb.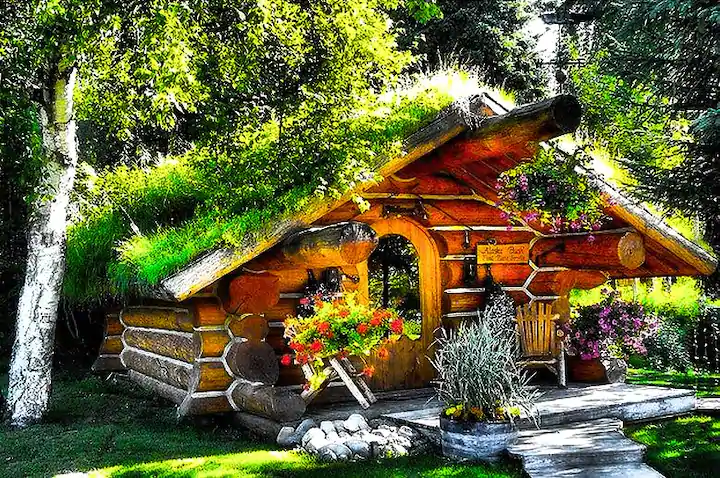 Coffee House Cottage in Seward
Seward is where the ocean greets the mountains. Located 120 miles south of Anchorage, it is one of the most scenic seaside towns in Alaska.
And this cute little cottage just steps away from Seward's downtown and Main Street is an ideal Alaska Airbnb to consider!
Situated behind the local coffee house, it is close to all Seward amenities, yet private and quiet. It is also in a great spot to take in the scenic views of Seward.
Here are 11 things to do in Seward, to help make your planning easier. And you really must not miss visiting Exit Glacier.
This Seward Airbnb is compact, yet offers everything you will need for a comfortable stay. A functional kitchen, queen-sized bed, and a heater for those chilly Seward days are at your fingertips.
Whether you sit on the patio and check out the views, or go and discover all Seward has to offer, this Seward Airbnb has a lot of offer.
Click here to check the rates on Airbnb.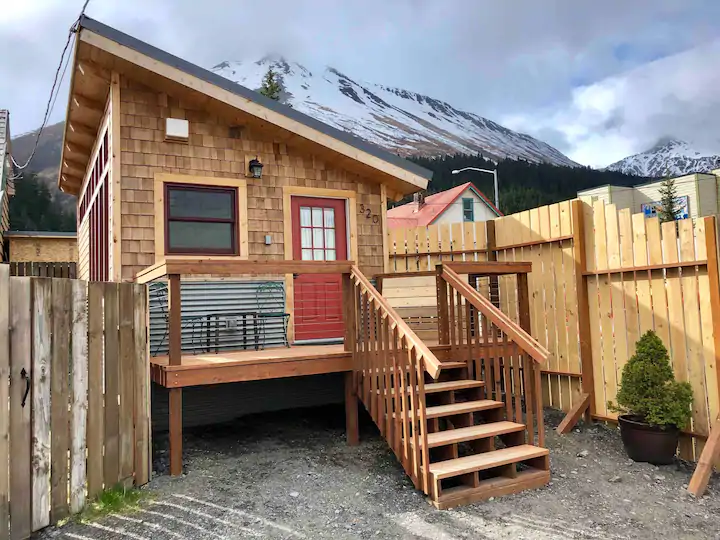 Sven's Tree House in Fairbanks
Fairbanks is about 400 miles north of Anchorage, and the gateway to the Arctic Circle.
Hidden up in the trees of Fairbanks, Alaska, this Fairbanks vacation rental is where adventurers of all kinds go to begin their journey. Or celebrate it when it is completed.
This is indeed a treehouse that provides a private and unforgettable experience.
Located close to amenities, the treehouse accommodated two high up on the treetops!
Read about 13 of the most picturesque towns in Alaska you should visit.
You get to your treehouse by ascending a wooden staircase and there is even a swinging bridge.
The views from the private porch of the surrounding forest are unforgettable.
The kitchen and bathroom/shower are located on the ground level in the communal space. (Bring quarters for the shower.)
Hiking. Biking. Canoeing. All the finest the Alaska wild has to offer is within reach at this Fairbanks Airbnb.
Click here to check the rates.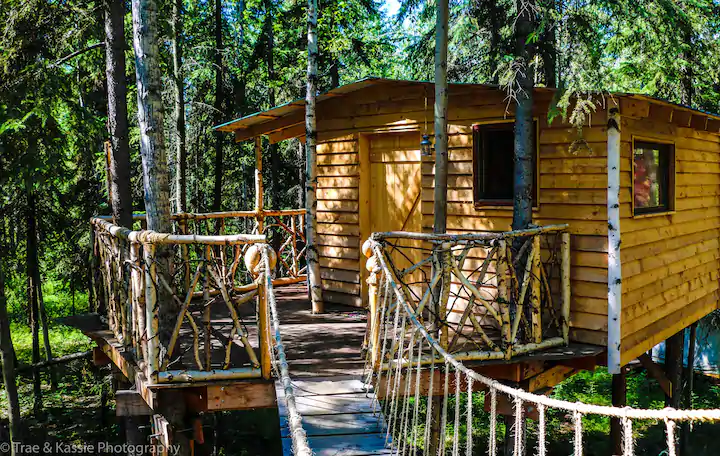 Douglas Island A-frame Cabin In The Woods In Juneau
No need to look any farther for a place to stay than this cute and cozy A-frame cabin when visiting Juneau!
Located about ten minutes from downtown Juneau, this charming A-frame cabin has all the creature comforts you could want.
With two bedrooms and one bath, it can accommodate up to 4 guests.
Close to public transportation if you need it, the hosts are happy to assist with information on local guides, bike, and kayak rentals, and the local scene. Juneau has great breweries and restaurants!
If you are considering taking an Alaskan cruise, read my Alaskan cruise packing list.
This A-frame cabin, located in a tranquil forest comes with many amenities to make your stay more comfortable, such as private entrance, washer/dryer, ready for your kitchen, and stocked bathroom.
This Airbnb Juneau is brimming with great reasons to stay here!
Click here to check the current rates.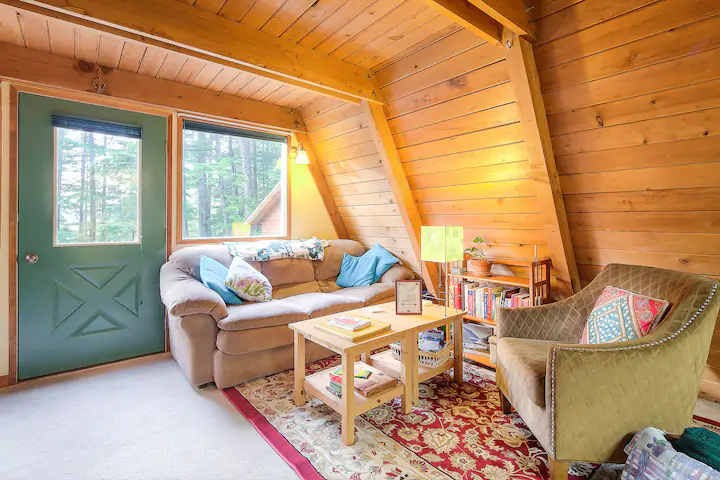 The Ketchikan Cabin At Kenai Lake
How does glamping in Alaska sound? Adventurous, right? This Alaskan lakefront cabin, located in the heart of the Kenai Peninsula is luxury adventure.
It is off-grid, but not remote, being located close to the immensely popular Seward Highway. Inside is so quaint and cozy from the propane lights to the wood stove.
Situated directly on the shore of Kenai Lake, you are mere steps away from the lake from the front door. The immense front balcony invites you to end your days with a glass of your fave beverage while using the BBQ grill to make dinner. Or starting off your day with a warm cup of coffee.
Adjacent to the cabin is a sauna for guests to relax and unwind.
This VRBO in Alaska may be just what you need to relax, unwind, and rejuvenate!
Please click here to view the current rates on VRBO.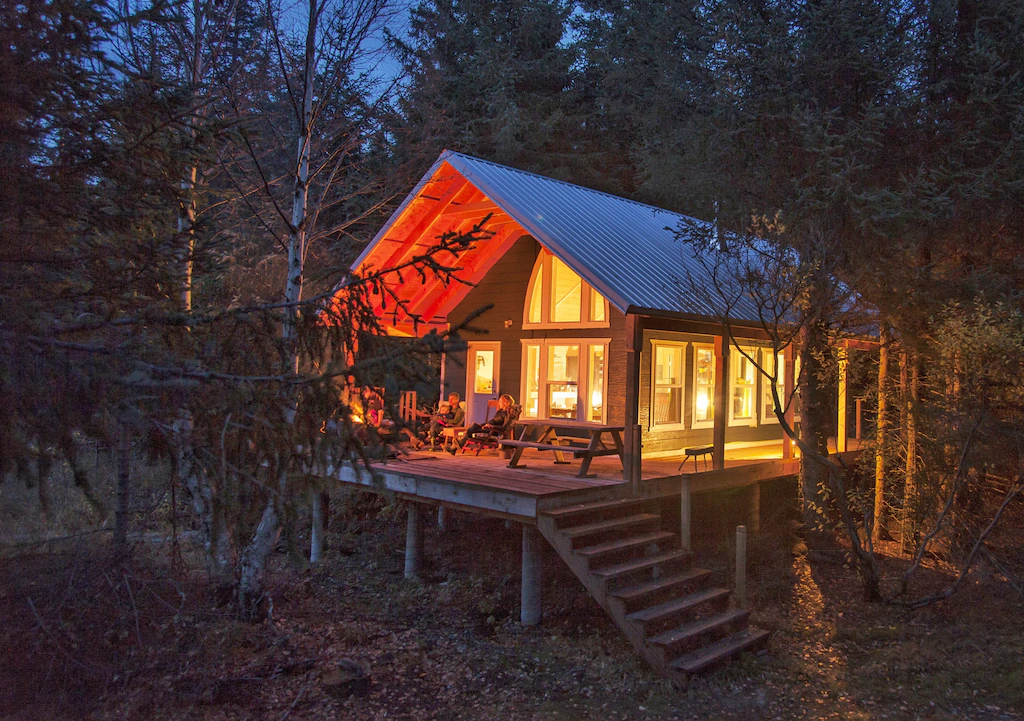 Kade's Cabin, An Alaska Airbnb In Valdez
This portable cabin home is conveniently located in downtown Valdez and close to all amenities.
With two bedrooms and two beds, this Alaska Airbnb can accommodate up to four guests.
The cabin offers a full kitchen, washer, and dryer, floor heat, and a fireplace.
Because of its great location in Valdez, it is close to shopping and gas stations. The small boat harbor is a great place to go for viewing sea life, and there is a myriad of museums, and restaurants to explore.
Delightfully decorated with a mix of Alaskan art and photography, Kade's Cabin has just about everything for the perfect stay in Valdez.
Click here to check the current rates.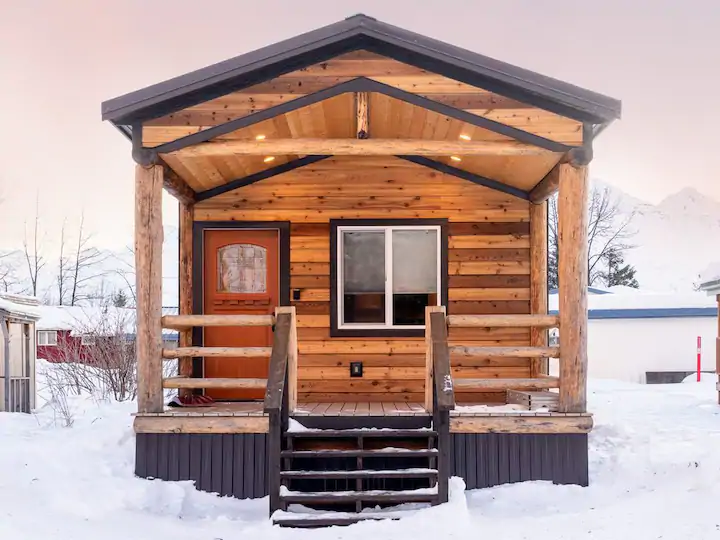 Adventure Denali's Beach Cabin
If great views of Denali National Park and Preserve all around you sounds exciting, this beach cabin is a great one for you!
Bordering Denali National Park and Preserve this cabin is in a very private spot and on a beautiful sparkling lake.
Accommodating two guests, this remoteness is what Alaska is about.
Hiking trails abound, as do views that go on for days and days.
The owner is into solar energy so amenities are abundant and welcomed in such a remote area.
Rustic charm abounds in this remote Airbnb in Alaska.
Click here to check current rates.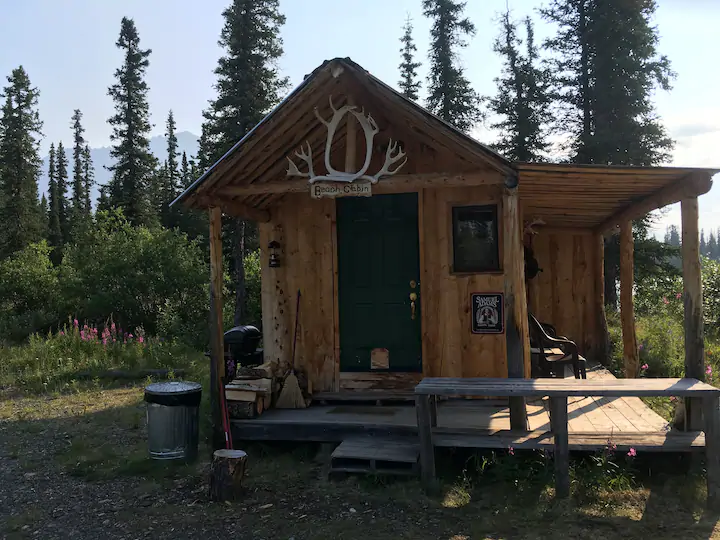 Homer's Downtown Tiny House
The location of this cute tiny house makes it a great Homer Alaska Airbnb.
It is right in the middle of downtown Homer Alaska! And walkable to many amenities such as shops, museums, bars, and restaurants.
It is a 5 minute drive down to the iconic Homer Spit. There you will find hand made souvenirs, the Salty Dawg Saloon (not to be missed!), the boat harbor, and more restaurants along Kachemak Bay!
Read my 20 things to do in Homer to learn more about this eclectic town.
Three-hundred square feet are planned to maximize interior space. The bed is accessible in the loft using a ladder and a queen-sized bed awaits you there.
There is a full bathroom, and a very large deck to enjoy while BBQing or having a glass of wine and soaking up the Alaska scenery!
This Homer Alaska Airbnb has a lot to be desired.
Click here to check current rates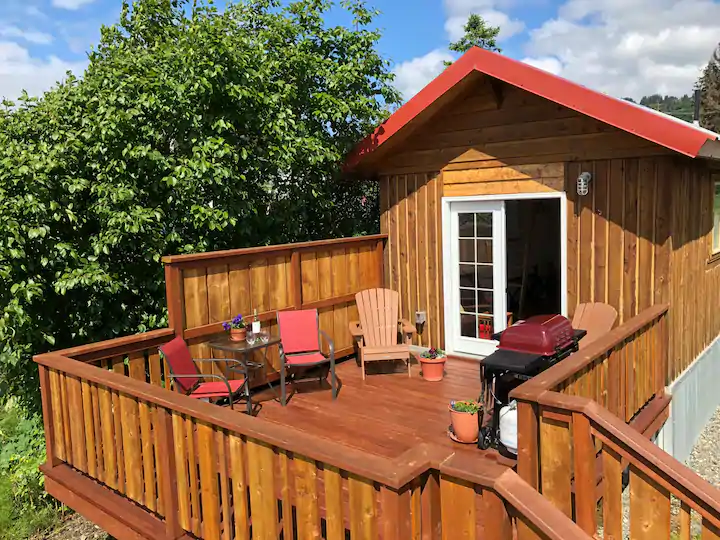 Cedar Lodge In The Heart Of Everything
Located in Seward, this premium cedar lodge is walking distance to all local amenities.
Able to accommodate up to 8 guests, this is the perfect Alaska VRBO for a family reunion, weekend getaway or corporate retreat.
With 4 bedrooms and 2 bathrooms, it is large enough to give everyone their own space.
The interior is vintage Alaska with rustic and chic touches everywhere. Large glass windows bring the infamous Alaska wilderness inside to be experienced.
Close to everything including the Seward Airport, Exit Glacier, and local bars and restaurants, this is one VRBO in Alaska worth looking into.
Click here to check the current VRBO rates.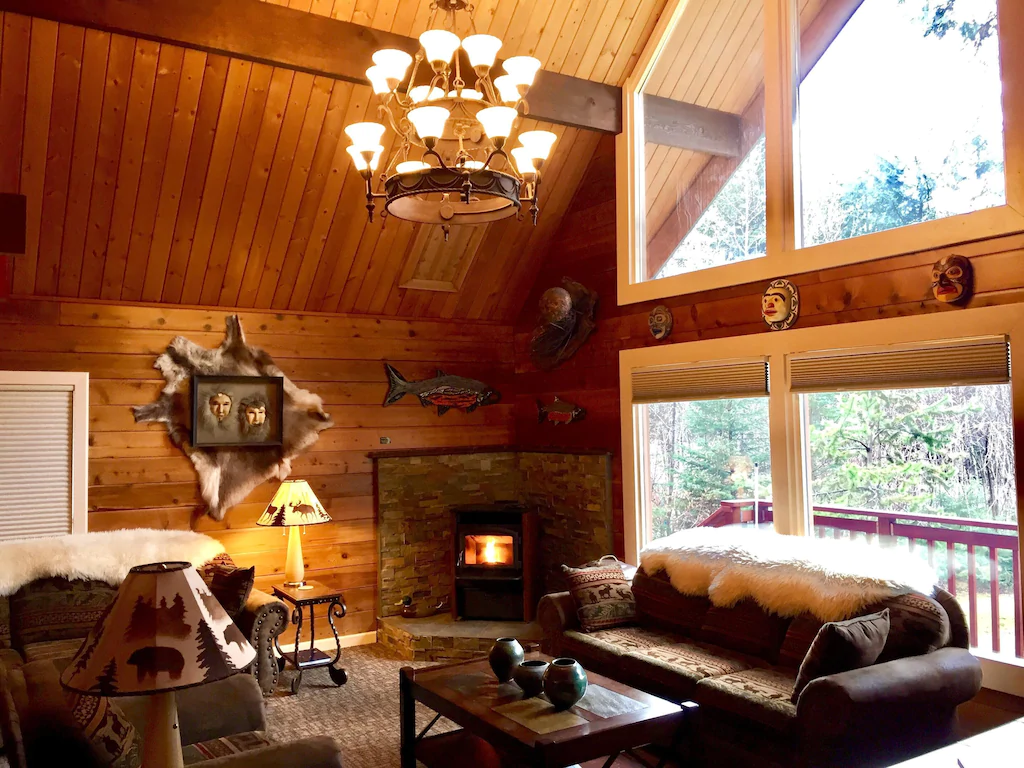 Forget Me Not Cabin A Charming Airbnb In Wasilla Alaska
Located about one hour north of Anchorage adjacent to the Parks Highway, this charming cabin in Wasilla is ideal for a getaway.
You have the feeling of being in nature, but the convenience of being close to everything Wasilla has to offer.
You have your choice of rivers and lakes providing easy access for boating and swimming.
Able to accommodate 4 to 6 guests, the cabin has a working kitchen equipped with essentials and a cozy fireplace.
This is one of the best Alaska Airbnbs because it feels secluded, it really is close to everything!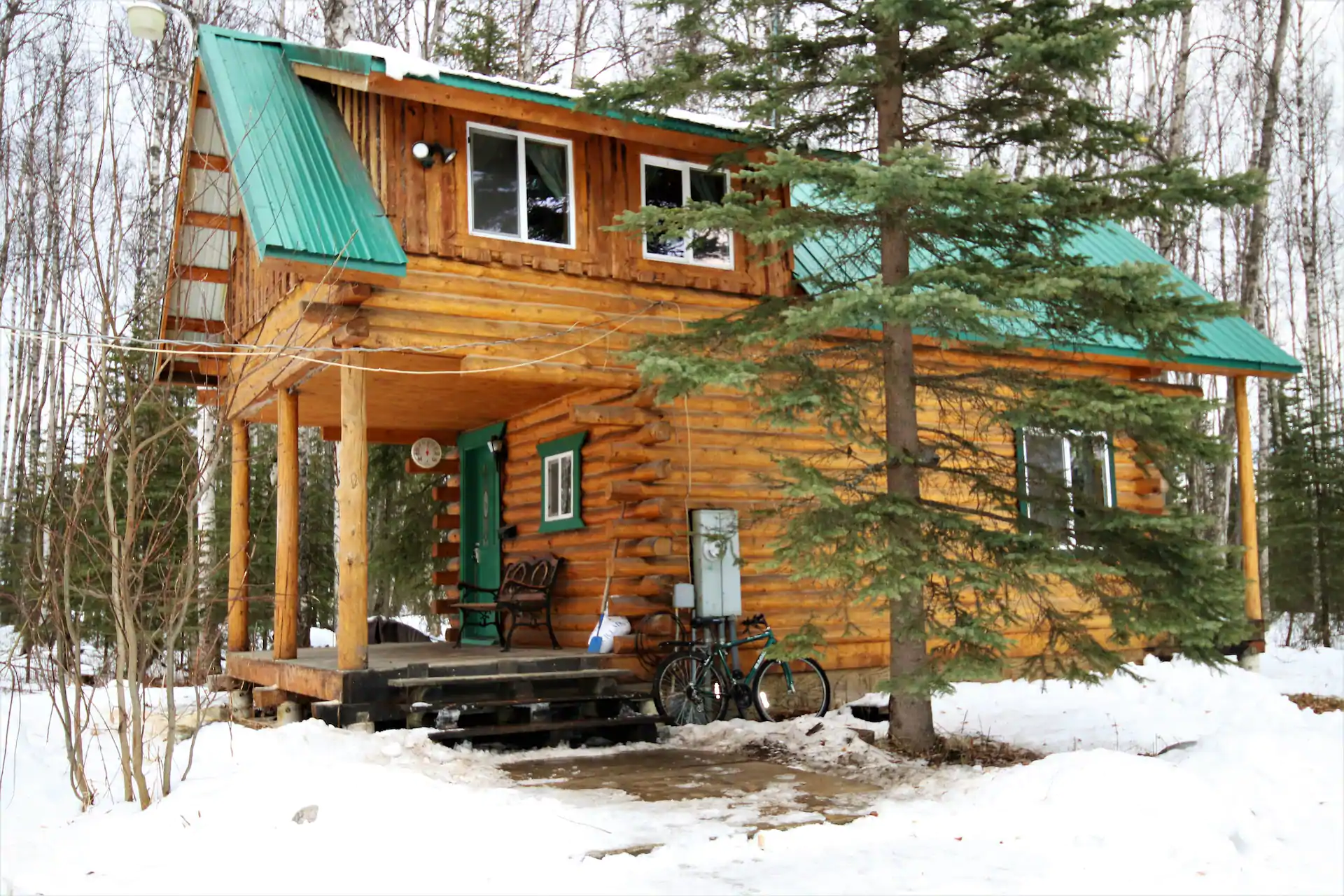 Packing List For Your Alaska Trip
If you will be traveling, either by plane or by car to Alaska, here are some tips on how to pack lightly.
A concealed travel pouch may be one of the most important items you bring along when staying at a vacation rental in Alaska. It is always important to protect your personal information. Identity thieves are everywhere.
This unisex RFID blocking concealed travel pouch is lightweight and comes in several colors. It has lots of organization to give you peace of mind. You can place it under your hiking clothes next to your body to carry your ID safely.
f you have a pouch already that does not come with the RFID protection, as I do, these RFID sleeves are the perfect solution.
This configuration comes with enough credit card sleeves that the entire family would be protected. They are slim too, so they will easily fit into your pouch or wallet.
If you are planning on taking a lot of pictures with your phone you will definitely want to consider an external charging battery. This Anker high-speed phone charging battery is the exact one I carry with me on all of my trips.
It can be used on a variety of phones, not just an iPhone like I have. And wow is it fast!
I like that it holds its charging capabilities for several uses so I do not have to worry about it while out and about, and if I forget to recharge it at night, it will still be good to go the next day.
My daughter gifted me with this FugeTek selfie stick and tripod setup for my birthday. I absolutely love it! It is made of lightweight aluminum and so easy to use.
It has Bluetooth connectivity and is a breeze to use for taking selfies with all those nature shots while on your road trips in Michigan.
Hydration is so important when on vacation. You want to remain hydrated throughout your trip to support your immune system which in turn will be stronger to fight off any germs you will encounter during your travels.
You will want to bring your own refillable water bottle with you.
I never leave home on a trip without my Bobble filtration bottle. The 18.5-ounce size is perfect for hiking and it fits nicely in the pocket of a backpack.
When filled with water, it is not too heavy to carry. And the charcoal filter ensures fresh clean water whenever you fill the Bobble.
You can find filter replacements here.
Perhaps you are traveling a long distance and packing space is a premium in your suitcase, or in your car. Then this set of collapsible silicone foldable water bottles would work well for you. Would not take up much space at all.
You will want a backpack or daypack with you to store snacks, your water bottle, phone, extra clothes, etc.. when on your Michigan road trips. No matter the time of day or evening.
This foldable water-resistant backpack would be great.
It is very affordable and is available in many color options for you to choose from. The fact that it folds down into a zippered pouch will make it easy to pack!
—
Here I have given you 12 Best Alaska Airbnb suggestions for your consideration. I hope you found at least one that suits you and your family and/or friends traveling with you.
I wish you the best experience as you visit Alaska!