Are you looking for the best Airbnb in Wisconsin?
Wisconsin has a lot to offer. With shorelines bordering two great lakes, Lake Michigan and Lake Superior, Wisconsin is an outdoor aficionado's dream come true.
Inland you will find forested areas great for hiking and a myriad of sports depending on the season.
And bucolic farm country that seems to go on forever.
If your travels bring you to Wisconsin, let me help with your accommodation decisions.
Here you will find 10 of the Best Airbnbs in Wisconsin.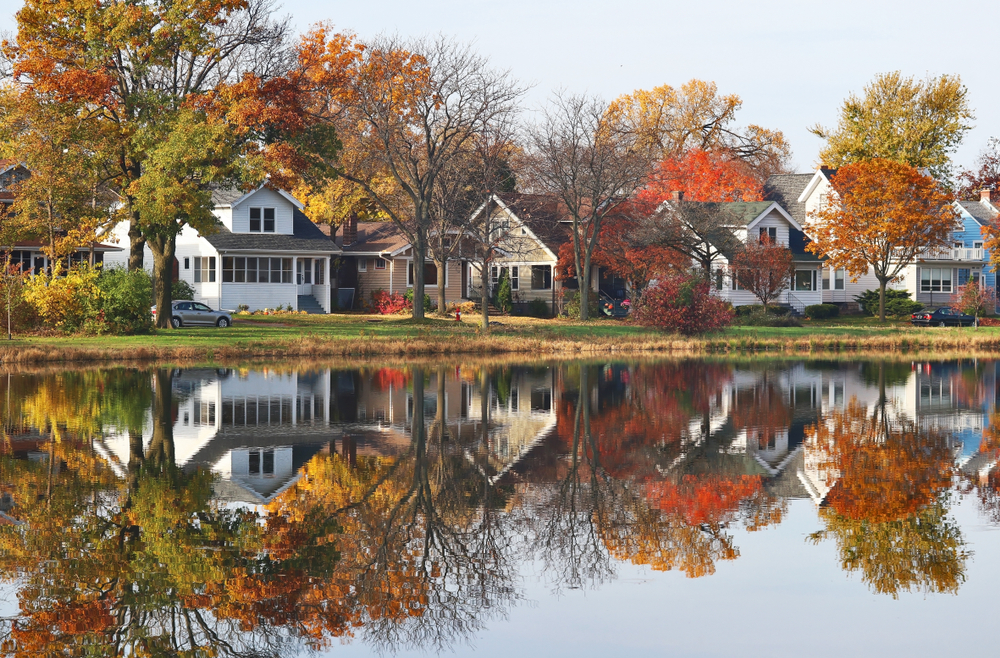 10 Best Airbnbs In Wisconsin (Cabins, Chalets, & More!)
Lake Michigan Beach Home By Frank Lloyd Wright
Located directly on the sandy shores of Lake Michigan is this beach home designed by the iconic Frank Lloyd Wright.
Accommodating up to 5 guests, with 2 bedrooms and 1.5 bathrooms, you will have an entire house to relax and rejuvenate.
This full "year-round" house, has lots to offer whichever season you choose to visit.
Beautifully appointed, there is a fully equipped eat-in kitchen, and screen-in porch for additional space.
Beyond that is a large deck with to witness the beauty of Lake Michigan so close. And a grill and fire pit.
Beyond that, you will find the gorgeous sandy beach to get lost in, as well as splashing in the waters of Lake Michigan.
Inside you will find that the glass windows throughout the spacious home offer sweeping vistas everywhere you look.
Conveniently located near all the amenities of Milwaukee, this is one of the best lakehouse rentals in Wisconsin.
Click here to check the rates on Airbnb.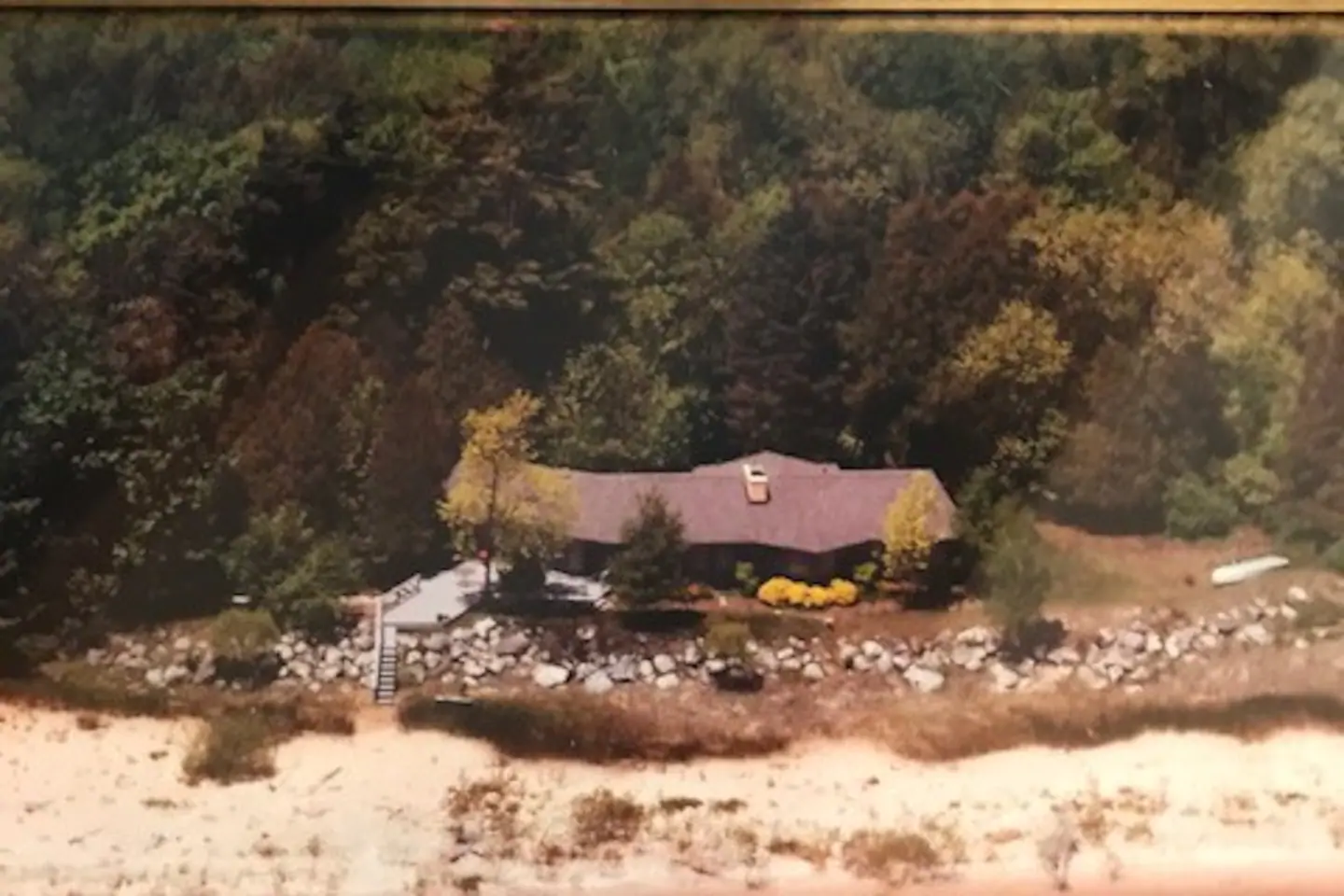 Never Want To Leave Cottage
Located in charming Bailey's Harbor, in Door County, this three-bedroom lake home is right on the shores of Lake Michigan.
Able to sleep 7 guests, it is on North Bay with 230 feet of shorefront this is the perfect couples or family getaway.
Large windows throughout the house, bring the lake views inside. The nearly wraparound deck provides epic views of both the sunrises and sunsets just steps from Lake Michigan.
With a huge kitchen, fire pit, and endless views, you just might never want to leave this cottage. It is one of the best Airbnbs in Door County Wisconsin.
Click here to check rates om Airbnb.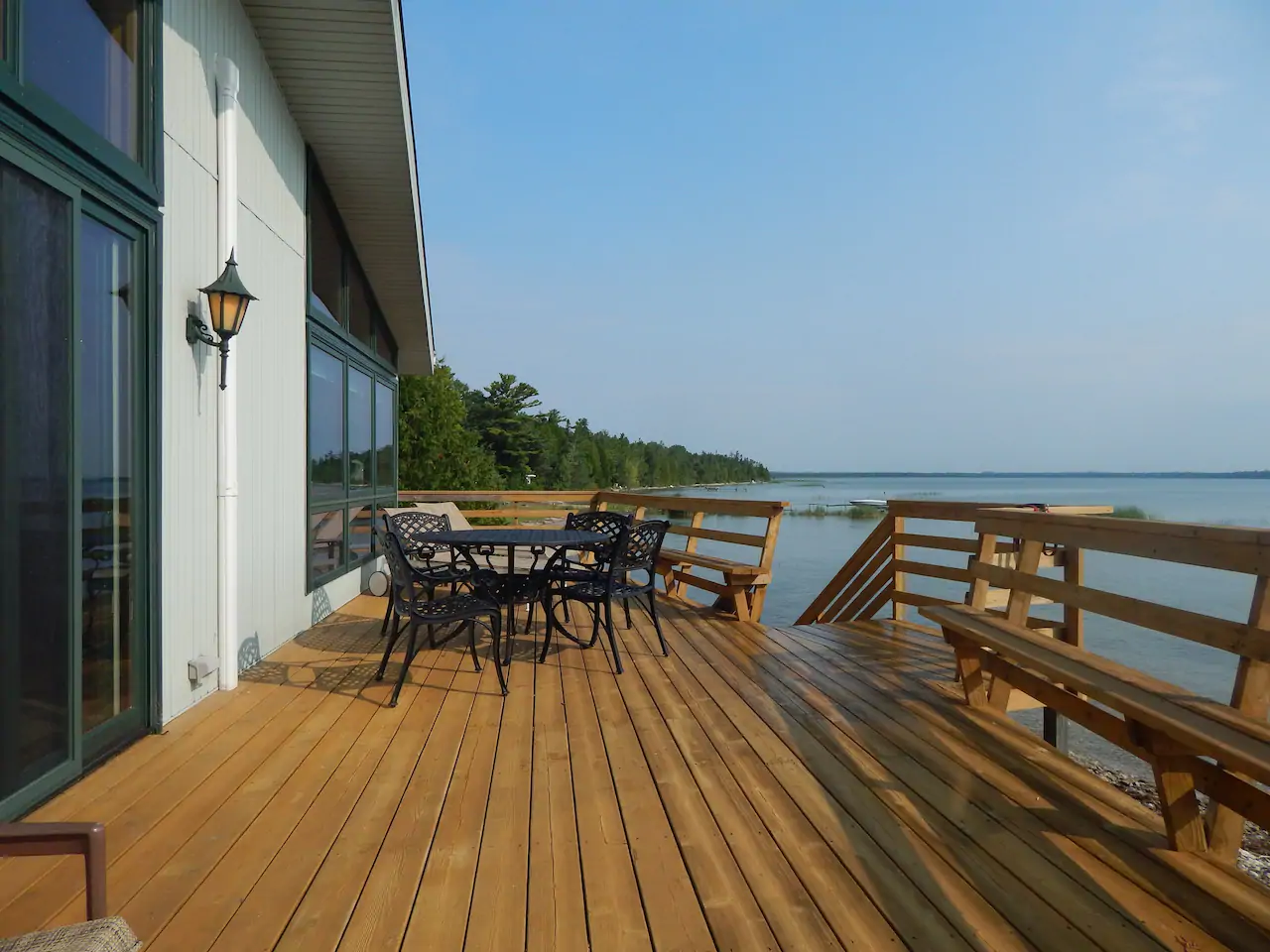 Tiny House By Off-Grid Inn
Looking for adventure and something unique?
Then this off-grid tiny house in Fall Creek, maybe just what you are looking for.
Able to accommodate up to 3 guests, with 1 bedroom and 1 bathroom, this tiny house offers up a rugged environment with all the amenities needed for a fantastic experience.
As the name suggests, staying here means going off-grid. Not to worry, the host offers a hot spot so you do not lose your phone connectivity.
There is a fully functional kitchen and bathroom.
A fire pit outdoors, with free firewood, and a forest at your footsteps to explore make this one a most unique Airbnb in Wisconsin.
Click here to check the rates on Airbnb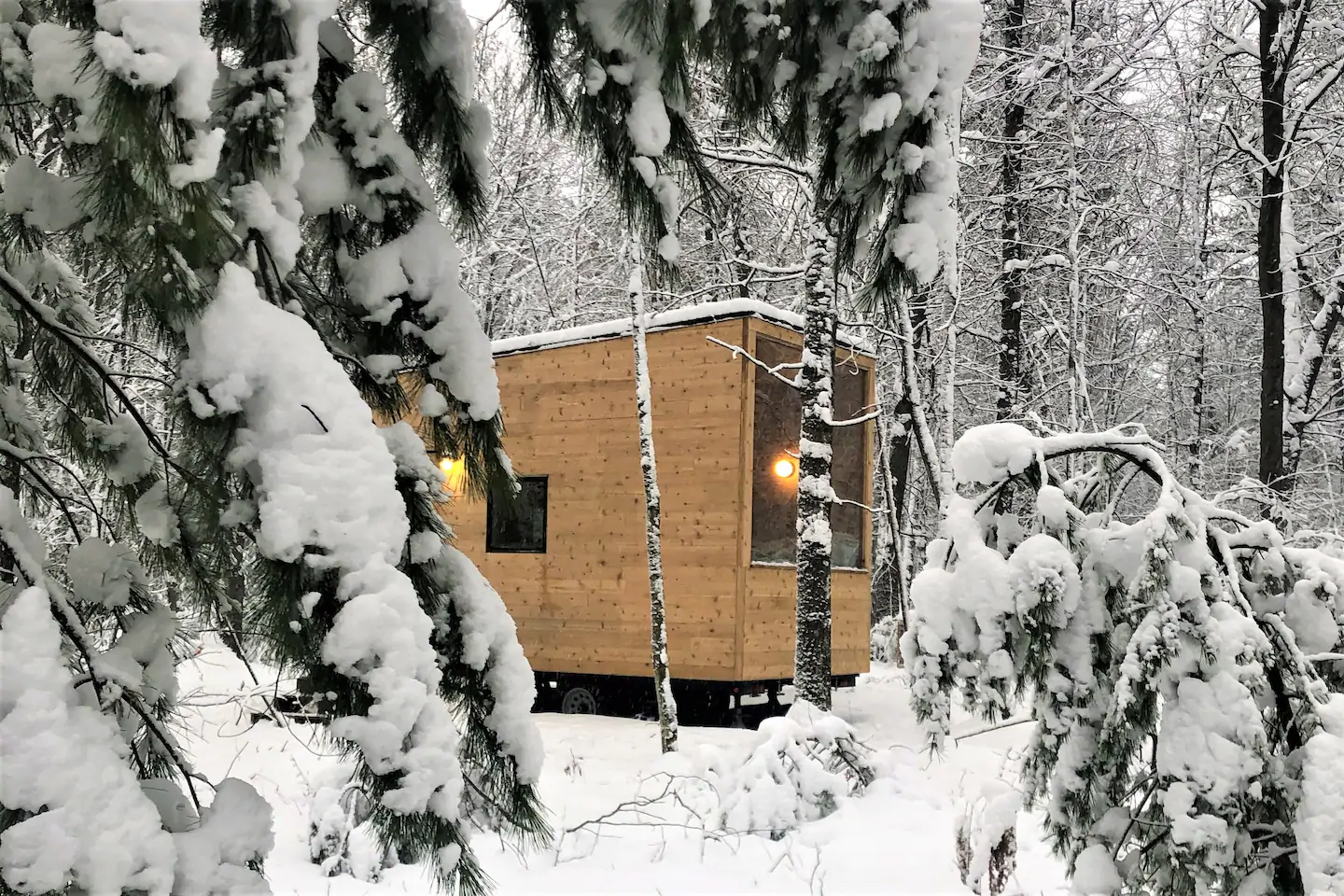 Stunning Bark Point Cabin On Superior's South Shore
Located on Lake Superior's spectacular south shore, you will have access to this entire open-space loft cabin.
It can accommodate up to 8 guests, in 3 bedrooms, and has two bathrooms.
Large glass windows throughout, bring the outside in!
The host wants you to carefully look at the stunning pictures he has listed. This unique cabin is the perfect definition of open concept. And he wants to make sure you will be comfortable without walls.
This beautiful property is one of the more unique lakehouse rentals in Wisconsin.
Click here for rates on Airbnb.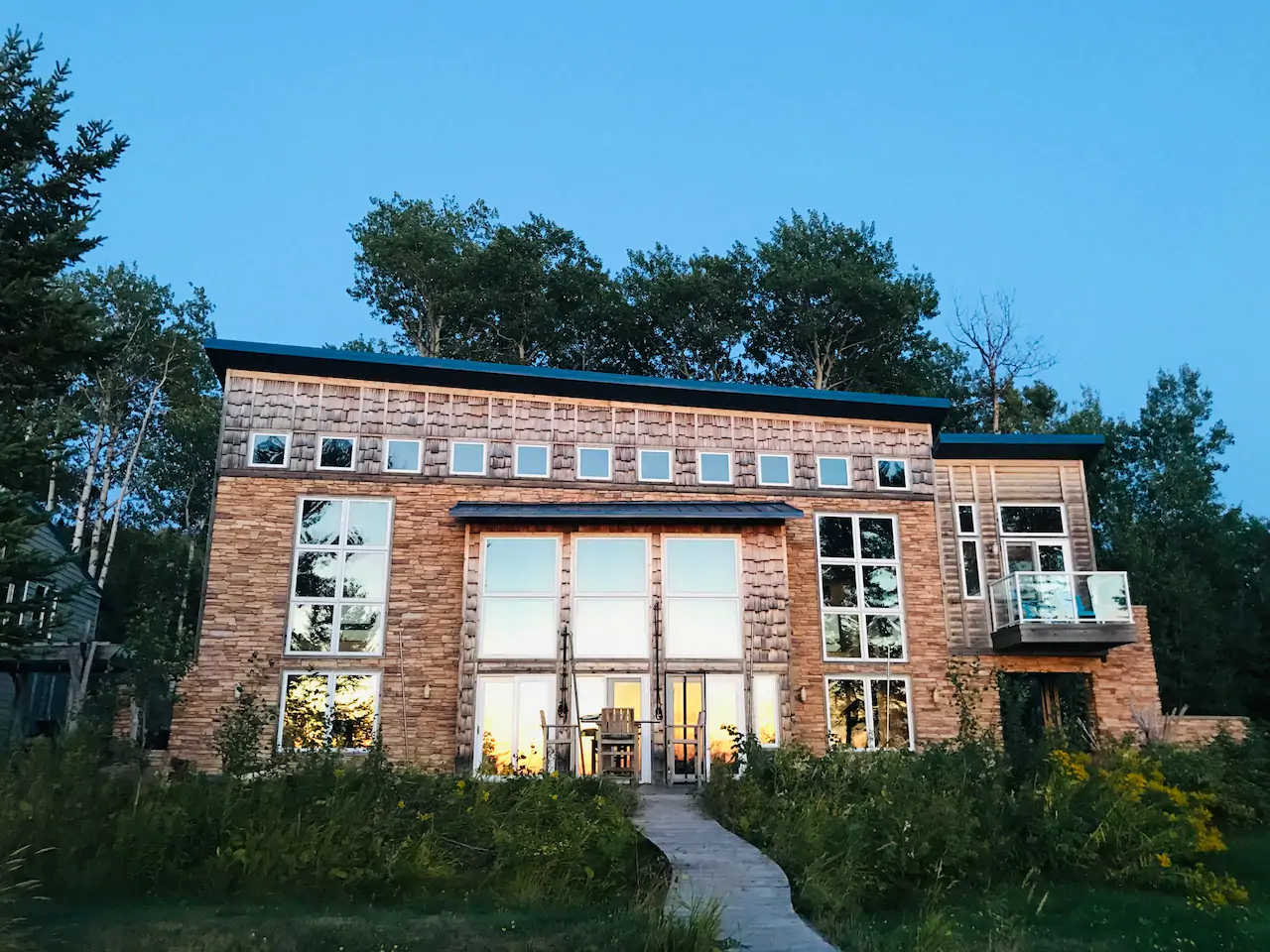 Beautiful Wisconsin Getaway
Located not far from Racine, this beautiful Wisconsin cabin will have you feeling like you are deep in the woods!
As part of the owner's main house, this portion is private with its own entrance and you will feel like you are in a treehouse in the forest!
There is a stream nearby, and the sounds of birds chirping. You will have exclusive use of your own private deck.
You will be able to use the common area which includes an enclosed gazebo, and grill. There are sofas to enjoy the outdoors along with a fire pit.
The inside does not disappoint either. With a fully functional kitchen, and Netflix for your enjoyment should you so desire, the location is great as well.
Located about 3 miles from Lake Michigan beaches, and downtown Racine, this treehouse cabin is one of the best Wisconsin Airbnbs you will find.
Click here to check the rates on Airbnb.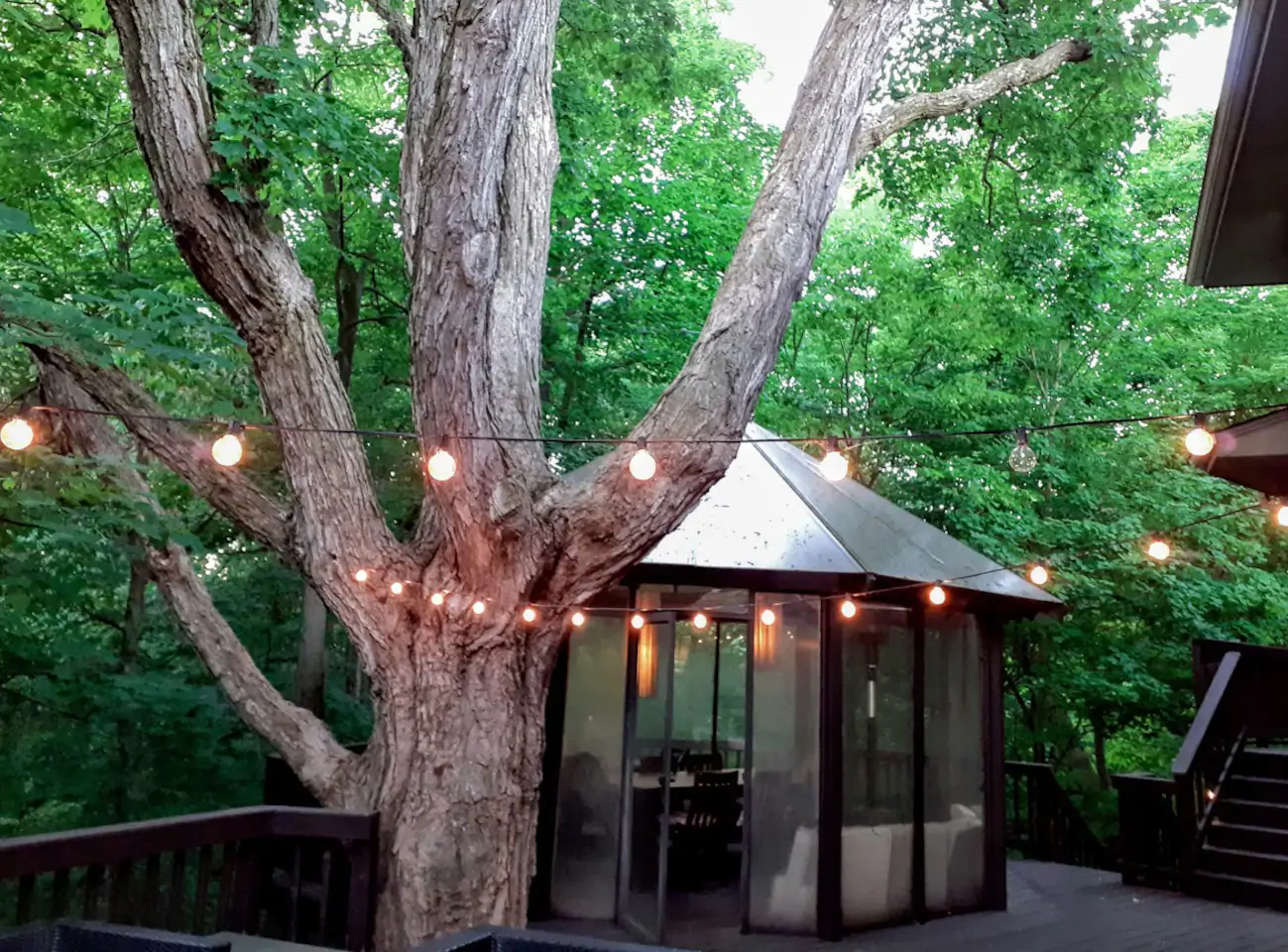 Peaceful Wooded Sanctuary
If you are looking to digitally detox and connect with nature, this peaceful wooded sanctuary is for you!
Although there is Wifi for your work or relaxation needs (think Netflix!), you may choose not to use it.
Imagine lazily swinging on the hammock in the trees, hiking, biking, and swimming in the nearby stream.
Able to host up to 6 guests, with two bedrooms, one on the main floor and one in the loft area, and one bathroom this is relaxation at its finest.
The deck is the perfect location to reconnect with nature, and once night visits have a campfire in the fire pit and roast marshmallows!
Peaceful Wooded Sanctuary, in Hancock, is one of the best cabin rentals in Wisconsin.
Click here to check the rates on Airbnb.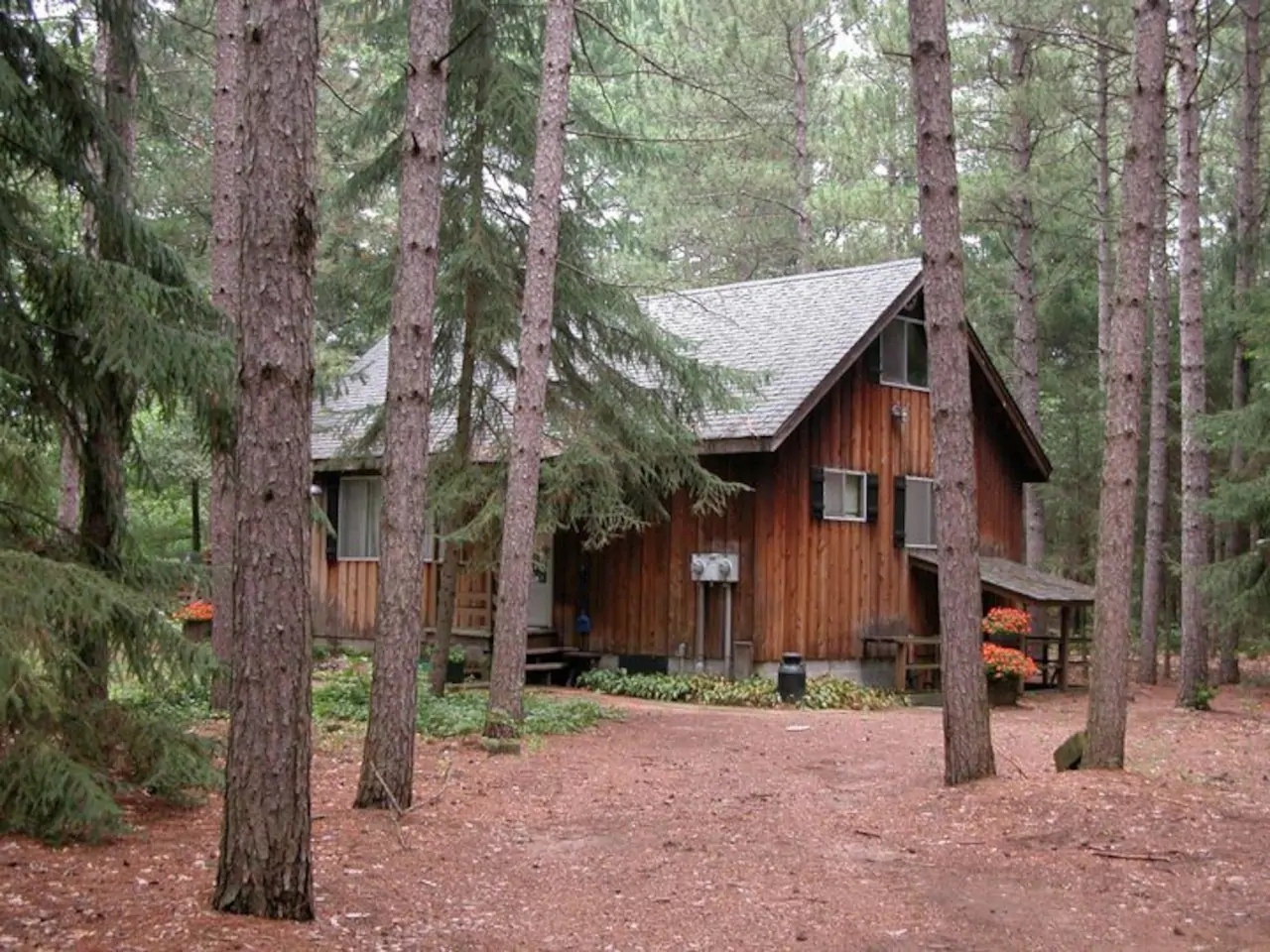 Riverside Chalet
Located directly on the Wisconsin River, the Riverside Chalet is an outdoor paradise, set on one acre.
With large windows in every room, this 1700+ square foot chalet lets loads of light in, along with stunning views in all directions.
Able to accommodate 5 guests, with 2 bedrooms and 1 bathroom, the chalet has a myriad of options to explore. A full kitchen, propane fireplace, and a natural spring running through the property.
With 300 feet of Wisconsin River shoreline to splash around in, a huge deck to enjoy the water flowing by, you can be as active as you wish. Roast s'mores at the firepit.
Muscoda is close, and Spring Green is eighteen miles away. There you can visit Frank Lloyd Wright's Taliesin, shop in charming shops, and grab some food in town.
At Riverside Chalet, you can be as busy or as chill as you want. It is one of the best Wisconsin Airbnbs.
Click here to check the rates on Airbnb.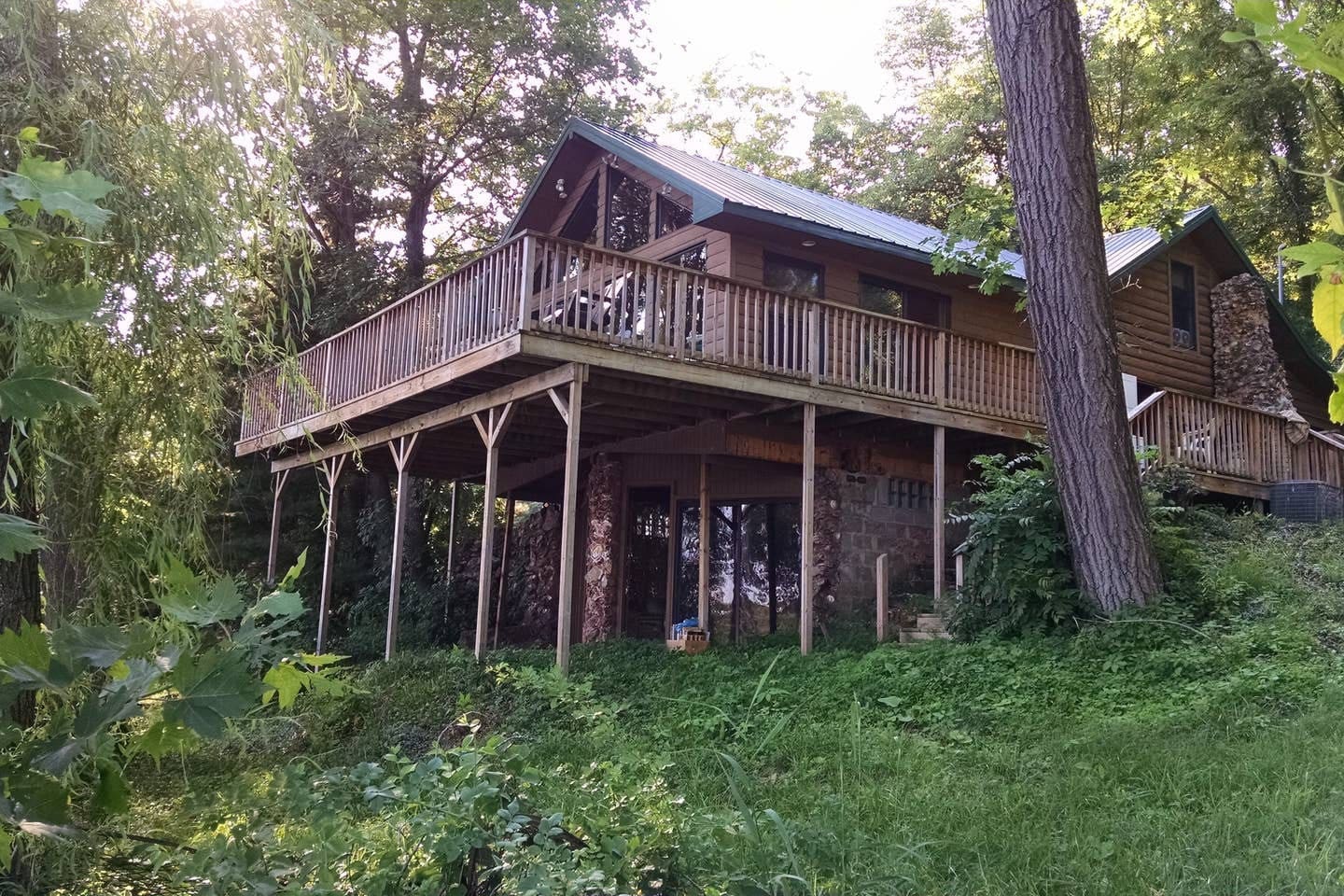 Live UnContained Is One Of The Best Airbnbs in Wisconsin
This is unlike anything you have ever imagined! Such a fun experience for a weekend getaway.
Two converted shipping containers have been placed together, and remarkably decorated into 640 square feet of luxurious living space!
The entire containers are at your disposal. Able to sleep 4, with 1 bedroom and 1 bath, this unit comes with heat and air conditioning.
A private bathroom, fully stocked kitchen, and sofa pullouts for additional sleeping space along with a great location make Life UnContained one of the best Airbnb in Wisconsin.
Outside there is a nice patio and grill with a chimenea for fires and roasting smores!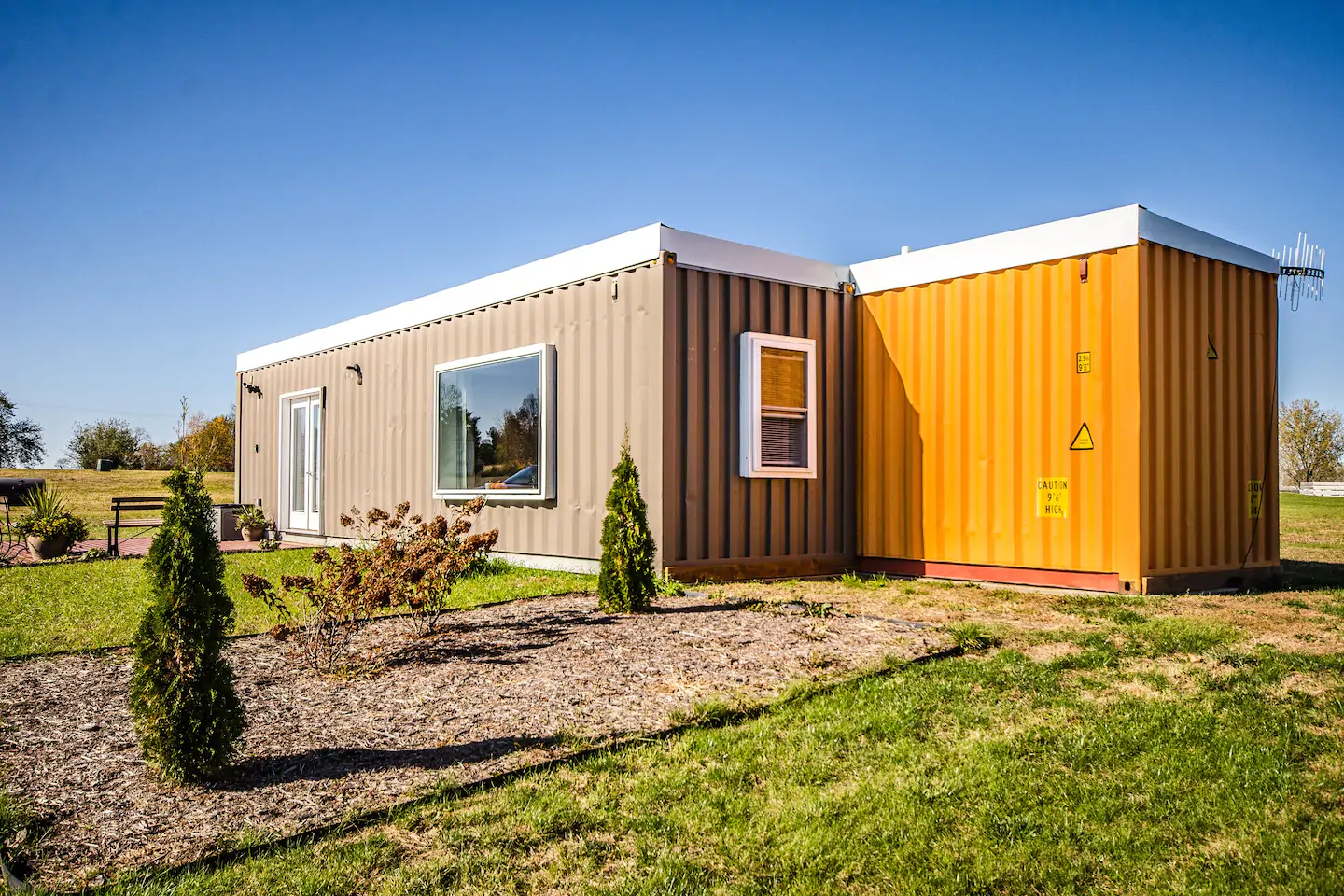 Wisconsin Dells "Christmas Mountain Village"
Whatever season you visit the Wisconsin Dells, this 1200 acre family resort where this 2 bedroom villa is located, you will find so much to do!
With all the comforts of home, you will arrive, drop off your suitcases, and you will be ready for adventure.
Able to sleep 6, there is laundry in the condo, along with a fireplace and screened-in deck to enjoy most of the year.
Swimming in the indoor pool is always popular, and in the winter you have access to some of the best skiing Wisconsin has to offer.
Christmas Mountain Village is one of the best Airbnbs in the Wisconsin Dells.
Click here to check the rates on Airbnb.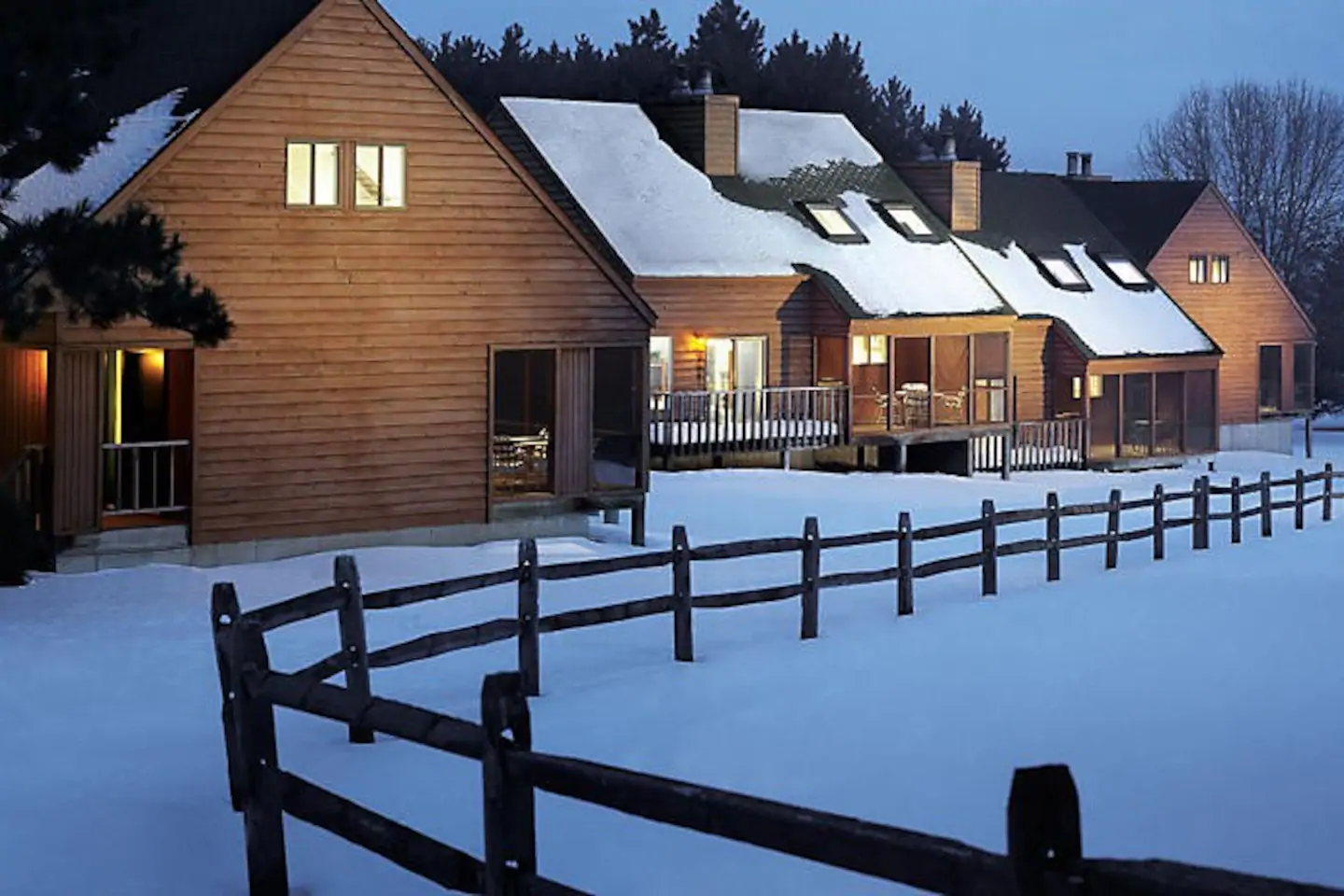 Modern 1920's Bungalow 5 Minutes From Lambeau Field
Full of period charm, yet fully renovated, this modern 1920's bungalow is conveniently located in Green Bay.
Nestled in one of the cutest neighborhoods, it is a quick 5 minutes from Lambeau Field, and all the amenities Green Bay has to offer.
You will have access to the entire house, which consists of 2 bedrooms, 1 bathroom, and can sleep 6 guests.
Beautifully appointed, it has all the modern amenities, yet has not lost any of its vintage charms with its recent renovation.
There is an outdoor grill and a beautiful backyard patio to enjoy.
Whether you relax and recharge, visit the shops and gastropubs of Green Bay, or head on over to see a game at Lambeau Field, this bungalow is the cutest Airbnb in Wisconsin.
Click here to check the rates on Airbnb.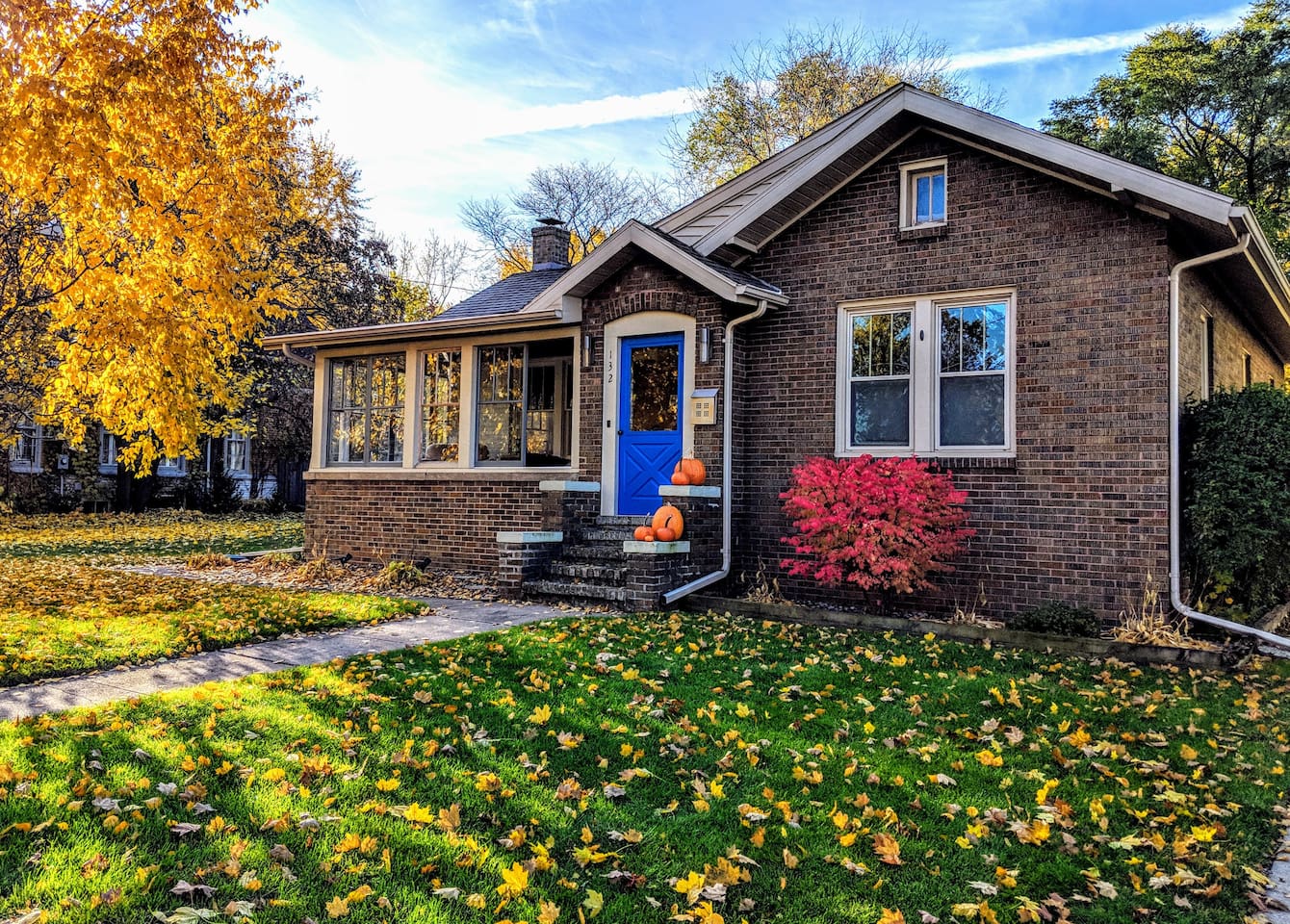 Wisconsin is a delight to visit, no matter the season. There is lots to do, and lots to explore.
Here are my tips on how to pack lightly for a trip, whether you are driving or flying to Wisconsin.
I have shared 10 best Airbnb in Wisconsin. I hope you enjoy visiting Wisconsin!