The Waldorf Astoria Orlando is the perfect place that I always head to when I am looking to spend quality time with my daughters. Located on Walt Disney World property, in Orlando Florida, it is the ultimate blend of convenience and luxury.
We recently spent a wonderful weekend at the Waldorf Orlando and here you will find all the details and highlights of our absolutely relaxing weekend there.
From spacious rooms and suites to fabulous bars and restaurants, a champion golf course, to their first-class spa, I am here to share our experiences with you!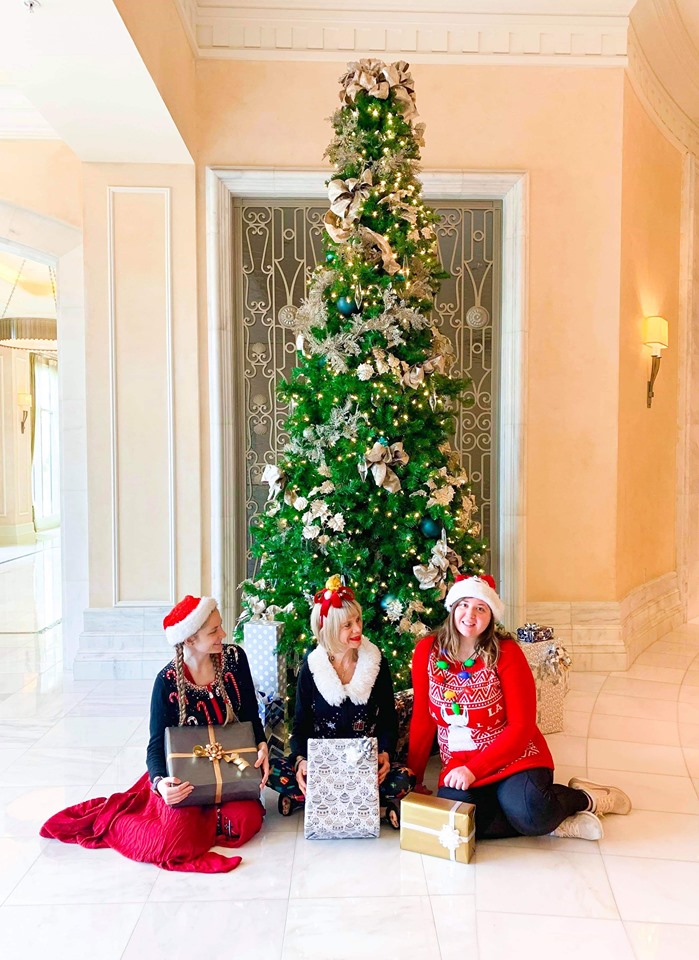 My daughters, Victoria on left, and Vanessa on the right, and me in the middle, posing in the lobby of the Waldorf Astoria Orlando, during our mother/daughters retreat.
Waldorf Astoria Orlando: Ultimate Luxury For A Mother/Daughters Retreat
Location! Location! Location!
The Waldorf Astoria Orlando is an official Walt Disney World hotel. Located on Walt Disney World property, guests are afforded complimentary shuttle service to the four parks that make up the Walt Disney World Complex in Orlando, Florida. Guests of the hotel also receive the perk of extra magic hours often offered by Walt Disney World.
The Waldorf Astoria Orlando is situated on a 482 nature preserve. When we were on Disney property, and driving to the hotel, it seemed like we were headed away from the maddening crowds and congestion.
Located conveniently close to Disney Springs, and the four other Walt Disney World Parks, the Waldorf Astoria Orlando is a haven for those attempting to balance busy days with relaxing evenings.
Whether you are traveling alone to a business convention or with your family or friends for a fun weekend, you will certainly appreciate how close the hotel is, yet how utterly relaxing its setting is.
Check In At The Waldorf Astoria Orlando Could Not Be Easier
Pulling up, you will see that the hotel and its grounds are just as spectacular as you would expect for a luxurious worldwide iconic brand.
We were greeted by the bellman who assisted us to unload our bags from our vehicle. And we headed inside the beautiful lobby to the front desk.
Even though there were several people checking in at the same time, there was adequate staff on hand to handle everyone efficiently and quickly.
We were all checked in within a few minutes and then headed to the elevator and onto our room.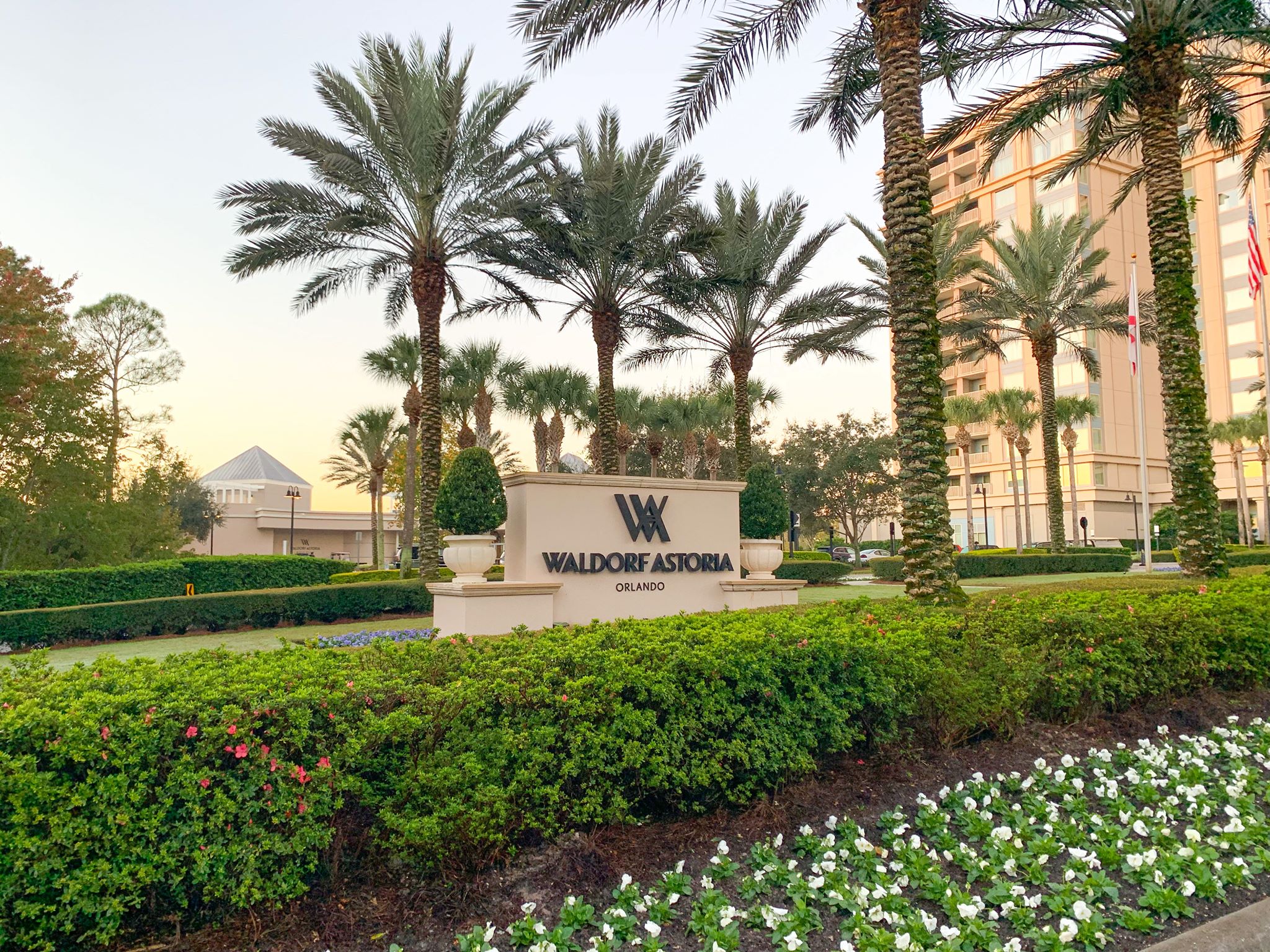 Rooms at the Waldorf Astoria Orlando Are Modern And Luxurious
For our mother-daughters weekend retreat at the Waldorf Orlando, we stayed in a Deluxe King Suite. It had every conceivable convenience imaginable.
Starting with a kitchenette and a dining table and chairs to a Nespresso machine we were set to have quick snacks and/or morning coffee if we so desired.
We had a king-sized bed in our bedroom that my daughters shared and in the living room, there was a queen-sized pull out sofa bed that I used. It was so comfortable and I slept soundly.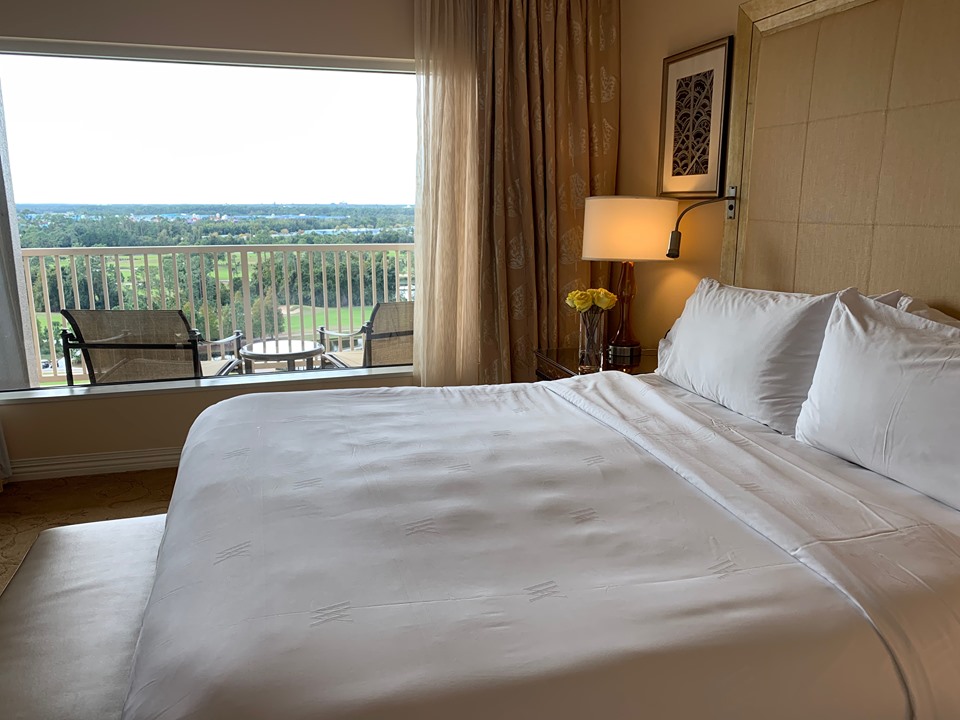 Room with a fabulous view of the Disney parks, the golf course, and the pool complex. All from our own balcony!
Most of the 502 guestrooms and suites look onto the Bonnet Creek Nature Breserve where the hotel is situated. A few guests have the ultimate pleasure of having a Disney parks/fireworks view. And we were in such a room.
Not only that, but our suite came with a large balcony and chairs to end our busy days relaxing while watching the holiday fireworks from both MGM Studios and EPCOT with a glass of wine. No traffic to mess with! It really was the ultimate luxury!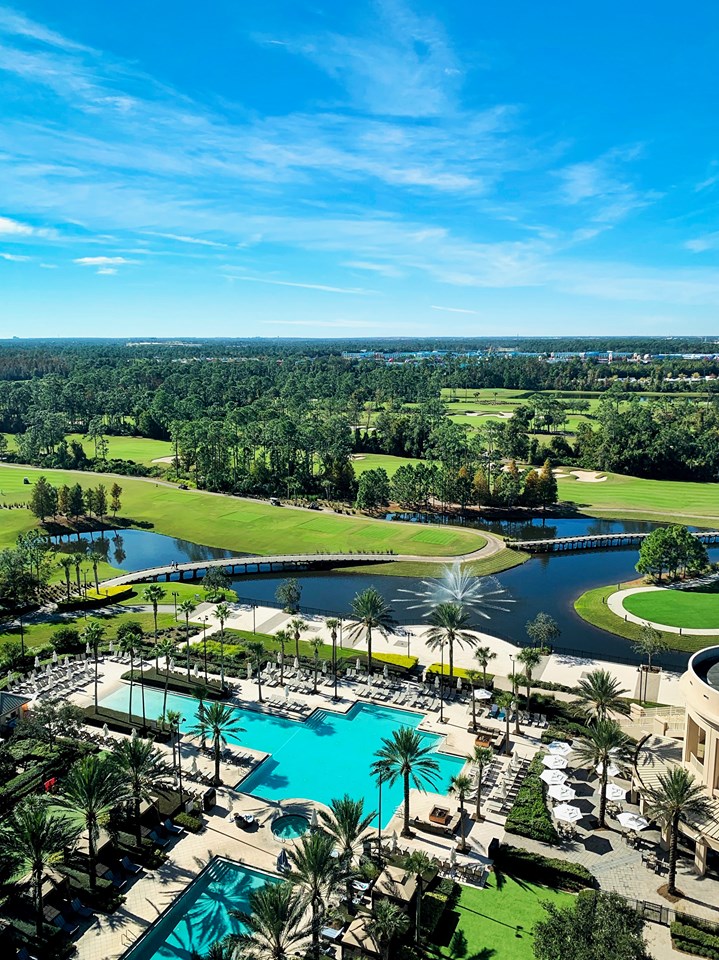 Spectacular room views of the Waldorf Orlando pool complex! You can see the pool complex, the amazing golf course and views of MGM Hollywood Studios in the background.
The Waldorf Astoria Orlando Staff Is Incomparable
One of the most popular experiences to have at the Waldorf Orlando is afternoon high tea.
Because we had the pleasure of staying at the hotel before, the Waldorf Orlando had a folio of information concerning our likes and dislikes and dietary preferences.
Imagine our utter surprise and delight when we entered our suite to see that the hotel staff had presented us with our very own vegan/vegetarian afternoon high tea experience. Everything was ready and prepared. And waiting for us.
Once we unpacked a bit, marveled at the view and freshened up, we excitedly sat at the beautifully appointed table set just for us.
The peacock themed party was simply perfect because my daughter Vanessa is obsessed with peacocks. There were themed balloons and streamers. And even our cups, saucers and spoons were peacock-themed!
What was most impressive of all was the unbelievable selections of vegan food and desserts for me to enjoy. And vegetarian treats for my two daughters to dive into as well.
A heartfelt THANK YOU to the staff of the Waldorf Astoria Orlando for this personalized and unexpected surprise gift!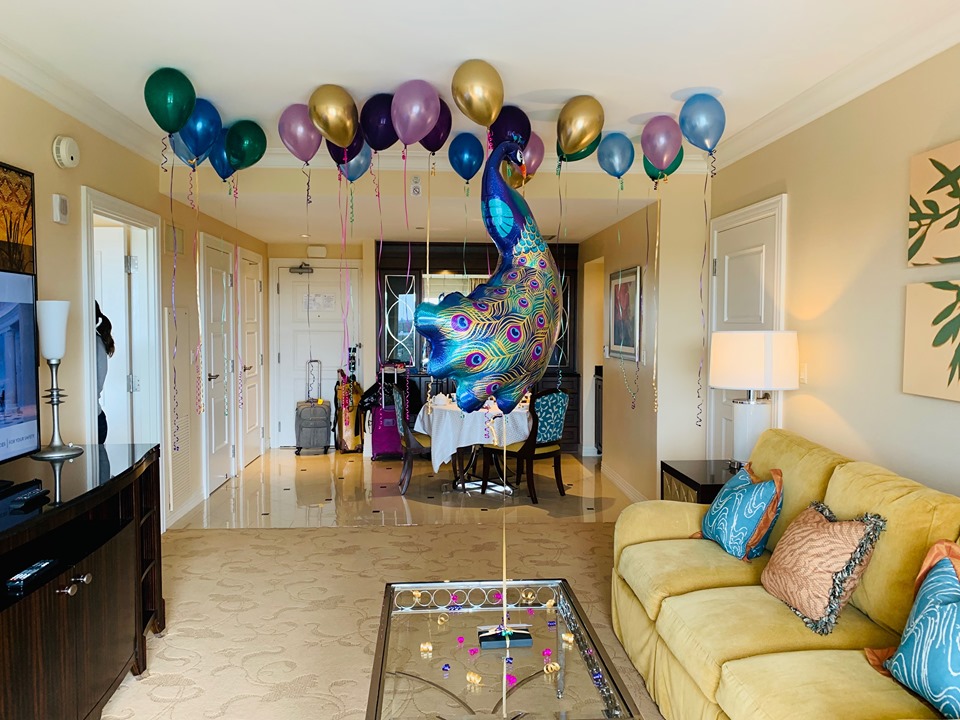 What an absolutely wonderful surprise our personalized peacock-themed afternoon high tea experience was! Thank you Waldorf Astoria Orlando staff for this special treat!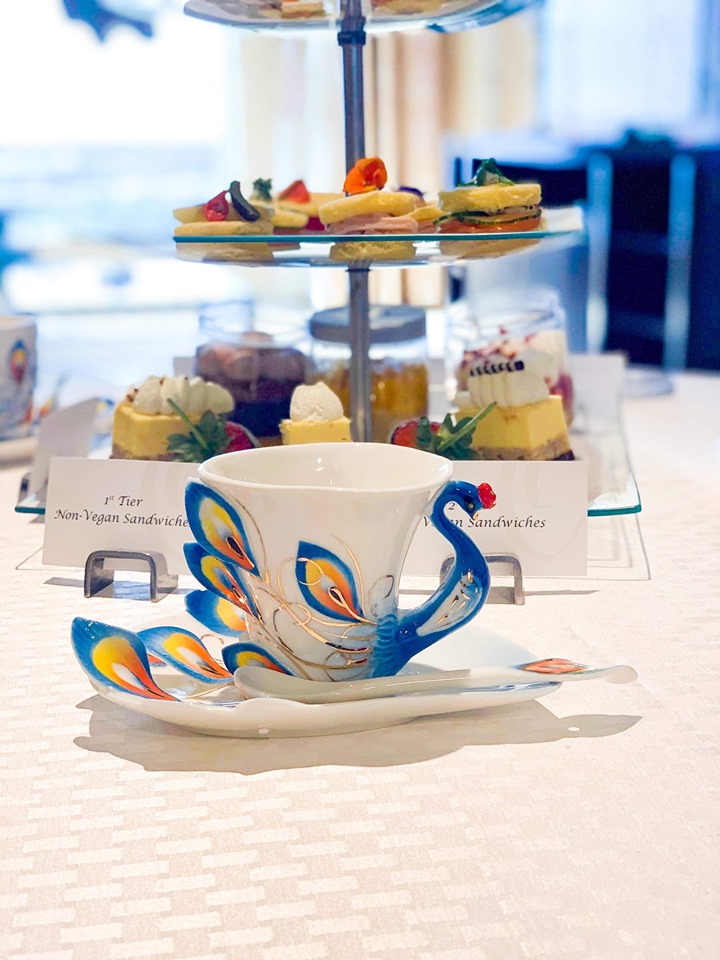 This is the most perfectly exquisite peacock cup, saucer, and spoon for our surprise tea experience at the Waldorf Orlando!
And Then We Were Off To The Walt Disney World Parks
The Waldorf Astoria Orlando makes every effort to ensure all guests have the best experiences possible when staying with them.
That said, if heading off to one of the four Walt Disney Theme Parks, or Disney Springs, is your plan for the day or evening, the hotel has a shuttle service for your convenience. It runs continuously during park hours (when the parks are open).
Should you want to purchase tickets to a Disney or even a non-Disney theme park, the Waldorf Astoria Orlando is able to assist you with that as well. Simply stop at their ticket services desk for information and to purchase tickets.
Since my daughters and I drove to the hotel for our mother/daughters retreat, we used our own car to get to the parks. But it was great to know the shuttle service was available.
We utilized the valet service, and all we needed to do was present our ticket to the attendant and our car was brought to us in a few minutes.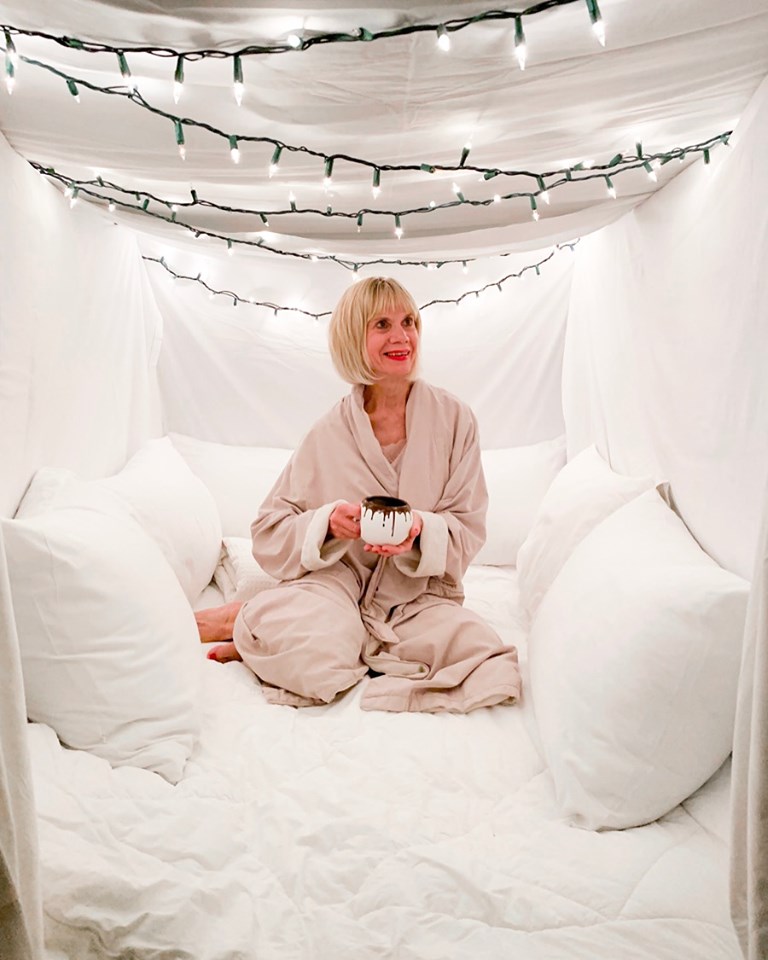 When staying at the Waldorf Orlando in 2018, I requested a "pillow fort" in my online reservation form. Here is the over-the-top beyond-all-expectations result! The staff REALLY outdid themselves!
Waldorf Astoria Orlando Restaurants & Lounges Offer Something For Everyone
Whether you are staying at the Waldorf Astoria Orlando for business or pleasure, you will find a lounge and/or restaurant to please you. Does not matter if you are a businessman/woman, or traveling with your family there are a myriad of selections for you to choose from!
We loved to hang out at Peacock Alley when we visit the Waldorf Orlando. We adore peacocks anyway, remember?!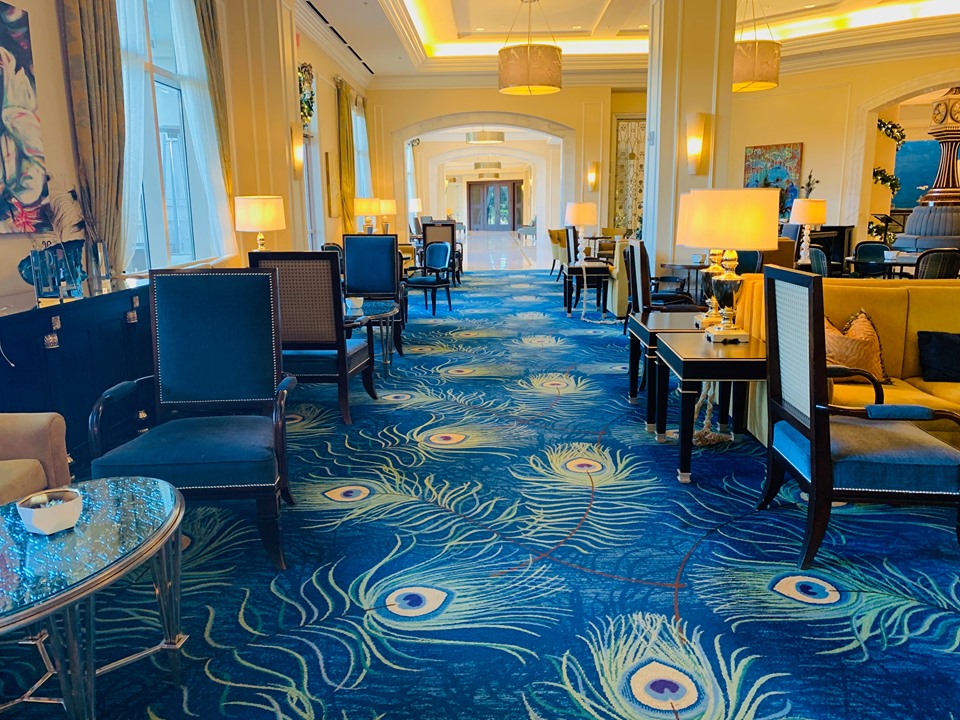 We loved spending time at the Waldorf Orlando's Peacock Alley!
The vibe is cheery and the bar staff so quick and attentive. I love to end my days with cocktails and one of my daughters loves a good mocktail. Both are excellent at the Peacock Bar.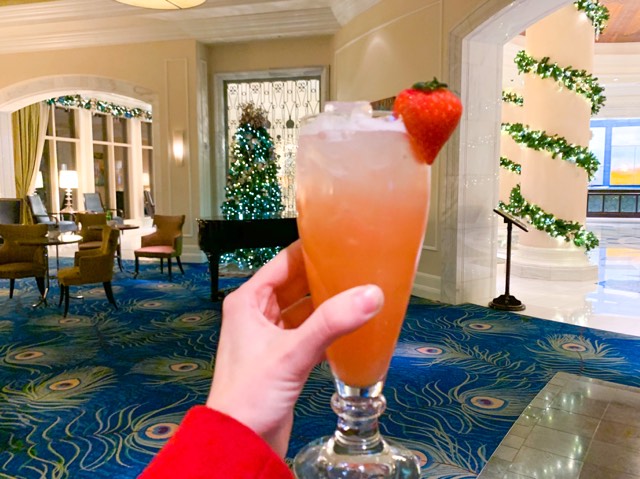 My daughter Victoria (Follow Me Away) with one of her delicious mocktails, relaxing in the Waldorf Orlando's Peacock Bar.
We started off our days during our stay at the Waldorf Astoria Orlando with breakfast at Oscar's. Located on the ground floor with floor to ceiling glass walls, there was an absolutely stunning view of the manicured grounds and the pool.
However, the main attraction was, of course, the all you care to eat breakfast buffet. Cold cereals, hot, made to order omelets and everything in between was available. The pastry bar was one of the best I have ever seen.
Do not miss out on starting your days with breakfast at Oscar's.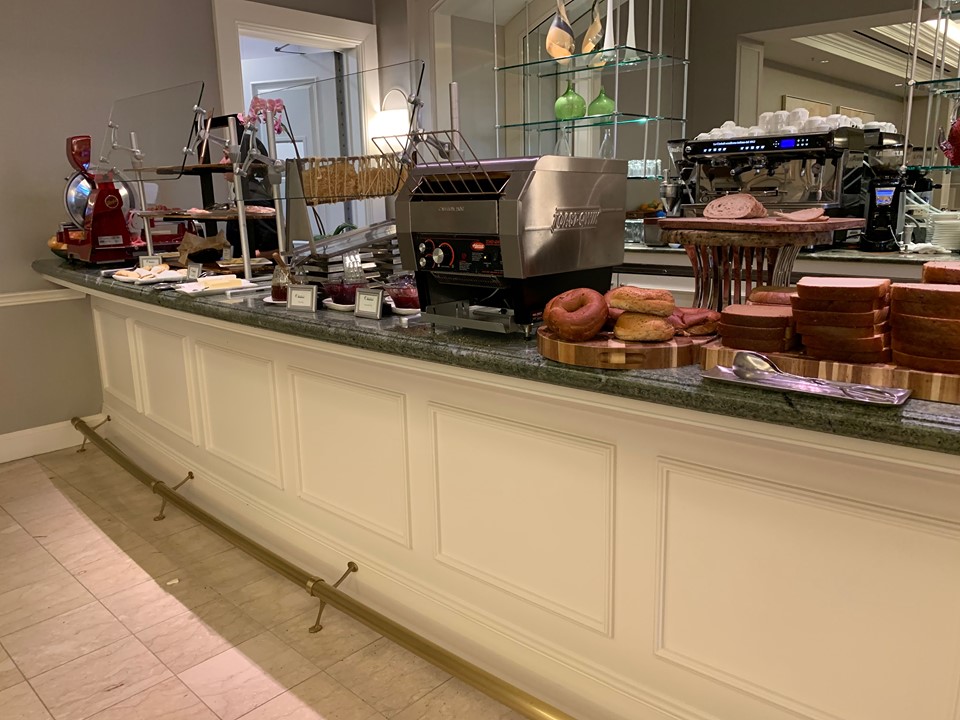 Toast, bagel, juice and coffee station at Oscar's breakfast!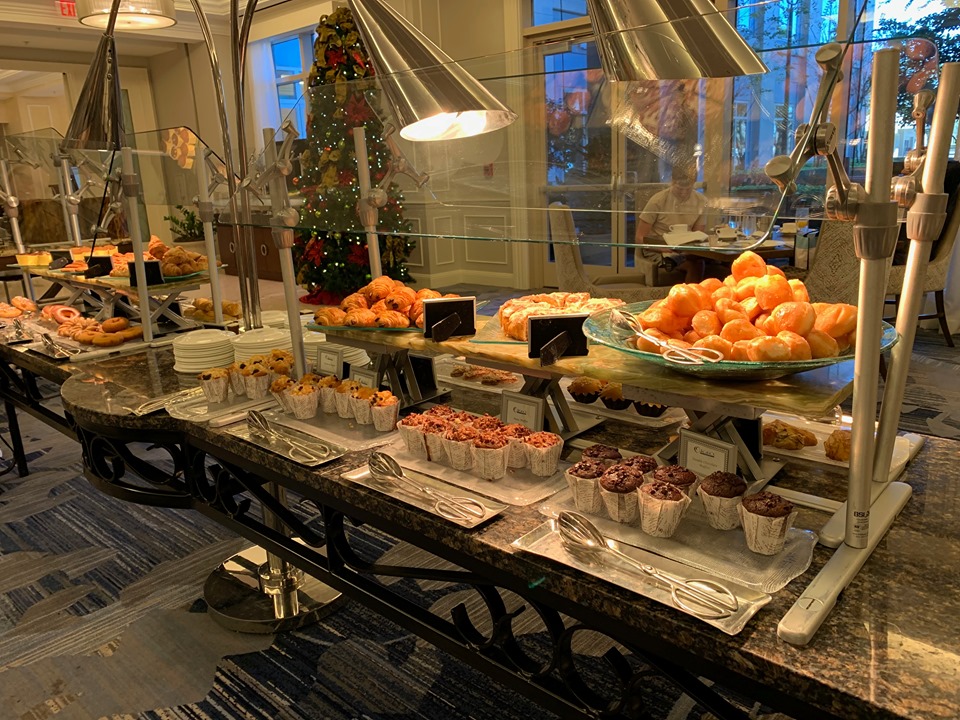 The decadent pastry station during the breakfast buffet at Oscar's!
The Waldorf Astoria Orlando Pool Is Like A Caribbean Vacation
Warm afternoons and sultry evenings are surely an invitation to head out to the pool to relax. The resort-style vibe is pleasing to adults sipping cocktails poolside, or to the kids frolicking and splashing about in the warm waters of the pool.
Palm trees breezily waving in the warm winds left no doubt this was indeed paradise!
We never miss the opportunity to relax at the pool. And this time was no different. The attentive staff was always present if we needed anything. The Aquamarine Pool Bar/Restaurant was fully stocked with any food or drink we might desire.
Poolside cabanas are available to rent, for a private family celebration or get together. The steamy warm bubbly waters of the hot tub called out to us.
On chilly evenings, if you don't wish to jump into the pool, you may instead choose to sit by the warm heat coming from the fire pit with a blanket to snuggle into.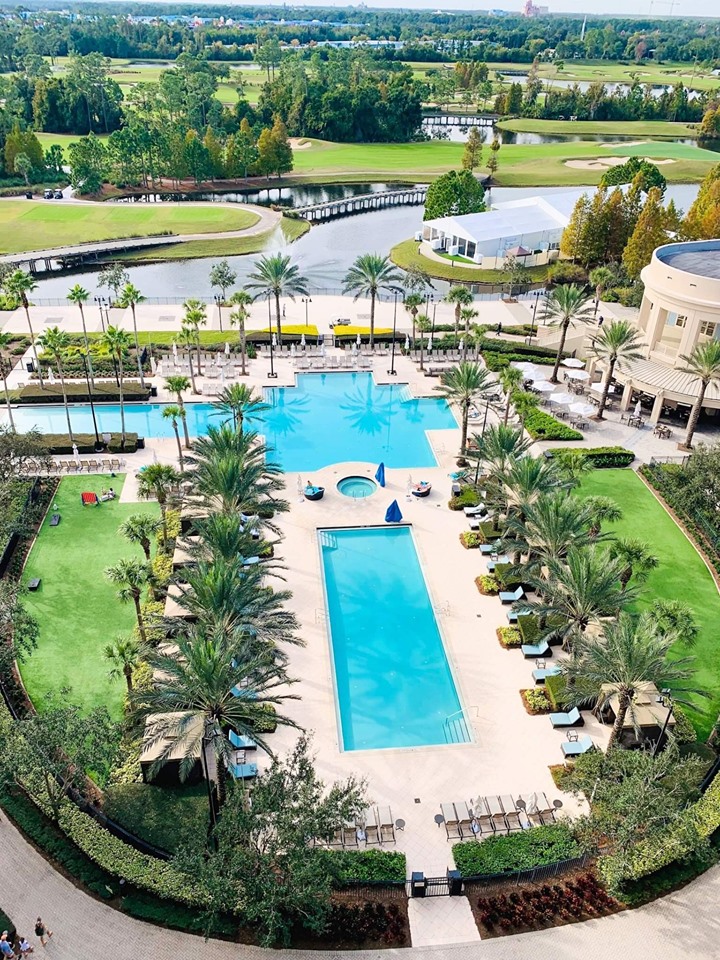 The spectacular pool view from our room! Those palm trees!
Pay A Visit To The Fitness Center At The Waldorf Astoria Orlando.
Even when I am on a mother/daughters retreat, fitness is always in the back of my mind so I exercised at the fitness center. Treadmills, stationery bikes, and gym equipemnt are there ready to be utilized.
Located next to Oscar's on the ground floor, the fitness center has the same great floor-to-ceiling glass walls that bring the outside in.
Cold water is always available and nice fluffy towels are around as well.
The Waldorf Astoria Spa Offers World-Class Treatments
One of the bonding activities my daughters and looked forward to while at the Waldorf Astoria Orlando during our mother/daughters time, was spending time at the Waldorf Astoria Spa.
Very popular in the Orlando area for its full-service options, the spa is a luxurious experience.
We adored pampering our tired muscles in the hot tub one evening, followed by relaxing in the decadent steam room.
There are twenty-two treatment rooms at the spa each with its own highly qualified beauty therapist. To schedule a treatment or for in-depth information, click here: Waldorf Astoria Orlando Spa.
My only regret is that I did not have time to have the Himalayan Salt Therapy experience. The Waldorf Astoria Orlando has a room filled with dry crystal salts. (Salt therapy has been practiced worldwide for over one hundred years.)
The dry salt particles cleanse your respiratory airways and skin and help you feel better. Sadly, I was unable to fit this into our already crowded schedule. However, after researching the benefits of salt therapy, I will make sure it is on our to-do list in the future!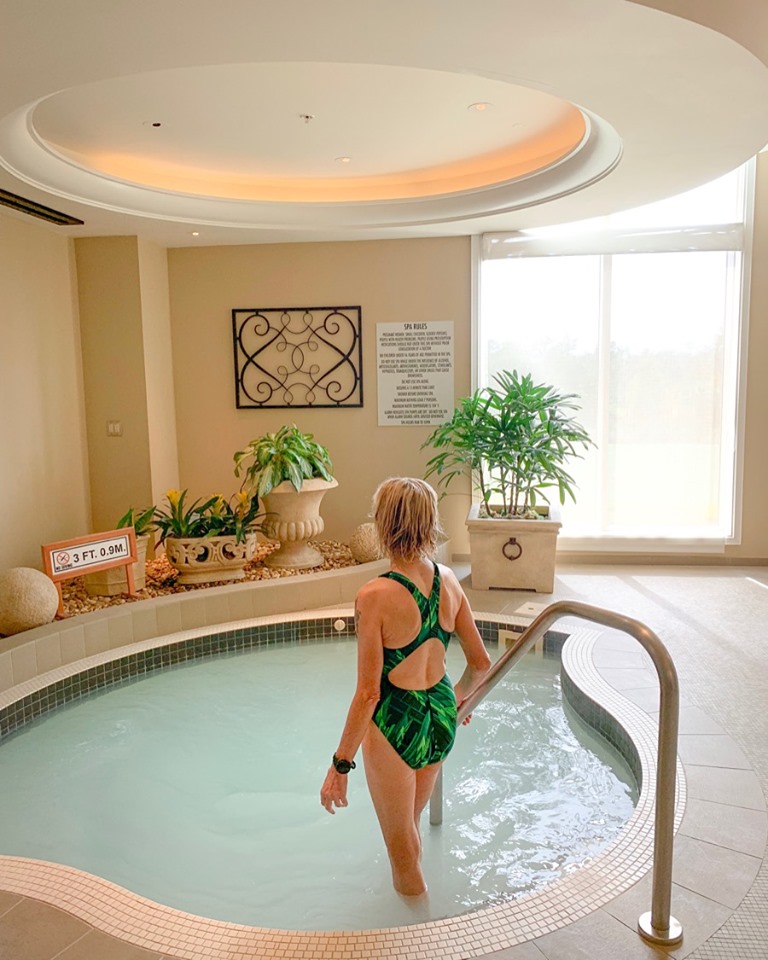 Here I am entering the hot tub at the Waldorf Orlando Spa.
The Waldorf Astoria Orlando Offers World Class Golf!
I am not a golfer. But, wow! I can definitely understand why the 18-hole Rees Jones-designed champion golf course is such a draw.
Nestled in the Bonnet Creek Nature Preserve, and adjacent to the Waldorf Astoria Orlando and Hilton Bonnet Creek Hotels, this is a spectacular place to golf.
This is one of the very few courses in all of Florida where there are no houses facing the golf course. It feels as if you are really one with nature in the preserve while playing golf.
If you would like to schedule a tea time before your arrival, you can call the clubhouse at 407-597-3780. Or for more information, you can click here: Waldorf Astoria Golf.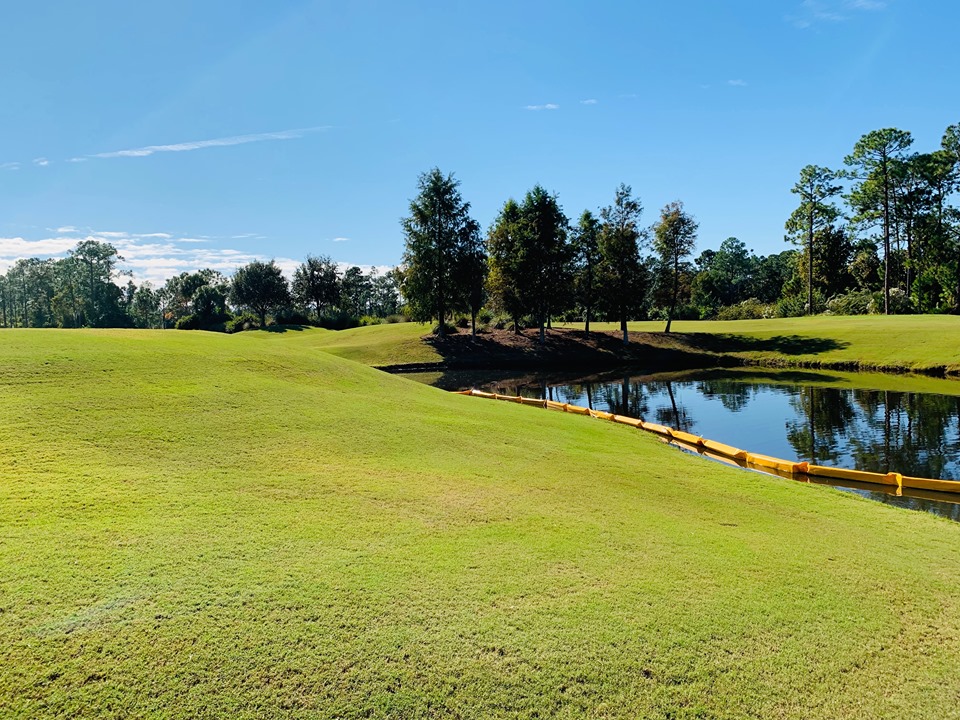 Waldorf Astoria Orlando golf course. You will never see a house while on the course.
The Waldorf Astoria Orlando is always my first choice when I am looking to spend some quality time with my two daughters.
I have listed some of the highlights of our time being pampered by the fabulous staff, eating delicious food, drinking delightful drinks, relaxing poolside and in the spa.
The Waldorf Astoria Orlando is located at 14200 Bonnet Creek Resort Lane, Orlando Florida. They may be reached at 1-407-597-5500, for information and to make reservations. You may also obtain information here: Waldorf Astoria Orlando.
I was gifted a two-night stay at the Waldorf Astoria Orlando in exchange for this honest review. All opinions are my own.
Have you ever stayed at the Waldorf Astoria Orlando? Did you love it as much as we did? Please let me know in the comments below!