Does the idea of a Russian river cruise intrigue you? Are you thinking of taking a Russia river cruise and looking for first-hand information from someone who already has? Well, look no further because I sailed Viking River Cruise's impressive 13-day Waterways of the Tsars river cruise and I readily admit it was the ultimate trip of a lifetime.
From the moment we began working with the Viking liaison in the comfort of our home until boarding our international flight home in Moscow, Viking made every step of the way, every decision as easy as possible for us. Here I will share with you just how simple and effortless it was to book and plan for a Viking river cruise, and how unbelievably extraordinary the cruise was.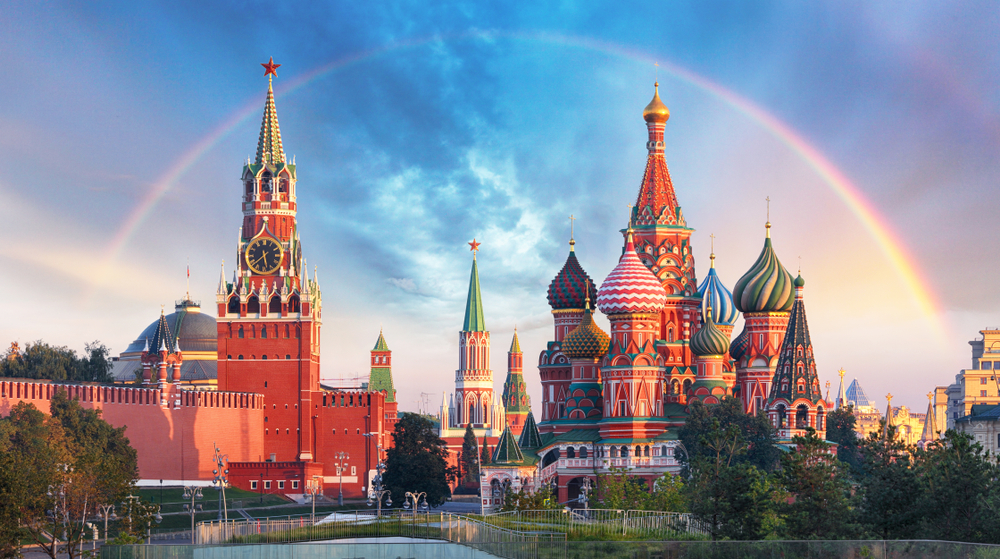 Viking Russian River Cruise: The Ultimate 13 Day Guide
Viking Russian River Cruise: The Planning Stage
My daughter Victoria from Follow Me Away accompanied me on the Waterways of the Tsars Russia river cruise. As soon as we selected our cruise we were assigned a Viking consultant who handled everything. She was our "go to" person when we had questions or concerns.
We created a personalized online account at MyVikingJourney.com. There we could see the specific tours, excursions, and decisions we had to make for our trip. Thirteen days was a long trip and there were many options to consider. At MyVikingJourney.com everything was accessible online at one convenient location. There was a question and answer section that had tons of information right at our fingertips that saved us a lot of time and angst. We were sailing on the Viking Ingvar.
After we decided on our specific Russian river cruise and dates, we needed flights to Russia. Be sure to check with your travel agent or Viking directly about packages which include airfare, or discounted airfare. Amenities like this may change frequently. Our Viking rep, Cathy, took care of booking our flights and they were very reasonably priced.
Traveling to Russia involved obtaining a Russian visa. It was a very easy process and Viking River Cruises has specific detailed information on how to fill out the paperwork correctly and where to send everything. Our passports and documents were sent to Generations Visa in Washington DC, the company Viking works directly with. (Russia does not do online visa applications yet.)
Next decisions were about selecting excursions while on our Russia river cruise. At every city along the Waterways of the Tsars, there were included tours offered free of charge. Optional tours are also offered, and there is an additional fee for them. I signed us up for all the included tours and several optional ones.
On Viking Cruise's website, most day's explanations included videos of the areas we were scheduled to visit. They really helped a lot in the planning process and to heighten the anticipation.
We decided to purchase the Silver Spirits Package for our Russian river cruise with Viking. Victoria loved mocktails, and I could not resist the Russian vodka! However, Viking Cruises is generous with house wine, beer, and soda, which are all complimentary during lunch and dinner, beginning at the daily cocktail hour.
At long last, the day had arrived for us to begin our travels to Russia!
Days 1-4: Waterways of the Tsars, St Petersburg
After passing through customs and immigration at the St Petersburg airport, and retrieving our bags, we were warmly greeted by Viking staff members. Once we exited the secure area of baggage claim, Slava and Philip in their bright red Viking shirts were there to meet us.
We were taken by Viking coach to our home away from home for the next 13 days, the Viking Ingvar docked on the River Neva. Named after Grand Prince Ingvar, born in 875AD, the Ingvar has 5 decks. There is one main restaurant, two bars, a library, and a sun deck. You will also find an onboard boutique selling all things Russian, along with Viking merchandise. With a crew of about 114, our sailing was at full capacity with 200 passengers.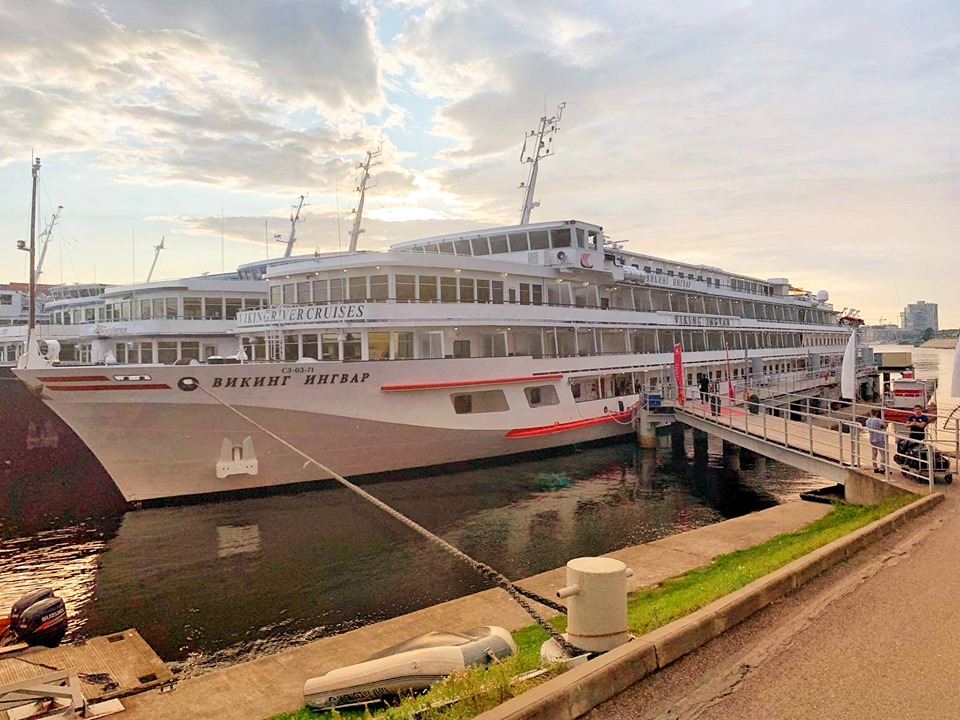 The Viking Ingvar docked in St Petersburg waiting to welcome us aboard.
Once we arrived we were warmly greeted b Viking Ingvar staff and the program director Sasha Danilov. After settling into our verandah room with a balcony, we headed down to the main dining room for dinner.
Dining as a vegetarian and vegan duo can be challenging sometimes. But not with Viking. Immediately head chef Joachim Moeller came to meet us and discuss our dietary restrictions. From that moment on, Victoria and I knew we would not have to worry about our meals! If you have dietary restrictions, they are carefully addressed on Viking cruises with the culinary staff.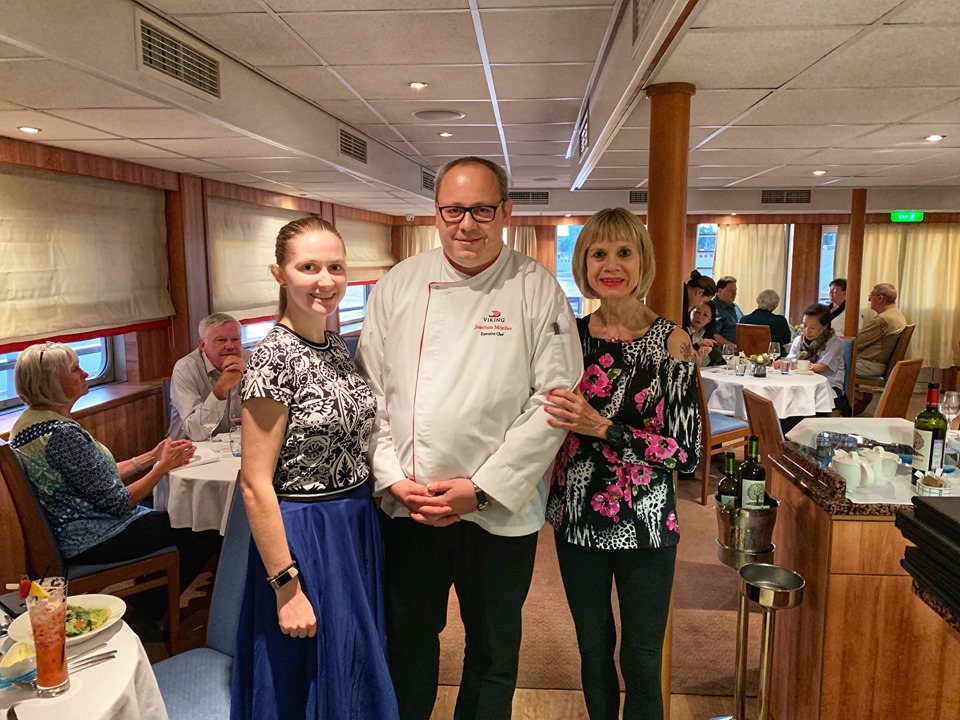 We met with Chef Joachim on our first evening on board the Ingvar to discuss our dietary restrictions: one vegetarian and one vegan.
St. Petersburg Russia is an ornate and lavish city built on the Gulf of Finland by Peter the Great. He toured Europe extensively for architectural insight and the Russian Baroque influences are evident to this day. The city is opulent and elegant. St Petersburg is often called "The Venice of the North" due to the abundance of canals that connect the many islands that are the city.
During our four days in St Petersburg, we learned about the history and soul of the city. Strolling through the Hermitage, (second largest art museum in the world, surpassed only by the Louvre), witnessing an authentic Russian ballet and taking a walking tour of St Petersburg, our days and nights were as busy or as relaxed as we desired.
Walking through the Church of Our Savior on Spilt Blood and learning of its history and its multicolored brilliant mosaics covering the entire inside was definitely a highlight of St Petersburg. The tour of the Faberge Museum was unbelievable and we ended our time in the city by touring St Petersburg from the Water. We rode along the canals and under iconic bridges in a comfortable barge-like boat. Sailing past ornate palaces and historical Peter and Paul Fortress and Cathedral was amazing and a unique way to explore.
Our time in St. Petersburg was at an end and the Viking Ingvar set sail.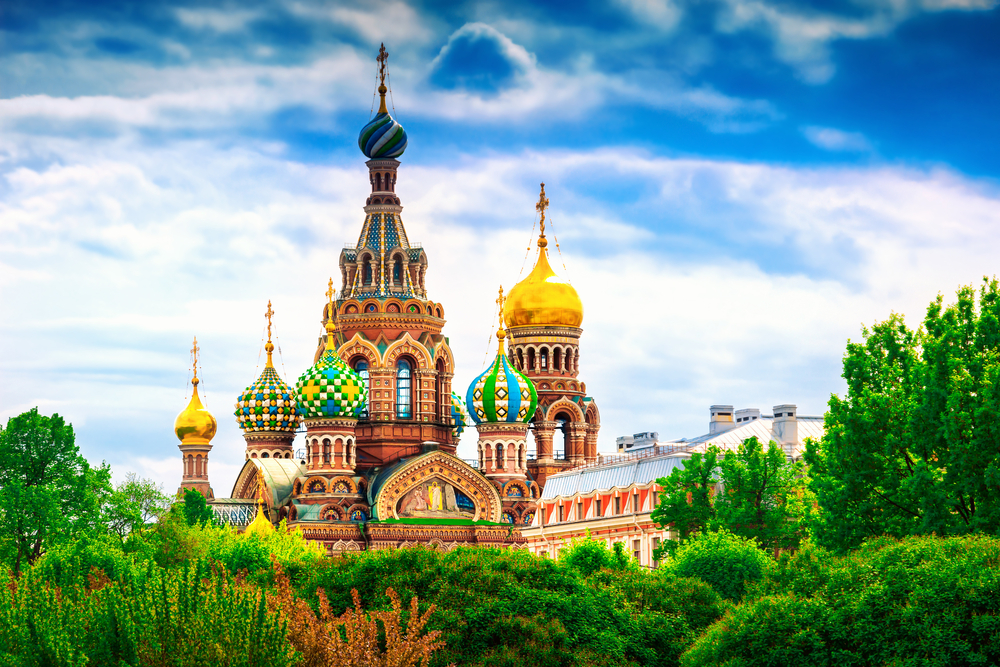 The Church of the Savior on Spilt Blood in St Petersburg. As sumptuous on the outside as it was on the inside.
Life Onboard The Viking Ingvar During Our Russia River Cruise
What I especially enjoyed about this specific Viking Russian river cruise itinerary was there was a nice mix of shore excursions and sailing days. When sailing, there was always a full schedule we could participate in. Or not if we so chose.
There was a cocktail party every evening before dinner in the Sky Bar that included live music. Sasha, the program director, hosted a daily port talk about the next day's excursions and events. Breakfast, lunch, and dinner were scheduled according to the itinerary. After dinner, there was live music and dancing in the Sky Bar.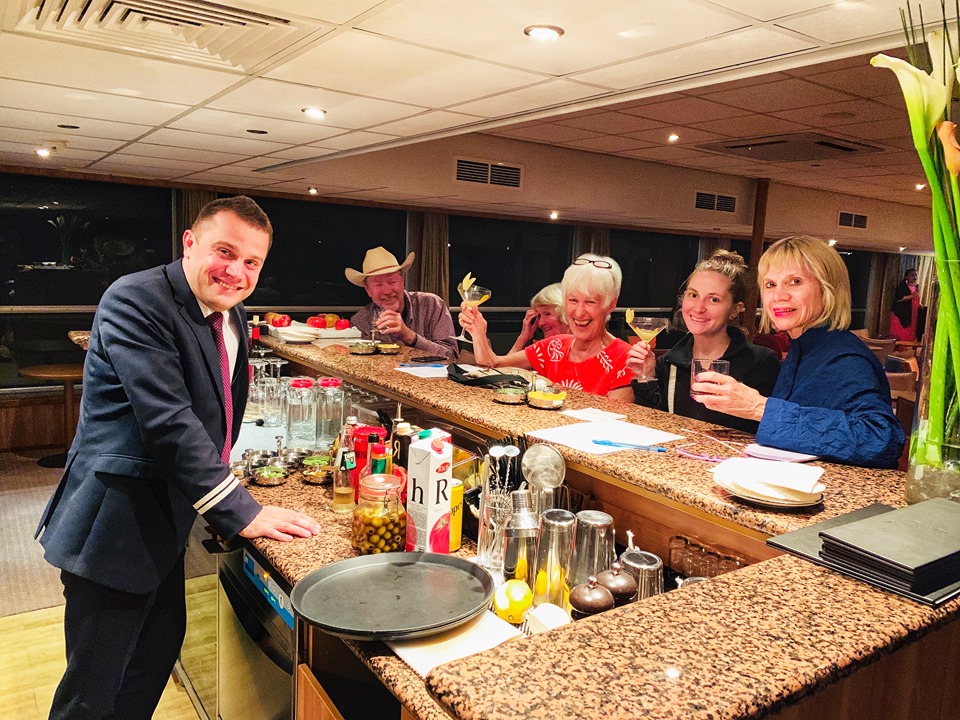 We are ending an evening onboard the Ingvar with cocktails and friends in the Sky Bar. Sasha joined us as well.
The onboard guides hosted a series of Russian history lessons which were extremely enlightening and informative. At the end of the trip, they hosted a question and answer session about Russia where no question was off-limits.
These lectures and talks were streamed live into our staterooms rooms, which was very convenient so we did not have to miss out on any activity.
Day 5: Waterways of the Tsars, Mandrogy
Viking Ingvar arrived in Mandrogy after lunch. This charming Russian village is more of an open-air living history museum that visually keeps the traditions of the Russian inhabitants of the area alive.
We meandered around at our leisure and saw brightly colored houses. My favorite, of course, was the Vodka Museum. There is a literal wall of vodka. Here one learns of the history of Russian vodka and is fortunate to sample a few of the 2,800 bottles in stock.
The lovely 18th century recreated village is dotted with craftsmen/women crafting their wares, and selling them as well. Lovely authentic Russian souvenirs were for sale.
We were able to paint our own Matryoshka (nesting) dolls and learned the history of them. Others indulged in the banya ritual, the traditional Russian sauna. There were several of us who decided at the last minute we wanted to try the Russian banya, but we were too late as this optional excursion had sold out. Be forewarned: if you do not sign up for your excursions early enough, you run the risk of being disappointed as we were when they sell out.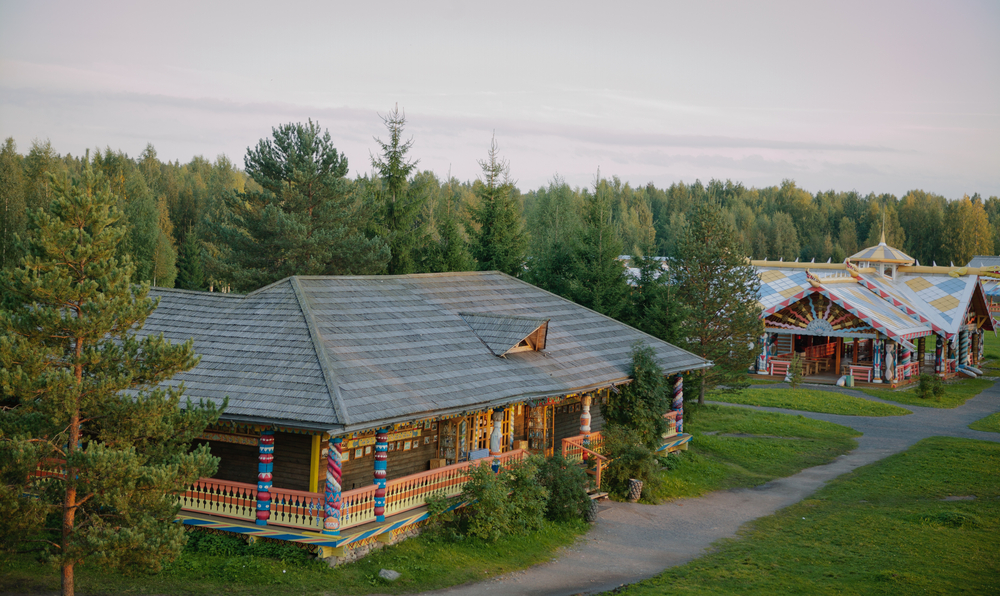 Mandrogy, a lovely open-air historical and crafts village on the Svir River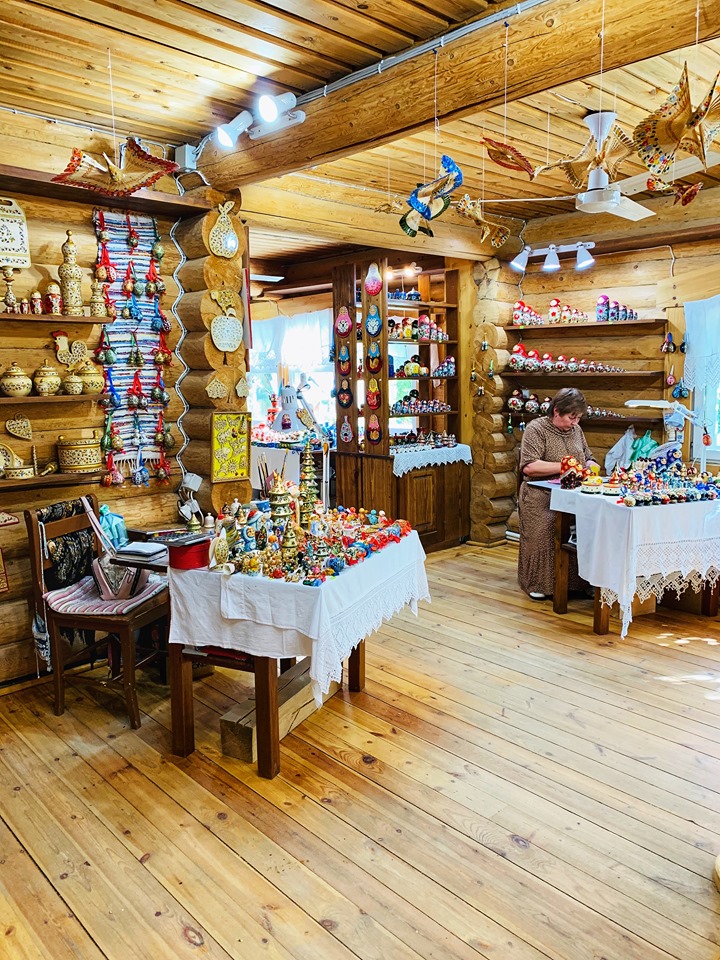 Mandrogy was a great place to purchase authentic Russian souvenirs directly from the artisan!
The Food And Where To Find It On The Viking Ingvar
Breakfast: Breakfast could be found in three locations during my Russian river cruise aboard the Viking Ingvar. The coffee stations, located outside the main dining room, had coffee and pastries every morning. Self-serve coffee of every variety was available 24/7, as well as my favorite, hot chocolate. Some sort of pastry, or regional cookie (with an explanation of its history) was also always accessible there.
There was a continental breakfast every morning at the Panorama Bar with beverages and breakfast items. And a full breakfast buffet was served every morning in the Restaurant. Hot dishes cooked to order were available as well.
Lunch: A lighter buffet lunch was served in the Panorama Bar and the main Restaurant served a generous buffet and dishes to order every afternoon. We had lunch in the Restaurant every afternoon. Chef Joaquim was around serving at the buffet and explaining the regional dishes to all passengers.
Dinner: Dinner began every evening at 7:00 PM most every evening in the elegant Restaurant. There were always several dishes that were available every night of our Russia river cruise. However, the culinary staff made a great effort to serve historical and regional dishes every evening that originated in the area we visited that day.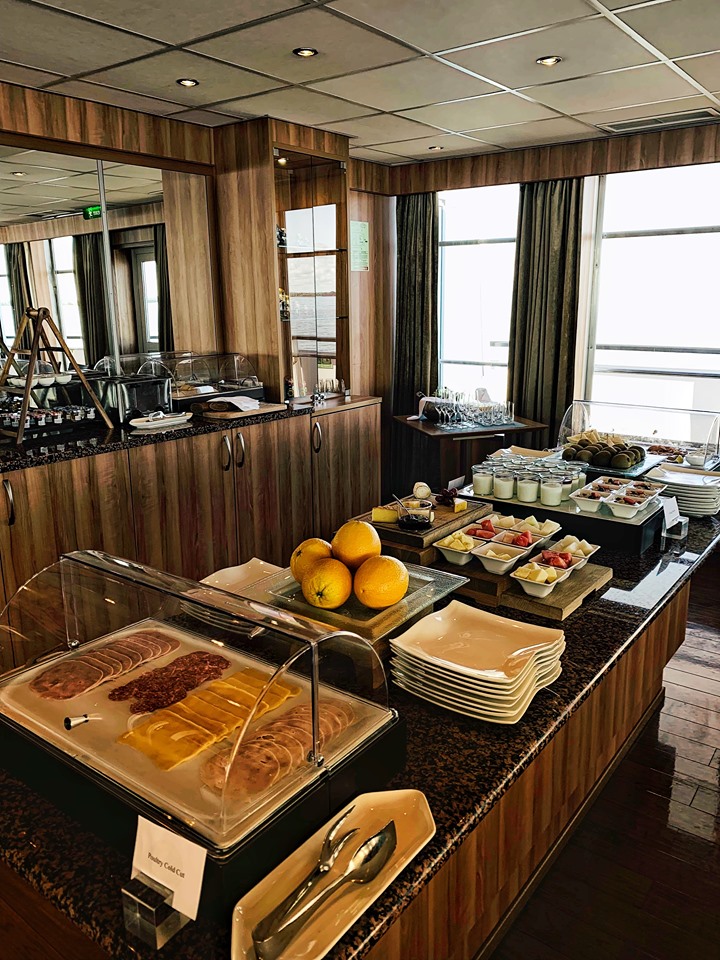 Continental breakfast was available every morning in the Panorama Bar.
Day 6: Viking Russian River Cruise, Kizhi Island
The Ingvar docked at Kizhi Island on the shores of Lake Onega. I was very excited to begin the Kizi Island Walking Tour because I wanted to see the huge wooden church that was built in 1714 without a single nail.
Kizi Island is famous because it is an open-air Museum of Architecture. Wooden barns, farmhouses, bell towers, and banyas and even windmills were relocated there to preserve them and their history. The island is a designated UNESCO World Heritage Site.
We toured a period farmhouse and the inside of the Russian Orthodox Chruch of Intercession. The scenic beauty of Kizhi Island was absolutely stunning and a perfect backdrop for the Russian architectural lesson it provided!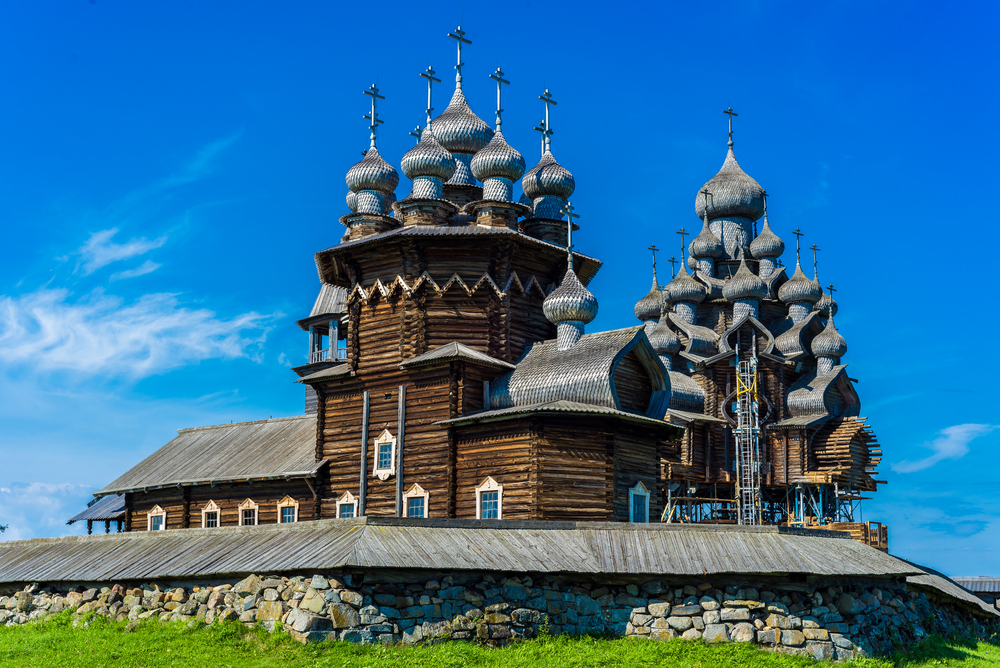 Wooden Transfiguration Church alongside The Church of the Intersession on Kizhi Island located on Lake Onega
Entertainment Onboard The Viking Ingvar
There was always something to do or nothing at all to do. The choice was absolutely up to each passenger during our Viking Russia river cruise how busy they wanted to be.
Each evening during turndown service, our cabin steward left us a copy of the Viking Daily. It was the ship's daily newsletter that contained everything we needed to know to be in the know and organized for the next day's events.
On sailing days, there were Russian language lessons, Russian history lessons, and cooking/baking demonstrations. There was a sommelier led wine tasting, and a vodka tasting event led by our cruise director, Sasha that led to much hilarity. One of my favorite onboard events was the galley tour!
Every evening after dinner there was live music and dancing in the Sky Bar with Eduardo and Sonia. Several evening, Sasha led games which were a great way for us to get to know our staff and fellow passengers.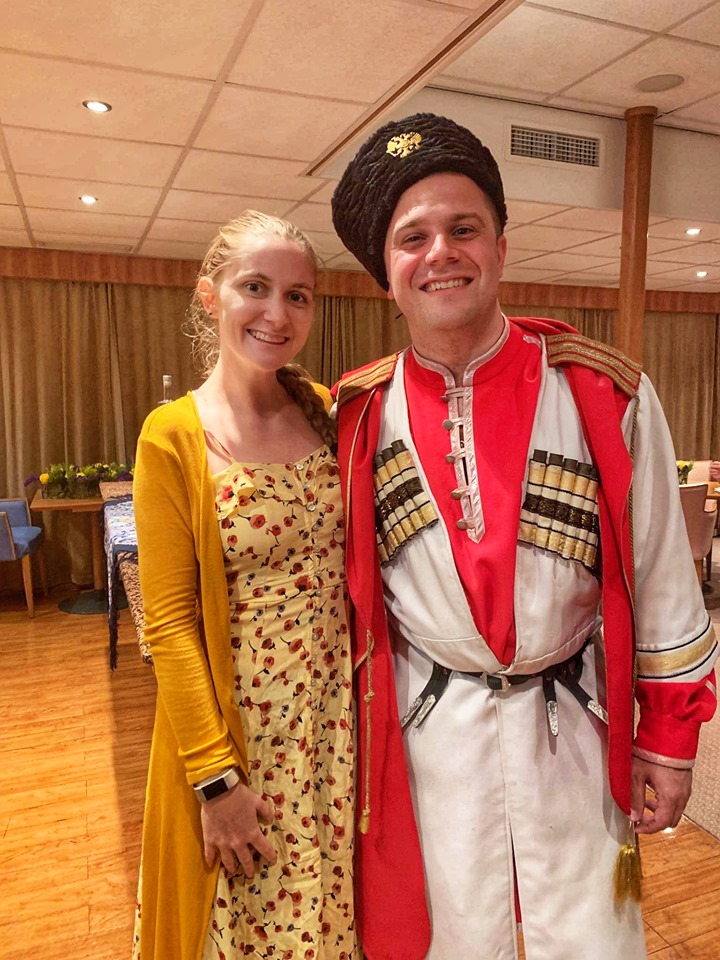 Victoria with Sasha, the Viking Ingvar Program Director, at the vodka tasting event. There is a secret, you know, how to down vodka shots and not get drunk!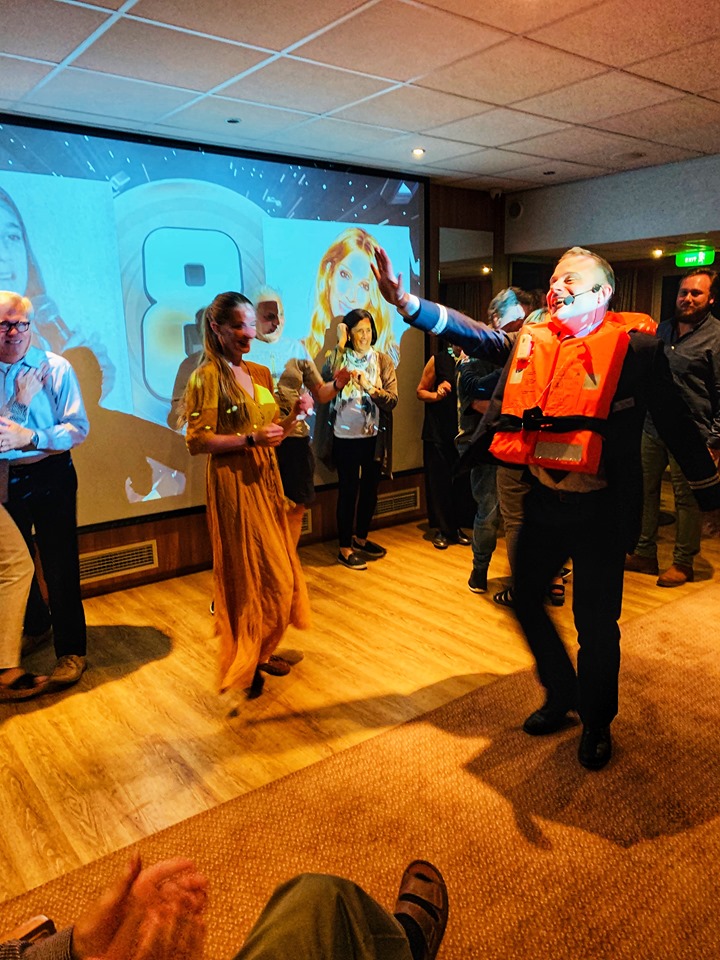 Victoria, along with other passengers, is dancing while Sasha leads us during a music trivia game.
Day 7: Viking Russia River Cruise, Kuzino
The tiny port town of Kuzino holds the entrance to the amazing Kirillo-Belozersky Monastery, one one of the largest Orthodox monasteries in northern Russia. From the ship, we boarded a comfortable coach and headed to the monastery.
As we walked to our busses though, we passed through a mini-market of sorts. Many locals had set up and were selling their wares. It was a great place to barter as it seemed everyone had the same kind of Russian souvenirs for sale.
Founded in 1397 by two monks, the Kirillo-Belozersky Monastery is located on the picturesque shores of Lake Silverskoye. The entire monastery complex is surrounded by white walls and towers for protection.
From the outside, it is rather deceiving, because inside the monastery is quite large. There are at least eleven preserved churches, with impressive exterior frescoes. The icons were remarkable as well. Today the monastery is a museum, but there are a few Russian Orthodox monks who live there.
After some free time to meander around, we boarded our Viking coaches and headed to visit a school in Kuzio. It was enlightening, revealing and thought-provoking. We toured a school, interacted with students and were entertained. We learned about the Russian education system. It was certainly NOT what I expected. It was much more!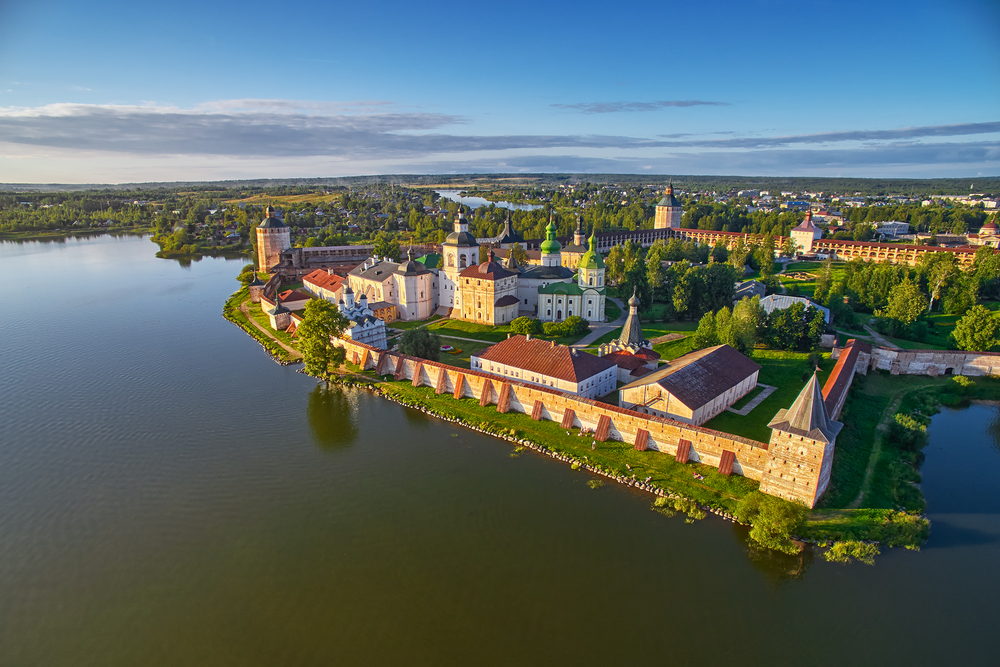 Kirillo-Belozersky Monastery on the shores of Lake Siverskoye.
Scenic Cruising Onboard The Viking Ingvar
Our cruising days were far from the hustle and bustle of the larger towns. But they were filled with as much history as the open-air museums and small villages we visited along our way. Each waterway, lake, river or reservoir had a history that helped shaped the Russia of today.
Just over 40 miles, we departed St Petersburg on the Neva River, one of the deepest and shortest in Europe. Once out of town we passed sumptuous summertime villas used by the wealthy, along with wildlife and calm waters. Soon we entered Lake Ladoga, the largest lake in Europe at a whopping 7,000 square miles. It is not very deep and it freezes during the cold Russian winters.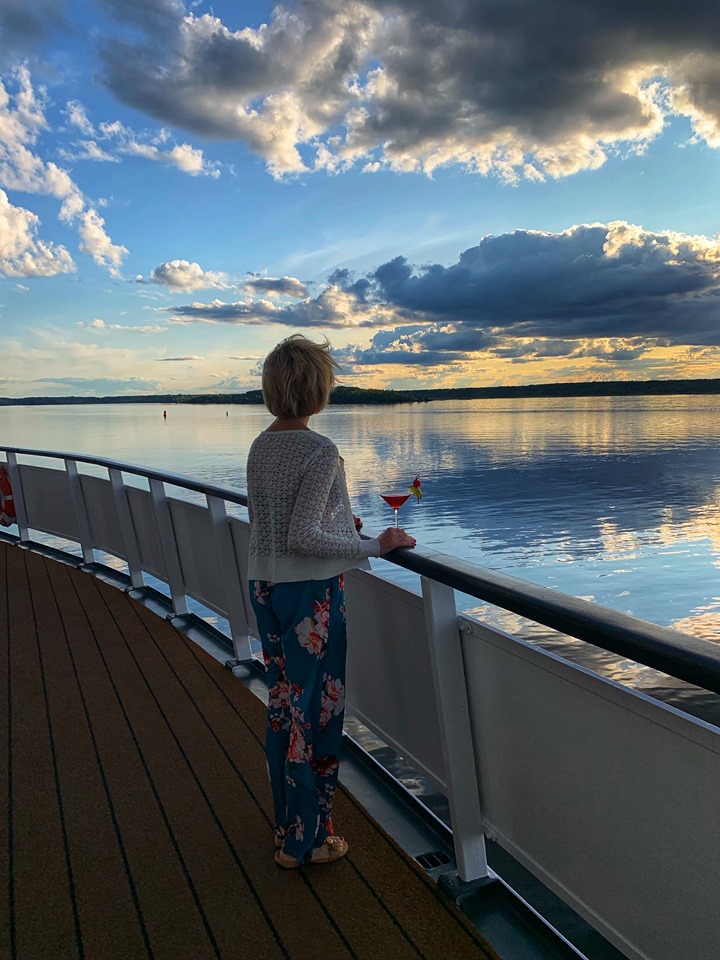 Imagine ending your Russian river cruise evenings with a sunset like this!
The Svir River connects Lake Ladoga and Lake Onega. Here we passed small villages with cute houses. There are many sawmills and stacks of logs from the Karelian forests. Once sailing on Lake Onega, we learned it is the second-largest European river, covering an area of 4,000 square miles. Over 50 Russian rivers empty into Lake Onega making their way into the Svir River.
The Volga River, "Mother Volga," is the national river of Russia. At a commanding 2,300 miles long, she is the longest river in Europe and the main waterway in western Russia. There is a lot of boat traffic on the Volga because it carries two-thirds of Russia river freight. On our journey, the Viking Ingvar passed through sixteen Volga River "locks" leveling out the river's height permitting us to progress.
Finally, as we approached Moscow, we sailed the seventy-nine-mile man-made waterway called the Moscow Canal. Where the Moscow Canal meets the Volga River there is an eighty-foot statue of Vladimir Lenin.
Much commerce takes place along all of Russia's waterways. We viewed wildlife, quaint villages, locks, dams and reservoirs. We were blessed with absolutely perfect weather and the ability to meander outside on the decks to gaze as the small towns passed by and learn first hand some of the histories of Russia's scenic waterways.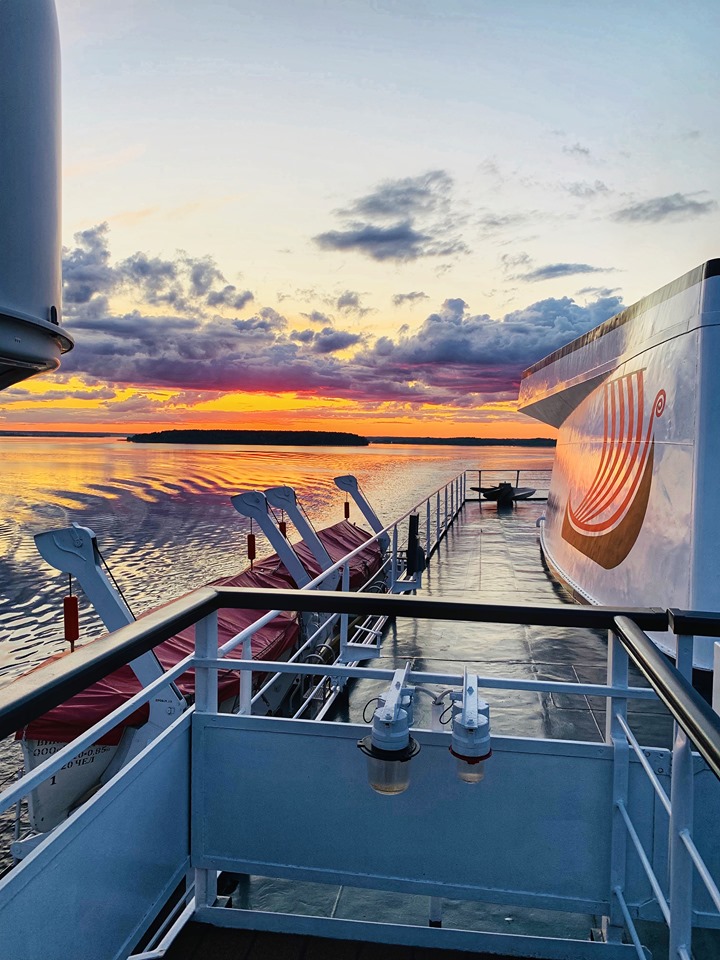 Viking Rusia River Cruise sunset!
Day 8: Viking Russian River Cruise, Yaroslavl
We arrived at Yaroslavl after lunch, around 3 PM. Over 600,000 people call Yaroslavl home and we headed out on our walking tour: Yaroslavl Up Close.
One of the eight Golden Ring cities, Yaroslavl is a very significant and beautiful city along the Volga River. Yaroslavl is an extremely important shipping port along the river.
We stopped into the iconic and stunning Church of St Elija and strolled the city. There are over 70 churches in Yaroslavl, with almost half of them in use today. Another stunning church we visited was the Assumption Russian Orthodox Church. The gleaming gold onion domes on the outside and the amazing frescoes inside were all magnificent.
We had free time to explore the pedestrian-friendly city square for a souvenir or perhaps a coffee at a popular cafe. The ship was docked within walking distance so it was a lovely stroll back home.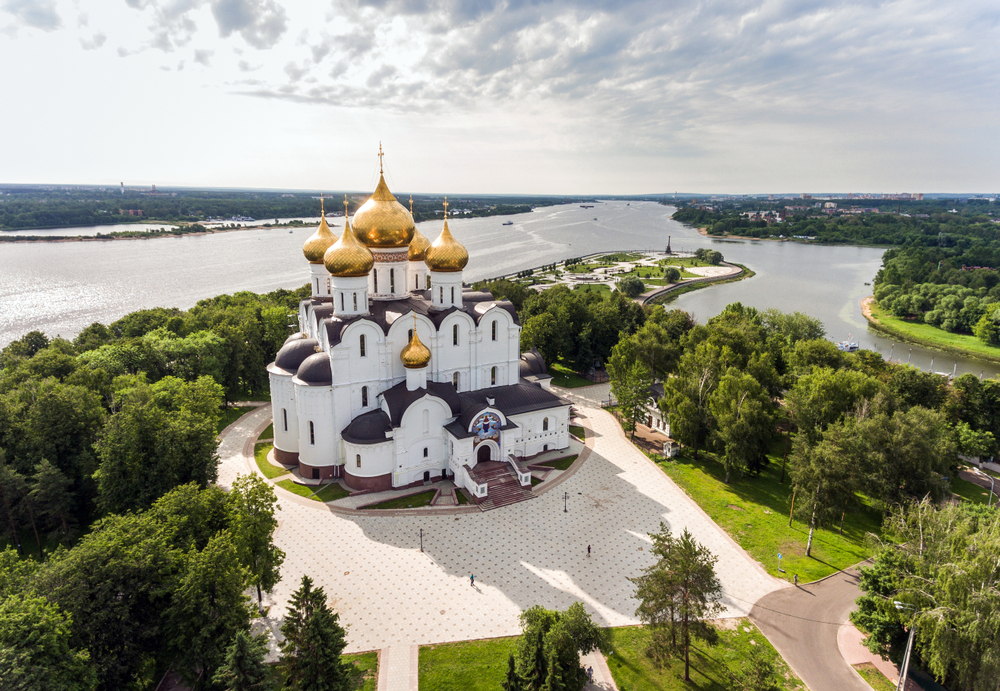 Stunning Russian Orthodox Church of the Assumption in Yaroslavl , Russia, on the River Volga
Tech Amenities Onboard The Viking Ingvar
Yes, there is FREE wifi during the Russian river cruise aboard the Ingvar. You will receive the login information once you board. Most of us want to post pictures on social media or be in some kind of contact with our family and friends back home.
Now the bandwidth varied, and sometimes the connectivity and speed were less than what we were used to at home. No big problem though, because we stopped at so many villages and towns along the way that had stronger wifi reception. With a little planning, much of our online work was done when we were docked in port. That's when the balcony came in very handy!
If you wanted to check your email but did not bring along a laptop, or did not wish to use your phone, there was a computer station onboard. There were two computers with printers we were able to use at any time.
There were both American and European outlets in the Ingvar's staterooms. Victoria and I brought along some European converters because we had a lot of devices to charge and did not wish to 'take turns.' If you don't plan to bring along lots of electronic devices, you will be fine with the outlets.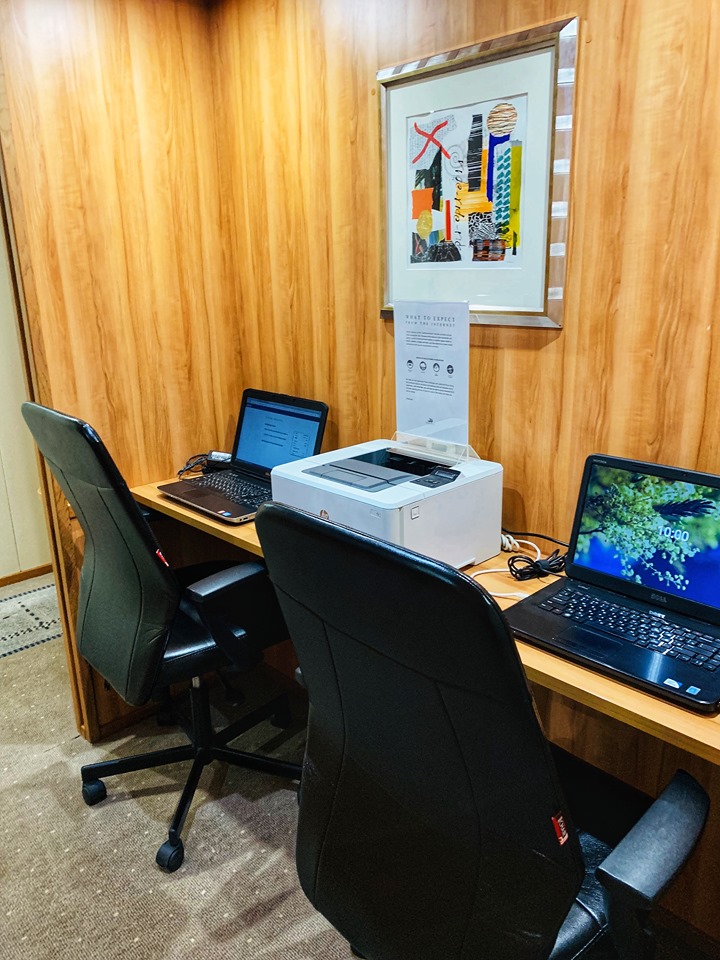 There is a computer station onboard for passengers.
Day 9: Viking Russia River Cruise, Uglich, Russia
A dreary rainy day did not sabotage our morning in Uglich. The second of Russia's Golden Ring cities we explored on our Waterways of the Tsars Russian River Cruise, Uglich was such a quaint town along the water.
We began with a walking tour and headed to the Kremlin of Uglich. It was merely a ten-minute stroll from the Ingvar. We began by visiting the Russian Orthodox Cathedral of Our Saviour's Transfiguration.
Every small village or town, and every large city had the loveliest and most ornate Russian Orthodox churches and cathedrals. All have interesting histories and tragedies. Uglich holds the end of a dynasty as one of its tragedies.
Young Dimitri was only 8 years old when he died. Murdered or accidental we will not know. We do know that his death, this son of Ivan the Terrible, ended a dynasty, sparked civil unrest, and gave rise to the Romanov dynasty.
Next, we toured the beautiful Church of St Dimitry on the Blood. It was built in the 1690s on the spot where young Dimitry's body was found. Through frescoes inside the church, the story of Dimitry along with Bible stories are seen. Dimitry's grave is also inside, and it is very small (because he was a child when he died.)
A visit to a local family followed where we were transported by Viking coaches. There we shared a light meal, a cup of tea and toasted with vodka shots! We had free time to shop for souvenirs along the way back to our ship if we so desired.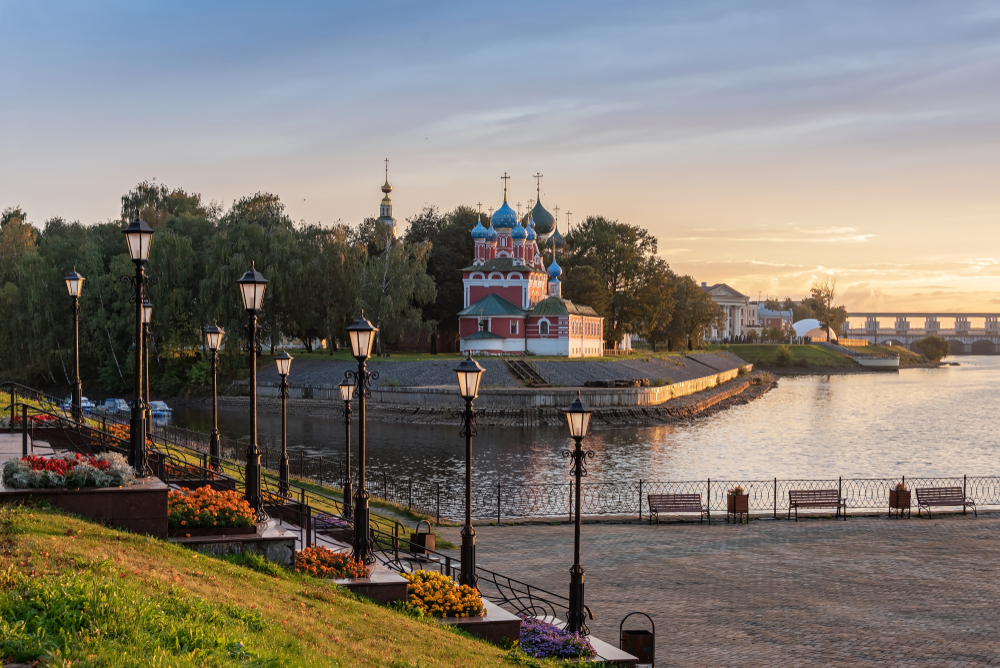 Beautiful Uglich, Russia looking towards the Russian Orthodox Saint Dimitry on the Blood Cathedral.
Viking Russia River Cruise: Staterooms
102 outside staterooms make up the Viking Ingvar. Sizes range from the two 400 square foot Suites to the 160 square feet Deluxe staterooms. Most staterooms feature floor to ceiling sliding glass doors that lead out onto a large verandah. Some categories have a large picture window (4 feet X 3 feet) that opens instead.
There is a twenty-six inch flat screened TV in each room that offers live news shows, along with a variety of ship information, like positioning and live streaming of any lectures and demonstrations happening in the Sky bar.
All rooms are furnished with both 110/220 volt outlets, a telephone, safe, hairdryer, and air conditioning. We used our safe every day. I kept my passport and credit cards in there whenever I was not using them.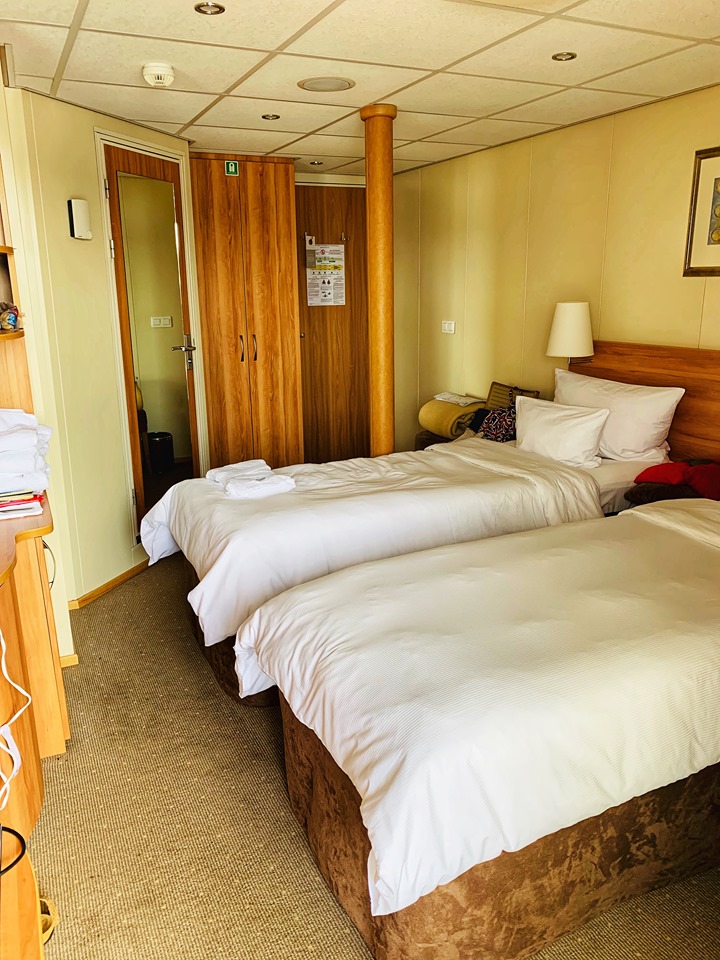 Our verandah stateroom onboard the Viking Ingvar during our Russia river cruise.
Cushy fluffy white spa-like robes and slippers are available upon request. All rooms receive servicing twice daily, when bottled water is replenished and the Viking Daily newsletter is delivered.
Victoria and I thought there was plenty of storage space for all of our belongings for the two of us on a 13-day cruise. With our luggage easily stored under our beds, there was ample space to walk around.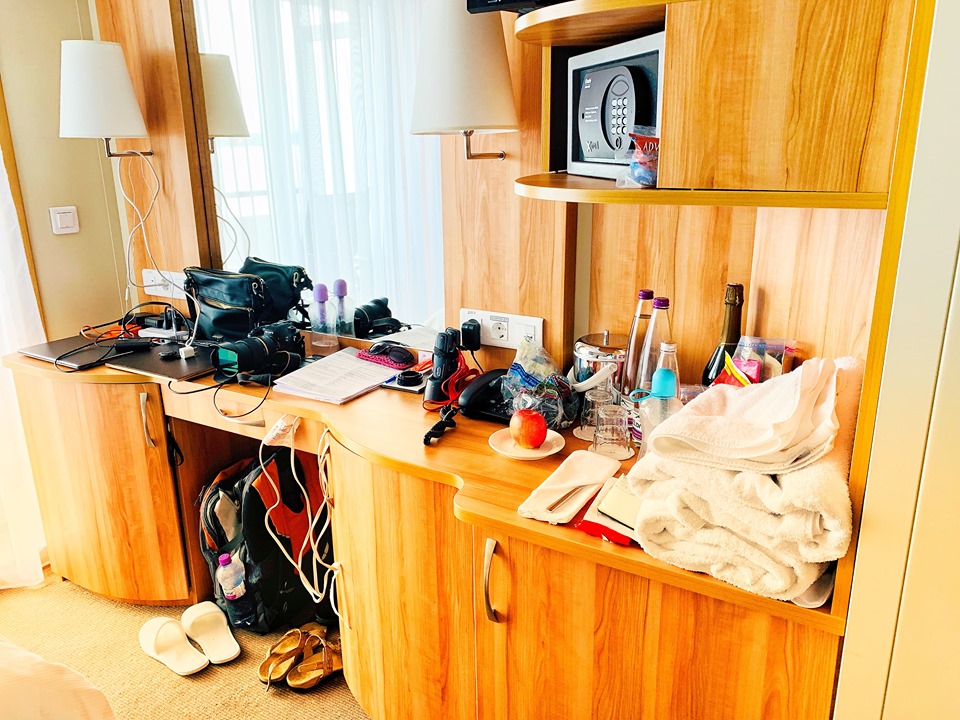 We used our desk to house our laptops and camera equipment.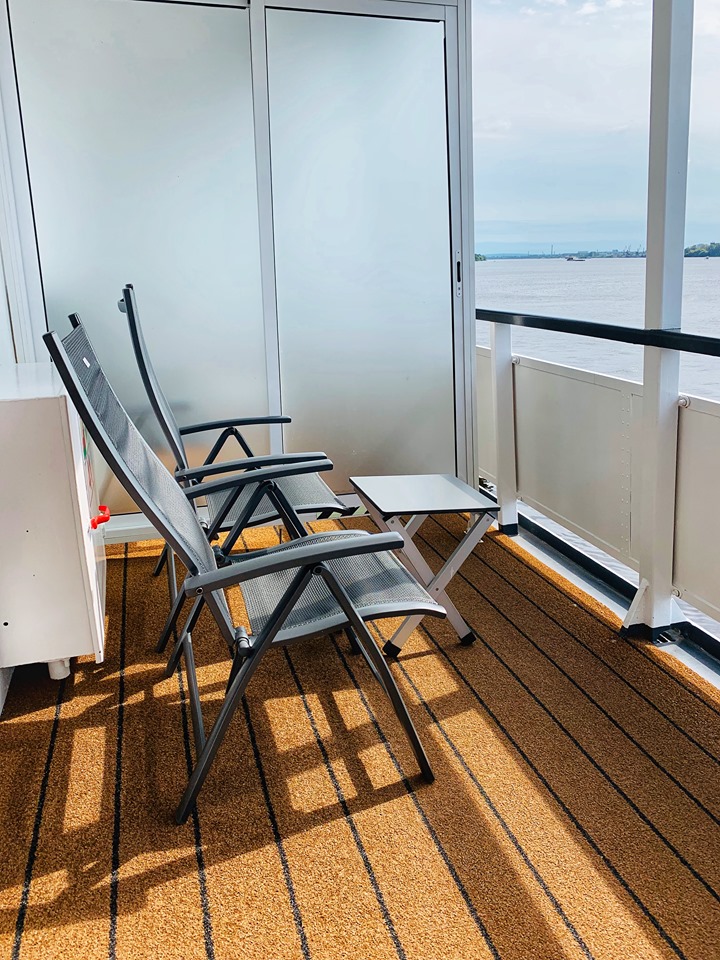 Our spacious verandah. We spent many a morning or afternoon, depending on our itinerary, outside relaxing and watching the countryside sail by.
We leisurely sailed and enjoyed the stunning views from the ship all morning. At 1:30 PM we arrived in Moscow, one of the world's most iconic and fascinating cities. Over twelve million people live in Moscow. It is Russia's political and cultural epicenter.
Three days was a great amount of time to explore Russia, yet not enough time at all! There were unbelievable included tours to participate in, and exquisite optional tours that offered privileged access to some of Russia's most beloved locations.
Moscow is famous for its legendary ornate underground subway stations. Victoria and I elected to take an included walking tour of Moscow, where we visited several of the iconic and elaborate stations.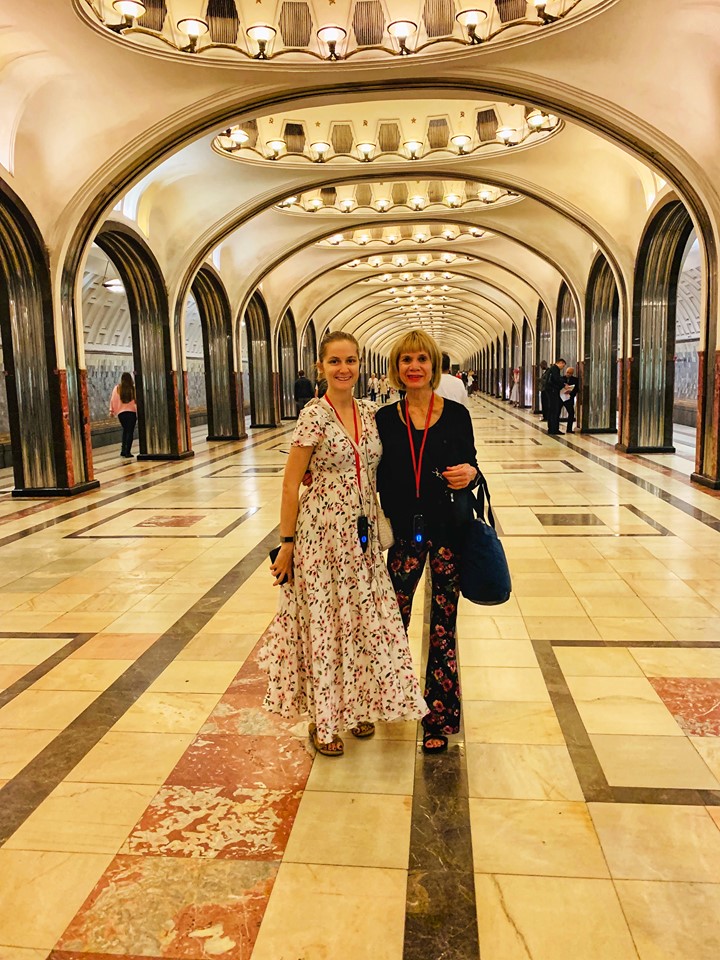 One of the elegant subway stations we visited in Moscow on our Viking walking tour.
We also attended a special concert of Russian music and dance that was extraordinary. Tours of the Cosmonaut Museum, the Jewish Museum, and the sumptuous Treasures of the Kremlin Armoury were offered.
I was most interested in touring Red Square and the Kremlin. Household words to me growing up during the rise and fall of Russian communism, I was very excited to experience them. And of course, seeing the world-famous and iconic St Basil's Cathedral.
And Viking Russia River Cruises did not disappoint. I enjoyed the mixture of tour time and free time to explore Moscow on our own. The Ingvar was docked thirty minutes out of town next to a beautiful green lush city park. It was very conveniently located less than a ten minute walk from a subway station. And then it was a straight shot to the city center of Moscow.
Moscow did not disappoint either. Not one bit. From walking around Red Square, which was barricaded when we visited due to state horse shows and concerts, to visiting St Basil's Cathedral, it was so exciting.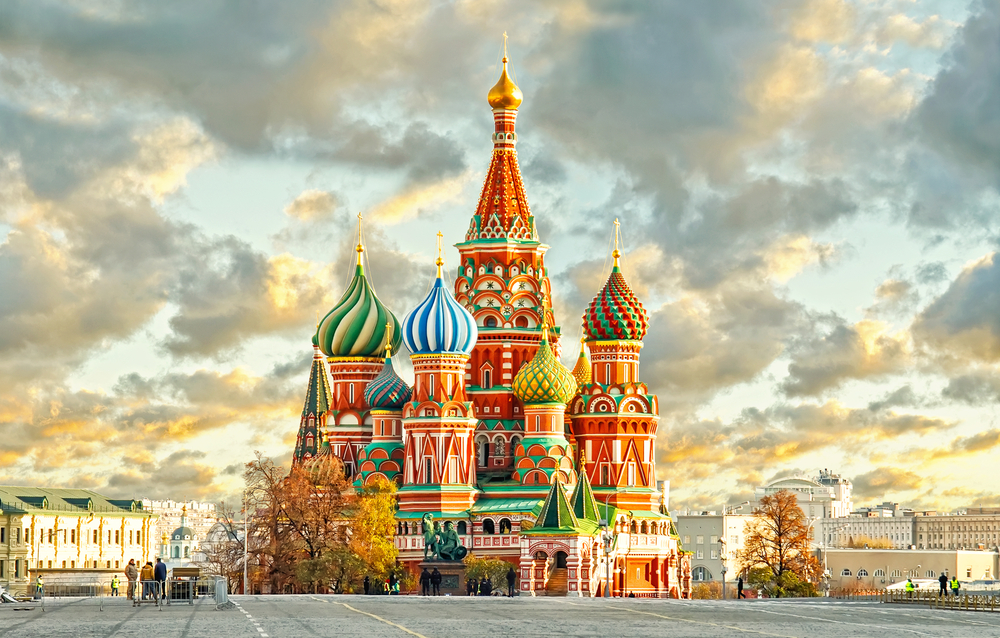 St. Basil Cathedral on Red Square in Moscow. YES, it is that brilliant and beautiful in real life!
We spent time in the GUM Department Store (much more like a mall) which was the most ornate and exquisite shopping center I have ever visited in the world, anywhere! We chose NOT to visit Lenin's Tomb (and see his corpse) in Red Square.
Our visit inside the Moscow Kremlin walls was unforgettable. Long considered the symbol of Russian power, most people, including me, think of the Kremlin as one building. Actually, it is a walled city. Inside are numerous government buildings and home of the Russian president. Also, we saw unbelievably beautiful palaces, cathedrals, and museums mostly congregated in Cathedral Square.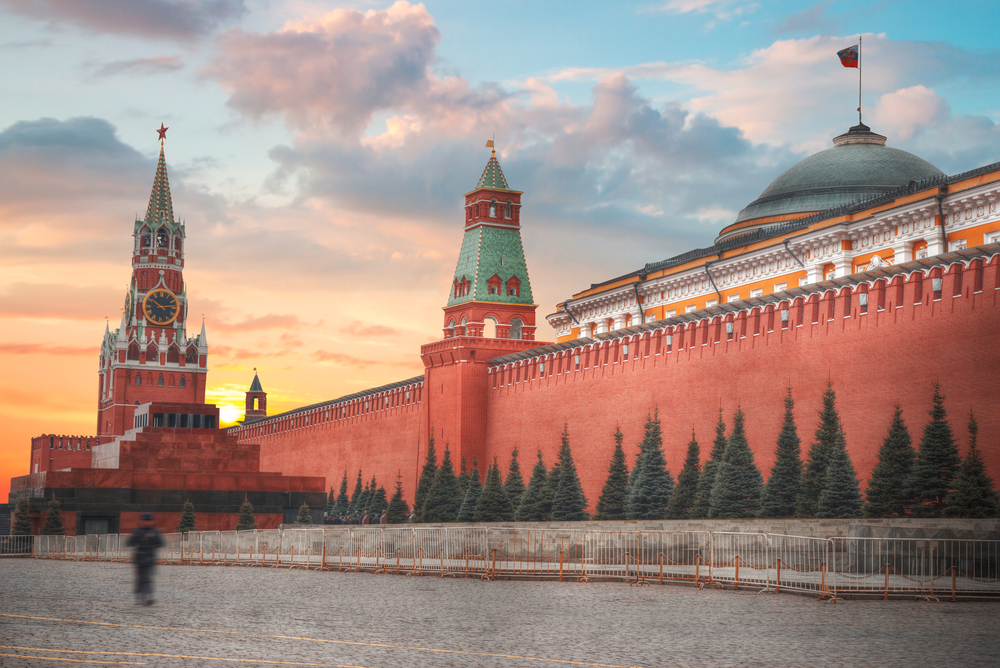 Kremlin (meaning 'fortress') walls adjacent to Red Square in Moscow. The Kremlin is the official residence of the President of the Russian Federation.
Probably one of the most popular optional excursions was Moscow By Night. It was amazing seeing Moscow all lit up and glittering while riding in our coach. Then we transferred to a boat and admired Moscow from the water!
Viking River Cruise Staff: The Backbone of the trip.
The food could be the absolute best. The excursions could be the most captivating. The staterooms could be the loveliest ever. But none of the experiences we had on our Viking Russian River Cruise Ingvar would have been as special if it were not for the extraordinary staff.
The staff of the Viking Ingvar definitely exemplified what it means to offer unparalleled service. Every single staff member, from the captain himself to the kitchen staff working behind the scenes, put forth extreme effort to make the trip so very special. From the extraordinary cabin steward, the servers during our meals, to the bar staff, there was nothing that they could not do for us. The
Finally, I must add that I spoke with several members of the staff and crew and one major theme emerged. And that was how much they enjoyed their jobs and were blessed to be working for Viking.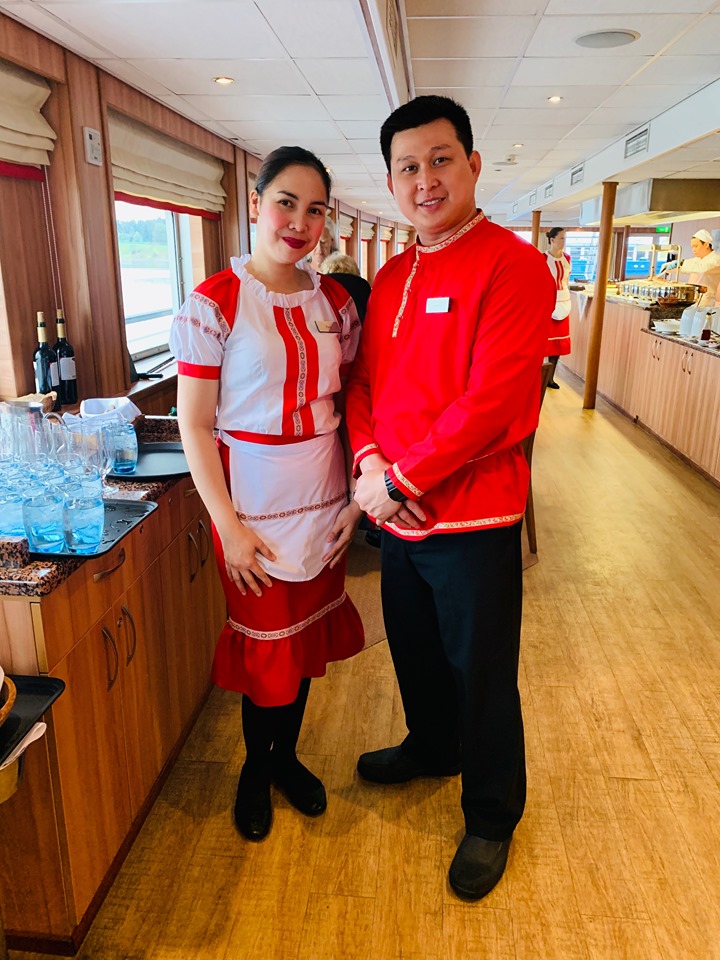 Pamela and Jeremy, our Restaurant servers extraordinaire! Here they are dressed in traditional Russian outfits at lunch the afternoon we celebrated all things Russian aboard the Ingvar.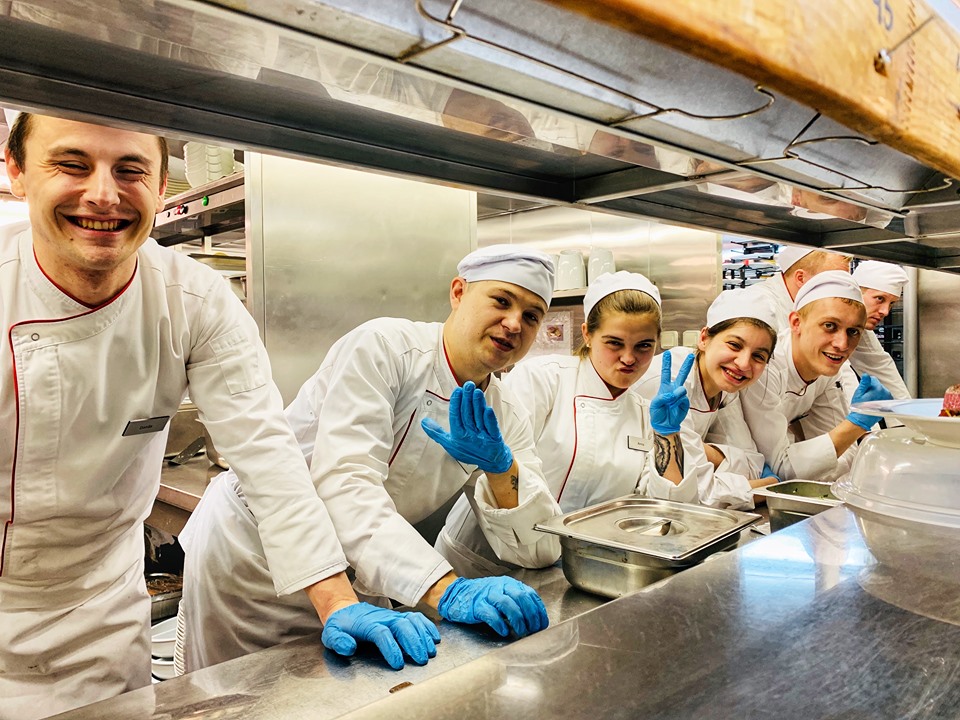 One of the onboard activities was a Galley tour where we met the unsung heroes of the kitchen!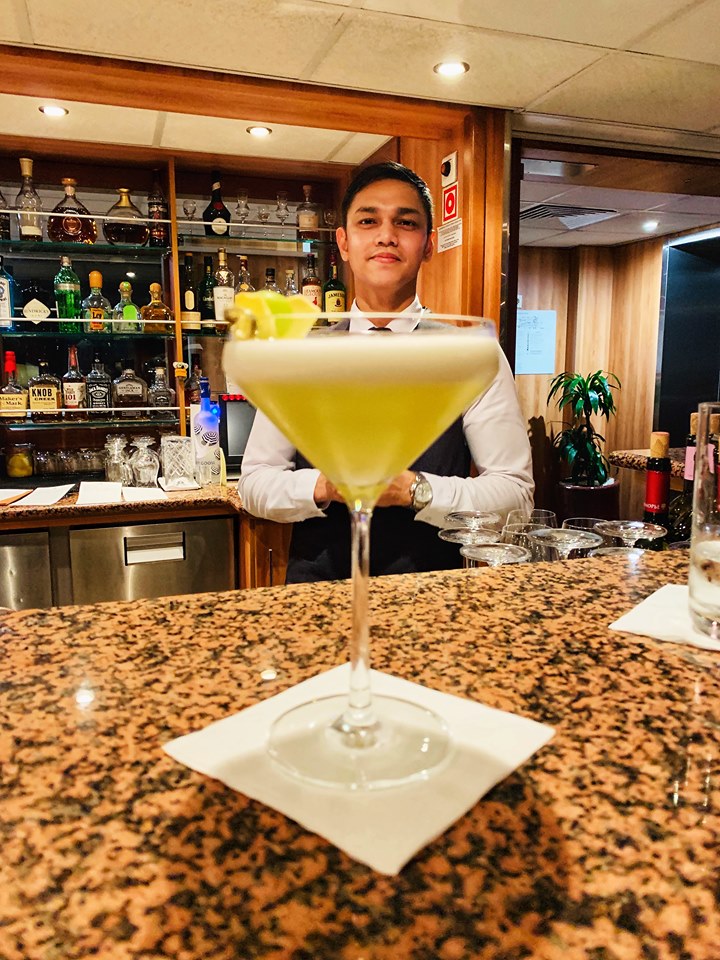 Reymond made the best cocktails! He instructed me on Russian vodkas.
Read These Next:
How To Pack Lightly For Your Viking Russian River Cruise
Here Are Tips If You Are A Senior And Traveling Solo
7 Tips For Surviving Your Long International Flight
How To Remain Healthy When Traveling
Packing Tips For Your Viking Russian River Cruise
I think that using these useful packing tips will enhance your trip to Russia:
A concealed travel pouch may be one of the most important items you bring with you to Russia. This unisex RFID blocking concealed travel pouch is lightweight and comes in several colors. It has lots of organization to give you peace of mind. You can keep your most valuable documents safe and secure next to your body.
If you have a pouch already you may not want to or need to invest in a new one. If it does not come with the RFID protection, these RFID sleeves would be handy to prevent identity theft. This configuration comes with enough passport and credit card sleeves that the entire family would be protected. They are slim too, so they will easily fit into your current pouch or wallet.
I was never a fan of packing cubes until I tried them out! Now I am sold. These Bagail packing cubes are the exact ones I use whenever I travel. I cannot believe how much more organized I am now.
Don't forget to bring along a universal power adapter to Russia. This worldwide power plug is a great example and will charge your phone at the end of your busy days. And this world traveler adapter kit can charge several devices at the same time. This is what you will need when there are several people traveling in your group, or if you bring several electronic devices on your trip that require charging at the same time.
If you are planning on taking a lot of pictures with your phone you will definitely want to consider an external charging battery. This Anker high-speed phone charging battery is the exact one I carry with me on all of my trips. It can be used on a variety of phones, not just an iPhone like I have. And wow is it fast! I like that it holds its charging capabilities for several uses so I do not have to worry about it while out and about. And if I forget to recharge it at night, it will still be good to go the next day.
My daughter gifted me this FugeTek Selfie Stick and Tripod for my birthday. It has Bloothtooth connectivity so it is very easy to use. It is made of durable aluminum and is very lightweight and easy to carry. I love mine and I think you will enjoy it too!
Hydration is so important. You want to remain hydrated to support your immune system which in turn will be stronger to fight off any germs you will encounter during your travels. You will want to bring your own refillable water bottle with you. I never leave home on a trip without my Bobble filtration bottle. The 18.5-ounce size is perfect for travel and it will fit nicely in the pocket of a backpack or your purse. Also when filled with water, it is not too heavy to carry. And the Bobble carbon filter ensures fresh clean water whenever and wherever you fill the Bobble. You can find filter replacements here.
Perhaps you are traveling a long distance and packing space is a premium. Then this set of collapsible silicone foldable water bottles would work well for you. Would not take up much space in your suitcase at all. And you will be receiving a set of two.
You will want to bring a backpack or daypack with you to store snacks, your water bottle, phone, extra clothes, etc.. This foldable water-resistant backpack would be great. It is very affordable and is available in many color options for you to choose from. The fact that it folds down into a zippered pouch will make it easy to pack.
Perhaps you need a more substantial backpack for your international travel. This antitheft backpack has a charging port, is water-resistant and can comfortably carry up to a 15.6″ laptop. It comes in a range of colors to choose from and it is inexpensive as well.
You will be walking more than usual on your Viking Russian River Cruise. A sturdy and comfortable pair of walking shoes is a must-have. These waterproof all-season shoes are extremely affordable and yet fashionable. Mostly everyone is familiar with the Skechers brand, and these Air Run high fashion sneakers come in a lot of colors to match your outfits and are still affordable.
You may be visiting Russia in warmer weather, and you may want a pair of sandals to wear exploring. I highly recommend these Vionics adjustable strap orthotic sandals. I have several pairs of these exact Vionic sandals in several colors that I bring with me *everywhere* I travel. They are very comfortable. I also sometimes bring along my Vionic Tides flip flops. The toe post is so comfortable which makes wearing these super comfortable.
Please be advised: on your Viking excursions, I advise you to wear comfortable closed-toe shoes. The excursions can cover a lot of distance. Also, cobblestoned streets can be difficult to negotiate in sandals or flip flops, even if the weather is warm.
Bring a lightweight scarf or shawl. Scarves and shawls are very popular in Europe, And Russia is no exception. Both men and women wear scarves, both decoratively and as a layering piece to keep warm. This cotton unisex lightweight scarf is versatile and can be worn in any season. And here's another option to consider: this lightweight sunscreen shawl scarf would do double duty to protect you from the sun in the warmer seasons as well as being a fashion accessory layering piece.
Also, in most Russian churches, women's heads and shoulders must be covered. So the scarf can be used for that purpose as well.
We all need to protect our eyes from the sun's harmful UVA/UVB rays. These unisex polarized sunglasses come in a lot of lens colors and frame designs and are extremely affordable too.
If you are fond of the aviator-style of sunglasses these polarized aviators may interest you. I like polarized sunglasses because they remove the glare and help you to see things more clearly. This will be very helpful in Ireland.
If you are in need of new luggage, this expandable soft side spinner luggage is affordable and comes in lots of colors. If you like hard-sided better, then you may favor this hard-sided luggage set better. Both sets come with TSA approved zippers locks and 8 wheels per piece. Either will be great for the plane or train or even your car depending on how you plan to travel to Russia.
Truthfully, before I visited Russia, all I knew was what I learned as a child during the Cold War: communism, KGB, and that the Russian people do not smile much. Viking's Russia River Cruise did an *exceptional* job of introducing me to Russia as she is today. After spending 13 days with Viking Cruises I feel we were expertly guided to every monument and museum and well-known church in each and every city or village we visited.
We were informed about every part of Russian life and its extraordinary history as a country and introduced to the dazzling opulence of her architecture. Not only DO Russian people smile, but they are also warm and friendly. A surprising number of them spoke English. Viking Cruises' Waterways of the Tsars 13 day Russian River Cruise was an outstanding and unforgettable experience, one I think you would love as much as I did.
Have you ever traveled to Russia? Were you as surprised and impressed as I was? Please share your experiences in the comment section below!
Please note: I was provided with a complimentary Viking Russian River cruise for myself and a guest, and a stipend, by Viking Cruises in exchange for this honest review. All opinions are my own.
Linda On the Run is a participant in the Amazon Services LLC Associates Program, designed to provide a means to earn fees by advertising and linking to Amazon.com