Are you looking for the best cabins in Alaska?
I love Alaska. It is my heaven on earth. I have visited the North Star State several times, road tripping the entire state.
Alaska has some of the most jaw-dropping scenery on the planet. And offers some of the most exciting opportunities to get up close and personal with nature.
Here I have listed 11 of the best cabins in Alaska for your consideration. 
I hope your stay in Alaska helps you fall in love with it as much as I do!
Read 9 things to know before traveling to Alaska to help get you started with your planning.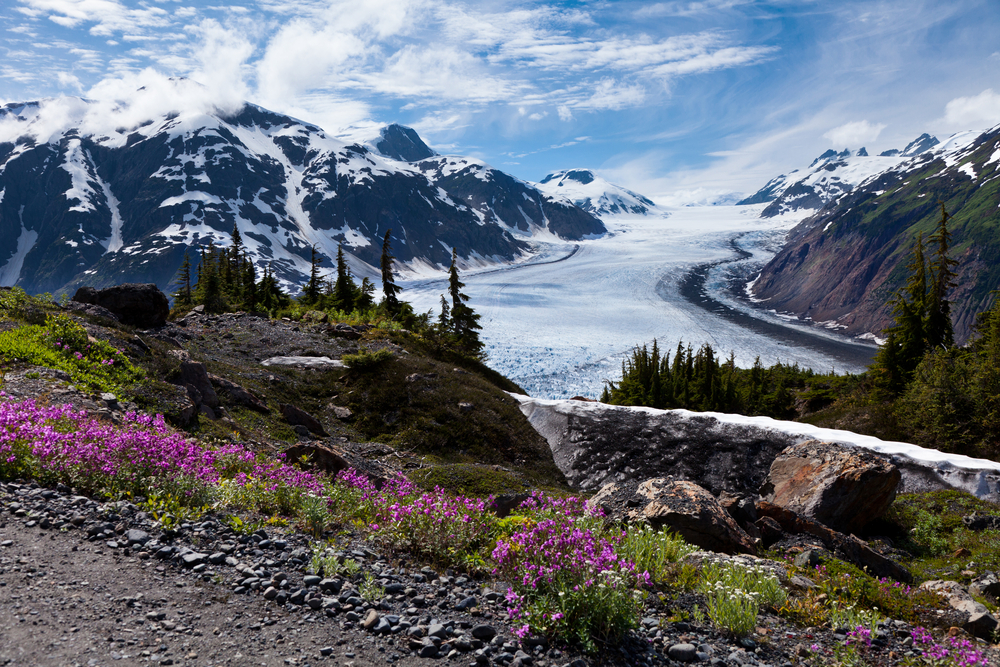 11 CozyCabins In Alaska You Should Visit
Sven's "Indiana Jones" Treehouse Cabin
Fairbanks is about 400 miles north of Anchorage, and the gateway to the Arctic Circle.
Hidden up in the trees of Fairbanks, Alaska,  this hostel/Fairbanks Cabin is located at the number one rated, Sven's Basecamp Hostel.
This is where adventurers of all kinds go to begin their Fairbanks adventures. Or celebrate it when it is all completed.
This is indeed one of the epic cabins in Alaska that provides a private and unforgettable experience.
Located close to amenities, the treehouse cabin accommodates two guests high up on the treetops!
Read about 13 of the most picturesque towns in Alaska you should visit.
You get to your treehouse cabin by ascending a wooden staircase and there is even a swinging bridge.
The views from the private porch of the surrounding forest are unforgettable.
The kitchen and bathroom/shower are located on the ground level in the communal space. (Bring quarters for the shower.)
Hiking. Biking. Canoeing. All the finest the Alaska wild has to offer is within reach here at one of the most unique cabins in Alaska.
Click here to check the rates on Airbnb.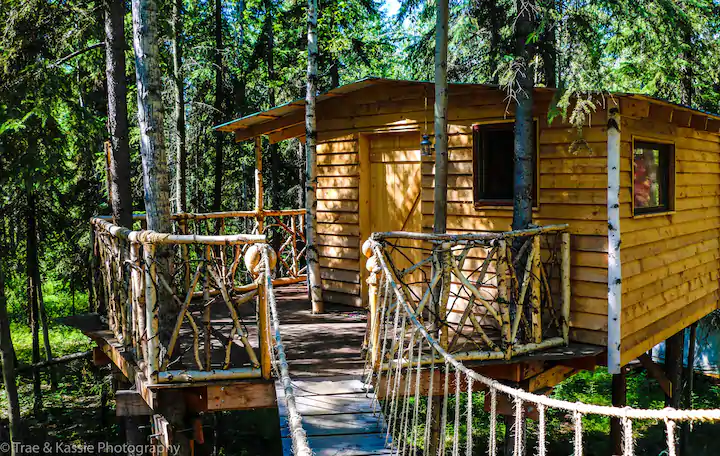 Legacy Mountain Lodge
This recently renovated log cabin in Palmer sits high atop a ridge on 40 acres of farmland.
Able to accommodate up to 15 guests, in five bedrooms with three baths, it is perfect for a family reunion, corporate weekend, or even destination wedding.
This Alaska rental cabins boasts a large gourmet kitchen with stainless steel appliances and the amenities you need to make memorable meals for your family.
An open living plan with spacious rooms and unbelievably beautiful workmanship throughout boost this cabin in Alaska to the top of the list!
The large panoramic deck provides unparalleled views of the Alaska wilderness. And there is access to the private lake on property.
Enjoy a tour of the farm, horseback riding, or a long soak in the outdoor hot tub under the stars, there is so much to choose from here at one of the best cabins in Alaska!
Please click here to view the rates on Airbnb.com.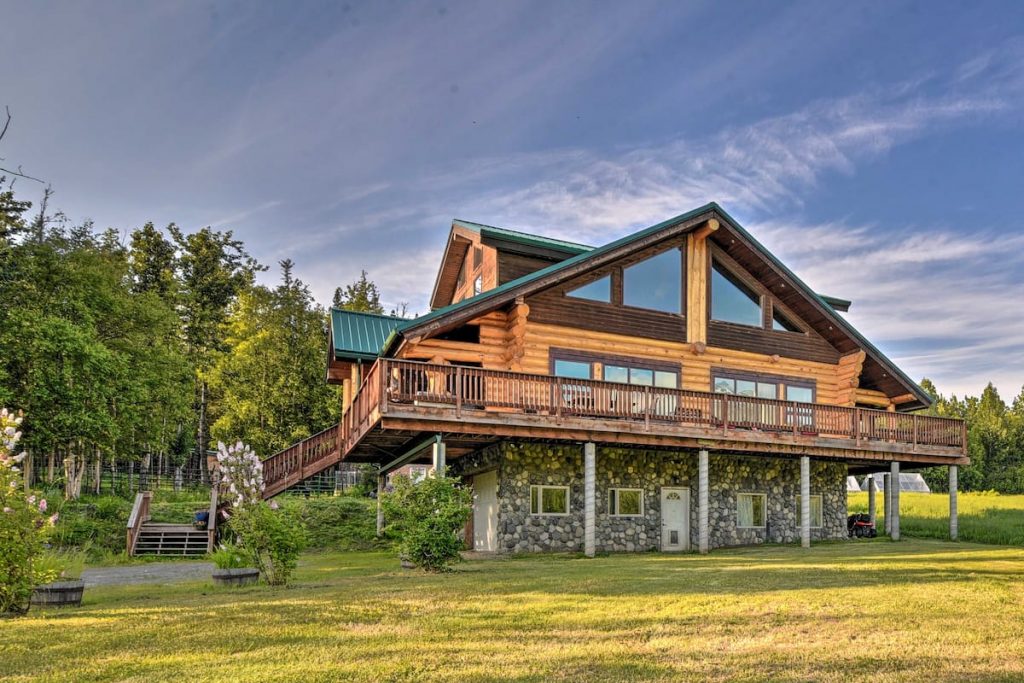 Alaska Dream Log Home
If you are looking for one of the most romantic cabins in Alaska look no further! This cozy log cabin in the North Pole has everything you need for that romantic weekend getaway!
It sleeps up to six guests, with 2 bedrooms, and two bathrooms. And is located very close to dining and shopping options. And even Santa Clause's House!
The log cabin vibe is evident throughout the cabin and the rooms are very spacious and the open flow enhances its coziness. The heated floors are that special touch on chilly days.
The windows throughout are large and bring in Alaska's nature. There are two large decks that are perfect for drinking hot chocolate or a glass of wine while watching nature's masterpiece: the Northern Lights!
Behind the cabin is the hot tub, the perfect way to cap off a busy day soaking tired muscles from skiing or hiking with a chill glass or wine.
Whatever season you are visiting, this is one of the best log cabins in Alaska because there is always a myriad of things to do!
Click here to view the rates on Airbnb.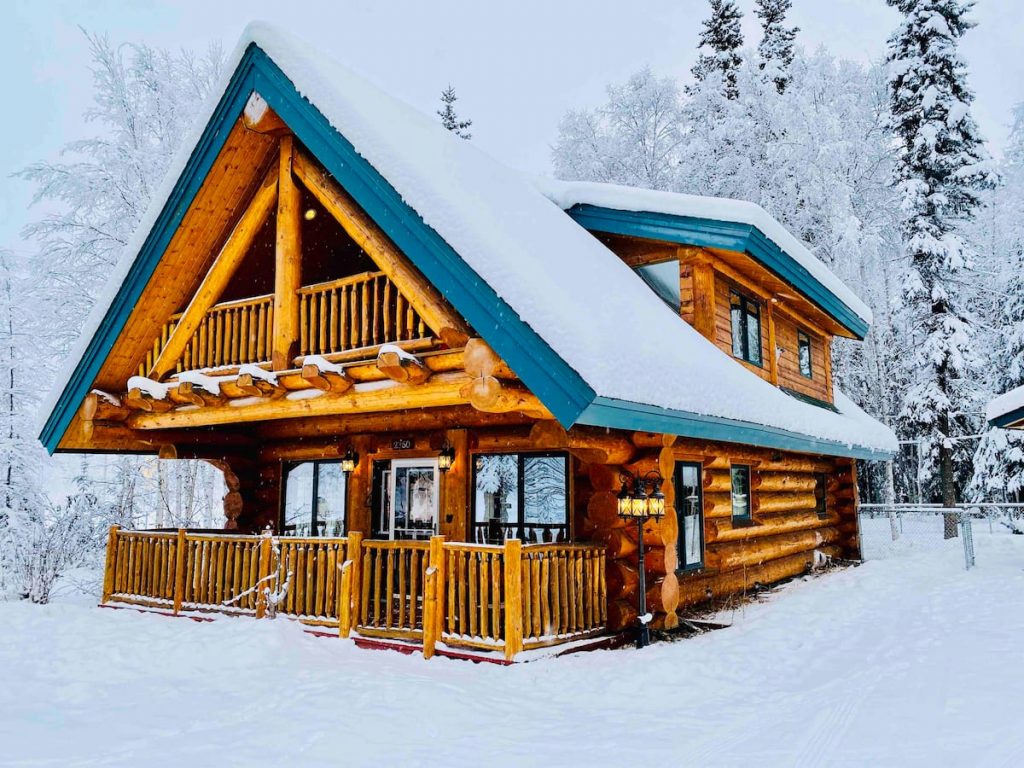 OceanView A-Frame Cabin With Blue Door
If a nearly brand new, modern A-frame cabin appeals to you this is one of the most contemporary cabins in Alaska for you.
The cabin is located in Seward, specifically built on the beachfront of Lowell Point. The floor to ceiling front windows showcase the nature that Alaska is all about.
Able to sleep up to 6, with 2 bedrooms and 1 bathroom, it's contemporary vibes are evident throughout. From the spiral staircase to the updated kitchen appliances you will want for nothing.
Enjoy your morning coffee, or evening glass of wine out on the front porch, enjoying the mountains, and surrounding nature.
Click here to see the rates on Airbnb.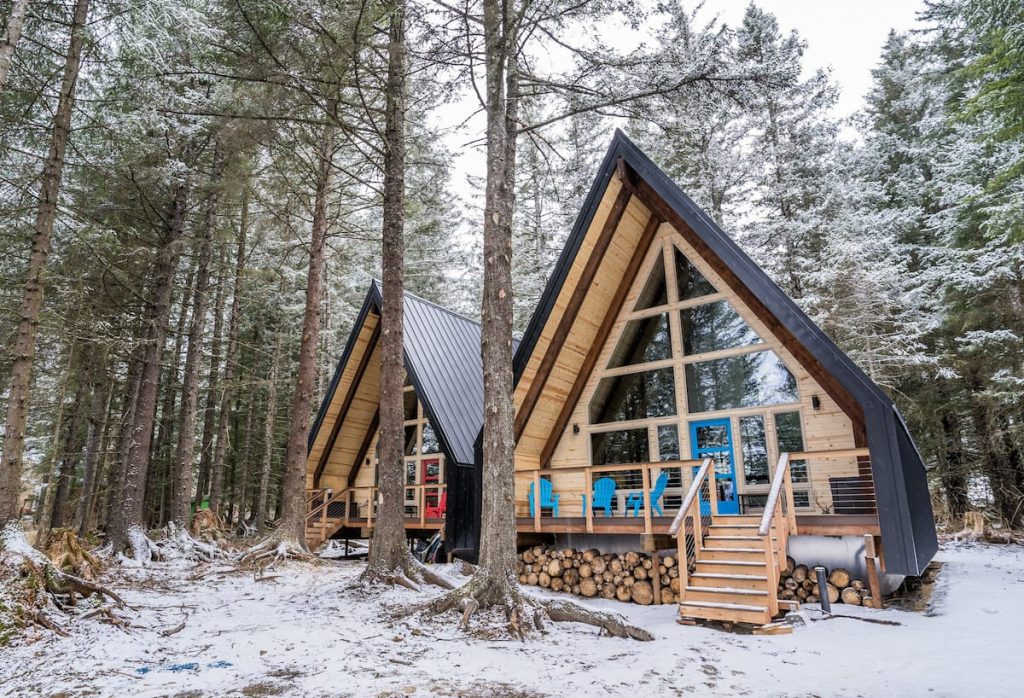 Nana's Log Cabin In Talkeetna
Located in Talkeetna, this 1,200 square foot log cabin home boasts a private pond on its property! You can swim and splash in the summertime or ski and skate on it in the winter.
Just four miles from downtown Talkeetna this cozy Alaska log cabin was locally built for the family's mother in the early 1990s.
Besides outdoor sports on the pond, there is a half-mile trail on the property perfect for exploring the Alaskan wilderness.
This log cabin in Alaska sleeps up to 6 guests, with 2 bedrooms, and 1 bathroom. It has a fully stocked kitchen and barbecue grill on the front porch.
End your days on the pond side of the house with a glass of wine and a great Alaskan sunset at one of the most desirable cabins in Alaska!
Check here for the rates on Airbnb.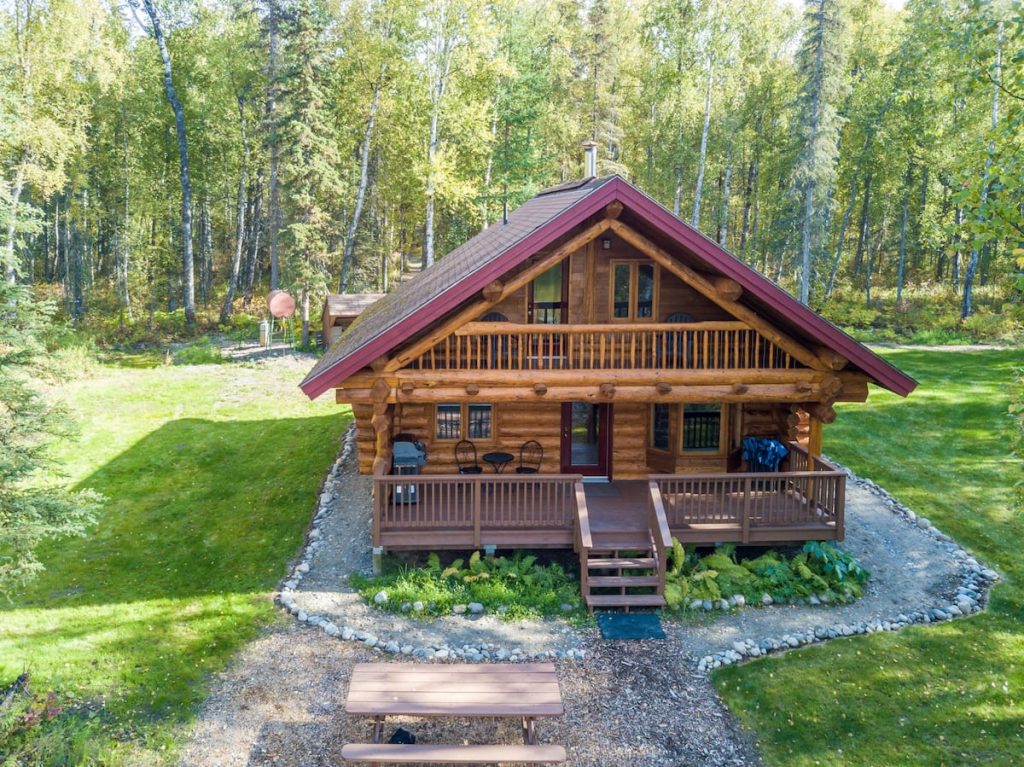 Bold Peak Cabin, Ultimate Glamping
If you are thinking of camping, but not quite ready for it, try staying at this cozy glamping cabin with killer views!
Located about 45 minutes from Anchorage, it is close enough to the big city, yet immersed in Alaska's wilderness. The cabin is 'dry,' yet has many luxury conveniences.
Able to accommodate six guests, with 2 spacious bedrooms and a half-bath with a composting toilet, there is a large front deck with sweeping panoramic views of Bold Peak.
There is no running water here, but there is a self-contained sink for washing up and kitchen amenities for your convenience such as Coleman stove, toaster, and microwave.
Eklutna Lake is a mere two miles down the road and offers a myriad of recreational options.
Between the beautiful views, the spacious rooms, and interior, this is one of the best 'dry' cabin rentals you should consider!
Please click here to view the rates on Airbnb.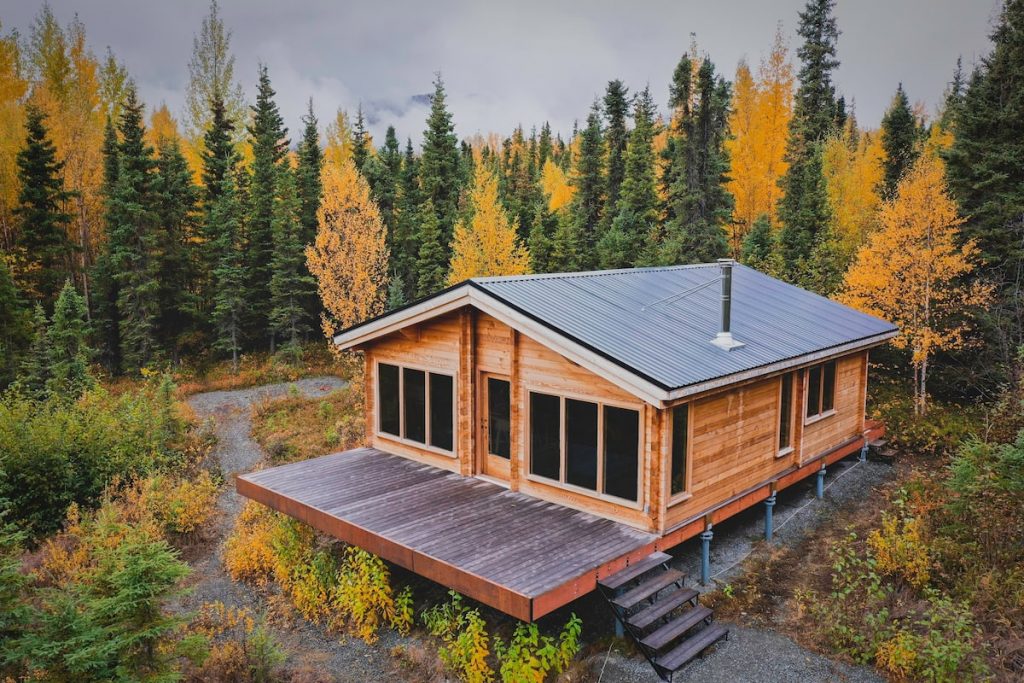 Kenai Cove Log Cabin
Looking for a spectacular location for a family reunion, this custom lakeside log cabin is one to put at the top of your list.
This is one of the most luxurious log cabins in Alaska and can sleep up to 9 guests, with three bedrooms and 2.5 bathrooms.
Located along the shores of beautiful Kenai Lake this tranquil hideaway has cathedral ceilings and a large covered deck at the back of the house overlooking the lake.
The house has the cozy log cabin vibes throughout with a spacious kitchen-dining-living space. The kitchen has upgraded appliances and a large freezer.
The living room has a wood stove to cozy up to with a warm drink on chilly nights.
Head down to the beach for relaxing, fishing, or kayaking.
End your busy days with a beach bonfire making smores and having quality time with your family and friends at one of the most luxurious log cabins in Alaska.
Click here to see the rates on Airbnb.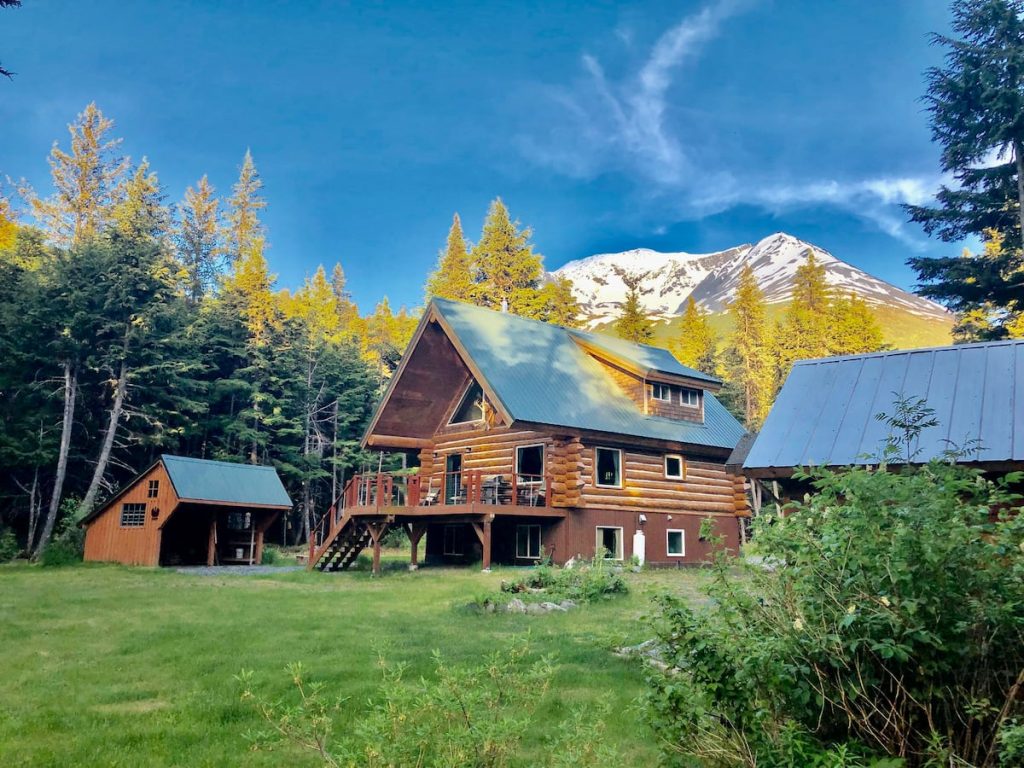 Girdwood Getaway
Girdwood Getaway Cabin is 1200 square feet of comfort located in the resort town of Girdwood, south of Anchorage.
Able to sleep up to seven guests with three bedrooms with two bathrooms, this is one of the best Alaska rental cabins because of its location close to the base of the ski hill in Girdwood.
The house has a fully stocked kitchen, with full amenities one expects, as well as spacious eating opportunities.
All living areas have large windows that bring the nature indoors.
Have your morning coffee or evening glass of wine on the balcony enjoying the views. Or hike, bike, or ski just steps from the front door!
With tons of amenities located nearby what to do is a wonderful dilemma to have when staying at one of the best cabins in Alaska!
Click here to view the rates on Airbnb.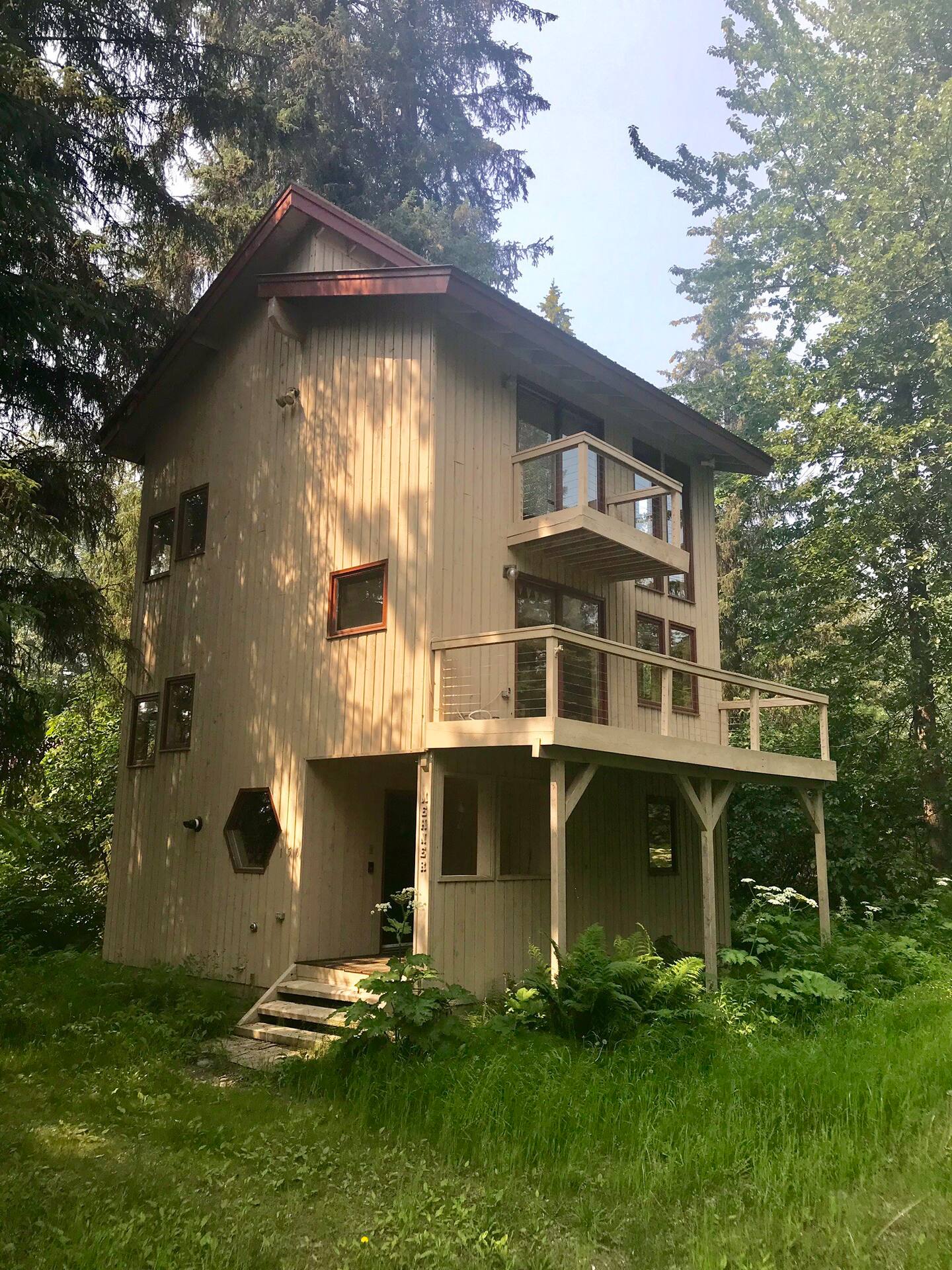 Canyon Creek Cabin, Homer
Located in Homer, (one of my favorite Alaskan cities) this two-story, secluded cabin boasts one of the absolute BEST views of Kachemak Bay and the surrounding area.
Able to accommodate up to four guests, with 2 bedrooms and one bath, the spacious living space on the main level invites you to relax and unwind.
Two bedrooms are on the second and third floors, with a third-floor loft. There are plenty of large windows, and two decks for you to be amazed at the Homer views!
A glass of wine on the balcony or a romantic walk along the shore below are two of the many reasons this is one of the best Alaska cabin rentals to consider.
Click here to view the rates on Airbnb.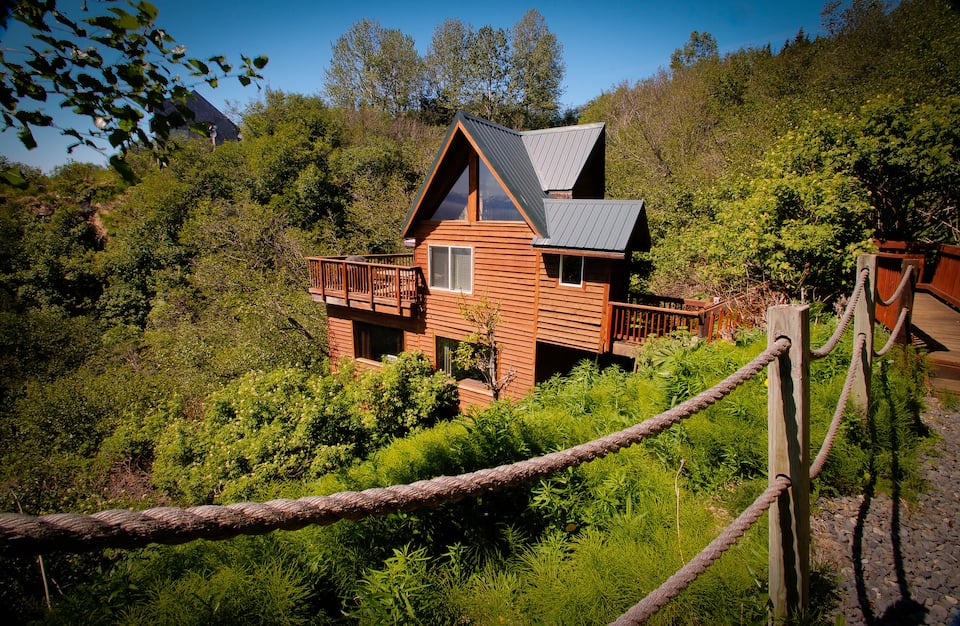 The Hobbit Cabin, So Cozy And Very Unique
Featured on HGTV, this mighty tiny house is a five-minute drive to Talkeetna, Alaska, the staging area for those aspiring to climb Denali.
This is one of the quirky log cabins in Alaska and is situated on a lake. Enjoy your morning coffee, or plan to have dinner on the patio overlooking the pristine blue lake waters.
The cabin's interior has rustic Alaska decorations and an outdoor sod roof. The impeccable landscape utilizes local Alaskan flowers.
If you are road-tripping Alaska, read my Alaska itinerary for some tips.
This is the perfect location to stay when exploring the artsy and outdoorsy town of Talkeetna. Perfect for a stopover on an Alaskan road trip. This is one of the best cabins in Alaska to consider!
Click here to check the rates on Airbnb.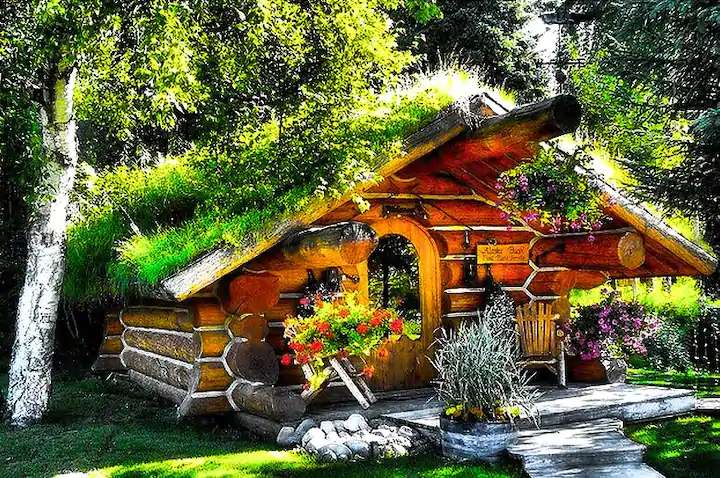 Glamping Light House On Kilcher Homestead
For an unusual Alaskan experience, how about glamping off grid?
Here you will have the opportunity to live on the iconic Kilcher Homestead. You may know it from the hit TV show "Alaska, the Last Frontier."
Able to accommodate 2 guests, with one bedroom, with one bath, this heated 12′ x 12′ Alaskan cabin rental has the most spectacular views imaginable.
You have access to a full outdoor kitchen has all you need to cook, with a barbecue grill, clean drinking water and a hot plate.
There is an outdoor shower, outhouse, and hammock.
This Kilcher house site is on five acres out of the 600 acre Kilcher Homestead, and you will most likely meet the host!
For an unmatched glamping experience, this is one of the best cabins in Alaska to consider.
Click here to view the rates on Airbnb.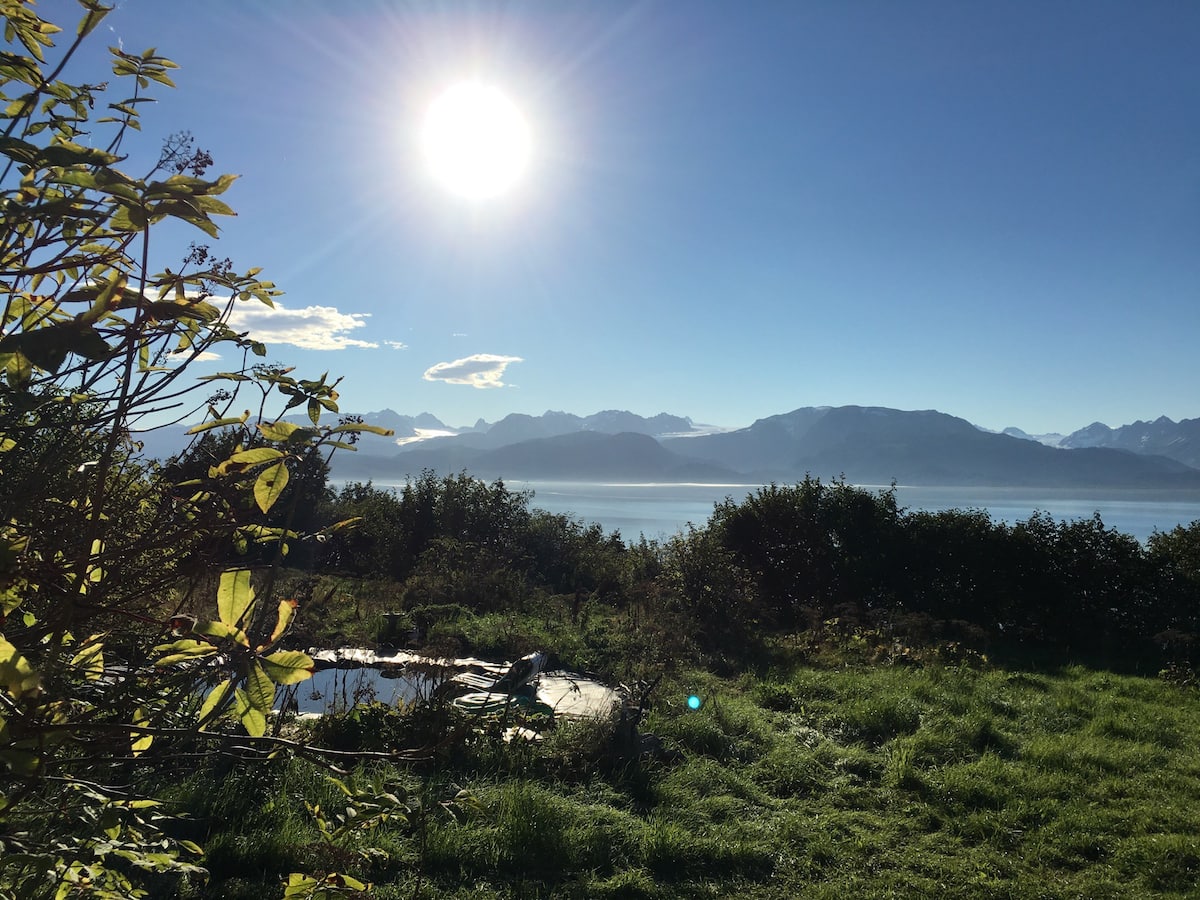 Packing Tips For A Trip To Alaska
If you will be traveling, either by plane or by car to Alaska, here are some tips on how to pack lightly.
A concealed travel pouch may be one of the most important items you bring along when visiting the best cabins in Alaska. It is always important to protect your personal information. Identity thieves are everywhere.
This unisex RFID blocking concealed travel pouch is lightweight and comes in several colors. It has lots of organization to give you peace of mind.
You can place it under your hiking clothes next to your body to carry your ID safely.
If you have a pouch already that does not come with the RFID protection, as I do, these RFID sleeves are the perfect solution.
This configuration comes with enough credit card sleeves that the entire family would be protected. They are slim too, so they will easily fit into your pouch or wallet.
If you are planning on taking a lot of pictures with your phone you will definitely want to consider an external charging battery.
This Anker high-speed phone charging battery is the exact one I carry with me on all of my trips.
It can be used on a variety of phones, not just an iPhone like I have. And wow is it fast!
I like that it holds its charging capabilities for several uses so I do not have to worry about it while out and about, and if I forget to recharge it at night, it will still be good to go the next day.
My daughter gifted me with this FugeTek selfie stick and tripod setup for my birthday. I absolutely love it! It is made of lightweight aluminum and so easy to use.
It has Bluetooth connectivity and is a breeze to use for taking selfies when staying in one of the best Airbnbs in Illinois.
Hydration is so important when traveling.
You want to remain hydrated throughout your travels to support your immune system which in turn will be stronger to fight off any germs you will encounter during your travels.
You will want to bring your own refillable water bottle with you.
I never leave home on a trip without my Bobble filtration bottle. The 18.5-ounce size is perfect for hiking and it fits nicely in the pocket of a backpack.
When filled with water, it is not too heavy to carry. And the charcoal filter ensures fresh clean water whenever you fill the Bobble.
You can find filter replacements here.
Perhaps you are traveling a long distance and packing space is a premium in your suitcase, or in your car.
Then this set of collapsible silicone foldable water bottles would work well for you. Would not take up much space at all.
You will want a backpack or daypack with you to store snacks, your water bottle, phone, extra clothes, etc.. when hiking This foldable water-resistant backpack would be great.
It is very affordable and is available in many color options for you to choose from. The fact that it folds down into a zippered pouch will make it easy to pack.
—
Here I have suggested to you 12 of the best cozy cabins in Alaska you must visit!
I hope I have inspired you to stay at one or two of them. And if you do end up staying at one of these amazing cabin rentals in Alaska, please share your experience here in the comments.
—
Please be advised that Linda On The Run is an Amazon Affiliate and earns a stipend from qualifying Amazon purchases.