Are you looking for the perfect Alaska itinerary for your Alaska road trip? Well, you have definitely come to the right place!
I've been to Alaska several times and did an Alaska road trip each and every time.
There are so many epic places to visit in Alaska!
Planning your trip to Alaska last minute?
Make sure to book ahead! Hotels and tours can sell out the closer you get to your trip. Here are our top pics for Alaska!
Top Experiences and Tours in Alaska:
Best Alaska Hotels:
My Alaska road trip experiences were so extraordinary I want to show you how to have the same experiences when you decide to plan your own perfect Alaska itinerary.
Getting to Alaska depends on where you live on our lovely planet Earth.
If you are taking a long international flight, to Ted Stevens Anchorage International Airport check out my guide to surviving long-haul flights.
My post explaining how to avoid getting sick on an airplane will help everyone remain healthy during their Alaska itinerary road trip, whether you fly an international or a domestic flight.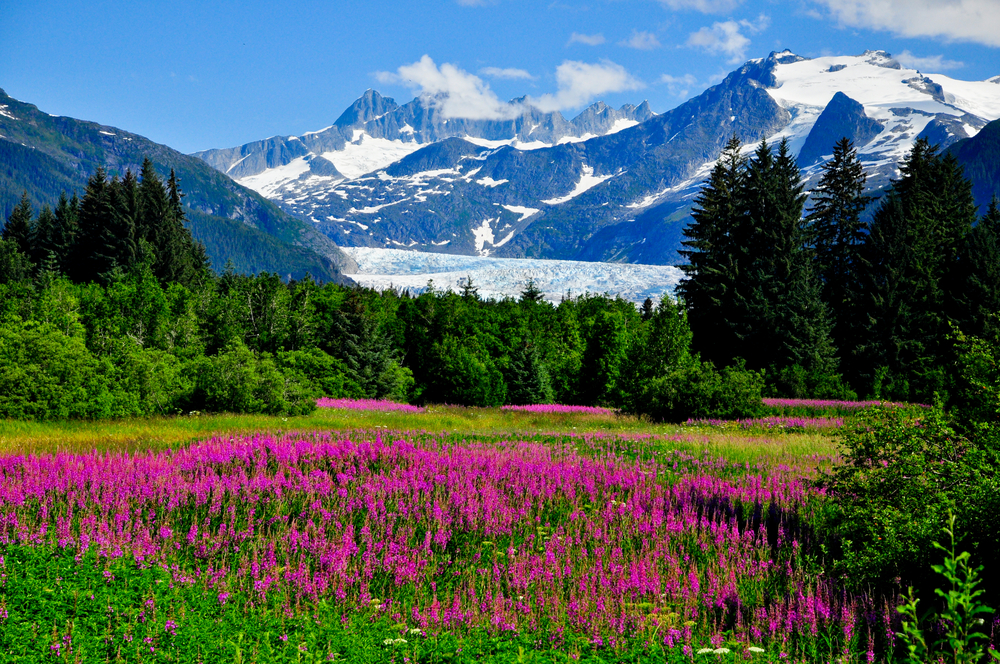 11 Stops To Include On The Perfect Alaska Itinerary
Anchorage Should Be On Your Alaska Itinerary List
Anchorage is NOT the political capital of Alaska. It is the economic capital though, and with 300,000 human inhabitants calling it home, Anchorage deserves a place on your Alaska itinerary.
Anchorage is very cosmopolitan with high-end department stores at a mighty fancy mall downtown, and its own symphony.
Anchorage has big box stores and national chains like Walmart and is a great place to stock up your supplies.
Or you can ask your family and friends who may be traveling from other locations to meet you as you check off the locations on your Alaska itinerary.
Best Things To Do In And Around Anchorage:
Walk downtown Anchorage and stop at the Visitors Information Center. Downtown Anchorage is easy to navigate as it is set up on a grid system.
The Visitor Info Center is a cool-looking log cabin with a sod roof located at 4th Avenue and F Street.
They have a wealth of information about Anchorage specifically, and Alaska in general. Pick up maps and brochures to aid you on your Alaska itinerary road trip.
You will want to take some time to walk around downtown. If you are visiting in the summer, you will marvel at all the flowers! Restaurants and shopping opportunities abound.
Walk, run or bike the eleven-mile Tony Knowles Coastal Trail. The Coastal Trail starts in downtown Anchorage and eleven paved miles later ends in Kincaid Park.
Several times I walked/ran and once even raced on the Coastal Trail!
The views are spectacular along the water with mountains in the background, and you will even pass Earthquake Park.
It's a stark and somber remembrance of the damage from the 1964 Good Friday earthquake.
Catch a glimpse of some wildlife! Although Anchorage is a cosmopolitan city there are certainly opportunities to see some wildlife such as bears, moose, Dall sheep.
And the many bird species that call Anchorage and her surrounding areas home. Keep your eyes open.
If you are looking for accommodations as you plan your Alaska itinerary, read about the best Alaska Airbnbs.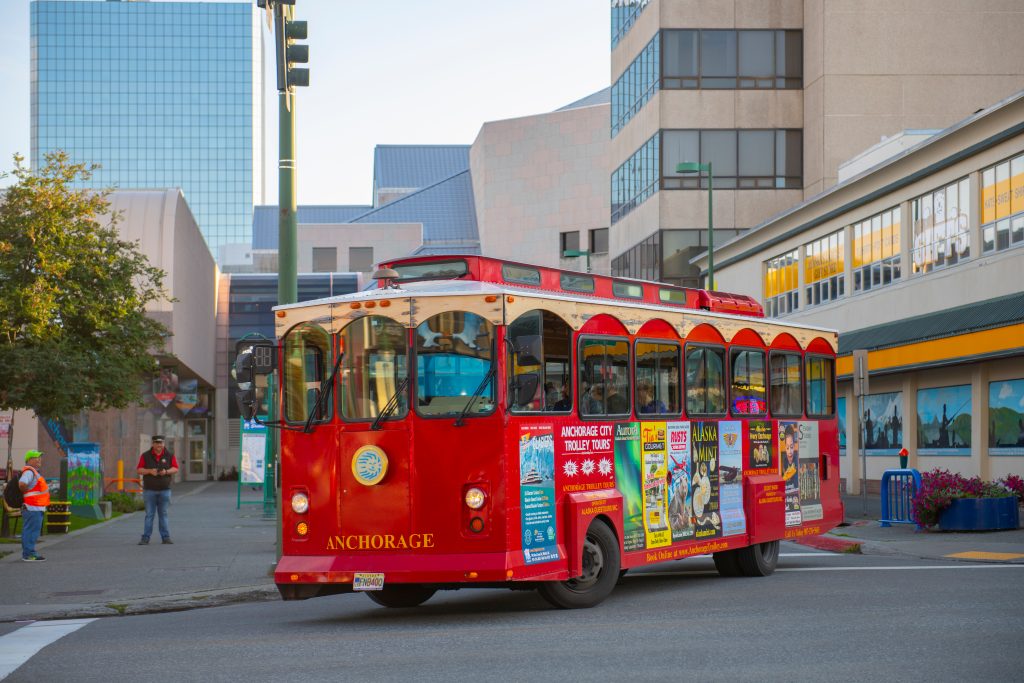 Visit the Alaska Wildlife Conservation Center
The Alaska Wildlife Center is located about forty-five miles south of Anchorage on the Seward Highway. There is an admission fee for this attraction but it is definitely well worth adding to your Alaska itinerary.
The conservation center provides a home for orphaned, ill, or injured (wild) animals.
There is a 1.5-mile viewing loop which you can either walk or drive to view the animals. It was raining when we visited the center, so we drove very slowly.
We watched the afternoon feeding of the black bears, moose grazing, owls, wolves, and porcupine to name a few of the animals that call the Alaska Wildlife Conservation Center home.
There is also a rather large gift shop for souvenir shopping as well.
Visiting Alaska in Winter offers plenty of unique experiences.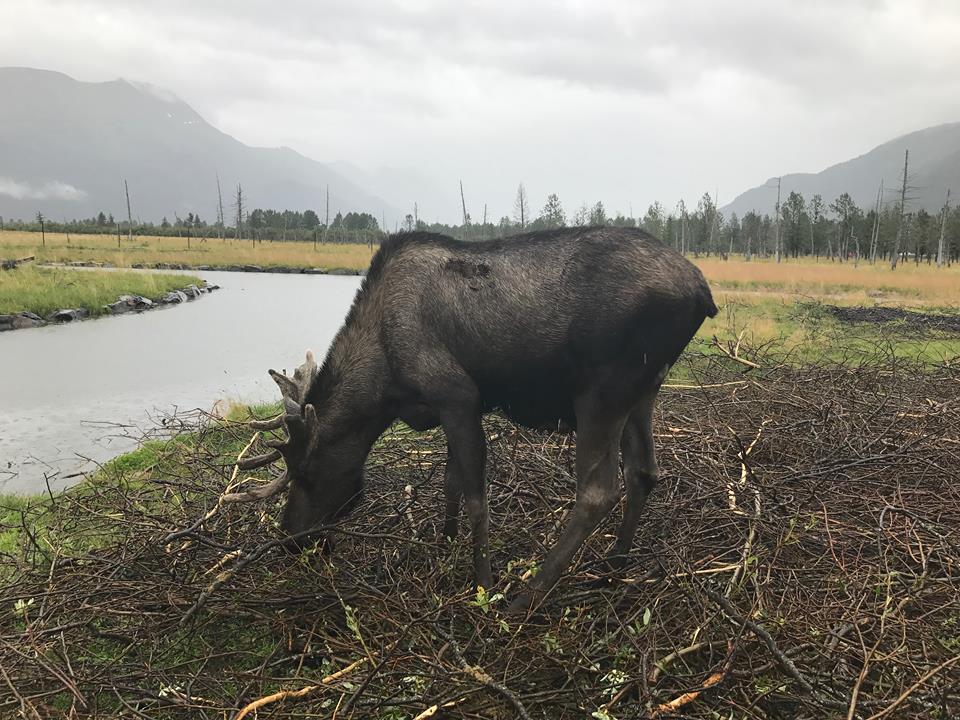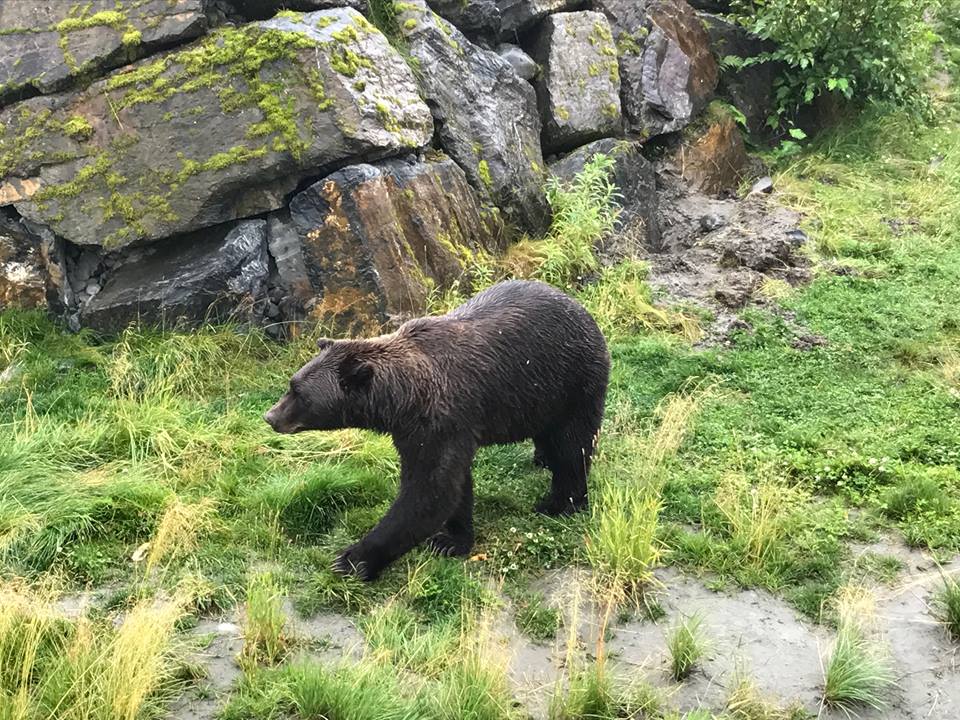 Look here: Anchorage Hike with Naturalist Guide
Look here: From Anchorage: Glacier Full-Day Tour
Look here: Anchorage: 1-Hour Trolley Tour
Make Certain Seward Is On Your Alaska Itinerary
Seward is situated a mere 120 miles south of Anchorage at the terminus of the Seward Highway, on the Kenai Peninsula.
Since Seward Highway has been bestowed the honors of being a National Scenic Byway, and an All-American Road your drive will be an unforgettable experience on your Alaska itinerary. Make sure to read about the thirteen spectacular spots from Anchorage to Seward here.
The cliche, "It is the journey and not just the destination," comes to mind here.
Unimaginable beauty will be in store for you. There are no stop signs, stoplights, or billboards. If you would rather not drive, you can get to Seward by train, or by bus, or even fly!
Seward is positioned where the ocean literally meets the mountains! And due to its geographical location, it is blessed with very moderate temperatures for Alaska and very high precipitation levels.
If this is your first time visiting Alaska, do not miss Seward!
Best Things To Do In And Around Seward:
Take a glacier and wildlife cruise. Resurrection Bay and the Kenai Fjords National Park in Seward are epic locations to see glaciers and exotic sea life and visiting them must be on your Alaska itinerary.
Think whales, puffins, and calving glaciers! When we last visited Seward we took the Full Day 7.5 hour Kenai Fjords National Park Tour with Marine Major Tours.
We loved the boat, our lunch, and that there was a very knowledgeable ranger from Kenai Fjords National Park onboard who narrated the tour.
The staff as well was extremely knowledgeable and ready to answer any questions we had. But most of all we loved all the sea life we were able to view and the up close and personal visits with glaciers.
Tickets here: Seward: Kenai Fjords National Park 6-Hour Cruise
Tickets here: Seward: Kenai Fjords Half Day Wildlife Cruise
Tickets here: Seward: Self-Guided Audio Tour
The day of our tour was windy and the water was very choppy and the tour was almost canceled. Understandably, I was affected with a nasty case of sea-sickness during the long boat ride.
If you are prone to motion sickness like I am, you might be interested in these anti-nausea motion sickness patches to prevent or even lessen the symptoms of motion sickness.
Some people like to wear natural nausea relief wristbands like these.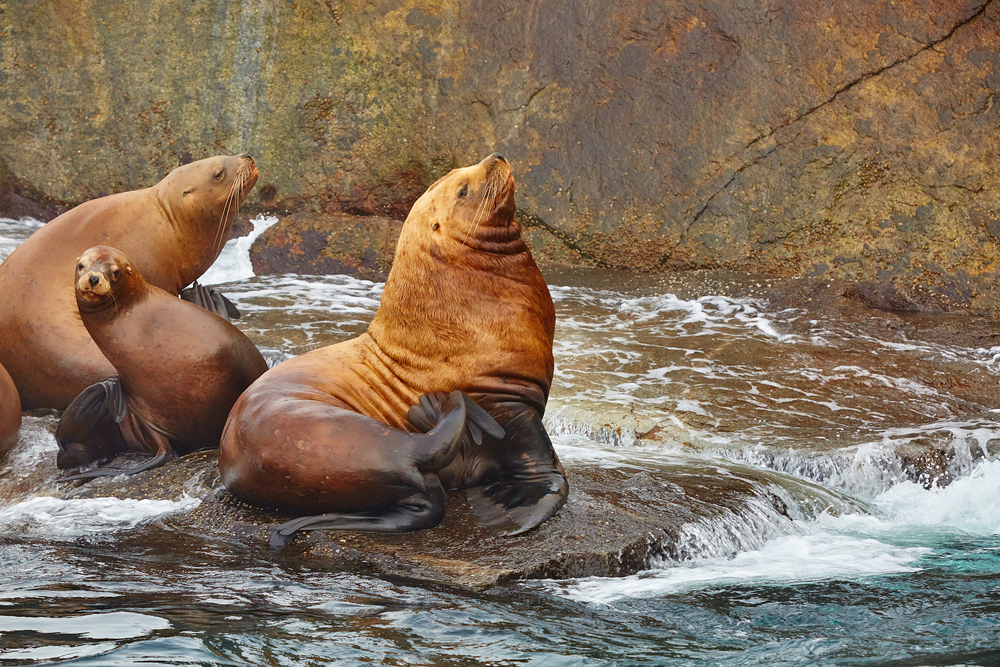 Although the interior of the boat is heated, you will certainly want to bring along a waterproof coat, to keep you warm and dry.
Remember the temperature drops when you are on the frigid waters of Resurrection Bay and especially when you are near the glaciers!
This affordable water-resistant jacket will keep you dry and warm. Waterproof shoes such as these from Columbia will keep your feet warm and dry.
These waterproof warm gloves and this waterproof and collapsible hat are also great suggestions to bring along to keep warm and dry.
Do not have all day for a sightseeing cruise? A few years ago we took a shorter four-hour half-day cruise and were very satisfied with the amount of wildlife we saw and the glacial experiences we had!
Do not miss out on putting this exciting option on your Alaska itinerary. Both children and adults will enjoy it.
Taking a flightseeing tour of Resurrection Bay is an unforgettable experience to be added to your Alaska itinerary. When we were last in Seward we took a 30-minute Glacier Tour with Marathon Helicopters.
I was extremely leery because I was still suffering from the effects of motion sickness from the cruise the day before.
Mike, the owner of Marathon Helicopters was very reassuring, and lift off, landings, and flying were all a dream! There is nothing at all like seeing the water, forested mountains, and glaciers from the air!
The best part though was landing on a glacier. If you want monumental and unforgettable memories, consider adding a flightseeing tour to your Alaska itinerary list of things to do!
There is so much to see in Seward, you will not be disappointed!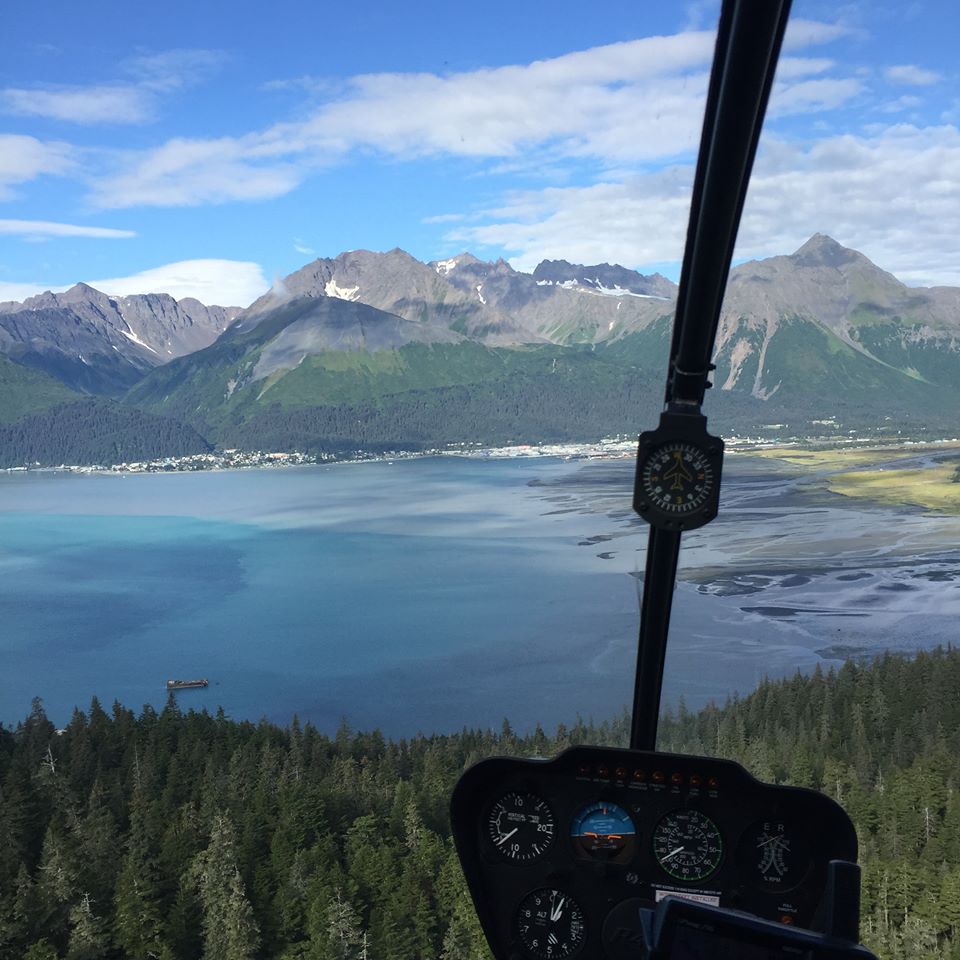 Add Exit Glacier To Your Alaska Itinerary.
Exit Glacier is located about eight miles north of Seward and is one of the most popular tourist destinations in Alaska because it is so easily accessible.
You want to add visiting Exit Glacier to your Alaska itinerary list of things to discover!. Find out fifteen things you need to know before visiting Exit Glacier to make your visit more memorable.
Make Homer A Top Priority On Your Trip To Alaska
Homer is my favorite destination of all to visit when I am in Alaska and that is why I urge you to put it on your Alaska itinerary list of the coolest places to visit. Homer is located 200 miles south of Anchorage.
It is given the nickname "The End of the Road" because it is at the terminus of the Sterling Highway. Situated on Kachemak Bay at the southern end of the Kenai Peninsula, Homer boasts a very eclectic and ambitious vibe and you will feel it at once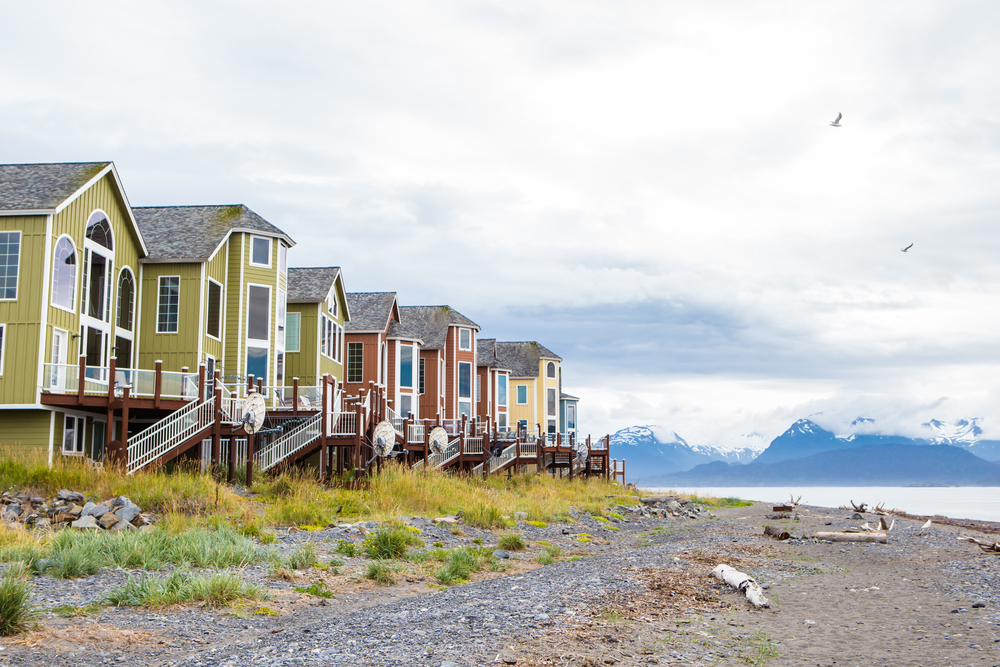 Things To Do In And Around Homer:
Explore the Homer Spit. When I am visiting Homer I always stay on the Homer Spit, a 4.5-mile natural slice of land that juts out into Kachemak Bay. Here you will find lots of restaurants, shops, and bars.
I almost always wait to purchase my handmade Alaskan souvenirs until I stay in Homer. They have a flourishing crafting community and I always like to purchase handmade items to support the locals.
There is a flat paved walking/running trail that I took advantage of many times. It winds through the harbor past the shops and restaurants and back to Homer.
Stopping in Salty Dawg Saloon on the Homer Spit for a drink is a definite location to put on your Alaska itinerary list of super neat things to do.
Alaskan residents love the Salty Dawg Saloon so much that wearing its apparel is very popular with them.
Do not be like me: I visited the Salty Dawg Saloon on the Homer Spit several times and HAVE NOT purchased any iconic Salty Dawg clothing yet!
You want to have something from the Salty Dawg Saloon to take home with you, so add visiting there to your Alaska itinerary list of things to do!
Oh, and even if you do not have an alcoholic beverage when visiting, you might definitely decide to leave an autographed dollar bill on the walls or tables of the Salty Dawg Saloon in Homer!
It is a tradition for visiting tourists to do so!
There are so many epic places to visit in Alaska!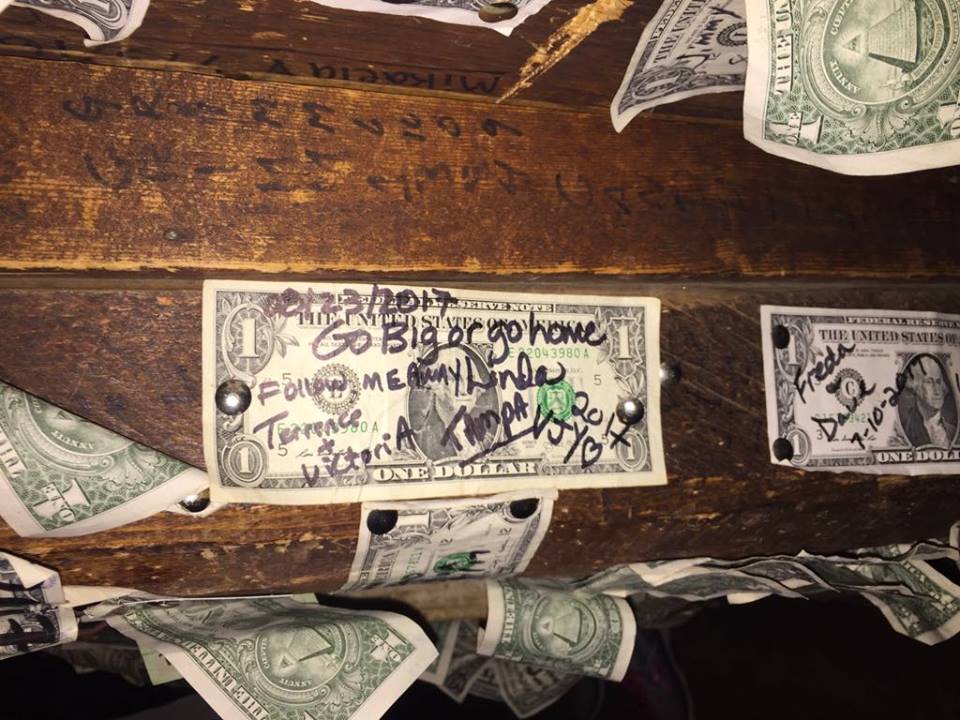 Talkeetna Must Be Included On Your Alaska Itinerary List.
Located just 120 miles north of Anchorage on the George Parks Highway, Talkeetna is the staging area for mountain climbers attempting to ascend Denali.
But you do not have to have plans to climb to the summit of Denali (formerly called Mt. McKinley) to write Talkeetna on your Alaska itinerary list.
Talkeetna is cool. It has an ethereal community of artists and craftspeople. It is nestled at the confluence of three major Alaskan glacial rivers so along with its hip art scene, there is a myriad of outdoorsy options that will make your head spin.
Talkeetna has kept its Alaskan small-town charm, and you just might see a moose meandering downtown!
Look here: Talkeetna: Denali- One hour flight experience.
Look here: Talkeetna: Mountain Voyager with Optional Glacier Landing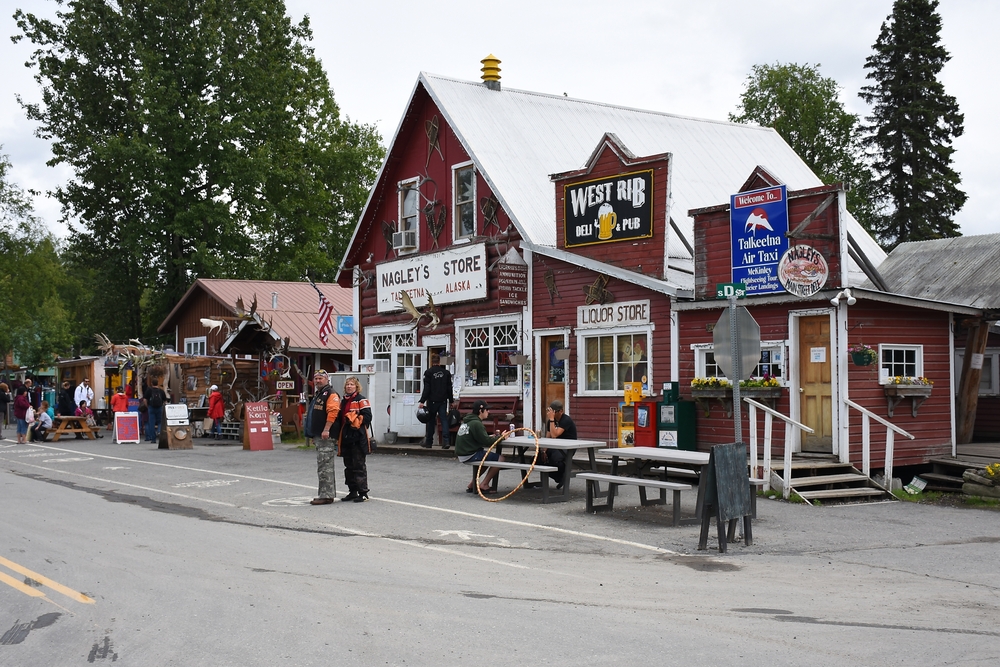 Things To Do In And Around Talkeetna:
Head to downtown Talkeetna for some shopping or a bite to eat. There is only one main street in Talkeetna. And meandering through all the quaint shops should top your Alaska itinerary of things to do in Talkeetna.
An independent hippie vibe permeates the air in Talkeetna. You can purchase the usual cheap mass-produced Alaskan souvenirs.
Or you can shop local and purchase hand-made one-of-a-kind Alaskan souvenirs on your Alaska road trip. Either way, there are lots of unforgettable choices.
Walk to Talkeetna Riverfront Park to view Denali. Located not far from downtown Talkeetna, this city park offers spectacular views of the Alaska Range and its star, Denali.
You will also be able to view firsthand the convergence of the Chulitna, Talkeetna, and Susitna Rivers. What epic photos you will bring home if this is on your Alaska itinerary?
Select an outdoor activity. Take advantage of all the rustic outdoors has to offer in Talkeetna. Take a guided wilderness hike or a flightseeing tour of the mighty Denali.
Several aviation companies in Talkeetna offer glacier flightseeing tours.
Denali State Park is another close option to explore, whether to camp, hike, or simply take a walk to look for wild animals.
There are endless outdoor options to add to your Alaska itinerary in and around Talkeetna during your Alaska road trip!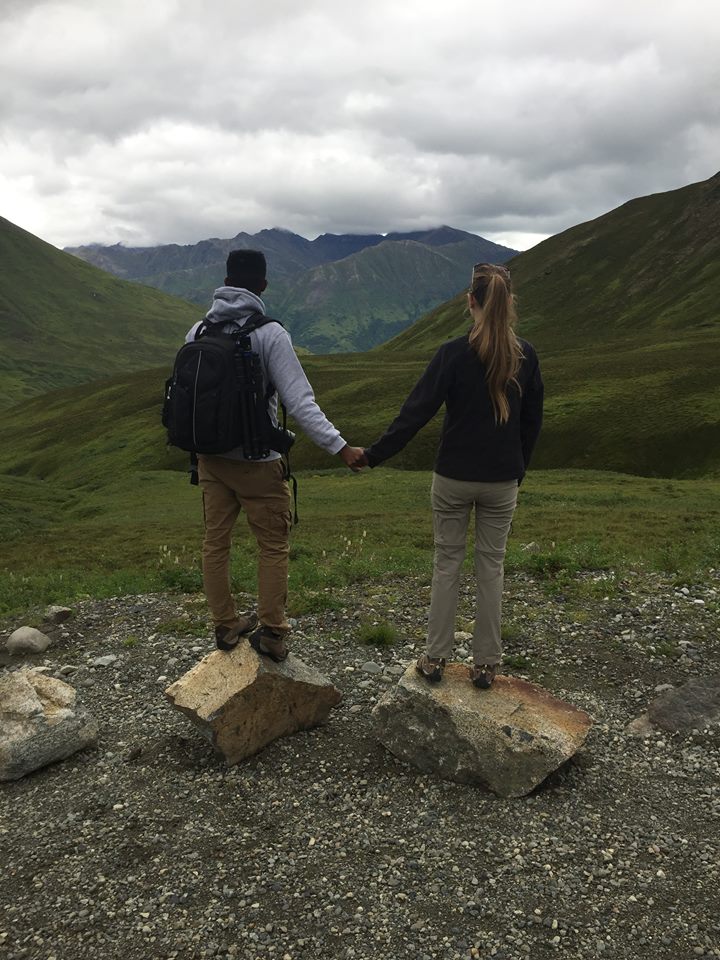 Visit Hatcher Pass
Hatcher Pass is located off the Parks Highway, twelve miles north of Wasilla, and is very popular with the locals.
To get to the pass you take the rugged and scenic Hatcher Pass Road for almost 50 miles through alpine fields full of flowers, tons of hiking trails, and all surrounded by mountains.
When we visited twice during the summertime, it was the blueberry season and wow, the Alaskan blueberries you pick yourself in the wild cannot be beaten!
What a unique experience to add to your Alaska itinerary.
Denali National Park And Preserve
If you added a trip to Denali to your Alaska itinerary you would be one of the 400,000 or so yearly visitors to make that same decision!
It is a 238-mile drive from Anchorage straightaway to Denali National Park and Preserve along the George Parks Highway. That should take you about five hours of drive time.
Not much for driving such a long distance? There are other ways to get to Denali from Anchorage to consider when making plans for your Alaska itinerary road trip.
You will have an adventure by taking the Alaska Railroad. A train to Denali departs from Anchorage every day.
You can travel by motorcoach where a guide will point out interesting sights along the way and narrate history, topography, and geography that passes by your window as well.
However, you travel to Denali National Park and Preserve, once you are there you have to decide exactly WHAT you want to do.
That usually depends on how long you plan on visiting. Tourists and locals alike usually visit the national park for two reasons: Denali (the mountain!) and seeing the wild animals living there.
If you are driving an RV, know that there are three campgrounds within Denali that can accommodate you and your rig.
Please also be aware that you MUST make reservations far in advance. We visited Denali National Park and Preserve twice traveling in our RV during the summer season.
Without a reservation, we were never successful in obtaining a camping spot within the park. It is that popular and crowded!
Do not worry though as there are private campgrounds located just outside the entrance of the park and several hotels too.
Denali National Park and Preserve has retained a lot of its rugged wilderness because the ninety-mile Denali Park Road is closed to private vehicles at Mile 15 point.
Fifteen miles is a LONG WAY! So if you do not have a very long time from your Alaska itinerary road trip to spend at this national park, do not worry because you can and will see a lot on those fifteen miles.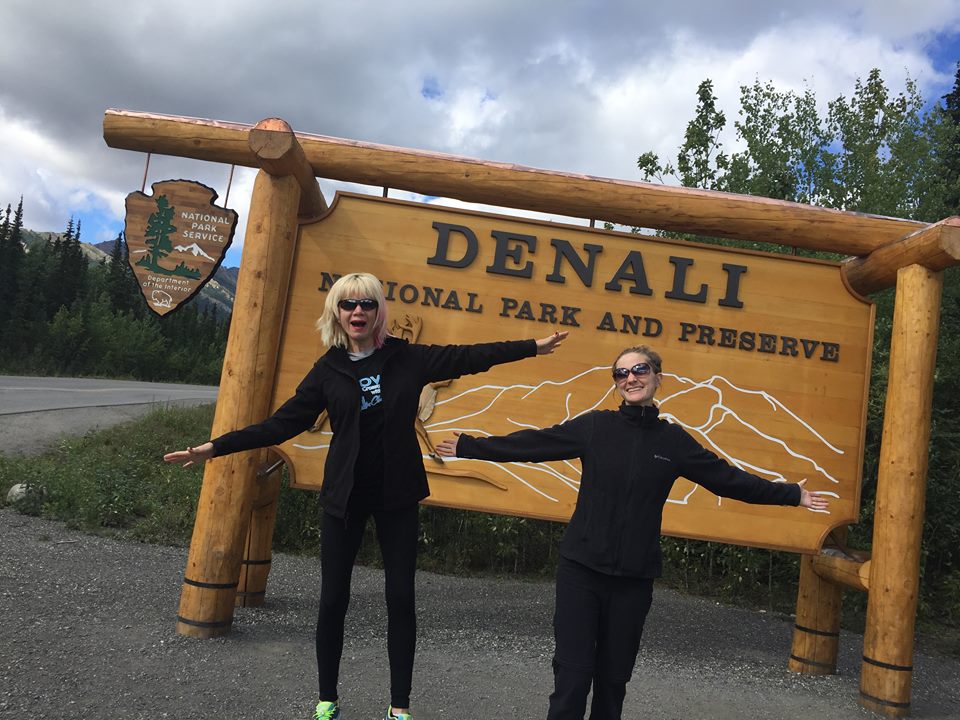 Things To Do In Denali National Park & Preserve:
Visit the Denali Visitor Center Located near the entrance to Denali National Park and Preserve, the visitor center is a great place to stop for information about the park.
There is a park film to watch and various exhibits to view explaining Denali and its unique history and culture. There are park rangers available to answer questions, give advice and lead a variety of talks and walks.
Take a bus tour to discover Denali! You have two options when deciding how to explore Denali National Park by bus along Denali Park Road. You can choose a non-narrated transit bus.
Run by the National Park Service these buses are green and are hop-on/hop-off buses. This is great if you plan to hike or bike off the grid as part of your Alaska itinerary road trip.
You will board this bus at the Denali Bus Depot. Remember to bring lots of water and food to eat, especially if you take a daylong excursion.
Another option is taking a narrated tour bus that has a trained narrator on board. These tours are run by private companies.
Often they pick you up at your hotel and lunch and snacks are included. These buses are tan in color and are not set up to permit you to get on or off during the tour.
Choose from either option depending on your schedule and goals during your Alaska road trip.
 Take a walk or a hike in Denali National Park Depending the amount of time you have and your interest level, will determine the hike you will take.
At the least, there are several paved hiking trails around the visitor center right near the entrance of the park.
These are shorter distances but are not short on scenic views! If you have time and are physically able you can board a non-narrated green bus and hop off anywhere you desire to hike.
Remember to have plenty of water with you. When I travel I never leave home without a filtered water bottle.
Look for wild animals! Probably the number one goal of visitors to Denali National Park and Preserve, and probably a goal on your Alaska itinerary as well is to see as many wild animals as possible!
Denali and the National Park Service limit vehicles in Denali for just this purpose: to remain as wild and untamed as possible for the animals that live there.
If you are one of the few lucky ones, you will see "the big five!" during your Denali trip: grizzly bear, Dall sheep, wolf, caribou, and a moose.
I hope the weather is clear the day(s) you visit and that you are indeed one of the fortunate ones to see lots of wild animals in their Denali habitats!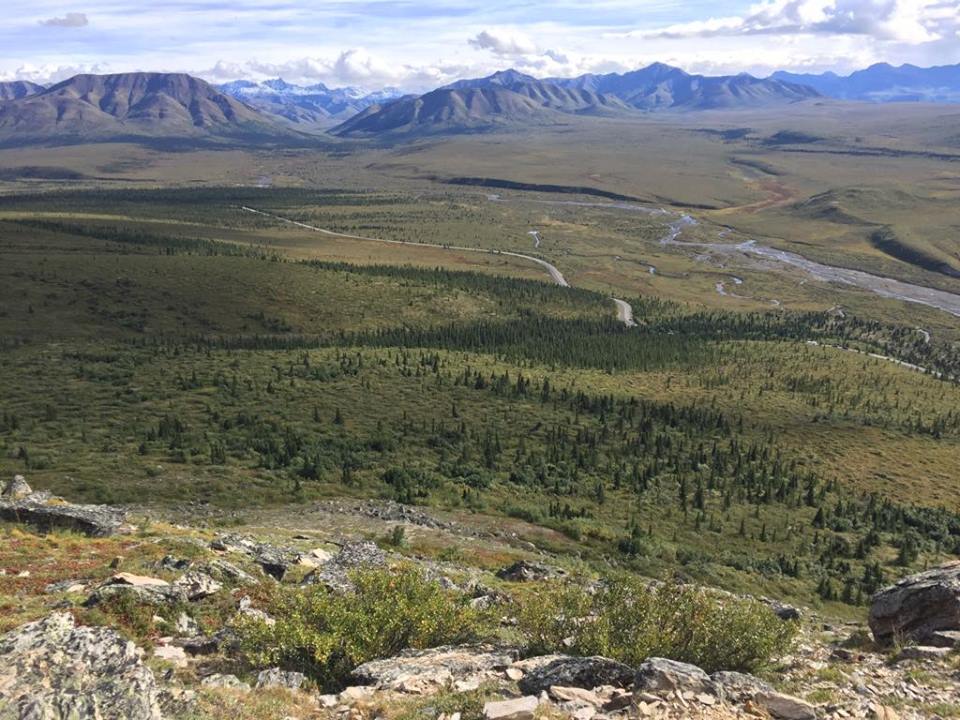 Tickets Here: Denali Park Zipline Adventure
Tickets Here: Denali Highway Jeep Excursion
Fairbanks, The Gateway To The Arctic Circle
Fairbanks, the Golden Heart City, is located a few hours north of Denali by car on the Parks Highway.
There are so many epic things to do in Fairbanks!
If you drove the 358 miles straight from Anchorage to Fairbanks, it would be approximately eight hours.
Depending on your Alaska itinerary, where you are located, and your mode of transportation, bus, train or plane could also get you to Fairbanks.
Fairbanks is Alaska's second-largest city and the Gateway to Alaska's Interior. It is very neat to visit Fairbanks in the summer because you will experience very long days where the sun barely sets.
That was an amazing experience for me. As expected, the opposite occurs in the winter.
The Chena River runs through the heart of downtown Fairbanks and there are many art galleries and studios around town displaying and selling their locally handmade wares.
The University of Alaska Fairbanks is a reputable resource for local history with its Natural History Museum.
With its rugged environment, hiking, biking, and camping opportunities abound.
Look here: Full Day Adventure – Northern Lights, Yukon, Arctic Circle
Look here: Fairbanks – Denali National Park Shuttle Service
Look here: From Fairbanks: Chena Hot Springs Day Tour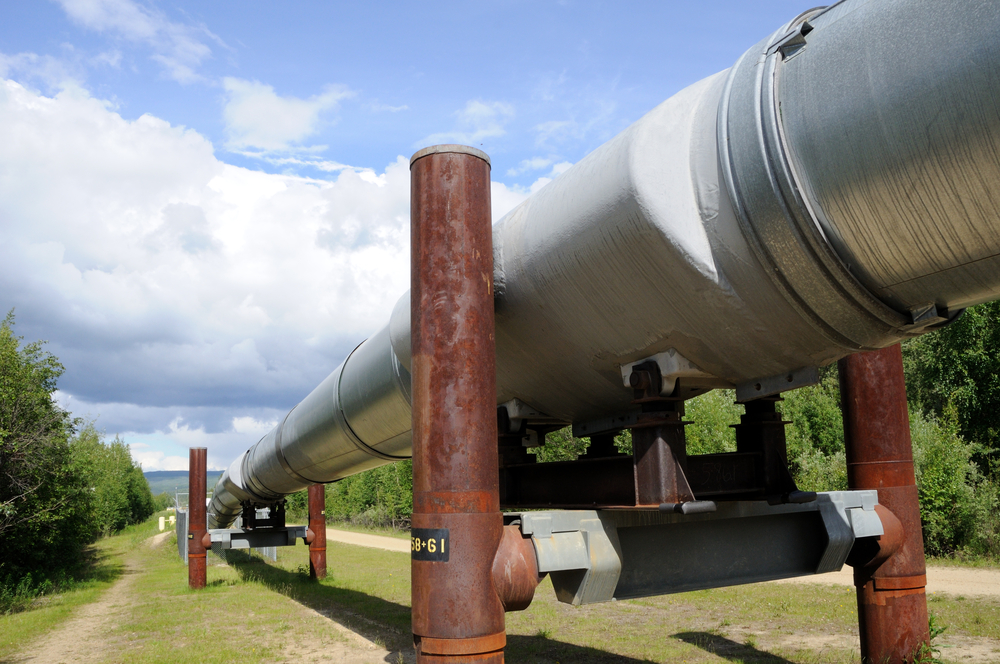 Things To Do In And Around Fairbanks:
Visit the Morris Thompson Cultural and Visitor Center in downtown Fairbanks.
Here you will find everything you need to know about visiting Fairbanks and the Interior and Arctic regions of Alaska.
You will see many exhibits and three life-sized dioramas that depict life in the Interior.
Check out the Trans-Alaska Pipeline An engineering feat, the 800-mile Alaskan pipeline was built after oil was discovered in Prudhoe Bay in the Arctic Ocean.
You can take a tour during the summertime at two locations just outside of Fairbanks to see the 48″ diameter pipe.
See the Aurora or Northern Lights. Fairbanks is considered one of the best places in the United States to view the all-natural outdoor light show called the Northern Lights.
However, if you visit Alaska during the summer as I did, you will be disappointed, like I was, to find out due to extended daylight hours, the Aurora is not visible.
The darkest of skies are needed to see the spectacular explosions of light. If you are fortunate enough to visit later in the year, like I was this year, your odds of seeing the Northern Lights increase dramatically.
I can say I finally witnessed the Northern Lights and it was unforgettable. Please add this to your Alaska itinerary list of things to do!
Seeing the Aurora Borealis is definitely a bucket list item! Look here for other USA Bucket List ideas!
Play a round of golf at the North Star Golf Club, the northernmost golf course in America. It is located a few miles north of Fairbanks.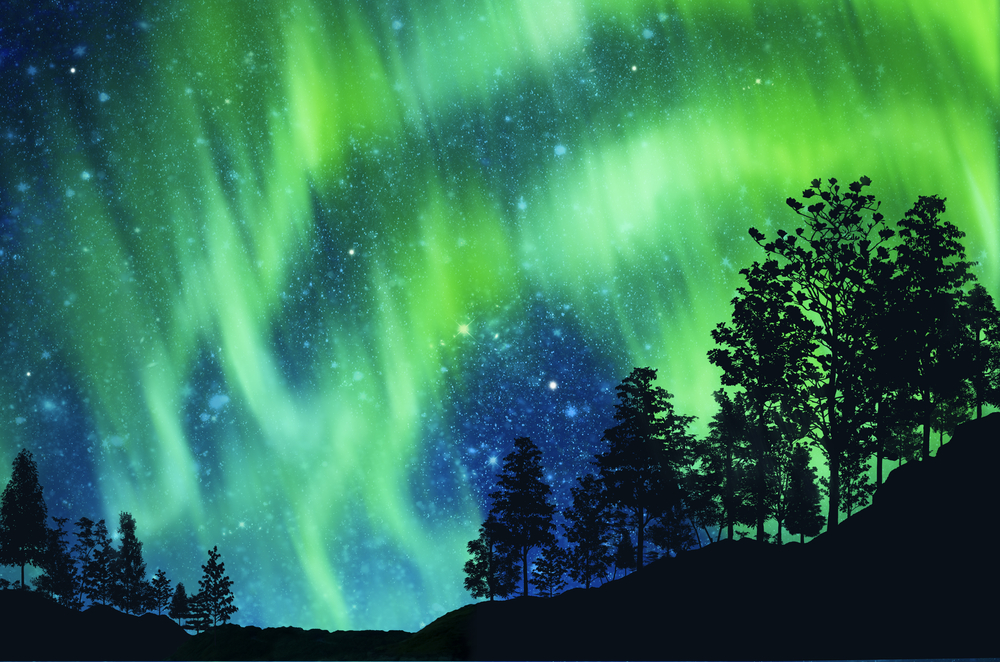 Look here: The Best of Fairbanks: Half-Day City Highlights Tour
Look here: From Fairbanks: Arctic Circle Day Tour with Lunch
Take An Unforgettable Journey To The Arctic Circle And Prudhoe Bay!
Located 196 miles north of Fairbanks on the Dalton Highway, many dream of driving over that invisible line at latitude 66* north and you should consider adding this to your Alaska itine
A word of caution though, the Dalton Highway, AKA the Haul Road (because it is highly used by the Alaska pipeline workers) can be dangerous.
Most rental car companies will not permit you to drive the Dalton Highway. There is no cell service and limited wi-fi.
There are lots of tour companies that can fly or drive you to the Arctic Circle and Prudhoe Bay. I've visited Fairbanks twice and never made the trip to Prudhoe Bay to dip my toes in the Arctic Ocean and regret it!
Do not make the same mistake!!! Add this to your Alaska itinerary, for sure.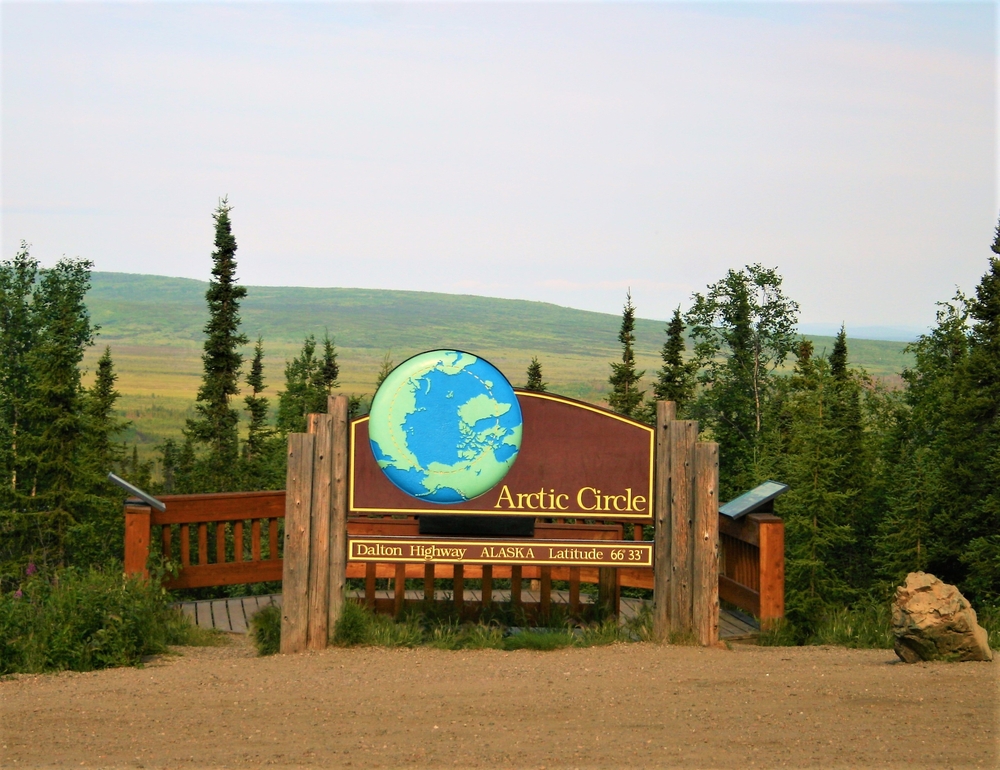 Visit Juneau, Alaska's Capital
Put visiting the Mendenhall Glacier on your Alaska itinerary list of things to do in Juneau. It is located just outside of town within the Tongass National Forest.
Which just happens to be the largest national forest in the United States! Start off by going to the Mendenhall Visitor Center for information.
I hope you will be fortunate enough to see and hear the glacier "calving." Helicopter tours are offered to see the glacier and even land on it. There are almost forty major glaciers in the Juneau Icefield that can be seen via helicopter.
Go on a whale watching tour. There is lots of sea life at Juneau's doorstep so a tour out into the waters is a very popular option.
It is said there are more than 50 humpback whales that are frequently seen near Juneau and that it is almost "guaranteed" by the tour operators that you will see a whale! What a great option to add to your Alaska itinerary.
Get out into the wilderness. There is access to the best wilderness in southeast Alaska in Juneau.
Venture into Glacier Bay National Park and Preserve and Tongass National Forest for many hiking trails and backcountry camping.
I have given you eleven-plus of my all-time favorite destinations in Alaska to consider putting on your Alaska itinerary as you plan your Alaska road trip.
No matter how you arrive in Alaska, or how you travel in Alaska, either by cruise, RV, car or train, you are certainly in for a wonderful trip full of spectacular scenery and wonderful memories!
Packing Tips For Your Alaska Itinerary
A concealed travel pouch may be one of the most important items you bring with you on your visit to Paris. This unisex RFID blocking concealed travel pouch is lightweight and comes in several colors.
It has lots of organization to give you peace of mind. You can keep your most valuable documents safe and secure next to your body.
If you have a pouch already you may not want to or need to invest in a new one. If it does not come with the RFID protection, these RFID sleeves would be handy to prevent identity theft.
This configuration comes with enough passport and credit card sleeves that the entire family would be protected. They are slim too, so they will easily fit into your current pouch or wallet. These are the kind my family and I use not only when traveling but at home as well.
If you are planning on taking a lot of pictures with your phone you will definitely want to consider an external charging battery. This Anker high-speed phone charging battery is the exact one I carry with me on all of my trips.
It can be used on a variety of phones, not just an iPhone like I have. And wow is it fast! I like that it holds its charging capabilities for several uses so I do not have to worry about it while out and about. And if I forget to recharge it at night, it will still be good to go the next day.
My daughter gifted me with this FugeTek Selfie Stick and Tripod for my birthday. It has Bloothtooth connectivity so it is very easy to use. It is made of durable aluminum and is very lightweight and easy to carry. I love mine and I think you will enjoy it too!
I was never a fan of packing cubes until I tried them out! Now I am sold. These Bagail packing cubes are the exact ones I use whenever I travel. I cannot believe how much more organized I am now! And I never leave without them anymore.
I am a big fan of locking my luggage too. These TSA compatible durable luggage locks have easy to read numbers and are easy to set. I lock my checked bag if I have one. I always lock my carry on as well. Especially on a long international flight where I might be napping.
I also lock the luggage I leave behind when I am out sightseeing on a trip. Whether I am at an Air BB or a hotel, I want to keep my valuables as secure as possible if a room safe is not available.
Don't forget to bring along a universal power adapter on your trip to Alaska. This worldwide power plug is a great example and will charge your phone at the end of your busy days.
And this world traveler adapter kit can charge several devices at the same time. This is what you will need when there are several people traveling in your group, or if you bring several electronic devices on your trip that require charging at the same time.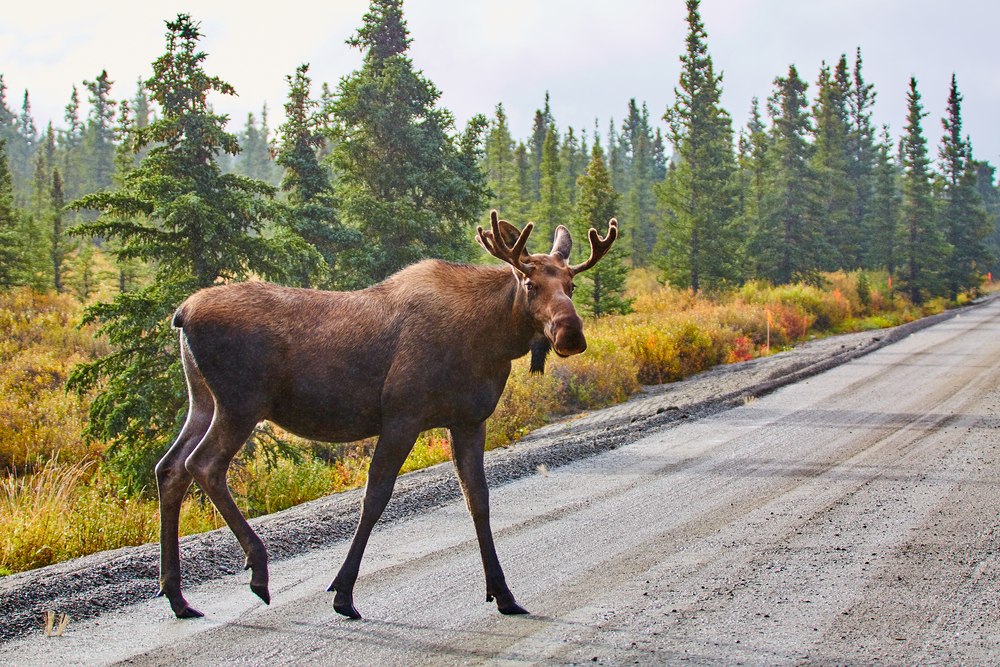 Hydration is so important.  You want to remain hydrated to support your immune system which in turn will be stronger to fight off any germs you will encounter during your time in Alaska. 
You will want to bring your own refillable water bottle with you.
I never leave home on a trip without my Bobble filtration bottle. The 18.5-ounce size is perfect for travel and it will fit nicely in the pocket of a backpack or your purse.
The replacement carbon filters ensure fresh water whenever you want it.
Perhaps you are traveling a long distance and packing space is a premium. Then this collapsible silicone foldable water bottle would work well for you.
You will want to bring a backpack or daypack with you to store snacks, your water bottle, phone, extra clothes, etc.. This foldable water-resistant backpack would be great.
It is very affordable and is available in many color options for you to choose from. The fact that it folds down into a zippered pouch will make it easy to pack.
Perhaps you need a more substantial backpack for your international travel. This antitheft backpack has a charging port, is water-resistant and can comfortably carry up to a 15.6″ laptop.
It comes in a range of colors to choose from and it is inexpensive as well.
You will be walking more than usual during your days in Alaska.  A sturdy and comfortable pair of walking shoes is a must-have.
These waterproof all-season shoes are extremely affordable and yet fashionable.
Mostly everyone is familiar with the Skechers brand, and these Air Run high fashion sneakers come in a lot of colors to match your outfits and are still affordable.
If you are visiting Alaska in warmer weather you may want a pair of sandals to wear exploring.  I highly recommend these Vionics adjustable strap orthotic sandals.
I have several pairs of these exact Vionic sandals in several colors that I bring with me *everywhere* I travel. They are very comfortable.
I also sometimes bring along my Vionic Tides flip flops. The toe post is so comfortable which makes wearing these super comfortable.
Bring a lightweight scarf or shawl. Scarves and shawls are very popular and Alaska is no different. Both men and women wear scarves, decoratively and as a layering piece to keep warm.
This cotton unisex lightweight scarf is versatile and can be worn in any season. I like this colorful oversized scarf too. So many colors to select from!
We all need to protect our eyes from the sun's harmful UVA/UVB rays. These unisex polarized sunglasses come in a lot of lens colors and frame designs and are extremely affordable too.
If you are fond of the aviator-style of sunglasses these polarized aviators may interest you.
I like polarized sunglasses because they remove the glare off the water and help you to see things more clearly. This will be very helpful in Alaska
Do you need new luggage? his expandable soft side spinner luggage is affordable and comes in lots of colors. If you like hard-sided better, then you may favor this hard-sided luggage set better.
Both sets come with TSA approved zippers locks and 8 wheels per piece. Either will be great for the plane or train or even your car depending on how you plan your Alaska itinerary.
—
Have you ever been to Alaska? What were your favorite places there? Do you love Alaska as much as I do? Please leave your comments below.
Pin this post: