Are you looking for picturesque and stunning towns in Alaska to visit? Well, you have come to the right place.
I absolutely love Alaska, have been there several times, and have compiled a list of 13 picturesque and charming towns in Alaska for you to visit while you are there.
There are so many wonderful places to visit in Alaska!
Planning your trip to Alaska last minute?
Make sure to book ahead! Hotels and tours can sell out the closer you get to your trip. Here are our top pics for Alaska!
Top Experiences and Tours in Alaska:
Best Alaska Hotels:
Is this your first visit to Alaska? Read here to learn 9 things about Alaska Before Your Visit.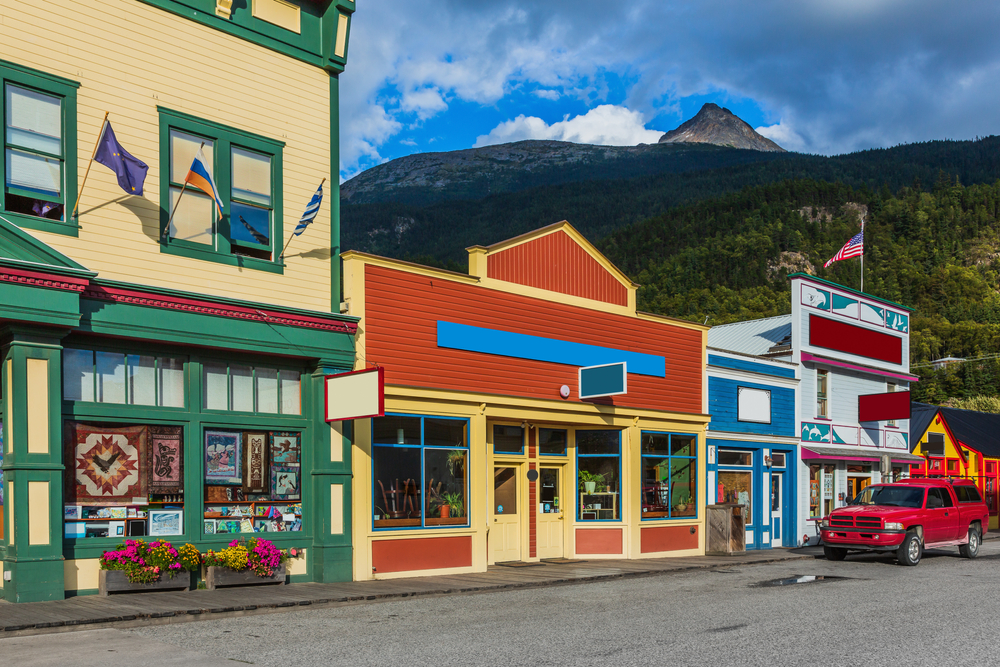 13 Most Picturesque Towns In Alaska
The Native American Totem Poles In Ketchikan Will Thrill You
If you will be discovering Alaska while cruising, read about what you should pack in this Alaska Cruise Packing  Guide.
Planning your trip to Alaska last minute?
Make sure to book ahead! Hotels and tours can sell out the closer you get to your trip. Here are our top pics for Alaska!
Top Experiences and Tours in Alaska:
Best Alaska Hotels:
One of the lovely towns of Alaska is Ketchikan. It sits facing the world-famous Inside Passage. It is a very popular cruise stop and one worth exploring.
If you are cruising it is the first major city you will see heading north into Alaska.
We visited Ketchikan a few years ago while RVing through Alaska, via the Alaska Marine Highway ferry system. You do not have to be on a cruise ship to have access to Ketchikan.
The scenery around Ketchikan is so jaw-dropping majestic that we have never forgotten it.
Ketchikan is surrounded by forested slopes behind her and in front of her lies the Tongass Narrows the very busy and picturesque waterway that brings visitors to Ketchikan.
There are so many Ketchikan activities, this is one Alaksa town not to miss!
Looking to stay in Ketchikan? Check VRBO Rates here for a 2 bedroom home in downtown Ketchikan.
Or this beautiful Ketchikan 3 bedroom apartment in town. Check rates here.
Ketchikan is known for a lively downtown area and the legendary Native American totem poles. This is one of the most picturesque towns in Alaska you should consider exploring.
Look here: Self-Guided Tour of Ketchikan
Look here: Ketchikan Shore Excursion: City Tour and Totem Park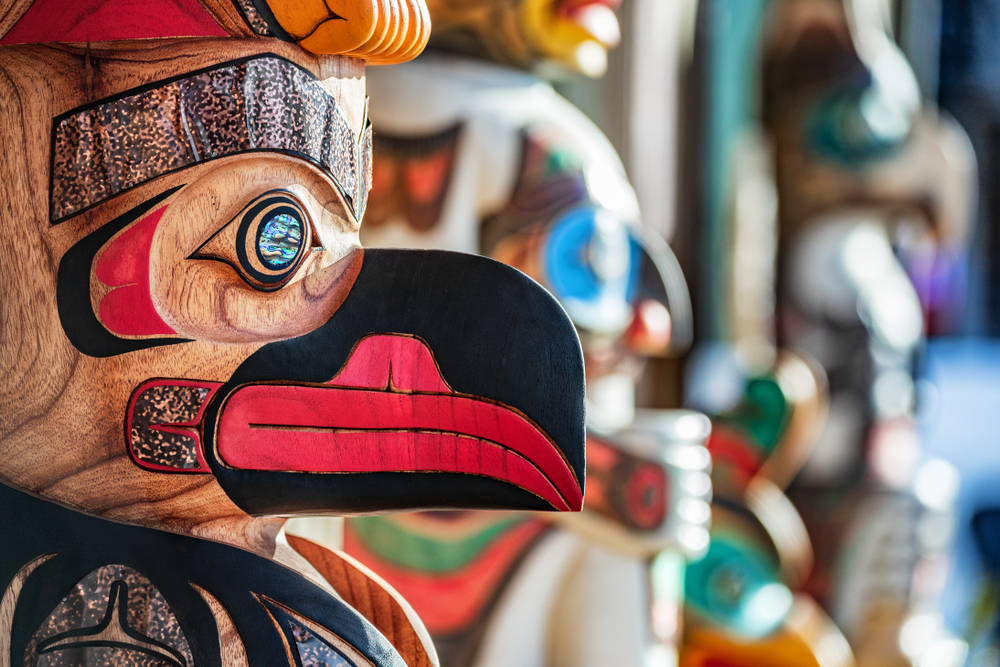 Visit Anchorage For Stunning Big City Wilderness
Nestled between the mountains and the sea Anchorage is one of the most striking towns in Alaska. It is the largest of towns in Alaska with lots of big-city amenities.
If you are road tripping or backpacking through Alaska, Anchorage attractions abound and it is a great place to stop.
You can stock up on your amenities because all the popular "big box" stores are located there.
Read about 20 things to do in Anchorage as you plan your Alaskan itinerary.
However, Anchorage is no stranger to the wilderness and it is not unusual seeing a moose walking through town. There is a vast array of birdlife you can witness as well if you slow down a little.
One of the things that makes Anchorage one of the most visually charming towns in Alaska is her mountainous backdrops. They are often so spectacular you may wonder if they are painted and not real.
The eleven-mile paved Tony Knowles Coastal Trail runs along Cook Inlet and provides stunning views. that makes this Alaska town even more desirable.
You will learn a little history along the way by running or riding past Earthquake Park of the 1964 earthquake that rocked all the towns in Alaska.
Anchorage is one of the towns in Alaska that offers so many options of things to do, both urban and wilderness, and so worthy of your visit.
Looking to spend a few days in Anchorage? Check out VRBO rates for Eagle's Nest Log Cabin with ocean views.
Or this Modern House with a great location in Anchorage. Look for rates here.
Look Here: Anchorage: 1-Hour Trolley Tour
Look Here: From Anchorage: Matanuska Glacier Full-Day Tour
Look here: From Anchorage: Coastal Trail 3 hour City Park Bike Tour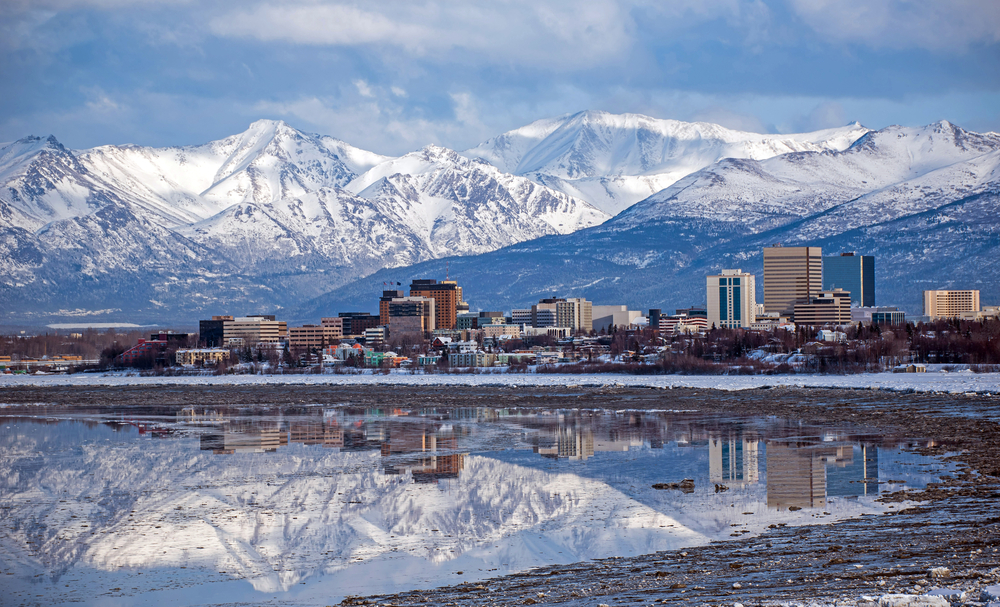 Gorgeous view of Anchorage with her mountainous background.
Girdwood Is A Cute And Thriving Resort Town
Girdwood lies 36 miles south of Anchorage on Cook Inlet and is accessed from the Seward Highway.
This stunningly scenic Alaskan town is nestled in a lush forest and surrounded by the Chugach Mountain Range and its magnificent glaciers spilling out from their icefields.
Girdwood was a sleepy little neighborhood until the building of the Alyeska Ski Resort. It became an international destination, bringing large numbers of visitors to this once sleepy town. in Alaska.
But do not fear if you wish to visit Girdwood in the summer. There are so many attractions in Girdwood you will not be disappointed.
There is still much to see in this picturesque town in Alaska. During a summer visit, my family and I went to the Alyeska Ski Resort and hiked to the top of Alyeska Mountain.
Along the way, the views were epic and seemed to go on forever. Views from the top did not disappoint either.
The Chugach Mountains were stunning and you could see Cook Inlet and out farther to the ocean.
We rode the gondola back to the bottom for one last look at the magnificent vistas at Alyeska of Girdwood.
While snow and Aleyaka dominate Girdwood, summer activities like glacier jet skiing, hiking, and wildlife adventures are just as important to Girdwood and her visitors.
I think Girdwood is one of the most beautiful towns in Alaska.
If you are looking for accommodations as you plan your Alaska itinerary, read about the best Alaska Airbnbs.
You can luxuriate in Girdwood in this peaceful chalet with mountain views. Check VRBO rates here.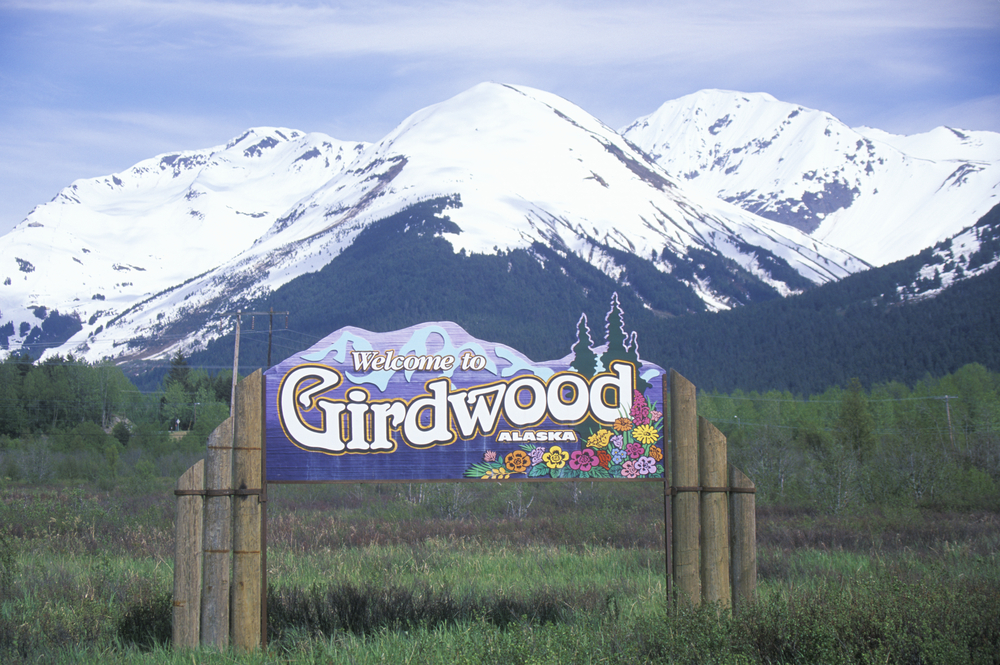 Seward Is Where The Ocean Meets The Mountains
Located just 120 miles south of Anchorage, you will be in for an unforgettable experience as you drive down to Seward on the Seward Highway.
Designated as being a National Scenic Byway, as well as an All American Road, you will definitely want to take your time.
Look here and learn 7 things about Seward before you arrive.
Even allow extra time to explore all that is ahead of you along the Seward Highway to one of the most scenic towns in Alaska.
This scenic drive, where the mountains and ocean greet each other, is literally one of my favorite things to do when I am in Alaska.
Here is more information and tips for driving from Anchorage to Seward along the Seward Highway.
As if the Seward Highway is not stunning enough, prepare for jaw-dropping unforgettable vistas once you arrive at the port town of Seward, Alaska.
It is considered the gateway to Kenai Fjords National Park.
Here you will witness where the Harding Icefield glaciers spill out into coastal fjords and into Resurrection Bay.
And imagine that all of this spectacular beauty is embraced by snow-capped mountains.
Seward is one of the towns in Alaska that is blessed with temperate and mild temperatures. I like this about Seward.
My favorite things to do when I visit are taking a glacier and wildlife cruise, and visiting Exit Glacier.
You can stay in a cozy retreat within walking distance while visiting Seward. Check VRBO rates here.
The Resurrection Bay is home to much exotic sea life like puffins, otters, and of course whales! And do not forget about the epicness of the calving glaciers.
You will probably never, ever forget that experience. You can set sail right out of downtown Seward for a day of exploring.
Exit Glacier is just eight miles north of Seward and is a very popular Alaska tourist destination.
It is one of the most easily accessible glaciers in all of Alaska, and as you make your way towards it, you will notice stakes in the ground marking past years and the receding of the glacier.
I really suggest you take a look at it up close and personal yourself.
Read about things you need to know before you visit Exit Glacier here.
Seward, where the mountains meet the sea, is one of the most unforgettable scenic towns in Alaska.
Look here: Marathon Helicopters Flightseeing Tours
Look here: Seward: Self-Guided Audio Tour
Look here: Kenai Fjords Half-Day Wildlife Cruise
Look here: Kenai Fjords National Park 6-Hour Cruise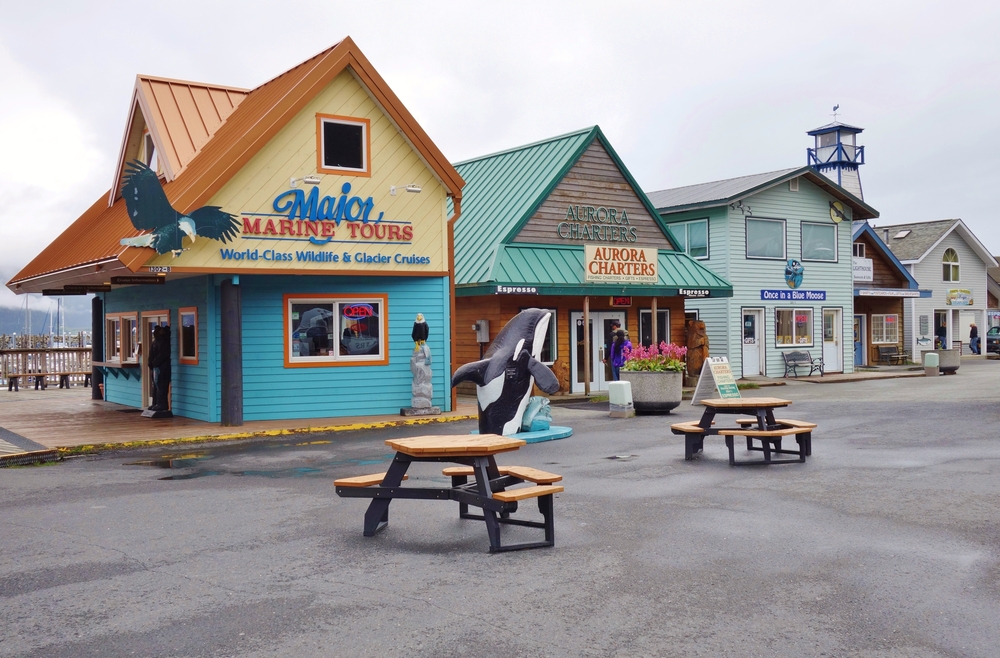 Looking to extend your stay in Seward? Look at this cozy Swedish Cabin. Check VRBO rates here.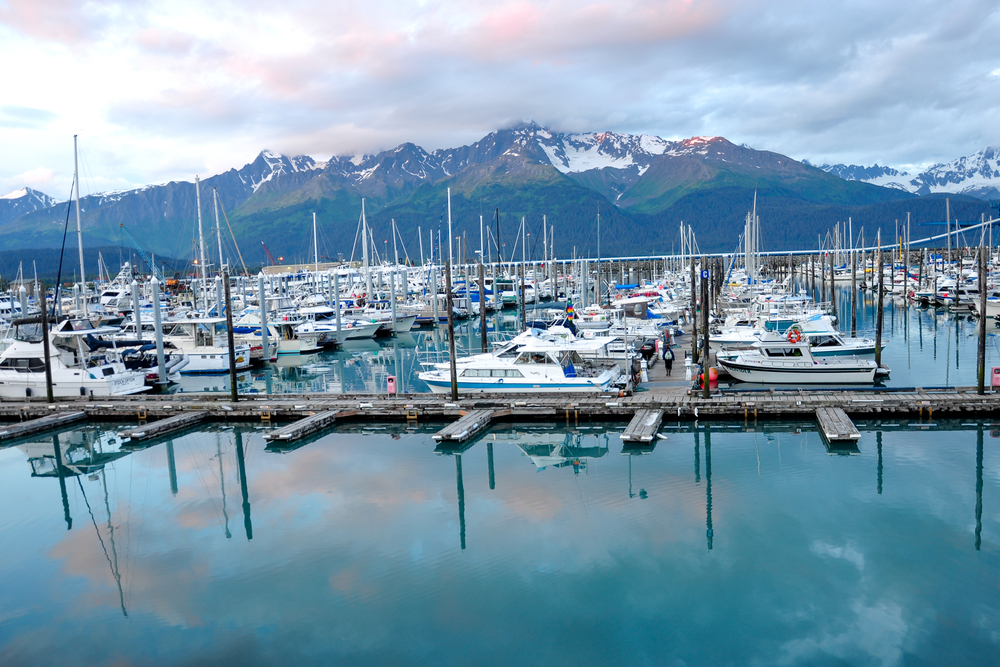 Homer Has Its Own Eclectic Charm
Of all the many times I have been to Alaska, Homer is by far my favorite of the many towns in Alaska. It is simply one of the coolest and most picturesque places to visit.
Located two hundred miles south of Anchorage, on the Sterling Highway, Homer is referred to as "The End of the Road," because it is literally located at the end of the Sterling Highway.
Situated on Kachemak Bay at the southern end of the Kenai Peninsula, Homer boasts epic vistas of mountains and the sea.
Homer owns a very eclectic and casual vibe and you will feel it as soon as you arrive. Read about things to do in Homer here to learn 20 fun things to do when visiting Homer.
I always stay at the world-famous Homer "Spit" when I visit my beloved Homer. It literally juts out into Kachemak Bay and offers unparalleled and breathtaking views.
Look at this custom built home if you are searching for accommodations.. Check VRBO rates here.
I like to buy "local" when I travel and I wait until I visit Homer to buy my souvenirs and mementos for those back home.
Homer boasts a huge artisan community offering hand-made items that are very beautiful ranging anywhere from glassware to metal.
This charming cabin with spectacular views is perfect for those who remain on the mainland. Check VRBO rates here.
There are restaurants and art galleries galore in Homer and on the "Spit" and of all the towns in Alaska, this is one I suggest you do not miss!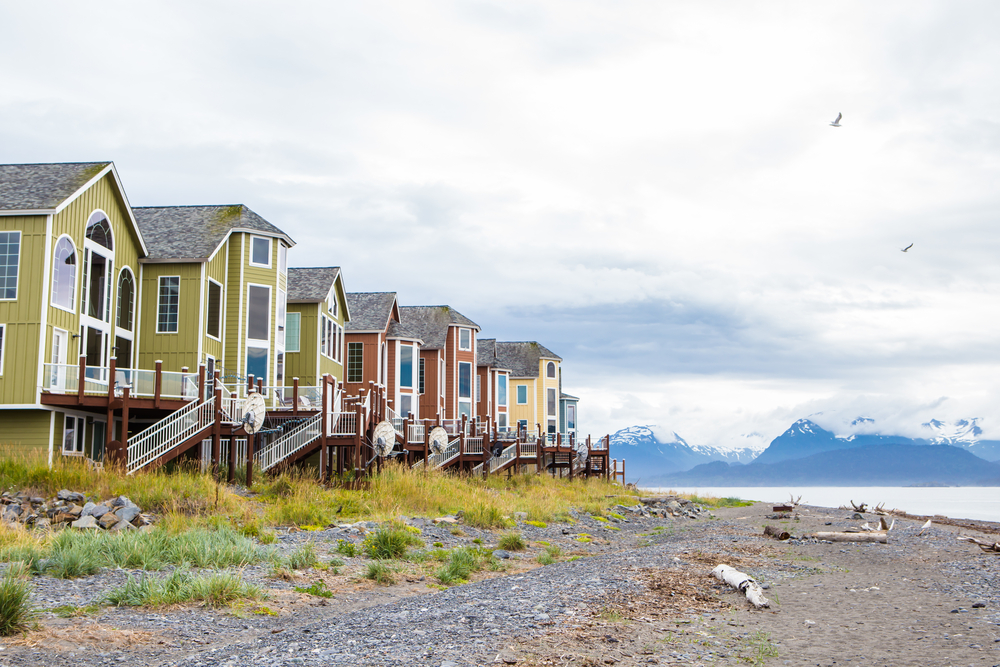 Valdez Is Home To Breathtaking Waterfalls
Valdez, located on Alaska's south coast, approximately 297 miles south of Anchorage, is worth any effort to get to. It is one of the towns in Alaska with arresting raw and wild outdoorsy beauty.
Valdez gets over twenty-seven feet of snow every winter.
When the spring weather warms the temperatures a bit, the snowcaps of the surrounding Chugach Mountains melt and cascade down, creating unbelievably stunning views of waterfalls around Valdez.
I have visited Valdez in the summer and I can definitely concur the waterfalls of Valdez are indeed gloriously picturesque.
Sitting on the shores of Prince William Sound, Valdez is where the Chugach Mountains literally kiss the waters of Prince William Sound.
You can take wildlife boat tours to see the wild animals that call Prince William Sound home, and look at marvelous glaciers and remote waterfalls that will take your breath away.
If you can, take the trip to Worthington Glacier, just outside of Valdez. You can walk right up to the glacier and touch its blue ice.
Wouldn't that make an outstanding picture to show your family and friends?
You can stay near downtown Valdez in Cade's cabin. Check VRBO for rates.
Valdez's raw and unspoiled beauty makes it one of the most beautiful towns in Alaska.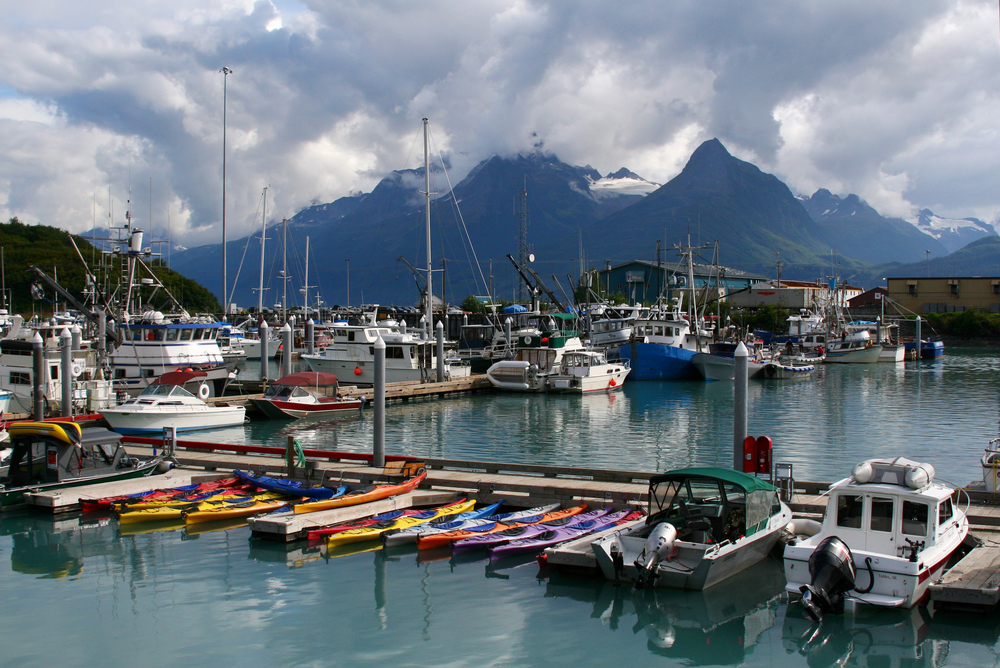 Talkeetna Is The Staging Area For Denali
Talkeetna is situated 120 miles north of Anchorage and is considered the "staging area" for those intrepid mountain men and women attempting to ascend Denali.
But there are lots more things to do and see in Talkeetna than mountain climbing.
Talkeetna has a definite relaxed and hippie vibe you will feel as soon as you arrive. There is only one main street in downtown Talkeetna, but that's where the action happens.
Here you will find local artisans selling their hand-crafted wares and local restaurants.
Here too is where you might charter a sightseeing flight to get up close and personal with Denali (formerly known as Mt. McKinley). Or stroll over to Riverfront Park to witness the confluence of three Alaskan rivers: the Chulitna, Talkeetna, and Susitna Rivers.
I will admit, it is quite an unforgettable sight to see.
You will also be graced with epic views of the Alaska Mountain Range, and Denali. That is if Mother Nature herself cooperates with clear weather.
Stay walk to downtown in a historic downtown three bedroom rustic cabin. Check VRBO rates here.
I have visited Talkeetna twice and unfortunately have not been able to see Denali. Hopefully, if you visit Talkeetna, Denali will be clearly visible to you.
There is a lot of outdoor rustic charm associated with Talkeetna. You may choose to hike, run or even camp in the outdoors.
Walking is a great adventure to look for wild animals in Talkeetna which makes it one of the most pictorial towns in Alaska.
Look here: Talkeetna: 3-Hour Byers Lake Kayaking Tour
Look here: Talkeetna: Grand Denali Flight with Optional Glacier Landing
Look here: Denali Southside Explorer Scenic Air Tour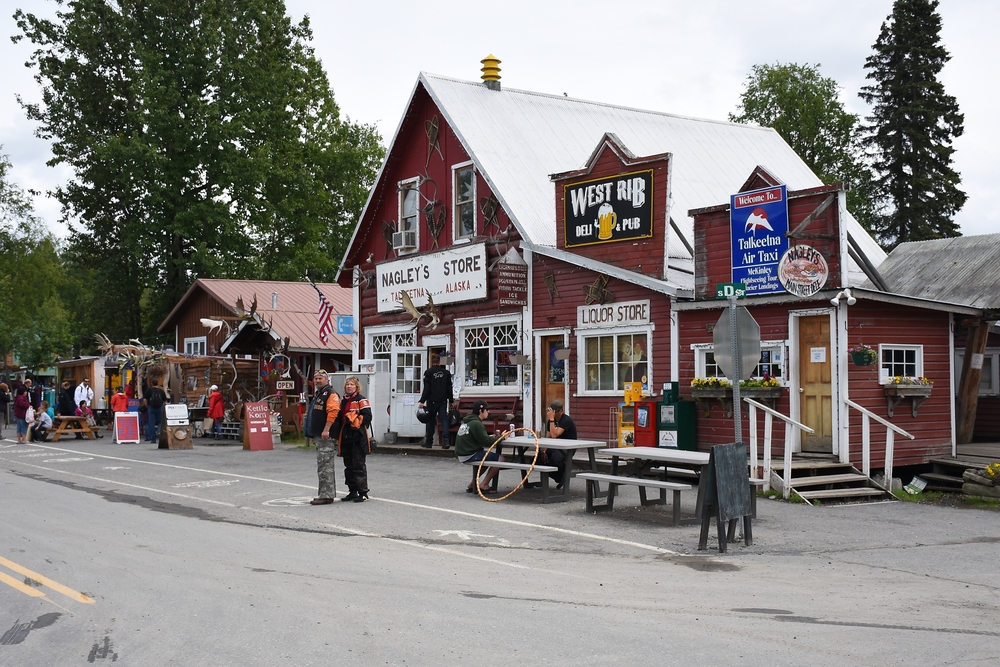 Denali National Park And Preserve Is Home To Wild Animals
Ok, I know Denali National Park and Preserve is not a town. I also know you probably do not want to travel all the way to Alaska and miss it.
Located 238 miles north of Anchorage, the hardest decisions you will have to make when visiting Denali is how long you want to stay, and what you want to do.
Native Alaskans and tourists alike visit Denali for two main reasons: to see Denali and seeing the wild animals that call Denali home.
You can stay within a few miles of Denali's main entrance in the Coho Cabin. Check Airbnb rates here.
To keep Denali's environment rustic and untamed, the park does not permit vehicles (other than those of the park employees) beyond the first fifteen miles.
You can elect to go on a bus tour into the guts of the park. A park ranger will be onboard to narrate during the tour.
You will need to select the specific bus tour that works for your family as there are numerous to choose from.
My family and I have visited Denali Park and Preserve numerous times. Several times we spent the majority of our visit driving the fifteen-mile public road.
There are glacial fed rivers to see, river beds to explore, glacier-capped mountains to view and wildlife to search for.
Those first fifteen miles are epic, so do not worry if you do not have the finances or the time to take a multi-hour bus tour.
While Denali National Park and Preserve is not a "town" I consider it one of the top towns in Alaska that you want to visit.
Tickets here: Denali Park Zipline Adventure
Tickets here: Denali National Park Self-Guided Jeep Adventure
Tickets here: Denali Highway Jeep Excursion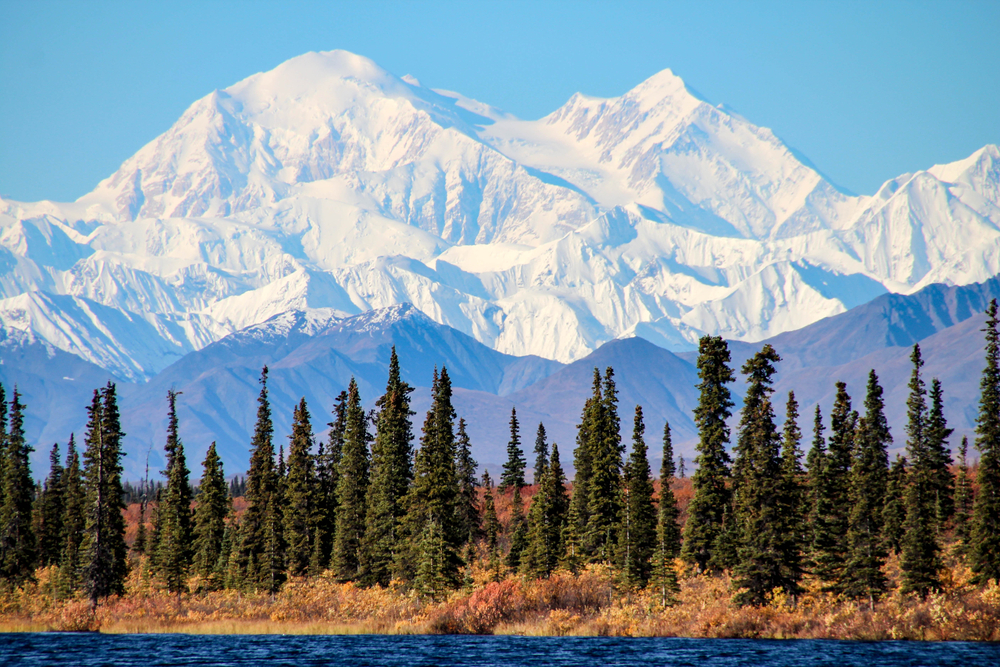 Fairbanks Is The Gateway To Alaska's Epic Interior
Fairbanks, located 358 miles north of Anchorage is Alaska's second most populous city, right behind Anchorage.
It is only a few hours' ride from Denali National Park and Preserve and boasts a wide variety of interesting things to do and see.
If you visit Fairbanks in the summer, you will most certainly be charmed by Alaska's famous midnight sun.
We were fortunate to be in Fairbanks in the summer and experience the midnight sun (when the sun barely sets.) You can get some very special pictures at midnight when the sun is still shining brightly.
Alternatively, if you find yourself in Fairbanks in the dead of winter, you have a great chance of viewing the northern lights. This is one of the most epic things to do in Fairbanks!
I was exceptionally fortunate to view the Aurora on my last trip to Alaska, and I admit, it was super spectacular. It was a truly memorable experience.
If you are adventurous or simply looking for the unusual, perhaps a trip to the Arctic Circle is an option for you when you visit Fairbanks. While a few attempt the drive themselves, you would probably consider joining a tour.
The Chena River can be your companion at the Chena River House Suite. Check Airbnb rates here.
At 196 miles north of Fairbanks you will cross the invisible line designating Latitude 66* north and you will officially have made it to the Arctic Circle.
I have visited Fairbanks twice and never made it farther north to cross the Arctic Circle. I definitely regret it. So do not make the same mistake as me. If you do happen to make the trip, let me know how it was!
Look here: Fairbanks City Tour
Look here: Arctic Circle Adventure – Full Day Tour
Look here: Arctic Circle Day Tour with Lunch
Look here: Full Day Ice Museum and Chena Hot Springs Tour
Look here: Denali National Park Shuttle Service
Look here: The Best of Fairbanks: Half-Day City Highlights Tour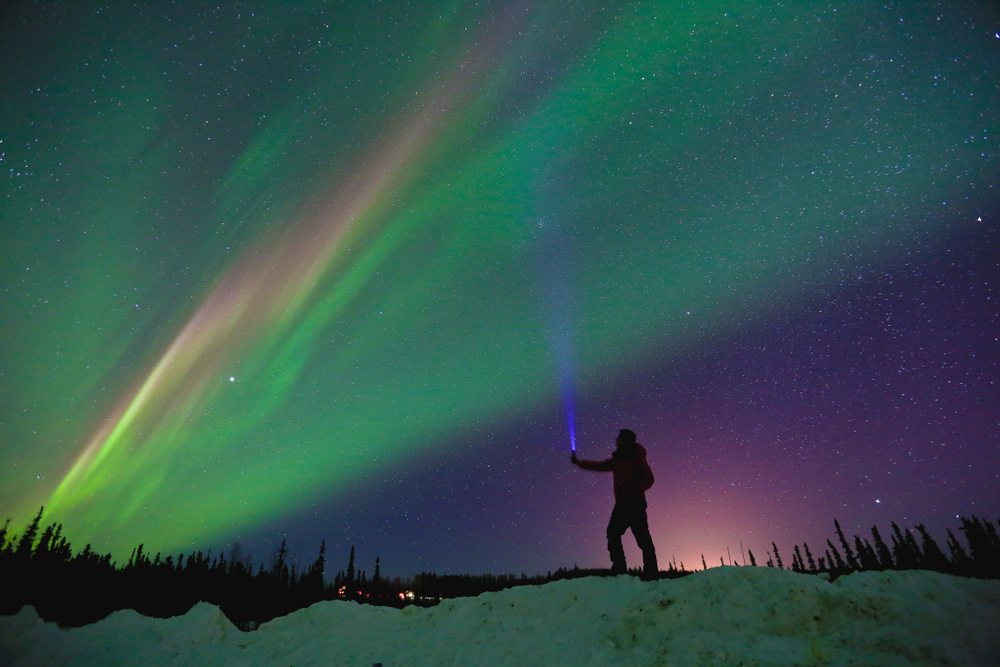 It Is Merry North Pole AlaskaChristmas All Year At North Pole Alaska
North Pole, Alaska celebrates Christmas every day of the year. Located about 14 miles from Fairbanks, it is one of the most novel and picturesque towns in Alaska.
We visited the North Pole when we were RVing through Alaska when our children were young. Santa Clause was not in residence during our visit. He was on vacation in Florida.
Our two were mighty disappointed. But for you "big kids," stopping at the North Pole, Alaska is worth it.
The town displays its holiday decorations year-round. The street lights have candy cane stripes on them and there is a Christmas store to browse in.
Stay near downtown North Pole at this rustic log cabin. Check Airbnb rates here.
There is a huge statue of the town's most famous resident, Santa Claus himself.
North Pole, Alaska is definitely worth a stop and one of the cutest towns in Alaska.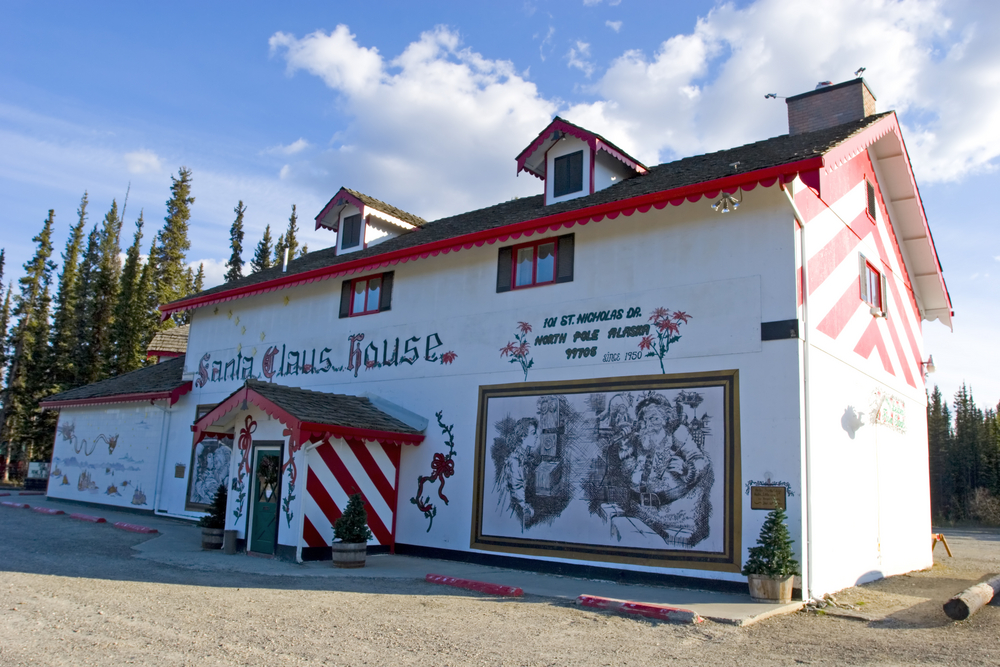 Juneau Is Alaska's Gleaming Capital City
Lots of people assume that Anchorage is the capital of Alaska. It is a natural assumption because Anchorage is the largest city and most people live there.
However, Anchorage is the economic capital of Alaska while Juneau is the political capital.
You cannot get to Juneau by driving. Well, sort of that is. There are no roads leading to Juneau. It is located in southeast Alaska nestled in between the mountains and the sea. Most tourists arrive in Juneau via their cruise ship.
We visited Juneau when we were RV road-tripping Alaska using the Alaska Marine Highway ferry system. And we were definitely not disappointed we made the trip.
Having the majestic mountains right next to the sea was a beautiful vista we have not forgotten.
Due to its remote and rugged nature, there are a lot of outdoor activities to choose from in Juneau. How about a helicopter ride over the Juneau-famous Mendenhall Glacier? That is a very popular activity.
If a helicopter ride is not your style (it was not ours either!) the Mendenhall Glacier is a short one mile ride out of town and definitely worth a visit.
Like a place with a view? This centrally located apartment is for you! Check Airbnb rates here!
Whale watching tours are another popular option to consider in Juneau.
If you prefer to stay on dry land, hiking, biking, camping or simply walking around to explore Glacier Bay National Park and Preserve and/or the Tongass National Forest are excellent options for picturesque views in one of the most unique towns in Alaska.
Tickets here: Juneau: Whale Watching Adventure
Tickets here: Juneau: Whale Watching and Mendenhall Glacier Tour
Tickets here: Alaskan Brewery and Tasting Experience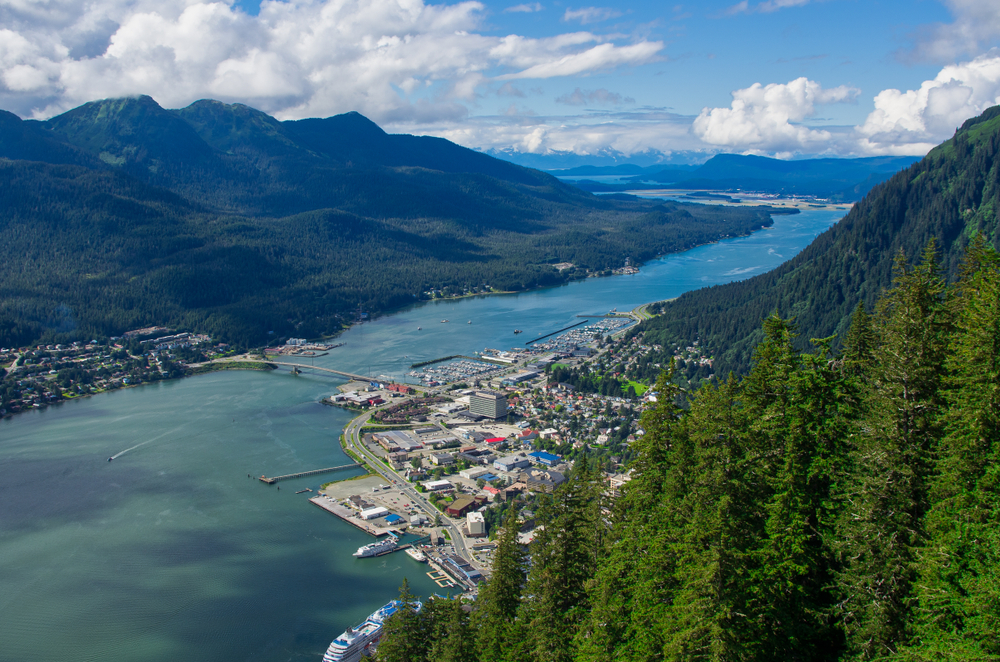 Skagway Has A Very Colorful Gold Rush History
If you travel to Skagway, it will probably be on a cruise ship. Located in southeast Alaska, Skagway is along the extremely popular Inside Passage cruise route.
Skagway's main street is Broadway which features picturesque false-front shops to browse and dream in. Restaurants dot the street as well to tempt you.
There are locals strolling the wooden sidewalks in Gold Rush period costumes. Skagway was the starting place for the 1897 gold rush.
If you want the views, look at this cottage with a private deck. Check Airbnb rates here.
The abandoned town of Dyea, next to Skagway is a great place to learn about the gold rush stampede. You can take a self-guided tour or a ranger-led tour.
We did the ranger tour and learned just how horrible the conditions were for those brave men and women who wanted to strike it rich.
There are loads of trails to run or hike to see first-hand the absolutely stunning views of Skagway.
One of the most popular Skagway tours is the White Pass and Yukon Railroad tour. You can choose several options, depending on how much time you have and your finances.
The narrow-gauge railroad, oftentimes with glass-domed ceilings will offer you unparalleled views of Alaska.
Look here: 3-Hour Private White Pass Summit Tour
Look here: 3-Hour White Pass Summit Bus Tour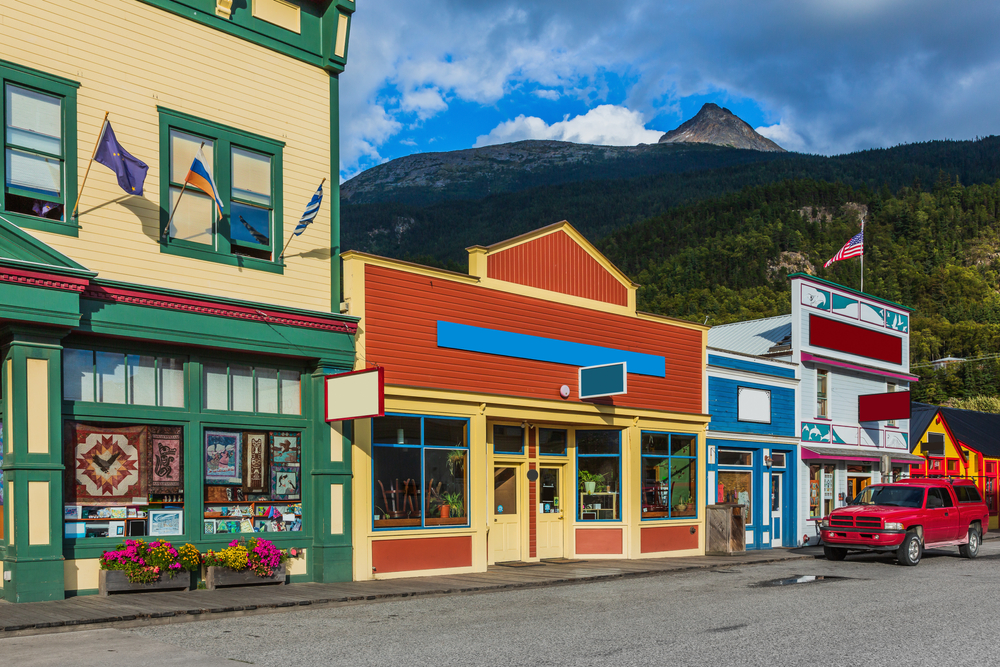 Sitka Has A Russian Heritage
Sitka is an Alaskan town of about 9,000 inhabitants, located south of Juneau in the Inside Passage, and facing the Pacific Ocean.
Sitka boasts a decidedly Russian influence. In 1867, when the Russians sold Alaska to the United States, the sale took place in Sitka.
Only accessible by sea or by air, Sitka offers limitless options to discover the raw and rugged Alaska. The forested mountains seem to bow down to the sea providing jaw-dropping unforgettable vistas.
Dreaming of staying on the ocean? This Sitka home is what you are looking for. Check Airbnb rates.
You can begin your visit to Sitka by stopping to see the Cathedral of St. Michael, with its onion-shaped dome and gold crosses.
There are interesting shops located downtown such as an art gallery and a book store.
Hiking, education, and boating make Sitka one of the most unique towns in Alaska.
Look here: Raptor Center & City Walking Tour
Look here: Bears, Beers, and History Tour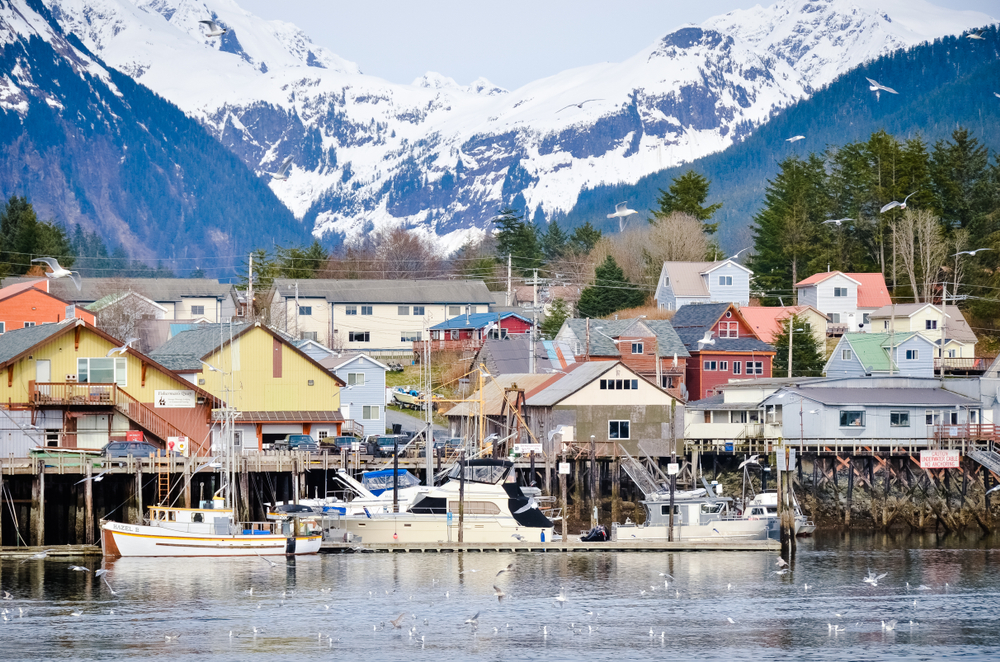 READ NEXT
How To Avoid Getting Sick While Flying To Alaska
7 Stops To Include For The Perfect Alaska Itinerary
7 Tips For Surviving A Long Haul Flight
Travel Tips For Solo Travelers Heading To Alaska
Packing Tips For Your Trip To Alaska
I think that using these useful packing tips will enhance your trip to these pretty towns in Alaska and help you remain organized while there.
Here are some tips on how to pack lightly for your Alaskan adventure.
A concealed travel pouch may be one of the most important items you bring during your visit to the towns in Alaska.
This unisex RFID blocking concealed travel pouch is lightweight and comes in several colors. It has lots of organization to give you peace of mind.
You can keep your most valuable documents safe and secure next to your body.
If you have a pouch already you may not want to or need to invest in a new one, like me. If it does not come with RFID protection, these RFID sleeves would be handy to prevent identity theft.
This configuration comes with enough passport and credit card sleeves that the entire family would be protected. They are slim too, so they will easily fit into your current pouch or wallet.
If you are planning on taking a lot of pictures with your phone you will definitely want to consider an external charging battery. This Anker high-speed phone charging battery is the exact one I carry with me on all of my trips.
It can be used on a variety of phones, not just an iPhone like I have.
And wow is it fast! I like that it holds its charging capabilities for several uses so I do not have to worry about it while out and about.
And if I forget to recharge it at night, it will still be good to go the next day.
My daughter gifted me with this FugeTek Selfie Stick and Tripod for my birthday.
It has Bloothtooth connectivity so it is very easy to use. It is made of durable aluminum and is very lightweight and easy to carry. I love mine and I think you will enjoy it too!
I was never a fan of packing cubes until I tried them out! Now I am sold. These Bagail packing cubes are the exact ones I use whenever I travel. I cannot believe how much more organized I am now!
I always use luggage locks when I travel. These TSA-approved luggage locks are affordable and come in many colors and combination choices.
Unless I am at a place with access to a lockable safe, I always lock my luggage!
Hydration is so important. You want to remain hydrated to support your immune system which in turn will be stronger to fight off any germs you will encounter during your travels.
You will want to bring your own refillable water bottle with you.
I never leave home on a trip without my Bobble filtration bottle. The 18.5-ounce size is perfect for travel and it will fit nicely in the pocket of a backpack or your purse.
Also when filled with water, it is not too heavy to carry. And the Bobble carbon filter ensures fresh clean water whenever and wherever you fill the Bobble. You can find filter replacements here.
Perhaps you are traveling a long distance and packing space is a premium. Then this set of collapsible silicone foldable water bottles would work well for you.
Would not take up much space in your suitcase at all. And you will be receiving a set of two.
Don't forget to bring along a universal power adapter on your trip to see the pretty towns in Alaska. This worldwide power plug is a great example and will charge your phone at the end of your busy days.
And this world traveler adapter kit can charge several devices at the same time. This is what you will need when there are several people traveling in your group, or if you bring several electronic devices on your trip that require charging at the same time.
You will want to bring a backpack or daypack with you to store snacks, your water bottle, phone, extra clothes, etc. This foldable water-resistant backpack would be great.
It is very affordable and is available in many color options for you to choose from. The fact that it folds down into a zippered pouch will make it easy to pack.
Perhaps you need a more substantial backpack for your international travel. This antitheft backpack has a charging port, is water-resistant, and can comfortably carry up to a 15.6″ laptop. It comes in a range of colors to choose from and it is inexpensive as well.
You will be walking more than usual when visiting these picturesque towns in Alaska. A sturdy and comfortable pair of walking shoes is a must-have. These waterproof all-season shoes are extremely affordable and yet fashionable.
Mostly everyone is familiar with the Skechers brand, and these Air Run high fashion sneakers come in a lot of colors to match your outfits and are still affordable.
And let us not forget the beach shoes for Alaska's pebbly beaches. These quick dry slip on aqua shoes are a great selection. They come in a ton of bright colors for men, women, and children.
You may be visiting Alaska in warmer weather, and you may want a pair of sandals to wear exploring.
I highly recommend these Vionics adjustable strap orthotic sandals. I have several pairs of these exact Vionic sandals in several colors that I bring with me *everywhere* I travel.
They are very comfortable. I also sometimes bring along my Vionic Tides flip flops. The toe post is so comfortable which makes wearing these super comfortable.
Bring a lightweight scarf or shawl. Both men and women wear scarves, both decoratively and as a layering piece to keep warm. This cotton unisex lightweight scarf is versatile and can be worn in any season. And here's another option to consider:
this lightweight sunscreen shawl scarf would do double duty to protect you from the sun in the warmer seasons as well as being a fashion accessory layering piece.
We all need to protect our eyes from the sun's harmful UVA/UVB rays. These unisex polarized sunglasses come in a lot of lens colors and frame designs and are extremely affordable too.
If you are fond of the aviator-style of sunglasses these polarized aviators may interest you.
I like polarized sunglasses because they remove the glare off the water and help you to see things more clearly. This will be very helpful in Alaska.
If you are in need of new luggage, this expandable soft side spinner luggage is affordable and comes in lots of colors. If you like hard-sided better, then you may favor this hard-sided luggage set better.
Both sets come with TSA approved zippers locks and 8 wheels per piece. Either will be great for the plane or train or even your car depending on how you plan to travel to Alaska.
—
Please be advised that Linda On the Run is a participant in the Amazon Services LLC Associates Program. I earn fees by advertising and linking to Amazon.
Linda On The Run is also a participant in Get Your Guide's affiliate program where I make a small fee for linking to their services.
—
Here I have listed thirteen picturesque towns in Alaska for your consideration. Are you planning a visit to Alaska? Will you be cruising or driving? I have suggested lots of towns in Alaska for you to choose from. All of them are spectacular if you will be visiting Alaska in September!
Whether you will be cruising or driving, most or at least some of them will be accessible to you. Have you visited Alaska already? Do you have another picturesque town to suggest?
Please leave questions and suggestions in the comments section below.
Pin this post: