Are you looking for Christmas vacations in the USA?
If so you are in the right place because in this article I will walk you through the best places to visit during Christmas in the USA.
I will cover the best warm places to spend Christmas in the USA, the best cozy and cute places to spend the holidays, and the cities that go all out during the Christmas season.
Christmas is such a special time of the year and going on vacation at this time can be so special. There are so many Christmas vacation destinations in the USA it can be hard to know where to start.
Are you someone who loves to be among the hustle and bustle of the big city? Or perhaps you want to get away from it and spend Christmas in the sun? Maybe you are someone who goes all out for the holidays and wants a cute cozy town that matches your Christmas spirit?
However, you want to spend your Christmas there is a Christmas vacation in the USA for you.
So are you ready to see which Christmas vacation destinations in the USA I have chosen for you? Here is my list of the best places to visit during Christmas in the USA.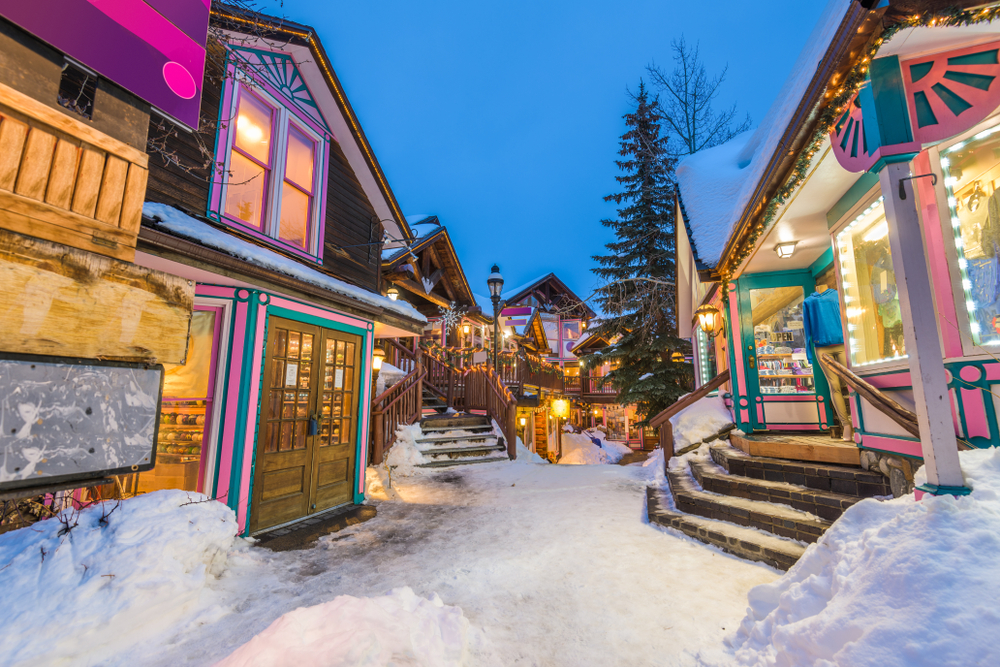 Best Cities For Christmas Vacations In The USA
Boston, Massachusetts
Not many cities can match up to the magical Boston especially at Christma. The Victorian architecture mixes with the snowy landscape to create somewhat of a scene that wouldn't look out of place in a classic novel.
Boston has charm, history and so much to offer the Christmas traveler. You will find holiday shows, winter markets, ice skating skiing, and all the lights and decorations you could wish for.
And Boston offers something a little different like holiday cruises around Boston Harbor and holiday brunch cruises. There is also ice skating at City Hall Plaza.
Make sure you also visit Quincy Market where there is a holiday themes light show and historical tours. Also, Christopher Columbus Waterfront Park is lit up by 50,000 blue lights.
And if you are there over the New Year and the celebrations Boston Common and Copley Square fireworks are fantastic.
Make sure you pack lots of layers as the December days are short and can get cold. You will need a warm coat, sweaters, hat, and gloves.
Boston really is one of the best places to visit at Christmas.
Where to Stay In Boston: Dapper Back Bay Studio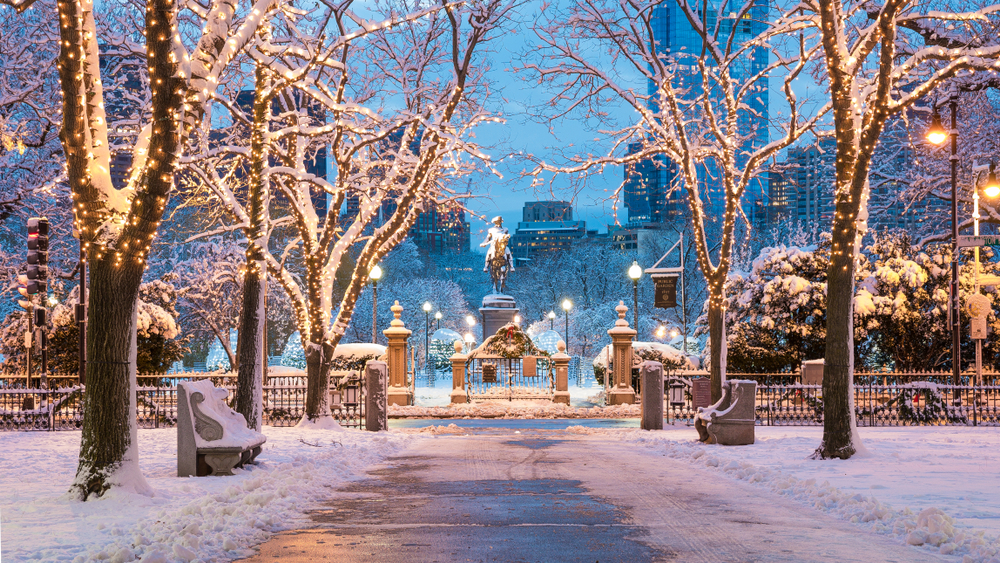 New York, New York
Christmas in New York City is what movies are made of. Christmas is the best time of year to visit New York. There is something about all the decorations and lights that adds more magic to this incredible place.
No visit would be complete without a trip to the Christmas Tree and Ice Rink at the Rockerfella Centre.
Or consider a trip to the incredible Dyker Heights, or a trip to watch the world-famous Rockettes. And of course, a walk down Fifth Avenue to see the window displays is a must!
I also highly recommend a trip to Bryant Park Winter Village. Not only are there over 100 incredible stalls but it also has a 17,000-square-foot outdoor ice rink.
And if you are there for New Years' Eve, Times Square is clearly the place to be.
Christmas vacations in the USA don't get much better than a trip to the big apple.
Where to Stay In New York: Harlem Hideaway Studio Apartment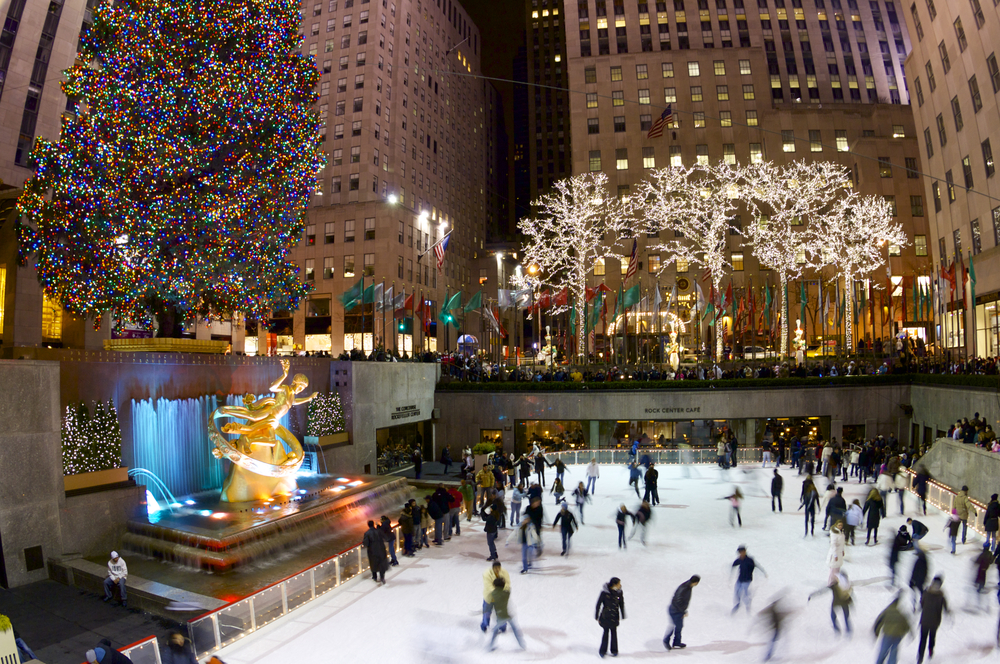 Chicago, Illinois
Yes, it will be cold in Chicago no doubt, but will it be worth it! Chicago goes all out for the festivities. The Christmas spirit here is strong and Chicagoans are very proud of how well they do Christmas.
A must-visit is Christkindlmarket, where you can sip hot mugs of glühwein, go ice skating and enjoy a Christmas tree museum.
Enjoy a production of The Nutcracker and A Christmas Carol or just enjoy the Christmas lights.
Make sure you also visit the Museum of Science and Industry where a long-standing Christmas tree decoration tradition continues.
Started in 1942 as a United Nations Day salute to Allied forces a single tree was decorated every day for 12 days to represent each of the countries who fought alongside the USA during World War II.
Today there are 60 trees and displays exploring customs celebrated by families around the world. The centerpiece is a 45 ft tall tree with 45,000 lights.
Other places worth a visit include Millennium Park, Lincoln Park Zoo and the Jack Frost Winter Walk and Christmas Tree Farm on Goose Island offers a great light display.
Where to Stay In Chicago: Urban Glamour in a great neighborhood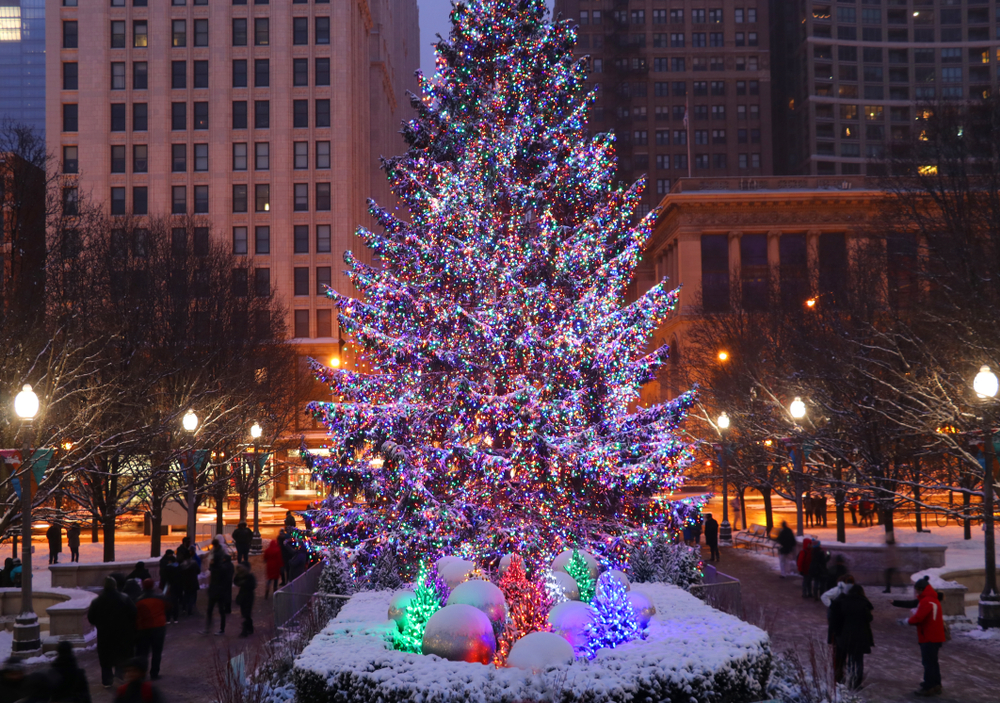 Washington, DC
If you are looking for something a little different then head to the capitol for some festive cheer. It might be a bit more muted than some of the other cities but it still has a lot to offer.
You have two Christmas Trees to enjoy here: the National Christmas Tree and the US Capitol Christmas Tree. Both are spectacular and well worth a visit.
Zoo Lights is also well worth visiting and the Botanic Gardens features models of the city's famous landmarks made from natural materials with trains and a giant holiday tree.
And if you can make sure you take in one of the National Cathedral Christmas Concerts and visit the Downtown Holiday Market and ice skating at the sculpture gardens is not to be missed.
Washington DC does have something for everyone from history to culture, from shopping to festive events from bars to great places to eat you won't be disappointed spending Christmas in Washington.
Where to Stay In Washington: Private Apt. in Historic Home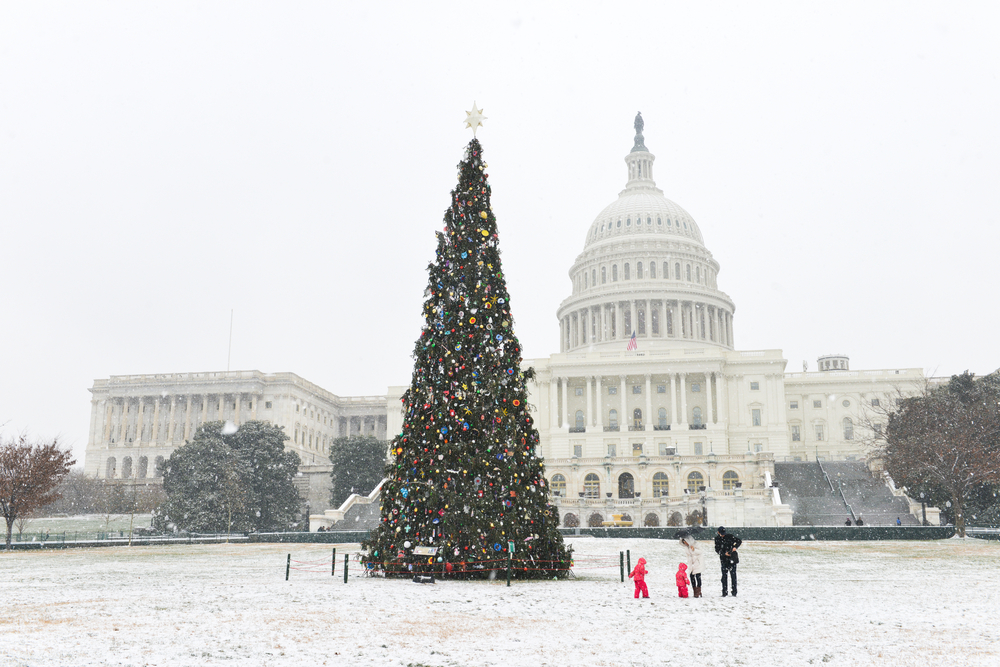 Philadelphia, Pennsylvania
During Christmas Philadelphia lights up, everything is trimmed and sparkly lights are everywhere. There is so much to see and do.
Take a spin around the Rothman Orthopaedics Ice Rink at city hall, find the perfect gift at the Christmas Village or the Made in Philadelphia Holiday Market, and the Macy's Christmas light show is well worth watching.
Winter at Dilworth Park is a little winter oasis and a trip around Longwood Gardens with its beautiful horticulture display is well worth it. Philly has a lot of magic to offer the Christmas traveler.
This Christmas vacation in the USA it really is magical.
Where to Stay In Philadelphia: Spacious three-bedroom Society Hill apartment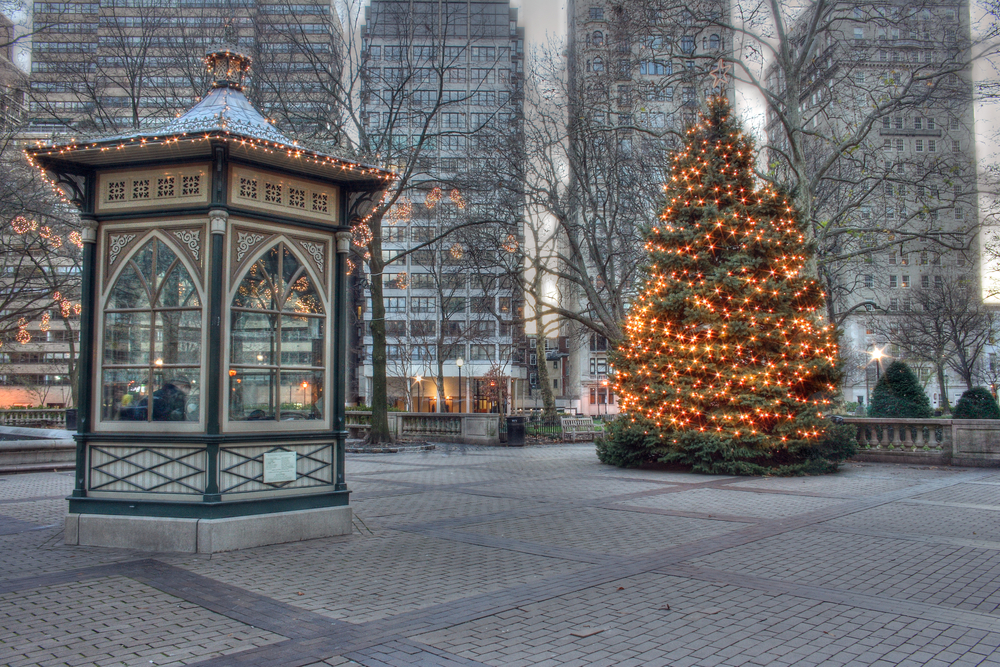 Best US Destinations For Christmas On The Beach
Oahu, Hawaii
While Christmas is not necessarily a Hawaiian tradition it has over the years taken on the American traditions and is now a mix of both cultures.
Clearly, you won't find any snow and everything has a much more tropical vibe, but if you want to spend Christmas on the beach it does not get much better than this since you can enjoy some of the best things to do in Hawaii while you're here.
While all the islands have great things to offer many think the best for Christmas is Oahu.
Be ready for Christmas Luaus, Christmas hula performances, and Christmas parades. And if you really want to get in the spirit how about surfing Christmas morning!
Things to enjoy are the annual Honolulu City Lights including the 21-foot Shaka Santa and Tutu Mele. Also head to Santa's Enchanted Forest in the Honolulu Hale courtyard.
And if you are there for the New Year this island knows how to party! Check out the New Year's Eve event at the iconic Aloha Tower or the upscale NIght Cirus Party at the Sheraton Waikiki.
This is definitely of the best warm places to spend Christmas in the USA.
Where To Stay In Oahu: Cozy Beachfront condo in Makaha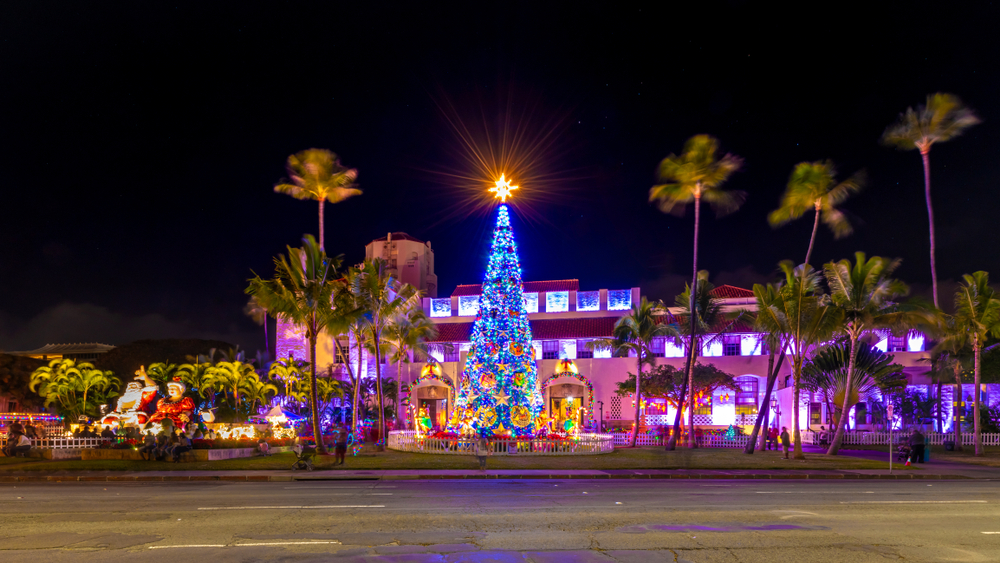 Key West, Florida
Key West is known as an island that knows how to party and Christmas is no exception. The island is full of wonderful surprises and the Key West residents go all out in decorating with giant snowflakes, twinkling lights, and icicles. Therefore, this idyllic place really is an essential part of any Florida Keys itinerary.
Take a trip on The Holiday Lights Conch Train Tour, or the Holiday Historic Inn Tour, or a lights and sights tour to get a great view of all the decorations and lights.
Must-sees are the Key West Lighted Boat Parade, the Harbour walk of lights, and the Holiday Classic Car show.
And if you really want to get into the Key West spirit how about Christmas Day brunch or dinner on a boat or schooner or a catamaran?
If you like to party then this Christmas Vacations In USA is for you.
Where To Stay In Key West: Luxury condo within steps to Key West's historic seaport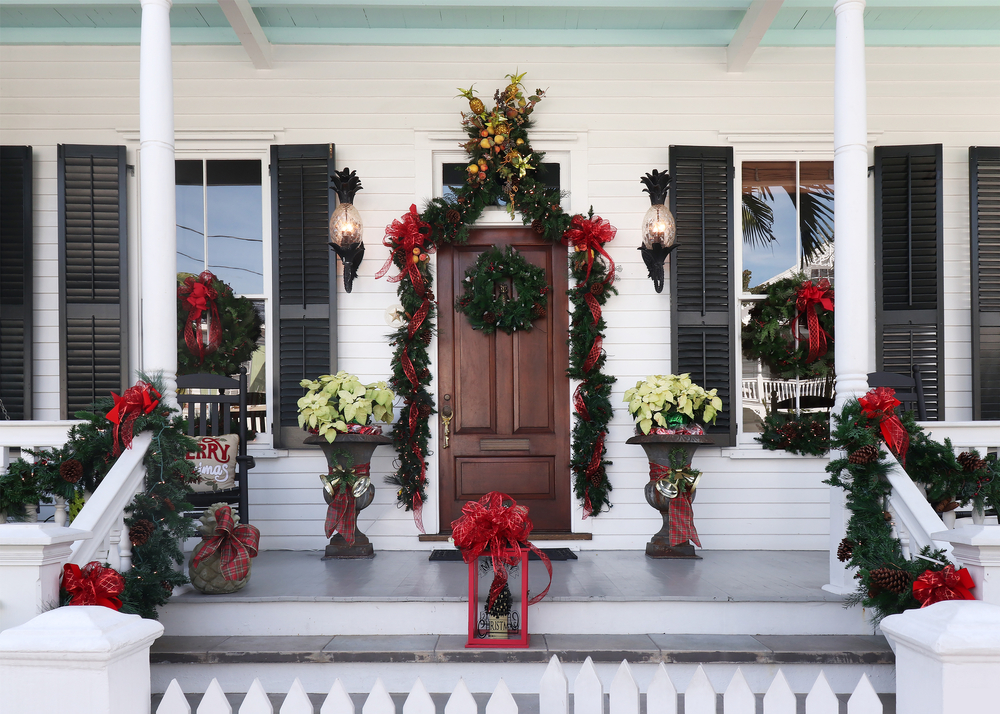 Savannah, Georgia For Traditional Christmas In The USA
Mild weather, architecture that would not go amiss in a Dickens novel, and southern charm all make Savannah an irresistible Christmas destination.
Savannah at Christmas is magical and while there might not be snow there will be plenty more to keep you occupied including a few beaches.
The decorations here are traditional and complement the architecture beautifully. You will find red ribbons and foliage on the lamposts making a traditional picturesque setting.
Take a walk around the historic district at night to really see the lights at their best. River Street is beautifully decorated and even some of the boats are adorned. A Savannah dinner cruise would be the perfect touch on your Christmas vacations in the USA.
Broughton Street is also draped in holiday lights and you can find the official city tree a the intersection between Bull and Boughton.
Don't miss the boat parade of lights, fireworks on the river, and if you need to get into the Christmas spirit head to the Cathedral Basilica of St. John the Baptist for a Christmas concert.
Where To Stay In Savannah: Historic Tiny Cottage 535 in Savannah's Historic District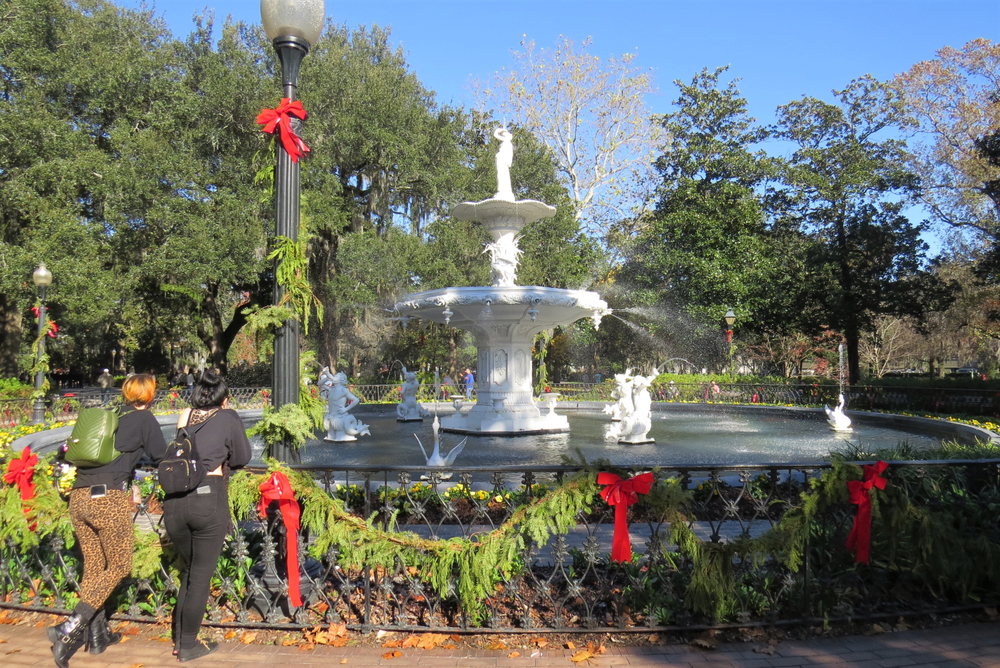 Los Angeles, California
While LA might seem an odd suggestion, Christmas is a perfect time to visit. Los Angeles gets a little more special around Christmas time.
First, the weather is just perfect and a much more manageable heat for most of us than the high summer temperatures. Also, the decorations are extravagant and a little different. No one likes to be outdone in LA.
Santa Manocia Beach Pier looks beautiful all lit up with Christmas decorations. And the Third Street promenade is a must-see for the colorfully beautiful decorated area.
Also worth a visit are the Canals of Venice. Each year there is a competition for the best-decorated home on Venice Beach and there is also a holiday boat parade.
Los Angeles Zoo's LA Zoo Lights is a great palace to take the whole family. The Descanso Gardens of Enchanted Forest of Light at the Botanical Gardens is also worth a visit. Then afterward, be sure to check out some of the best vegan food in LA to round out your evening.
Where To Stay In LA: Designer-created new guest house near the beach.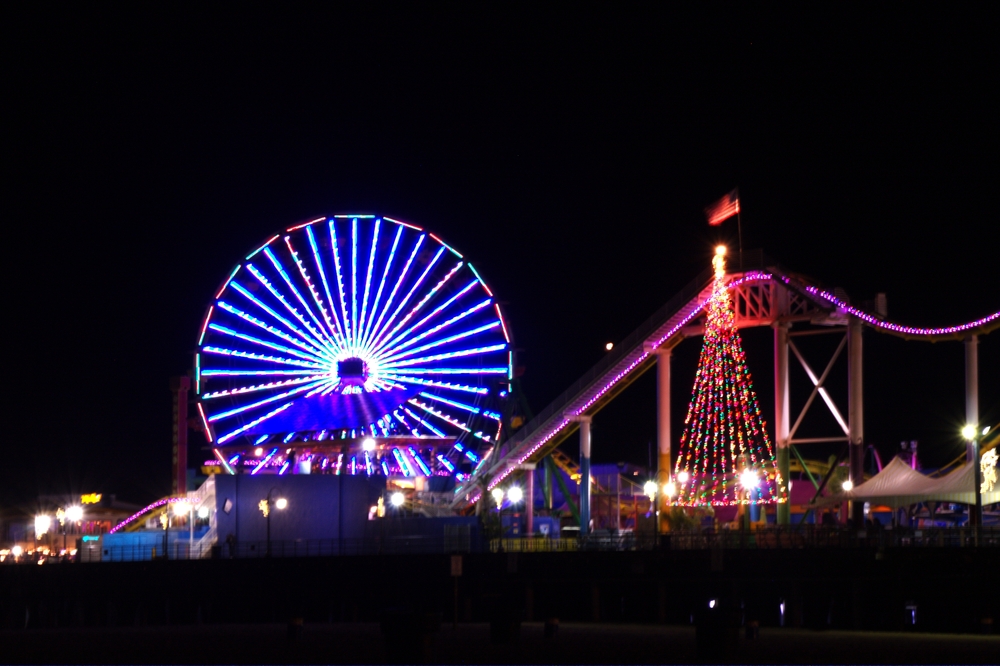 Miami, Florida
Christmas in Miami is a magical time and the whole place turns into a festive paradise. The temperature is perfect, the tourist areas are less crowded and the atmosphere more laid back than the busy season.
There is also lots to do in Miami such as a visit to Santa's Enchanted Forest, The Winterfest Boat Parade, and a visit to the beautiful Vizcaya Museum & Gardens.
And the beaches are plentiful, and there is nothing like South Beach at Christmas. Miami knows how to do Christmas. You won't be disappointed.
Where To Stay In Miami: Pleasant Studio in the heart of Coconut Grove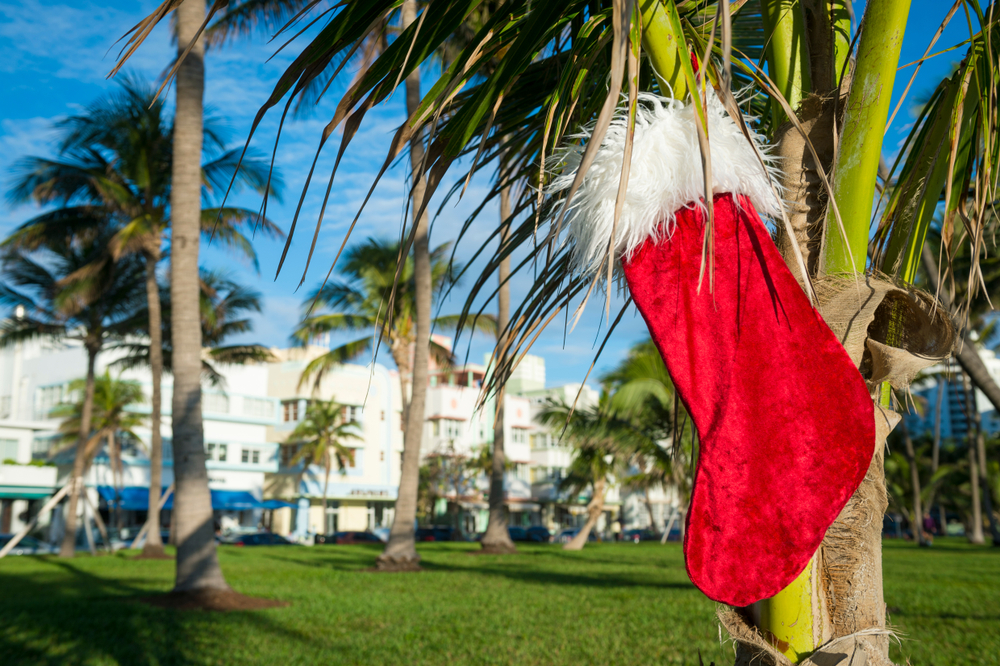 Cozy Christmas Vacations In USA
Breckenridge, Colorado
Spending Christmas at Breckenridge really is the Christmas fantasy. Talk about picture-perfect, this is Christmas in a bottle. Throughout December the town is transformed into a Christmas village that could not be more perfect.
You will find horse-drawn carriage rides, lots of shops selling wonderful unique presents, and depending on when you go you might also see hundreds of Santas racing down Main Street picking up milk and cookies as they go.
If you want the full-on Christmas dream the this is one of the best places to visit during Christmas in the USA.
Also, don't forget to warm up during your trip by taking a dip in one of the best Colorado hot springs in the state.
Where To Stay In Breckenridge: Mountain-Industrial Getaway Close to Town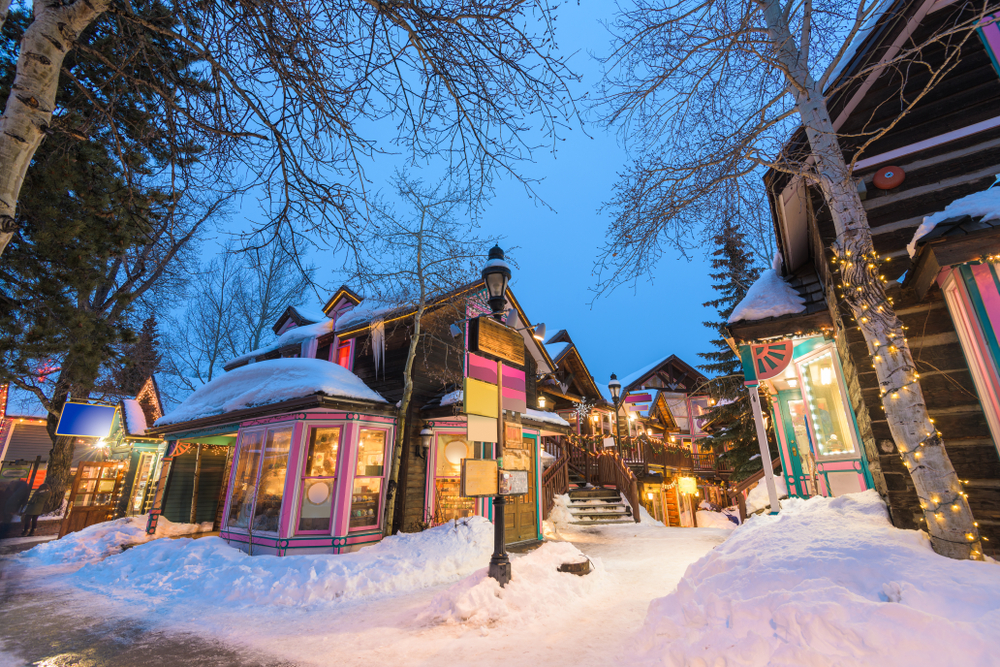 Leavenworth, Washington
Once crowned "Ultimate Holiday Town USA," one visit here and you will see why it gained this name. Leavenworth is a charming Bavarian-style village complete with snow-capped mountains.
It wouldn't look out of place in Germany or Switzerland and is the perfect place to enjoy Christmas.
The Christmas lights are very impressive and the lighting festival in early December even more so. Every Friday you will find Santa around town welcoming children.
For a full-on Christmas experience that feels like you are in another country, this is the palace to visit.
Where To Stay In Leavenworth: Hannah's River Cabin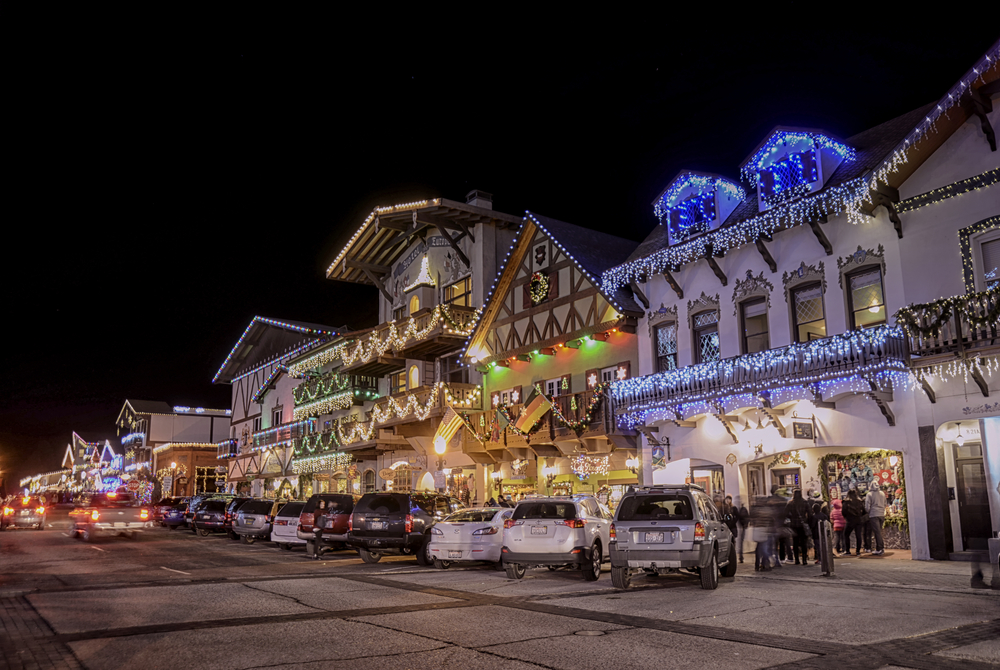 Hanover, New Hampshire Is A Magical Christmas Vacation In The USA
At Christmas this college town is adorable. You will find a big decorated tree on the green and lights strung all the way up Main street. This place has an old New England feel about it and just looks adorable when decorated.
Make sure you go into the Hanover Inn which has an amazing gingerbread house display.
For a real traditional Christmas vacation in the USA, head here.
Where To Stay In Hanover: Cozy Scandinavian Hilltop Home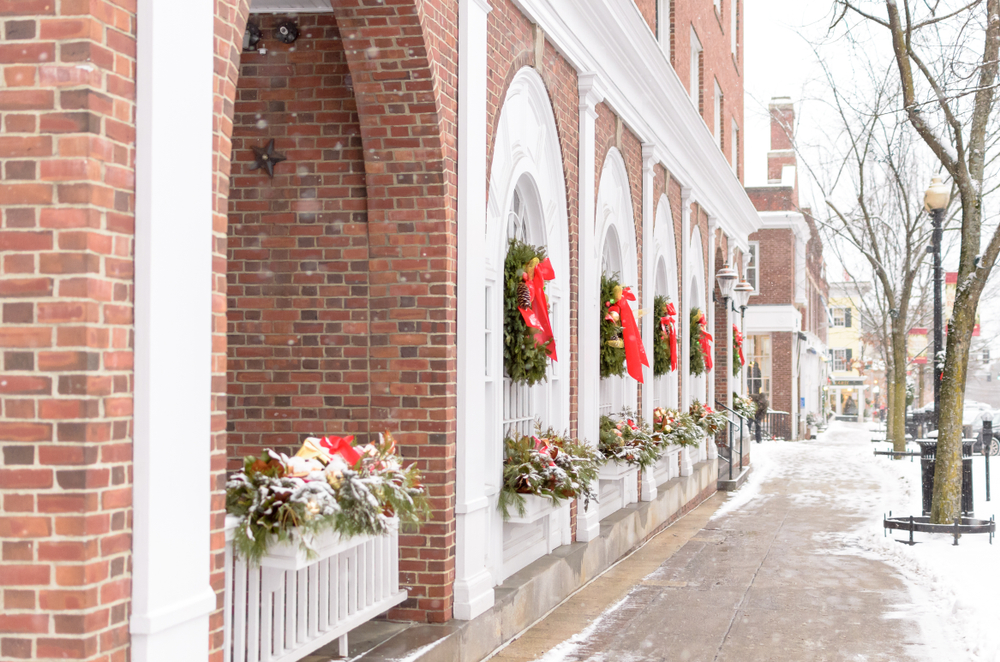 Visit Burlington, Vermont For One Of The Best Christmas Vacations In The USA
When thinking of New England, Burlington Vermont is one of those places that springs to mind. It has everything you could want for a New England Christmas getaway.
Winter sleigh rides, ski slopes, cool places to stay, and all the New England charm you could wish for.
Make sure while you are there you visit the Polar Express and take a trip down Church Street with thousands of glittering lights and dressed windows because it is just beautiful.
Christmas vacations in the USA don't get cozier than this.
Where To Stay In Burlington: Lakeview Terrace 2 Bedroom With Magic Backyard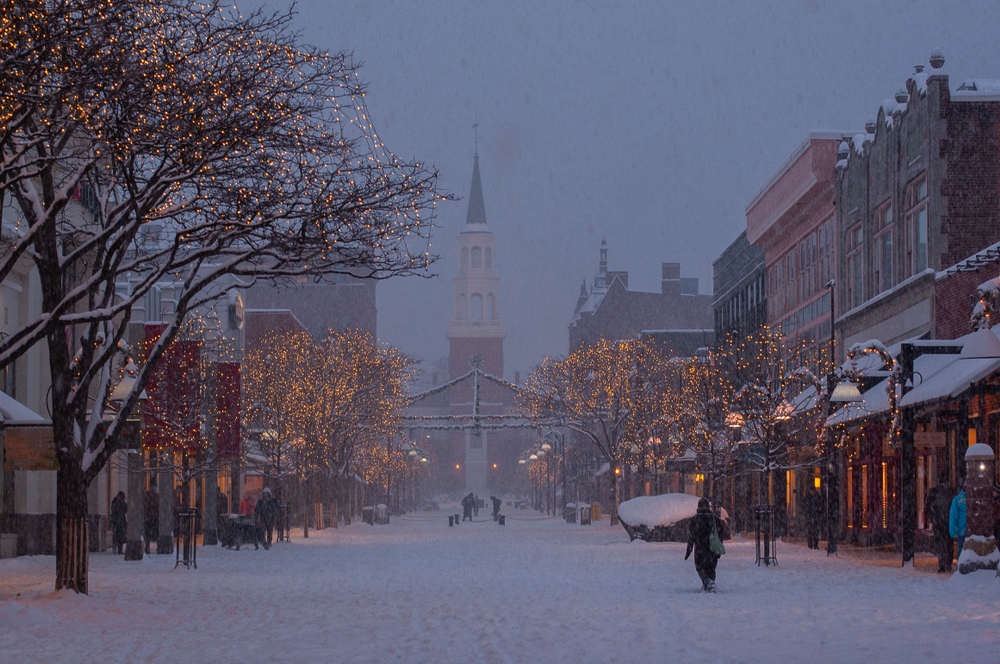 Asheville, North Carolina Is One Of The Best Christmas Vacations In The USA
Asheville has all the lights, holiday shopping, and Christmas cheer you could ever want. Topped off with the added bonus of the snow-capped Blue Ridge Mountains it makes the perfect getaway.
You will find lots to do such as the winter wonderland North Carolina Arboretum. Check out the national gingerbread house competition. And the Holly Jolly Christmas Trolley is well worth a ride on through downtown.
I also highly recommend a visit to Biltmore Christmas. It really is a spectacle with 55 hand-decorated trees,1000 live Poinsettias, and 7,500 feet of fresh evergreen garland will with get you in the Christmas spirit.
It really is one of the best places to visit at Christmas, especially if you're planning an Asheville girl's trip.
Where To Stay In Asheville: Awesome Mountainview Treehouse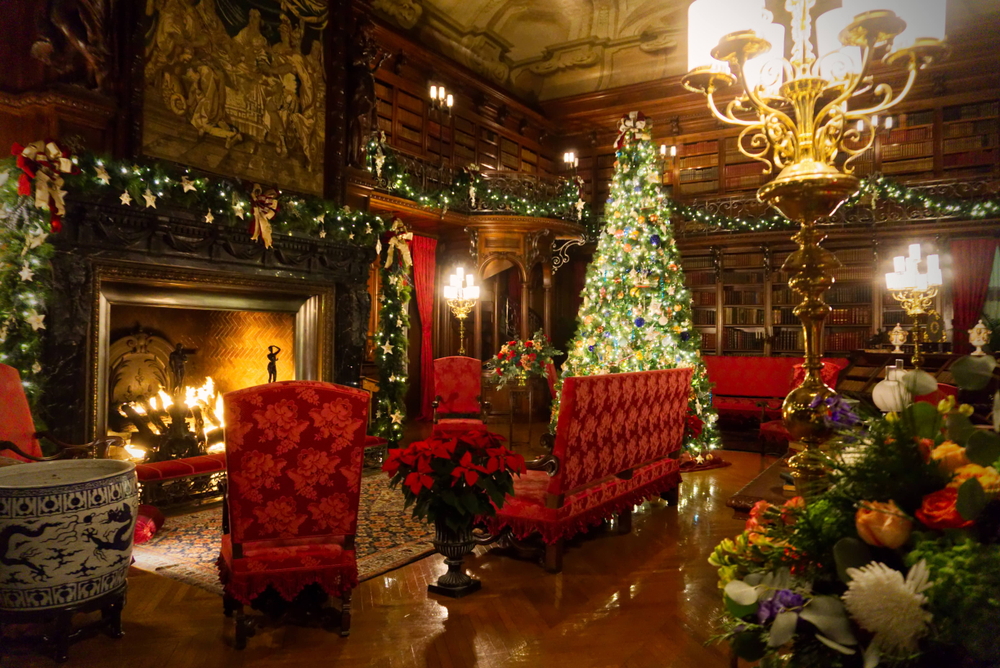 I hope one of these Christmas vacations in the USA is the right one for you. They are the best Christmas vacations in the US. There is something here for everyone.
Whichever of these best Christmas getaways in the USA hou choose, I am sure you will have a great time. Have a great Christmas vacation.
Whether you are road tripping or flying to your Christmas vacations in the USA, it is always prudent to pack lightly using your carryon luggage.