Are you on the hunt for the top things to do in Homer Alaska? Here I give you 5 unique options to add to your things to do in Homer Alaska planning list. Situated 218 miles SW of Anchorage, Alaska overlooking Kachemak Bay and the Kenai Mountains is the delightful city of Homer. It's unlike other cities/towns in Alaska, often being referred to as the "cosmic hamlet by the sea" because of the eclectic vibe the local fishermen, farmers, artists, and crafters foster.
Please know that Linda On the Run is a participant in the Amazon Services LLC Associates Program, an affiliate program designed to provide a means for sites to earn advertising fees by advertising and linking to Amazon.com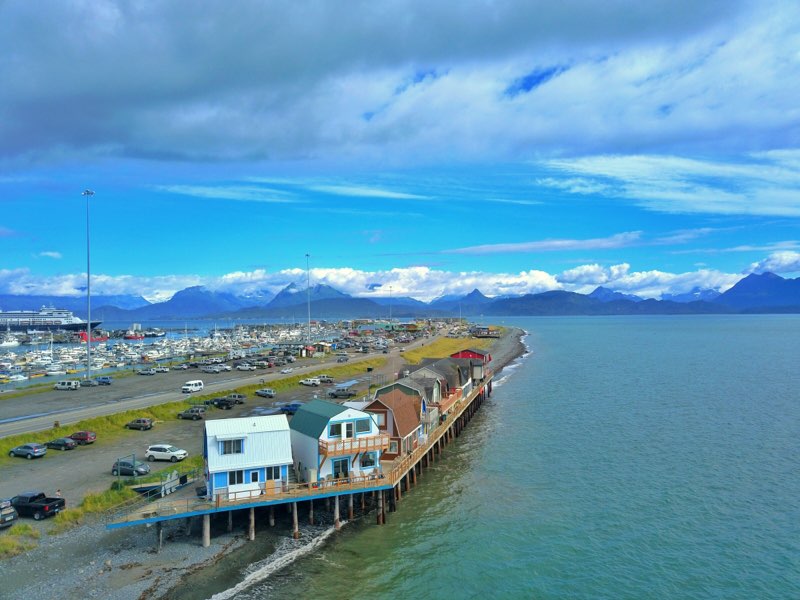 Looking out onto the Homer Alaska Spit from the mainland. It is a very cool place to visit!
Homer's nickname is "the end of the road," because it is the southernmost town on the Alaskan highway system. This history of Homer is truly fascinating and there are so many facts about Homer to learn about during your visit. Whether you visit Homer (named after Homer Pennock, a gold miner in the 1890s) to hike, to kayak, to eat or to shop, there's plenty to do in Homer, AK.
5 Unique Things To Do In Homer Alaska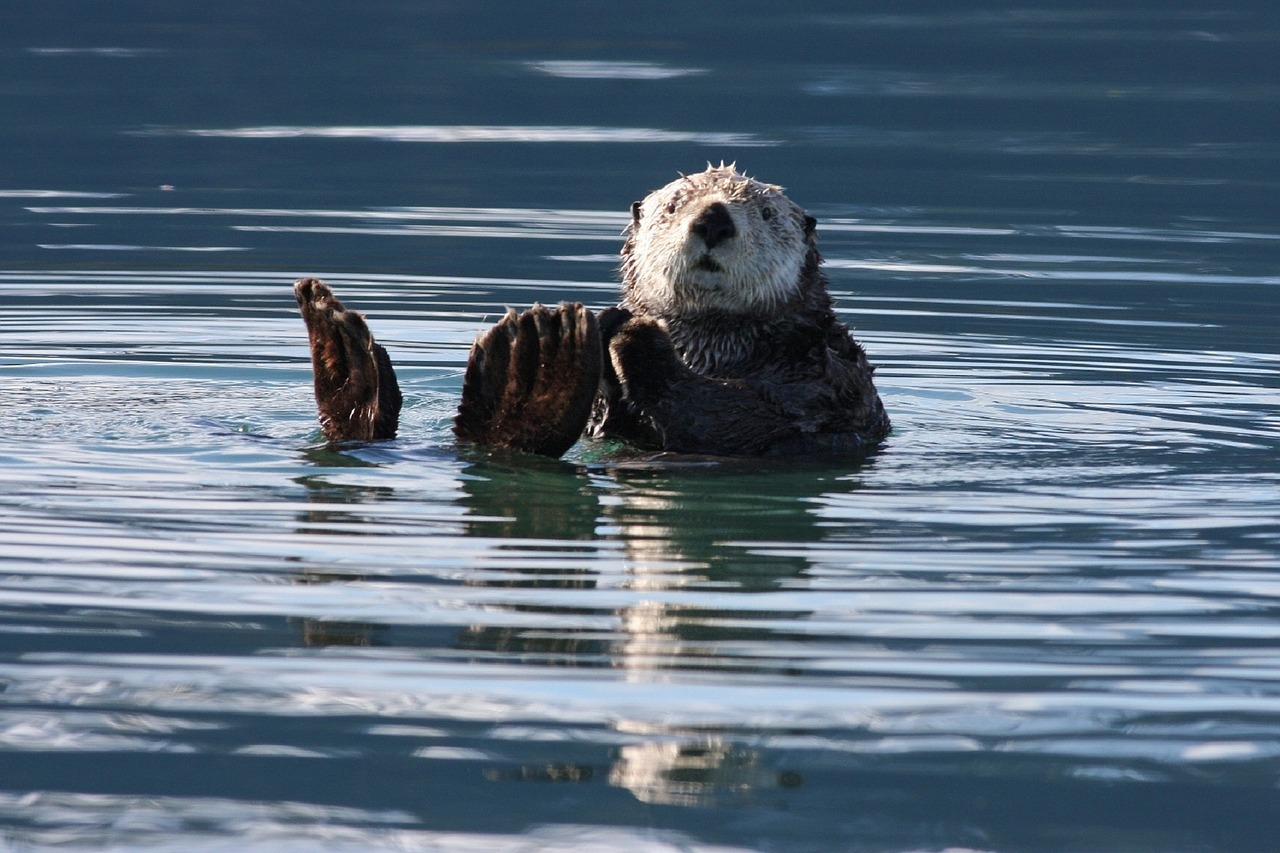 Keep your eyes open and you may see one of these cuties out in eyes Kachemak Bay!
1) One Of The Best Free Things To Do In Homer Alaska Is To Visit The Homer "Spit"
What is the Homer Spit? It is 4.5 miles of land protruding out into Kachemak Bay and tops the list of things to do in Homer Alaska. On the Homer Spit, the mountains of the Kenai chain stand at attention before you and the waters of the bay surround you. There are beaches galore to explore.
Keep your eyes open for whales, otters (so cute!) and even sea lions. Wild bald eagles can often be seen flying overhead. There are eclectic shops and restaurants galore in an eerily familiar Cape Cod setting. You can camp on the beaches of the Homer Spit, or stay at a hotel or Air B&B. When visiting Homer Alaska, I always stay on the Spit. The vibe is so energetic and there is so much to do a few steps away. I make it a personal goal to purchase souvenirs handcrafted by the local artisans from the area to support the local community which I find in abundance in the shops along the Home Alaska Spit. It is truly a one-of-a-kind vibe there.
It is 10 to 20 degrees cooler down at the Homer Alaska Spit than it is on the mainland. You will want to have some warm weather clothes on hand for this difference. Something like this women's hooded lightweight and waterproof hiking jacket would be perfect. Because it is lightweight it will not take up much space or be too heavy/bulky to carry along. It is very reasonably priced and comes in some nice colors. Sometimes all you may need is something like this lightweight hooded waterproof rain jacket to put over your cardigan to keep off the chill of Homer Alaska. Best of all, it is foldable and comes with its own pouch. You can drop it in your purse or backpack, it would not take much room in your luggage, and it is very affordable.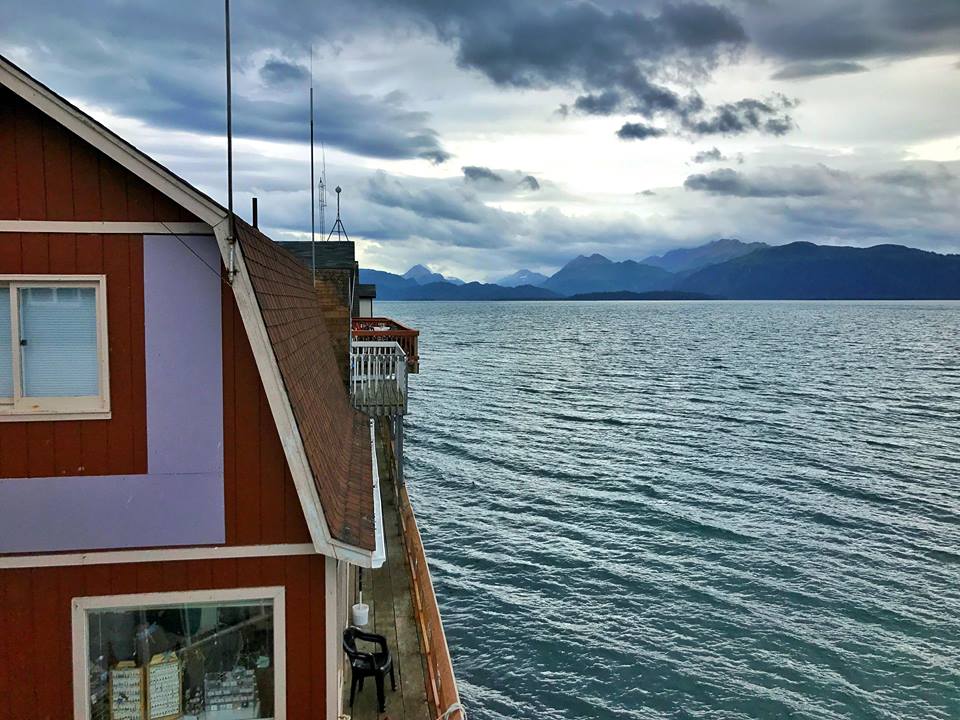 The view of Kachemak Bay and the mountains from the Homer Alaska Spit.
2) If You Are Looking To Get Outdoors, There's Plenty of Hiking in Homer Alaska
If you want to hike in Homer Alaska, you will not be disappointed as there are lots of options. Anything from Homer Spit Trail to a plethora of Kachemak Bay Trails could reward you with a bear or moose sighting!
As a traveling athlete, my hiking/running choices are often determined by the amount of time I have, the local weather conditions, or distance to the trail. When last in Homer I ran the Spit trail, which is a totally flat paved 4+mile trail, from one end of the Spit to the other, along the waterfront, next to the Boardwalk where the numerous shops and restaurants were beckoning me to enter. Def not boring!
You will certainly do a lot of walking in Homer Alaska, which calls for some sturdy closed toe shoes. These women's slip-on walking shoes/casual running sneakers will be perfect for an afternoon of exploring Homer Alaska. They are very reasonably priced and come in a wide variety of colors and sizes. I love these Skechers Go Joy walkers. They are slip-on, so no worries about lacing up your shoes, come in various colors, and are affordable.
These men's Skechers Go Walk 4 Incredible walking shoes are lightweight and come in various colors and sizes.
If you are going on a hike, you will need to stay hydrated. Bringing along a nondisposable water bottle for hydration is a necessity. This collapsible silicone BPA-free water bottle will be easy to pack/store when not in use, but a perfect nondisposable alternative for your activities. It is affordable and comes in several colors to select from. If silicone is not your thing then this stainless steel insulated option is right for you. It comes in three sizes for you to choose from, a ton of cool colors, and is reasonably priced. And it has a clip to hand on your backpack.
Along with your hydration, you may want to bring along a snack, or an extra sweater when hiking in Homer Alaska. This lightweight foldable backpack comes in some pretty pastel colors and folds into its own case when not in use! Perfect for packing. If pastels are not your thing, here's another large waterproof foldable backpack that comes in darker muted colors. If you need a dual-purpose backpack for visiting Homer Alaska, then this hiking and travel waterproof backpack is worth considering. It is a great choice for hiking, camping and traveling. this multipurpose backpack has a laptop compartment as well.
On a previous trip, my family and I took a ferry across Kachemak Bay to Seldovia and hiked in Kachemak Bay State Park, through the forested landscape. Seldovia is a quaint hamlet reachable only by boat. It is inhabited by local artisans and fisherman who all give it its charm. There are lots of interesting restaurants and ferrying over to Seldovia for lunch is a lovely idea.
During our hike when visiting Seldovia, with two young children and two dogs, we found fresh "scat" (bear poop!) at several locations! That was pretty alarming I must admit.
We immediately began loudly singing songs and ringing our handbells, to scare off any bear which could still be anywhere near us! Perhaps you would want to bring along this bear bell with a magnetic silencer to ward off any curious Alaskan bears. When we hiked around Alaska we always had a canister like this bear spray with its own camo holster with us on all hikes. Why not be stylish with this bear spray with a pink camo hip holster, or how about this his and hers pink and green holsters 2 pack bear spray set? making noise is one of the top ways to ward off a bear encounter.
As you can see, hiking in Homer Alaska is exciting and unpredictable, and so rewarding and should definitely be a consideration on your things to do in Homer Alaska itinerary.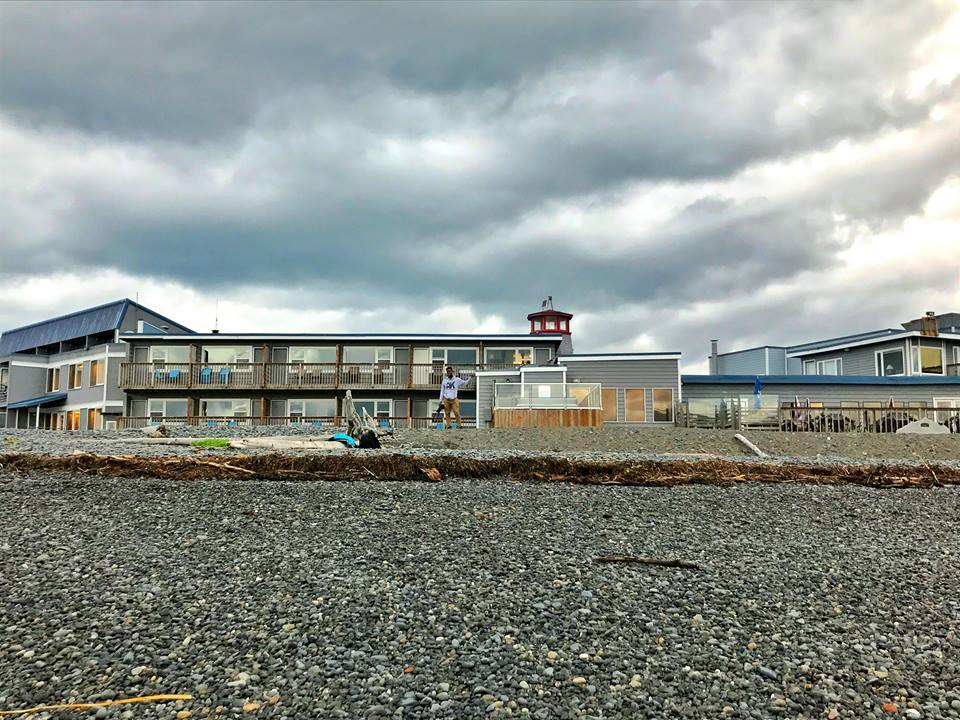 Rustic Homer Alaska beach.
3) A Great Thing To Do In Homer Alaska With Kids Is Head To Islands Oceans Visitor Center
Mom and Dad will appreciate that admission to the Homer Alaska Islands Oceans Visitor Center is FREE. Yes, it is free. It is a very impressive place and there are not too many museums these days that are free. The kids will be engaged by the award-winning movies presented in the Center's theater. There are exhibits explaining Homer's maritime surroundings and educational hikes down to the beach to explore and look for treasures. This is a totally awesome place to visit any day, but especially if you have a rainy day during your visit to Homer Alaska. Adding this to your things to do in Homer Alaska itinerary is a wise choice.
If you are traveling with children, and you do encounter a rainy day, this unisex waterproof hooded rain jacket will keep them dry! If the adults want to bring along a rain jacket when visiting Homer Alaska, I like this unisex rain jacket because it is reusable, has ventilated sides, a hood, and pockets.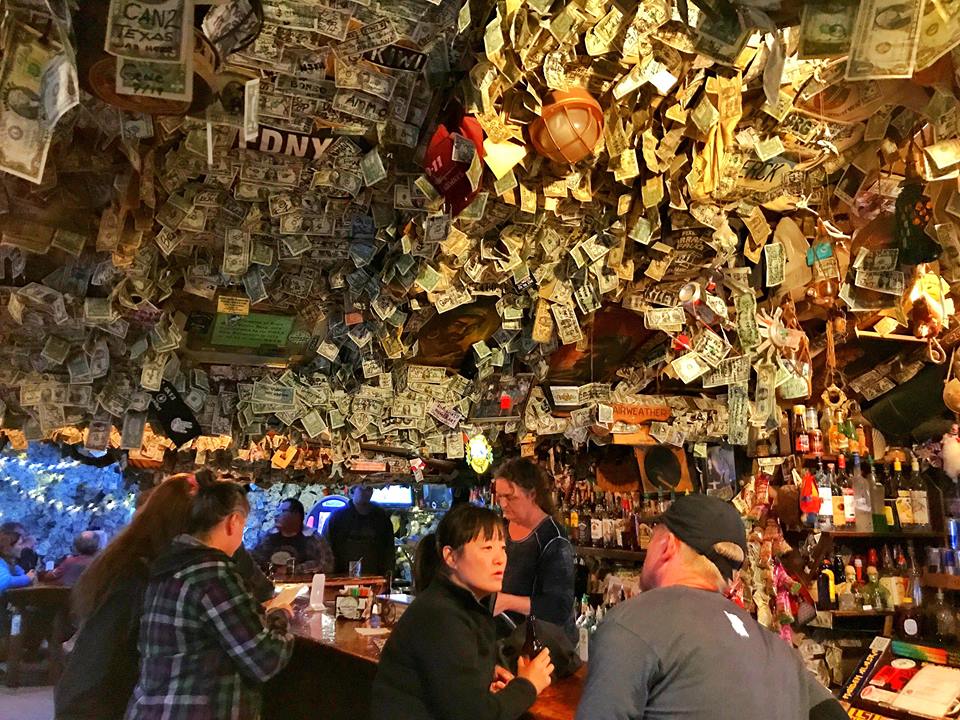 That is a lot of dollar bills on the ceiling of the Salty Saloon in Homer Alaska.
4) When in Homer Alaska The Salty Dawg Saloon Is A MUST!
The Salty Dawg Saloon is such an icon, that even the locals revere it by wearing its memorabilia! The Saloon is located on the Homer Spit and has been around, in one form or another, since the 1890s and seriously must be added to your things to do in Homer Alaska list. You do not have to purchase an alcoholic drink to wander in to see the inside of the Saloon. It consists of long-plank tables and benches, and what looks like thousands upon thousands of dollar bills signed by visitors and tacked on the walls and ceiling.
Tradition has it that long ago a patron waited for a friend who never showed up. A dollar was left with the bartender to buy that friend a drink upon their arrival. And it has continued. I visited the saloon on my last visit to Homer Alaska. I had a drink and pinned up a personalized dollar bill. It was quite fun and such a festive place, and one place I will visit again on my next trip to Homer Alaska.
5) The Homer's Farmers Market Is Not To Be Missed.
You don't have to be a vegan foodie like me to be drawn to the Homer's Farmers Market. Everyone likes fresh colorful flowers, and the freshest of vegetables the earth has to offer and this is a wonderful destination to add to your things to do in Homer Alaska itinerary. The local farmers descend from the mountains and farms and bring the freshest of the fresh that they have to offer, and local crafters and artisans bring their homemade wares for you to ooh and ahh over!
The Market is open on Wednesdays and Saturdays during the season and gets quite crowded. You might order a delicious sandwich for lunch or stock up on the local in-season freshly picked produce. Wear sturdy shoes (not your pretty vacay sandals!) because you will be parking in a mostly dirt parking lot and walking on dirt pathways. A small sacrifice to make for such a unique experience. I visit the Homer Alaska Farmers Market every time I am in Homer Alaska. Wouldn't miss it.
These athletic slip-on walking shoes would keep your feet protected and stability as you negotiate the dusty parking lot. If you are just not into the athletic shoe look, these natural comfort walking loafers would be a great choice. I like them because they come in loads of colors, and many sizes.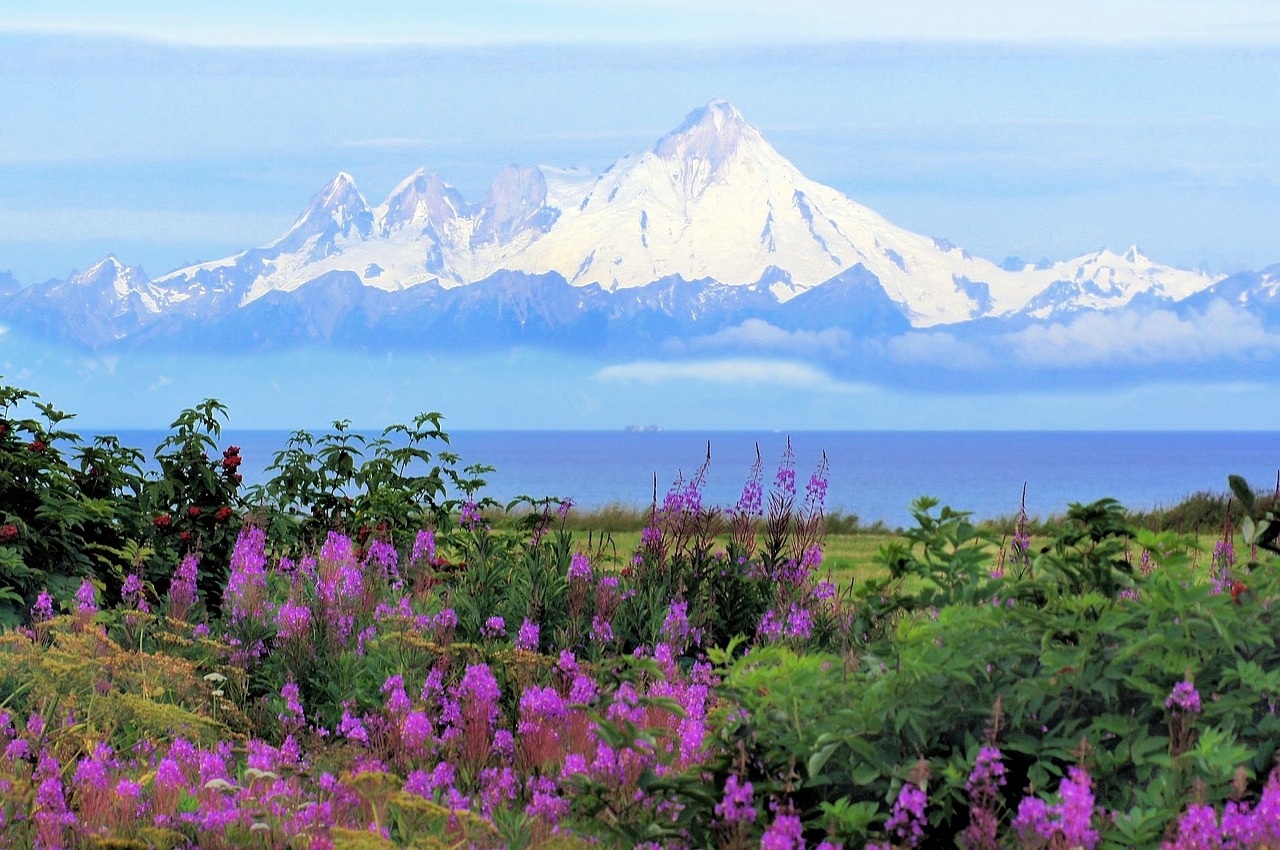 Hopefully, you will see lots of purple fireweed flowers during your visit to Homer Alaska!
How To Get To Homer Alaska
The majority of people get to Homer Alaska on their cruise ship, or fly into Anchorage Alaska, and rent a car and drive down to Homer. There are so many wonderful things to do in Homer Alaska which makes it a popular tourist location.
Read next: Alaska Cruise Packing List.
Be aware, driving directly from Anchorage to Homer on the Seward Highway would take you between four to five hours. Why not make the road trip more interesting, stop to view unbelievable breathtaking sights, and learn some Alaskan history along the way? Consider stopping at Turnagain Arm and watch the bore tides, or stopping at the Alaska Wildlife Conservation Center. There is a fifteen dollar entry fee, but I really think it is worth it. The center takes care of injured, orphaned or sick animals, mainly those who cannot care for themselves in the wild. When I visited bison, bald eagles and big bears were there. Both of these locations are a few miles outside of Anchorage. The charming towns of Soldotna, on the Kenai River, and Cooper Landing, would be great choices to stop for lunch or dinner.
An affordable option if you did not want to rent a car, or aren't a local and own your own vehicle, is to take the bus. You will not have the hassle of driving and definitely can enjoy all the stunning Alaskan views. Make sure to check the bus schedule out of Anchorage, and it is best to purchase your ticket online to reserve your seat.
If you are under a time crunch, Raven Alaska Airlines makes the forty-five-minute flight to Homer from Anchorage frequently every day. Check online for dates and times that fit your schedule and your budget. There are also many private plane charter companies available for hire to transport you to Homer.
Read next: How to organize and pack everything in a carry-on bag.
How To Get Around In Homer, Alaska
When I stayed in Homer. It was summertime and I walked mostly everywhere I wanted to go, even though I stayed on the Homer Spit. Walking is great exercise and a great way to get around.
If the weather is inclement, or cold, and walking is not an option for you, renting a car may be a better alternative for you and those in your party. There are two locations in Homer to rent a car: at the Homer Airport, or in the town of Homer.
If you do not need a car for a long period of time, hiring a taxi or securing an Uber to drive you to any of the things to do in Homer Alaska is a very wise choice.
Finally, bicycling is an option many do not consider. Riding a bike is a fun and enjoyable way to get around. You will probably notice things on a bicycle you would never notice if you were in a car! There are several bike rental shops around, on the Homer Spit or in the town.
Things To Bring To Homer Alaska
When traveling, hydration is very important. Remaining hydrated will help keep your immune system strong and able to fight the inevitable germs you will encounter during your travels. I never leave on a trip without my Bobble water bottle. The 18.5-ounce size is the perfect size to carry, tuck into your backpack or daypack pocket and it is not excessively heavy. And the filter ensures you will have clean fresh water whenever you refill the Bobble.
Once you choose the things to do in Homer Alaska that interest you, you will want a backpack or daypack to store an extra sweater, your water and snacks, and your phone when you head out. This lightweight packable backpack is very affordable and comes in many colors to choose from. It folds up into a smaller bag which will make your packing easier.
It is chilly in Homer Alaska and a waterproof/windproof jacket is a must-have item. This North Face waterproof jacket is reasonably priced and has breathable mesh. It would be a perfect selection!
Water-resistant or waterproof shoes are a really important consideration. The weather is unpredictable in Alaska and you need to be prepared for anything that comes your way weather-wise. These waterproof hiking all season outdoor shoes would serve you very well while in Homer Alaska. They are fashionable and very affordable.
You will need to dress in layers while considering things to do in Alaska due to the unpredictability of the Alaskan weather. Thermal underwear has come a long way. Advanced technology has given us warm layering pieces that are not bulky or heavy. I personally wear 32 degrees underwear. This scoop neck thermal top is very similar to what I bring when I travel as are these base layer leggings. I favor them because they do the job of keeping me warm without adding bulk.
It is very important to protect your eyes from the sun's harmful UVA/UVB rays, and sunglasses are an important item to have when visiting Homer Alaska. These unisex polarized sunglasses are fashionable yet not expensive and will cut out the glare of the waters of Kachemak Bay all around Homer.
While you are visiting Homer you may encounter motion sickness during one of the things to do in Homer Alaska things you have selected to do. Or perhaps you or someone in your party came down with motion sickness on the car ride into town. I personally tend to frequently suffer from motion sickness. These natural anti-nausea wristbands could be helpful, as well as these motion sickness relief patches. Homer has many shops and pharmacies that sell Bendaryl if you need it.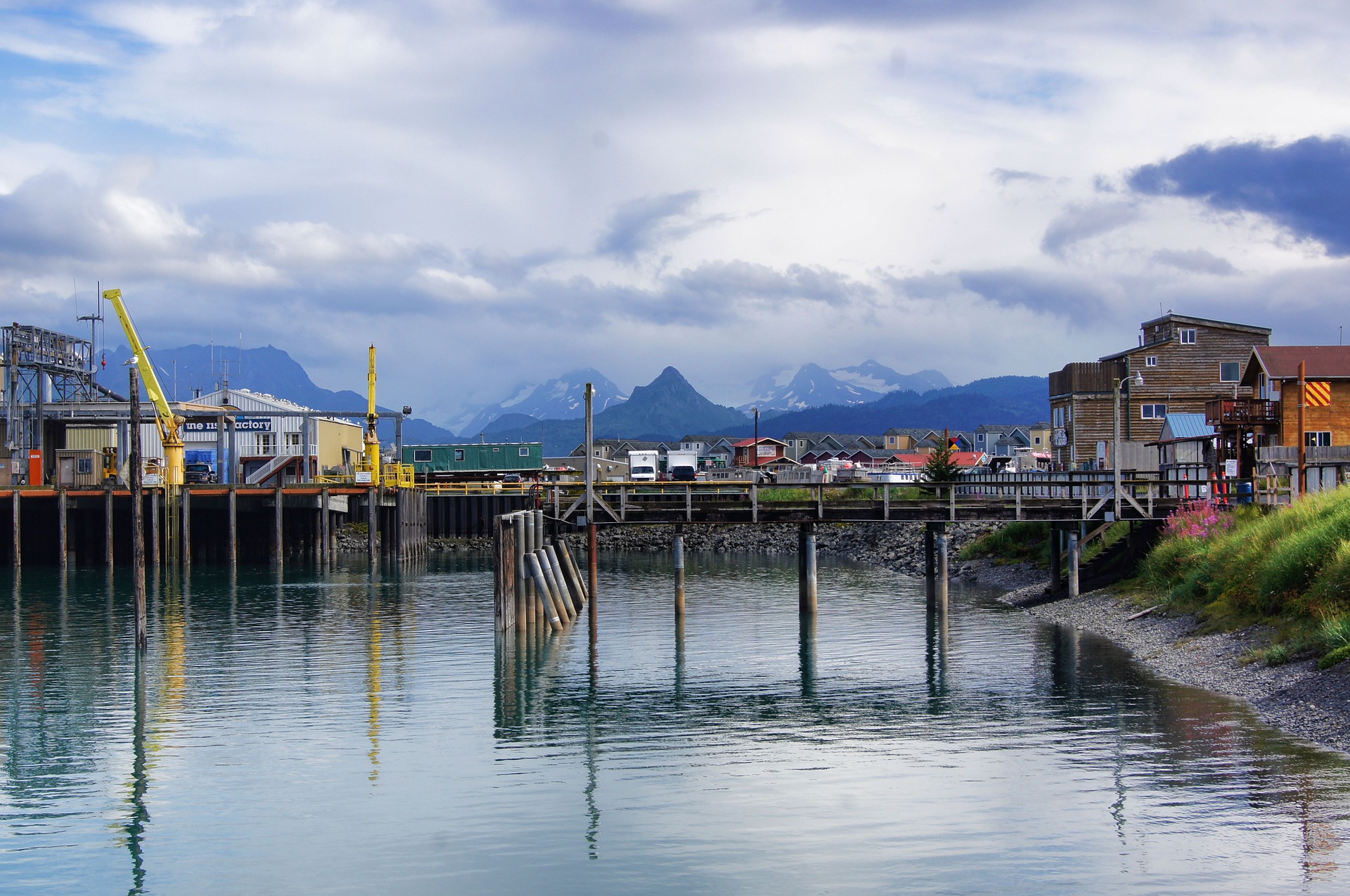 Quaint and charming Homer Alaska.
READ NEXT
13 Picturesque Towns In Alaska
Alaska Cruise Packing List For Any Time Of Year
How To Pack Lightly For Your Alaska Trip
How To Avoid Getting Sick While Flying To Your Alaska Trip
9 Things To Know Before Traveling To Alaska
5 Great Things To Know Before You Visit Exit Glacier
7 Stops To Include For The Perfect Alaska Itinerary
5 Unique Things To Do In Homer
7 Tips For Surviving A Long Haul Flight
Travel Tips For Solo Travelers Heading To Alaska
Homer Alaska's motto is: "Where the land ends and the sea begins." The mountains rising up directly from the sea present breathtaking views not easily forgotten. Homer has its own hip vibe which you will immediately feel when you are there. Add restaurants, shops, museums, and beaches, and the things to do in Homer Alaska are not to be missed!
If you came to this post to learn about fishing in Homer Alaska or to go fishing in Homer Alaska, you won't find that information here. As a vegan, I don't participate in fishing or hunting.
Have you been to Homer Alaska? What is your favorite memory of your visit? Please post in the comments section below. Any questions about Homer, please ask away! Post in the comments section below.
Pin this post: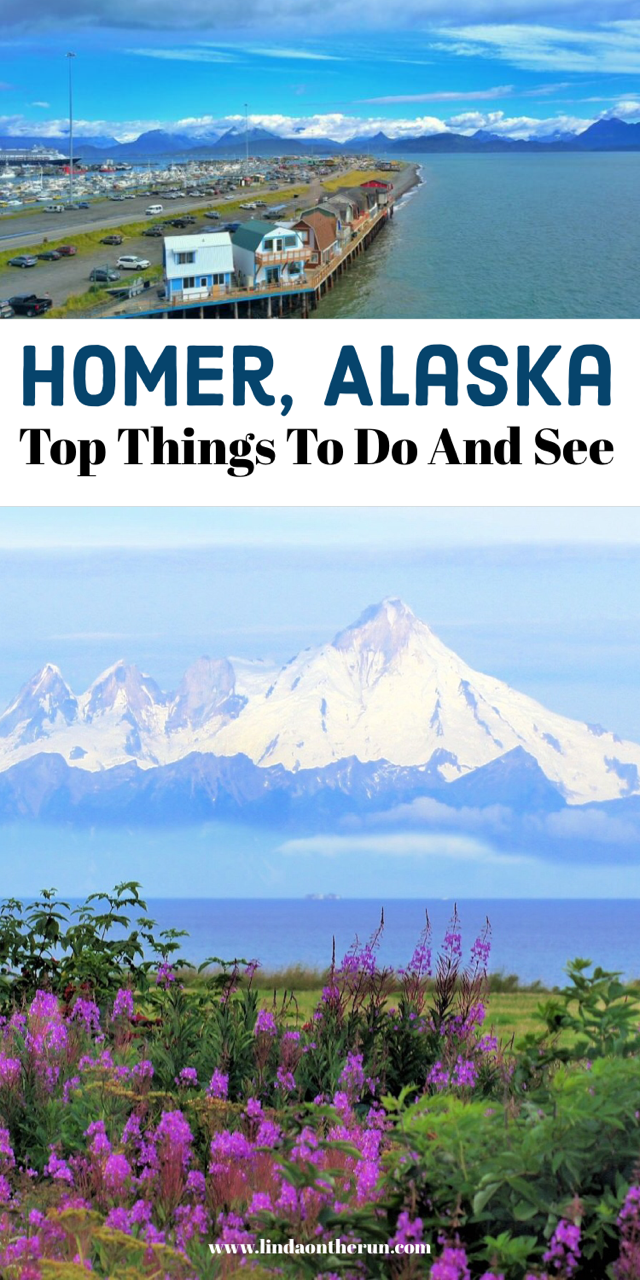 Linda On The Run is a participant in the Amazon Services LLC Associates Program, an affiliate advertising program designed to provide a means for sites to earn advertising fees by advertising and linking to Amazon.com