Are you on the hunt for the top things to do in Homer Alaska? Situated 218 miles SW of Anchorage, Alaska overlooking Kachemak Bay and the Kenai Mountains is the delightful city of Homer. It's unlike other cities/towns in Alaska, often being referred to as the "cosmic hamlet by the sea" because of the eclectic vibe the local fishermen, farmers, artists and crafters foster. Homer's nickname is  "the end of the road," because it is the southernmost town on the Alaskan highway system. This history of Homer is truly fascinating and there are so many facts about Homer to learn about during your visit. Whether you visit Homer (named after Homer Pennock, a gold miner in the 1890s) to hike, to kayak, to eat or to shop, there's plenty to do in Homer, AK.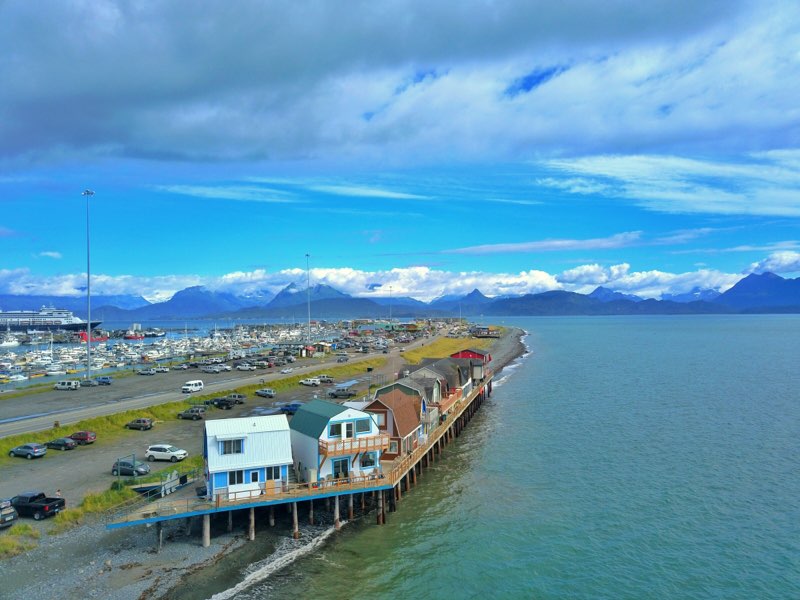 5 Unique Things To Do In Homer AK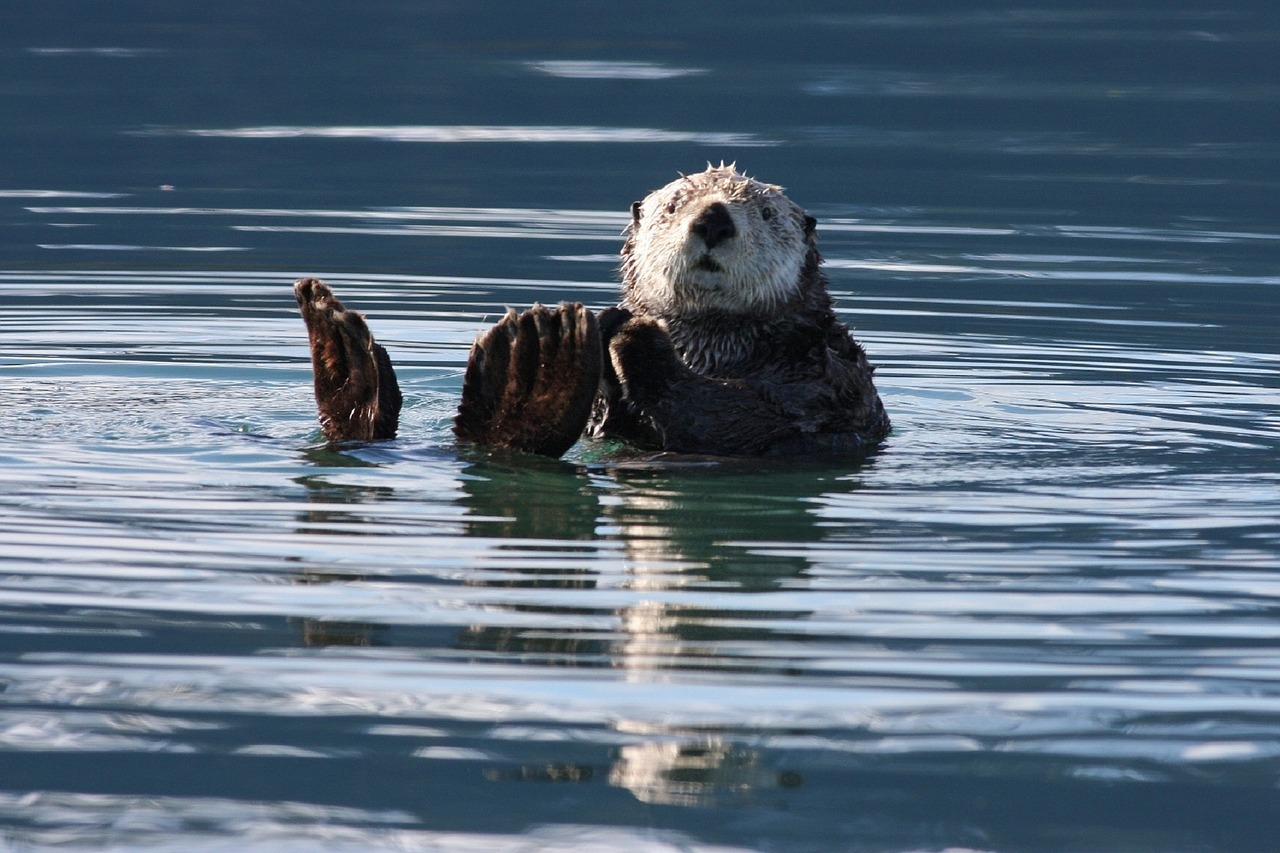 1) One Of The Best Free Things To Do In Homer Alaska Is To Visit The Homer "Spit"
What is the Homer Spit? It is 4.5 miles of land protruding out into Kachemak Bay. On the Homer Spit, the mountains of the Kenai chain stand at attention before you and the waters of the bay surround you. There are beaches galore to explore. Keep your eyes open for whales, otters (so cute!) and even sea lions. Wild bald eagles can often be seen flying overhead. There are shops and restaurants galore in an eerily familiar Cape Cod setting. You can camp on the beaches of the Homer Spit, or stay at a hotel or Air B&B. When visiting Homer Alaska, I always stay on the Spit. The vibe is so energetic and there is so much to do a few steps away. I make it a personal goal to purchase souvenirs handcrafted by the local artisans from the area to support the local community.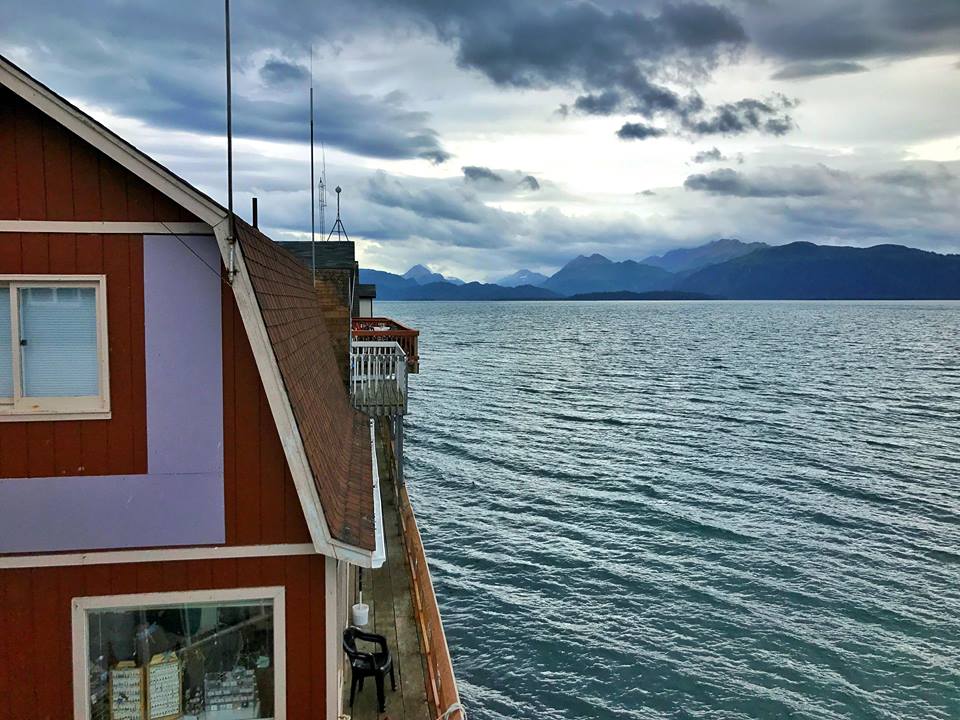 2) If You Are Looking To Get Outdoors, There's Plenty of Hiking in Homer Alaska
If you want to hike in Homer Alaska, you will not be disappointed as there are lots of options. Anything from Homer Spit Trail to a plethora of Kachemak Bay Trails could reward you with a bear or moose sighting! As a traveling athlete, my hiking/running choices are often determined by the amount of time I have, the local weather conditions, or distance to the trail. When last in Homer I ran the Spit trail, which is a totally flat paved 4+mile trail, from one end of the Spit to the other, along the waterfront, next to the Boardwalk where the shops and restaurants were beckoning me to enter. Def not boring! On a previous trip, my family and I took a ferry across Kachemak Bay to Seldovia and hiked in Kachemak Bay State Park, through the forested landscape. During our hike, with two young children and two dogs, we found fresh "scat" (bear poop!) at several locations! That was pretty alarming I must admit. We immediately began loudly singing songs and ringing our handbells, to scare off any bear which could still be anywhere near us! As you can see, hiking in Homer Alaska is exciting and unpredictable, and so rewarding!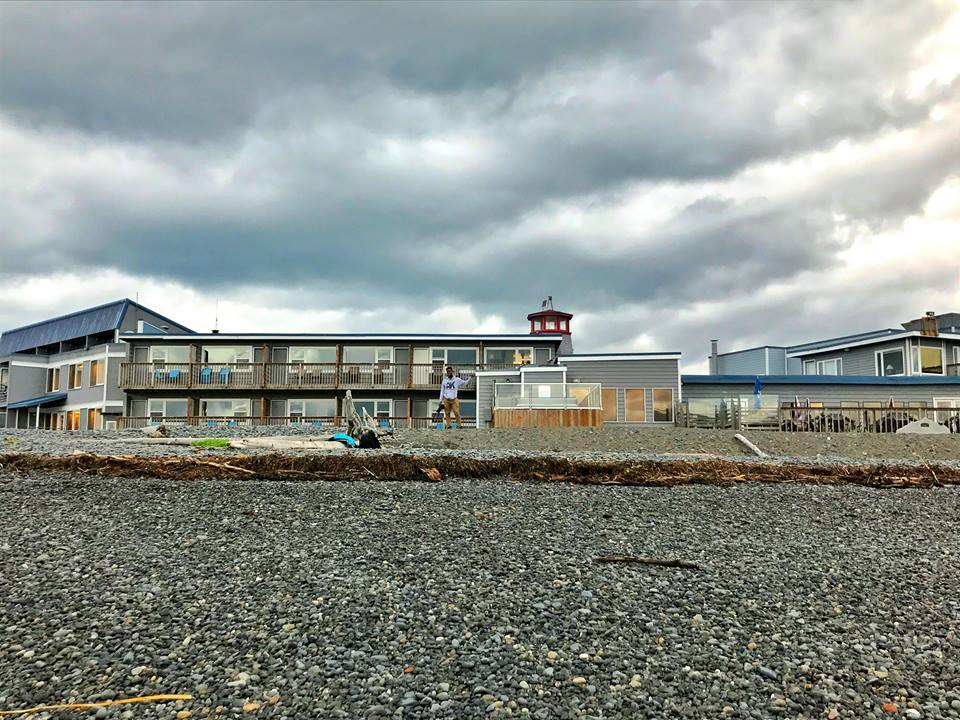 3) A Great Thing To Do In Homer Alaska With Kids Is Head To  Islands Oceans Visitor Center
Mom and Dad will appreciate that admission to the Homer Alaska Islands Oceans Visitor Center is FREE. Yes, it is free. It is a very impressive place and there are not too many museums these days that are free.  The kids will be engaged by the award-winning movies presented in the Center's theater. There are exhibits explaining Homer's maritime surroundings and educational hikes down to the beach to explore and look for treasures. This is a totally awesome place to visit any day, but especially if you have a rainy day during your visit to Homer.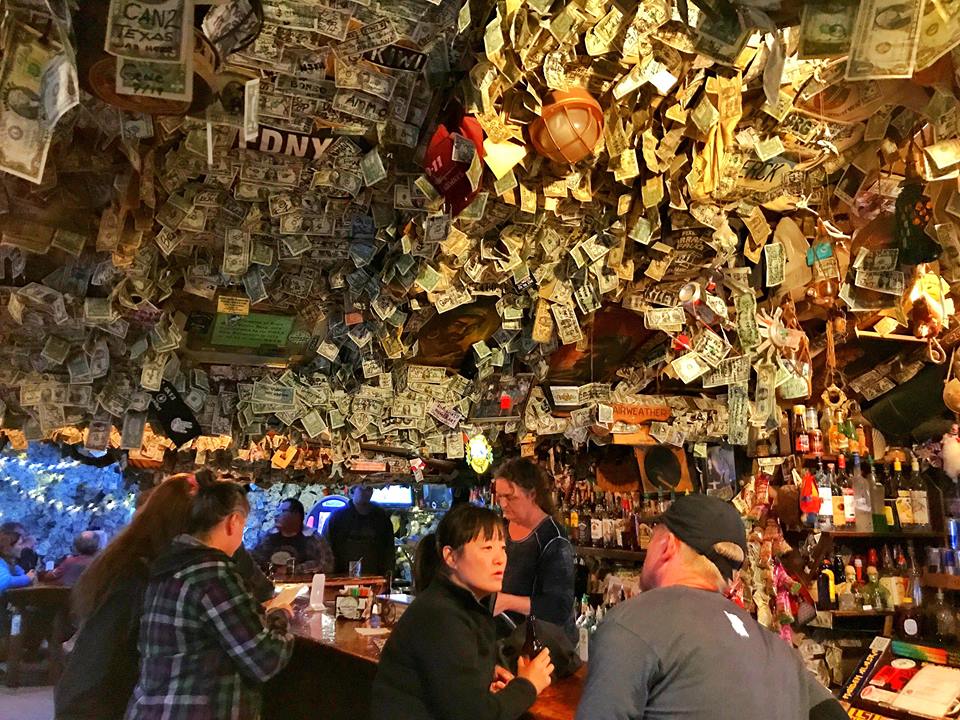 4) When in Homer Alaska The Salty Dawg Saloon Is A MUST!
The Salty Dawg Saloon is such an icon, that even the locals revere it by wearing its memorabilia! The Saloon is located on the Homer Spit and has been around, in one form or another, since the 1890s. You do not have to purchase a drink to wander in to see the inside of the Saloon which consists of long-plank tables and benches, and thousands upon thousands of dollar bills signed by visitors and tacked on the walls and ceiling. Tradition has it that long ago a patron waited for a friend who never showed up. A dollar was left with the bartender to buy that friend a drink upon their arrival. And it has continued. I visited the saloon on my last visit to Homer Alaska. I had a drink and pinned up a personalized dollar bill. It was quite fun and such a festive place, and one place I will visit again on my next trip to Homer Alaska.
5) The Homer's Farmers Market Is Not To Be Missed.
You don't have to be a vegan foodie like me to be drawn to the Homer's Farmers Market. Everyone likes fresh colorful flowers, and the freshest of vegetables the earth has to offer. The local farmers descend from the mountains and farms and bring the freshest of the fresh that they have to offer, and local crafters and artisans bring their homemade wares for you to ooh and ahh over! The Market is open on Wednesdays and Saturdays during the season and gets quite crowded. You might order a delicious sandwich for lunch or stock up on the local in-season freshly picked produce. Wear sturdy shoes (not your pretty vacay sandals!) because you will be parking in a mostly dirt parking lot and walking on dirt pathways.  A small sacrifice to make for such a unique experience. I visit the Homer Alaska Farmers Market every time I am in Homer Alaska. Wouldn't miss it.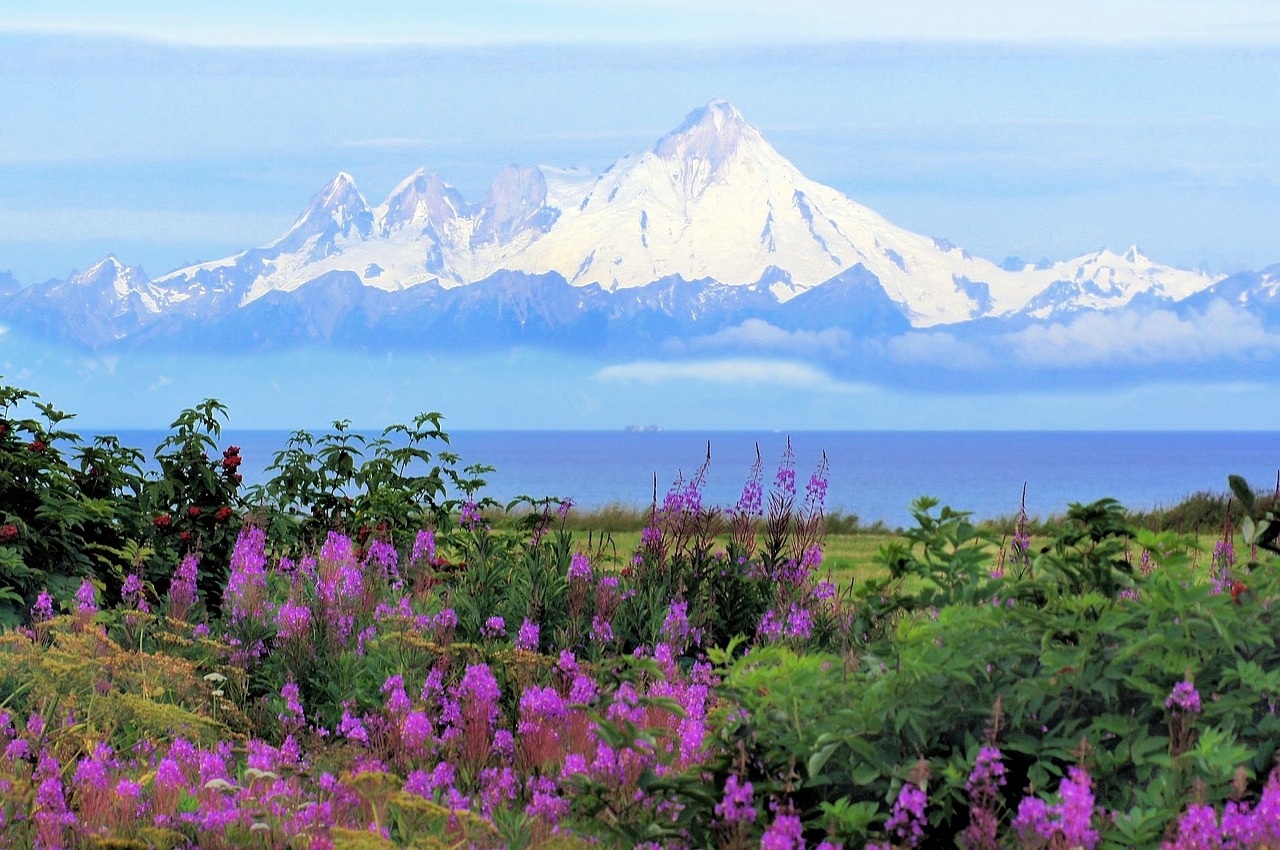 Homer Alaska's motto is: "Where the land ends and the sea begins." The mountains rising up directly from the sea present breathtaking views not easily forgotten.  Homer has its own hip vibe which you will immediately feel when you are there. Add restaurants, shops, museums, and beaches, and Homer Alaska is a destination not to be missed!
If you came to this post to learn about fishing in Homer Alaska or to go fishing in Homer Alaska, you won't find that information here. As a vegan, I don't participate in fishing or hunting.
Have you been to Homer Alaska? What is your favorite memory of your visit? Please post in comments section below. Any questions about Homer, please ask away! Post in the comments section below.
Pin this post: