Are you searching for a Disney cruise packing list because you are planning and packing for your upcoming Disney cruise? Well, look no further because I love all things Disney, love cruising and have put together for you an awesome Disney cruise packing list.
It is really important to have the proper clothes and shoes and all the extras so that you will be prepared for any situation during your Disney cruise, especially any unpredictable weather. Figuring exactly what to put on your Disney cruise packing list can seem daunting, but it does not have to be. Disney cruises travel to many locations across the world and you can tailor my suggestions to include those things that will enhance your personal Disney cruise destination.
Keep on reading and I will give you great suggestions of just exactly what you need to have on your Disney cruise packing list.
Please be advised that Linda On the Run is a participant in the Amazon Services LLC Associates Program, an affiliate program designed to provide a means for sites to earn advertising fees by advertising and linking to Amazon.com
The Ultimate Disney Cruise Packing List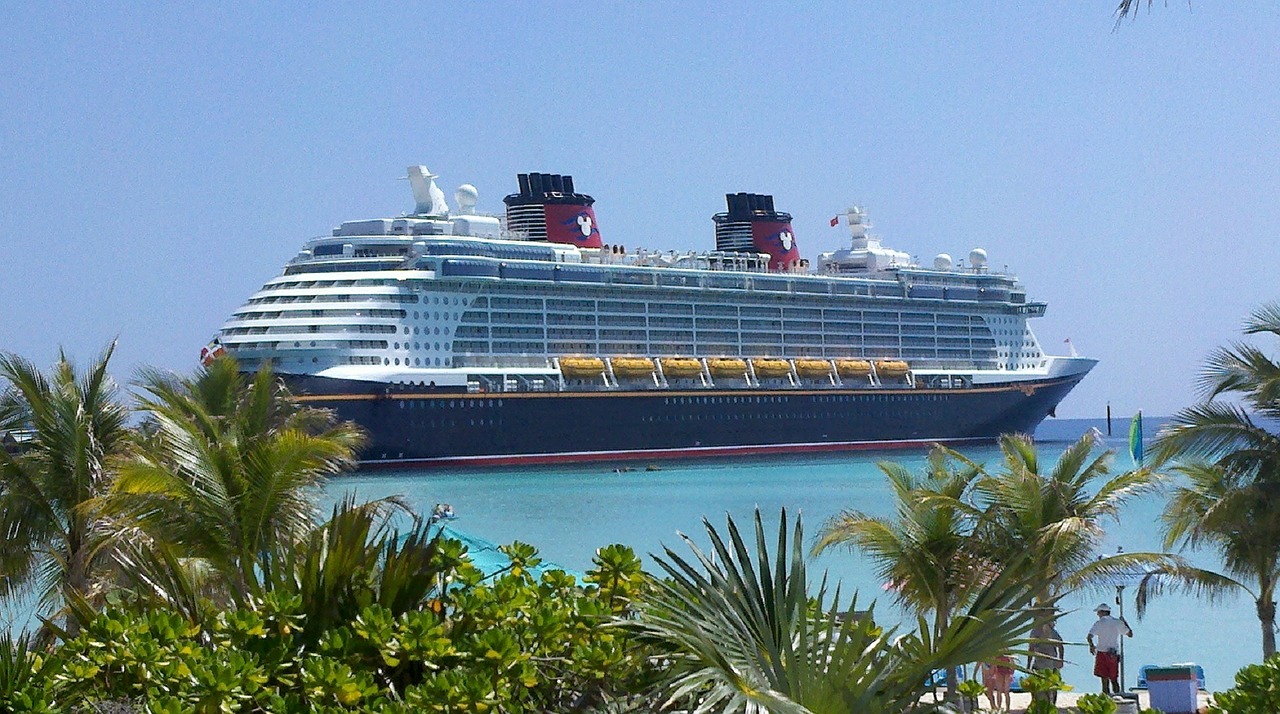 Top Clothing For Your Disney Cruise Packing List
Waterproof And Windproof Jacket
If you run across rain or a misty morning on your Disney cruise, do not let that spoil your vacation day! This unisex clear plastic raincoat is affordable and has a drawstring hood. But I like that it has a backpack slot to keep your belongings dry during the inclement weather.
And how about this Disney two-pack of Minnie and Micky rain ponchos! They can be ordered in youth or adult sizes and come in their own pouch which will make packing them simple and easy. They can be ordered in adult or youth sizes.
This Columbia men's front zip rain jacket is reasonably priced, comes in a ton of colors, each in a wide variety of sizes. This women's Columbia splash a little II waterproof and breathable jacket would be perfect. Both are a bit more substantial in case your itinerary takes you to colder climes.
If you are traveling to a chillier climate, or during the shoulder season where temperatures will be cooler, then you will need to add more substantial jackets to your Disney cruise packing list. This men's waterproof and windproof rain jacket would work well. The same manufacturer makes the same waterproof and windproof rain jacket for ladies as well. I recommend you consider them because they are reasonably priced.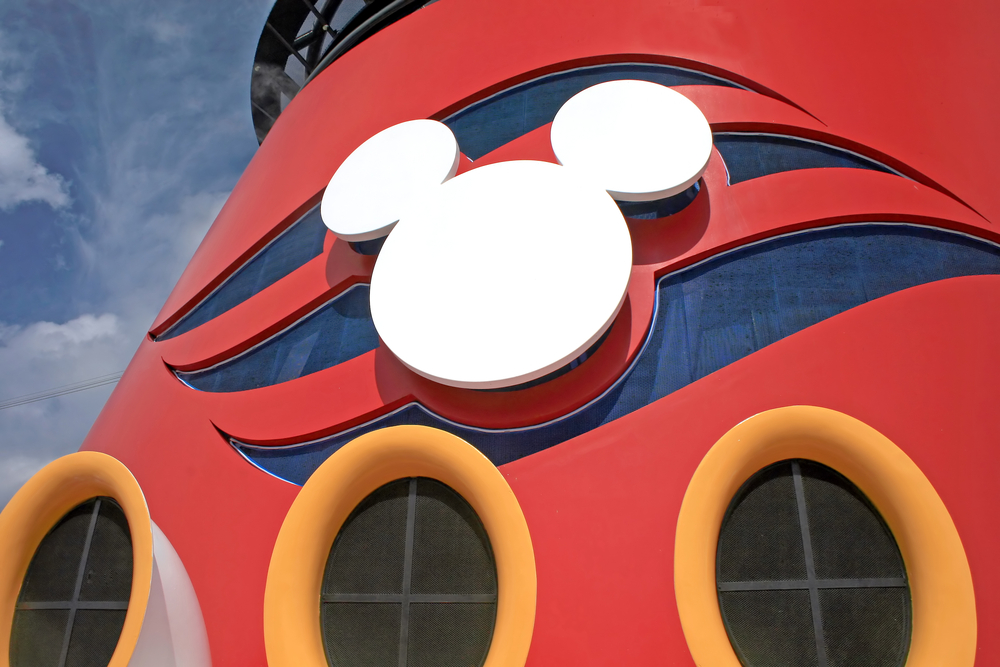 Thermal Long Underwear
If you are headed on a Disney trip where the temps will be chilly you will be happy you put thermal long underwear on your Disney cruise packing list.
I hardly travel anywhere without bringing 32 degrees base layer leggings along with me, as well as the 32 degrees base layer scoop neck long sleeved top. The material is so lightweight it is difficult to believe it is considered thermal underwear. But I highly recommend you add 32 DEGREES to your Disney cruise packing list.
Here are some men's 32 DEGREE heat plus base layer leggings, and 32 DEGREES crew neck base layer long sleeved top. This 32 DEGREES unisex base layer set will have all the kids covered.
Waterproof Pants
If your Disney itinerary has you hiking glaciers or whale watching, these unisex thunderlight rain pants are perfect to keep you dry. To keep the kids dry these unisex kids waterproof over pants will do the trick.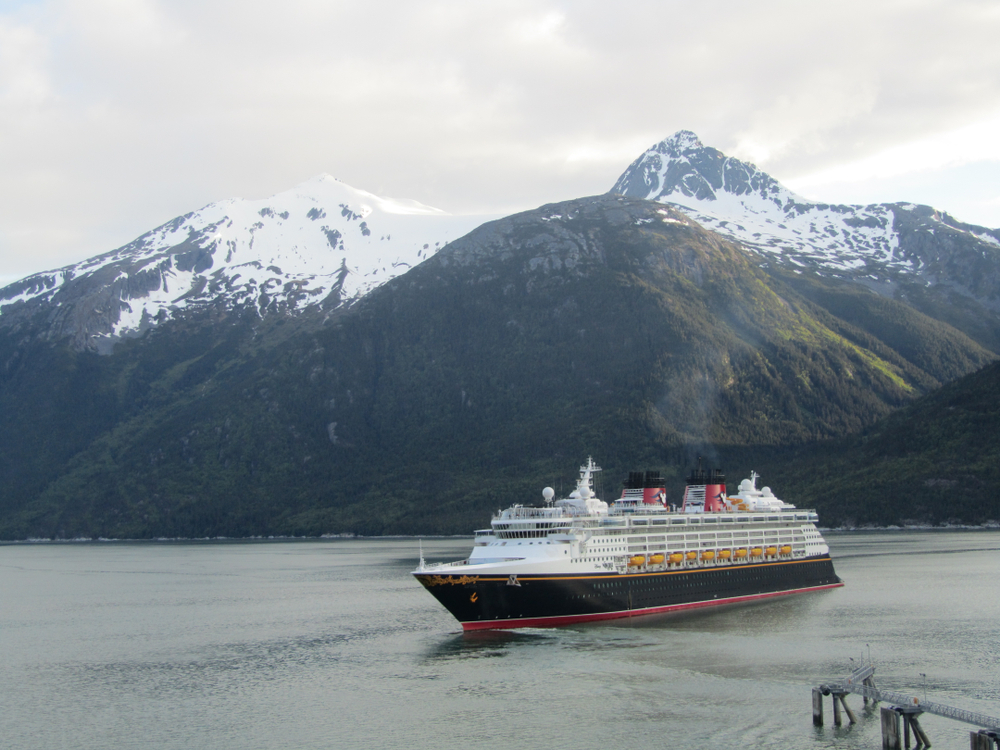 The Disney Wonder cruising in Alaska
Sweater/Sweatshirt
You will want to have layering pieces added to your Disney cruise packing list. This flirty Minnie Mouse sweatshirt is fun and perfect. You are on a Disney trip, so how about this Minnie Mouse peeking hoodie?
Top And Blouse
This Disney castle tank is perfect for a warmer weather cruise, but wearing it as a layering piece in cooler weather makes it a great item to add to your Disney cruise packing list. Look how pretty this women's off-shoulder plus size butterfly T-shirt blouse it. It would be beautiful to wear to breakfast or dinner during your cruise.
Cardigan
No matter the Disney itinerary you will be traveling, it is always best to layer. So adding a sweater to your Disney cruise packing list is a great idea. A hooded cable knit sweater coat with pockets like this one is a great option. It is affordable and comes in many sizes and colors. This polo neck knit sweater jumper would be a great layering piece. It comes in a lot of colors to fit your wardrobe and many sizes.
I always bring along a black or white cardigan like this classic open front option. It is lightweight and has a nice soft drape. It is available in tons and tons of colors and sizes, and it very affordable. It would be a great item to add to your Disney cruise packing list.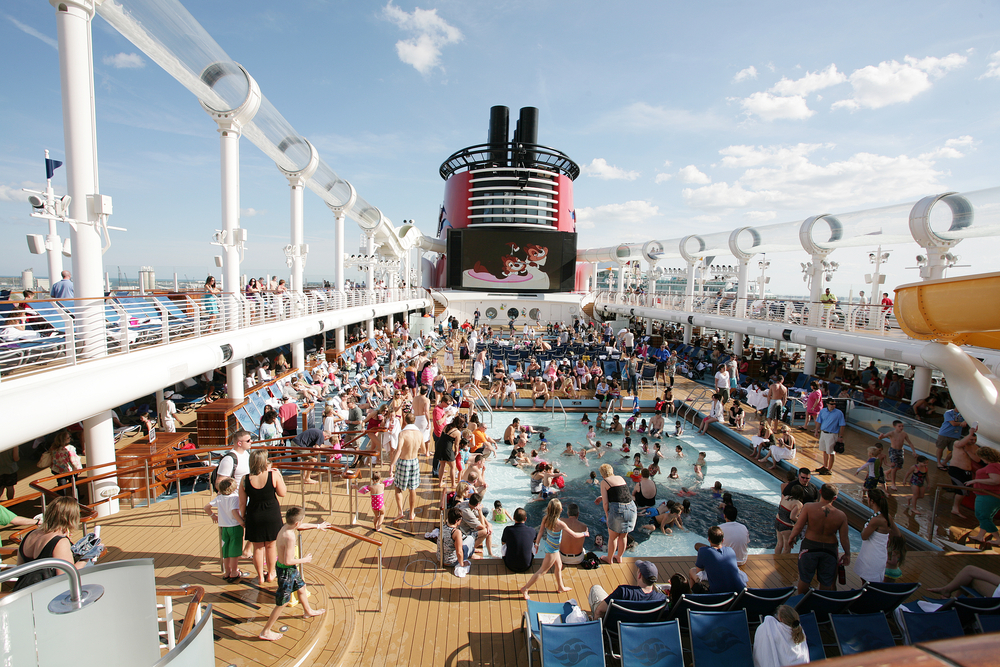 There is a farewell party on the pool deck!
Jeans/Leggings
Leggings are my thing. I always travel with several pairs of leggings in various colors. I like these high waisted full-length opaque leggings. They come in a dizzying array of colors and are very reasonable in price. The low price will allow you to get several pairs in different colors.
If jeans are your thing then these Gold Label Signature by Levi Straus jeans are a great choice to add to your Disney cruise packing list. They have the modern boot cut flare at the bottom to accommodate whatever you are wearing on your feet.
I will not advise you how many tops, sweaters, pants or cardigans you should bring on your Disney cruise. You decide how many of each you want to bring based on the time of year you are traveling and your specific Disney itinerary.
Dressy Attire For Dinner
After your daytime excursions are completed, you have evening dining on your Disney cruise ship to look forward to. Something a little more than casual is always nice to have with you for your evening plans on board your cruise ship.
You would be well dressed selecting this long-sleeved boho elegant loose fit lace tunic blouse. It would go well with leggings or pants and is affordable. Here is another option to add to your Disney cruise packing list: a front pleat ruffle sleeve blouse tunic shirt. It is very pretty and affordable.
It is good to have a dress or two on your Disney cruise packing list for a little variety. This 3/4 sleeve fit and flare is a great option! It comes in tons of colors and has tummy control.
Check your Disney ship's itinerary, and if there is a formal dinner night this vintage lace floral boat neck cocktail swing dress would certainly be appropriate. It is available in a wide variety of colors and is so affordable. And if you wanted a floor length evening dress, this V-neck maxi evening dress would make a beautiful addition to your Disney cruise packing list. It is really affordable and available in multiple colors.
Swimsuit
The pools and hot tubs on any cruise ship are a top priority for me. After a long day of excursions, to have the kids work off their excess energy, or simply to relax, the pools are tops. In addition, if you are sailing in the Caribbean, you will be stopping at Castaway Cay and that is swimming heaven!
So, adding swim gear is a must. I am all about tummy control in a bathing suit so I would recommend this frilly one piece tummy control swimsuit. It comes in several colors and is affordable. This two piece tankini swimsuit is modest and affordable.
I recommend adding a coverup to your Disney cruise packing list. This pleated casual T-shirt dress beach cover up could do double duty as a casual outfit to wear out on an excursion if you are in a warmer climate. This sleeved and netted cover up is cute, inexpensive and comes in many colors.
Your little girl would love this Minnie Mouse swim coverup.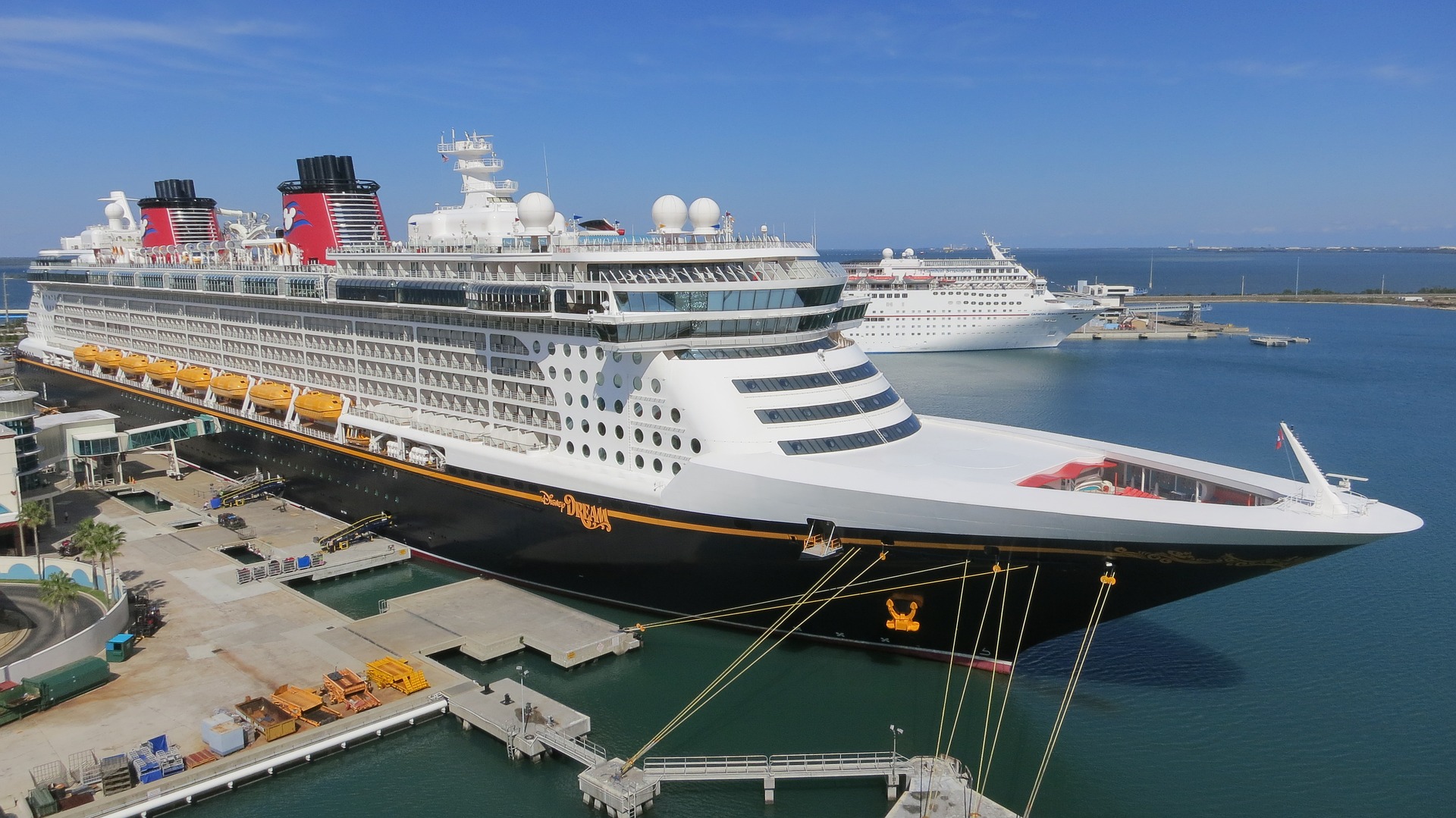 Top Shoes For Your Disney Cruise Packing List
Let's face it, tired and sore feet will be a bummer on vacation, so the correct kinds of shoes are very important to have on your Disney cruise packing list.
Walking Shoes/Athletic Shoes
You know you will be doing lots of walking on your Disney cruise and have many 20,000+ steps days, so you want to make sure to add the proper shoes to your Disney cruise packing list.
These lightweight and flexible Skechers Go Joy walking shoes are a great choice. They would be easy to pack in your luggage, and I especially like them because you do not have to bend down to tie up any laces. They come in a lot of cute colors to match your Disney cruise packing list wardrobe and are reasonably priced. These Skechers Performance Women's Go Step walking shoes are just downright cute! They offer the same cushioning and stability, but in a ballerina style.
if you are like me and bring along your running shoes everywhere you go, you may want to splurge on these Brooks Ghost 11 running shoes. They are offered in lots of super colors. I bring my own Brooks with me on all my vacations and cruises. If you are looking for something a bit less expensive but still as sturdy, these ALEADER fashion running and/or walking shoes are so fashionable and colorful, and very affordable.
Sandals
I broke my ankle two years ago and must really be diligent about taking care of my feet. Here is my secret to happy and comfortable feet: orthopedic sandals that are lightweight, affordable and fashionable!
I absolutely never leave home for any vacation or cruise without my SOLE sport slide sandals. They have a contoured footbed that will lovingly support your feet and a treaded sole that will keep you grounded and help prevent slides during wet situations, like rain, or poolside. If you like SOLE's concept of equalizing pressure distribution of your feet but are not into the slide these SOLE flip flops with the no-slip treaded bottoms may be a better choice for you. I would add either of these SOLE options instead of slippers to your Disney cruise packing list. You will wear them in your cabin, down to the buffet, and out on shore excursions.
I own these Vionic Amber Sandals. I own a lot of Vionic sandals and they are all a dream to wear. You will even forget about your feet. If the price seems a bit on the expensive side, these sandals are totally worth the price. They wear like iron and as I mentioned, they are very comfortable. These Vionic Orthaheel Shore Slide sandals are slip on and reasonably priced. And you will want to add these Vionic Tide Sequins toe-post sandals to your Disney cruise packing list to add some sparkle and pizazz to any of your outfits. They come in very cool colors! Vionics also makes men's shoes as well like these Vionics flip-flops or these Orthaheel Vionic men's sneakers.
Flip Flops
If you and your family are planning on hitting the pools or hot tubs these classical comfortable rubber flip flops come in both men and women's sizes should be added to your Disney cruise packing list. They are affordable and come in a few colors.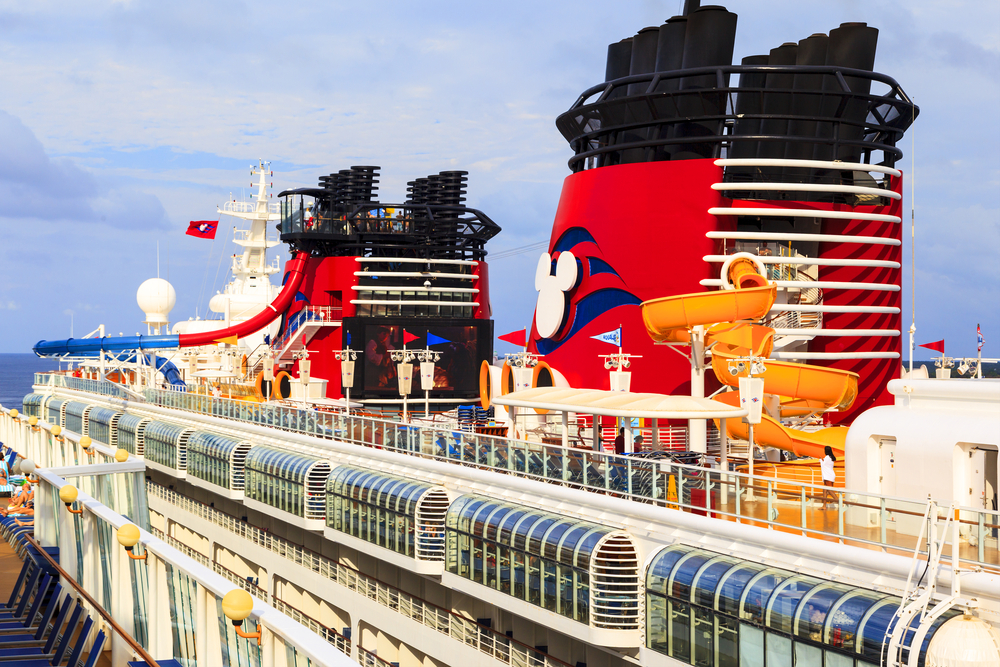 You will want to bring comfy footwear with you so you are able to comfortably walk around the huge Disney ships!
Disney Cruise Packing List "Extras"
Because the fabulous Disney Cruise Line sails all across the world, the temperatures vary. Here I cover some extra things that are adaptable to the location depending on your expected weather.
Hat or Beanie
It is very important to add a hat or beanie to your Disney cruise packing list because when out hiking, running or walking you lose the majority of your body heat through your head. This unisex reversible knit hat, scarf and glove set is very affordable and comes in some cool colors. I like that the gloves are touchscreen, that makes it so convenient when trying to text or use your phone. And which kid would not love to wear this Mickey Mouse hat and mitten set! how cool. When you are out and about in the colder temps you will be glad you brought head protection.
If you are traveling where the weather will be warmer, you still want to protect your head from the sun. Everyone in your family can wear this unisex UPF 50 foldable baseball cap. It comes in tons of colors to choose from and is pretty cheap. And it folds up into almost nothing to tuck into your suitcase. This wide-brimmed outdoor sun hat is unisex, packable and has a 2.6″ wide brim for further sun protection. It has a vented lining and comes with UPF 50 protection.
Ear Mitts
If your waterproof coat has a good hood, perhaps you may want to skip a beanie hat and go for ear mitts to keep your ears war. These bandless ear warmers are unisex and very cheap. They come in a variety of colors and would be great to add to your Disney cruise packing list if you will be experiencing cooler weather. These cute unisex kid's furry ear warmers would be a great choice to bring along.
Thermal Headband
Another item to consider having on your Disney cruise packing list is a thermal headband to keep your head and ears toasty warm. if a chunky hat is not your thing. I have this Columbia thermarator head ring in purple and I bring it on all my cold-weather trips. It is offered here in many colors and can be worn by anyone in the family.
Gloves
If you are like me, and your fingers are the first to get cold (and it gets uncomfortable after a while!) you will want to add these touchscreen unisex black gloves to your Disney cruise packing list. If you are looking for gloves for the entire family, these "one size fits all" gloves will do the trick! They come in other colors too and you get twelve pairs!!!
Hand And Toe Warmers
Depending on you your Disney Cruise itinerary, and the expected weather during your trip, you may want to consider adding this rechargeable hand warmer to your Disney cruise packing list. My daughter has this exact hand warmer and loves it. It comes with a portable charger and you can recharge it in your cruise cabin during the night so it is ready for you and your next day's excursions.
The same thing goes for your toes- if they get numb or uncomfortably cold, you might want to add these reusable neoprene toe warmers to your Disney cruise packing list. They come in three sizes to choose from, and I am into anything that works and is reusable.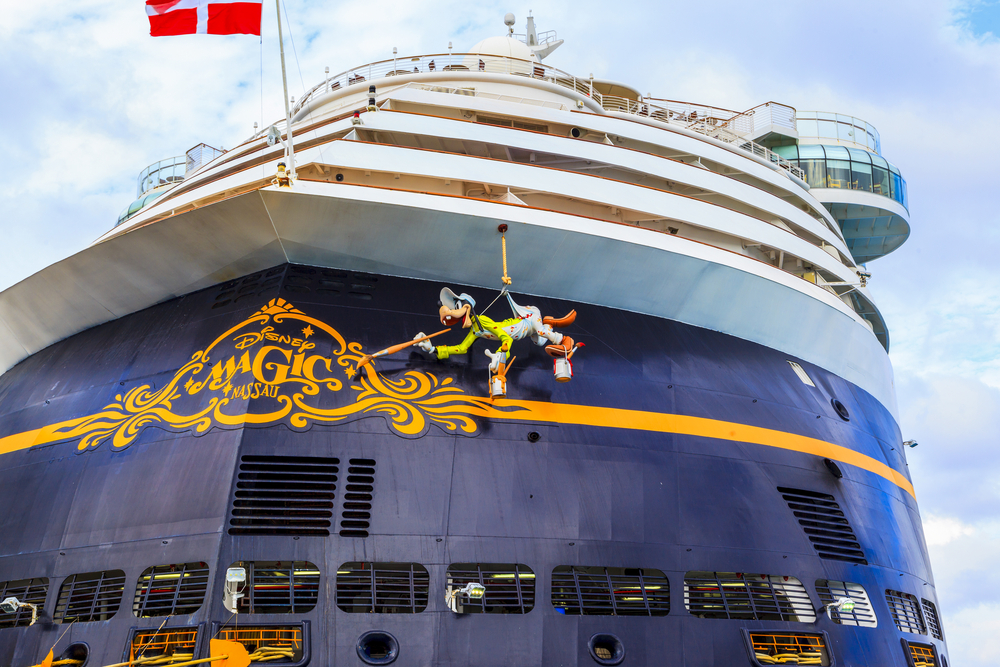 Sunglasses
No matter where your Disney cruise itinerary will be taking you, you will definitely want to protect your eyes from the sun's harmful UVA/UVB rays. And verify that any sunglasses you purchase have documentation on them, usually a sticker on one of the lenses, that they do indeed offer the UVA/UVB protection. Mirrored lenses are all the rage these days, and these unisex oversized mirrored lenses offer the UVA/UVB protection and also are polarized. Polarization will cut down on the sun's reflection on the water and improve your visibility.
Another trendy sunglass style to consider adding to your Disney cruise packing is the aviator. These unisex aviator polarized and mirrored sunglasses offer UVA/UVB protection and are available in lots and lots of colors, with some colors coming in two pack combinations.
Sunscreen
Even on cloudy days, the sun's harmful rays penetrate through those clouds and can do damage to your skin. You will want to add sunscreen to your Disney cruise packing list. This moisturizing sunscreen lotion is hypoallergenic and paraben and gluten-free. It is specifically for sensitive skin and a great choice for everyone in your family. It comes in different sized and different strengths.
Banana Boat Sport comes in travel packets, which would be a breeze to pack, simply tuck into tiny spaces in your luggage. It protects against the sun's harmful UVA/UVB rays.
And Neutrogena offers an ultra-sheer dry to the touch travel-size option too. It is nongreasy and waterproof and comes in 2 strengths.
Motion Sickness Options
Unfortunately, I suffer from motion sickness. It is definitely a nuisance and I do not want it to affect your trip as it does mine. Dramamine-N has a long-lasting formula that prevents and relieves nausea, dizziness, and vomiting.
These organic ginger chewables work against nausea and vomiting and are a nondrowsy formula.
These Sea-Bands drug-free acupressure wrist bands are reusable and an alternative to relieve nausea. These children's Sea-Bands offer the same drug-free travel sickness relief.
Nondisposable Water Bottle
No matter where your Disney cruise is taking you, it is always prudent to add a nondisposable water bottle to your Disney cruise packing list. It is very important to remain hydrated during your travels. Staying hydrated will literally keep you well as it helps your immune system stay strong while fighting off germs.
My entire family and I never leave home on any trip without our filtered, reusable BPA-free Bobble water bottles. We all like the 18.5 oz size because it is not heavy when it is filled. Cannot say enough about the replaceable carbon filter. Having that means you will always have fresh drinkable water wherever you are.
This collapsible sports camping canteen made with food grade silicone would make packing it away in your luggage when traveling a breeze.
If stainless steel is more your thing, then this vacuum insulated, leakproof, double walled cola shaped stainless steel bottle is the one for you to put on your Disney cruise packing list. It will keep cold drinks cold, and hot ones hot for extended periods of time!
Umbrella
We all admit the earth needs rain, but does it have to rain when we are traveling? Adding an umbrella to your Disney cruise packing list is important and I highly recommend it. I recently invested in a travel umbrella and took it on my last trip and used it in the rain. Unfortunately, it lacked being windproof and that was definitely a problem for me. I like this compact travel umbrella that is windproof, has an ergonomic handle, and automatic open/close function. Comes in many colors with a travel pouch.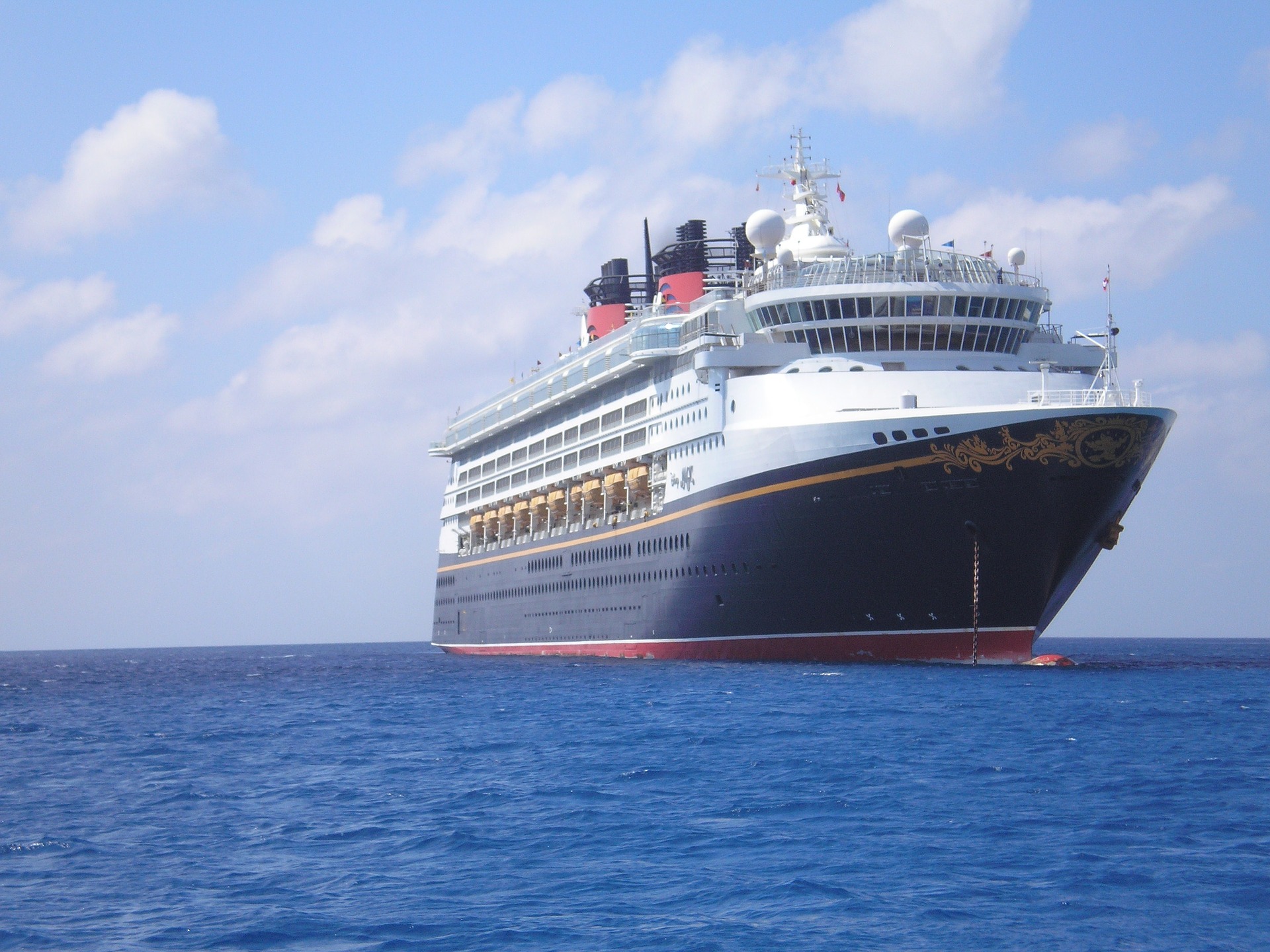 Luggage And Bags For Your Disney Cruise Packing List
Luggage
How much luggage you bring along is always a personal choice. Carry on or checked? It is always a great idea to check your specific Disney ship to verify luggage restrictions if any.
When I travel, cruising or not, I strive to pack economically and bring only a carry-on bag, along with my personal item. You can read my tips and tricks that I picked up along the way during all my travels about how to pack using only a carry on here. This Steve Madden twenty inch carry on suitcase with spinner wheels is also expandable. It comes in lots of colors and is reasonably priced.
Hard-sided luggage is trending now, and this twenty-inch hard sided bag is very reasonably priced. It has double spinner wheels for easier navigations and is even expandable!
If you decide to pack a twenty-one or twenty-two roll aboard carry on, check with Disney to clarify if you are able to keep that bag with you once you board your ship, or if you must "check it in" with everyone else's larger pieces of luggage to be delivered to your stateroom later.
As your personal item to carry onboard, this travel weekender shoulder tote is perfect. It fits under the seat, but I really like it because it has a luggage sleeve, which means you can slide it over the handle of any piece of your luggage, and effortlessly carry it along. It is affordable and comes in a few print designs to choose from. It is a great item to add to your Disney cruise packing list.
If packing for several in one luggage piece, or if you are on a longer itinerary, or if you simply desire lots of clothing options, this three-piece hard side luggage set is perfect. It has the spinner wheels for your convenience, comes in three sizes for all your needs, (20″, 24″, 28″) and the suitcases next inside one another to store when you are not using them.
If you prefer soft-sided luggage, this softshell three piece set with the spinner wheels is a great choice. It is very affordable and comes in some great colors.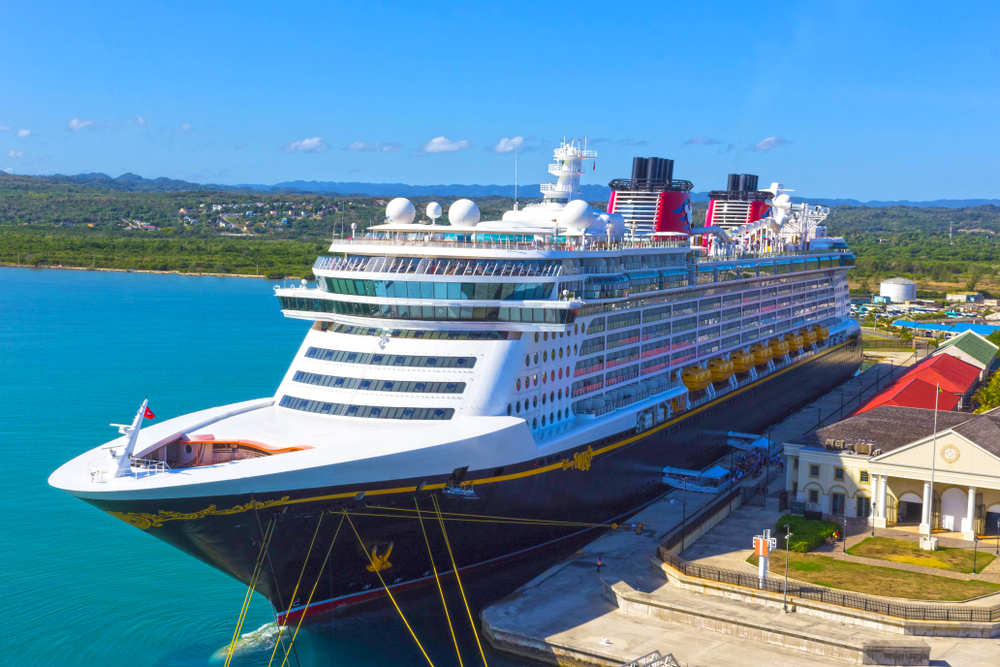 The Disney Magic in port in Jamaica.
Packing Cubes
I am a recent convert to packing cubes, I will honestly admit. But now I will not ever travel without them. Everything is so organized and nothing get's lost or shifted during transport. I recommend this packing cube system luggage organizer set be added to your Disney cruise packing list. The kit is reasonably priced and comes in a wide variety of colors. If you have not tried packing cubes, now is the time to get on the packing cube bandwagon of organization!
Backpack/Daypack
You will certainly want to have a backpack or daypack on your Disney cruise packing list. When you are on your shore excursions, you will need a place for your water bottle, perhaps a sweater, some snacks and possibly for your gloves and hat.
This ultra lightweight and water resistant daypack folds up into its own tote and is perfect. It is inexpensive and comes in a lot of yummy colors for you to select from to please anyone in your family.
This unisex crossbody sling backpack is a smart choice to add to your Disney cruise packing list if you are not a big fan of backpacks. It has smart antitheft features, is multipurpose and it is designed to be used as a one shoulder bag.
If you are looking for a backpack to travel with, this unisex antitheft backpack is an option to consider for your Disney cruise packing list. It is slim and durable, with a USB charging port and is water resistant. It also fits a 15″ computer and is TSA approved.
If you are looking for something a bit larger, then this big business travel computer backpack is worth considering. It is durable and also TSA compliant. Its multilayered compartments will make packing and organization a snap.
Best Camera Gear To Pack For Your Disney Cruise
Camera
Of course, the best way to maintain all of your Disney cruise memories is to capture them in pictures. You want to be ready with your photography equipment.
Here is a Sony ILCE-A6300 bundle to look at. Yes, it is a significant investment but this configuration has all the necessary accessories that you will ever need or could think of.
Go Pro
When you are thinking of your Disney cruise packing list photography needs, you will want to add a waterproof action camera. Pretty much everything you could want or need is available with this Go Pro Hero 7 premium bundle. It comes with tons and tons of accessories, underwater housing, and a spare battery. It has video stabilization and you can stream to FaceBook Live while using it.
If you are already part of the Go Pro family, and you are only looking to upgrade the camera then this Gp Pro 7 digital action camera with a touch screen is sold alone without any accessories.
Extra SD Cards
You know you will probably be taking a lot of memorable pictures on your Disney cruise. You will want to make sure you add extra SD cards to your Disney cruise packing list.
This San Disk 64 GB memory card is cheap and will be a great backup for you. Then there is this Amplium 64GB blazing fast ultra high speed Extreme Pro memory card.
For your Android phones or tablets, and your Go Pro this San Disk 128 GM memory card is ideal. It is shockproof, temperature proof and waterproof.
Waterproof Phone Case
You will probably encounter water no matter the itinerary of our Disney cruise. Be it swimming in the Caribbean, or out on some exotic shore excursion, or at the pool! For that reason, it is a very good idea to add a waterproof phone case to your Disney cruise packing list.
This universal waterproof phone pouch dry bag is a great option to bring along to protect your phone. And it comes in this two-pack configuration.
Here is another universal underwater waterproof phone pouch configuration. This one, however, comes in a set of three, in very bright and cool colors. And is very inexpensive.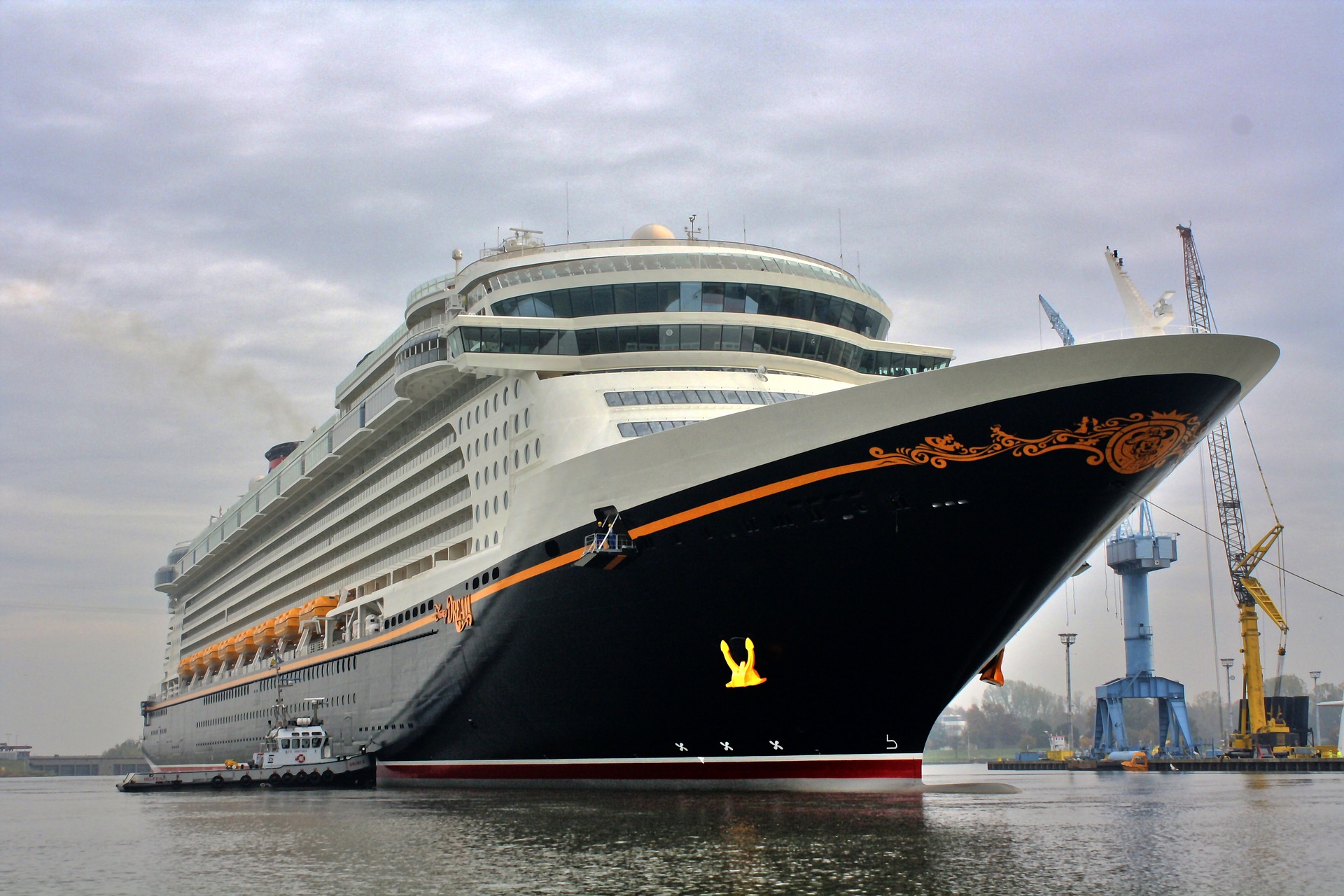 This Disney cruise packing list contains the basics of what you should consider bringing on your Disney cruise. You will need to modify it depending on the location and duration of your specific Disney cruise and the time of year you will be traveling.
Read next:
How To Pack Lightly For Your Cruise Using Only A Carry On
How Not To Get Sick On A Plane
7 Tips For Surviving Long International Flights
Have you already sailed on a Disney cruise? Please share your thoughts in the comment section below and add any further packing tips as well for the next time you visit Disney!
Linda On The Run is a participant in the Amazon Services LLC Associates Program, an affiliate program designed to provide a means for sites to earn advertising fees by advertising and linking to Amazon.com
Pin this post: