Will this be your first time in Paris?
Are you looking for tips so you are more prepared?
Well, you have come to the right place, because I have visited Paris several times and I have the advice you need to help you with your planning because there are so many things to do in Paris.
Planning your trip to Paris France last minute?
Make sure to book ahead! Hotels and tours usually sell out the closer you get to your trip. Here are our top selections for Paris!
Top Experiences and Tours in Paris France:
Top Hotels In Paris France:
Paris, the City of Light, is a well-loved and major European capital city. Over two million people call Paris home.
Planning an itinerary for your first time in Paris can seem very overwhelming, but it does not have to be a daunting task.
Also, if it's your first time in Paris, take some time to visit one of the other stunning, French Riviera cities and enjoy some of the best things to do in Nice.
I have used my own experiences during several stays in Paris to list 18 things I know will make your first time in Paris more memorable and more fun!
While you are planning your first time in Paris, here are some additional posts to read later:
The Ultimate 4 Days In Paris Itinerary
10 Unusual Things To Do In Paris That Are Not The Eiffel Tower
The Ultimate 5 Days in Paris Itinerary You Should Steal!
18 Things To Know Before Your First Time In Paris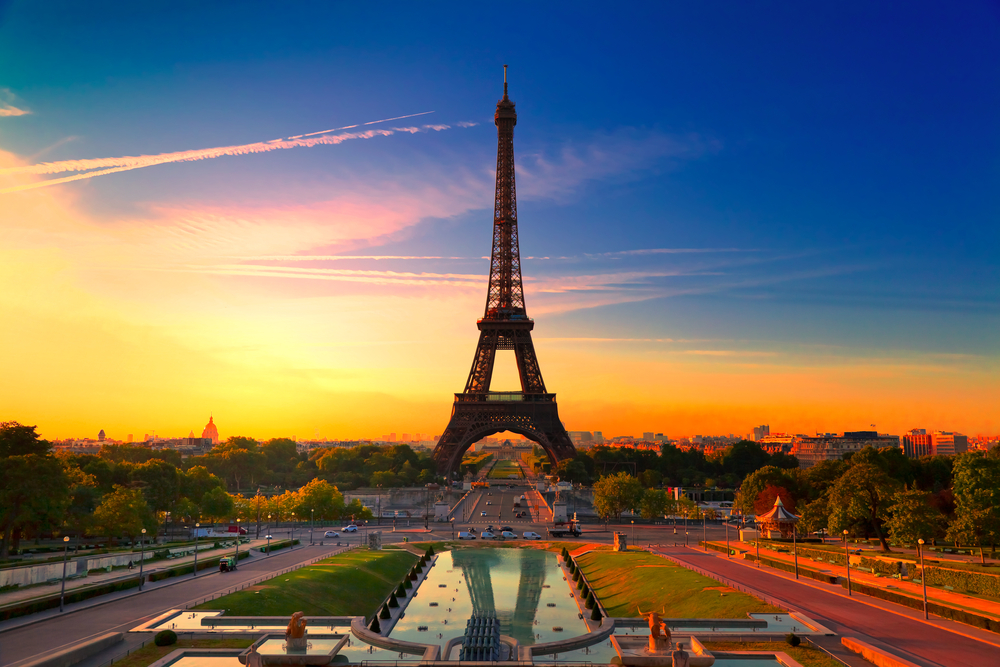 Check On Your Country's French Visa Entry/Exit Requirements
If you are traveling to France from the United States, you do not need to obtain a French visa.
You are permitted to travel to France (and to all other members of the Schengen Area) for up to ninety days as a tourist and for business purposes.
If this is your first time in Paris, and you will be visiting from another country, please verify you France requires a visa.
If you are flying into Paris, read How To Avoid Getting Sick On A Plane
Check Your Passport Before Traveling To France
You will need a current and valid passport to enter France.
And your passport must be valid for three months after your departure to the United States.
Your passport will need one full blank page for the French authorities to stamp.
If you will be on a long haul flight, read How To Survive Long International Flights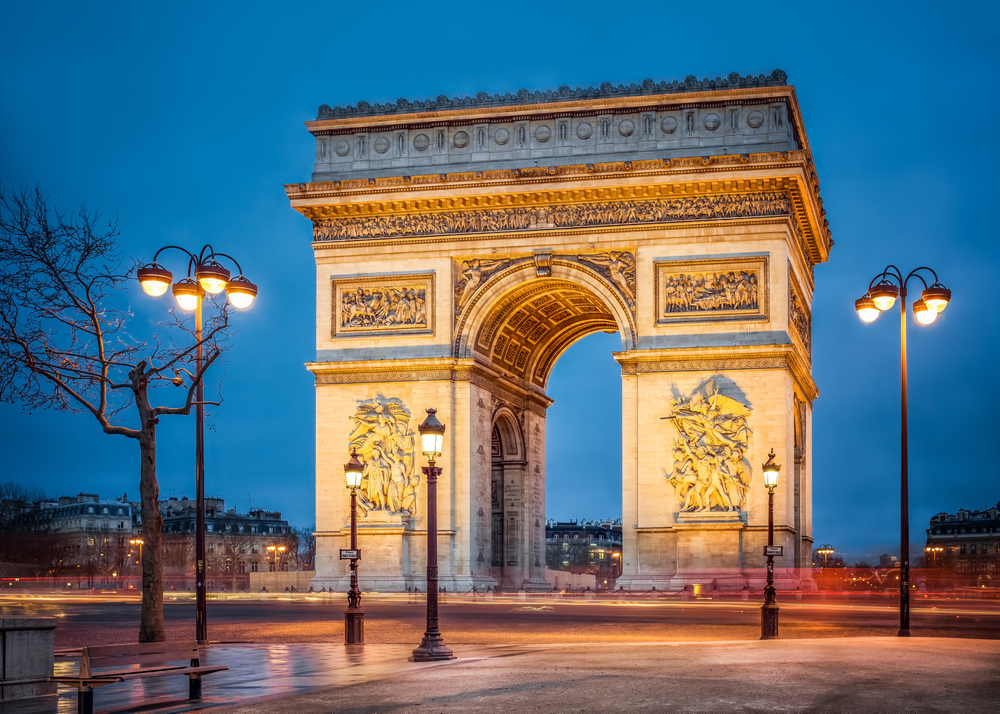 Purchase A French SIM Card For Your Phone
For your first time in Paris, one of the best pieces of advice I can share with you is to purchase a French SIM card for your smartphone before you leave the airport.
With the new SIM card, the cell towers will recognize your phone as French and you will have improved cell service and much-improved Wifi.
Your phone number will be new as well. So it is best for you to remain in contact with your family and friends through Facebook Messenger or the What's App.
There are several kiosks at the French airports selling SIM cards for your convenience.
The last time I visited Paris with my family, I purchased my SIM card at a visitor center in the heart of Paris. You have to ask around, but SIM cards are available mostly everywhere.
If you will be spending an extended period of time in Paris read my tips on the best day trips from Paris.
Cash Or Credit Cards? Which Is Best To Have?
The simple answer is, for your first time in Paris, you will want to have both!
Credit cards are widely accepted throughout the City of Light. However, if you are using cash, only the euro is widely accepted.
You may find some vendors will accept American dollars, but the exchange rate will be very poor.
If you want to have some euros on hand, it is best to withdraw from an ATM for a decent exchange rate."in-network" bank ATMs in Paris, so you are not charged out-of-network transaction fees as well.
Remember that there are fees charged when using an STM. May I recommend you withdraw a larger amount of money, less frequently, to save on these transaction fees.
Check with your local bank at home before your first time in Paris dream trip to obtain the names of
If you wish to exchange your cash into euros, the most prudent thing to do is head to a French bank, for safety, and the fairest exchange rates.
Read the ultimate London and Paris itinerary for some additional inspiration.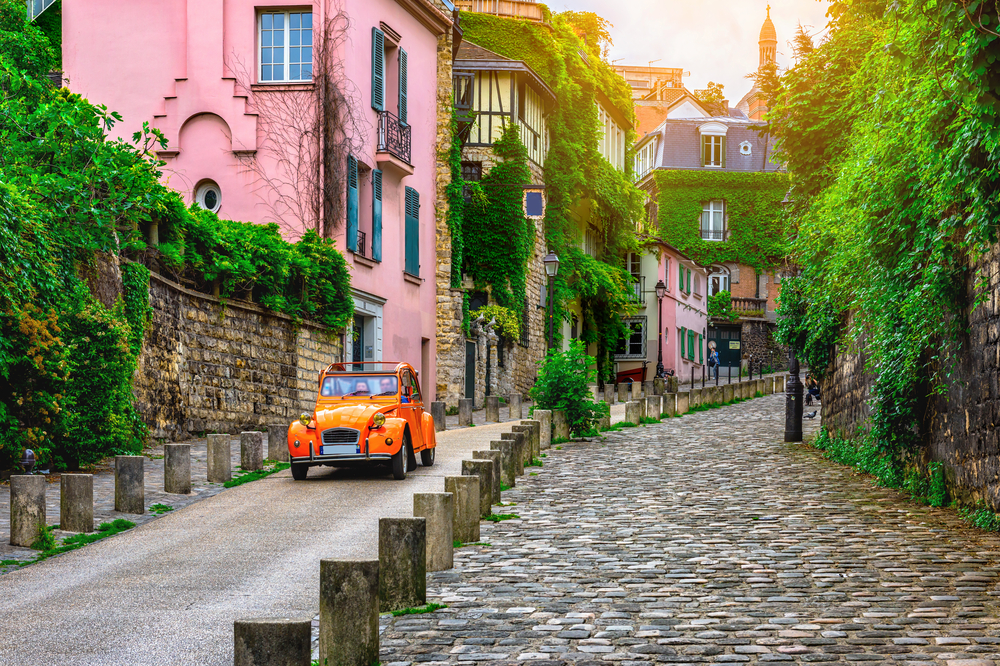 Riding The Metro Is Easier Than You Think During Your First Time In Paris
Chances are you will probably be flying into one of Paris' larger airports, either Charles de Gaulle International Airport or Paris-Orly International Airport for your first time in Paris.
You will want to budget one hour to get to the hotel or flat where you will be staying once you leave the airport.
I have traveled to my final destination by both Ubering and also using the Paris metro. Both took equally the same amount of time, but the Uber ride was VERY EXPENSIVE and the metro was a much better deal.
Look here: Ultimate Versailles: Skip-the-Line Guided Tour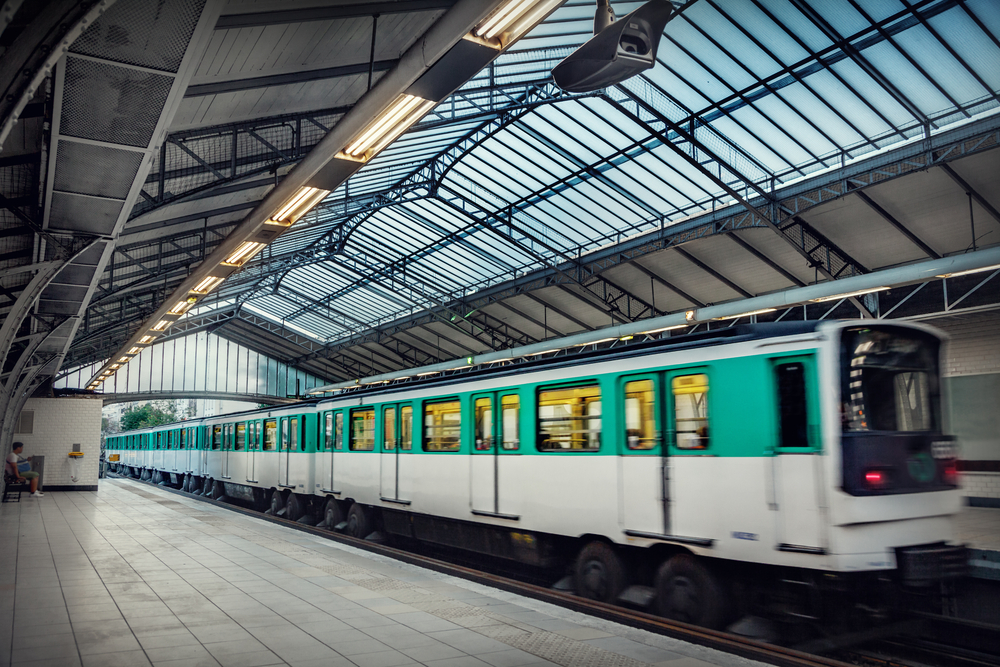 There are ticket kiosks at the airports where you can purchase metro tickets. Thankfully, there are very helpful attendants available to assist you with buying metro tickets to your final destination in case you have any questions.
You can purchase single metro tickets, or you can buy a booklet of tickets instead, which is what my family and I did for our first time in Paris.
The booklet of tickets is a much better value for you during your first time in Paris, especially if you plan on seeing a lot of Paris' attractions.
The Paris metro system is expansive and you will be able to easily get around town to wherever you wish using it while experiencing your first time in Paris.
There is a scaled-down schedule at night, so research that as well as you plan.
Additional Information on is Paris here:
12 of the Prettiest Parks in Paris
8 of the Most Beautiful Bridges in Paris
Hands Down, Where to Find the Best Views in Paris!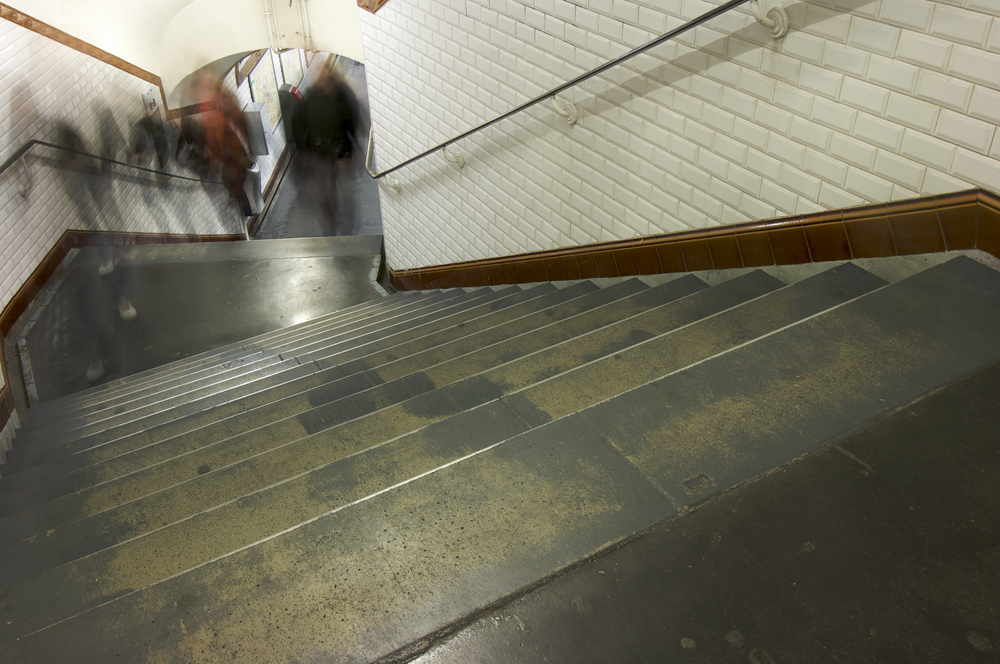 Book here: Paris City Pass: Free Admission and Travelcard
Book here: Paris Highlights Full Day Tour
One of the only downsides I know of with the Paris metro system is that it is not that friendly to the disabled. I have never seen an elevator to use.
If you or a member of your traveling party is disabled, has difficulty walking distances or climbing lots of stairs or rides in a wheelchair, you will probably need to consider alternative transportation for them during your first time in Paris.
Look here: 1-hour River Seine Cruise
Look here: Paris Audio-Guided Coach Tour & Seine River Cruise
Stay In A District During Your First Time In Paris That Interests You
Administrative districts in Paris are called arrondissements. And there are 20 of them, each with their own unique flair and character.
Historic neighborhoods are within the districts. It is very important you decide which one matches up to your goals for your first time in Paris.
When I travel to Paris with my family, we stay in the 7th district. There's just something about being close to the Eiffel Tower.
We are also very close to all the major Parisian attractions that interest us, like the Louvre Art Museum and Notre Dame.
Those that are not within walking distance, we use the metro to get to, like the Champs Elysees, and visiting the Arc de Triomphe.
As a runner, it is a lovely and quaint neighborhood, and I especially enjoy running alongside the River Seine.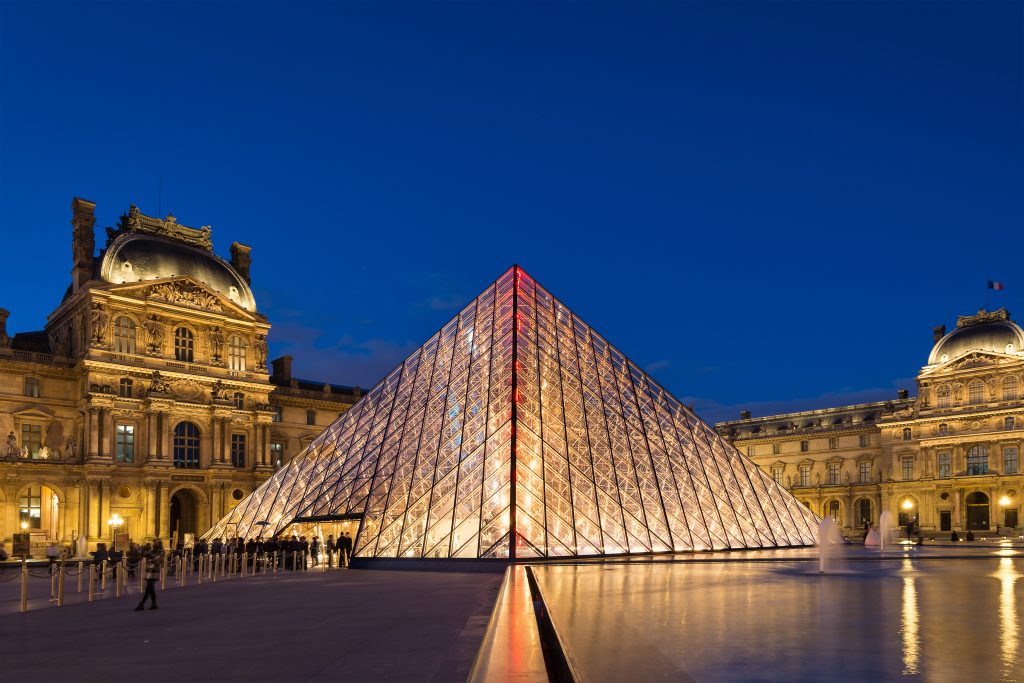 Look here: Paris Louvre Museum: Priority Entrance with Audio Guide
Look here: Louvre Museum: 3-Hour Comprehensive Tour with Skip the Line
Another interesting district worth considering is #18, Montmartre. It is so vibrant. So artsy. Sacre-Coeur Basilica is there, along with the Moulin Rouge, and both are very much worth visiting.
Montmartre boasts the absolute best views of Paris. The restaurants and souvenir shops are a bit more affordable, so don't plan your first time in Paris without considering at least a visit to Montmartre.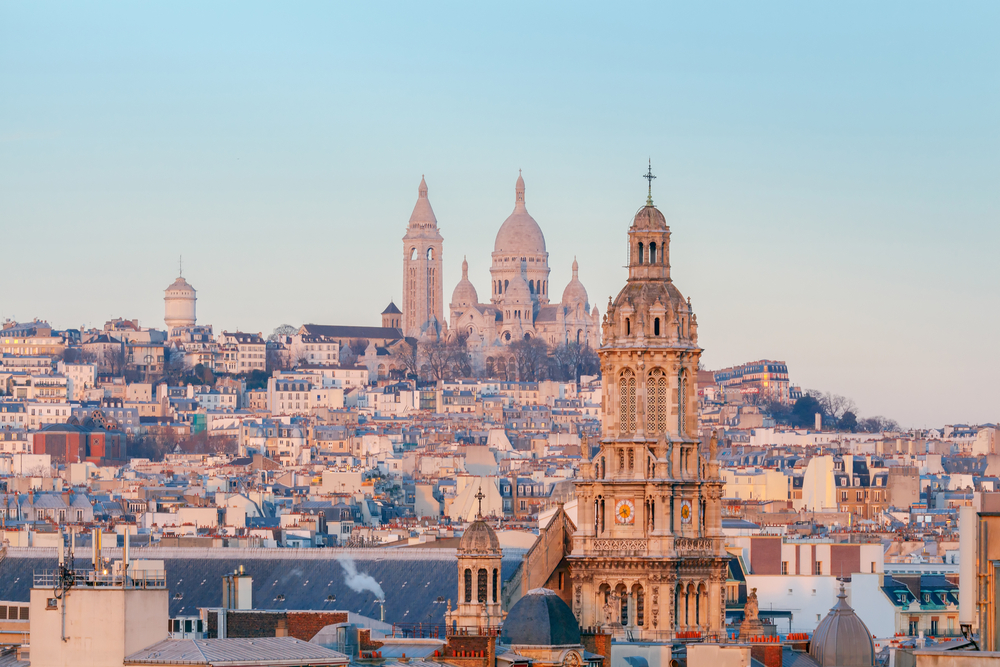 Tickets here: Sacré-Coeur and Montmartre Tour with Expert Guide
Tickets here: Montmartre 2-Hour Walking Tour
Tickets here: Hidden Gems of Montmartre With a Local Guide
Depending on your plans and goals during your first time in Paris, selecting the right area, or district, in Paris will enhance your trip, and reward you with many wonderful memories.
Ways To Get Around Paris Will Surprise You
Once you are settled and well-rested, it is time to set out to explore Paris. As I already mentioned, the metro is absolutely the most reliable and cost-effective form of transportation during your first in Paris.
Do not rule out using taxis or Uber either, as they both do offer convenience, depending on your destination.
When we last visited, we noticed electric scooters randomly left all over Paris. Literally on the sidewalks. Within a short time, we realized the scooters were for rent!
If you are interested in renting one, you have to download the company's app on your phone. Then you will need to input your credit card information.
There were four rental scooter companies: Lime, Dott, Bird, and Uber.
Look here: Musée d'Orsay Reserved Access 1-Day Admission Ticket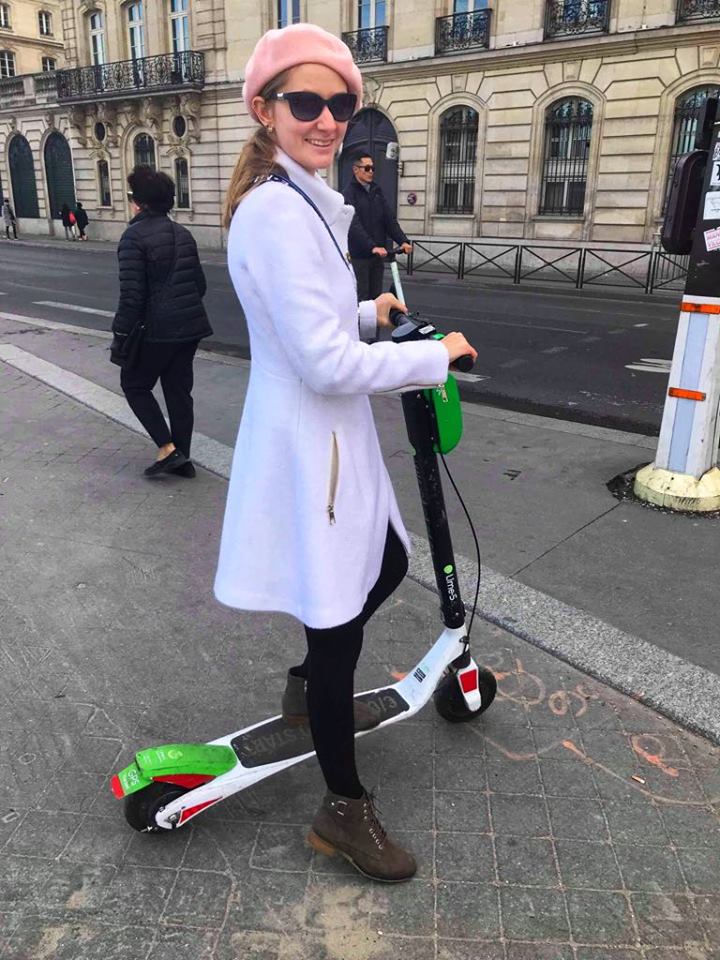 Each scooter is GPS enabled, and you can very easily find an available scooter near you. Use the app on your phone when you are ready.
When you have arrived at your destination and are finished with your scooter, you simply sign out from your phone app. The applicable amount is charged to your credit card.
And then you leave the scooter wherever you are. The only rule is to not leave the scooter near the street or in the middle of a pedestrian walkway.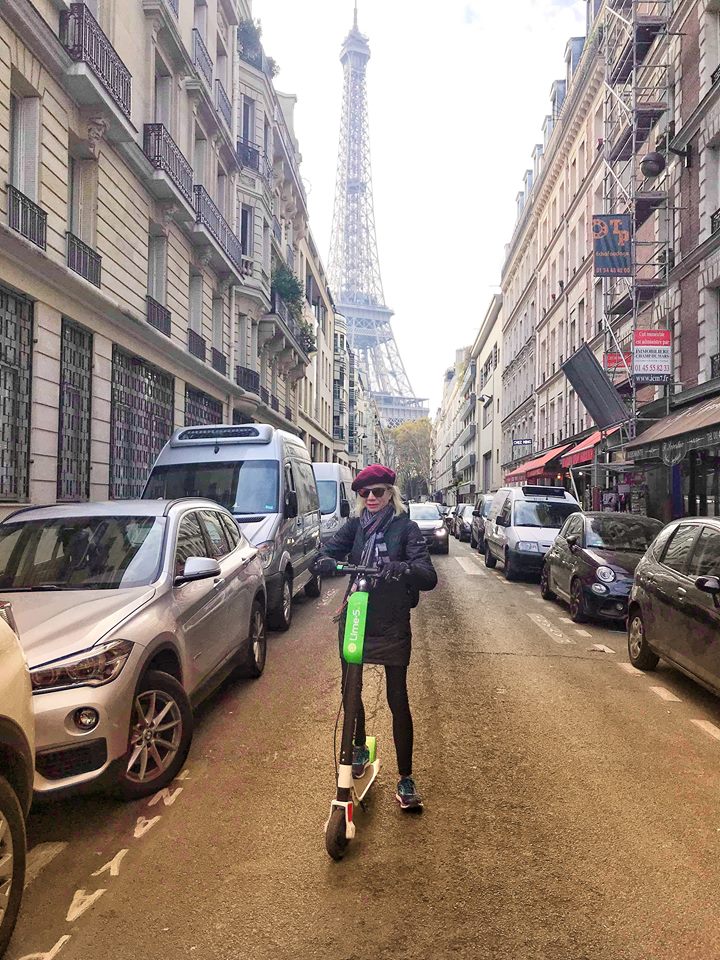 It was great fun riding the electric scooters. On the main thoroughfares, there are wide lanes dedicated to bicyclists and those who scooter.
But on the smaller side streets, you will have to ride your scooter on the road alongside buses, bicyclists and all the cars.
I advise it is better to rent one when the streets are not so busy. But I found that drivers in Europe, especially Paris, are much more cognizant of bikers and scooter riders. You really do not have much to worry about.
One thing we could not figure out is how or when those electric bike batteries were recharged.
Every morning when we researched how many scooters were available for our party of five, and where they were located, they always had 100% full batteries. A mystery!
Depending on the season of your first time in Paris it may be a bit chilly to go scootering around. This windproof softshell fleece lined jacket would be ideal to keep any guy warm. This lightweight unisex windbreaker will protect from the chilly wind too.
Biking Is Also A Great Way To See What Paris Has To Offer
If riding around on an electric scooter does not appeal to you, perhaps renting a bicycle sounds better!
There are many bike rental stations around.
You will need to download the bike company's app onto your phone. And unlike the e-scooters, bikes must be returned to a bike station and locked into a bike stall.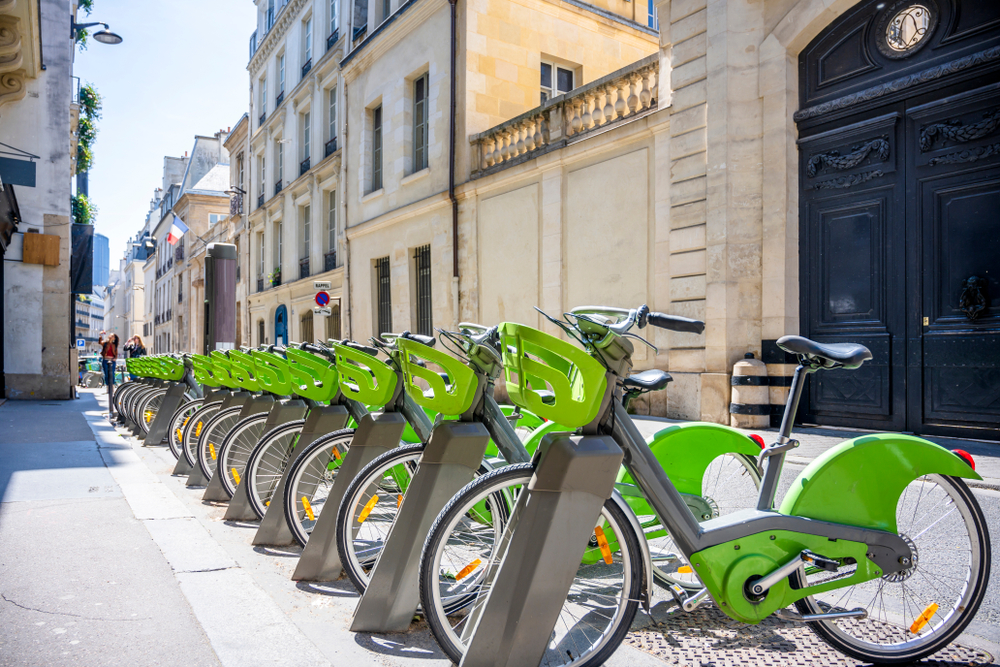 Because of the recent scooter craze, there were a lot more available bicycles to rent. Bicycling is also a great exercise, and another fun way to get around Paris.
Look here: Paris Museum Pass: 2, 4, or 6 Days
Walking During Your First Time In Paris Is Wonderful
And finally, do not forget about walking! Walking during your first time in Paris will give you a unique experience different from biking or riding the scooter.
Walking is not only the absolute best form of exercise. It is also a great way to explore Paris, up close and personal.
Everyone walks about in Paris. You can meander the neighborhoods, look at the cafes, or simply people watch as you enjoy your first time in Paris.
Look here: Les Invalides: Napoleon's Tomb & Army Museum Priority Entry
Bring Along A Travel Adapter When Traveling To France
Do not count on your Air B & B or hotel to have enough electrical power adapters for all of your devices. You must bring one (or some) of your own.
If you have multiple devices to charge every night, as we did, you will want to bring along several devices just in case, to fit into the French outlets.
Look here: Paris: Skip-the-Line Arc de Triomphe Rooftop Tickets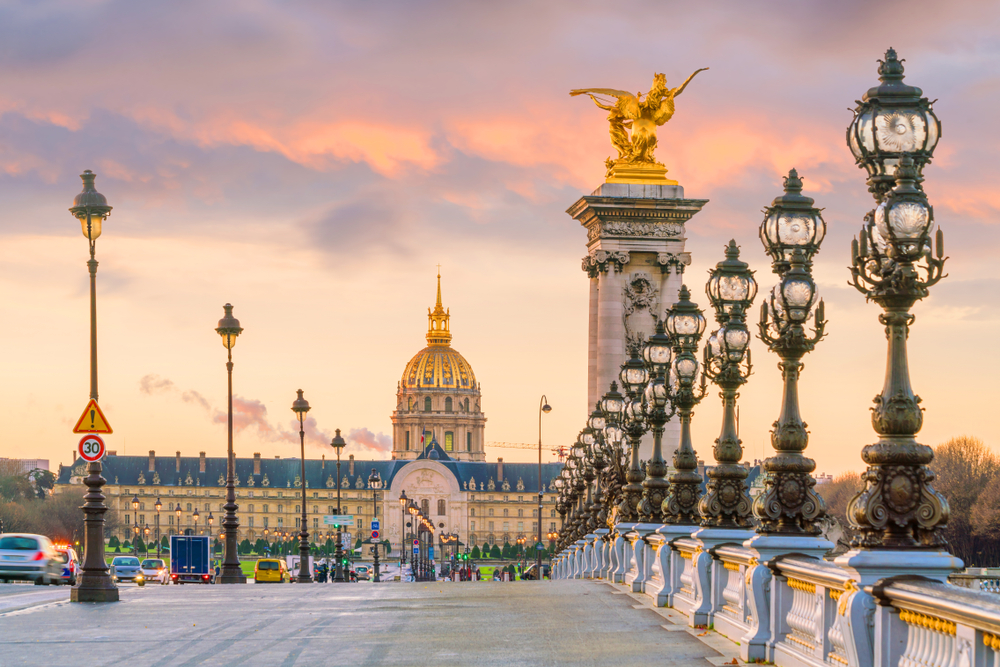 Should You Tip When In Paris?
Parisians do not have a tip culture as in other parts of the world.
There is no set amount expected. A good rule of thumb is to "round up" your tab.
5% is fine, and up to 10% if you have experienced exceptional service.
Look here: Montparnasse Tower Roof Terrace Ticket: 360 degrees of Paris
Save Time And Money By Purchasing Your Attraction Tickets Online
Are you planning to spend time at the Louvre Art Museum? How about visiting the Basilica de Notre Dame? Sainte Chappelle?
It is almost always less expensive to purchase your tickets online beforehand.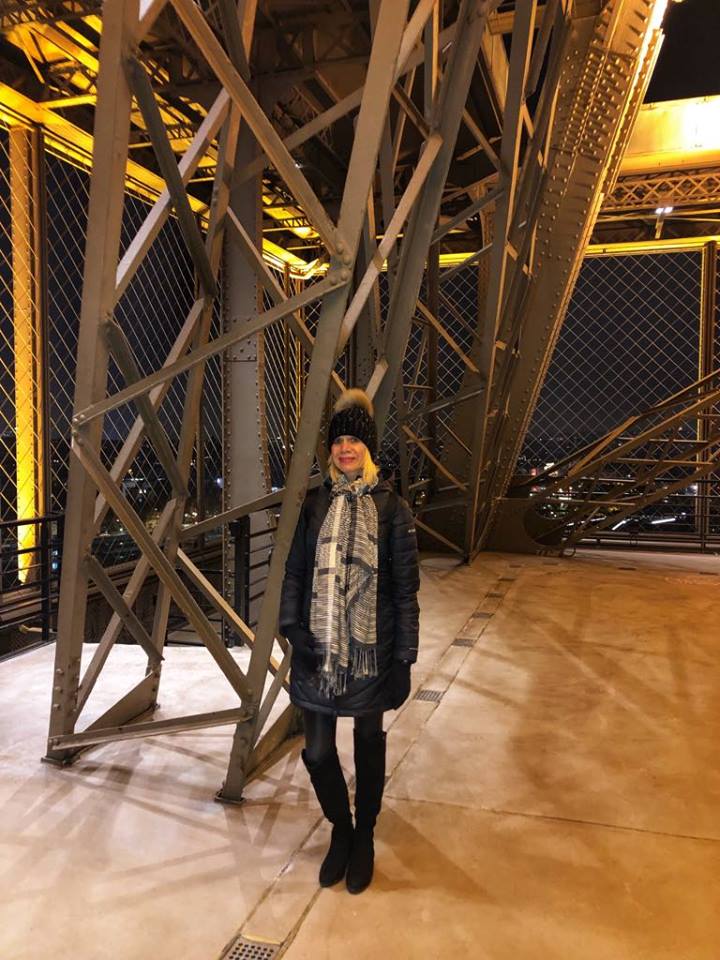 If your time is limited, and you only have a few days during your first time in Paris, an added bonus for purchasing your tickets online is you probably will not have to wait in the long lines at the venue to buy your tickets.
Or to enter because you have your tickets in hand. This can save you considerable time affording you more time to devote to other attractions.
Book tickets here: Skip-the-Line Eiffel Tower Ticket and 2nd Level Tour
Book tickets here: Eiffel Tower: Skip-the-Line Summit Tour
Save Money During Your First Time In Paris By Getting Food And Snacks
At A Local Grocery Store
Of course, the food is better in Paris! Nothing much can beat sitting in a French cafe or out on the patio watching the world stroll by during your first time in Paris.
But Paris can be very expensive, and not very budget-friendly.
Fran Prix grocery stores are a fixture in Paris. There seems to be one on every corner! Stock up on drinks, fresh fruit, snacks, and pastries or French bread.
These items are budget-friendly and can serve as a quick breakfast or lunch. Or to bring along with you during your first time in Paris as a snack. Sightseeing can make you hungry!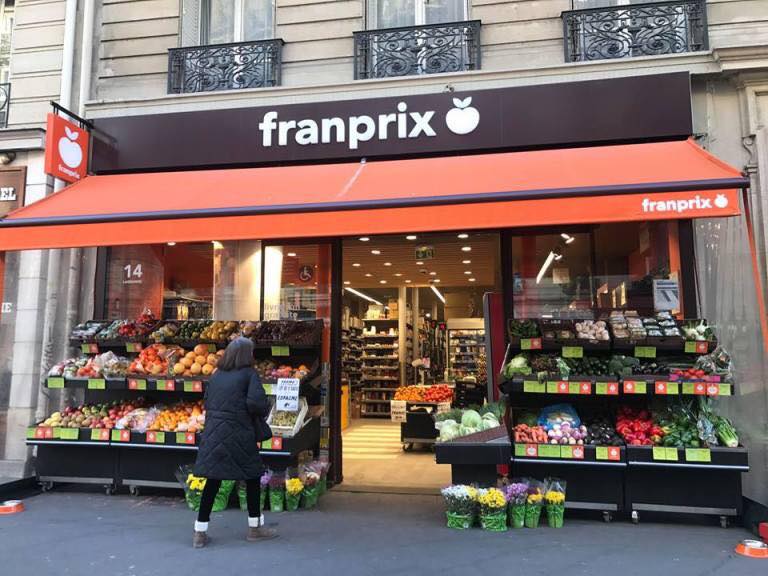 In Europe, you will have to pay for grocery bags. It is not much, but often enough, it can get annoyingly costly.
These foldable, waterproof reusable grocery bags would tuck in a corner of your suitcase and be perfect for filling all of your groceries.
If you want larger bags, these eco-friendly bags fold into small squares and have a larger capacity. I always bring my own reusable shopping sacks when I travel, tucked away in my suitcase.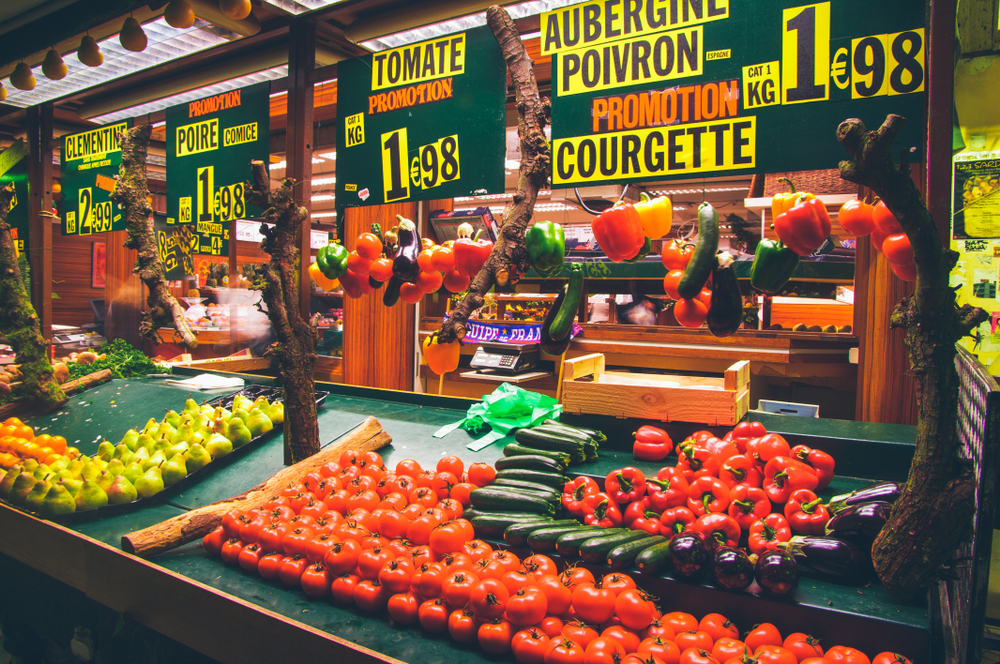 If you make several trips to the grocery store during your first time in Paris, you will need more than one reusable grocery sack. Being waterproof is a great feature. Best of all you will be saving money.
On Your First Time In Paris Be Aware Pickpocketing Is Real
We are all aware to be vigilant of our surroundings when traveling. We all tray to remain aware and in the moment.
But in Paris, the pickpocketers and scam artists are real. And very prevalent. And smarter and more cunning than us!
On a recent trip to Paris, 3 out of the 4 of us traveling together were victims of Parisian pickpocketers. I do not want that unfortunate experience to happen to you or anyone traveling with you.
And the police were very laissez-faire because I believe these violations of travelers' personal property and space are a regular occurrence.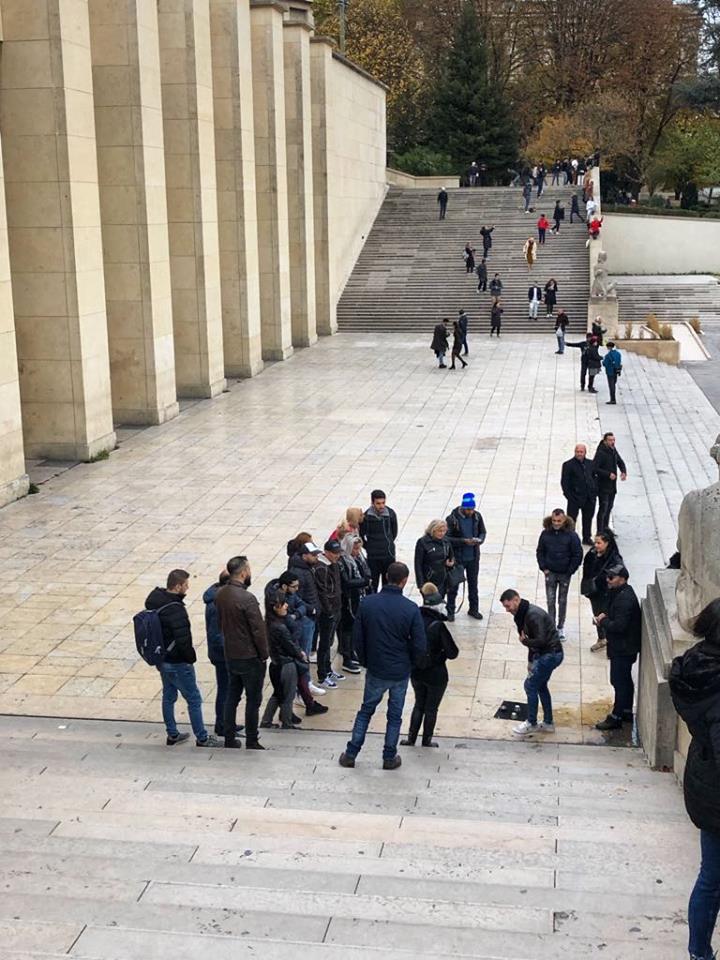 My daughter found a well-dressed young woman with her hand in my travel backpack on a very crowded street in Paris. In broad daylight.
I did not even feel her unzip my backpack! Thankfully we caught her in the act before she was able to steal anything from me.
Please do not have any preconceptions of who can violate you by stealing your possessions. Stay vigilant and alert. Hope you have more success than we did.
But it was a rude wake-up call that my backpack was woefully inadequate. This Travelon anti-theft classic backpack has locking zippers and RFID protection. Also, it has a slash-resistant handle and panels.
If a backpack is not your thing, how about this Travelon classic essential cross-body messenger bag. Again, it has all the anti-theft features of the backpack, but in a crossbody instead. And wow does it come in a ton of colors to choose from!
If you are looking for something larger, this antitheft travel laptop backpack is TSA-ready and comes with lots of protection.
I like that it has double zippers that you can lock together if you purchase some locks, (or even a paperclip would slow down a thief.) And you will not have to remove your laptop from it when going through TSA screening.
On Your First Time In Paris Enjoy Eating Out Even If You Have Dietary Restrictions
These days everyone has some kind of dietary restriction, allergy or request when it comes to eating out.
In our group of 5, there were 2 vegetarians, 1 vegan, and 2 omnivores. We were able to eat dinner at any Paris restaurant after long days of sightseeing, with no problems.
By all means, do not be afraid to notify the restaurant or cafe's waitstaff of your special requirement.
For me, it was being vegan. My daughters were vegetarian. Always ask for a menu written in English and ask for it to be explained to you. I never hesitated to ask for menu items to be veganized.
For additional information read Eating Vegan In Paris Is Easy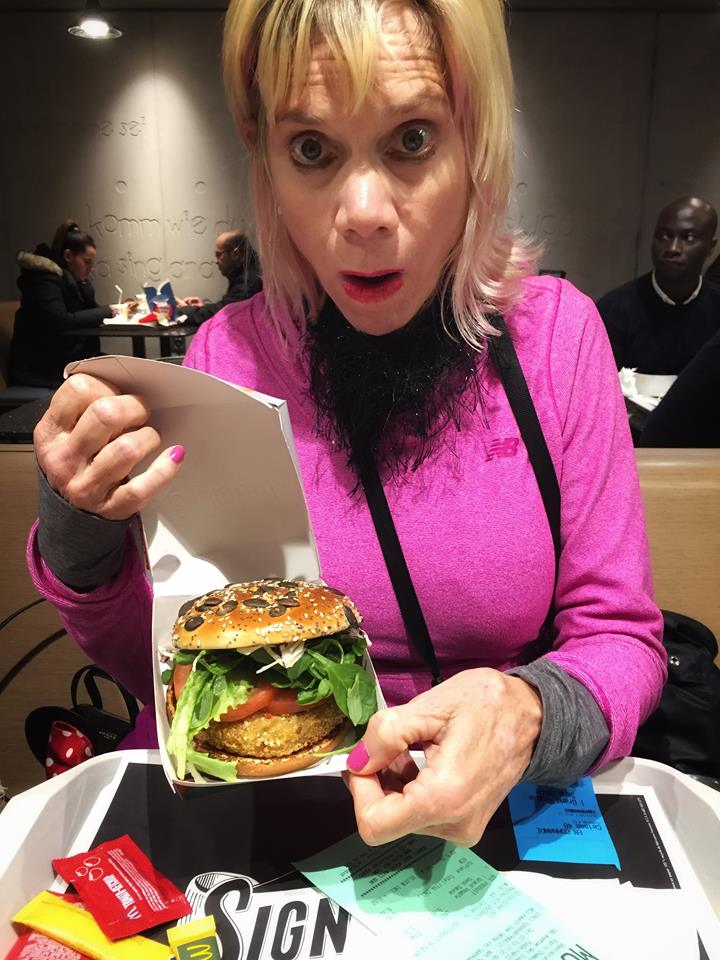 Do not be afraid to venture far and wide throughout all of the neighborhoods of Paris in search of that perfect foodie experience.
And do not forget fast-food restaurants. In Paris, even McDonalds serves something a vegan can eat!
Do Not Worry About The Language Barrier
During my first time in Paris, I knew very few French words and had absolutely no difficulty communicating with the Parisians.
The French know enough English that you will be able to communicate enough for them to understand. There are even translation apps you can download to your phone.
Notify Your Credit Card Company
Call your credit card company to notify them of your travel dates that you will be out of your country.
Check to see the credit cards you are currently using charge foreign transaction fees every time you are out of the country.
If it does, inquire about applying for a credit card that does NOT charge such fees.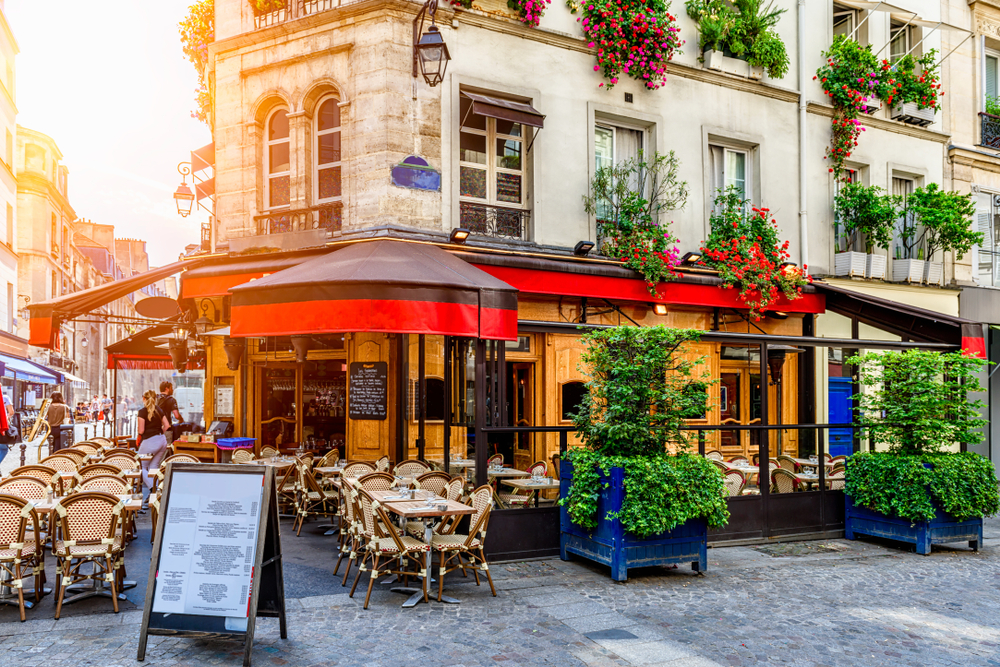 Packing Tips For Your First Time In Paris
I think that using these useful packing tips will enhance your trip to Paris and help you remain organized while there.
Looking for specific packing recommendations? Read this next: How To Pack Lightly Using Only Carry On Luggage.
A concealed travel pouch may be one of the most important items you bring during your visit to Paris. This unisex RFID blocking concealed travel pouch is lightweight and comes in several colors.
It has lots of organization to give you peace of mind. You can keep your most valuable documents safe and secure next to your body.
If you have a pouch already you may not want to or need to invest in a new one, like me. If it does not come with the RFID protection, these RFID sleeves would be handy to prevent identity theft.
This configuration comes with enough passport and credit card sleeves that the entire family would be protected. They are slim too, so they will easily fit into your current pouch or wallet.
Don't forget to bring along a universal power adapter on your trip to France. This worldwide power plug is a great example and will charge your phone at the end of your busy days.
And this world traveler adapter kit can charge several devices at the same time.
This is what you will need when there are several people traveling in your group, or if you bring several electronic devices on your trip that require charging at the same time.
If you are planning on taking a lot of pictures with your phone you will definitely want to consider an external charging battery.
This Anker high-speed phone charging battery is the exact one I carry with me on all of my trips. It can be used on a variety of phones, not just an iPhone like I have.
And wow is it fast! I like that it holds its charging capabilities for several uses so I do not have to worry about it while out and about. And if I forget to recharge it at night, it will still be good to go the next day.
My daughter gifted me with this FugeTek Selfie Stick and Tripod for my birthday. It has Bloothtooth connectivity so it is very easy to use.
It is made of durable aluminum and is very lightweight and easy to carry. I love mine and I think you will enjoy it too!
I was never a fan of packing cubes until I tried them out! Now I am sold. These Bagail packing cubes are the exact ones I use whenever I travel. I cannot believe how much more organized I am now!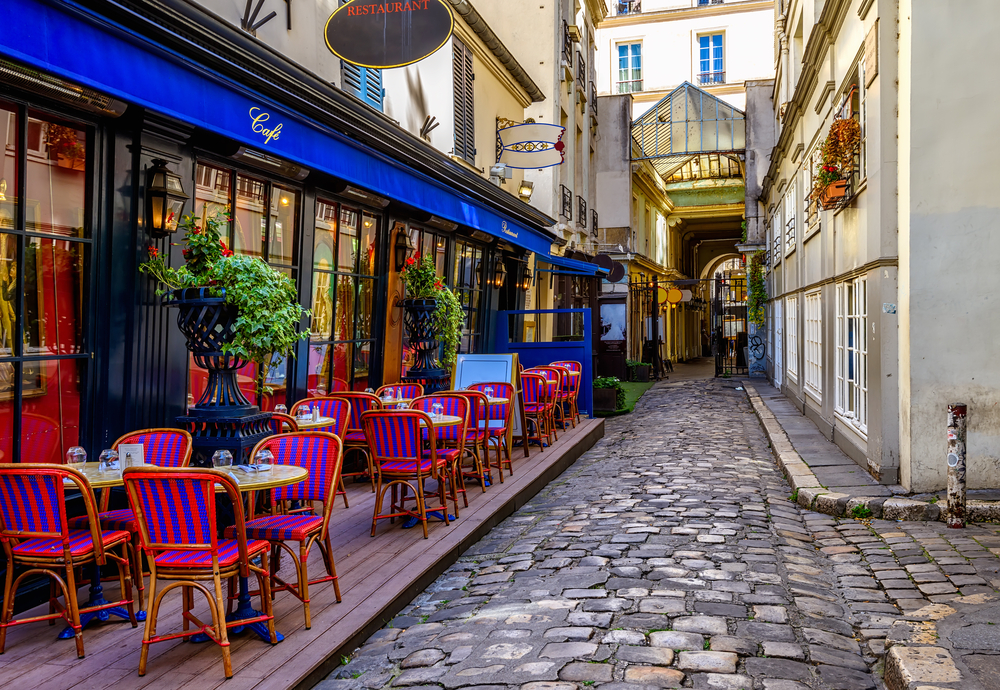 Hydration is so important. You want to remain hydrated to support your immune system which in turn will be stronger to fight off any germs you will encounter during your travels. You will want to bring your own refillable water bottle with you.
I never leave home on a trip without my Bobble filtration bottle. The 18.5-ounce size is perfect for travel and it will fit nicely in the pocket of a backpack or your purse.
The replaceable carbon filters ensure fresh water.
You will want to bring a backpack or daypack with you to store snacks, your water bottle, phone, extra clothes, etc.. This foldable water-resistant backpack would be great.
It is very affordable and is available in many color options for you to choose from. The fact that it folds down into a zippered pouch will make it easy to pack.
Perhaps you need a more substantial backpack for your international travel. This antitheft backpack has a charging port, is water-resistant and can comfortably carry up to a 15.6″ laptop.
It comes in a range of colors to choose from and it is inexpensive as well.
You will be walking more than usual when visiting Paris. A sturdy and comfortable pair of walking shoes is a must-have.
These waterproof all-season shoes are extremely affordable and yet fashionable. Mostly everyone is familiar with the Skechers brand, and these Air Run high fashion sneakers come in a lot of colors to match your outfits and are still affordable.
You may be visiting Paris in warmer weather, and you may want a pair of sandals to wear exploring. I highly recommend these Vionics adjustable strap orthotic sandals.
I have several pairs of these exact Vionic sandals in several colors that I bring with me *everywhere* I travel. They are very comfortable.
I also sometimes bring along my Vionic Tides flip flops. The toe post is so comfortable which makes wearing these super comfortable.
Bring a lightweight scarf or shawl. Scarves and shawls are very popular in Europe, especially in Paris. Both men and women wear scarves, both decoratively and as a layering piece to keep warm.
This cotton unisex lightweight scarf is versatile and can be worn in any season.
We all need to protect our eyes from the sun's harmful UVA/UVB rays. These unisex polarized sunglasses come in a lot of lens colors and frame designs and are extremely affordable too.
If you are fond of the aviator-style of sunglasses these polarized aviators may interest you. I like polarized sunglasses because they remove the glare and help you to see things more clearly. This will be very helpful in Paris.
If you are in need of new luggage, this expandable soft side spinner luggage is affordable and comes in lots of colors. If you like hard-sided better, then you may favor this hard-sided luggage set better.
Both sets come with TSA-approved zippers locks and 8 wheels per piece. Either will be great for the plane or train or even your car depending on how you plan to travel to Italy.
I know my 7 tips will help you plan an outstanding first time in Paris trip! If you are reading and you have already visited Paris, please add any tips in the comments section below that helped you during your first time in Paris!
Pin this post: