Looking for an easy 10 minute sweet and sour tofu recipe?
As an athlete, mostly always in training for one competition or another, nutrition is extremely important to me.
All of my coaches taught me the necessity of consuming some form of protein within thirty minutes of completing a training session. Enter tofu!
I love tofu. It's such a neutral food, a blank canvas, that absorbs the flavors of anything it's mixed with.
Here is one the easiest, (only a few ingredients, most of which you already may have), quickest (takes only a few minutes to make), and yummiest (look at the pictures!!!!) tofu dishes I make: Sweet and Sour Tofu.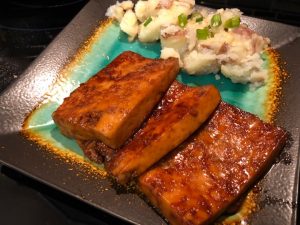 Easy 10-Minute Sweet and Sour Tofu
Ingredients:
1 tub/block of tofu
1 tablespoon of oil
1/4 cup maple syrup
1/4 cup soy sauce
Tofu is usually packed in water and must be drained for it to absorb the flavors of the recipe.
I usually wrap my block of tofu in a kitchen towel and give it a good squeeze. Often I put a heavy object on top of it to force the water out of it.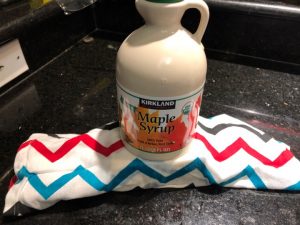 Slice the tofu in equal-sized slices.
Heat a large frypan on medium heat.
Add the oil to coat the bottom of the pan. Add the tofu and pan fry each side until the tofu has taken on a light brown color. (If in a hurry, this step is totally optional!)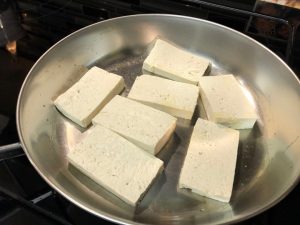 Next, add the 1/4 cup of maple syrup and 1/4 cup of soy sauce to pan. Reduce heat if necessary.
Flip tofu after a few minutes so both sides are coated. Cook until mixture reduces and almost caramelizes.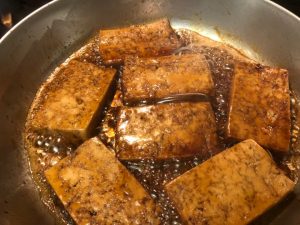 Sweet and sour tofu can be used in place of meat in sandwiches or served alongside a salad and potatoes. There's no wrong way to serve this dish!
This is so easy! Why not give it a try?
Have you ever made Sweet and Sour Tofu? Or, what tofu recipes have you tried? Do you like tofu? Please answer in the comments below!
Pin this post: