Are you thinking of taking a Holland American Mediterranean Cruise?
Are you in the planning stages of your next solo or family vacation? Are you considering a European cruise?
If you are, you have come to the right place, because I recently sailed Holland America Line on their epic  Mediterranean Legends Cruise.
I plan to share with you all the fantastic amenities and experiences that made my cruise so spectacular. I want you to put Holland America Mediterranean Cruise at the top of your list.
By the way, I am not easily impressed when I travel.
I carry with me a lot of requirements. As a fitness nut, is there access to a gym? Will there be a time and a place for me to run? How about the food?
As a vegan,  please do not tell me there are no vegan options or make me feel like it is an imposition to make me something vegan to eat. All cruises offer optional wifi when I travel but is it good, fast, and reliable?
I will address all these issues here and share my experiences with you so that you understand exactly what puts Holland America Cruises in a special category of its own!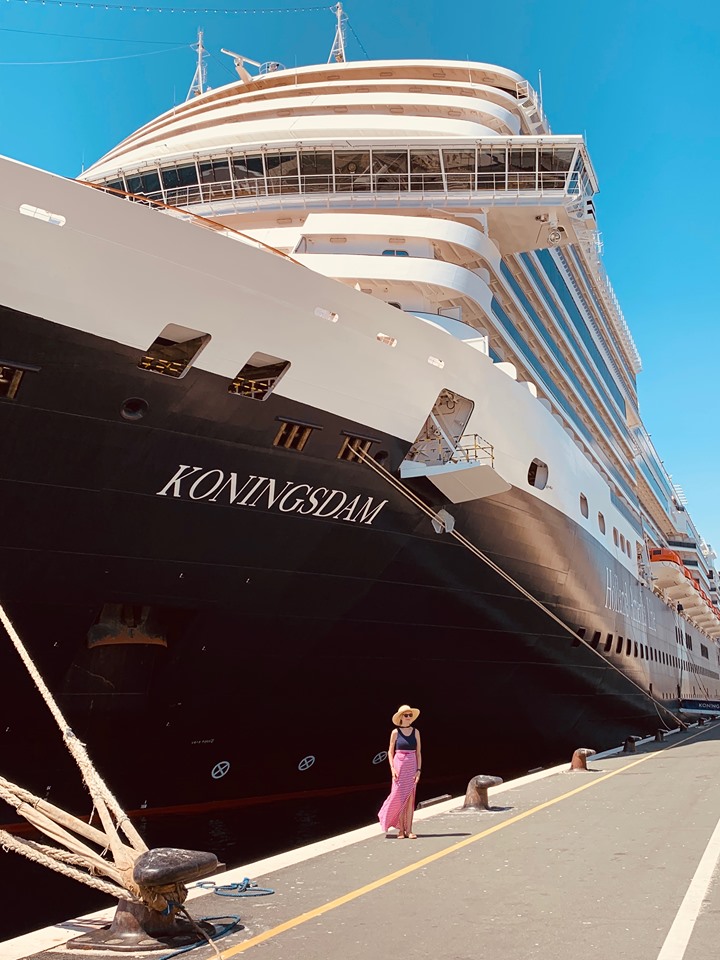 My Holland America Mediterranean Cruise. And Why You Will Love It Too!
I have not been on an ocean cruise for over 10 years. There was an abundance of stops our ship would be making during its 13 day Mediterranean cruise.
I was very interested in the ship I would be spending my time on. So, I will begin with my home-away-from-home, the MS Koningsdam, and give you a tour around!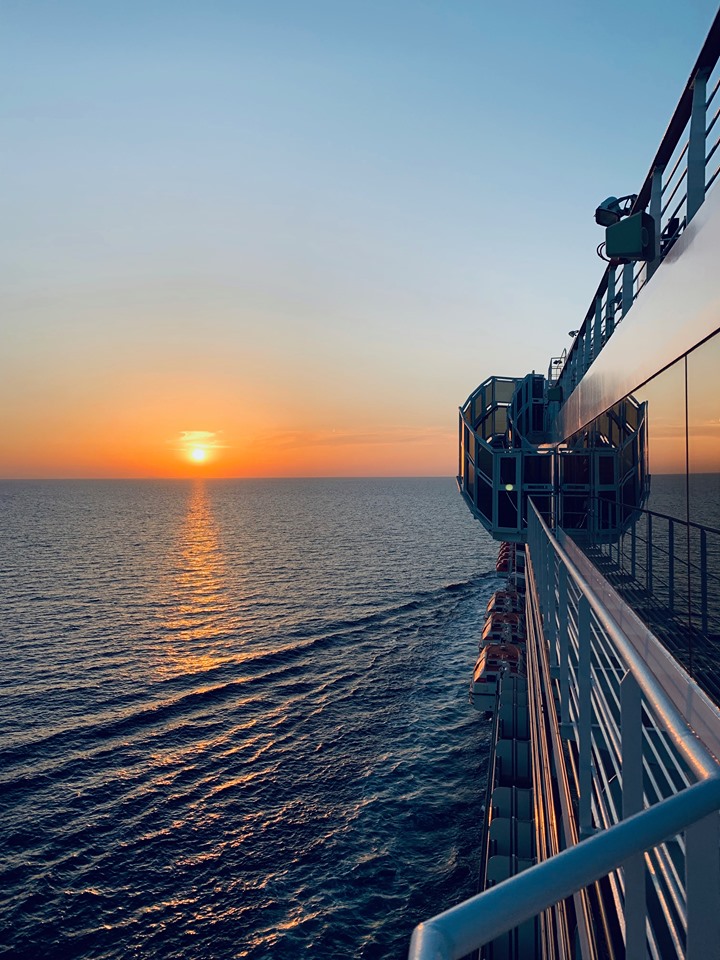 The MS Koningsdam
The first member of the Pinnacle Class of Holland America Line's ships, the Koningsdam has a guest capacity of 2,650.
Like me, all were ready to relax at a myriad of locations on board, and explore the world-class ports of call we would be visiting.
On my Holland America Mediterranean Cruise aboard the MS Koningsdam, there were 200+ children. 400 guests were from Australia.  There were a lot of solo sojourners like me, and over 40 countries were represented!
Suites And Staterooms Aboard The Koningsdam
There are many options to choose from when it comes to an amazing stateroom onboard the Koningsdam. The length of your cruise and your budget will probably be factors, along with who you may be traveling with.
Inside Stateroom: Between 143-225 square feet, this room is like its name, inside with no windows.
But really, how long are you in your room anyway? All the action is onboard or onshore.
You still have an abundance of amenities, like the signature Mariner's Dream bed with EuroTop mattress. And lots of storage, and a nice updated bathroom with premium massage showerheads.
Ocean View: Coming in at 175 t-282 sq ft., this room has all of the amenities listed above, plus a lovely window to view the world as you cruise past it. Or wake up to it each morning!
Verandah Stateroom: at 228-405 sq ft (including the verandah), this is the room I stayed in.
There were floor-to-ceiling sliding glass doors that lead out onto a very generous sized balcony, that I used every single day of the cruise. It was my own private sanctuary.
This category of room had a nice sized sitting area and desk to work at, plus all amenities listed already. Did I mention there is a flat-screened TV in all categories of stateroom?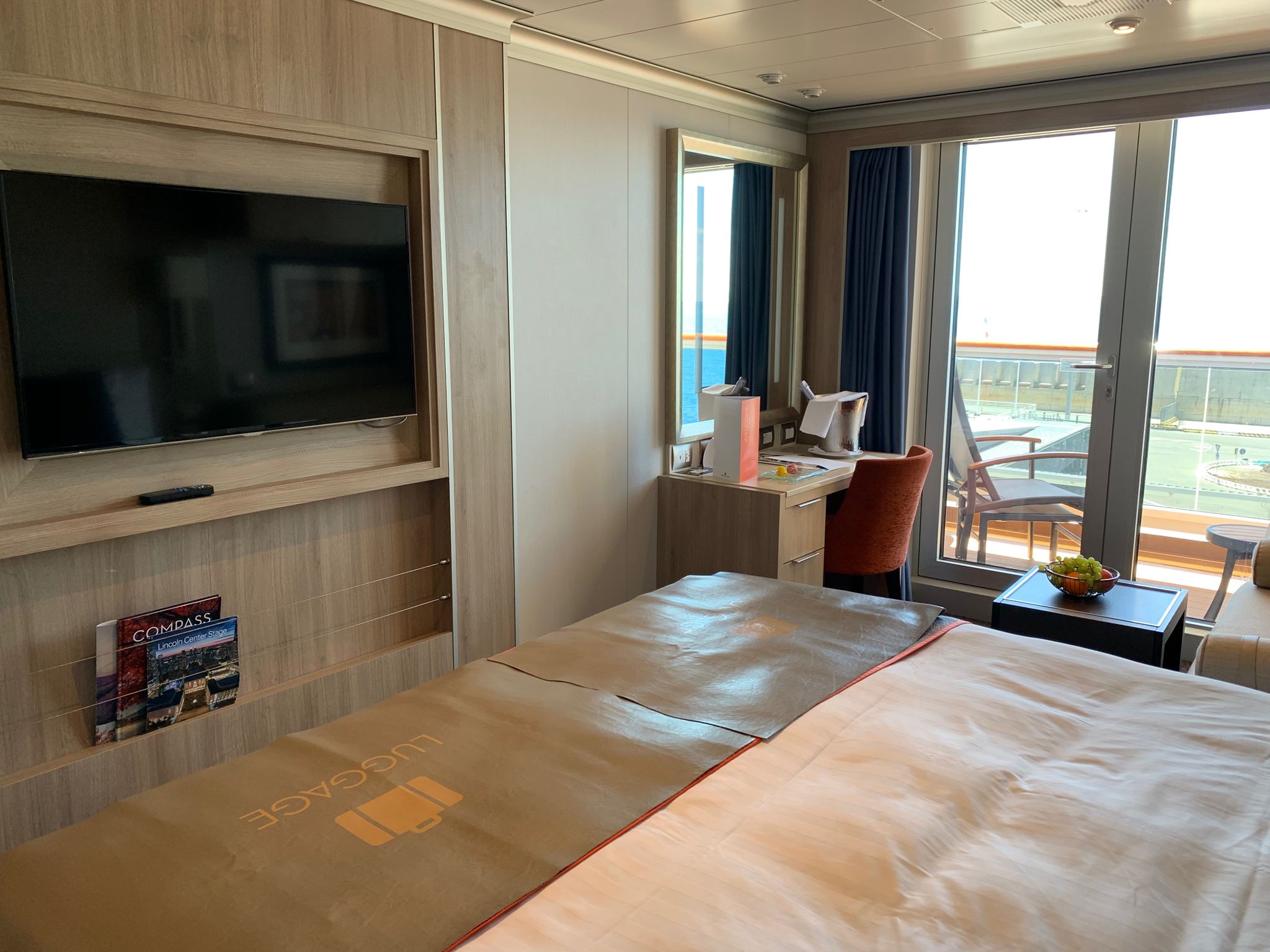 Vista Suite: 260-356 sq ft (including the verandah) this is a beautifully appointed suite with plenty of room to stretch out in and lots of storage space.
Signature Suite: 393-4– sq ft (including verandah), an even larger suite with added sleeping areas for additional guests. There is also a full-sized whirlpool tub in the bathroom and generous-sized sitting areas.
Neptune and Pinnacle Suites: these are of course the creme de la creme, the best of the best. They are the largest, and come with additional amenities like a private concierge, and use of the exclusive Neptune Lounge.
Here are some of my tips on how to pack lightly and smartly for your Holland American Mediterranean Cruise.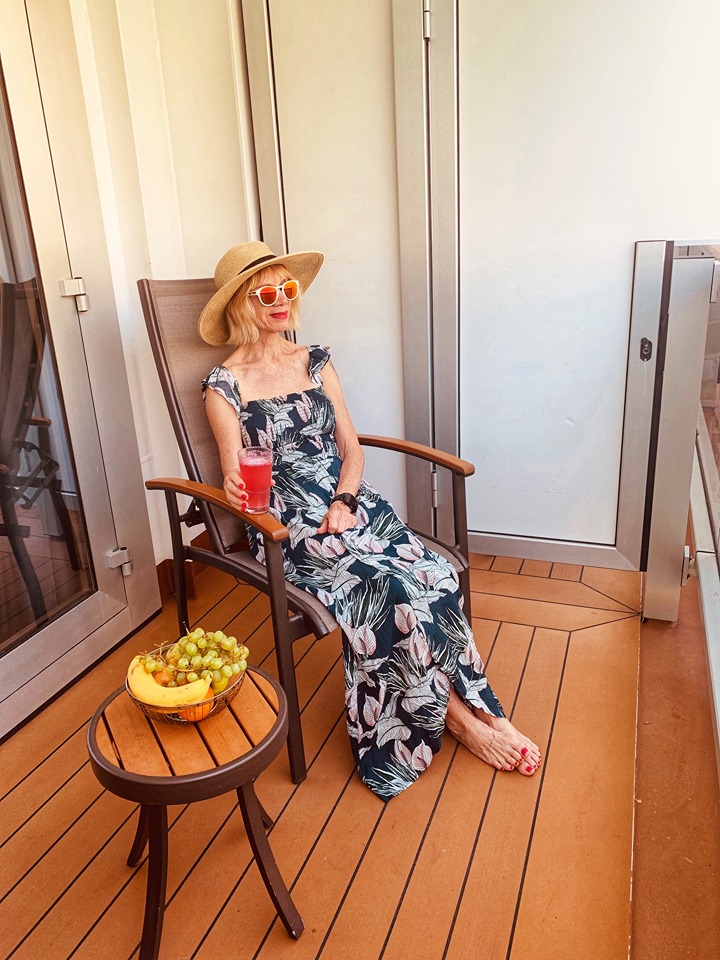 Tech Amenities
Every stateroom comes with a flat-screened television with a remote control to enjoy. There were live cable news shows, movies, and tv shows to watch.
Also, the television was a great communication tool to stay informed about the cruise, where we were, where we were headed.
You were able to sign up for shore excursions from the convenience of your stateroom or review your onboard charges in real-time.
Internet 
An internet package while onboard the Koningsdam is something you may or may not want to pursue. During my cruise, I had the Premium option.
The Koningsdam uses satellite internet, and it was remarkably reliable.
If like me, you do not want to give up your social media channels. More importantly, you may want to have the comfort of being in touch with work, family or friends back home while onboard.
Then I would highly suggest you look into one of the several internet package options Holland America Mediterranean Cruise Line offers.
Please be advised that there may be times when the internet is out, or slower than usual, that comes with cruising. On this cruise, those spots were very few and far apart.
I can share that I was overall very pleased.
Navigator App
For the ultimate in convenience and ease, Holland America recommends guests download their Navigator application to their phone.
Everything related to you Holland America Mediterranean Cruise can be easily found on the app.
I find some apps on my phone are difficult to understand and not at all easy to learn. Not the case with the Navigator application.
It was very easy to use and an invaluable resource all throughout my Holland America Mediterranean Cruise. It is a must to download!
Outlets
What had me calling Holland America several times before my cruise, was to inquire as to what kind of electrical outlets would be in my stateroom.
Would they be American outlets, thus compatible with all my electronic devices? Or would they be European outlets, meaning I would have to bring universal converters with me from home?
Happy to share, that the staterooms, had BOTH types of electrical outlets, and plenty of them. I brought my laptop, cell phone charging cord, and cell external battery charging cord.
And there were plenty of outlets for all of my devices.
Stateroom Safe
All staterooms come with a safe. I personally kept my passport locked in the safe and used my driver's license for identification whenever I could.
I also locked my laptop, credit cards, etc in the safe when I was out festivating on board or in the spa, etc.
Refrigerator
Yes, all staterooms come with a refrigerator. I used mine to store fresh fruit and keep my bottled water cold.
I was very happy to have that refrigerator on hot afternoons when I returned from an outdoor excursion!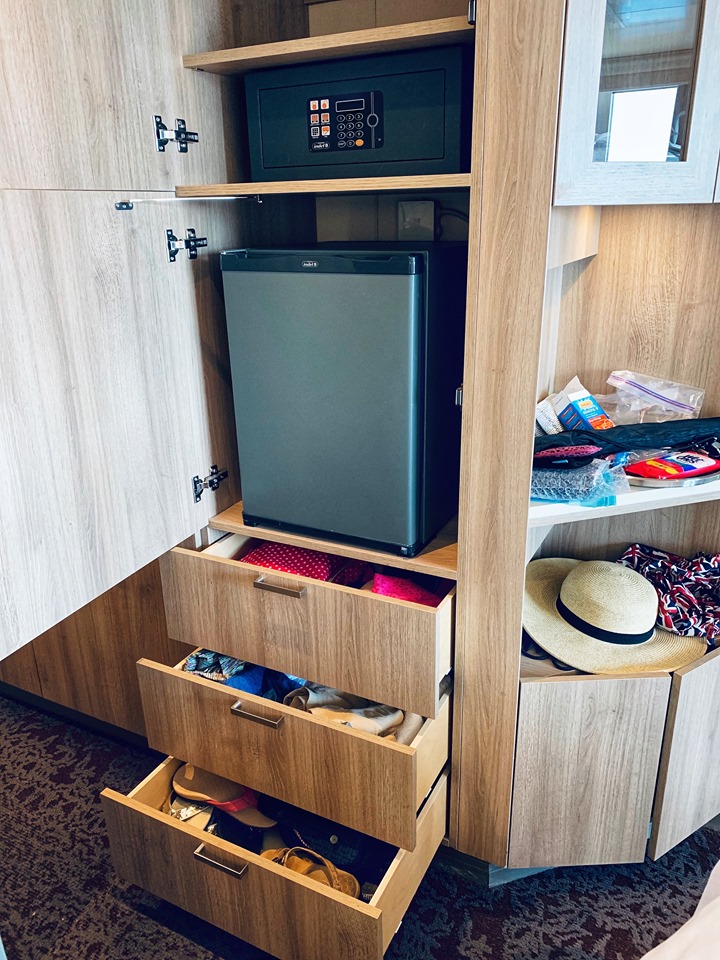 The Food And Where To Find It During Holland American Mediterranean Cruise
Part of the fun of a cruise, is the food, of course! It is how we nourish our bodies and our spirits. It is how we make friends while onboard.
Eating is when we reconnect with our family and happily share our experiences.  And the Koningsdam had an abundance of locations to eat and I want to tell you, the food was fabulous!
If you have dietary restrictions or food allergies of any kind, the culinary staff is eager and well-equipped to deal with them.
As a vegan, I was treated no differently than anyone else in my dining party and served top-notch food plated expertly, a feast for the eyes and the stomach.
Once I identified myself to the culinary staff, I was in expert hands. There was a dedicated vegetarian/vegan menu.
I could order each morning from that specific menu and have a delicious meal that evening.
Fine Dining Options On Your Holland American Mediterranean Cruise
The Main Dining Room
Always the most popular location for fine dining lunch and dinner, the main dining room is where most guests head to for a sophisticated ambiance to match the gourmet dining.
Unlike the olden days, you do not have to have a firm dinner reservations to eat in the main dining room.
There still is early and late dining reservation options, that I would say the majority of guests use. However, there is an ample section of the main dining room that is dedicated to "drop-in" dining guests.
It is always better to have reservations of course, but 'drop-in' dining is an option for you. On those days when you will arrive back later from a shore excursion or plan to participate in a game or watch a concert, the drop in dining option is always available.
There are also fabulous gastronomical experiences to be had onboard the Koningsdam that are an additional charge.
Perhaps to celebrate a special event, birthday, or anniversary.  I was fortunate enough to dine in them all.
And I will reiterate, having a dietary restriction, (I am vegan) did not challenge the world-class chefs at al!
The Pinnacle Grill serves impressive food in a beautifully intimate setting inspired by the Pacific Northwest.
Canaletto is an Italian Restaurant that served the most authentic Italian food I have ever seen. And I know because my mom was Italian! This food was extremely impressive.
Tamarind was by far my favorite fine dining restaurant. It was beautifully appointed and it offered an impressive and exotic menu of Asian foods.
Rudi's Ser De Mer lovely French food options to impress anyone!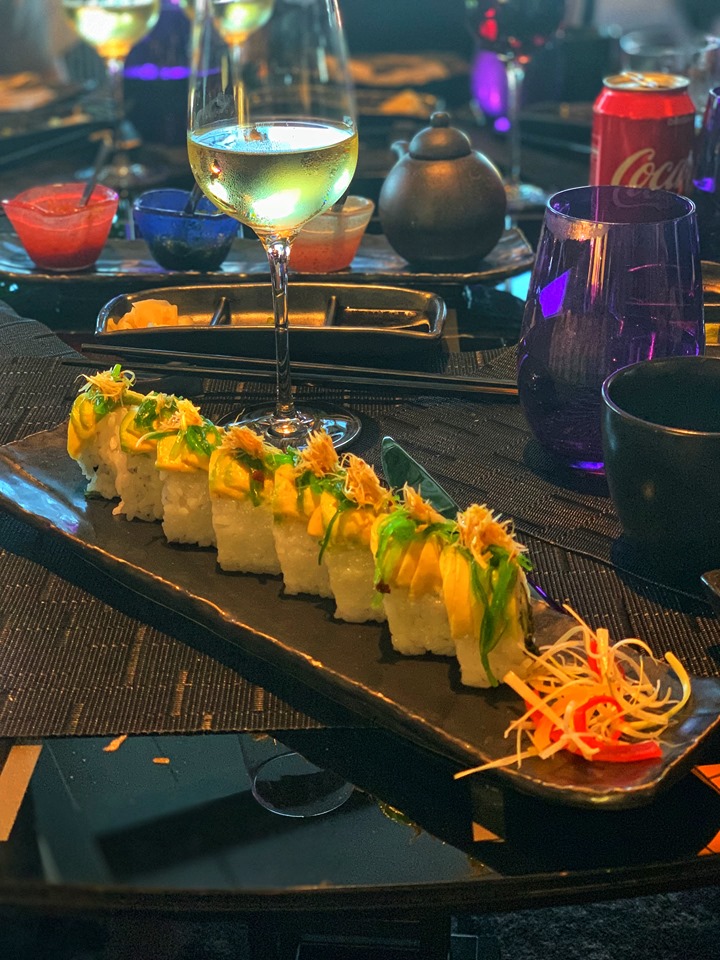 Casual Dining On Your Holland American Mediterranean Cruise
Ok, let's face it! You are on a cruise. Some days you may not feel like dressing up for dinner. Or simply do not want to go to dinner.
There is something appealing about lingering at the spa or the pool, right? Well, the Koningsdam has you covered.
Lido Market
Located on the Koningsdam's Lido Deck on the 9th floor, the Lido Market was arguably one of the most popular casual places of all to eat.
Breakfast, lunch, and dinner all had extravagant displays of foods from all lands.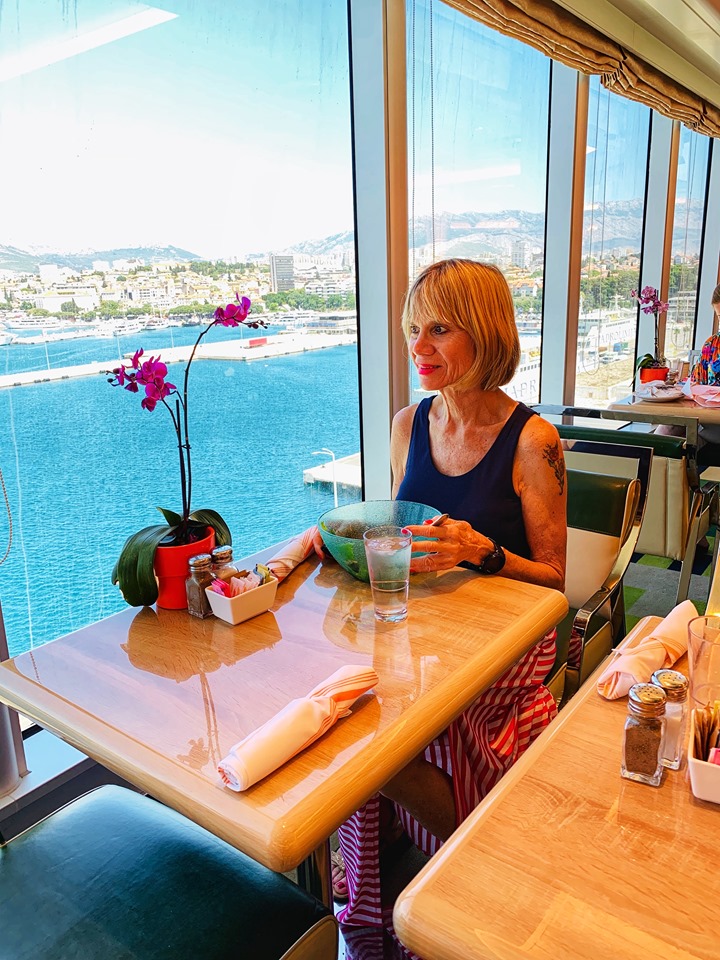 Located on both the port and starboard sides of the Koningsdam, the buffets on each side differed slightly from each other.
And you could find anything and everything under the sun that your heart and your tummy desired. I had lunch almost every day at the Lido Market.
I loved the Asian bowls and salad bowls. And my favorite, the pretzel rolls! Yikes….! The Lido Market was located right next to the spa and I could not resist!
Dive-In
For those days when lounging at the pool was the plan, Dive-In was a great choice for a burger, hot dog or fries poolside!
There was even a vegan burger that I had that was simply scrumptious!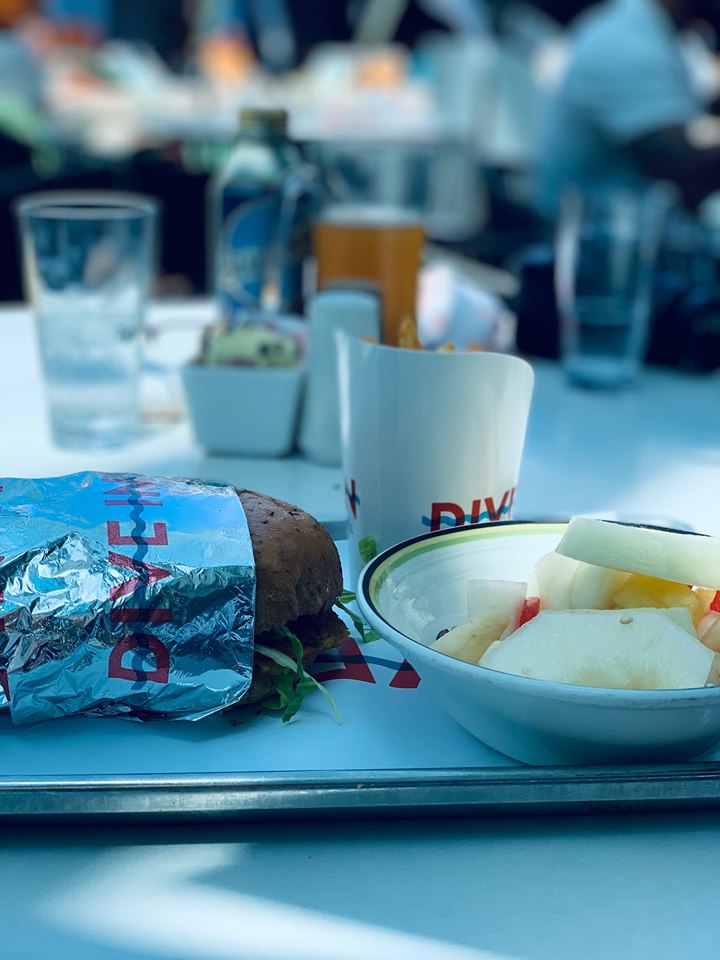 Grand Dutch Cafe
Giving homage to Holland America Line's Dutch heritage, the Grand Dutch Cafe was a great casual location to hang out and enjoy a pastry or gourmet coffee. An additional charge required.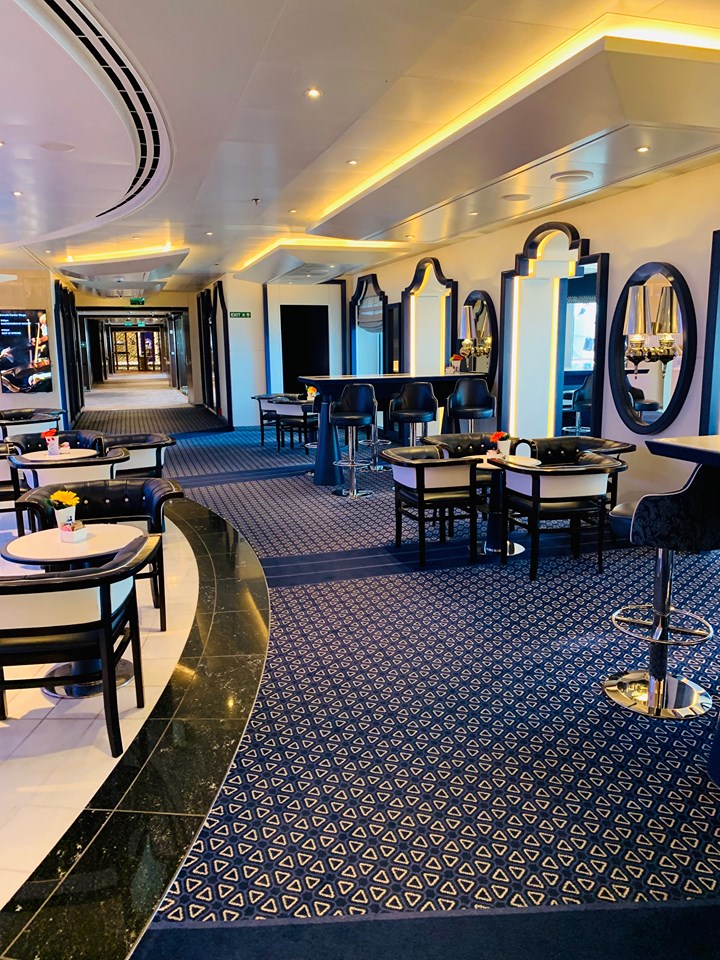 Gelato
Need a quick snack? Head to the Gelato Bar! Additional fee.
In-Room Dining
Probably the most decadent of things to do while cruising is ordering room service. Can you even imagine? Available 24 hours, around the clock, you can order just about anything to be delivered to your stateroom!
Entertainment On Your Holland American Mediterranean Cruise
Now we are talking, yes? It is a cruise, and we want to have some fun, right?
Well, the Koningsdam offered a wide variety of entertainment options and there was arguably something to please everyone. Some options were early evening, and some were well into the night.
Located on Deck 2 of the Koningsdam was the Music Walk, where guests had the option of spending their time at one venue or move about and enjoy several venues during their evening.
BB King's Blues Club
This venue was by far my personal favorite! I closed it down several nights during my cruise. The BB King's All-Star Band was exceptional.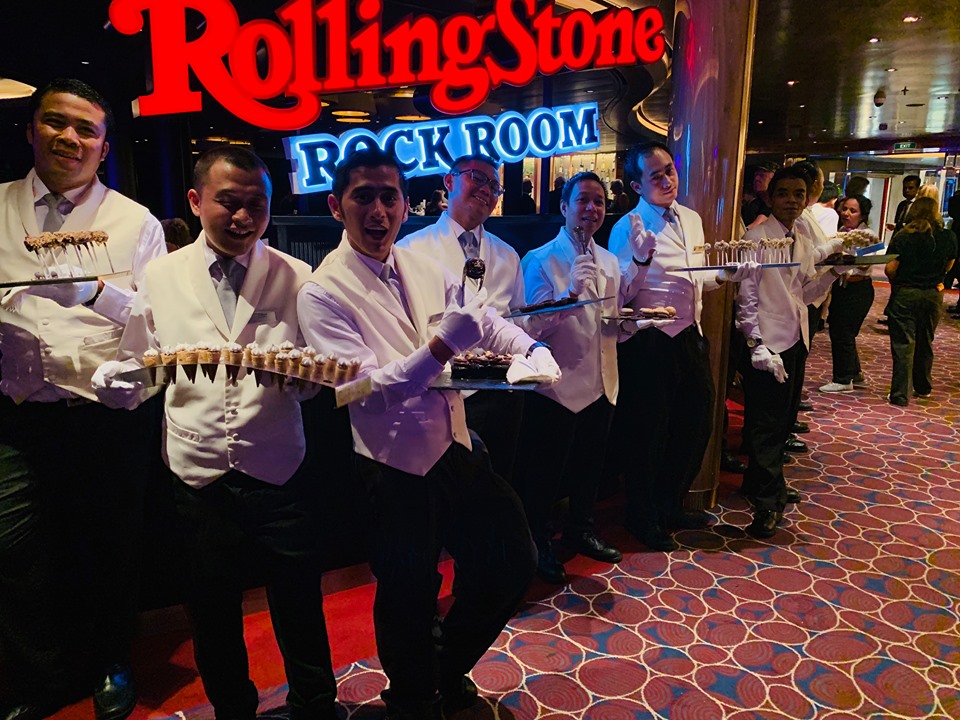 Late-night partying makes guests hungry! There was always an array of finger foods served late at night all along the Music Walk by a very friendly Holland America Mediterranean Cruise staff!
Billboard Onboard
Located a few steps away was Billboard Onboard. This was my second fave entertainment act.
I spent many an evening singing along with the two dueling piano players that complemented each other perfectly. They were amazing!
Lincoln Center Stage
World-class live chamber music orchestras entertained guests here.
Rolling Stone Rock Room
This live performance band played rock music nightly and was very popular.
World Stage On Holland American Mediterranean Cruise
The best that the entertainment field had to offer was presented here. I watched several shows here and was dazzled and impressed beyond expectations.
Authentic local dancers, popular singers, and an immersive entertainment movie experience were a few of the acts I was fortunate enough to see.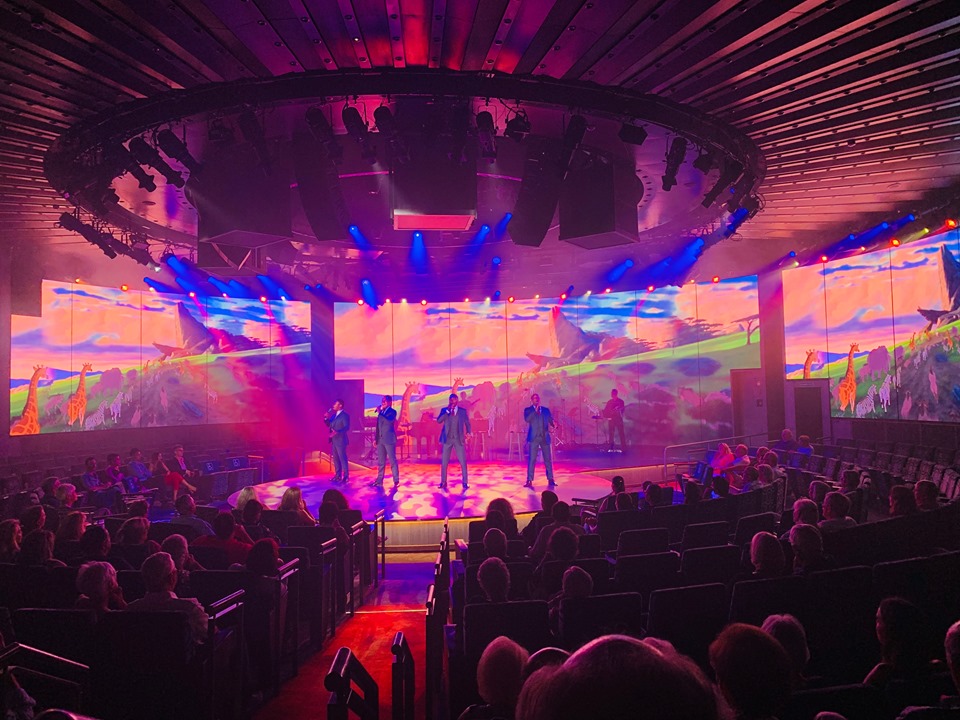 Blend
I am not a wine drinker yet I was eager to participate in a wine blending class during my trip.
At Blend, guests receive several wine samples set before them.  Then explanations about each individual wine from a highly trained sommelier and a sample test tasting of each followed.
My Blend experience consisted of learning about and tasting several types of red wine and them blending my favorites to create a new wine specifically crafted to my own tastes.
Finally, we had the opportunity to blend all our wines into a wine that suited our individual taste. The newly created bottle of wine could be taken to dinner to enjoy later on.
That was the fun part! Additional costs required.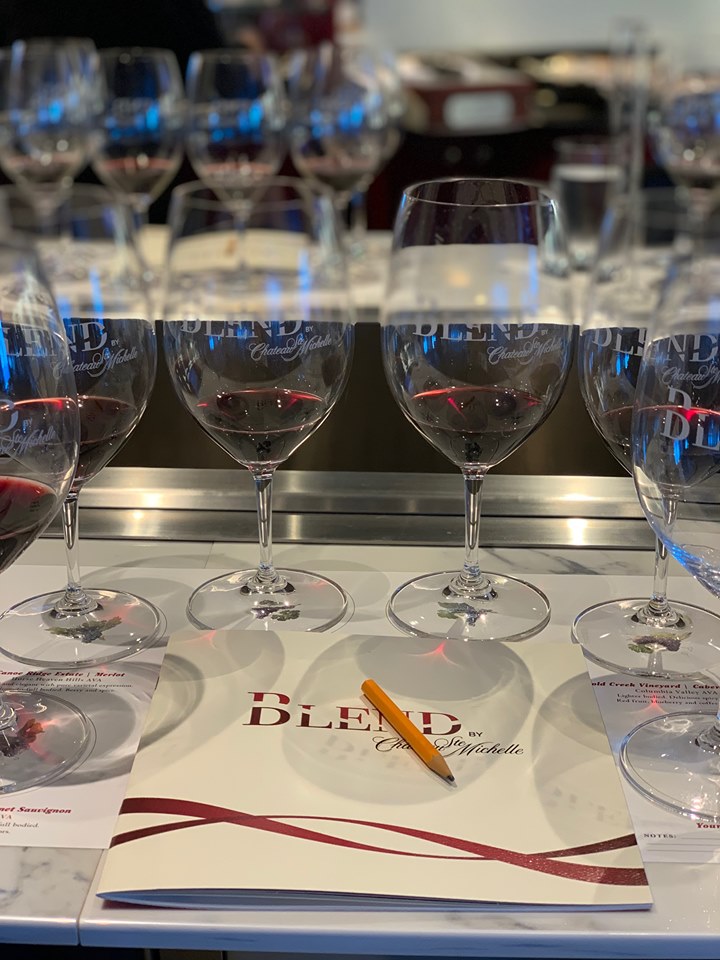 Fitness Options On Holland American Mediterranean Cruise
I just feel better when I exercise. Are you the same way? I was so delighted with the fitness options onboard the Koningsdam.
The Fitness Center
Located on Deck 9 forward, was the Fitness Center that rivaled my hometown gym.
It had current up-to-date equipment and free weights. There were elliptical machines, and plenty of my favorite pleasure, the treadmill!  There were loads of bicycles as well.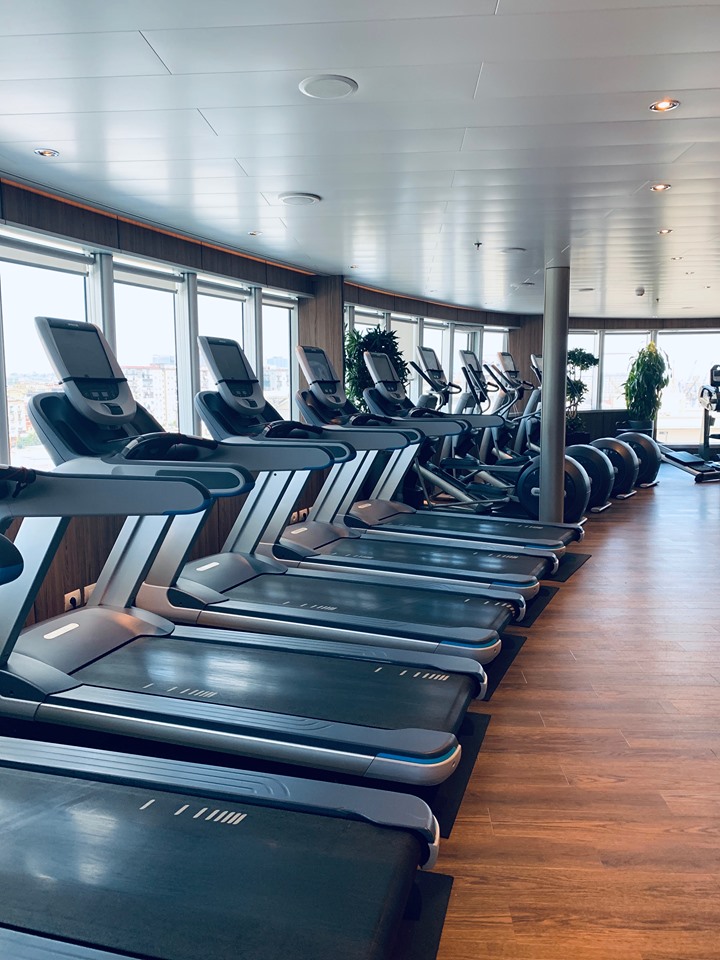 Personal trainers were always on hand to assist. And there was always a full day list of scheduled activities, from morning to evening that guests could participate in.
For example yoga, stretching, and instructor-led classes.
I was very impressed with the fitness center and very grateful to be able to use it. It was a very busy place so I think my fellow travelers thought the same!
Walking Deck On Holland America Mediterranean Cruise 
If a formal gym does not interest you but you still want to get in a good workout, on Deck 3 there was a fabulous walking deck.
It was really popular and lots of guests got their daily steps in walking or power walking on Deck 3!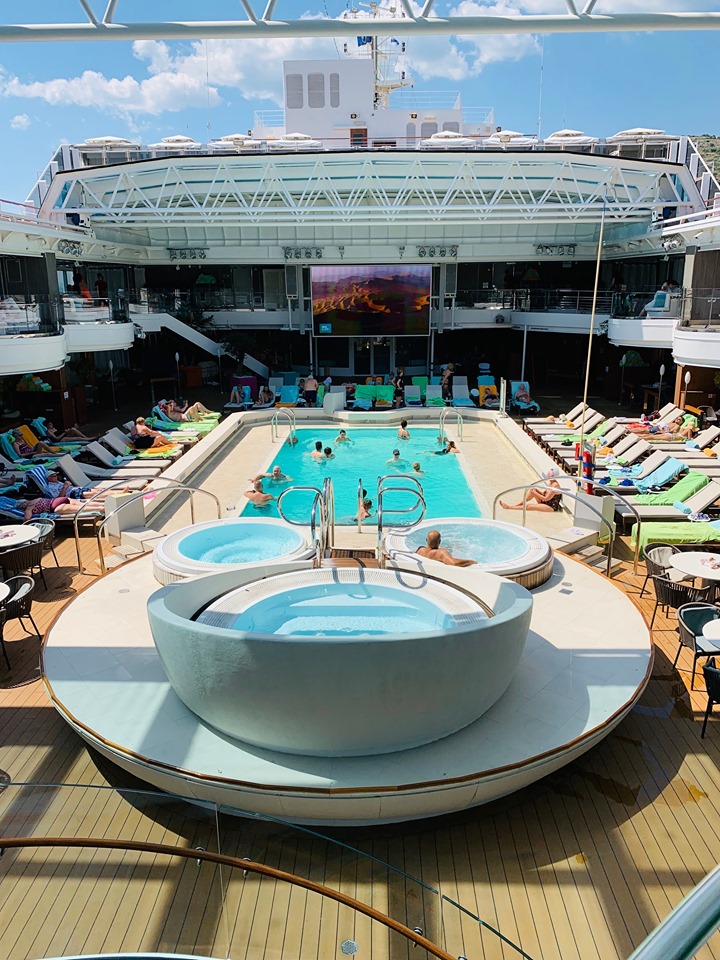 The Greenhouse Spa & Salon
Located on Deck 9 the impressive Greenhouse Spa & Salon was a very popular destination for a lot of guests.
Massages, manicures, pedicures, and hairstyling were just a few reasons it was so frequented by guests.
I treated myself to the thermal spa package recommended by my daughter Victoria from Follow Me Away. I am very glad I decided to take her advice and pamper myself because it was an extremely wise decision for me.
I purchased a pass for the duration of my cruise and I visited the thermal suite almost daily.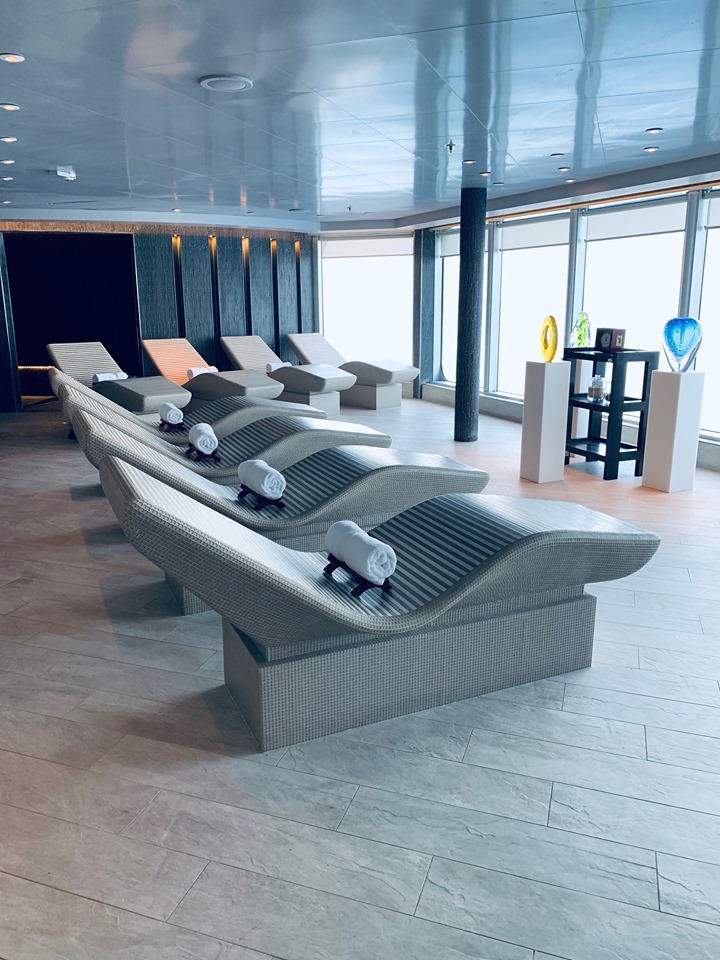 The aromatherapy steam room was my favorite place to hang out. It had a huge window that allowed me to watch the world as we sailed by it.
The thermal chairs were the perfect place to sit and relax after a workout or long shore excursions.
The floor-to-ceiling windows of the thermal suite brought the outside in and it is an experience I shall never forget!
The Itinerary And Shore Excursions
Most likely you will select your Holland America  Mediterranean Cruise because of its itinerary.
For me, visiting the exotic and unbelievable ports of call in Italy, Croatia, Greece, Montenegro, and Malta was a dream come true!
On this itinerary, you can see the best sights in Montenegro and experience the best food to eat in Greece!
There was so much history and authentic culture in each of those countries.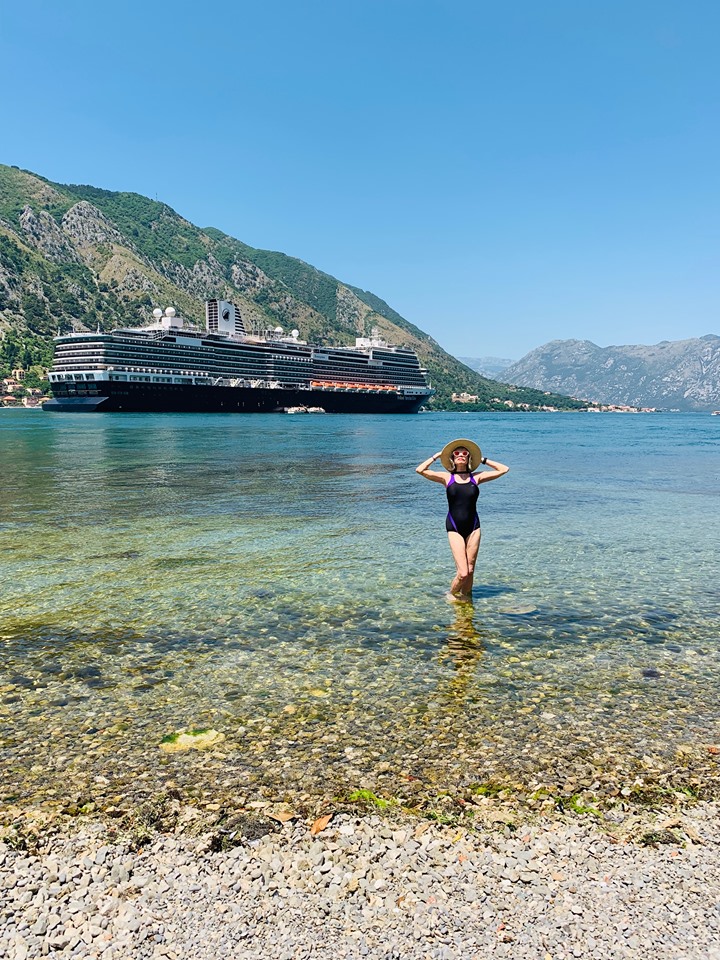 Through the shore excursions offered on the MS Koningsdam, I learned about each specific country's past and how it is dealing with it today.
Plus, the Holland America Mediterranean Cruise Legends itinerary visits some of the most jaw-droppingly beautiful places in the world!
There were no intercom announcements in your stateroom during the cruise. No "good morning" announcements, or "it is time to leave" warnings… (Of course, in case of an emergency there would be.)
A guest's comfort and privacy are the utmost priority for Holland America Line. If you wished to have the announcements heard in your room, that was possible through the television, using your remote control device to activate it.
The shore excursions desk was open daily and was located on Deck 1.
A guest could stop by to visit the experts or call them on the phone. Also, via the remote control, a guest could learn all about the shore excursions coming up and sign up for them in the comfort of their own room on their television.
And, do not forget the Holland America Mediterranean Cruise Navigator app!
With the turndown service, a daily activities sheet was left for each guest for the next day in the stateroom.  My daily activities sheet was the full itinerary of activities on and off of the Koningsdam from morning until night.
Tickets for the excursions I  selected were either given me when I booked them at the excursion desk. Or left at my stateroom the evening before the excursion.
As there were multiple excursions every single day, I had to pay attention to the time I was required to be at the meeting location.
On the Koningsdam, it was usually the World Stage, but not always. There was always plenty of staff around to direct a confused or lost passenger to the proper spot.
Holland America Line has their once-in-a-lifetime excursions categorized to make selecting the perfect option for you and your family easy.
Encore Collection are options for guests who perhaps may have already visited a locale and want to discover what is beyond the popular attractions.
Cruise With Purpose Option are tours designed to benefit the local community.
World Wonder options highlight the historical and architectural treasures of the location being visited.
Signature Collection is for those who like to plan independently. Private transportation is arranged by the cruise line in advance.
Medallion Excursions are designed to provide an in-depth perspective and elite activities for those discerning guests.
Overland and Overnight Options provide additional options because the sky is the limit for Holland America Line when pleasing guests!
All excursions were also categorized by activity levels. It was important to know how easy or strenuous the excursion was going to be. And wear the proper footwear.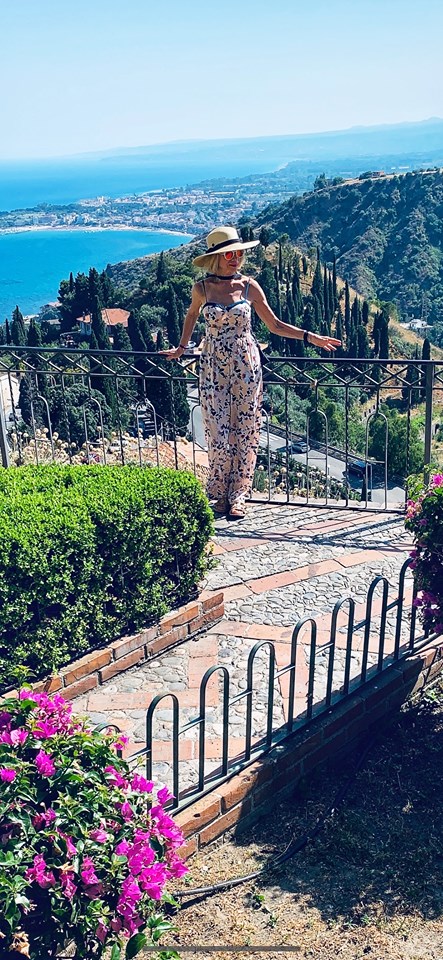 My favorite Italian city during my Holland America Mediterranean Cruise was Taormina, located high up in the mountains of Sicily.
I was persuaded by one of the knowledgeable Holland America excursion specialists to visit Taormina on one of the HAL shore excursions because I would fall in love with the city. I am so glad I followed her advice! Look at that view!
It was of paramount importance for the staff of the Koningsdam to be aware of which guests were on and off the ship at all times. At embarkation, guests were given their stateroom keycard.
It looked like a credit card. That keycard was our stateroom key to open the door, and also had onboard charging privileges because it was linked to our credit card.
Every time we left the Koningsdam, we had to present our personal keycard to be scanned by security. Upon arrival back to the ship, the keycard was scanned to signal our return.
We were then verified with the picture Holland American Line had of us in their passenger files and then permitted to reenter.
Next, for everyone's protection was a security scanner which everyone and their belongings passed through.
The Staff. The Backbone Of The Trip.
The food could be the absolute best. The excursions could be the most captivating.
The staterooms could be the loveliest ever. But none of the experiences I had during my Holland America Line Mediterranean Cruise would have been as special if it were not for the extraordinary staff.
The staff of the MS Koningsdam definitely exemplified what it means to offer unparalleled service.
Every single staff member, from the captain himself to the kitchen staff working behind the scenes, put forth extreme effort to make the trip so very special,
Finally, I must add that I spoke with several members of the staff and crew and one major theme emerged. And that was how much they enjoyed their jobs and were blessed to be working for Holland America Line.
They also commented on how wonderfully the cruise line treats them: with courtesy and respect.
Matter of fact, several mentioned when they are at their homes with their own families, they miss their cruise family and are anxious to return to them! This was very impressive to me.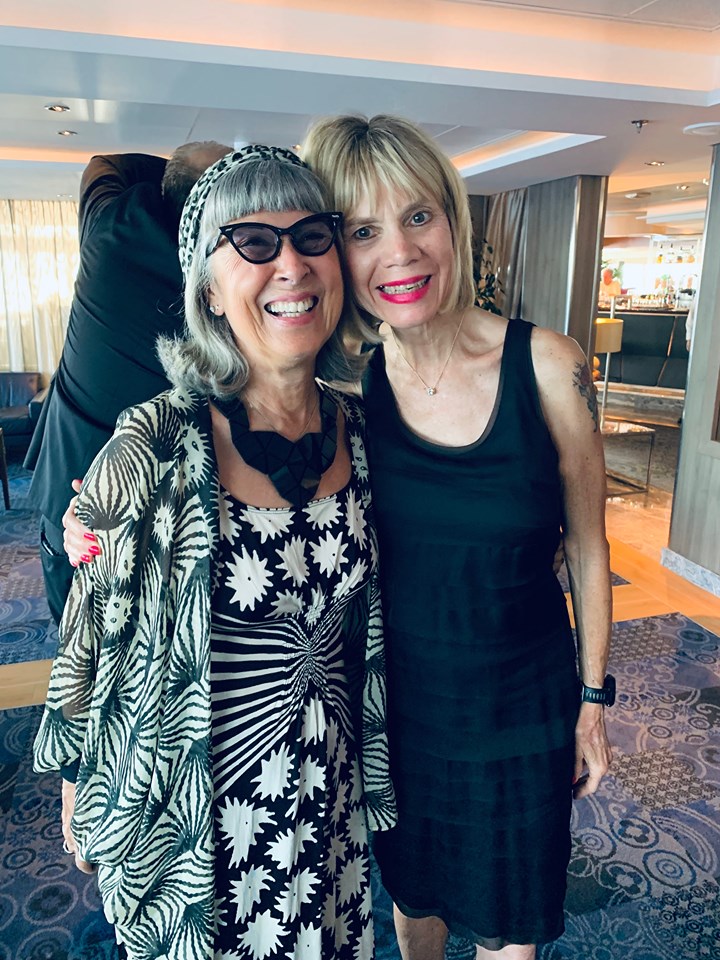 Here I am enjoying the epic cruise with my friend Suzie from Alternative Ageing.
Camp HAL
Remember those 200+ children I mentioned earlier?
Holland America Mediterranean Cruise had them and their parents in mind with Camp HAL.  Club HAL welcomes children from ages 3 to 17 to their own fully supervised hang out spot!
The professionally trained staff offers parents peace of mind while the kids have tons of games and gadgets to choose from.
Club Orange
Holland America Line has introduced Club Orange for discriminating guests who wish to elevate their cruise experience to the next level.
Priority check-in and disembarkation is just the beginning of the amenities included. There is an exclusive Club Orange restaurant dedicated to only those who have upgraded to Club Orange status.
On my cruise, I was fortunate enough to have Club Orange status. Check-in was a breeze and I was in the first group to disembark at the terminal.
I ate at the dedicated Club Orange restaurant, which offered the same awesome food as the main dining room, in a much more intimate and quiet environment.
Other features included dedicated Club Orange lines at the front desk and the shore excursions desk, which cut down on wait times immensely.
Many more amenities and upgrades will be available to you if you upgrade to Club Orange status.
An upgrade to Club Orange must be done before your Holland America Cruise, so discuss with your travel agent, or call Holland America for further information.
It was really convenient, saved a lot of time. And, let's face it, it is always so nice to feel extra special!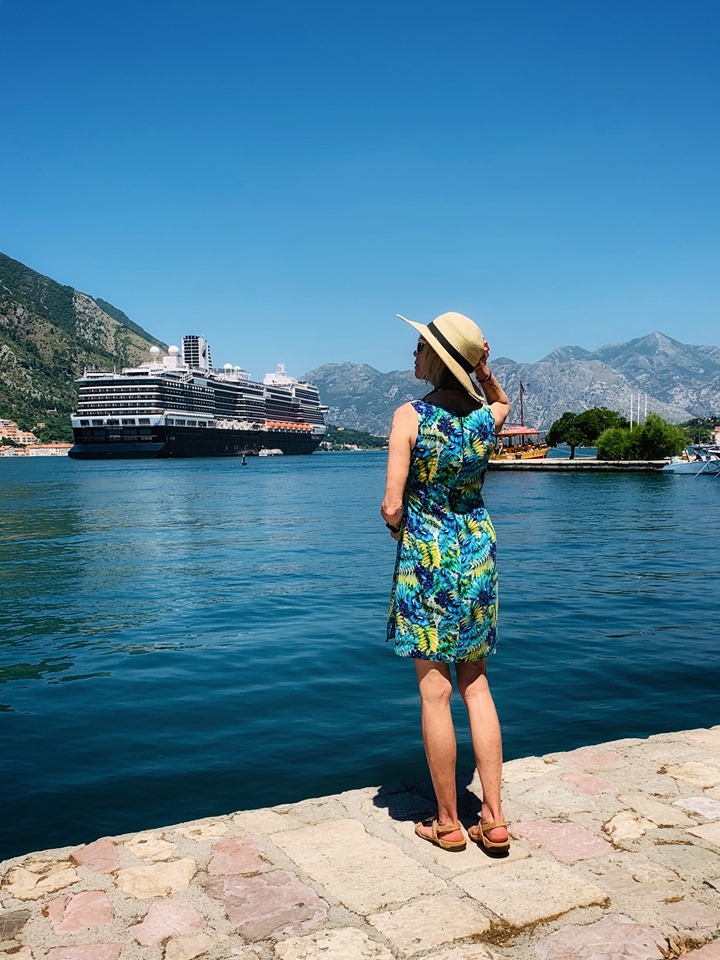 I will never forget looking over at the MS Koningsdam docked in Kotor, Montenegro. It was an amazing sight.
—
Sailing with Holland America Line on the Mediterranean Legends Cruise was a dream-come-true for me.
I now have wonderful memories from all the fabulous experiences I had during my time onboard the Koningsdam and have made many new and wonderful friends. I would like to thank Holland America Line for hosting me.
Have you ever sailed with Holland America Line? Please share any tips or memories in the comments section below. If you have any questions about  Holland America Line Cruises, leave them in the comments section as well.  
Please note: I was provided with a complimentary Holland America Mediterranean Legend's cruise for myself and a guest, and a stipend, as an opportunity through Holland America Cruises for this honest review. All opinions are my own.