If you're looking for the best things to do in Philadelphia Pennsylvania, then you've come to the right place!
Despite not being the capital city of Pennsylvania, Philly is the largest city in Pennsylvania.
Philadelphia is known for quite a few things. Like, for being where the Fresh Prince was born and raised, the home of NHL mascot Gritty, and the Philly Cheesesteak.
However, what the city is probably best known for is its extensive history and involvement in the Revolutionary War.
In Boston, they were dumping crates of tea in the harbor and fighting off the Red Coats.
But it was in Philadelphia that the Declaration of Independence was signed, where the Liberty Bell rang, and where the American Flag was constructed.
That makes Philly one of the top places to visit in the US if you are interested in American History.
Over the years, along with all that early American History, the city also became a popular place for artists, world-renowned chefs, and more to call home.
Because of this varied history, Philadelphia attractions are some of the best on the East Coast which is why you should definitely plan at least two days in Philadelphia.
That means that there are tons of things to do in Philadelphia that you absolutely don't want to miss.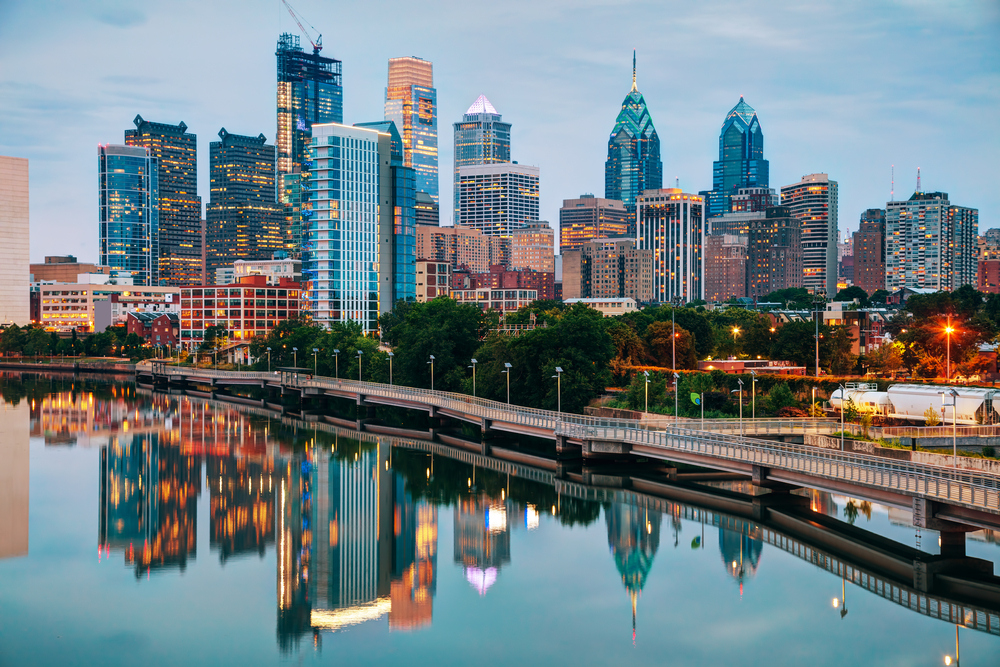 15 Best Things To Do In Philadelphia PA You Shouldn't Miss
Stop To Pose With The Rocky Statue
Start your trip with one of the most fun things to do in Philadelphia, taking a quick picture with the Rocky statue.
Despite Rocky Balboa not being a real person, Philly is exceptionally proud to be the home of the fictional boxing champion.
In the movies, Rocky can be seen running around Philadelphia and up the famous Philadelphia Museum of Art steps while he was training.
The statue was originally created for a scene that is in Rocky III, but the city loved it so much that it became a permanent fixture.
You can find the Rocky Statue on the grounds of the Philadelphia Museum of Art near the famous steps Rocky himself ran up.
There is a pretty constant flow of visitors taking their pictures with the famous statue. But it's a really fun, and quick, way to celebrate your trip to Philly!
If you are a diehard Rocky fan, you may consider taking a half-day Rocky movie locations tour!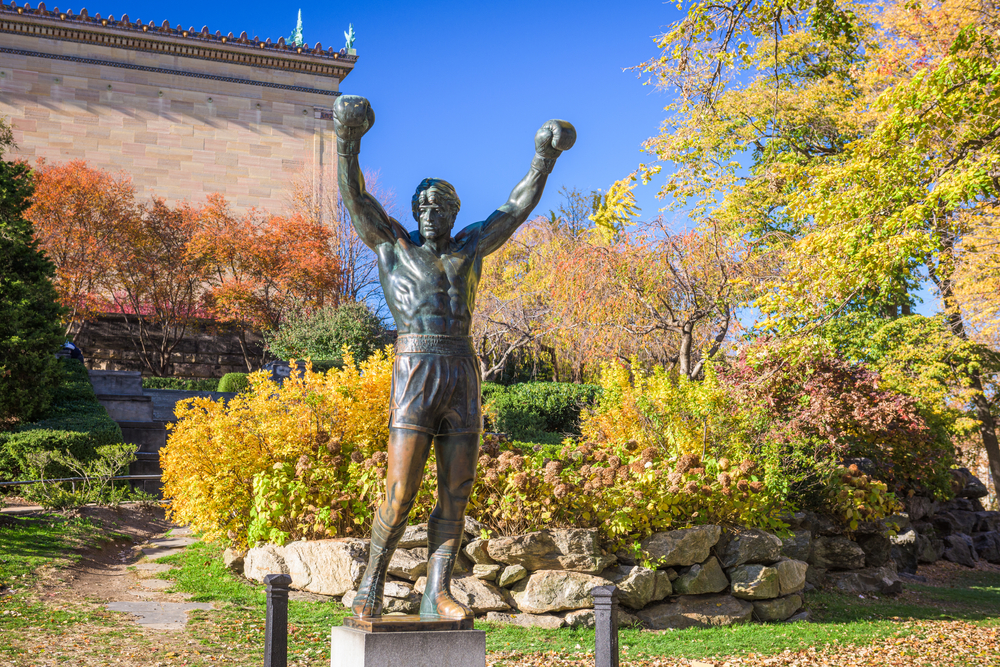 Explore The Philadelphia Museum Of Art
Since you'll already be on the Philadelphia Museum of Art grounds to see Rocky, why not explore the museum too?
The museum is open from Thursday through Sunday and there is an admission fee.
Inside you'll find a massive and beautiful space full of works by some of the most famous artists in the world.
Admire paintings by Paul Cezanne, Rembrandt, Pablo Picasso, Georgia O'Keefe, and Claude Monet.
There are also sculptures by Frank Gehry, design pieces by Charles Eames, and artworks by Andy Warhol.
Throughout the museum, you'll get to see stunning art pieces up close and learn about the history behind many of the pieces.
It's no surprise that it's one of the most popular places to visit in Philadelphia.
An easy and convenient way to visit all the attractions in Philly is by using the double-decker hop-on hop-off sightseeing tour bus.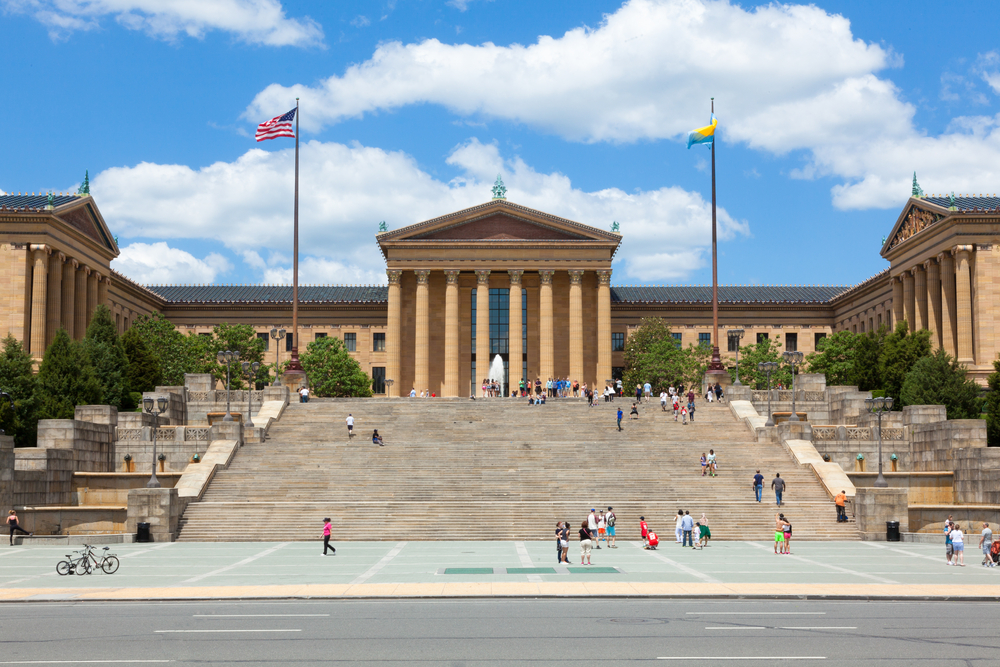 A Visit To The Liberty Bell Is One Of The Best Things To Do In Philadelphia
While you're in Philadelphia, you'll absolutely want to spend some time exploring its historic sites.
Your first stop on the tour of historic Philadelphia attractions should be the Liberty Bell.
The Liberty Bell once hung in the Pennsylvania State House, which is now known as Independence Hall.
Inscribed on the bell is a quote from the King James Bible, "Proclaim Liberty Throughout All the Land Unto All the Inhabitants thereof".
That quote became a great source of inspiration for abolitionists, suffragettes, and Civil Rights leaders throughout American history.
Despite not being seen as a symbol for liberty until the early 1800s, the Liberty Bell is now one of the USA's most iconic symbols.
Today the Liberty Bell is housed in the Liberty Bell Center where you can admire the bell for free.
At the Liberty Bell Center, you'll learn an in-depth history of the bell, how it became an iconic American symbol of freedom, and see the bell up close.
It's one of the attractions in Philadelphia that you absolutely must-see.
One of the most interesting ways to see the City of Brotherly Love is to take a Segway Adventure Tour!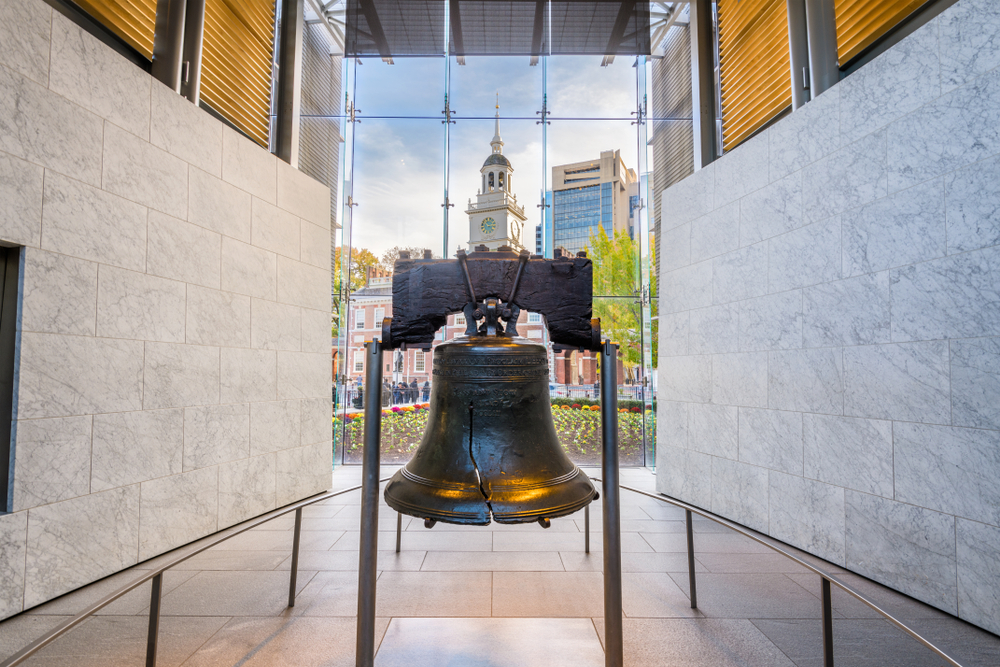 Take A Tour Of Independence Hall
After visiting the Liberty Bell, head across the street for a tour of Independence Hall.
Independence Hall is arguably the most important building in American history.
It is where both the Declaration of Independence and the US Constitution were debated and eventually adopted.
You do need to obtain timed tickets to tour the hall, but they are only $1 each. This is mostly because it's an incredibly popular thing to do in Philly.
A trained docent will take you around the hall or you can schedule a private historical tour on your own! Or you may prefer a guided revolutionary walk. Either way, you will see where famous early American politicians would have been while they debated the two documents.
Many visitors often call it a surreal experience to be where the Founding Fathers were when they decided to form their own government that would come to be the United States of America.
And it takes on a whole new experience if you took a ghost tour by candlelight at Independence Park and Society Hill!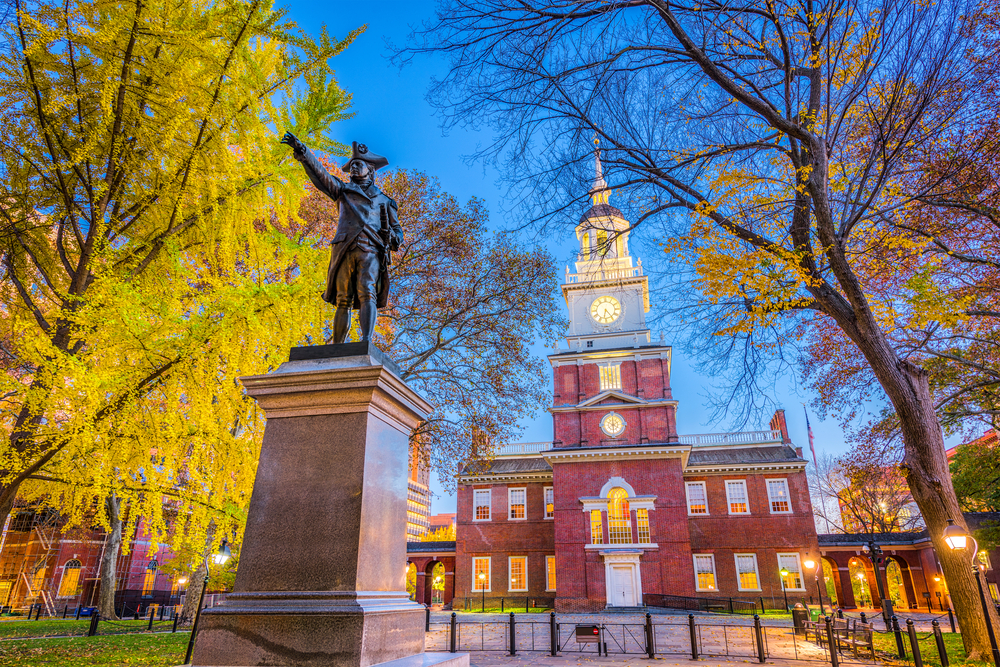 Learn The Whole Story At The Museum Of The American Revolution
It is important when visiting these sites that we remember what else was happening in America at the time.
These incredibly important moments in American history also played a role in the continued and eventual genocide of Native Americans and the continued enslavement of black people.
Those two histories will always be intertwined and the Museum of American Revolution makes sure you learn about both.
You'll obviously see exhibits on the Founding Fathers and figures like Paul Revere.
But the museum also takes care to have exhibits that show what women, Native Americans, and enslaved peoples were enduring during those war-torn years.
They also have a collection of art, writings, and objects that tell the story of the American Revolution.
The Museum of American Revolution is open daily and there is an admission fee. To save time and money consider purchasing your ticket(s) to the Museum of the American Revolution online beforehand.
It's a great place to visit in Philadelphia to learn the whole history of the American Revolution.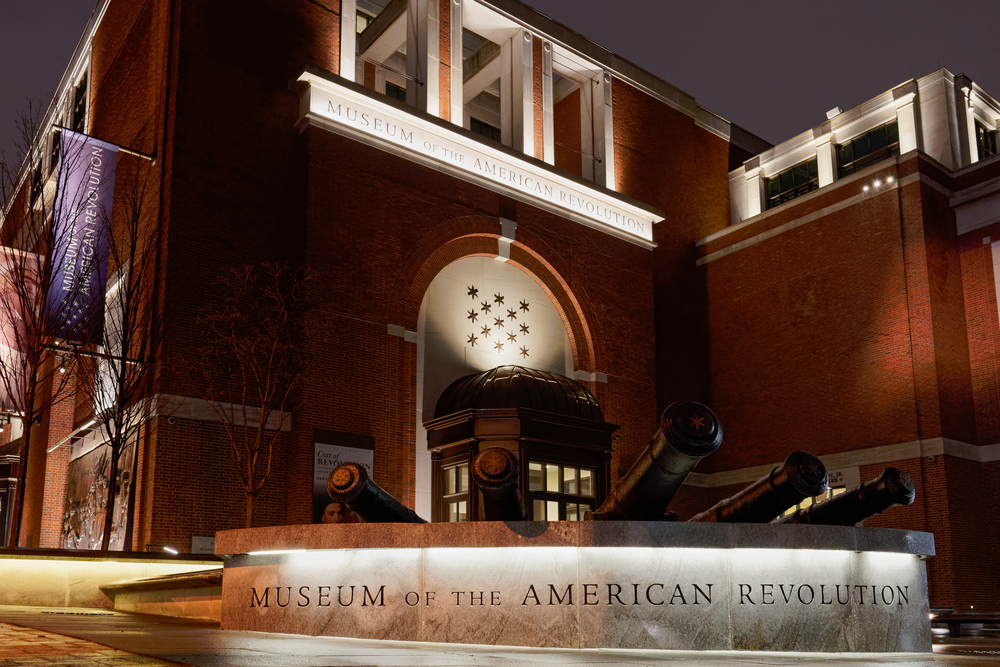 Trying An Authentic Philly Cheesesteak Is One Of The best Things To Do In Philly
When you're in Philly, you absolutely have to try an authentic Philly Cheesesteak since it's one of the best things to do on the east coast of the USA.
In the 1930s, thanks to a street food vendor named Pat, the iconic Philly Cheesesteak was born.
If you don't know, a cheesesteak is thinly sliced beef that is typically sauteed with mushrooms, peppers, and onions.
It is then topped with liquid cheese-wiz or melted provolone cheese.
Depending on which cheesesteak vendor you decide to try, there are a few different variations on the recipe.
You can try one of the more iconic places like Pat's King of Steaks or Jim's.
But you'll find that most restaurants around the city offer some type of cheesesteak. Trying the Flavors of Philly Food Tour will take you to local eateries sometimes missed by tourists. And on this Philly Cheesecake Tour, you ride around on Segways.
It's one of the most iconic things to do in Philadelphia PA.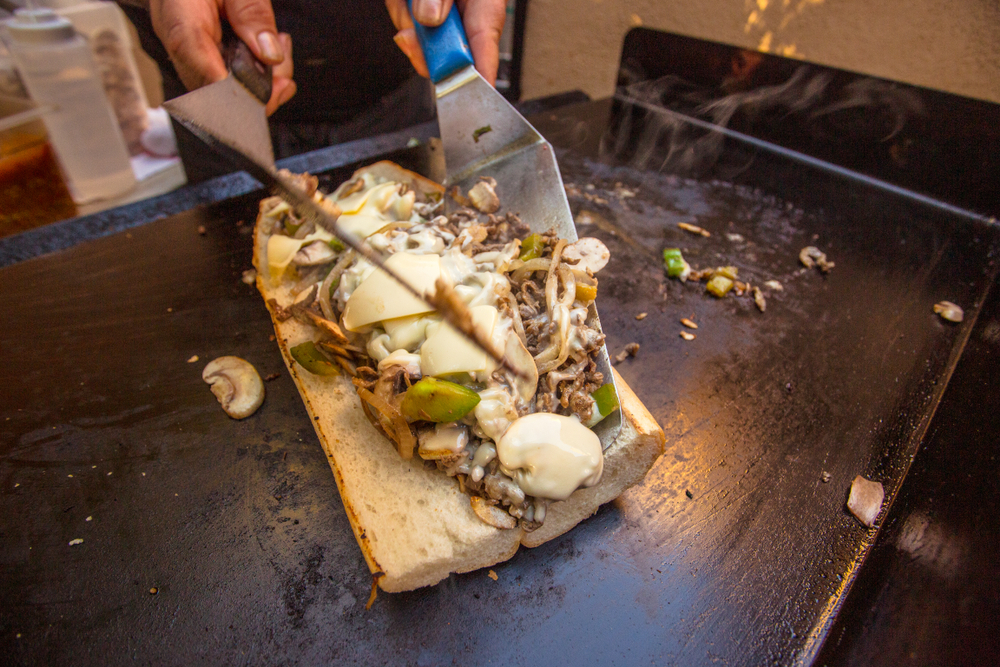 Explore The Franklin Institute
Named after the famous scientist and Founding Father, Benjamin Franklin, the Franklin Institute is a hands-on science museum.
The museum is open daily and there is an admissions fee. If you want to see the special exhibit, there is typically another admission fee for those.
The Franklin Institute is an incredibly fun thing to do in Philadelphia, especially if you are traveling with kids.
Throughout the museum, there are hands-on exhibits, daily live science shows run by experienced scientists, and more.
You can visit the Benjamin Franklin Memorial, see a show at the Planetarium, and experience the four-story Foucault Pendulum.
It's one of the top science museums in the country and absolutely a must-see Philly attraction. A Philadelphia Co City All-Inclusive Pass will come in handy when visiting the best attractions in Philly PA!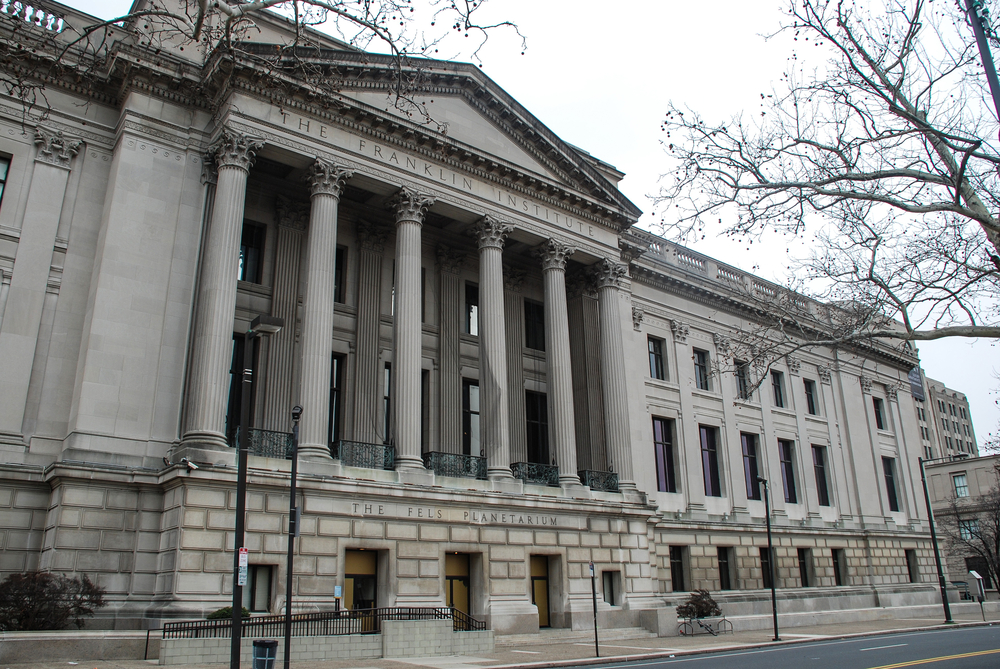 See Where The First American Flag Was Made At The Betsy Ross House
If you've not had your fill of Revolutionary historic sites in Philadelphia, then make a stop at the Betsy Ross House.
For those who may not know, Betsy Ross was the woman who sewed the first American flag.
The Betsy Ross House is said to be the home in Philadelphia where she sewed that first flag.
In 1876 many surviving relatives of Ross verified that the small 'trinity style' house and shop were where Ross spent many hours sewing the flag while she lived there from 1776-1779.
In the late 1930s, the house had been saved from being demolished, but it needed some serious restoration in order to preserve it.
That restoration came and in 1937, on Flag Day, the house was officially opened to the public as a house museum.
Ever since visitors can tour the small home and step into a piece of American history.
Here are some Pennsylvania vacation properties for you if you are thinking of visiting PA for the weekend.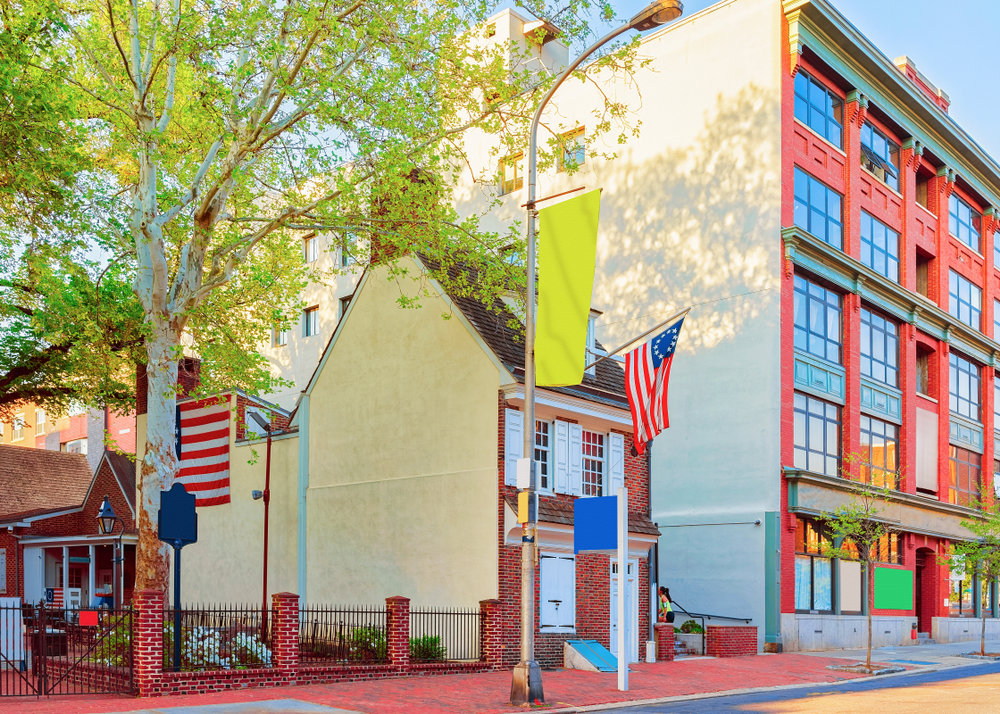 Tour Eastern State Pennitentiary
One of the more popular things to do in Philadelphia is a tour of Eastern State Penitentiary.
Eastern State Penitentiary was a prison in Philadelphia that was open from 1829 to 1971.
The building was designed to make those residing in it feel 'penitence' and this was done through its grand size and architecture.
This fundamental goal of the building actually made it the first true 'penitentiary' in the world.
Throughout its long life as a state prison, it saw famous outlaws like 'Slick Willie' Sutton and Al Capone.
On your tour, you'll get to peek into Al Capone's cell as it would have originally looked.
The building is also rumored to be extremely haunted.
So look out for ghostly apparitions in your photos at the end of your tour.
For those who'd like a truly scary experience, Eastern State does occasionally offer nighttime tours.
It's one of the coolest places to visit in Philadelphia.
To save time and money, purchase your admission ticket to Eastern Stare Penitentiary online!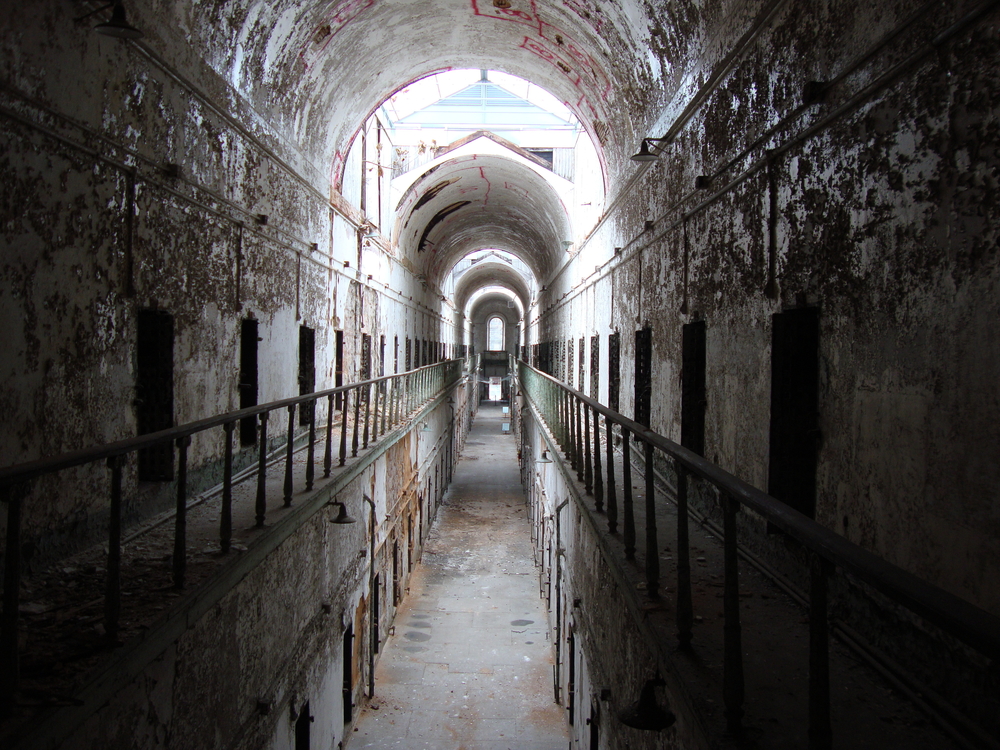 Browsing The Stalls At Reading Terminal Market Is One Of The Best Things To Do In Philadelphia
The Reading Terminal Market is actually one of the oldest markets in the United States.
It has been open since 1893 and is located in a National Historic Landmark Building as well.
You can shop at the market daily from 8 am to 6 pm.
Grab a bite to eat from one of the food vendors or pick up some fresh produce.
There are also Pennsylvania Dutch vendors, which are what Pennsylvanians typically call their Amish community.
The PA Dutch stalls are closed on Sundays but open every other day.
Reading Terminal Market is absolutely massive, so prepare to spend a good bit of time exploring the different vendors
Exploring Philadelphia by night is another unique and exciting way to get to know the city!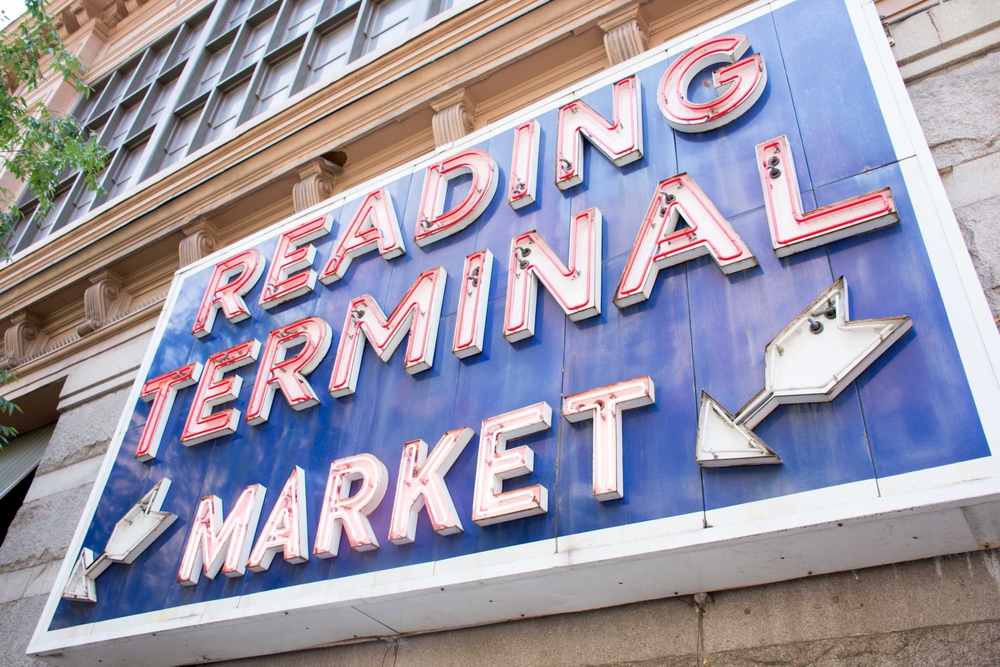 See Philadelphia's Magic Gardens
If you're looking for a really unique attraction in Philadelphia PA, then I suggest a stop at Philadelphia's Magic Gardens.
The Magic Gardens are a massive three-city blocks long folk art space.
Outside there are stunning mosaics, walls sculpted out of found objects, and hidden grottos.
Inside there are galleries with folk art.
Most of the folk art comes from a variety of different cultures and religious traditions.
It's a great way to learn about the various cultures that have come to call Philadelphia, and Pennsylvania, home.
The Philadelphia Magic Gardens are an absolutely must-see Philadelphia attraction.
Here is another way to see hidden gems in Philadelphia.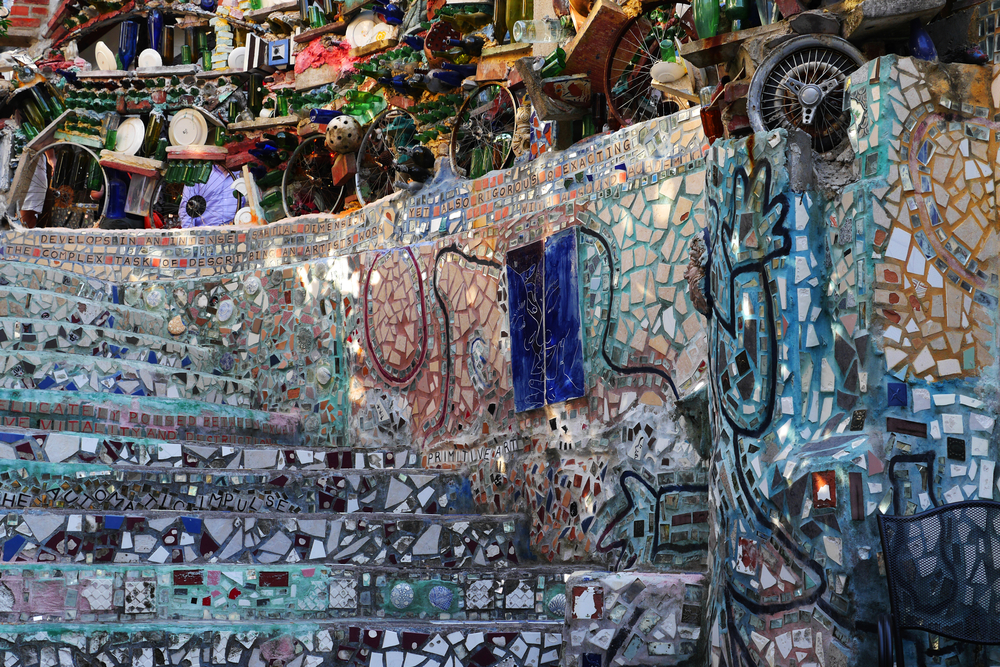 Learn The History of Philly's Mummer Community At The Mummers Museum
If you've never visited Pennsylvania or Philadelphia, you may not have heard of the Mummers.
While Mummers exist all over the world, they are very well known in Philadelphia and much of PA.
But the Scandinavian immigrants of Philly really embraced the Mummer tradition and now Philly's Mummer's Day Parade is an iconic event.
At The Mummers Museum, you'll learn all about the history of Philadelphia's Mummer community.
From the origin of the Mummer throughout the world to costumes, and oral traditions, you'll learn all about the colorful community.
It's a museum that is one of the most interesting things to do in Philadelphia and is very unique to Philly.
If you are considering extending your stay in Pennsylvania, here are some cozy cabins for your consideration.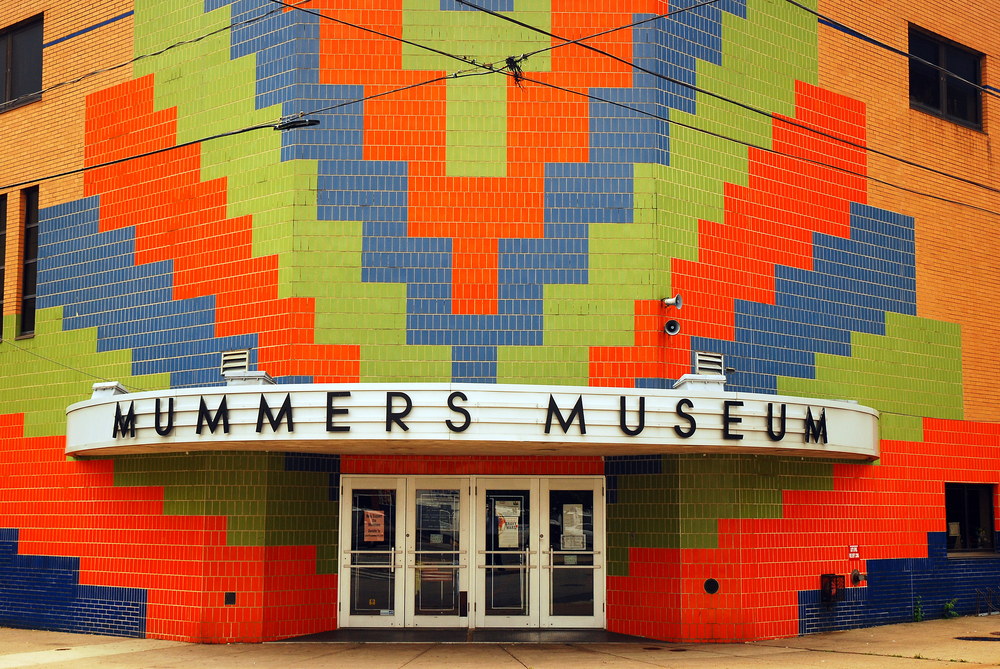 Shop On South Street
Every city has a street that is known to have the best shopping.
In Philadelphia Pennsylvania, that street is South Street.
On South Street, you'll find some of the most iconic Philly restaurants, shops, and art galleries.
There are shops full of wares from different cultures, oddity shops, boutiques, and more.
It is also where you can find a few of the iconic Philly Cheesesteak restaurants.
Many of the shops and restaurants on South Street have been there for decades.
They've built up a loyal group of customers, many of whom come back year after year.
It's especially festive all lit up during the holidays.
Here is another way to see hidden gems on South Street in Philly PA.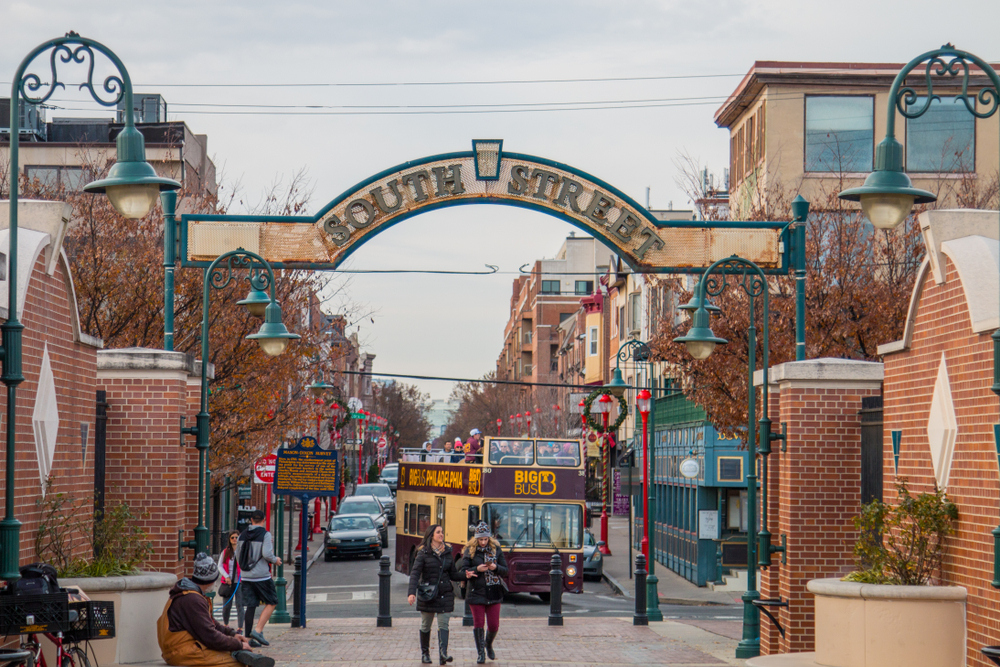 Take The Kids To The Please Touch Museum
One of the most fun things to do in Philadelphia is the Please Touch Museum.
The Please Touch Museum is an interactive children's museum that features tons of immersive displays.
There are exhibits for every age group, so no matter how old they are, the kids will have a blast.
It's even a really fun Philadelphia activity for adults too!
There is an admission fee to enter the museum and it is open Wednesday through Sunday. They are closed all major holidays.
With an always-changing list of exhibits, the Please Touch Museum is a fun place to visit in Philadelphia all year round.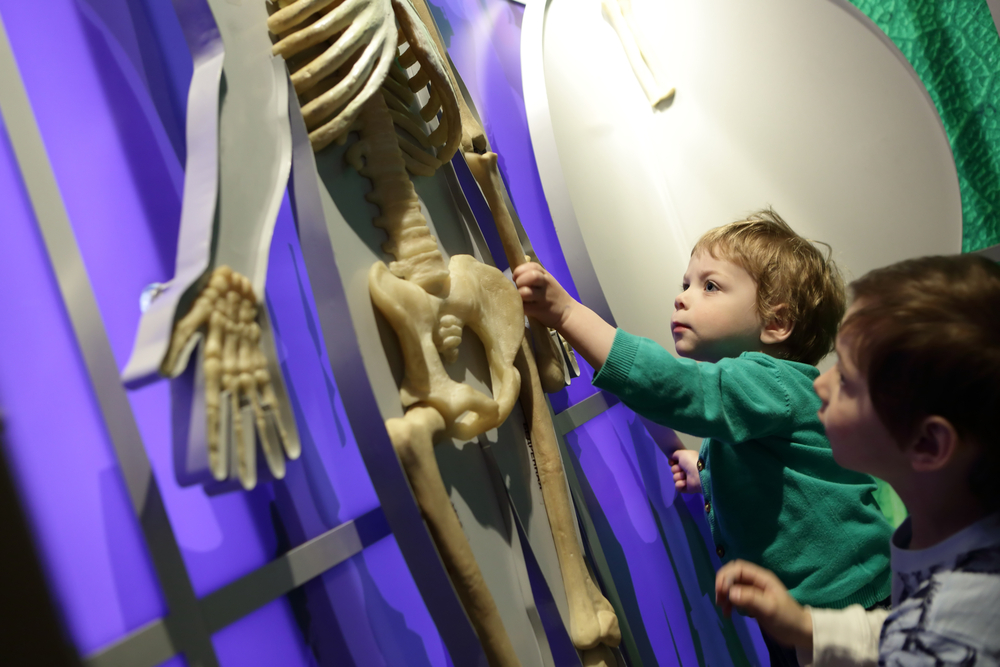 Taking A Photo In LOVE Park Is One Of The Best Things To Do In Philadelphia
One of the most popular things to do in Philadelphia PA is a stop at Love Park.
LOVE Park is near Philly's City Hall.
It's where you'll find the popular Instagram spot, Robert Indiana's iconic LOVE statue.
The LOVE statue is a bit smaller than what you might expect, but it's still pretty cool.
Since it was placed in the park in 1976, it's been a pretty popular site in the city's park.
That's why the park eventually became known as LOVE Park, even though its actual name is the John F. Kennedy Plaza.
In the park, there are also gardens, water fountains, and places to sit and relax in the middle of the bustling city.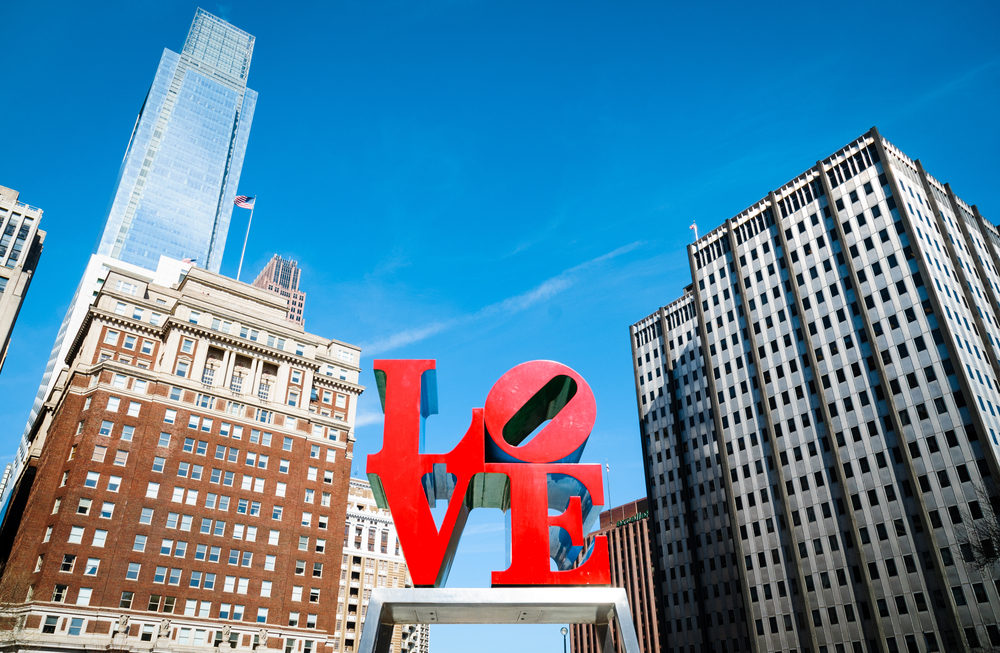 Packing List For Visiting Philadelphia Pennsylvania Attractions
If you will be traveling, either by plane or by car to Philadelphia, Pennsylvania, here are some tips on how to pack lightly.
A concealed travel pouch may be one of the most important items you bring along when visiting Philly PA attractions. It is always important to protect your personal information. Identity thieves are everywhere.
This unisex RFID blocking concealed travel pouch is lightweight and comes in several colors. It has lots of organization to give you peace of mind.
You can place it under your hiking clothes next to your body to carry your ID safely.
If you have a pouch already that does not come with the RFID protection, as I do, these RFID sleeves are the perfect solution.
This configuration comes with enough credit card sleeves that the entire family would be protected. They are slim too, so they will easily fit into your pouch or wallet.
If you are planning on taking a lot of pictures with your phone you will definitely want to consider an external charging battery. This Anker high-speed phone charging battery is the exact one I carry with me on all of my trips.
It can be used on a variety of phones, not just an iPhone like I have. And wow is it fast!
I like that it holds its charging capabilities for several uses so I do not have to worry about it while out and about, and if I forget to recharge it at night, it will still be good to go the next day.
My daughter gifted me with this FugeTek selfie stick and tripod setup for my birthday. I absolutely love it! It is made of lightweight aluminum and is so easy to use.
It has Bluetooth connectivity and is a breeze to use for taking selfies when staying in one of the best Airbnbs in Illinois.
Hydration is so important when traveling. You want to remain hydrated throughout your travels to support your immune system which in turn will be stronger to fight off any germs you will encounter during your travels.
You will want to bring your own refillable water bottle with you.
I never leave home on a trip without my Bobble filtration bottle. The 18.5-ounce size is perfect for hiking and it fits nicely in the pocket of a backpack.
When filled with water, it is not too heavy to carry. And the charcoal filter ensures fresh clean water whenever you fill the Bobble.
Perhaps you are traveling a long distance and packing space is a premium in your suitcase, or in your car.
Then this set of collapsible silicone foldable water bottles would work well for you. Would not take up much space at all.
You will want a backpack or daypack with you to store snacks, your water bottle, phone, extra clothes, etc.. when hiking This foldable water-resistant backpack would be great
It is very affordable and is available in many color options for you to choose from. The fact that it folds down into a zippered pouch will make it easy to pack.
—
There are so many fun things to do in Philadelphia! You can take a mural tour, follow the steps of Benjamin Franklin, or even take a brunch or river cruise.
You'll want to give yourself plenty of time to explore all this historic and beautiful city has to offer.
From historic sites, unique museums, beautiful parks and gardens, Philly is a city in Pennsylvania that truly has something for every type of traveler.