Are you searching for what to do in Rome in a day? I recently visited Rome and had literally one day in Rome to explore the attractions, eat the food, and immerse myself in the Italian culture.
If you think you cannot see much of Rome in a day, you would be incorrect! My visit was so extraordinary that I want to share my suggestions with you, including tips on the best areas to stay in Rome.
Seeing Rome in a day may not seem like a lot of time for exploring Italy's Eternal City. However, with my tips, you can make the most of every single moment you are there!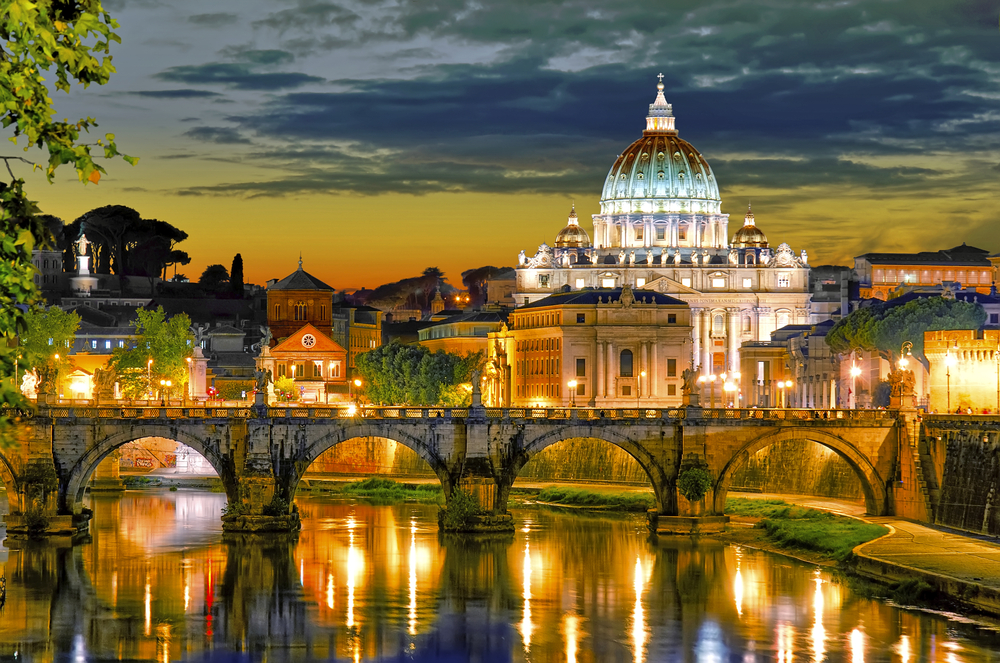 A glittering Eternal City.
Rome In A Day: 10 Things Not To Miss On Your Rome Itinerary
Rome definitely lives ups up to its nickname "The Eternal City." Founded in 753 B.C., over two million people call Rome, Italy their home. It is fast-paced and these are lots of amazing things to do in Rome for first-time visitors.
There is a lot of history. There is a lot of art. There is a lot of noise, traffic. And if you visit in the summer, a lot of tourists.
I spent one day in Rome during the summer to rest up before beginning my Mediterranean Cruise out of Rome. I walked *everywhere* to visit Rome in a Day.
I highly suggest you stay as centrally located as you can to be near the major attractions and the Rome metro if you do not favor walking as I do.
I am listing my tips in no specific order. I do not know exactly how long you will be in Rome, your mode of transportation, or your lodging accommodations if any.
So please tailor these suggestions to fit your personal tastes and itinerary.
Look here for tips to stay healthy while traveling.
Look for tickets here: Rome in a Day
Look for tickets here: Vatican & Rome City Pass with Free Transportation
The Roman Colosseum
Nothing represents Rome more than the ruins of the Roman Colosseum.
Capable of seating over 50,000 spectators, the Colosseum was used for ancient Roman entertainment. Gladiators, animals, and slaves were the main form of entertainment.
Contrary to popular belief, few Christians were martyred there.
The Colosseum is listed as one of the New 7 Wonders of the World.
It is a huge edifice that you can hardly miss when visiting Rome in a day.
Tickets here: Colosseum Skip-the-Line Guided Tour
Tickets here: Skip-the-Line Colosseum and Arena Floor Guided Tour
Tickets here: Colosseum, Roman Forum, Palatine Hill Fast-Track Tour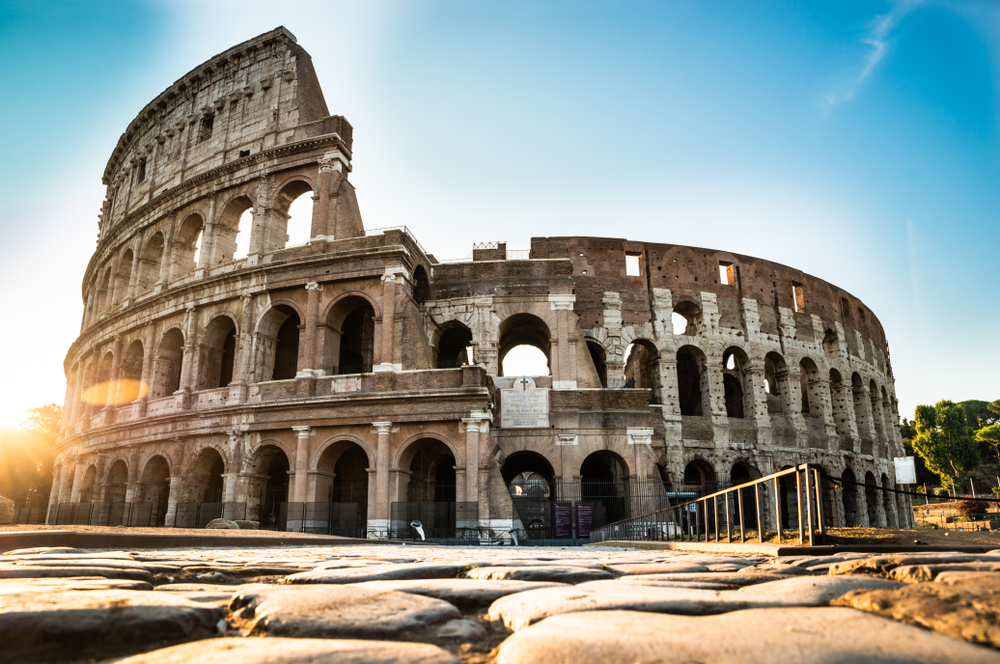 The Roman Colosseum had a seating capacity of over 50,000!
The Roman Forum
The heart of the Roman Empire until its demise, the Roman Forum at one time was the political and economic center of the city.
Now simply a jumble of romantic buildings and ancient stately columns, during Rome in a day, the Forum should be considered.
There are arches, temples, and ancient structures, like the House of the Vestal Virgins to explore.
Hiking up Palantine Hill will reward you will a palatial view of the Roman Forum and further ruins of ancient wealthy Roman families to explore.
Look here: Colosseum, Hill & Roman Forum Skip-the-Line Tour
Look here: Colosseum, Roman Forum, Palatine Hill Fast-Track Tour
Look here: Colosseum, Roman Forum, & Palatine Package with Audioguide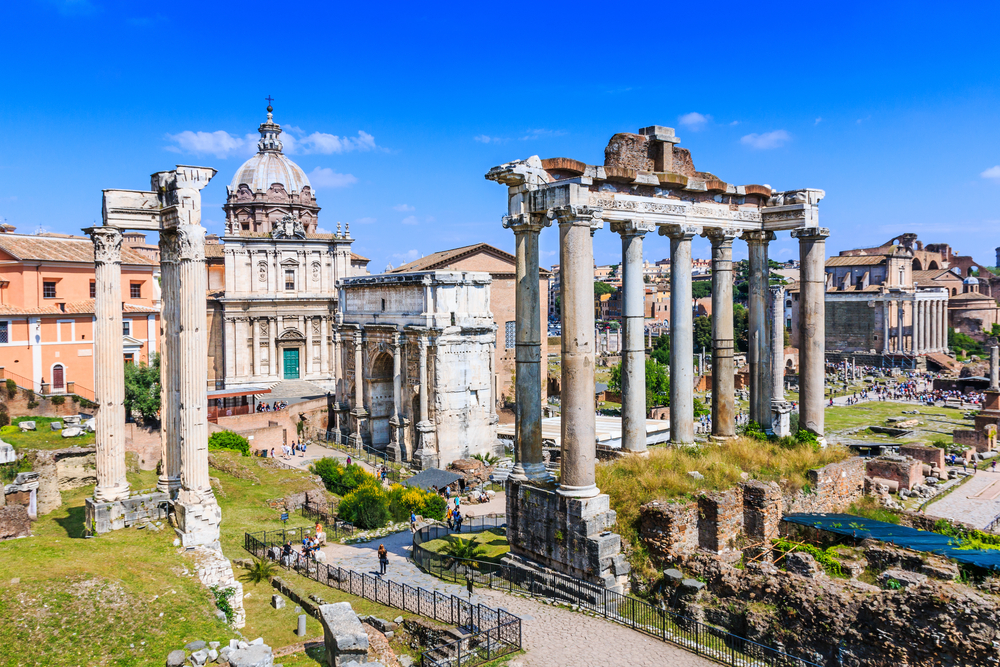 The romantic ruins of the Roman Forum
If you are traveling a great distance to get to Italy, you can read about surviving those long haul international flights here.
Throw A Coin in Trevi Fountain
When spending one day in Rome, nothing is more touristy than visiting the iconic Trevi Fountain.
Tradition has it that throwing a coin into its waters assures that you will once day return to Rome.
I tossed my first coin into the Trevi Fountain waters when I was in high school. Little did I know, it would take me fifty years to return to Rome!
Lovely with its ornate Baroque architecture tucked away in a tiny piazza, the fountain got its name from three roads – tre vie – that meet there.
Look closely to notice all the carved figures flanking the main statue of Neptune. Trevi Fountain is the most photographed fountain in Rome.
Word to the wise: this is a very popular and very crowded destination. Rome is one of the most beautiful cities in Italy, so this is no surprise!
If you are interested in taking pictures without the hordes, to document your coin throwing, I suggest you get up very early in the morning and head there first. Between 0530 – 0700 should work.
Tickets here: Hop-On & Hop-Off Big Bus Ticket & Free Walking Tours
Tickets here: Selfie Bike Tour with a Local Guide
Tickets here: Squares and Fountains Walking Tour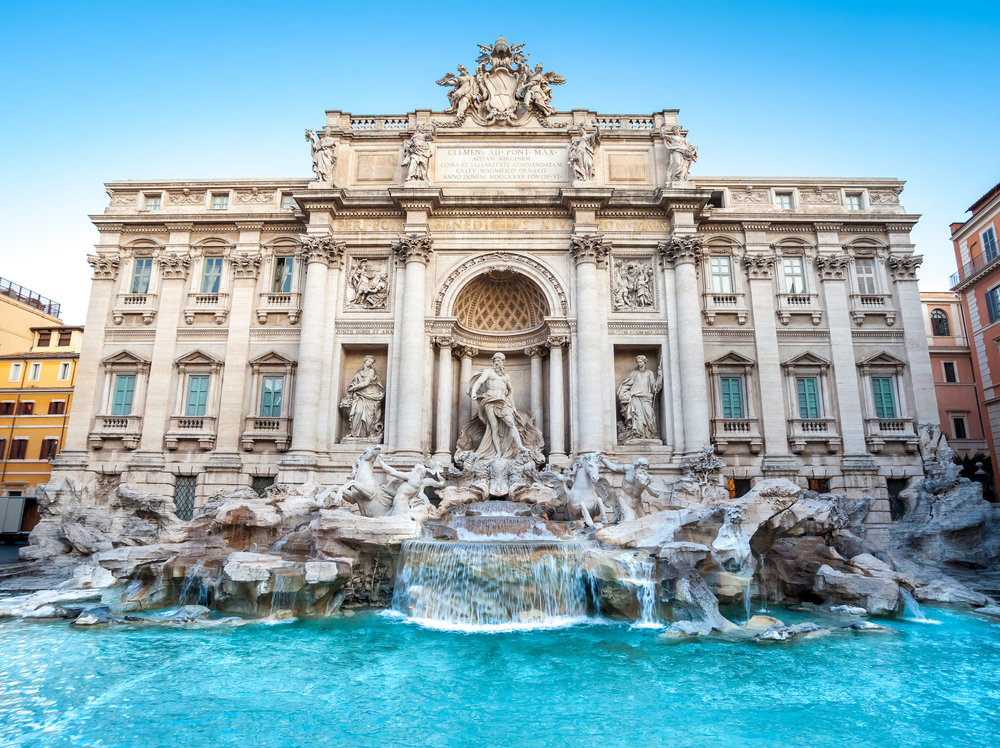 Popular Trevi Fountain
Look here for tips to stay healthy while traveling.
Saint Peter's Basilica
When you have only one day in Rome, you probably have one or two top things you want to accomplish.
Your must-see, must do, and your must-haves. My top goal was visiting Vatican City.
Thought of as one of the holiest of all Roman Catholic churches, St Peter's Basilica was built on the site where St. Peter is buried.
It has the largest interior of any Christian church in the world. As a Catholic, I could not wait to revisit here and wander through the church admiring everything.
Please be advised that there is a strict modesty dress code policy to enter the basilica. No shorts, no short skirts and no bare shoulders are permitted.
When I visited I brought a lightweight shawl that I used to cover my head and shoulders. There were lots and lots of street hawkers selling scarves near the entrance, so no worries if you forget the dress code.
The tomb of Pope Saint John Paul II, Bernini's high altar Baldacchino, and Michaelangelo's magnificent sculpture the Pieta are just a few of the treasures inside of the basilica.
Tickets here: Sistine Chapel, St. Peter's & Vatican Crypt: VIP First Entry
Tickets here: Skip-the-Line Vatican, Sistine Chapel, St. Peter's Tour
Tickets here: Rome in One Day: Low Cost Vatican & Colosseum Tours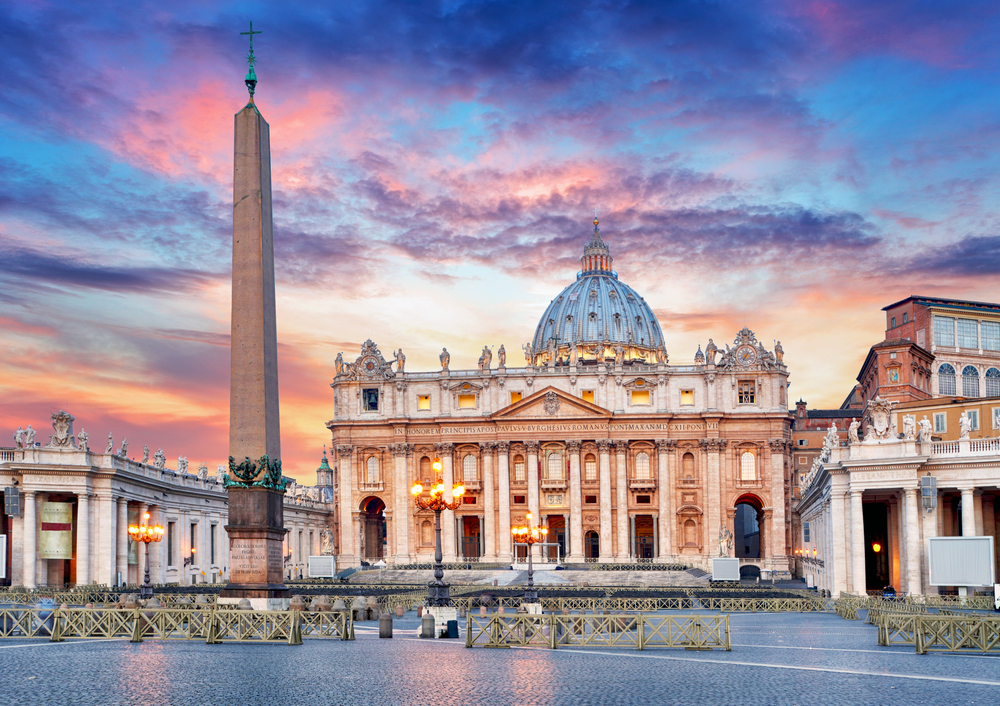 St Peter's Basilica
The Vatican Museum/Sistine Chapel
Considered the world's largest museum complex, the Vatican Museum contains multiple self-contained museums comprising over 1,400 rooms.
Meaning, it is big and has a LOT to see. Egyptian, Roman, Renaissance, and Baroque art dominates.
Not to be missed is the massive spiral staircase. Do not miss the Sistine Chapel that displays the popular and world-famous frescoes by Michaelangelo, covering the ceiling and the altar wall.
These frescoes tell visual stories from the Old Testament and the very powerful Last Judgement.
Housing some of the most important masterpieces from the Renaissance period, when exploring Rome in a Day the Vatican Museum should not be missed.
Tickets here: Vatican City: 3-Hour Skip-the-Line Tour of Vatican Museums
Tickets here: Rome and Vatican City Full-Day Tour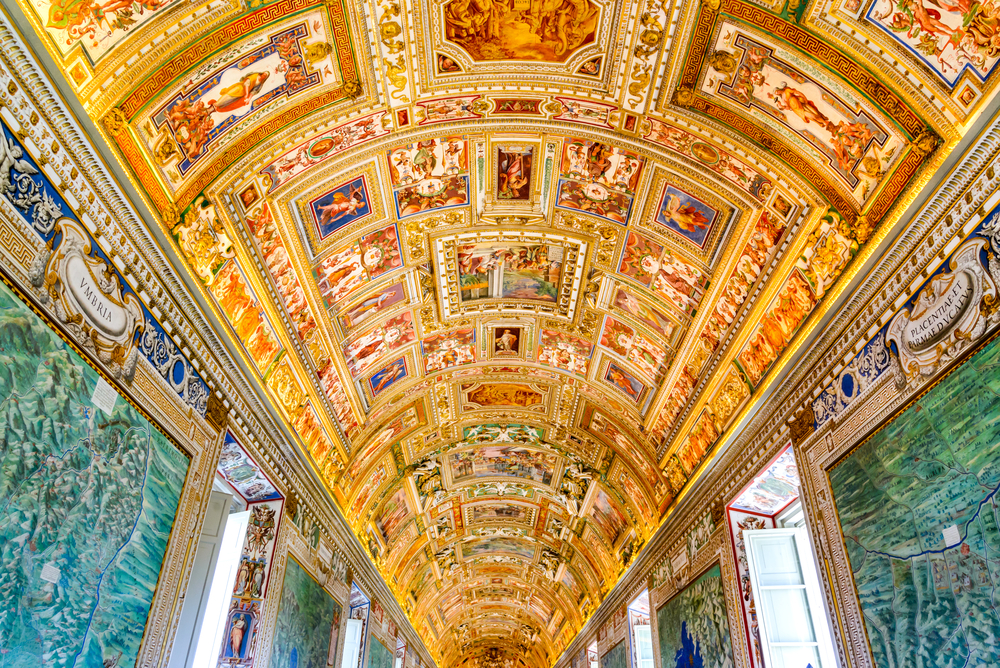 The opulent ornateness of the Vatican museum.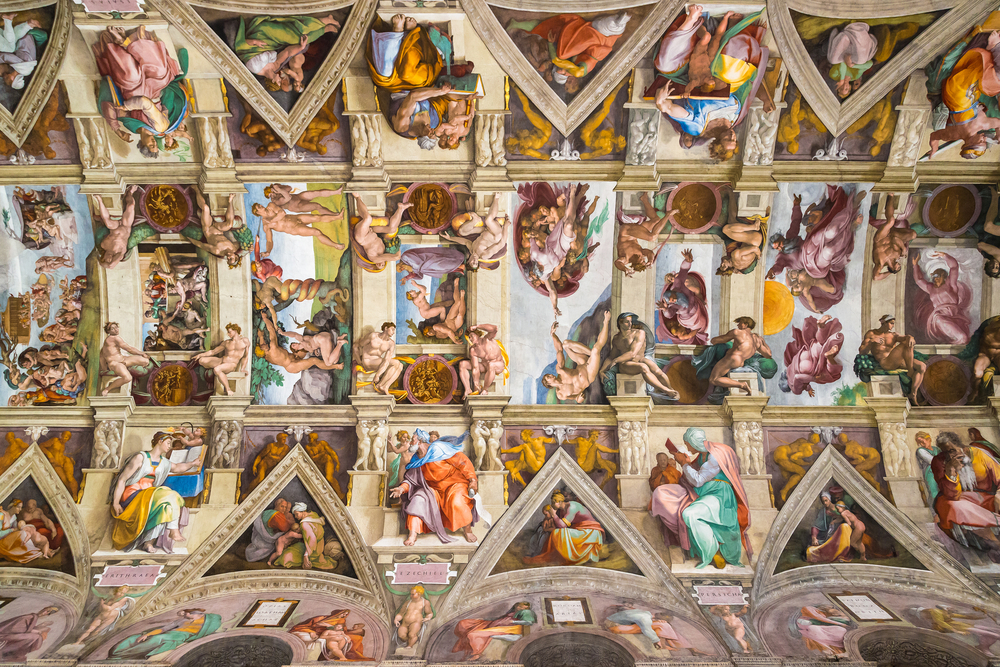 Michelangelo's incomparable Sistine Chapel ceiling. (What picture could ever do it any justice?)
Climb The Spanish Steps
The Spanish Steps, all 138 of them, were built in 1723. They got their name because that is where the Spanish Embassy was located.
It is considered the most famous staircase in the world and will reward you with a fantastic view of Rome.
Also, you will be able to visit the beautiful Piazza Trinita Dei Monti church at the very top.
Climbing the Spanish Steps is a very popular thing to do when visiting Rome.
Perhaps you will consider climbing them when you plan your Rome in a day itinerary.
Look here: Trevi Fountain, Spanish Steps & Pantheon
Look here: Rome 3-Hour Evening Walking Tour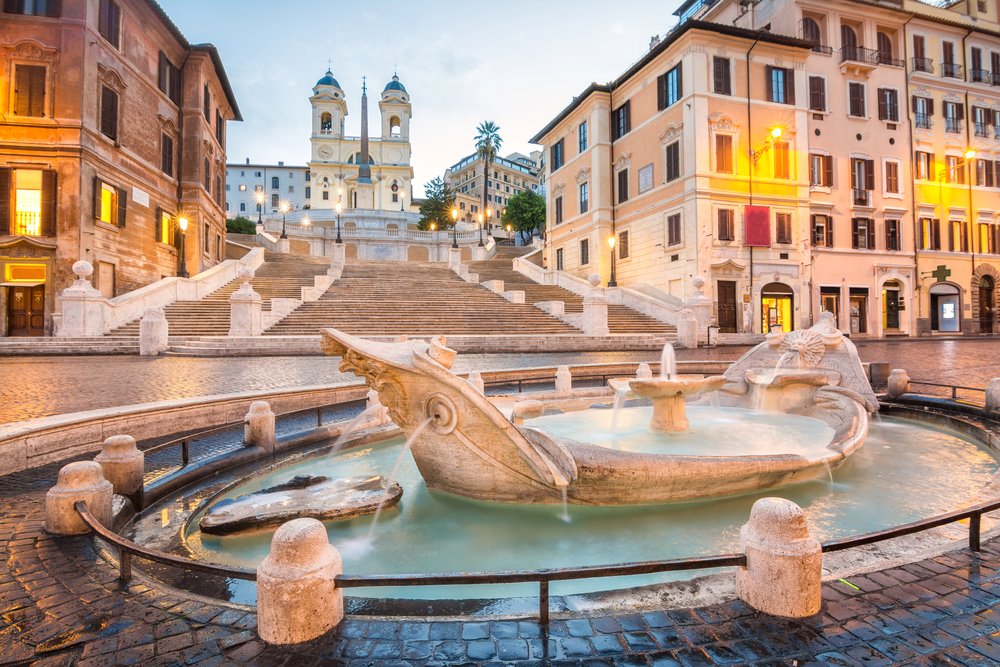 The Piazza di Spagna, the Spanish Steps
The Pantheon
Pantheon means "to every God" and was commissioned in 27 BC by Agrippa as a temple to all gods of ancient Rome.
It was rebuilt around 118 AD and is still in use today. Although originally built as a temple, it became a Christian church in the 600s.
Located in the Piazza della Rotonda, the Pantheon houses the tomb of Raphael and two Italian kings.
It has a large impressive dome and is considered to be the best-preserved Roman monument.
Clearly something not to be missed when visiting Rome in a day.
Tickets here: 35-Minute Rome Pantheon Audio Guide Tour
Tickets here: Discover Pantheon: Guided Tour of the Glory of Rome
Tickets here: Pantheon Express Guided Tour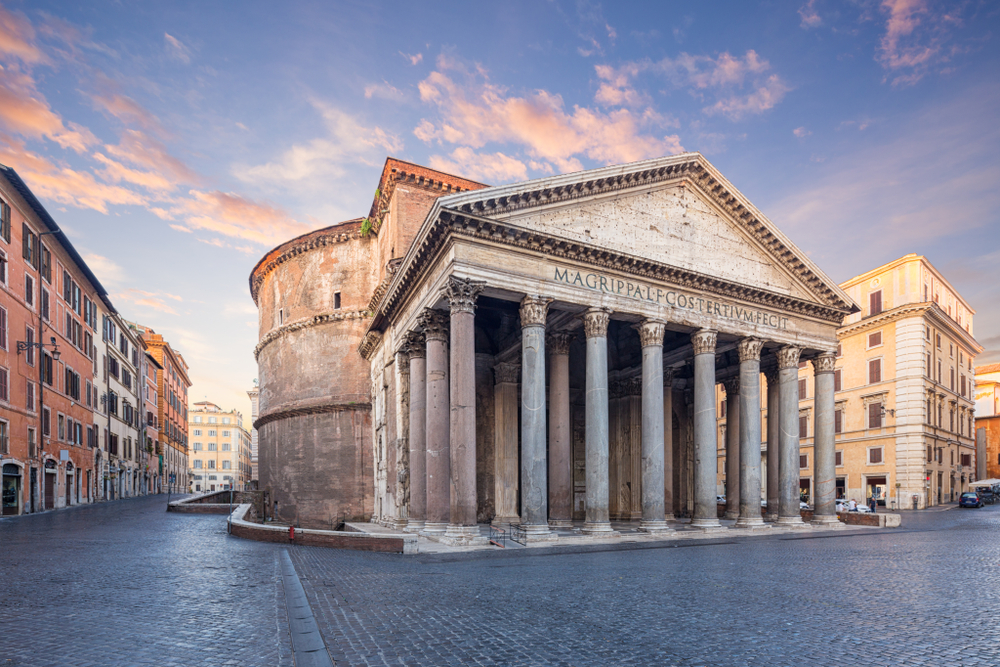 Pantheon means "to every god."
Piazza Navona
The Piazza Navona owes its shape to the Roman racetrack that once was there before it was commissioned.
Today it is lively and full of restaurants, bars, and cafes. It is generally considered one of the most beautiful and elegant Baroque squares in all of Rome.
It is the perfect place to take pictures, have lunch or dinner, or perhaps simply do some people-watching!
Stop at one of the cute cafes and order the iconic Italian lemon cocktail, a limoncello spritz! It is the perfect refresher!
Look for the fountain in the square, the Fountain of Four Rivers.
It was designed by the master Giovanni Bernini. It is an interesting obelisk and a sculpture of four river gods.
Tickets here: Rome Highlights: Squares and Fountains Walking Tour
Tickets here: Fast-Track Colosseum Arena, Roman Forum, Navona Tour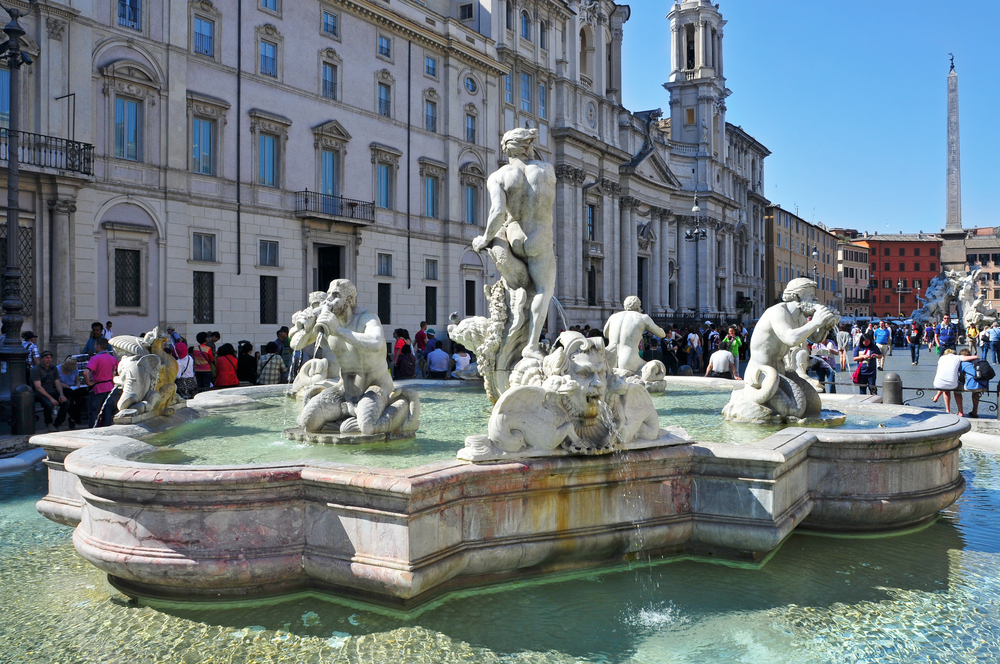 The Fountain of Four Rivers in the Piazza Navona.
Castel Sant'Angelo
Castle of the Holy Angel was Emperor Hadrian's mausoleum. Centuries later it was used as a fortress. Today it is a popular museum.
At first, the large cylindrical building was built to be a mausoleum for Emperor Hadrian and his family.
Through subsequent wars and looting, much of the interior has been desecrated and destroyed. Later it was used as a fortress and jail.
Popes inhabited it for a time and there was a secret fortified corridor that led to St Peter's Square. This clandestine passageway was a well-kept secret that protected the popes.
Nowadays the building is a museum. The angel on the very top is Archangel Michael, whom the structure is named after.
Tickets here: Castel Sant' Angelo and St. Peter's Square Tour
Tickets here: 3-Hour Castel Sant'Angelo & St. Peter's Basilica
Tickets here: Rome Visit Silver Pass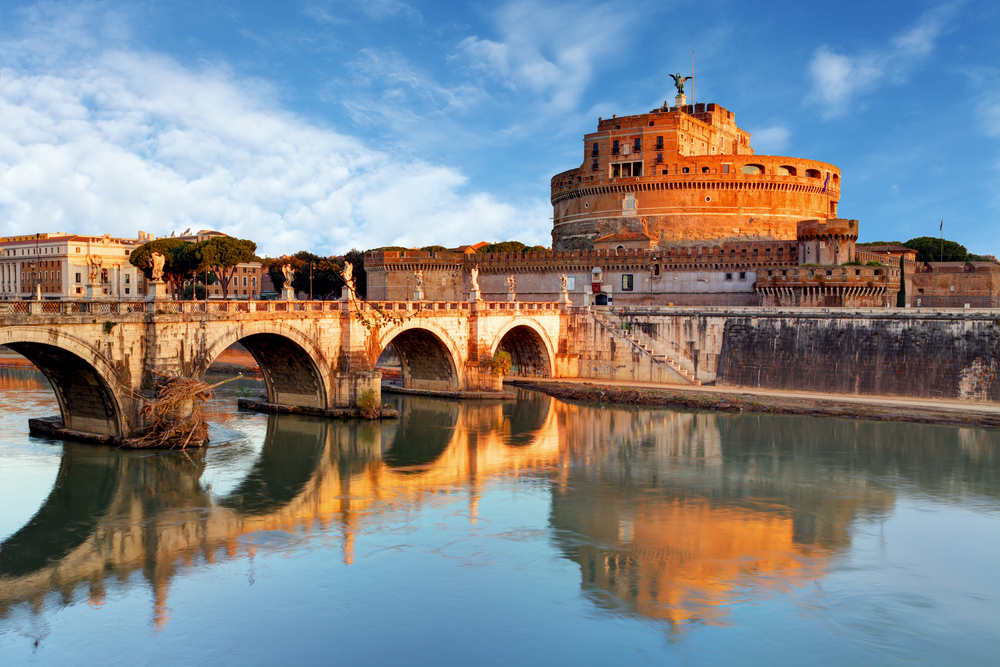 Ancient Castel Sant'Angelo (Castle of the Holy Angel)
Capitoline Museums
Capitoline Museums is considered a single museum displaying art and archeological artifacts and located on Piazza Campidoglio at the top of Capitoline Hill,
It is considered the oldest museum in the world, dating all the way back to 1471.
It is credited with the philosophy that art can be enjoyed by all, not just by the owners of the art. Today it houses one of Italy's finest collections of classical art.
The main buildings that compromise the Capitoline Museums are set on the square designed by none other than Michelangelo.
Priceless sculptures and paintings, (dating back to the fifth century BC) are housed in these magnificent museums.
Look here: Capitoline Museums Entrance Ticket
Look here: Capitoline Museum Skip-the-Line Small Group Tour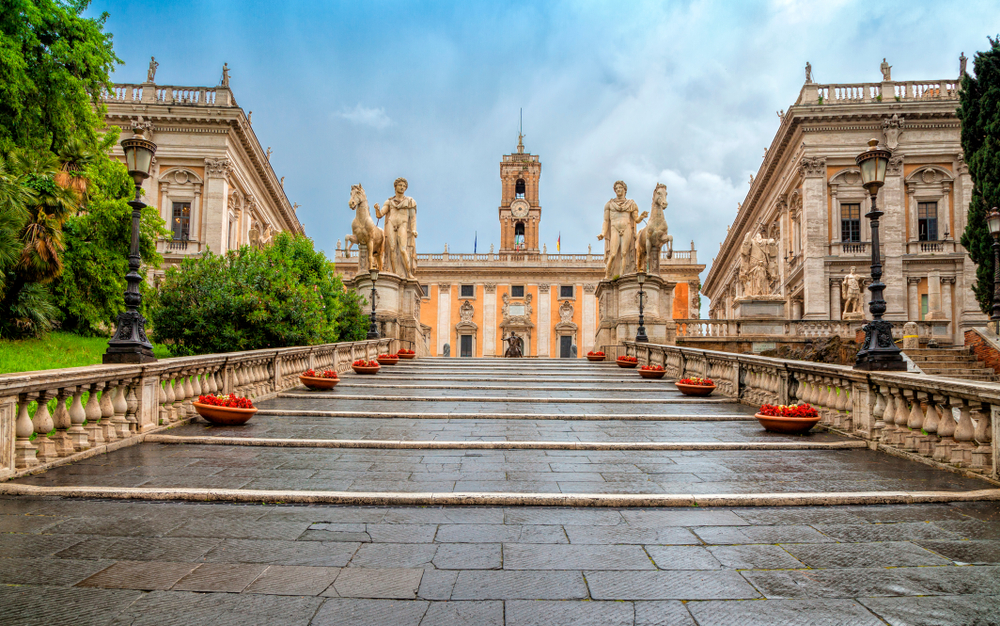 These are the Michaelangelo steps that lead up Capitoline Hill to Piazza del Campidoglio, where the Capitoline Museum is located.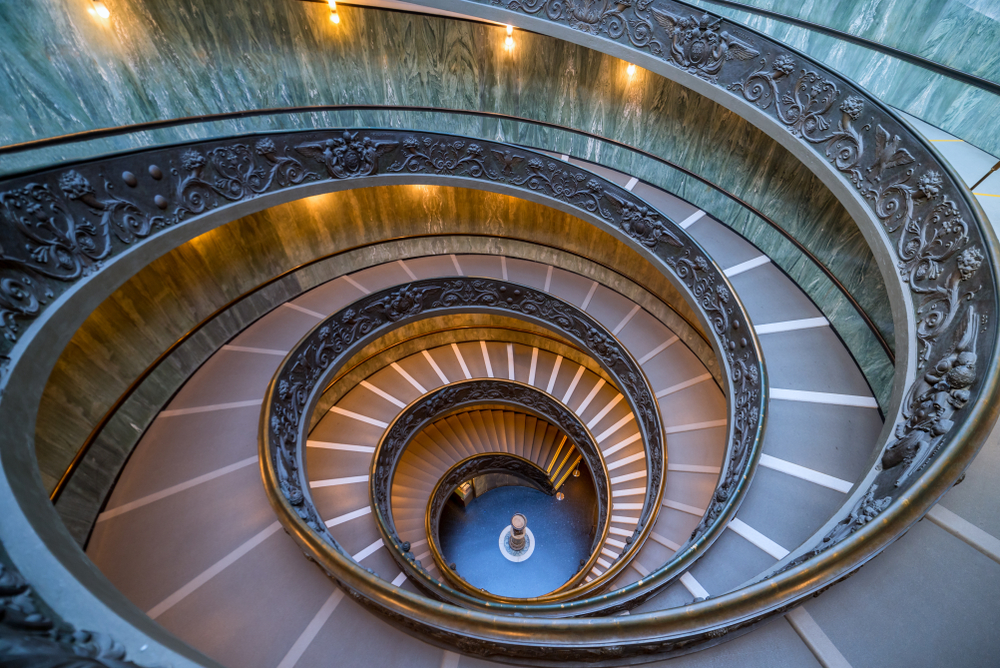 Stunning staircase at the Vatican Museum
Packing Tips For Your Trip To Italy
Here are some tips on packing lightly for your visit to Rome, Italy.
I think that using these useful packing tips will enhance your trip to Italy in general, and to Rome, in particular. I hope it will help you remain organized while there.
A concealed travel pouch may be one of the most important items you bring during your one day in Rome. This unisex RFID blocking concealed travel pouch is lightweight and comes in several colors.
It has lots of organization to give you peace of mind. You can keep your most valuable documents safe and secure next to your body.
You may have a pouch already and you may not want to or need to invest in a new one, like me. If it does not come with the RFID protection, these RFID sleeves would be handy to prevent identity theft.
This configuration comes with enough passport and credit card sleeves that the entire family would be protected. They are slim too, so they will easily fit into your current pouch or wallet.
Don't forget to bring along a universal power adapter on your trip to Italy. This worldwide power plug is a great example and will charge your phone at the end of your busy days.
And this world traveler adapter kit can charge several devices at the same time. This is what you will need when there are several people traveling in your group, or if you bring several electronic devices on your trip that require charging at the same time.
If you are planning on taking a lot of pictures with your phone you will definitely want to consider an external charging battery. This Anker high-speed phone charging battery is the exact one I carry with me on all of my trips.
It can be used on a variety of phones, not just an iPhone like I have.
And wow is it fast! I like that it holds its charging capabilities for several uses so I do not have to worry about it while out and about. And if I forget to recharge it at night, it will still be good to go the next day.
My daughter gifted me with this FugeTek Selfie Stick and Tripod for my birthday.
It has Bloothtooth connectivity so it is very easy to use. It is made of durable aluminum and is very lightweight and easy to carry. I love mine and I think you will enjoy it too!
Hydration is so important. You want to remain hydrated to support your immune system which in turn will be stronger to fight off any germs you will encounter during your travels.
You will want to bring your own refillable water bottle with you.
I never leave home on a trip without my Bobble filtration bottle. The 18.5-ounce size is perfect for travel and it will fit nicely in the pocket of a backpack or your purse. Also when filled with water, it is not too heavy to carry.
And the Bobble carbon filter ensures fresh clean water whenever and wherever you fill the Bobble. You can find filter replacements here.
Perhaps you are traveling a long distance and packing space is a premium. Then this set of collapsible silicone foldable water bottles would work well for you. Would not take up much space in your suitcase at all. And you will be receiving a set of two.
I was never a fan of packing cubes until I tried them out! Now I am sold. These Bagail packing cubes are the exact ones I use whenever I travel. I cannot believe how much more organized I am now!
You will want to bring a backpack or daypack with you to store snacks, your water bottle, phone, extra clothes, etc.. This foldable water-resistant backpack would be great.
It is very affordable and is available in many color options for you to choose from. The fact that it folds down into a zippered pouch will make it easy to pack.
Perhaps you need a more substantial backpack for your international travel.
This antitheft backpack has a charging port, is water-resistant, and can comfortably carry up to a 15.6″ laptop. It comes in a range of colors to choose from and it is inexpensive as well.
You will be walking more than usual when visiting Europe. A sturdy and comfortable pair of walking shoes is a must-have. These waterproof all-season shoes are extremely affordable and yet fashionable.
Mostly everyone is familiar with the Skechers brand, and these Air Run high fashion sneakers come in a lot of colors to match your outfits and are still affordable.
You may be visiting Italy in warmer weather, and you may want a pair of sandals to wear exploring. I highly recommend these Vionics adjustable strap orthotic sandals.
I have several pairs of these exact Vionic sandals in several colors that I bring with me *everywhere* I travel.
They are very comfortable. I also sometimes bring along my Vionic Tides flip flops. The toe post is so comfortable which makes wearing these super comfortable.
Bring a lightweight scarf or shawl. Scarves and shawls are very popular in Europe, and Rome is no exception. Both men and women wear scarves, both decoratively and as a layering piece to keep warm.
This cotton unisex lightweight scarf is versatile and can be worn in any season. And here's another option to consider:
this lightweight sunscreen shawl scarf would do double duty to protect you from the sun in the warmer seasons as well as being a fashion accessory layering piece.
We all need to protect our eyes from the sun's harmful UVA/UVB rays. These unisex polarized sunglasses come in a lot of lens colors and frame designs and are extremely affordable too.
If you are fond of the aviator-style of sunglasses these polarized aviators may interest you. I like polarized sunglasses because they remove the glare and help you to see things more clearly. This will be very helpful in Italy.
If you are in need of new luggage, this expandable soft side spinner luggage is affordable and comes in lots of colors. If you like hard-sided better, then you may favor this hard-sided luggage set better.
Both sets come with TSA approved zippers locks and 8 wheels per piece. Either will be great for the plane or train or even your car depending on how you plan to travel to Rome.
Quick Tips For Your One Day In Rome
Here are some quick tips and tricks which hopefully will enhance your Rome in a day visit, and make it less stressful and more enjoyable.
UPDATED: Stay vigilant! As with every European capital city, theft risks run extremely high. During our last trip to Paris, our family of four was robbed 3 times.
We discussed at great length how we had to remain vigilant to protect ourselves against pickpocketers.
However, we were not successful. My daughter had her brand new Olympus camera stolen in the broad daylight in a McDonald's Restaurant in the Montmartre District of Paris while we were having afternoon refreshments.
My thief was caught red-handed with her arm up to her elbow inside of my backpack. While I was walking along a busy Parisian boulevard.
Lucky for me my daughter apprehended her, and I was carrying my passport and credit cards on my body.
She wore better clothes, better shoes and more trendy sunglasses than I did. She did not "fit" our idea of what a pickpocketer was.
(I still do not understand how she could unzip my backpack while I was wearing it, without me knowing or feeling it.)
Please do not have any preconceptions about who can violate you by stealing your possessions while spending one day in Rome. Stay vigilant and alert. Hope you have more success than we did.
Remember to always stay hydrated. Bring a nondisposable refillable water container and refill it often!
Not only will you hedge the odds against getting sick, but you will also be saving a lot of water bottles from being sent to the landfills.
Call your credit card company for two reasons: 1) to notify the bank that you will be out of the country and give them your exact travel dates.
And 2) to check to see if the bank charges foreign transaction fees every time you are out of the country and use your card. If it does, inquire about applying for a credit card that does NOT charge such fees.
When using an ATM in Rome make sure it is in your bank's network, so you do not incur a transaction fee every time you use an ATM to withdraw money.
Also, consider withdrawing larger amounts of money, fewer times, to limit the transaction fees by your bank. Italy's currency is the Euro.
Whenever you can, purchase advanced tickets to Roman attractions whenever possible during your one day in Rome.
Tickets purchased online, in advance, are mostly always discounted, and many times come with a "skip the line" perk.
You will have more time to spend at the attraction since you will not be waiting in the entrance line. Also, you can better pace yourself during your busy days.
As you plan your one day in Rome from the comfort of your own home, you may choose to spend more time or less time at any of the locations I have recommended. It is entirely up to you.
These recommendations for your Rome in a day and all the suggestions here can be modified and adapted to your own personal timeframe and preferences.
Be creative and customize a memorable trip of a lifetime you will never forget!
Have you ever visited Rome? Did you find it as exciting, bustling and exhilarating as I did? What was your favorite part? If you have any other suggestions or tips please leave them in the comment section below.
Linda On the Run is a participant in the Amazon Services LLC Associates Program, designed to provide a means to earn fees by advertising and linking to Amazon.com
Other affiliate links for Get Your Guide are included here as well.