Are you considering a Viking river cruise? Do you have questions about what life will be like when you are on board? Look no further because I sailed the extraordinary 15 Day Viking Grand River Cruise, and I have answers and tips for you.
When I sailed, I had no idea what to expect! However I can assure you that Viking far surpassed any expectations I had! Be prepared to be pampered by the attentive Viking staff.  Be prepared to visit fantastic and interesting locations, with local guides hired directly by Viking, to narrate and enhance your experience. Be ready for sumptuous food. Be ready to meet interesting and wonderful people experiencing your Viking river cruise alongside you. Are you ready???
Read also: All about my experiences the first week of the Viking Grand European Tour  
Read next: Week two of my Viking Grand European Tour

Beautiful views from our stateroom in Passau, German. Viking tip: Always be on the lookout for spectacular scenery!
Read Next: The Ultimate 2 Days In Amsterdam Itinerary.
Read Next: 7 Best Things To Do In Passau Germany
20 Viking River Cruise Tips To Help You Plan Your Trip
#1) Viking River Cruises Are Small and Intimate So Be Prepared To Get To Know Your Fellow Travelers
I had never been on a river cruise before, only on the mega-huge ocean liners. I did not know what to expect. Well, the intimacy of the smaller riverboat suited me just fine, and I'm sure you will enjoy it as well. There were only 186 passengers on our Viking Grand European River Tour. Because your Viking river cruise ship will be smaller it will be way easier to master its layout and locate everything. So one of my first Viking riverboat cruise tips is to be prepared for a more personalized trip, prepared to be pampered, and look forward to meeting your fellow travelers on a more intimate level.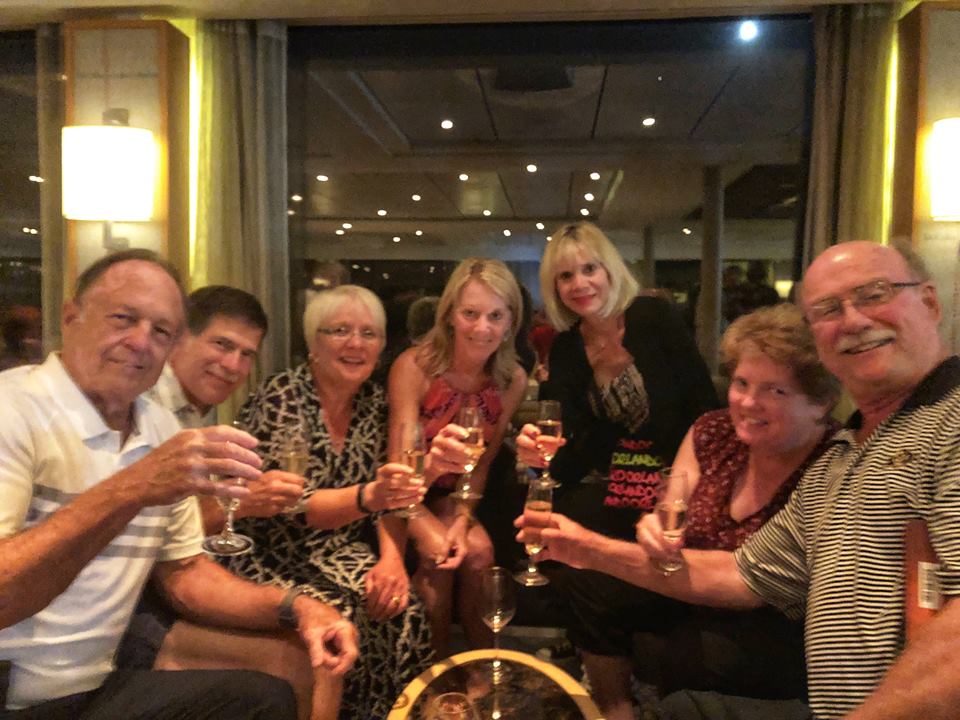 Having a toast in the lounge. Viking river cruise tip: you decide how busy you want to be during your Viking river cruise!
Read Next: 7 Best Things To Do In Passau Germany
 #2) Be Prepared to Be Wowed By The Viking  Staff  Who Works Diligently To Ensure Your Perfect Trip Right From the Start
From the moment you sign up for your trip of a lifetime Viking river cruise, Viking will assign you a booking agent. This will be your Viking ambassador who will do everything in their power to make your processing easy and effortless. Another of my Viking tips is to ask your booking agent any and all questions you will have.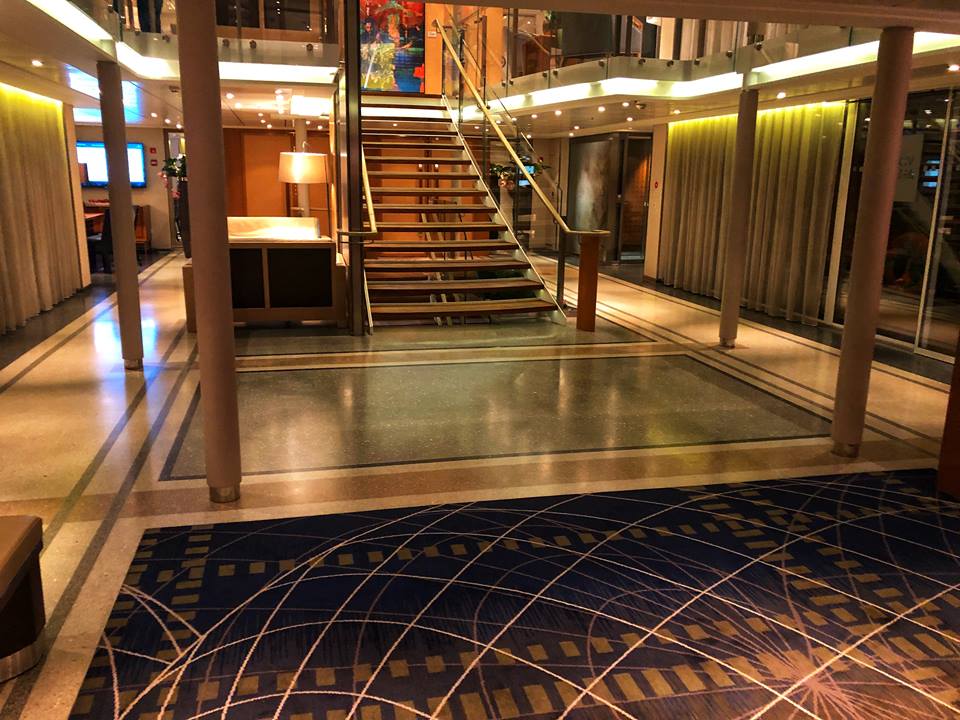 The absolutely stunning lobby of the Viking Baldur. 
#3) Make Your Personal Online Profile At Home Before Your Viking River Boat Cruise
Once your booking is successfully completed, Viking will instruct you to set up your own personalized online account. There you will have access to the daily options during your cruise, along with descriptions of shore excursions and lots of information about the Viking ship you will be sailing on.
Another of my Viking river cruise tips to you is to familiarize yourself with this personalized online resource. There a Q & A section, videos, and tips for every day of your journey.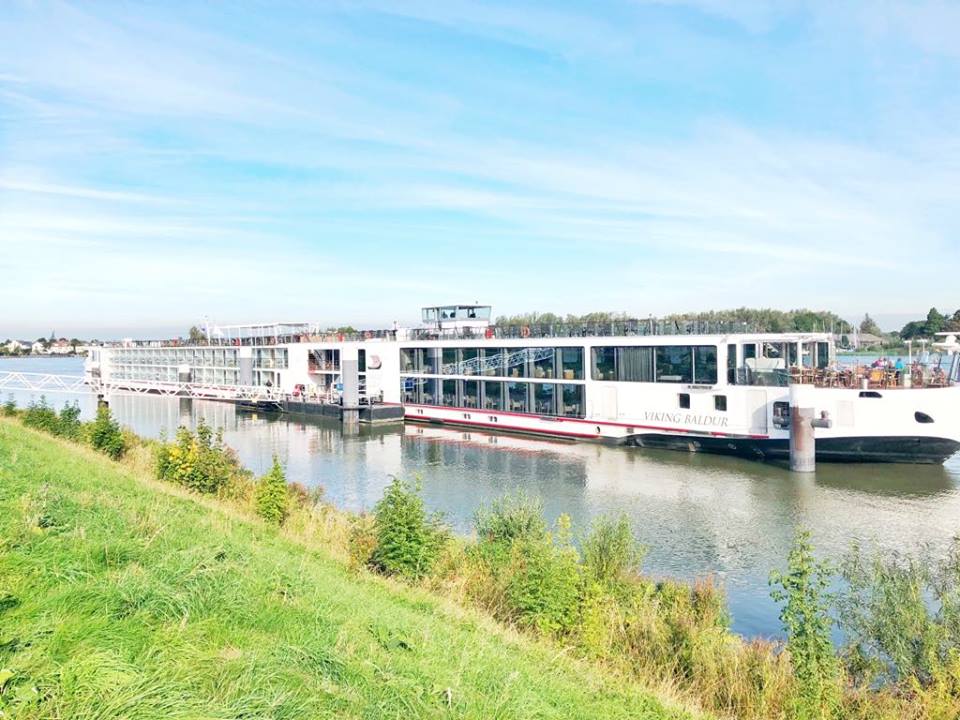 The Viking Baldur at port in the Netherlands. Viking river cruise tip: familiarize yourself with the information in your online personalized account while you are still at home. You will be better prepared for your Viking river cruise!
#4) Utilize The Personalized Cruise Documents Viking Will Send You Before Your Trip
Well before your departure date, you will receive your cruise documents in the mail from Viking. Your cruise documents booklet will contain everything about your Viking river cruise in one place. The itinerary, your specific ship, your flight information (if arranged through a Viking booking agent), and detailed embarkation details for the sailing day.
There's a "before you go" section, containing information about passports/visas, onboard dress code, packing tips, local currencies. Also, the "your cruise in detail" lists in great detail each stop on your itinerary, and explanations of the tours Viking offers, both the included tours and the optional tours.
You will also be mailed a beautiful red Viking luggage tag and red transfer luggage tags for when you are transferred from the airport to the ship and vice versa at the conclusion of your trip.
One of the best Viking river cruise tips I can share is to read your cruise documents booklet from front to back to prepare yourself for the best Viking trip ever.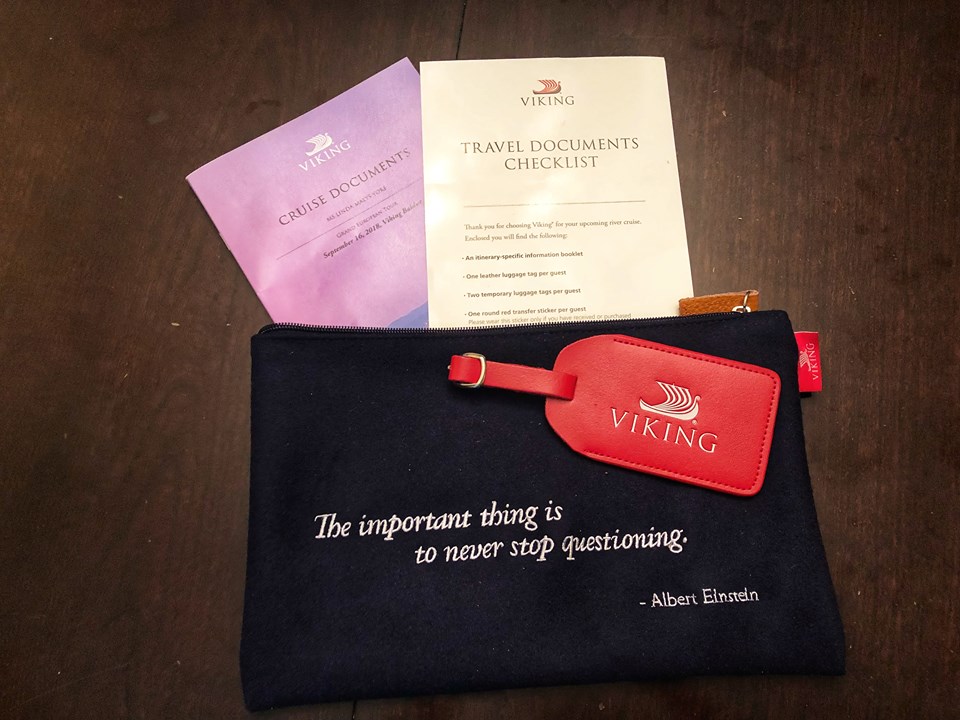 A great Viking river cruise tip is to read carefully your travel documents and the accompanying checklist to ensure memorable Viking river cruise trip-of-a-lifetime!
#5) Do Not Worry About Transfers Because Viking Will Transport You To Ship And Back To Airport
You won't have to worry about getting yourself to the ship or to the airport once your river cruise is completed, because Viking Viking handles all of that for you. If you decide to go a bit early, or stay on your own to explore Europe after the cruise concludes, (not arranged through Viking) then you will be responsible for your own transportation. This is a great Viking tip to be aware of.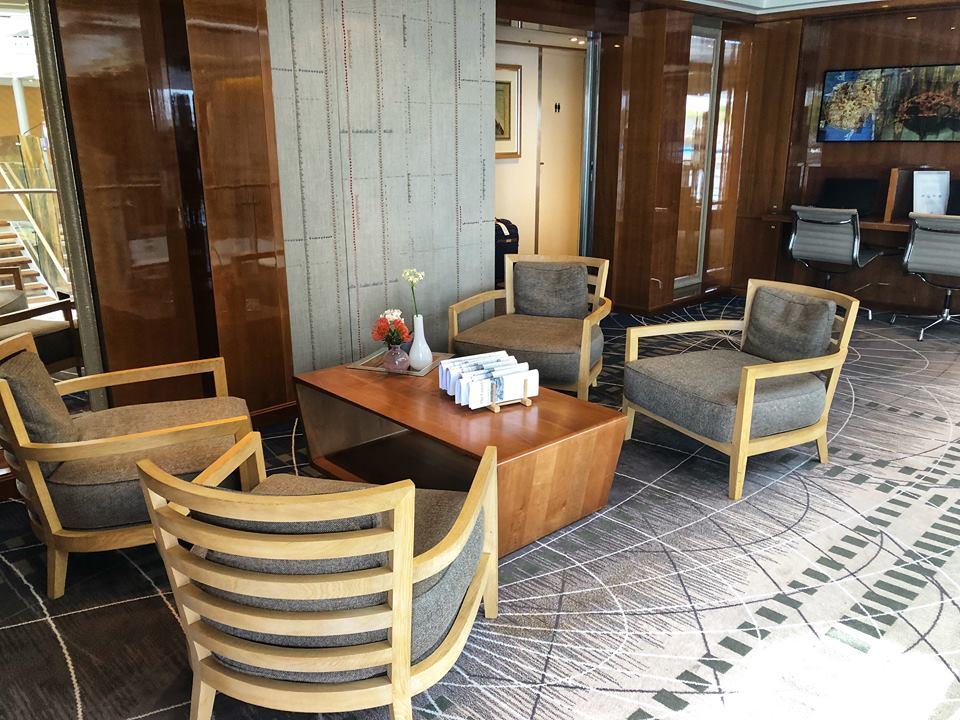 This is the Viking business-style lounge, adjacent to the computers. Viking tip: plan to read the daily newspapers (on the table top) Viking provides for several different countries, to stay on top of current events!
#6) Take Advantage Of TheTrip Extensions Viking Cruises Offer
You are going to a far-off destination anyway, right? Why not consider staying longer to enjoy the sights and experience the culture and history? You will have a variety of cities and destinations to select from which you can add on at the beginning or at the end of your trip. I was unable to take advantage of this Viking tip for a variety of reasons, but my fellow passengers who did raved about the hotel accommodations and the arranged tours Viking offered through these extensions.
If you plan a longer stay before or after your river cruise,  speak with your booking agent about your dates because you can extend your travel plans within 30 days of the beginning or end dates of your cruise. This is a great perk and a great Viking river cruise tip!
#7) You Will Have More Room Than You Think In Your Cabin On Your Viking River Boat Cruise
Fifteen Days in a long time, and if you are wondering how you will possibly manage in a small cabin, I can assure you that you will have plenty of space.
You will find a surprising amount of storage space in your stateroom. There are lots of drawers to organize your clothes and unmentionables in. The closet was very large, easy to accommodate hanging clothes of two adults. If you need more hangers, you simply ask your room steward who will bring them to you.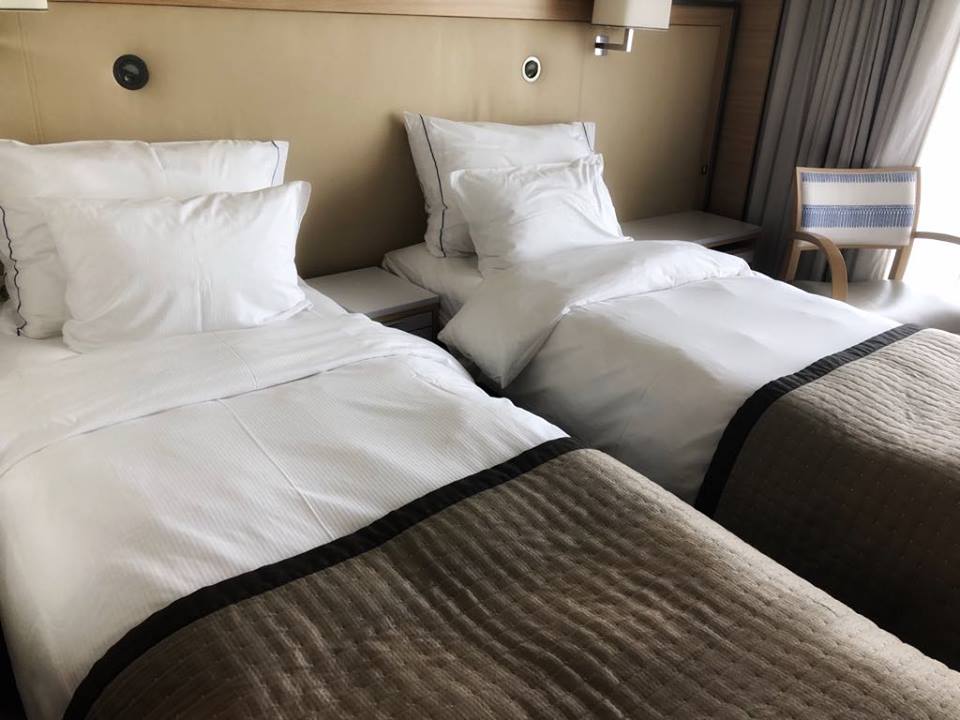 There is plenty of room for two to walk around the room on a Viking river cruise. 
When your unpacking is completed, you store your luggage under your bed! That is so genius. Even the largest, most cumbersome piece of luggage can fit under your bed ensuring a tidy room with space enough to move around comfortably!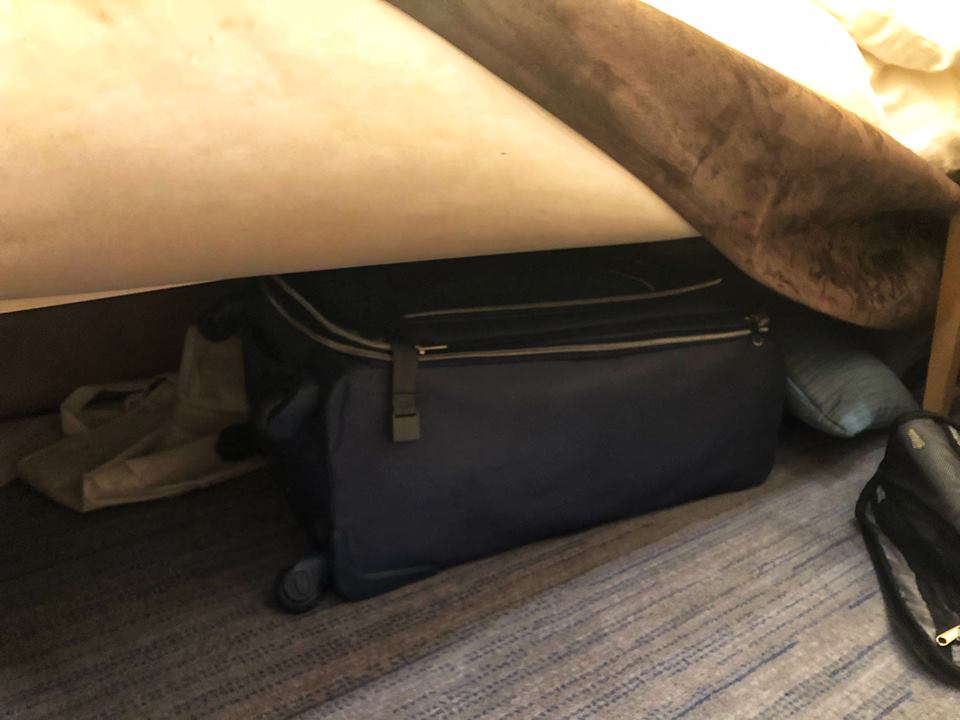 Viking river cruise tip: once you are done unpacking, place your suitcase under your bed. This will provide more uncluttered room space.
#8) Utilize The Refrigerator Viking Provides In Your Stateroom
Viking thought of everything by placing refrigerators in every stateroom!  This is a great perk because you can have chilled water, or juice or whatever you want right at your fingertips in the privacy of your room.
There is no 24-hour room service offered on Viking riverboat tours. So a few Viking tips are to be sure to eat a hearty dinner and stock your cabin refrigerator with snacks and drinks for the midnight munchies.
A delicious Viking river cruise tip is to keep some snacks and drinks in your stateroom refrigerator, to have on hand all the time.
#10) You Will Find A Large Screen TV In Your Room But You May Not Watch It During Your Viking Riverboat Cruise
There is a huge television in every room and there are some great viewing options. You can select from television shows, movies, documentaries, news outlets, and even follow your ship's location.
Another Viking riverboat tip is you can decide when you wish to watch TV, if at all, or spend a relaxing afternoon catching up on the world's current events.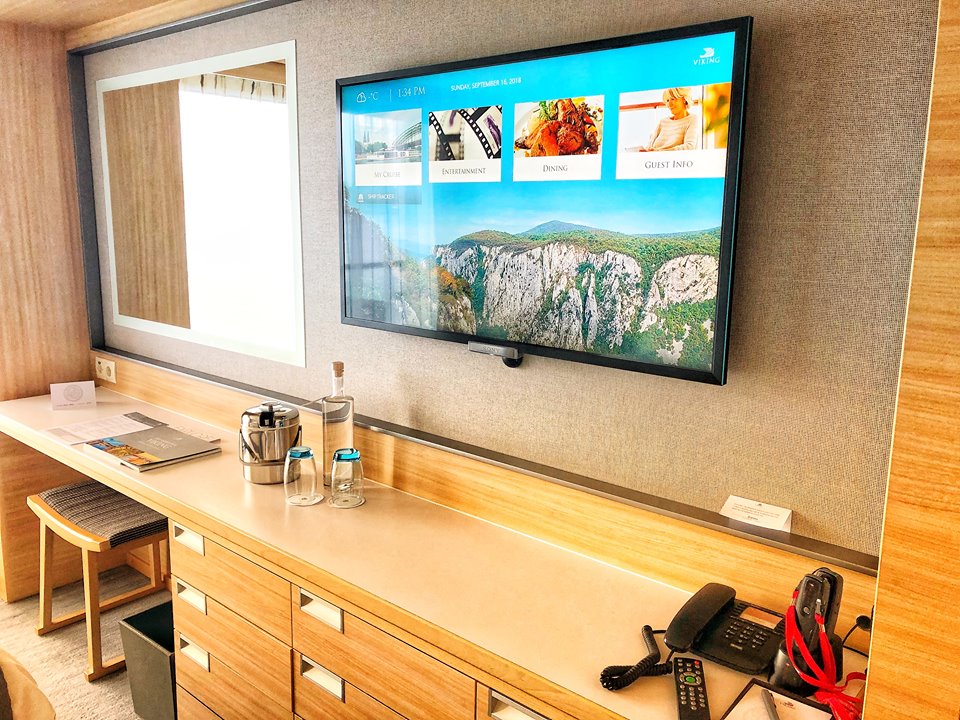 Here is the huge flat screen television in our stateroom. You can see there is plenty of workroom on top of the shelf and lots of drawers for storage. On the far right are the listening devices. An important Viking tip is to always place them in your charging station when you return from a tour so they will be ready for the next excursion!
#11) Make Use Of Amenities In Your Stateroom Bathroom During Your Viking River Cruise
While the bathroom was a smidge on the small side,  it is modern and welcoming. The walk-in shower is definitely luxurious, and Viking even provided a retractable clothesline for when you wash your unmentionables during your trip. A great Viking riverboat cruise tip is to lighten your packing load, bring less, handwash some of your clothes during your trip, and use the clothesline to hang them to dry, either overnight or while you are out on an excursion.
There are plenty of shelves for 2 to place toiletries and makeup. Also, the river cruise is so smooth that none of your things will slide around. An additional bathroom Viking tip is to unpack those toiletries and place them on a washcloth from your room, and be organized!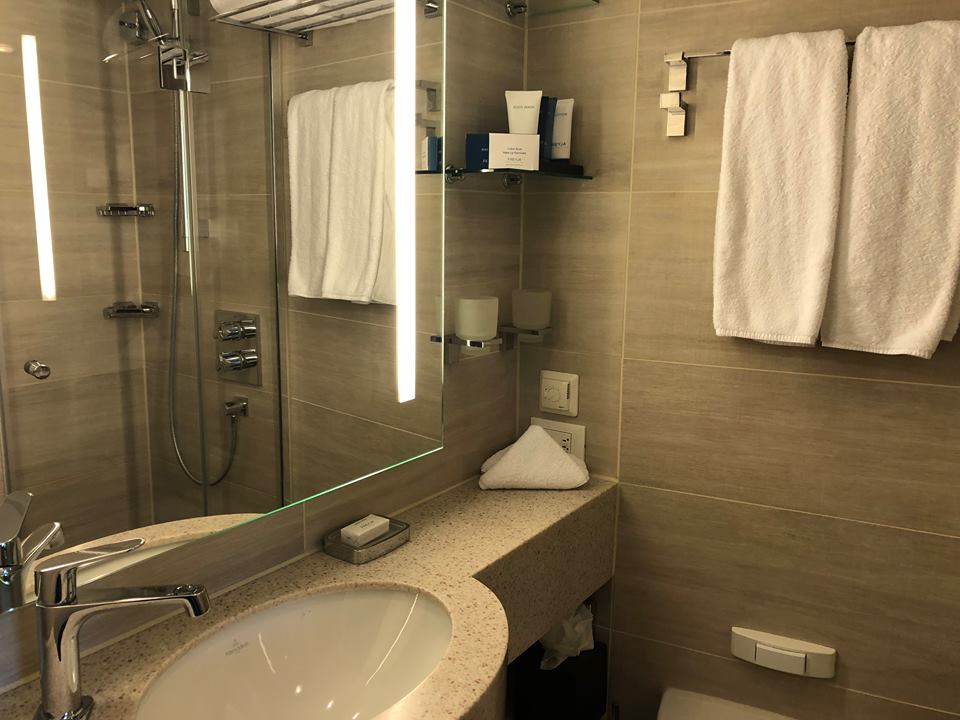 Beautifully sleek and modern stateroom bathroom. My Viking tip is to utilize all shelves with your toiletries, so they are always at the ready. The boat does not rock so they won't slip off.
Shampoo, conditioner, hand soap and body lotion are all supplied, and a great Viking river cruise tip is to make good use of these products.
A great Viking river cruise tip is to turn off all bathroom lights during the night, which will trigger the nightlight to come on. You won't be worrying about stumbling about while getting to the bathroom during the night.
#12) Utilize The Safe In Your Stateroom During Your Viking Riverboat Cruise
Another of my Viking tips is to keep your passport and credit cards in your room safe securely locked. You may be advised at the beginning of the cruise it will not be necessary to bring your travel documents with you when you leave the ship. (There may be 1 or 2 shore excursions when bringing your passport will be mandatory, but otherwise, keep them securely locked in your room.)
An additional Viking river cruise tip is to make copies of your travel documents while still at home and carry these with you instead as a safeguard.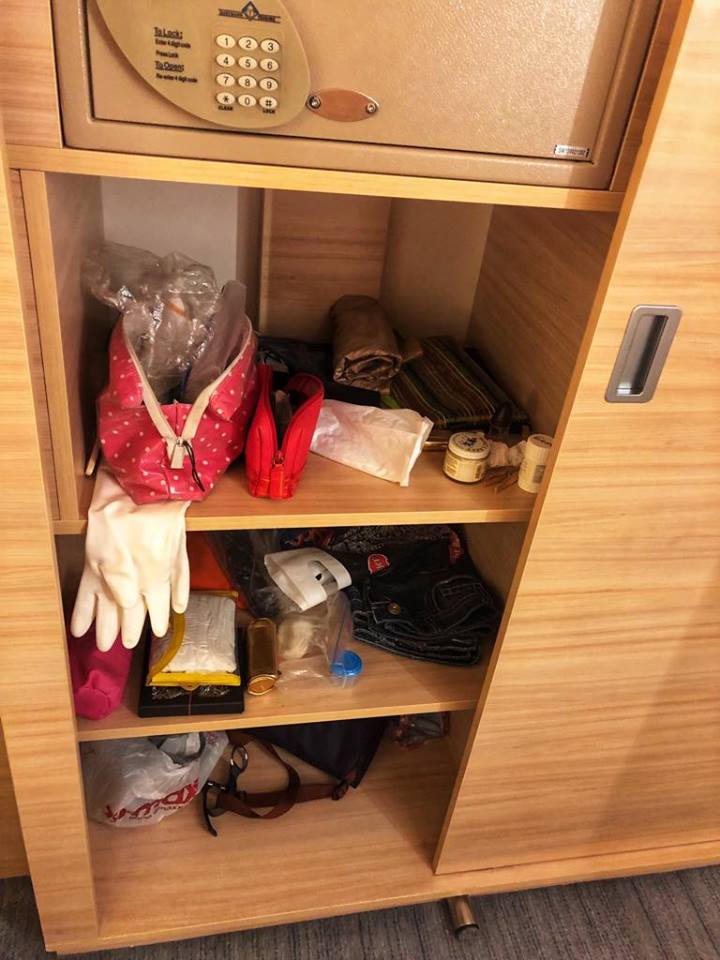 Viking river cruise tip: use the safe in your stateroom. Lock up your travel documents, jewelry, credit cards and money. And notice there's even MORE storage space for you to make use of.
#13) Be Prepared To Be Pampered Because The Viking Cruise Staff Caters To Your Every Need With A Smile
The staff to passenger ratio is very close on the smaller and more intimate Viking river cruises. You will get to know your cabin steward personally as he/she will be responsible for the daily upkeep of your stateroom, plus fulfilling your daily wishes. My Viking river cruise tip is to ask away for those things that will enhance your trip as the Viking staff are there primarily there to serve you.
The dining room staff, the bar staff, the reception staff, and the officers of the ship you will be sailing on will all be there to serve you. And you will recognize them, and soon will be calling them by their names. Also, they get to know you very quickly and will be addressing you by your name as well.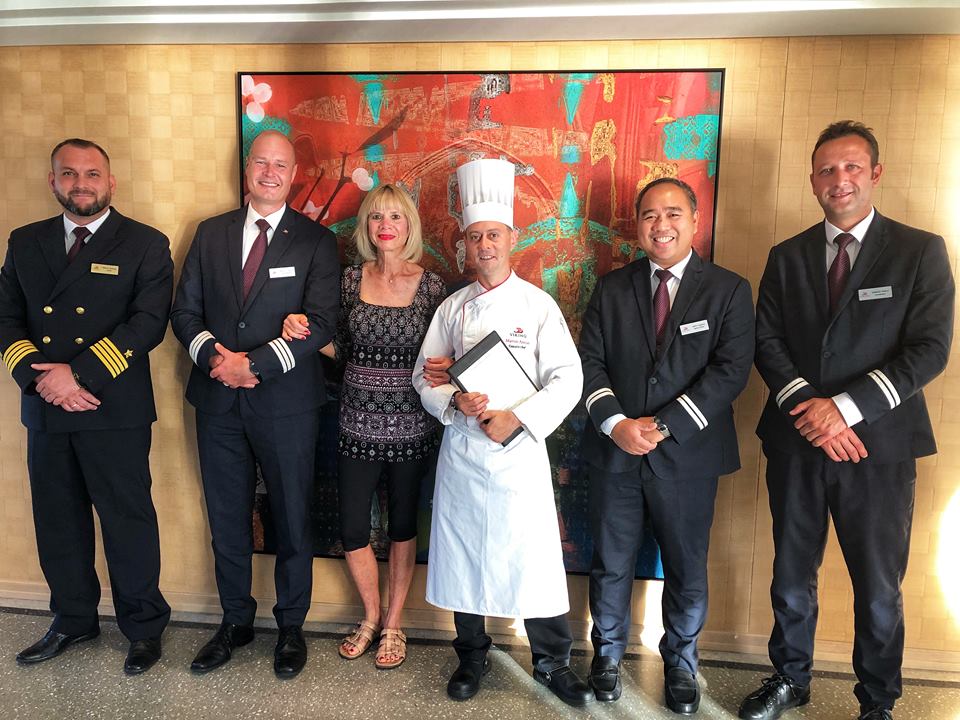 Here I am with the officers of the Viking Baldur. It is their job and pleasure to fulfill your every desire. A big Viking river cruise tip: just ask!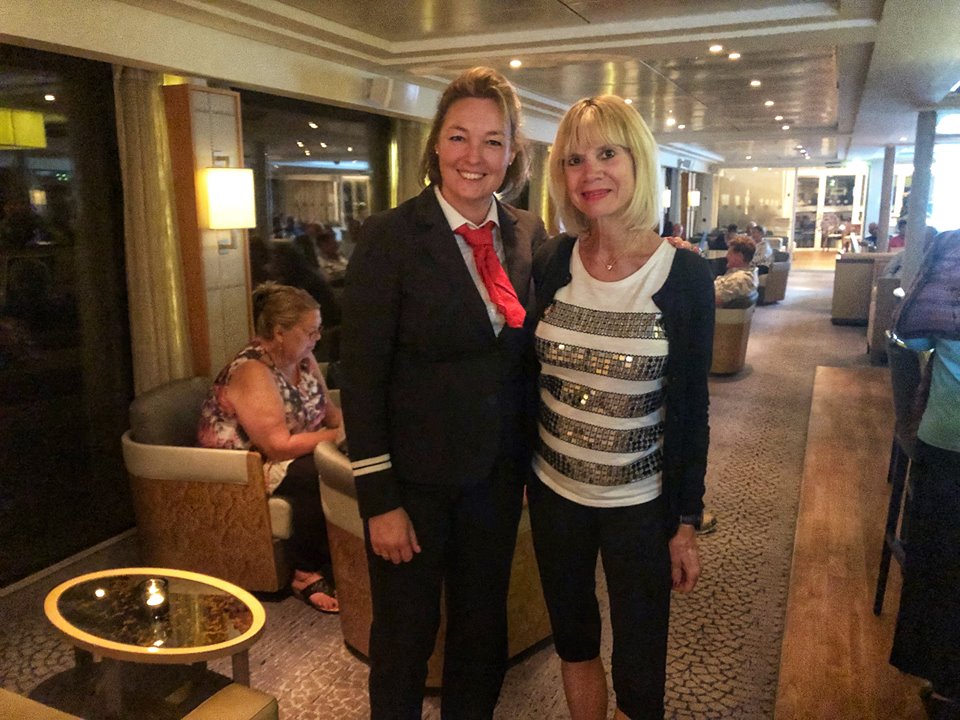 The Viking staff is very accessible and friendly. Here I am with Tessa, the program director. Viking tip: do not hesitate to approach any Viking staff member with any question or concern you have.
#14) Let The Staff Know If You Are Celebrating A Milestone While On A Viking Riverboat Cruise
If you are celebrating something special such as a birthday or an anniversary, my Viking tip is to notify the staff of your riverboat. You can inform them online while still at home in your personalized online account, or onboard the ship once sailing had commenced. The Viking staff will make sure to personalize your special celebration.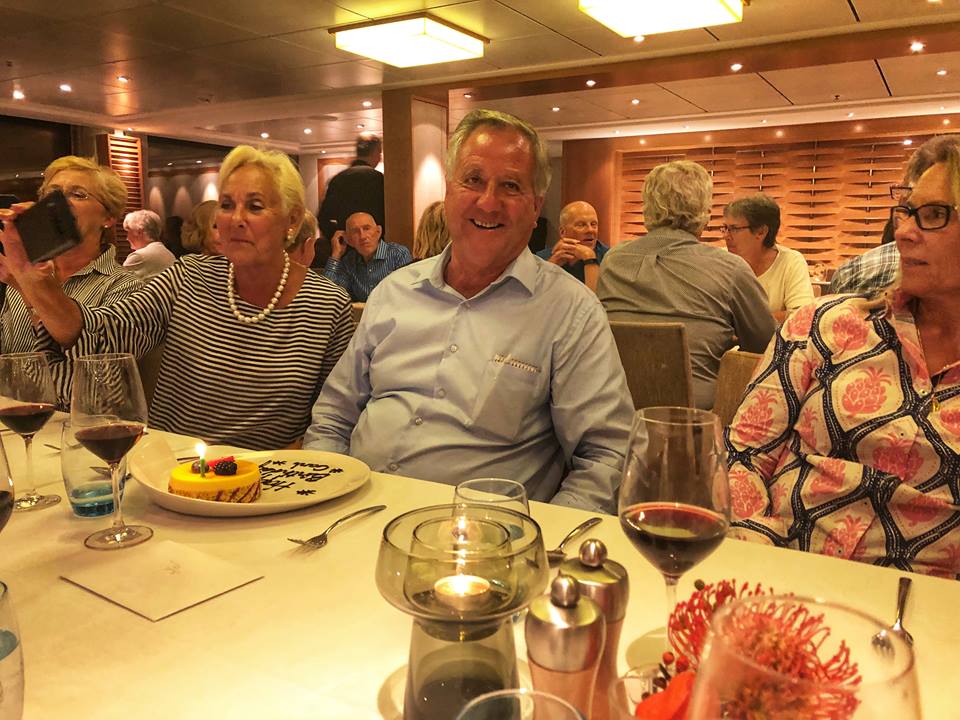 Festive Viking river cruise tip: be sure to notify your wait staff of any occasions you want to celebrate. Here we are celebrating Bob's birthday.
#15) Dining Options Are Up To You During Your Viking Riverboat Trip
Viking continually is winning top awards for their culinary excellence. The Viking kitchen staff stands ready to create unforgettable meals to please you. My Viking river cruise tip is to notify the Viking staff of any special dietary restrictions or preferences you have. They are professionals and capable of dealing with just about any request given them. Another Viking tip is to seek out the Maitre D or the chef as soon as you can after you arrive onboard and identify yourself and your specific dietary preference.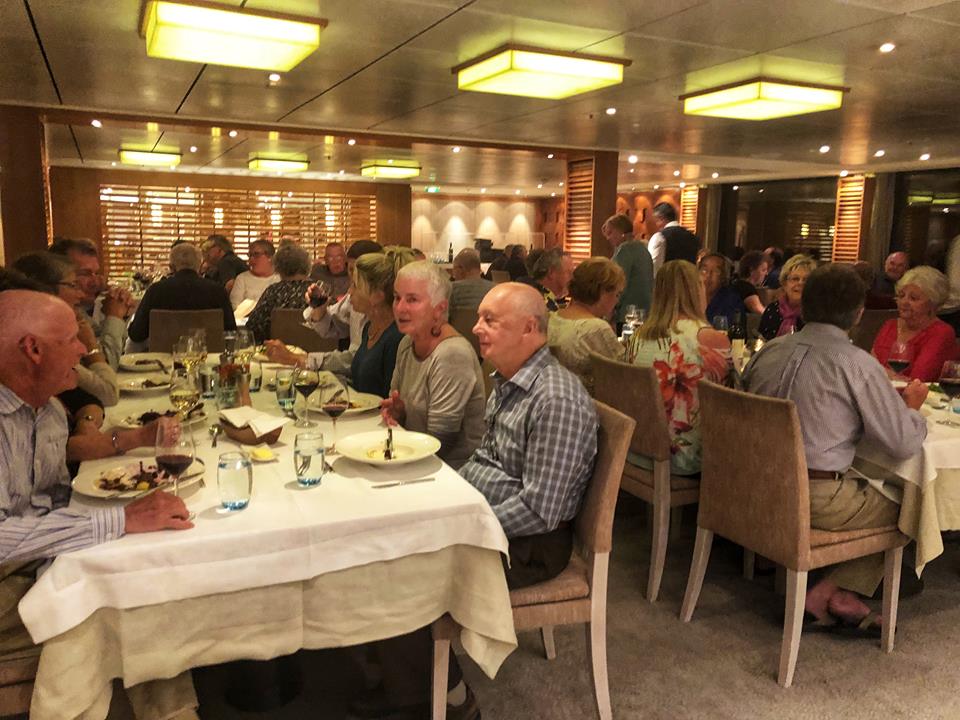 A crowded dining room filled with happy and hungry passengers! Viking tip: sit at different tables in the main dining room each time to meet more of your fellow passengers. Seats are not assigned.
#16) Breakfast, Lunch And Dinner On A Viking River Cruise: It's Up To You!
The two dining locations you can choose from on your Viking river cruise are the main dining room, or the Aquavit Terrace, which is smaller and a bit more casual. A Viking tip is that you may select which location you wish to dine at, and then simply inform your wait staff of your dining preference and your customized meal will be served you.
Another tip is to familiarize yourself with your breakfast and lunch options. Breakfast is served in the main dining room and the Aquavit Terrace as well. Muffins and scones etc are available at two coffee stations, where you can also make any kind of fancy coffee you desire, with tea being available as well.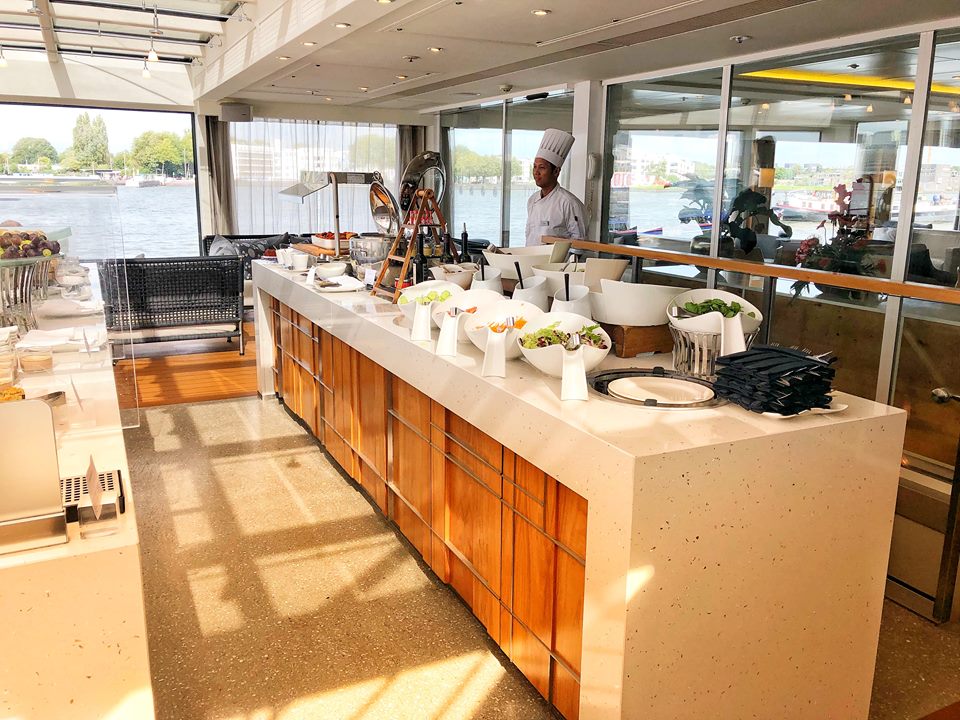 The Aquavit Terrace is ready to serve Viking guests lunch. A yummy Viking river cruise tip is to consider having lunch out on the terrace. Or breakfast. Or dinner!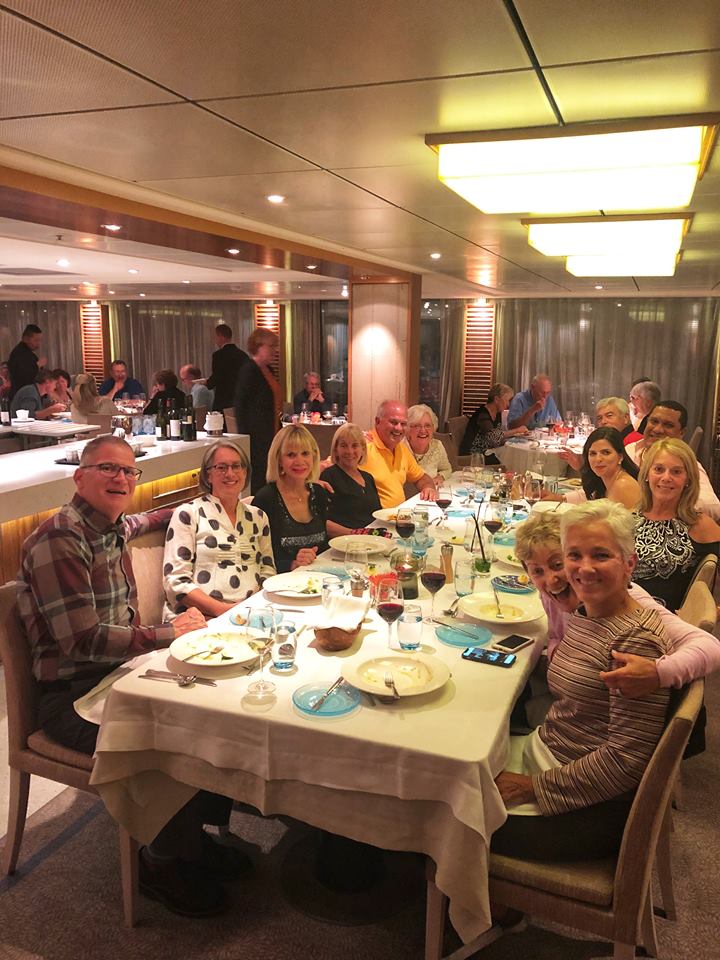 Here we are having a great dinner in the main dining room. A wonderful Viking tip is to sit at many different tables, with different people to meet more of your fellow passengers.
The same is true for lunch, with the difference being cookies and regional pastries being available instead at the coffee stations. During your trip, a great Viking river cruise tip is to mix things up, be flexible and depending on your specific plans for a specific day, take turns trying out all the eating options you have!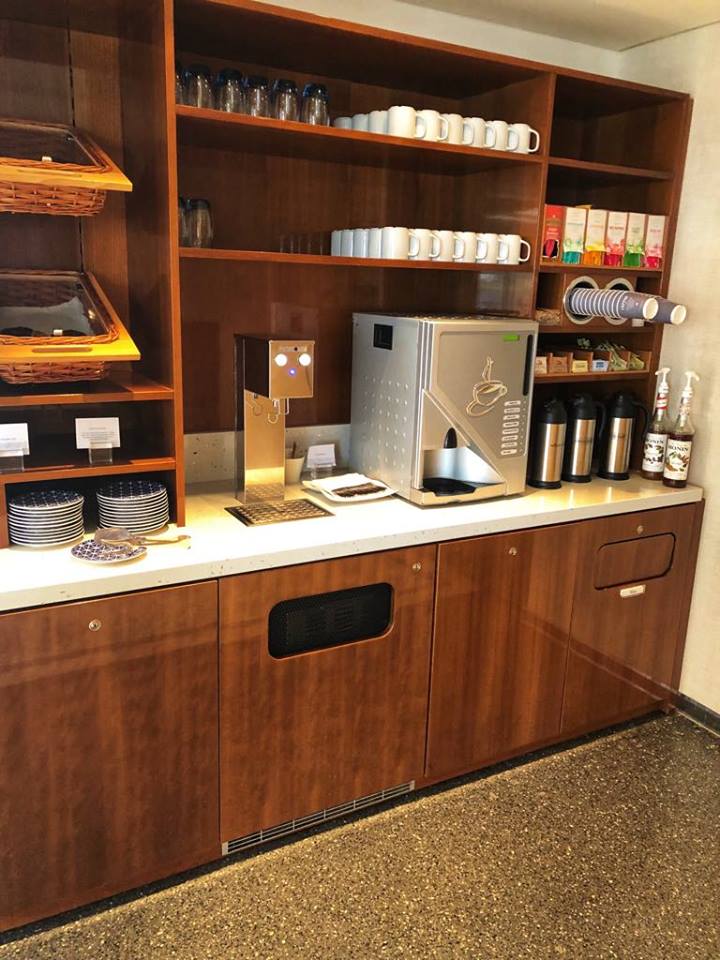 Here is one of two coffee stations available to you onboard a Viking river cruise ship. A great Viking tip is to check them out during your trip. You can make your own coffee or tea, and snack on muffins, scones, cookies, and pastries just about any time of the day.
Breakfast and lunch are offered within a window of time at your pleasure. Dinner, however, is served promptly at 7 PM for all guests. Another great Viking river cruise tip is to be adventurous and frequently eat at different tables to have the opportunity to meet lots of your fellow passengers.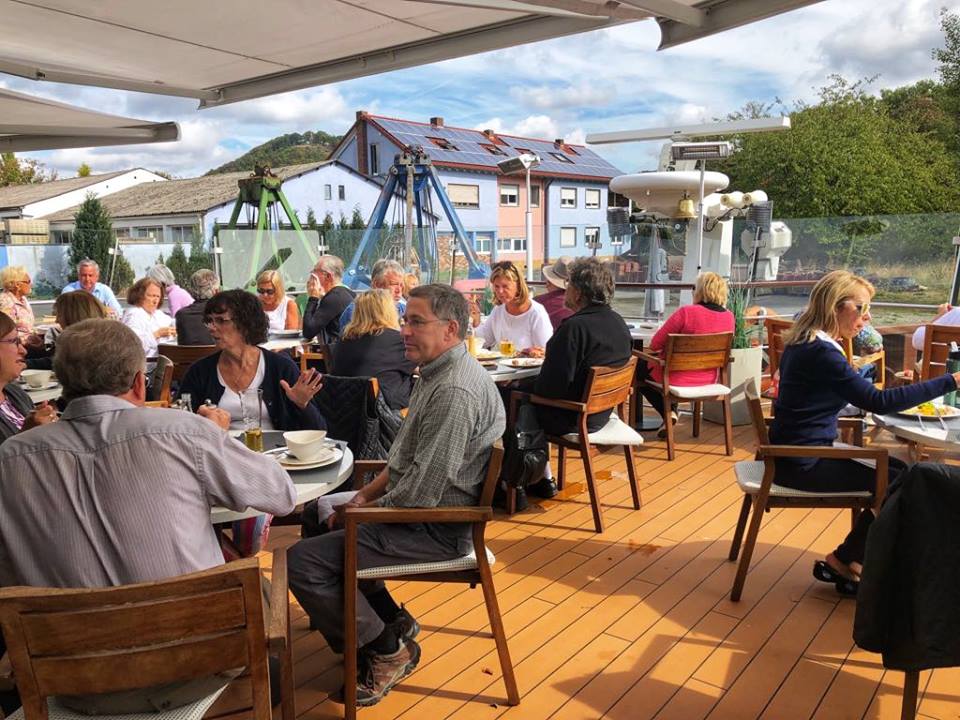 Lovely outdoor dining in the Aquavit Terrace. Viking tip: decide to have dinner or lunch out on the Aquavit Terrace.
Keeping in mind there is no 24-hour room service onboard Viking river cruises, a great Viking tip is to eat a full dinner, and carry away a snack or two to store in your onboard refrigerator. An additional tip is that you can also grab some cookies from either of the coffee stations, for example.
#17) Consider If A  Silver Spirits Beverage Package During Your Viking Cruise Is for You
Onboard during your journey, soft drinks and house wines, both red and white house wines are available to you during lunch and dinner hours. This is ample time to enjoy a good glass of wine or a soft drink. However, Viking offers for your consideration the Silver Spirits Beverage Package. This includes all wines, beers, cocktails, mixers, long drinks, and soft drinks anytime through your day and night. A great Viking river cruise tip is to consider if the Silver Spirits Beverage Package is a good choice for you, or not. This is a personal choice, so discuss with your Viking booking agent, as we did, or if you decide onboard during sailing, you will be accommodated on board.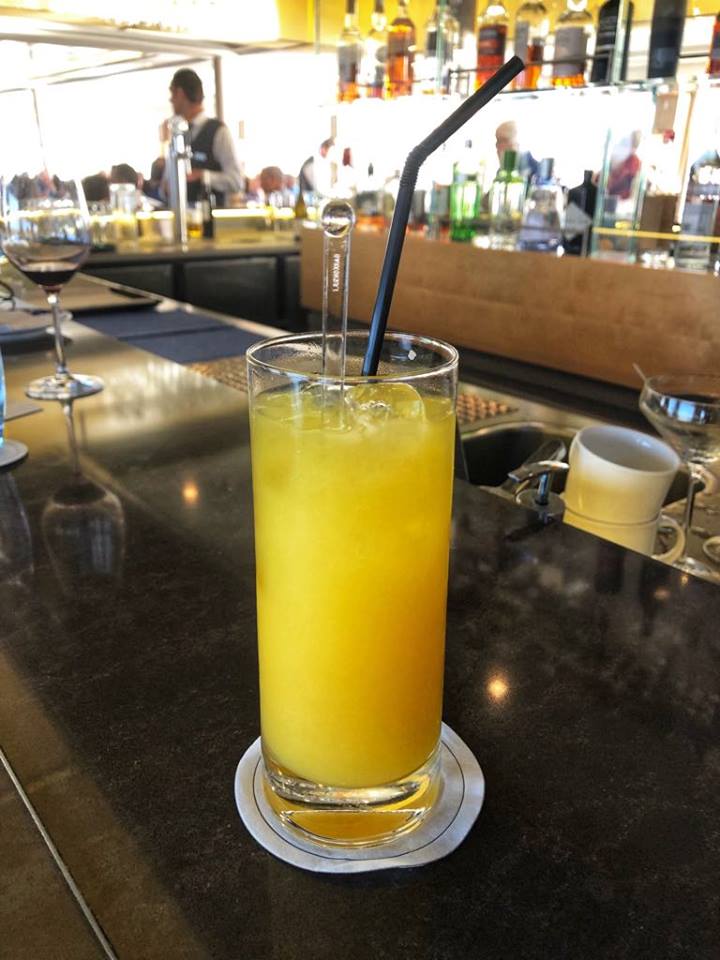 Another Viking tip is to decide if Viking's Silver Spirits Beverage Package is for you. Here's my long drink onboard in the lounge.
#18) Take Advantage Of The Daily Excursions Viking Offers, Each With A Local Guide
In your personalized online Viking account which you will set up, you will find all the excursions Viking offers you during your cruise. Every day Viking has an included tour. These tours are free to all passengers. I signed up Robyne and myself up for every single included tour on our Grand Viking European Tour.
There are also additional optional excursions offered by Viking at a lot of the destinations, and these cost additional money. Some not a lot, some quite a lot. It depends on the tour and destination.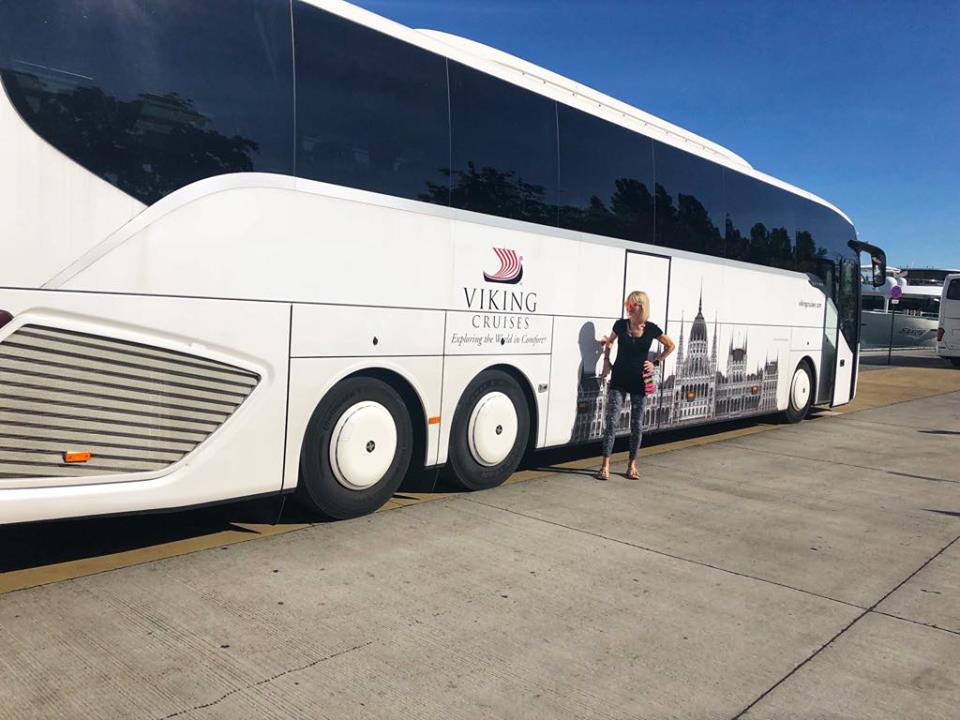 The Viking motorcoach in Vienna, Austria. All Viking coaches for all excursions are comfortable and quiet. 
ALL tours offered by Viking were exceptional and dove into the local history and current culture of the cities and villages we visited. We chose a few of the optional excursions and these were the ultimate experience. Viking tip would be to consider your budget, and what interests you and do any additional optional excursions you can.
On each tour, Viking provides a local guide, who usually lives in the area being visited, who narrates everything. They are open to questions from the group. You will wear Audiovox hearing devices so you can hear your guide, which you will find in your room. A Viking tip is to make sure you place your hearing device back on its charger when you return to your room, so it will be fully charged for the next excursion.
#19)You Decide What To Do, Or Not Do, Onboard During Your Viking River Cruise
A great Viking tip is that while traveling on a Viking river cruise, you are in charge of your own schedule. You decide how busy you want to be. Or not!
There will be mornings or afternoons during your trip that the ship will be sailing to its next destination. Or days when your ship will remain in port overnight or for a few days. During these times, Viking always has onboard enrichment programs available. It is my experience that Viking hand-selects only people who are experts in their fields, who are engaging and present their information in an interesting and captivating way.  My Viking tip is that would highly recommend you carefully consider your schedule and how rested you are, and attend as many enrichment lectures and demonstrations as you can.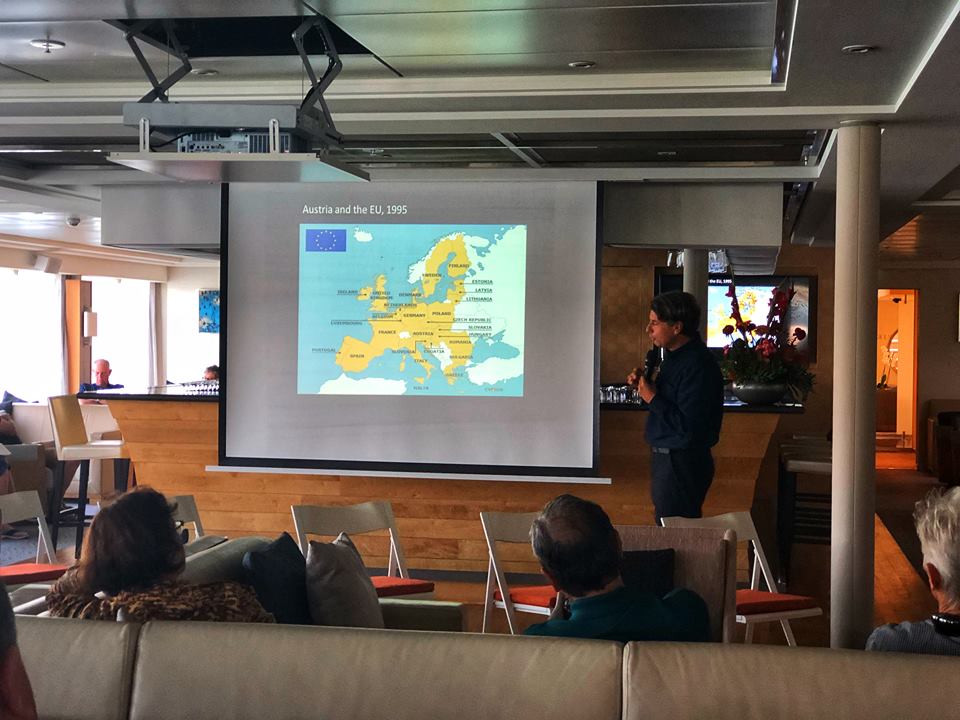 A historical presentation on Austria. It was very interesting. A Viking tip: attend as many onboard enrichment lectures/demonstrations as you can.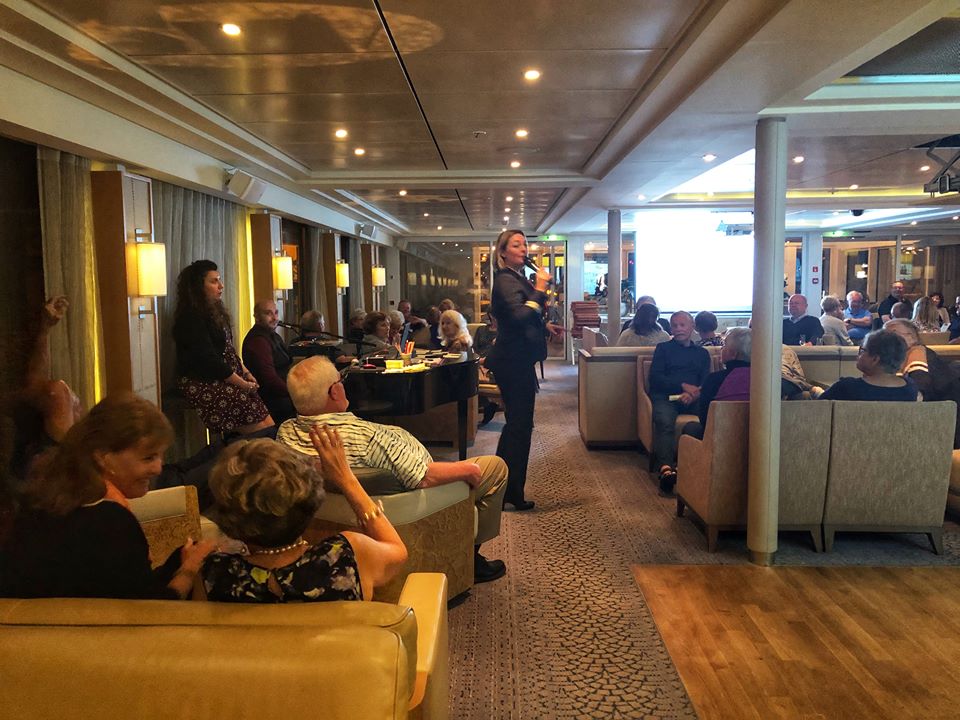 Here is the program director, Tessa, during a presentation in the lounge. Viking tip: attend as many enrichment programs as you can.
#20) Be Aware WiFi Is Available But Not Like At Home On Your Viking River Boat Cruise
You will travel through some of the most beautiful countryside and scenery on the planet, and that often precludes a strong internet signal, due to remoteness and mountainous regions. Once on board, you can ask for the ship's WiFi password. A huge Viking tip is to please be careful and check your phone settings frequently, making certain that you are on the ship's Wifi, and not its satellite system, which would be prohibitively expensive.
Another Viking tip is walking around onboard your ship, and speaking with your fellow passengers to reveal the best location(s) that provide the strongest wifi.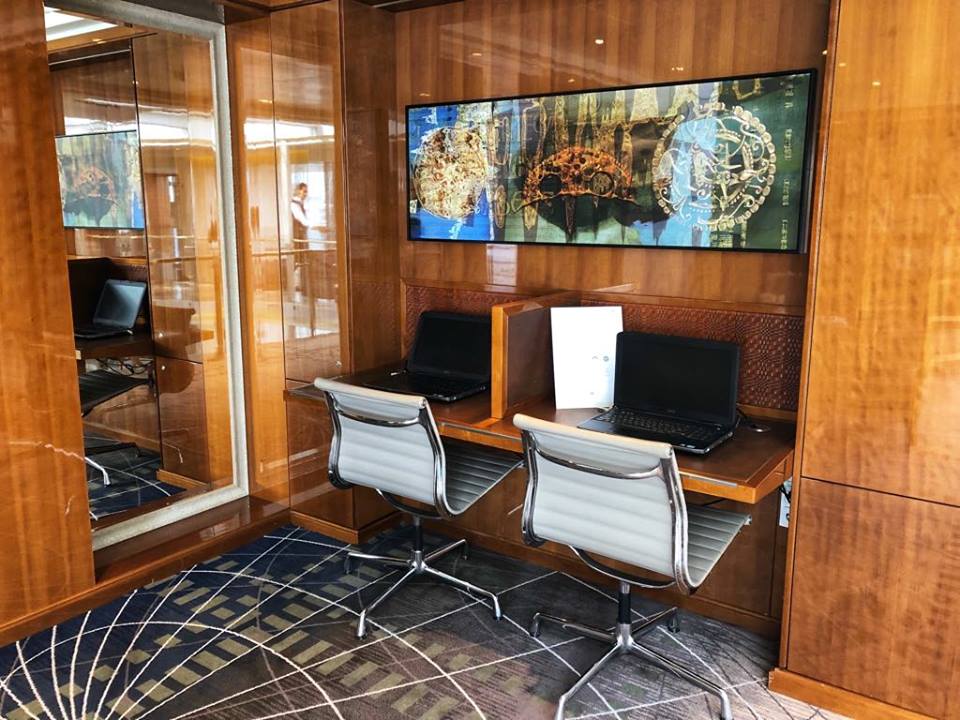 Computers are located in the library for your use. Viking tip: wifi bandwidth is strongest when in port, or very early in the morning, or very late at night, when not too many people are online at the same time. 
The strongest signals are usually in the individual towns and villages your ship will visit.  You want to text and check email when out on your excursion tours. And of course, McDonalds and Starbucks offer free lightning-fast internet anywhere in the world, so a great Viking river cruise tip is to look for them if you wish to use the internet.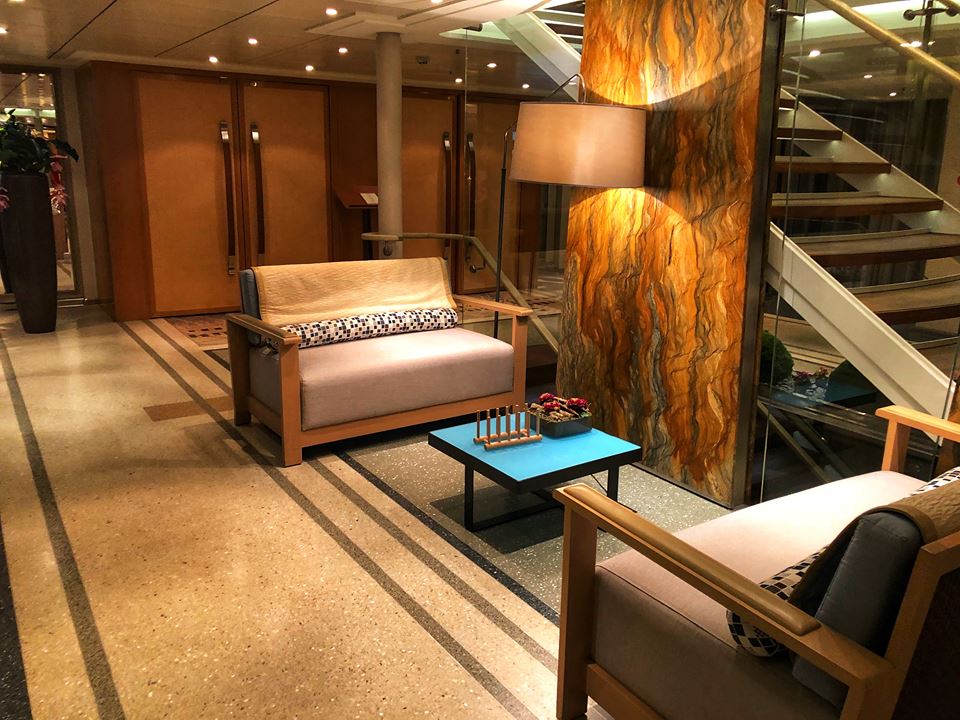 Several passengers found this comfortable and cozy lounge area off the main foyer had the strongest wifi signal. Viking tip: best wifi reception is in the towns you visit. Make sure to visit McDonalds or Starbucks for lightning fast speed.
#21) Gratuities Are Expected (You Won't Mind Tipping!) On Your Viking River Boat Cruise
You will get to know your onboard wait staff during your Viking river cruise. They are all truly dedicated to serve you and go out of their way to please you.  In your "cruise documents"  booklet which was mailed to you, there is a tipping section with suggestions for the program director, wait staff, and local guides. A Viking river cruise tip is that tipping is totally at your discretion.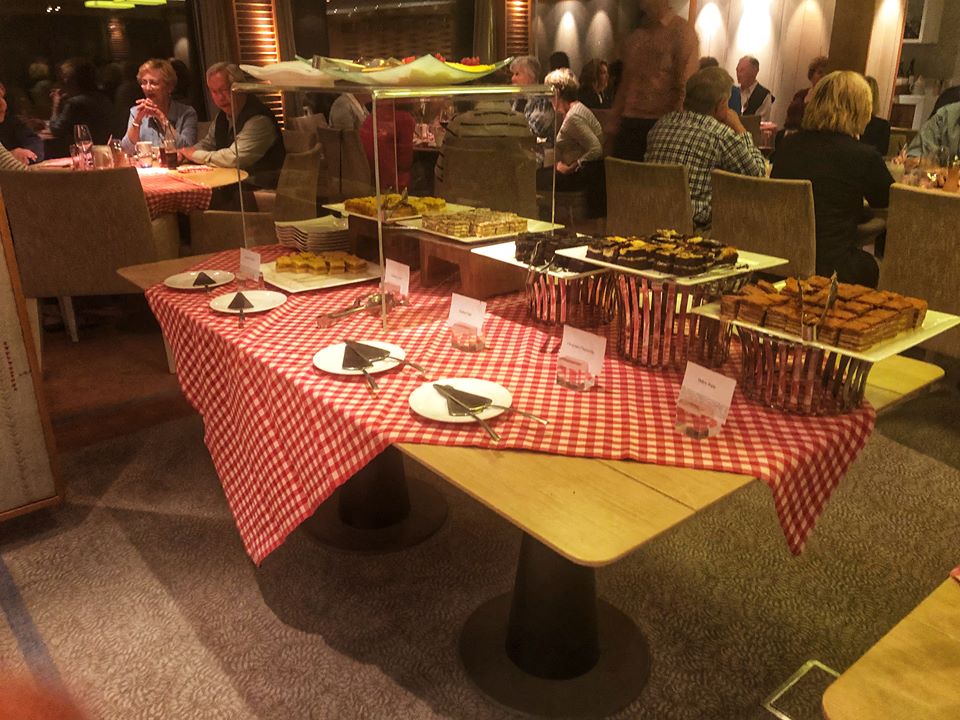 Austria night in the main dining room of the Viking Baldur. 
Are you preparing for a Viking river cruise? Do you have specific questions? Please post any questions you may have in the comments section below.
Please note: I was provided a complimentary Viking Grand European Tour river cruise for myself and a guest, and a stipend, as an opportunity through Viking River Cruises for the purpose of this honest review. All opinions are my own. 
Pin this post: