Are you searching for the best Airbnbs in Hocking Hills, Ohio as you are preparing for a trip to the Buckeye State?
I was born and raised in Ohio and it is a perfect place to live, visit, and vacation.
Hocking Hills is located in southeastern Ohio. It is about 60 miles from Columbus, Ohio.
No matter what time of year you visit Hocking Hills you will be rewarded. From bright lovely wildflowers in the spring to blazing fall foliage in autumn, Hocking Hills is a very popular destination in Ohio.
I am a midwestern girl through and through. I was born and raised in Youngstown, Ohio. So, I've got you covered with these 10 unique Hocking Hills Airbnb options!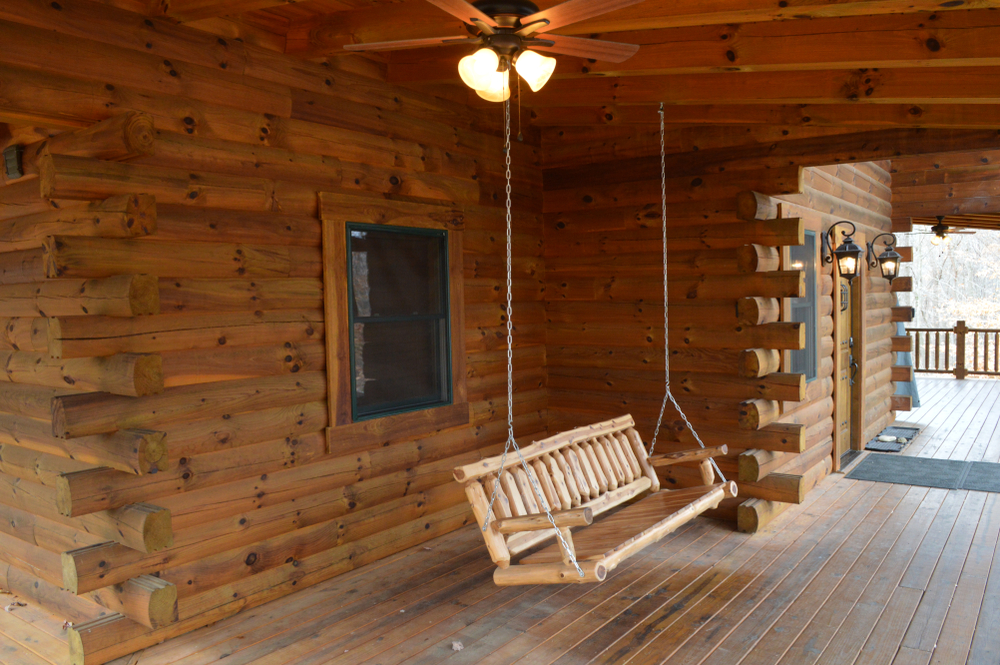 10 Best Airbnbs In Hocking Hills (Bungalows, Barns, & More)
Hocking Hills Treehouse
If hiking and looking for waterfalls or general overall adventure at Hocking Hills State Park is on your agenda, the unbelievable Hocking Hills Treehouse could not be more convenient for you!
Situated minutes from the park's most popular attractions such as Old Man's Cave, Ash Cave, and Cedar Falls is this treehouse gem tucked away in the trees. and one of the best Airbnbs in Ohio.
Read here about fifteen weekend getaways in Ohio!
Rugged only in its outdoorsy charm, this studio-style treehouse has all the modern amenities you could want. This treehouse is one of the best Airbnbs in Ohio you should consider if visiting Hocking Hills.
With sleeping accommodations for 4, an indoor bathroom, and a fully functional kitchen, it also offers central air conditioning and heat, depending on when you visit.
Have your morning coffee or dinner every evening out on the balcony admiring the epic views!
Click Here To Check Rates On VRBO.com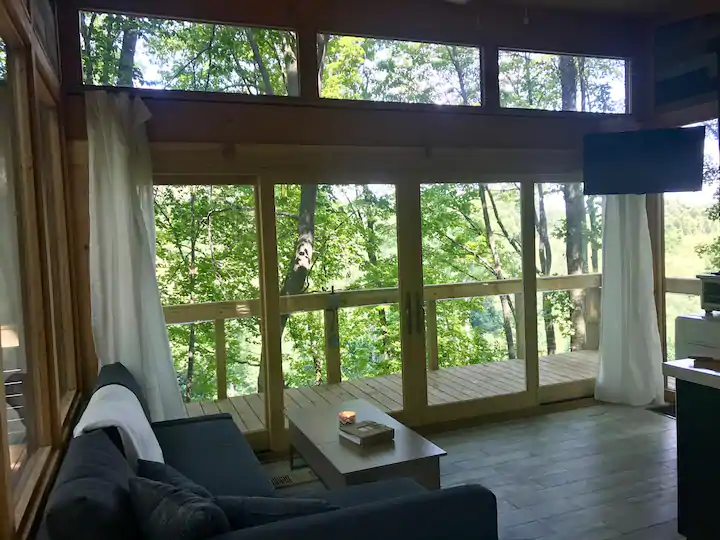 The Lily Pad Shipping Container
Situated within 13 acres of lush forested land, this stylish shipping container is a short two miles from the popular Hocking Hills State Park.
Read more information here about the waterfalls in Hocking Hills.
Fully heated and/or air-conditioned, (depending on the season!) this is comfort at its finest. Sleeping 2 guests in one beautiful bedroom, you can bring nature indoors through the large glass windows.
Relax on the fully equipped covered patio with outdoor string lighting adding a touch of charm. A long soak in the hot tub is the perfect way to end a day after hiking in the nearby Hocking Hills.
Roasting marshmallows in the fire pit and making smores outdoors is quintessential camping but with all the luxuries that are afforded at the Lily Pad!
Click Here To Check Rates On VRBO.com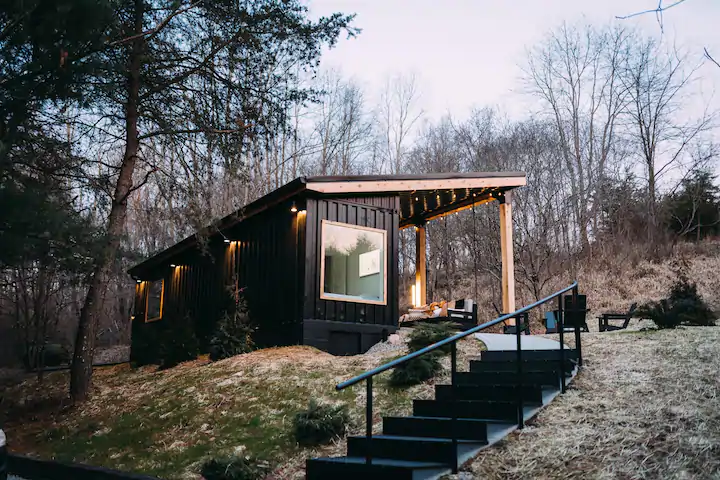 Overlook – Hocking Hills
Overlooking the beautiful outdoors of Hocking Hills, Overlook has expansive windows that bring the outdoors inside for you to enjoy.
With a wrap-around porch, you and your family will love this house sleeps up to 6 guests, with 3 bedrooms and 2 bathrooms.
A kitchen with stainless steel appliances has all the amenities you need to make you feel at home. Alternatively, there is a grill outside, with a fire pit to end the day with smores or a glass of wine.
Located near parks and waterfalls, this house is one of the best Airbnbs in Hocking Hills.
Click here for the rates on VRBO.com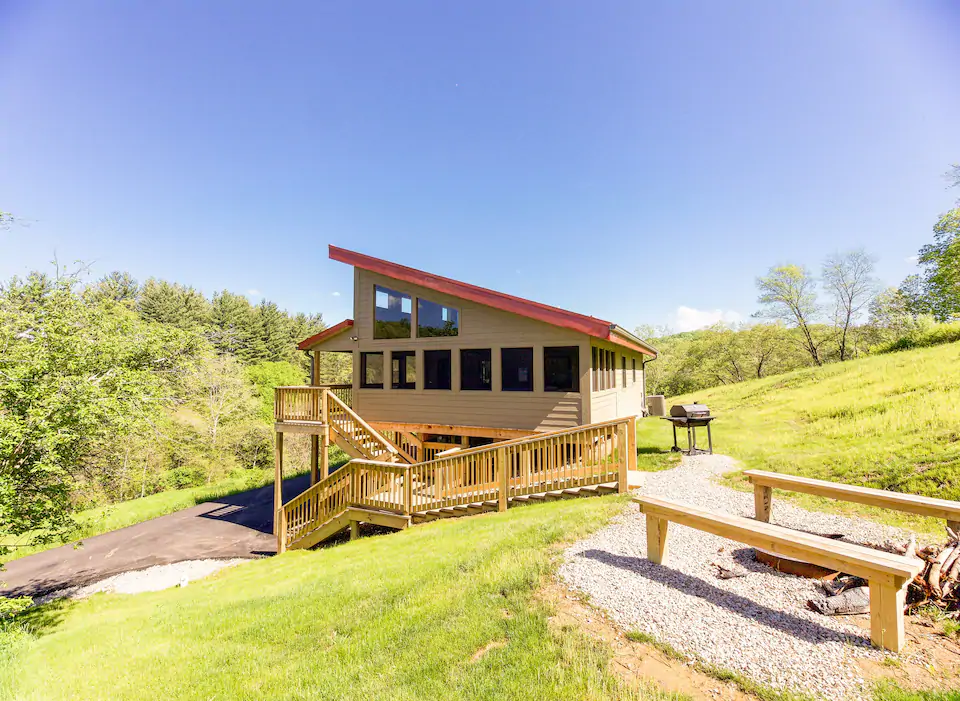 The Trillium Tiny House
This hand-crafted tiny house packs a lot of punch in its tiny space!
Able to sleep 4 guests, with 1 bedroom and 1 full-sized bath, makes this best Airbnb in Hocking Hills a unique and exciting experience.
Situated amidst many amenities, it is centrally located in Hocking Hills and within minutes of Hocking Hills State Park.
There are many hikes in Hocking Hills State Park you may want to head out for.
There is a loft bed, and the living area can be converted into a bed. With trendy appointments throughout, you will find this tiny house on wheels has an outdoor grill.
Enjoy the outdoors on the front porch, or have a view of it through the spacious sized windows while remaining indoors!
Click here for the rates on Airbnb.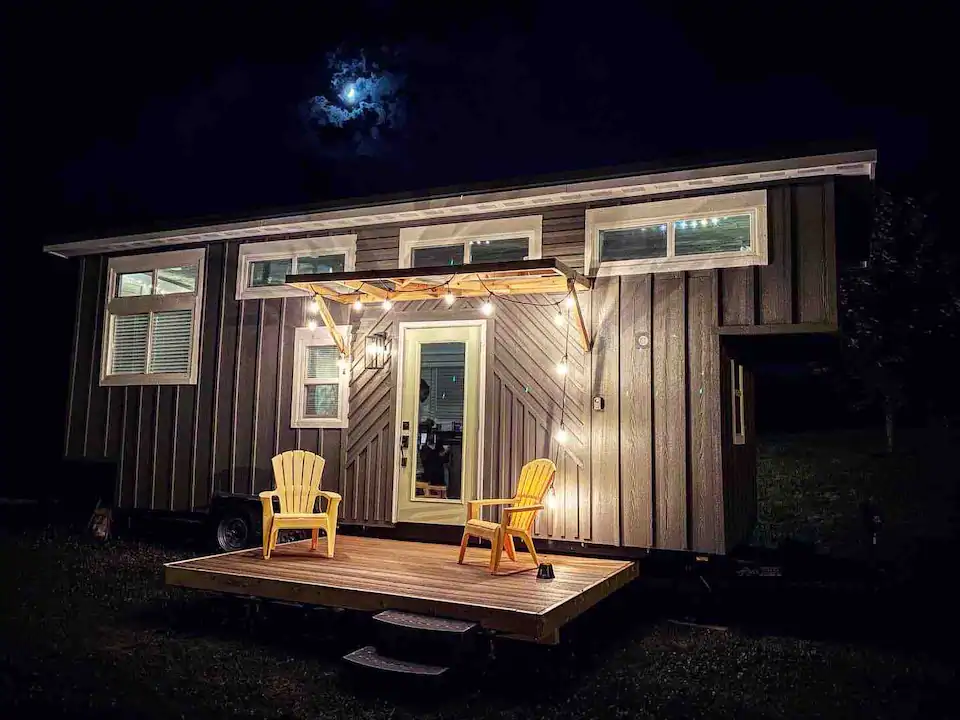 The Culver House, Downtown Logan, Hocking Hills
Full of historical charm, the Culver House is located in the heart of historic downtown Logan, Ohio.
Dating back to approximately 1875, this gem can accommodate up to 6 guests and has 2 bedrooms and 2 bathrooms. And comes with all amenities to ensure you have a comfortable stay.
Located within walking distance to Logan's shops and eateries, it is also very close to Hocking Hills State Park.
Due to its excellent location for both residential and park amenities, the Culver House, is one of the best Airbnbs in Hocking Hills.
Click here to check the rates on Airbnb.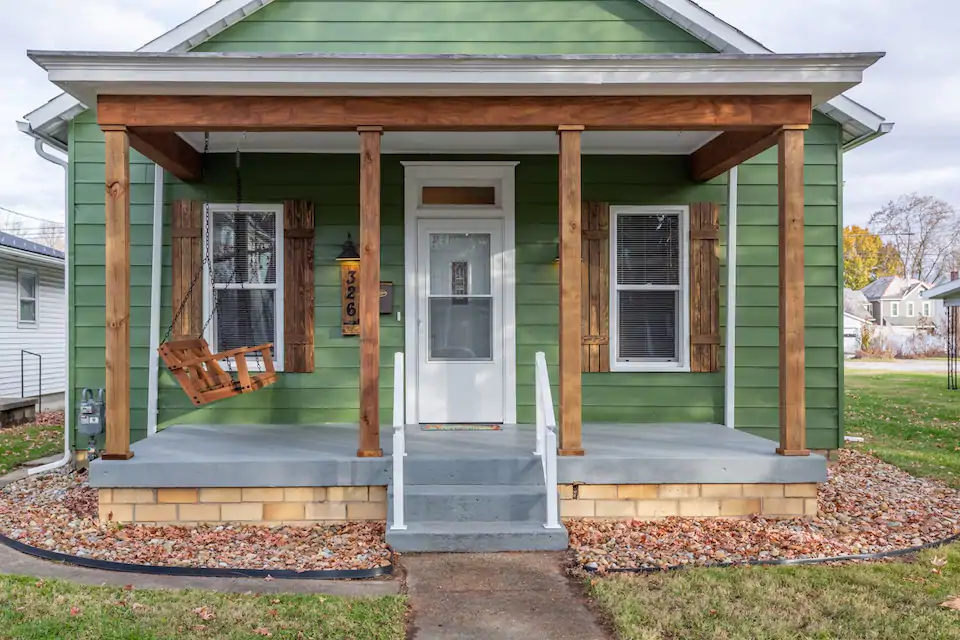 Summer Daze On The Lake
Located on Lake Logan, the Avalon Villa is is described by the host as belonging to her "Cut Above" Family.
Exquisitely appointed, this bungalow can sleep 8 adults and 4 children, with 4 bedrooms, and 3 baths.
With a modern open concept, the great room opens to the dining room and kitchen, stocked with utensils, pots and pans, and everything else you need to feel at home.
This large bungalow, offers three levels, providing enough space for everyone in your group to have enough room for themselves!
A large deck overlooking the lake, a barbecue grill, and a hot tub are there for your enjoyment. And don't forget to bring ingredients for smores around the fire pit!
The host wants you to know that you can use kayaks, canoes, and mountain bikes for free. Bring your boat to enjoy Lake Logan.
The Summer Daze Bungalow On The Lake is one of the best Airbnbs in Hocking Hills.
Click here for the rates on VRBO.com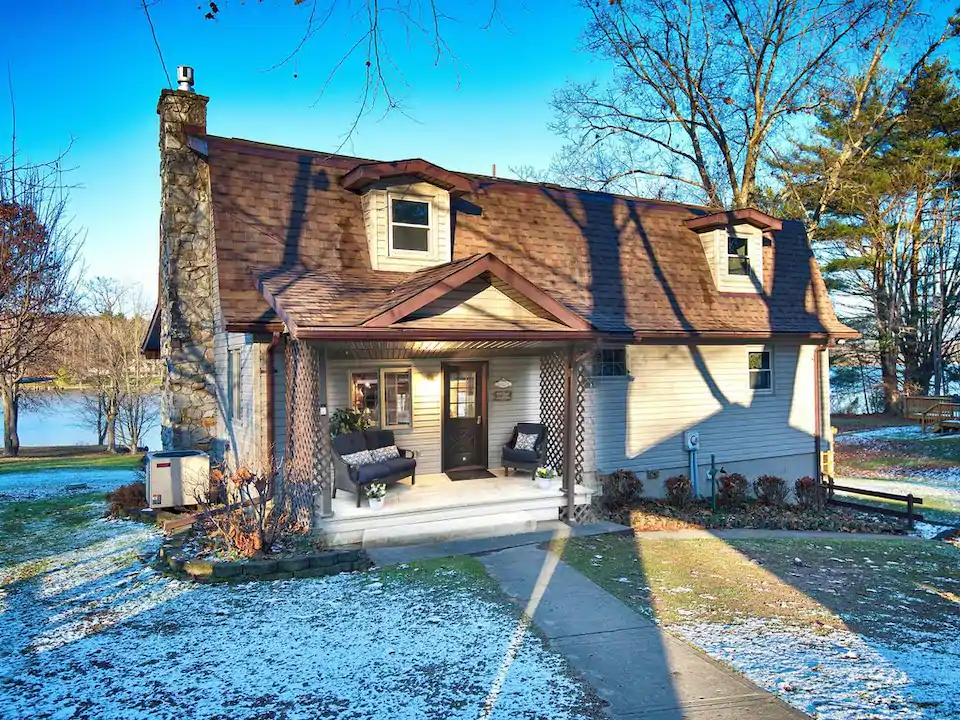 Honey Bear Hideaway
This rustic three-bedroom log home is perfect for your family getaway. Able to sleep up to six guests, with three bedrooms and two bathrooms it is warm and welcoming.
A beautiful front porch is a great place to begin a day with coffee while watching wildlife in the yard!
Or end your busy day with a glass of wine to unwind. Or how about soaking your tired hiking muscles in the hot tub!
There is an open kitchen-great room set up that is great for relaxing and visiting.
Conveniently located six miles from Hocking Hills State Park, it is also near dining, shopping, and outdoor adventure! There really are so many things to do in Ohio!
Honey Bear Hideaway is one of the unique cabins in Hocking Hills.
Click here to check the rates on Airbnb.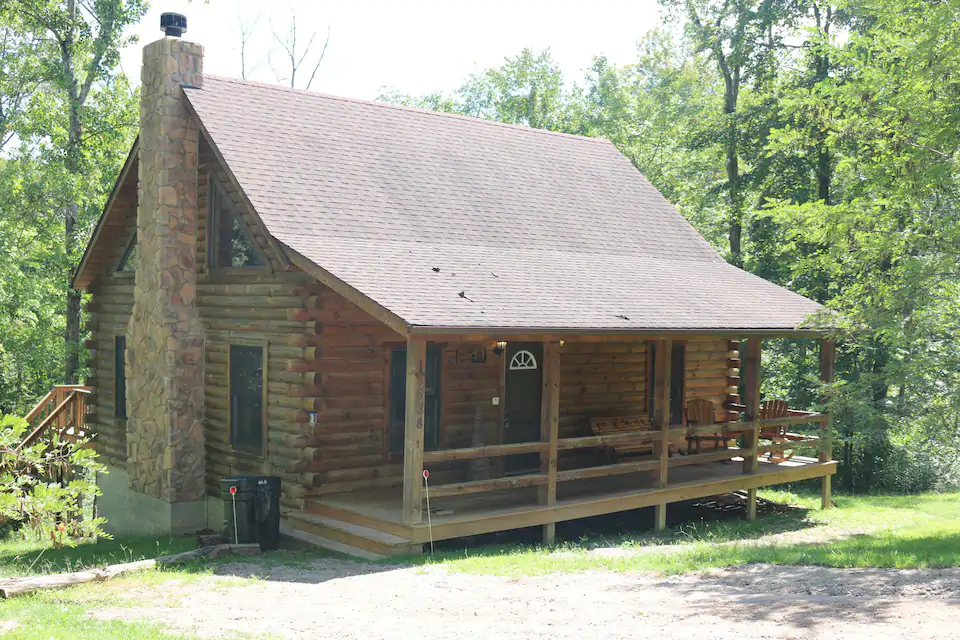 Baker's Acres Hocking Hills Farm
For a nostalgic time when life was simpler, yet with all the modern amenities for your convenience, this 3 bedroom farmhouse is just the place.
Located minutes away from Hocking Hills State Park and local attractions, the farmhouse sleeps up to eight, in 3 bedrooms with one full bath.
Situated on 76 private acres, the interior of the farmhouse is very charming. there are toys and games for the kids, and a balcony overlooking a pond in the yard.
You have 76 acres to discover, hike, and ride your horses. And there is room for your horses in the barn.
For a relaxing weekend with your family and friends, this is one of the best Airbnbs in Hocking Hills.
Click here to check the rates on Airbnb.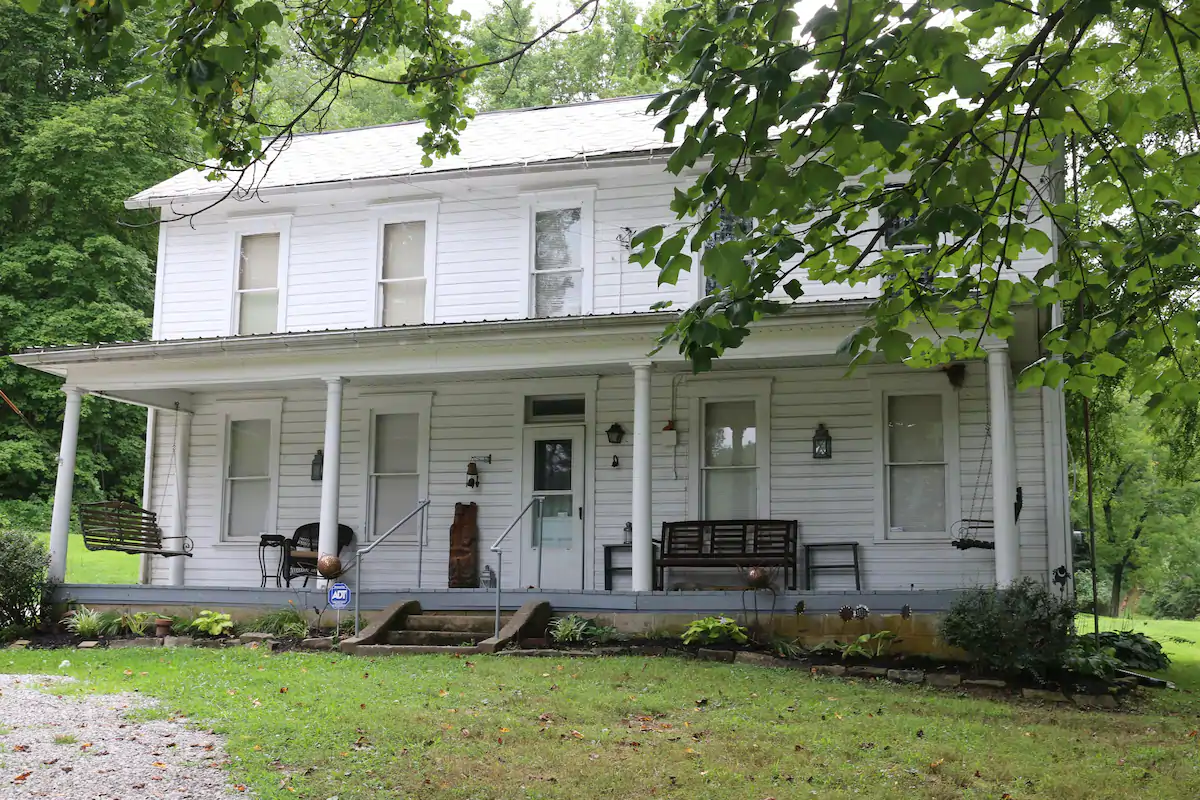 Barton Meadows
A great place to reconnect and recharge with family and friends is this lovely Victorian home.
Overlooking meadows and woods, it is conveniently located about 7 miles from Old Man's Cave in Hocking Hills State Park.
Able to sleep up to 12 guests, in 4 bedrooms, with 3.5 bathrooms, this is one of the best Airbnb's in Hocking Hills to celebrate special occasions and milestones.
If the local amenities are not enough, the house comes equipped with a hot tub, pool table, karaoke machine, and satellite tv.
Click here to check the rates on Airbnb.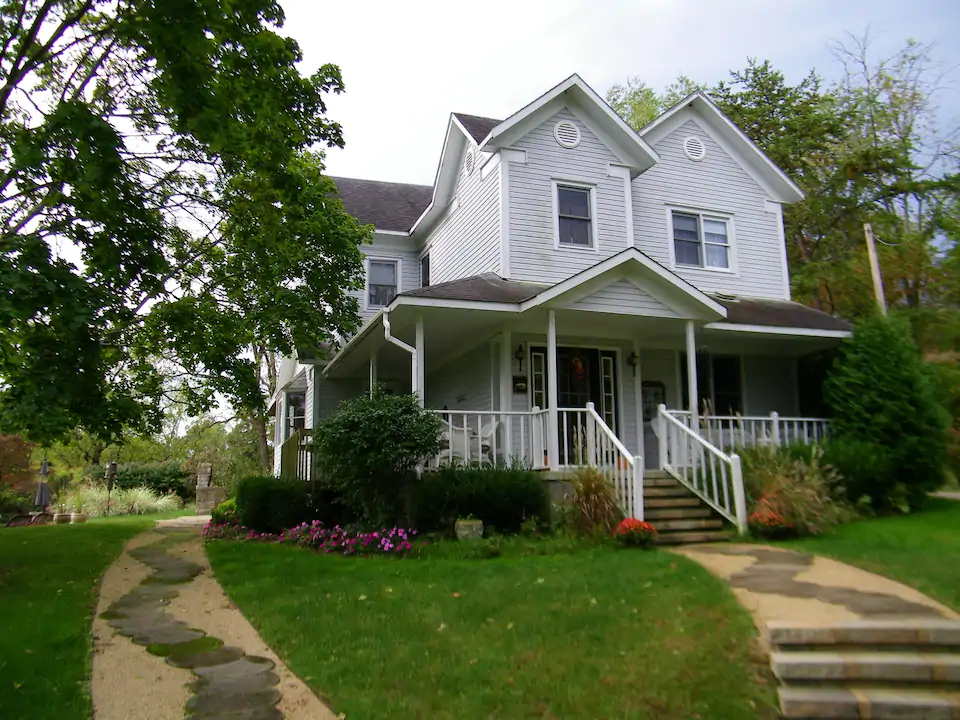 Ponderosa Cabin
Ponderosa Cabin is conveniently located one mile away from Old Man's Cave in Hocking Hills, making it one of the most conveniently located cabins in Hocking Hills.
Able to accommodate 4 guests, with 2 bedrooms and one bath, it is recently been built. You will travel down a lovely quiet road to get to it, leaving all the sounds of the world behind.
Having a convenient open floor plan, this log cabin has modern amenities to make your stay comfortable. Enjoy sleeping in one of the log beds, and watching the sunset from the porch.
Being immersed in Ohio's nature makes this one of the best Airbnbs in Hocking Hills.
Click here for the rates on Airbnb.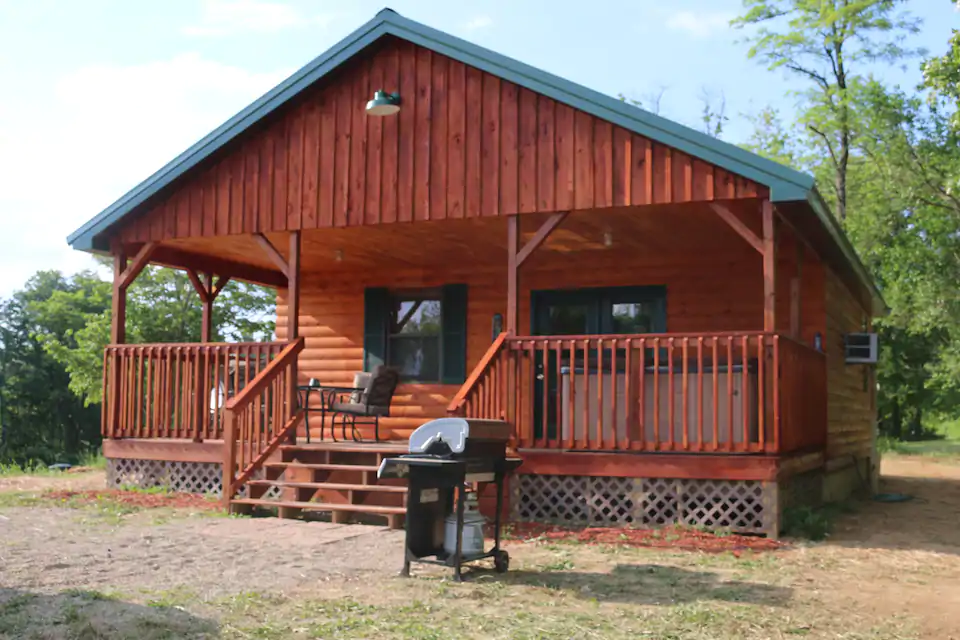 Here I have listed for you the 12 best Airbnbs in Hocking Hills, Ohio. I hope I have inspired you by one of my suggestions.
If you do travel to the Buckeye State and stay in one of the Hocking Hills Airbnbs listed here, please share your experience in the comments section below!
Here are some suggestions for other Ohio Airbnbs for you in case you are traveling throughout the state.
Packing List For Visiting Hocking Hills, Ohio
If you will be traveling, either by plane or by car to Ohio, here are some tips on how to pack lightly.
A concealed travel pouch may be one of the most important items you bring along when visiting Hocking Hills, Ohio. It is always important to protect your personal information. Identity thieves are everywhere.
This unisex RFID blocking concealed travel pouch is lightweight and comes in several colors. It has lots of organization to give you peace of mind. You can place it under your hiking clothes next to your body to carry your ID safely.
If you have a pouch already that does not come with the RFID protection, as I do, these RFID sleeves are the perfect solution.
This configuration comes with enough credit card sleeves that the entire family would be protected. They are slim too, so they will easily fit into your pouch or wallet.
If you are planning on taking a lot of pictures with your phone you will definitely want to consider an external charging battery. This Anker high-speed phone charging battery is the exact one I carry with me on all of my trips.
It can be used on a variety of phones, not just an iPhone like I have. And wow is it fast!
I like that it holds its charging capabilities for several uses so I do not have to worry about it while out and about, and if I forget to recharge it at night, it will still be good to go the next day.
My daughter gifted me with this FugeTek selfie stick and tripod setup for my birthday. I absolutely love it! It is made of lightweight aluminum and so easy to use.
It has Bluetooth connectivity and is a breeze to use for taking selfies with all those nature shots while visiting Hocking Hills.
Hydration is so important when hiking. You want to remain hydrated throughout your hikes to support your immune system which in turn will be stronger to fight off any germs you will encounter during your travels.
You will want to bring your own refillable water bottle with you.
I never leave home on a trip without my Bobble filtration bottle. The 18.5-ounce size is perfect for hiking and it fits nicely in the pocket of a backpack.
When filled with water, it is not too heavy to carry. And the charcoal filter ensures fresh clean water whenever you fill the Bobble.
You can find filter replacements here.
Perhaps you are traveling a long distance and packing space is a premium in your suitcase, or in your car. Then this set of collapsible silicone foldable water bottles would work well for you. Would not take up much space at all.
You will want a backpack or daypack with you to store snacks, your water bottle, phone, extra clothes, etc.. when hiking This foldable water-resistant backpack would be great
It is very affordable and is available in many color options for you to choose from. The fact that it folds down into a zippered pouch will make it easy to pack.