Searching for the best places to see fall foliage in Ohio?
Most people would not even consider Ohio as a fall destination "leaf peeping" vacation spot.
I was born and raised in Ohio and I can say Ohio fall foliage can be downright breathtaking!
The peak color period in Ohio depends on the weather. Sunny warm days and chilly, frost-free nights affect the timing of the fall colors in Ohio.
Different trees color at different times during the month of October, so check the weather and do your research. Southern Ohio will peak before northern Ohio.
From bright reds, sumptuous golds and yellows,  and beautiful oranges, fall colors in Ohio do not disappoint.
Here I have listed for you 11 best places to see fall foliage in Ohio.
Lookin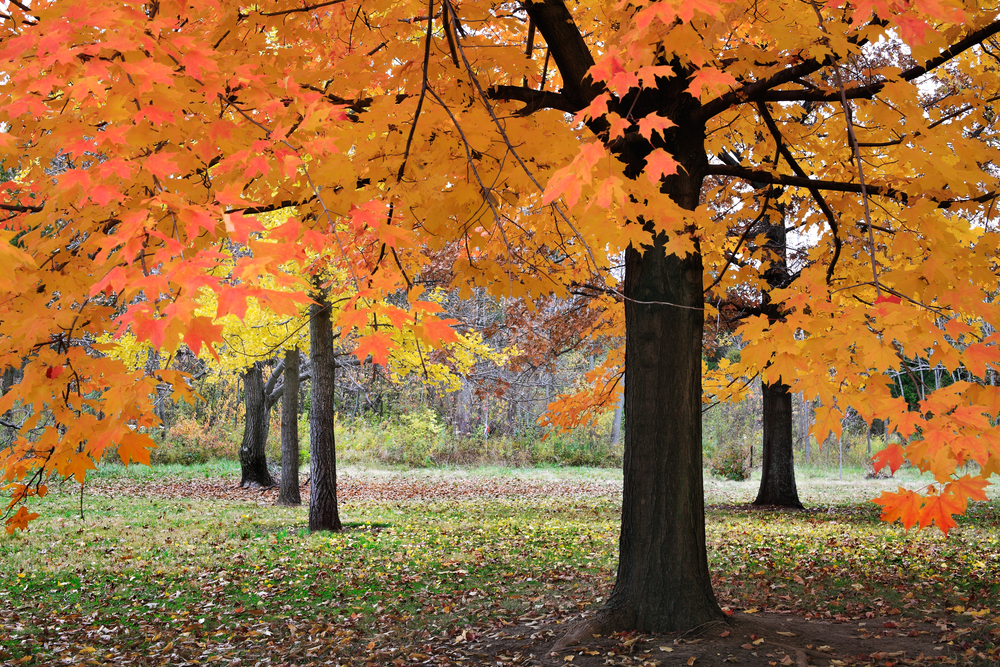 11 Best Places To See Fall Foliage In Ohio
Ohio Fall Colors Can Be Blazing At Sharon Woods
Sharon Woods is a popular park located in Cincinnati.
At 730 acres in size, there is a lot to do and see. But it is the 2.6-mile paved trail around the lake and the less-than-one-mile gorge nature trail that offers feasts of Ohio fall foliage!
Around the lake spectacular, brilliant trees ablaze in fall color will amaze.
Be advised, there is a parking fee.
Sharon Woods is one of the best places to see fall foliage in Ohio.
Read 15 things to do in Ohio for more Ohio inspiration.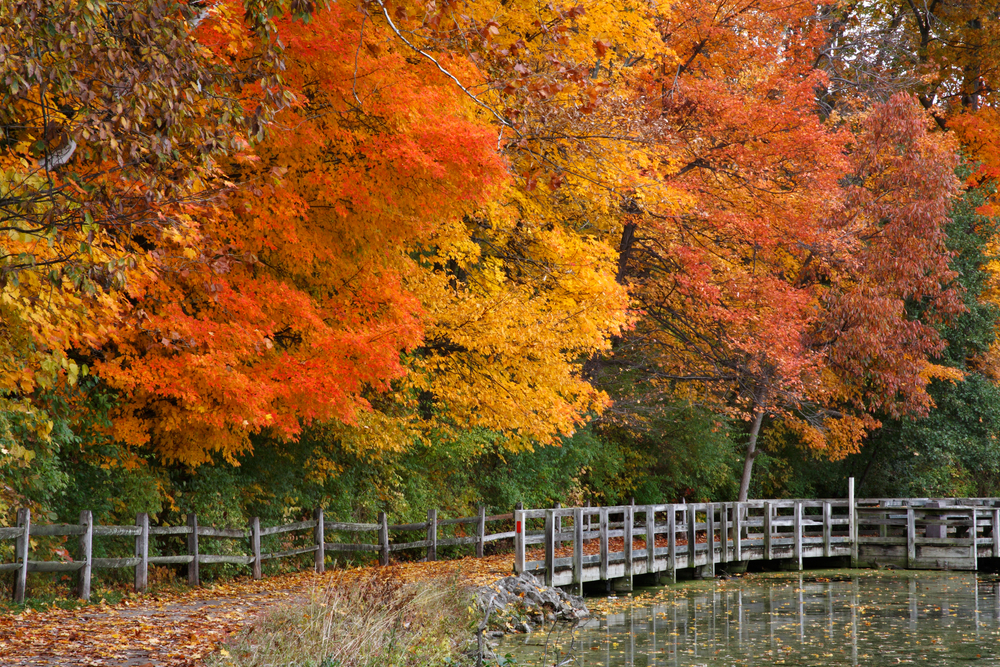 Cuyahoga Valley National Park Impresses With Ohio Fall Foliage
One of the premier places to see fall colors in Ohio is Cuyahoga Valley National Park
With thousands of acres, it offers lots of opportunities to "leaf peep."
Everett Covered Bridge, one of the most photographed spots in the park is a great location to start.
Hiking to the parks' popular waterfalls, Brandywine, Blue Hen, and Buttermilk Falls offers indescribable scenes of brilliant Ohio fall foliage.
There are locations while traveling through the national park where it is not even necessary to get out of your vehicle to view the fall colors in Ohio.
For example, visit the Octagon Shelter via the access road (off of Truxell Road). It is one of the best places to see fall foliage in Ohio.
The drive on the access road has amazing views of colorful birch trees.
Cuyahoga Valley National Park is one of the best places to see brilliant fall foliage in Ohio.
Looking for places to stay while searching fall colors in Ohio? Read about the Best Ohio Airbnbs here.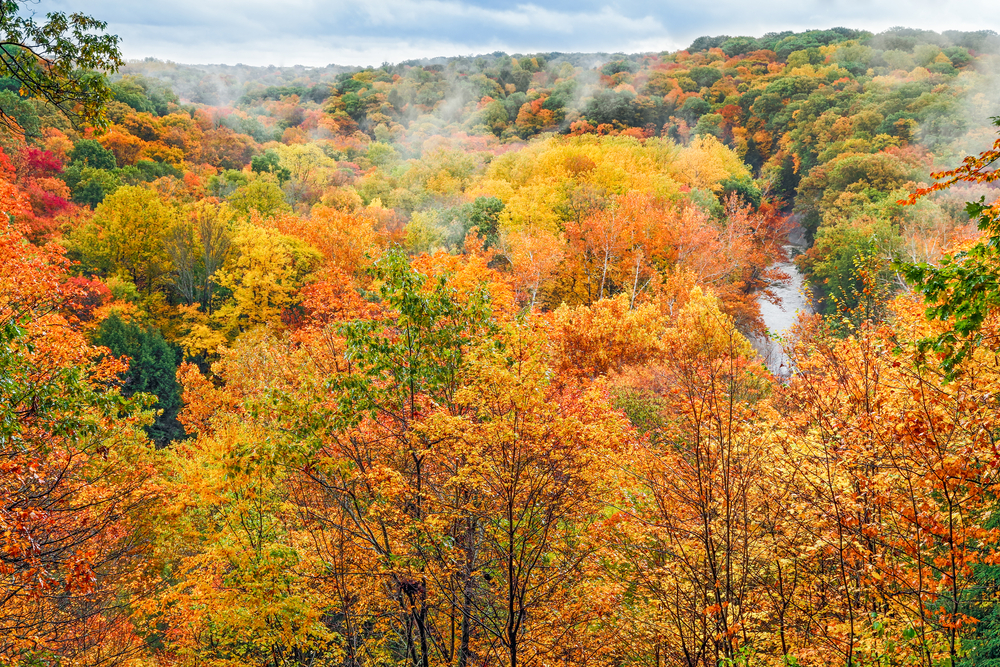 Berea Falls Offers  Spectacular Fall Colors In Ohio
When Ohio's trees trade their green leaves for colorful hues, Berea Falls shines!
An urban waterfall near Cleveland, it is in the Rocky River Reservation.
Of particular interest in the overlook where you can view the falls and three nearby bridges above the falls.
Easily reached from I-71 via car, this is one of the conveniently located places to see fall foliage in Ohio!
Ohio has other spectacular waterfalls. Read about Ohio's waterfalls here.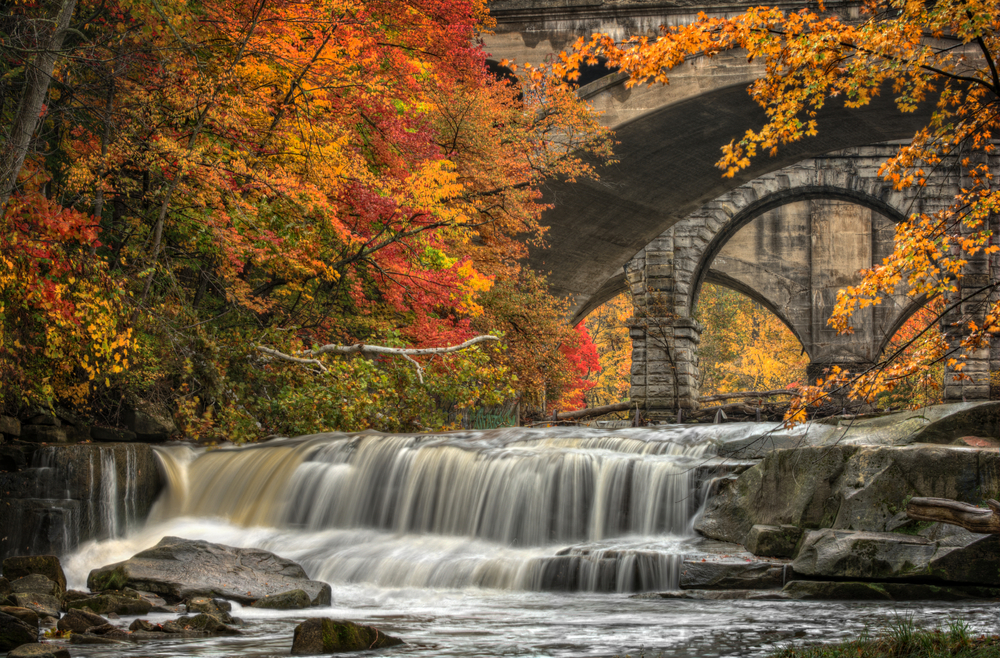 Visit Covered Bridges For the Best Places to See Fall Foliage In Ohio
We all love Covered Bridges. There is simply something nostalgic and romantic about them!
Ohio has more than a fair share of covered bridges. And once autumn and cool dry evenings visit, they amp up a notch or two.
Taking the Ashtabula County Covered Bridge Tour is an easy and comfortable way to travel through some of Ohio's back roads majestically dressed in their blazing autumnal colors!
Here are some Cleveland Airbnb suggestions for your consideration.
Depending on how quickly or how leisurely you wish to travel, your total travel time is a minimum of ninety-minutes if you decide to make the entire journey.
During your trip, you will have the opportunity to see 19 of Ashtabula County's amazing covered bridges.
Of course, you may want to stop and take pictures once in a while too!
The Ashtabula County and its covered bridges tour is one of the best places to see fall foliage in Ohio!
Look here for 13 haunted places in Ohio that will creep you out, to visit after seeing Ohio fall foliage.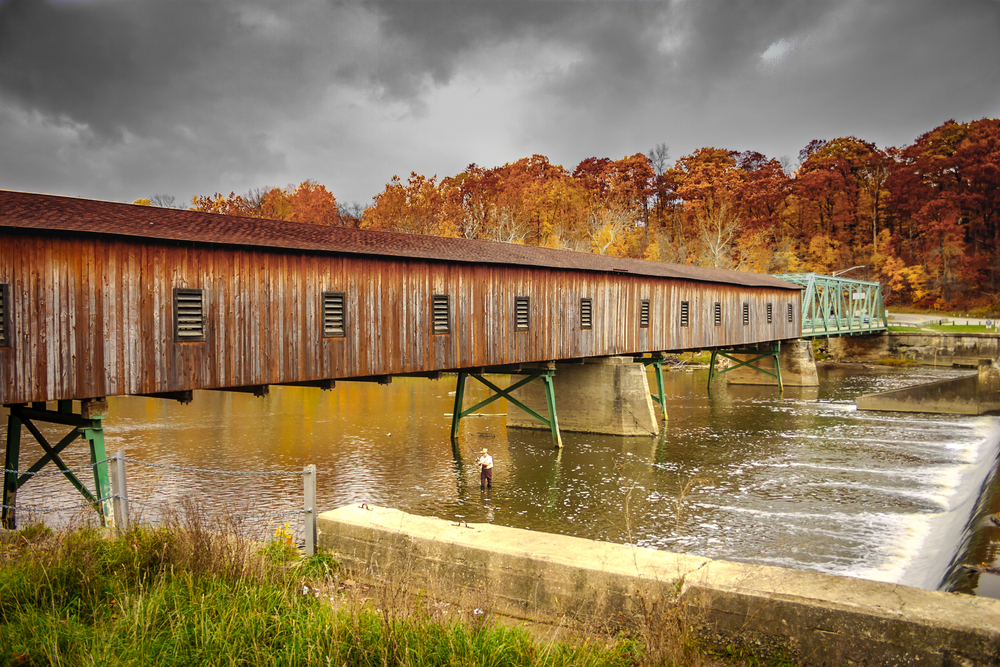 Youngstown's Mill Creek Park Has Brilliant Fall Colors in Ohio
Often called Youngstown's crown jewel, Mill Creek Park comprises 3,000 acres of adventure and outdoor fun.
You can visit the Riverside Botanical Gardens, which are always displaying beautiful landscapes that vary with the seasons.
Running, hiking, and biking the myriad of trails in Mill Creek Park reveals outstanding opportunities to see fall colors in Ohio.
World-class golf offers sweeping examples of Ohio fall foliage in blazing oranges, yellows, and reds.
Lanterman's Mill and its accompanying covered bridge are two of the best places to see fall foliage in Ohio.
Visiting Mill Creek Park in Youngstown Ohio is a fun place to see Ohio fall foliage.
If you are visiting Youngstown to see fall colors in Ohio, read about 18 things to do in Youngstown.
And look here to read about 15 best things to do in Mill Creek Park, Youngstown's crown jewel!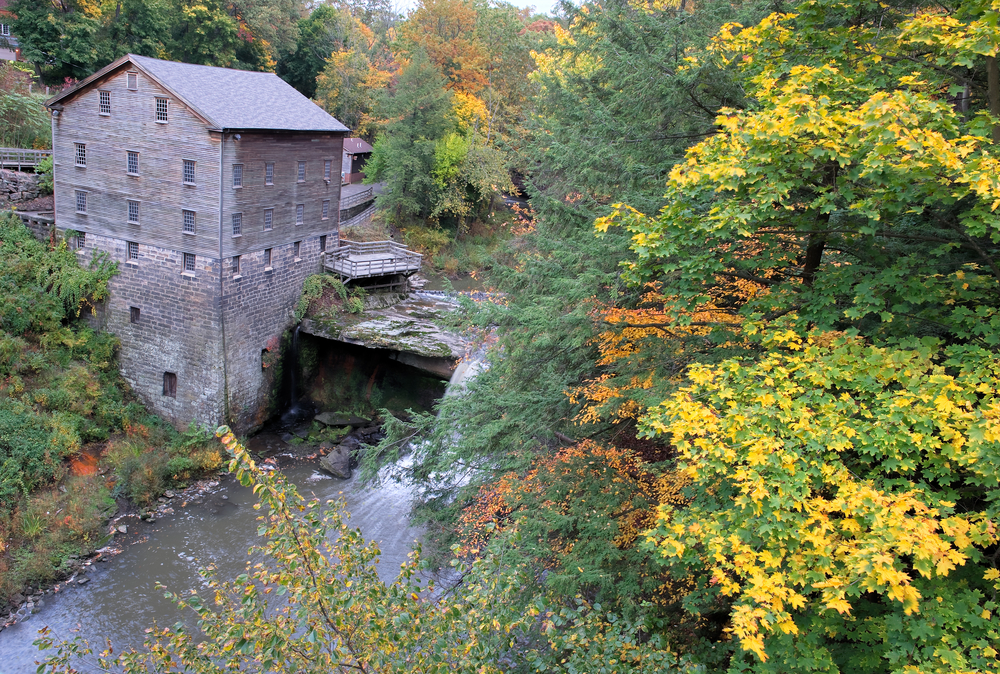 Look For Ohio Fall Foliage While Driving Everywhere In Ohio
Whether you are a tourist or a native, often the best places to see fall foliage in Ohio is right where you are!
On the street you are. On the road, you are driving on.
Ohio has a plethora of unique opportunities to view fall colors in Ohio literally right outside of your doorstep! And loads of cabins in Ohio to select from at the end of a long day of leaf-peeping!
Read here about 15 fantastic weekend getaways in Ohio.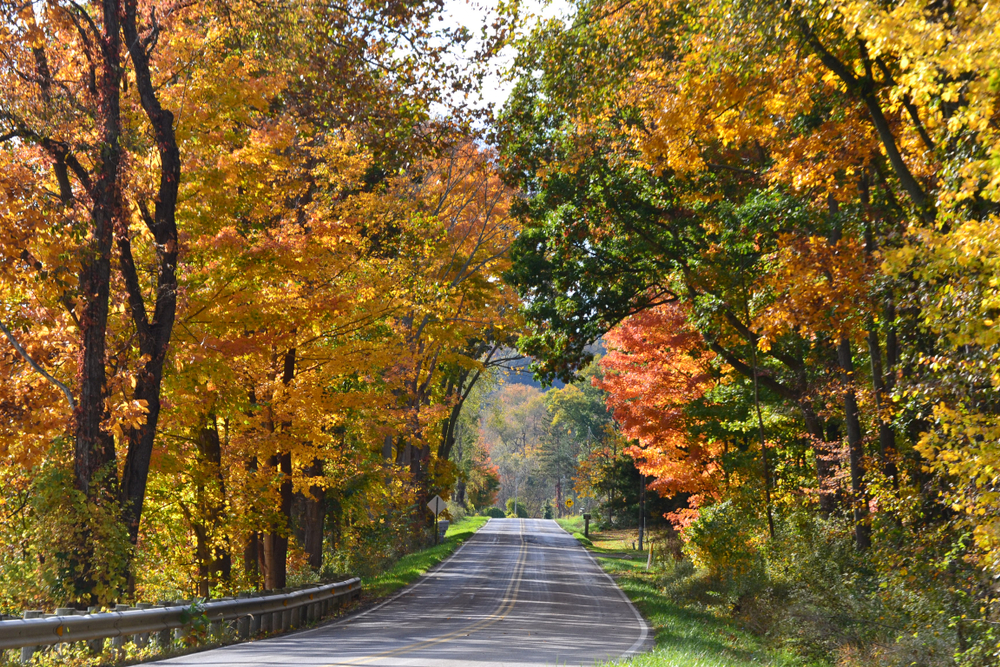 Drive The Hocking Hills Scenic Byway To See Fall Colors In Ohio
Hocking Hills is located in southeast Ohio and is truly breathtaking in the fall.
The byway travels over the hills of Ohio and through her valleys.
You will pass by locations of Hocking Hills State Park, including the very popular Old Man's Cave, and Cedar Falls.
If you have the time, plan to stop and explore. There are options for all ages and abilities.
Driving on the Hocking Hills Scenic Byway is one of the best ways to see fall foliage in Ohio.
Hocking Hills offers lots of options for weekend accommodations: it all depends if you like cabins or barns.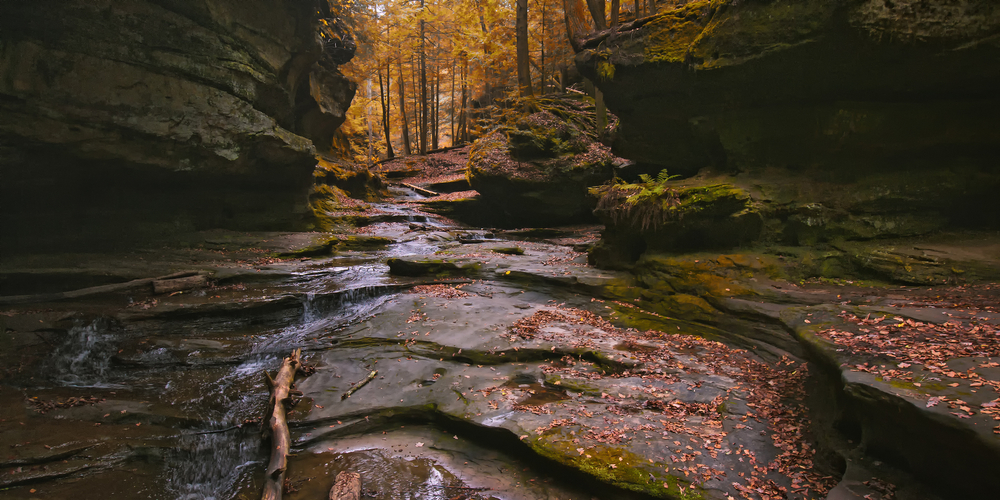 Plan A Hike In Hocking Hills To See Fall Colors In Ohio
Hocking Hills State Park is one of the most popular destinations in Ohio. And more so during autumn.
Popular are hiking, running/walking, and viewing fantastic waterfalls.
One of the most popular activities is hiking Old Man's Cave Trail down into a gorge. During this hike, you will pass the popular trio of falls most often visited at the park: Upper Falls, Middle Falls, and Lower Falls.
You can enter the gorge at a variety of sites and there are some wheelchair and stroller-friendly accessible locations.
If you are adventurous, you can continue you hike through the gorge to view brilliant foliage as you head towards Broken Rock Falls, and even a bit further to Cedar Falls as well.
Hocking Hills State Park is one of the best places to see fall foliage in Ohio.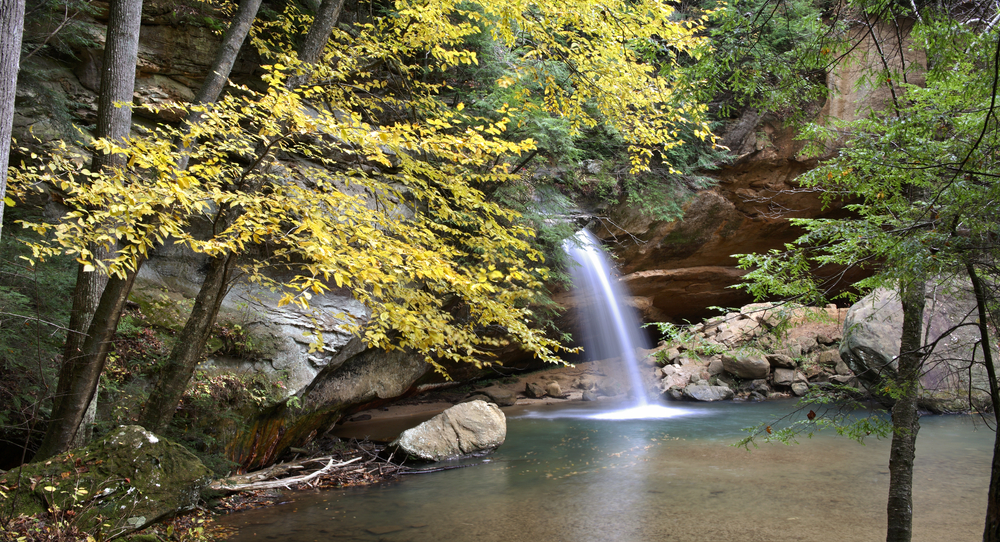 Visit The Amish In Holmes County 
Holmes County is where the largest concentration of Amish reside in Ohio.
Taking a drive down the roads of Holmes County provides not only the iconic horse-drawn Amish buggies but also some spectacular fall colors in Ohio.
You can visit Amish farms, purchase Amish handmade quilts, and impressive Amish furniture too.
Plan to eat lunch or dinner whilst out "leaf peeping" in Holmes County. The Amish make fabulous food!
Visiting the Amish and Holmes County is a spectacular way to see fall colors in Ohio!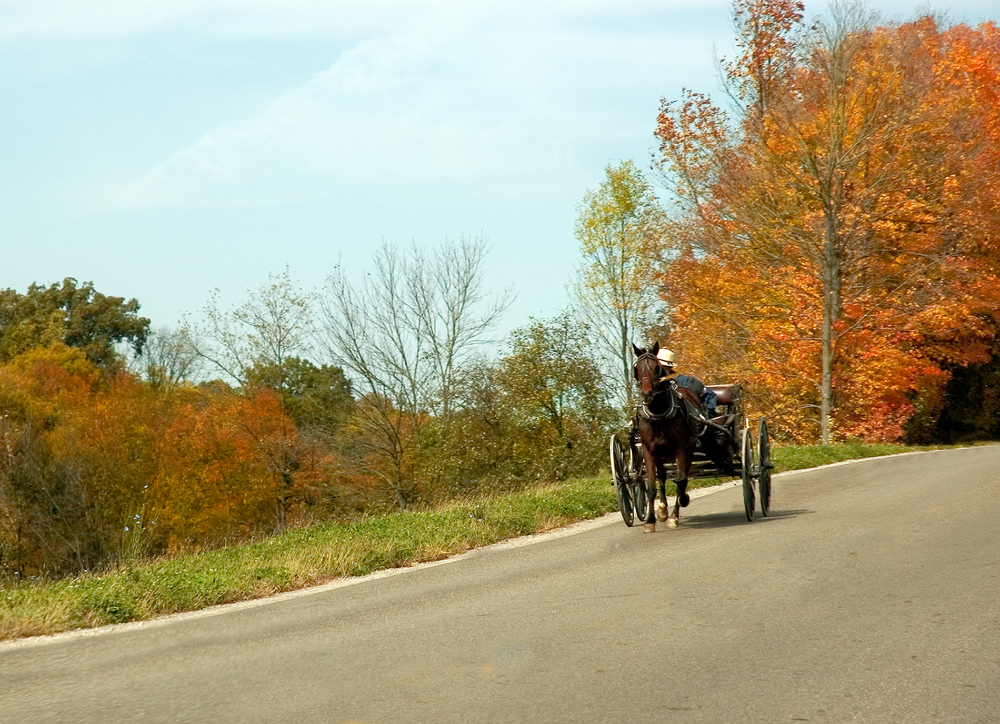 Visit Lake Erie For Exciting Ohio Fall Foliage
Visiting the shores of Lake Erie is always an exciting adventure.
But it is amplified in autumn with the fall colors of Ohio!
From Toledo in the west to Ashtabula to the east, and all points in between, a visit to Lake Erie is one of the best places to see fall foliage in Ohio.
Looking for a place to stay near Cleveland? Read about 10 Airbnbs in Cleveland.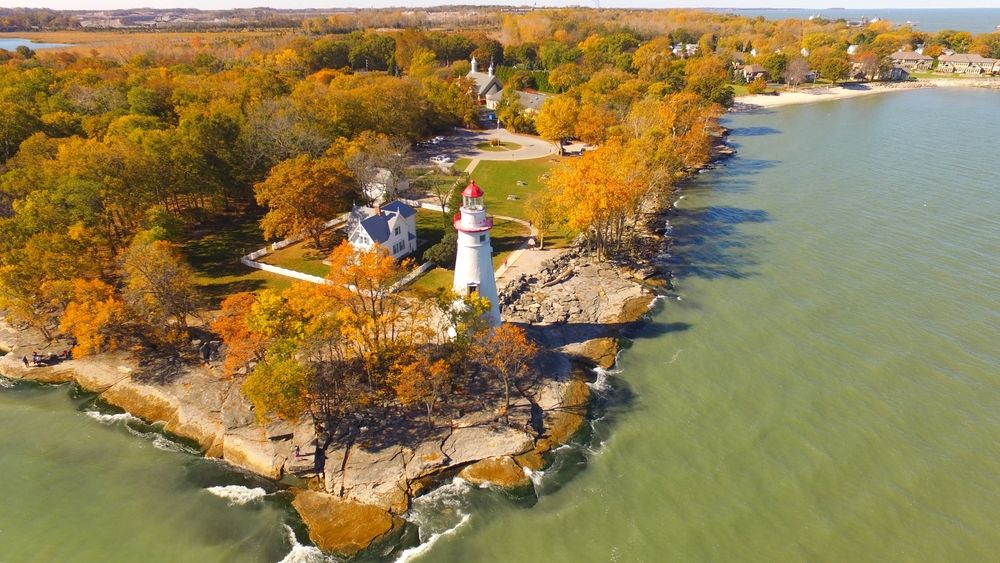 Head Out To A Park Near You For A Picnic
One of the best places to see fall foliage in Ohio is going to be right where you are!
Head out once the leaves are brilliant to a park or playground and enjoy the views of the oranges, golds, and yellows of Ohio's fall foliage.
Bring a picnic basket and spend time admiring the view!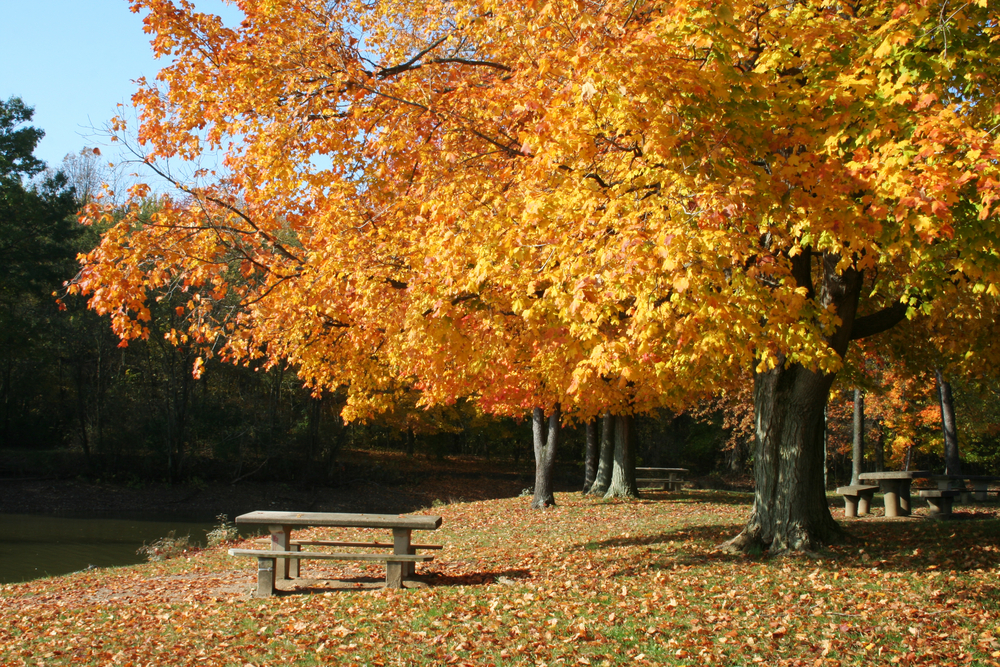 Here I have listed 11 best places to see fall foliage in Ohio.
I hope this inspires you to get out and see some brilliant Ohio fall foliage.
Packing List When Chasing Fall Foliage In Ohio
A concealed travel pouch may be one of the most important items you bring along on when looking for fall colors in Ohio. It is always important to protect our personal information.
Read my tips on how to pack lightly here.
This unisex RFID blocking concealed travel pouch is lightweight and comes in several colors. It has lots of organization to give you peace of mind.
f you have a pouch already that does not come with the RFID protection, as I do,  these RFID sleeves are the perfect solution.
This configuration comes with enough passport and credit card sleeves that the entire family would be protected. They are slim too, so they will easily fit into your pouch or wallet.
If you are planning on taking a lot of pictures with your phone you will definitely want to consider an external charging battery. This Anker high-speed phone charging battery is the exact one I carry with me on all of my trips.
It can be used on a variety of phones, not just an iPhone like I have. And wow is it fast!
I like that it holds its charging capabilities for several uses so I do not have to worry about it while out and about, and if I forget to recharge it at night, it will still be good to go the next day.
My daughter gifted me with this FugeTek selfie stick and tripod setup for my birthday. I absolutely love it! It is made of lightweight aluminum and so easy to use. It has Bluetooth connectivity and is a breeze to use for group shots or that perfect selfie!
I was not a fan of packing cubes until I started to use them! This is the exact set of packing organizers I use whenever I travel.
Hydration is so important. You want to remain hydrated to support your immune system which in turn will be stronger to fight off any germs you will encounter during your travels.  You will want to bring your own refillable water bottle with you.
I never leave home on a trip without my Bobble filtration bottle. The 18.5-ounce size is perfect for travel and it fits nicely in the pocket of a backpack or your purse.
When filled with water, it is not too heavy to carry. And the charcoal filter ensures fresh clean water whenever you fill the Bobble. You can find filter replacements here. 
Perhaps you are traveling a long distance and packing space is a premium in your suitcase, or in your car.
Then this set of collapsible silicone foldable water bottles would work well for you. Would not take up much space at all.
You will want a backpack or daypack with you to store snacks, your water bottle, phone, extra clothes, etc.. This foldable water-resistant backpack would be great.
It is very affordable and is available in many color options for you to choose from. The fact that it folds down into a zippered pouch will make it easy to pack.
Perhaps you need a more substantial backpack for your travel. This antitheft backpack has a charging port, is water-resistant, and can comfortably carry up to a 15.6″ laptop.
You will be walking more than usual while looking for things to do in Youngstown. A sturdy and comfortable pair of walking shoes are a must-have. These waterproof all-season shoes are extremely affordable and yet fashionable.
Mostly everyone is familiar with the Skechers brand, and these Air Run high fashion sneakers come in a lot of colors to match your outfits and are still affordable.
If you are visiting Ohio in warmer weather, maybe you want a pair of sandals to wear to dinner or to the local cafe, I highly recommend these Vionics adjustable strap orthotic sandals.
I have several pairs of Vionics that I bring with me *everywhere* I travel. They are very comfortable and have orthotic footbeds that cradle and support your feet.
We all need to protect our eyes from the sun's harmful UVA/UVB rays. These unisex polarized sunglasses come in a lot of lens colors and frame designs and are extremely affordable too.
If you are fond of the aviator-style of sunglasses these polarized aviators may interest you.
If you are in need of new luggage, this expandable soft side spinner luggage is affordable and comes in lots of colors.
If you like hard-sided better, then you may favor this hard-sided luggage set better. Both sets come with TSA locks and 8 wheels per piece.