Looking for the best Airbnb in Michigan for your next trip to the Great Lakes state?
Also known as the Mitten State, Michigan is a popular year-round destination.
You will find the 'UP" or Upper Peninsula less crowded, than the lower part of the state. A very popular tourist destination, the UP has the mountains and lakes. And lots of history.
The Lower Peninsula is shaped like a mitten and separated from the UP by the Straits of Mackinac. And the two peninsulas are connected together by the Mackinac Bridge.
Michigan has the longest freshwater coastline of just about anywhere in the world. And it is a very popular vacation destination.
One of the things that can make your trip more memorable is finding the ideal Airbnb in Michigan.
Airbnbs are a great alternative option when traveling because they allow you to stay in places that are unique to the specific area you will be traveling to, instead of a vanilla generic hotel room.
They are a great way to meet the locals. And often they are less expensive than hotels or motels.
So, take a look through my list of unique suggestions and find the best Airbnb in Michigan for you!
Experience Michigan like a local by staying at an Airbnb. Get a free $55 Airbnb coupon by using my code when you book!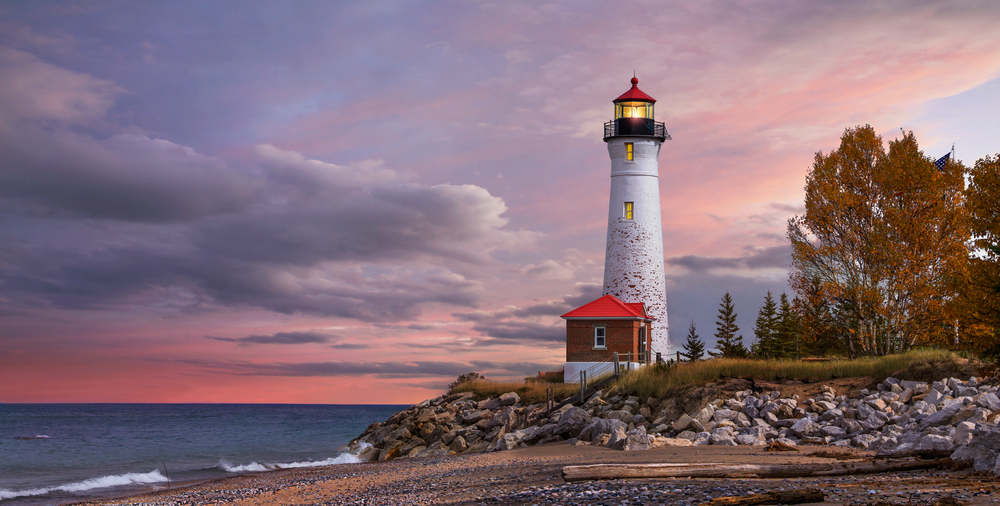 15 Best Airbnbs In Michigan
Pere Marquette River Front Cabin
Let me start out by saying this cozy cabin is located in an area designated as "National Wild and Scenic!"
Large windows in the living overlook the rustic Pere Marquette River, allowing for panoramic views of the area. Great for kayaking and canoeing, this is one of the best cabin rentals in Michigan.
The small rural town of Baldwin is nearby, making this city nearby in case you need provisions.
If you like hiking and mountain biking, the cabin is located a mere 3.5 miles away from the Pere Marquette Trail.
This is one of the best Michigan Airbnbs to look into for your vacation.
Check out the Airbnb rates here.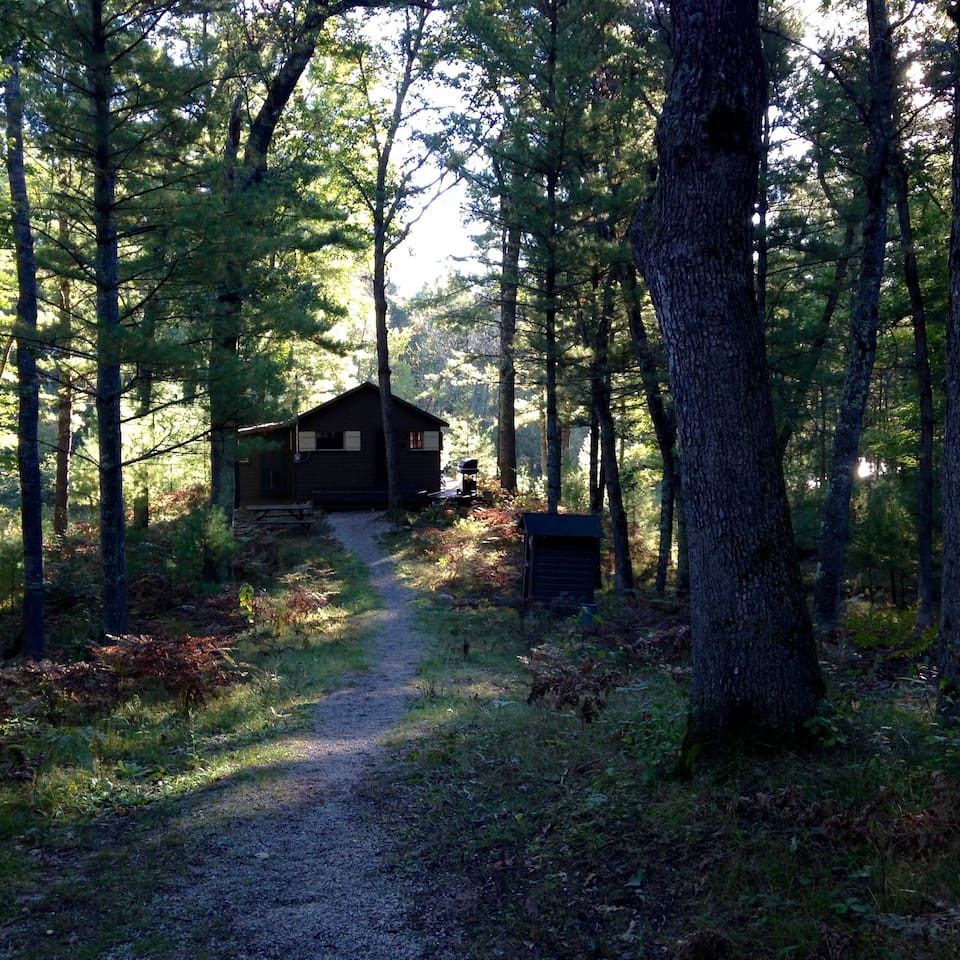 A Tiny House: A Simple Getaway In NoMich
If your travels bring you to Northern Michigan, then you should check into this tiny house full of charm.
While minimalistic in its nature, do not be fooled. It has everything you need for a relaxing stay.
Bring your hiking shoes and trail bikes. There are plenty of trails of all lengths on the property for you to use.
Spend some time in nature in this Airbnb in Northern Michigan and leave the world's distractions alone for awhile. But, should
But should you forget something, Charlevoix is only 2.5 miles away.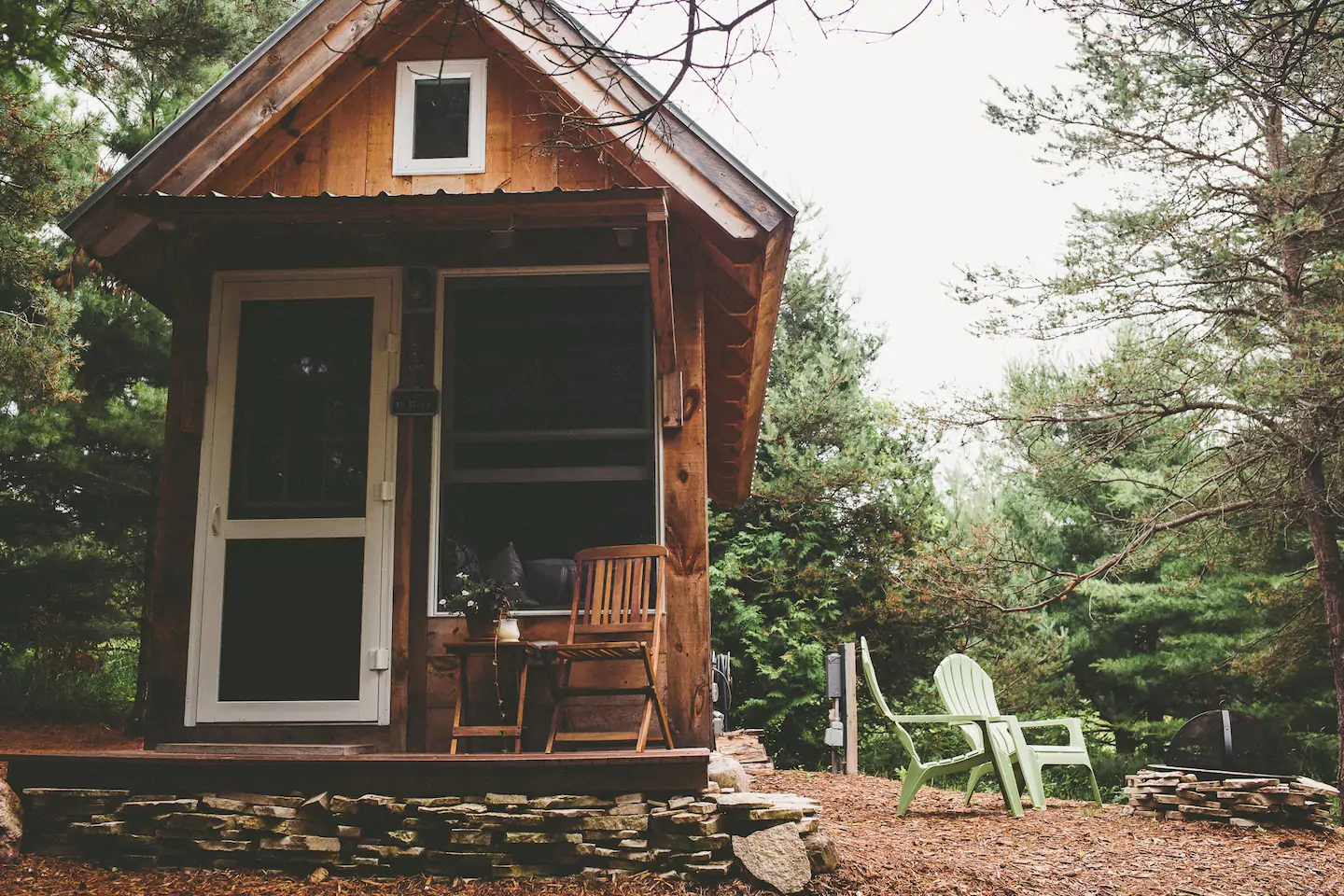 Mackinac Island Room
There is nothing quite so charming to do in Michigan than visiting Mackinac Island.
And nothing so alluring than staying on the island at the Mackinac Island Room.
This cozy captivating room is conveniently located to all that is popular on the island.
And the view of Lake Huron from the private deck is priceless.
Accommodating 2 guests with 1 bedroom and 1 bath, it is the right size for a romantic getaway or a luxurious weekend getaway to one of Michigan's premier destinations.
Check the rates on Airbnb here.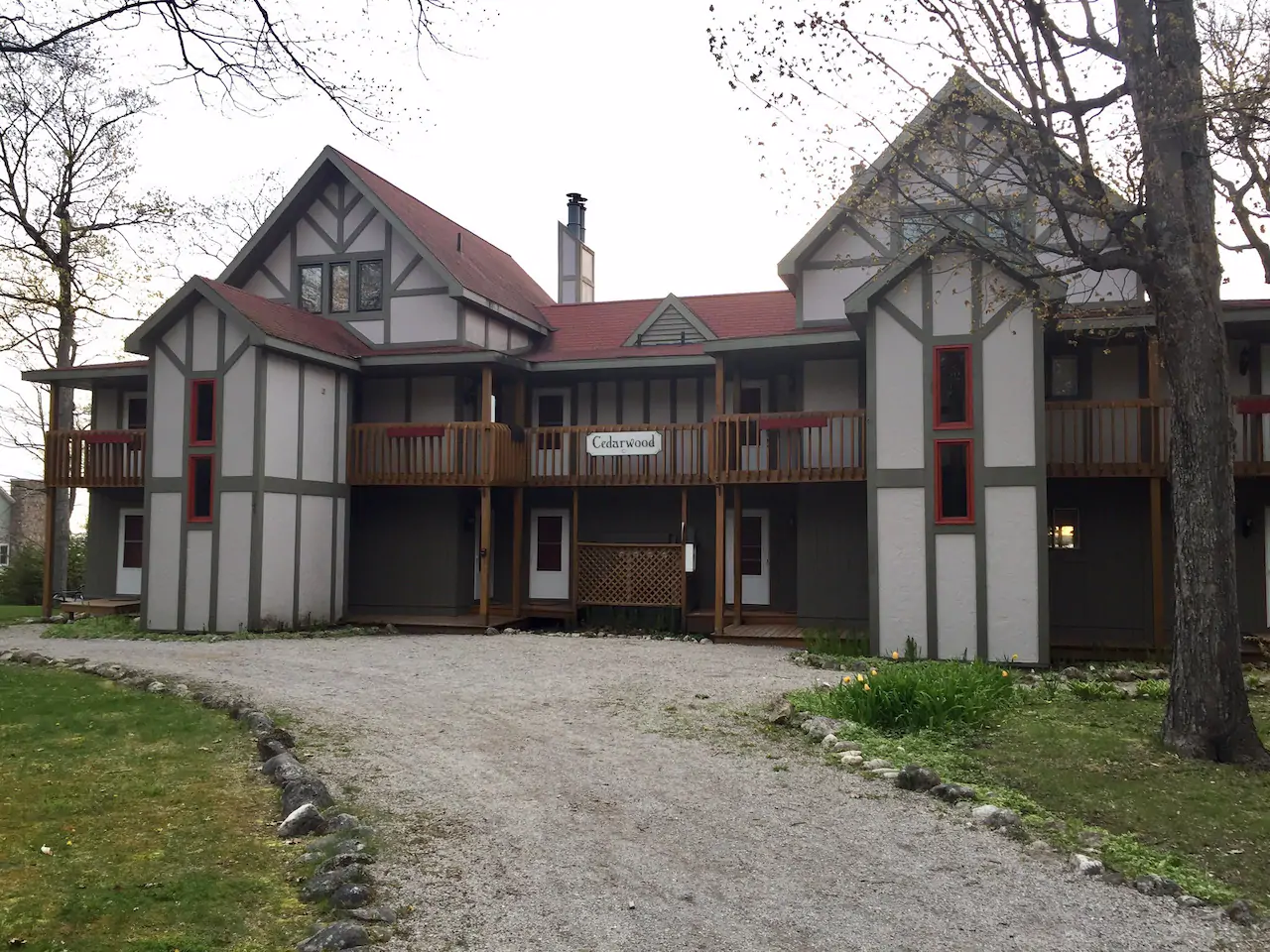 Tiffany's Premier Studio Vacation Rental
Located in Mackinaw City, a short ferry ride away from Mackinaw Island is Tiffany's Premier Studio.
Situated one block from downtown Mackinaw City, this Airbnb in Michigan offers close proximity to shops and restaurants galore.
The ferry service to Mackinaw Island is very closeby.
Beautifully appointed inside, and recently renovated, this is one of the best Airbnbs in Michigan. Use the private courtyard outside as a lovely respite after a long day of exploring the area.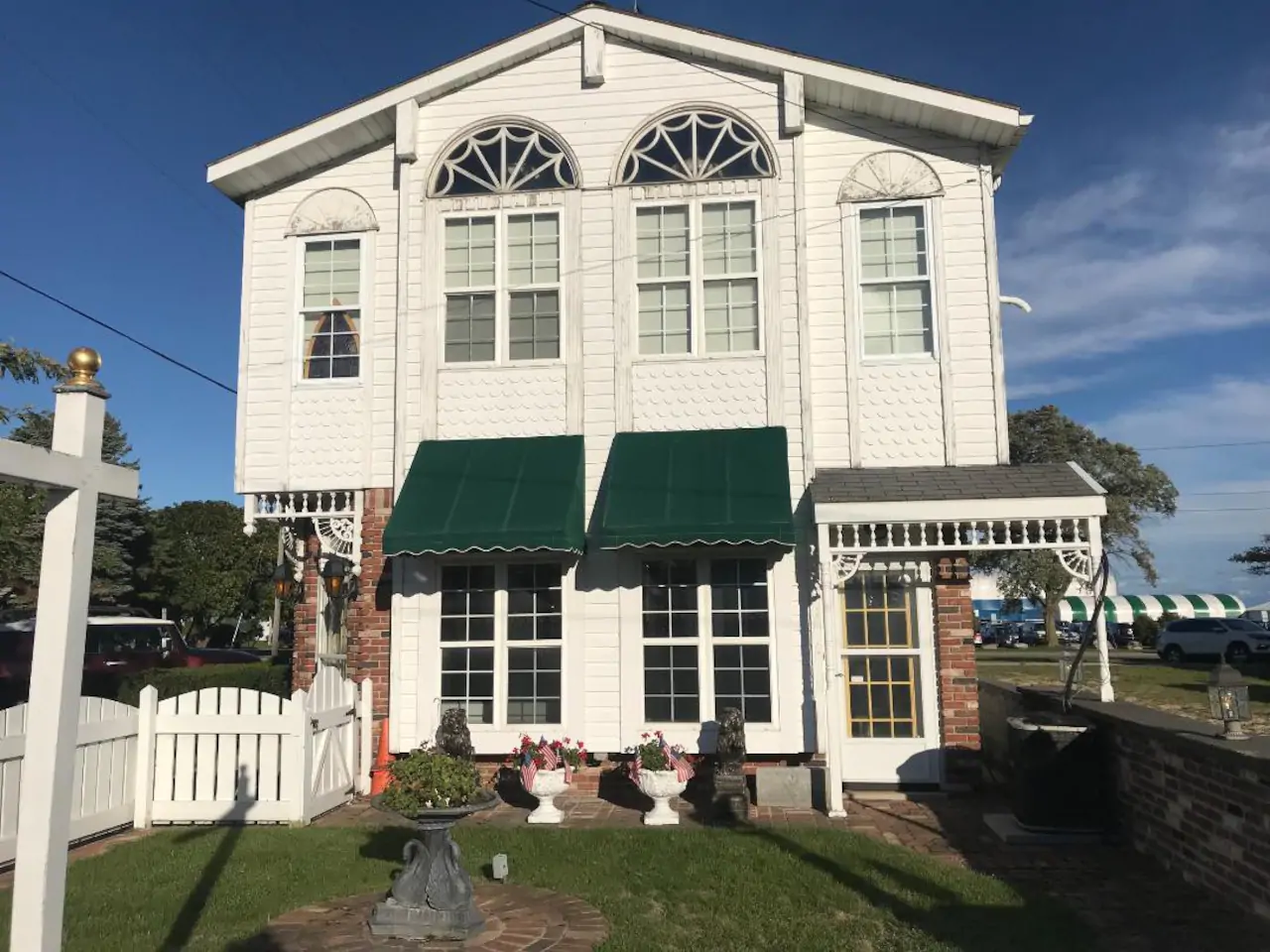 Lux Midtown Detroit Penthouse With A View
Planning a few days in Detroit? The Motor City never disappoints. From trendy restaurants and gastropubs, industrial murals, to the Motown vibe, there is much to see and do in Michigan's largest city.
And this Lux Midtown Penthouse is a perfect choice!
Located in midtown, this fifth-floor penthouse has a rooftop terrace that offers stunning 180-degree panoramic views of downtown Detroit.
Here you will have every possible luxe convenience and be close to all major attractions Detroit has to offer.
Check the rates on Airbnb here.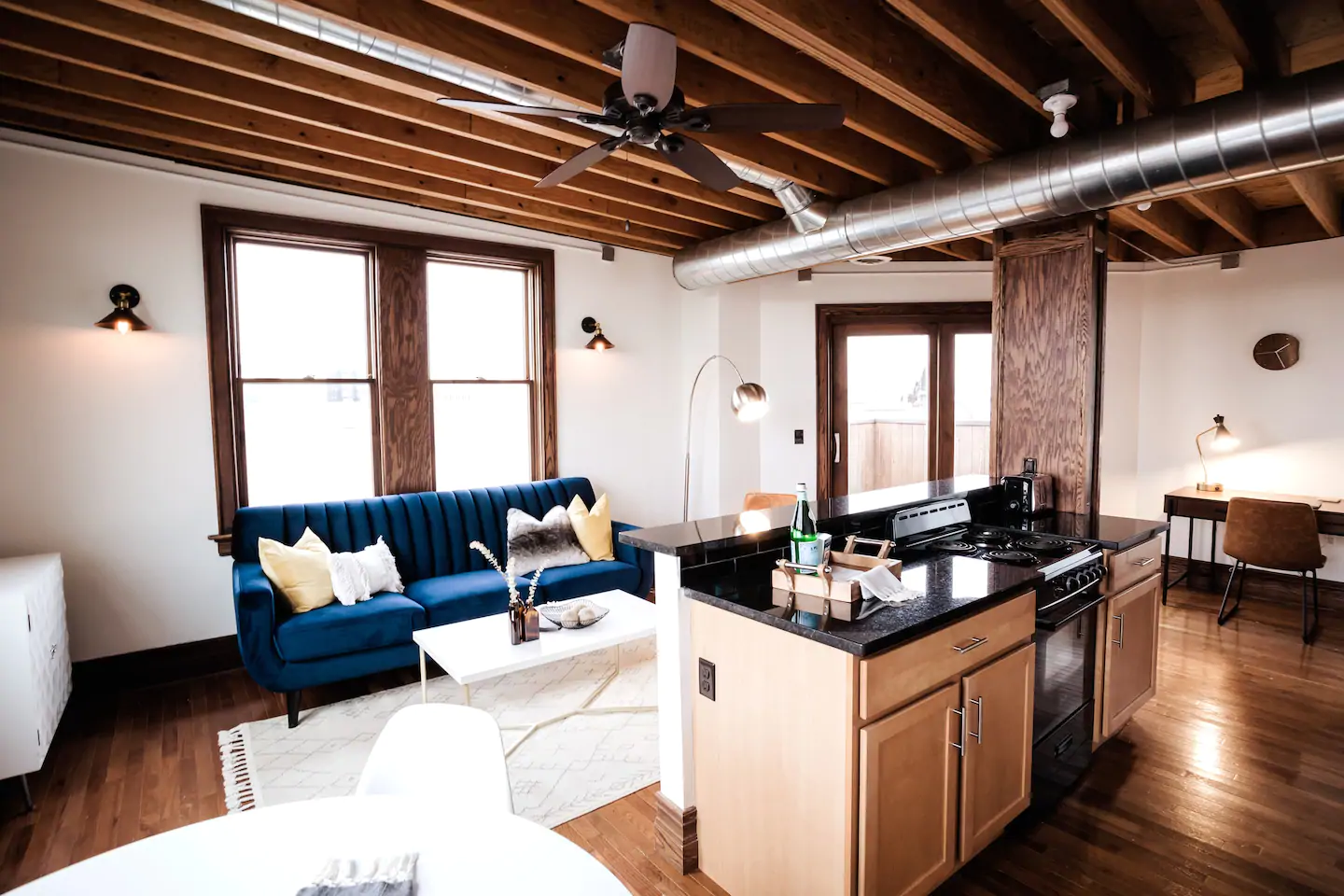 The Love Shack In Saint Ignace
Looking to head away with your someone special for a few days? Then this 205 square feet Cozy Cabin will fit the bill.
Conveniently located in Saint Ignace, it is the perfect summer location for sun and swimming enthusiasts. And the perfect location for "leaf-peeping" Michigan's gorgeous trees in autumn.
Part of a 15-acre property, when staying at the Love Shack you have access to the lake for swimming, walks along the beach, out onto the pier.
And the most gorgeous sunsets Lake Michigan has to offer.
Check out rates for the Love Shack on Airbnb here.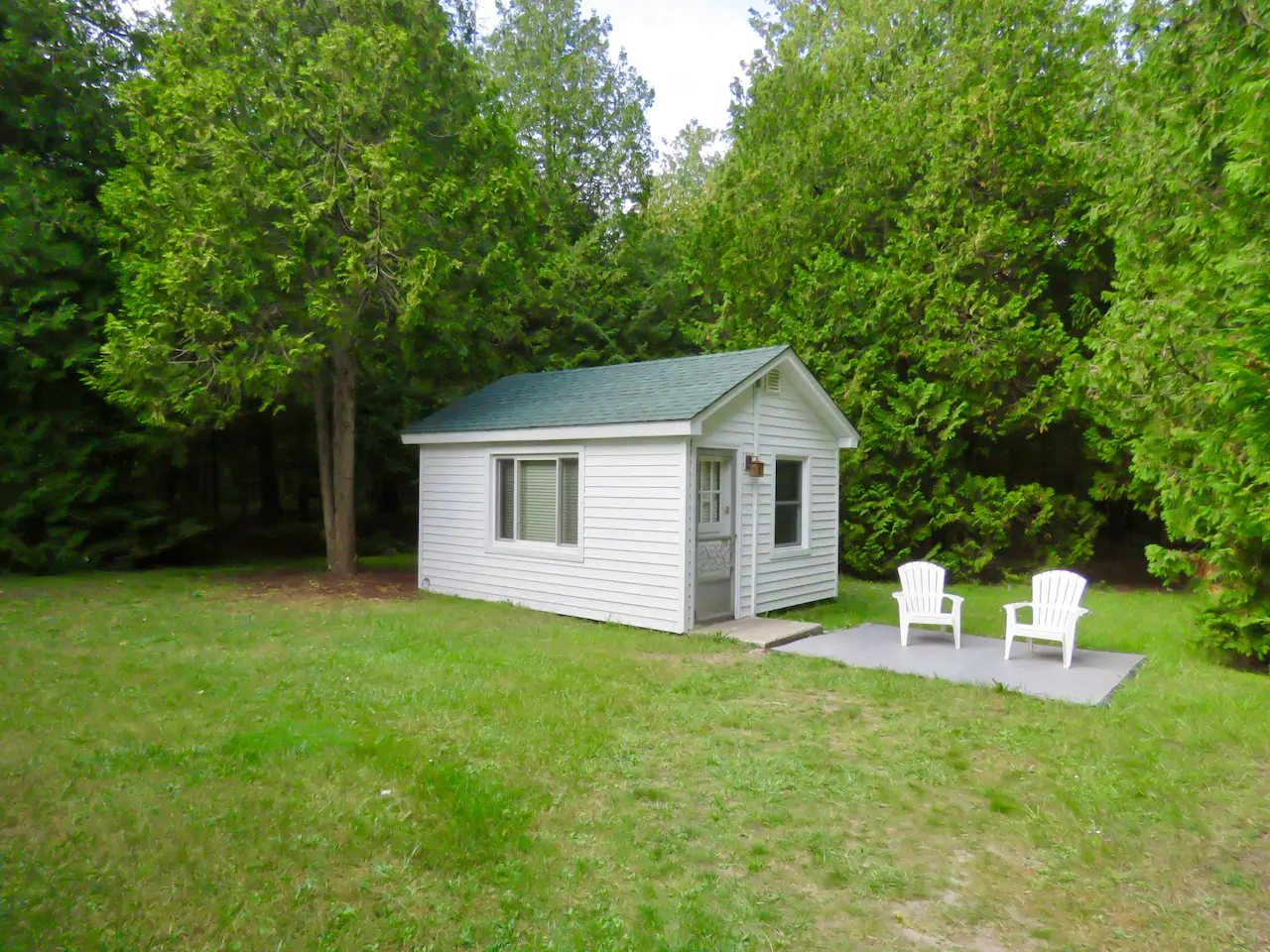 Southwest Michigan Modern Farmhouse Cottage
Looking for a unique experience? This Michigan modern farmhouse cottage is certainly that!
Located in Sawyer, in Southwest Michigan, this updated farmhouse cottage is conveniently near beaches, trendy restaurants, wineries, and gastropubs.
There is a modern kitchen for those who love to cook for themselves after a long day spent exploring, swimming, or hiking.
Here you will have beautiful views of 14 acres of barn, pastures and woods (think of the autumn fall foliage!)
This farmhouse cottage has that country vibe, close to all amenities you are looking for!
Check the rates on Airbnb here.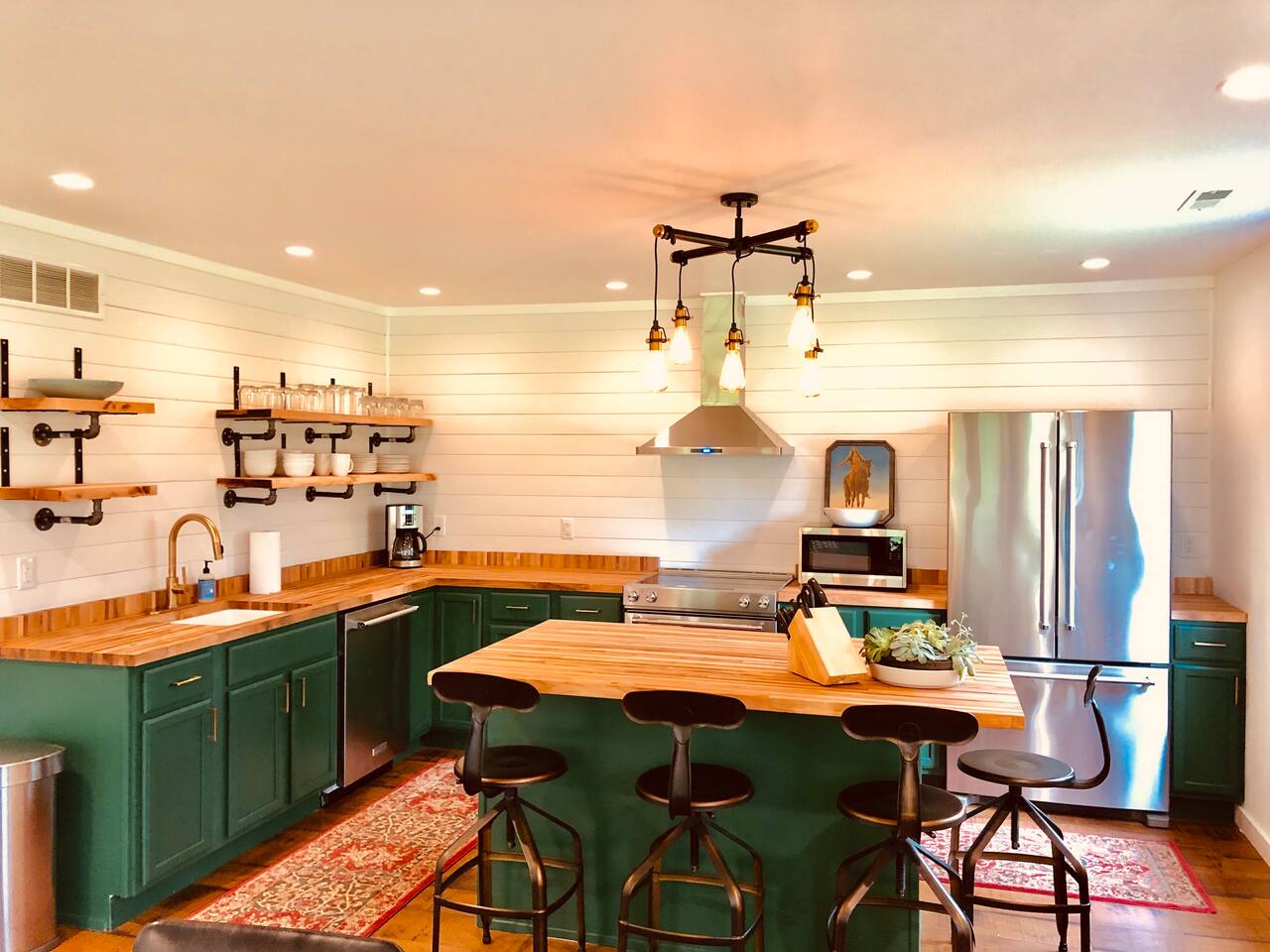 Riverside Retreat In Sault Ste. Marie
Located on Upper Peninsula's St. Mary's River, the Riverside Retreat oozes vacation vibes.
Designed to please, you can sit out on the back patio and watch the enormous freighters sail by. And take in the panoramic views of the river.
The St. Mary's River separates the United States from Canada. And Sault Ste. Marie from its sister city in Ontario Canada.
Canoeing and kayaking are favorite activities for both visitors and locals alike. There are kayaks for your use available.
A walk down the dock, or roasting s' mores at the gas fire pit, to grilling dinner riverside.
These are a few reasons why the Riverside Retreat is a fantastic Airbnb in Michigan to consider.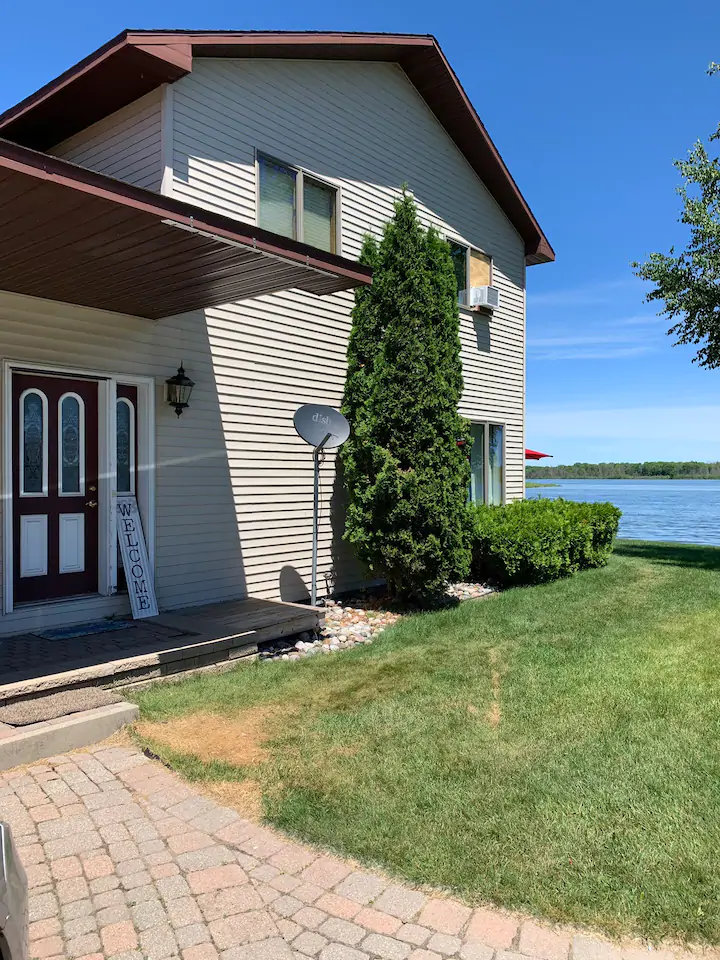 Pictured Rocks Cottage In Munising
Situated in Pictured Rocks National Lakeshore, and across the street from Lake Superior, Pictured Rocks Cottage offers a plethora of activities to choose from.
Hiking, biking, kayaking, along with snowmobile and off-road trails make this one of the best Michigan Airbnbs.
Able to accommodate up to six guests, this unit comes with two bedrooms, 1.5 baths, and a washer/dryer unit in the basement. The kitchen will please any foodie.
Chasing waterfalls on your trip? You will find many nearby, along with restaurants and pubs in downtown Munising close by.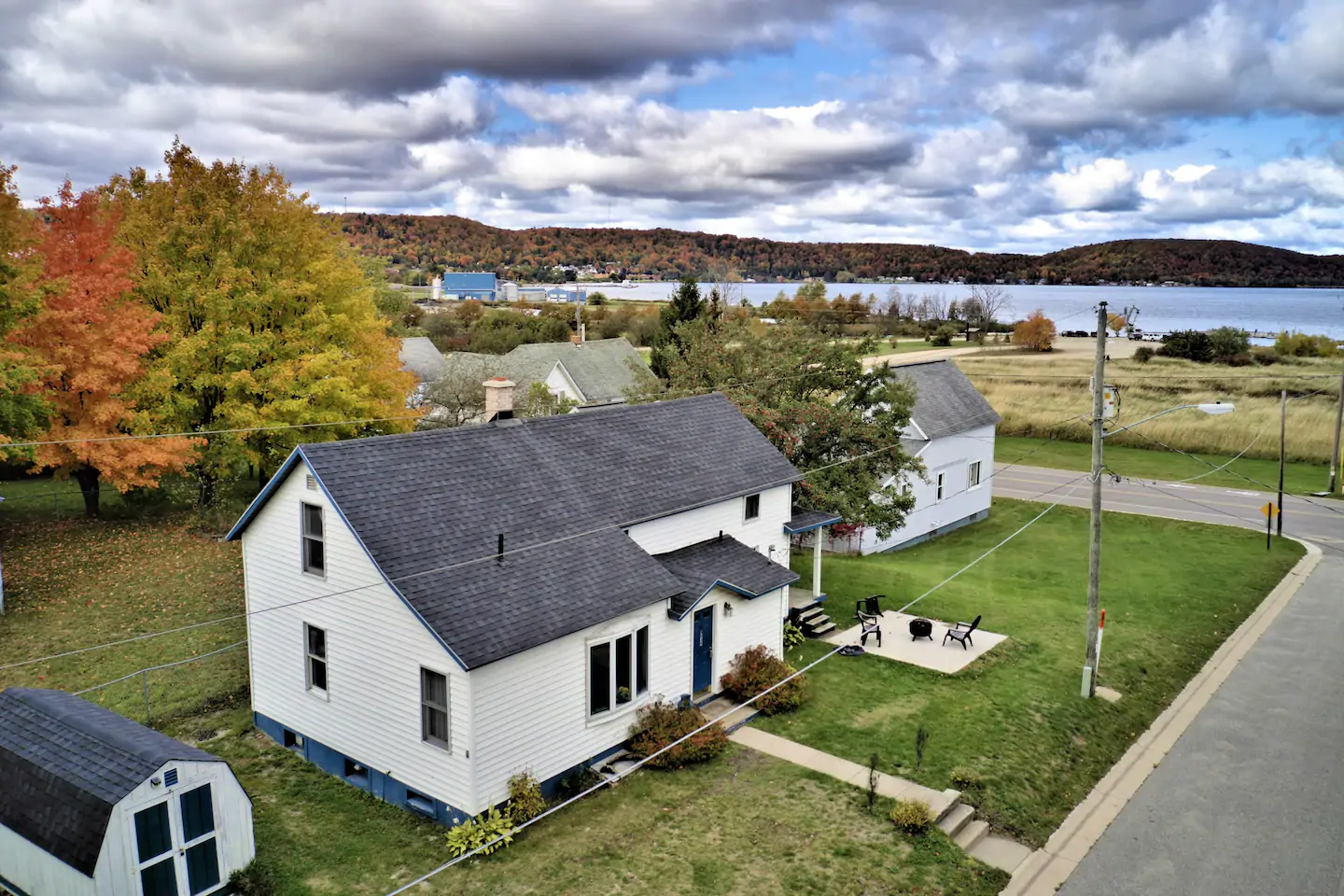 Lake Superior Cottage in Ontonagon
Able to accommodate six guests, with 2 bedrooms and 1 bathroom, Lake Superior Cottage is an outdoor enthusiast's dream-come-true.
Situated in Ontonagon, only twenty minutes from the popular Porcupine Mountains you will have 150 feet of Lake Superior private sandy beach to take advantage of.
The water is clear, and it is safe to swim as there are no large rocks in the water.
A large deck with a grill to enjoy the sunsets at the end of your busy days is the perfect touch.
There are two kayaks for you to use as well.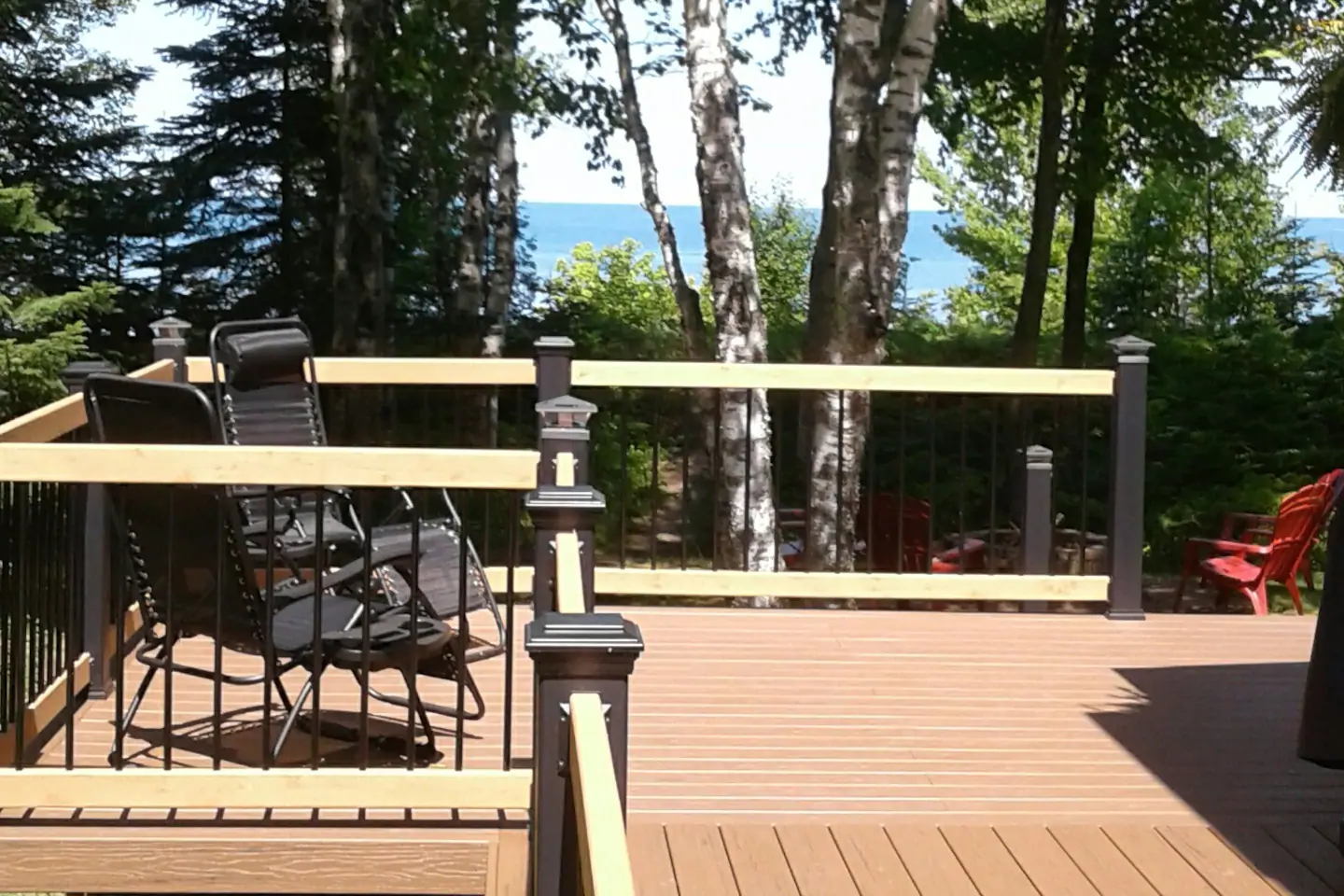 The Garden Cabin On Lake Fanny Hooe
Located in Copper Harbor Michigan, the Garden Cabin is right on the beachfront of Lake Fanny Hooe.
The perfect escape, this cabin holds up to 4 guests, with 2 beds and 1 bath.
Steps away from the lapping lake waters, the cabin has a full kitchen, washer/dryer, and beautiful decks to enjoy all the views.
Close by is the historic town of Copper Harbor where you can explore Fort Wilkins. Restaurants serve local cuisine, and there are ample shops for that perfect souvenir.
The cabin does come with a shared dock, so do not hesitate to bring along your own boat, kayak, or canoe.
If you are craving the great outdoors, you will find hiking and biking trails nearby.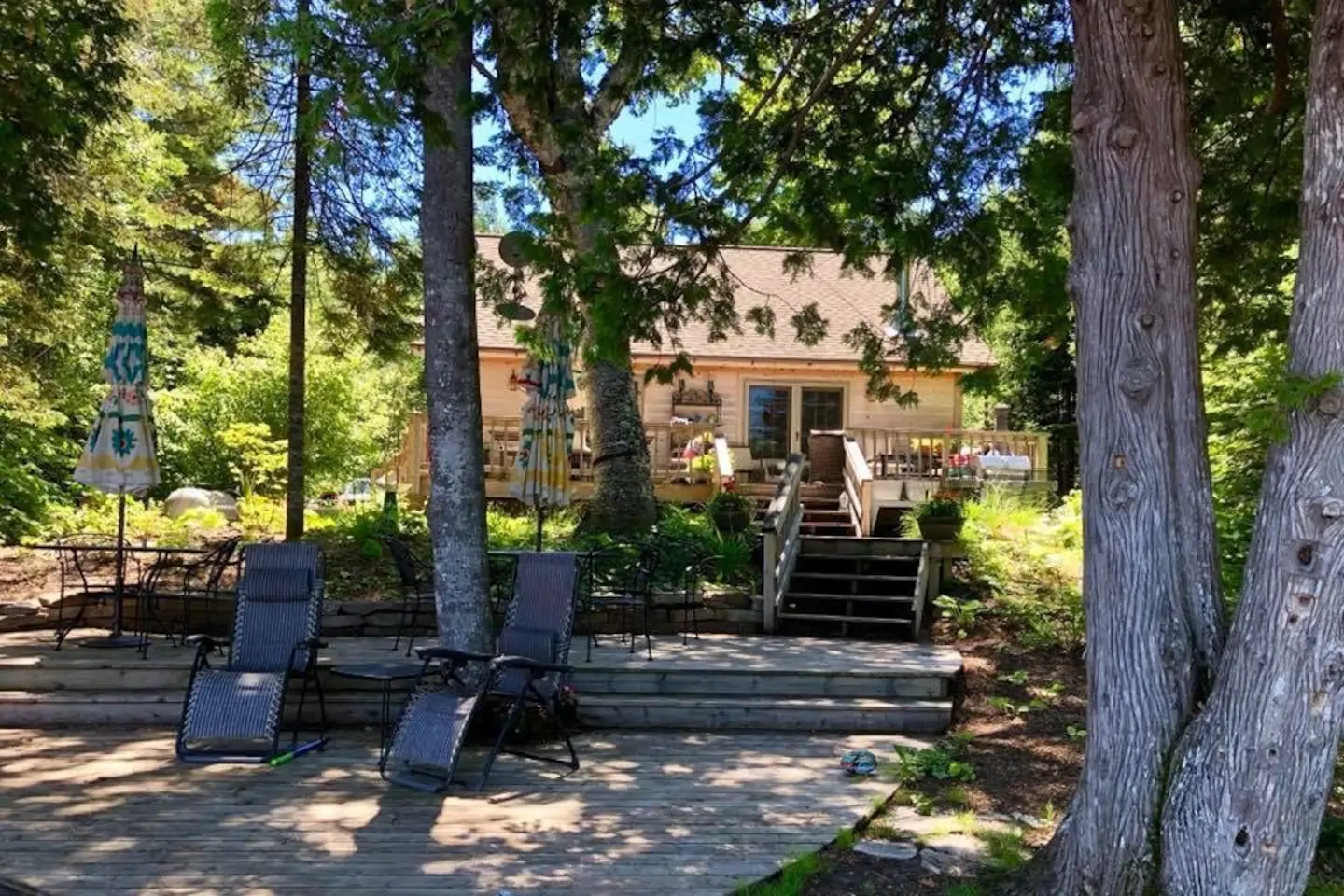 Historic Downtown Apartment In Bay City
Located in the cute town of Bay City, this historic downtown apartment comes loaded with amenities and is close to everything.
Able to accommodate up to 5 guests, this apartment has 2 bedrooms and one bathroom.
It is in one of the oldest buildings in downtown Bay City and has interior brick walls and 12 foot high ceilings.
Large glass windows provide panoramic views of the nearby park and the Saginaw River.
Within walking distance are bars, restaurants, and Bay City's popular Riverwalk.
For convenience to attractions, and affordability, this is one of the best Airbnbs in Michigan.
Check the rates on Airbnb here.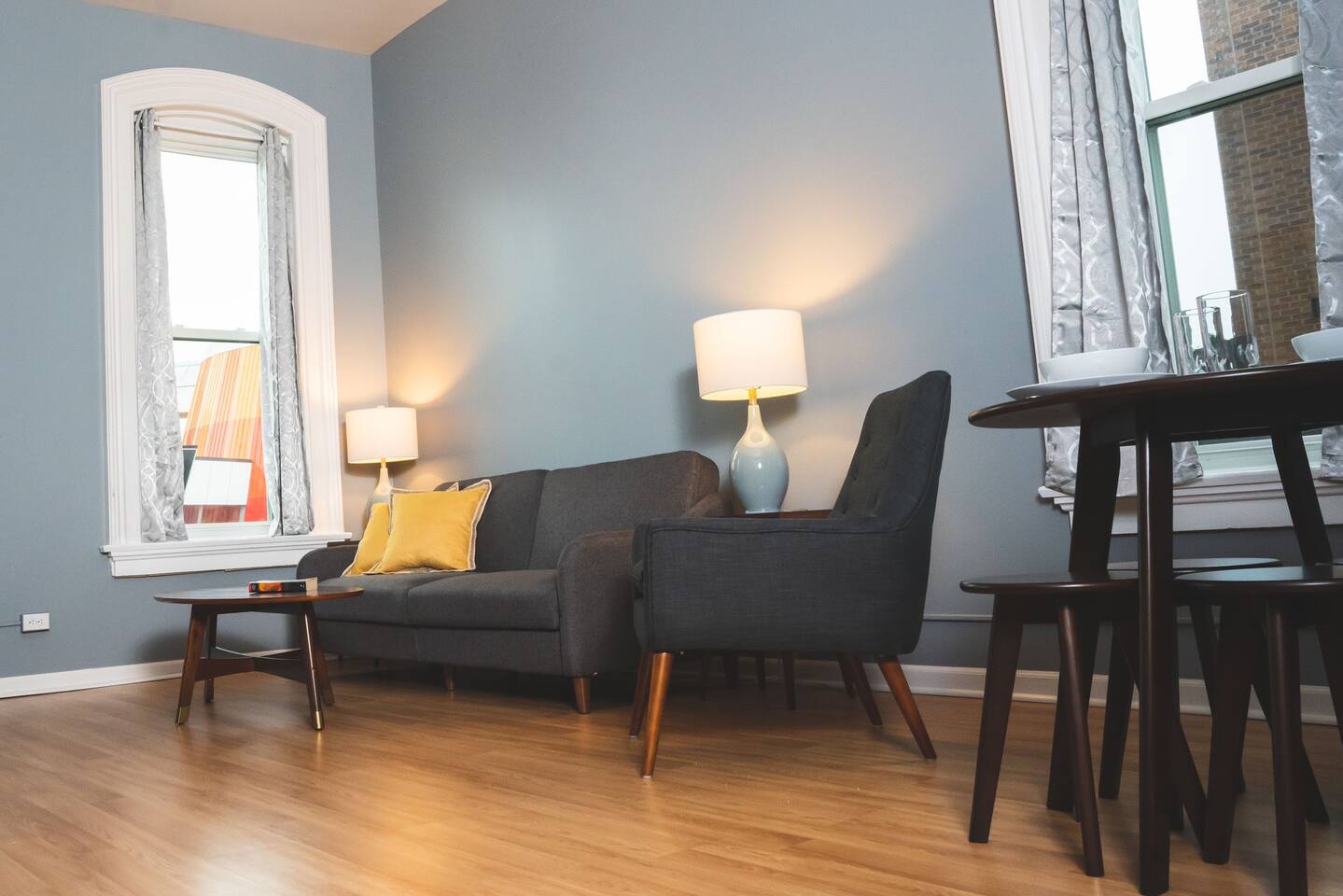 Cozy Home On Lake Huron
If you are looking for an affordable home for a family vacation, look no further. This cozy home on Lake Huron in the cute village of Au Gres is just what you want.
Situated directly on the shores of Lake Huron, it can accommodate up to 8 guests, with 2 bedrooms and 2 bathrooms. Rollaway beds are furnished upon request.
With loads of amenities, this cozy cabin offers scenic views of the lake right at the doorstep. and endless sunsets.
This is an outdoor enthusiasts' dream with canoeing, paddleboarding, kayaking available. Golf courses are nearby as is the boat launch.
Have dinners on the back deck and smores around the fire pit, all right near the beach!
Check the rates on Airbnb here.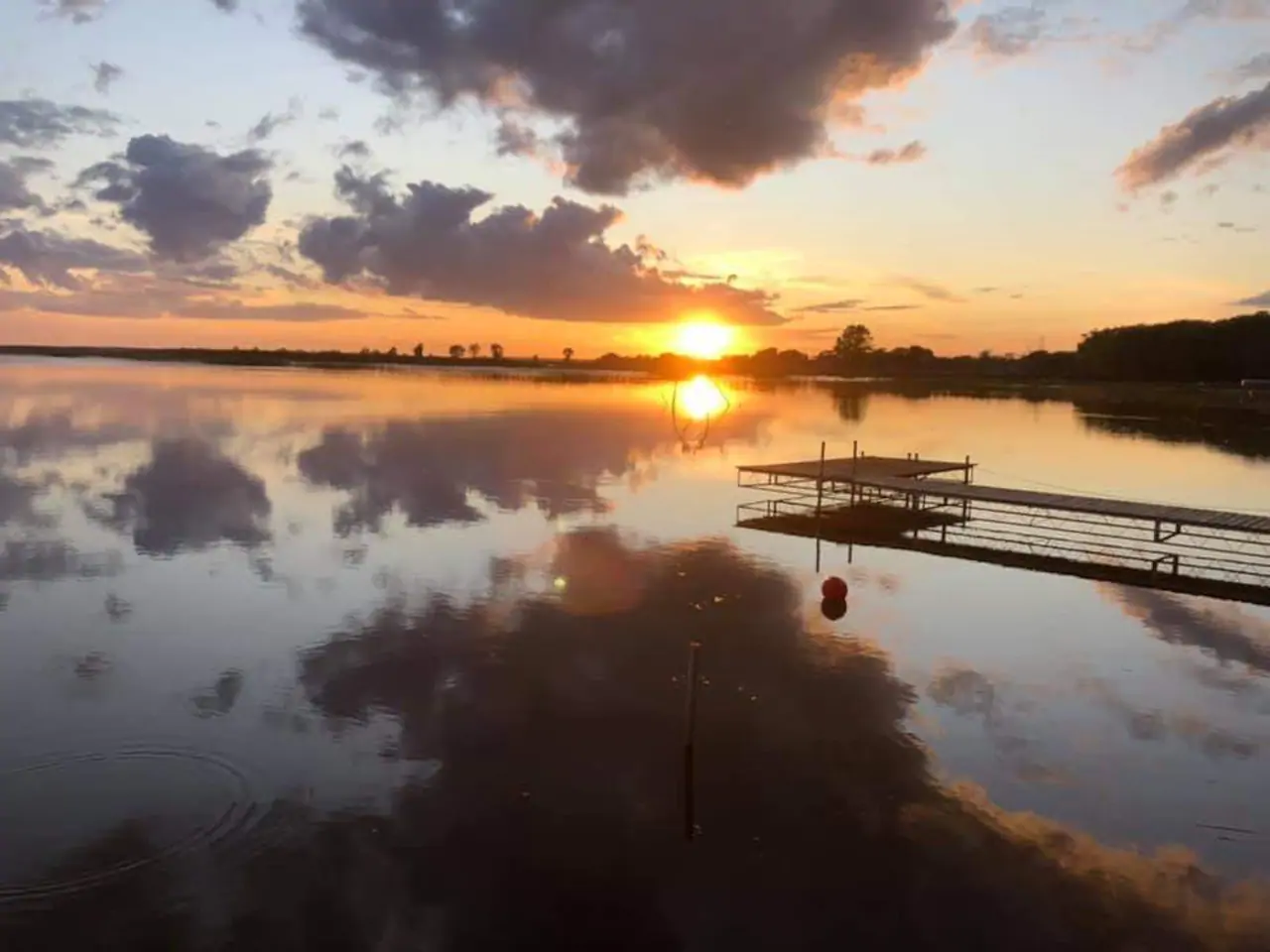 Paradise View On Whitefish Bay
With a view from every room, Paradise View certainly lives up to its name!
Situated on the shores of Lake Superior's Whitefish Bay, this Airbnb in Michigan can sleep 6 guests in its 2 bedrooms with 2.5 baths.
With every outdoor opportunity imaginable, from splashing in the waters of Lake Superior when it is warm, to snowshoeing in the winter, along with hiking and biking, Paradise Views offers it all.
There are two decks to take advantage of the views. Beautifully appointed on the inside, there are wifi and smart tv options. Each bedroom has its own ensuite bath.
Inside and outside, Paradise Views is one of the best Michigan Airbnbs.
Check the rates here on Airbnb.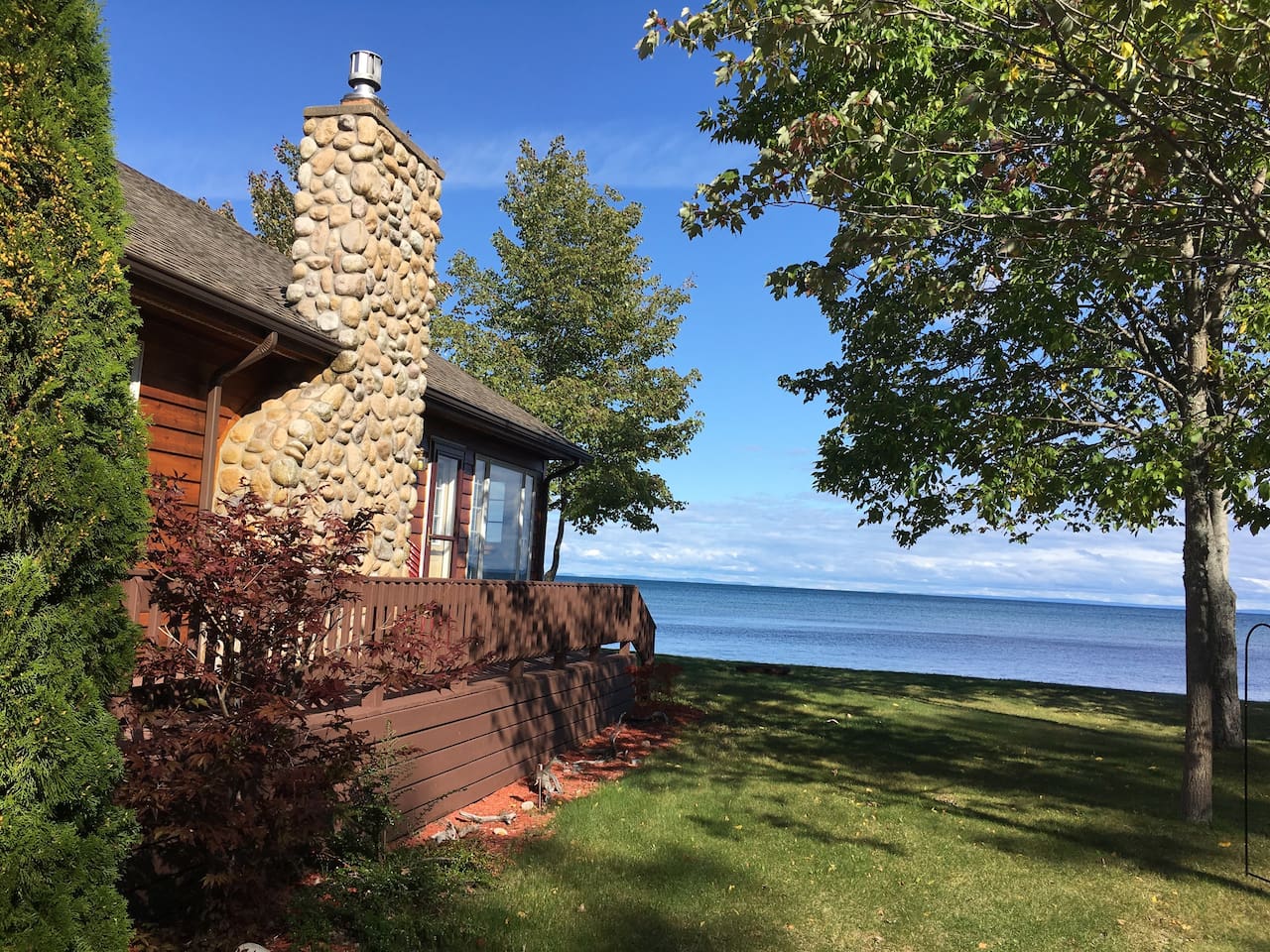 Lakeside Timberframe Cabin
About 15 minutes from downtown Kalamazoo this luxury lakeside cabin is in a stunning private setting.
This hand-built timber-framed home brings the outside in with impressive views of the water and forested trees just beyond it.
Able to accommodate 4 guests with 2 bedrooms, you will find a beautiful kitchen-dining area and two beautifully decorated and updated bedrooms.
A dream for anyone who loves the outdoor, take advantage of kayaking and swimming.
You will find a private lakefront offering serene walks and a small dock.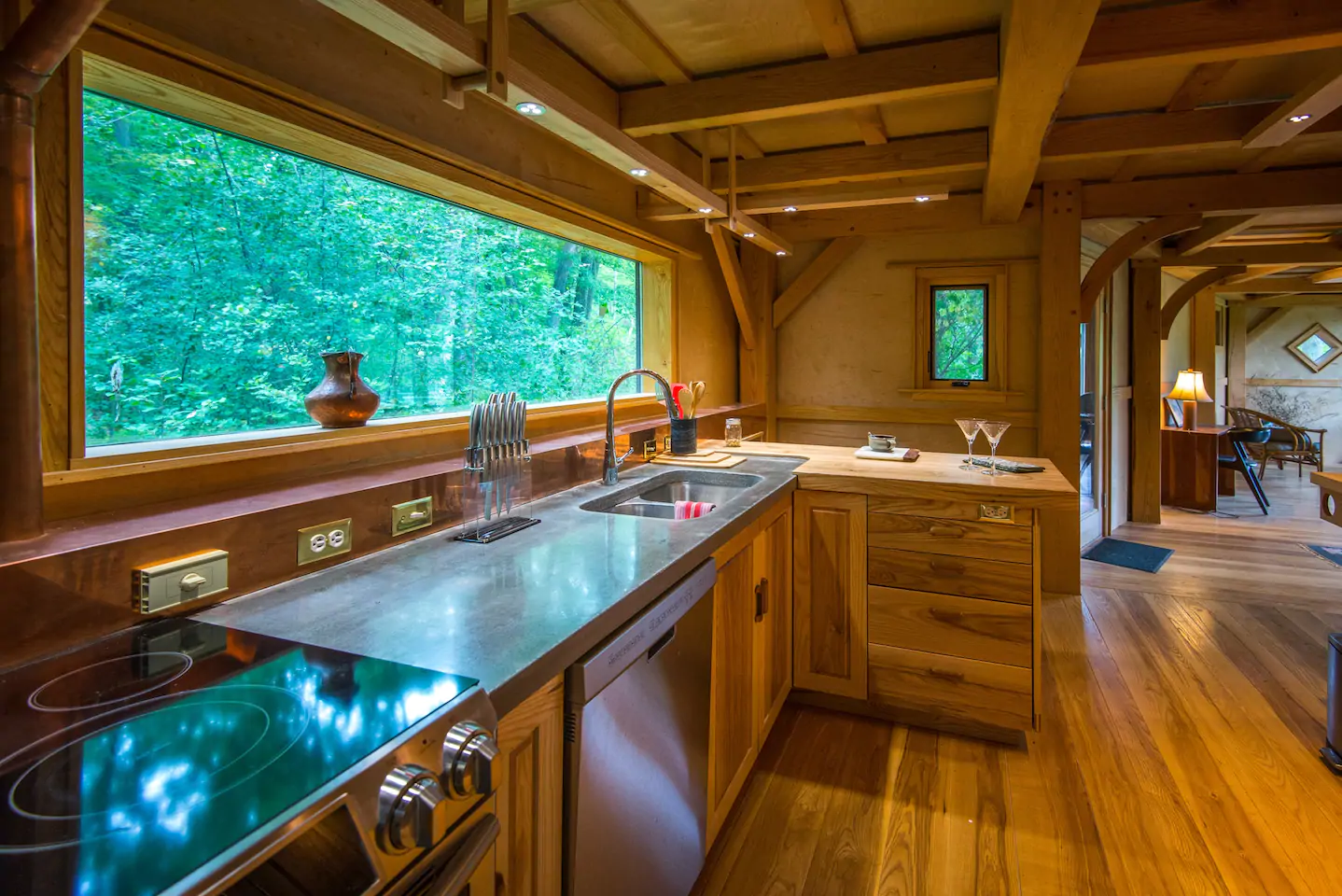 Here I have listed 15 of the best Airbnbs in Michigan. I hope one (or more!) of them inspires you to visit Michigan! Enjoy your stay.