Looking for the best views in Paris? You have definitely come to the right place. I have been to Paris several times and I have my favorite views in Paris you shouldn't miss.
There are so many things to do in Paris, whether this is your first visit or you are looking to find the best views in Paris.
Or perhaps this is a repeat visit and you are yearning for those unique views in Paris, I have suggestions for you!
Paris, referred to as the City of Light, is one of the most beautiful and captivating European capital cities. You will want to visit the most iconic and not-so-popular views in Paris!
And that is exactly what I have done for you here: I have shared my favorite and, in my opinion, the best views in Paris for your enjoyment.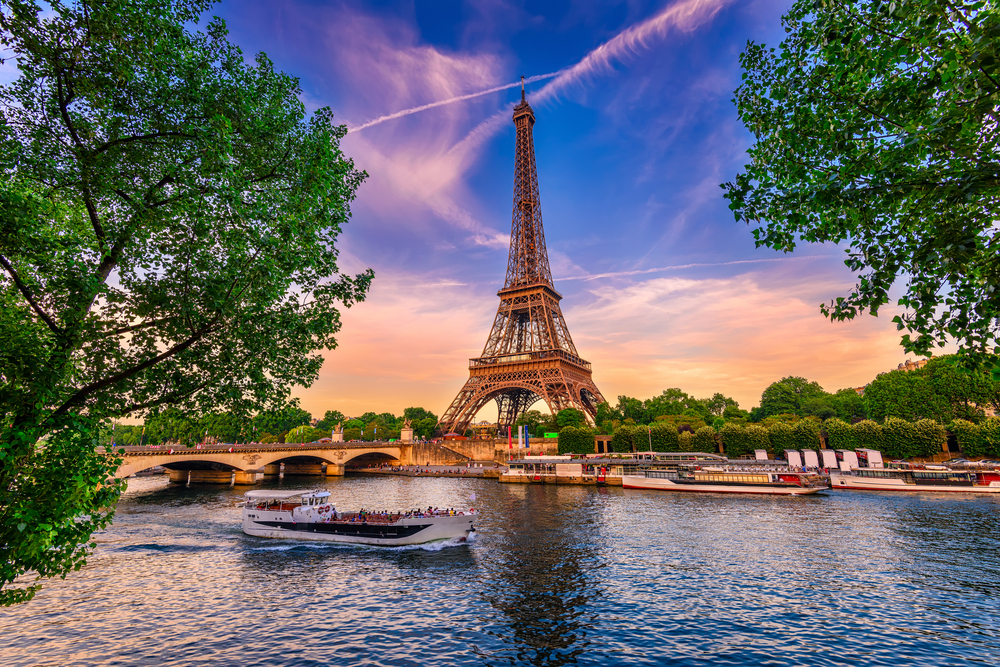 18 Best Views In Paris You Shouldn't Miss!
1) The Eiffel Tower Has The Best Views In Paris
Let's face it, the Eiffel Tower is the most famous symbol of Paris and you should be part of any 2 weeks in Europe Itinerary. Most everyone who travels to Paris wants to see the Eiffel Tower! Admittedly, there is nothing quite like it.
You can eat or drink champagne inside of it. You can climb in it or elevate it. It is a very popular, take-your-breath-away, iconic attraction to visit.
One of the easiest ways to see one of the best views in Paris is to literally walk around it. Please be advised though there are very tall glass walls surrounding it on all four sides.
The Champs de Mars is a green space that flows from the Eiffel Tower to the Ecole Militaire. It is a very popular location to see one of the absolute best views in Paris of the Eiffel Tower. And to snap that Insta-worthy photograph!
If you are in the planning stages of your trip to Paris, here are some great posts for you to read later:
The Ultimate 5 Days In Paris Itinerary You MUST Steal!
10 Unusual Things To Do In Paris (Not The Eiffel Tower!)
The Ultimate 4 Days in Paris Itinerary
The Ultimate 2 Days In Paris Itinerary
7 Things You Want To Know Before Your First Trip To Paris
5 Things To Know About Eating Healthy In Paris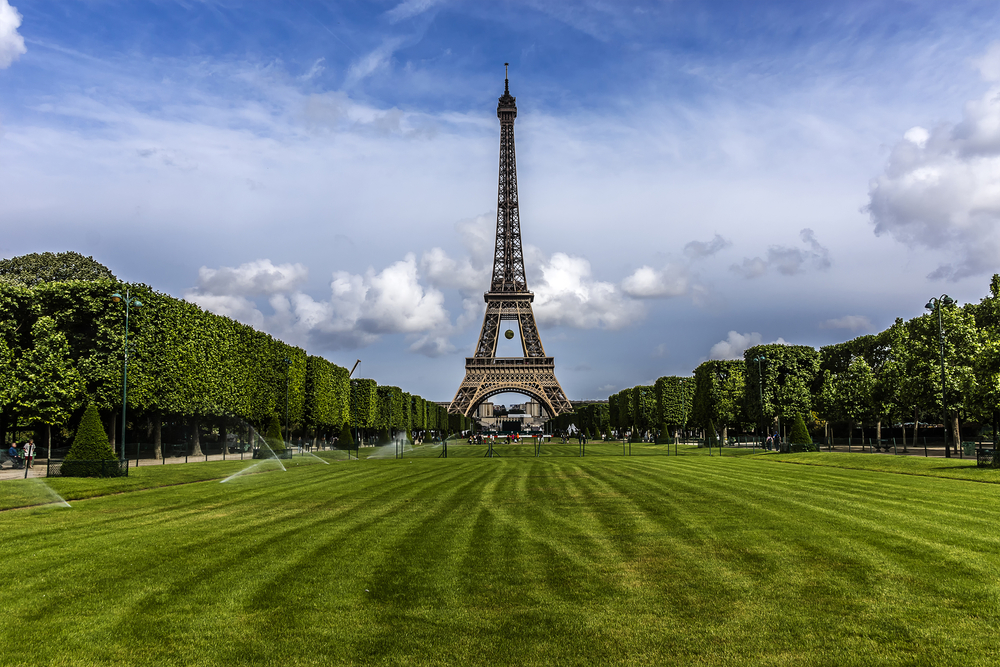 Secondly, head inside the Eiffel Tower itself! One of the most popular things to do in Paris, touring the Eiffel Tower can be very crowded with long lines. But the views from the top of the Eiffel Tower are incredible and rewarding.
I recommend purchasing tickets in advance (in the summer as much as several months in advance!) so you spare yourself waiting in long lines.
There are two levels to visit within the Eiffel Tower. But for one of the best views in Paris, I suggest heading to the very top observation deck. It is one of the highest in all of Europe and affords panoramic views of Paris!
The only drawback of this location is that views from the Eiffel Tower do not include the iconic structure in them. But, don't worry because there are a ton of places in Paris with views of the Eiffel Tower.
Look here: Paris: Eiffel Tower Direct Access Tour to Summit by Elevator
Look here: Eiffel Tower: Second Floor Priority Access
Where To Stay Near The Eiffel Tower:
Affordable: Hôtel de la Tour Eiffel. Check Rates: Booking.com
Midrange: Grand Hôtel Lévêque. Check Rates: Booking.com
Eiffel Tower Views: Hotel Relais Bosquet Check Rates: Booking.com
2) Place du Trocadero
Built into the side of a hill, and affording one of the best views of the Eiffel Tower in Paris is the Trocadero.
You will need to cross over the River Seine to reach it, and it is so worth the effort for the magnificent views. The absolute best time of day for picture taking is right at sunrise.
Very soon thereafter, hoards of people appear to enjoy the view and take pictures. It is one of the best Paris Instagram spots, you know!
Look here: Paris Hop-on Hop-off Bus Tour: Classic, Premium or Deluxe
Look here: The Paris Pass®: Free Entry to Over 60 Attractions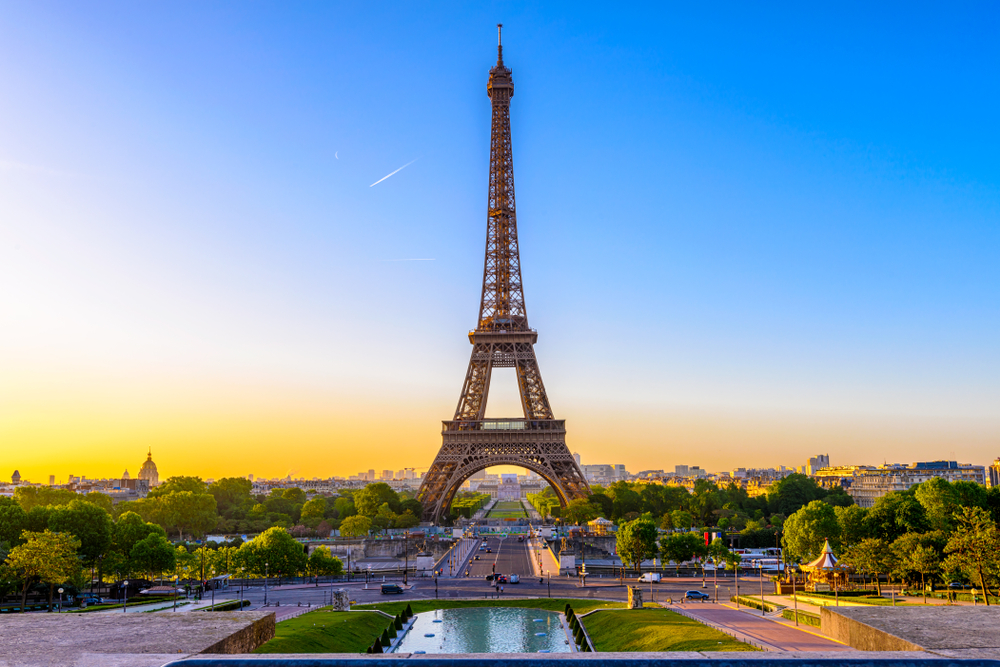 3) Cruising the Seine
Consider seeing the most iconic Parisian sights from a different perspective by enjoying one of the highly popular and well-received experiences in Paris: a Seine River Cruise.
Most are narrated, explaining the history of the city and the iconic attractions you will be passing by, such as the Eiffel Tower, Notre Dame Cathedral, and the Louvre Museum.
You will learn about the right bank and the left bank of the River Seine as you glide under the elaborate and famous bridges of the city.
Tickets: 3-Course Lunch Cruise on the River Seine
Look here: Paris: Dinner River Cruise Experience
And here: Paris: 1-Hour Illuminations River Cruise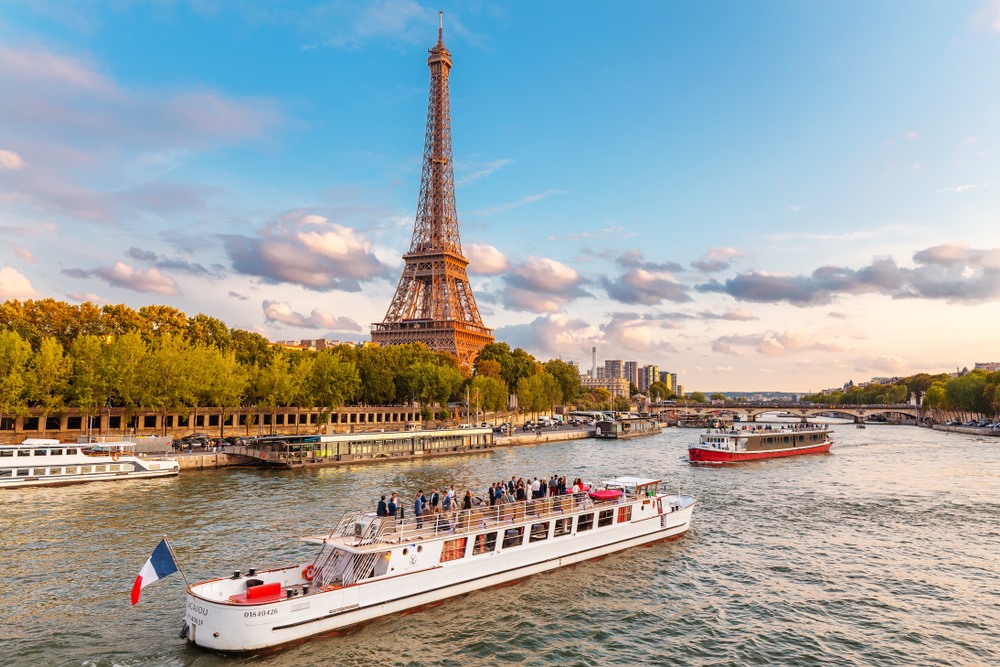 4) Pont Alexandre III
Pont Alexandre III is an opulent bridge spanning the River Seine. It connects the Right Bank and Left Bank of Paris as well as some of the most iconic neighborhoods of Paris.
It is wildly popular for its extravagant beauty, as well as for having the best views in Paris. Designed in Art Nouveau style, you will see ornate cherubs, nymphs, and street lamps. Also, there are two winged horses, one at each end of the bridge.
The Eiffel Tower can easily be seen from the bridge as well as great views of the Seine River. It is a great location to get some souvenir pictures. If that is a goal, you need to get to the bridge early! The iconic Pont Alexandre III has been classified as a historical French monument since 1975.
Look here: Paris: Guided Segway Tour
Look here: Paris: Photo Shoot with a Private Travel Photographer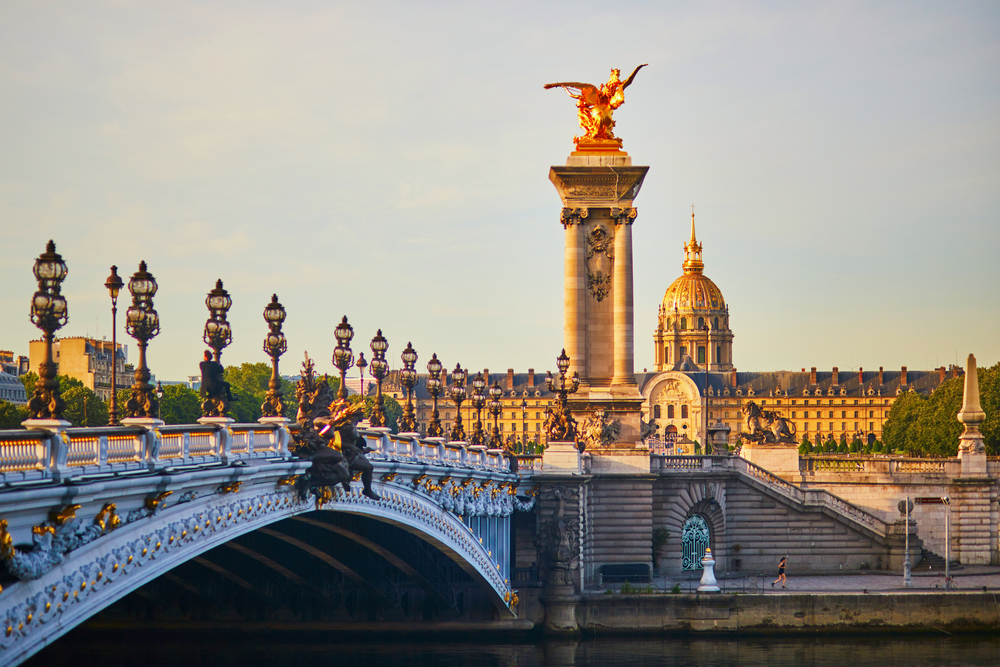 5) The Glass Clock At The Musee d' Orsay
Located along the banks of the River Seine, not far from the Eiffel Tower, is the Musee d'Orsay.
This museum houses extensive collections of paintings, sculptures, architecture, and designs, from the years 1848 to 1914 to admire. The major draw of the museum is its Impressionist and Postimpressionist collections.
However, one of the best views in Paris is located on the fifth floor of the museum. Through the glass clock are views of the glorious River Seine, the Louvre Museum, and surrounding areas! It is very spectacular.
Tickets here: Musée d'Orsay Reserved Access 1-Day Admission Ticket
Tickets here: Paris: Musée d'Orsay Entry Ticket and Seine River Cruise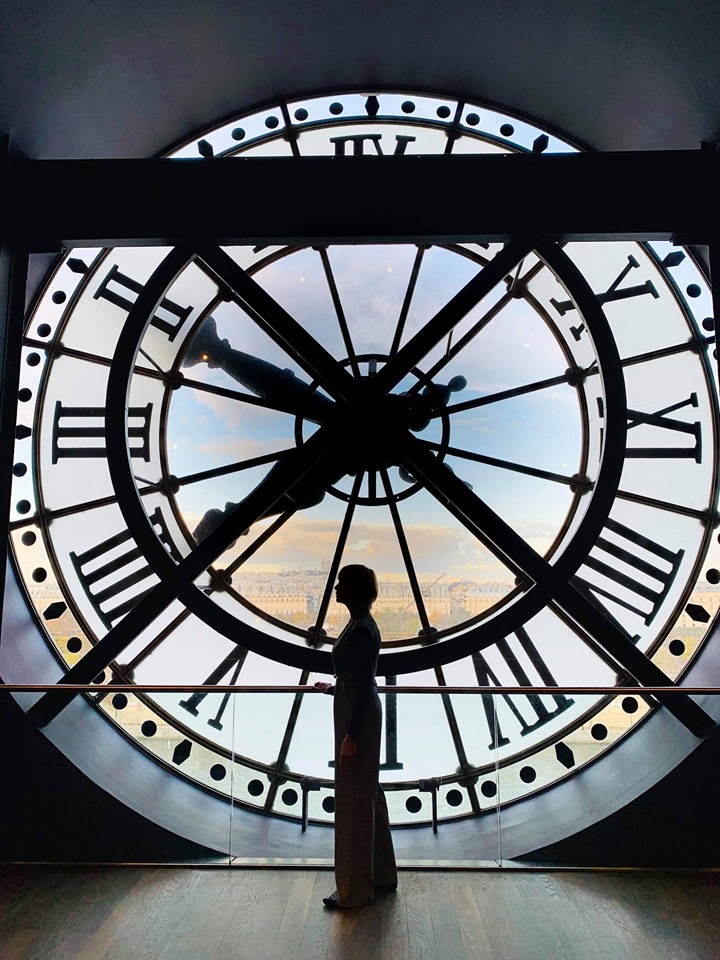 6) The Place de la Concorde
To view some of the most noteworthy and historical sites in all of Paris, in one location, head next to the Place de la Concorde. It is the largest public square in Paris at nineteen acres.
Bordered by the beginning of the chic and cosmopolitan Champs-Elysees to the east, and the Tuileries Gardens to the west, here you will have magnificent views in all directions.
One can literally walk from the Louvre Museum, through the Arc de Triomphe du Carousel, through the Tuileries Gardens to Place de la Concorde. You can stroll through the magnificent gardens along the way.
You may see the giant Ferris wheel. It will undoubtedly afford you one of the best views in Paris from the highest point of the ride! (It is opened seasonally.)
You will soon see two glorious fountains flanking the Obelisk of Luxor, a gift to France from Egypt. It is at this point, next to the obelisk that the Champs-Elysees begins. You can literally stand at the beginning of the Champs-Elysees. It is amazing.
From here, you will have one of the absolute best views in Paris of the iconic and world-famous Arc de Triomphe. It is located at the terminus of the Champs-Elysees at Charles de Gaul Place. It is quite breathtaking!
If you focus your sight on the horizon you can see the third arch, the Grande Arche de la Defense off in the distance.
Views of some of France's historic and iconic landmarks can be seen when you visit Place de la Concorde.
Look here: 3-Hour Private Champs Élysées to Montmartre Tour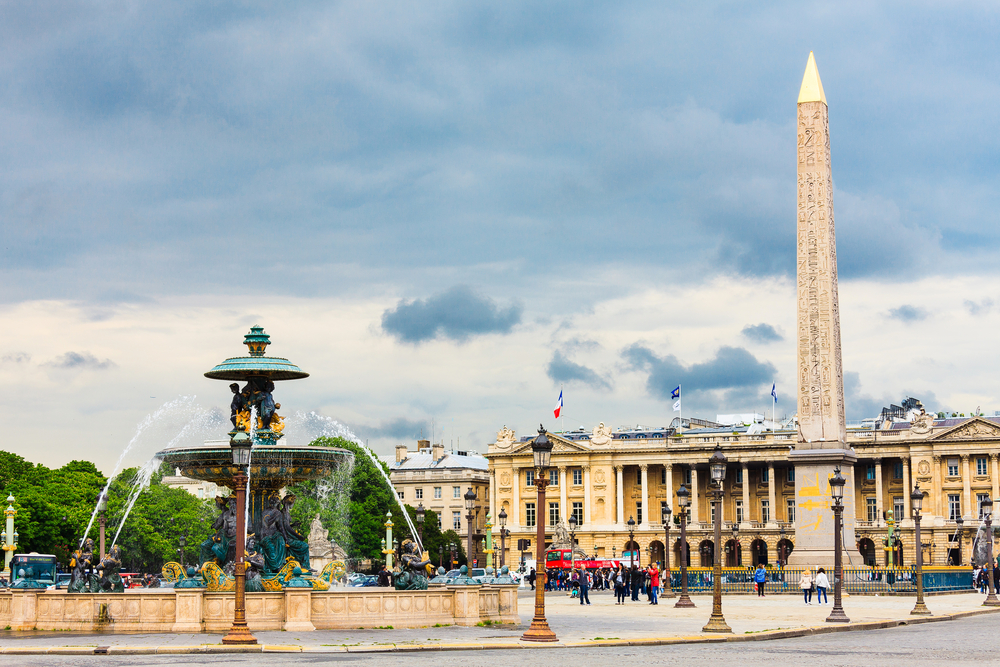 7) The Observation Deck Of The Arc De Triomphe
Most visitors to France are not aware that you can go inside the Arc de Triomphe. There is a museum of sorts inside commemorating France's war history and the men who fought them.
You can also climb to the top observation deck of the Arc for spectacular panoramic views of Paris.
Located in the bustling Charles de Gaul Place, there are 12 streets radiating from the Arc and you will be able to see each as you walk to the different corners of the observation deck. Of course, there is a magnificent view of the Eiffel Tower along with the spectacular 360-degree views of the City of Light!
Please be advised that there are a lot of stairs to climb to reach the observation deck. There are no elevators. So, if you are traveling with someone with limited mobility, or in a wheelchair, this is not an option for your group. Finally, there is a fee to enter the monument.
Tickets here: Skip-the-Line Arc de Triomphe Rooftop Tickets
Tickets here: Arc de Triomphe, Lunch, & Seine River Cruise Tickets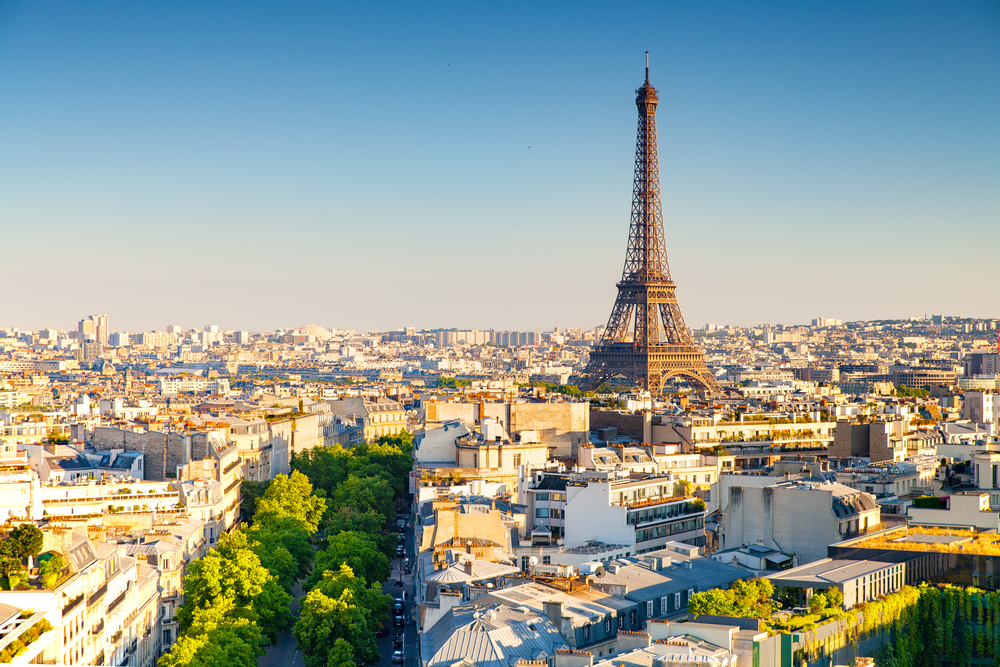 8) The Steps of Sacre Coeur
One of the most rewarding and awe-inspiring views of Paris is found on the steps in front of the Basilica of the Sacred Heart, or the Sacre Coeur, in the Montmartre district of Paris.
Come in the evening for one of the best Paris views at night as the city twinkles below. You will agree that this place cannot be beaten! And better yet, this spot is free!
Look here: Montmartre: Walking Tour
Look here: Sacré-Coeur and Montmartre Tour with Expert Guide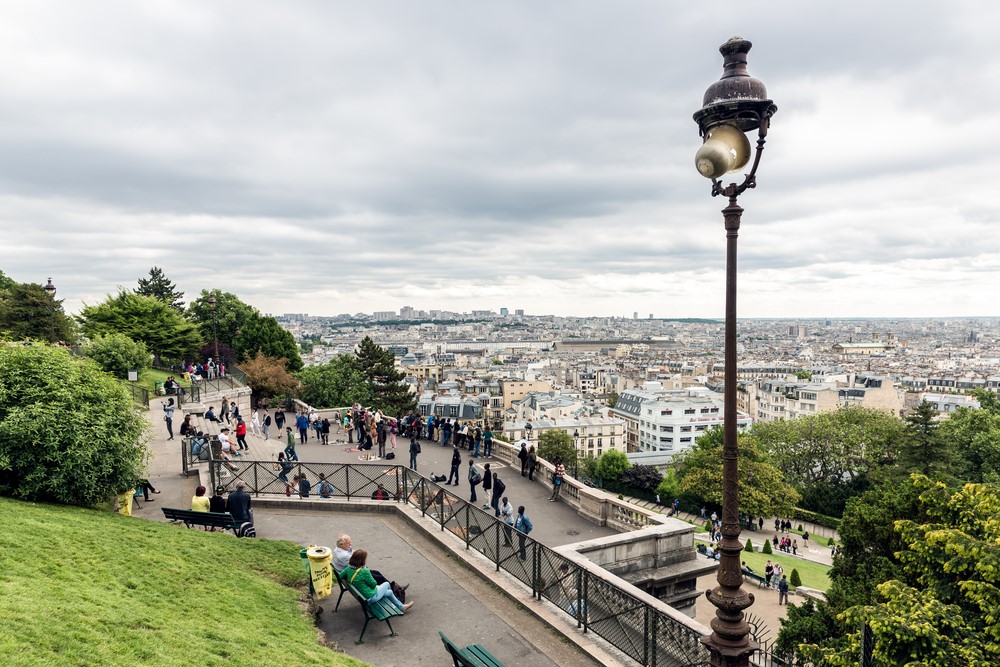 9) The Dome Of Sacre Coeur Offers A Spectacular Birds Eye View!
While the best views in Paris at the top of Montmarte are unforgettable, maybe you are up for a challenge. You can climb the 300 steps up to the dome of the basilica. For another outstanding and breathtaking view of the neighborhoods of Paris!
Please be aware there is a fee involved and there is no elevator. You must climb those steps. But it will be unforgettable. To reach the entrance to the dome, you walk outside and to the left of the church. Good luck!
Places to stay in Montmartre:
Affordable: Le Village Montmartre by Hiphophostels. Check rates: Booking.com
Midrange: Timhotel Montmartre. Check rates: Booking.com
Midrange: Hôtel des Arts Montmartre. Check rates: Booking.com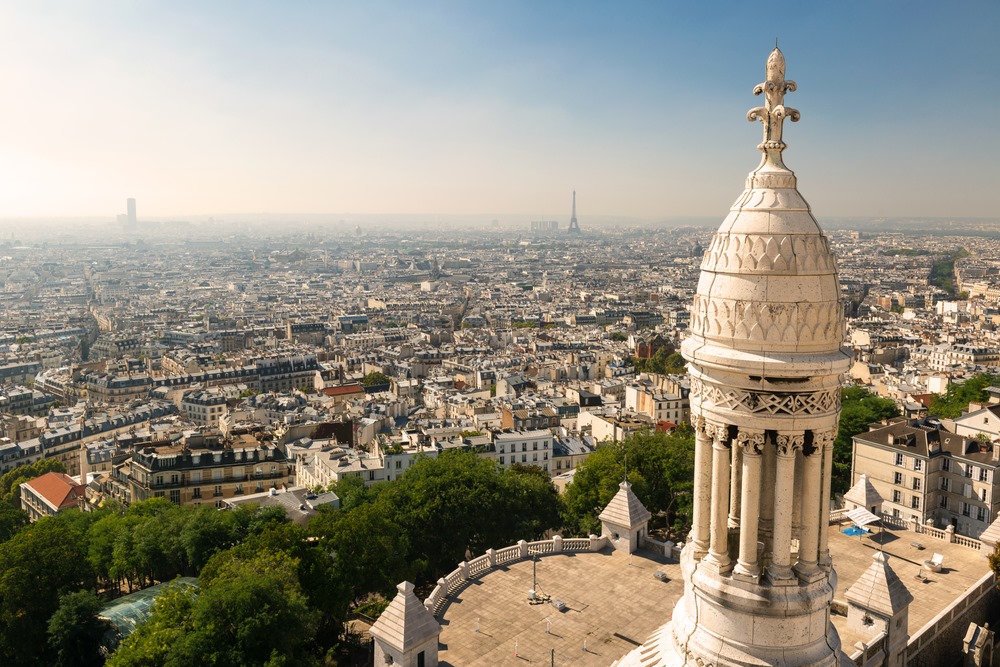 10) The Galleries Layafette Rooftop Should Not Be Missed
Galleries Lafayette is an upscale French department store that you should consider visiting for many reasons, but most notably the outdoor rooftop terrace.
It offers commanding panoramic and the best views in Paris that are hard to beat. And there is no cost! You can see the opulent Paris Opera House across the street from the store, as well as the Eiffel Tower, Montparnasse Tower, and Invalides.
I would also suggest you seek out the main stained glass and iron dome once you leave the outside rooftop terrace. It is an art nouveau masterpiece that is stunning.
On the third floor, there is also a glass walk where you are able to walk out into the middle of the dome for an intimate and unbelievable view of the stained glass panels.
If you are fortunate enough to be in Paris during the holidays, the Galleries Lafayette suspends a huge Christmas Tree inside the dome that is unforgettable!
Below, you can see me on the rooftop terrace of Galleries Lafayette. The Paris Opera House is behind me and just off-camera to the right of this picture is the Eiffel Tower. This is undoubtedly one of the best views in Paris!
Tickets here: Paris Museum Pass: 2, 4, or 6 Days
Tickets here: Self-Guided Visit to Opera Garnier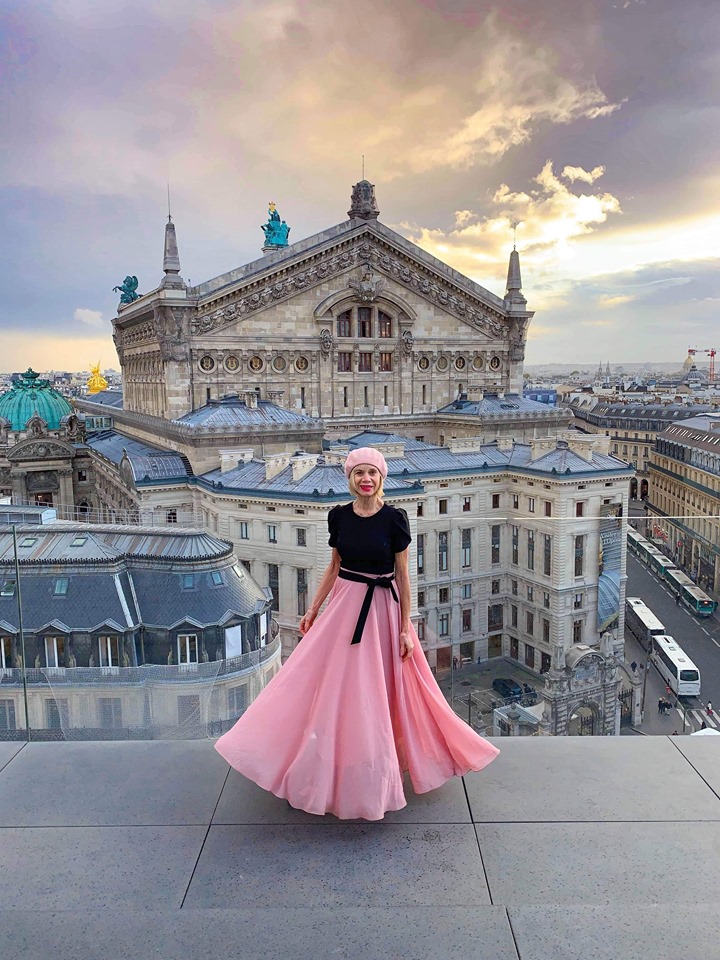 11) The Dome Of The Majestic Pantheon
Located high on a hill overlooking the historic Latin Quarter district of Paris is the Pantheon. In it is the protected remains of some of France's holiest and highly regarded men and women.
Designed after the domes of St. Peter's Basilica in Rome and St. Paul's Cathedral in London, the dome of the Pantheon is very remarkable.
For a fee, you can climb the stairs up to the enormous dome, located outside of the structure. There you will be treated to the best views in Paris, including Notre Dame Cathedral and the Latin Quarter.
You will see it all from the amazing height of 272 feet above the ground!
Look here: Paris: Latin Quarter 2-Hour Private or Group Walking Tour
Look here: Paris: Latin Quarter Selfie Walking Tour with Local Guide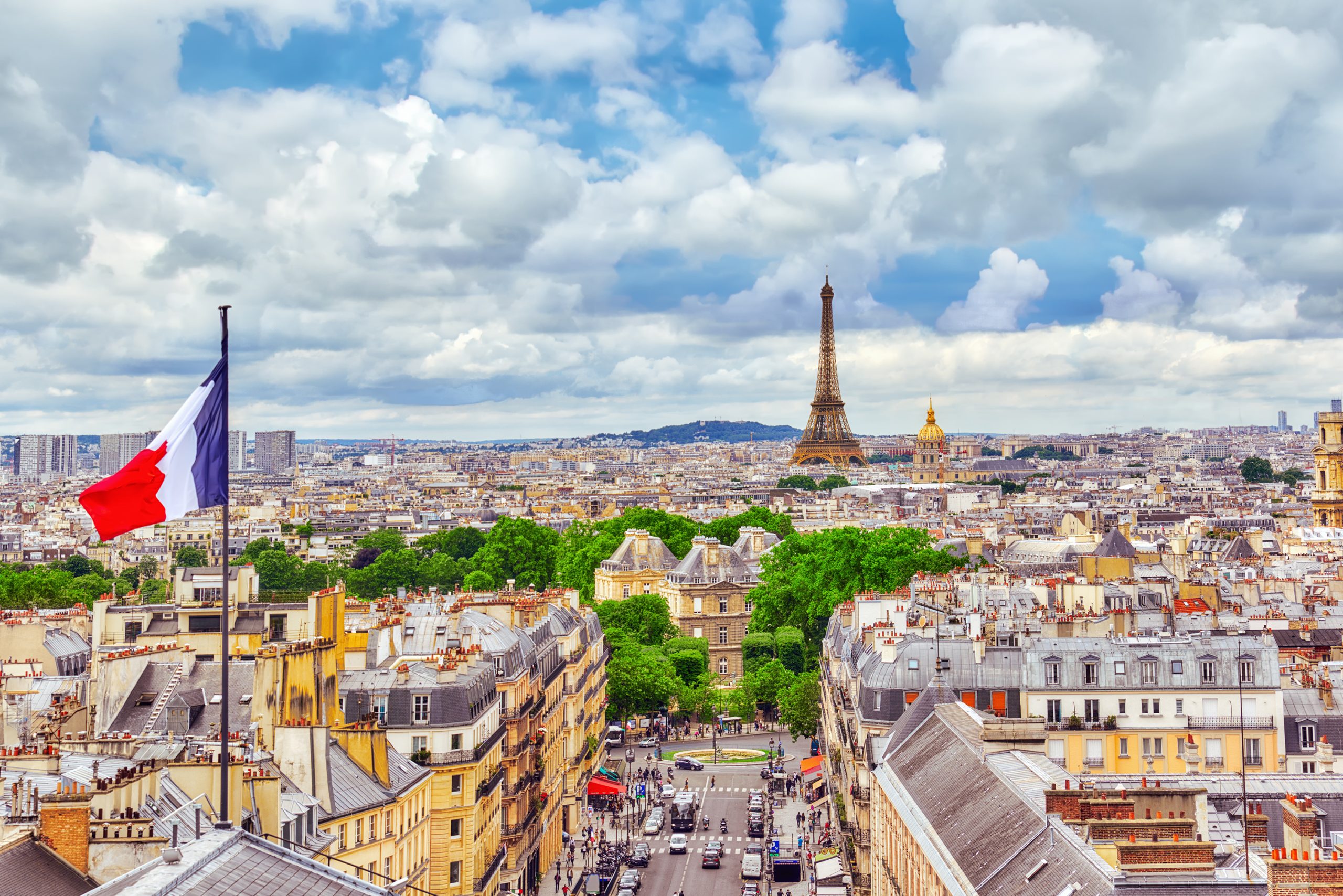 12) Montparnasse Tower
Located in the city center, a great place to see the Eiffel Tower and just about all of Paris' historic monuments is the Montparnasse Tower Observation Deck.
Located 200 meters/660 feet above the ground, the observation deck offers 360 degrees of unobstructed superb views of all that Paris has to offer.
The Montparnasse skyscraper houses mainly offices. There is a fee to visit the observation deck. You will be whisked up by an elevator, but you must climb stairs for the final three levels to reach the deck.
Tickets here: Paris: Montparnasse Tower Roof-Top Terrace Ticket
Tickets here: Paris: Moulin Rouge Cabaret Show Ticket with Champagne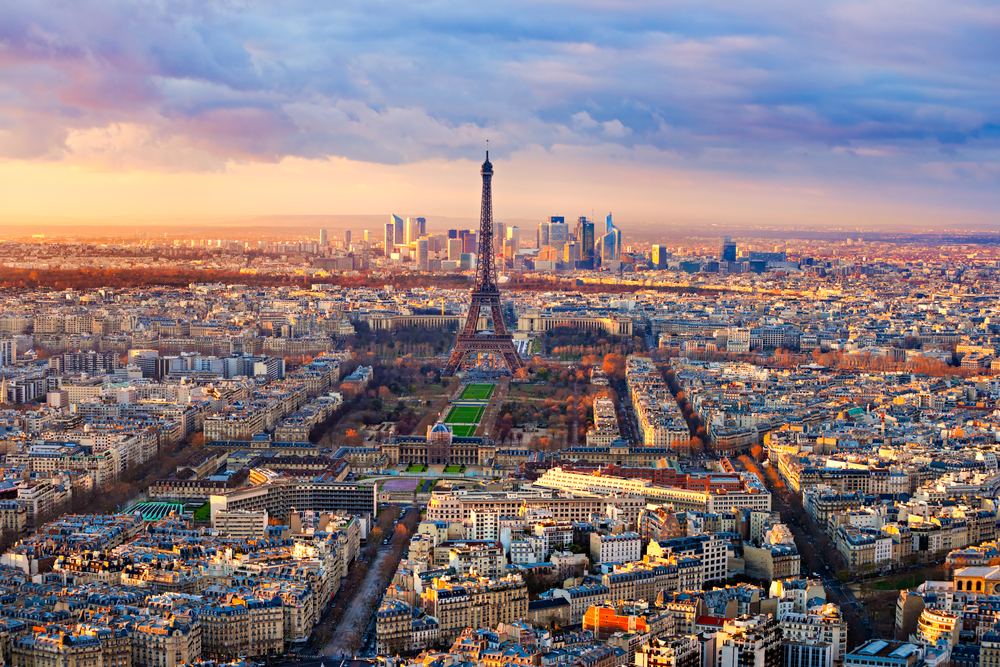 13) Visit Parc de Belleville For the Best Views In Paris
Located on the outskirts of Paris, in the 20th District, situated on the hill of Belleville is the highest park in Paris.
The best view in Paris would undoubtedly be the terrace at the top of the park. Here you will find a wonderful panoramic view of the city.
The park has over 1,000 trees and shrubs and a 330-foot-long waterfall fountain. It is the longest in all of Paris. At the park, you will find ample space for a picnic, a playground for children, and a small museum. Its purpose is to point out the importance of fresh air and exercise.
Look here: Père Lachaise Cemetery: Walking Tour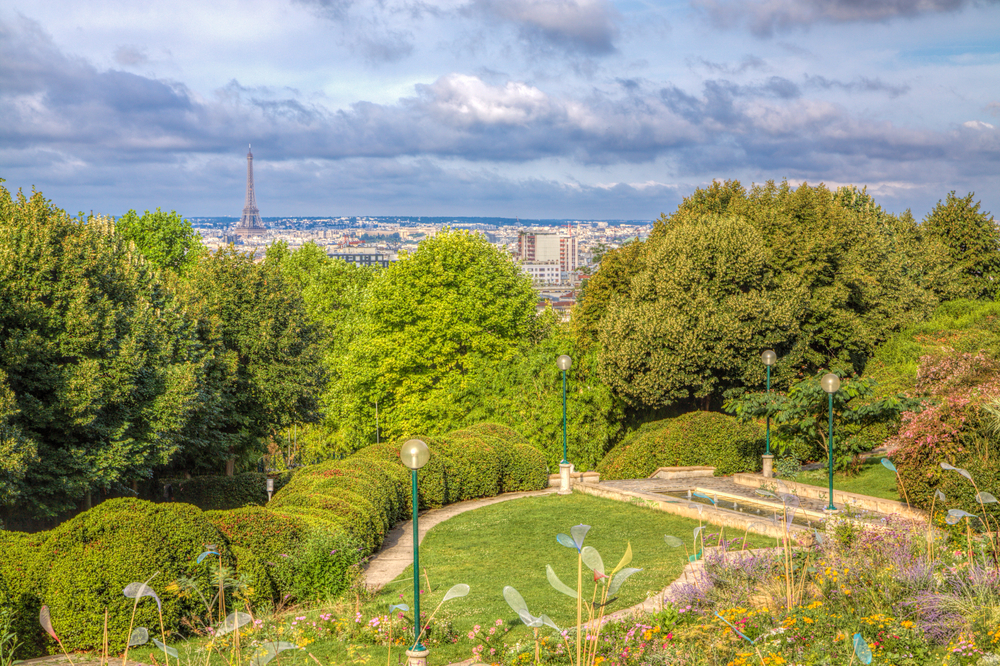 14) The Eclectic Centre Pompidou Offers Stunning Views In Paris
Upon first seeing the Centre Pompidou, you might think it was constructed inside out! It is new-age in its architecture and world-famous for its exhibitions and art collections.
There is much to do and much to see here, and it is a great place to head to if you want to see the best views in Paris. And with over 100,000 pieces of modern art, this should be on your list to consider.
Perhaps lunch at the sixth-floor restaurant is a great idea for you and your group. There you will find the best views in Paris including Notre Dame Basilica and the Cathedral of Sacre Couer.
This is a haven for modern and contemporary artwork, but I'd suggest you go for the view!
Look here: Center Pompidou Entrance Ticket to Permanent Collections
Look here: Pompidou Centre Private Guided Tour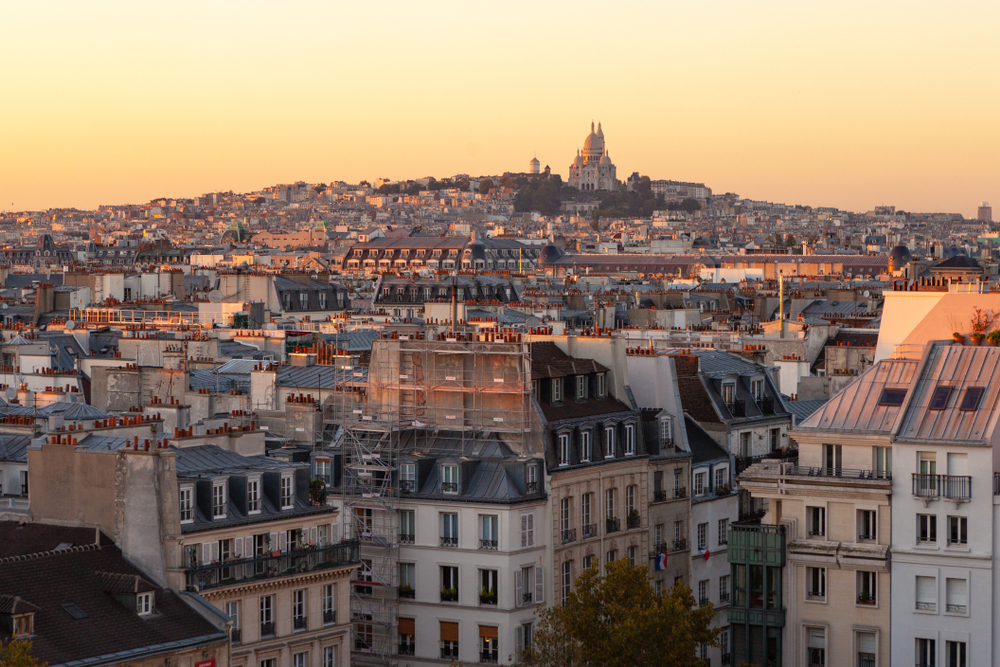 15) The Terrace of Printemps Haussmann
Another department store with epic views of Paris is the Printemps store on Boulevard Haussmann. It is just down the street from Galeries Lafayette so you can visit both stores in one day to admire the similar but different vantage points.
Printemps' rooftop terrace is also free so it is a great way to enjoy great Paris views while on a budget. The terrace is open year round until 8 pm so it is a wonderful place to watch the sunset.
You will be able to spot many famous sights and take breath-taking photos of the pretty Paris streets stretched out below you.
Look here: From Paris: Palace of Versailles & Gardens w/ Transportation
Look here: From Paris: Versailles Guided Tour with Skip-the-Line Entry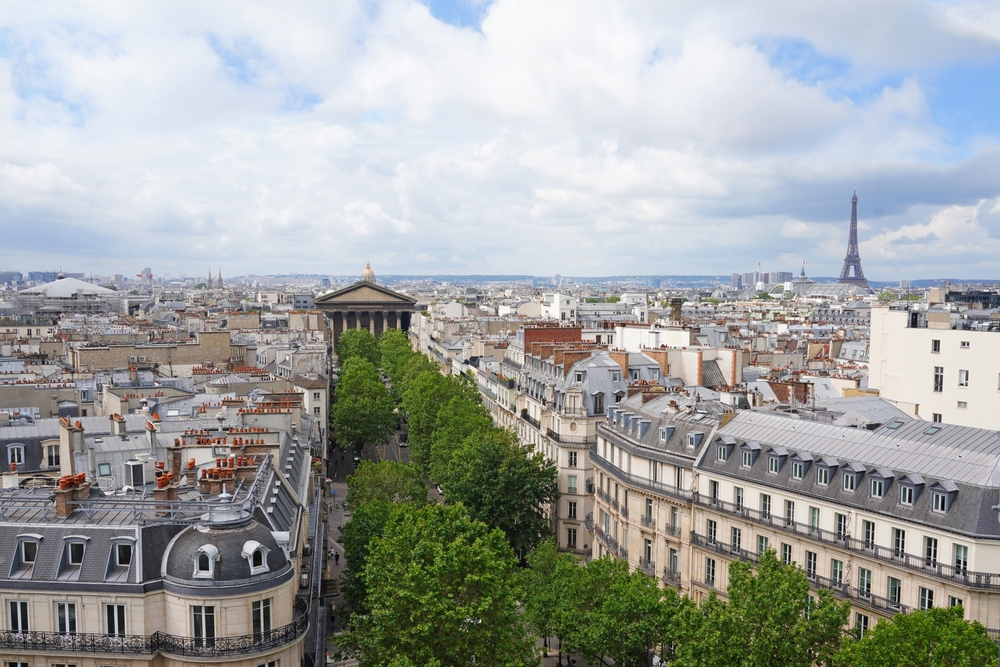 16) Tour Saint-Jacques
Built in the early 1500s, Tour Saint-Jacques is a 171-foot Gothic tower nestled in a pretty garden. Climb the 300 stairs to the top to be rewarded with 360-degree views of Paris.
You'll be able to see the Seine River, Chatelet Theatre, Notre Dame Cathedral, and so much more.
The tower is open to the public from June through November with guided tours on Fridays, Saturdays, and Sundays. Visitors are limited, so arrive early to reserve a place.
Look here: Medieval Paris Private Walking Tour
And here: Secret Paris Guided Tour: The Hidden Heart of Paris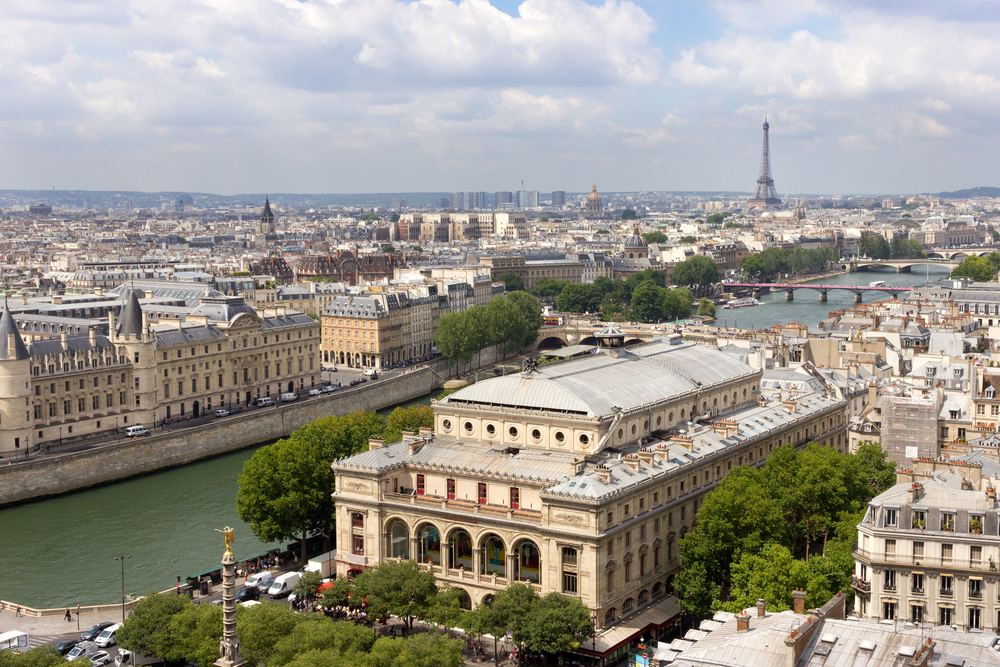 17) The Institut du Monde Arabe
The view from the Institut du Monde Arabe, or Arab World Institute, is a hidden gem many tourists do not know about. And you do not even need to climb a ton of stairs!
Take the elevator up to the ninth floor where you will find an amazing observation deck. You will be presented with gorgeous views of the Ile de la Cité and Notre Dame as well as the river and many of the bridges.
On the same floor, you can dine at the Le Zyriab Restaurant and enjoy the night views of Paris. The Institue also has a museum and a huge library.
Look here: Off-the-Beaten Track in Paris: 2-Hour Vintage 2CV Tour
Look here: Paris 2.5-Hour Unique Macaron Cooking Class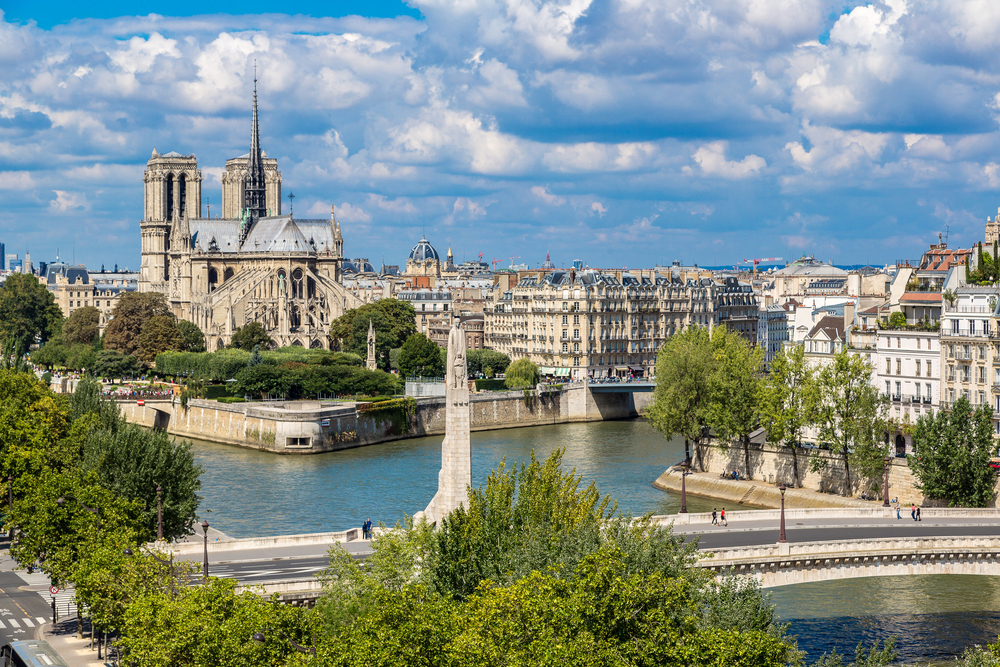 18) Parc des Buttes-Chaumont
Parc des Buttes-Chaumont is another pretty park where you can escape into nature while still enjoying the best viewpoints in Paris. Located in the 19th district, the hills here help to give you great vantage points as you explore this beautiful green space with lakes, waterfalls, and trees.
Hike to the Temple de la Sibylle for one of the best views of Paris. You will be able to see the hill of Montmartre and the Sacre Coeur perched atop it.
Along with photographing the city, this park is a great place for a picnic. If you visit in spring, you will love the abundance of cherry blossoms. This is one of the prettiest parks in Paris!
Look here: Paris 90-Minute Street Art Tour
Look here: Père Lachaise Cemetery: Walking Tour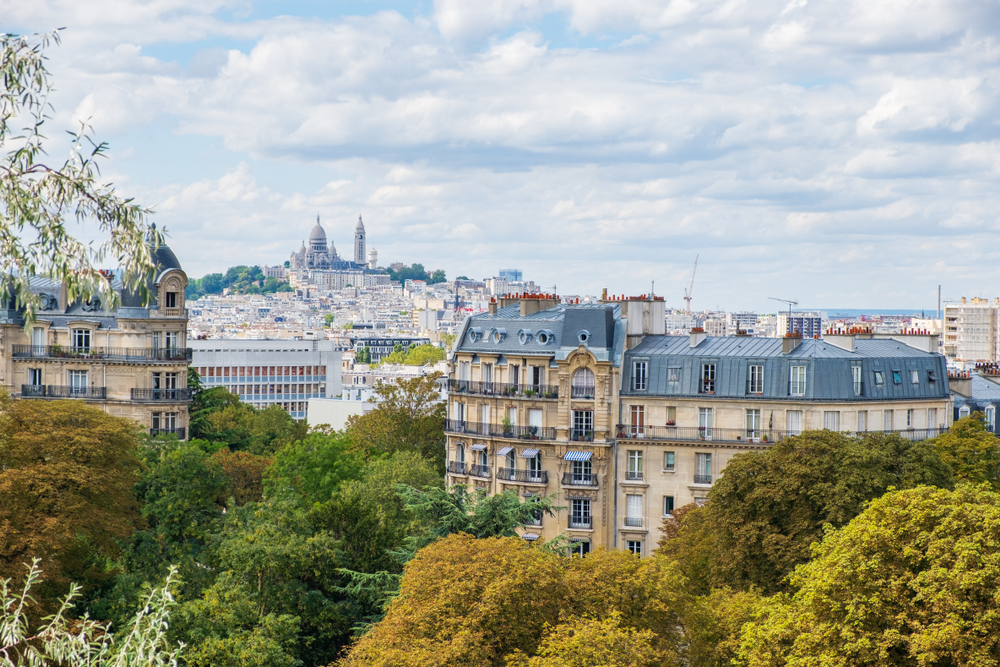 Packing Tips For Your Trip To Paris
I think that using these useful packing tips will enhance your trip to Paris and help you remain organized while there.
A concealed travel pouch may be one of the most important items you bring with you on your visit to Paris.  This unisex RFID-blocking concealed travel pouch is lightweight and comes in several colors.
It has lots of organization to give you peace of mind. You can keep your most valuable documents safe and secure next to your body.
If you have a pouch already you may not want to or need to invest in a new one. If it does not come with RFID protection, these RFID sleeves would be handy to prevent identity theft.
This configuration comes with enough passport and credit card sleeves that the entire family would be protected. They are slim too, so they will easily fit into your current pouch or wallet. These are the kind my family and I use not only when traveling but at home as well.
If you are planning on taking a lot of pictures with your phone you will definitely want to consider an external charging battery. This Anker high-speed phone charging battery is the exact one I carry with me on all of my trips.
It can be used on a variety of phones, not just an iPhone like I have. And wow is it fast! I like that it holds its charging capabilities for several uses so I do not have to worry about it while out and about.
And if I forget to recharge it at night, it will still be good to go the next day.
My daughter gifted me with this FugeTek Selfie Stick and Tripod for my birthday. It has Bloothtooth connectivity so it is very easy to use.
It is made of durable aluminum and is very lightweight and easy to carry. I love mine and I think you will enjoy it too!
I was never a fan of packing cubes until I tried them out! Now I am sold. These Bagail packing cubes are the exact ones I use whenever I travel. I cannot believe how much more organized I am now! And I never leave without them anymore.
I am a big fan of locking my luggage too. These TSA-compatible durable luggage locks have easy-to-read numbers and are easy to set. I lock my checked bag if I have one. I always lock my carry-on as well.
Especially on a long international flight where I might be napping.
I also lock the luggage I leave behind when I am out sightseeing on a trip. Whether I am at an Air BB or a hotel, I want to keep my valuables as secure as possible if a room safe is not available.
Don't forget to bring along a universal power adapter on your trip to Paris. This worldwide power plug is a great example and will charge your phone at the end of your busy days.
And this world traveler adapter kit can charge several devices at the same time. This is what you will need when there are several people traveling in your group, or if you bring several electronic devices on your trip that require charging at the same time.
Hydration is so important. You want to remain hydrated to support your immune system which in turn will be stronger to fight off any germs you will encounter during your time in Paris. You will want to bring your own refillable water bottle with you.
I never leave home on a trip without my Bobble filtration bottle. The 18.5-ounce size is perfect for travel and it will fit nicely in the pocket of a backpack or your purse. Also when filled with water, it is not too heavy to carry.
And the Bobble carbon ensures fresh clean water whenever and wherever you fill the Bobble. You can find filter replacements here. 
You will want to bring a backpack or daypack with you to store snacks, your water bottle, phone, extra clothes, etc. This foldable water-resistant backpack would be great. It is very affordable and is available in many color options for you to choose from.
The fact that it folds down into a zippered pouch will make it easy to pack.
Perhaps you need a more substantial backpack for your international travel. This antitheft backpack has a charging port, is water-resistant, and can comfortably carry up to a 15.6″ laptop.
It comes in a range of colors to choose from and it is inexpensive as well.
You will be walking more than usual during your days in Paris. A sturdy and comfortable pair of walking shoes is a must-have. These waterproof all-season shoes are extremely affordable and yet fashionable.
Mostly everyone is familiar with the Skechers brand, and these Air Run high fashion sneakers come in a lot of colors to match your outfits and are still affordable.
You may be visiting Paris in warmer weather and you may want a pair of sandals to wear exploring. I highly recommend these Vionics adjustable strap orthotic sandals.
I have several pairs of these exact Vionic sandals in several colors that I bring with me *everywhere* I travel. They are very comfortable. I also sometimes bring along my Vionic Tides flip-flops. The toe post is so comfortable which makes wearing these super comfortable.
Bring a lightweight scarf or shawl. Scarves and shawls are very popular in Europe, and Paris is no different. Both men and women wear scarves, decoratively and as a layering piece to keep warm.
This cotton unisex lightweight scarf is versatile and can be worn in any season. I like this colorful oversized scarf too. So many colors to select from!
And here's another option to consider: this Coolibar sunscreen scarf has USB 50+ protection from the sun's rays & comes in great colors.
We all need to protect our eyes from the sun's harmful UVA/UVB rays. These unisex polarized sunglasses come in a lot of lens colors and frame designs and are extremely affordable too.
If you are fond of the aviator-style of sunglasses these polarized aviators may interest you. I like polarized sunglasses because they remove the glare of the water and help you to see things more clearly. This will be very helpful in Paris.
Do you need new luggage? his expandable soft side spinner luggage is affordable and comes in lots of colors. If you like hard-sided better, then you may favor this hard-sided luggage set better.
Both sets come with TSA-approved zippers locks and 8 wheels per piece. Either will be great for the plane or train or even your car depending on how you plan to travel to find the best views in Paris.
How To Get Around While Looking For Views In Paris
Paris is so very easy to navigate around. If you are able and up to it, I'd suggest walking. Paris is a visually beautiful city, and there's much to see and absorb, which you could/would miss if you were not walking.
Make sure you leave ample time to arrive at your destination and wear sturdy comfortable walking shoes.
The metro train system is very extensive in Paris, and probably the best transportation option you have. It's fast, and it's cheap. And it arrives and departs frequently. You can purchase tickets at every station and a bundle of ten tickets costs less than a single ticket.
As I mentioned above, the metro is not an option for the wheelchair-bound. Nor for those unable to walk long distances or climb up and down stairs frequently and frequently.
There are also city buses and trains to consider when planning how to see the best views in Paris And you always have the option to get a taxi or hire an Uber driver.
Of course, if you drove to Paris using your own personal automobile, that is always an option for you, but beware, the streets of Paris are very crowded.
Quick Tips For Your Paris Trip
Here are some quick tips and tricks, combined with the ones above, which will make your time looking for the best views in Paris more enjoyable.
Remember, always stay hydrated! Bring a reusable water bottle and refill it often. You will be taking care of your health, and saving numerous disposable water bottles from being sent to the landfill.
Do not worry about the language barrier. I know only a very few basic French words and had absolutely NO difficulties when I visited Paris. The French people in Paris know a few English words and you will be able to communicate enough to make your wishes known.
You can even use a translator app on your phone to assist with your communications. My family and I use Google Translate.
Call your credit card company and verify if your credit card does or does not have foreign transaction fees attached to it. If it does, inquire about applying for a credit card that does not charge you a small fee every time you use it when out of your home country.
When you visit an ATM in Paris, make sure it is in the same network as your bank so you are not charged transaction fees every time you withdraw cash. Also, consider withdrawing larger amounts of cash in order to limit the transaction fees.
Buy advanced tickets to attractions whenever possible. First off, usually tickets purchased in advance online are often less expensive.
Secondly, when you purchase tickets for the monuments and museums that have the best views in Paris you will have a schedule planned out and more able to pace yourself when you know the plans for every day of your trip.
Here I have listed fourteen of my absolute favorite views in Paris. However long you are fortunate enough to visit Paris, I wish you a great time while you seek out the best views in Paris!
Please be advised that Linda On the Run is an affiliate in the Amazon Services LLC Associates Program, designed to provide a means for sites to earn fees by advertising and linking to Amazon.com
This post contains Get Your Guide and Booking.com affiliate links as well.
Have you ever been to Paris? What was your favorite thing to do? What would be your #1 recommendation for a first-time visitor? Please comment below.