Looking for the best small towns in Ohio to discover? Well, you have come to the right place! There are so many to choose from
I was born and raised in Ohio and I am familiar with the interesting, historical, and vintage towns in the Buckeye State!
These Ohio towns are full of history, local shops, and cool museums. Many are also close to beautiful nature.
Whether you are looking for a fun day trip or a romantic weekend getaway in the Midwest, these towns are some of the best places to visit in Ohio!
Let's discover the best small towns in Ohio!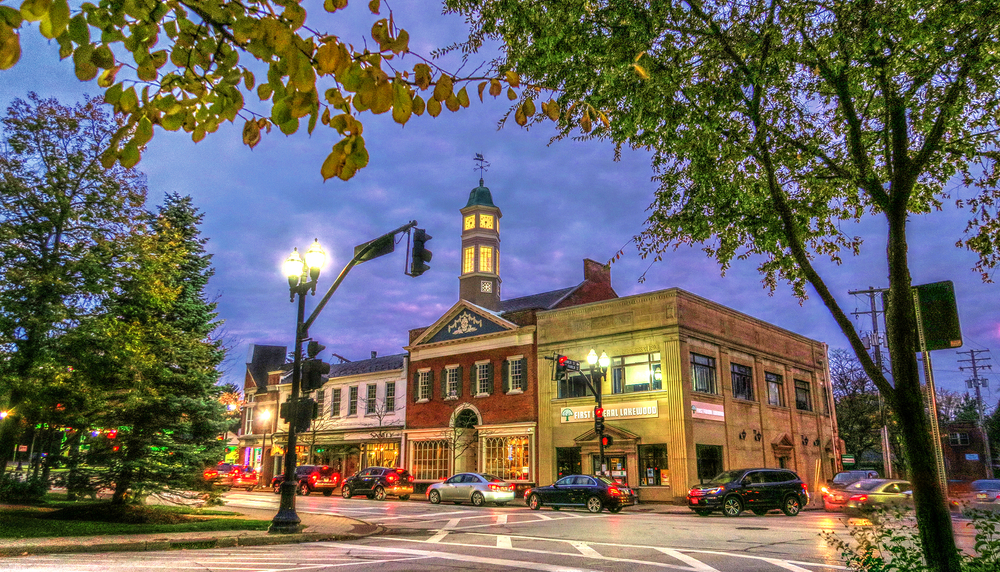 15 Best Small Towns in Ohio for Your Bucket List
Chagrin Falls
Located about 35 minutes outside of Cleveland on the Chagrin River, Chagrin Falls is an adorable town.
Walk through Riverside Park and admire the pretty Chagrin Falls. This waterfall is only about 15 feet tall but is one of the top sites in town.
Next to the waterfall is the historic Chagrin Falls Popcorn Shop. The building dates back to 1875 and the popcorn shop opened in 1949. Stop by to buy some tasty treats!
See a show at the Chagrin Valley Little Theatre, check out the Chagrin Falls Shopping Plaza, and dine at one of the local restaurants.
Where to Stay in Chagrin Falls:
Luxury: Inn of Chagrin. Check Rates: Booking.com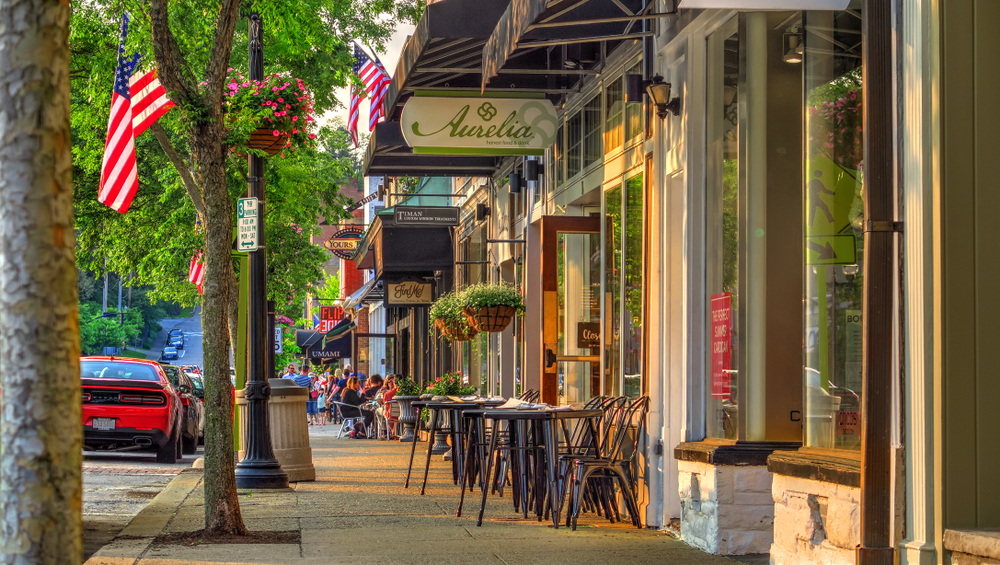 Granville
About 30 minutes east of Columbus, Granville is one of the cutest Ohio villages to visit.
As you drive through this best small town in Ohio, you will spot many historic buildings and churches. Stop by the Robbins Hunter Museum, a beautiful Greek Revival home completed in 1842.
Anyone interested in history or art will want to visit the Granville Historical Society Museum or the Denison Museum.
The Alligator Mound is an amazing national landmark to see in person. It is a Native American effigy mound thought to date back to between 800 and 1200 AD.
Other things to do in Granville include playing a round at the Denison Golf Club at Granville, grabbing a drink at the Three Tigers Brewing Company, or shopping at some local boutiques.
Where to Stay in Granville:
Mid-Range: Orchard House Bed and Breakfast. Check Rates: Booking.com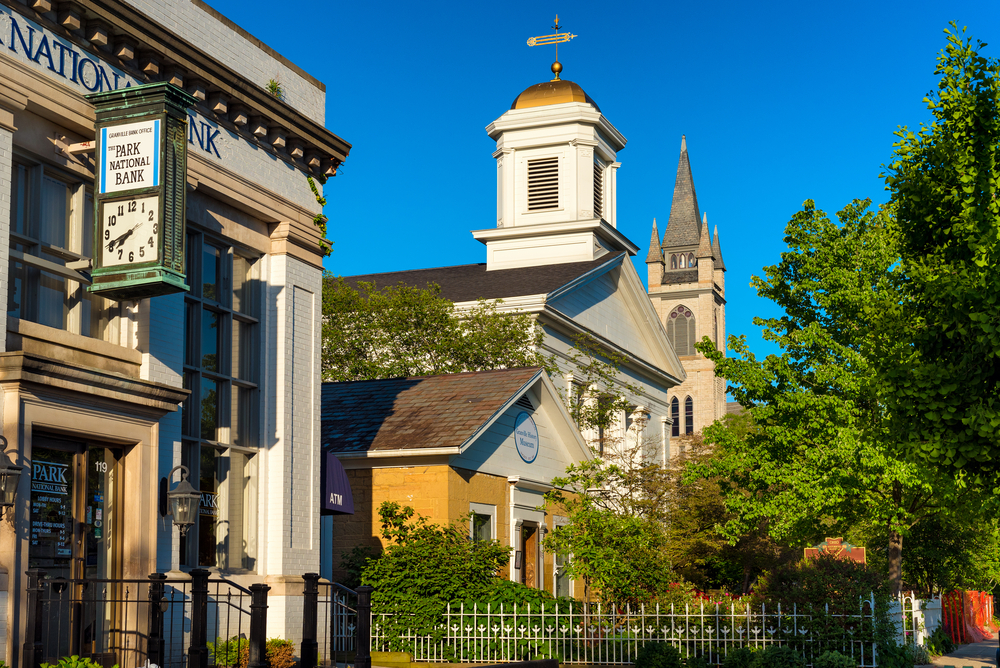 Put-in-Bay Is One Of The Best Small Towns In Ohio
Put-in-Bay on South Bass Island is known as the "Key West of Lake Erie." It is a popular Ohio getaway for both locals and tourists.
Take a ferry to the island to explore South Bass Island State Park, get a drink at one of the wineries, or take photos at the Butterfly House.
The Perry's Victory and International Peace Memorial is the world's tallest Doric column at 352 feet. It provides amazing views of the island and lake.
Don't forget to check out the brick South Bass Island Light which was built in 1895.
There are plenty of resorts and cute bed and breakfasts in town if you want to stay the night.
This is one of the best locations in Ohio for a lake vacation!
Where to Stay in Put-in-Bay:
Mid-Range Hotel: Anchor Inn Boutique Hotel. Check Rates: Booking.com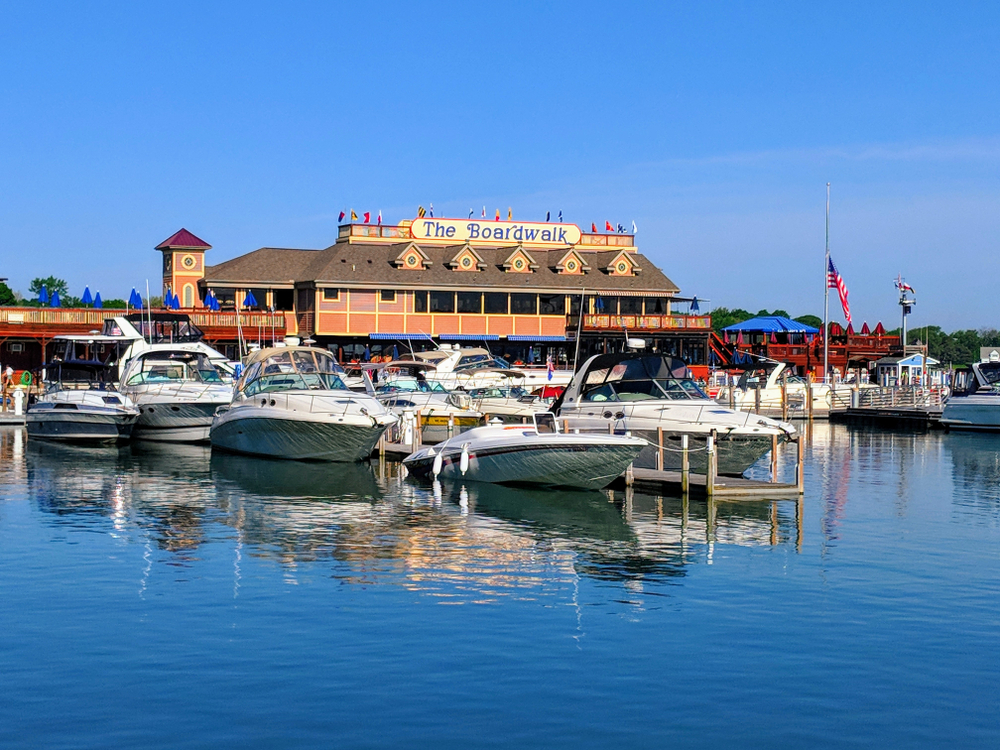 Yellow Springs
Nature lovers will want to visit Yellow Springs about 30 minutes from Dayton.
One of the top things to do here is hiking in the Glen Helen Nature Preserve. The Inman Trail is a moderate 1.2-mile loop that leads you along creeks.
You will find waterfalls and the town's namesake, Yellow Spring.
Other nearby nature spots include Clifton Gorge State Nature Preserve and John Bryan State Park.
In town, make sure to take time to walk around the cute downtown. Check out the many shops and cafes.
Try some craft beer at Yellow Springs Brewery or taste yummy homemade ice cream at Young's Jersey Dairy Farm.
However you spend your time here, you are sure to have a great time and agree it is one of the best Ohio small towns!
Where to Stay in Yellow Springs:
Mid-Range: Mills Park Hotel. Check Rates: Booking.com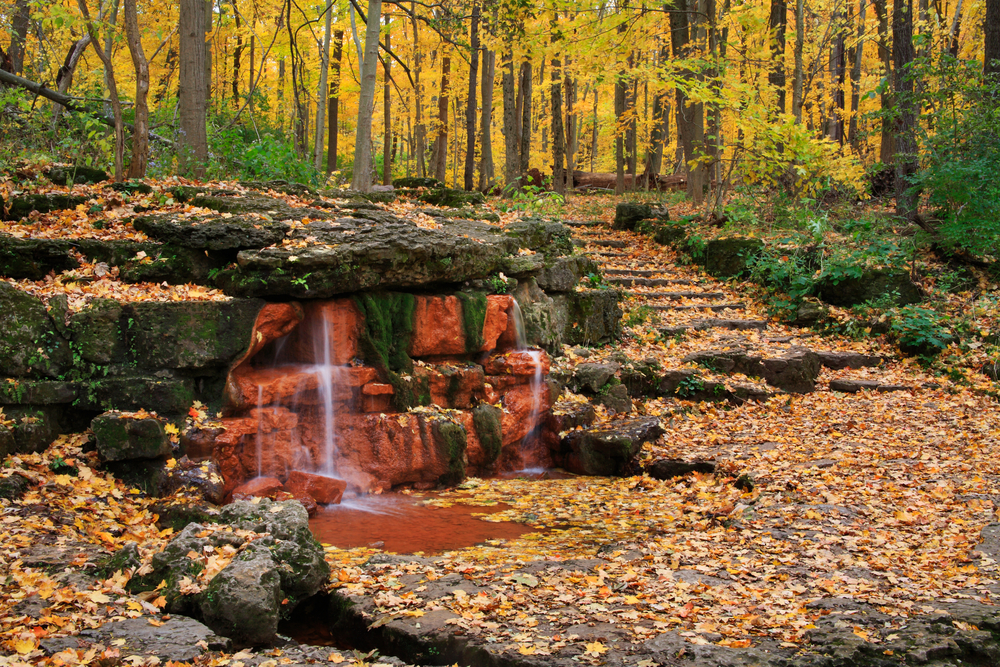 Milan
Milan has a population under 2,000, but that does not mean it is not a great place to visit in Ohio. If you are interested in American historical figures, you will want to check it out.
Inventor Thomas Edison was born here on February 11, 1847. He lived here for only a few years until his family moved to Port Huron, Michigan, in 1854.
Most people who visit this Ohio town do so to tour the Thomas Edison Birthplace Museum. The little, brick building has been restored.
It holds many artifacts, documents, and examples of Edison's inventions.
After visiting the historic home, visit the Milan Museum or walk through the Milan Towpath MetroPark. Then explore the Milan Historic District with adorable, old buildings housing shops and restaurants.
Where to Stay in Milan:
Mid-Range: Holiday Inn Express & Suites. Check Rates: Booking.com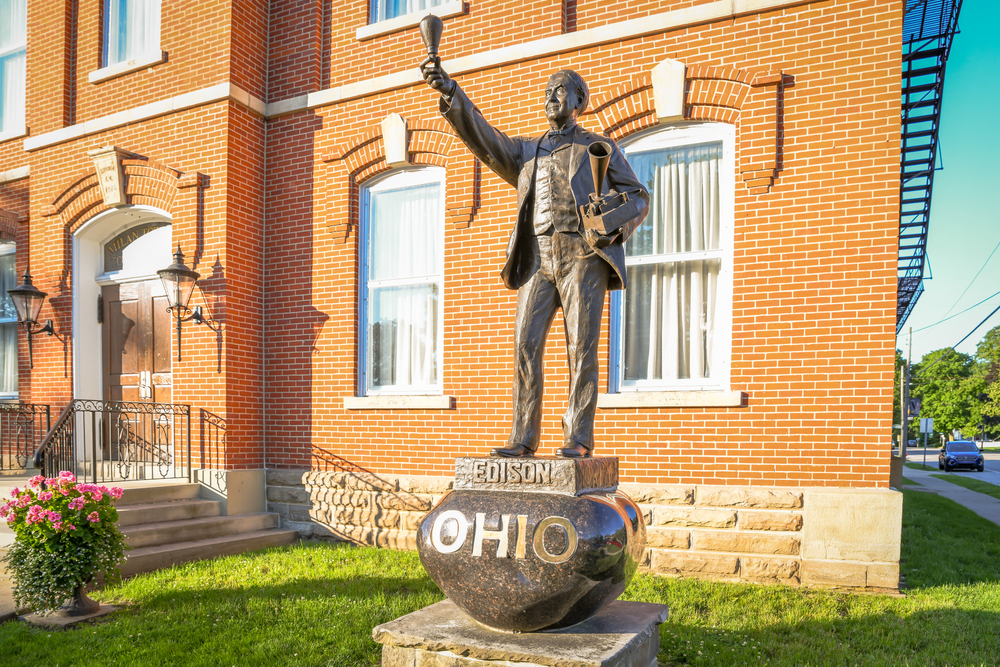 Oberlin
If you are a fan of architecture or art, Oberlin should be on your radar of the best towns in Ohio.
Completed in 1949, the Weltzheimer/Johnson House was designed by renowned architect Frank Lloyd Wright. The Usonian house is open to the public and can be toured so make sure to check it out.
For more beautiful architecture, simply drive around and take in views of the historic Oberlin College buildings.
For more culture, head to the Allen Memorial Art Museum. Founded in 1917, this free museum has a great collection of 15,000 pieces from around the world.
For some outside time, walk through the Oberlin Arboretum, birdwatch at the Oberlin Preserve, or cool off at the Splash Zone.
You will love exploring everything Oberlin has to offer! It is one of the top Ohio vacation spots.
Where to Stay in Oberlin:
Mid-Range: The Hotel at Oberlin. Check Rates: Booking.com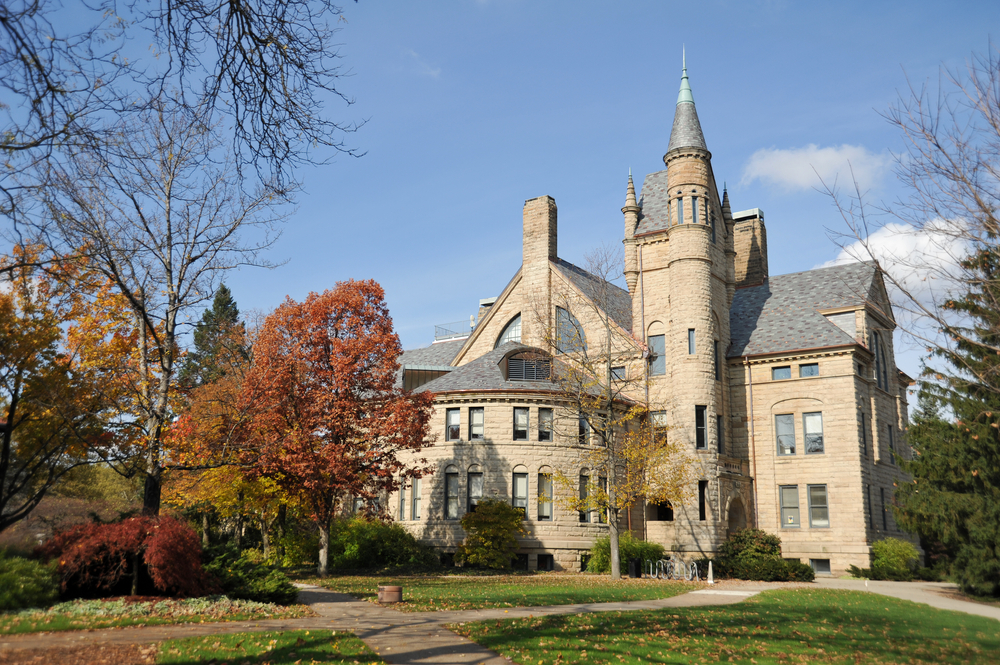 One Of The Best Small Towns In Ohio Is Loveland
Loveland is about 30 minutes from Cincinnati and features a thriving historic downtown. Check out the art galleries, boutiques, local restaurants, and parks.
Rent a bike to ride a portion of the Little Miami Scenic Trail. At the Loveland Historical Society Museum, you can learn about local history.
One of the most unique Ohio attractions is the Loveland Castle & Museum.
Also called Chateau Laroche, this recreated Medieval castle was built by Harry D. Andrews over the course of fifty years beginning in 1927.
You will love exploring the gardens and taking pictures at this awesome tourist attraction!
Where to Stay in Loveland:
Affordable: Wilson Two Bedroom House in Historic Loveland. Check Rates: Booking.com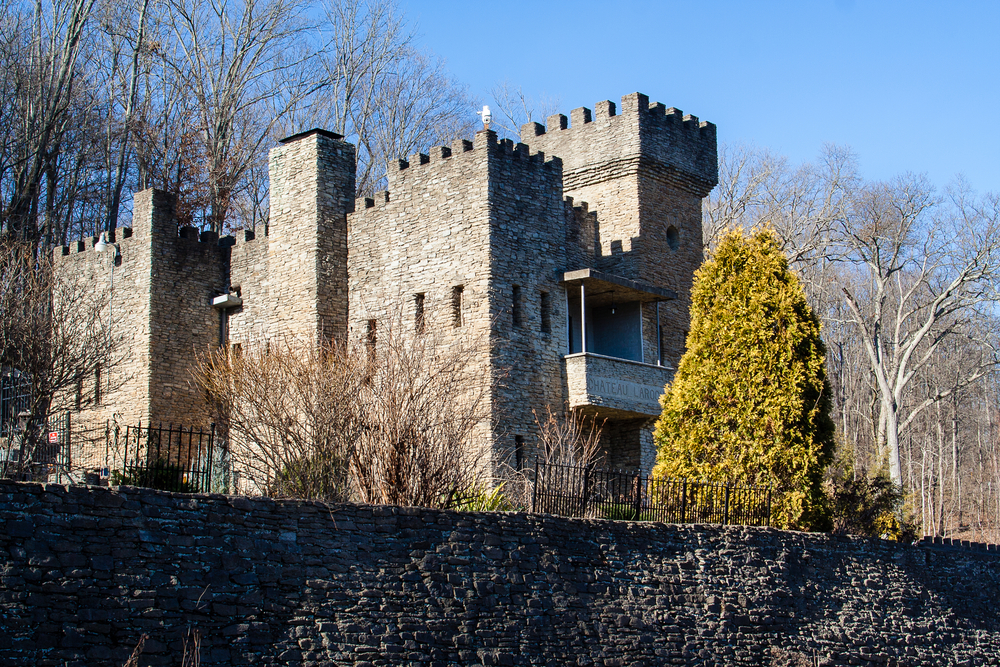 Mount Vernon Is One Of The Best Small Towns In Ohio
Mount Vernon, located an hour northeast of Columbus, is another of the best small towns in Ohio full of historic buildings.
The downtown is full of cute shops, unique fountains, cafes, restaurants, and parks. Kids and adults alike will adore the Dog Fountain which includes multiple dog breeds spraying water from their mouths.
The Ariel-Foundation Park is 250 acres of trails, lakes, and cool features. Explore factory ruins and the River Of Glass art installation. Climb the Rastin Observation Tower for great views.
Other things to do in Mount Vernon include hiking or biking the Kokosing Gap Trail, cooling off at the Hiawatha Water Park, and checking out some of the museums.
Where to Stay in Mount Vernon:
Affordable: The Mount Vernon Grand Hotel. Check Rates: Booking.com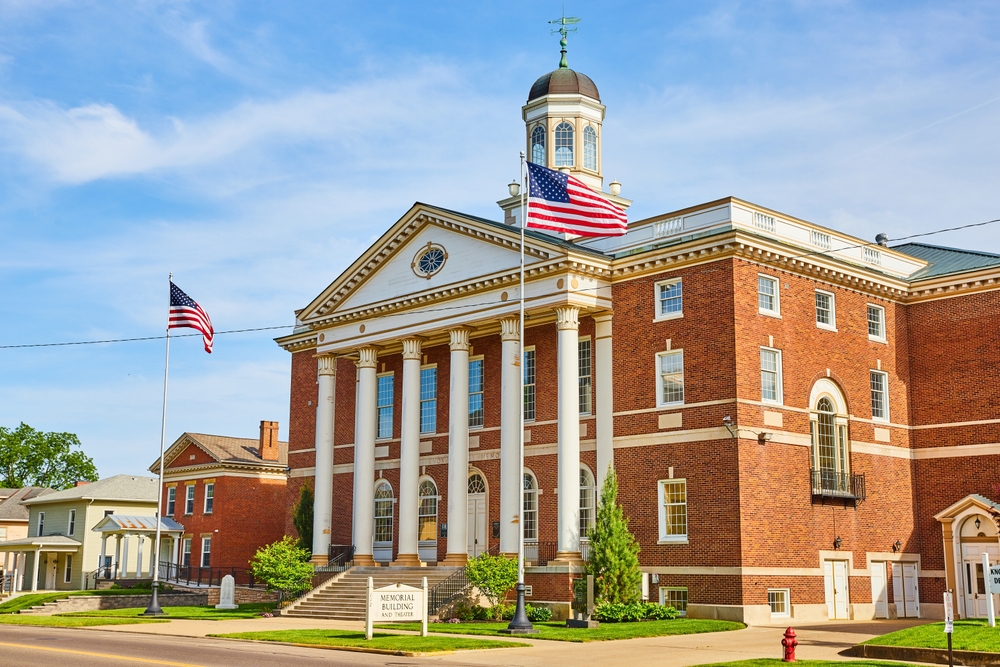 Coshocton Is One Of The Vintage Ohio Towns
You will feel as if you have stepped back in time when you visit Coshocton nestled on the Walhonding and Tuscarawas Rivers.
The Historic Roscoe Village is a restored 1830s Canal town with shops, costumed interpreters, and exhibits at the Johnson-Humrickhouse Museum. You can also take a horse-drawn canal boat ride.
The free Clary Gardens is a 20-acre botanical garden that has a short woodland trail, rose garden, and amphitheater. It is a popular wedding venue.
Nature lovers will want to visit Coshocton Lake Park. There is a campground, playground, and nature trails. The Lake Park Aquatic Center has pools, water slides, and more for family fun.
The Coshocton County Fair has been happening here since 1851. The week-long fall event has many activities to keep you entertained.
Where to Stay in Coshocton:
Affordable: Coshocton Village Inn & Suites. Check Rates: Booking.com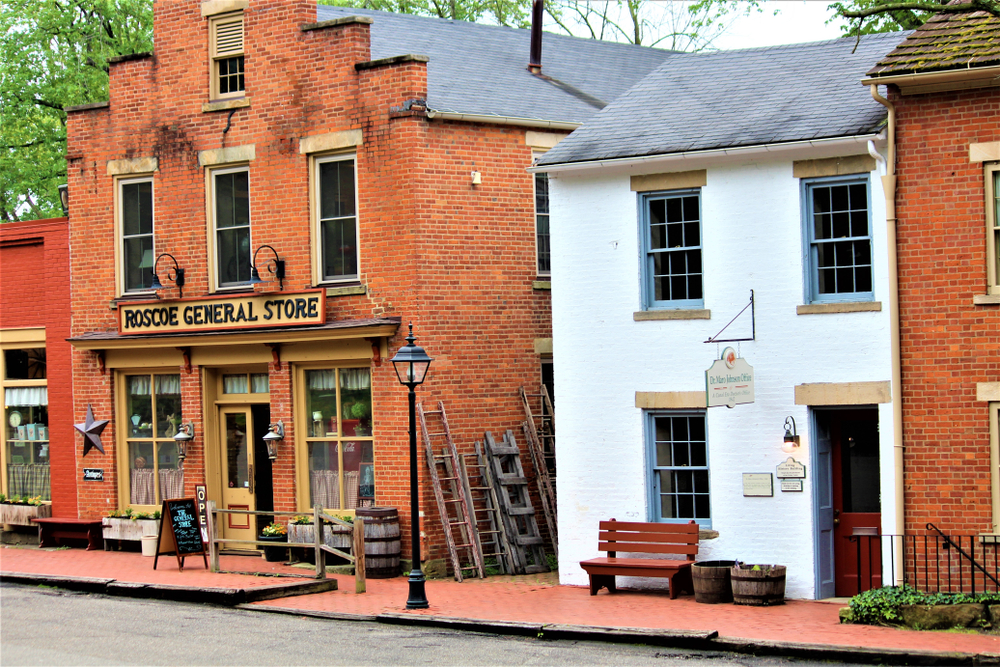 Sugarcreek
Sugarcreek in Amish Country is called the Little Switzerland of Ohio. You will love the adorable Alpine design of the buildings and the many Swiss-themed murals.
Visit the Alpine Hills Museum to learn about the town's history. For more history, check out the Erb's Coleman Museum and the Age of Steam Roundhouse which is dedicated to trains.
At the Broad Run Cheesehouse, you can try over 30 cheese variations made by local, sixth-generation cheesemakers. You can get a drink to pair with your cheese at one of the many nearby wineries.
One of the top things to see in Sugarcreek is the World's Largest Cuckoo Clock. It was built in 1972 and moved to Sugarcreek in 2010. The beautiful, wooden structure is 23 feet tall and 24 feet wide.
While the record is debatable, it is still really cool to visit and a great photo spot. Every half hour, a cuckoo bird pops out and Swiss polka music plays.
The Ohio Swiss Festival celebrates the town's Swiss heritage each fall with parades, live music, food, and more.
Sugarcreek is one of the best small towns to visit in Ohio, for sure!
Where to Stay in Sugarcreek:
Luxury: Carlisle Inn. Check Rates: Booking.com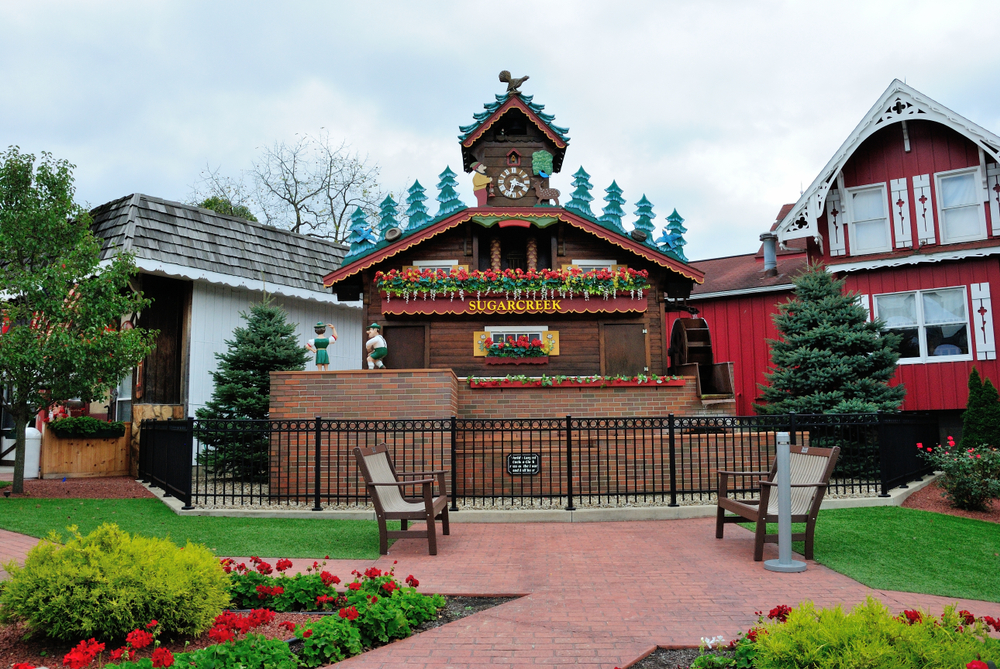 One Of The Charming Best Small Towns In Ohio Is Gallipolis
Gallipolis sits on the Ohio River on the West Virginia border. It is a charming small town in Ohio with a history dating back to 1790 when the area was settled by the French.
Visit the Our House Tavern Museum to see where travelers would stop in the early 1800s. Even General Lafayette paid a visit in 1825.
History buffs will also want to check out the Gallipolis Railroad Freight Station Museum. The station was built in 1901 and now displays model trains, memorabilia, and full-size train cars.
Admire art exhibitions at the French Art Colony, birdwatch at Elizabeth L. Evans Waterfowl & Bird Sanctuary, and be awed by the Gallipolis in Lights display during Christmas.
Just across the river in Point Pleasant, WV is the Mothman Museum with the largest collection of Mothman memorabilia. Buy a souvenir and snap a photo with the Mothman Statue.
Where to Stay in Gallipolis:
Affordable: Hampton Inn Gallipolis. Check Rates: Booking.com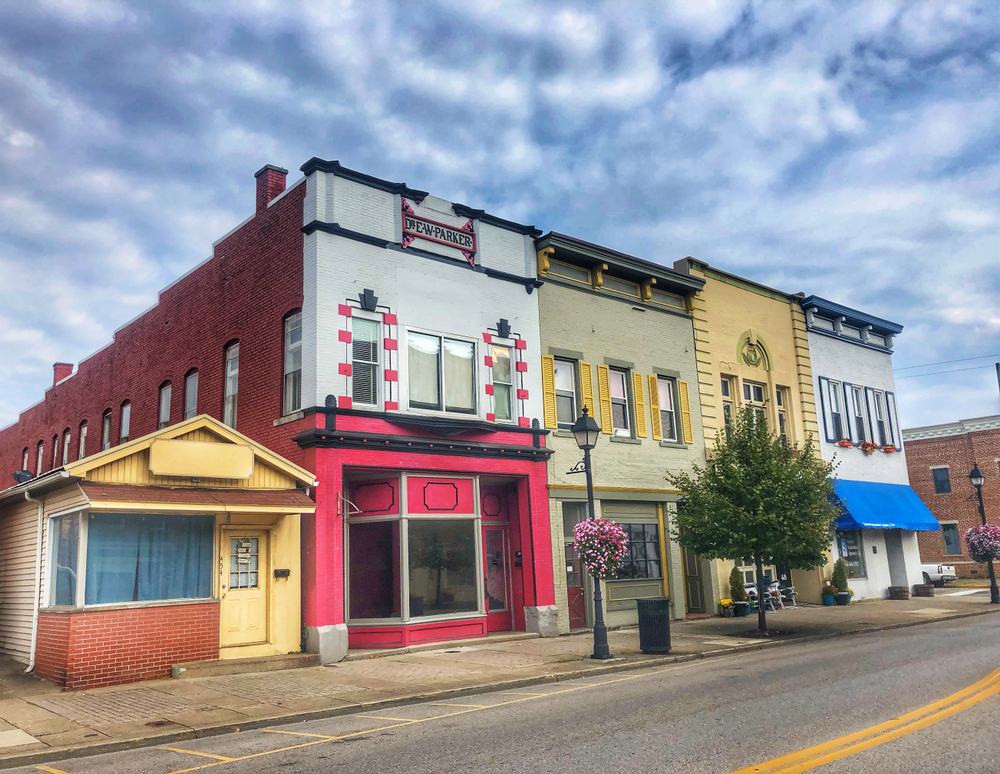 Ashtabula
Ashtabula is a beautiful small town in Ohio on Lake Erie full of charm. It is a great day trip from Cleveland.
Spend time on the water at Lake Shore Park or Walnut Beach Park. Don't forget to check out the Ashtabula Lighthouse. You can also rent a kayak at Harbor Yak to get out on the river and lake.
The Ashtabula Maritime & Surface Transportation Museum has over 25,000 maritime and railroad artifacts all housed in an 1871 lighthouse keeper's house.
At the Hubbard House Underground Railroad Museum, you can tour a spot that acted as an endpoint for the Underground Railroad. Exhibits will teach you about this important part of American history.
Walk the quaint Ashtabula Harbour Commercial Historic District, grab a bite to eat, and photograph the bridges.
Where to Stay in Ashtabula:
Mid-Range: Wine Valley Bungalow. Check Rates: Booking.com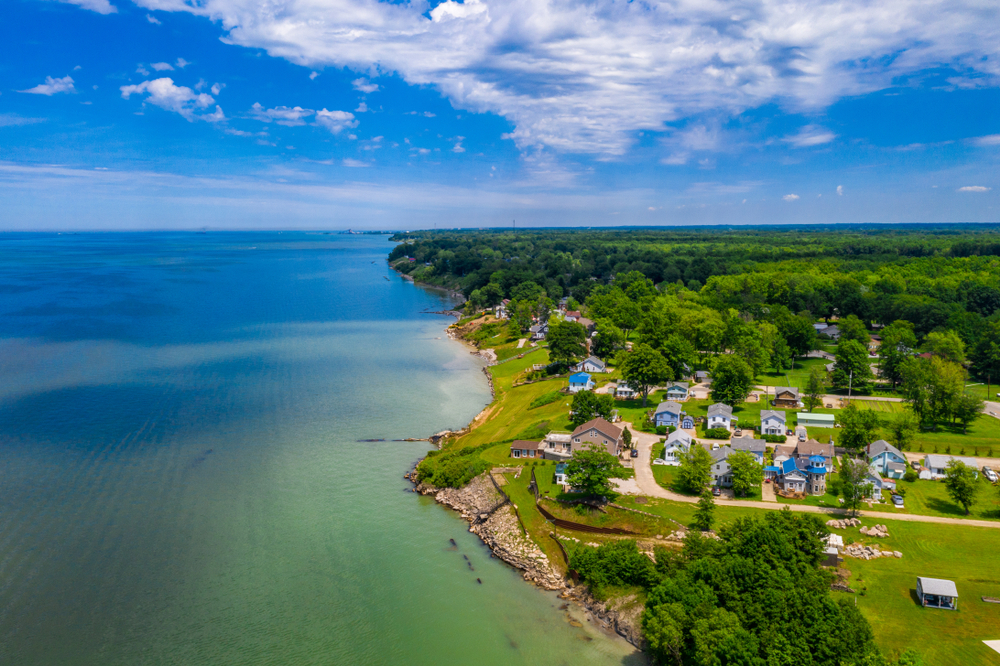 Conneaut
Conneaut is just up the shore from Ashtabula on the Pennsylvania border.
Bring the kids to Conneaut Township Park to enjoy the quarter-mile-long beach, playground, basketball courts, and more. You can also see the Conneaut West Breakwater Lighthouse.
Anyone interested in history can visit the Conneaut Railroad Museum or the North Coast WWII Museum.
Kids will want to get a scoop of homemade ice cream at Heavenly Creamery. Adults can enjoy a night out at Markko Vineyard and Winery or Buccia Vineyard Winery.
This really is one of the best small Ohio towns for your next family getaway.
Where to Stay in Conneaut:
Budget: Days Inn by Wyndham Conneaut. Check Rates: Booking.com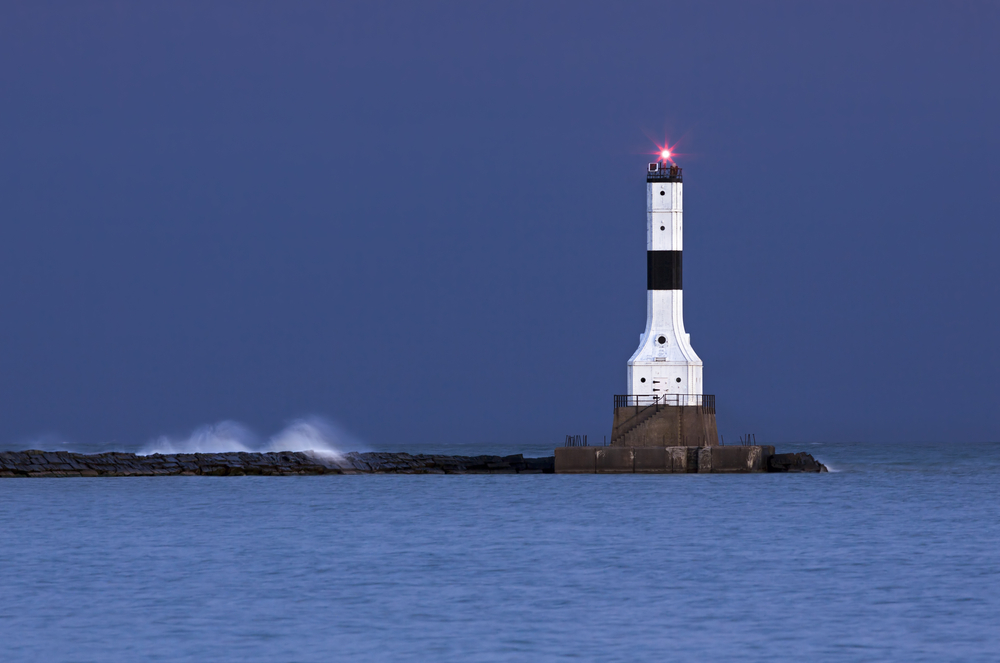 Bedford
Bedford is just thirty minutes from Cleveland and while this best small town in Ohio is nice, the main draw for visitors is the Bedford Reservation.
With over 2,200 acres of outdoor recreation, there is so much fun to be had. There are many trails for hiking and mountain biking and amazing overlooks.
Great Falls of Tinkers Creek is a gorgeous 20-foot waterfall that spans the rocky creek and is especially pretty in fall. Another waterfall to visit is the 20-foot-tall Bridal Veil Falls.
Practice your swing at Shawnee Hills Golf Course, look for frogs at Burnt Ridge Wetland, and enjoy lunch at one of the picnic areas.
Where to Stay in Bedford:
Affordable: Game House in the Woods. Check Rates: Booking.com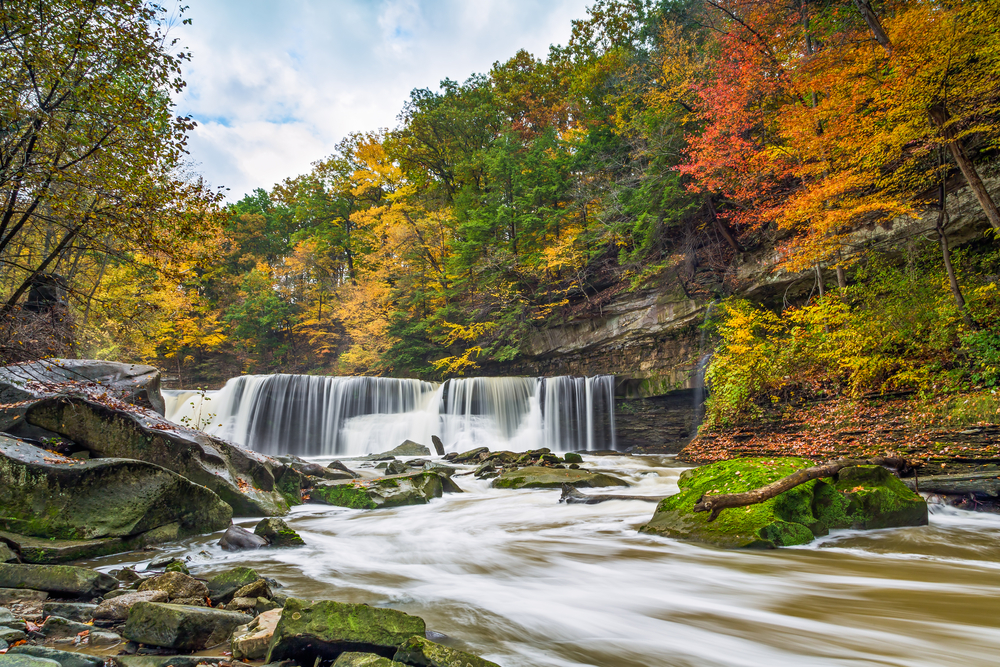 Twinsburg
Just a few minutes down the highway from Bedford is Twinsburg, one of the prettiest and most fun areas of Ohio.
Spend time hiking in Liberty Park and Center Valley Park where you can discover waterfalls, caves, wildflowers, rock ledges, and plenty of wildlife.
If you visit in summer, you can have fun at the Twinsburg Water Park. Kids will also love Fun 'n' Stuff, an amusement park with mini golf, bowling, bumper cars, laser tag, an arcade, and so much more.
Twinsburg is probably best known for being the site of the annual Twins Day Festival which has been occurring since 1976. The event holds the record for the Largest Annual Gathering of Twins in the World.
Close to 2,000 sets of twins from all over the world attend each year. There are all sorts of events including a parade, talent show, contests, and more. Each year, there is a different theme.
Where to Stay in Twinsburg:
Affordable: Hilton Garden Inn Cleveland/Twinsburg. Check Rates: Booking.com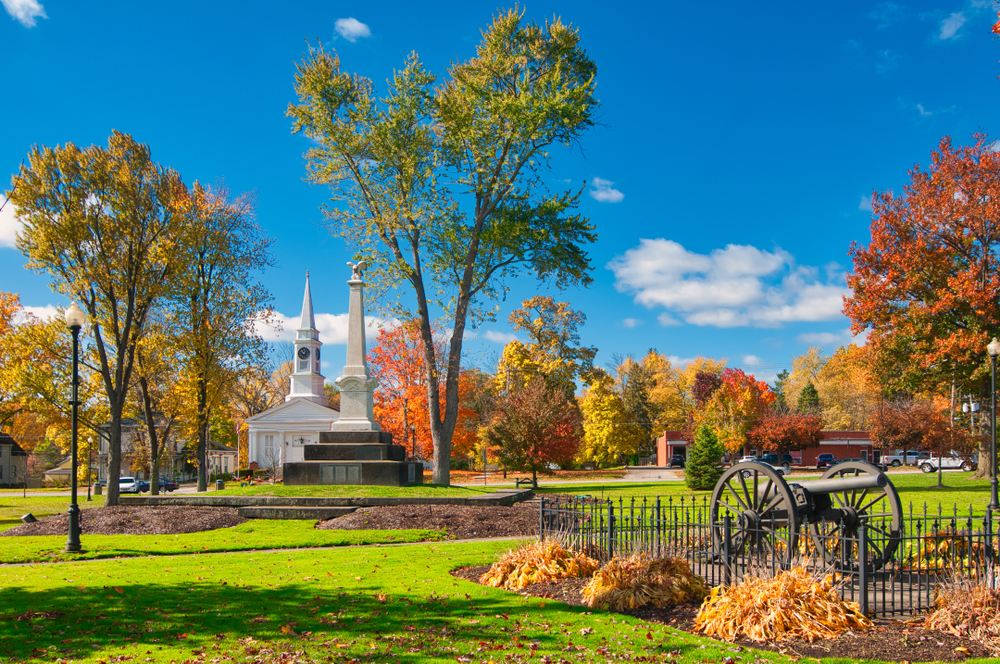 Millersburg For The Amish Experience
Found about 60 miles south of Cleveland, Millersburg is located in Ohio's Amish country.
The city and region of Ohio has one of the largest populations of Amish communities in the United States.
Visit Millersburg to experience first-hand the simple Amish way of life.
Growing up in Ohio near the Amish, I can attest you do not want to miss the opportunity to sample world-class Amish food.
Or see the charming buggies rolling down the lanes, and perhaps even buy an Amish souvenir.
There are so many things to do in Hocking Hills OH as well!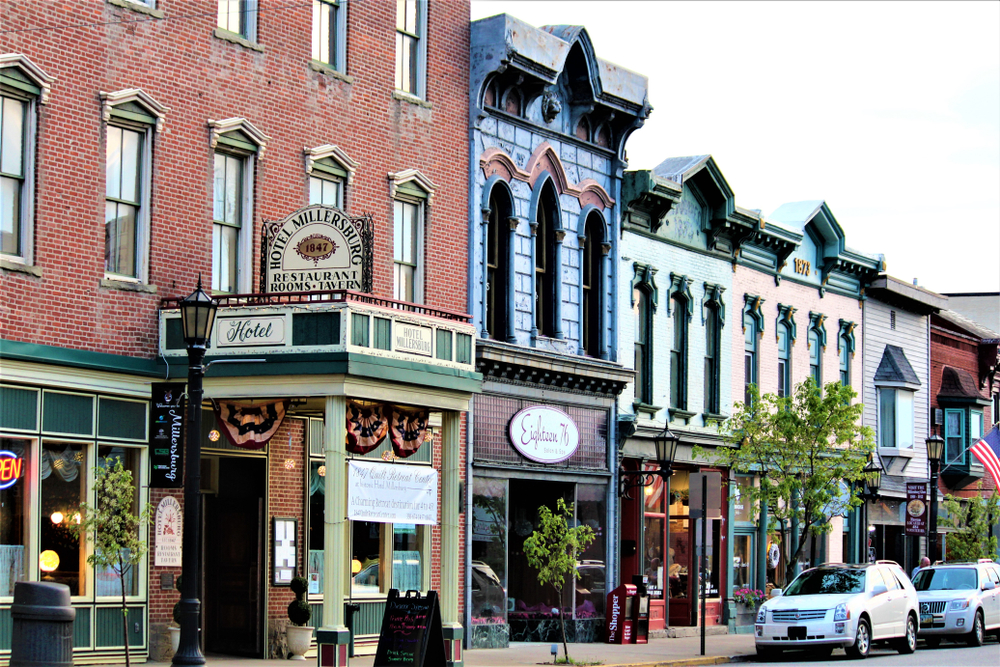 Packing List When Visiting Small Towns In Ohio
If you will be traveling, either by plane or by car to Ohio, here are some tips on how to pack lightly.
A concealed travel pouch may be one of the most important items you bring along when visiting Ohio towns.
It is always important to protect your personal information. Identity thieves are everywhere.
This unisex RFID-blocking concealed travel pouch is lightweight and comes in several colors. It has lots of organization to give you peace of mind.
You can place it under your clothes next to your body to carry your ID safely.
If you have a pouch already that does not come with RFID protection, as I do, these RFID sleeves are the perfect solution.
This configuration comes with enough credit card sleeves that the entire family would be protected. They are slim too, so they will easily fit into your pouch or wallet.
If you are planning on taking a lot of pictures with your phone you will definitely want to consider an external charging battery.
This Anker high-speed phone charging battery is the exact one I carry with me on all of my trips.
It can be used on a variety of phones, not just an iPhone as I have. And wow is it fast!
My daughter gifted me with this FugeTek selfie stick and tripod setup for my birthday. I absolutely love it! It is made of lightweight aluminum and so easy to use.
It has Bluetooth connectivity and is a breeze to use for taking photos during your London activities.
You will want to bring your own refillable water bottle with you.
I never leave home on a trip without my Bobble filtration bottle. The 18.5-ounce size is perfect for hiking and it fits nicely in the pocket of a backpack.
The replaceable carbon filter ensures clean drinking water when you want it.
Then this collapsible silicone foldable water bottle would work well for you. Would not take up much space at all.
You will want a backpack or daypack with you to store snacks, your water bottle, phone, extra clothes, etc. No matter the time of day or evening.
This foldable water-resistant backpack would be great.
It is very affordable and is available in many color options for you to choose from. The fact that it folds down into a zippered pouch will make it easy to pack.
—
Hopefully, you have discovered some new places in Ohio to visit on your next trip!