Are you looking for things to do in Fairbanks, Alaska? You are in the right place.
In this article, I will walk you through the best things to do in Fairbanks, and tell you all you need to know about this interesting city.
Planning your trip to Alaska last minute?
Make sure to book ahead! Hotels and tours can sell out the closer you get to your trip. Here are our top pics for Alaska!
Top Experiences and Tours in Alaska:
Best Alaska Hotels:
In interior Alaska, Fairbanks is the northernmost destination that most people visit. It is less than 200 miles from the Arctic Circle and has more to offer than you might first think.
Fairbanks is often used as a base to explore the area with Denali National Park and Preserve and the Artic Circle fairly close.
It is also the largest city in interior Alaska and the second largest in the state but with a population of about 30,000.
Fairbanks is home to the Alaska Fairbanks campus, museums, and cultural activities. Whether you love history, all things Alaska, food, drink, or outdoor adventure Fairbanks delivers.
There are so many amazing places to visit in Alaska and Fairbanks is one of them.
So, pull up a chair grab a warm drink, and let me walk you through Fairbanks activities. There are more things to do in Fairbanks Alaska than first meet the eye.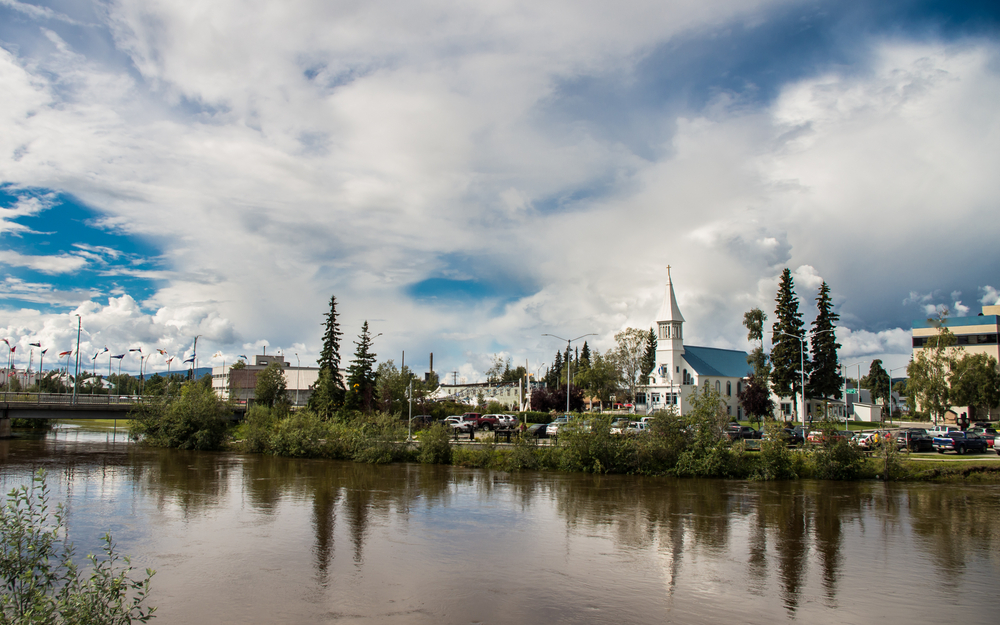 If this is your first time visiting Alaska here are 9 Things To Know Before Traveling To Alaska.
15 Things To Do In Fairbanks Alaska For Your Bucket List
Aurora Ice Museum
This attraction in Alaska is within the Chena Hot Springs Resort about one hour from Fairbanks. The Aurora Ice Museum is the world's largest year-round ice sculpture display.
The sculptures in the museum are all created by Heather and Steve Brice who are indeed very big names in the ice sculpting community. They have won 23 World Ice Art Championships.
Sculptures include a two-story observation tower, a Christmas tree, and fort-style children's bedrooms.
This all stays in pristine condition as the museum is kept at a frosty 25 F, -4C, don't worry you get complimentary parkas.
The Aurora Ice Bar serves ice-cold drinks to customers beneath colored ice chandeliers that mimic the aurora borealis. It's a must-visit.
Tours are offered daily and this is one of the things to do in Fairbanks AK.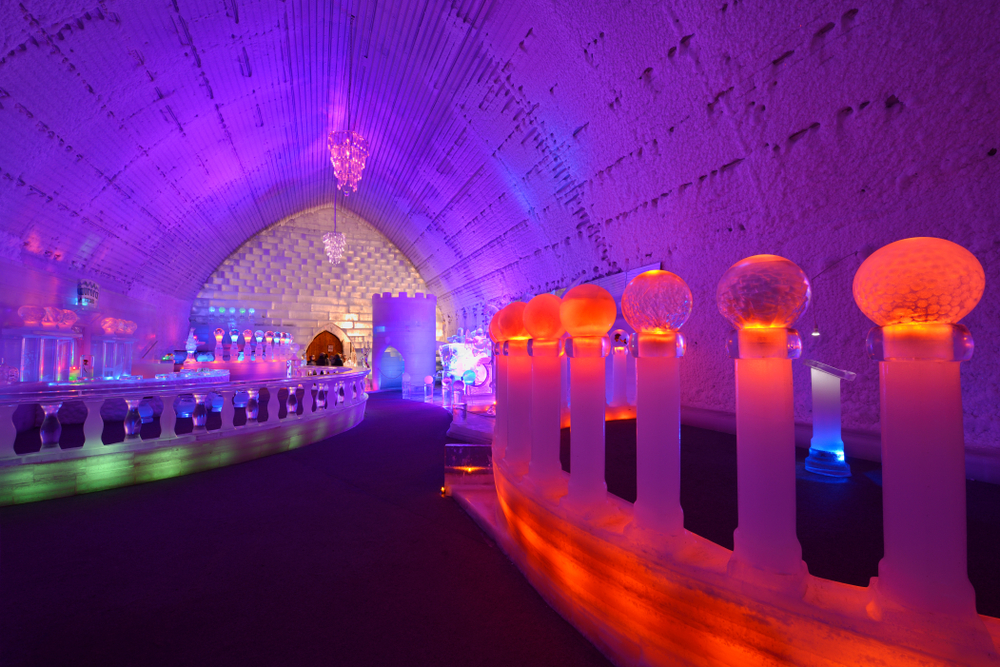 Fairbanks City Tour
If you want to see all this city has to offer how about a city tour?
Here you will get an overview of the city's history, some of the craftsmanship available in the city, and the winter activities that are popular here.
On this tour, you will see lots of the Fairbanks attractions. You will learn about history at the Morris Thompson Cultural and Visitors Center.
Here you can take a picture with the famous moose arch, get to visit the Trans Alaska Pipeline and learn about the area in the Museum of the North.
The tour finishes with a trip to Santa Claus House, where you can see Santa at his home at the North Pole.
This tour is a great way to see the sights of the city and learn from an experienced guide. One of the things to do in Fairbanks, Alaska if you are pushed for time.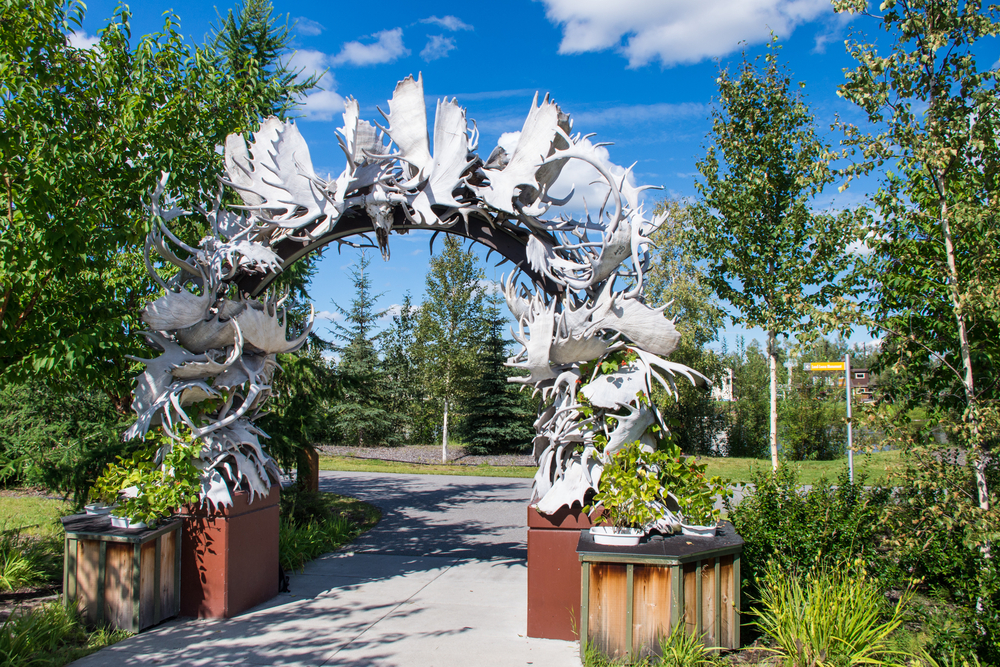 Viewing Arctic Circle Northern Lights Is One Of The Coolest Things To Do In Fairbanks
One of the activities in Fairbanks that you must participate in is chasing the Aurora Borealis or Northern Lights.
They are fantastic around Fairbanks and the best way to see them is with an experienced guide.
This full-day trip from Fairbanks crosses the Arctic Circle and chases the Northern Lights. You also get to see the Trans-Alaska-Pipeline and you get a "Cross the Circle-Certificate".
On this tour, you get to see Alaska in all its glory with some incredible scenery on display. You also get to walk on the banks of the mighty Yukon River and have lunch on Finger Mountain.
This is a great tour if you want to see all the big-ticket items in the area. This is one of the things to do in Alaska that is worth the money.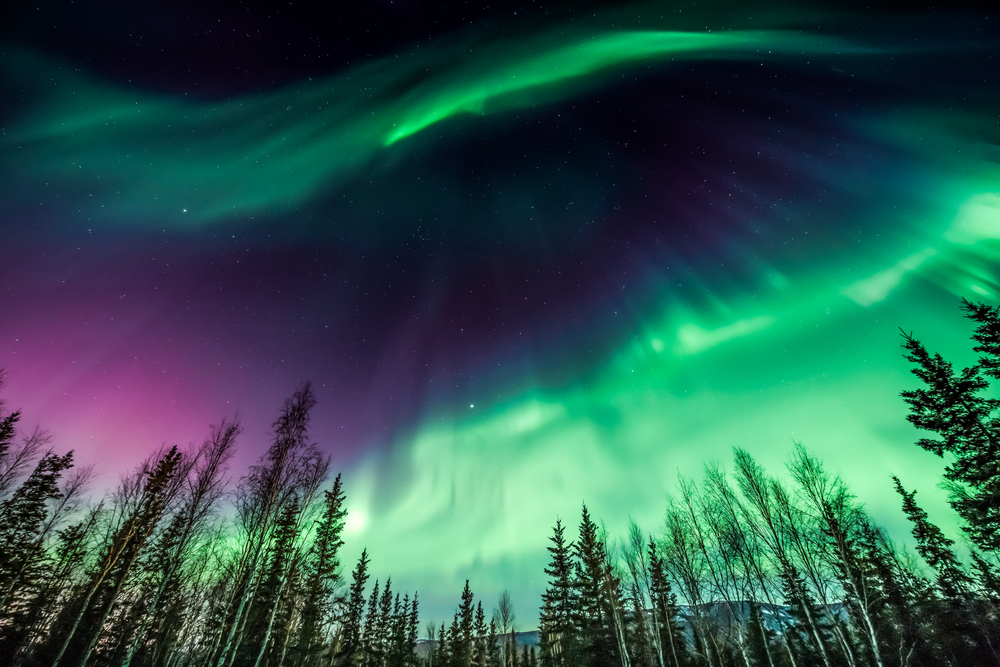 Chena Hot Springs
One of the best things to do in Fairbanks is to head to Chena Hot Springs. This locally run establishment offers visitors the opportunity to soak in manmade hot spring pools.
These pools are fed from naturally flowing waters and the outdoor pool gets busy in the winter. Don't expect a five-star luxury spa here this is more rustic Alaska but it is well worth the experience.
There is also accommodation on the property and you can book tours from this location.
This is one of the activities in Fairbanks that everyone will love and it's a great way to relax and destress.
Take a look at this Hot Spring and Northern Lights Tour.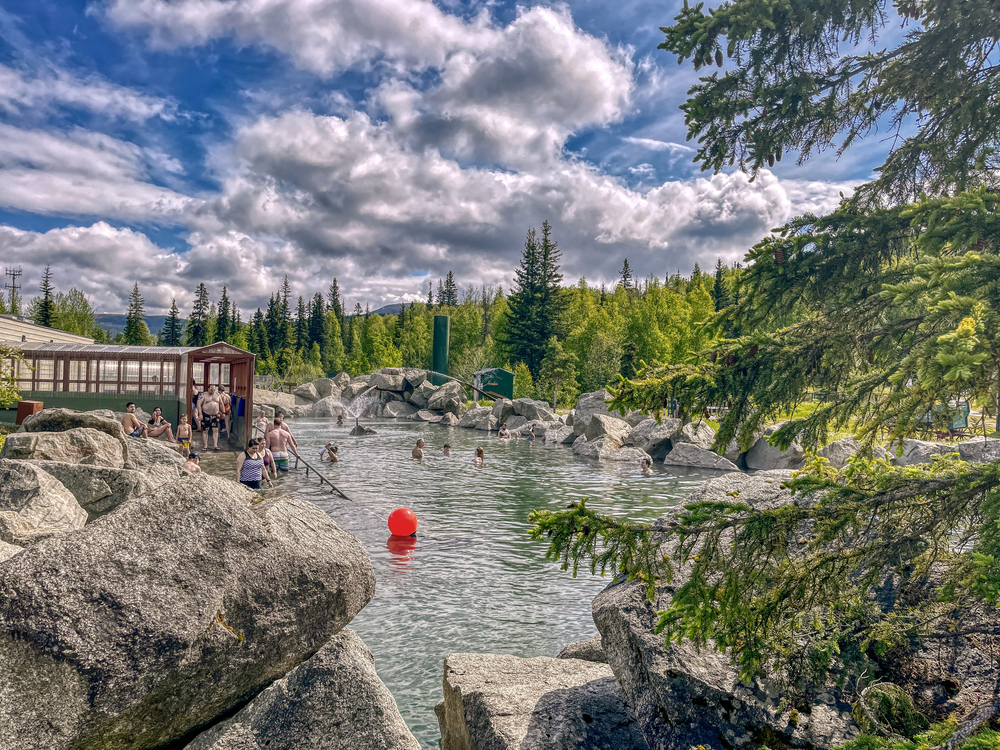 Heritage Sightseeing Tour
If you are looking for things to do in Fairbanks Alaska then how about a heritage tour? Here you will learn about the history and culture of Fairbanks and Alaska.
You will get to visit the Morris Thompson Cultural and Visitor Center where you can learn about Alaska's history.
You also visit the Alyeska pipeline commonly called the Alaska pipeline. You also explore Pioneer Park and learn more about Fairbank's history and culture.
If you want to see the main sights all at once this is a great tour and will give a real understanding of the local area.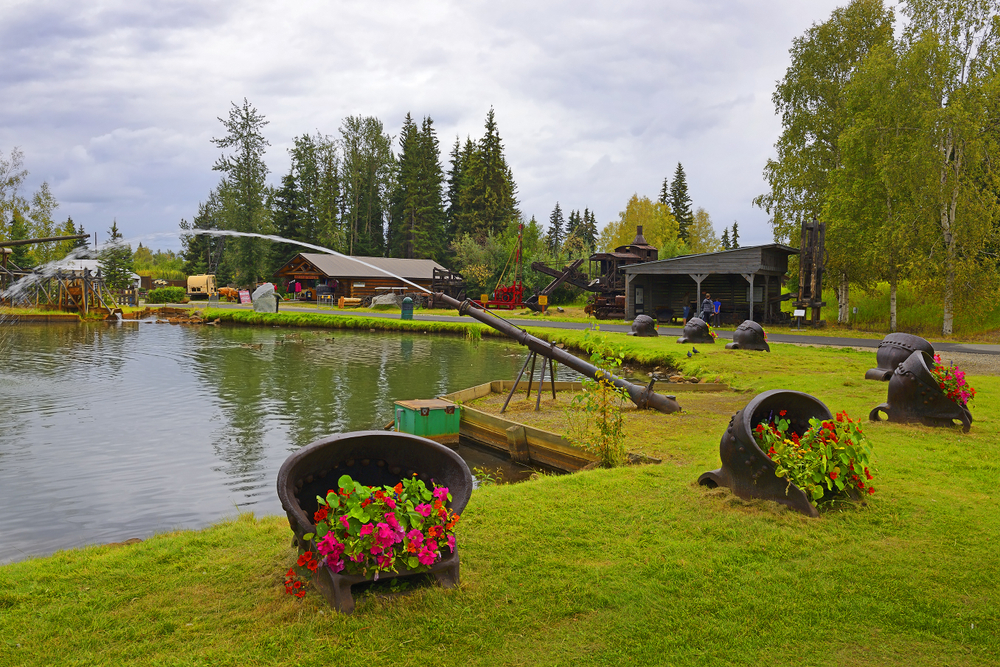 University of Alaska Museum of the North
One of the Fairbanks attractions you don't want to miss is the University of Alaska Museum of the North.
It's the top museum in the area and features exhibits related to the state's notable people and places.
The centerpiece of the museum is the Rose Berry Alaska Art Gallery. Here they feature work from Alaskan artists across history from indigenous carvings to contemporary art.
The Gallery of Alaska chronicles the cultural history of the state and The Place Where You Go To Listen is an interactive exhibit that changes based on data, the state's aurora, and seismic activity.
What I love about this place is the way the museum's design subtly reflects the state's mountains, glaciers, and rivers, it's very clever.
I can highly recommend a trip here.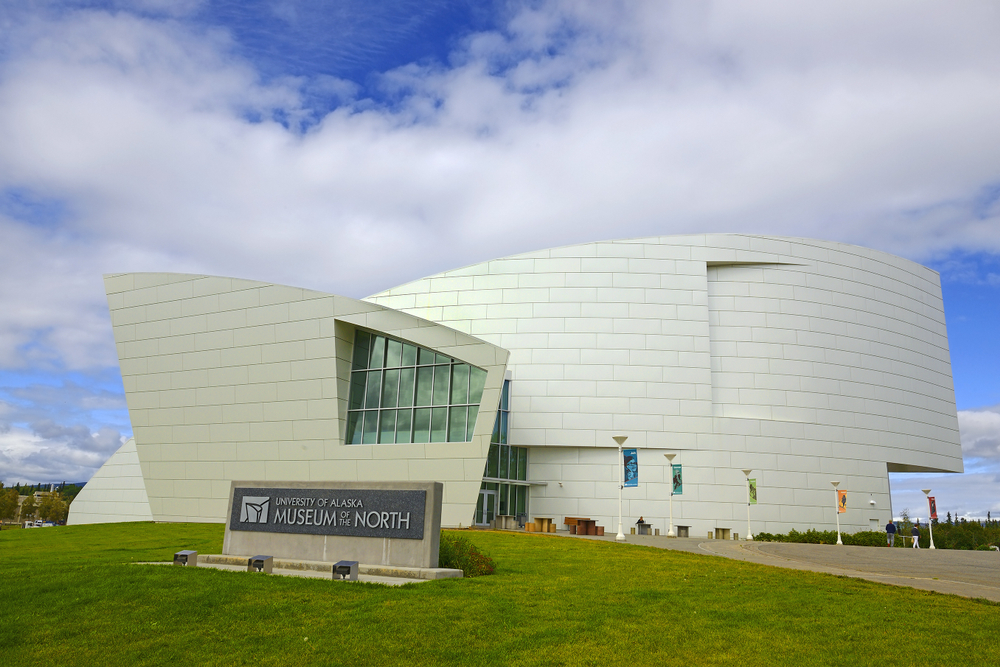 Trans Alaska Pipeline Visitors Center
One of the things to do in Alaska is to see the Trans Alaska Pipeline. At the Alyeska Pipeline Visitor Center, you get to learn all about this marvel of engineering.
The pipeline was constructed between 1974 and 1977. It took more than 70,000 workers to build for $8 billion.
It spans 800 miles through the Alaskan wilderness and every hour more than $1 million of oil is pumped through it.
At the center, you can see exhibits about its construction and how it is cleaned and inspected. There is also a viewpoint where you can see a portion of the line.
It's about 35 minute drive from Fairbanks. This should be high on your list of things to do near Fairbanks AK.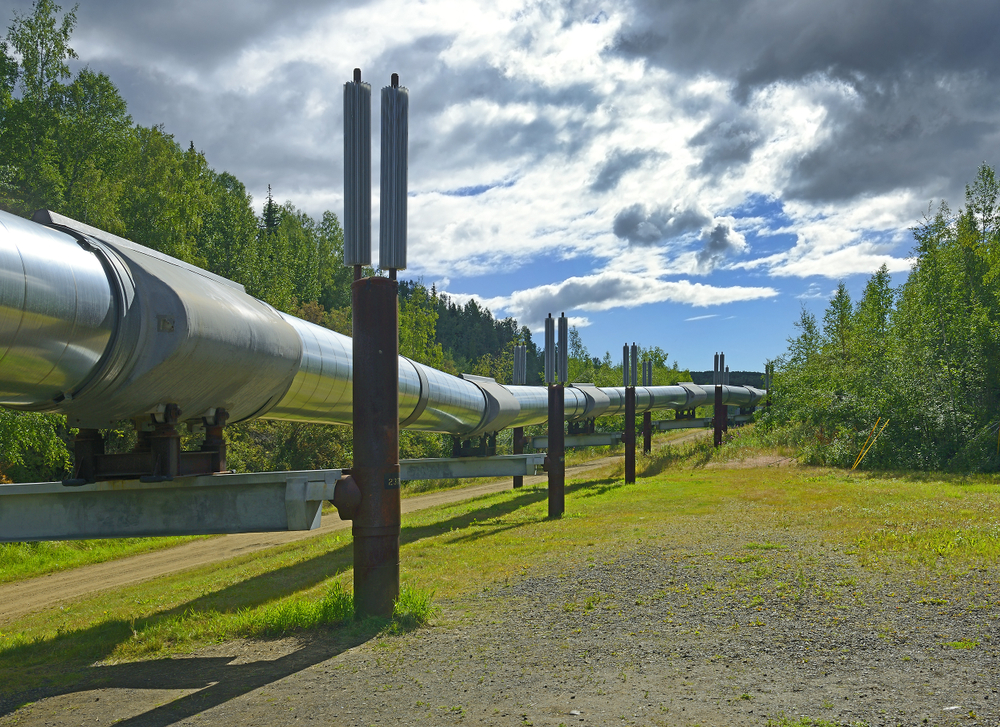 Pioneer Park
This attraction in Alaska was created for the Alaska '67 Centennial Exposition to commemorate the one-hundredth anniversary of the state's purchase from Russia.
It now showcases 5 family-friendly educational and community attractions.
There are four museums within the park each with a different purpose.
There is Pioneer Hall, the Tanana Valley Railroad Museum, the Pioneer Air Museum, and the Alaska Centennial Center for the Arts.
The park also contains some historic artifacts including the "Queen of the Yukon" Riverboat Nenana sternwheeler.
The park also has a children's playground Red and Roela's Carousel, and Mini Golf Fairbanks.
There is always something going on here with The Alaska Salmon Bake and the Palace Theater offering dining and performance nights.
And the Gazebo Nights concert series has something happening.
This is one of the attractions in Fairbanks that has something for everybody.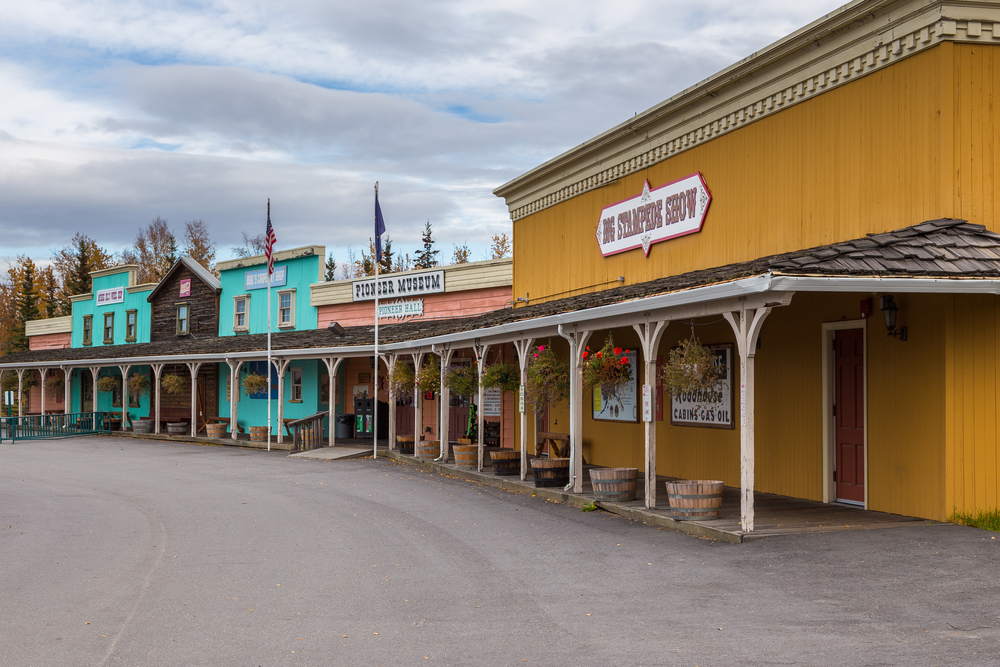 Denali National Park and Preserve
If you are willing to go a bit further afield then this incredible national park is about 2 hours away from Fairbanks. It's one of the places to visit in Alaska and is well worth the drive.
Denali National Park and Preserve is a six-million-acre wilderness that has forests, tundra, and snow-capped mountains. It also contains North America's tallest peak, Denali which is 20,310 feet.
It's a popular park by Alaskan standards with plenty of wildlife and foliage on show. And unlike some of the other national parks in Alaska is fairly accessible.
There is a main road, campsites, and transit buses. It's a great place to get a feel for the Alaskan wilderness without being too isolated
You Can Get A transfer from Fairbanks here or take a tour there to search for the Northern Lights.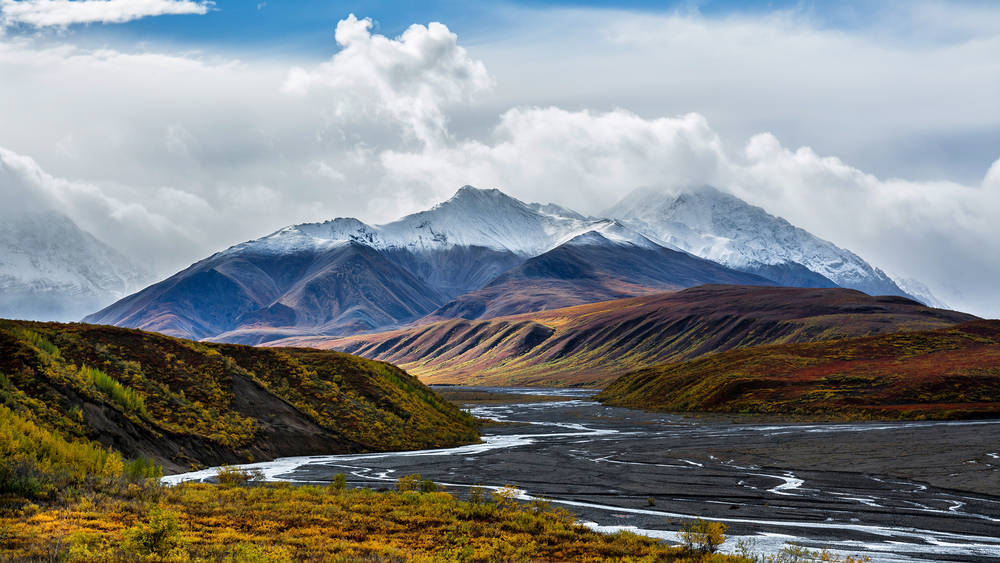 Wilderness Express Train
One of the more luxurious things to do in Fairbanks AK is to take a trip on the Wilderness Express Train.
Operating throughout the summer this glass domes train takes you through the Alaskan scenery.
This train was custom-built for use on the Alaska Railroad for passengers traveling on a Royal Caribbean Cruise Line or Celebrity Cruises Alaska cruise.
However, in 2013 they were sold to a tour operator in Atlanta and are now available for independent travelers.
There are daily trips between Anchorage, Talkeetna, Denali National Park, and Fairbanks.
They have a full-length curved glass dome that provides a spectacular 360-degree view and chairs are designed for the best view.
There is a bar on board and breakfast, lunch, and dinner is served daily.
Seats can fill up quickly so book well in advance if you are thinking about taking a journey. It's not cheap but it is a once-in-a-lifetime experience.
Visiting Alaska in Winter offers so many unique opportunities!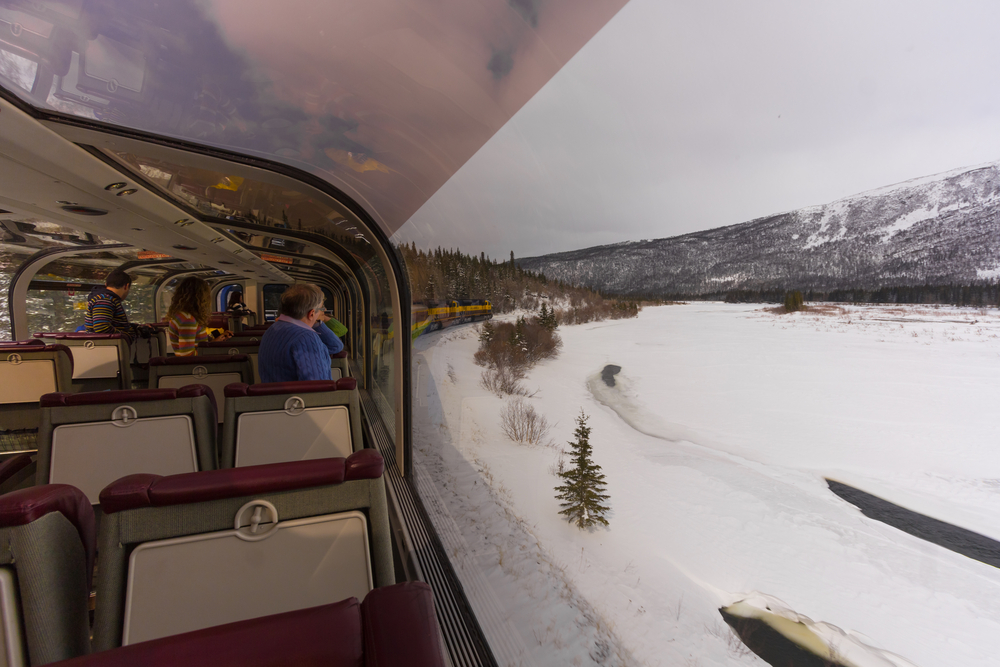 Chena River State Recreation Area
if you are looking for an outdoor Alaska tourist attraction then Chena River State Recreation Area is for you. It's a 397-square-mile area that follows the Chena River and it's so beautiful.
It's a great place to go wildlife spotting, hiking, camping, and rock climbing. One of the best trails is Angel Rocks Trail which gives you a good overview of the area.
This 8.3-mile roundtrip loop traverses the length of the recreation area winding through dense forest to scenic cliffs.
The trail also offers stunning views of the Alaska Range, Chena Dome, and Bear Paw Butte along the way.
The trail ends at Chena Hot Springs Resort which is a great place to relax your weary muscles.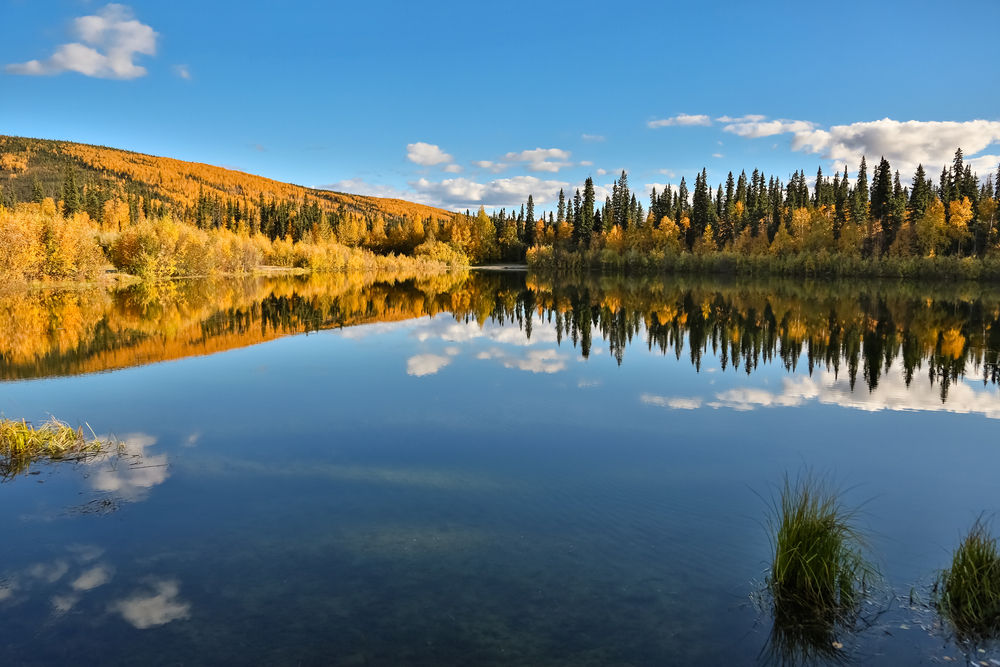 The Palace Theater
If you are looking for Fairbanks events then I suggest you take a trip to The Palace Theatre. They offer nightly performances at its location in Pioneer Park.
They are currently presenting the Golden Heart Revue which was written by Fairbanks composer Jim Bell, along with book writers William Arnold, Timothy Ames, Steve Arthur, and Richard Ussery.
The musical explores the social and cultural history of the region and is very humorous. It's called a true Alaskan experience and is rated highly.
Check the website to see timings etc: and if you need a lift to the location then can organize that too.
Visit a Brewery Or Distillery
If you are looking for things to do in Fairbanks Alaska how about a visit to a brewery or distillery? The HooDoo Brewing Company and Hoarfrost Distilling seem to be the main ones.
The HooDoo Brewing Company was started by Bobby Wilken a Fairbanks resident and opened in 2011. They focus on classic European and American brewing styles.
Here it's good beer in traditional styles and the tap room is open Tuesdays through Sundays. You haven't tasted beer until you have tasted beer made with glacier water.
Hoarfrost Distilling is a family-owned distillery that specializes in vodka which is produced entirely in-house. This is an award-winning vodka with a smoothness not found in other vodkas.
The tasting room is open Mondays through Saturdays and tours are available on request. This is one of the best things to do in Fairbanks for adults.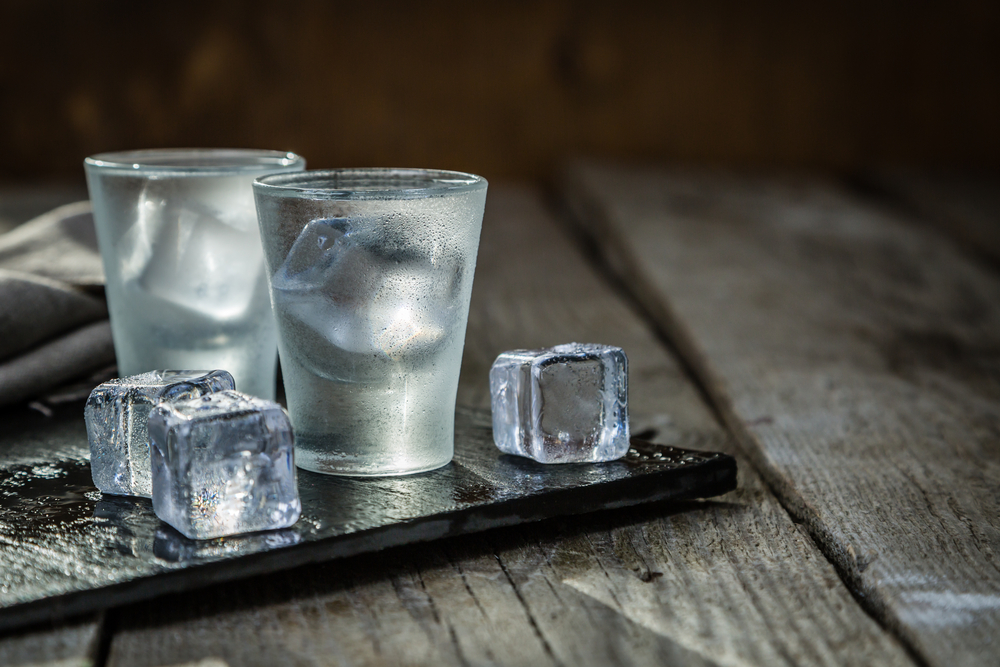 Georgeson Botanical Garden
If you wondering what to do in Fairbanks Alaska then how about a trip to Georgeson Botanical Garden? This five-acre garden is part of the University of Fairbanks campus and is open to all.
Officially opened as a research facility in 1989 it's now a vibrant green space that is beautiful, especially in spring and summer.
As well as flowering paths, wooden bridges, and beautiful sitting spots there is a children's garden and a wild rose hedge maze. There is also a food garden and a native Alaska plant garden.
It's open from May to September and is a great place to visit as it's so different from most of the Fairbanks attractions.
Learning History at Gold Dredge #8 Is One Of The Best Things To Do In Fairbanks Alaska
One of the places to visit in Alaska to learn about its gold mining past is Dredge 8.
Located about 25 minutes from Fairbanks Dredge 8 on the National Register of Historic Place and between 1928 and 1959 pulled up millions of ounces of gold.
A trip here begins with a ride on the Tanana Valley Railroad with a short narrated journey to the dredge.
You are then guided through the entire dredge where you can see, touch, and learn about its history and importance to Fairbanks.
There is also a mining camp and a mining museum which are packed with artifacts of the gold mining processes in this region.
You will also pan for gold with your own poke filled with pay dirt, who knows what you might find.
This is a fun day out for everyone and children especially will love this adventure.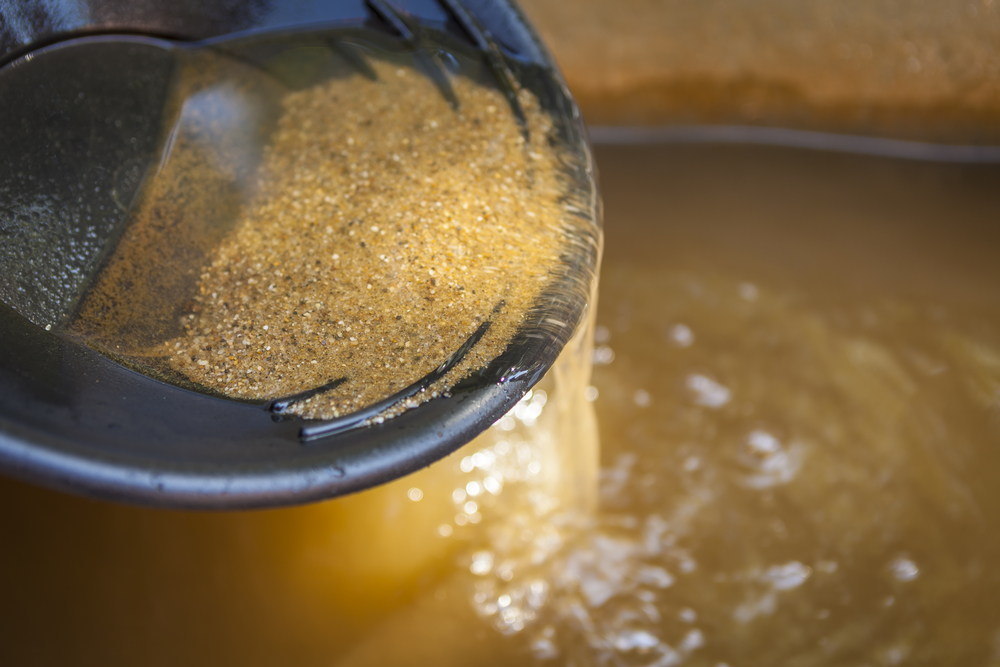 The Arctic Circle Sign
One of the Alaska tourist attractions that most love to visit is the Arctic Circle Sign. While it is associated with the town of Fairbanks it is hard-pressed to even call in near.
The sign is a nearly five-hour one-way trip from Fairbanks and is along the Dalton Highway. Most car rental companies prohibit you from driving on this road as it is made of gravel.
Now if you are set on seeing this sign and taking a picture of it Fairbanks makes a great base and there are many hosted trips leaving from there.
If you have the time this is one of the things to do near Fairbanks for sure.
Check Out This Artic Circle Adventure Tour.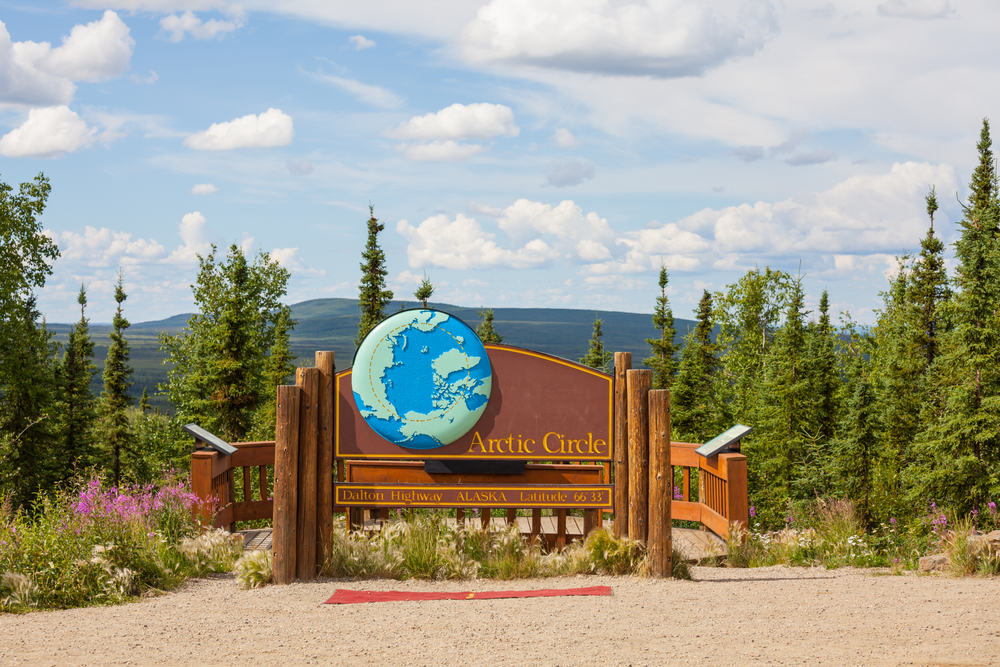 Packing List For Things To Do In Fairbanks Alaska
If you will be traveling, either by plane or by car to Alaska, here are some tips on how to pack lightly.
A concealed travel pouch may be one of the most important items you bring along when visiting Fairbanks Alaska attractions.
It is always important to protect your personal information. Identity thieves are everywhere.
This unisex RFID-blocking concealed travel pouch is lightweight and comes in several colors. It has lots of organization to give you peace of mind.
You can place it under your clothes next to your body to carry your ID safely.
If you have a pouch already that does not come with RFID protection, as I do, these RFID sleeves are the perfect solution.
This configuration comes with enough credit card sleeves that the entire family would be protected. They are slim too, so they will easily fit into your pouch or wallet.
If you are planning on taking a lot of pictures with your phone you will definitely want to consider an external charging battery.
This Anker high-speed phone charging battery is the exact one I carry with me on all of my trips.
It can be used on a variety of phones, not just an iPhone as I have. And wow is it fast!
My daughter gifted me with this FugeTek selfie stick and tripod setup for my birthday. I absolutely love it! It is made of lightweight aluminum and so easy to use.
It has Bluetooth connectivity and is a breeze to use for taking photos.
You will want to bring your own refillable water bottle with you.
I never leave home on a trip without my Bobble filtration bottle. The 18.5-ounce size is perfect for hiking and it fits nicely in the pocket of a backpack.
The replacement carbon filter ensures fresh water whenever you want it.
Then this collapsible silicone foldable water bottle would work well for you. Would not take up much space at all.
You will want a backpack or daypack with you to store snacks, your water bottle, phone, extra clothes, etc… No matter the time of day or evening.
This foldable water-resistant backpack would be great.
It is very affordable and is available in many color options for you to choose from. The fact that it folds down into a zippered pouch will make it easy to pack.
—
As you can see when it comes to things to do in Fairbanks the options are endless. It is such a unique area with so many interesting attractions.
Whichever of these Fairbanks activities you choose to take part in I know the memories will stay with you forever. Have a great time and please come back and tell me all about it.