Are looking for the best Midwest weekend getaways? I have you covered!
The Midwest states have so much to offer whether you want to discover cute, small towns, visit lively cities, or explore beautiful nature spots!
These Midwest tourist destinations are perfect for family vacations, friends' trips, or a couple's retreat. You can also take a solo trip to unwind with some me time!
Beaches, theme parks, hiking trails, museums, and islands! The Midwest really has it all!
Let's take a look at the best weekend trips in the Midwest for your next vacation!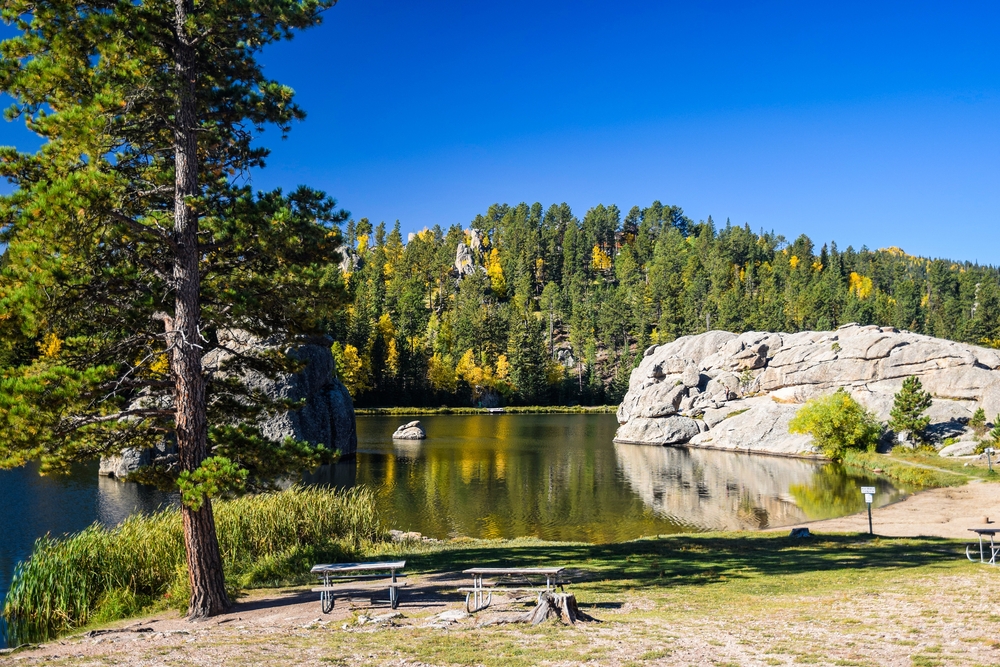 15 Best Weekend Getaways In The Midwest For Your Bucket List
Chicago, Illinois
Chicago is the biggest city in the Midwest and has so much to offer for all types of travelers. If you love art, shopping, eating, biking, history, or all of the above, then Chicago is for you!
Snap a photo with the iconic Cloud Gate (or Bean) sculpture in Millenium Park before stopping by the world-class Art Institute of Chicago.
Admire the skyscrapers as you stroll the Riverwalk or find amazing views of the city from atop the Willis Tower.
Kids will love the many parks, the Ferris wheel at the Navy Pier, and the Lincoln Park Zoo.
If you want Midwest romantic getaways, Chicago offers many luxury hotels and amazing restaurants perfect for a date night! Or you could keep it simple with a Chicago deep-dish pizza.
Overall, Chicago is one of the best weekend getaways in Illinois and should be added to any travel bucket list!
Where to Stay in Chicago:
Luxury Hotel: Hotel Blake. Check Rates: Booking.com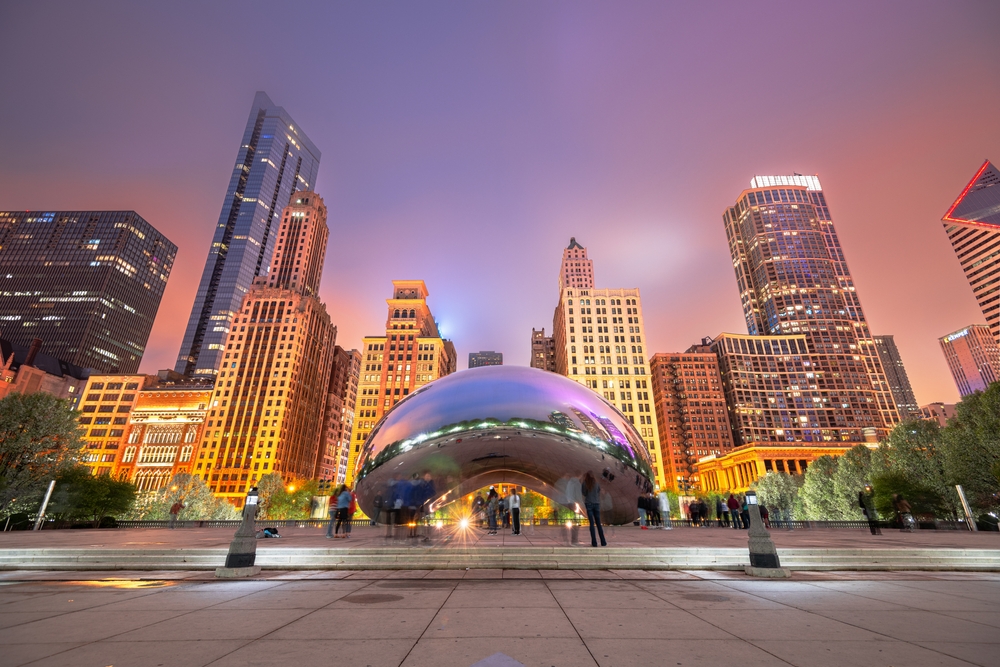 One Of The Best Weekend Getaways In The Midwest is Indiana Dunes National Park, Indiana
Indiana Dunes National Park is set on the southern tip of Lake Michigan. If fun Midwestern vacations for you mean camping and enjoying nature, you will love this location!
With 15 miles of shoreline, you will have a great beach day with the family. Spend time swimming, playing in the sand, kayaking, and canoeing.
There are also 50 miles of hiking trails and 37 miles of biking trails. As you explore the park, spend time birdwatching, which is especially great during fall migration.
For campers, you can pitch a tent or park your RV at Dunewood Campground. This is a nice, modern campground.
Where to Stay Near Indiana Dunes National Park:
Affordable Hotel: Spring House Inn. Check Rates: Booking.com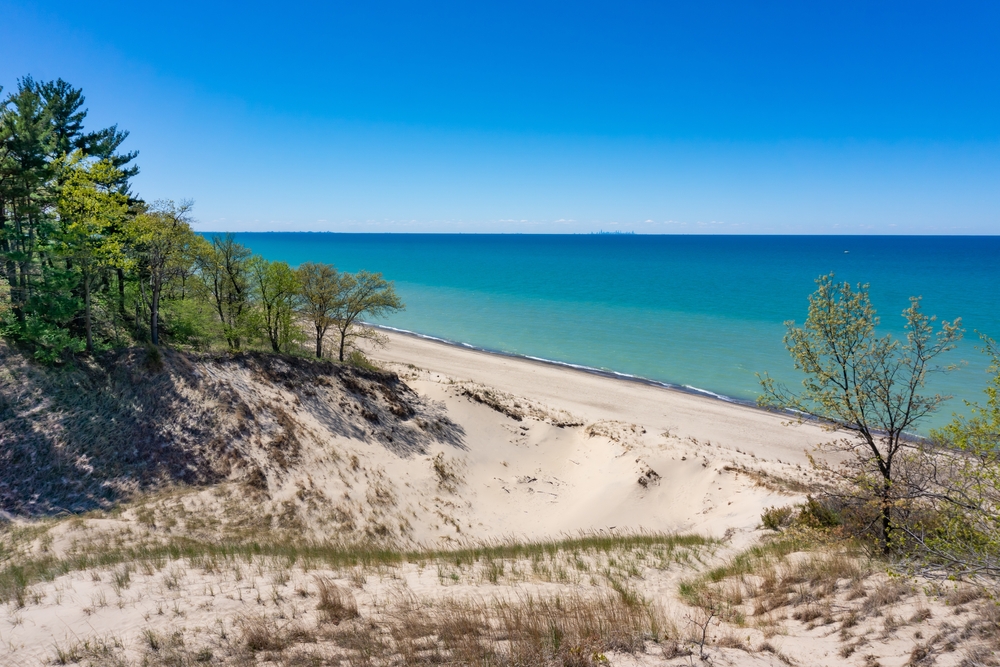 Pella, Iowa
Want to discover one of the cutest small towns in Iowa? Head to Pella near Lake Red Rock.
This darling town was founded in 1847 by immigrants from the Netherlands. The Dutch influence is still evident today.
Visit the Pella Historical Village and the Vermeer Windmill. At just over 124 feet, this is the tallest working windmill in the U.S. It was built in the Netherlands and then shipped and reassembled here in 2002.
This is one of the best places to visit in the Midwest during spring and the annual Tulip Time event.
Admire the colorful tulips and people dressed in traditional Dutch clothing. With parades, delicious food, a craft market, and shows, you are guaranteed a great time!
Add this hidden gem to your list of Midwest weekend getaways!
Where to Stay in Pella:
Affordable Hotel: Country Inn & Suites by Radisson. Check Rates: Booking.com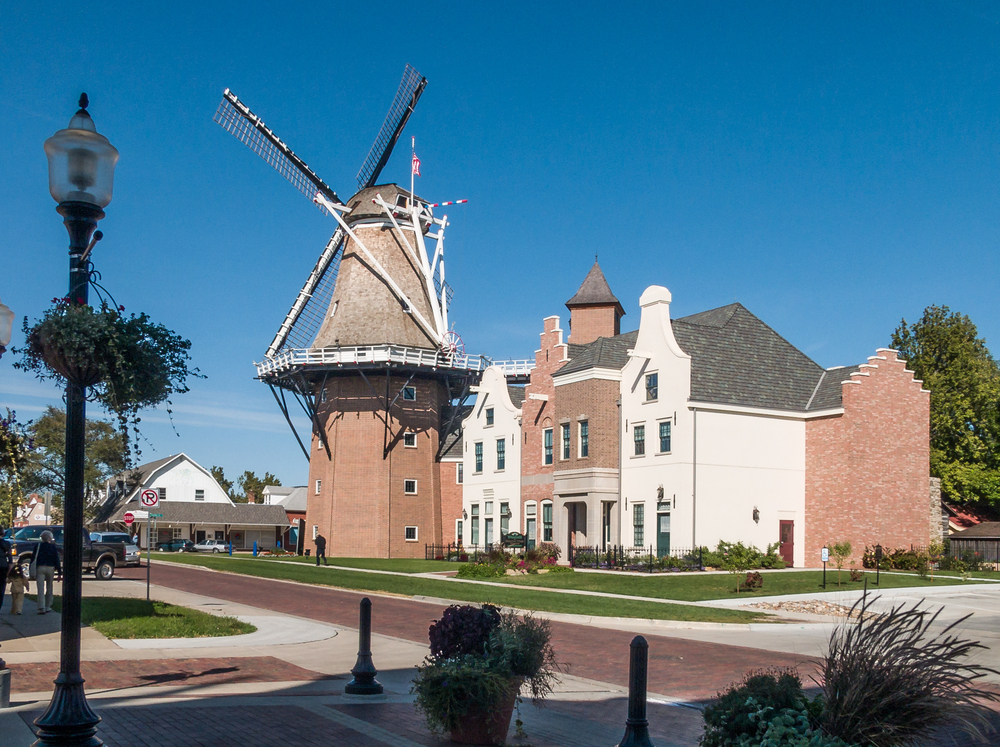 Lawrence, Kansas Is A Great Place For a Midwest Weekend Getaway
Tucked on the Kansas River, Lawrence is a beautiful city full of historic buildings, museums, shops, art galleries, and local restaurants and cafes. It is also home to the University of Kansas.
Visit the KU Natural History Museum with over 12 million species and archaeological artifacts. It is all housed in a gorgeous Venetian Romanesque-style building dating back to 1902.
Other museums in town include the Spencer Museum of Art, the Watkins Museum of History, and the Wilcox Classical Museum.
Lawrence is also close to many parks for some time in nature. Explore the trails along the riverfront and birdwatch at the Prairie Park Nature Center.
Clinton State Park is a fun place for outdoor recreation. Set on Clinton Lake, you will have fun swimming, kayaking, hiking, and camping.
Lawrence is one of the best weekend getaways in Kansas for anyone who wants to enjoy a mix of city and nature.
Where to Stay in Lawrence:
Affordable Hotel: StoneHill Lawrence. Check Rates: Booking.com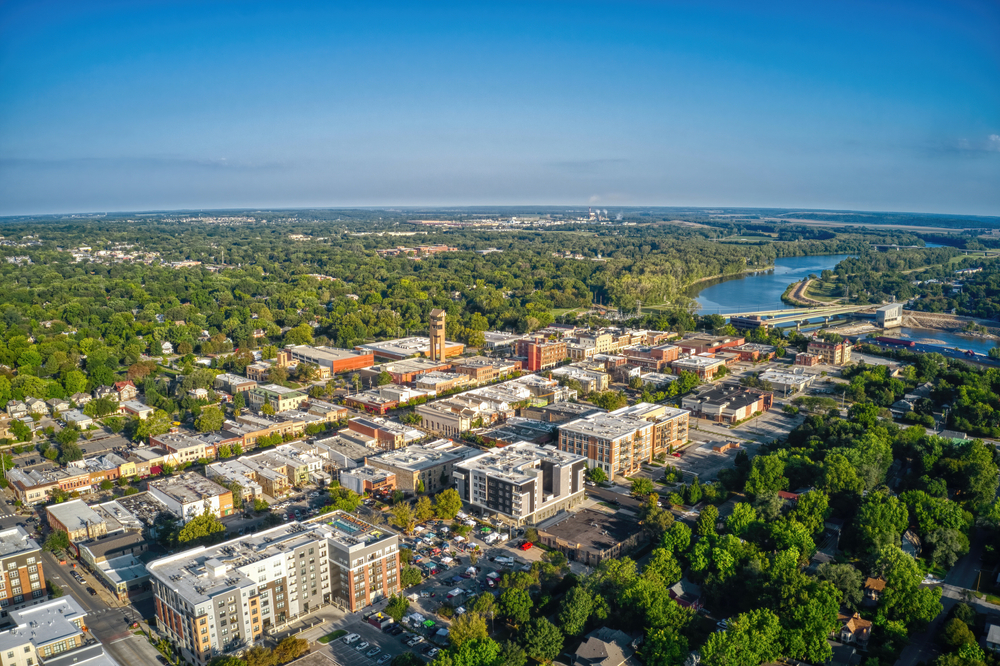 Mackinac Island, Michigan
Step back in time on Mackinac Island, one of the best romantic getaways in the Midwest!
Take the ferry to this car-free zone and instead get around by foot, bike, or horse-drawn carriage. The small town is adorable and quaint with historic, Victorian buildings.
Book a room at the Grand Hotel, which opened in 1887. Stroll the cute downtown to find many shops and dining options. You have to try some of the local fudge!
Visiting this small town in Michigan you will be able to hike to Arch Rock, visit historic forts, and check out the many history and art museums.
Other attractions are the Round Island Lighthouse, the Original Mackinac Island Butterfly House & Insect World, and Sainte Anne's Catholic Church.
Mackinac Island is so picturesque and easily one of the top weekend getaways in Michigan!
Where to Stay on Mackinac Island:
Luxury Hotel: Harbour View Inn. Check Rates: Booking.com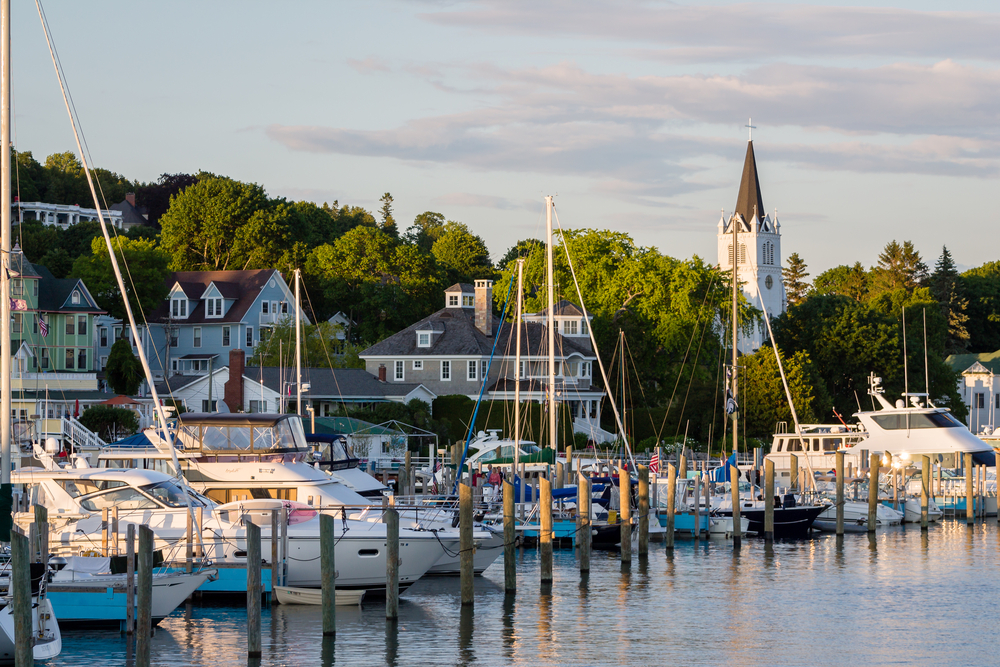 North Shore, Minnesota, Is A Spectacular Midwest Weekend Getaway
The North Shore of Minnesota stretches for 145 miles along Lake Superior from Duluth to Grand Portage on the Canadian border.
This is one of the most beautiful Midwest summer getaways with so much to offer including cute, lakeside towns, waterfalls, and hiking trails.
Start your trip exploring Duluth. Some activities here include Canal Park, museums, Enger Park, a zoo, an aquarium, and more.
From there, start up the North Shore Scenic Drive. Some towns to stop at are Two Harbors, Silver Bay, and Grand Marais. They are full of history and amazing lake views.
For pretty natural scenery, you will love Gooseberry Falls State Park, Split Rock Lighthouse State Park, Tettegouche State Park, and Grand Portage State Park.
You really cannot go wrong with driving the North Shore! It is one of the best Minnesota weekend getaways, but you may want to stay longer.
Where to Stay on the North Shore:
Mid-Range Hotel: Grand Superior Lodge. Check Rates: Booking.com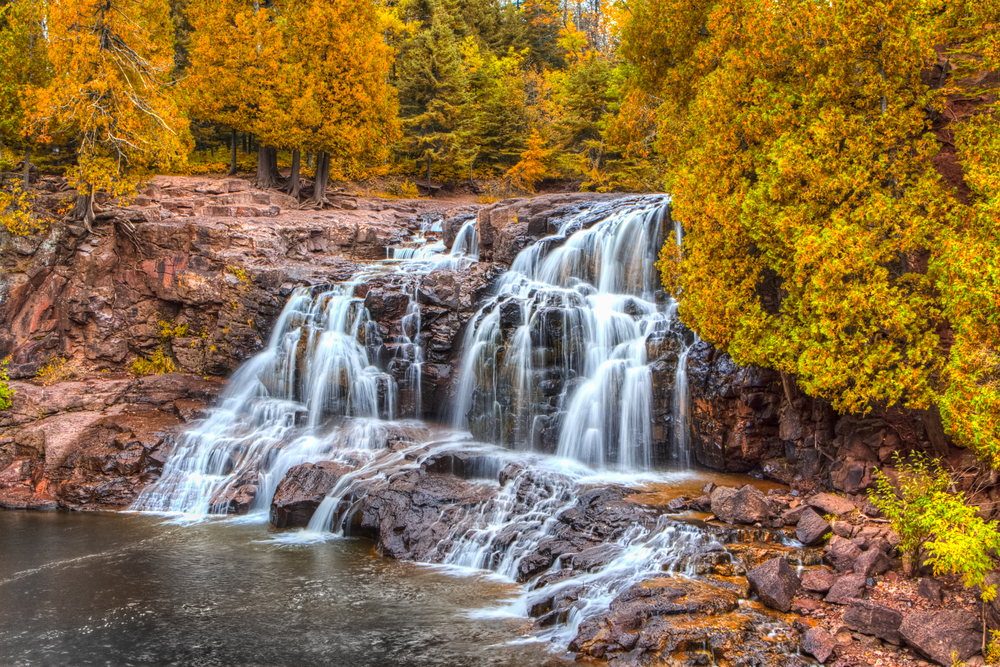 Branson, Missouri
For one of the best family weekend getaways in Missouri, head to Branson in the Ozark Mountains. This is a lively town with so much entertainment!
Silver Dollar City is the top attraction in town. It is an 1880s-themed amusement park with rides, live music, reproductions of historic buildings, and classic fair food like kettle corn, funnel cakes, and BBQ.
Other things to do in Branson include the Titanic Museum, the Butterfly Palace & Rainforest Adventure.
Look into the Branson Scenic Railway, the Aquarium at the Boardwalk, and the Dolly Parton's Stampede dinner theater.
Get out into nature at the nearby Table Rock State Park as well. You will have fun swimming, boating, hiking, and camping.
You will make so many amazing memories in Branson! Come see what makes this town one of the best weekend getaways in the Midwest!
Where to Stay in Branson:
Affordable: Lodge of the Ozarks. Check Rates: Booking.com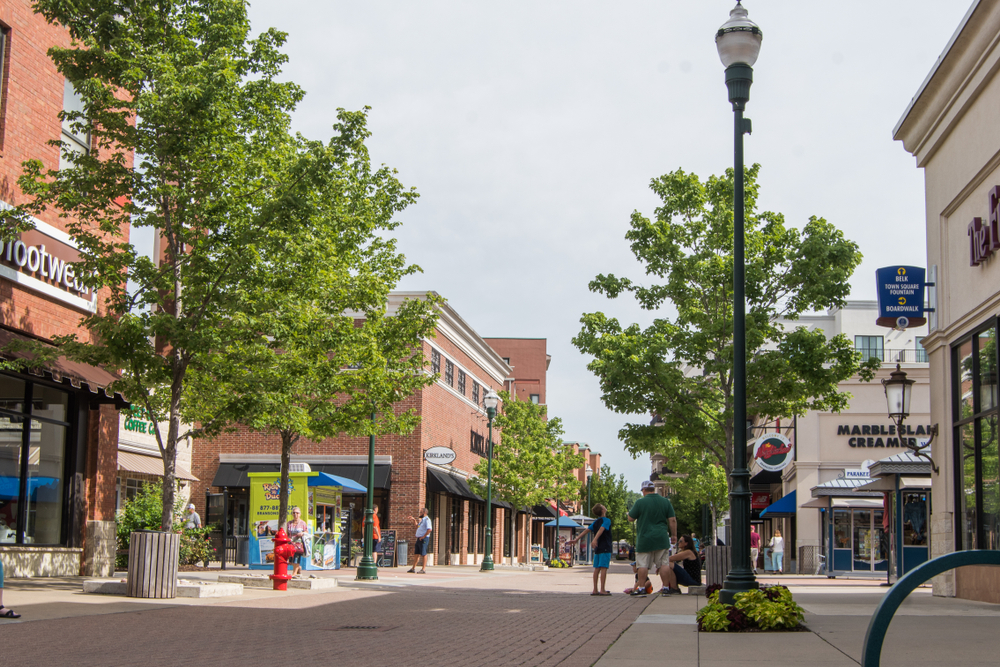 Missoula, Montana
For a fantastic weekend getaway in Montana, take a journey to Missoula. This mountain city offers so much outdoor recreation as well as museums, fun events, historic buildings, and breweries.
History buffs will want to visit the Historical Museum at Fort Missoula. The fort was established in 1877 and today features 20 preserved historic buildings.
Hikers can trek to the top of Mount Sentinel in the Pattee Canyon Recreation Area. The 7-mile out-and-back Crazy Canyon Trail is rated moderate to difficult but is worth it for the amazing views.
There are many other hiking trails around Missoula but for something easy and accessible, walk or bike the Clark Fork Riverfront Trail.
For a Midwest winter getaway, plan on skiing or snowboarding at the Montana Snowbowl. There are 2,600 feet of continuous vertical drop.
You cannot go wrong with a vacation in Missoula!
Where to Stay in Missoula:
Mid-Range Hotel: Goldsmith's River Front Inn. Check Rates: Booking.com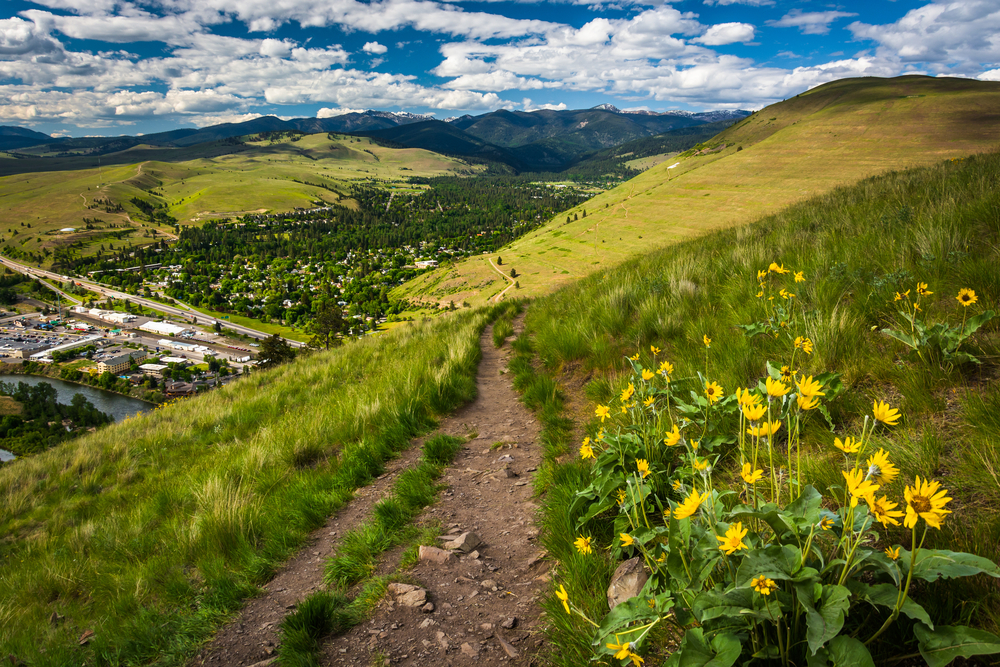 Omaha, Nebraska
Omaha is one of the best Midwest vacation spots for families with kids. The city is found on the Missouri River on the Iowa border.
If you love history, nature, animals, architecture, or shopping, then add Omaha to your Midwest bucket list!
The area is full of pioneer history which is honored with sculptures at the Spirit of Nebraska Wilderness & Pioneer Courage Park.
The Old Market downtown offers many shops and restaurants in a historic setting. If you want to see more historic buildings, check out the Scottish Baronial style Joslyn Castle built in 1903.
Kids will love the Omaha Children's Museum or the Fun-Plex Waterpark & Rides.
Other Omaha attractions include the Lauritzen Gardens, the Durham Museum, and Zorinsky Lake Park.
Where to Stay in Omaha:
Affordable Hotel: Tru By Hilton Omaha. Check Rates: Booking.com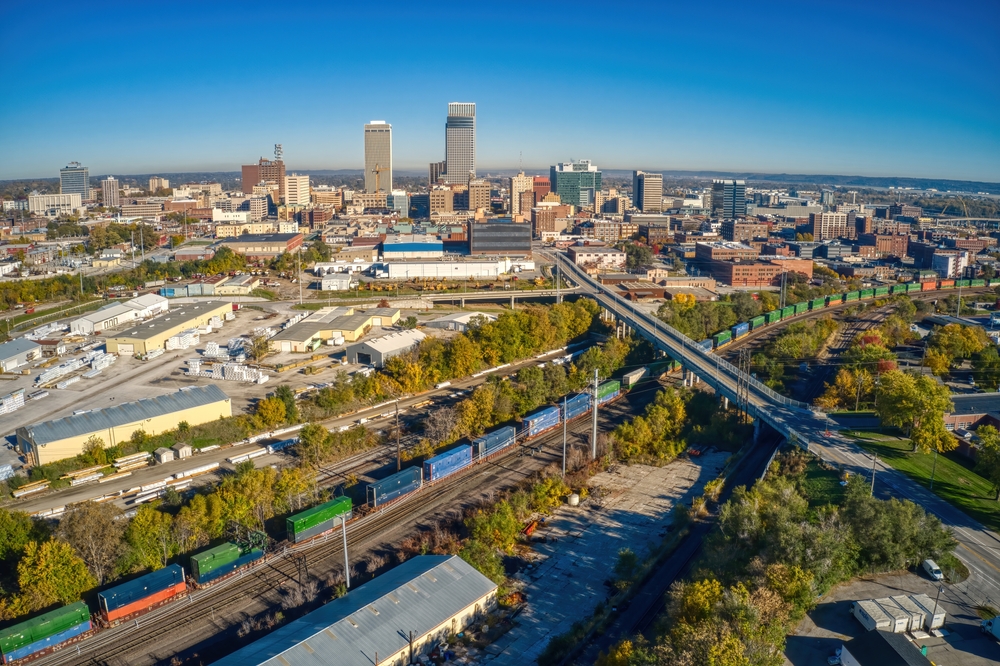 For A Great Midwest Weekend Getaway Visit Medora, North Dakota
Sitting on the edge of the Theodore Roosevelt National Park, Medora is one of the best small towns in the Midwest to visit.
Travel back in time to the Old West in this historic and scenic town.
Visit the North Dakota Cowboy Hall of Fame with lots of galleries, artifacts, and cowboy memorabilia. The Billings County Courthouse Museum has even more frontier memorabilia.
The Chateau de Mores State Historic Site is a preserved 26-room, two-story frame building that dates back to 1883. In summer, you can take a tour and see period furnishings.
From Medora, you can enter the south unit of Theodore Roosevelt National Park. Spend time hiking, kayaking, canoeing, biking, and viewing wildlife such as bison, elk, and prairie dogs.
Where to Stay in Medora:
Mid-Range Hotel: AmericInn by Wyndham Medora. Check Rates: Booking.com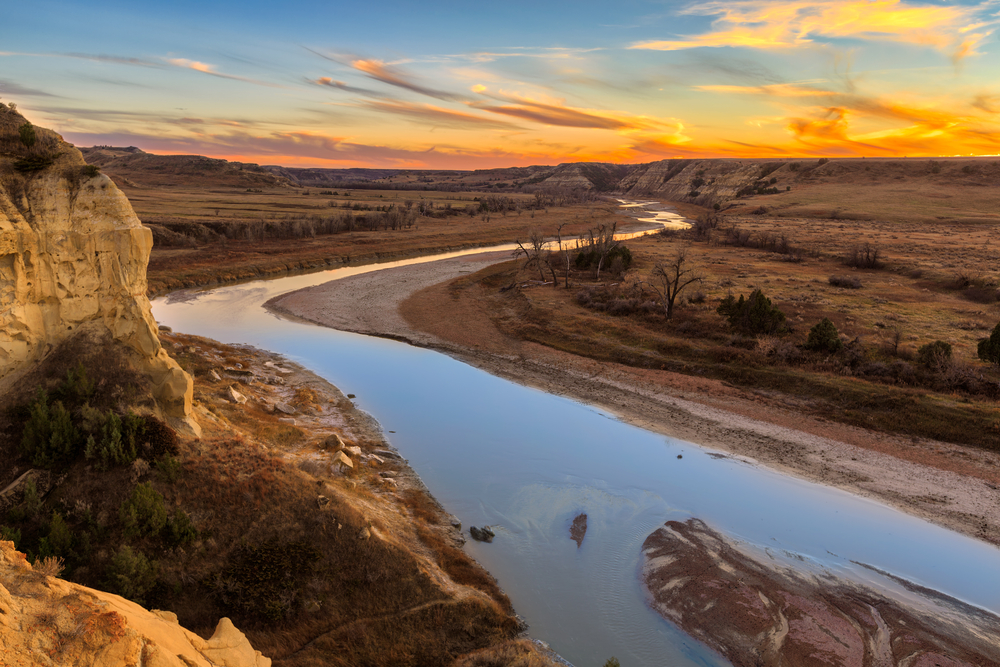 Put-In-Bay, Ohio, Is One Of The Best Midwest Weekend Getaways
The town of Put-In-Bay is found on South Bass Island, one of the best islands for a Midwest getaway. The island is known as the "Key West of Lake Erie" and provides a relaxing atmosphere.
Visit the Lake Erie Island Historical Museum and Lake Erie Islands Nature & Wildlife Center to learn about the area's history and nature. Make sure to check out the South Bass Island Lighthouse as well.
The town has many hotels and bed and breakfasts as well as local restaurants and wineries. For some nature, there are hiking trails to explore.
From atop the 352-foot Perry's Victory and International Peace Memorial, you will find amazing views of the island and lake.
To get to the island, you have to take one of two ferries from the mainland. The trip is worth it for one of the top Midwest weekend getaways!
Put-in-Bay is one of the best small towns in Ohio!
Where to Stay in Put-In-Bay:
Luxury Hotel: Anchor Inn Boutique Hotel. Check Rates: Booking.com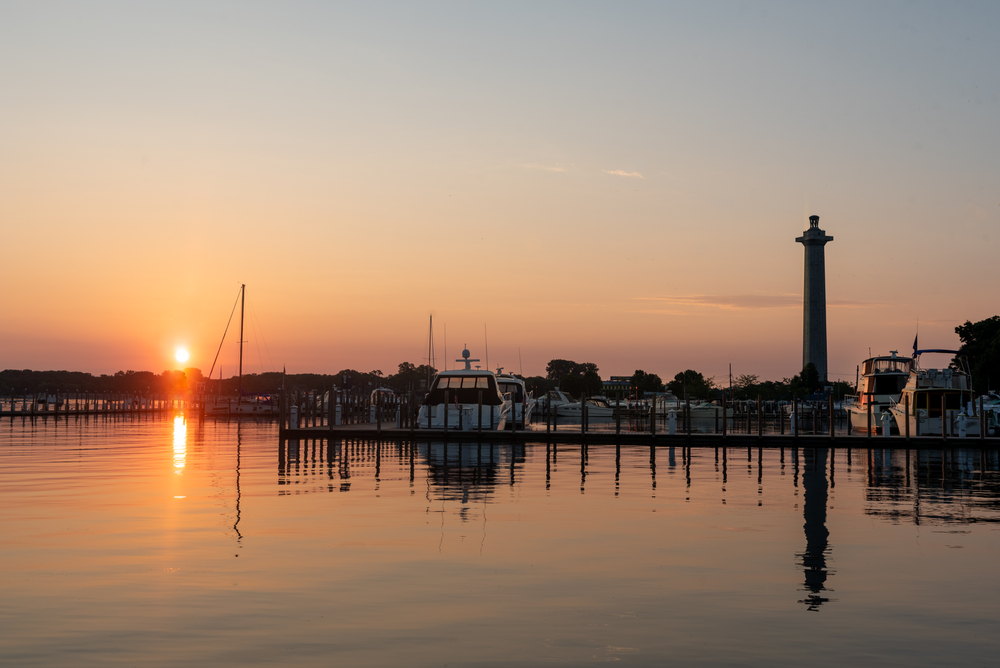 Broken Bow, Oklahoma
Broken Bow offers one of the best nature retreats in the U.S. The small town is located just south of Broken Bow Lake and Beavers Bend State Park.
If your idea of a fun time includes hiking, boating, swimming, kayaking, driving ATVs, or camping, then you will adore this slice of lush nature in Oklahoma!
In town, you will love dining at delicious restaurants and grabbing a drink at one of the wineries or breweries.
If you are traveling with kids, head to the Hochatown Rescue Center & Petting Zoo, the Maze of Hochatown, or ride an adorable mini-train replica at the Beavers Bend Depot.
With so much to do, you will agree this is one of the best vacations in the Midwest!
Where to Stay in Broken Bow:
Luxury Private Cabin: Hickory Bear. Check Rates: Booking.com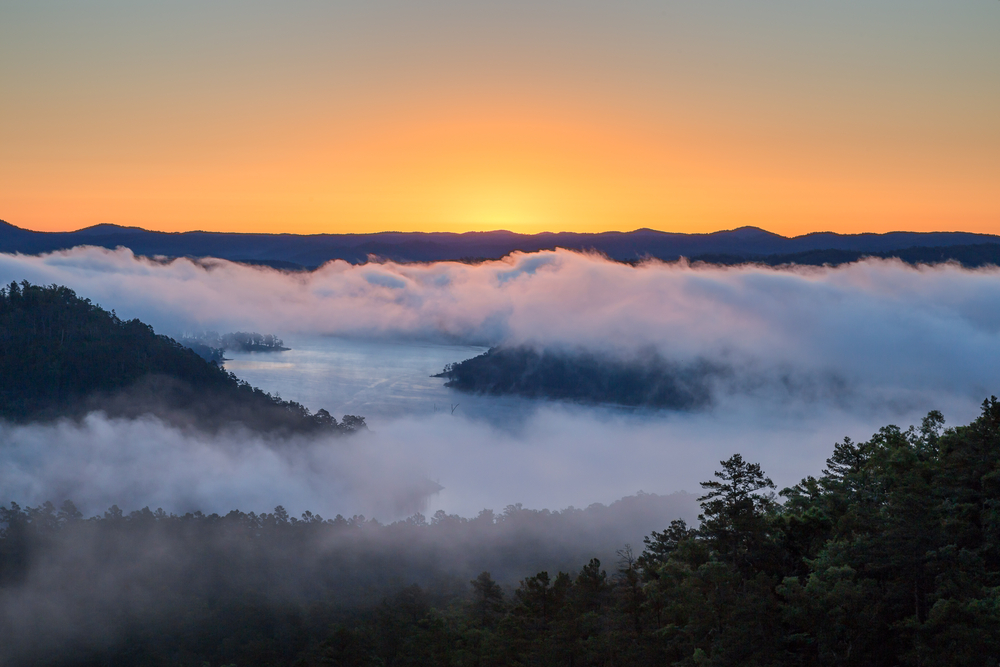 Custer State Park, South Dakota
Nestled in the Black Hills of South Dakota, Custer State Park is 71,000 acres of gorgeous lakes, rock formations, hiking trails, and abundant wildlife.
If you love nature, this is one of the best Midwest weekend getaways for your bucket list. Visit in the fall, for amazing foliage and the annual Buffalo Roundup.
Head out on the many scenic drives and look for bison, wild burros, elk, prairie dogs, mountain goats, and more. The hiking opportunities will leave you speechless with amazing mountain views.
Sylvan Lake is called the "crown jewel" of the park and is a must-see. The stunning blue water perfectly reflects the surrounding boulders and pine trees.
You can camp in the state park or stay in the darling town of Custer which has many historic buildings and cool bison statues.
Where to Stay in Custer:
Mid-Range Hotel: Holiday Inn Express & Suites Custer-Mt Rushmore. Check Rates: Booking.com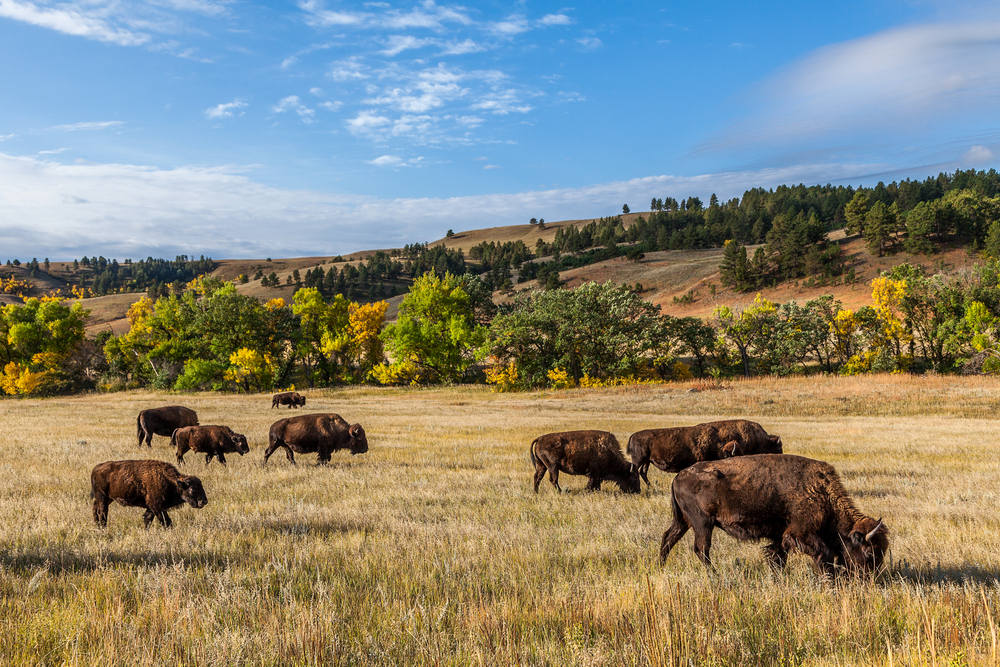 Apostle Islands National Lakeshore, Wisconsin
At the northern tip of Wisconsin, the Apostle Islands National Lakeshore is comprised of 21 islands in Lake Superior.
This is an idyllic and peaceful place for a Midwest weekend trip.
Enjoy a scenic sightseeing cruise or paddle a kayak along the shore to discover amazing rock formations and caves.
The lakeshore also features beaches, hiking trails, historic lighthouses, campgrounds, and shipwrecks for scuba diving.
You will have so much fun immersing yourself in nature during one of the best weekend getaways in Wisconsin!
Where to Stay Near Apostle Islands National Lakeshore
Mid-Range B&B: Pinehurst Inn Bed & Breakfast. Check Rates: Booking.com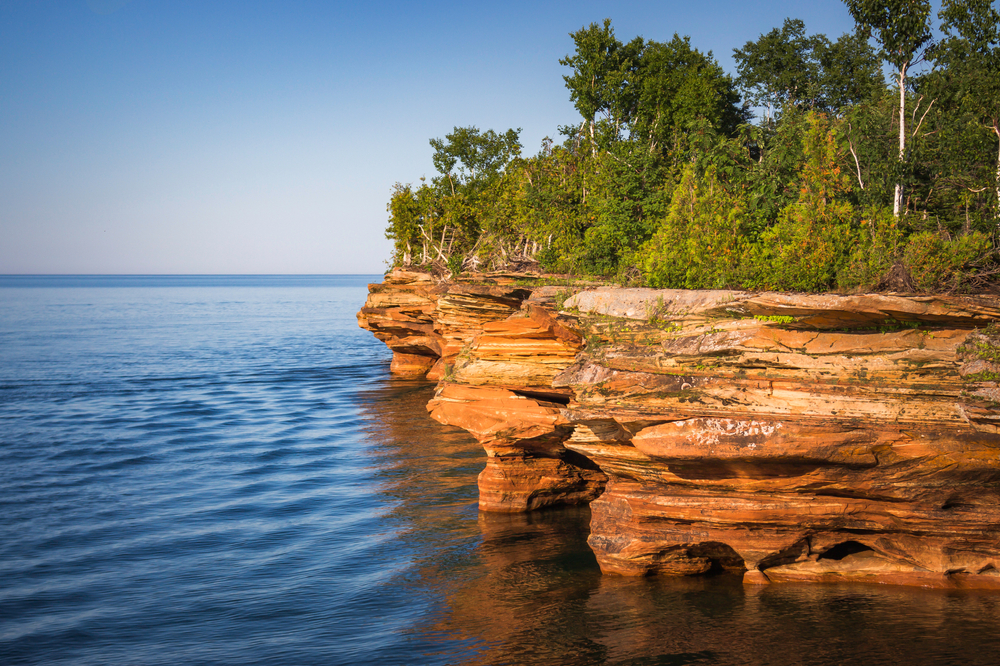 Door County, Wisconsin
Another spot in Wisconsin to visit is the famous Door County on the eastern side of the State. This Lake Superior peninsula is one of the most popular weekend getaways for couples.
There are 300 miles of shoreline and since it is a peninsula, you can watch both the sunrise and sunset over the water. This is such a romantic activity!
Door County has many state parks, cute towns, wineries, beaches, cherry orchards, and historic lighthouses. You will not be bored here!
If you want a more laid-back vacation, you can cozy up in one of the many resorts or bed and breakfasts.
With so much to do encompassed in lovely nature, you will not want to leave after your Midwest vacation!
Where to Stay in Door County:
Mid-Range Hotel: Bay Breeze Resort. Check Rates: Booking.com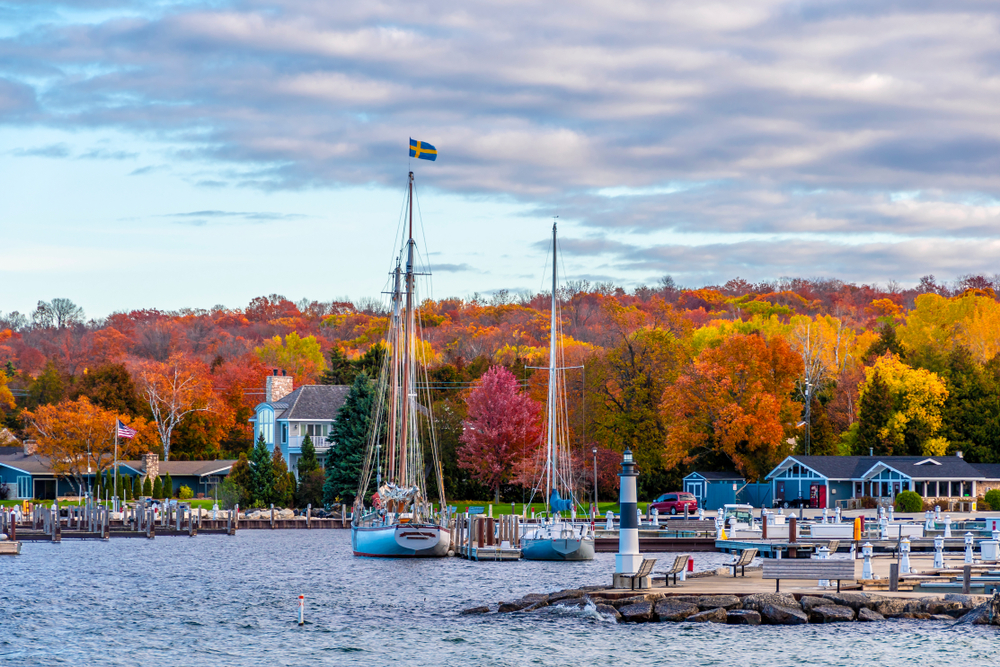 Packing List When Taking Weekend Getaway In The Midwest
If you will be traveling, either by plane or by car to the Midwest, here are some tips on how to pack lightly.
A concealed travel pouch may be one of the most important items you bring along when on a Midwest vacation.
It is always important to protect your personal information. Identity thieves are everywhere.
This unisex RFID-blocking concealed travel pouch is lightweight and comes in several colors. It has lots of organization to give you peace of mind.
You can place it under your clothes next to your body to carry your ID safely.
If you have a pouch already that does not come with RFID protection, as I do, these RFID sleeves are the perfect solution.
This configuration comes with enough credit card sleeves that the entire family would be protected. They are slim too, so they will easily fit into your pouch or wallet.
If you are planning on taking a lot of pictures with your phone you will definitely want to consider an external charging battery.
This Anker high-speed phone charging battery is the exact one I carry with me on all of my trips.
It can be used on a variety of phones, not just an iPhone as I have. And wow is it fast!
My daughter gifted me with this FugeTek selfie stick and tripod setup for my birthday. I absolutely love it! It is made of lightweight aluminum and so easy to use.
It has Bluetooth connectivity and is a breeze to use for taking photos during your London activities.
You will want to bring your own refillable water bottle with you.
I never leave home on a trip without my Bobble filtration bottle. The 18.5-ounce size is perfect for hiking and it fits nicely in the pocket of a backpack.
The replaceable carbon filter ensures clean drinking water when you want it.
Then this collapsible silicone foldable water bottle would work well for you. Would not take up much space at all.
You will want a backpack or daypack with you to store snacks, your water bottle, phone, extra clothes, etc… No matter the time of day or evening.
This foldable water-resistant backpack would be great.
It is very affordable and is available in many color options for you to choose from. The fact that it folds down into a zippered pouch will make it easy to pack.
—
Hopefully, you have found some amazing weekend getaways in the Midwest for your next family vacation or romantic trip.
There are a lot of interesting things to do in Hocking Hills OH as well!