I have to say I think that romantic getaways in the Midwest are some of the best. From cabins and log fires, to exciting cities and beautiful beaches the Midwest has a little bit of everything.
This part of the country offers some of the best Midwest weekend getaways.
The Midwest is often overlooked for a romantic couples getaway which is a real shame. Born and raised in Ohio I might be biased but I do think a weekend for two in the mountains is unbeatable.
Couples vacation ideas include staying at a vineyard, staying at hotels on islands, hiking through fall foliage, or staying at a log cabin in the mountain.
Whatever you and your partner enjoy I can guarantee there is a place in the Midwest that will meet your needs.
In this article, I have what I feel are the best Midwest weekend getaways for couples. They all offer something a little different and cover all price points. Romantic getaways in the Midwest are very varied.
So grab your favorite drink, pull up a chair, and let me walk you through some of the best Midwest romantic getaways.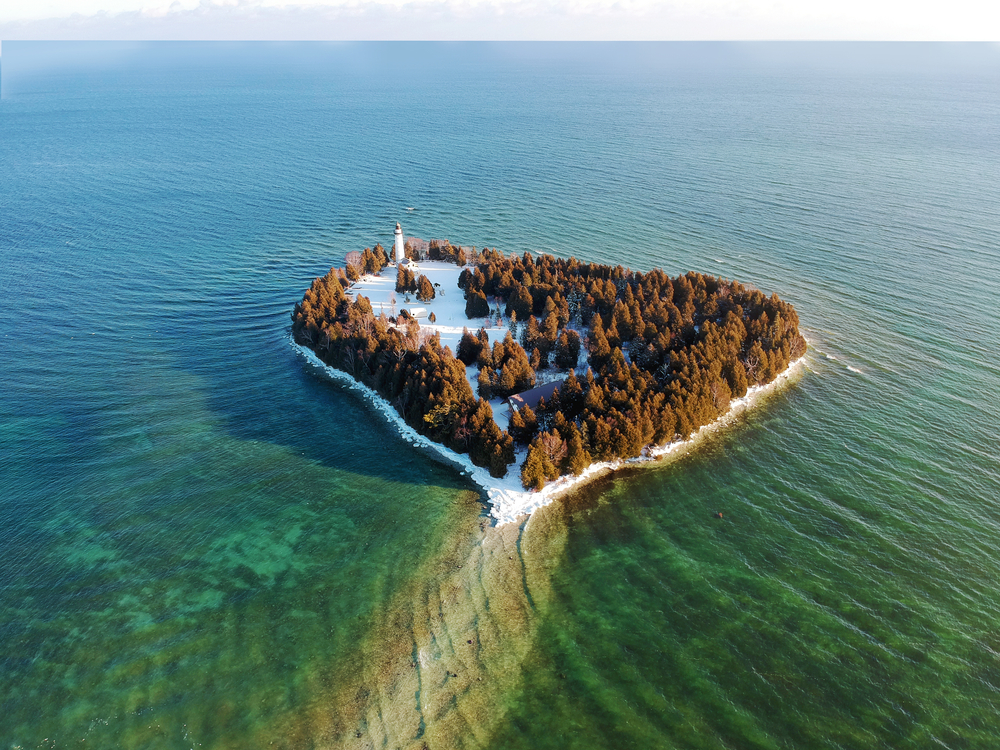 15 Romantic Getaways In The Midwest For Your Bucket List
Galena, Illinois
When people ask me for romantic Illinois getaways I always mention Galena. I feel like this small town in northwest Illinois is perfect when you want a little bit of everything.
Galena is historic, charming, and very quaint. If you are after cozy accommodation, afternoon strolls, and an unhurried atmosphere this is your place. It's the perfect romantic getaway in the Midwest.
Things to see here include Ulysses S. Grant's Home, Horseshoe Mound which offers incredible views and the local Fergedaboudit Vineyard & Winery is worth a visit.
The Galena River is also perfect for Kayaking if you want some adventure.
Make your getaway really special with a stay at Goldmoor Inn & Resort.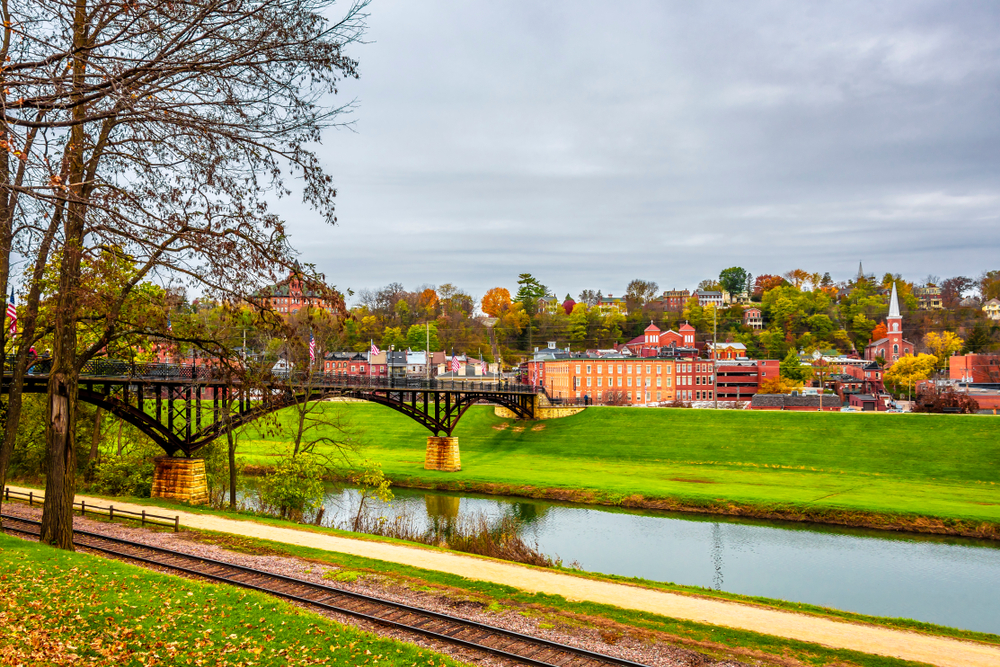 Brown County, Indiana
Living in Florida now I don't get to experience fall in all its glory anymore. But if I did want to I would head to Brown Country in Indiana. What's more romantic than fall foilage hunting?
Brown Country is home to thousands of acres of majestic forests perfect for long romantic hikes. Not only that it has a lovely downtown area and lots of boutiques and galleries to explore.
If you are looking for romantic getaways in Indiana and you love the great outdoors you can't go wrong here. The scenery is breathtaking and in fall it is out of this world.
This is one of the best Midwest weekend getaways, you will love it. The best part is you are just a stone's throw from Nashville if you want to liven things up a little.
Make your stay even more romantic with a stay at Harmony Tree Resorts where you can stay in luxurious tents and pods. This is one of the best romantic getaways in the Midwest.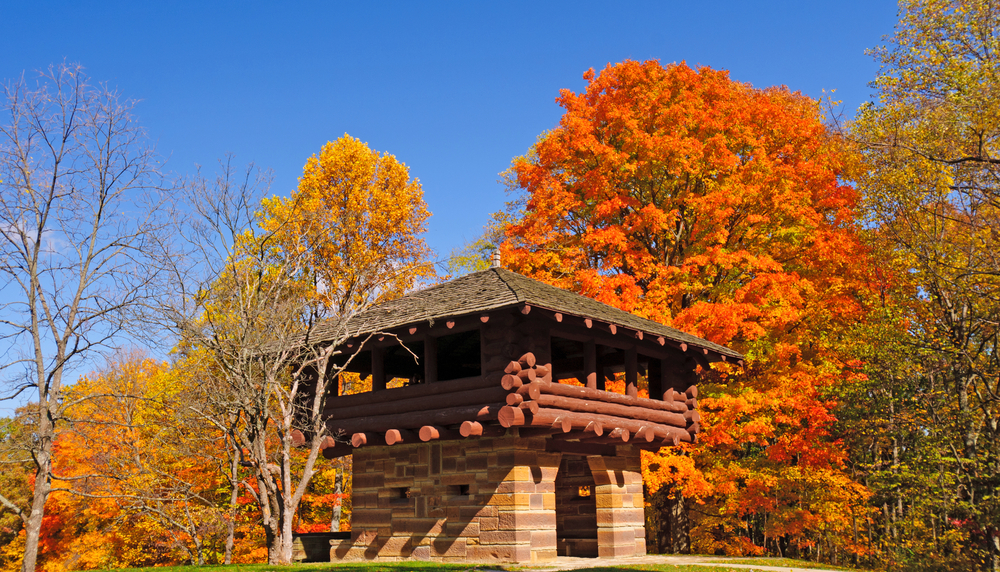 Slattery Vintage Estates, Nebraska
If you are looking for Nebraska romantic getaways then how about glamping in a vineyard?
At Slattery Vintage Estate the most active you will be is walking to fill up your wine glass, which sounds perfect to me.
Just west of Nehawka here you stay in a wonderfully luxurious tent with a queen bed and a 4-foot deck.
There is also a campfire site where you can be served cheese trays, foil dinners, s'mores, or a gourmet breakfast.
You can also of course tour the vineyard and enjoy the tasting room. This is one of the most perfect romantic getaways for couples.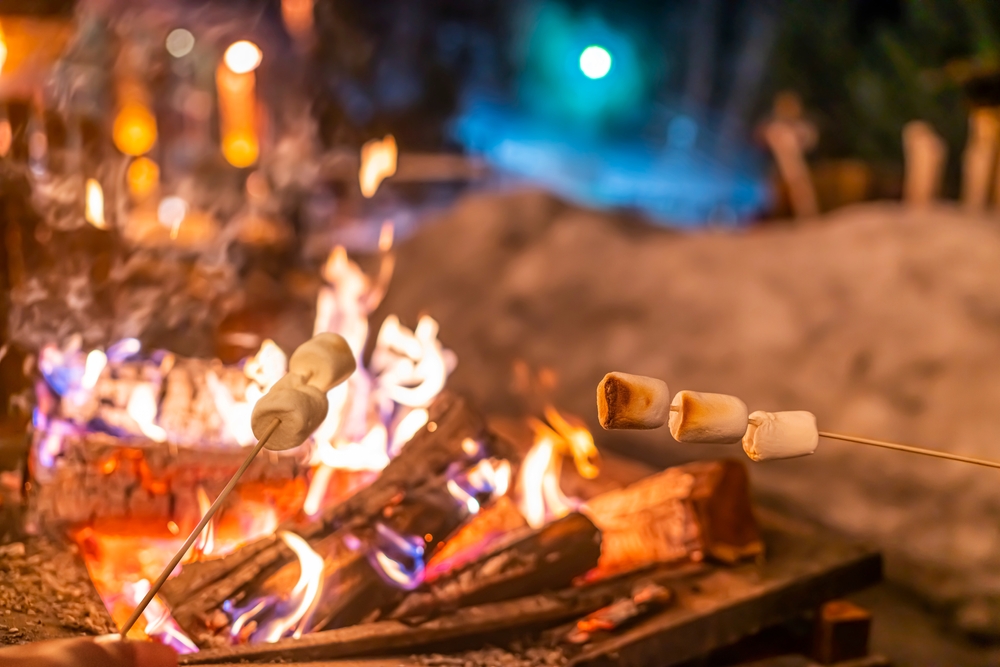 Porcupine Mountains, Michigan
When I think of romantic weekend getaways for some reason mountains always spring to mind.
Cabin, cozy fire, mountains, and a fine sprinkling of snow, to me this is what romantic getaways in Michigan are all about.
Affectionlay referred to as The Porkies, The Porcupine Mountains are a group of small mountains spanning the northwestern Upper Peninsula of Michigan.
And the best bit about these mountains is the lake and sandy beaches you find at the bottom.
If romance for you is breathtaking landscapes, stunning sunsets, magical waterfalls, and walks among the trees you will love this place.
The small towns in Michigan are worth exploring for fabulous Midwest romantic getaways!
There is even an area called the 'Lake of Clouds'. It is one of the best romantic getaways in the Midwest.
For a real Michigan experience hire this Ontonagon Home with Fire Pit – Steps to Beach. A stay here and mountain hiking is in my opinion the best Midwest vacations for couples.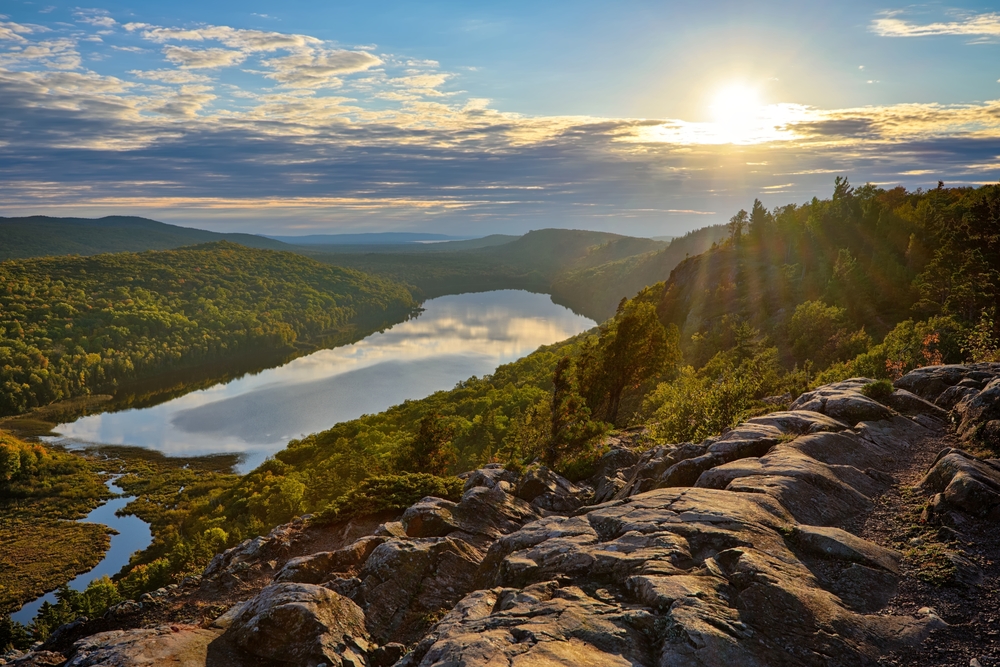 Helena, Montana
When people ask me about romantic getaways in Montana I always mention Helena. Not only is the town historic with lots to see but it's perfectly placed to also enjoy the surrounding countryside.
Founded during the gold rush Helena is the capital city of Montana and really does offer something for everyone.
If you love history there is a lot to see here. Carroll College, the Mansion District, and the Montana State Capitol building should all be on your sightseeing list. And a visit to the Cathedral of St. Helena is a must.
If you want to get out into nature 75 miles of nearby trails await you and they start from downtown. And you are in the middle of Glacier and Yellowstone State Parks if you want to stray a bit further afield.
The restaurants here are phenomenal and the arts and culture scene is vibrant. I highly recommend a stay at Pope House this pink historic mansion oozes romance.
Helena is the perfect place for a romantic weekend getaway.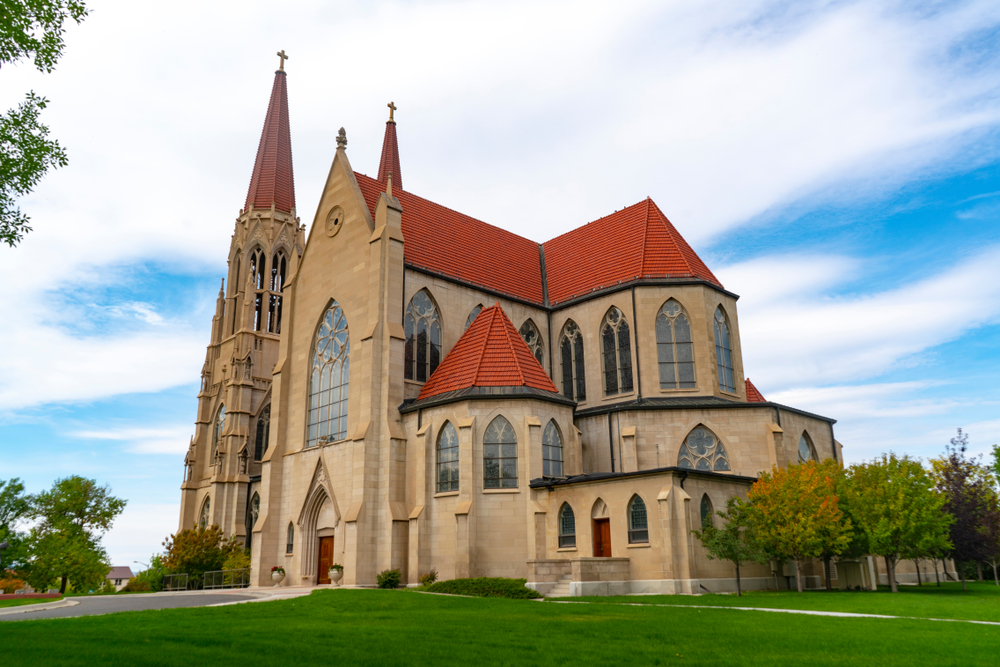 Hocking Hills State Park, Ohio
As I have said before I was born and raised in Ohio and when it comes to romantic getaways in Ohio Hocking Hills wins. This in one of the Midwest getaways for couples would suit those who like exploring.
It is one of those places where you can spend a couple of days or a couple of weeks. There really is so much to do here.
There are 25 miles of hiking trails and some really interesting rock formations and recess caves.
Ash Cave, Old Man's Cave, and Cantwell Cliffs are all must-visit. There are also 7 waterfalls here but Cedar Falls and Big Spring Hollow Falls are the main ones to see.
Couples weekend getaways don't get much better than this. You can stay in one of the man cabins in the area or try the yurt or cottage at Inn & Spa at Cedar Falls.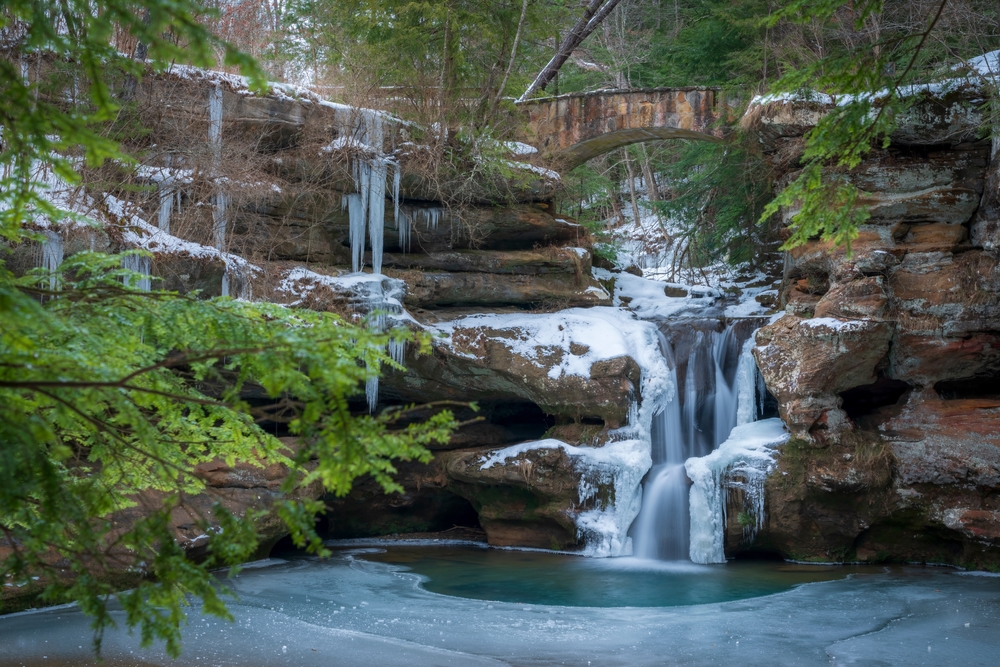 Door County, Wisconsin
If you are looking for a weekend getaway for couples in Wisconsin then may I suggest Door County?
Known for food and nature this area is one of the most beautiful places in the Midwest. I just adore Door County.
Door County is one of the best attractions in Wisconsin.
On a peninsula between Green Bay and Lake Michigan, the shoreline and beaches are beautiful and the state parks are plentiful.
Here you can enjoy leisurely walks hand in hand, admire the views from one of the many lighthouses, and enjoy a fish boil followed by cherry pie.
Romantic Wisconsin getaways are just perfect here. The whole area and the small towns are just charming you just can't help but fall in love with the place.
The Lodge at Leathem Smith is the perfect accommodation option if you are looking for something special.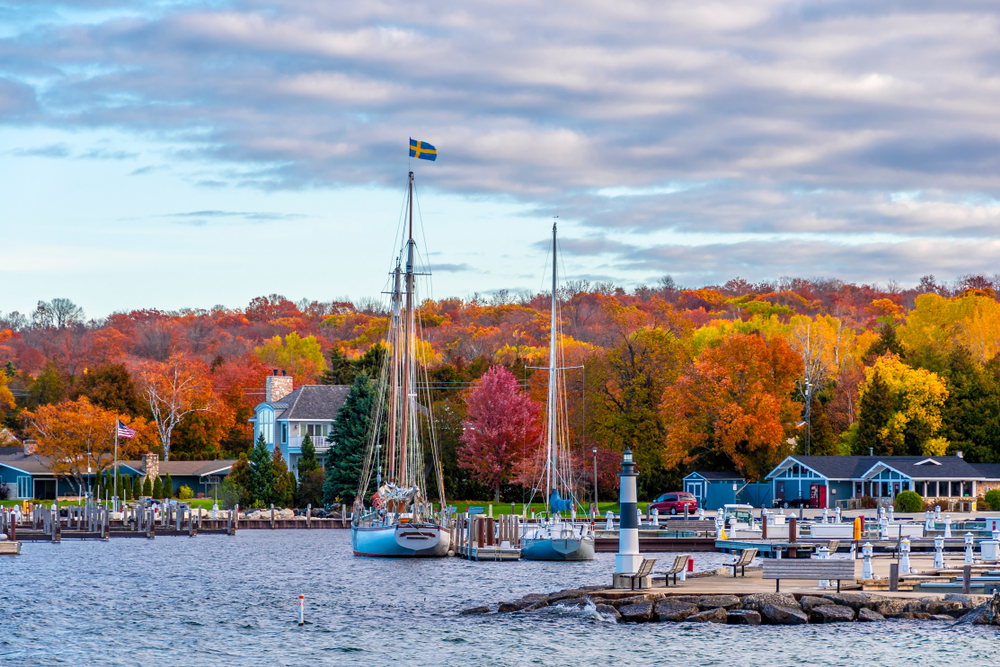 Des Moines, Iowa
When it comes to romantic getaways in Iowa Des Moines is the perfect city break location. The capital city of Iowa there are so many romantic things to do in the city.
Enjoy a Broadway show, stroll around the farmer's market, visit an art gallery, and eat at the wonderful restaurants.
This destination is one of the best weekend getaways in the Midwest!!
The Des Moines Botanical Garden is a wonderful place to visit and The Bridges of Madison County make for the perfect picture.
And for the perfect evening Iowa's oldest drive-in movie theatre, Valle Drive-In is only a 30-minute drive away.
I love the Surety Hotel it's super stylish and perfect for a weekend for two. If you are looking for couple's weekend getaways that offer a bit of everything this is it.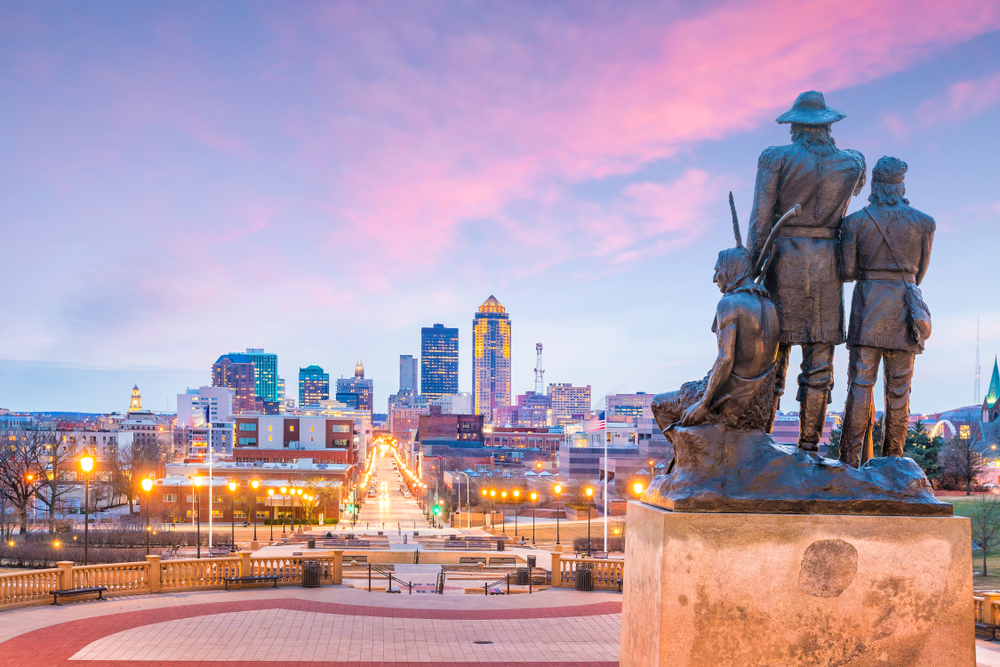 Lake Shawnee, Kansas
Looking for romantic Kansas getaways can be a bit tricky. I love the Lake Shawnee area and think it is a perfect spot for Midwest romantic getaways.
Lake Shawnee is a man-made lake in Kansas and is the perfect destination for boating, swimming, fishing, sailing, and camping.
If you are looking for weekend getaways for couples that are a little cheaper this might be it.
If you love being on the water you will love this place and if you don't there is a 1,100-acre park surrounding the lake. The lake also has a beach area and areas for tennis, baseball, camping, and golfing.
The Ted Ensley Gardens located on the west side of Lake Shawnee is a must-visit, especially in the spring and summer. Oh, and the sunsets over the lake are just incredible,
Stay at the Lake Shawnee Campground or Hotel Topeka at City Center.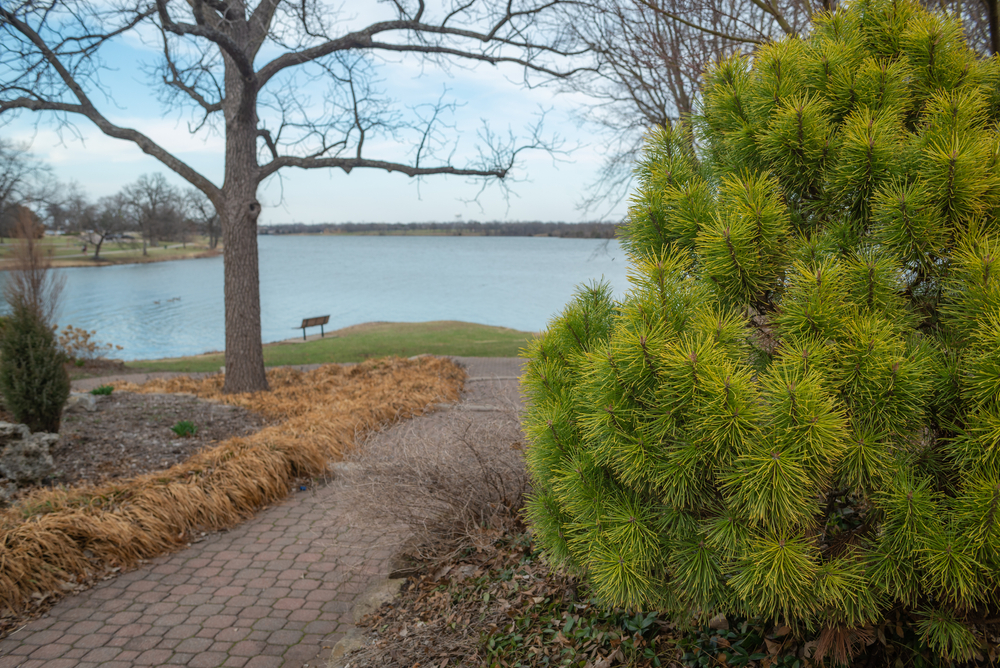 Nisswa, Minnesota
Romantic getaways in Minnesota are honestly wonderful and no place is more romantic than Nisswa. In north-central Minnesota, this small town just gives off romance.
Nisswa is charming and feels really intimate and special. The town is full of great restaurants, coffee shops, bars, and wonderful boutiques.
Make sure you check out The Chocolate Ox and the Totem Pole Boutique.
I feel like this is one of those towns you would see in a Hallmark Christmas movie, In fact, they go all out at Christmas. If you want to relax and take it easy this is the place to go.
To make your romantic getaway in the Midwest even more special stay at the Good Ol Days Resort, the lakeside cabins are simply stunning. It's the perfect place for romantic getaways for couples.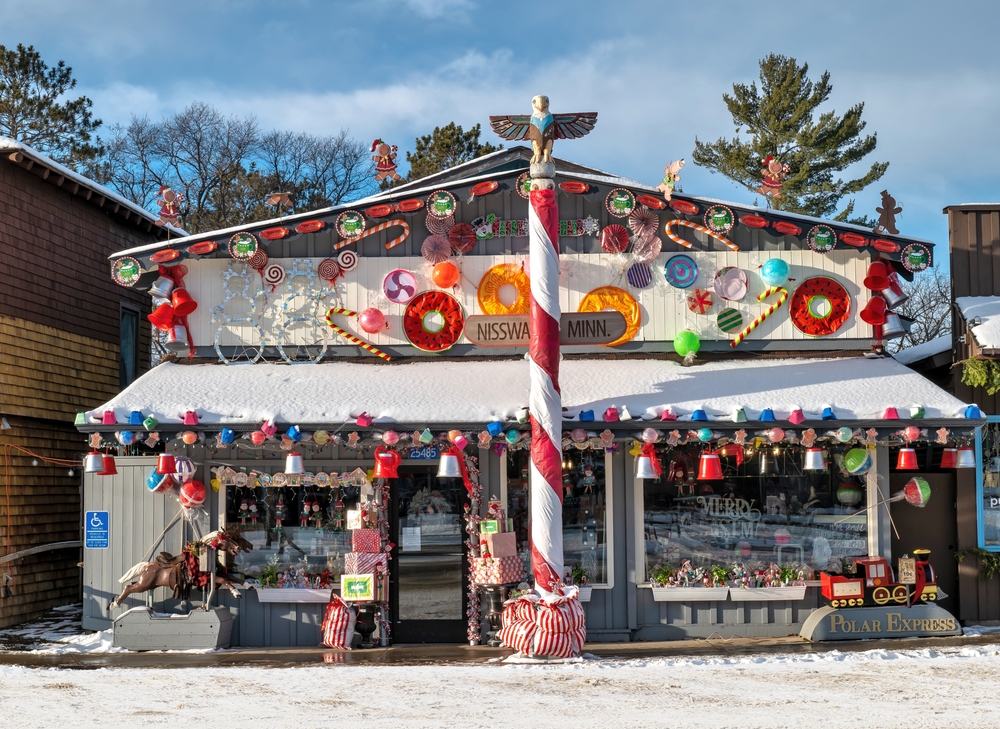 Lake Of The Ozarks, Missouri Is One Of The Best Romantic Getaways In The Midwest
When it comes to romantic Missouri getaways nothing in my mind beats the Ozarks. If you are after peace and quiet then this is the place to come.
The Ozarks is a mid-American upland region spanning 45,000 square miles covering most of the southern half of Missouri.
On the northern part of the Ozarks in the heart of Missouri is The Lake of the Ozarks.
It's one of the world's largest manufactured lakes and has more shoreline than the Pacific Coast of California, 1100 miles to be exact.
If you are an outdoor couple you will love this place as you can do anything here. This romantic weekend getaway can be as laid back or as lively as you want it to be.
A visit to one of the waterfront restaurants or bars is a must and a walk around the state park surrounding the lake will work up a healthy appetite. The sunsets are also perfect here.
The Lodge of Four Seasons Golf Resort, Marina & Spa is perfect for romantic weekend getaways.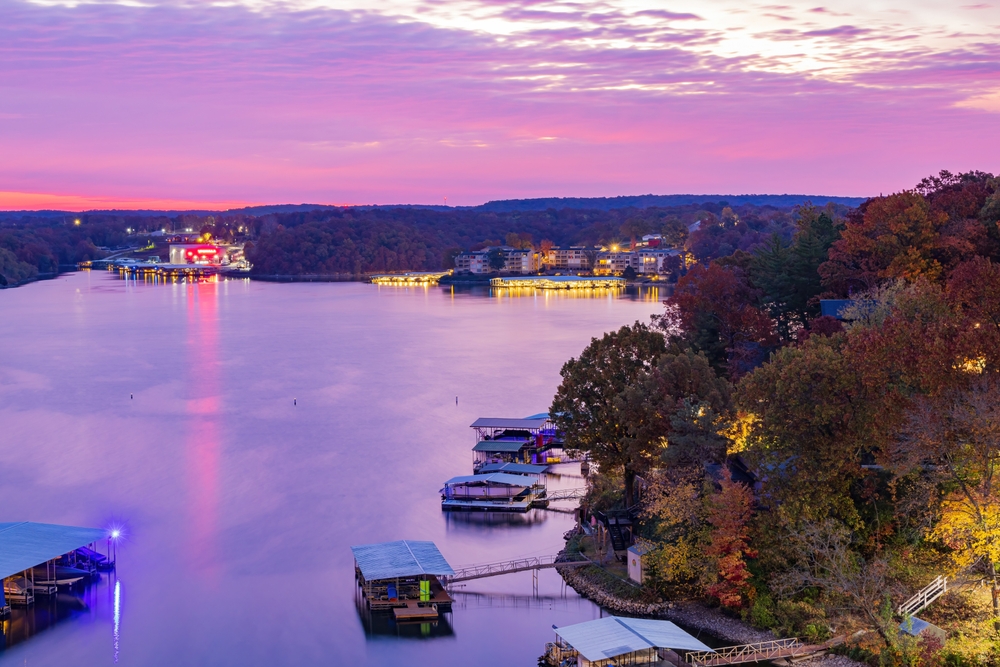 The Killdeer Mountain Four Bears Scenic Byway, North Dakota
When It comes to romantic getaways in North Dakota how about a road trip? I love a good road trip and the scenery on this one is incredible.
The Killdeer Mountain Four Bears Scenic Byway is 64 miles in length and takes you through the highlights in this state.
Highlights include Killdeer Battlefield State Historic Site, Lake Ilo National Wildlife Refuge, Little Missouri State Park, and the Badlands.
The highway begins north of Manning and then takes Highway 22 and 23 to New Town. I do think road trips are some of the best couple getaways.
Stay at Teddy's Residential Suites New Town.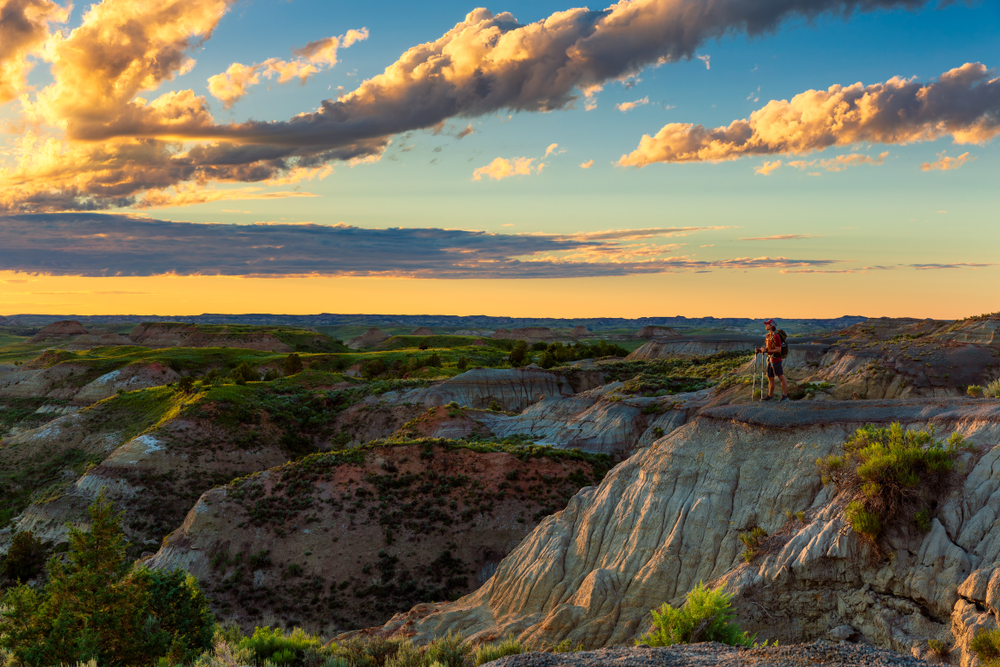 Black Hills, South Dakota Is One Of The Romantic Getaways In The Midwest
The Black Hills in South Dakota makes a perfect romantic getaway. If you are a couple who love adventure you will love it here.
The Black Hills which includes the Black Hills National Forest is an area covering 1.2 million acres with the tallest mountain Black Elk Peak rising to 7,244 feet
The area is home to five national parks and monuments, scenic byways, historic cowboy-style towns, and of course the famous Mount Rushmore. Spearfish Canyon, Deadwood, and Custer State Park are must-see places.
This area is the perfect place to catch sunrises, go star gazing, or just enjoy the scenery.
The Historic Franklin Hotel in Deadwood makes a great base.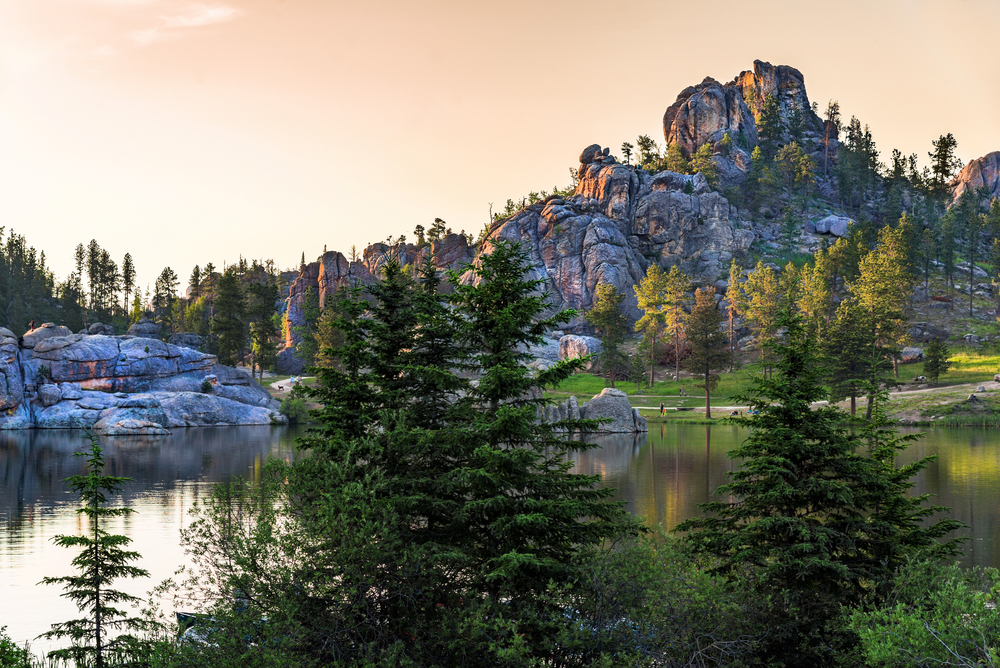 Grand Lake o' The Cherokee, Oklahoma
Situated in Northeast Oklahoma in the foothills of the Ozark Mountain Range is Grand Lake o' the Cherokee which is stunning.
What's even more stunning is the Shangri-La Resort on Monkey Island which sits in the middle of the lake.
As romantic getaways in Oklahoma go they don't get much better. The hotel has everything you could ever need including a spa, two swimming pools, a golf course, incredible food, and a fitness center.
For the ultimate romantic evening take a lake cruise, or a dinner cruise, rent a pontoon on the lake, or settle down in your own cabana by the beach bar. Alternatively, just enjoy the sunset from the gardens.
If you are looking for weekends away for couples then this place will be perfect.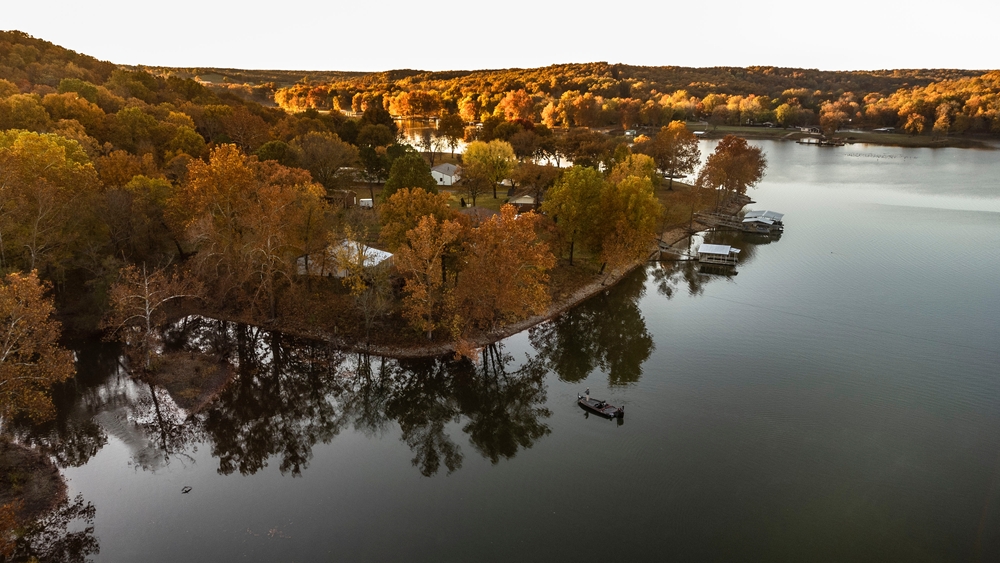 One Of The Best Romantic Getaways In The Midwest Is Mackinac Island, Michigan
Last but not least I am going to include one of my favorite places. Mackinac Island is the perfect place for romantic Michigan gateways.
On Lake Huron, this charming town has a lot to offer but the most unique about it is there are no cars on the island.
Not being able to drive is an interesting spin on a vacation but getting around by trolly, bike or horse-drawn carriage is so much more romantic and enjoyable.
On the island, you will find fine dining, unique shopping, historic sites, and exciting attractions but it's the incredible nature and sunrises and sunsets that steal your heart.
Oh and don't forget the world-famous Mackinac Island fudge.
While it makes the perfect romantic couple getaway it does take a while to get to. Only reach by plane, ferry or boat you do have to plan a bit but it's oh so worth it.
The place to stay here for a weekend getaway for couples has to be The Grand Hotel. This hotel will take your breath away.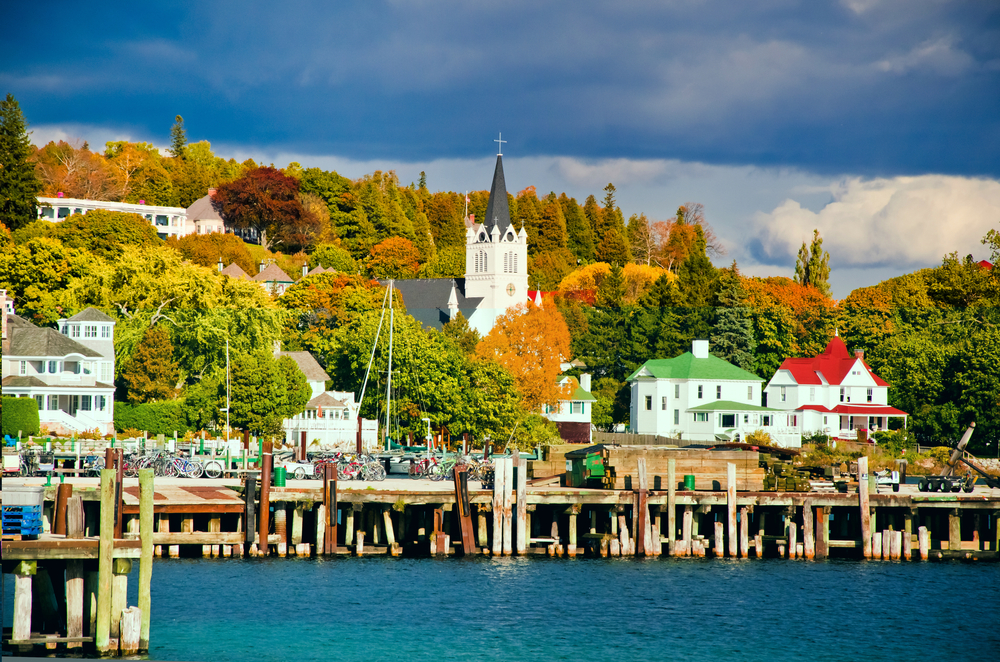 Packing List When On Your Romantic Getaways In The Midwest
If you will be traveling, either by plane or by car to the Midwest, here are some tips on how to pack lightly.
A concealed travel pouch may be one of the most important items you bring along when on your romantic getaways in the Midwest.
It is always important to protect your personal information. Identity thieves are everywhere.
This unisex RFID-blocking concealed travel pouch is lightweight and comes in several colors. It has lots of organization to give you peace of mind.
You can place it under your clothes next to your body to carry your ID safely.
If you have a pouch already that does not come with RFID protection, as I do, these RFID sleeves are the perfect solution.
This configuration comes with enough credit card sleeves that the entire family would be protected. They are slim too, so they will easily fit into your pouch or wallet.
If you are planning on taking a lot of pictures with your phone you will definitely want to consider an external charging battery.
This Anker high-speed phone charging battery is the exact one I carry with me on all of my trips.
It can be used on a variety of phones, not just an iPhone as I have. And wow is it fast!
My daughter gifted me with this FugeTek selfie stick and tripod setup for my birthday. I absolutely love it! It is made of lightweight aluminum and so easy to use.
It has Bluetooth connectivity and is a breeze to use for taking photos during your London activities.
You will want to bring your own refillable water bottle with you.
I never leave home on a trip without my Bobble filtration bottle. The 18.5-ounce size is perfect for hiking and it fits nicely in the pocket of a backpack.
The replaceable carbon filter ensures clean drinking water when you want it.
Then this collapsible silicone foldable water bottle would work well for you. Would not take up much space at all.
You will want a backpack or daypack with you to store snacks, your water bottle, phone, extra clothes, etc…. No matter the time of day or evening.
This foldable water-resistant backpack would be great.
It is very affordable and is available in many color options for you to choose from. The fact that it folds down into a zippered pouch will make it easy to pack.
As an Amazon Associate, I earn from qualifying purchases
—
As you can see when it comes to romantic getaways in the Midwest there are lots. I have chosen my favorites here but there are so many more.
Midwest getaways for couples are as varied as the states and whatever you are looking for you will find it in the Midwest.
I hope this article has given you some couple's vacation ideas and I look forward to hearing what you choose.