Are you wondering where you can get the best brunch in Kensington? You are in the right place.
There is so much to do in London and visiting Kensington should be high on your list.
Planning your trip to London last minute?
Make sure to book ahead! Hotels and tours often sell out the closer you get to your trip. Here are our top pics for London!
Top Experiences and Tours In London:
Best London Hotels:
In this article, I will walk you through some of the best brunches in London and tell you everything you need to know about eating in Kensington London.
Brunch is one of my favorite meals. Mixing breakfast with lunch items has to be one of the best inventions ever. When it comes to Kensington brunch there are so many to choose from, it really all comes down to taste and budget.
There is so much to do in Kensington it's an incredible part of London and having brunch is a great way to make sure you enjoy the sights with a full belly.
So pull up a seat, grab a snack, and let me walk you through having brunch in Kensington.
If you are looking for more places to eat in London check out my article on brunches in London.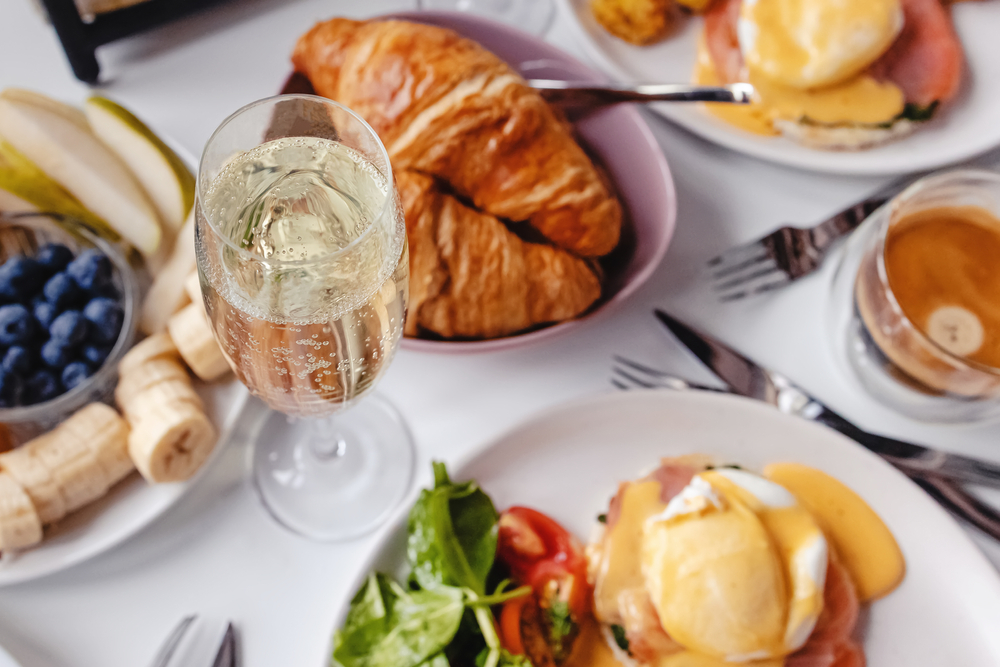 10 Places For The Best Brunch In Kensington London
Ceru, Bute St, South Kensington
If you are looking for brunch in south Kensington look no further than Ceru. This lively restaurant has a warm atmosphere and feels like a home from home.
A Levantine restaurant nestled in the heart of South Kensington it serves dishes from the vibrant region in the Middle East renowned for its diverse culinary tapestry. The menu also includes great options for vegetarians and vegans and the majority of the food is gluten-free.
Bruch here includes such items as Shakshuka with Halloumi, Tangy red pepper dip with walnuts and pomegranate molasses, and Spiced Warm Cauliflower and Walnuts. The menu isn't huge but it is perfectly formed.
It is fresh food served in an inviting and vibrant interior by people who really love sharing their culture. Kensington brunch is served her Sunday and Saturday.
The Hunter's Moon, Fulham Rd, South Kensington
The Hunters Moon is another great place to get brunch in south Kensington. It's a beloved pub in the heart of South Kensington that has a delectable Saturday brunch offering.
The menu includes items such as indulgent black pudding, bacon, and egg brioche bap, the classic Clarence court eggs on sourdough toast, and a host of other delicious offerings. They also have a Bloody Mary that serves 6 people.
Unlike some other pubs the decor here is light and welcoming and the place has a modern feel about it. Brunch is served on a Saturday and this is a great place to come for a chilled and laid-back afternoon.
This is one of the best brunches in London.
Ffiona's, Kensington Church St, Kensington
If you are looking for places to eat in high street Kensington then Ffiona's is a real gem. This vibrant local restaurant serves delicious food and has excellent brunch offerings.
This place is charming, chic, and has a relaxed atmosphere. The brunch menu is a delight it's not huge but it will satisfy most and does include some vegan and vegetarian offerings.
The French Toast here is said to be amazing and the Eggs Benedict are a firm favorite. The real hit dish here though is the sweet potato hash, with chilies and spicy chorizo sausages topped with eggs.
if you are looking for a high street Kensington brunch open Saturday and Sunday Ffiona's is for you.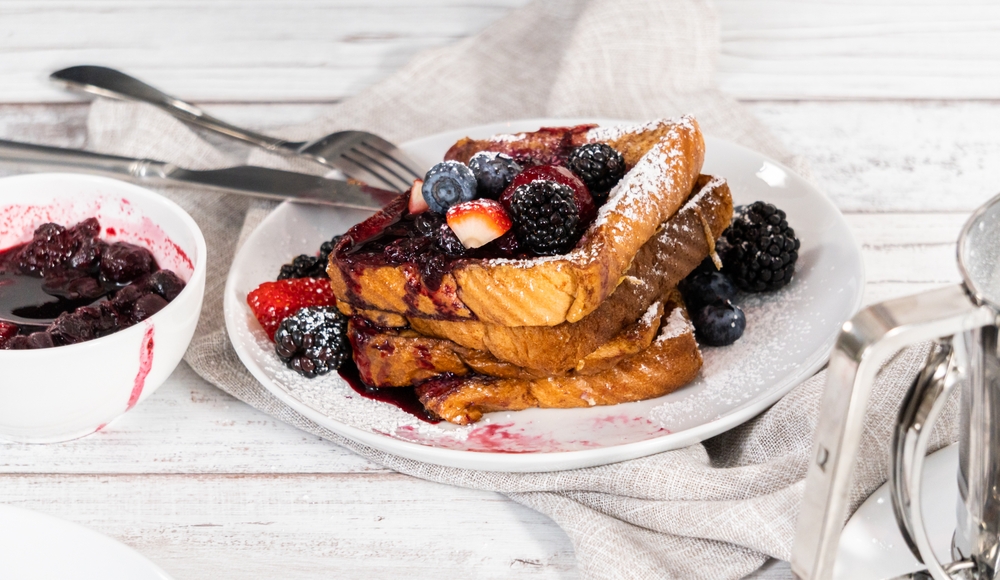 Aubaine, Brompton Rd, South Kensington
If you are looking for brunch in Kensington that Aubaine's offers a lovely offering. It's also quite a reasonable price considering its location.
The food here is delicious with the menu covering such items as eggs Benedict, granola parfait, goat's cheese salad, French toast brioche, and truffle scrambled eggs.
This is also somewhere you can have a bottomless brunch in Kensington. They offer free-flowing prosecco for £30 per person for the duration of your 90-minute dining experience.
This is a wonderfully charming restaurant that is great for a romantic brunch or a brunch with friends.
Balans, Kensington High Street, Kensington
If you are looking for the best brunch in Kensington this is one of the places to come. The legacy of Balans dates back to 1987 when they opened their first store on Old Compton Street.
They offer modern comfort food and they offer all-day brunch. The menu includes all the regular brunch items you would expect and will delight most people. Vegans with be pleased with items like potato flatbread with avocado. Lobster Benedict, eggs in hell, and proper porridge also grace the menu.
It is easy to find right on Kensington High Street. Inside it is cozy with a timeless charm and a relaxed atmosphere.
If you are looking for a High Street Kensington brunch this is the place for you.
Megan's On The High Street, High Street Kensington, Kensington
If you are looking for places to eat in High Street Kensington then Megans is definitely worth a visit. If you like your brunch in Kensington to have all the aesthetics then this is the place to go.
From the baby blue exterior to the picture-perfect interior this place has all the vibes and has made quite a name for itself.
Brunch plates include items such as loaded hashbrowns, Turkish brunch feast, and chai and blueberry pancake stack. Their brunch menu caters well to vegans and vegetarians, offering tempting options like the Vegan Brunch and Veggie Brunch.
If you are looking for a bottomless brunch in Kensington they also offer bottomless bubbles as an add-on.
Most of the cuisine is Mediterranean-inspired and people rave about how good it is. The venue is delightful, the food delicious and the location perfect. High Street Kensington brunch doesn't get much better than this.
Megans is also a great restaurant to get breakfast in Kensington.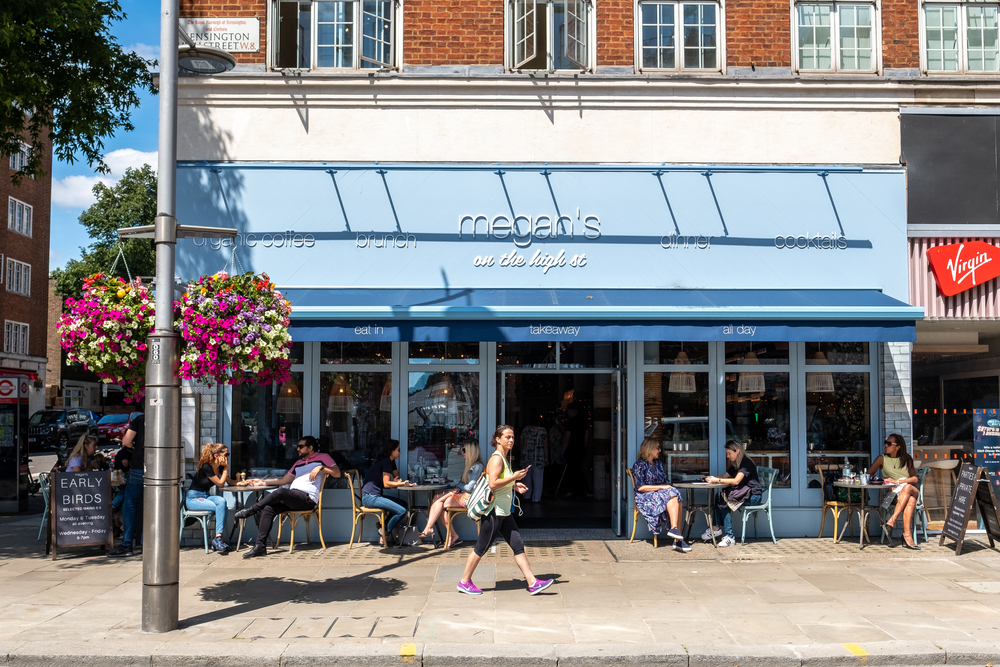 Restaurant Ours Brompton Rd, South Kensington
If you are looking for a fun brunch location in Kensington London then Restaurant Ours is the place to go. Here they offer fun-themed brunch events.
These weekend bottomless brunches are three courses with bottomless bubbles or whispering angel options. The current theme in Mama Mia.
The menu contains a good choice with some vegetarian options and it will suit most people. This is the best brunch in Kensington if you are looking for something a little different and lots of fun.
Farmacy, Westbourne Grove, London
Located in Westbourne Grove, this entirely vegetarian restaurant is the ultimate destination for health-conscious individuals seeking a wholesome and nourishing meal. The menu also includes lots of vegan options.
The booths are comfortable the ambiance is perfect and the food is fresh and delicious. it's the perfect place for brunch in Kensington.
The menu includes items such as jackfruit tacos, falafel waffles, slow-roasted beetroot hummus, and garden pizzas. Everything on the menu sounds fresh and tempting and I'm sure even the meat eaters won't complain.
All meals here are free from chemicals, additives, dairy, and refined sugars. If you are health conscious this is where they serve the best brunch in Kensington.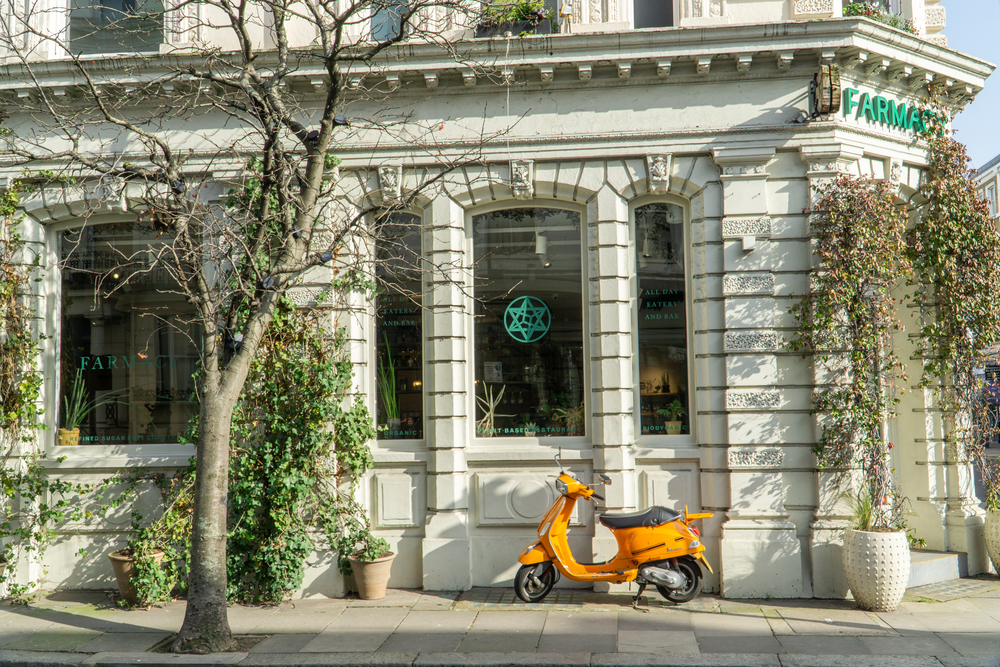 The Ivy Kensington Brasserie, Kensington High Street
Situated in South Kensington, The Ivy Kensington Brasserie offers a sophisticated and relaxed setting for brunch in Kensington. With a diverse menu that ranges from modern British classics to Asian-inspired cuisine, as well as an array of delightful vegan and vegetarian options, there's something to satisfy every palate.
This effortlessly stylish brasserie is a haven for brunch enthusiasts. This is luxurious dining at a price that will suit most and the food is always high standard.
Their All Day Dreamers Menu is served from 11.30 and the brunch menu takes over at weekends. The brunch menu changes monthly but has enough choices to suit most people. Menu items include things like Spicy Jackfruit and Roasted Peanut Bang Bang Salad, Whiskey Barrel Smoked Steak Tartare, and Eggs Benedict.
If you are looking for a special place to experience brunch in Kensington this is it. Oh and if you are looking for breakfast in Kensington they are well known for serving outstanding breakfasts here.
L'Eto Brompton Road, Kensington
if you are looking for cafes in high street Kensington that serve a great brunch then head to L'Eto. It is one of the most beloved breakfast/brunch destinations and when you visit you will see why.
It's a charming eatery that serves up delicious food. During peak times this place is buzzing so if you are going then make sure you make a reservation.
The menu contains items like Baked Plum French Toast, Hash Browns & Mushroom Eggs Benedict, Halloumi Sticks with Honey & Oregano, and Burrata Scrambled Eggs. You will also want to leave room for some of their cakes here as they are amazing.
If you are looking for a bakery in Kensington they also sell baked goods and whole cakes here.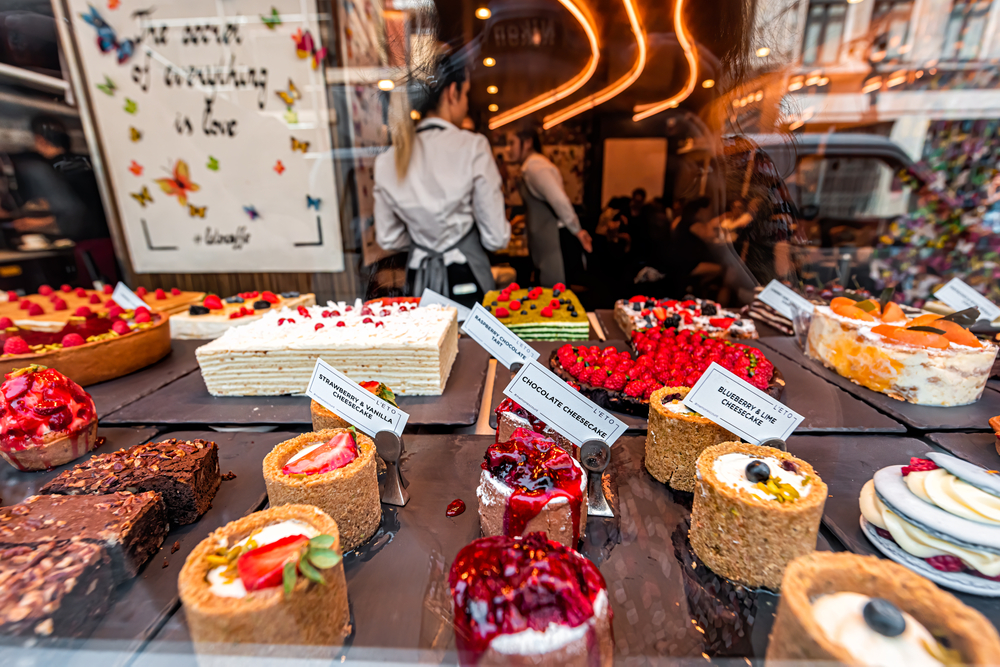 As you can see when it comes to brunch in Kensington the options are endless. Whether you choose one of the cafes in High Street Kensington or one of the more well-known brunch spots I know you will have an amazing time.
I hope you have a great time in London and please come back and tell me about your experience.
If you are planning your trip I have a 3-day London itinerary that you might want to steal.