Are you looking for unusual things to do in London? Is this perhaps a repeat visit to London and you have already seen the top tier most-visited touristy attractions?
Or maybe you are simply yearning to visit unique London spots maybe you are not aware of. Well, you have come to the right place!
Planning your trip to London last minute?
Make sure to book ahead! Hotels and tours often sell out the closer you get to your trip. Here are our top pics for London!
Top Experiences and Tours In London:
Best London Hotels:
I adore this city and love all the quirky things to do in London there are.
London is one of the most beautiful and captivating of European capital cities.
With a little research, you can dig into the heart of the city and find what the locals do and where all the cool places to visit in London really are!
And that is exactly what I have done for you here: I have shared my favorite unusual things to do in London to tempt you to discover and explore London's many, maybe not so well-known, locations.
Here are some of my top tips on remaining healthy while you travel to London
20 Unusual Things To Do In London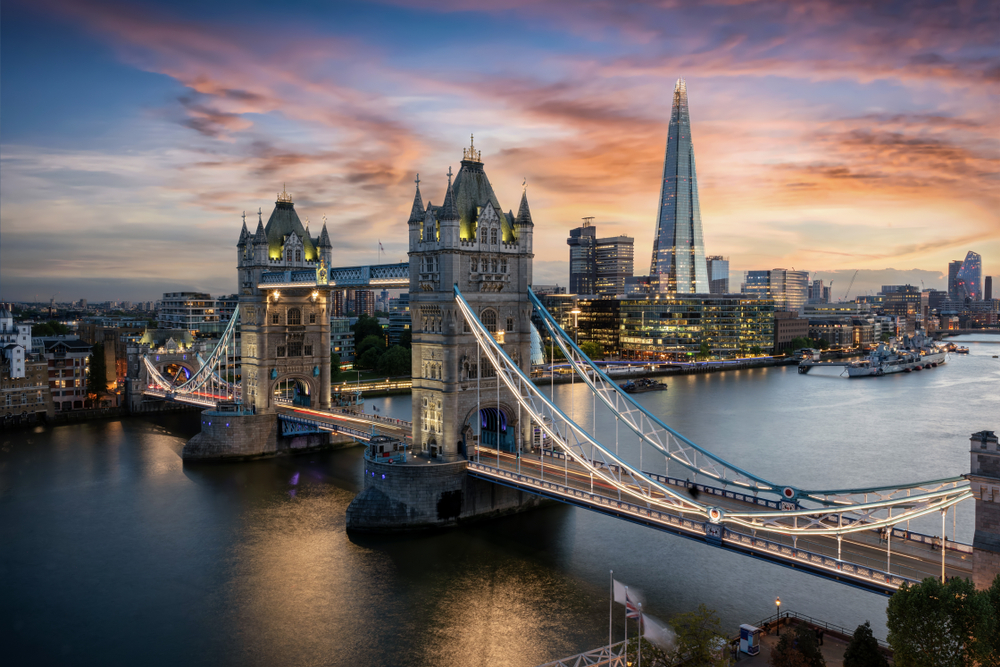 Enjoying Beautiful Views of London At Sky Garden Is One Of The Unusual Things To Do In London
Sky Garden is one of the more unusual places in London to visit. It is a very exceptional public space that is three stories tall and offers 360-degrees of uninterrupted and stunning views of London.
While this quirky thing to do in London is free, you do have to sign up for tickets in advance online. A limited number of tickets are issued for each day, and there is lag time online, so make sure to sign up early.
You can try your luck without tickets, but the line is long for admittance and there is no guarantee you can get inside at all.
If you do make it inside, you will find scrupulously manicured and tended to botanical gardens on all three stories at Sky Garden.
And of course, the absolute finest views of London all the way around! There are three upscale restaurants to dine at and two bars for cocktails.
Consider reading these next:
What To Do In London For Three Days
7 Things To Know Before Your First Trip To London
11 Beautiful Places In London You Should Not Miss
The Ultimate 1 Day In London Itinerary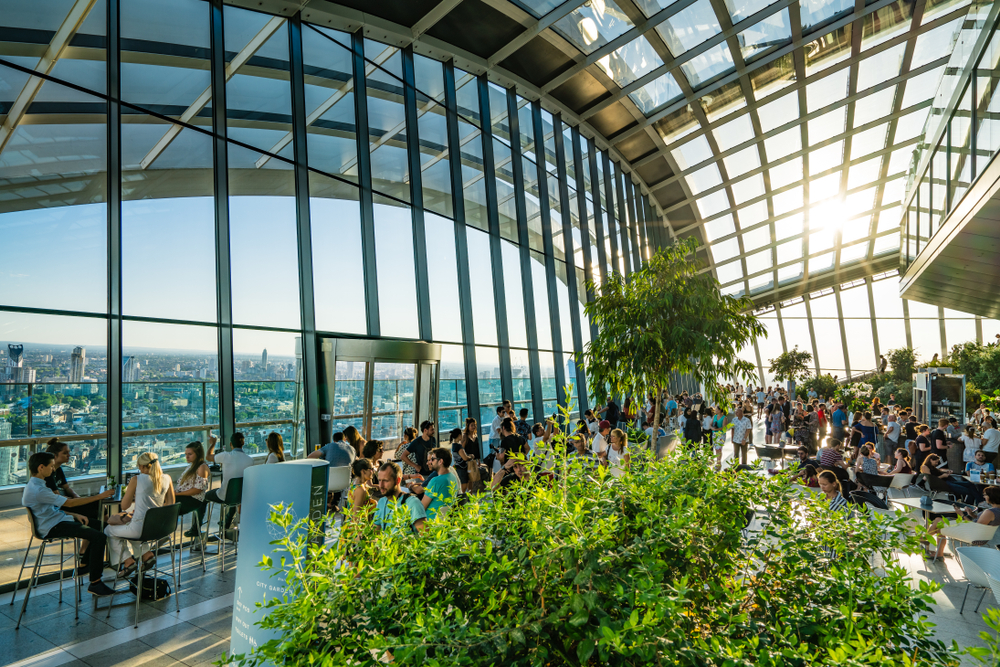 Look here: London: Big Bus Open-Top Hop-on, Hop-off Sightseeing Tour
Look here: London Explorer Pass
Look here: The Original London Hop-On Hop-Off Sightseeing Bus Tour
Leadenhall Market Is Magical And One Of The Cool Things To Do In London
Leadenhall Market is a covered market in the financial district of central London.
Its ornate roof, painted green, cream and maroon, along with its cobbled streets will make for a magical visit.
It is a very popular tourist destination in London, so you will not be alone.
What makes Leadenhall Market one of the unusual places to visit in London is that it has been the backdrop for several movies.
Most notably Harry Potter, and even had a marathon run through it. You can see why visiting it has made the list of unusual things to do in London.
You might decide to visit for lunch or a snack because the market sells fresh foods of all kinds along with fresh flowers to brighten up your day!
What a unique thing to do in London!
Look here: Magical London: Harry Potter Guided Walking Tour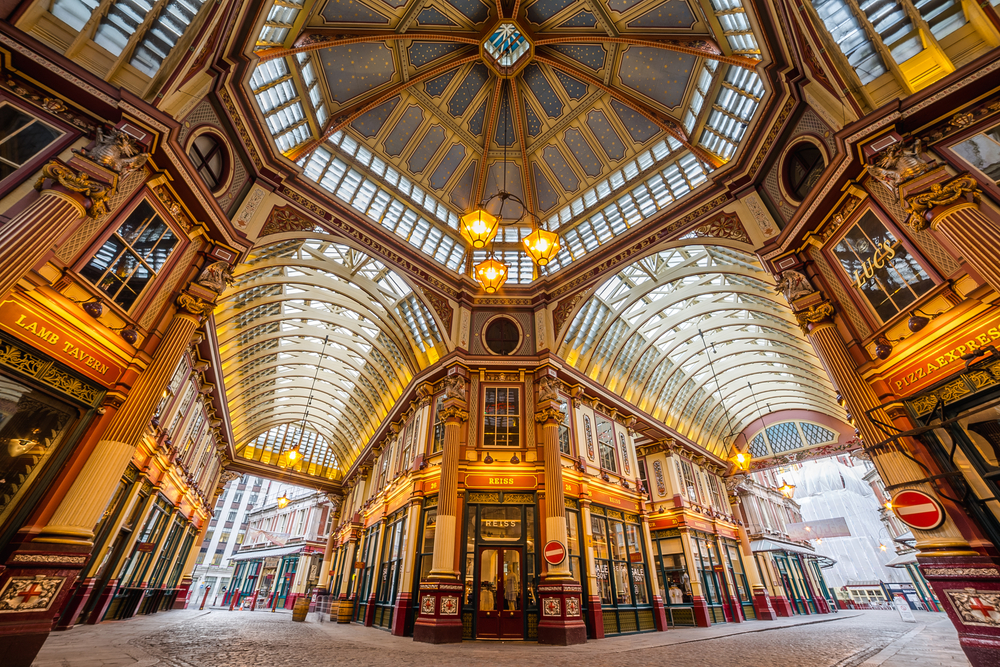 Visit The Royal Exchange For Some History
Located in the heart of London's financial district, the Royal Exchange building is trapezoidal in shape. It was twice destroyed by fire, and the current building was designed in the 1840s.
Today, the Royal Exchange is a shopping and dining destination and one of the more unusual places in London to visit.
With boutique shops and dining, visiting this historic location is one of the cool places in London to visit.
Here is a London Paris itinerary to consider if you will be visiting both capital cities during the same trip.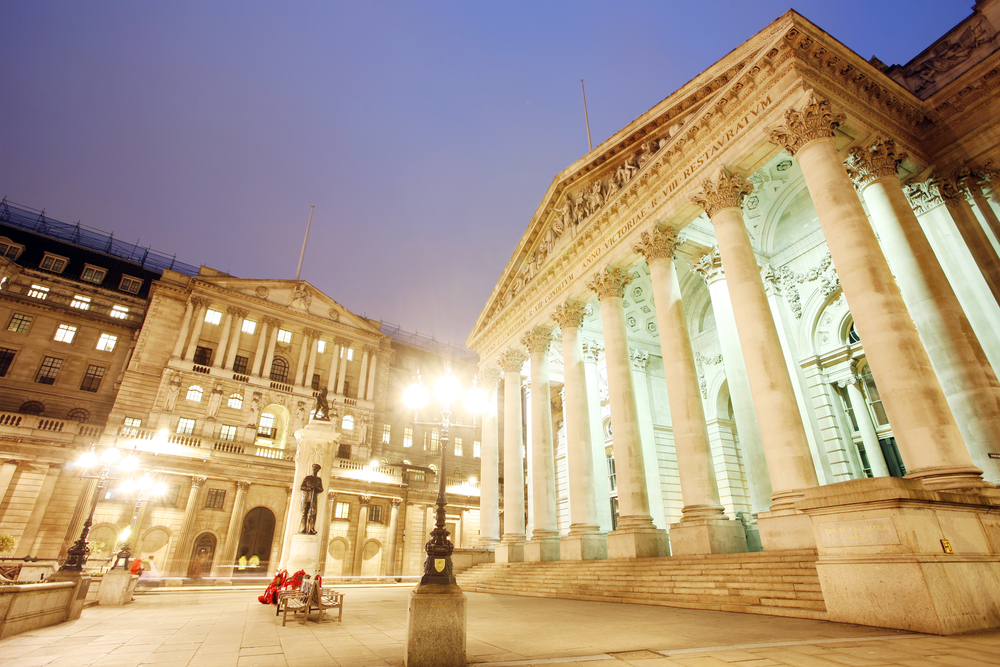 The Royal Exchange building in the financial district of London.
Neal's Yard Is One Of The Secret Places In London You Might Just Pass By
One of the true hidden gems in London is Neal's Yard. Many people are not even aware of it.
A stylish little courtyard adjacent to Covent Garden, Neal's Yard is one of the beautiful places in London to stop and take a picture or two. Until recently, it was full of garbage.
Now it has been renovated into the popular location it is today, making it one of the best things to do in London with teens.
It is worth the visit to see the flowers and ivy-covered walls of the colorful shops. and buildings.
Full of independent shops this stylish London attraction has enough to interest anyone.
There are chic eateries and pubs to discover. World-famous Neal's Yard Remedies offers all things organic for the body and skin.
Good for people-watching, picture taking or eating, visiting Neal's Yard for an afternoon stroll or an evening out Is one of the unusual things to do in London.
If you will be in London for an extended amount of time, look at this ultimate 5 days in London itinerary for everything you need to know!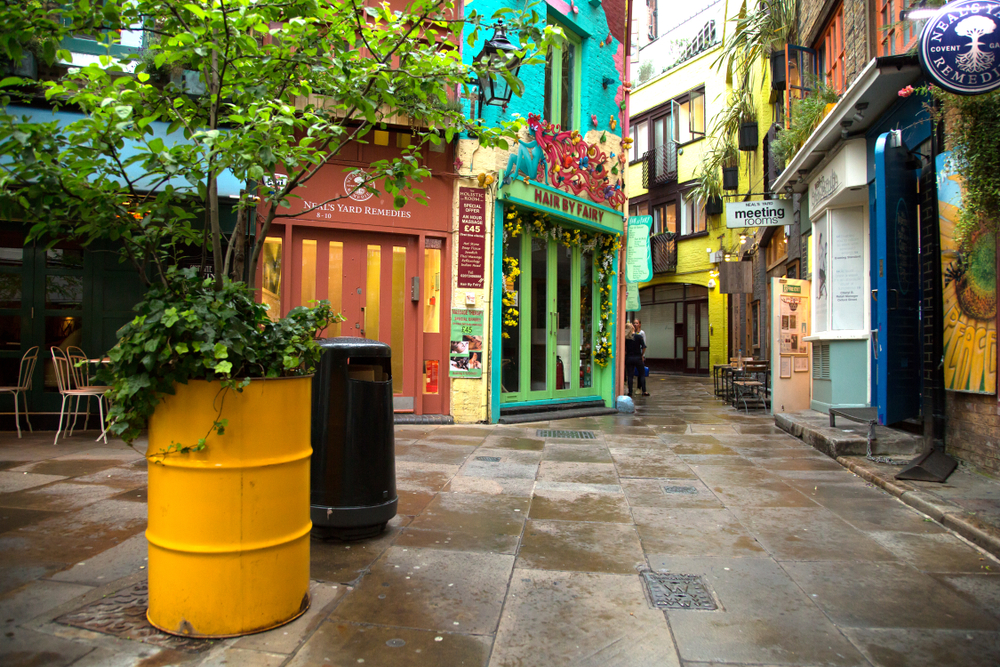 Walk, Hike Or Bike The Line
What is The Line? It is London's first contemporary art walk.
Opened in 2015, it runs from Greenwich Peninsula (The O2) to Queen Elizabeth Olympic Park (North Greenwich to Stratford.) The Line Hike is three miles as the crow flies.
However it meanders along the London waterways of the River Thames, so that adds distance, making this one of the more unique places to visit in London.
Set up as an outdoor urban exhibition space, modern and contemporary art is displayed for all to view.
If you do not have much time in London, this 3 day London itinerary is perfect to look at!
It is possible to hike, bike or walk the entire trail. You can do it all at once or visit different parts of it at different times.
Enjoying The Line is free. However, there are two areas that have fees: the first is a cable car that takes you over the Thames River for a birds-eye view. Secondly, a DLR railway station is close by.
There is a slew of restaurants, bars, and cafes at various locations on The Line or very near it.
Viewing modern art while walking along the River Thames is certainly one of the more unusual things to do in London.
FYI: The Line is a Community Interest Company that thrives on donations from the public who visits. Please give it you are able.
Look here: Climb The Roof of The O2 Arena
See The Greenwich Meridian Where You Can Be In The Same Place But At Different Times
What is this you may be wondering? The Greenwich Meridian is the actual line of the earth that separates east from west. This is the same way that the Equator differentiates north from the south.
It is an imaginary line that marks zero degrees longitude. It is significant because Greenwich Meridian is the starting point of every time zone in the world!
It is definitely one of the more unusual things to do in London!
Look here: River Thames Hop-On Hop-Off Sightseeing Cruise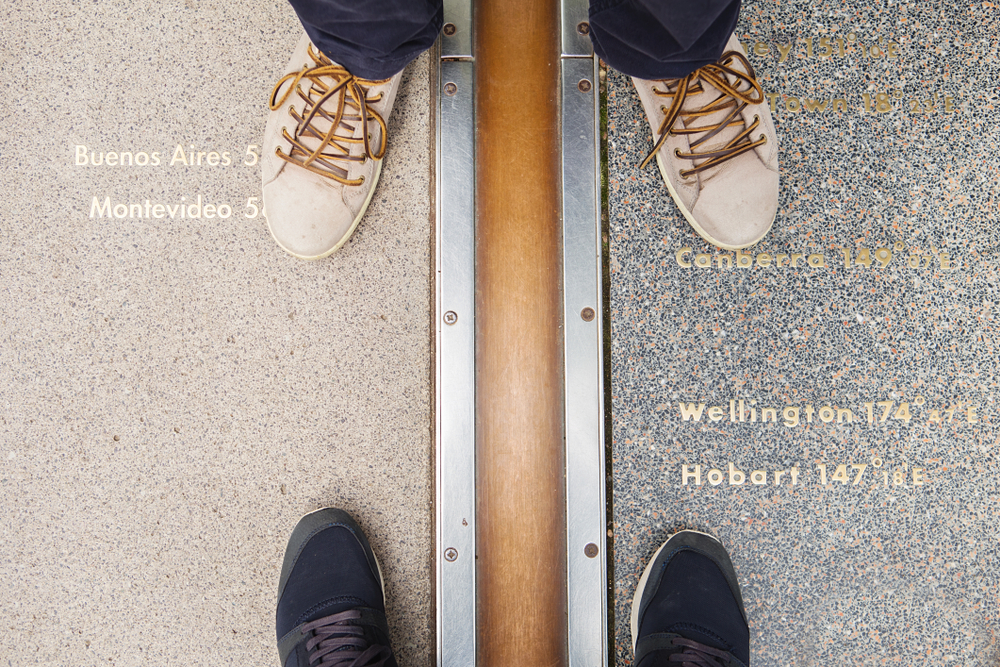 Tickets here: Westminster to Greenwich by the Thames Barrier: River Cruise
Tickets here: Royal Observatory Greenwich Entrance Ticket
One Of The Unusual Things To Do In London Is To Walk Under The River Thames!
One of the really unusual places to visit in London is the Greenwich Foot Tunnel.
It was completed in 1902 and last renovated in 2012. The Greenwich Foot Tunnel was constructed originally to replace the unreliable and expensive ferry service at the time.
It was used to transport workers to their jobs.
Today entrances on both sides of the River Thames have glass domes and spiral staircases making climbing into and out of it more manageable.
If you want to take a brerak from the big city there are many day trips from London by train!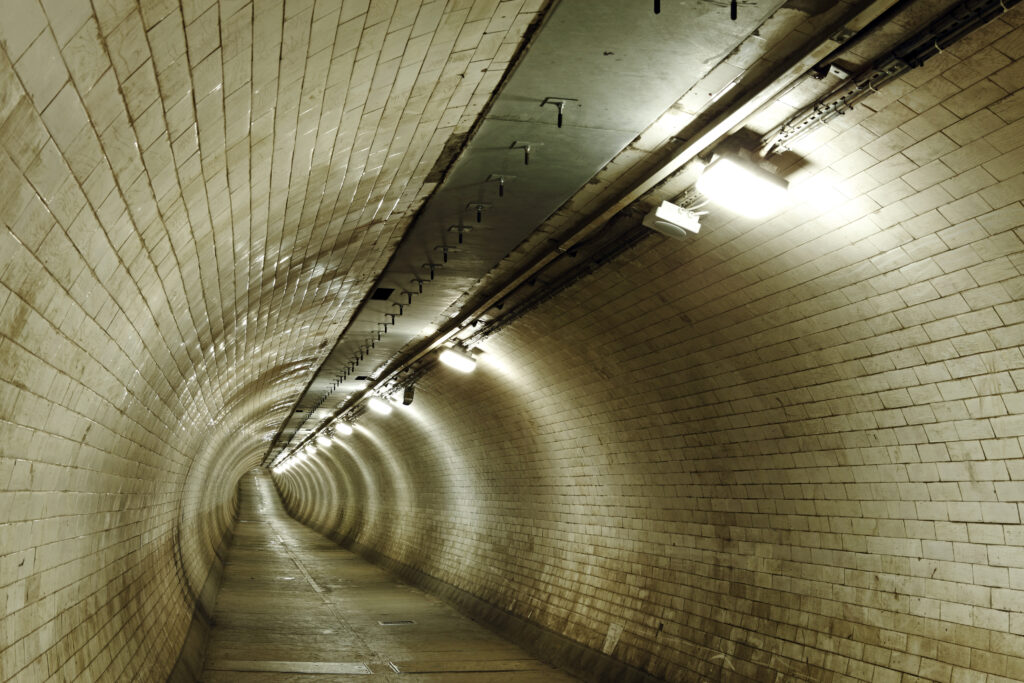 One of the unusual things to do in London is to walk under the Thames River!
Look here: The London Eye
Grab an Instagram Picture On The Tulip Stairs
One of the hidden gems in London, is really only a few tube stops away. Located in the Queen's Palace in Greenwich, you will find the Tulip Stairs.
Hailing from the seventeenth century, visiting the Queen's Palace is like stepping back in time. And admission is free.
The ornate blue Tulip Stairs are an architectural wonder. They have the distinction of being the first geometrical self-supporting spiral staircase built in Great Britain.
This is really one of the cool places to visit in London.
Look here for 20 fab hidden gems in London you do not want to miss seeing!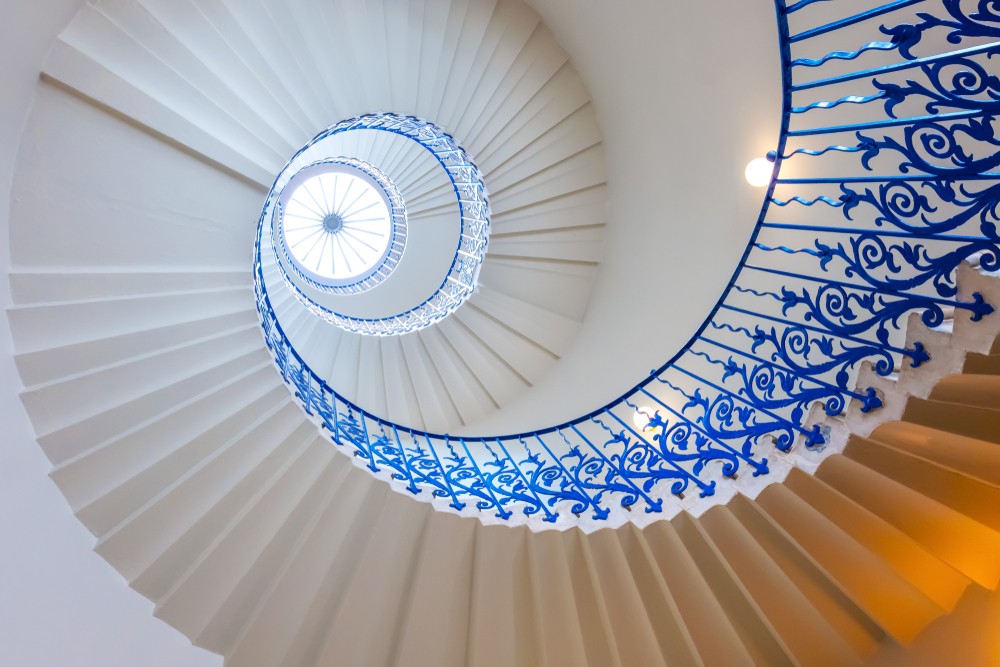 Visit Little Venice And Walk The Canals
Venice in London? Yes, sort of. The residential neighborhood referred to as "Little Venice" is located where the Regent's Canal meets the Grand Union Canal.
At that location, a small group of waterways is formed and given the name of Little Venice. Visiting here is certainly one of the more unusual things to do in London.
There are lots to do and see in London's Little Venice. You can take a boat ride down the canals from April to November. Or walk along the waterways exploring Regent's Park or the London Zoo.
Rembrandt's Gardens is also one of the unusual places to visit in London and can be accessed from the strolling canals in Little Venice.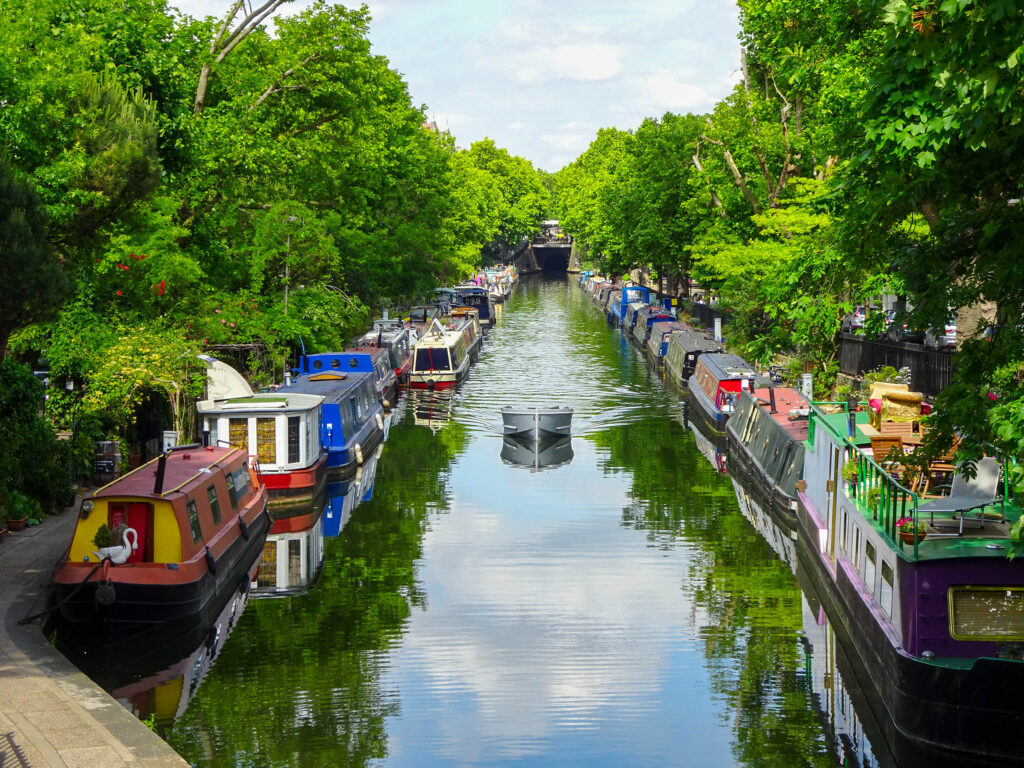 Look Here: Little Venice Waterbus Boat Trip To Camden
Look here: Tower of London and Crown Jewels Exhibition Ticket
Look here: The Wonders of Little Venice: London City Exploration Game
Visit Saint Dunstan-In-The-East Church Garden
Located on St Dunstan's Hill, halfway between London Bridge and the Tower of London is the Saint Dunstan-in-the-East parish church. It is one of the pretty London attractions not to miss.
This Church of England/Roman Catholic church was destroyed during World War II and in 1967 it was decided to turn the ruins into a public garden which opened shortly thereafter.
Landscaping and a fountain were installed to add to the charm of the Gothic-inspired building and its grounds. Occasionally open-air services and weddings are conducted there.
Visiting Saint Dunstan-in-the-East is really one of the unusual things to do in London.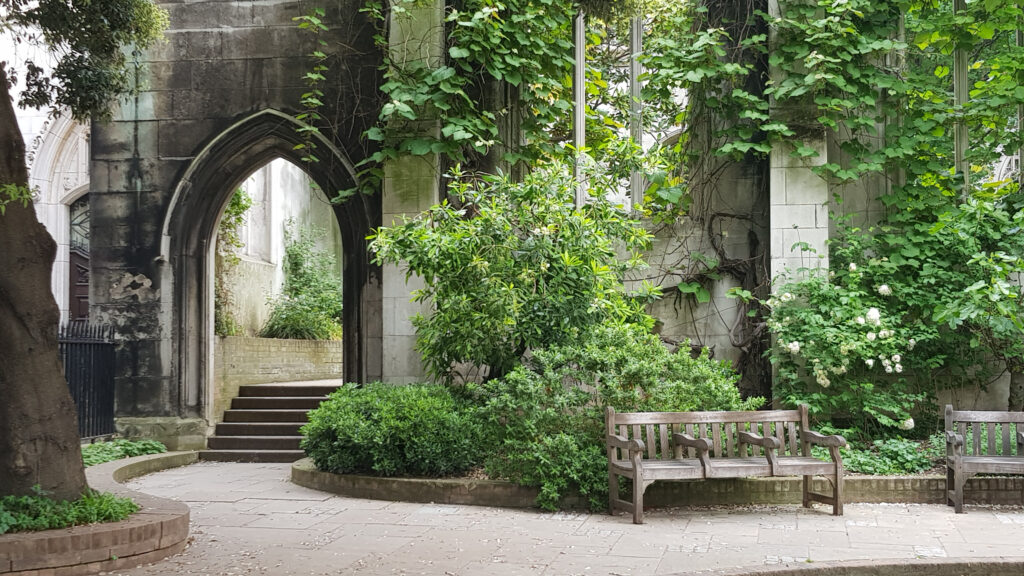 Saint Dunstan is now a beautiful park.
Look here: Day Trip From London To Stonehedge
The Hide Bar
Open since 2007, The Hide Bar prides itself on offering locals and tourists alike sustainably sourced and locally produced cocktails and brews.
Using some of the best ingredients from around the world to begin with, this local hangout is chic and comfy at the same time.
Just about every drink on the Hide's menu is produced within London and that is an amazing feat!
Their menu is a step above traditional 'bar' food, and I especially appreciated there were vegan and vegetarian options to choose from.
Having a pint or a cocktail, and maybe some lunch or dinner at The Hide is one of the unusual things to do in London.
Look here: View from the Shard Entrance Ticket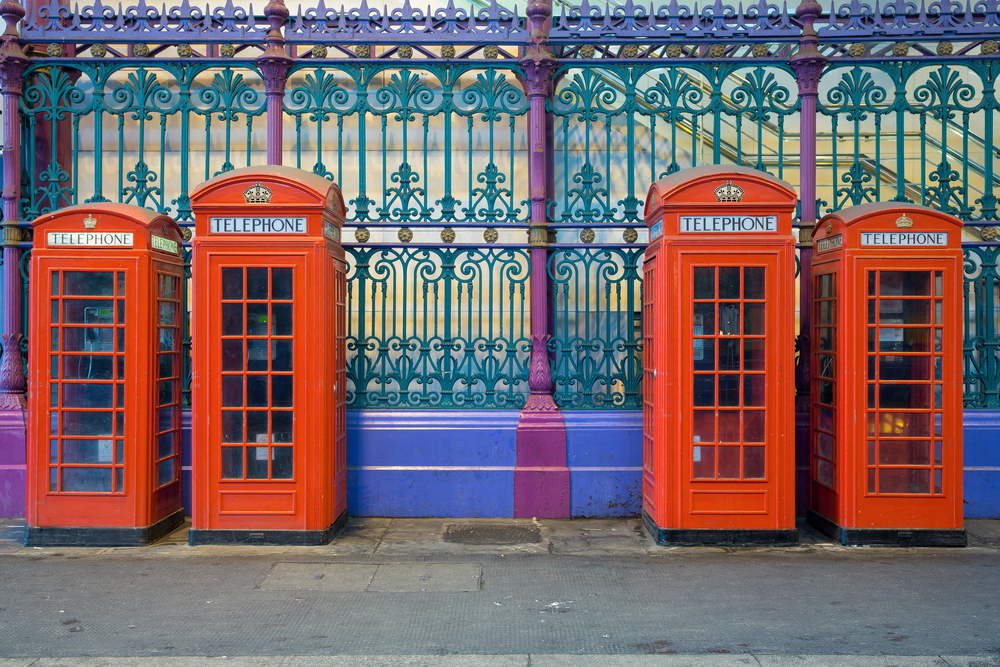 The iconic red phone booths in London.
Imperial War Museum
If you are in search of one of the unusual places to visit in London this is it!
Most of the museums in London have free admission and the Imperial War Museum is one of them!
Founded in 1917, the original purpose of the Imperial War Museums was to record the war efforts and sacrifices of Great Britain during World War I.
However, that original goal has been expanded to include all military conflicts that Great Britain has been involved in since 1914.
When you visit you can view personal and official war documents, photographs, movies, and videos. On the grounds, you will also find various examples of military vehicles, aircraft, and war artifacts.
If you are an avid history buff, and even if you are not, one of the unusual places to visit in London is the Imperial War Museum.
Look here: The London Pass with Access to over 80 Attractions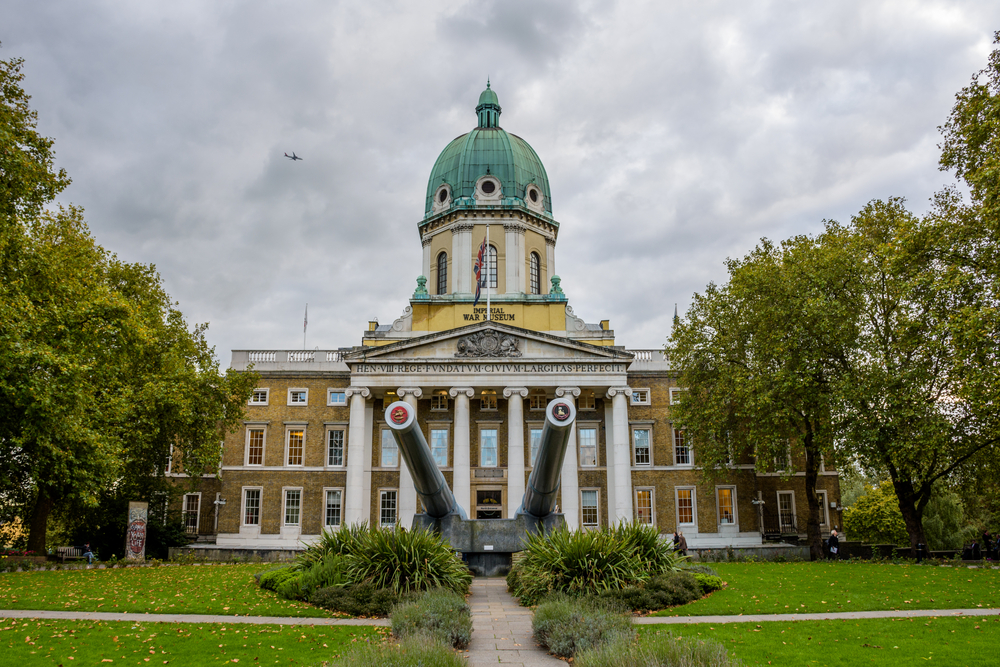 Cannons guarding the entrance of the Imperial War Museum.
Learn About London By Visiting Her Neighborhood Markets
A great way to experience authentic London attractions is to visit where the locals and tourists alike go. The sights, sounds, and smells of London will greet you at these local markets:
Camden Market is huge with lots of vendors selling everything under the sun. There are quite a few restaurants and bars to refuel and rest at.
You may have heard of Covent Market. It may be the best-known market. It started out as a fruit market but now it is chic and trendy along with its shops and restaurants.
There are so many things to do in Covent Garden, so plan to stay awhile!
The North Hall sells crafts, jewelry and more all made by British craftsmen/women.
The world-famous gourmet Borough Market is made up of more than one hundred stalls with vendors and suppliers from all over Britain selling their wares including food and pastry.
There are other stalls that sell items from all over the world.
One of the best things to do in Shoreditch is to visit the markets there as well.
Whichever of the London markets you choose to visit it will certainly be one of the interesting and unusual things to do in London to learn about the city and how it works!
Look here: Discover Camden with a Local Host
Look here: London Street Markets: 3-Hour Private Guided Tour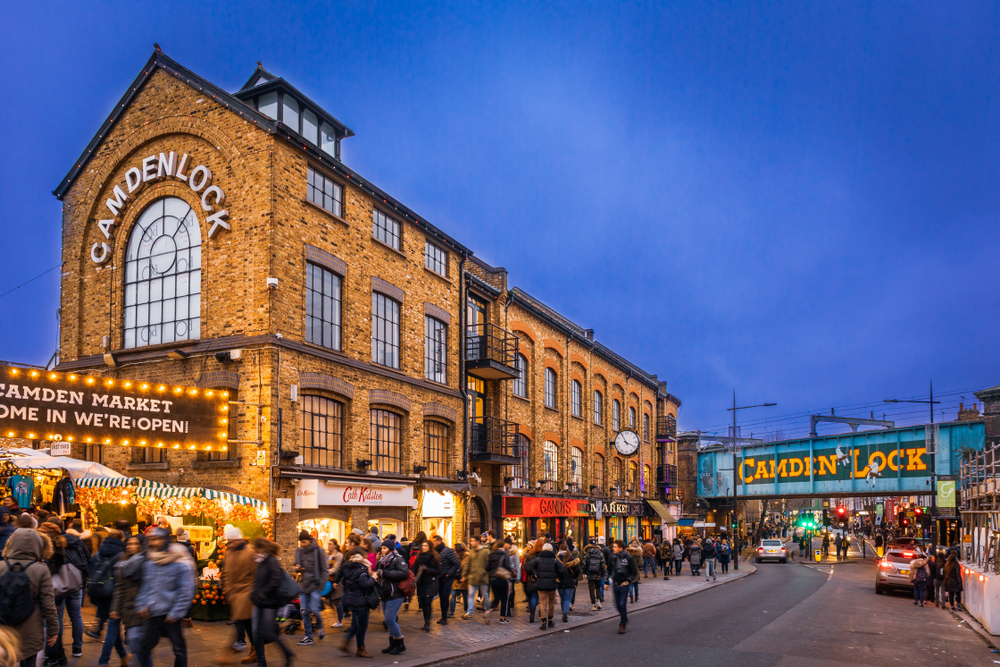 Eat Your Way Around London
A really cool yet unusual thing to do in London is to eat your way around town while learning about British food, culture, and history.
Food tours, in the London neighborhood that interests you, is an excellent way to experience Great Britain while eating and drinking at the same time!
This is a unique thing to do in London with great benefits!!
Look here: London: Afternoon Tea Bus Tour
Look here: London: 3-Hour Secret British Food Tour
Look here: 3 Palaces Guided Walking Tour & High Tea
Look here: Magic of London Tour with Afternoon Tea at Harrods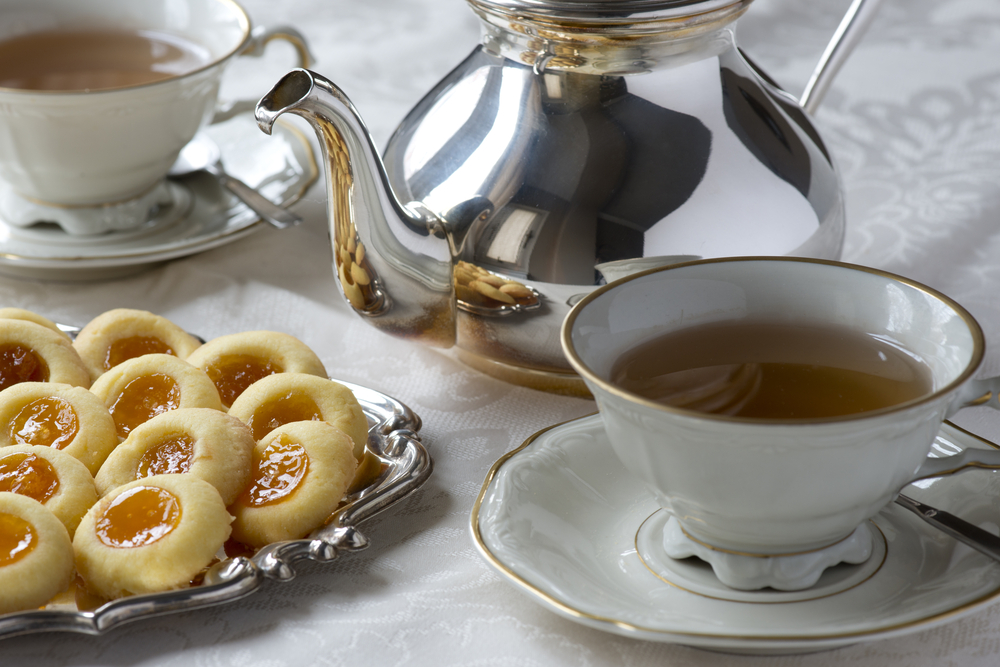 Tea and biscuits in London anyone?
Visit the Unique London Attraction The Warped Window In St Martin's Church
An unusual thing to do in London is view the window exhibit at St Martin in the Fields church.
The church is located in Trafalgar Square, where you can find this extraordinary window.
The current one replaces the one that was destroyed during the World War II bombing of London. It is plain, yet its contemporary flavor is a bit out of character in the stylish and ornate church.
Looking at the window closely, you will find both horizontal and vertical lines which form what appears to be a cross with an opening in the middle.
That allows light to enter, thus lighting the interior of the church.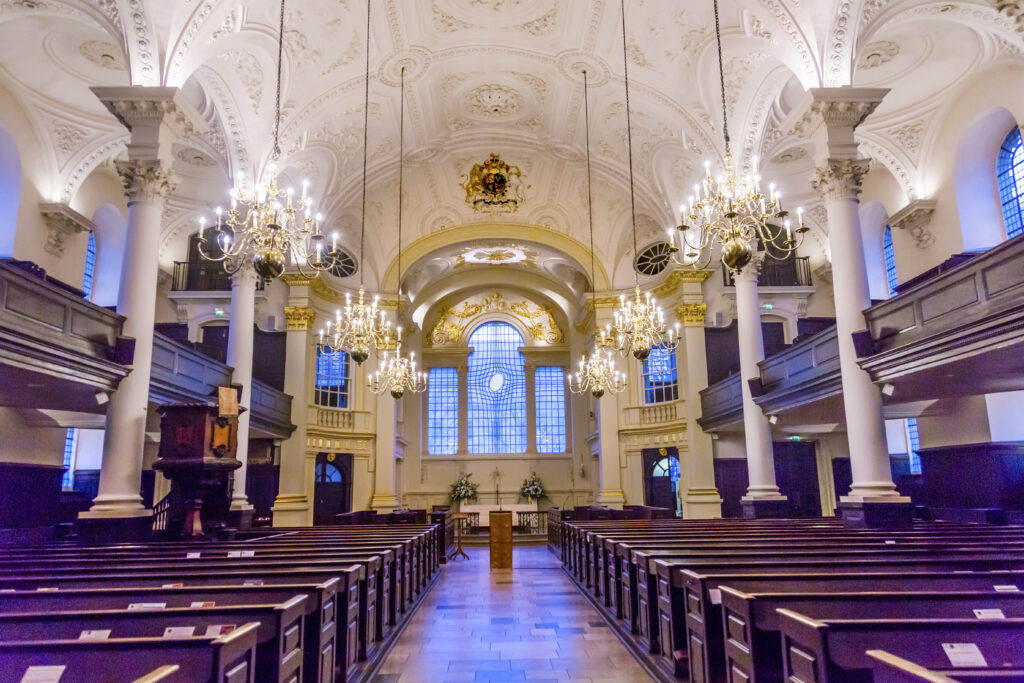 This is certainly one of the most thought-provoking hidden gems in London.
Visit Churchill Arms A Very Unique Thing To Do In London
What makes this unusual thing to do in London is that the building itself is spectacular. And it houses an eclectic pub and restaurant.
However, if you hit this cool place to visit in London at the right time of year, you will find it literally overflowing with blooming flowers.
Also, it holds lots of Winston Churchill memorabilia.
Rumor has it that Churchill's grandparents visited the pub frequently.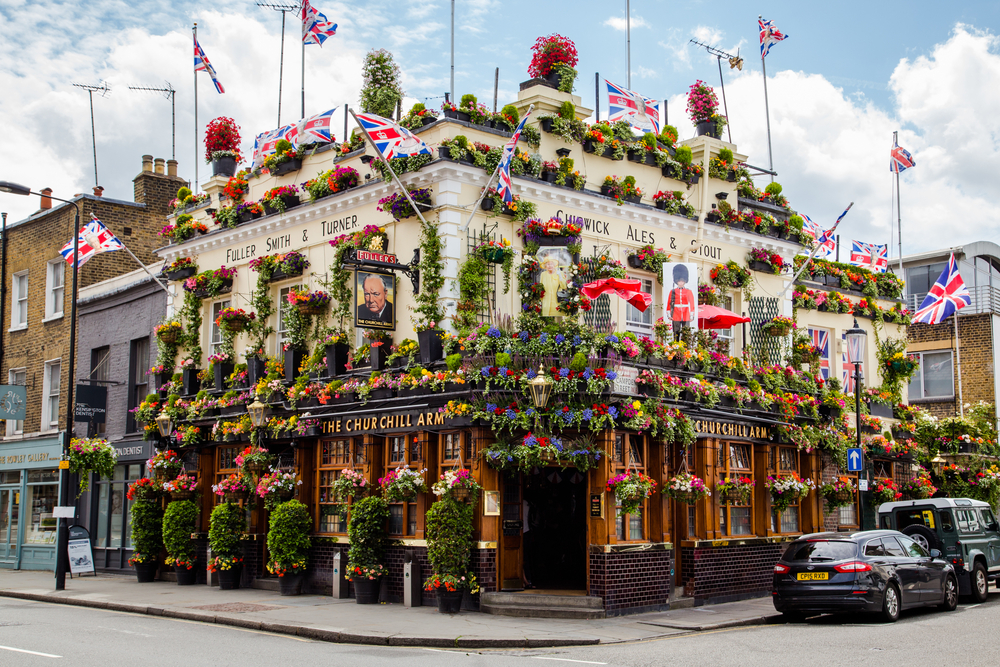 Prepare To Be Wowed Viewing The Painted Hall
This is one of the cool places to visit in London for the wow factor!
It is located in the Old Royal Navy College, in Greenwich, and its ceiling is nothing short of a masterpiece.
James Thornhill painted it over 300 years ago. However, it recently was carefully restored.
It is now reopened to the public but there is an admission fee.
The price to restore the Painted Hall is equivalent to eleven million American dollars.
You can rent audio or video guides. There are cushioned reclining seats to use to admire the exquisite Baroque-inspired ceiling.
There is a gift shop and cafe nearby as well.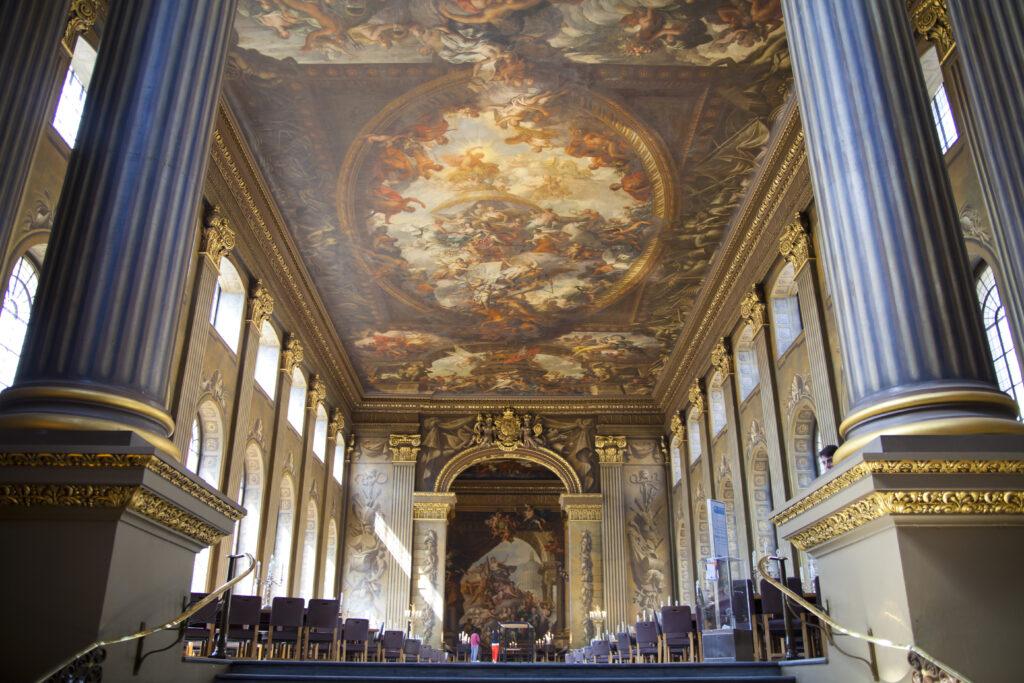 Visit London's Silver Vaults For Souvenir Shopping
Doing business since late 1802, the large subterranean market known as London Silver Vaults has 40 shops that sell everything silver.
Coincidentally, all of the forty shops are owned by the same families for the past 40 years.
It is located directly under Chancery Lane, and the vaults have never been broken into. They even withstood a direct bombing during World War II without being damaged.
A visit to the Silver Vault is quite an unusual thing to do in London.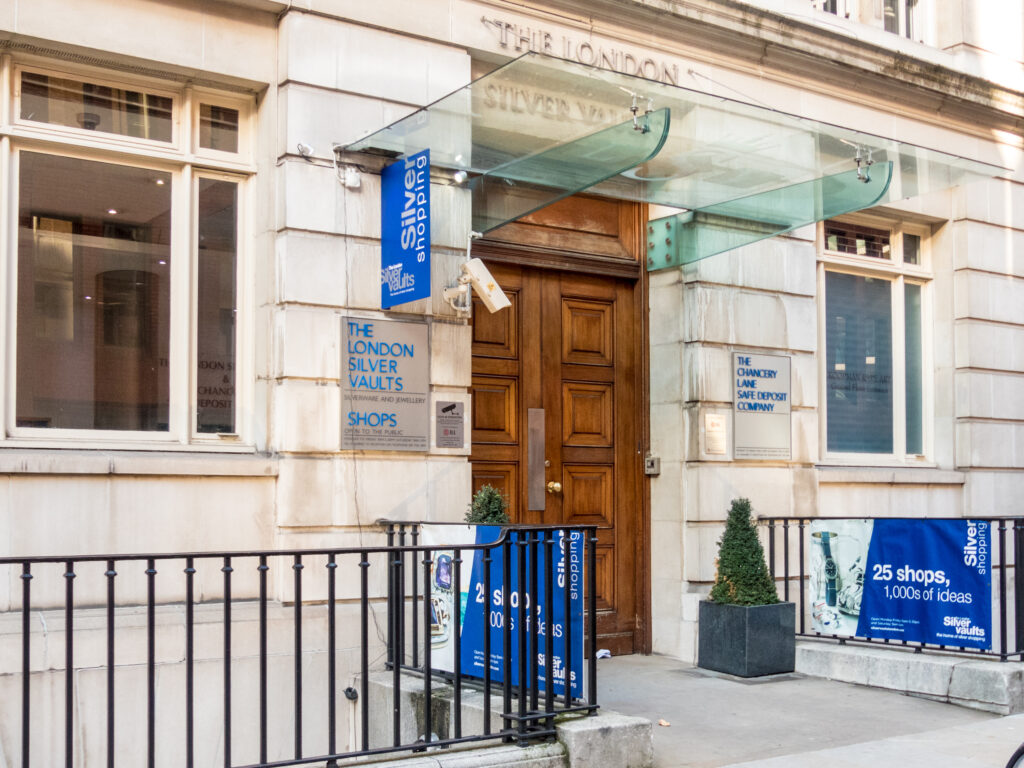 Kyoto Gardens Is A Cool Thing To Do In London
There is a tranquil Japanese-inspired garden found in the middle of London.
You can find this beautiful garden in Holland Park in the Borough of Kensington.
It is a gift from the people of Japan celebrating the relationship between the Japanese and the people of Great Britain.
It is gorgeous and one of the most peaceful places to visit in London.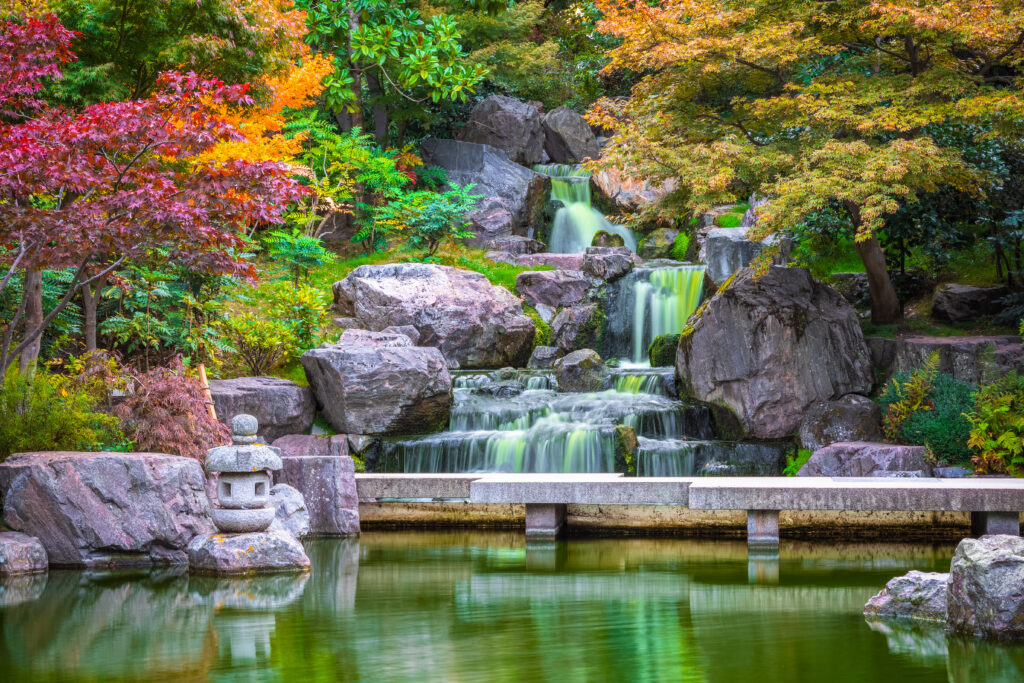 Visit The Old Curiosity Shop
No one really knows if this literary landmark and the sixteenth-century shop were Charles Dicken's inspiration for the novel of the same name.
It is said that Dickens paid a visit to the little wood-timbered shop a few times. Perhaps he did receive inspiration for his writings.
Today this curious place in London sells upscale men's and women's shoes. After 500 years, it is still open for business. It is one of the more unusual things to do in London.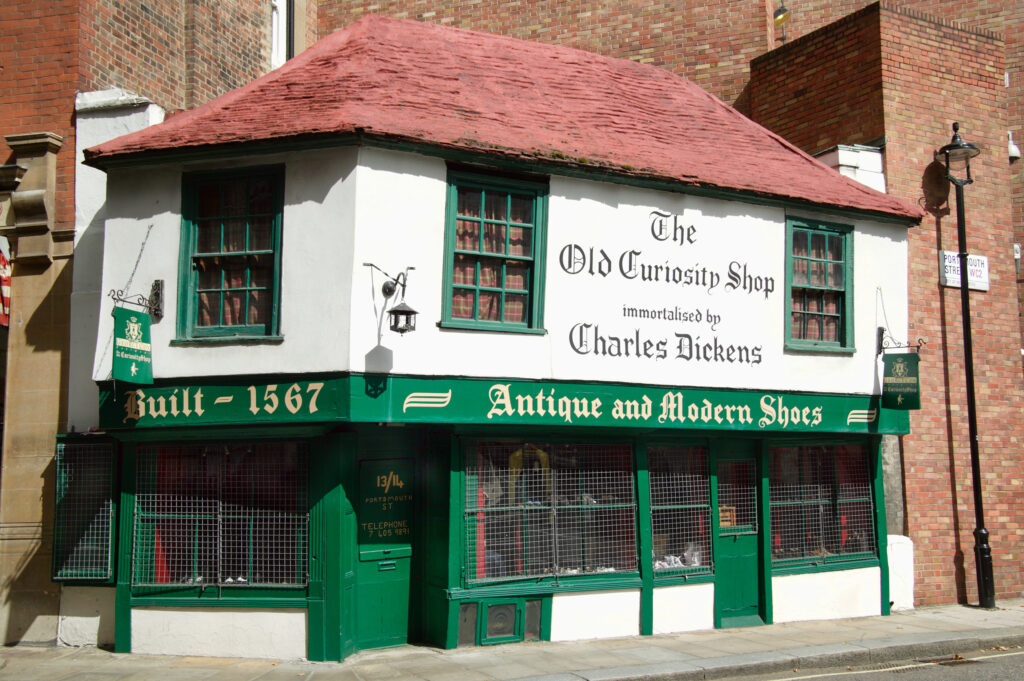 Packing Tips
For Visiting Cool Places In London
Using these useful packing tips will enhance your experiences while hopefully keeping you organized while searching for unusual places to visit in London.
You will want to pack lightly to make your travels easier.
A concealed travel pouch may be one of the most important items you bring with you when looking for unusual things to do in London.
This unisex RFID-blocking concealed travel pouch is lightweight and comes in several colors. It has lots of organization to give you peace of mind.
If you have a pouch already you may not want to or need to invest in a new one, like me. If it does not come with RFID protection, these RFID sleeves would be handy to prevent identity theft.
This configuration comes with enough passport and credit card sleeves that the entire family would be protected.
They are slim too, so they will easily fit into your current pouch or wallet. These are the kind my family and I use not only when traveling but at home as well.
If you are planning on taking a lot of pictures with your phone you will definitely want to consider an external charging battery.
This Anker high-speed phone charging battery is the exact one I carry with me on all of my trips.
It can be used on a variety of phones, not just an iPhone like I have. And wow is it fast! I like that it holds its charging capabilities for several uses so I do not have to worry about it while out and about.
My daughter gifted me with this FugeTek Selfie Stick and Tripod for my birthday. It has Bloothtooth connectivity so it is very easy to use. It is made of durable aluminum and is very lightweight and easy to carry.
I was never a fan of packing cubes until I tried them out! Now I am sold. These Bagail packing cubes are the exact ones I use whenever I travel. I cannot believe how much more organized I am now! And I never leave without them anymore.
Don't forget to bring along a universal power adapter on your 3 days in London, this worldwide power plug is a great example and will charge your phone at the end of your busy days.
And this world traveler adapter kit can charge several devices at the same time.
This is what you will need when there are several people traveling in your group, or if you bring several electronic devices on your trip that require charging at the same time.
Hydration is so important. You want to remain hydrated to support your immune system which in turn will be stronger to fight off any germs you will encounter during your travels.
You will want to bring your own refillable water bottle with you.
I never leave home on a trip without my Bobble filtration bottle. the 18.5-ounce size is perfect for travel and it fits nicely in the pocket of a backpack or your purse.
The replaceable carbon filters ensure fresh drinking water.
Perhaps you are traveling a long distance and packing space is at a premium. Then this collapsible silicone foldable water bottle would work well for you. Would not take up much space in your suitcase at all.
You will want a backpack or daypack with you to store snacks, your water bottle, phone, extra clothes, etc.. This foldable water-resistant backpack would be great. It is very affordable and is available in many color options for you to choose from.
The fact that it folds down into a zippered pouch will make it easy to pack.
Perhaps you need a more substantial backpack for your international travel. This antitheft backpack has a charging port, is water-resistant and can comfortably carry up to a 15.6″ laptop.
You will be walking more than usual looking for hidden gems in London itinerary. Sturdy and comfortable walking shoes are a must-have.
These waterproof all-season shoes are extremely affordable yet fashionable.
Mostly everyone is familiar with the Skechers brand, and these Air Run high fashion sneakers come in a lot of colors to match your outfits and are still affordable.
If you are visiting London in warmer weather, maybe you want a pair of sandals to wear to dinner or to the local cafe, I highly recommend these Vionics adjustable strap orthotic sandals.
I have several pairs of Vionics that I bring with me *everywhere* I travel. They are very comfortable and have orthotic footbeds that cradle and support your feet.
Bring a lightweight scarf or shawl. Scarves and shawls are very popular in Europe and London is no exception. Both men and women wear scarves, both decoratively and as a layering piece to keep warm. This cotton unisex lightweight scarf is versatile and can be worn in any season.
We all need to protect our eyes from the sun's harmful UVA/UVB rays. These unisex polarized sunglasses come in a lot of lens colors and frame designs and are extremely affordable too.
If you are fond of the aviator-style of sunglasses these polarized aviators may interest you.
If you are in need of new luggage, this expandable soft side spinner luggage is affordable and comes in lots of colors.
If you like hard-sided better, then you may favor this hard-sided luggage set better. Both sets come with TSA locks and 8 wheels per piece.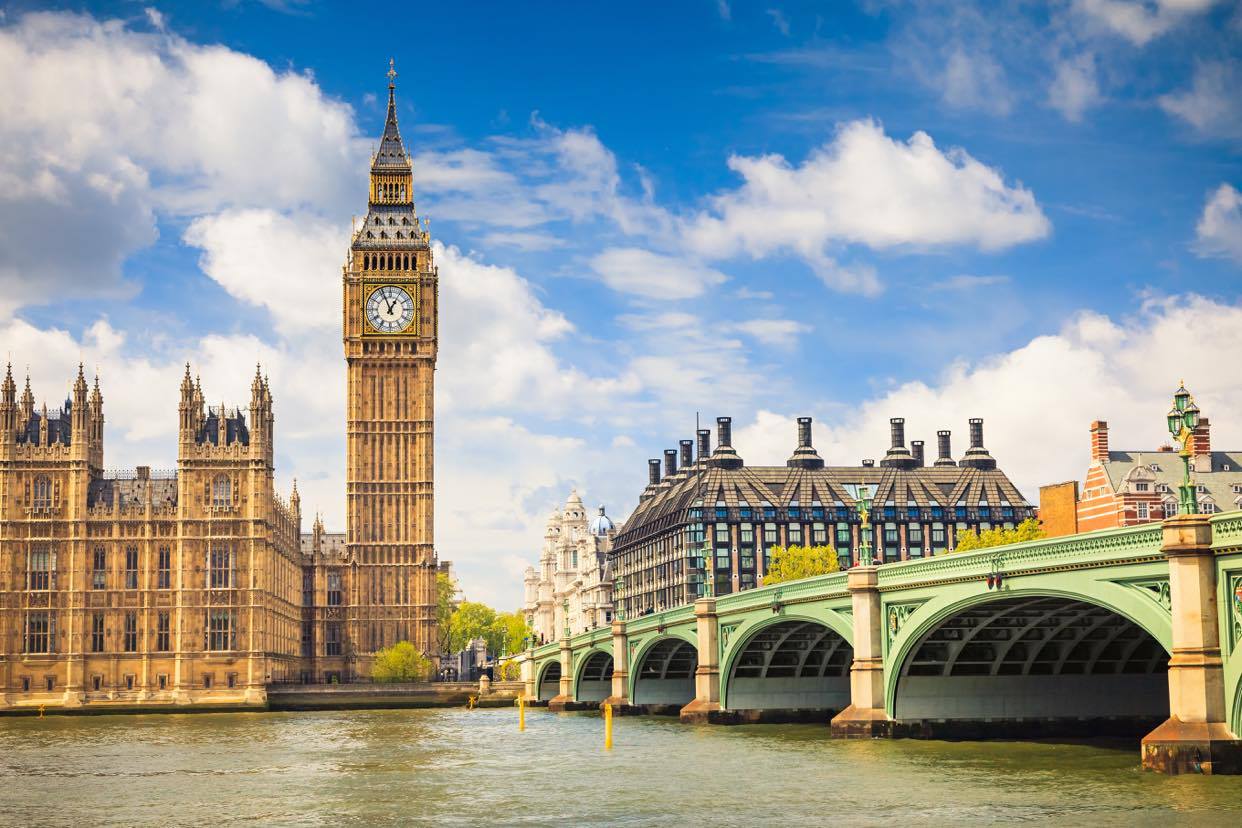 Quick Tips When Visiting London
Here are some quick tips and tricks which hopefully will enhance your trip to London and make it less stressful and more enjoyable.
UPDATED: Stay vigilant! During our last trip to Paris, our family of four was robbed 3 times. We discussed at great length how we had to remain vigilant to protect ourselves against pickpocketers.
However, we were not successful. My daughter had her brand new Olympus camera stolen in broad daylight in a McDonald's Restaurant in the Montmartre District of Paris while we were having afternoon refreshments.
My thief was caught red-handed with her arm up to her elbow inside my backpack. Lucky for me my daughter apprehended her, and I was carrying my passport and credit cards on my body.
She wore better clothes, better shoes and more trendy sunglasses than I did. She did not look like a thief.
She did not "fit" our idea of what a pickpocketer was. (I still do not understand how she could unzip my backpack while I was wearing it, without me knowing or feeling it.)
Finally, Terrence had his backpack unzipped while on the very crowded Paris subway. The burglar had his hand inside an outer pocket but was foiled by a Good Samaritan seated nearby.
Please do not have any preconceptions about who can violate you by stealing your possessions. Stay vigilant and alert. Hope you have more success than we did.
Remember to always stay hydrated. Bring a nondisposable refillable water container and refill it often! Not only will you hedge the odds against getting sick, but you will also be saving a lot of water bottles from being sent to British landfills.
Call your credit card company for two reasons: 1) notify the bank that you will be out of the country and give them your exact travel dates.
2) check to see if the bank charges foreign transaction fees every time you are out of the country and use your card.
If it does, inquire about applying for a credit card that does NOT charge such fees.
When using an ATM in London, England, make sure it is in your bank's network, so you do not incur a transaction fee every time you use a British ATM to withdraw money.
Also, consider withdrawing larger amounts of money, fewer times, to limit the transaction fees by your bank.
Whenever you can, purchase advanced tickets to London attractions whenever possible when seeking out secret places in London.
Tickets purchased online, in advance, are mostly always discounted, and many times come with a "skip the line" perk.
You will have more time to spend at the attraction since you will not be waiting in the entrance line. Also, you can better pace yourself during your busy days.
I hope these suggestions of the most unusual things to do in London will maximize your planning making it possible to see as many hidden gems in London as your time permits.
Have you ever been to London? Share one highlight that was your favorite thing to do, or place to visit. What would be your top unusual place to visit?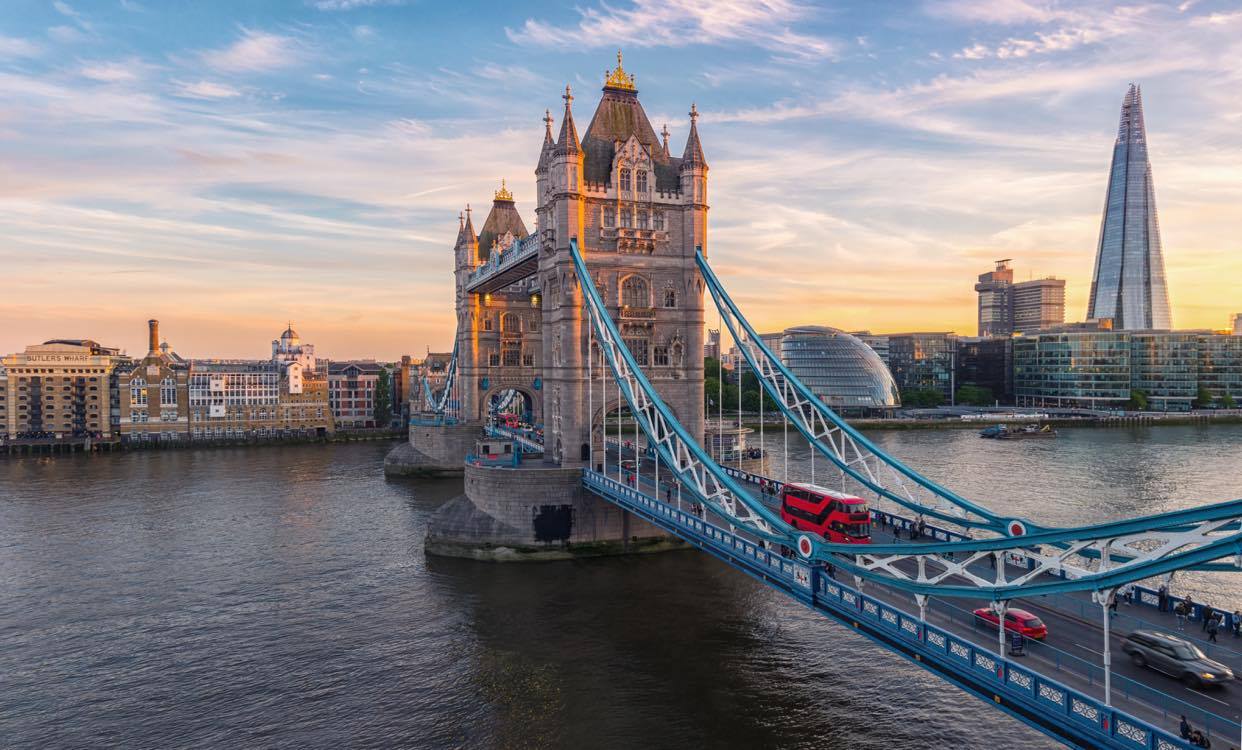 If you are still looking for things to do, there are many clubs and bars in Camden London to explore!