---
Are you looking for information about Crystal River Cruises?
Are you in the planning stages of your next family vacation? Are you considering a European river cruise?
Or, have you already sailed a river cruise and are wondering just what makes Crystal Cruises so special? What is it that actually sets them apart from other river cruise lines?
If you are, you have come to the right place, because my daughter Victoria and I and our family recently sailed on the all-inclusive luxury cruise line, Crystal Cruises.
I plan to share with you all the impeccable amenities and experiences that made our Eastern Danube River Discoveries cruise along the River Danube so spectacular, in order for you to put Crystal River Cruises on the top of your list!
By the way, I am not easily impressed when I travel. I carry with me a lot of requirements.
As a fitness nut, is there access to a gym? Will there be a time and a place for me to run? How about the food?
As a vegan, please do not tell me there are no vegan options or make me feel like it is an imposition to make me something vegan to eat.
Everyone offers wifi when I travel, but is it good, fast, and reliable?
I will address all these issues here and share our multigenerational family experiences with you so that you understand exactly what puts Crystal River Cruises in a luxury category of its own!
Experience the world like a local by staying at an Airbnb. Get a $55 Airbnb coupon by using my code when you book!
Please note: I was provided my Crystal River Cruises experience in order to provide an open and honest review. All opinions you see here are my own. I truly loved my Crystal experience and would book with Crystal Cruises in the future on my own! Without hesitation.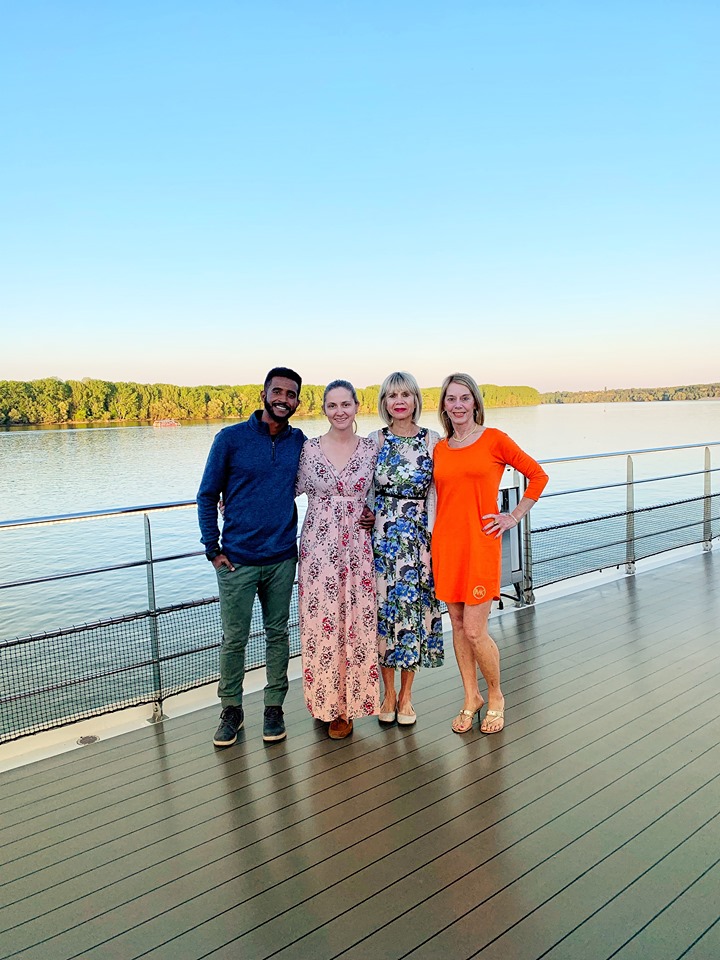 My family and me up on the Vista Deck of the Crystal Mahler in Vukovar, Croatia.
Crystal River Cruises: Unparalleled Luxury For Your Next Family Vacation.
When river cruising, guests spend a lot of time onboard the ship. I was aware Crystal Cruises is in a class all its own, offering 6-star service.
Look here for tips to stay healthy while traveling.
I knew the staff-to-guest ratio would be low, and each stateroom (suite, actually) would have its own butler. So I will begin with our home-away-from-home, the Crystal Mahler, and give you a tour!
The Crystal Mahler
One of the newest luxury river ships in the Crystal River Cruises fleet, the Crystal Mahler carries a maximum total of 106 passengers who are prepared to relax and be pampered by the kind, friendly and impeccable staff during their cruise.
Matter of fact, there is a 1 to 1.6 staff to guest ratio aboard the Crystal Mahler, the highest of all European river cruises.
On embarkation day, we were warmly greeted at the dock by the Crystal Mahler staff, escorted onboard, and handed glasses of bubbly champagne to toast to a great voyage.
Our suites were ready and our luggage was delivered. In the meantime, a friendly member of the staff escorted us around for a tour of the Crystal Mahler and pointed out all her amenities.
If you are traveling a great distance to get to your cruise destination, you can read about surviving those long haul international flights here.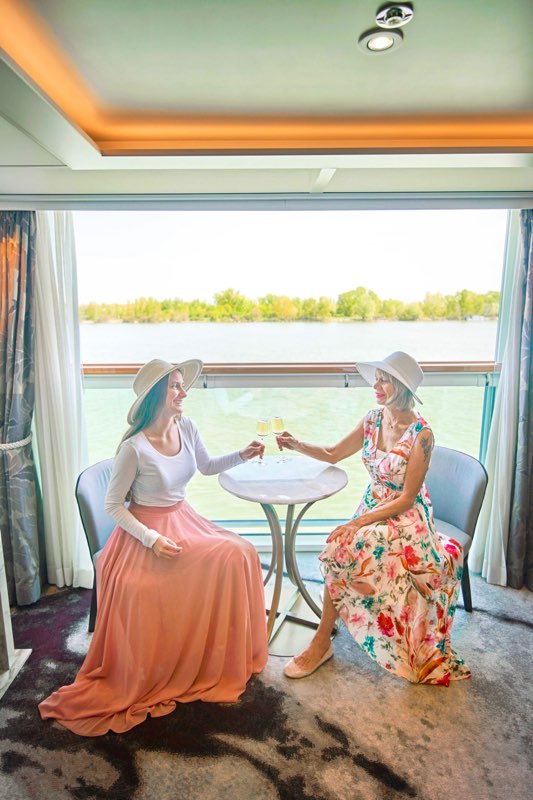 Victoria and I toasting to a fabulous river cruise!
All state Rooms Aboard Crystal River Cruises Are Suites
Eager and excited we headed to our suites. My sister Robyne and I shared a suite, and my daughter Victoria and her boyfriend Terrence, both from Follow Me Away, had a suite down the hall from us.
We each were in Crystal Mahler's Deluxe Suite with the panoramic balcony window. It was 253 square feet of total luxury, from the wainscoted white walls to the luxurious carpet below our feet.
Soon after, our room staff appeared and introduced themselves. Bali, our butler was the epitome of professionalism and very thoughtful. I felt right at home in his expert care. T
here was nothing, too big or too small, that Bali was not willing or able to do for us. Every afternoon at 5 PM Bali delivered canapes to our room for us to enjoy.
Anette, our suite attendant, soon introduced herself as well and proceeded to give us an orientation of our suite. There were so many gadgets and options available to us and we were very eager to listen to her expertise.
She would be responsible for making up our suite every morning and for the luxurious turndown service every evening. And yes, there were regional chocolates involved!!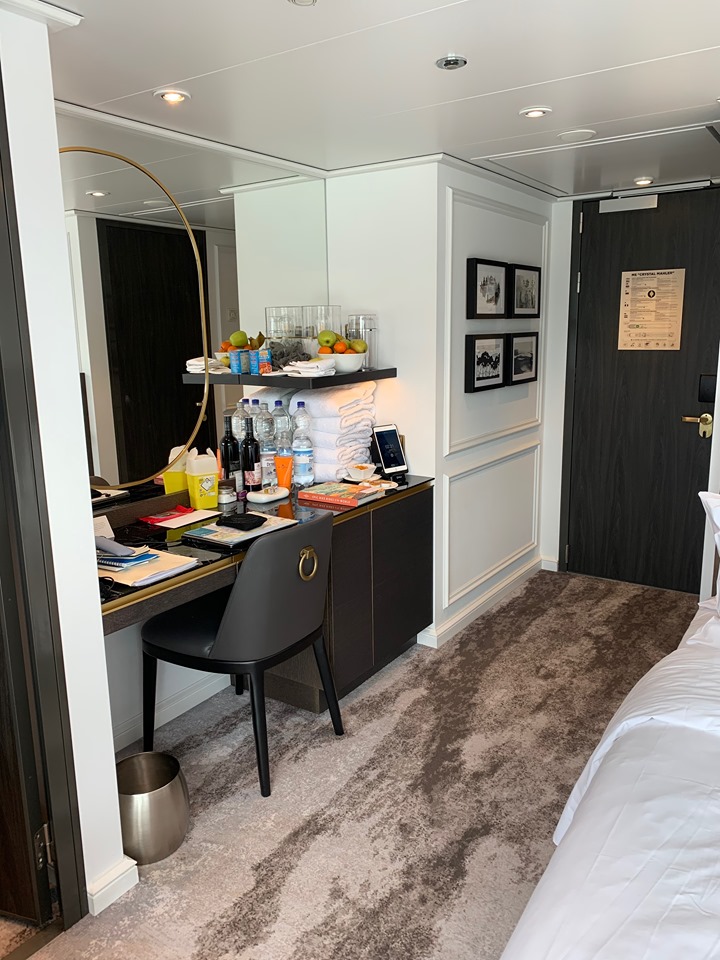 Here is the spacious work station/makeup area in our suite. We used this space for my computer, or to put on our makeup.
Balcony Window
Anette demonstrated how to lower our panoramic balcony window, for those days we were eager for the European fresh air, and how to position the screen when the window was open to prevent flying pests from entering our room.
We were cautioned never to retire for the night and leave our window open.
The Crystal Mahler would be passing through several "locks" on her journey on the River Danube, and all windows must be in the closed position for safety reasons.
I loved how the bed was positioned so that when we were in our twin beds, we were facing the window. Each morning for 11 days, we woke up to the local scenery wherever we happened to be!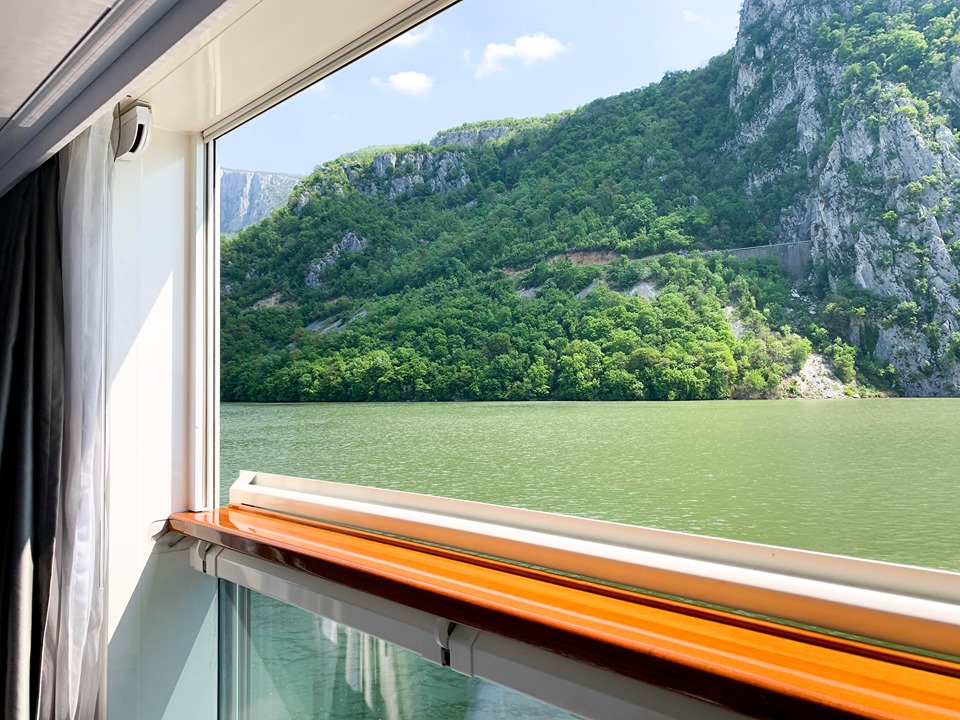 Here our window is open while cruising through the Iron Gates, which straddles Serbia and Romania. The breezes were cool and the views were hot. Can you even imagine???
Tech Amenities Onboard Crystal River Cruises
Crystal River Cruises provided an iPad in every suite for the guests to use. All we needed to do was log in.
What a thoughtful and indulgent thing to do. There was an ultra-thin flat screened television with a remote control to enjoy, but it was hardly ever on in our suite. (Too much to do!)
Terrence and Victoria across the hall utilized their television to watch documentaries and up-to-date sporting events numerous times.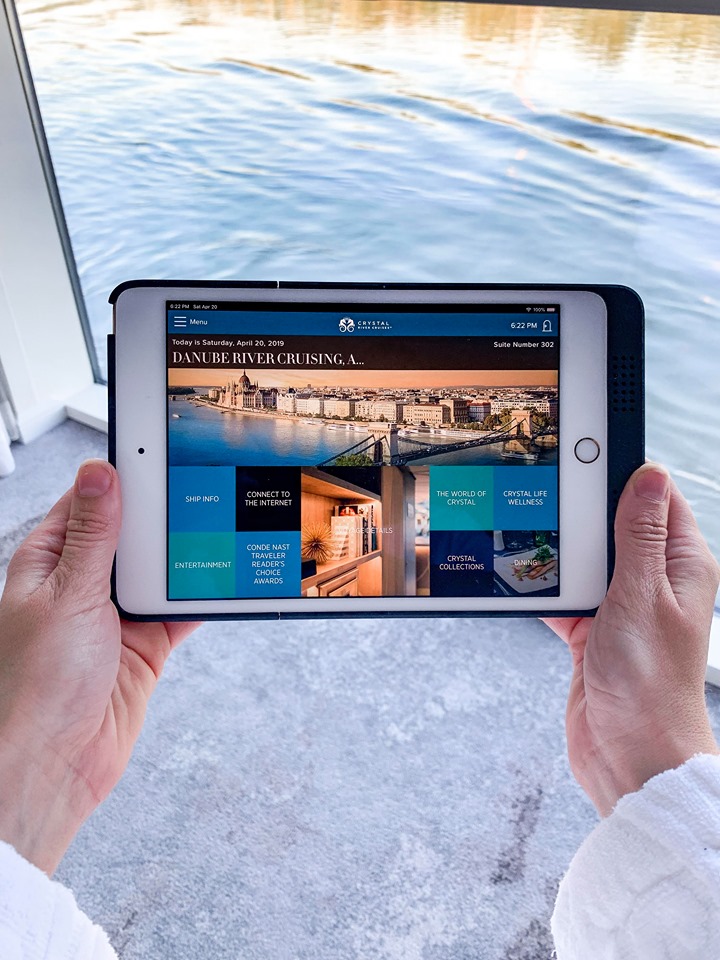 Here I am getting ready to log into the Apple iPad in our stateroom.
I set up my computer on the generously-sized marble desk. When we checked in, we were given the wifi log in code and I connected immediately.
I am very delighted to share with you that the Crystal Mahler delivered unbelievably fast and reliable wifi.
Of course, there were a few locales where no internet was available, but those spots were few and very far between. I speak for my entire multigenerational family, we were all very impressed.
We needed additional electrical conversion plugs for all of our devices, and of course, we simply informed Bali of our need and he personally delivered the devices.
Walk-In Closet
Sharing a room with my sister meant lots of clothes. Lots of shoes. Lots of jackets and scarves.
No worries though because our deluxe suite came with a generously sized walk-in closet. When we needed more hangers, we simply notified Bali.
When my sister wanted to have a lot of her clothes pressed, (which is complimentary, by the way. Simply another level of luxury service provided by Crystal Cruises.) she called upon Bali.
He took care of our every need. Very quickly and very cheerily.
A safe was conveniently located in the closet, which we utilized the duration of the trip. And on the front of the door to the closet was a full-length mirror!
Every woman's wish while on a luxury vacation for sure!
The six-star luxury service onboard the Crystal Mahler included Anette and Bali unpacking our luggage if we so desired, but we all decided we preferred to do this chore ourselves.
However, our room staff stored our suitcases underneath our beds, hidden and out of the way. Our luxurious suite would always be tidy and organized.
Here are some tips on packing lightly for your Crystal River Cruise.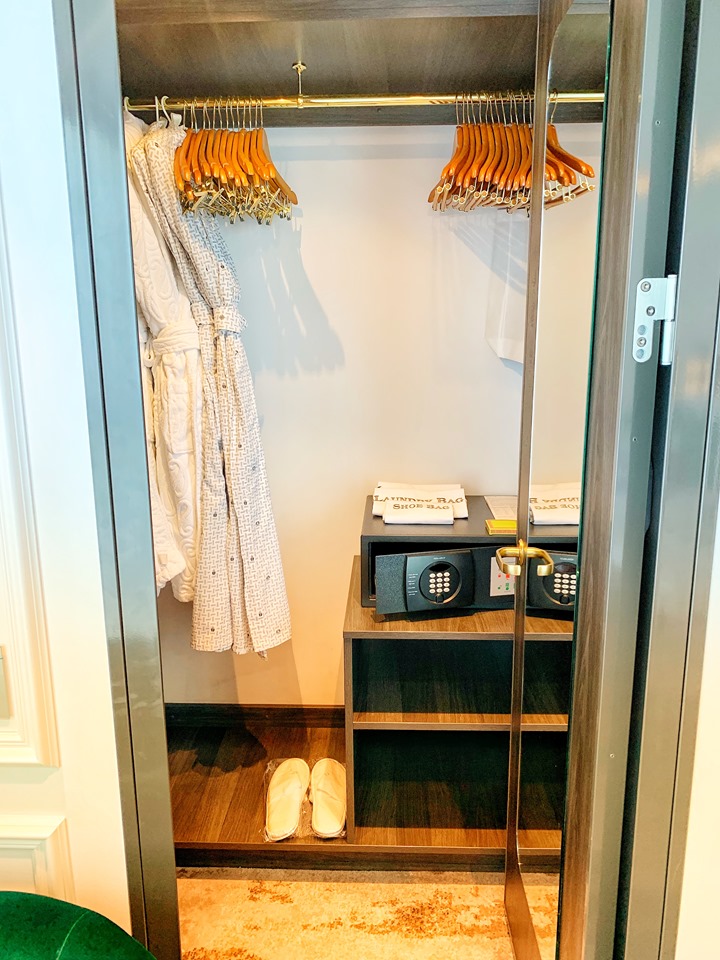 Can you believe these were not enough hangers for my sister and me?
Oh! That Bathroom
Our deluxe suite had double sinks, and abundant space for two women to be in it at the same time, applying makeup or drying our hair.
There were lots of drawers to share and a huge shelf to keep our must-have lotions and potions out all the time.
The walk-in shower was enormous and was stocked with full-sized shampoo and conditioner. There were also full-sized body and hand lotions for us as well.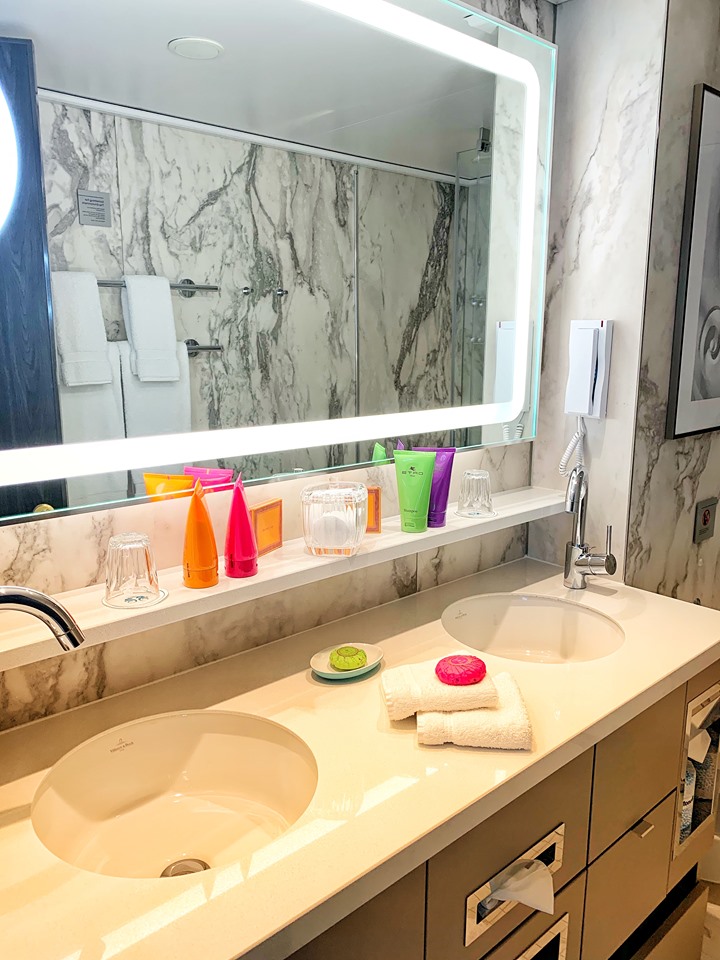 Our spacious bathroom featuring double sinks and lots of counter space for two women during an 11-day cruise.
The Food And Where To Find It Onboard
The food! That is one of the main amenities onboard a Crystal river cruise journey.
In our family traveling pod of four, there was a vegan, a vegetarian, a gluten-free, and an omnivore. Sounds like a nightmare, right? Not so for the expert staff of the Crystal Mahler.
Our first afternoon on board, we met with the head chef and introduced ourselves. He was so kind, friendly, and understanding.
From that moment on, the head maitre d would furnish us with the daily menus for our consideration.
Often they were hand-delivered to our individual suites, and sometimes they were personally presented to us while we were dining for lunch.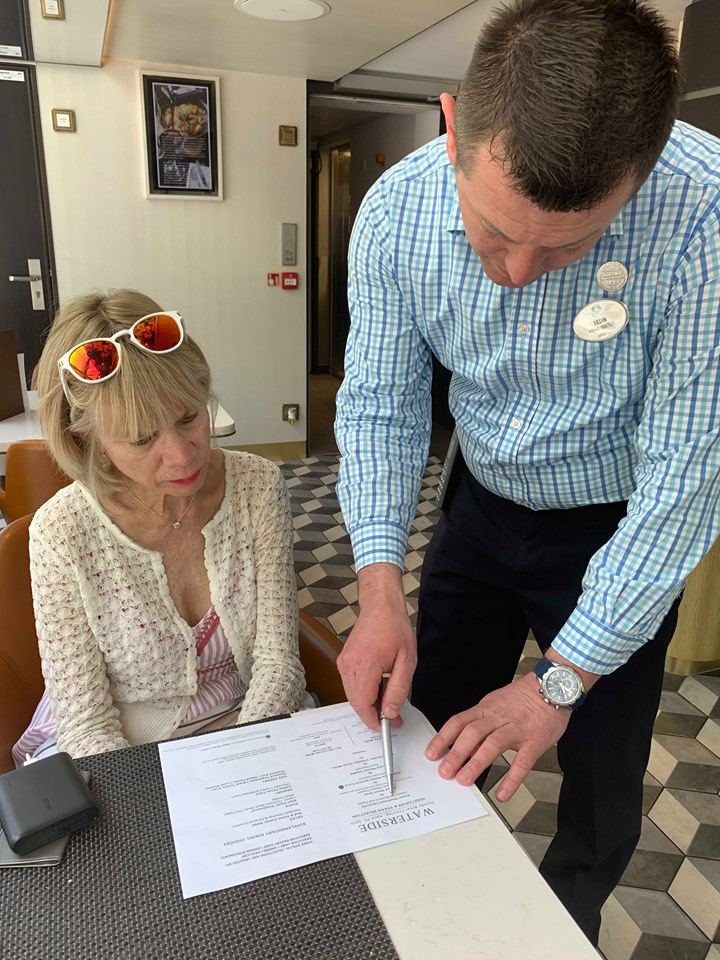 Here I am going over my vegan options for dinner. I was so grateful for this exemplary touch and for a vegan/vegetarian menu every day to choose from.
We each made our selections every afternoon, to give the kitchen staff ample time to carefully prepare and exquisitely plate our dinners in order to address our individual dietary needs.
I do not think there was ever one complaint about any of the food we were all served onboard the Crystal Mahler. It was stunning to look at when presented to us and delicious to eat.
Dinner was served every evening in the elegant Waterside Restaurant. It was the highlight of any day.
Crystal River Cruises allows guests to be in control of their own schedules as much as possible. That said, dinner is served between 7:00 PM and 9:00 PM every evening.
When you dine is up to you. Table configurations range from tables for two, four and tables for six. You may be as private or as sociable during dinner as you wish!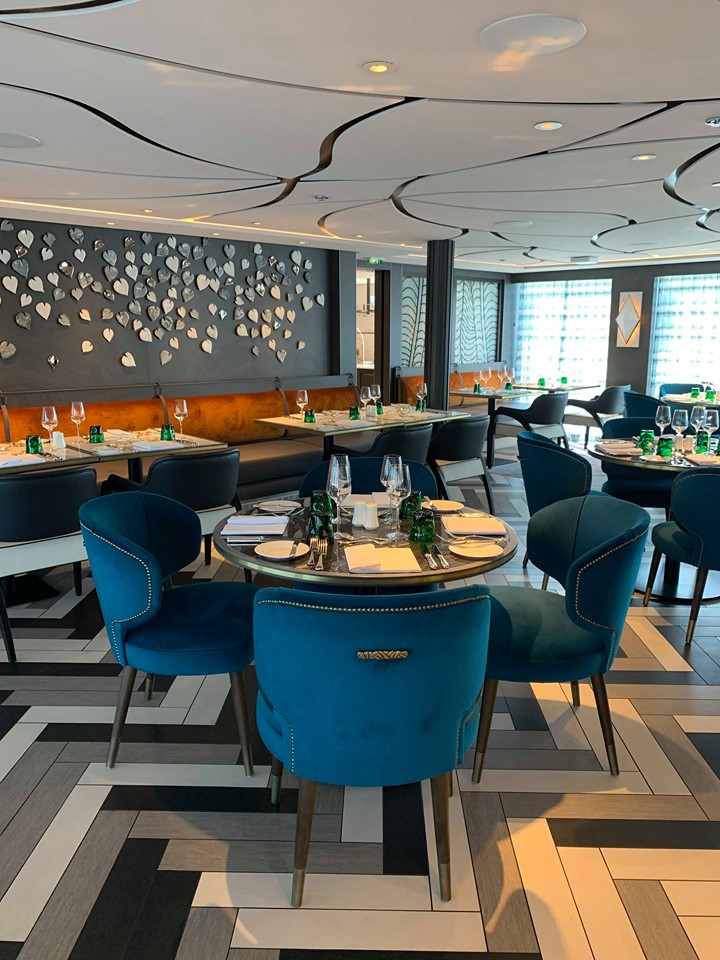 The stunning and inviting Waterside Restaurant on the Crystal Mahler
The dress code for dinner at the Waterside Restaurant, by the way, was Crystal Casual.
Unlike other river cruises, my family and I learned that the Michelin inspired farm-to-table dishes were being cooked separately upon being ordered by each guest, every night. That is why dinner was such a leisurely part of our day.
This is the perfect time for me to inform you that all beverages, (cocktails, beer, wine, champagne, sodas, etc) are included on a Chrystal River Cruise.
There is no "drink package" to pay for or additional fees to be paid for beverages ordered during the cruise. (Except maybe for that $1,000 bottle of champagne!)
During dinner, the sommelier would present each table with a choice of two wines, one white and one red, that most complimented the local dishes being served that evening.
She offered very detailed explanations of each wine and also took orders for cocktails from the bar. The chocolate martini was exquisite.
Victoria especially enjoyed the vast array of non-alcoholic cocktail options which she took advantage of every evening at dinner.
Buffet breakfast and lunch are also served at the Waterside Restaurant every morning and afternoon. There are also menus available to order food if the buffet does not interest you on a particular day.
One of Victoria and my favorite locations on the Crystal Mahler was the Bistro Mahler. It had a more relaxed and retro vibe. It had an extensive mini-buffet for both breakfast and lunch, and we often chose to eat more casually there.
Sometimes we would go to the main buffet at the Waterside Restaurant (on the first level) to obtain our food and the attentive staff would bring our plates full of delicacies up to the Bistro Mahler, which was located on the second level.
I can assure you that I am now craving their pretzel rolls. I had one (or maybe 2?!) every single day of the cruise.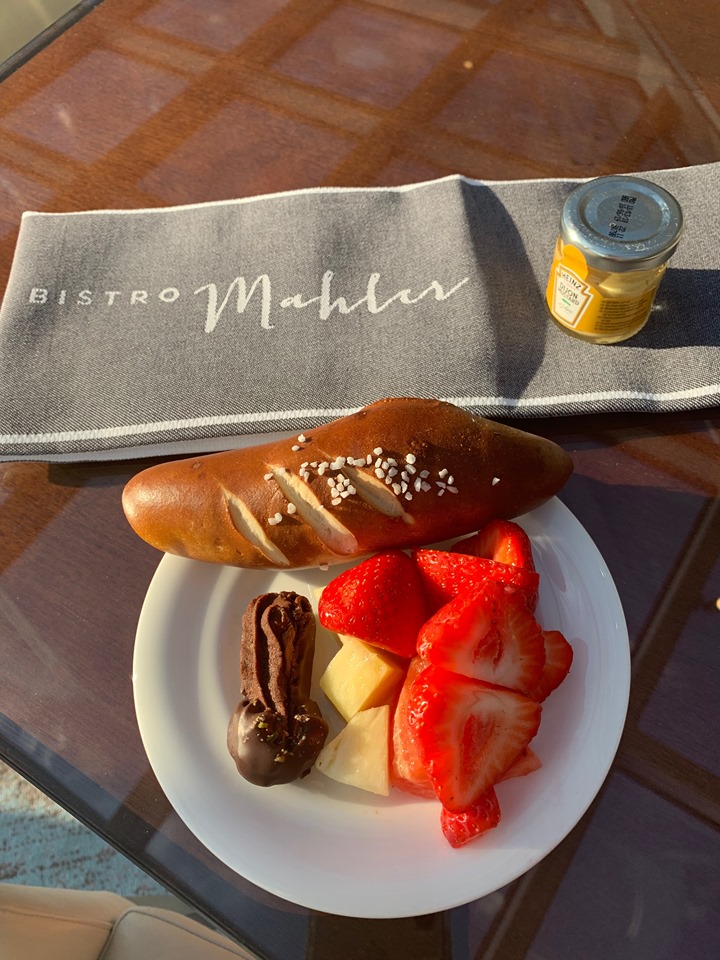 I miss my daily pretzel bun with mustard! And allllll the very delicious foods and snacks.
Ok, and then there are those french fries! And also, may I confess I really miss my daily afternoon hot chocolate made especially for me with almond milk.
There was literally nothing the staff could not do to please us and make our trip more enjoyable.
Victoria and Terrence truly enjoyed the ice cream bar at the Bistro Mahler stocked with all sorts of sweet things and treats to build the most epic of ice cream desserts!
If you have a craving for a pastry or a chocolate cookie, and if you are picky when it comes to your cappuccino or enjoy making your own, then the Mahler's Pantry would be for you.
Open 24-7, it always beckoned guests to visit it and delve into its delicious delicacies.
The Crystal Mahler offers 24-hour room service. Craving a grilled cheese sandwich? Maybe a warm bowl of soup or a sinful dessert?
Prefer a quiet private dinner in your suite? It is all available to guests with just a phone call from your suite to order and soon it will arrive for your dining pleasure. In your suite.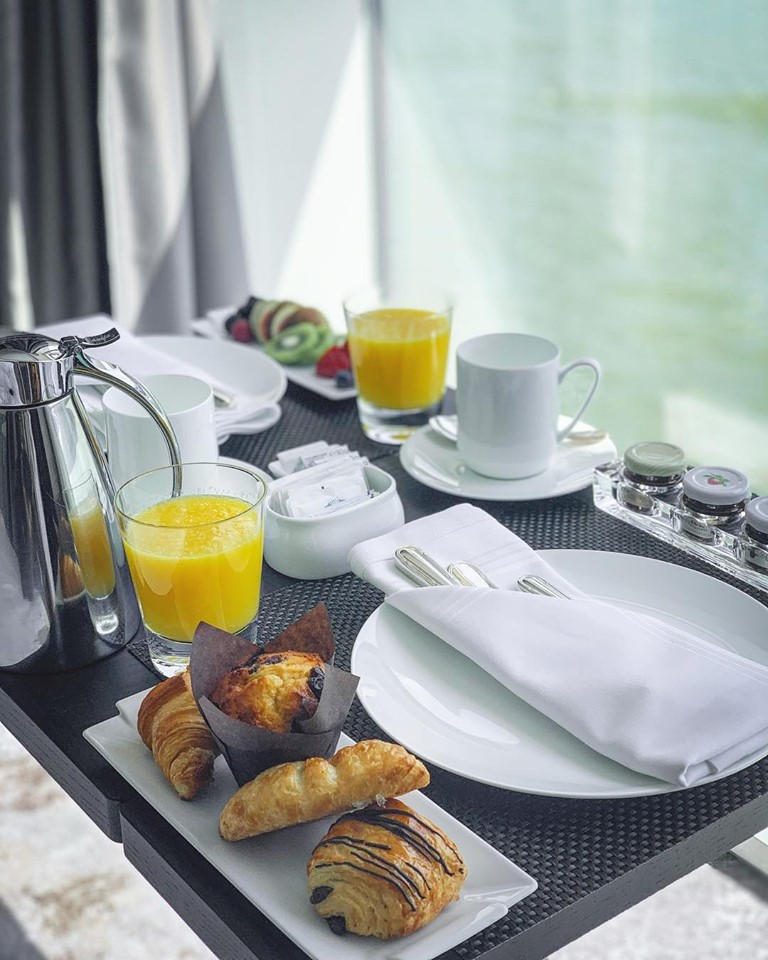 In-suite room service was available 24/7.
Cocktails And Entertainment At The Palm Court
The Palm Court was the place to be for entertainment. And lovely cocktails should you choose to have one either before or after dinner. Or both.
The Palm Court was the gathering space. During sailing days, lectures, and demonstrations would be given. I attended the apple strudel demonstration.
Not only did I learn how to make authentic apple strudel but I received the recipe from the pastry chef. And of course a piece of apple strudel!
It is all those little extra special touches which I really appreciated that Crystal Cruises is so known for.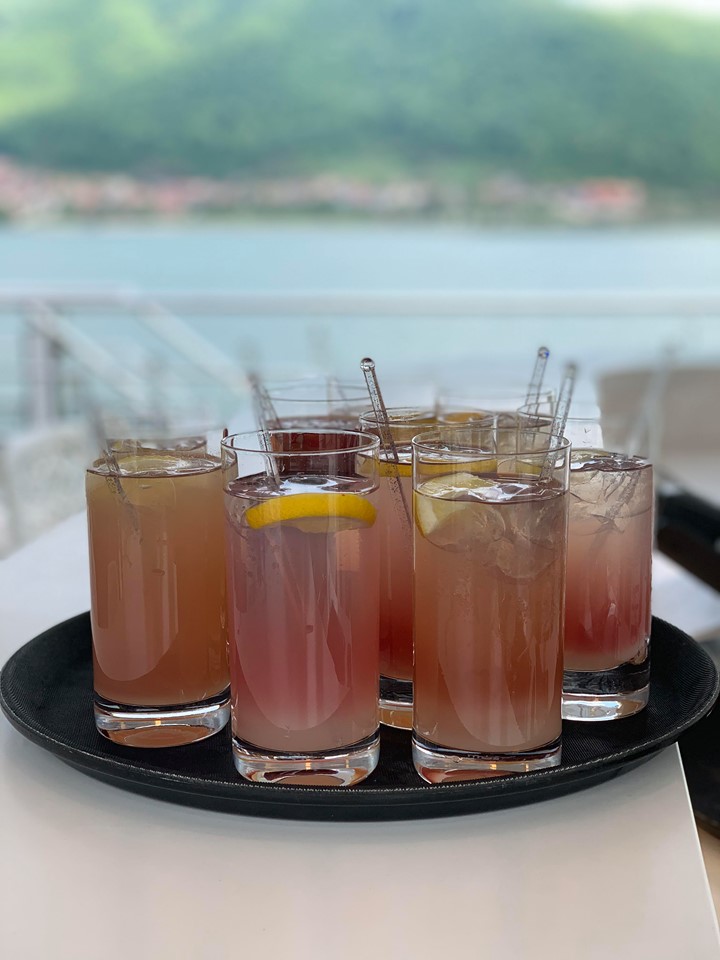 Pre-dinner cocktails could be ordered in the lavishly stocked bar while relaxing piano music wafted in the background.
Neal, the onboard entertainer, led guests in bonding games (my term, not Crystal's)) on sailing days during the afternoons and after dinner as well.
No matter when we played, all games led to frivolity and were hilarious.
After dinner, there were authentic regional concerts where Crystal had the finest local musicians come aboard for our enrichment and listening pleasure.
Believe me, during such shows, one could hear a pin drop, that's how attentive the guests were and captivating the performers were.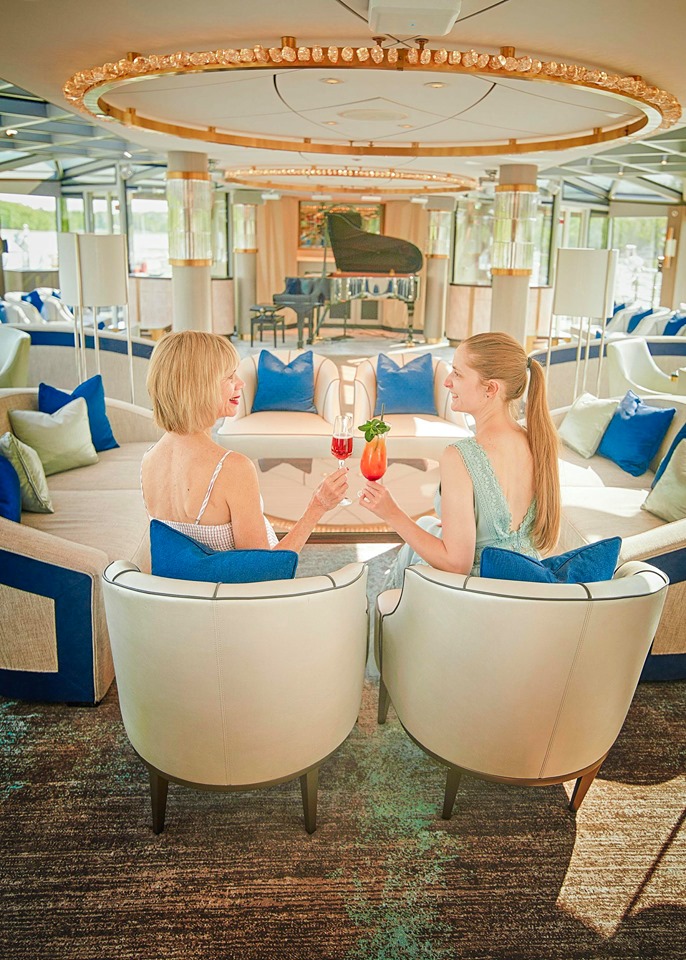 Spending time with Victoria in the Palm Court.
Laundry Area. Really?
Yes!!! We were so happy to see that the Crystal Mahler offered self-serve laundry facilities. (Of course, the butler could take care of your laundry if you so desired, and that service came with a fee.)
We were so happy to have the opportunity to launder the clothes we flew to Europe in. At the end of the cruise we were very grateful we did not have to transport back soiled clothes back home.
Thank you, Crystal River Cruises, for this guest service. It truly was a luxury!
We were told that the laundry area aboard the Crystal Mahler was very popular with all the guests.
Small laundry baskets were available to take back to our suites to gather dirty clothes in order to carry them back to the laundry area. Detergent and fabric softener were available to all guests for free.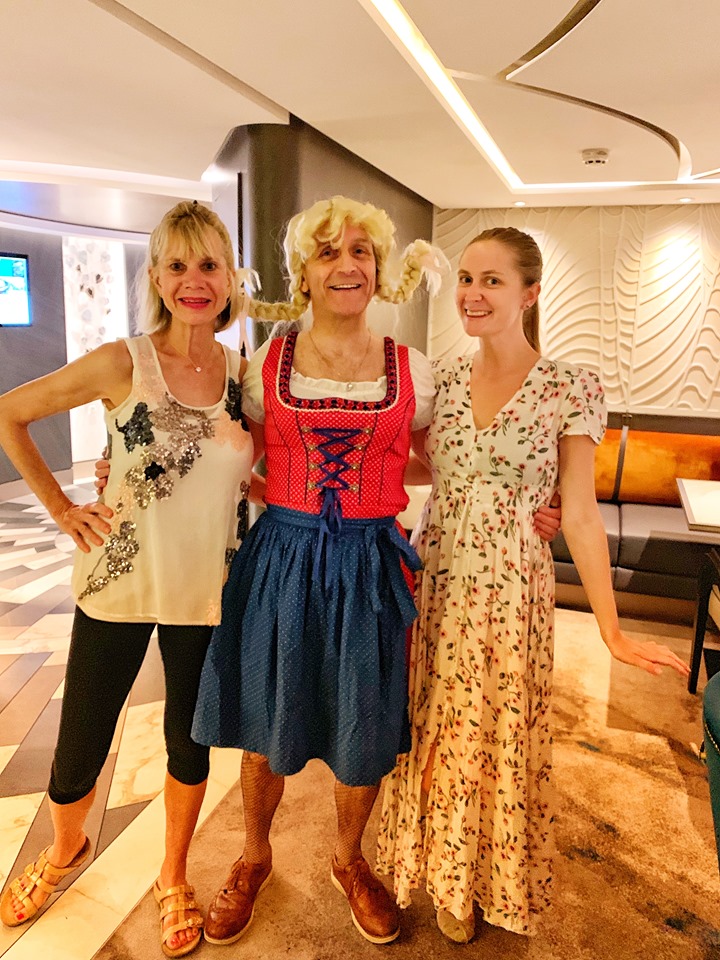 With Neal, our entertainer, right before a Sound of Music Revue in the Palm Court. Yes, he was funny!
Fitness Options Onboard Crystal River Cruises
I do not leave my fitness at home when I travel. Of course, I alter my routine to fit my circumstances, and Crystal River Cruises made it extremely easy for me during our 11-day cruise.
First off, there is a gym on the first floor that had everything I needed to do a great workout. It had lots of hand weights, a rowing machine, and 2 stationary bikes.
There were yoga mats and kettle balls, so whatever you do at your own gym, you could do a modified version on board.
I was not surprised a lot of guests took advantage of the gym with the beautiful full-length mirrored walls.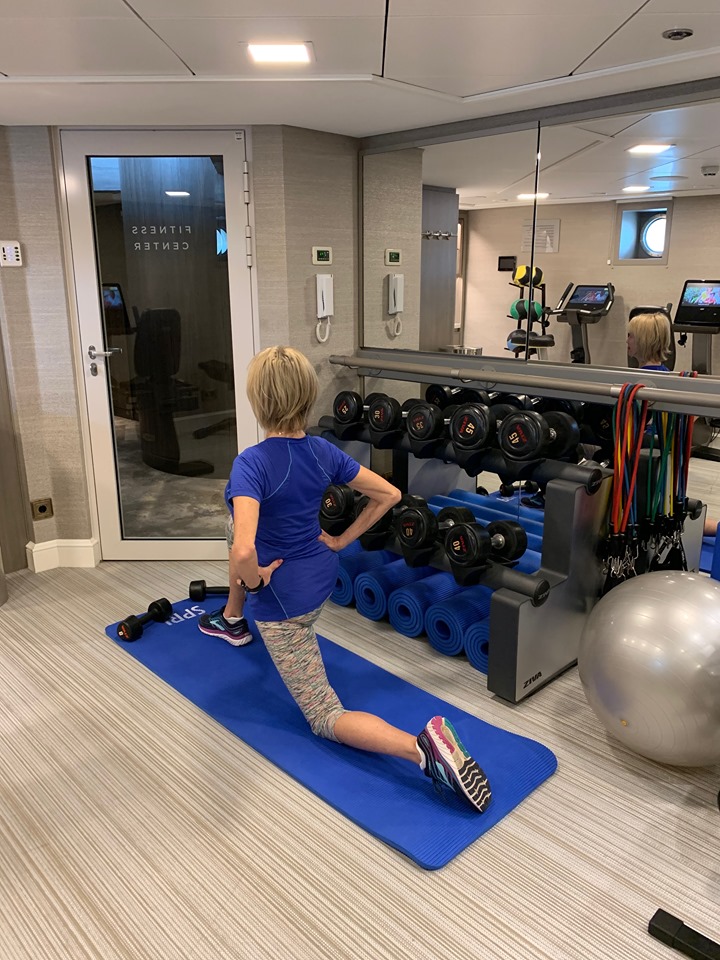 Working out in the Crystal Mahler gym.
I was delighted to learn that the Crystal Mahler had a swim pool. Talk about luxury to the extreme.
After turning on the swim jet, I was able to swim in place for an exhilarating workout. My sister, Robyne, took advantage of the pool too. In addition to swimming, she did her water exercises.
Traveling through Europe as a family makes many lasting memories. Look here for other European river cruises for families!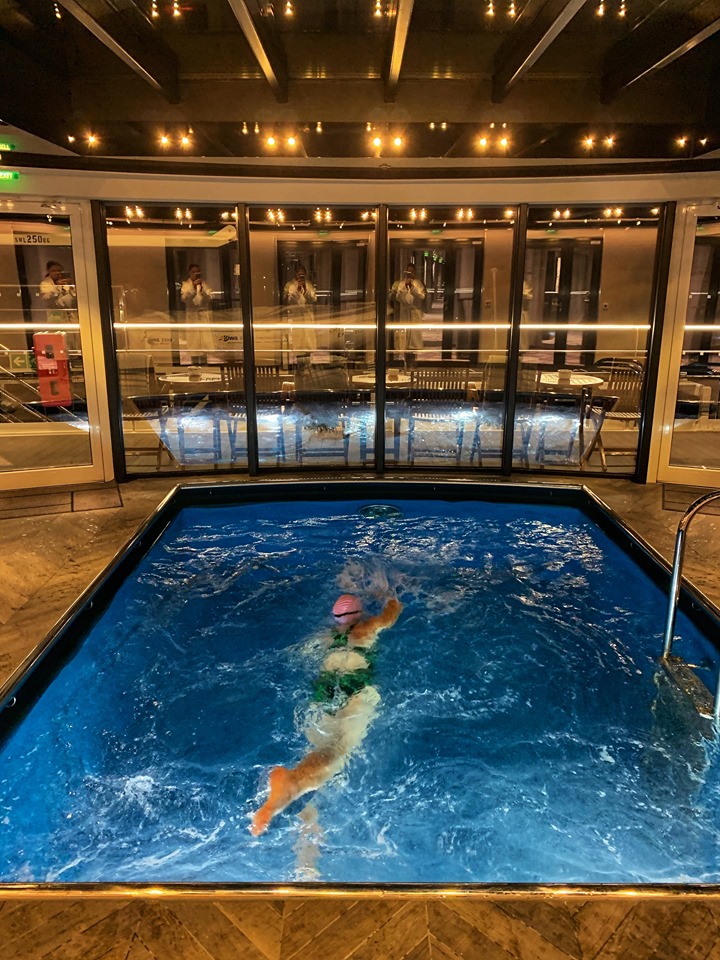 Here I am using the jetted swim pool.
Most guests, my family and me included, took advantage of the walking track on the top deck of the Mahler on her Vista Deck.
Victoria and I spent many a day walking and chatting together. The Vista Deck is where guests gathered all times of the day to relax, read a book, have a cocktail while enjoying the sun, and watch the scenery as we sailed by.
The walking track surrounded the outside perimeter and it was simply magical power walking while sailing during the cruise.
Many passengers joined us and it was really fun. Long-lasting friendships were formed there too.
All that walking surely left us thirsty, and the outside bar up on the Vista Deck was so convenient to get refreshing cold water, or perhaps a cool drink.
When it was chilly, hot tea and warm beverages were available.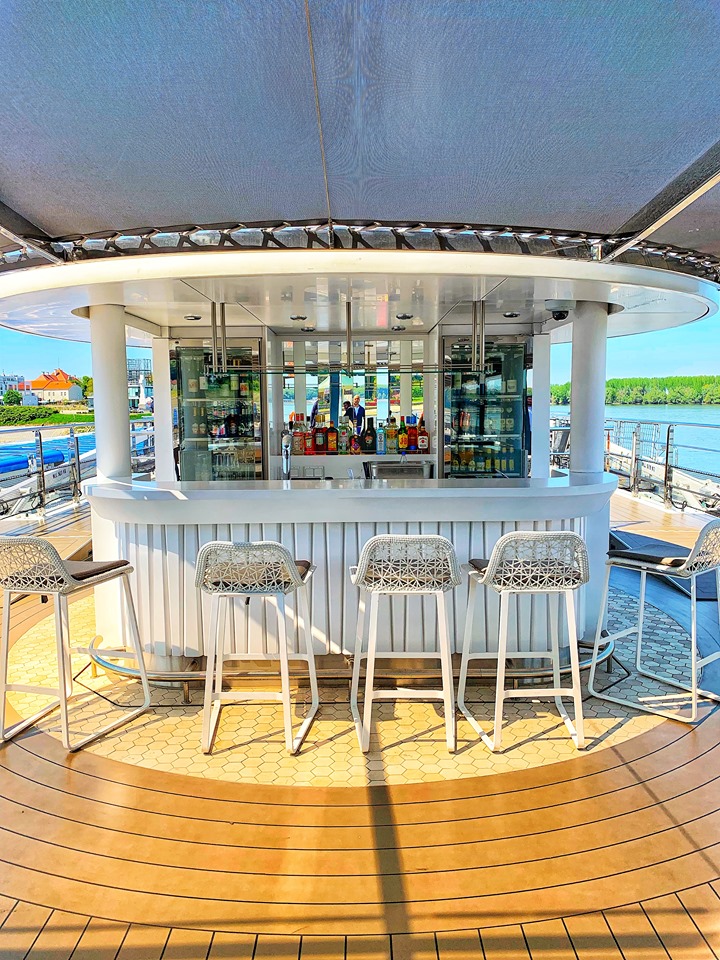 The outdoor bar on the Crystal Mahler's Vista Deck
Enrichment Excursions
Most likely, you will select your specific Crystal River Cruise because of its itinerary.
For Victoria and I, visiting the Central and Eastern European countries of Austria, Croatia, Serbia, Slovakia, and Hungary was a dream come true for us and our family.
There is so much history and culture in those countries. Through all our complimentary Crystal excursions, we also learned about the local people's resilience and their positive outlook toward the future in every country we visited.
Crystal did not disappoint when it came to authentic local experiences in the cities we visited.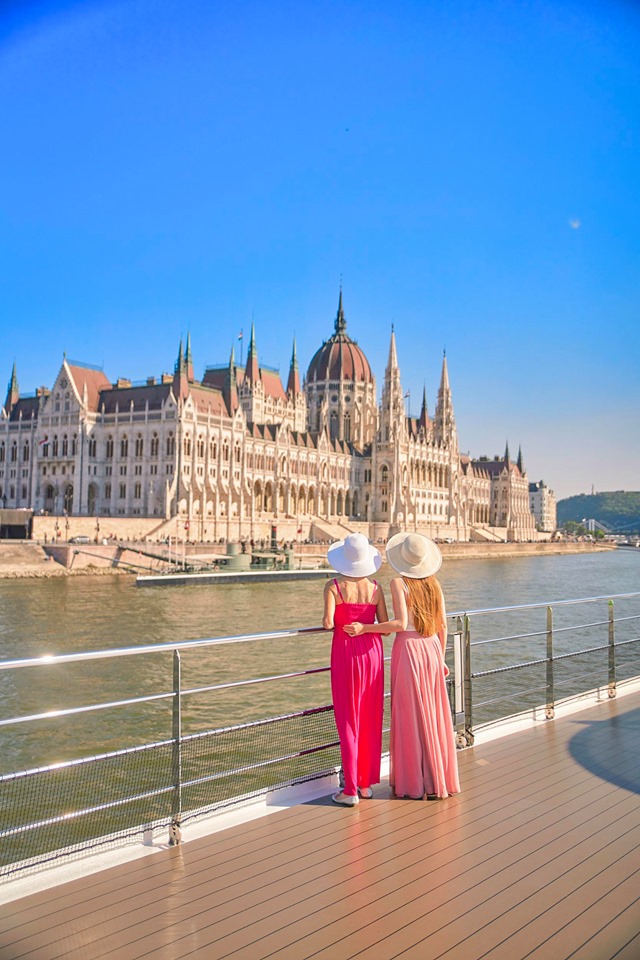 A breathtaking moment for Victoria and me, passing the iconic Hungarian Parliament Building while out on the Vista Deck of the Crystal Mahler.
There are no intercom announcements in your stateroom during the cruise. No "good morning" announcements, or "it is time to leave" warnings… (Of course, in case of an emergency there would be.)
A guest's comfort and privacy are the utmost priority for Crystal River Cruises.
So if we had any questions regarding the next day's excursions, the reception desk was specifically dedicated to answering questions guests may have about the next day's excursions before dinner the evening before.
With the turndown service, a daily activities sheet was left for each guest for the next day in the stateroom.
Our daily activities sheet was the full itinerary of activities on and off of the Crystal Mahler from morning until night.
There was always a minimum of one complimentary on shore excursion at every port, many days there was more than one to choose from. Often there were several different excursions leaving at the same time.
For this reason the evening before, tickets for the excursions we selected were left in our stateroom.
There were a few times when multiple Crystal Cruises coaches were lined up to take guests on their tours. It was important for all involved, to know which bus to step into, and for the staff to know all guests were on their correct Crystal coach.
No worries, the dedicated Crystal Mahler staff was outside and directing guests to their proper Crystal coaches before every excursion.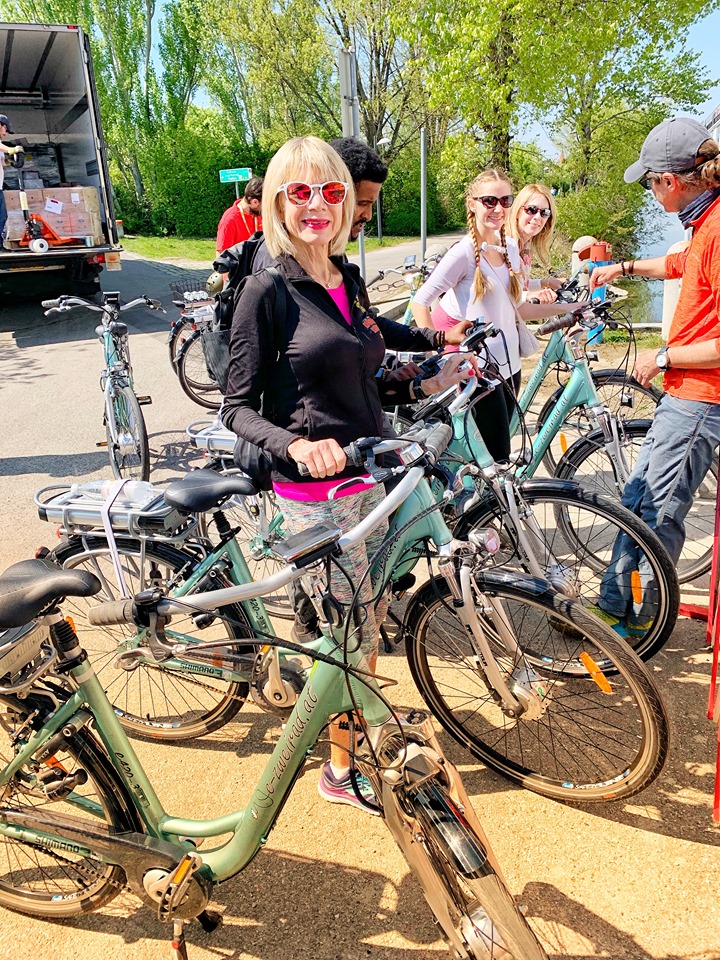 Ready to set off to discover Danube Island in Vienna like the locals do on our e-bikes!
Crystal Cultural Discoveries were the local city tours and tours of museums, palaces, fortresses and local places of interest.
All of these tours included local English-speaking tour guides that narrated along the way, either while in our Crystal coach or when walking the city streets.
We were often surprised and stopped at local restaurants for refreshments and local pastries as part of our tour.
Crystal Enrichment Programs were presentations/lectures on board with experts in the subjects being presented. They were all so captivating.
Spotlight Showtime were authentic musical presentations in the Palm Court, and definitely NOT to be missed. The musicians performing were the best in their fields.
Crystal Tantalizing Gastronomy were excursions to local pubs, wineries or farms to learn about and taste regional delicacies. Perhaps it was a traditional breakfast at a local family's home, a wine tasting at the local winery, or a visit to a working local farm.
Crystal Exhilarating Discoveries were a fun and unique way to discover the local cities we were in.
For example, our family participated in two of these tours, each time riding bicycles with experienced local guides narrating and watching over us the entire time.
No worries though, the rides were only about 8 miles, and we stopped frequently to take pictures or listen to an explanation from our guide.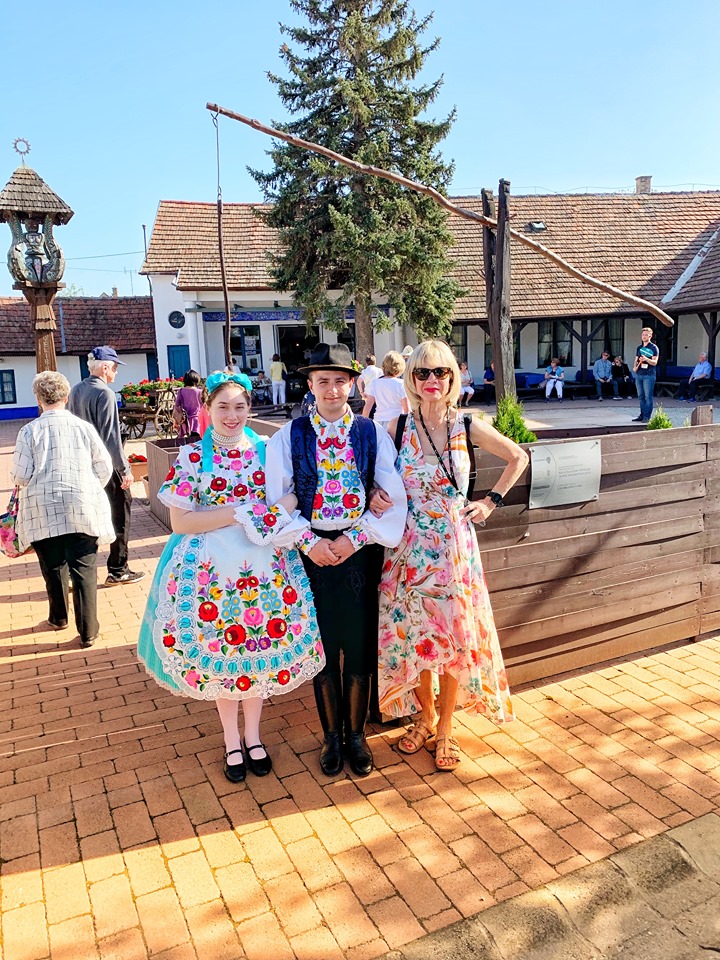 We loved the authentic experiences we had on all the excursions. Here I am in Hungary learning about the local culture of folk dancing, family embroidery, and paprika.
It was important for the staff of the Crystal Mahler to be aware of which guests were on and off the ship.
At embarkation, we were given our stateroom key, in a very lovely Crystal case. It had a bar code on it.
Every time we left the ship we presented our room key to Crystal security who scanned it.
Upon arrival back to the ship, there was always a friendly Crystal security staff member waiting, who scanned our key notifying the staff we were back on board.
The Staff. The Backbone of the trip.
The food could be the absolute best. The excursions could be the most captivating.
The suites could be the loveliest ever. But none of the experiences we had on our Crystal River Cruises River Danube Discoveries Tour would have been as special if it were not for the most extraordinary staff in the industry.
The staff of the Crystal Mahler definitely exemplified what it means to offer 6-star luxury service.
Every single staff member, from the captain himself (who was very visible and very approachable, by the way) to the kitchen staff working behind the scenes to make our trip so very special.
We were aware of their supreme efforts whenever and wherever we went aboard the Crystal Mahler.
Finally, I must add that I spoke with a lot of staff and crew and one major theme emerged.
That was how much they enjoyed their jobs and were blessed to be working for Crystal Cruises.
Just about everyone also commented on how wonderfully the cruise line treats them: with dignity and courtesy and respect.
It meant quite a lot to my family and me to learn how much the company, Crystal Cruise Lines, honors and respects their staff.
Thank you Crystal River Cruises, it was a delight to sail with an international company with your very honorable standards.
By the way, all gratuities are included when you sail with Crystal Cruises.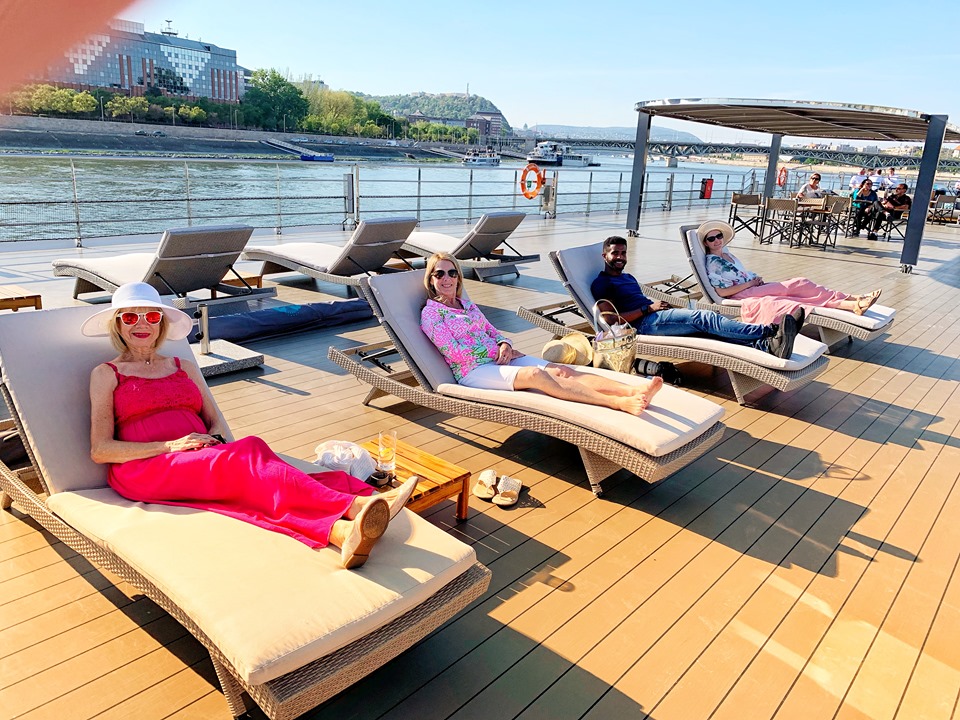 Relaxing and making memories on the Crystal Mahler Vista Deck watching the world sail by. Can't you see you and your family here someday?
Sailing with Crystal River Cruises was a dream-come-true for Victoria and me and our family. We now have wonderful memories of the fabulous experiences we had during our time with Crystal Cruises.
Have you ever sailed with Crystal Cruises? Please share any tips or memories in the comments section below. If you have any questions about Crystal River Cruises, leave them in the comments section as well.