Are you looking for advice, practical tips, and smart suggestions on how to avoid getting sick on a plane? Well, look no further because on my flight from Miami to Paris, across the aisle from me sat a visibly ill woman.
Her eyes were red and glassy, her nose swollen, red and draining, and she had a violent uncontrollable moist cough. Yes, across the aisle from me for an eight-hour flight!
Studies show more than 1 in 5 travelers who fly to their destinations suffer from colds or flu after their flight.
And now during this worldwide Covid pandemic, it is more important than ever to remain vigilant and protect our own health, the health of those we love, and even strangers as well.
You certainly run the risk of becoming sick on a flight from directly inhaling particles in the air from someone else's coughing or sneezing.
Or you can become ill if you touch an infected surface and then touch your eyes, mouth, or nose.
How can we avoid getting on a plane? And what did I do during my flight to Paris to prevent my across-the-aisle fellow passenger's germs from ruining my trip?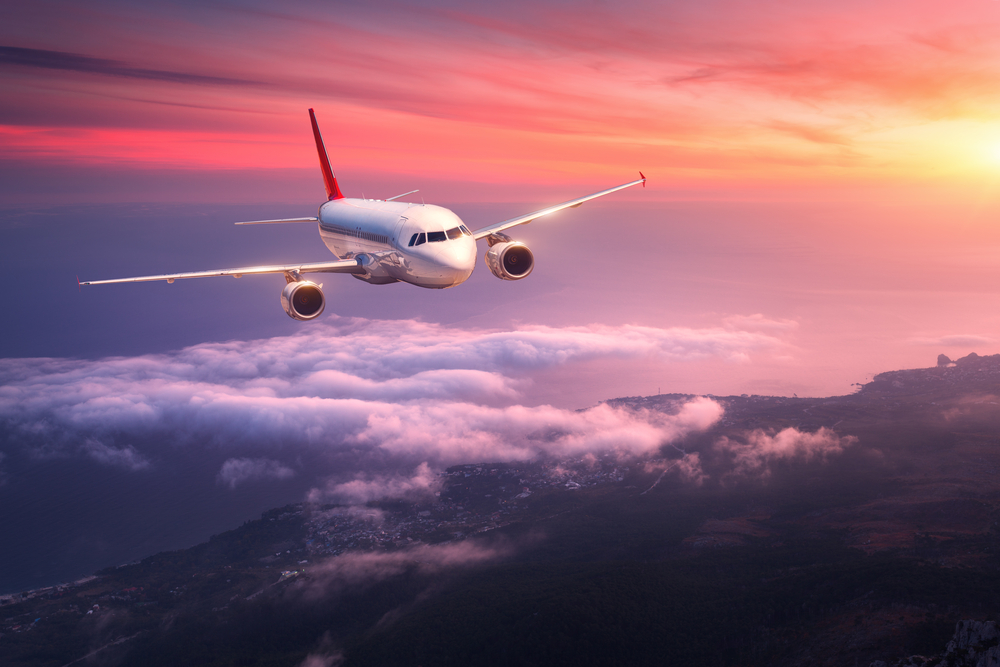 How to Avoid Getting Sick on A Plane
Stay Hydrated To Boost Your Immunity
One of the most important tips on how to avoid getting sick on a plane is to remain hydrated. You have to work at it! Most planes fly at 30-35,000 feet elevation where the humidity is very low.
Unfortunately, the humidity inside the cabin of a plane is usually lower than 15%. This is very drying to nasal passages and the throat and allows the bacteria and viruses easier access to your lungs.
To combat this, you must remain hydrated. Drinking water keeps your mucous membranes remain moist and better equipped to fight germs.  Drink a bottle of water before you get on the plane and visit some of the best beaches in Texas.
If bottled water isn't your thing, carry your empty nondisposable water bottle through security. And then fill it as soon as you are through. And continue to hydrate frequently for the duration of your flight.
Some of the newer budget airlines do not provide soft drinks, coffee, tea, or even water to their passengers. So it is even more important than ever to bring your own water on board.
And using your own non-disposable water bottle is not only economic but kinder to the earth.
I never leave home without my Bobble water bottle. I personally like the 18.5-ounce size because it is not too heavy to carry when it is full. I make sure to really hydrate at the gate before I board my plane.
And then have a full Bobble full of water for the trip. Because the Bobble has a replaceable charcoal filter like this, I can carefully refill it in the plane lavatory and have fresh clean water to drink.
If you prefer stainless steel this double-walled vacuum insulated stainless steel water bottle may be more to your liking. It comes in a variety of sizes and colors for you to choose from and is affordable.
Remaining hydrated is an important step on how to avoid getting sick on a plane.
Read Next:
How To Pack Lightly Using Only A Carry On
7 Tips For Surviving Long Haul Flights
Travel With Nose Protection
Airborne germs are one of the two top sources of bacteria and virus infections. Consider bringing a nasal saline solution or nasal mist with you when you fly.
This keeps your nasal passages moist, which can boost your body's germ flushing action. (Be sure to follow the manufacturer's directions.)
Or, you can apply a small amount of Neosporin antibiotic ointment just inside your nostrils (using a Q-tip cotton swab or freshly washed hands!)
Steam from hot drinks served on board like coffee, tea or hot chocolate is another way to keep your mucous membranes moist.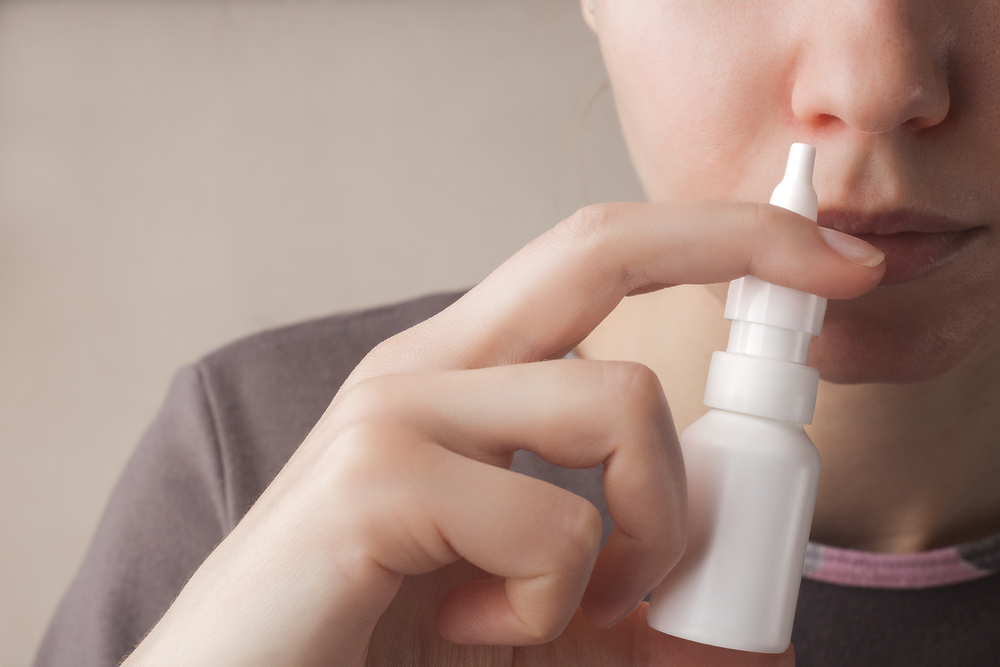 Be Aware Of Your Fellow Passengers
Onboard your plane, a person with a cold or the flu who is sneezing or coughing can infect others.
You are generally only in danger of catching their flu or cold if you sit within two rows or two seat lengths from the sick person.
If you think a fellow passenger is a germ dispenser, ask to move your seat. You can be truthful about your situation or reason for the request.
Or you can volunteer to sit in an exit row, or closer to the bathroom. Or even switch places with someone who wants to sit with their family.
If moving isn't an option, consider some alternatives to protect yourself and avoid getting sick on a plane.
If the offending person is seated behind you, don't put your seat back which would bring you closer to them. If they are sitting in front of you, do tip your seat back to be a bit further away.
Check the airline you will be flying for their covid protocols. All airlines have similar yet sometimes different requirements.
One thing that is clear is that facemasks are a requirement to fly. And most likely you will not be permitted to take it off during your flight (except to eat or drink at your own seat.)
I also like this face shield. This provides protection for your entire face (eyes, nose, and mouth)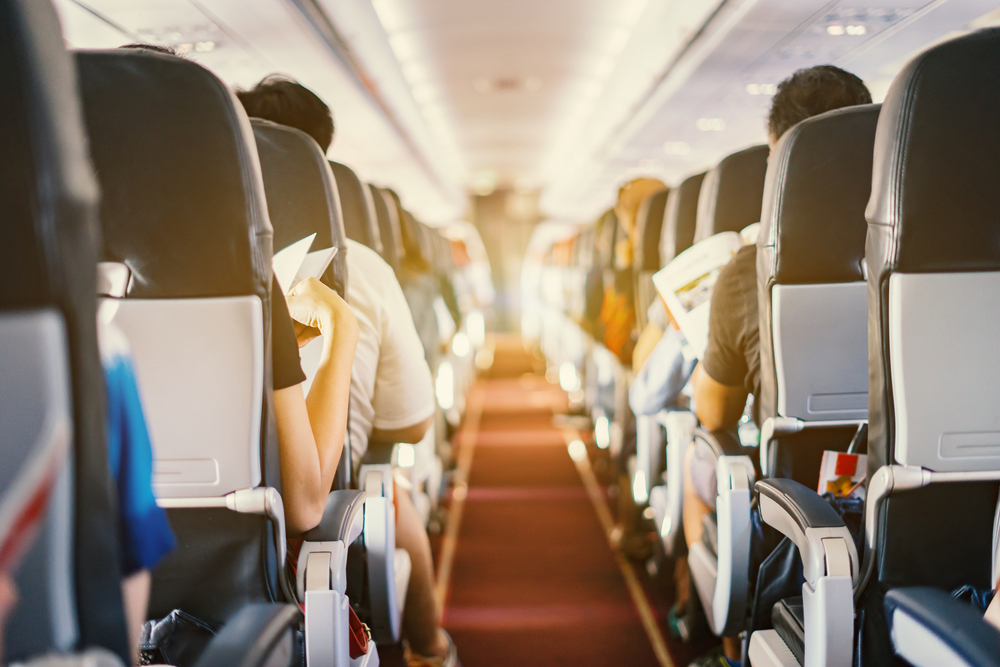 Disinfect Around You
This is one case in which being a paranoid germophobe is just common sense.
Germs ARE all around you when you are trapped in a tiny airplane cabin: on shared surfaces such as armrests, tray tables, seat belt buckles, seatback pockets, and bathroom door handles.
Just think, the person sitting in your seat before you may have put his/her used contaminated tissues or discarded napkin in your seat back pocket! (Ewwwwwww..)
Germs can survive for hours or days after the passenger who brought them all on board has departed.
Some of the 200 or so viruses that cause the common cold can infect people up to 18 hours after they have left the host.
And flu viruses can infect people for up to 8 hours after they have left their host. MRSA and E-coli can live on the plane for over a week!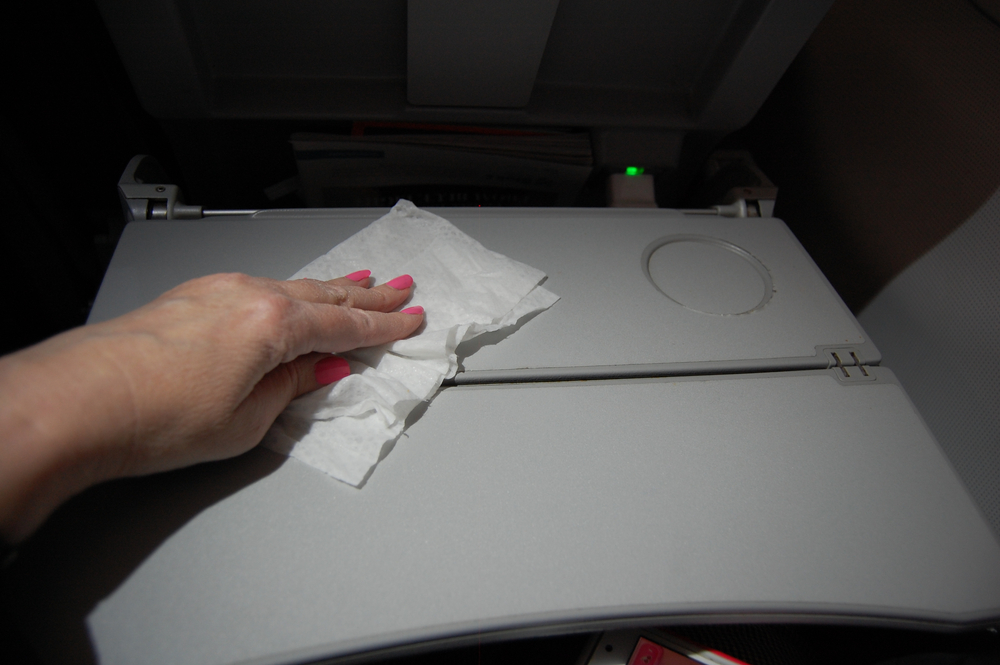 There is simply no substitute for hand washing as the first line of defense against all types of illnesses and how to avoid getting sick on a plane. Wash your hands before and after you board your plane.
Use a paper towel to turn off the faucet in the plane's lavatory. This way you won't pick up more germs before you leave the bathroom. Under your nails is where 70% of germs hide, so don't forget to clean them.
Carry alcohol-based hand sanitizer when you cannot wash your hands. Also, void touching your eyes, mouth or nose with your hands any more than you have to.
I like this Purell Advanced hand sanitizer with the jelly carrier. This way you have extras, (one for your purse, one for your backpack, etc)/ You can also share one with your traveling companions.
Also, pack disinfectant wipes like these Clorox disinfecting wipes. Wipe down your tray table, armrests, seat belt buckles, remote control devices, television touch screens, and overhead air vent controls to help you avoid getting sick on a plane.
Don't store personal items such as your water bottle, reading materials, or tissues in your seatback pocket. Keep them stashed in your carry-on bag.
For bathroom door handles and other public surfaces, use a paper towel or tissue as a barrier between your hand and the object. And ALWAYS wash your hands before touching your eyes, nose or mouth.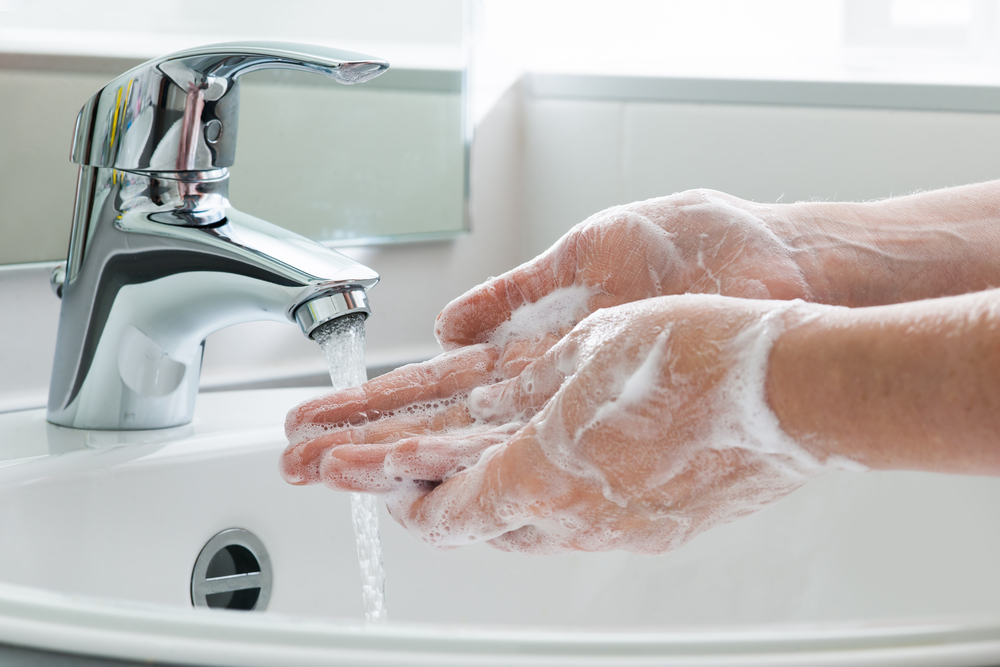 Do Not Turn Off Overhead Vent As A Precaution
Lack of circulating air is one of the main reasons airplanes are breeding grounds for germs. Do not close your overhead air vent that is blasting that frigid air! Your plane's actively recirculated air is filtered.
Planes with good ventilation systems have lower cold and flu transmission than those that don't. Also, the blowing air just might help push away germs that may float into your personal space.
Maybe from a nearby passenger and could be the reason you avoid getting sick on a plane.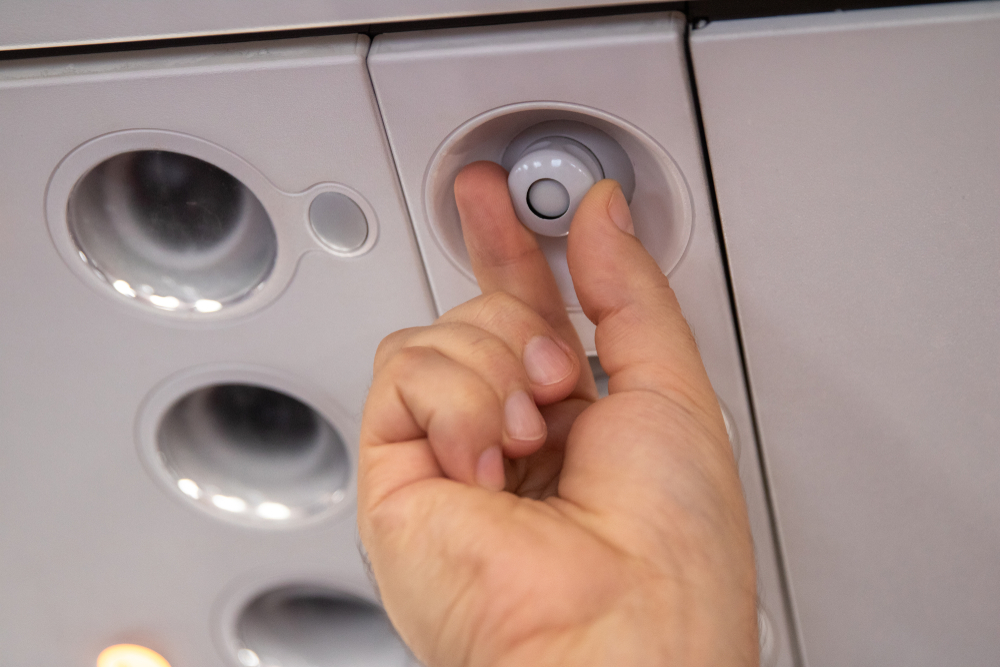 Do Not Sit In An Aisle Seat To Reduce Your Risks
Avoid aisle seats. Sitting in an aisle seat may have you more at risk of being exposed to germs. You are closer to passengers who patrol the aisles for exercise or those coming and going to the restroom.
People often tend to touch or hold aisle seats when walking up and down the aisles, contaminating them.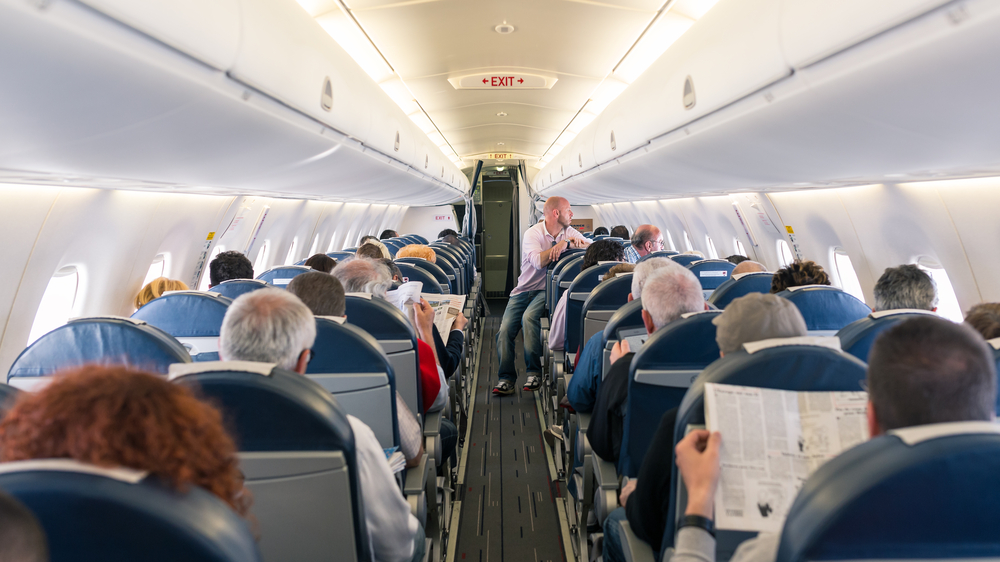 Do Not Use Blankets Or Pillows Unless Wrapped
Do not use airline blankets and pillows unless they are individually packaged is another great tip on how to avoid getting sick on a plane. Investigations have shown that airlines wash blankets and pillows every 3 to 5 days.
Often freshly washed blankets will only be set out for the first flights of the day. Customers who board toward the end of the day risk receiving blankets or pillows that have been used several times during the day.
I like a blanket when I fly so bring my own for flights longer than a few hours. I like this oversized travel blanket with its own carry pouch.
Here is the same popular travel blanket in a compact size. This neck support travel pillow is a great option that can be secured to your backpack or luggage when in transit.
I like that this travel pillow supports the head, neck, and chin in any sitting position. It comes in a lot of colors so you can pick one to match your luggage.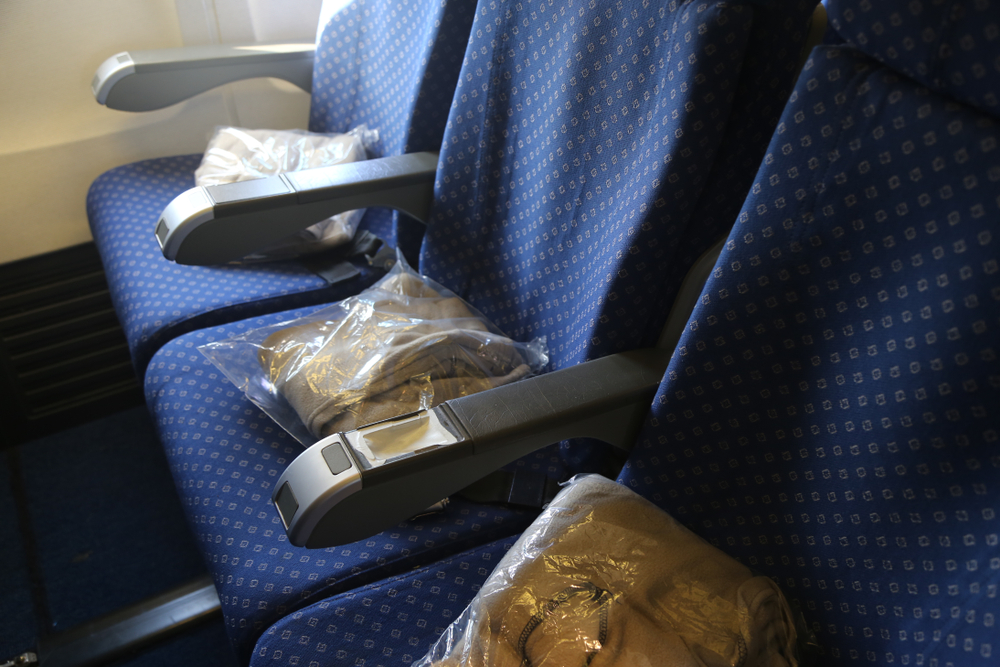 Check With Your Airline For Its Facemask To Avoid Getting Sick On A Plane
As the world unfolds and travel is resuming, due your own due diligence before your flight. Check the most current CDC guidelines. And just as importantly, call or search your specific airline's mask policy online for the most up-to-date mask policy.
These disposable facemasks would work well while traveling.
These reusable facemasks improve breathability and whisk sweat away.
Please remember, a face mask does not take the place of frequent hand washing or using alcohol-based hand sanitizer.
When you wear a mask, do not touch the front of it with your hands. And when you remove the mask, dispose of it properly in the trash if it is not reusable.
Consult the WHO and/or Centers for Disease Control near the time of your travel plans for more updated information.
–
So how did I fend off the offensive germs my fellow traveler was uncontrollably spewing into the air during my flight to Paris?
And how did I avoid getting sick on a plane? I made an extra effort to drink all through the flight. I made a conscious decision to sit turned inward towards my right and away from the aisle.
I definitely cleaned my personal space with a lot of disinfectant wipes. Also, I covered myself for most of the trip with my personal blanket I brought on board.
When I slept I even covered my head. The poor woman coughed and sneezed relentlessly all through the flight.
Once I arrived at our Air B&B flat in Paris, I deposited my luggage in my room. Then I promptly put all my traveling clothes in the washing machine to clean!
I made sure to hydrate and get extra rest to pamper my immune system. I did not get sick and enjoyed a week in Paris with my family.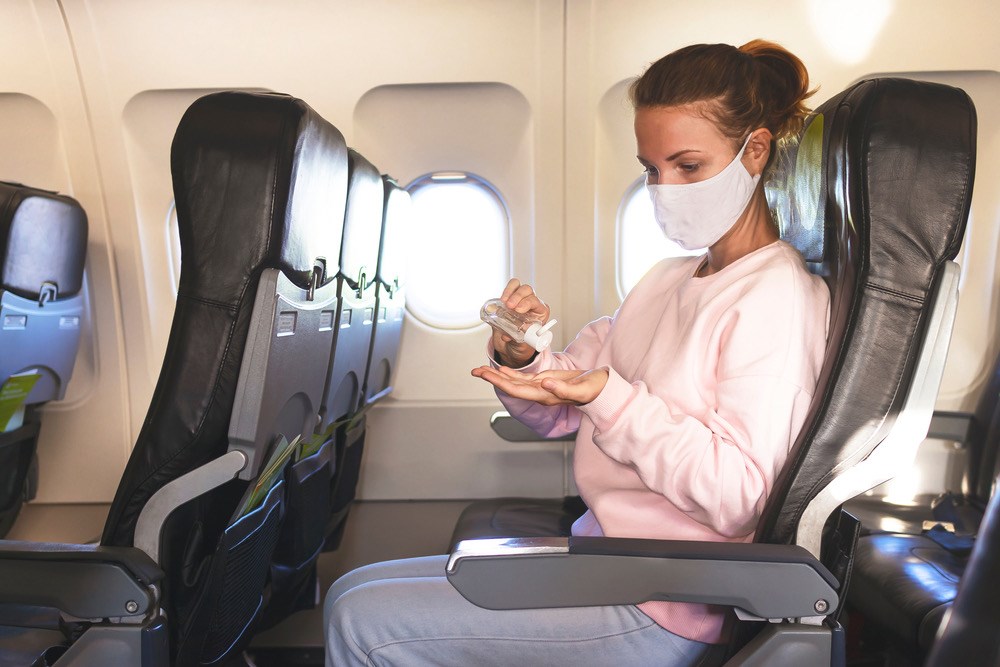 Packing Tips When To Help You Avoid Getting Sick On A Plane When Traveling
I hope these additional tips will aid you in having a safe and organized trip!
A concealed travel pouch may be one of the most important items you bring with you. This unisex RFID blocking concealed travel pouch is lightweight and comes in several colors.
It has lots of organization to give you peace of mind. You can keep your most valuable documents safe and secure next to your body.
If you have a pouch already you may not want to or need to invest in a new one, like me. If it does not come with the RFID protection, these RFID sleeves would be handy to prevent identity theft.
This configuration comes with enough passport and credit card sleeves that the entire family would be protected.
They are slim too, so they will easily fit into your current pouch or wallet. These are the kind my family and I use not only when traveling but at home as well.
If you are planning on taking a lot of pictures with your phone you will definitely want to consider an external charging battery.
This Anker high-speed phone charging battery is the exact one I carry with me on all of my trips. It can be used on a variety of phones, not just an iPhone like I have.
And wow is it fast! I like that it holds its charging capabilities for several uses so I do not have to worry about it while out and about. And if I forget to recharge it at night, it will still be good to go the next day.
My daughter gifted me with this FugeTek Selfie Stick and Tripod for my birthday. It has Bloothtooth connectivity so it is very easy to use.
It is made of durable aluminum and is very lightweight and easy to carry. I love mine and I think you will enjoy it too!
I was never a fan of packing cubes until I tried them out! Now I am sold. These Bagail packing cubes are the exact ones I use whenever I travel. I cannot believe how much more organized I am now! And I never leave without them anymore.
I always lock my carry on luggage if I am on a flight where I will be napping or even sleeping. These TSA-approved locks come in many configurations and colors and are inexpensive.
Perhaps you are traveling a long distance and packing space is a premium. Then this set of collapsible silicone foldable water bottles would work well for you.
Would not take up much space in your suitcase at all. And you will be receiving a set of two.
Bring a lightweight scarf or shawl. Scarves and shawls are very popular. Both men and women wear scarves, both decoratively and as a layering piece to keep warm.
This cotton unisex lightweight scarf is versatile and can be worn in any season. I like this colorful oversized scarf too.
Don't forget to bring along a universal power adapter. This worldwide power plug is a great example and will charge your phone at the end of your busy days.
And this world traveler adapter kit can charge several devices at the same time.
This is what you will need when there are several people traveling in your group, or if you bring several electronic devices on your trip that require charging at the same time.
If you are in need of new luggage, this expandable soft side spinner luggage is affordable and comes in lots of colors.
If you like hard-sided better, then you may favor this hard-sided luggage set better. Both sets come with TSA-approved zippers locks and 8 wheels per piece. Either will be great for the plane.
Do you notice you get sick after flying? What do you do to ward off colds or the flu before, during, and after you fly? Leave your tips in the comment section below.
Pin this post: