Are you wondering which are the best day trips from London by train? Wonder no more.
While there are so many things to do in London, getting out of the city allows you to see much more of this great country.
Planning your trip to London last minute?
Make sure to book ahead! Hotels and tours often sell out the closer you get to your trip. Here are our top pics for London!
Top Experiences and Tours In London:
Best London Hotels:
In this article, I will walk you through what I feel are the best day tours from London and tell you all you need to know. Deciding which day trip from London to take just got a whole lot easier.
When you are thinking about day trips out of London there are so many options, countless. The question is more about what you want to experience rather than where can I go.
From quirky towns and cities in the north of England to the beautifully put-together cities and towns in the south there is something for everyone.
Whether you like history, food, royal connections, beautiful architecture, or great shopping the U.K. has it all.
In this article, all of the London day trips by train I have chosen are places that can easily be reached by train and will require no other transport to get you to all the important things.
Most of them are direct trains from London and a few of them require changes.
Changing trains is rather easy in the U.K., especially on some of the smaller trains. There will nearly always be someone around to direct you.
If you download and purchase your tickets through something like trainline, you will be told what platform your next train is leaving.
All of the places I have chosen are unique and different in their own way. Each of them is historic with a certain charm and all of them will give you a different experience of the U.K.
Of course, these are only just a snapshot of the incredible day trips from London. Most big towns and cities have train stations and if you are a little adventurous you can get almost anywhere via train.
So take a seat, grab a cuppa, and let me walk you through the best day trips from London by train.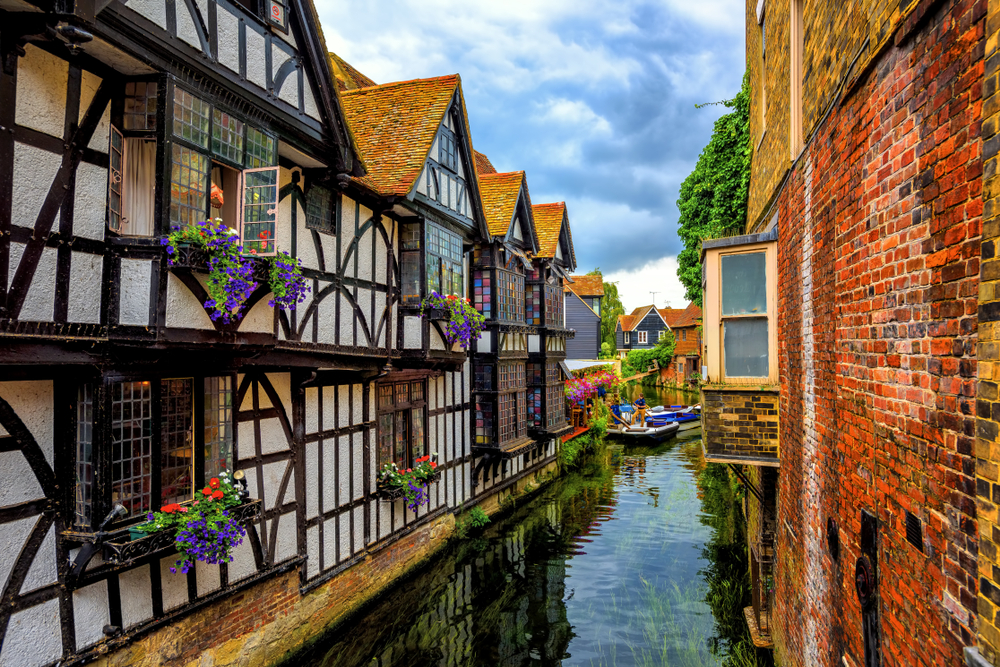 10 Best Day Trips From London By Train
Bath Spa, Somerset For Beautiful Architecture
If you only pick one London day trip make it Bath. It is one of the best cities in England and one everyone needs to visit. It is also really easy to get to from London too.
Bath is a pristine, clean, and historic city that is pretty much unchanged since its creation. The city is a UNESCO Heritage site and it really can feel like you are walking around a living museum or a film set.
Everywhere you look there are pale golden Georgian buildings punctuated with Roman architecture that will simply take your breath away.
Must-sees here are the Roman Baths, Pultney Bridge, and the imposing Gothic Bath Abbey.
You will not run out of things to do here and the main sights of the city are all mostly within walking distance of each other.
The Royal Cresent is also a must-visit however it is a further walk than most of the other attractions. Bath does have a hop-on and hop-off bus which takes you there easily.
It can get very crowded though so book tickets in advance and get there as early as possible. If you are going to visit The Roman Baths book in advance at the earliest time.
Bath is one of the best day trips from London by train. I am sure you will fall in love with this city.
How To Get There: London Paddington has direct trains to Bath Spa.
How Long It Takes: Approximately I hour and 20 minutes.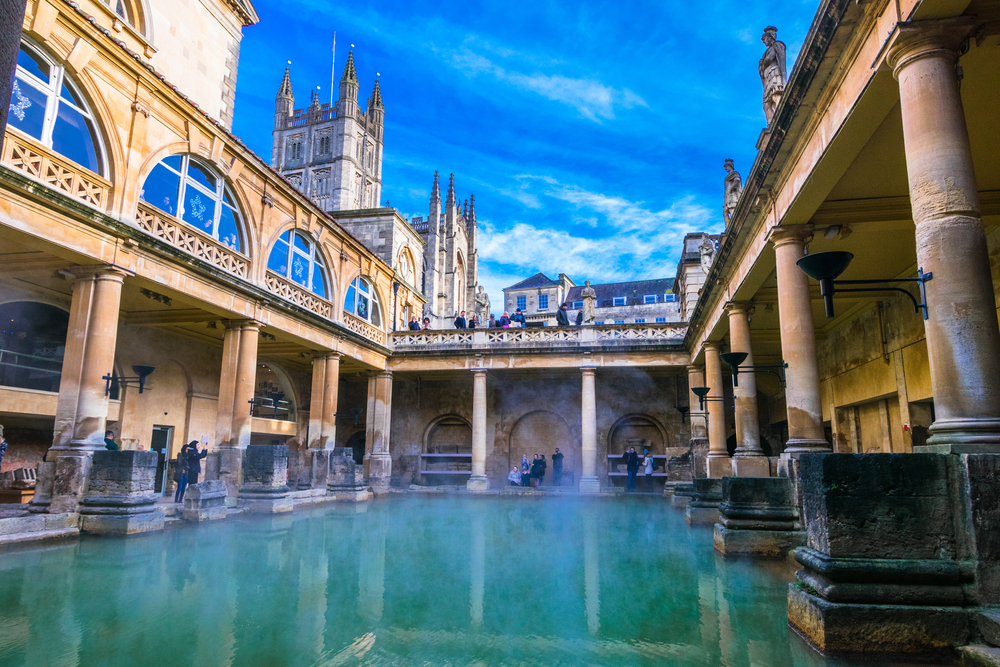 Brighton, Sussex For The British Seaside
If you are looking for train trips from London to the beach or seaside then Brighton is for you. Brighton is an eclectic seaside town that just oozes fun.
Brighton is one of the easiest beach towns to get to from London. You will find a pebble beach (yes it may look like sand but it is in fact pebbles), incredible architecture, and lots of boutique shops and hip restaurants.
Places to see where you are here are the iconic Palace Pier, the excentric Brighton Pavillion, the beach, and all the wonderful shops.
And it wouldn't be a trip to the British seaside without fish and chips eaten outside
Brighton was a place created with fun and indulgence in mind and you are going to love it. One of the best day trips from London by train if you have children or are with a group of friends.
How To Get There: London Victoria Has Direct Trains To Brighton
How Long Will It Take: Approximately 1 hour
Book Your Brighton Royal Pavilion Ticket In Advance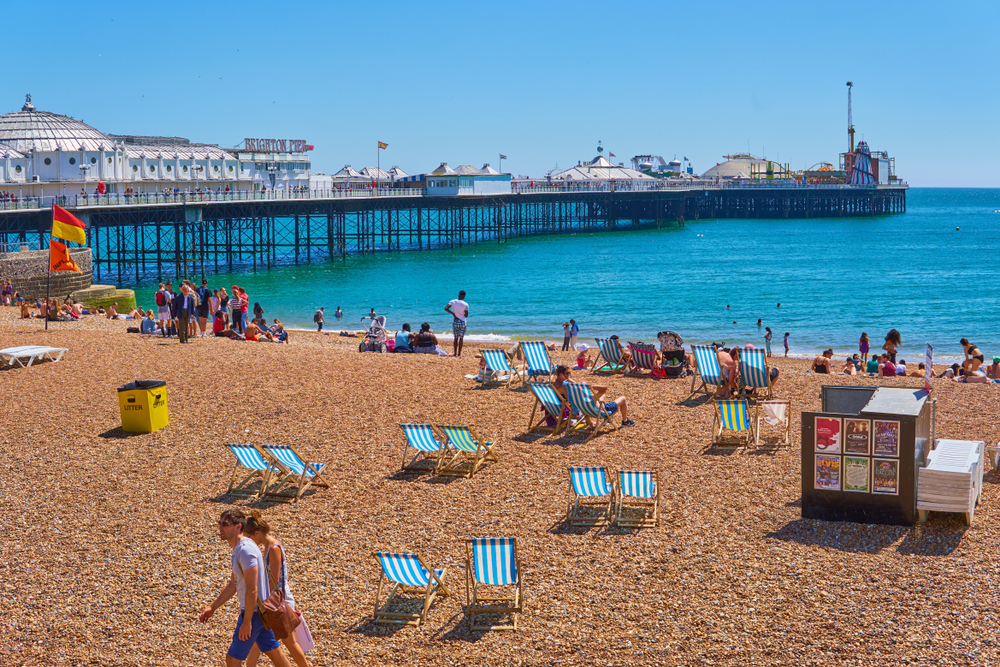 Cambridge, Cambridgeshire For Academia Vibes
Cambridge is one of the day trips out of London that most will enjoy. It's a really easy journey and once there you have a short walk to the town center.
Cambridge truly is stunning with Gothic architecture everywhere and a certain vibe that isn't recreated anywhere else. There is so much to see and do here and the shopping and eating are always excellent.
Must see here are Kings College, Trinity College, Fitzwilliam Museum, and the Botanic Gardens. It's quite a walkable city and there is a hop-on and hop-off bus.
Cambridge also has one of four medieval round churches which was built in 1130 if you like old things.
However, the thing you simply must do in Cambridge is go punting down the river. It's an experience and one of the best ways to take in some of the university sites.
Cambridge is a beautiful city with lots of green spaces and plenty to keep you occupied. It can get busy in the summer months so always get there as early as you can and book things in advance.
This is one the best day trip from London by train for those that love literature and the likes of Harry Potter.
How To Get There: London Kings Cross has direct trains to Cambridge
How Long ill It Take: Approximately 1 hour 10 minutes.
Book A Cambridge Guided Punting Tour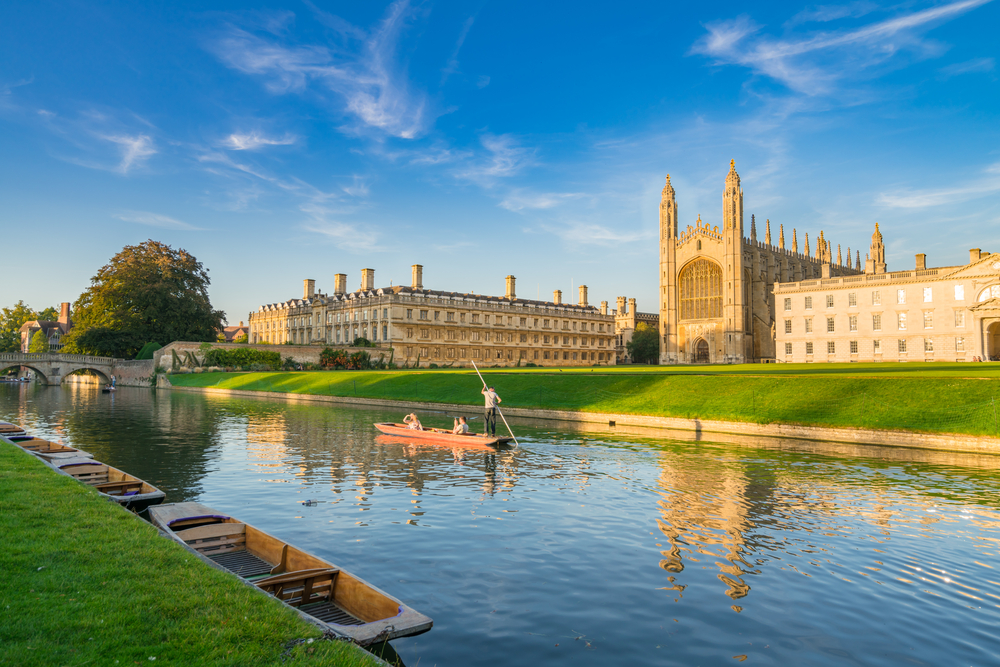 York, Yorkshire For Medieval England
This day trip from London is probably the furthest but is I believe one of the must-visit places in the UK.
While the cities in the south tend to be pretty, gentile, and Georgian there is something more bold and earthly about York.
Here we are Medieval, Roman, and Viking. The city is less polished, but in my opinion much more interesting.
York is old and is one of the only cities where you can still walk around the city walls, which you absolutely must do. They are the most complete example of medieval walls in England.
Another must-visit location is The Shambles which was the inspiration for Diagon Alley in Harry Potter. This row of shops is both charming and spooky at the same time. It is one of the best-preserved medieval streets in the world.
Cliffords Towe, the remains of York Castle, and The Jorvik Viking Centre are also worth a visit. And you absolutely must see York Minster.
It's not such an easy city to navigate as say Bath or Oxford and its layout can sometimes seem chaotic. Getting on a bus and having a tour first off is a great way to get your bearings and hop off and on as you wish.
Because it is in the north of the country York is often missed out by people primarily visiting London but along with Bath I would say this is a city you absolutely must see.
One of the London day trips you will want to take, trust me.
How To Get There: London Kings Cross has direct trains to York
How Long Will It Take: Approximately 2 hours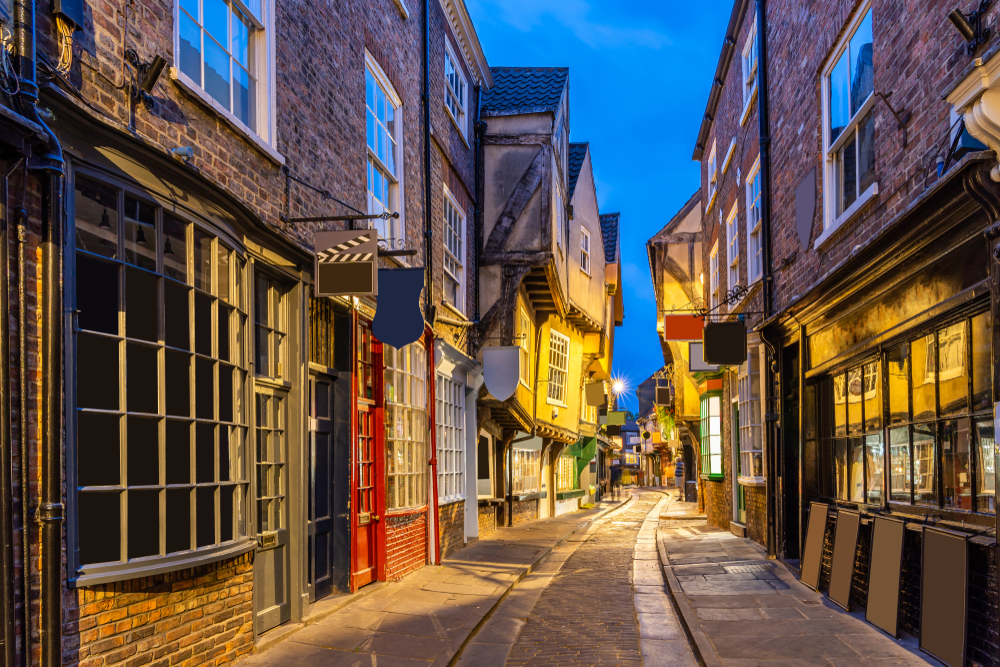 Manchester, Lancashire For A Bit Of Everything
Another northern city Manchester is one of the day tours from London. It wouldn't be top of my list if you haven't been to some of the others.
However, if you love your history with culture shopping and unusual things to do Manchester is your place.
It's a vibrant city that has a lot to offer and mixes ancient history with an industrial past and an innovative future.
Most of the big TV and media companies are based here. It's also a much more friendly city than say London or Birmingham.
The great thing about Manchester is that the local transport is free so from the train station you can get pretty much get anywhere you want.
It's not a compact city so depending on what you want to see you will be thankful for it.
A hop-on-hop-on bus in Manchester is a great idea.
Must visit here are Manchester Cathedral dating from 770 AD, The John Rylands Library which has Harry Potter vibes all over it and. Also, take a visit to the northern quarter. Manchester's hipster neighborhood.
The shopping and restaurants here are top-notch and honestly, anything you want you can get. They even have a speakeasy behind a washing machine.
Manchester has a lot of the quirky elements you find in many of the regenerative northern towns and cities that you just don't find in their southern counterparts.
Visiting Manchester really will give you an insight into British culture that you won't get elsewhere.
When it comes to a one-day trip from London, Manchester is perfect.
How To Get There: London Euston Direct To Manchester Piccadilly.
How Long It Takes: Approximate 2 hours 10 minutes.
Book A Manchester River and Canal Tour.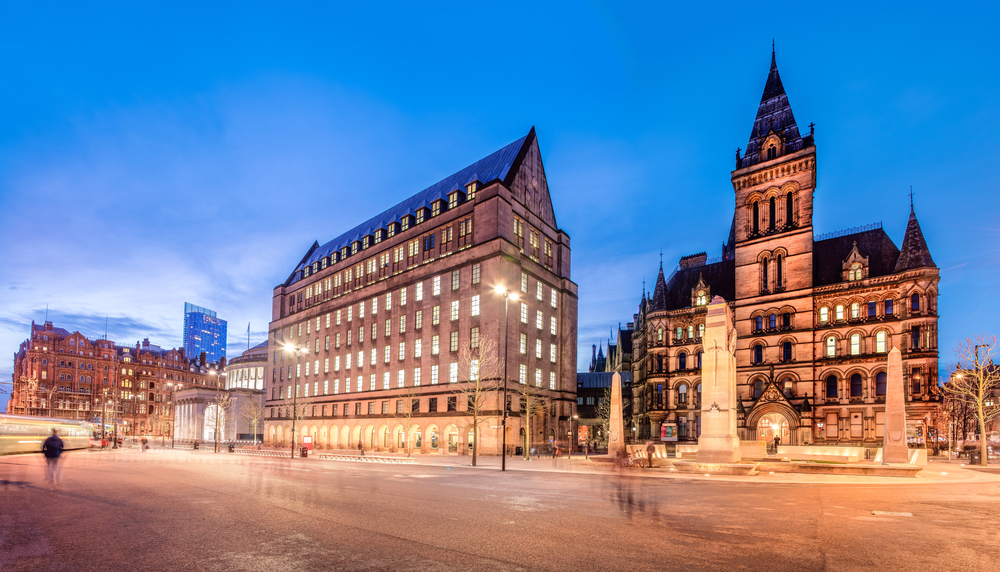 Canterbury, Kent For Ecclesiastical History
Canterbury has been a tourist destination since the middle ages. This is mainly due to its links to the church and its UNESCO World Heritage Cathedral dating from 597 A.D.
If you are looking for a day trip from London that offers something different this is it.
It's the ecclesiastical center of England and was long considered a site of pilgrimage. The 153-mile Pilgrims Way runs between here and Winchester.
Famous for Chaucer's Canterbury Tales and the head of the church, the Archbishop of Canterbury, it has a lot to offer and tends to be less busy than other tourist destinations.
It's equally as charming though with Saxon churches, Gothic and Romanesque architecture, and cute houses and areas around the river.
You will also find lovely boutique shops and independent cafes, it's a quaint and charming place.
One of the best day trips out of London.
How To Get There: London Charing Cross and London St Pancras have trains to Canterbury West and East, and London Victoria goes direct to Canterbury East.
Both stations are a short walk from the city. Most trains are direct but you have to change on others.
How Long Will It Take: Approximately 1 hour 30 minutes.
Book Your Canterbury Cathedral Entry Ticket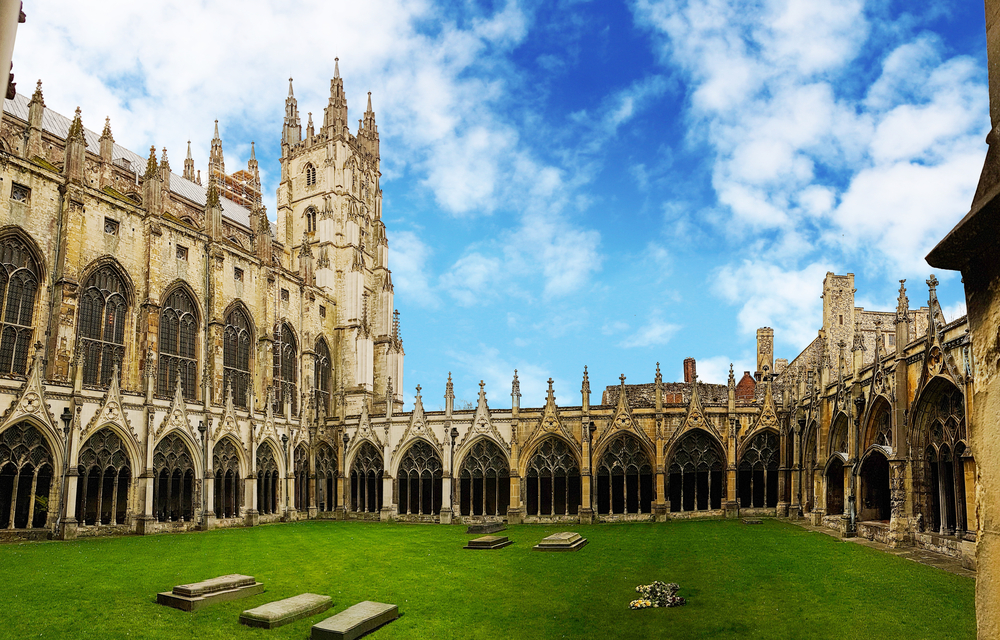 Paris, France For All The Romance
Most find it odd that you can get to a different country from London quicker than you can get to other parts of the UK.
Thanks to the Eurostar Paris is less than 2 and a half hours away. The Eurostar arrives at Paris Gare du Nord train station. From there you can get the metro to where you want to go.
There are so many things to do in Paris but must see are The Effiel Tower, Notre Dame, the Arc de Triomphe, and the Champs-Élysées.
Also, a bit of shopping and eating pastries in the best cafes have to be on the cards right? Just walking around this beautiful city and enjoying the ambiance is enough.
Then before you know you will be back on the train heading back to the UK. It is that simple.
London to Paris day trips by train don't get much better than this.
How To Get There: Direct on the Eurostar from London St Pancras
How Long It Takes: Approximately 2 hours 20 minutes
Book Your Paris Day Trip From London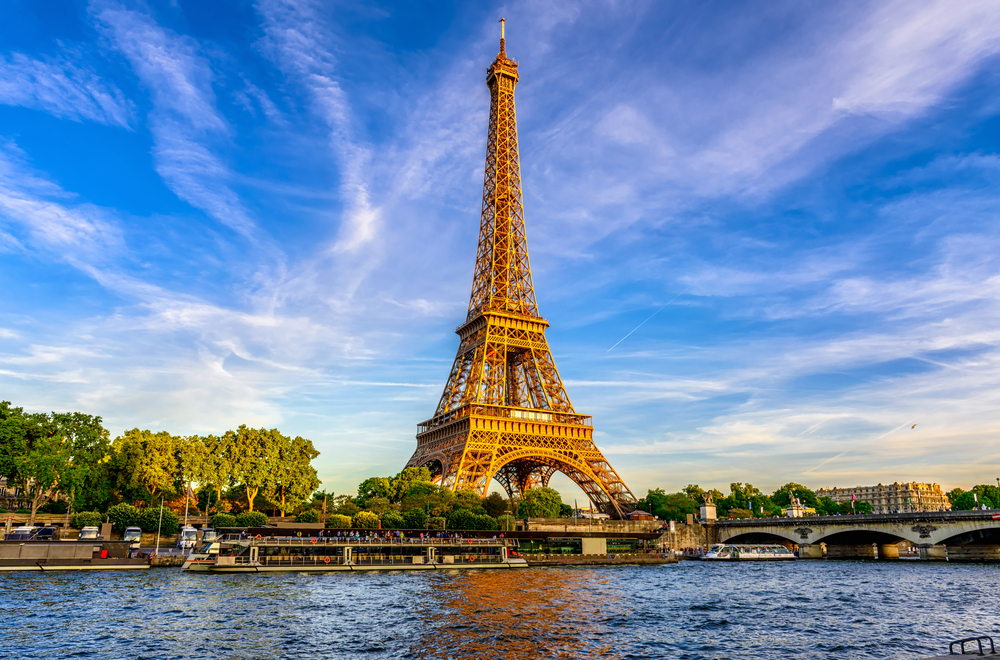 Oxford, Oxfordshire A Charming City Is A Great Day Trip From London By Train
Day trips from London don't get much easier than those to Oxford. Often referred to as the sister town to Cambridge and visa versa they share many similarities.
If I was only in England for a short time I would only visit one of these either Cambridge or Oxford depending on which appeals to you most.
While they are not the same they feel similar and both share many similar sights and styles. I would say Oxford has more of a city feel and the river plays less of a part but they are both equally as charming.
Must see here are the Radcliffe Camera, Bridge of Sighs, and one of the many colleges.
And if you can take heights go up the University Church of St Mary the Virgin Tower once up there it is very narrow with some steep steps but the view is worth it.
A lot of the buildings here were used in the Harry Potter films and a walk up any of the side streets gives you that old academia feels that is so charming.
It's an easy place to get around and you can see all the sights pretty easily as they are close together. It also has a rather relaxed chill vibe about it.
One of the best day trips from London by train.
How To Get There: A Direct Train From London Marylebone.
Approximate Time: 1 hour and 20 minutes.
Book A University and City Walking Tour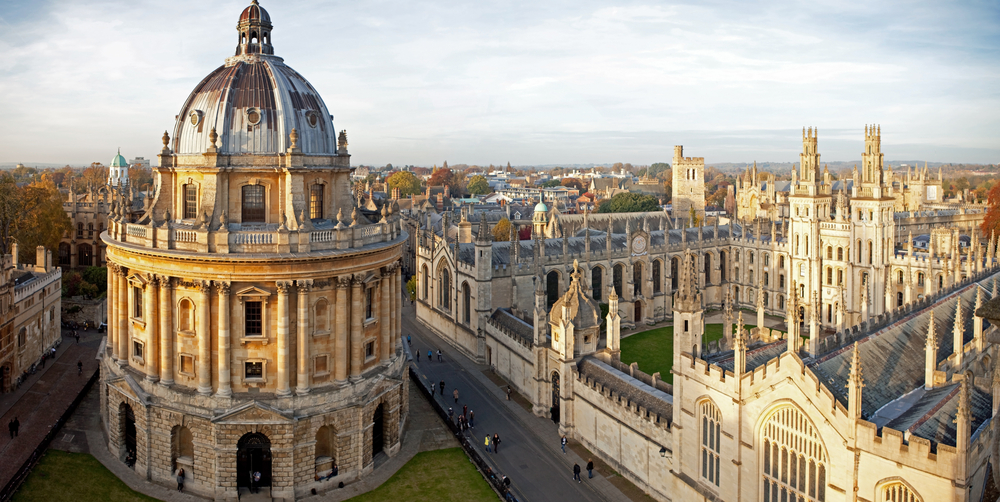 Stratford-Upon-Avon, Warwickshire For All Things Shakespear.
While you can get to Paris quicker than you can get here I had to include it because who would want to see this incredible city that birthed one of the best playwrights of our time?
Yes, Stratford-Upon-Avon is where Shakespeare was born.
You can visit his birthplace and the childhood home of Shakespeare's wife: Anne Hathaway's Cottage. There is also of course the Royal Shakespeare Theatre.
This town is also a really beautiful place with Tudor architecture, a charming river, and lovely green spaces.
What I would recommend here is a walking tour if you want to see everything. Navigating it all yourself and learning all the little gems can be a little challenging.
When arriving by train please be aware there are two train stations in Stratford-Upon-Avon, so make sure you get off at the main station and not the parkway.
As day trips out of London go this is one of the longer and more difficult in this list but very worth it.
How To Get There: From London Euston you get a train to Stratford via Birmgiham where you will need to change trains.
How Long It Takes: Approximately 2 hours and 30 minutes
Book Tickets In Advance For Shakespeare Birthplace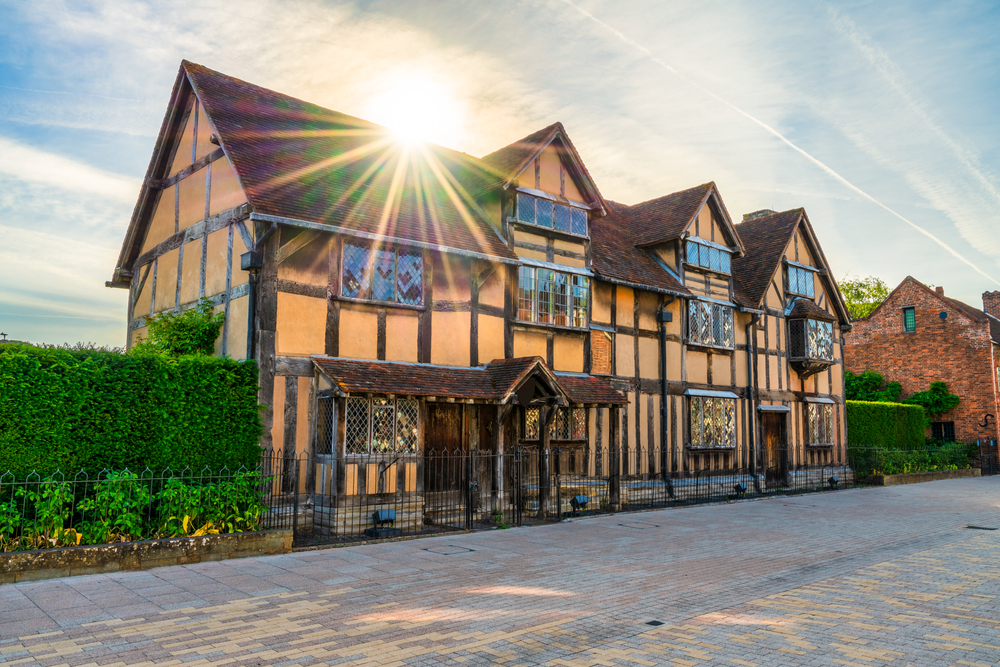 Windsor, Berkshire For All Things Royal
If you are looking for a London day trip that has Royal connections then how about Windsor? This charming town is easy to get to and has so much to offer to those that love history and all things royal.
The big draw here is Windsor Castle. This was the late Queen's favorite residence, was the site of Harry and Megan's wedding, and most recently the Coronation concert.
The castle is 900 years old and the surrounding town blends so perfectly with it.
The changing of the guard happens at 11 am so get there early if you can and it's advisable to book your tickets in advance.
As well as the castle makes sure you visit Windsor Great Park, and Windsor Royal Shopping. This whole town is set up around royalty and is a unique experience for those that love the monarchy.
This is one of the day trips from London by train that you won't want to miss.
How To Get There: Get a train from London Paddington to Windsor & Eton Central. You will need to change at Slough.
How Long Will It Take: Approximately 40 minutes to an hour.
Book Your Windsor Castle Ticket In Advance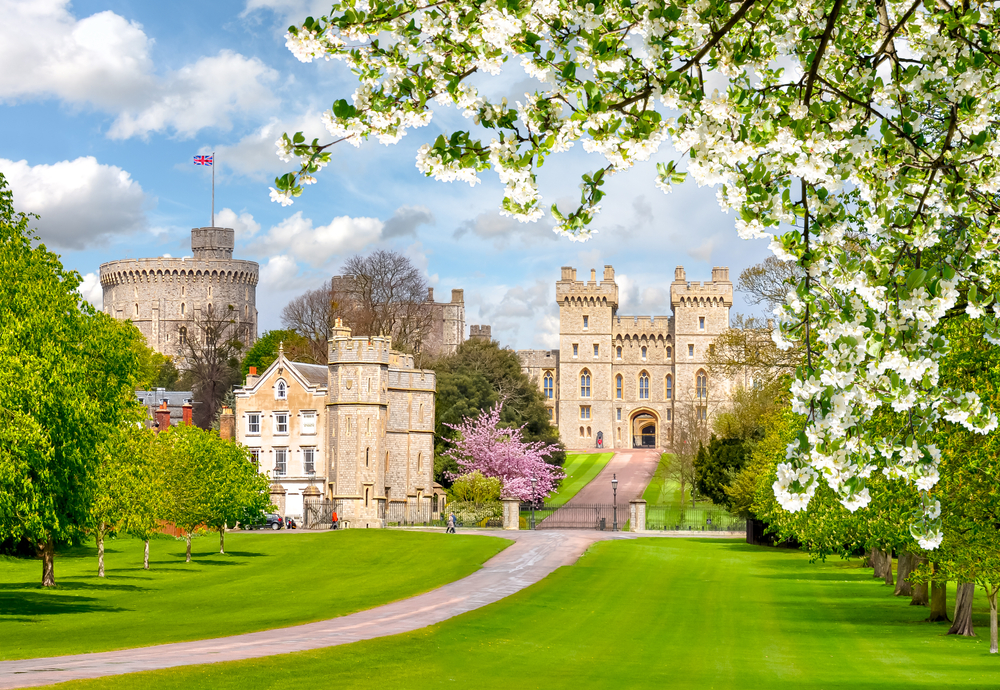 Packing List When Taking Day Trips From London By Train
If you will be traveling, either by plane or by car to London, here are some tips on how to pack lightly.
A concealed travel pouch may be one of the most important items you bring along when taking trains from London. 
It is always important to protect your personal information. Identity thieves are everywhere.
This unisex RFID-blocking concealed travel pouch is lightweight and comes in several colors. It has lots of organization to give you peace of mind.
You can place it under your clothes next to your body to carry your ID safely.
If you have a pouch already that does not come with RFID protection, as I do, these RFID sleeves are the perfect solution.
This configuration comes with enough credit card sleeves that the entire family would be protected. They are slim too, so they will easily fit into your pouch or wallet.
If you are planning on taking a lot of pictures with your phone you will definitely want to consider an external charging battery.
This Anker high-speed phone charging battery is the exact one I carry with me on all of my trips.
It can be used on a variety of phones, not just an iPhone as I have. And wow is it fast!
My daughter gifted me with this FugeTek selfie stick and tripod setup for my birthday. I absolutely love it! It is made of lightweight aluminum and so easy to use.
It has Bluetooth connectivity and is a breeze to use for taking photos during your Covent Garden activities.
You will want to bring your own refillable water bottle with you.
I never leave home on a trip without my Bobble filtration bottle. The 18.5-ounce size is perfect for hiking and it fits nicely in the pocket of a backpack.
The replaceable carbon filter ensures clean drinking water when you want it.
Then this collapsible silicone foldable water bottle would work well for you. Would not take up much space at all.
You will want a backpack or daypack with you to store snacks, your water bottle, phone, extra clothes, etc… No matter the time of day or evening.
This foldable water-resistant backpack would be great.
It is very affordable and is available in many color options for you to choose from. The fact that it folds down into a zippered pouch will make it easy to pack.
—
As you can see when it comes to day trips from London by train there are so many. This list is only the start of the day trips from London you can take but It's a good start.
You may notice I have missed out on some of the more common day trips from London by train out. For example Stonehenge day trip from London and Cotswolds day trip from London.
This is because, in my opinion, these are better trips to take on a coach or car tour. Getting around the Cotswolds without a vehicle is very difficult and obviously, Stonehenge doesn't have a train station and is in the middle of nowhere.
I want you to enjoy your day trip from London and these places are best seen by other means.
Train trips from London can be as easy or difficult as you make them. These are on the easier side.
Whichever of these day tours from London you take I know you will have an amazing time. I can't wait to hear all about it.