Are you looking for things to do in Mill Creek Park?
Will you be traveling to Youngstown Ohio, or a nearby vicinity and wanting to spend time with family and friends in Mill Creek Park? And wondering what there is to do? And what does the park offers?
You have come to the right place. I was born and raised in a suburb of Youngstown, Ohio.
And I have been fortunate enough to have spent more than my fair share of time in Mill Creek Park.
If you are traveling to Ohio by plane, read my tips on how to stay healthy when flying.
Mill Creek Park is almost 3,000 acres of outdoor adventure, romance, and fun.
It is part of the MetroParks (over 4,500 acres) family. It is easy to confuse them. And blend them together. I am limiting my advice to options in Mill Creek Park only.
Here is will share my 15 favorite things to do in Mill Creek Park.
15 Best Things To Do In Mill Creek Park
Visit Fellows Riverside Gardens
This is a wonderful location to begin exploring Mill Creek Park.
One of Ohio's original public gardens, this twelve-acre garden is hugely popular. It attracts hundreds of thousands of locals and tourists alike each year.
Bursting with colorful displays of flowers, what you will see changes with the seasons.
The Joanne Beeghly Rose Garden is of particular beauty as numerous classes of roses are grown.
The Gazebo and the Kidston Pavilion are lovely places to have your Insta-worthy photos taken. As long as there is not a wedding going on there!
Look here for my suggestions on weekend getaways in Ohio!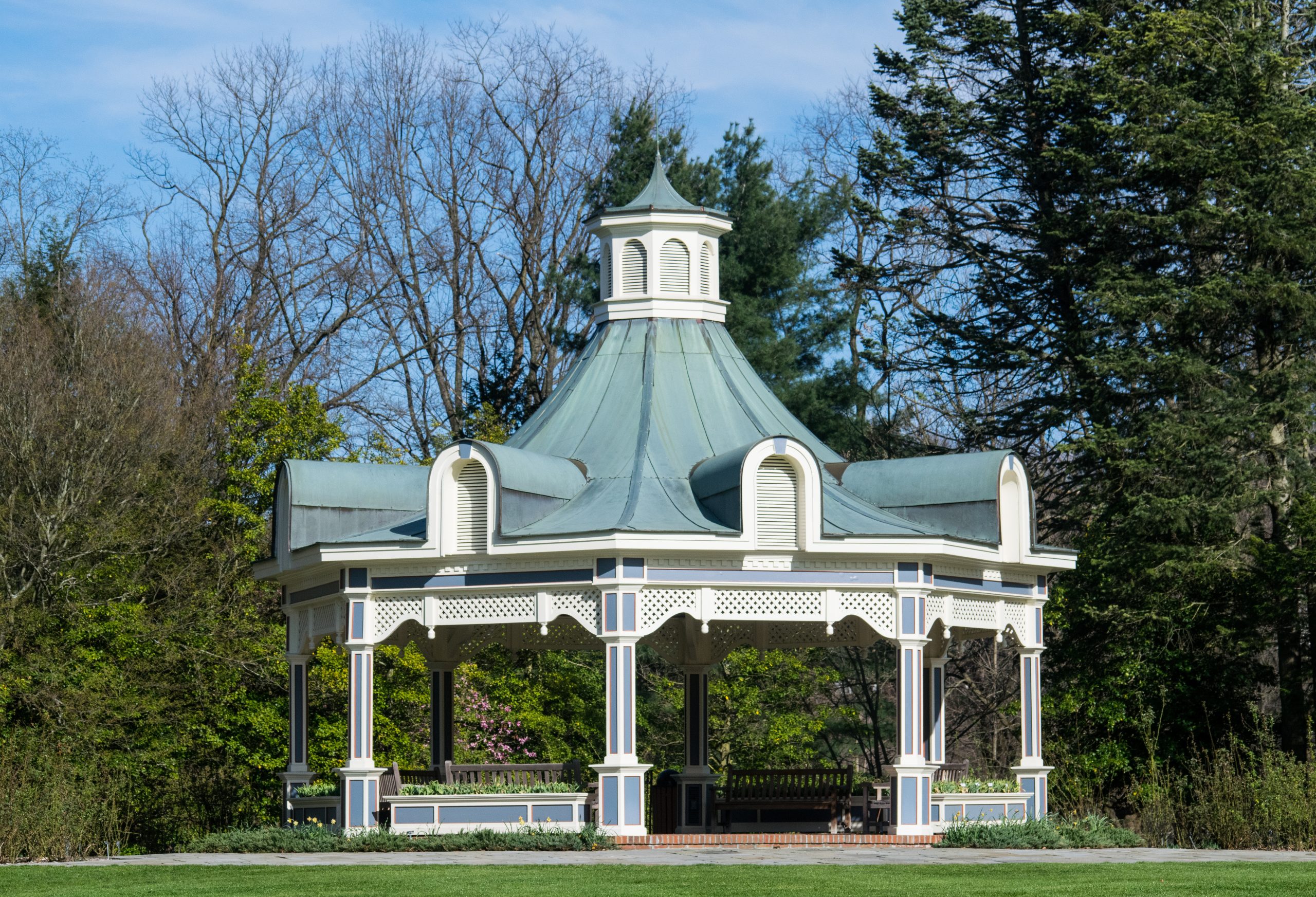 D.D. And Velma Davis Education & Visitor Center
If you are into horticulture, this is the place to visit.
Located within the Fellows Riverside Garden, the building that houses the Davis Visitor center is very interesting.
Inside you will find a library featuring horticulture books for both adults and children.
There is a museum that has tells the history of Mill Creek Park and the Riverside Gardens.
And a gallery that holds exhibits that vary throughout the year.
Read about 18 things to do in Youngstown Ohio for other things to do in the area.
I suggest heading to the Melnick Observation Tower.  It is housed in a very neat-looking metal and glass building.
Climb up to the wrap-around deck where you will see panoramic views of the surrounding gardens and Lake Glacier.
There is an elevator as well so the viewing experience is wheelchair and stroller accessible.
Visit the upscale Shop in the Gardens gift shop. You will find candles, garden items, and home decor options.
All proceeds of sales are donated to the Fellows Riverside Gardens or used to fund their programs.
If it is time for lunch or a snack, stop at the lovely Garden Cafe.
High ceilings and it's mainly glass walls give the impression of being outside. In addition, when weather permits, there is a charming outdoor terrace to take advantage of as well.
It is open to the public for lunch only, when the visitor center is open. A children's menu is available as well.
Read about 12 of the best Airbnbs in Ohio is you are looking for a place to stay!
Lake Glacier
Lake Glacier is 44 acres in size.
It was formed in the early twentieth century when Mill Creek was dammed.
There are a lot of recreational amenities to be enjoyed.
At the Glacier Boathouse on the west side of the lake, you can rent pedal boats and kayaks.
Boating and fishing are allowed when in season.
The Old Log Cabin is located on the north shore of Lake Glacier. It is one of the oldest buildings in Mahoning County.
Once used as a doctor's office, these days it is offered for rent to the public. It is worth the drive to see this historical building.
Read here for an incredible list of things to do in Ohio.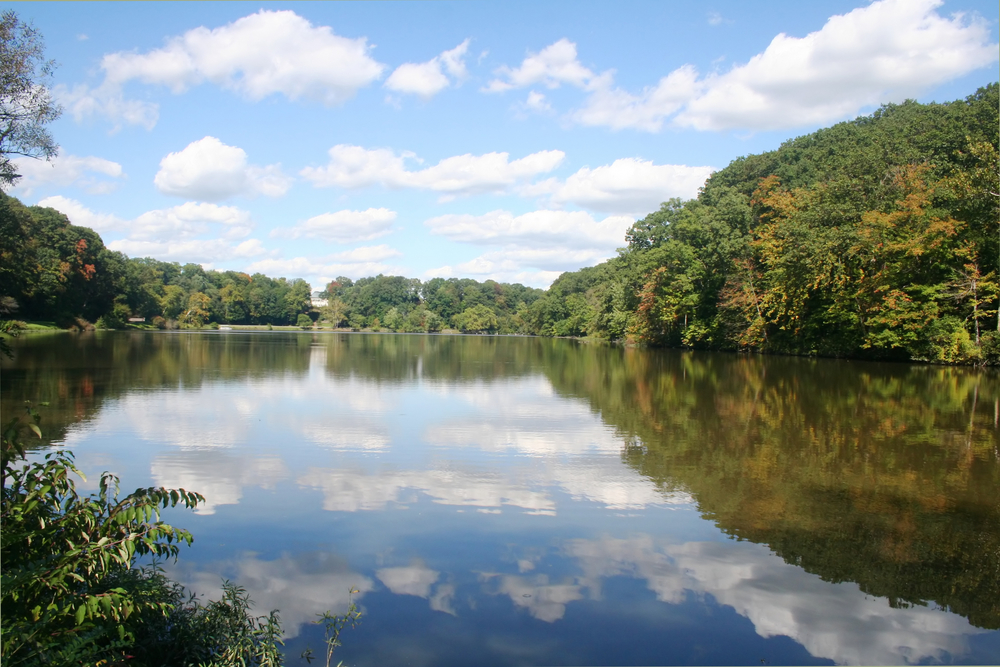 The Parapet Bridge
Located on the eastern shores of Lake Glacier, the Parapet Bridge is a creation of massive boulders and a graceful arch.
There are four viewing platforms to view the surroundings, including Lake Glacier and Spring Brook Ravine.
The Parapet Bridge is the most photographed bridge in Mill Creek Park. The irregular stone parapets of this largest stone arch of the park add dimension and interest.
Stopping at this interesting bridge is one of the best things to do at Mill Creek Park.
Read about 11 best places to see fall foliage in Ohio here.
Ford Nature Center
The Ford Nature Center is the headquarters for Mill Creek Park's nature programs.
The stone mansion was donated to the park and opened in the early 1970s.
Adults and children alike will enjoy learning about the local area through the various exhibit rooms.
The Habitat Room and the Discovery Room have exhibits about local plants, animals, and nature. And the Live Animal Room is filled with animals that live in northeastern Ohio.
Visiting the Ford Nature Center is one of the more educational things to do at Mill Creek Park.
You can explore the immediate area by strolling the Virginia Axtman Nature Trail For All People. It is located adjacent to the nature center.
It is a quarter-mile asphalt trail through the forest. It is stroller and wheelchair accessible.
If you are looking for packing tips for your trip to Ohio read my tips on how to pack lightly.
The Lily Pond
One of the popular things to do in Mill Creek Park is visiting the Lily Pond.
Start by exploring it along the quarter-mile Lily Pond Circle Trail. It loops around the pond.
Seeing the goldfish that live in the 3-acre pond and the birds that frequent it is a fun thing to do for both adults and children alike.
Two observation decks, interpretive signs, and a kiosk all help make visiting the Lily Pond a memorable experience.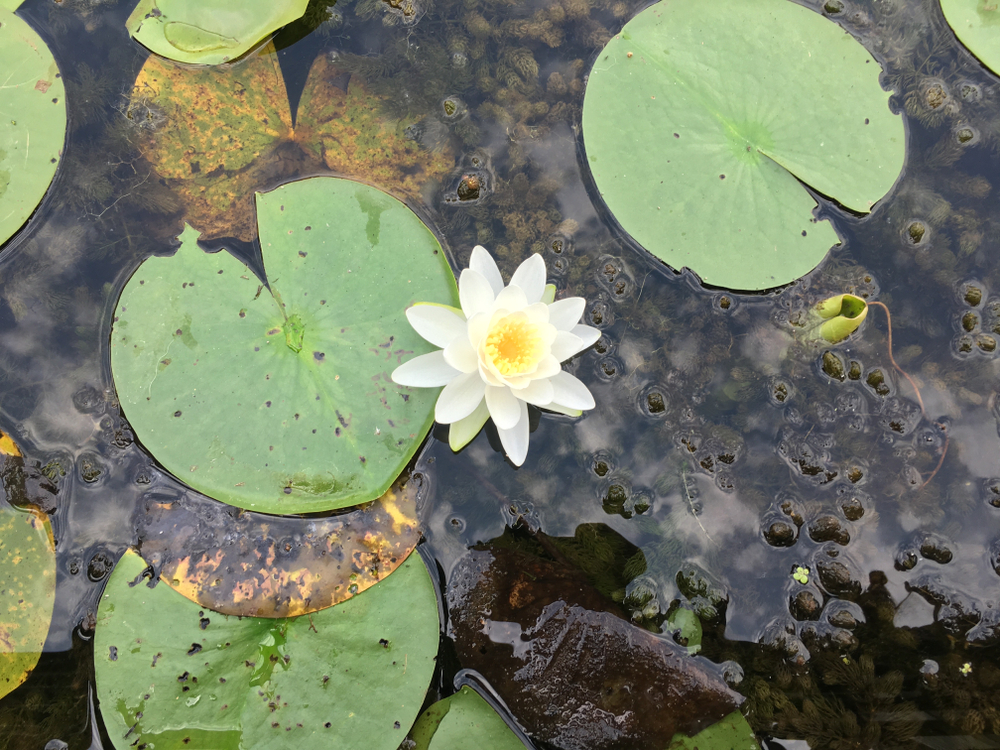 Lake Cohasset
For a more remote vibe, visit Lake Cohasset.
It is a twenty-eight-acre lake that provides a more secluded experience permitting you to explore and study wildlife undisturbed by crowds.
East Cohasset Hike and Bike Trail is a two-mile moderate to difficult paved trail. West Cohasset Trail is a one-mile moderately difficult trail during which you can admire the regal hemlock trees and gorgeous views of the lake.
Boating and fishing are not permitted on Lake Cohasset.
Visit The Suspension Bridge For The Insta-Worthy Picture
The Suspension Bridge connects the west and the east sides of Mill Creek Park.
This 86 foot long by 32 feet wide bridge has been nicknamed the Cinderella Bridge, and the Walt Disney Bridge.
Recently renovated to its original opulence, the lovely arches and soaring spires make for the best Insta-worthy and romantic photographs!
Looking for waterfalls in Ohio? There are some epic ones. Read about 18 best waterfalls in Ohio here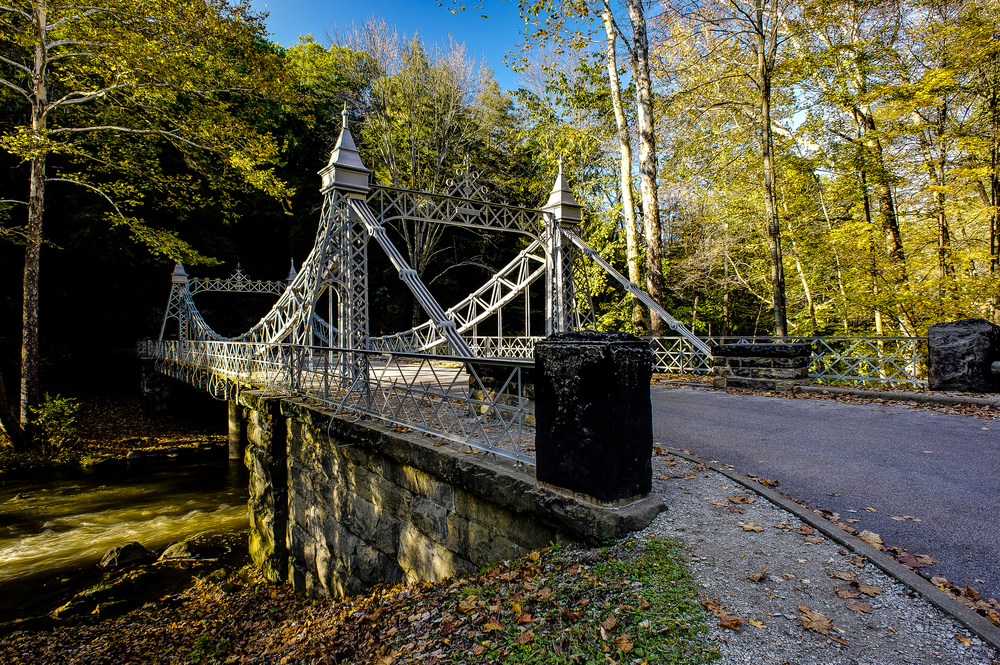 Lanterman's Mill Has The Pioneer Spirit
Arguably one of the most visited sites in Mill Creek Park is Lanterman's Mill.
Looking to take a step back into the past? Lanterman's Mill is the perfect spot.
Renovated in the 1980s to reflect its period look, the mill is a great example of the industries developed along the Mill Creek.
Today it operates just as it would have back in the 1800s grinding grains.
Open seasonally, when you visit you can watch grains being ground, and feel the giant stones move. You can smell the heavenly fresh and sweet aroma coming from the freshly ground grains.
There is a gift shop where you can purchase the preservative-free freshly ground flour.
East Gorge Trail outside of the mill is a half-mile moderately difficult hike. It does involve climbing steps. You will be able to see the beautiful Mill Creek gorge. And Lanterman's Falls.
Lanterman's Falls
Lanterman's Falls plunge down in the gorge below and there is a beautiful overlook where you can see the mill and the falls. There is a myriad of hikes you can take down into the gorge as well to view the falls at different levels.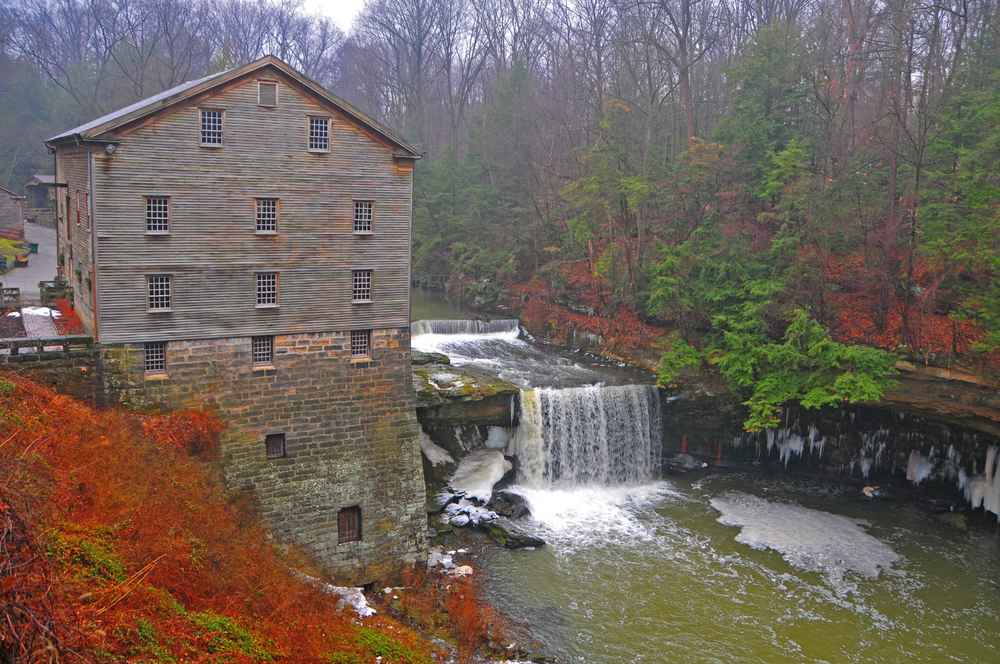 The Covered Bridge
The nearby Covered Bridge is a period restoration of a bridge originally used by the farmers to bring their grain to the mill back in the 1800s.
Visiting the Covered Bridge is one of the most historical and scenic places to visit in Mill Creek Park.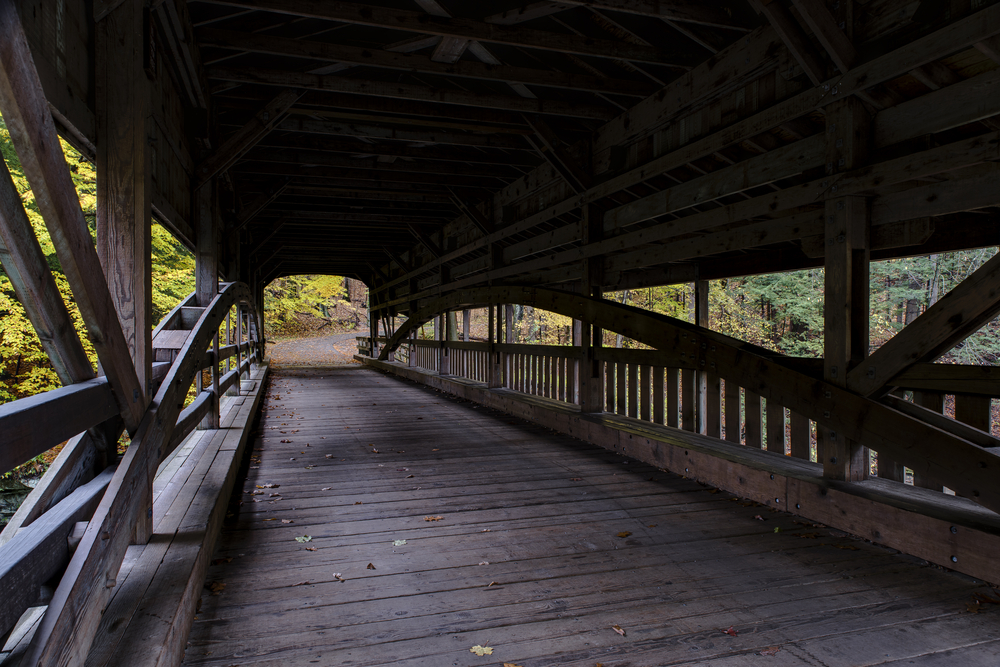 Lake Newport
Created in the 1920s on donated land, and after a dam was built, Lake Newport is the largest of Mill Creek Park's three lakes.
Coming in at 60 acres of open water, and 40 acres of wetlands, this is an outdoor enthusiast's dream.
Fishing and boating are permitted seasonally.
You can launch a boat at the launch on East Newport Drive.
If you are interested in renting a pedal boat or a kayak head to the Lake Newport Boathouse on West Newport Drive.
Other exploring options include the one mile moderately difficult West Newport Trail. Or the 1.75 miles easy East Newport Hike and Bike Trail. Both hikes offer wildlife and wetlands views.
A bonus of the latter option is seeing the Daffodil Meadow abloom in the spring.
The Newport Wetlands
Located at the southern end of Newport Lake, is the Newport Wetlands.
Here you have a wide amount of options to see a variety of plants and animals.
For starters, you may choose to walk the Albert E Davies Wetland Trail. Take a quarter-mile asphalt trail which leads to a boardwalk through the Newport Wetlands.
Along the way, there are interpretive panels explaining the wetland habitat.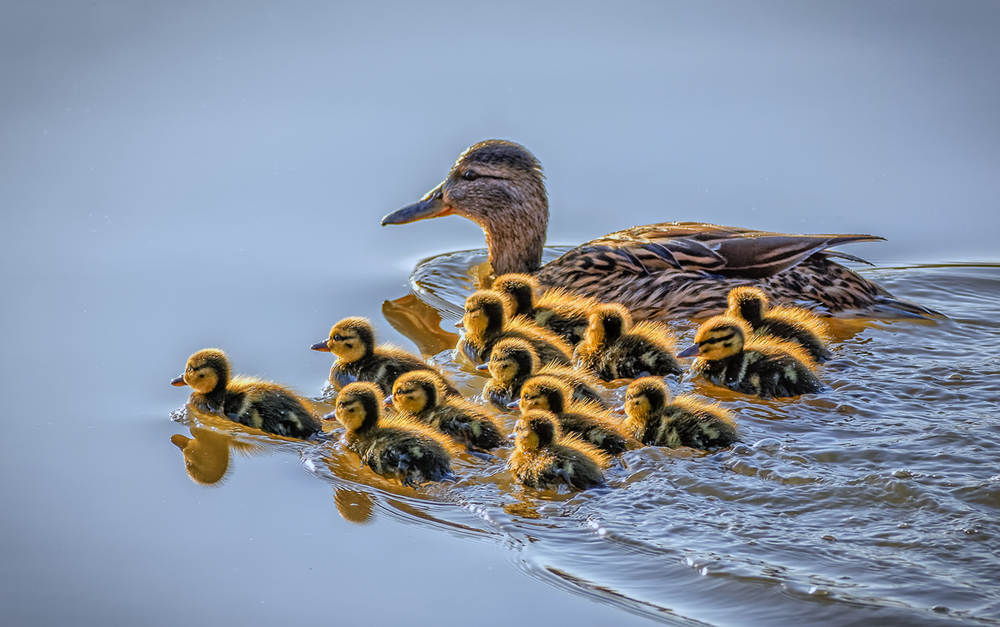 Visiting The Daffodil Meadow Is One Of The Best Things To Do In Mill Creek Park
An extremely popular event draws thousands to Mill Creek Park every spring. Booming daffodils.
Daffodil Meadow is located on the east side of Lake Newport.
An unusual and unique project to bring the beauty of the park closer to travelers in their cars as they drove by, Daffodil Meadow is an extremely popular destination in the spring.
And why not? This award-winning location has thousands of daffodils blooming!
New bulbs are planted every fall to make sure there will be blooming daffodils the following spring.
There are educational plaques and the daffodils are labeled for your enjoyment, during the blooming season.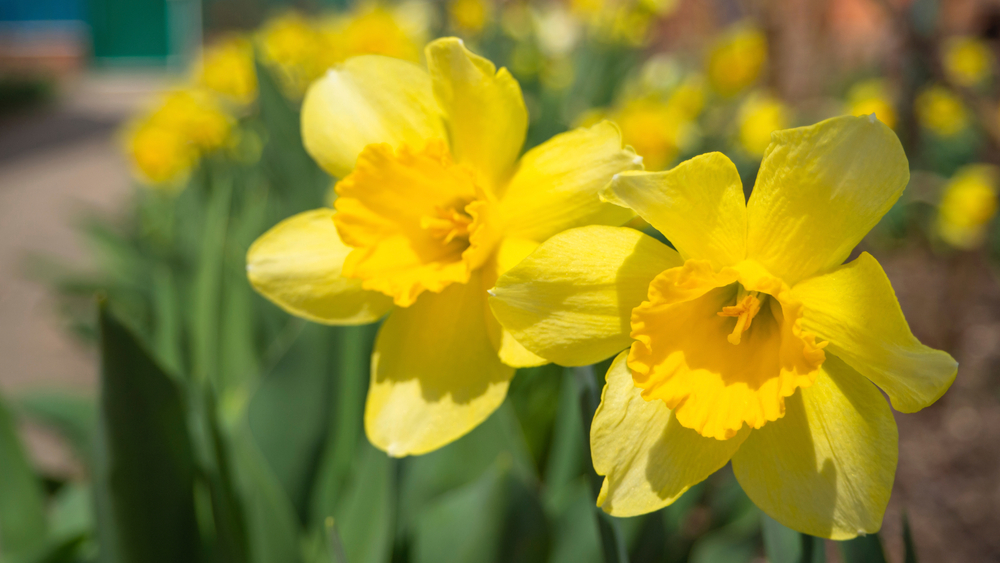 One Of The Best Things To Do In Mill Creek Park Is To Play A Round Of Golf On An Award-Winning Course
Mill Creek Park offers two 18-hole golf courses.
North Course plays through tall trees while South Course plays through streams. It was awarded the distinction of being one of America's best municipal golf courses.
Situated within the stunning beauty of Mill Creek Park, the golf courses will challenge players of any age and all skill levels.
In addition, amenities to choose from are golf lessons, a fully stocked golf show, a practice range, and a staff of professionals who will assist you.
A handsome bar and grill, Hole 55, offers breakfast lunch and dinners. Seating is indoors or out on the picturesque outdoor patio.
Packing List For Visiting Ohio
A concealed travel pouch may be one of the most important items you bring along when visiting Ohio. It is always important to protect our personal information.
This unisex RFID blocking concealed travel pouch is lightweight and comes in several colors. It has lots of organization to give you peace of mind.
If you have a pouch already that does not come with the RFID protection, as I do, these RFID sleeves are the perfect solution.
This configuration comes with enough passport and credit card sleeves that the entire family would be protected. They are slim too, so they will easily fit into your pouch or wallet.
If you are planning on taking a lot of pictures with your phone you will definitely want to consider an external charging battery. This Anker high-speed phone charging battery is the exact one I carry with me on all of my trips.
It can be used on a variety of phones, not just an iPhone like I have. And wow is it fast!
I like that it holds its charging capabilities for several uses so I do not have to worry about it while out and about, and if I forget to recharge it at night, it will still be good to go the next day.
My daughter gifted me with this FugeTek selfie stick and tripod setup for my birthday. I absolutely love it! It is made of lightweight aluminum and so easy to use.
It has Bluetooth connectivity and is a breeze to use for group shots or that perfect selfie!
I was not a fan of packing cubes until I started to use them! This is the exact set of packing organizers I use whenever I travel.
I cannot believe how much they really do help with the organization. If you have not considered packing cubes, I would recommend giving them a try.
Hydration is so important. You want to remain hydrated to support your immune system which in turn will be stronger to fight off any germs you will encounter during your travels. You will want to bring your own refillable water bottle with you.
I never leave home on a trip without my Bobble filtration bottle. The 18.5-ounce size is perfect for travel and it fits nicely in the pocket of a backpack or your purse.
When filled with water, it is not too heavy to carry. And the charcoal filter ensures fresh clean water whenever you fill the Bobble. You can find filter replacements here.
Perhaps you are traveling a long distance and packing space is a premium in your suitcase, or in your car. Then this set of collapsible silicone foldable water bottles would work well for you. Would not take up much space at all.
You will want a backpack or daypack with you to store snacks, your water bottle, phone, extra clothes, etc.. This foldable water-resistant backpack would be great
It is very affordable and is available in many color options for you to choose from. The fact that it folds down into a zippered pouch will make it easy to pack.
Perhaps you need a more substantial backpack for your travel. This antitheft backpack has a charging port, is water-resistant, and can comfortably carry up to a 15.6″ laptop.
You will be walking more than usual when visiting Mill Creek Park.. A sturdy and comfortable pair of walking shoes are a must-have. These waterproof all-season shoes are extremely affordable and yet fashionable.
Mostly everyone is familiar with the Skechers brand, and these Air Run high fashion sneakers come in a lot of colors to match your outfits and are still affordable.
If you are visiting Ohio in warmer weather, maybe you want a pair of sandals to wear to dinner or to the local cafe, I highly recommend these Vionics adjustable strap orthotic sandals.
I have several pairs of Vionics that I bring with me *everywhere* I travel. They are very comfortable and have orthotic footbeds that cradle and support your feet.
We all need to protect our eyes from the sun's harmful UVA/UVB rays. These unisex polarized sunglasses come in a lot of lens colors and frame designs and are extremely affordable too.
If you are fond of the aviator-style of sunglasses these polarized aviators may interest you.
If you are in need of new luggage, this expandable soft side spinner luggage is affordable and comes in lots of colors.
If you like hard-sided better, then you may favor this hard-sided luggage set better. Both sets come with TSA locks and 8 wheels per piece.
Here I have given your 15 spectacular things to do in Mill Creek Park. It is certainly a jewel in the crown of Youngstown Ohio!