Are you traveling to Budapest? Are you searching for information so you are more prepared once you arrive in Budapest?
You have come to the right place because I have visited Budapest several times. Here I have listed 18 of my favorite things to know before traveling to Budapest.
Budapest has reemerged at one of Europe's great cultural capitals. She is divided by the romantic Danube River and connected by the iconic Chain Bridge.
Hillside and historic Buda is on the western banks and cosmopolitan and trendy Pest is on the east.
Read how to avoid getting sick on a plane if you are flying into Hungary and are looking for tips on remaining healthy to enjoy your holiday.
If you are flying a long distance while traveling to Budapest, read my 7 tips for surviving long haul flights. 
Look here is you need airport transportation: Budapest: Shared Airport Shuttle Bus Transfer. Or here: Private Transfer from Budapest to Liszt Ferenc Airport
The epic Hungarian history and the jaw-dropping scenery, the delicious food, and thermal baths are all reasons to explore, discover, and visit Budapest!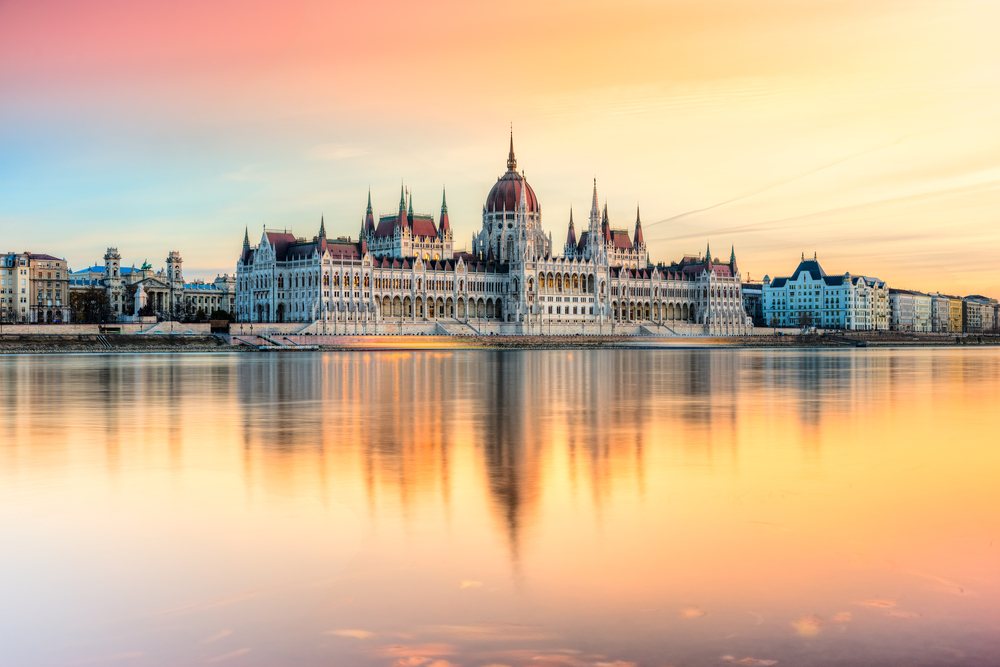 18 Things To Know Before Traveling To Budapest
Check On Your Country's Hungarian Visa Entry/Exit Requirements
Americans traveling to Hungary are not required to obtain a visa. However, only a 90-day stay is permitted within all of the European Union. 
If you are not holding an American passport, it is wise for you to research your country's Hungarian visa requirements.
Read my Ultimate Two Days in Budapest Itinerary for tips and suggestions of things to do and see when traveling to Budapest.
Check Your Passport Before Traveling To Budapest
You will need a current and valid passport to enter Hungary.
Your passport's date must extend longer than three months past your departure from Hungary.
Also, Hungary requires one full blank page.
Check your passport dated and empty pages well in advance of your trip because expedited handling fees to renew your passport are quite expensive.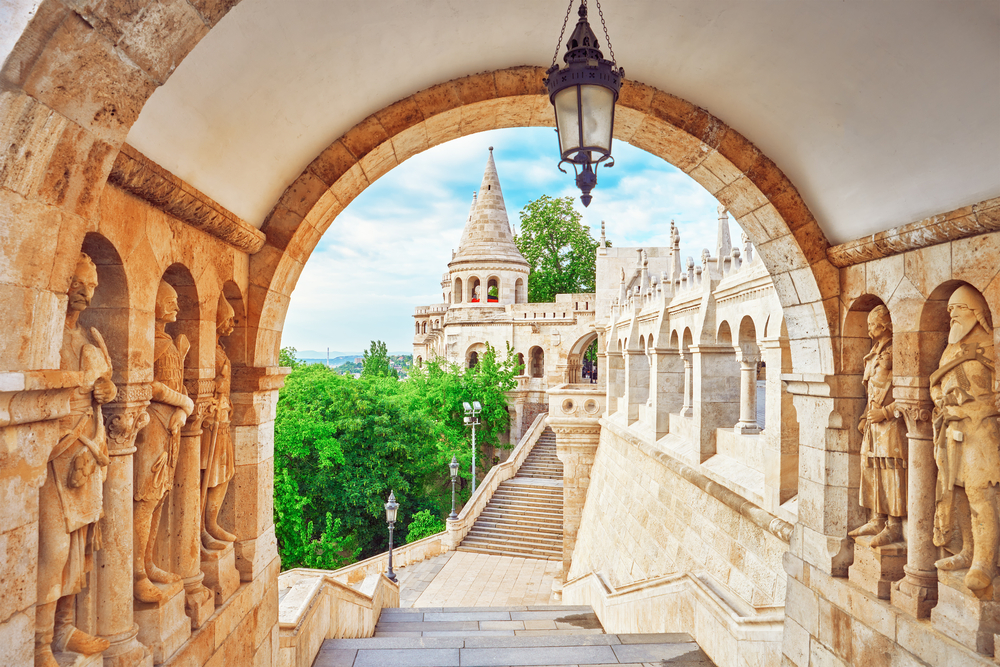 Purchase A Hungarian SIM Card For Your Phone
When traveling to Budapest, one of the best pieces of advice I can share with you is to purchase a Hungarian SIM card for your smartphone before you leave the airport.
With the new SIM card, the cell towers will recognize your phone as Hungarian and you will have improved cell service and much-improved Wifi.
Your phone number will be new as well. So it is best for you to remain in contact with your family and friends through Facebook Messenger or the What's App.
Look for Hungarian SIM cards at the airport kiosks upon arrival, or in Budapest.
Look here: Budapest City Sightseeing Tour
Cash or Credit Cards? What Is Best To Have?
The simple answer is when traveling to Budapest, you will want to have both!
Credit cards are widely accepted throughout Budapest. However, if you are using cash, only the Hungarian forint is accepted.
You will get the best exchange rate when traveling to Budapest if you use an ATM. I highly suggest you use an ATM before you leave the airport to withdraw money in the local currency.
Be aware there are fees when using an ATM. So, I suggest you withdraw a larger sum of money, that can last a longer period of time, so you do not keep having to pay the transaction fees.
Also, check with your bank at home before traveling to Budapest and find out the names of fee-free "in-network"  bank ATMs in Hungary, so the out-of-network fee is not charged you as well.
If you need to exchange money from home into the local currency, your safest and fairest bet would be a Hungarian bank.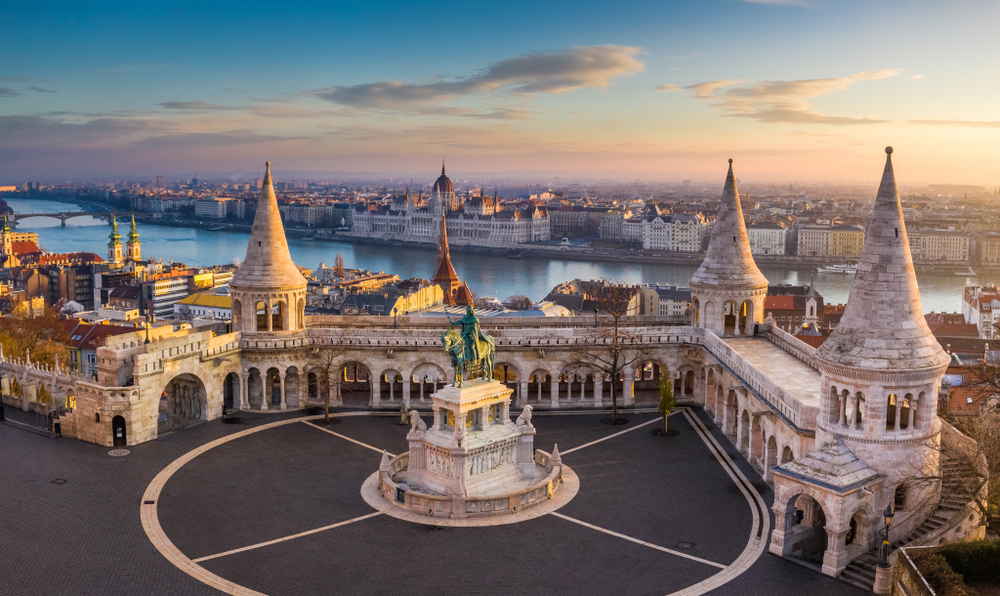 Use Budapest Public Transportation 
It is very easy to make your way around Budapest when you are out exploring.
By subway. Did you know that Hungary's capital city of Budapest is home to mainland Europe's first subway system?
It was constructed in 1896 to celebrate Hungary's Millenium celebration. It was commissioned to run underneath Andrassy Avenue so as not to detract from its charm and beauty.
Today Hungarians and tourists alike use the Millenium subway system to get around town.
By Tram or trolly. Budapest has an extensive tram and trolly system operating in the city since 1866. It is one of the largest in the world.
If you use the tram you can head out and about town and see just about all the sights and attractions that interest you.
Look here: Budapest: 1-Day Unlimited Cruise Ticket
Look here: Budapest Daytime Sightseeing Cruise
Budapest buses stop all over the city. If you plan to hop on and off frequently avoid the express buses.
Try a ride on the cable railway. The funicular runs from the foot of Castle Hill to the top of the Castle District.
You Will Feel Safe As In Any European City While In Budapest
Let me start out by saying my family and I were robbed in broad daylight in Paris France. That would be 3 out of 4 of us. All in the same day. At different locations. So we are aware of unsafe circumstances.
We always felt safe everywhere when in Budapest.
Of course, remain vigilant with your personal space and your belongings.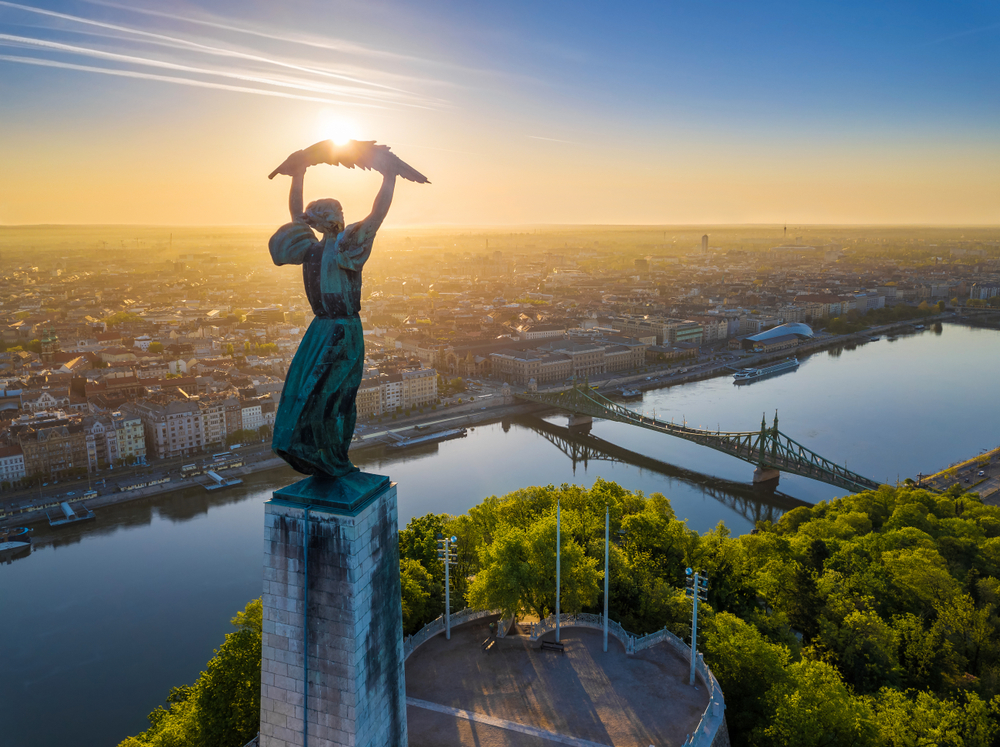 Most Hungarians Will Understand Your English
Hungarian is the main language spoken by those living in Budapest.
However, English is widely spoken in Budapest. You will have no problems being understood by the shop keepers, or in bars, and cafes in the main tourist spots.
Look here: Buda Castle: History & Myths Evening Walking Tour
Look here: Budapest: Matthias Church Guided Tour including Admission
There are smartphone applications to download, like Google Translate. I never had any problem communicating in Budapest with the locals.
Through hand gestures and a phone translation app, I believe you will be fine too.
Bathe With The Hungarians To Experience Their Culture
Soaking in the warm thermal waters that flow through Budapest is an everyday way of life for Hungarians. 
When my family and I visited Budapest, a local resident suggested we visit the Rudas Medicinal Baths and Spa. Located on the Buda side of the River Danube, this spa is clean and very affordable. 
Studies have been conducted that document how the mineral waters have curative and restorative properties for those suffering from degenerative diseases. 
When traveling to Budapest, the minimum amount of time you want to budget for this Hungarian experience is two hours. But you can easily spend much more time there if you so choose.
For more information read these 10 Useful Tips for visiting the Rudas Baths. You will not be disappointed!
Tickets here: Budapest: Rudas Spa Wellness and Dining Experience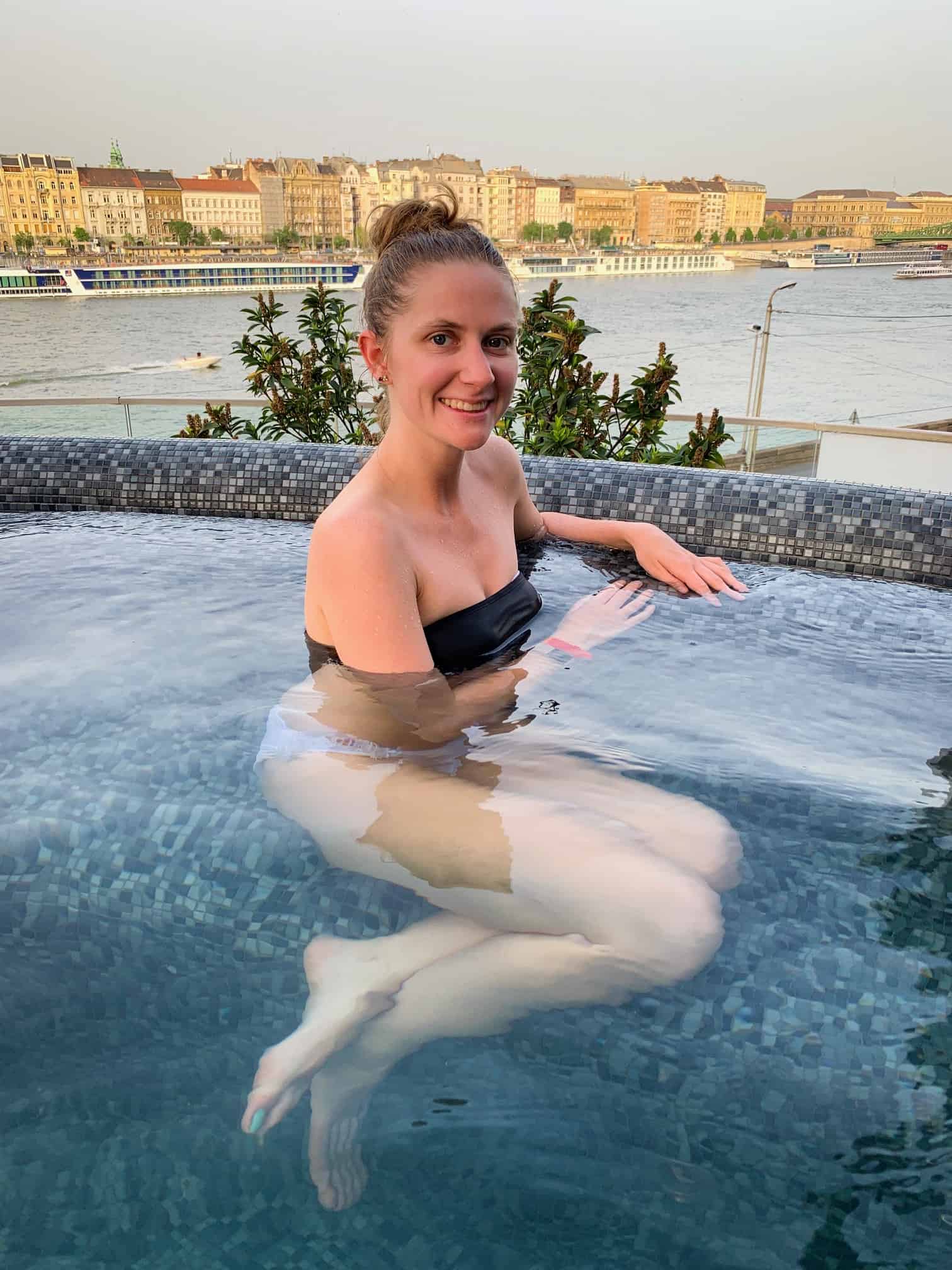 Bring Along A Travel Adapter
When traveling to Budapest, do not count on your cruise line, or hotel to have enough electrical adapters for all of your devices. You must bring one (or some) of your own.
If you have multiple devices to charge every night, as we did, you will want to bring along several devices just in case, to fit into the standard European plugs.
Look here: Budapest: Grand City Tour with Parliament Visit
Look here: Budapest: House of Parliament Visit and Grand City Tour
Paprika Is The Symbol Of Hungarian Cuisine
Initially introduced to Hungary by the invading Turks in the sixteenth century, these days paprika is the dominant spice in Hungarian foods.
And no one grows it better than in Hungary due to their favorable growing conditions.
From sweet to spicy, from bright red to orange, when traveling to Budapest, seeking out Hungarian paprika is a great idea.
You can purchase it all over town, but your best bet would be to head to the Central Grand Market, where there are numerous stalls selling it.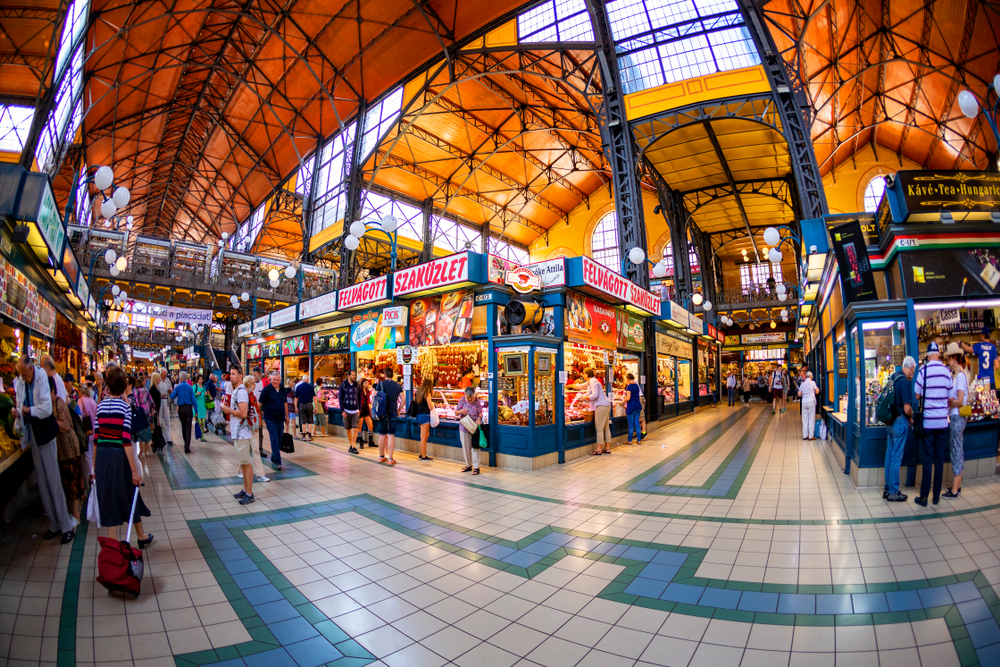 Should You Tip When In Budapest?
There is a tipping culture in Budapest.
The standard tip in a restaurant is 10% for good service and 15% for an exceptional experience.
However, many restaurants in Budapest customarily add a 12.5% service fee to your total bill. Check your bill carefully so you do not leave anything additional unless you want to. 
Book Attraction Tickets Online To Save Money And Skip The Lines
It is generally wise to select which major iconic attractions you want to visit and secure tickets online before traveling to Budapest.
If you have only a short time, read my Ultimate One Day In Budapest Itinerary for suggestions.
You will save money, sometimes significantly. Also, some if not most attractions allow you to skip the wait lines and walk right on in.
This is a great convenience especially if your schedule is jam-packed with things to do when traveling to Budapest.
You will have more time to spend at the attraction since you will not be waiting in the entrance line. Also, you can better pace yourself during your busy days.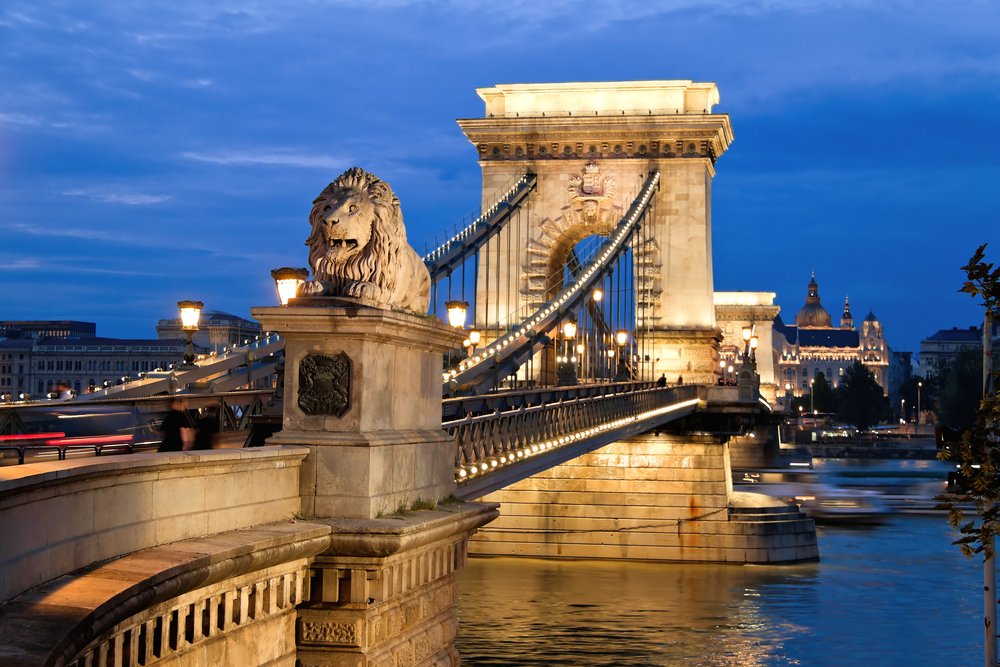 Is Drinking The Water Safe in Budapest?
Yes. Yes it is indeed safe and healthy to drink tap water in Budapest.
Matter of fact, tap water is the most controlled food substance in Budapest.
Bottled water is still offered in pubs and restaurants. However, now you know that when traveling to Budapest you do not have to worry about the quality of the drinking water.
Save Money By Getting Snacks And Convenience Foods At Local Grocery Stores
Yes, it is fun to visit as many restaurants as possible for breakfast, lunch, and dinner when you are traveling to Budapest. However, that may put a strain on your budget.
There are grocery stores in Budapest you can visit.  You can buy sandwiches and snack foods to carry along in your backpacks for the long days of touring. Which was exactly every single day for us.
Fresh fruits, such as apples and oranges are sturdy enough to last several hours in a backpack and remain intact. Plus, they are much healthier than sugary and salty. Granola is another tasty snacking alternative.
Yogurt, drinks, and chips/snack foods are all items to have available where you are staying or on the go, to save a little or a lot of money when traveling to Budapest.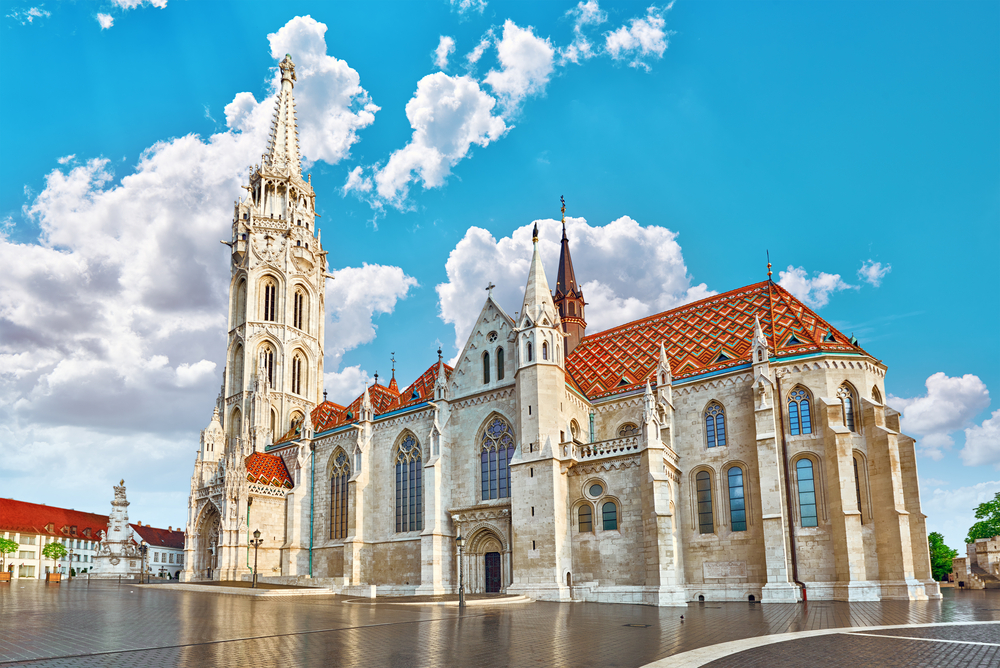 Notify Your Credit Card Company 
Call your credit card company to notify them of your dates that you will be traveling to Budapest. And out of your home country. This is for your safety.
Check to see if the credit cards you are currently using charge foreign transaction fees every time you use them when you are out of the country. 
If it does, inquire about applying for a credit card that does NOT charge such fees.
Look here: Skip the Line: Széchenyi Spa Full-Day Entrance Pass
Pick The Neighborhood That Is Best For You When Traveling To Budapest
The neighborhoods in Budapest are as varied as its residents! Choose one that fits your needs the best. based on your tastes and your budget. Here are a few suggestions:
Varkerulet (District I) is located on the Buda side of the River Danube. It is the Castle District. Historic and charming, with the cobblestoned streets, this area is home to palaces and exquisite churches.
It is also is a hub of tourist activity.
Terezvaros (District VI) is for those traveling to Budapest on a budget.
Situated on the Pest side of the Danube River, this densely populated area has lots to offer. Including the famous Andrassy Avenue.
Looking for nightlife? Then Erzsebetvaros (District VII) may be the right place for you.
Belvaros (District V) a great choice to be near some of the most famous attractions Budapest has to offer. It is located on the Pest side of the Danube, 
Here you will be within walking distance to the Hungarian Parliament Building, the Shoes on the Danube Memorial, and the Grand Market Hall to name just a few.
Right across the river is the Castle District. This is a solid choice as it is near a lot of attractions and you will not tire yourself out exploring them all.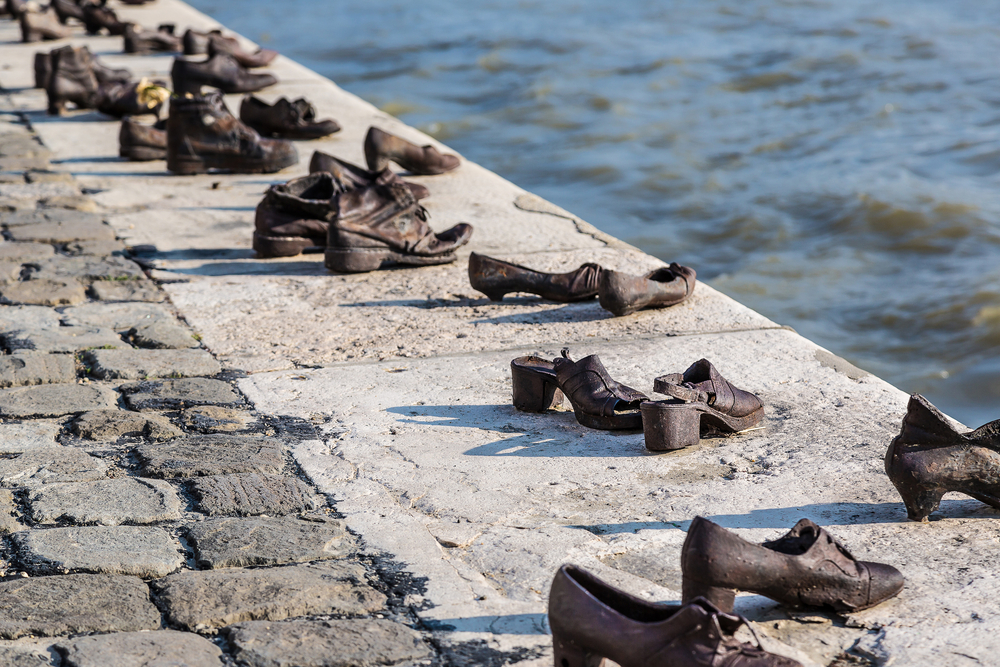 Walking Is A Wonderful Way To Discover Budapest
When you are traveling to Budapest, plan on walking a lot! 
Walking gives you a unique experience. Not only is walking the best form of exercise, but it is also a great way to explore Budapest up close and personal.
Everyone walks about in Budapest. You can meander the various neighborhoods, look at the lovely cafes, or simply people-watch.
Packing Tips When Traveling To Budapest
I think that using these useful packing tips will enhance your trip to Budapest and help you remain organized while there.
Read How To Pack Lightly for packing tricks on how to maximize your packing space! And here for How To Survive Long Haul Flights.
A concealed travel pouch may be one of the most important items you bring with you when traveling to Budapest. This unisex RFID blocking concealed travel pouch is lightweight and comes in several colors.
It has lots of organization to give you peace of mind. You can keep your most valuable documents safe and secure next to your body.
You may have a pouch already and may not want to or need to invest in a new one, like me. If it does not come with the RFID protection, these RFID sleeves would be handy to prevent identity theft.
This configuration comes with enough passport and credit card sleeves that the entire family would be protected. They are slim too, so they will easily fit into your current pouch or wallet.
These are the kind my family and I use not only when traveling but at home as well.
If you are planning on taking a lot of pictures with your phone you will definitely want to consider an external charging battery. This Anker high-speed phone charging battery is the exact one I carry with me on all of my trips.
It can be used on a variety of phones, not just an iPhone like I have. And wow is it fast! I like that it holds its charging capabilities for several uses so I do not have to worry about it while out and about.
And if I forget to recharge it at night, it will still be good to go the next day.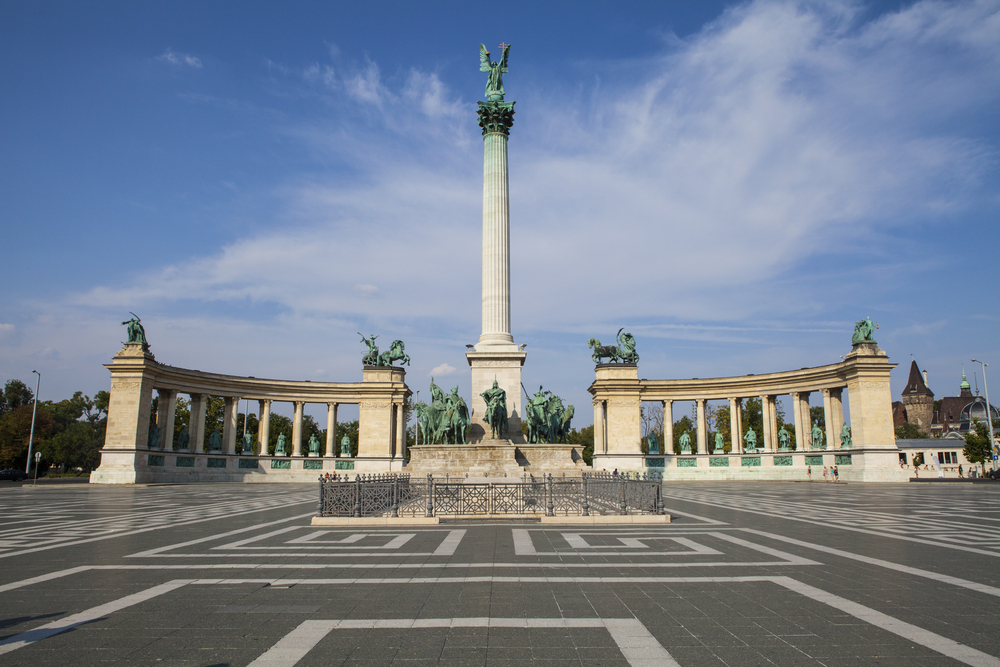 My daughter gifted me with this FugeTek Selfie Stick and Tripod for my birthday. It has Bloothtooth connectivity so it is very easy to use.
It is made of durable aluminum and is very lightweight and easy to carry. I love mine and I think you will enjoy it too!
Don't forget to bring along a universal power adapter on your trip to Hungary.  This worldwide power plug is a great example and will charge your phone at the end of your busy days.
And this world traveler adapter kit can charge several devices at the same time.
This is what you will need when there are several people traveling in your group, or if you bring several electronic devices on your trip that require charging at the same time.
I was never a fan of packing cubes until I tried them out! Now I am sold. These Bagail packing cubes are the exact ones I use whenever I travel. I cannot believe how much more organized I am now! And I never leave without them anymore.
Hydration is so important. When I visited Budapest it was warm and having water with me was very important. You want to remain hydrated to support your immune system which in turn will be stronger to fight off any germs you will encounter during your one day in Budapest.  You will want to bring your own refillable water bottle with you. 
I never leave home on a trip without my Bobble filtration bottle. The 18.5-ounce size is perfect for travel and it will fit nicely in the pocket of a backpack or your purse. Also when filled with water, it is not too heavy to carry.
And the Bobble carbon filter ensures fresh clean water whenever and wherever you fill the Bobble. You can find filter replacements here. 
Perhaps you are traveling a long distance and packing space is a premium. Then this set of collapsible silicone foldable water bottles would work well for you. Would not take up much space in your suitcase at all. And you will be receiving a set of two.
You will want to bring a backpack or daypack with you to store snacks, your water bottle, phone, extra clothes, etc.. This foldable water-resistant backpack would be great.
 This fast-drying, lightweight and very absorbent towel is the perfect solution. You choose what color and size you wish and it is extremely affordable.
You may want to bring along a wet-dry bag for your suits and towels once you are finished lounging in the baths. This wet dry bag with handles is a good option.
It comes in several patterns and two sizes to pick from.  Or you could opt for this mesh swim backpack bag that has separate areas for dry and wet items. 
Bring a lightweight scarf or shawl. Scarves and shawls are very popular in Europe and Budapest is no different. Both men and women wear scarves, both decoratively and as a layering piece to keep warm.
This cotton unisex lightweight scarf is versatile and can be worn in any season. I like this colorful oversized scarf too. So many colors to select from!
And here's another option to consider: this lightweight sunscreen shawl scarf would do double duty to protect you from the sun in the warmer seasons as well as being a fashion accessory layering piece.
This Coolibar sunscreen scarf has USB 50+ protection from the sun's rays & comes in great colors.
We all need to protect our eyes from the sun's harmful UVA/UVB rays. These unisex polarized sunglasses come in a lot of lens colors and frame designs and are extremely affordable too.
If you are fond of the aviator-style of sunglasses these polarized aviators may interest you. I like polarized sunglasses because they remove the glare off the water and help you to see things more clearly. This will be very helpful in Budapest.
If you are in need of new luggage, this expandable soft side spinner luggage is affordable and comes in lots of colors. If you like hard-sided better, then you may favor this hard-sided luggage set better.
Both sets come with TSA approved zippers locks and 8 wheels per piece. Either will be great for the plane or train or even your car depending on how you are to traveling to Budapest.
 I know my 18 tips will help you when traveling to Budapest. If you are reading and you have already visited Budapest, please add any tips in the comments section below that helped you travel to Budapest! 
Linda On the Run is a participant in the Amazon Services LLC Associates Program, designed to provide a means to earn fees by advertising and linking to Amazon.com
Other affiliate links for Get Your Guide are included here as well to help you plan and organize your trip.