Will you be spending 2 days in Budapest? Are you looking for a Budapest itinerary and things to do while there? Well, you have come to the right place. I have visited Budapest Hungary and loved every minute I was there.
Budapest has reemerged at one of Europe's great cultural capitals. She is divided by the romantic Danube River and connected by the iconic Chain Bridge. Hillside and historic Buda is on the eastern banks and cosmopolitan and trendy Pest is on the west.
With history, culture, and attractions Budapest is full of surprises and just waiting to be explored. Here you will find the ultimate 2 days in Budapest itinerary with lots of suggestions of things for you to do and see.
The Ultimate 2 Days In Budapest Itinerary
Day 1: Begin your 2 days in Budapest by exploring the Buda portion of the city.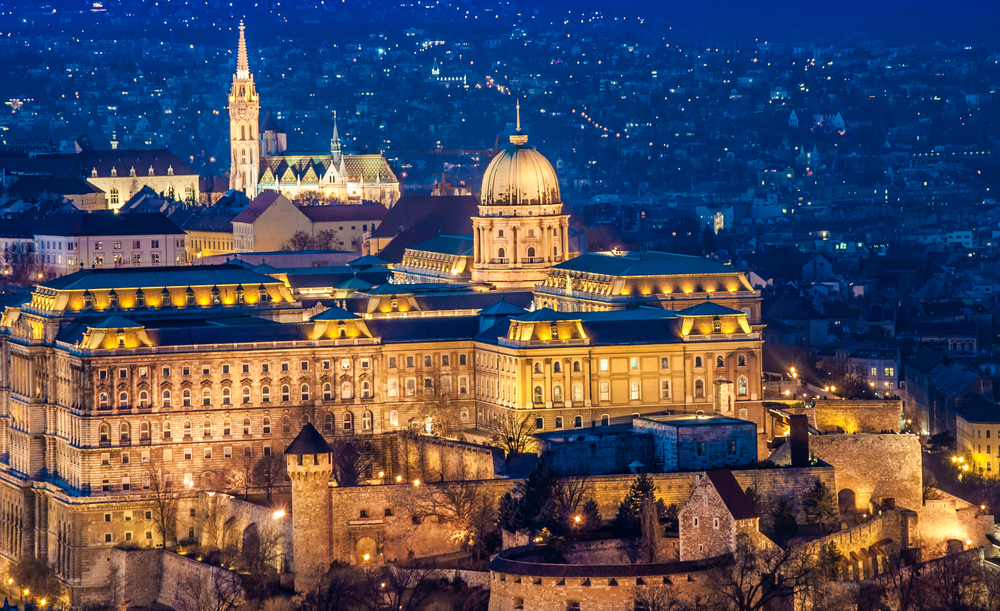 Buda Castle illuminated at night.
Stop 1: Start Your Day At Adam Clark Square And The Chain Bridge
The best way to really get a taste of Budapest's character and history is by starting on the Buda side of the Danube. Buda, the hilly and majestic part on one side of the Danube and the flat trendy Pest on the other were first joined together in 1849. Count Istvan Szechenyi was responsible for uniting the two communities with the building of the Chain Bridge that linked them together.
Begin your day at Adam Clark Square on the Buda side of the Chain Bridge. The Chain Bridge was and still is an architectural marvel. You will want to take time to marvel at its ornateness. And check out those lions gracing the bridge. Do not listen to the legend, they DO have tongues.
Today there are other bridges over the Danube that link Buda and Pest together, but the Chain Bridge is the original permanent bridge across the Danube.
Adam Clark Square houses the limestone sculpture "0." This milestone Kilometer 0 monument is the reference point from which all road distances to Budapest from throughout Hungary are measured. The park and the sculpture are located at the Buda end of the Chain Bridge and below Buda Castle.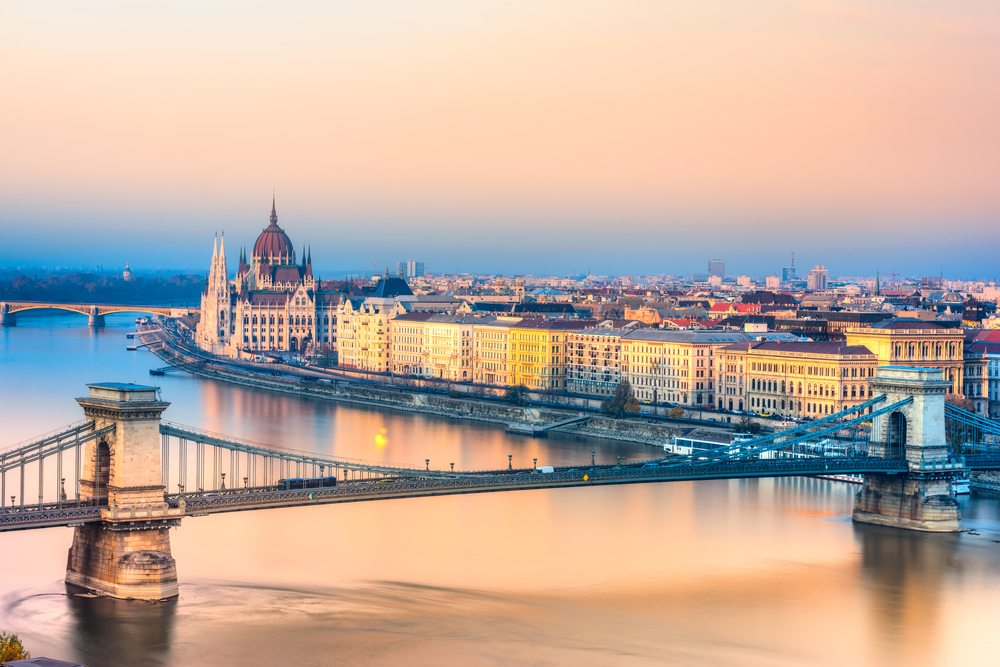 Budapest's iconic Chain Bridge
Now you can make use of Budapest's bustling mass transportation options to get to the top of the iconic Castle Hill. Or you may choose to ride up the funicular to the top. And of course, for the most leisurely of options, you can always walk. Be wary though, the hills are very high and the sidewalks are steep. When I visited Budapest, we took the bus up to the top.
Stop 2: Explore Romantic Castle Hill
On top of Castle Hill is where you will be rewarded with sweeping massive vistas of glorious Budapest. Once on top, you will have the chance to explore cobblestone streets and the quaintness of Buda. Even if you take a bus as I did, busses can only transport you so far. You will have to climb a portion of Castle Hill. Important – those cobblestone streets are uneven. Take your time and do not rush. I recommend you wear closed toe supportive shoes. No sandals for this part of your exploring.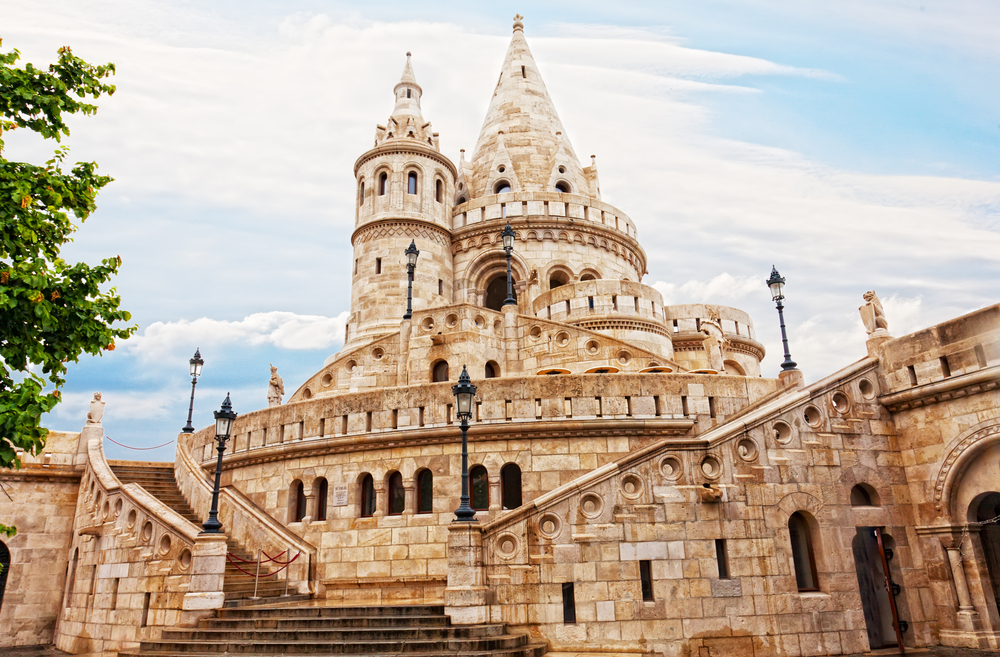 Budapest's Castle Hill
Stop 3: Watch The Changing Of The Guard At Buda Castle
Buda Castle, also referred to as the Royal Palace is part of the iconic Castle Hill. The changing of the guards in front of the Presidential Palace is regal and stunning, with the precise choreography you would expect of such an event.
The changing of the guard ceremony takes place daily on the hour and lasts a few minutes. It is certainly worth considering adding to your 2 days in Budapest itinerary.
Buda Castle is where you will also find the Hungarian National Gallery and the Budapest History Museum.
Stop 4: Visit Fisherman's Bastion For Sweeping Vistas of Budapest
Be forewarned! Fisherman's Bastion is one of Budapest's most popular tourist destinations. The sweeping views of the Danube and Parliament Building attract huge crowds. When I visited it was on a weekend and it was indeed super crowded.
You will want to take time to get lots of memorable pictures of the Danube and of her Queen, Budapest. Fisherman's Bastion is a great place to get pictures of the marvelous Parliament Building. For the best chance at great pictures, I would suggest you head to Fisherman's Bastion very early in the morning.
Look for the statue of St Stephen I of Hungary in the middle of Fisherman's Bastion, riding mightily on his horse.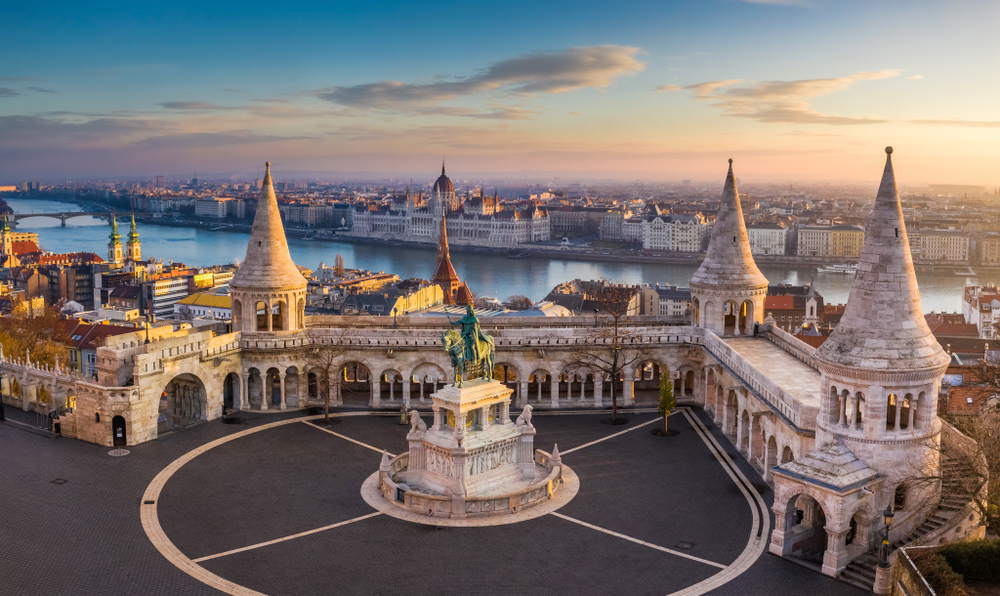 Fisherman Bastion is a must see during your 2 days in Budapest.
Stop 5: Admire The Architecture Of Matthias Church
I love to tour churches and basilicas when I am in Europe. I feel they are so inspiring and come with interesting past histories. Named after one of Hungary's most beloved medieval kings, Roman Catholic Matthias Church looms large over the Fisherman's Bastion.
At one point in its history, Matthias Church was taken over and used as a worship space by Turkish invaders for a period of time when Budapest was under siege. There is an admission fee to enter inside this church but it is so unique I think you will agree it is worth it.
If Fisherman's Bastion, where the church is located, is busy with tourists, the same can be said about the Matthias church, so if you can schedule your 2 days in Budapest itinerary, try to get to Matthias Church on an off day (not weekend) or early morning for best viewing.
Inside the church still contains the Turkish imprint from those invaders from so long ago on its walls and in the tiling on its floors. I have never seen anything like it. I would suggest not missing this opportunity to see this unique worship space.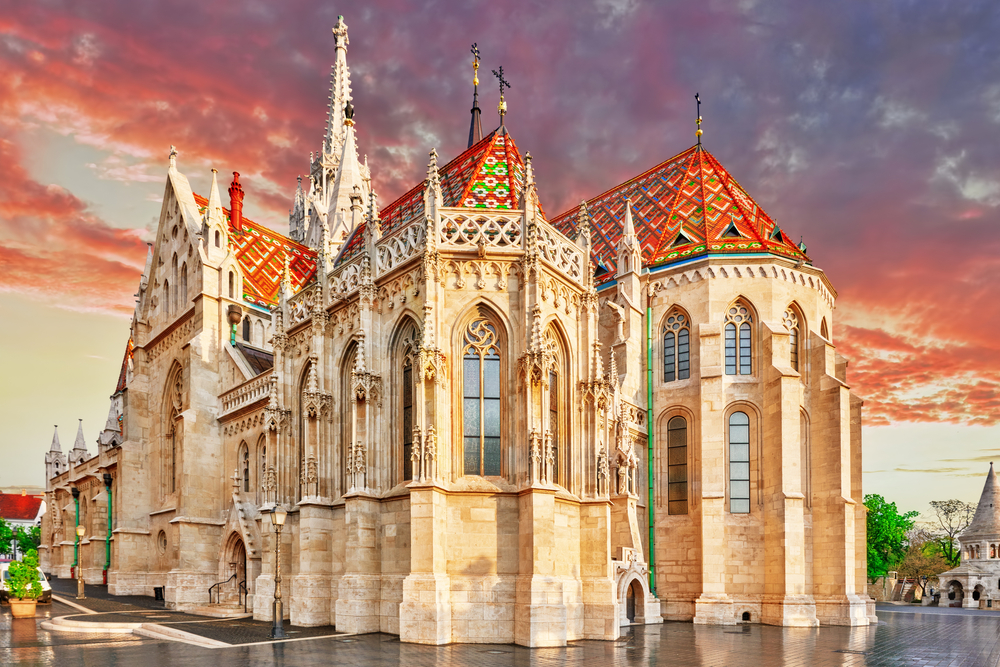 The breathtaking St. Matthias Church located in Fisherman Bastion. You can notice the Turkish influence in the elaborate roofing tiles.
Stop 6: Enjoy Hungarian Cafe Culture By Stopping At A Coffeehouse
Coffee-to-go in a paper cup is not very popular in Budapest. Most Hungarians like to start their day with coffee, usually a super strong espresso. In a china cup. The cafe culture is strong in Budapest. Some of the legendary cafes have been restored to their beautiful former opulence.
The cafes in Budapest do not only serve coffees, but they also offer delicacies such as delicious pastries and cakes, which are amazing.
If you decide to take a break on your 2 days in Budapest journey while still in Castle Hill, you can rest and refresh at Ruszwurm, a charming cafe and old pastry shop. Despite its tiny size, it still is worth a stop to try their delicious cakes and ice cream.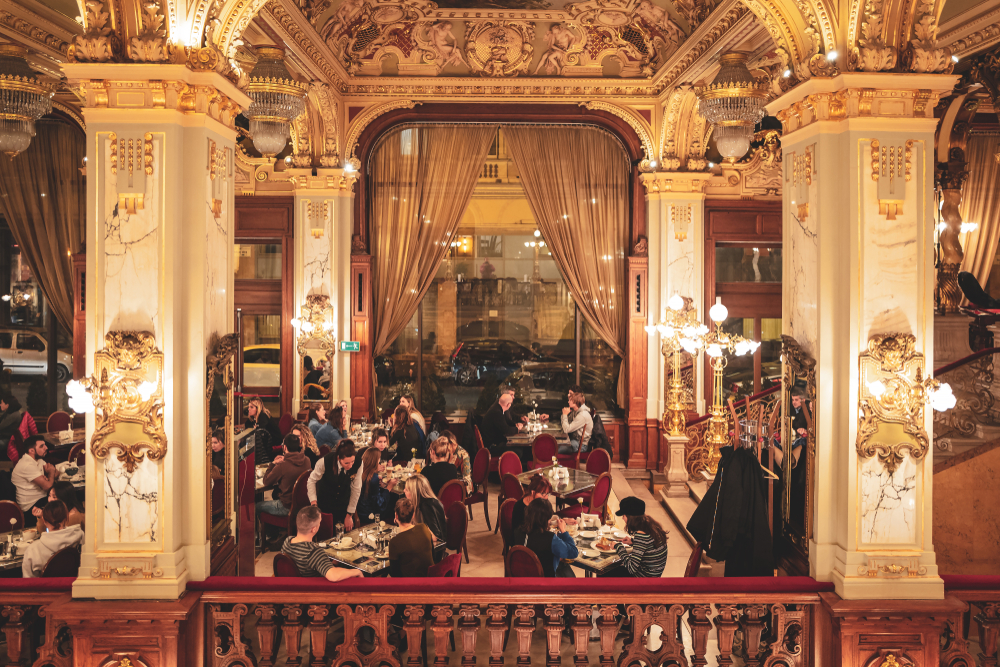 Can you see yourself having coffee at this historical Hungarian cafe?
Day 2: Continue Your 2 Days In Buda Exploring Cosmopolitan Pest.
Fun Fact: Budapest is pronounced Budapesh. The "Pest" portion is spoken as "Pesh."
Stop 1: Start At Heroes' Square, The Largest Square In Budapest
Located between the end of Andrassy Avenue and City Park, Heroes' Square is one of the most popular tourist attractions in all of Budapest and a World Heritage Site. City Park is considered the entrance to Heroes' Square, a wide-open plaza of monuments and statues.
In its center, you will see the Millenium Monument, impressively laid out to commemorate the 1,000-year history of Hungary. A large statue of the Archangel Gabriel stands in the center of it.
I visited Heroes' Square during my visit to Budapest, and I can say the history of Budapest is truly amazing. This is worth the stop.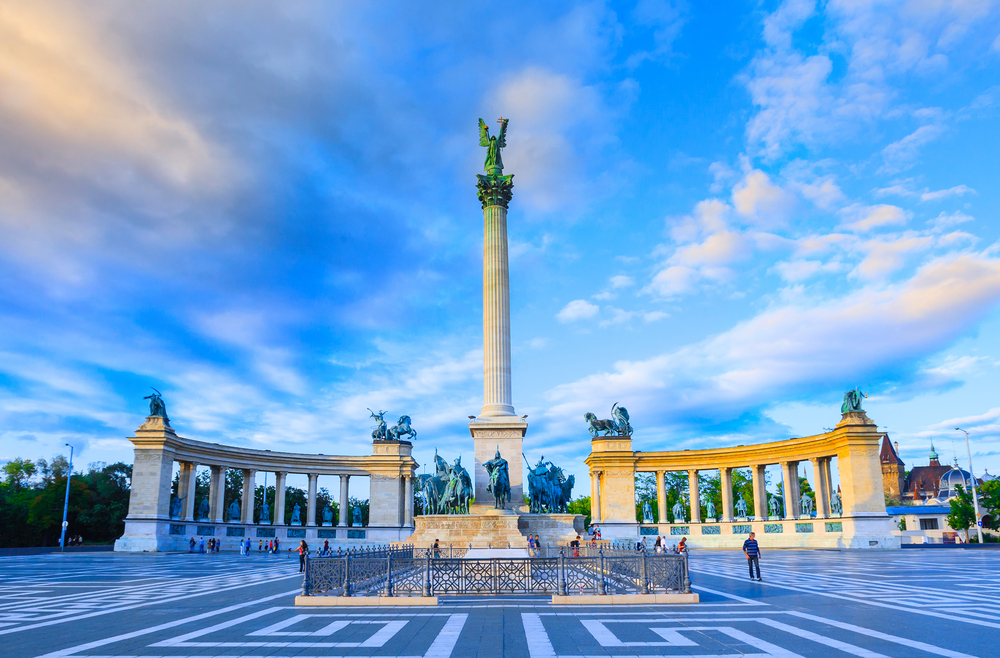 The impressive Heroes' Square.
Stop 2: Experience the ambiance of Budapest along the chic Andrassy Avenue.
Given the distinction of being a World Heritage Site, Andrassy Avenue is home to upscale shops, homes, and hotels.
You can take a walking tour if you desire to gain first-hand knowledge of this Champs-Elysees of Budapest, or simply stroll her lovely avenue yourself exploring and discovering shops and cafes.
Stop 3: Visit The Hungarian State Opera House To Learn About Hungarian Culture
Even if you do not like or appreciate opera, it is worth it to pay a visit to the Hungarian Opera House. It was modeled after the great opera house in Vienna and considered one of the most beautiful of all the European opera houses.
Recently, the opera house has been under renovation. When I visited Budapest, it was closed and I was very disappointed I did not have the opportunity to visit this jewel.
Its ornate neo-renaissance architecture beckons you to come and see it for yourself. Often the inside is referred to as an "enchanted jewel box," so gilded and glamorous it is.
You can take guided tours of the interior, and even attend a ballet or opera!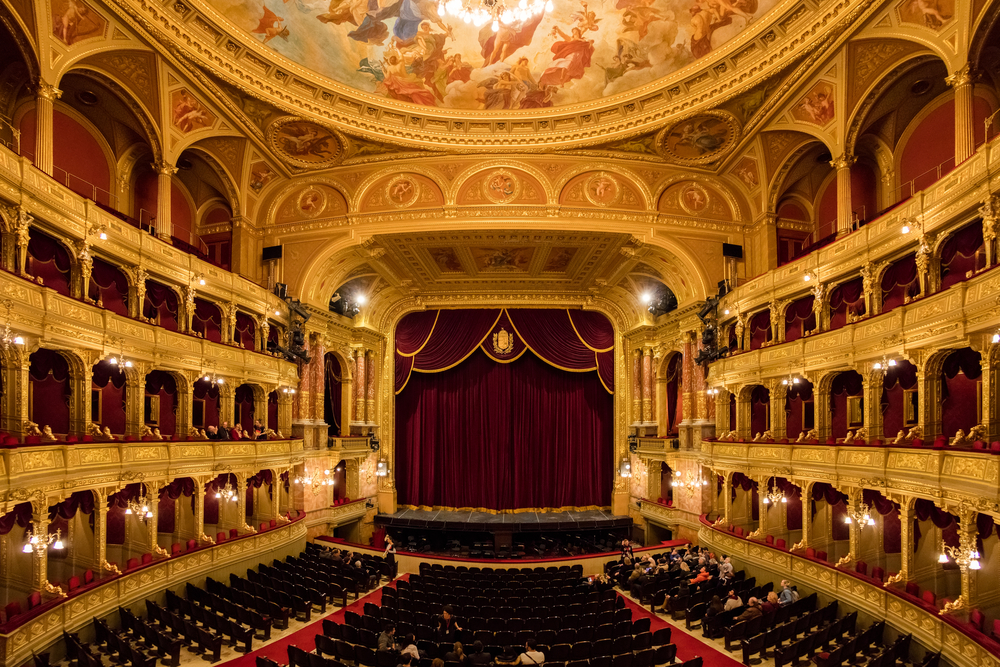 The beautiful Hungarian Opera House, a lovely stop during your 2 days in Budapest.
Stop 4: Take A Bath With The Hungarians That You Will Never Forget
On my trip to Budapest, I spent the afternoon at one of Budapest's nourishing spas, The Szecheni Thermal Baths. It was awfully crowded, but that is the norm because the Hungarians revere their medicinal springs.
Soaking in the thermal waters that flow in and through Budapest is simply a part of Budapest's everyday culture. Medical studies have demonstrated that the baths' mineral waters have restorative and curative properties for those suffering from degenerative joint diseases.
The Szecheni Baths complex is very large and offers bathers a multitude of options to select from. There are indoor and outdoor therapy pools both hot and cold. You will find the temperature of each individual bath at its location. There are steam rooms and hot saunas as well.
My visit to the mineral water of Szecheni is one of the most memorable things I did in Budapest.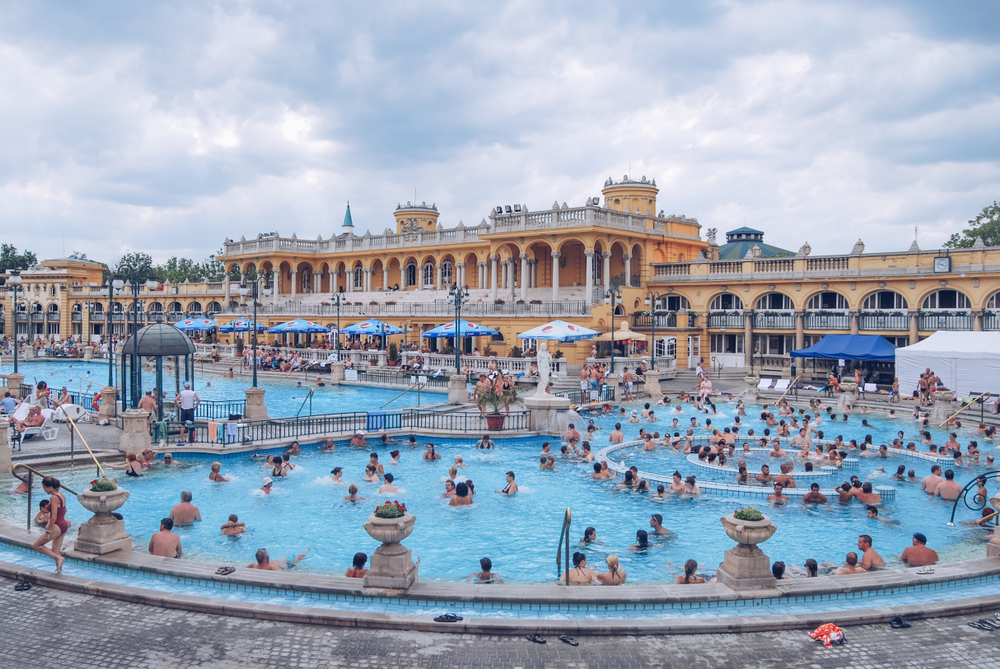 A typical afternoon at the Szecheni outdoor thermal pools.
Stop 5: Visit Váci Street For The Ultimate Shopping And Dining Experience
One of the main pedestrian streets, and arguably the perhaps the most famous street in Budapest, you will find everything tempting on Vaci Street.
There are many cafes for a coffee and pastry, restaurants for lunch or dinner, and designer shops to entice you. Plan to take time out of your 2 days in Budapest sightseeing to rest and refresh on Vaci street.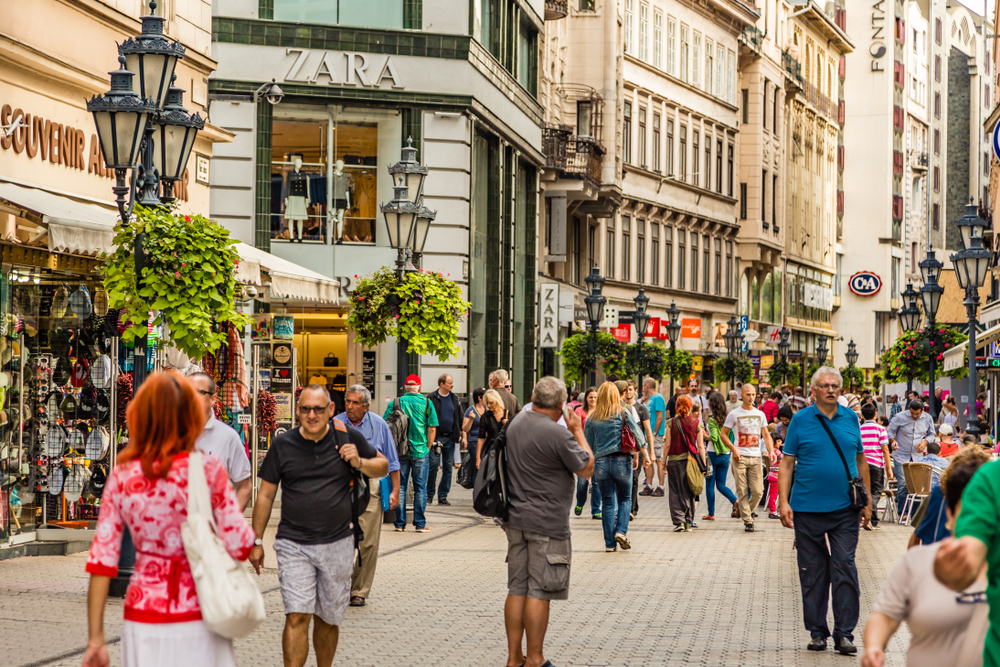 The immensely popular Vaci Street. Great for grabbing a coffee or pastry or dinner.
Stop 6: Get Your Paprika At The Grand Market Hall
Located just a 5-minute walk from Budapest's city center, the Grand Market Hall is often called Central Market Hall as well because it is so centrally located in Budapest. It is wildly popular and probably the most visited of all of Budapest's markets.
Inside you find three floors full of fresh fruits, vegetables and paprika (one of the leading souvenirs to leave Hungary!) You may also purchase Hungarian wines and even take a guided tour of the market. Homemade meals and snacks are offered.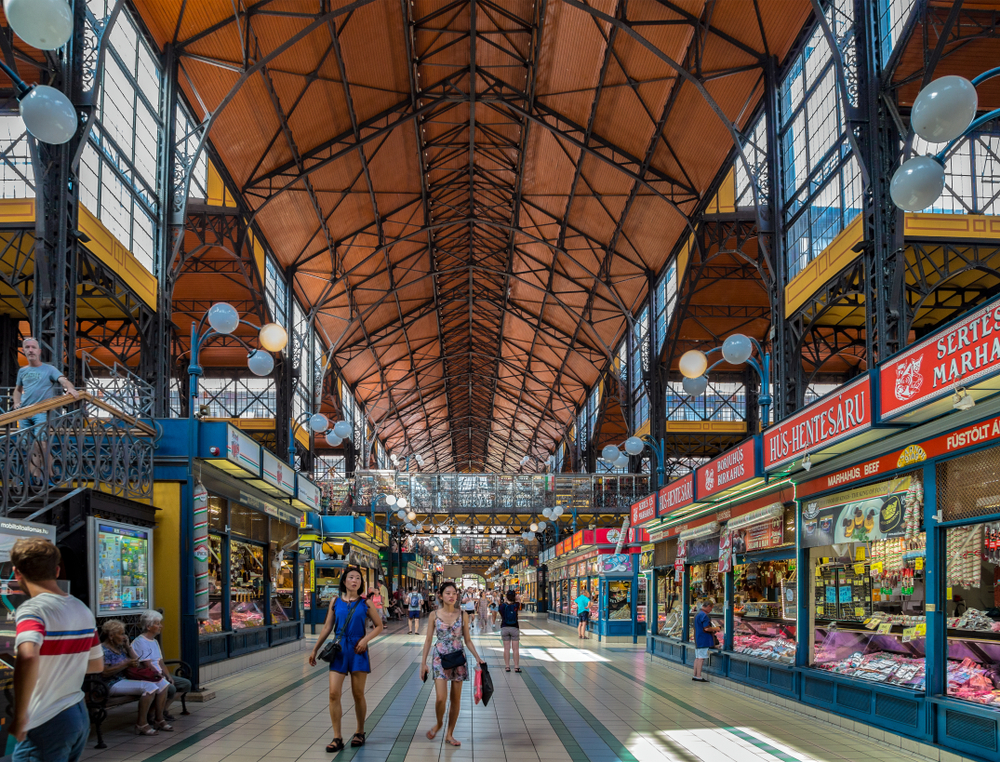 During your 2 days in Budapest, visit the Grand Market Hall, the largest indoor market in Budapest.
Stop 7: Observe A Moment Of Silence At The Shoes On The Danube Monument
This moving monument, located on the Pest side of the Danube, is dedicated to all Hungarian Jews killed in Hungary during World War II. Jewish victims were lined up and shot into the Danube River. Not before they removed their shoes though, because shoes were valuable at that time.
60 pairs of men's, women's and children's shoes made out of cast iron make up this monument, with each pair modeled after an authentic pair of 1940s shoes.
Every evening at sunset, locals and tourists alike, gather at the Shoes by the Danube monument. They pray, light candles and have a moment of silence for the victims of such an atrocity.
To me, this simple yet striking memorial, speaks volumes. It was overwhelming. A definite do-not-miss during your 2 days in Budapest.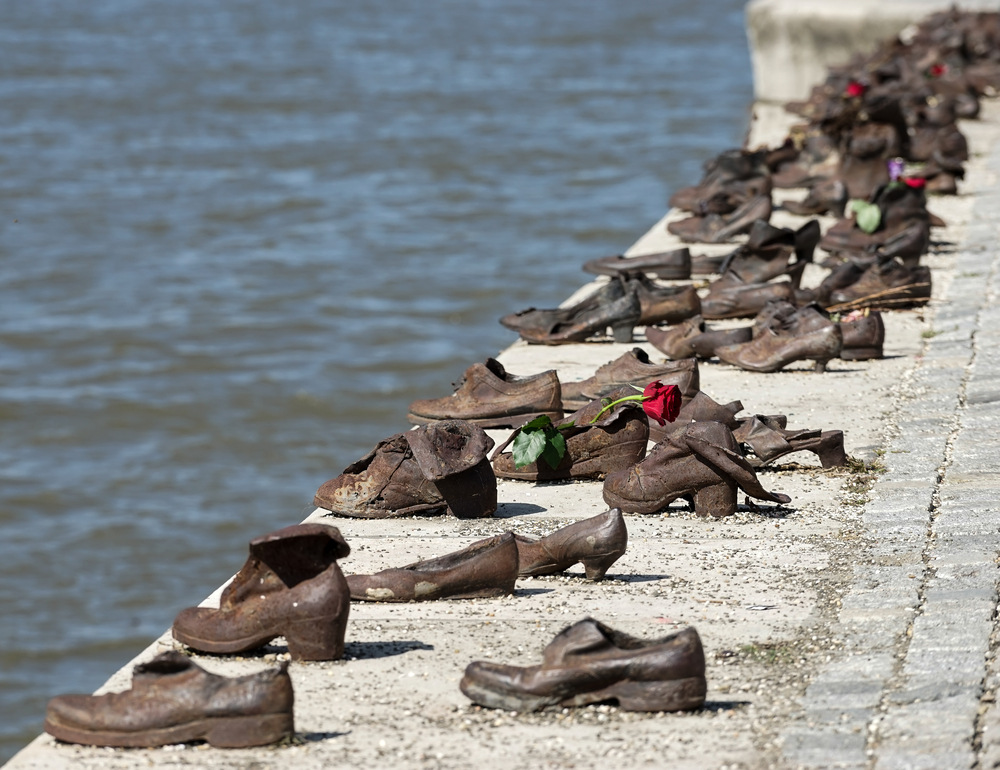 The haunting Shoes of the Danube memorial.
Stop 8: Marvel At The Marvelous Hungarian Parliament Building
You know the Hungarian Parliament Building. You have seen its picture used for advertising Budapest and Europe in general. It is that bold. It is that grand. It is the largest building in all of Hungary and the tallest building in Budapest. At night is when this building shines: the bright welcoming beacon of Budapest.
Built in the neo-Gothic style, precious stones, and real gold were both used abundantly in her construction. You can tour the beautiful and massive Hungarian Parliament Building during your 2 days in Budapest when the national assembly is not in session. But, word to the wise: it is such a popular tourist destination that lines for admission tickets are very long and slow moving. Best to purchase your tickets in advance and online.
Sadly I due to conflicting plans I was not able to tour this historic building. When I visit Budapest next, it will be my number one priority. And my number one goal is to see the Hungarian Jewels. A fascinating story goes along with Hungary's crown jewels that include the Soviet Union, the American Army, Fort Knox Kentucky, and President Jimmy Carter. I must see those jewels!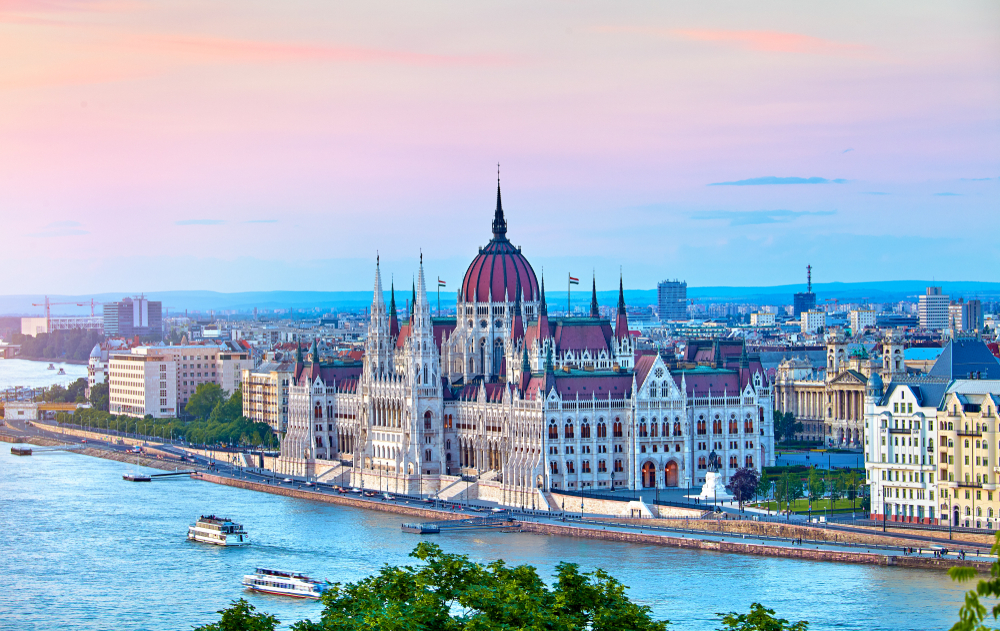 On your 2 days in Budapest, the stunning Hungarian Parliament building is worthy of a visit.
How To Get Around In Budapest
By subway. Did you know that Hungary's capital city of Budapest is home to mainland Europe's first subway system? It was constructed in 1896 to celebrate Hungary's Millenium celebration. It was commissioned to run underneath Andrassy Avenue so as not to detract from its charm and beauty.
Today Hungarians and tourists alike use the Millenium subway system to get around town.
By Tram or trolly. Budapest has an extensive tram and trolly system operating in the city since 1866. It is one of the largest in the world. If you use the tram you can head out and about town and see just about all the sights and attractions that interest you.
Budapest buses stop all over the city. If you plan to hop on and off frequently avoid the express buses.
Try a ride on the cable railway. The funicular runs from the foot of Castle Hill to the top of the Castle District.
Make sure you check out the Budapest Card too. It offers unlimited travel on public transportation, walking tours, and museum entry. You can choose from 24, 48, or 72 hours each with corresponding rates.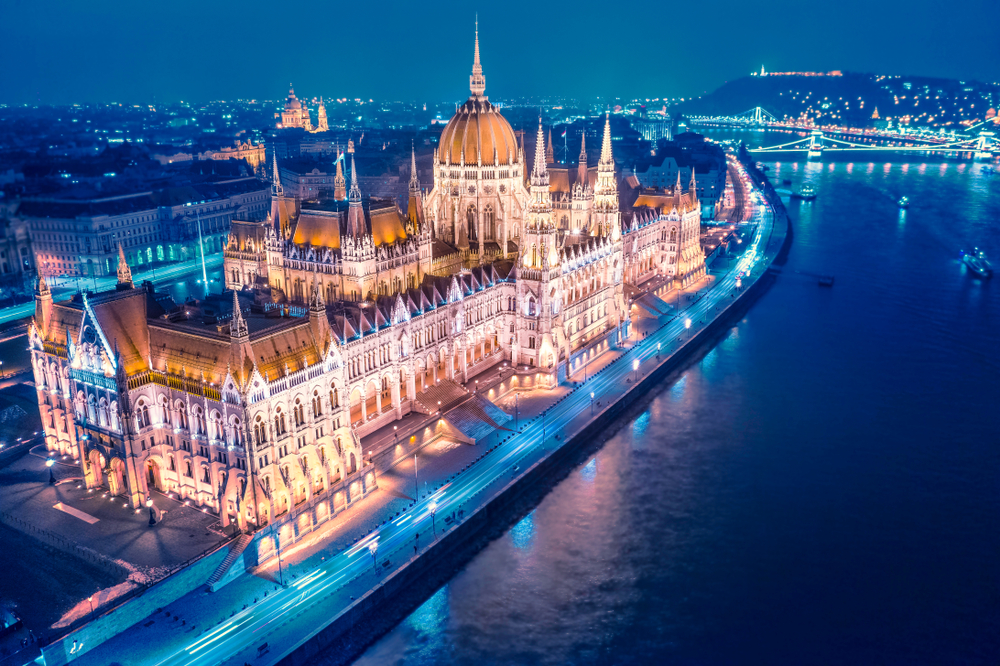 Hungarian Parliament Building glittering at night.
Here I have included the best Hungary has to offer in this 2 days in Budapest itinerary. Most of these attractions I have been to and monuments I have visited. Some I did not have the opportunity to, and I want to make sure you have plenty of options during your 2 days in Budapest.
You may not want to visit every place I have listed, but if you budget your time wisely, it is possible to pay a stop to each of them during your 2 days in Budapest.
Have you ever visited the Queen of the Danube? What is your favorite memory of Budapest? What specifically do you recommend a traveler to Budapest do? Do you have a fave coffee shop or restaurant? Did you bring home Hungarian paprika? Please leave comments below.