Are you looking for the ultimate 5 days in Paris itinerary? 5 days in Paris is a generous amount of time to explore the City of Light.
There are so many things to do in Paris!
Planning your trip to Paris France last minute?
Make sure to book ahead! Hotels and tours usually sell out the closer you get to your trip. Here are our top selections for Paris!
Top Experiences and Tours in Paris France:
Top Hotels In Paris France:
Getting to Paris has never been easier or more convenient. However, depending on where you call home on our planet, it can make for a long travel day or night.
For that simple reason, arrival day to Paris is not considered the first day of your 5 days in Paris. On arrival day whether you arrive by plane, train, automobile, or bus, I'd suggest keeping it low-key.
Take the remainder of the day to recoup from the long travel, rest to get caught up on lost sleep, hydrate, possibly explore the neighborhood where you are staying a bit, and have a nourishing dinner.
Feel free to change up my following suggestions from day to day to make your 5 Days In Paris tailored to your specific needs during the time you are visiting Paris.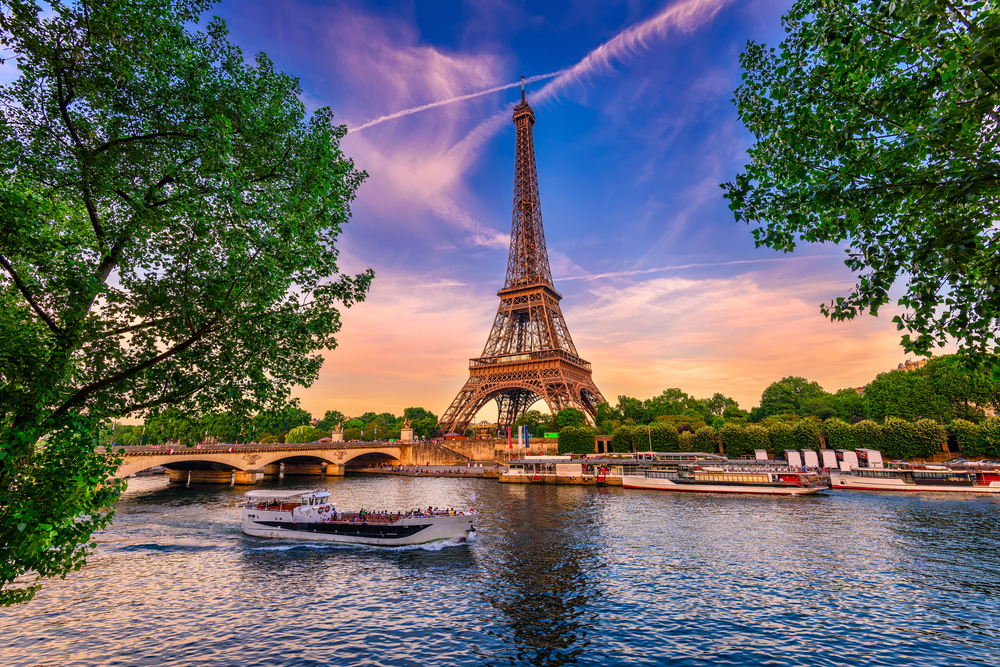 The Ultimate 5 Days In Paris Itinerary You Should Steal
Day 1: Begin your 5 Days in Paris by exploring the Eiffel Tower, Musee d'Orsay, And Seine River
Stop 1: Visit The Eiffel Tower
Of course, no trip to Paris would not be complete without visiting it! so let's begin your 5 days in Paris at the iconic Eiffel Tower!
One of the most popular attractions in Paris is the famous Eiffel Tower. It is one of the very first places most people visit, including me, when in Paris.
The Tower is 1,063 feet tall and remains one of the tallest structures in Paris. It was constructed by head engineer Gustave Eiffel as the gateway to the 1889 World's Fair held in Paris. Today it is the symbol of Paris.
Of course, you want to explore the Eiffel Tower, so set aside plenty of time during your first of 5 days in Paris to do so.
If panoramic vistas of the Seine River and the city of Paris interest you, then visiting the Eiffel Tower is for you.
You may climb up to her elevation levels, or even to the top, but that is 1,665 steps. Up for the challenge?
My daughters actually walked up to the second level on a past trip to Paris and it was quite a lot of walking so proceed at your own risk!
Book Here: Eiffel Tower: Second Floor Priority Access

Book Here: Eiffel Tower Summit or Second Floor Priority Access
Book Here: Eiffel Tower Skip-the-Ticket-Line with Summit Access
Book Here: Skip-the-Line Eiffel Tower & Seine River Cruise
if you don't want to walk up, you may ride up in the elevator which most people choose to do. Be aware, lines are extremely long from morning till night, most days.
You will be far better off purchasing tickets before you arrive.
There are even "skip the lines" options or you can visit Paris in winter for fewer tourists.
Walking alongside and even under the Eiffel Tower is a very memorable thing to do, to get a perspective of just how large the monument is.
One year when in Paris celebrating my daughter's birthday, (check out her website at Follow Me Away), we had dinner inside the Eiffel Tower! And you can too.
There are a wide variety of options for you to select from.
There are plans and changes underway at the restaurants of the Eiffel Tower. Some are closed in winter, some are under renovation.
Some are temporary. It is best to check online if you think it would be exciting to eat inside the Eiffel Tower.
One of the best rooftop bars in Paris is located on the top level of the Eiffel Tower!
Here are the current options to consider:
58 Tour Eiffel Restaurant on the first floor of the Eiffel Tower is the place we chose to celebrate my daughter's birthday. Currently, it is closed for remodeling until spring 2020.
Jules Verne Restaurant, also located on the first floor, is closed as well at this time. Be sure to check the dates and menus of the Eiffel Tower restaurants before your trip.
The Champagne Bar is located at the top of the Eiffel Tower! At 267meters/906 feet it is THE place to go for breathtaking views of Paris while sipping a glass of champagne.
La Bulle Pariesenne is a temporary bistro/wine bar located on the first floor of the Eiffel Tower. It is a great place to stop for a drink and toast your five days in Paris. Or linger a bit longer and have something to eat.
To photograph lasting memories of the Eiffel Tower during 4 days in Paris stroll across the street to the merry-go-round, (there's a souvenir stand there!).
Or walk across the Seine River to the Trocadero Palace, built into the side of a hill, which affords EPIC shots of the Eiffel Tower.
Where To Stay Near The Eiffel Tower:
Affordable: Hôtel de la Tour Eiffel. Check Rates: Booking.com
Midrange: Grand Hôtel Lévêque. Check Rates: Booking.com
Eiffel Tower Views: Hotel Relais Bosquet Check Rates: Booking.com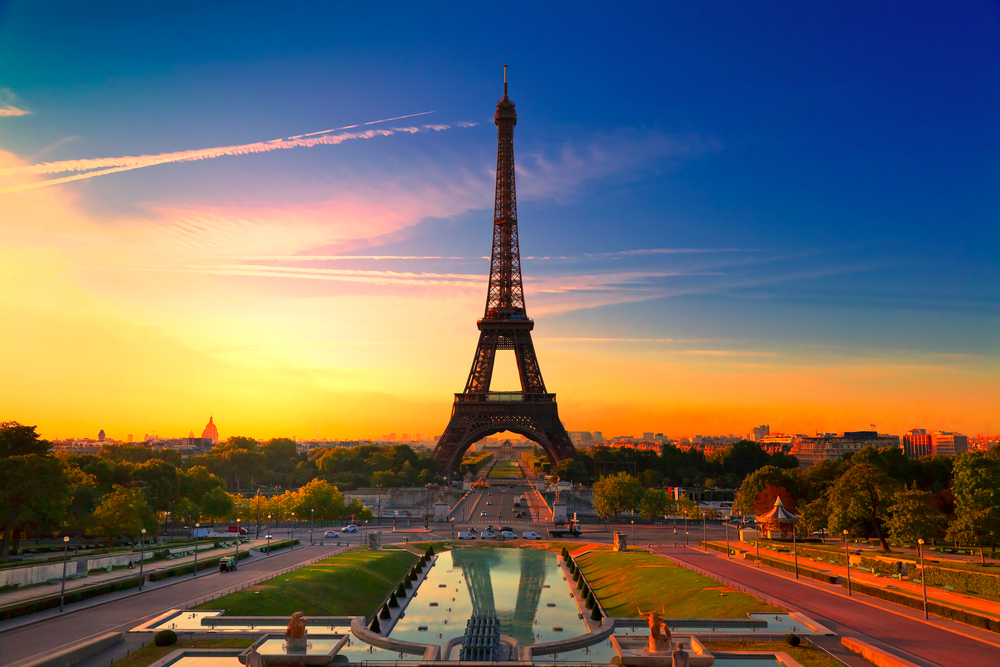 Can there ever be enough pictures of the iconic Eiffel Tower? This one is taken from the Trocadero Palace.
Stop 2: Musee d'Orsay
Located just a few miles and a few minutes away from the Eiffel Tower is the Orsay Museum. It opened in 1986 in the Gare d'Orsay, an old railroad station.
Whatever your artistic preferences, the Musee d'Orsay cannot fail to impress. There are extensive collections of paintings, sculpture, architecture, and design, from the years 1848 to 1914 to admire.
The major draw of the museum is its Impressionist and Postimpressionist collection.
Of note is the famous Whistler's Mother, by Whistler, and renowned examples of Renoir and Degas.
Tickets here: Musée d'Orsay Highlights: Skip-The-Line Guided Tour
Tickets here: 2-Hour Musée d'Orsay Guided Tour with Skip-the-Line Access
Tickets here: Musée d'Orsay Reserved Access 1-Day Admission Ticket
Tickets here: Orsay Museum + Montmartre Skip-the-Line Guided Tour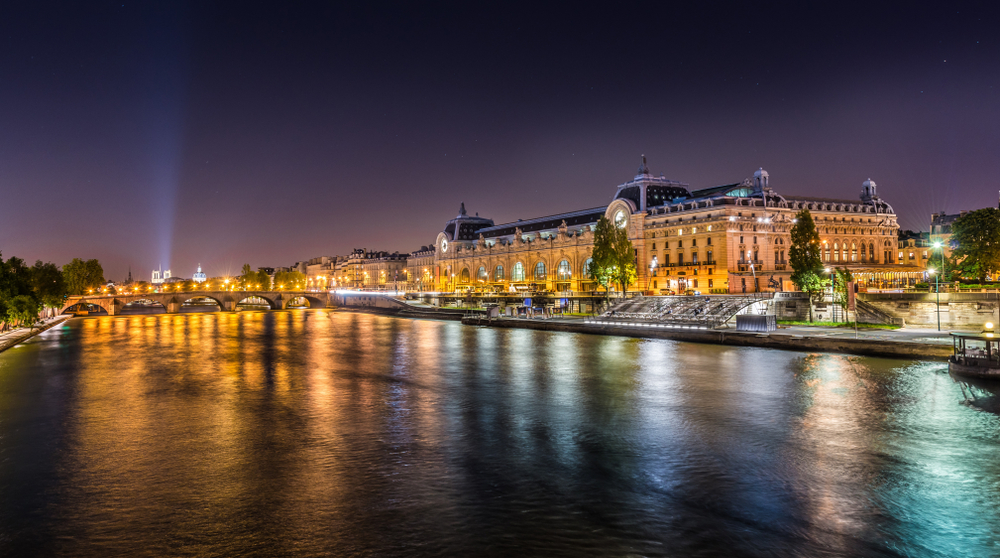 Located on the left bank of the Seine River, the Musee d'Orsay exhibits French art 1845-1915.
Stop 3: Explore the Seine River
Since you are so close, the next thing to do during your 5 days in Paris is to explore the banks of the Seine River.
There are long and lovely promenades to walk and people-watching is a fun thing to do. During my visit, I ran along the River Seine and admired the architecture on the buildings and bridges I ran past.
Another way to explore the River Seine, and learn more about the lovely city of Paris during your 5  days in Paris, is to take a Seine River Cruise.
A narrated cruise is like having your own personal tour guide, for a fraction of the cost.
My cruise lasted an hour and covered a lot of Parisian history and architecture, and was definitely enjoyable and I learned so much.
It was a cold and windy afternoon when I cruised the River Seine, so I chose to sit inside where it was warm.
The floor-to-ceiling glass windows provided ample views for me to oooh and ahhh as we passed many major landmarks.
Most of the passengers chose to sit outside on the top level of the boat to have the best, unobstructed views for their picture-taking.
Look here: Evening Cruise with Dinner on River Seine
Look here: Seine River Evening Cruise and Eiffel Tower Tour
Look here: Paris: 2-Hour Seine River Dinner Cruise with Options
Look here: Paris: 2-Hour River Seine Lunch Cruise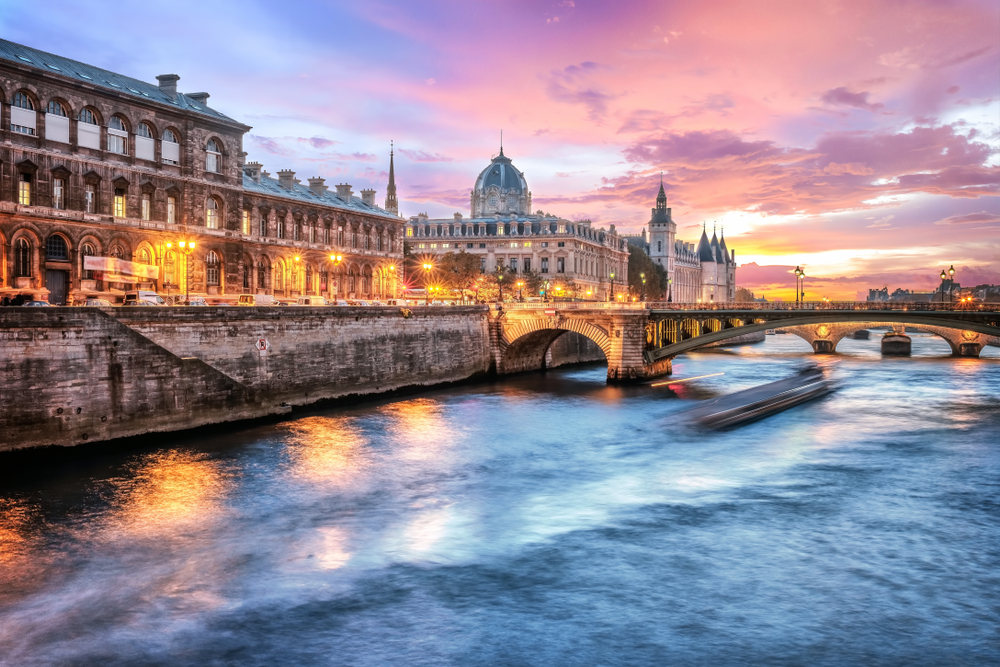 Cruising the River Seine at sunset.
Stop 4: End Your Day At The Rue Cler Market
End your first day in Paris by exploring Rue Cler – Paris' most well-known street market. Located in the 7th arrondissement, it truly is a paradise to explore.
The best part about the Rue Cler market is that it isn't overrun by tourists. You will get a glimpse into the Parisian local life. It is open every day but Monday.
You will find many restaurants to choose from, along with food markets, bars, pastry shops and more. I admit I visited the gelato shop on the Rue Cler, many an evening!
Tickets here: The Paris Pass®: Free Entry to Over 60 Attractions
Tickets here: Paris City Pass: Free Admission and Travelcard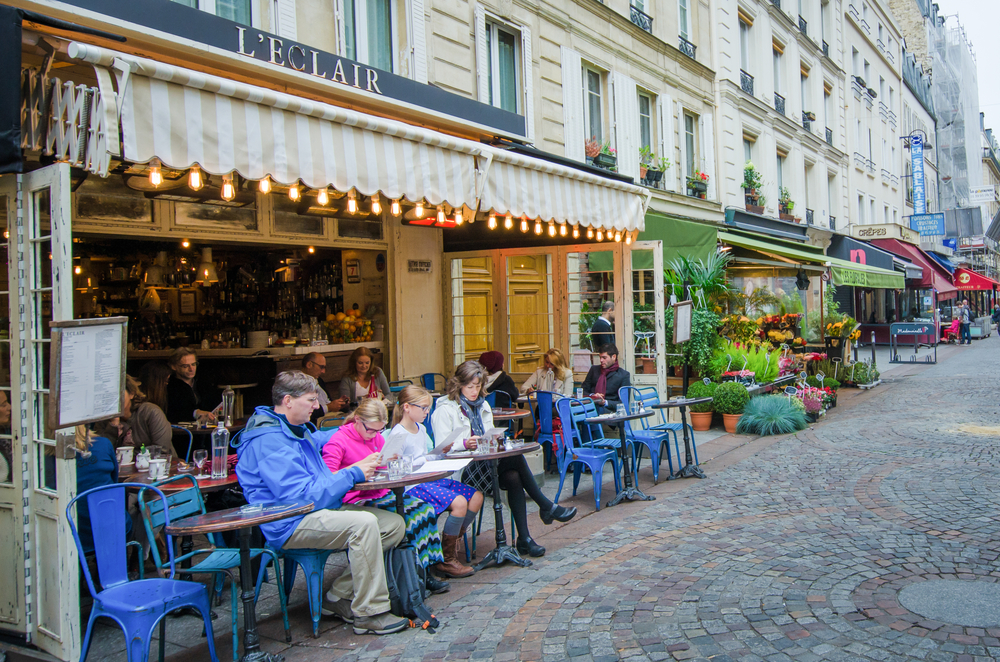 Can't you imagine having dinner at a Paris cafe?
Day 2: Be Wowed At The Louvre, Palais Royal, Gallerie Vivienne
Stop 1: Take In Art At The Louvre Museum
No trip to Paris would be complete without visiting the famous Louvre Art Museum at least one time. Located within the Louvre Palace, it contains some of the world's most precious paintings and artifacts.
The museum is divided into eight departments full of antiquities in the forms of paintings, sculptures, prints, and drawings. Some of the collections range from Egyptian, Greek, Roman, and Oriental.
Most visitors, make it a priority to see the iconic Mona Lisa by Leonardo DaVinci.
When you arrive, make sure you take a map of the museum to guide you to the specific collections and time periods that interest you.
The Mona  Lisa now is now in a prominent and permanent location in the Denon Wing.
A second highlight for a lot of tourists that draws large crowds is the classical sculpture, Venus de Milo.
A classical sculpture from the fourth century B.C., Venus de Milo is the armless figure of the goddess Aphrodite. And she is indeed beautiful.
Look here: Ultimate Louvre: Skip-the-Line Guided Tour
Look here: Louvre Museum Timed Entrance Ticket
Look here: Paris Louvre Museum: Priority Entrance with Audio Guide
The Louvre Art Museum in Paris is the largest in the world and a great place to start the second day of your 5 days in Paris.
It is recommended to budget at least one-half of a day at the Lovre Art Museum. Probably more. I am always there much more.
There is so much to see. Operating hours vary, so check online before you plan your day. Lines for admission tickets can be extremely long, so purchasing online beforehand is prudent.
As additional assistance, there is a Louvre Art Museum app for your phone. It is a great way to familiarize yourself with the museum and its exhibits.
Best Hotels Near The Louvre:
Affordable: Hotel Vivienne. Check rates: Booking.com
Midrange: Hôtel Odyssey by Elegancia Check rates: Booking.com
Upscale: Hôtel Regina Louvre Check rates: Booking.com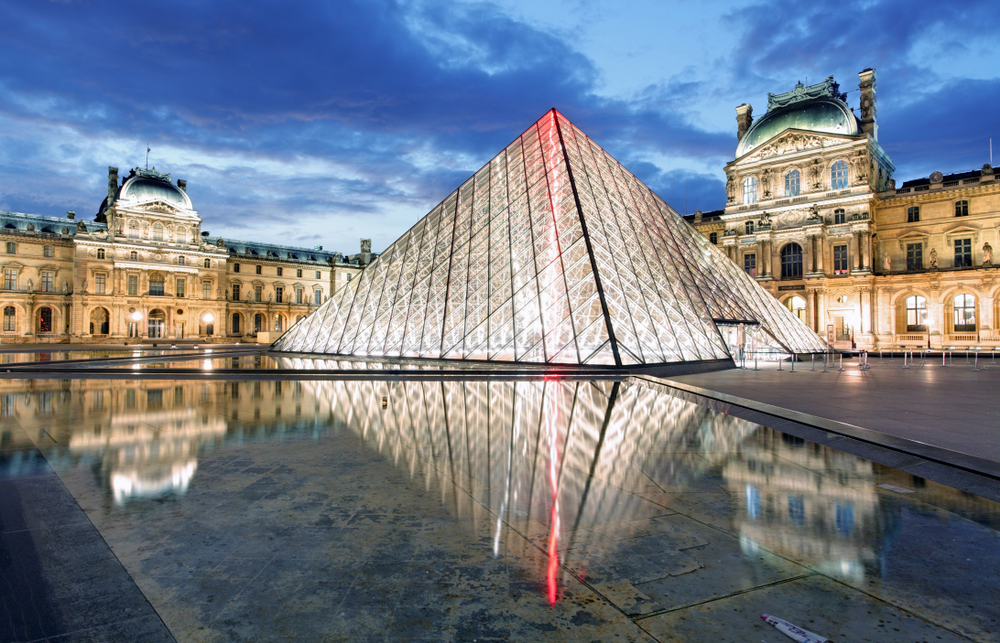 The pyramid entrance to the iconic Louvre Art Museum
Stop 2: Visit A Controversial Art Installation: Le Deux Plateaux
Within walking distance from the Louvre Museum, head next to an outdoor art installation that caused a bit of controversy when it was installed.
Its official name is Le Deux Plateaux, but it is more commonly referred to as the Colonnes de Buren after the French artist who created it, Daniel Burren.
It is located in the inner courtyard of the neoclassical Palais Royal, a former 17th-century royal palace, which sits adjacent to the Louvre Museum. (It is not open to the public.)
Rows of columns of various sizes extending up out of the former parking lot were deemed too unsuitable for a historical landmark.
Today it is a very popular place to wander through and tourists love to have pictures taken with the black and white striped columns.
Look here: The Essence of Paris 2-hour Walking Tour
Look here: Paris Highlights Full Day Tour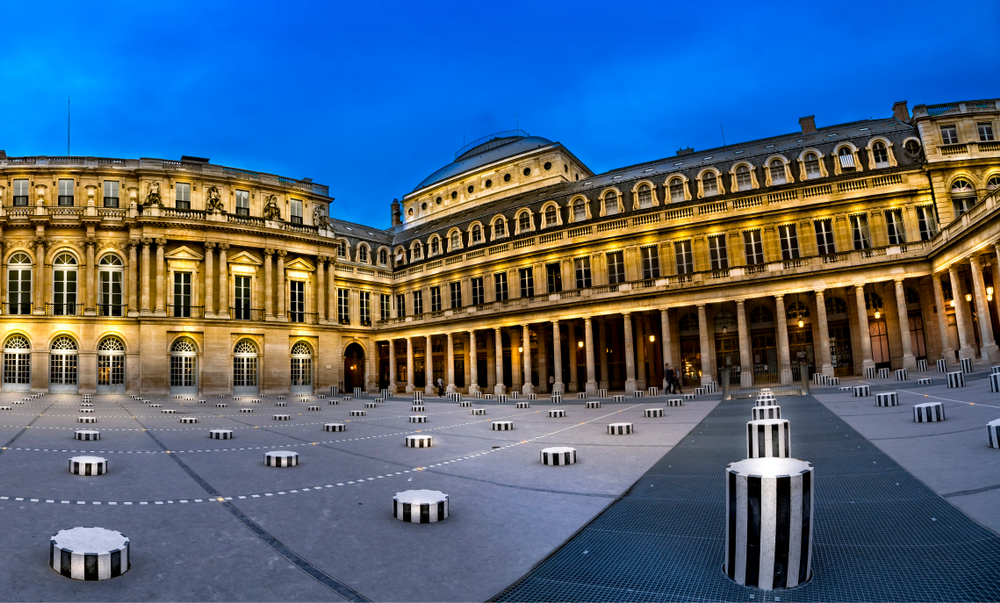 Palais Royal with its Colonnes de Buren art installation. It is an interesting place to visit during your 5 days in Paris.
Stop 3: For A Quick Rest Head To Jardin du Palais Royal
Located just a few minutes walk north of the art installation you will find the palace gardens Jardin du Palais Royal.
Here is a wonderful place to sit for a few moments to enjoy the landscaped grounds, and the large fountain, and meander the tree-lined walkways. Flowers brilliantly bloom depending on the season you visit.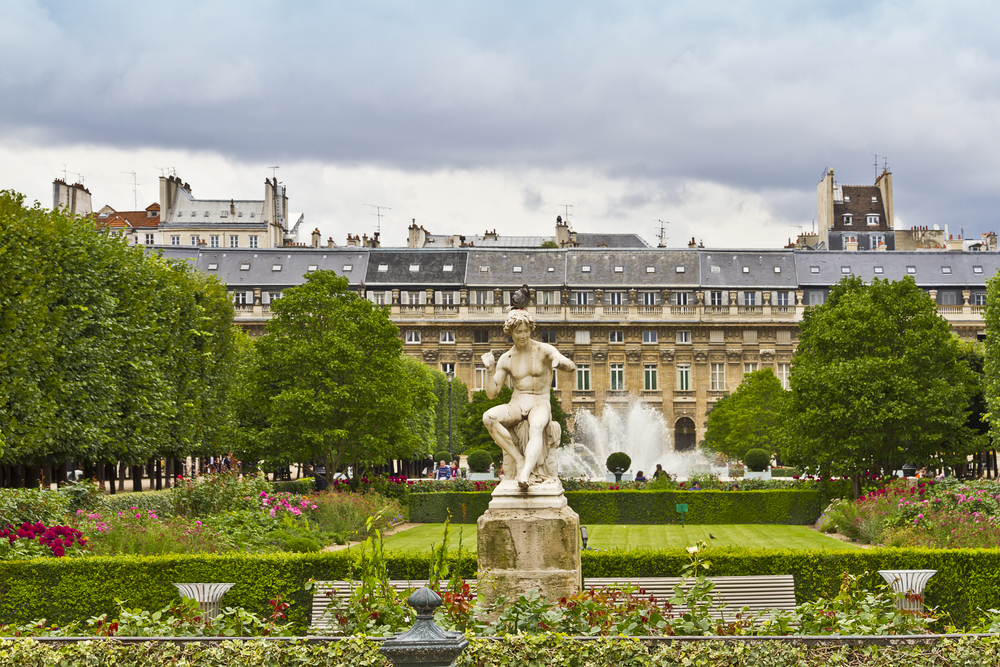 One of the elaborate sculptures in the Palais Royal
Stop 4: Take Some Time To Shop As The Parisians Do
In the 2nd arrondissement take some time to visit an iconic covered passage called Galerie Vivienne. It was designed in the neo-classical style.
The mosaic floors and elegant canopy make this a must-see destination, even for a short time.
True, it fell out of favor a bit with the arrival of the Champs de Ellesse however it is making a comeback, due to its historical and cultural significance.
Stop here for a visit to experience an opulent landmark of the Paris of days gone past. Shop for artwork, books, clothes and small souvenirs. You will not regret it.
Check out this link for The Top Ten Covered Passages In Paris And How To Find Them. Even if you only have a short visit to Paris planned, this will help you decide which covered passage to visit, and where to go to find it.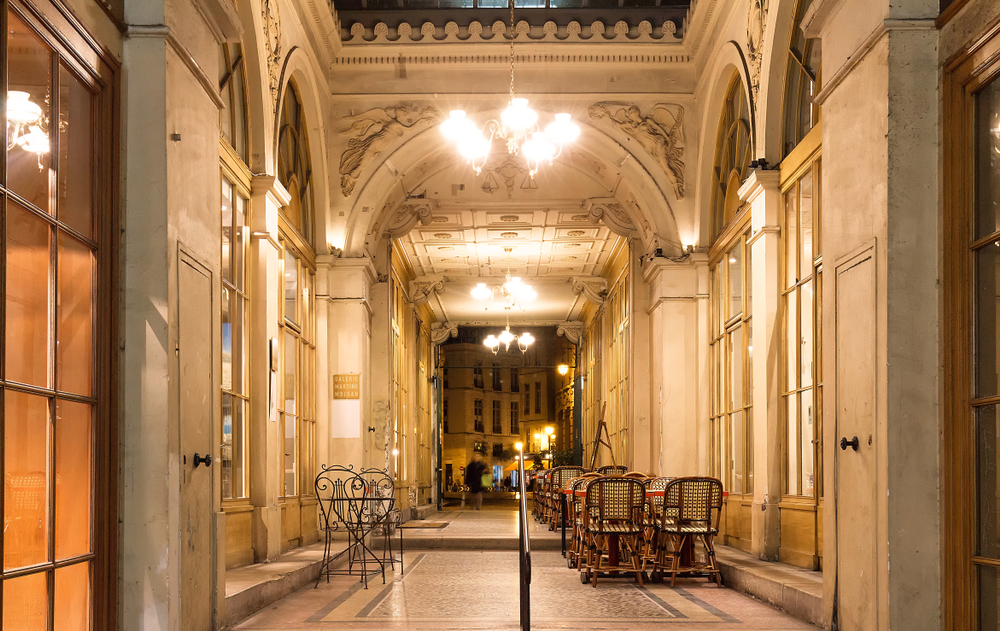 Stunning historical passage, Galerie Vivienne
Day 3 In Paris: Discover Gothic Cathedrals Around The City
Stop 1: Start The Day At Notre Dame
The third day of your 5 days in Paris is all about religious architecture! Three cultural, political and religious Parisian icons stand out.
The most well-recognized cathedral in the world is Notre-Dame de Paris! (Our Lady of Paris.) 
She is recognized worldwide as one of the finest examples of French Gothic architecture anywhere. Her history is spectacular and it took hundreds of years to construct her.
UPDATE: Due to the fire, in spring 2019, please research Notre Dame updates. At this time it is closed, but it is definitely worth it to visit the church to see it and walk around the exterior grounds.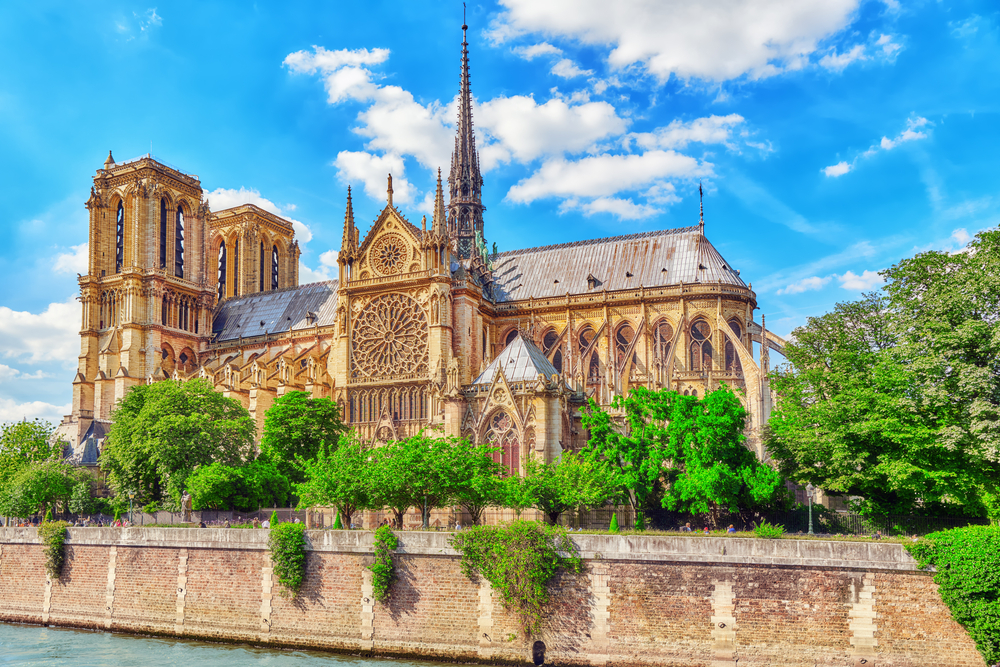 Notre Dame de Paris
Stop 2: Marvel At The Stained Glass At Sainte-Chapelle
Within close walking distance from Notre Dame de Paris is the dazzling Sainte-Chapelle, a MUST-SEE during your 5 days in Paris! It is one of the lesser-known chapels in Paris.
Since it is so near Notre Dame, many people just visit Notre Dame and skip this extremely exquisite church, because they are not aware of it.
Sainte-Chapelle's upper level has over 1,000 striking and gleaming stained glass windows that tell the story of the Bible.
Arranged across 15 main windows, the stained glass panes display over 1,000 scenes from the Old and New Bible.
The bottom level of the structure is very plain because back in its day it was for staff and servants of the resident French king. Only the king and his advisors were permitted into the royal chapel on the second level.
There are pamphlets available in many languages explaining each of the 15 panels, and the panes of stained glass contained in them.
Upstairs there is also a sumptuous rose-stained glass window at Sainte-Chapelle which describes the Book of Revelation through its stained glass panels.
This is a definite stop when you have 5 days in Paris.
Tickets here: Sainte-Chapelle & Conciergerie Combined Skip-the-Line Ticket
Tickets here: Self-Guided Tour & Skip-the-Line Ticket to Sainte Chapelle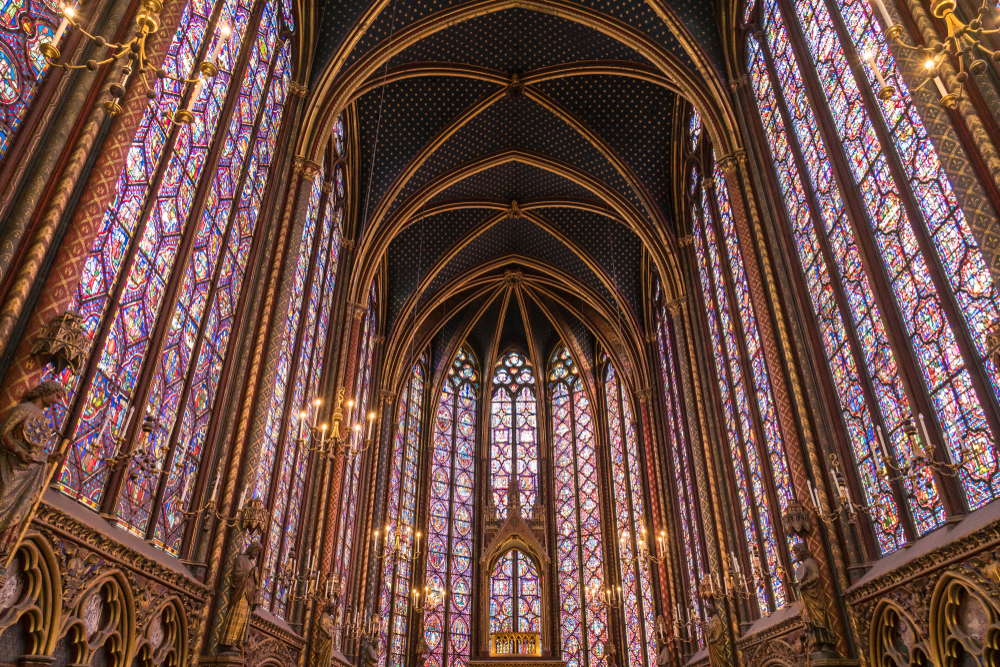 The stunning stained glass walls of Sainte-Chapelle
2) Have A Choux Pastry At Odette Tea Room
Located not far from the iconic Notre Dame, in Paris' Latin Quarter, is a sweet (no pun intended!) cafe called Odette.
You will not find the famous French macarons there, because the owner does not like them and wanted to do something a bit different with his own establishment.
What you will find is a charming, albeit small, quaint cafe filled with tempting pastries, most notably choux pastry, which translated into English means "cream puff."
They are light and airy and filled with flavorful creams of different flavors for you to choose from.
Taking a moment out of a busy day in Paris to sit and sip coffee while eating a choux pastry at Odette's is one of the more unusual things to do in Paris!
Look here: Paris Hop-on Hop-off Bus Tour: Classic, Premium or Deluxe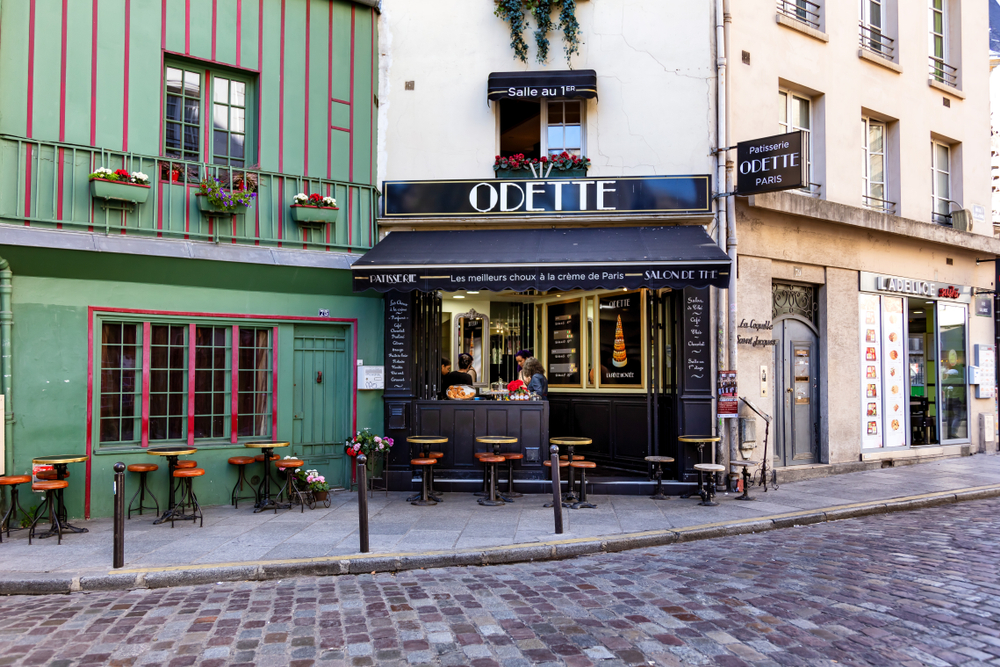 Quaint Odette Tea Room in Paris
3) Stop At Shakespeare & Company Bookstore And Cafe
Literally located simply steps from Notre Dame Cathedral, Shakespeare and Company Bookstore is understandably a very busy place!
Located in a refurbished building, (they kept to its period authenticity) there are loads of books written in English to be found.
If you only have time for a quick stop but find something intriguing, you can purchase it online at a later time.
There are events and speakers scheduled at the bookstore so be sure to speak with an attendant to inquire what is going on when you visit.
If you are looking for refreshments or a meal, you are in luck. Next to the bookstore, you will find Shakespeare & Company Cafe serving all things fresh and delicious, mostly organic and vegetarian.
They have a great selection of muffins, donuts, and desserts if you are interested in only a quick fix as you go on about your day.
It is easy to quickly walk by this establishment during your busy day in Paris, but worth a stop to slow down a bit and wander amid all the lovely books. Perhaps have some coffee and refreshments.
Visiting Shakespeare & Company Bookstore and Cafe is one of the intellectual and unusual things to do during your 5 days in Paris.
Look here: Paris: Photo Shoot with a Private Travel Photographer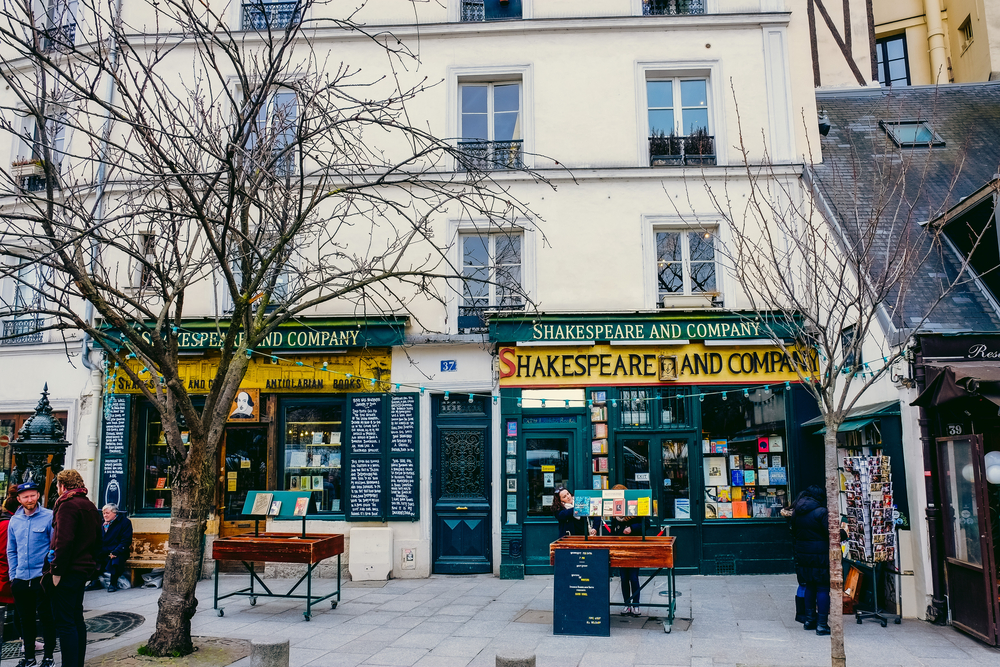 Shakespeare and Company Cafe & Bookstore
Stop 4: Visit The Catacombs For An Underground View Of Parisienne History
Are you aware six to seven million souls are buried under the streets of Paris? You can view a portion of the underground ossuaries in Paris France.
There is a network of tunnels underground built in the 1700s to help eliminate the problem of Paris' overflowing cemeteries.
The Paris Catacombs respectfully holding the bones of the dead, has been counted as one of 14 City of Paris Museums since 2013.
The ossuary (location holding bones of the dead) makes up only a small section of the underground tunnel system. The entire network of tunnels is known as the catacombs.
Tickets here: Skip-the-Line: Paris Catacombs Guided Tour with VIP Access
Tickets here: Paris Catacombs Skip-the-Line Ticket with Audio Guide
Tickets here: Paris Catacombs: Special Access Small Group Tour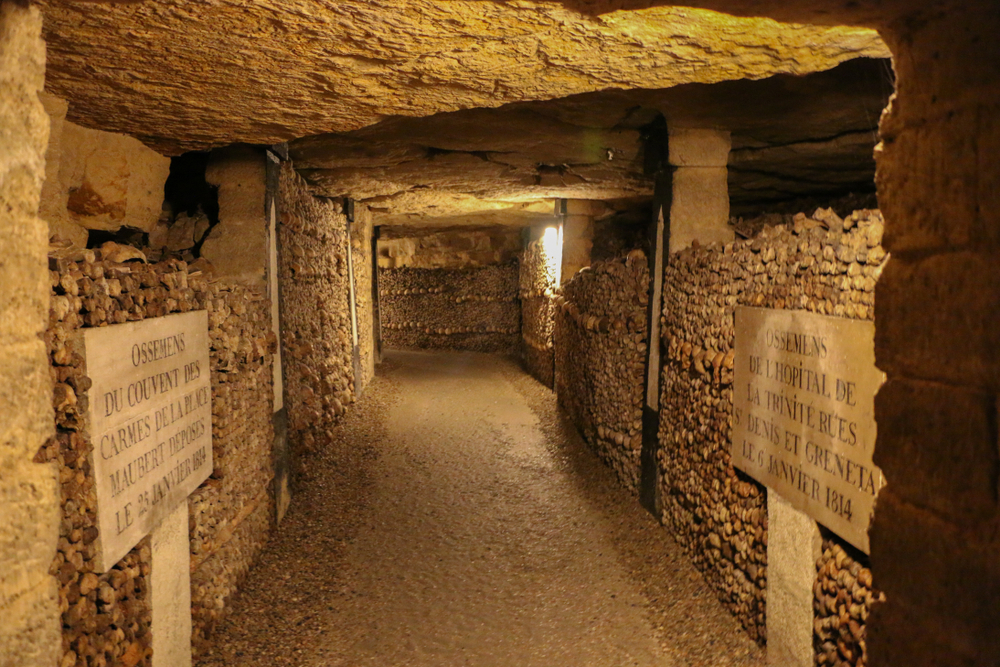 Bones in the underground ossuaries of the Paris Catacombs.
Day 4: Champs Elysees, Arch de Triomphe, And More
Stop 1: Visit The Champs-Elysees By Bicycle
Bike riding is very popular in European cities, and Paris is no exception. During your 5 days in Paris begin your fourth day by renting a bike at one of the numerous Velib bike stations.
They are everywhere so you do not have to return your bike to the exact location where you rented it.
Head out to the fashionable Avenue des Champs-Elysees to visit one of the most well-known avenues in the world.
And some of the richest real estate on the planet! Upscale and not-so-upscale shops and cafes and restaurants dot the Champs Elysees on both sides of the street.
Look here: Best of Paris Bike Tour
Look here: Paris By Night: 3-Hour Guided Bike Tour
Look here: Paris Highlights 3-Hour Bike Tour
Look here: Paris Champs-Élysées 2-Hour Private Walking Tour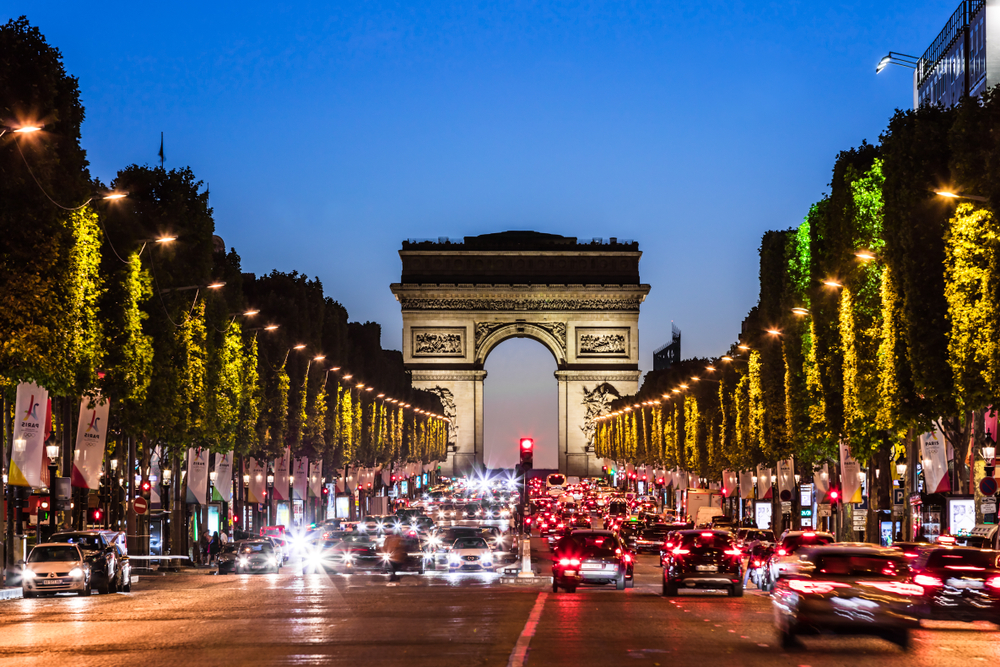 The world-renown Champs de Elysees.
Scooter Around Paris As An Alternative Way To Get Around
There is another way to explore Paris other than using a bicycle, and that is by electric scooter.
I am adding both options here as you begin day 4 of your 5 days in Paris, so you can choose which option you like, if either.
During our last trip to Paris, we noticed clumps of lime green scooters everywhere. It was as if they were left randomly. And they were.
When you are finished using your scooter, you simply leave it at your destination.
The only caveat is: do not leave your scooter in the pedestrian walkway or in the street, both of which make good sense!
Download the phone application of the scooter company (we used Lime) and input your credit card information.
Once you have established an account, you can see where available scooters are in your vicinity, due to the GPS capabilities of each individual scooter.
UPDATE: During our most recent visit to Paris, we noticed there are now several different e-scooter rental companies.
We used DOTT more this trip because it was less expensive. It does require downloading the company app to your phone and inputting your credit card information.
However, since there were five of us in our group, we often used a combination of e-scooters from both companies. They were available at the time we wanted them.
You can rent a scooter for as long as you think you will need one. When you have arrived at your destination, you verify through the app on your phone that you are done.
Then you simply leave the scooter and walk away. More likely than not, there will be someone who will scoop it up and be on their way very soon.
Look here: Paris E-Scooter Rental
Stop 2: Go Up Inside The Arc de Triomphe
The Avenue des Champs-Elysees ends at the Arc de Triomphe, another of the famous monuments of Paris, a very short bike or scooter ride away.
The Arc de Triomphe honors those who fought and died for France. And there is a Tomb of the Unknown Soldier located there with an eternal flame that commemorates the war dead who were never identified.
Did you know you can walk and tour inside the Arc de Triomphe? And that there is an observation deck on the top of the Arc de Triomphe? I did not either!
The climb to the top was relatively difficult because there were so many stairs, but it wasn't impossible!
There is not an elevator to the top so unfortunately anyone wheelchair-bound or the infirm, or those unable to climb steep steps, will not be able to participate.
Please be aware of this fact when planning your trip to the Arc de Triomphe.
Look here: Skip-the-Line: Arc de Triomphe & Champs-Élysées Sunset Tour
Look here: Skip-the-Line Arc de Triomphe Rooftop Tickets
Look here: Eiffel Tower Tour & Arc de Triomphe, River Cruise Tickets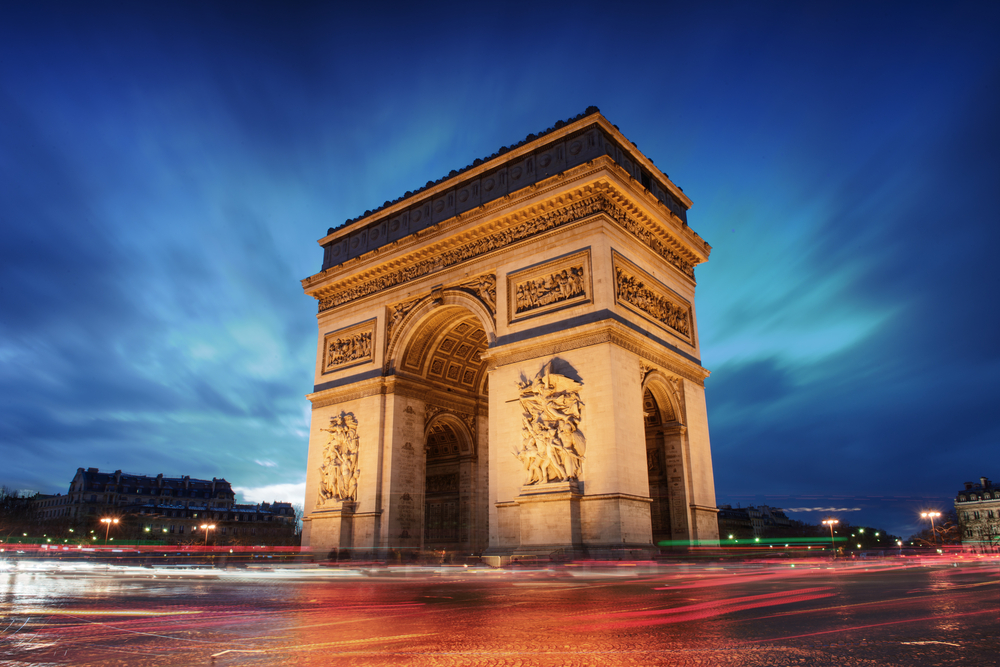 You can climb to the top observation deck of the Arc de Triomphe.
Stop 3: Visit Palais Garnier And Be Prepared To Be Wowed
The Paris Opera House, known as Opera Garnier, is so opulent is it often referred to as Palais Garnier. Located in the 9th arrondissement in Paris this spectacular theatre for opera seats almost two thousand people.
These days, the theater is used mainly for ballet performances. It has been a historical monument since the early 1900s.
The Palais Garnier is probably one of the most famous opera houses in the world. And one of the major symbols of Paris, right alongside Notre Dame Cathedral, The Louvre, and the Eiffel Tower.
For an admission fee, you can discover the treasures of 19th-century theatre art by taking a guided or self-tour of the facility. The Grand Staircase is a sumptuous sight in itself to behold.
And do not miss out on seeing the Gold Room. it displays baroque opulence as I do not see that often. It was beautiful!
Tickets here: Private Tour of Opera Garnier & Covered Passages
Tickets here: Opera Garnier Tour with Expert Guides in Paris
Tickets here: Self-Guided Visit to Opera Garnier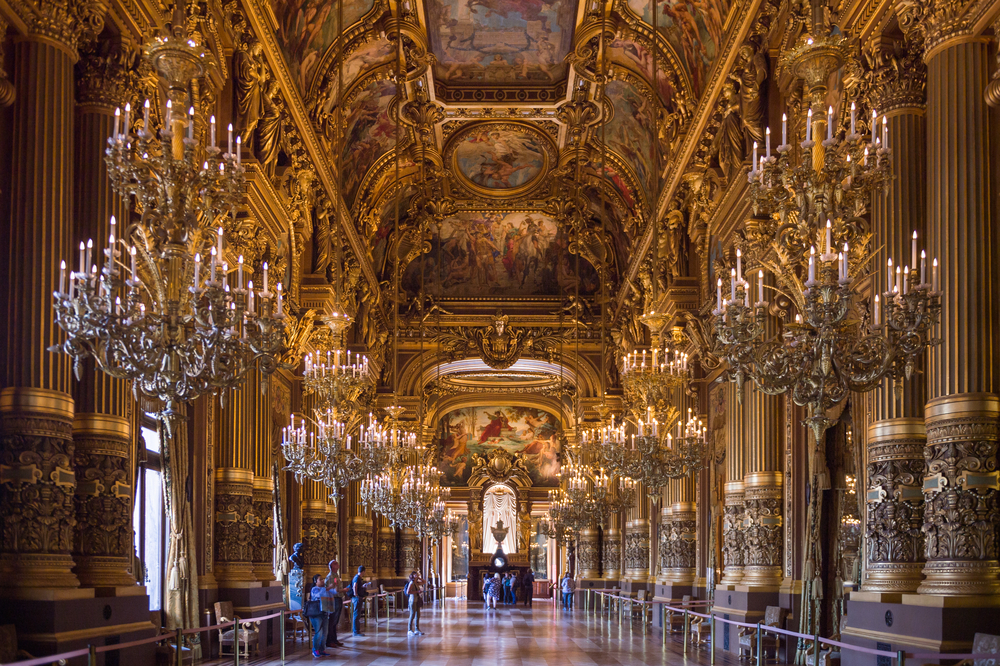 Paris Opera House. Do not miss this room!
Stop 4: For A Real Parisian Experience Visit Galleries Lafayette
Within walking/biking/scootering distance from the Paris Opera House, you will find the Galleries Lafayette. A series of opulent buildings connected by a series of bridges, make up the Galleries Lafayette.
Even if you are not interested in shopping or purchasing anything, at stop at the Galleries Lafayette is definitely worth it so see the amazing art nouveau architecture and decorations.
At Christmas time, the Christmas ornaments were like none I have ever seen, especially the Christmas tree in the main foyer.
Do not miss out on taking a walk on Glasswalk. It is 53 feet high and juts out an amazing 29 feet.
You will find it on the third floor. It brings you unparalleled views of the stunning stained-glass windows in the dome!
Look here: Paris: 1, 2, or 3-Day Hop-on Hop-off Ticket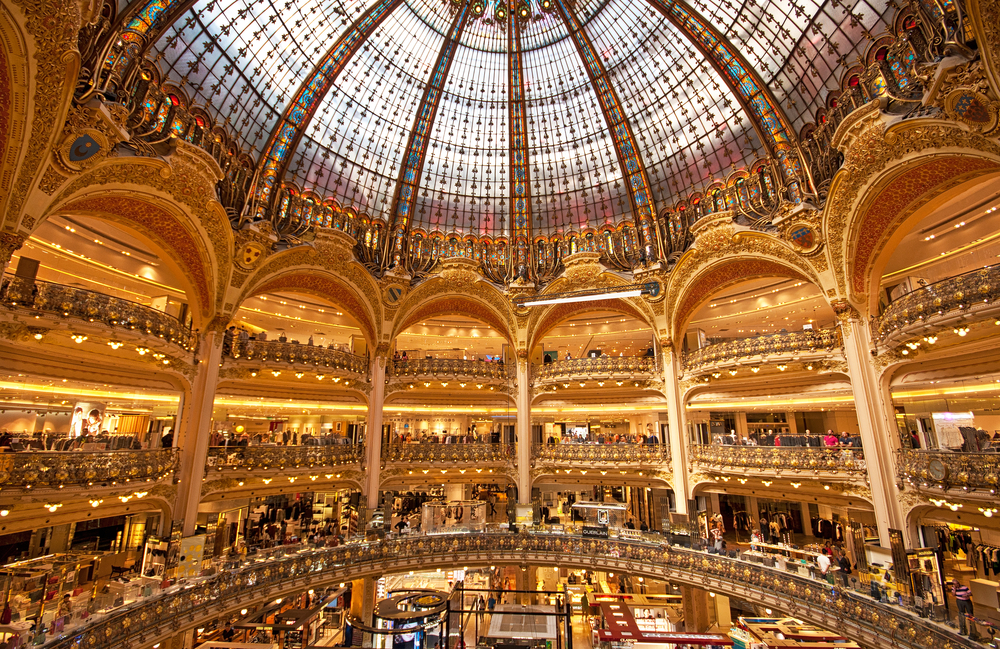 Galeries Lafayette with its Art Nouveau and steel glass ceiling. Do not miss the Glasswalk!
Stop 5: Visit The Rooftop Terrace At Galleries Lafayette For Spectacular Parisian Views
One of the unusual things to do in Paris is view the jaw-dropping panoramic views of the heart of Paris located on the rooftop deck at Galleries Lafayette!
Many tourists do not know about or take advantage of this unique opportunity.
It is the BEST location for these spectacular views that is free and open to the public! When we visited it was not that crowded.
It is a superb location to take your Paris photographs. Visitors were very cooperative and everyone took turns.
Viewing the rooftop views from Galleries Lafayette is definitely something to seriously consider when you are planning your 5 days in Paris itinerary!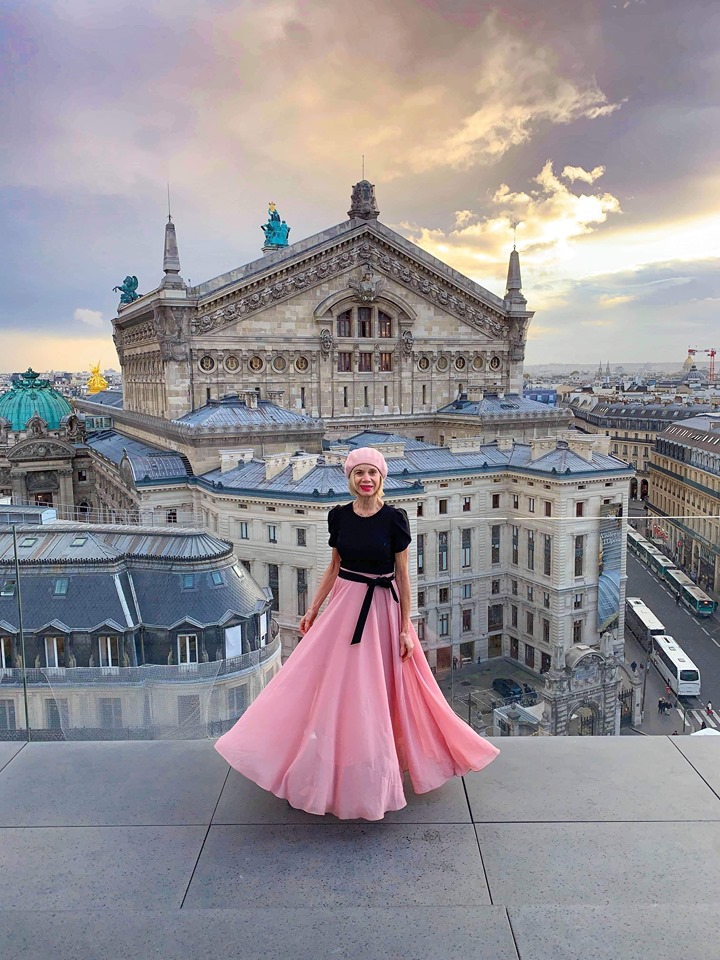 Here I am on the rooftop terrace at the Galleries Lafayette. The Paris Opera House is directly behind me. Off to the right, just out of the camera shot, is the Eiffel Tower.
Day 5: Visit Some More Unusual Paris Locations
Stop 1: Montmartre And Sacre-Coeur
Montmartre is the bohemian and artistic part of Paris and a great place to explore on foot.
Located at the summit of Montmartre, the highest point of Paris is the Basicila of the Sacred Heart, Sacre-Coeur. It is not as "fancy" nor does it display as much excess as other styles of architecture in the area.
Because the church sits atop a hill, there are MANY steps to climb to the top. It isn't quite as bad as the walk to the top of the Arc de Triomphe, so if you did that this will be a relatively easy climb for you.
That being said, there is an incline railway to catch if climbing is too daunting or there are elderly in your group. Because of the height, the top of Montmartre affords exceptional views of Paris and her communities and her most famous monuments.
The inside of the church is unique, but the views of Paris are easily the best part! You will be able to see all of Paris in one panoramic view.
Book A Tour Here: Sacré-Coeur and Montmartre Tour with Expert Guide
Book Here: Paris: Montmartre 2-Hour Walking Tour
Book here: 3–Hour Montmartre Cheese, Wine and Pastry Tour
Around the right side of the church as you exit it, is a lovely square. It is lined with local Parisian artists crafting and selling their wares. There is an abundance of street cafes and charming restaurants.
Back at the bottom of the hill in front of the basilica, you will find streets bustling with people, as well as tons of souvenir shops and restaurants.
This is an excellent opportunity to pick up some special mementos to have or bring home to your loved ones. It is my experience that the souvenir prices in the neighborhood are the cheapest in Paris.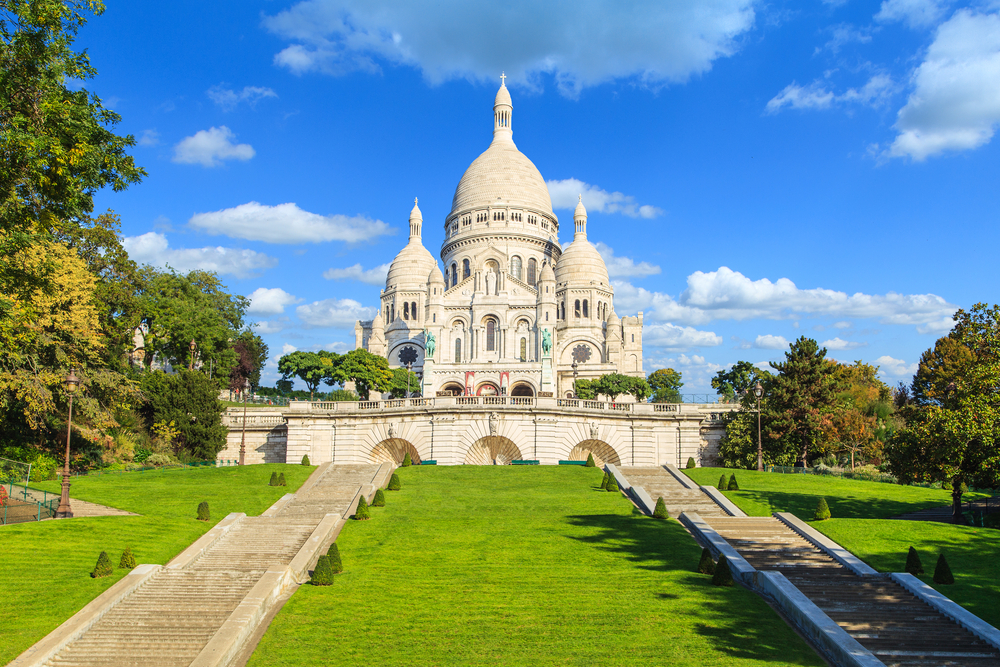 Basilica of the Sacred Heart, Sacre-Coeur.
2)Visit The Only Working Vineyard In Paris
Yes, that's correct! There is actually a working vineyard in the heart of Paris. It is Vignes du Clos Montmartre, located near Sacre Couer.
Not many know that located on Rue des Saules, on a very steep slope heading back down Montmartre Hill is a working winery! Many tourists are not even aware of Clos Montmartre so you will have an advantage over them.
You can take a tour of Clos Montmartre, and it is best to purchase your tickets online beforehand.
Purchase tickets here: Paris Wine Cellars & VIP Montmartre Vineyard Tour & Tastings
Where To Stay In Montmartre:
Affordable: Le Village Montmartre by Hiphophostels. Check rates: Booking.com
Midrange: Timhotel Montmartre. Check rates: Booking.com
Midrange: Hôtel Montmartre Mon Amour. Check rates: Booking.com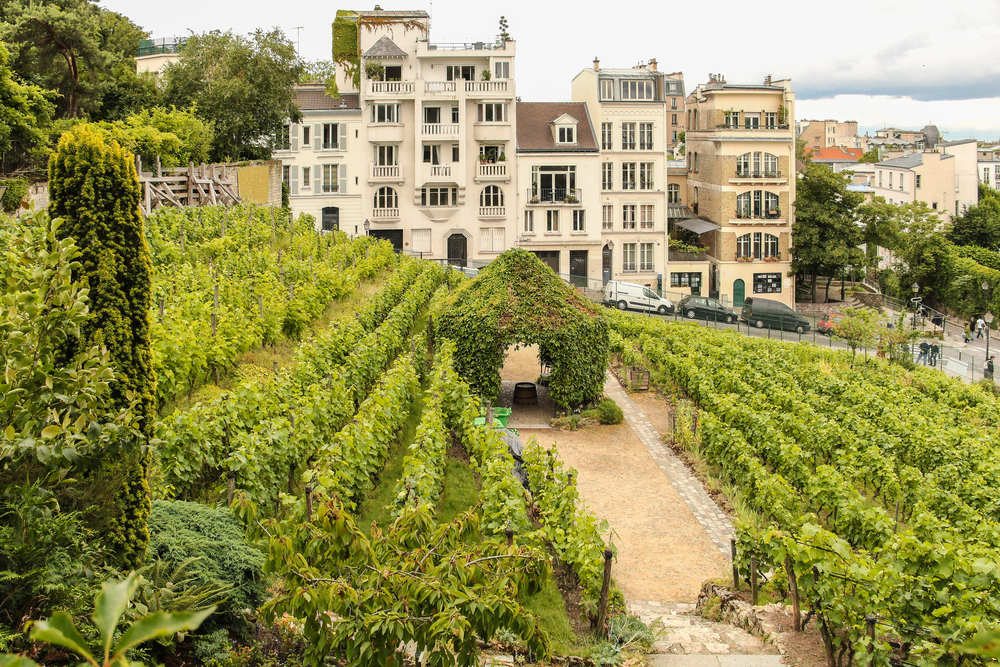 A working vineyard in the heart of Paris, in Montmartre.
Stop 3: Make Time To See The Moulin Rouge
Located at the bottom of the hill in eclectic the Montmartre district, is the most famous cabaret in the world: the iconic Moulin Rouge.
World-class international stars such as Frank Sinatra and Elton John loved this venue and it is the center of many movies throughout history!
You can have dinner and be entertained by the dazzling Broadway-style show. But be aware there is a proper dress code and keep that in mind when you visit.
Of course, purchasing tickets online beforehand is always prudent.
Look Here: Paris: Moulin Rouge Show with Champagne
Look Here: Paris: Moulin Rouge Show with Dinner Options
Where To Stay Near The Moulin Rouge:
Affordable: Le Village Montmartre by Hiphophostels. Check rates: Booking.com
Midrange: Hôtel Montmartre Mon Amour. Check rates: Booking.com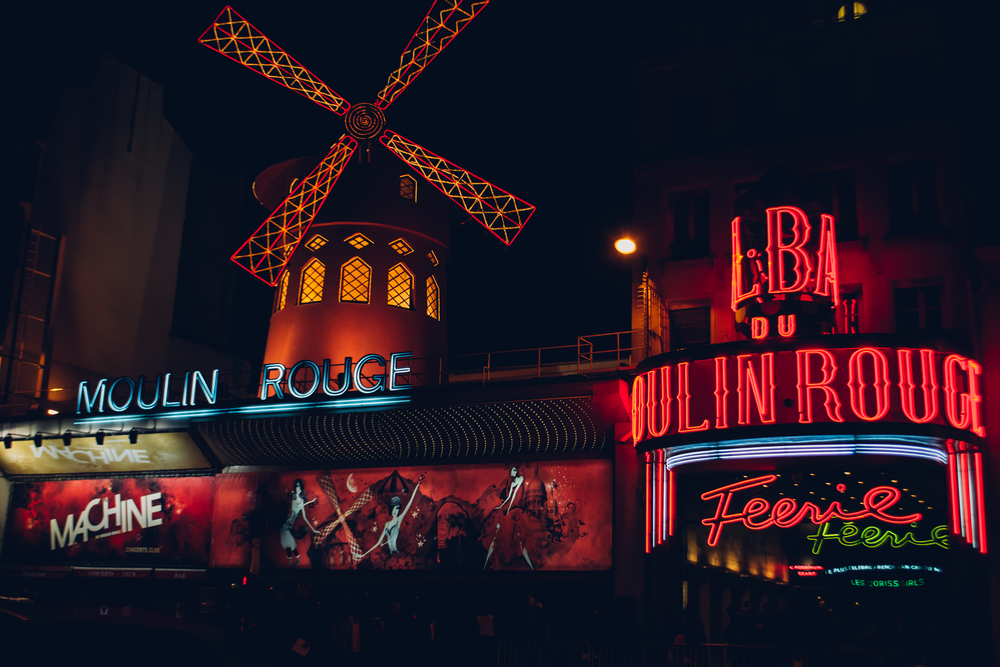 Stop 4: Check Out The Eye-Popping Pigalle Basket Ball Court
If you are a sports fan, especially basketball, or have one traveling with you, this unique Paris destination must be considered during your 5 days in Paris.
  If you are an artist who does not much care for any sports, especially basketball, this is still a must-see for you as well.
Located on Rue Duperre, in Paris' 9th arrondissement, the Pigalle basketball court is sandwiched in between historic residential buildings on nothing more than a sliver of property.
Painted in nothing less than eclectic pinks and blues, it is eye-popping for sure.
The idea behind this in the first place was to make the basketball court and basketball hoops appealing to the local kids who live in the area.
Enter several high-profile companies to bring that thought to fruition and wow the results are visually stunning.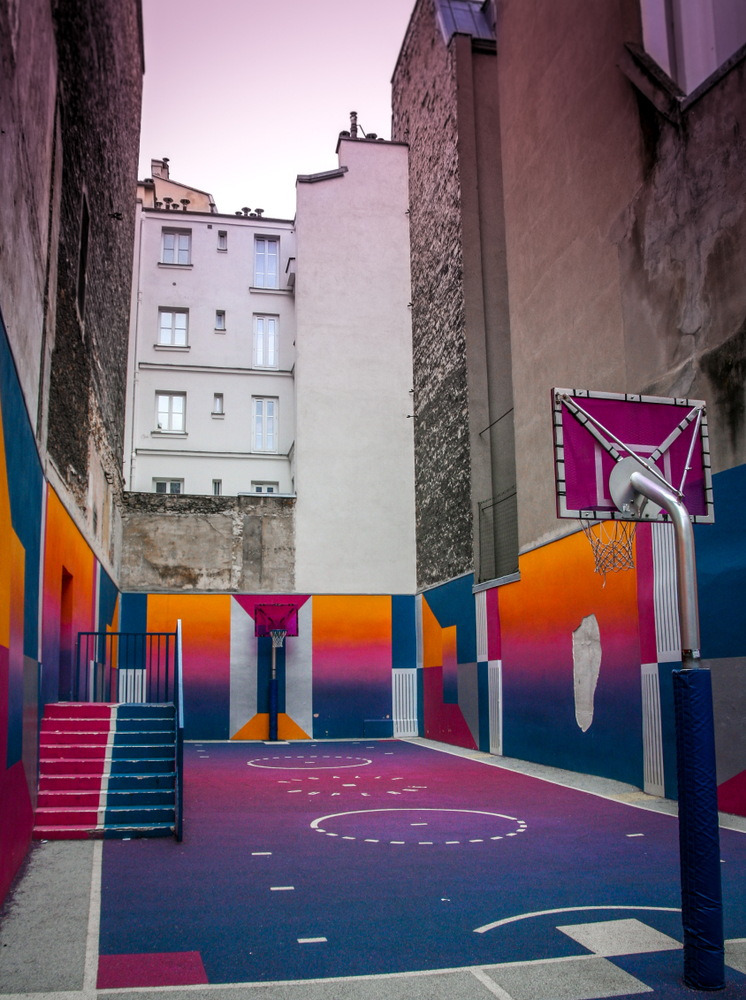 Stop 5: View Symbolism At The Gustave Moreau Museum
Gustave Moreau lived in Paris in the 1800s. He was a "symbolist" painter. At the museum honoring him, you will see three stories full of his works.
There are literally thousands of his paintings, watercolor drawings and pastel sketches to view.
Located in the 9th arrondissement, you will find that this museum is kind of off the beaten path, and a bit less crowded and touristy.
Along with all of his works prominently displayed, you will be able to explore the living quarters where he and his family actually lived.
The architecture is glorious, and there is a grand circular staircase that will lead you from the second to the third floor, which could be the backdrop for a wonderful and memorable picture of your Parisian visit.
Look here: Paris Museum Pass: 2, 4, or 6 Days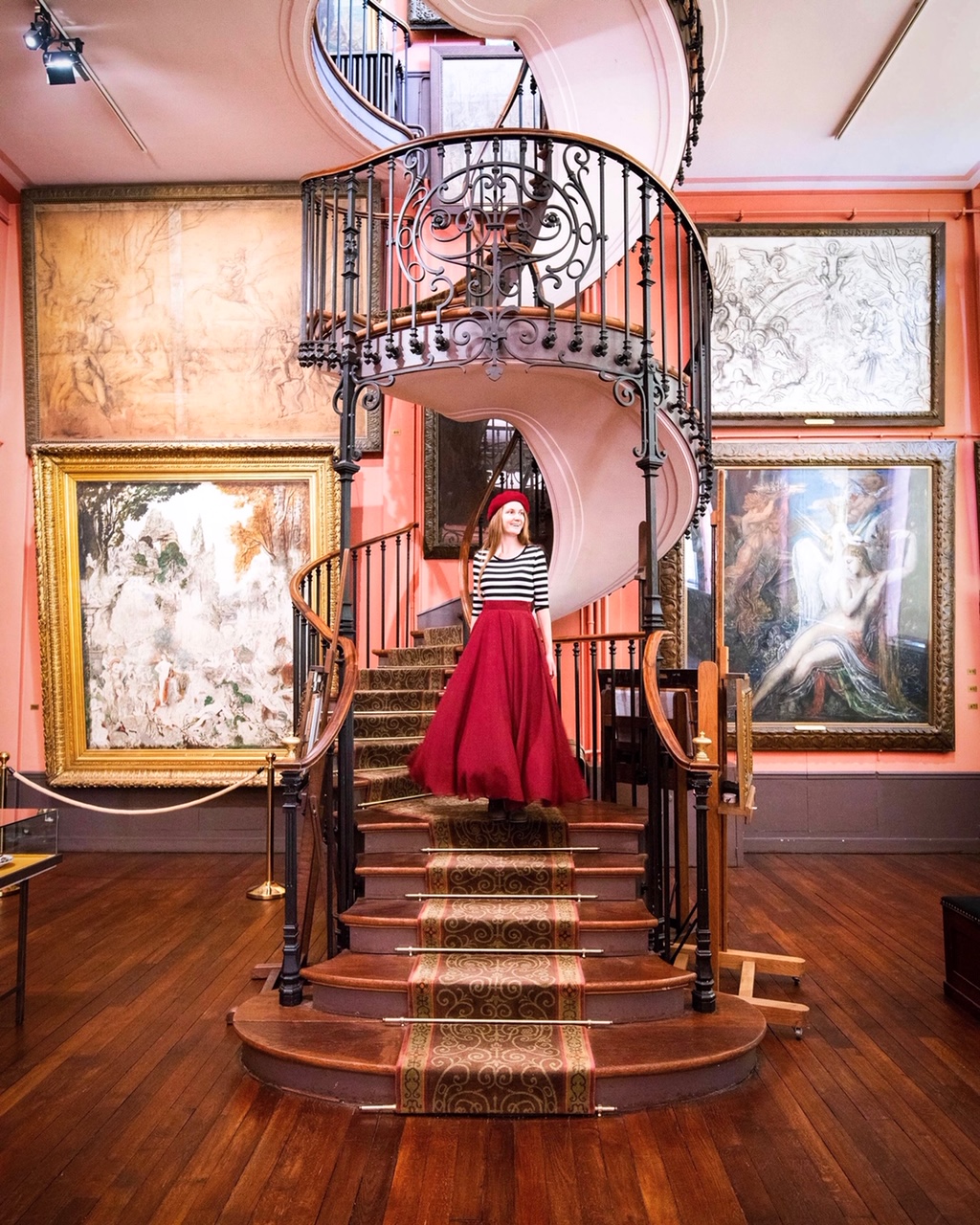 My daughter Victoria (Follow Me Away) on the circular staircase at the museum.
Packing Tips For Your 5 Days In Paris
I think that using these useful packing tips will enhance your trip to Paris and help you remain organized while there.
A concealed travel pouch may be one of the most important items you bring with you on your visit to Paris. This unisex RFID blocking concealed travel pouch is lightweight and comes in several colors.
It has lots of organization to give you peace of mind. You can keep your most valuable documents safe and secure next to your body.
If you have a pouch already you may not want to or need to invest in a new one. If it does not come with the RFID protection, these RFID sleeves would be handy to prevent identity theft.
This configuration comes with enough passport and credit card sleeves that the entire family would be protected. They are slim too, so they will easily fit into your current pouch or wallet. These are the kind my family and I use not only when traveling but at home as well.
If you are planning on taking a lot of pictures with your phone you will definitely want to consider an external charging battery. This Anker high-speed phone charging battery is the exact one I carry with me on all of my trips.
It can be used on a variety of phones, not just an iPhone like I have. And wow is it fast! I like that it holds its charging capabilities for several uses so I do not have to worry about it while out and about. And if I forget to recharge it at night, it will still be good to go the next day.
My daughter gifted me with this FugeTek Selfie Stick and Tripod for my birthday. It has Bloothtooth connectivity so it is very easy to use. It is made of durable aluminum and is very lightweight and easy to carry. I love mine and I think you will enjoy it too!
I was never a fan of packing cubes until I tried them out! Now I am sold. These Bagail packing cubes are the exact ones I use whenever I travel. I cannot believe how much more organized I am now! And I never leave without them anymore.
Hydration is so important. You want to remain hydrated to support your immune system which in turn will be stronger to fight off any germs you will encounter during your 5 days in Paris. You will want to bring your own refillable water bottle with you.
I never leave home on a trip without my Bobble filtration bottle. The 18.5-ounce size is perfect for travel and it will fit nicely in the pocket of a backpack or your purse. Also when filled with water, it is not too heavy to carry.
And the Bobble carbon filter ensures fresh clean water whenever and wherever you fill the Bobble. You can find filter replacements here.
Perhaps you are traveling a long distance and packing space is a premium. Then this set of collapsible silicone foldable water bottles would work well for you. Would not take up much space in your suitcase at all. And you will be receiving a set of two.
You will want to bring a backpack or daypack with you to store snacks, your water bottle, phone, extra clothes, etc.. This foldable water-resistant backpack would be great. It is very affordable and is available in many color options for you to choose from.
The fact that it folds down into a zippered pouch will make it easy to pack.
Perhaps you need a more substantial backpack for your international travel. This antitheft backpack has a charging port, is water-resistant and can comfortably carry up to a 15.6″ laptop. It comes in a range of colors to choose from and it is inexpensive as well.
You will be walking more than usual during your 5 days in Paris. A sturdy and comfortable pair of walking shoes is a must-have. These waterproof all-season shoes are extremely affordable and yet fashionable.
Mostly everyone is familiar with the Skechers brand, and these Air Run high fashion sneakers come in a lot of colors to match your outfits and are still affordable.
You may be visiting Paris warmer weather and you may want a pair of sandals to wear exploring. I highly recommend these Vionics adjustable strap orthotic sandals.
I have several pairs of these exact Vionic sandals in several colors that I bring with me *everywhere* I travel. They are very comfortable. I also sometimes bring along my Vionic Tides flip flops. The toe post is so comfortable which makes wearing these super comfortable.
Bring a lightweight scarf or shawl. Scarves and shawls are very popular in Europe and Paris is no different. Both men and women wear scarves, decoratively and as a layering piece to keep warm.
This cotton unisex lightweight scarf is versatile and can be worn in any season. I like this colorful oversized scarf too. So many colors to select from!
And here's another option to consider: this lightweight sunscreen shawl scarf would do double duty to protect you from the sun in the warmer seasons as well as being a fashion accessory layering piece. This Coolibar sunscreen scarf has USB 50+ protection from the sun's rays & comes in great colors.
We all need to protect our eyes from the sun's harmful UVA/UVB rays. These unisex polarized sunglasses come in a lot of lens colors and frame designs and are extremely affordable too.
If you are fond of the aviator-style of sunglasses these polarized aviators may interest you. I like polarized sunglasses because they remove the glare off the water and help you to see things more clearly. This will be very helpful in Paris.
Don't forget to bring along a universal power adapter on your 5 days in Paris. This worldwide power plug is a great example and will charge your phone at the end of your busy days.
And this world traveler adapter kit can charge several devices at the same time. This is what you will need when there are several people traveling in your group, or if you bring several electronic devices on your trip that require charging at the same time.
If you are in need of new luggage, this expandable soft side spinner luggage is affordable and comes in lots of colors. If you like hard-sided better, then you may favor this hard-sided luggage set better.
Both sets come with TSA approved zippers locks and 8 wheels per piece. Either will be great for the plane or train or even your car depending on how you plan to travel to France.
If you are in the planning stages of your trip to Paris, here are some great posts for you to read later:
10 Unusual Things To Do In Paris (Not The Eiffel Tower!)
The Ultimate 4 Days in Paris Itinerary
The Ultimate 2 Days In Paris Itinerary
7 Things You Want To Know Before Your First Trip To Paris
5 Things To Know About Eating Healthy In Paris
How To Get Around During Your 5 Days In Paris
Paris is so very easy to navigate around. If you are able and up to it, I'd suggest walking. Paris is a visually beautiful city, and there's much to see and absorb, which you could/would miss if you were not walking.
Make sure you leave ample time to arrive at your destination and wear sturdy comfortable walking shoes.
The metro train system is very extensive in Paris, and probably the best transportation option you have. It's fast, it's cheap.
And it arrives and departs frequently. You can purchase tickets at every station and a bundle of ten tickets costs less than a single ticket.
As I mentioned above, the metro is not an option for the wheelchair-bound. Nor for those unable to walk long distances or climb up and down stairs frequently and frequently.
There are also city buses and trains to consider when doing your 5 days in Paris. And you always have the option to get a taxi or hire an Uber driver.
Of course, if you drove to Paris using your own personal automobile, that is always an option for you, but beware, the streets of Paris are very crowded.
Quick Tips For Your 5 Days In Paris
Here are some quick tips and tricks, combined with the ones above, which will make your 5 Days in Paris more enjoyable.
Remember, always stay hydrated! Bring a reusable water bottle and refill it often. You will be taking care of your health, and saving numerous disposable water bottles from being sent to the landfill.
Do not worry about the language barrier. I know only a very few basic French words and had absolutely NO difficulties when I visited Paris.
The Frenchpeople in Paris know a few English words and you will be able to communicate enough to make your wishes known.
You can even use a translator app on your phone to assist with your communications. My family and I use Google Translate.
Call your credit card company and verify if your credit card does or does not have foreign transaction fees attached to it. If it does, inquire about applying for a credit card that does not charge you a small fee every time you use it when out of your home country.
When you visit an ATM in Paris, make sure it is in the same network with your bank so you are not charged transaction fees every time you withdraw cash. Also, consider withdrawing larger amounts of cash, in order to limit the transaction fees.
Buy advanced tickets to attractions whenever possible. First off, usually tickets purchased in advance online are often less expensive.
Secondly, when you purchase tickets for the monuments and art museums suggested in the 5 days in Paris itinerary, you will have a schedule planned out and more able to pace yourself when you know the plans for every day of your trip.
5  days in Paris is the perfect amount of time to get to know the City of Light and marvel at all she has to offer: rich history, monuments and museums, street markets and cafes, and pastry shops you will visit many times. 
I have mapped out for you many of the highlights Paris has to offer for your consideration as you plan your 5 days in Paris!
Please be advised that Linda On the Run is an affiliate in the Amazon Services LLC Associates Program, designed to provide a means for sites to earn fees by advertising and linking to Amazon.com
This post contains Get Your Guide and Booking.com affiliate links as well.
Have you ever been to Paris? What was your favorite thing to do? What would be your #1 recommendation for a first-time visitor? Please comment below.