Are you looking for the best Airbnbs in Cleveland?
Located on the shores of Lake Erie, Cleveland is a hip and eclectic city with lots to offer locals and visitors alike.
I was born and raised in Ohio, and I called Cleveland my home for a while.
Whether you are visiting the Rock and Roll Hall of Fame Museum, the Cleveland Museum of Art, or having dinner and drinks at the Flats, visiting family, or simply taking a staycation, there are a plethora of Cleveland Airbnbs to select from.
Here are 10 best Airbnbs in Cleveland you should consider!
Experience Cleveland like a local by staying at an Airbnb. Get a $55 Airbnb coupon by using my code when you book!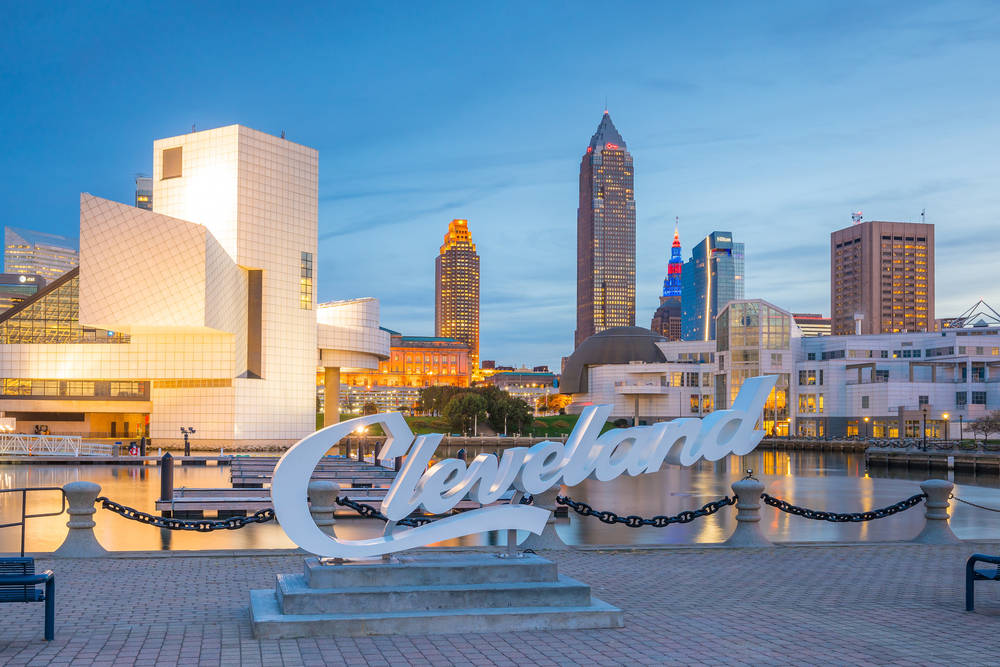 10 Best Airbnbs in Cleveland Ohio (Cabins, Barns & More!)
Ohio City Getaway
This 1800's open loft-style home is a charming Cleveland Airbnb. It is listed on the Cleveland Homes Historic Landmark list.
Throughout the home, there are historic touches everywhere, like exposed brick walls.
And modern amenities that offer superb conveniences, such high tech televisions throughout the house, and a brand new arcade game!
You have access to the entire 2100 square feet of the house, and there is a Ring doorbell for your added security.
The crowning jewel just might be the private rooftop patio off the main bedroom on the third floor. It offers splendid views of downtown Cleveland.
Click here to check the rates on Airbnb.
Read my tips on things to do in Ohio if you are planning a trip to the Buckeye State!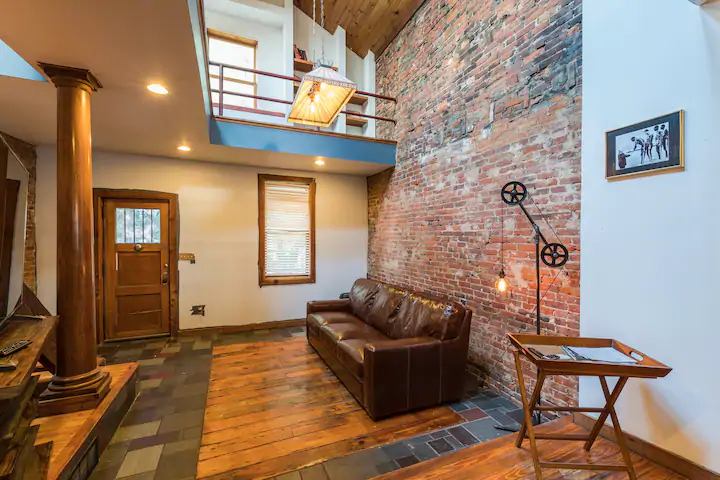 The Grey Barn
This charming newly renovated one-bedroom apartment is located near Cleveland Metroparks' Edgewater Park. Bring your running shoes or flip flops if you are planning an active weekend.
Conveniently located, with updated amenities throughout, this one-bedroom unit is one of four in the Grey Barn. (The other units have tenants.)
Able to accommodate up to three guests, this apartment has street parking available.
You will find a modern kitchen with granite countertops stocked with supplies for you to make meals, and a king-sized bed in the bedroom.
Close to all the popular neighborhoods, and trendy bars and restaurants, the Grey Barn is the best Airbnb in Cleveland if you are looking for proximity to amenities.
Click here to check the rates on Airbnb.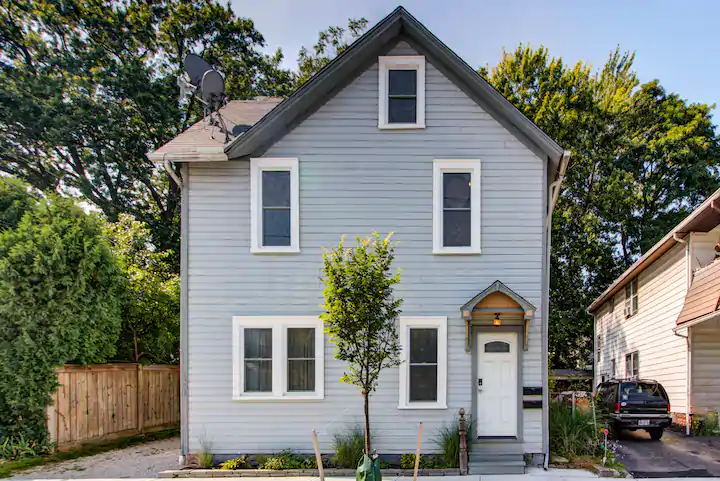 Read about 15 spectacular weekend getaways in Ohio while you are planning your itinerary.
Tremont Carriage House
Located in the very desirable Cleveland neighborhood of Tremont, this private second-floor guest house offers convenience to all that Cleveland offers.
It is very quiet and is newly built above the host's garages. It has exquisite features and appointments throughout.
The best feature of this beautiful Airbnb in Cleveland? It has off-street parking.
If you are exploring during the day, having dinner and cocktails at night, or seeing a play or sporting event you do not have to worry about finding a parking spot for your vehicle!
The guesthouse is very private and offers you an open kitchen and living space with one bedroom and bathroom.
At the rear of the unit is a private deck for relaxing after a day of exploring Cleveland.
Click here to check the rates on Airbnb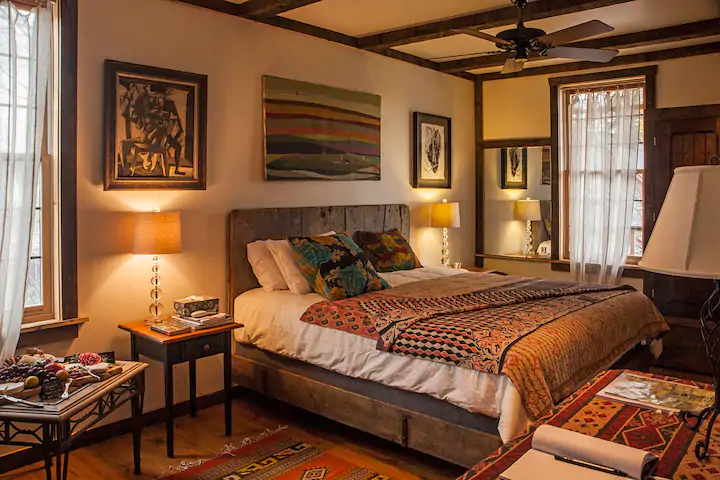 Read about the best waterfalls in Ohio next!
The FLATS Downtown Modern Condo
Location. Location. Location! It is all about the convenient location with this Airbnb in downtown Cleveland Ohio.
Located in The Flats section of downtown Cleveland it offers views of Lake Erie and the Cuyahoga River and is walking distance to upscale restaurants and gastropubs.
There is a very short walk to downtown and the Cleveland Browns stadium.
This modern apartment sleeps four in comfort. In an upscale complex with amenities such as a gym, workstation, and pool.
The location and amenities make this a spectacular Airbnb in downtown Cleveland.
Click here to check the rates on Airbnb.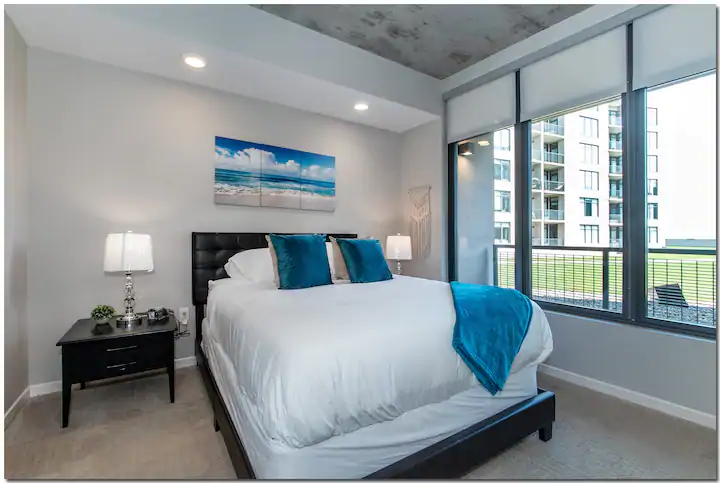 Read about the 18 best things to do in Youngstown, Ohio. If you are visiting there, look here for the 15 best things to do in Mill Creek Park. It is one of Youngstown's crown jewels!
The Sailor's Parlor – Walk To Beach & Merriment
For convenience, this cute first-floor apartment cannot be beaten!
Situated in the trendy Detroit Shoreway/Gorden Square Arts District, it is near shopping, dining, and outdoor amenities.
You can drive or walk downtown and the popular Edgewater Park is a few blocks away.
The unit is on the first floor of a duplex on a lovely and quiet street. It sleeps two and offers off-street parking.
A modern open concept kitchen has updated appliances and there is even a garden with herbs and veggies available, depending on when you visit.
There are a front porch and a back patio for you to enjoy your morning cup of coffee or a relaxing glass of wine after a day of fun in Cleveland.
Sailor's Parlor is a great Airbnb in Cleveland for you to consider.
Click here to check the rates on Airbnb.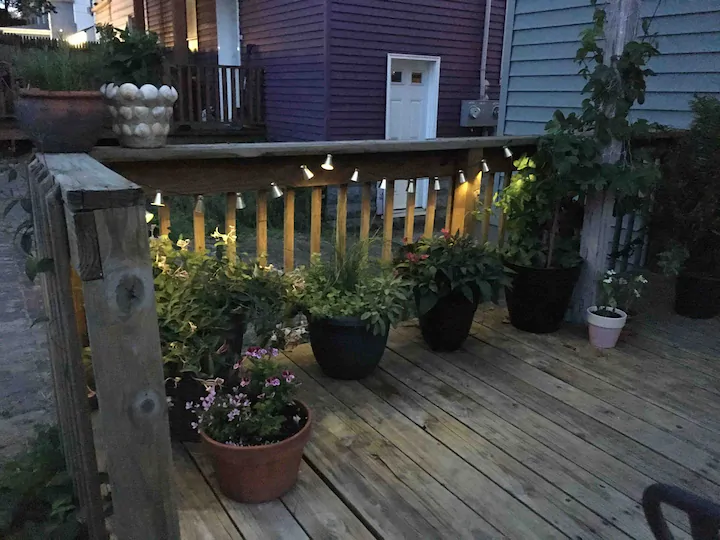 If you are road-tripping Ohio, read my suggestions for the best Airbnbs in Ohio to assist your planning.
Cousin Vinny's Place Is A Charming Airbnb In Cleveland
This cute two-bedroom apartment is located in the Little Italy neighborhood of Cleveland.
Literally steps from the front door you will be in the heart of this vibrant neighborhood and close to public transportation that will take you all over the city of Cleveland.
Restaurants, gastropubs, and bars are all at your fingertips.
This two-bedroom suite sleeps four. It is a fifteen-minute walk to University Circle including museums, world-class hospitals, and upscale restaurants.
There is a kitchen stocked with utensils, a washer and dryer, and each bedroom has a queen-sized bed for your comfort.
This ground floor Cleveland Airbnb is conveniently located and a great option for you to consider.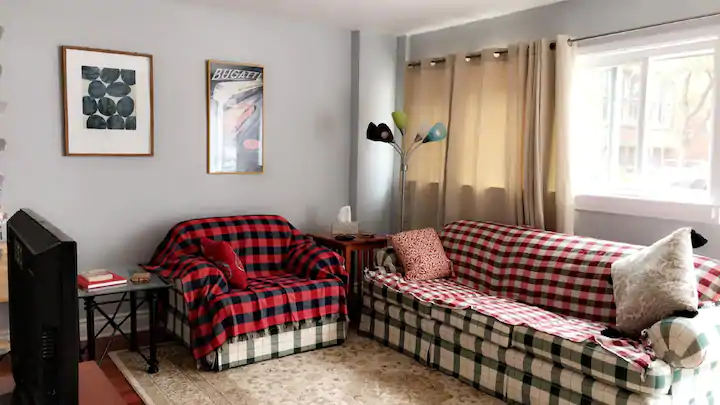 Click here to check the Airbnb rates.
In The Heart Of Hingetown
This bright spacious two-bedroom apartment is the perfect Airbnb in Cleveland.
Located in the Hingetown neighborhood the hosts decorated it with things they like to have when they travel.
This apartment sleeps up to four in two bedrooms with one bathroom. A washer and dryer are on-site.
The kitchen is very spacious with a dishwasher and disposal, and utensils for your use.
Located on the second floor there are local businesses on the street level such as a tea shop and a juice bar. (No elevator. You must climb steps.)
There is a lovely outdoor patio that is shared with the long-term tenants that live in the building.
For location and amenities, this Cleveland Airbnb in Hingetown cannot be beaten!
Click here to check the rates on Airbnb.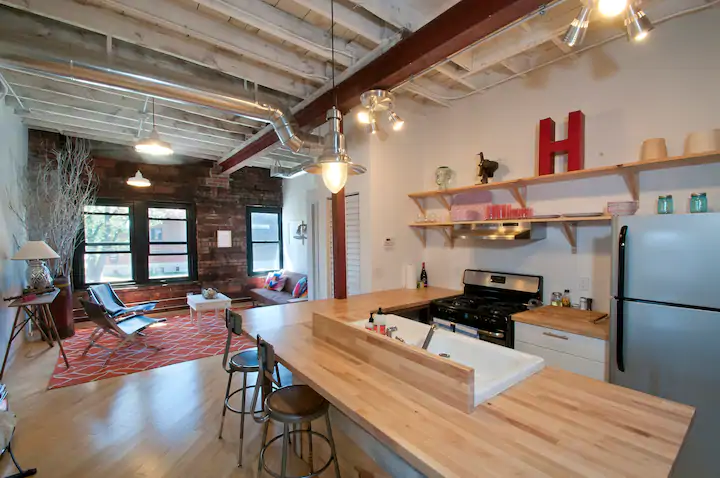 Read about 11 best places to see fall foliage in Ohio here.
Unique Cleveland Airbnb In The heart Of Gordon Square
Located in the award-winning Detroit Shoreway neighborhood of Cleveland, this unique two–bedroom apartment is located within the Gordon Square Arts District.
Less than two miles from downtown it is on the second floor and is newly updated.
Right out the front door, you will find trendy restaurants and gastropubs, theatres, and art galleries.
Accommodating up to four guests, it is filled with Cleveland artwork from local artists.
There is a front porch for afternoon cocktails and a professionally landscaped backyard with a grill and fire pit.
This is one of the best Airbnb in Cleveland due to its amenities and location.
Click here for the rates on Airbnb.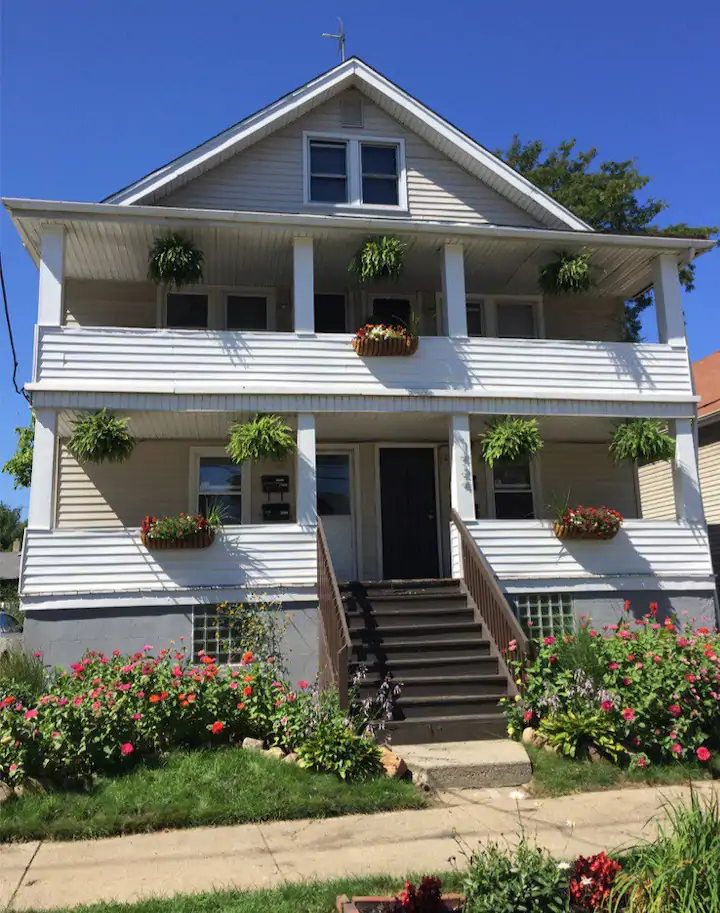 Look here for the 11 best places to see fall foliage in Ohio.
Shaker Lakes Airbnb Loft
Located in historic Cleveland Heights, this third-floor private apartment has been recently renovated and updated.
Within walking distance to Shaker Square and Shaker Lake, this unit is located on the third floor of a private home.
Large and spacious, it can accommodate up to four guests. It has one bedroom, four beds. And a large kitchenette with breakfast nook/desk area.
Convenient to the world-renowned Cleveland Hospitals, this loft private Shaker Lakes Cleveland Airbnb is a great option to consider.
Click here to check the rates on Airbnb.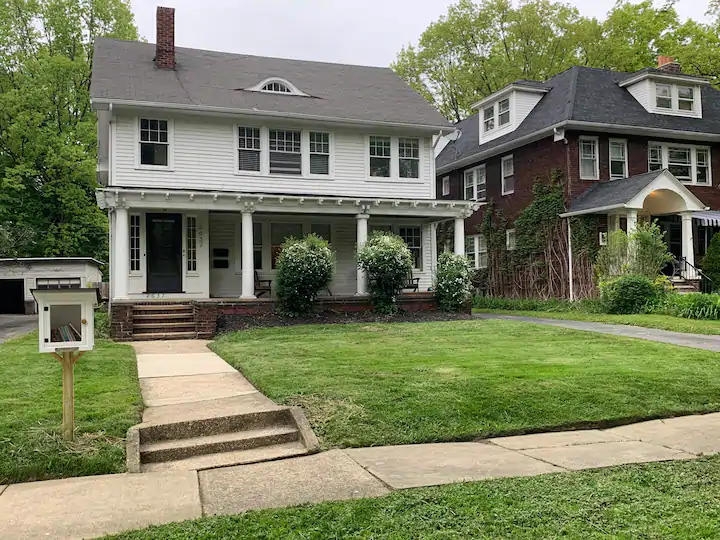 Historic Cottage On Lake Erie
Looking to relax on the shores of Lake Erie?
This quaint cottage right on a Lake Erie bluff one of the best Airbnbs in Cleveland for relaxing!
Located within walking distance to a marina and lakefront parks, this vacation getaway is near the up and coming North Collinwood neighborhood.
Recently refurbished, this lofted cottage has an open floor concept and a huge bedroom on the second floor. Additional guests have space in the common area to lay their heads at night.
A lover of the lakeside views? This may be the place for you!
Click here for the rates on Airbnb.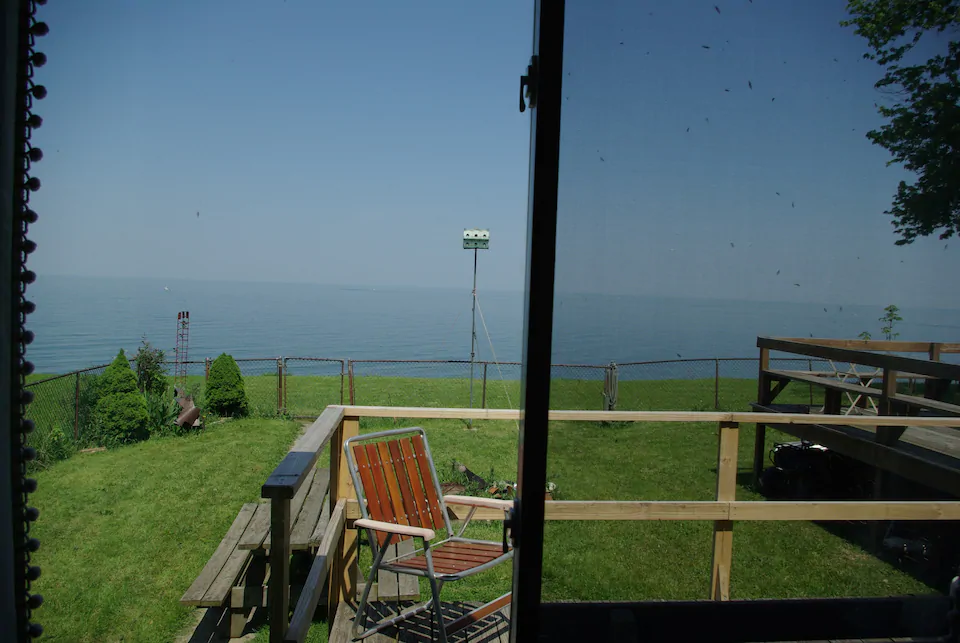 If you are looking to visit Hocking Hills, here is information on Airbnbs and cabins in the area!
Here I have listed the 10 Best Airbnbs in Cleveland (in my opinion!) that you should consider for your business or personal trip to the city.
I hope you have a great and relaxing time visiting my home state!