Are you looking for the best fall road trips? This guide has all of the best fall foliage drives in the USA!
Fall is one of the most beautiful seasons. Between the crisp air and the bright, fire-colored leaves, there's no other time quite like it.
While there are many wonderful ways to experience autumn, one of the best ways is through fall road trips.
Simply sitting back in the comfort of your car and winding through the wonderful autumn colors is a lovely experience.
Here you will find 15 of the best fall foliage road trips and drives in the USA.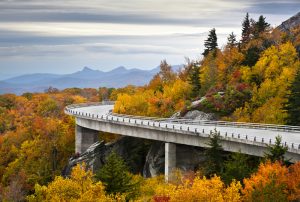 15 Best Fall Foliage Road Trips And Drives In The USA
Blue Ridge Parkway, Virginia and North Carolina
The Blue Ridge Parkway drive tops just about every list of the best fall foliage road trips.
This road winds its way through not one, but two of the country's stunning national parks: Shenandoah National Park and the Great Smoky Mountains National Park.
This 460-mile road is filled with scenic overlooks, picture-perfect farmhouses, give you access to some of the best hikes in Shenandoah National Park, and of course the brightest fall colors.
As a matter of fact, there are so many different types of trees lining Blue Ridge Parkway that the fall colors last much longer than average!
Rather than just one week of beautiful hues, the colors can last up to three weeks! This is what makes the Blue Ridge Parkway one of the best fall foliage road trips.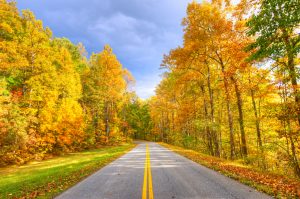 Mountain Cloves Scenic Byway, New York 
The Mountain Cloves Scenic Byway takes you through The Catskills in New York, one of the best places to see fall foliage in the United States.
About three hours outside of New York City, this 40-mile road has tons of sights that are enhanced by the gorgeous colors of autumn.
Feel the mist of the tallest waterfall in New York, Kaaterskill Falls. And stop by the Oktoberfest festival at Hunter Mountain ski slope to really embrace the fall spirit.
If you are packing for your fall road trips, here are tips on how to pack lightly.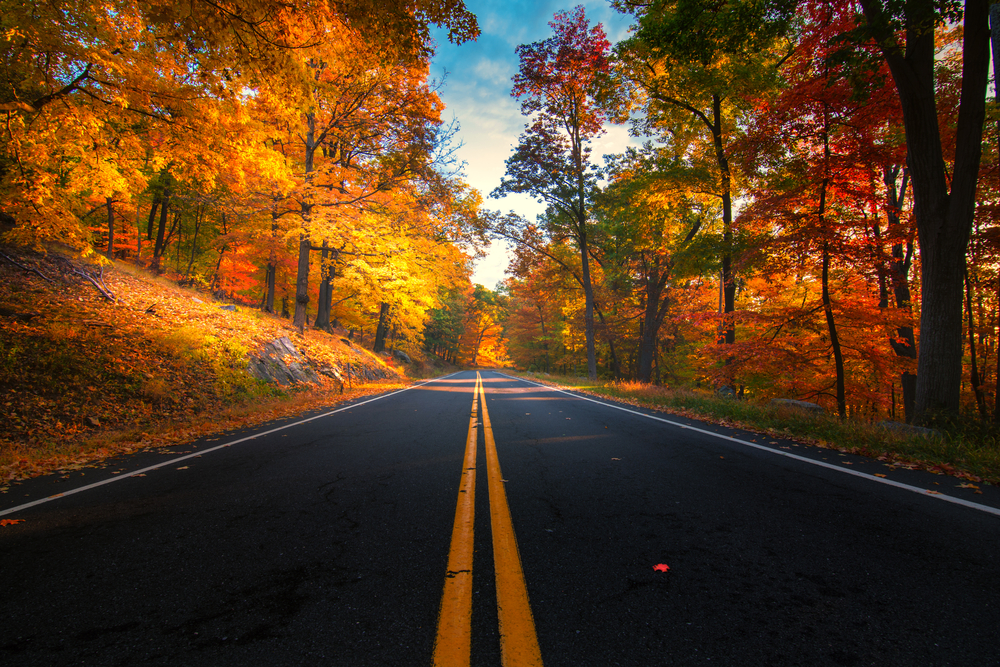 Columbia River Highway, Oregon Is One Of The Best Fall Road Trips
The Columbia River Highway in Oregon is one of my favorite fall road trips. This underrated fall foliage drive boasts more than just the iconic fall colors.
These 75 miles also have some of Oregon's most beautiful waterfalls, including Multnomah Falls, Elowah Falls, Bridal Veil Falls, and Triple Falls.
When these waterfalls are outlined with the inviting, warm colors of fall, both of these beautiful aspects of nature look all the more stunning.
When you are done exploring, don't forget to check out some of the quirky and unusual things to do in Portland! This is the perfect way to end your fall drive.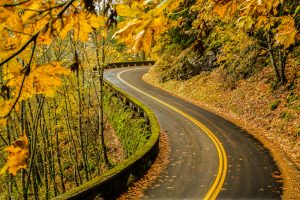 The Finger Lakes, New York
There are eleven different lakes that make up the Finger Lakes in New York, and all of them become even more majestic in autumn, thanks to the beautiful fall colors.
There are many miniature fall road trips that you can take around these eleven lakes, but I recommend the drive on Route 38 South around Owasco Lake. Also, the drive on Route 89 North around Cayuga Lake, and the drive on Route 21 South around Canandaigua Lake.
Along the way, you may see state parks, hidden waterfalls, and maybe some of the wildlife of Upstate New York.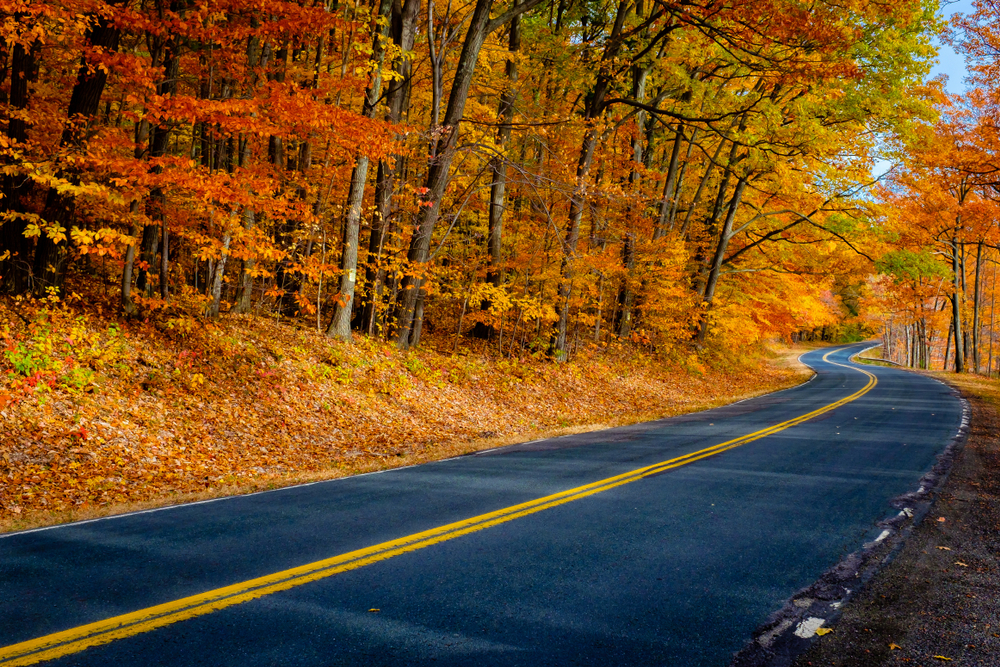 The Tree Tunnel, Upper Peninsula, Michigan 
While there are many fantastic places to do some leaf-peeping in Michigan, the famous tree tunnel may top them all. Officially known as US-41.
The tree tunnel is covered in the bright reds, oranges, and yellows of autumn. While the trees are planted along the sides of the road, they arch over to create a tunnel-like effect that makes this leaf-peeping experience all the more magical.
As you end your drive, you'll end up on the shores of Lake Superior. What a beautiful ending!
During your exploration of Michigan's Upper Peninsula, consider staying at one of the many fantastic Michigan Airbnbs that are available.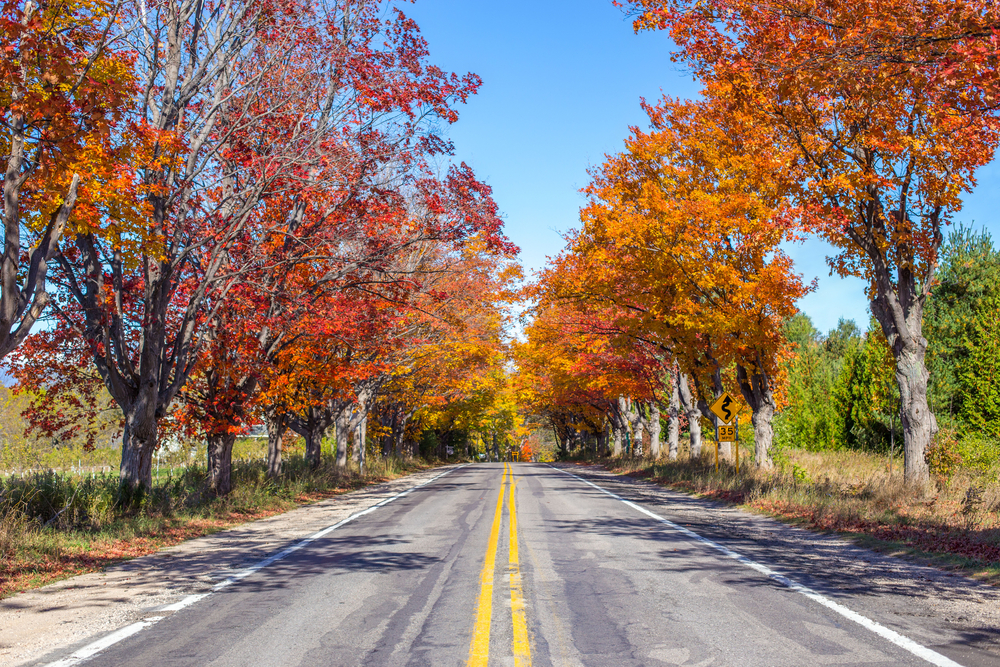 Skyline Drive, Shenandoah National Park, Virginia 
Regardless of the time of year, Skyline Drive in Shenandoah National Park is absolutely stunning. It is one of the most spectacular fall foliage drives.
But in the fall, these 105-miles are packed with the bright red, orange, and yellow hues that are so reminiscent of the season.
And with 70 different overlooks available on this drive, you'll be able to see these brilliant colors from many different angles.
In addition to the fiery leaves, keep an eye out for Virginia's wildlife. Deer, black bears, and turkey all like to pop up and make an appearance every now and then.
Considering the length of this drive, be sure to block out at least three hours, if not more, to see everything that Skyline Drive has to offer.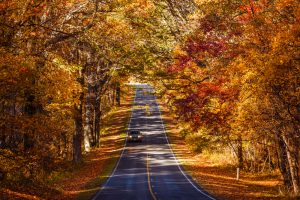 Green Mountain Byway, Vermont
It is well known that Vermont in general is a fantastic place for fall road trips, and Green Mountain Byway is one of the best.
This loop-like trail can be broken down into many miniatures drives. These include the 146 miles of the Scenic Route 100 Byway and the 11 miles from Waterbury to Stowe that are the perfect addition to any dog-friendly Vermont vacation.
This is truly the best Vermont road trip Itinerary.
The short loop that encompasses the Village of Hyde Park, the North Village of Hyde Park, and Johnson Village are other options to consider as well.
Along this fall road trip, you'll see tons of fall colors, historic towns, state parks, and even the Ben & Jerry's ice cream factory.
To see everything that the Green Mountain Byway has to offer, start in Waterbury, make your way to North Hyde Park Village, then head to Jefferson and Stowe before returning back to Waterbury.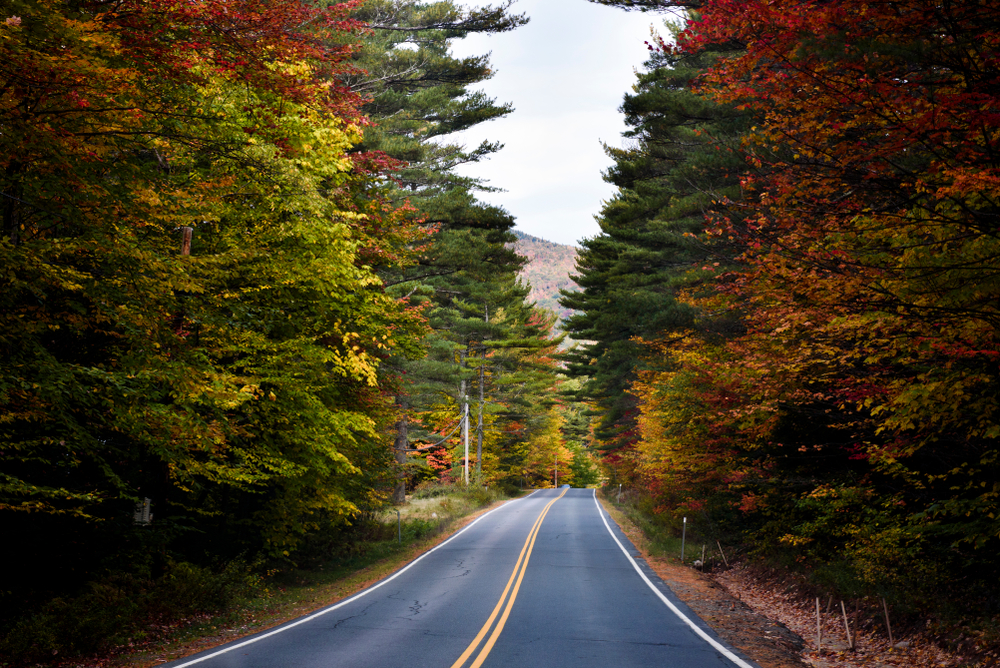 Mohawk Trail, The Berkshires, Massachusetts
The Mohawk Trail traverses from Boston all the way into the Berkshires.
Over the course of these sixty miles, you'll see much more than the seasonal fall colors. You'll also get glimpses of Northfield Mountain, Shelburne Falls, and Mohawk Trail State Forest.
Part of this drive is also considered part of the National Register of Historic Places, so keep an eye out for little historic stops along the way!
If you'd like to be a little more adventurous, there are opportunities for ziplining, hiking, and whitewater rafting along the drive as well.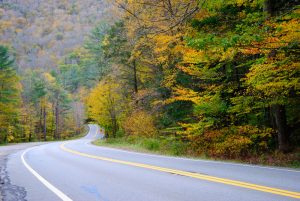 Peak To Peak Scenic Byway, Rocky Mountain National Park, Colorado 
While many people may believe that all of the most scenic fall road trips are the northeast, that's simply not the case, and the Peak to Peak Scenic Byway at Rocky Mountain National Park in Colorado is proof of that.
Rocky Mountain National Park doesn't get the reds and oranges that New England is known for, but it instead gets a lovely golden color of leaves that is just as magical.
As you meander along the Peak to Peak Scenic Byway, keep an eye out for wild elk, as they often make an appearance during this time of year.
To drive the Peak to Peak Scenic Byway, begin in Estes Park and continue on Colorado State Highway 7. When you hit Raymond, follow Colorado State Highway 72 south through Ward and Nederland.
Then, from there, hop on Colorado State Highway 119, which will award you with a beautiful view of Mount Evans before returning home.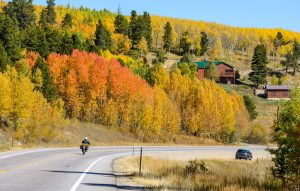 Rangeley Lakes Scenic Byway, Maine
Situated alongside the iconic Appalachian Mountains, Rangeley Lakes Scenic Byway offers a fall viewing experience unlike any of the others on this list.
Not only will you get to see the towering peaks of the Appalachian Mountains decked out in fall colors, but you'll also be able to wander into the valleys and see a few of the Rangeley Lakes as well.
Along this 52-mile drive, be sure to stop at the Height of Land scenic overlook and Mooselookmeguntic Lake for some of the best views along this fall foliage drive.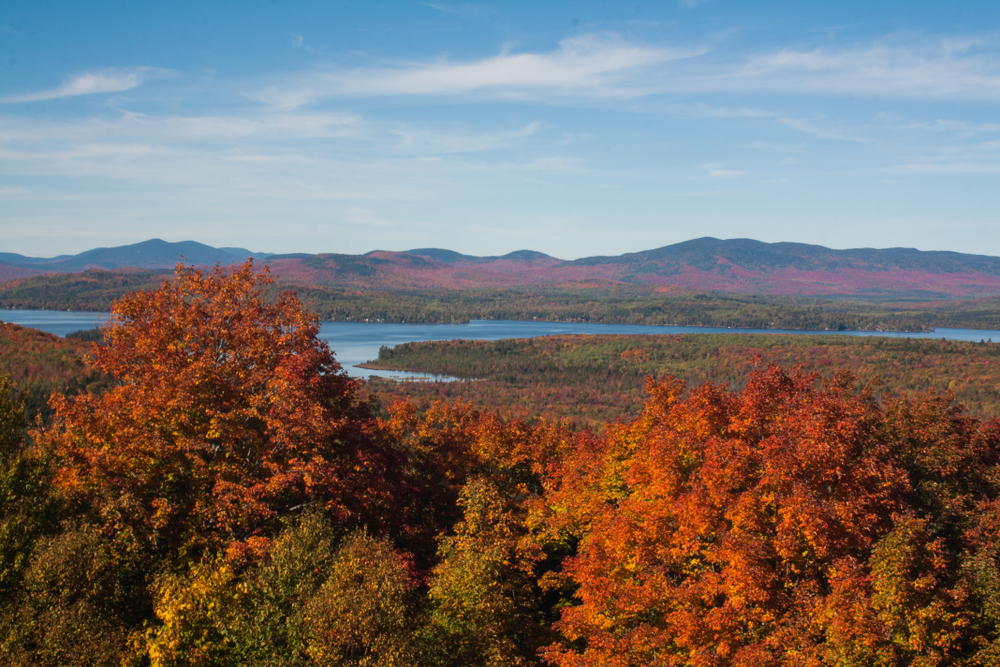 Going-To-The-Sun Road, Glacier National Park, Montana
This winding, two-lane road might be one of the most dangerous of the fall road trips on this list, but it is totally worth it.
Situated in Glacier National Park in Montana, the Going-to-the-Sun Road gives guests the opportunity to explore the stunning, fiery colors surrounding Bowman Lake.
Do know that it can be difficult to access the Going-to-the-Sun Road after the first snowfall hits. So cross your fingers and hope that the first snow waits until after the fall colors reach their peak.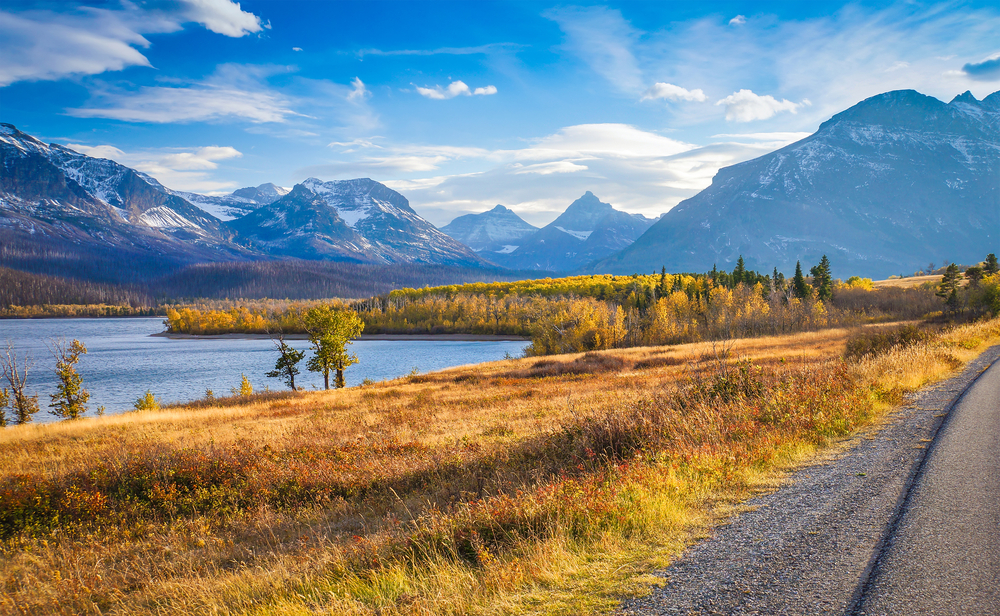 Arkansas Scenic Byway 7, Ozark National Forest, Arkansas
Some variation of Arkansas Scenic Byway 7 makes its mark on just about every list of fall road trips in the US.
There are so many different types of trees in Ozark National Forest that the peak fall colors last much longer than the typical one week.
Along the drive on Arkansas Scenic Byway 7, you'll also be able to see wonderful natural landmarks, such as the Grand Canyon of the Ozarks and Buffalo National River, framed by the fiery colors of fall.
If you'd like, you can continue on Arkansas Scenic Byway 7 past Ozark National Forest until you reach Ouachita National Forest, where you can see even more breathtaking fall foliage.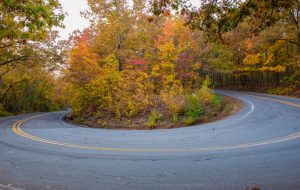 The Last Green Valley Scenic Byway, Connecticut
Considering the fact that the Last Green Valley Scenic Byway is known for its fall colors, its name is quite ironic.
This fall road trip passes through historic spots, Instagram-worthy houses, and even two state forests. In other words, there are tons of things to see on the Last Green Valley Scenic Byway.
As you drive along, consider getting out of the car for a quick hike or two in the Pachaug State Forest or the Natchaug State Forest.
Not only will this give you a chance to stretch your legs, but you'll also be able to get even closer to the brilliant fall leaves.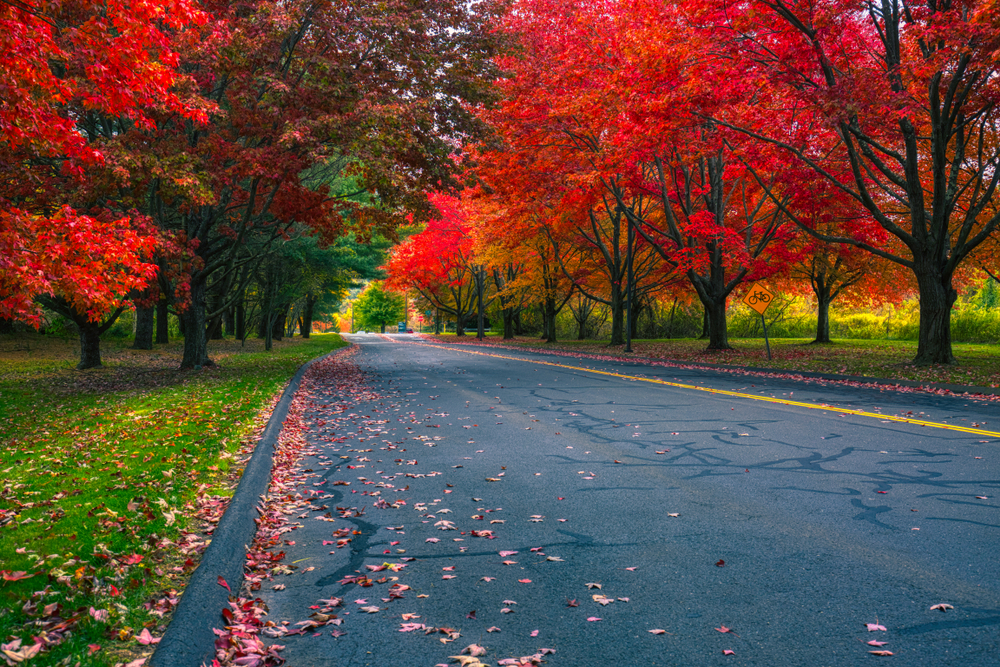 Blackstone River Valley, Rhode Island
Many of these fall road trips have quite complicated routes. You might have to wind your way onto multiple highways or navigate yourself through a handful of different towns.
Luckily, not nearly as much effort is needed to see the autumn colors in the Blackstone River Valley in Rhode Island.
Instead, you can just follow the Blackstone River while observing the seasonal beauty all around you.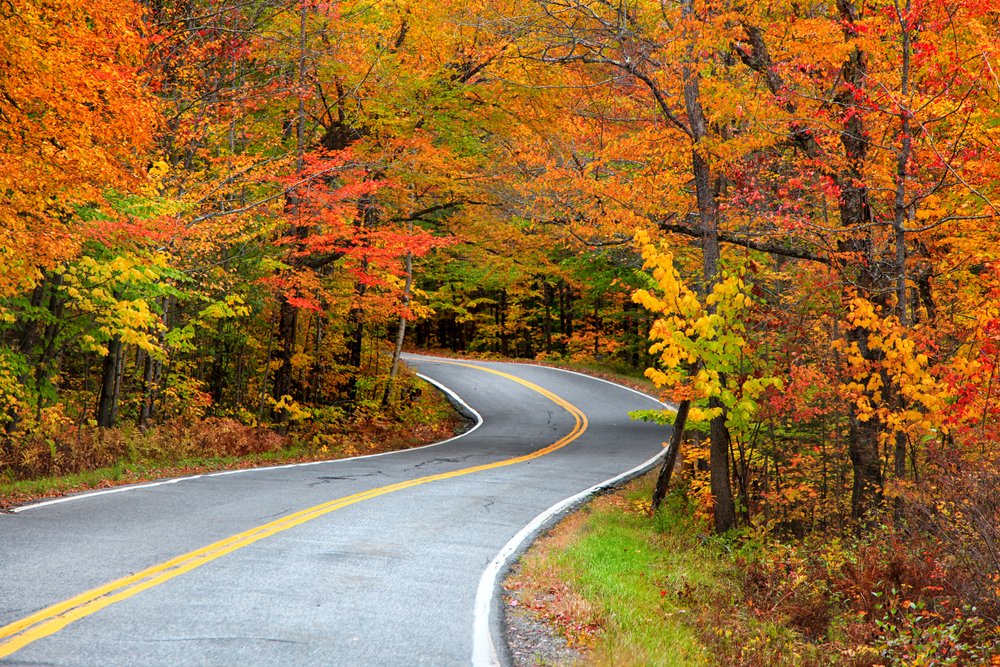 Kancamagus Highway, New Hampshire
Kancamagus Highway, simply known as Kane, is thirty miles of unobstructed fall colors.
And as if that weren't enough, Kane is home to tons of natural and historic stops that'll make this drive even more exciting!
Stare in awe at Sabbady Falls, take a few pictures at the Albany Covered Bridge, take a dip in the Upper Lady's Bath, and stop by the Russel-Colbath Historic Site.
Be sure to block out at least a couple of hours for this scenic drive in order to have enough time to make all of the stops that you would like.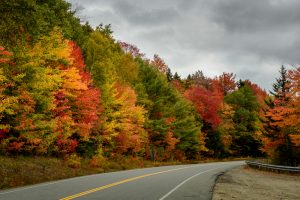 Packing List For Your Fall Roadtrips
A concealed travel pouch may be one of the most important items you bring along when packing for your fall foliage drives. It is always important to protect our personal information.
Read my tips for packing lightly for specific suggestion on how to pack, especially when flying.
This unisex RFID blocking concealed travel pouch is lightweight and comes in several colors. It has lots of organization to give you peace of mind.
If you have a pouch already that does not come with the RFID protection, as I do,  these RFID sleeves are the perfect solution.
This configuration comes with enough passport and credit card sleeves that the entire family would be protected. They are slim too, so they will easily fit into your pouch or wallet.
f you are planning on taking a lot of pictures with your phone you will definitely want to consider an external charging battery. This Anker high-speed phone charging battery is the exact one I carry with me on all of my trips.
It can be used on a variety of phones, not just an iPhone like I have. And wow is it fast!
I like that it holds its charging capabilities for several uses so I do not have to worry about it while out and about, and if I forget to recharge it at night, it will still be good to go the next day.
My daughter gifted me with this FugeTek selfie stick and tripod setup for my birthday. I absolutely love it! It is made of lightweight aluminum and so easy to use.
It has Bluetooth connectivity and is a breeze to use for group shots or that perfect selfie!
I was not a fan of packing cubes until I started to use them! This is the exact set of packing organizers I use whenever I travel.
I cannot believe how much they really do help with the organization. If you have not considered packing cubes, I would recommend giving them a try.
Hydration is so important. You want to remain hydrated to support your immune system which in turn will be stronger to fight off any germs you will encounter during your travels.  You will want to bring your own refillable water bottle with you.
I never leave home on a trip without my Bobble filtration bottle. The 18.5-ounce size is perfect for travel and it fits nicely in the pocket of a backpack or your purse.
When filled with water, it is not too heavy to carry. And the charcoal filter ensures fresh clean water whenever you fill the Bobble. You can find filter replacements here. 
Perhaps you are traveling a long distance and packing space is a premium in your suitcase, or in your car. Then this set of collapsible silicone foldable water bottles would work well for you. Would not take up much space at all.
You will want a backpack or daypack with you to store snacks, your water bottle, phone, extra clothes, etc.. This foldable water-resistant backpack would be great.
It is very affordable and is available in many color options for you to choose from. The fact that it folds down into a zippered pouch will make it easy to pack.
Perhaps you need a more substantial backpack for your travel. This antitheft backpack has a charging port, is water-resistant, and can comfortably carry up to a 15.6″ laptop.
You will be walking more than usual during your weekend getaways in Ohio. A sturdy and comfortable pair of walking shoes are a must-have. These waterproof all-season shoes are extremely affordable and yet fashionable.
Mostly everyone is familiar with the Skechers brand, and these Air Run high fashion sneakers come in a lot of colors to match your outfits and are still affordable.
If you are visiting Ohio in warmer weather, maybe you want a pair of sandals to wear to dinner or to the local cafe, I highly recommend these Vionics adjustable strap orthotic sandals.
I have several pairs of Vionics that I bring with me *everywhere* I travel. They are very comfortable and have orthotic footbeds that cradle and support your feet.
We all need to protect our eyes from the sun's harmful UVA/UVB rays. These unisex polarized sunglasses come in a lot of lens colors and frame designs and are extremely affordable too.
If you are fond of the aviator-style of sunglasses these polarized aviators may interest you.
If you are in need of new luggage, this expandable soft side spinner luggage is affordable and comes in lots of colors.
If you like hard-sided better, then you may favor this hard-sided luggage set better. Both sets come with TSA locks and 8 wh
—
Here I have shared with you 15 of the best fall road trips in the USA. I hope I have inspired you to take a fall road trip and see some glorious autumnal colors!
Please share your fall road trip experiences in the comments below.