Are you looking for places to have tea in London? You are in the right place.
In this article, I will walk you through the best afternoon places in London and tell you everything you need to know so you can make a decision about where to visit.
Planning your trip to London last minute?
Make sure to book ahead! Hotels and tours often sell out the closer you get to your trip. Here are our top pics for London!
Top Experiences and Tours In London:
Best London Hotels:
Afternoon Tea has a long tradition in England. It is believed that Anna, the seventh Duchess of Bedford came up with the idea in 1840.
The Duchess found herself hungry at 4 pm and couldn't wait until her 8 pm dinner, so afternoon tea was born.
Despite what you might think most people in England do not stop and have afternoon tea.
While they do drink a lot of tea, approximately 100 million cups a day, it's only the aristocracy that would indulge in this tradition regularly.
While a 3 pm cup of tea and a cake or a biscuit is more likely, a full afternoon tea is a treat and normally taken at a luxury establishment.
What Is Afternoon Tea?
An afternoon tea typically contains finger sandwiches, small cakes, and scones with jam and cream served with tea or champagne.
Having a London afternoon tea is definitely one of the things you should do when visiting London.
Afternoon tea in London comes in many shapes and sizes so it can be really hard to choose where to go.
Most hotels stop for tea time in London, and a lot of restaurants also offer some kind of afternoon tea.
My suggestion is to choose a place that feels like a good match for you.
While there are some places that offer inexpensive tea in London my advice would be to stretch your budget as much as you can.
Because afternoon tea is much more about the experience than the food.
To also keep costs down consider that cream teas in London are cheaper than a full afternoon tea.
Cream Teas just consist of a scone with jam and clotted cream and a cup of tea so tend to be cheaper options.
In this list, I have included a varied range of the best afternoon places in London but this list is only a start. High Tea is served almost everywhere in various locations in various forms.
Here are what I feel are the places to have the best high tea in London. Grab yourself a slice of cake, and a cup of tea, and let me make your mouth water.
there are plenty of tours in London that offer afternoon tea!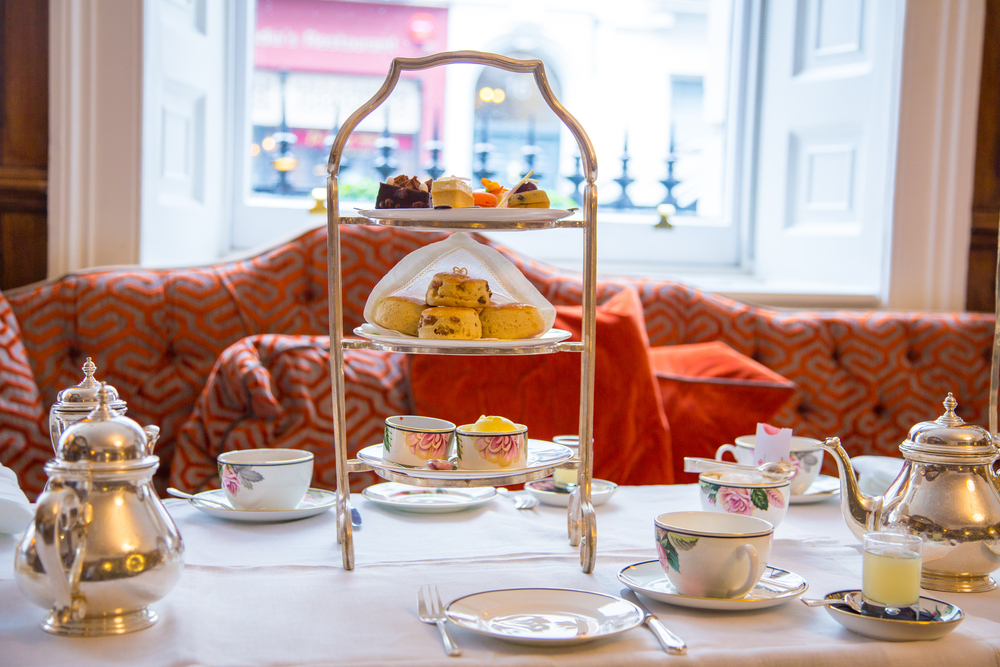 15 Best Places For Afternoon Tea In London
The Ritz, Piccadilly
The Ritz London afternoon tea is probably one of the most well know and iconic afternoon teas. I feel like everyone needs to have an afternoon here at least once in their lifetime.
Here it is all about the experience and let me tell you it really is something. The surroundings are like no other.
Tea here is served in the hotel's original ballroom which is as grand as rooms come, with gold detailing elaborate chandeliers, marble columns, and a pianist playing in the background.
The food is exquisite and there are 18 different teas to choose from.
Everything is kept traditional with finger sandwiches, warm scones, pastries, cakes, and tarts. They will also box up for you whatever you can not eat.
You will need to book well in advance as it does get booked up and there is a dress code, jacket, and tie for men and smart casual for women.
When you book you will also be told how long you have the table for and you will need to leave before then.
For all this decadence expect to pay the same per person as you would for an evening meal but if you can it's well worth it for the experience.
This is the best tea in London and is really what all other afternoon teas are measured by.
This afternoon tea in Piccadilly is just perfect in every way.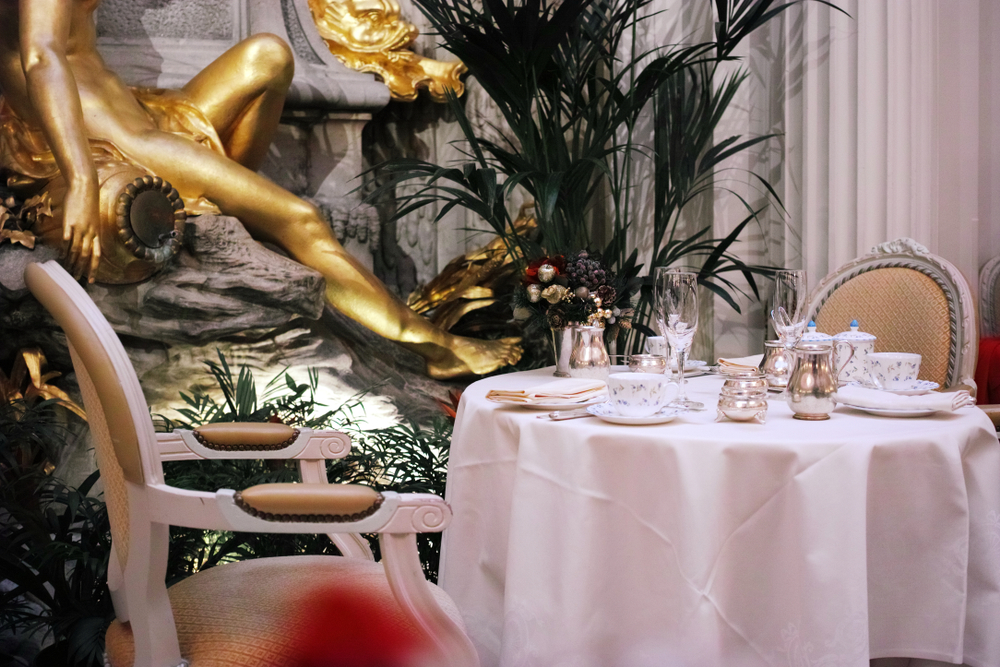 The Savoy, The Strand
The Savoy London afternoon tea is somewhat of an institution. They have been serving afternoon teas here for over a century and the tradition is still strong.
London tea here is served in the Thames Foyer which is a stunning glass-domed atrium and a pianist plays in the background.
It's a very traditional tea with over 30 types of tea to choose from. Expect all the usual items served with crisp linen, flower cups, and silver teapots. Everything here is light and airy.
You'll need to book in advance and there is a smart casual dress code. The Savoy tends to be less overwhelming than some of the other five-star hotels and afternoon tea here is a leisurely affair.
This is also a great place to get vegan afternoon tea in London. Afternoon tea at The Strand doesn't get much better than it does here.
Brown's Hotel, Mayfair
Queen Victoria loved to take afternoon tea at Brown's and when you go you will see why. Here everything is quintessentially English and tradition oozes out of every crevice.
Brown's afternoon tea in London is taken in the Drawing Room which is all wood paneling, striking artworks, and floral-covered chairs. It's a beautiful location where you can just feel the history.
Many say they have the best scones in London here and the food is certainly divine. Everything is traditional and they do a great themed afternoon tea for children.
This tea in London comes with a hefty price tag but many say it is the best afternoon tea in London. You will need to book and there is a dress code.
Brown afternoon tea in London really is an experience.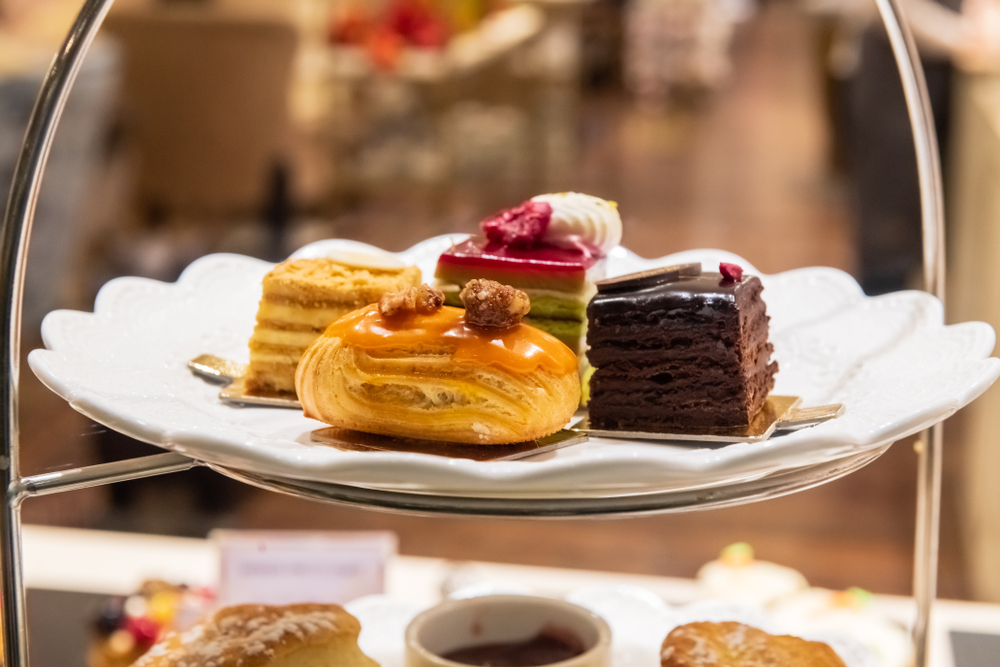 The Shard, London Bridge
If you are looking for afternoon tea in London with a view then the Shard is the place to come. Served in the Oblix restaurant located on the 32nd floor the view is stunning.
The afternoon tea here is a twist of the classic with things like cranberry scones, duck egg with truffle mayonnaise sandwiches, and crunchy chocolate pecan pastries all gracing the menu.
It might not be traditional but it is delicious.
You will need to book here and it's a smart casual dress code. Afternoon tea in London at the Shard is all about the view but the food is also pretty epic.
This is one of the best afternoon places in London if you are looking for something a little different.
Even if you only have 1 day in London!
Brigit's Bakery Afternoon Tea Bus Tour
English high tea served on an iconic London Bus while you take a tour around London landmarks?
Yes you can do that in London too. You will take a tour around the heart of London while enjoying a classic afternoon tea with a modern twist.
The sights you will see include Buckingham Palace, the London Eye, Westminster, St James's Palace, the historic National History Museum the Victoria and Albert Museum, and many more.
Food includes items like a pretzel with tuna and mayo, a savory muffin with feta, peppers, sun-dried tomato, and Yuzu meringue tart.
It's also a great place to get gluten-free tea in London and vegan afternoon tea in London.
If you are after afternoon tea in London with a view then the top seat of a London Bus couldn't get any better.
This is a perfect experience for friends, family, or special occasions and really is rather special and a lot of fun.
This is one of the best afternoon tea in London. Afternoon tea on a London bus is pretty much the definition of iconic.
This is a great way to see some of the Hidden Gems in London while partaking in an English tradition.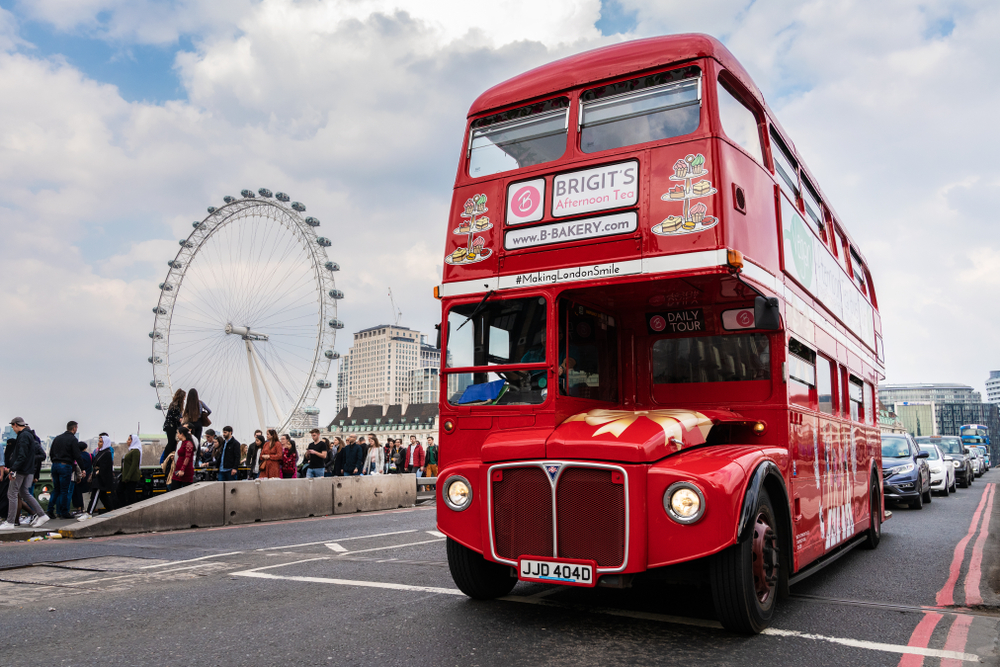 Wizard's Afternoon Tea Experience At The Wands And Wizard Exploratorium, Soho
London tea here comes with a side of spellbinding and is a bewitching, interactive experience. If you are after a themed tea in London the Wands and Wizard Exploratorium is the place to come.
This tea experience in London really is different and children will love it. With a wand, you unlock a chest to find your tea brewing equipment.
You will make two different interactive teas and enjoy them with sandwiches and funky desserts.
Tea time in London here is an interactive experience that is bound to delight. it's one of the best high teas in London.
You will need to book in advance and the cost is mid-range for an afternoon tea experience. This is definitely one of the more Unusual Things To Do In London.
Ampersand Hotel Offers The Best Vegan Tea In London
If you are looking for vegan afternoon tea in London head to the Ampersand Hotel. Sometimes the vegan afternoon tea menu feels like an afterthought, but not here.
This afternoon tea in South Kensington is science-based and is an absolute delight.
Expect petri dish condiments, solar system mousse, dry ice, and other interesting and interactive concoctions. Here you are encouraged to play with your food.
This award-winning English high tea comes with vegan, vegetarian, gluten-free, and children's options.
The vegan menu includes things like a vegan hot dog in a sweet chili bun, black bean, and sundried tomato.
Mayo sandwiches and mini dinosaur dark chocolate fossils, hidden within chocolate "soil" are offered.
For a great experience and fantastic food and the best gluten-free tea in London take a trip here you won't regret it.
The Langham Hotel, Marylebone
Afternoon tea in London started at The Langham. The first-afternoon tea was served here in 1856 and this hotel really celebrates all things British.
Afternoon Tea is served in The Palm Cort which is stunning and this London afternoon tea menu is created by Chef Michel Roux Jr and Executive Pastry Chef, Andrew Gravett.
It's a traditional offering with a modern twist.
The children's afternoon tea is well thought through with jigsaw sandwiches and child-friendly items.
Here they serve some of the best scones in London they are fluffy and light. Tea here really is a culinary delight.
This is one of the most expensive afternoon teas in London but it is also the best tea in London. For a really delightful luxurious afternoon tea in London visit The Langham.
Here you will find the best afternoon team in Marylebone if not London.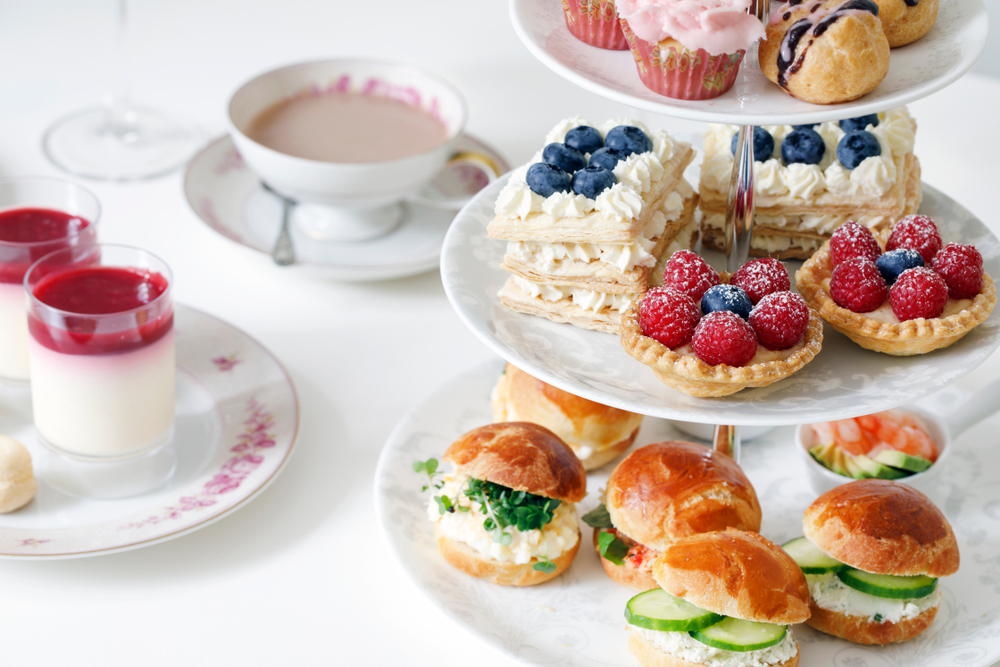 Tea and Tattle, Bloomsbury
Afternoon teas can be expensive and finding afternoon tea deals in London can be difficult. If you are after cheap tea in London without compromising on taste take a trip to Tea and Tattle.
Close to the British Museum in the basement of a bookshop this cozy tea parlor offers one of the best value cream teas in London.
Coming in at under £20 you get tea, sandwiches, cake, and a scone. Here it is all about quality afternoon tea at an affordable price.
If you are looking for a great value afternoon tea in London while sightseeing Tea and Tattle is perfect. ​Afternoon tea in Bloomsbury doesn't come much cheaper than it is here,
Biscuiteers, Belgravia, And Notting Hill
For one of the best Christmas afternoon tea in London head to Biscuiteers.
With locations in Belgravia and Notting Hill here you will find an Instagram-worthy modern and trendy festive afternoon tea in London.
Biscuiteers are known for their incredibly detailed, hand-iced biscuits.
And while they appear in their afternoon teas you will also find Vanilla and Pear Panna Cota, White Chocolate and Cranberry Macaron, and delicious sandwiches.
For a funky London afternoon tea head to one of these locations. Here you will find the best afternoon tea in Notting Hill and Belgravia.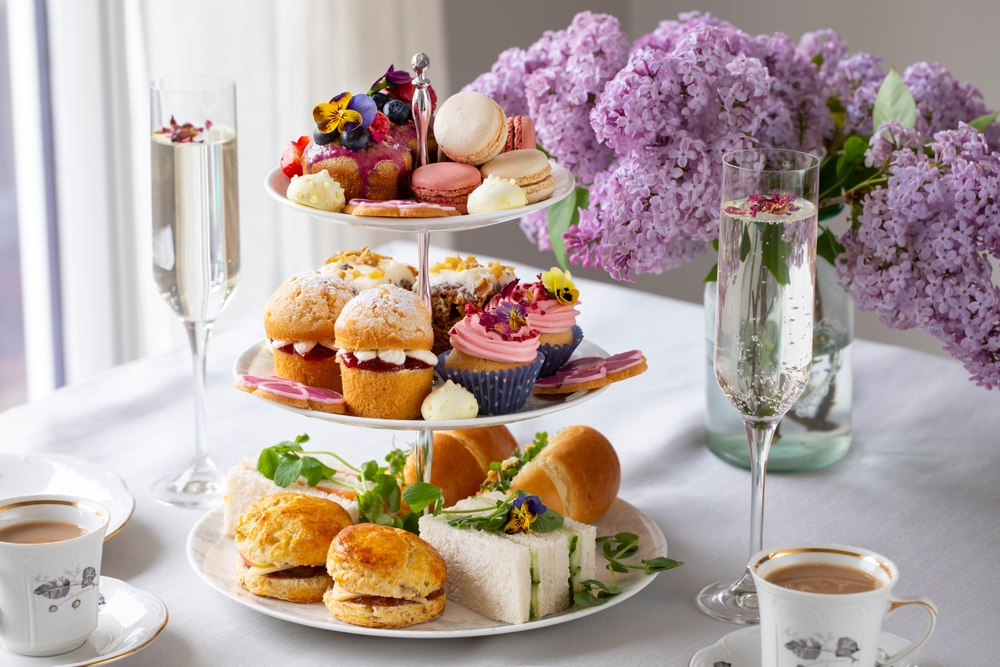 Hotel Café Royal, Regent Street
For a decadent high tea experience head to Cafe Royal. Tea is served in the historic Grill Room which is ornate, golden, and oh so glamourous.
Stepping here is like stepping back in time. It is an afternoon tea in central London to remember.
Cafe Royal is an icon from a time done by and is much loved by celebrities. Oscar Wilde Elizabeth Taylor, The Beatles, Muhammad Ali, and David Bowie were all famous patrons here.
They have one of the best Christmas afternoon tea in London with delights such as honey roast gammon sandwiches with chestnut butter; pear and gingerbread sorbet.
Also, Christmas cake scones; and spiced mandarin mousse with mulled wine.
It's expensive and there is a dress code but it's one of the most luxurious and decadent places to enjoy this English ritual.
Harrods, Kinghtsbridge
For a truly iconic London experience head to Harrods for afternoon tea. The Harrods Tea room first opened in 1911 and it really does offer the most English experience.
The Tea room is huge seating up to 1200 people and it's a beautiful art deco space with skylights, wrought iron, and lush booths.
While it's big it somehow also feels intimate and you never feel rushed here.
The food is a delight with items such as Poached Ballantine of Bronze Turkey, Paris-Brest Choux Bun, and Raspberry Linzer Bauble Spiced Linzer Sable.
The vegan afternoon tea menu is also wonderful.
Their tea selection is among one of the best in the world and the tea-based cocktails are also worth a mention.
Booking is advised and there is a dress code. The price is on the expensive side but honestly, I'm not sure the experience gets more iconic than it does here.
Afternoon Tea in Harrods, Knightsbridge is a real experience.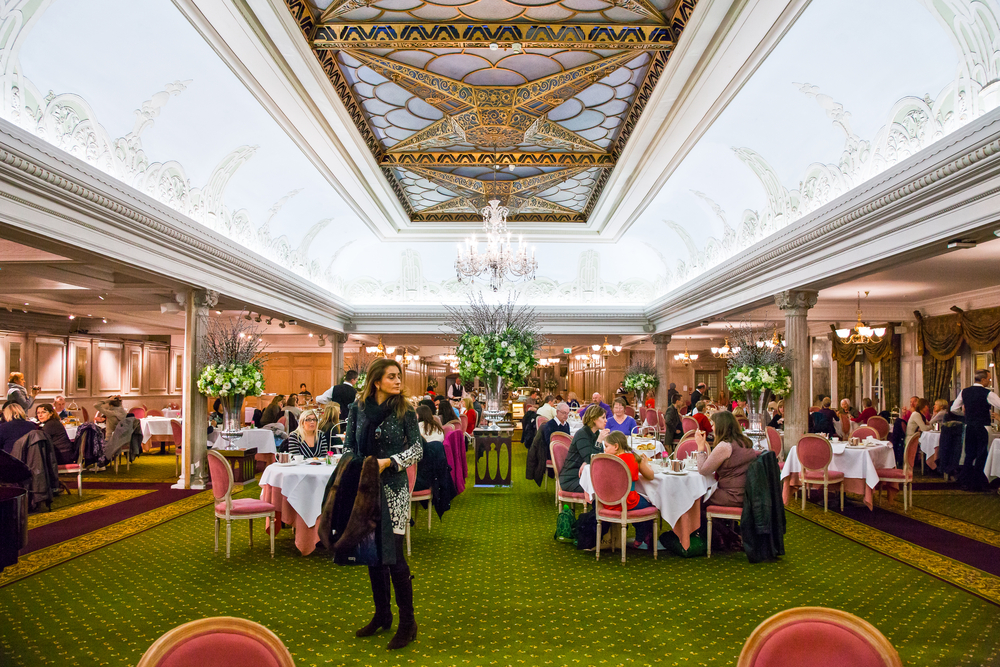 Sketch Gallery, Mayfair
I have mentioned this restaurant before in the places to have breakfast in London but it also deserves a mention here.
This is an Instagram hot spot in London where even the toilets make a perfect Instagram picture.
Afternoon Tea is served in the Instagram-friendly Gallery which used to be pink but has recently turned yellow. They serve one of the best Christmas afternoon teas in Mayfair.
The festive tea menu items include such items as Foe Gras Brioche Buns, Lychee, and Redcurrent Eclaire and the scones have raspberry and poppy seed jam.
This place is one of those must-see restaurants with some of the most quirky decor around and afternoon tea here is a really unique experience.
It's expensive but worth it just to say you have been. Expect a full-on yellow room, walls full of art, and bright yellow furnishings. Make sure you take your camera.
One Aldwych, Covent Garden
For afternoon tea in Covent Garden, One Aldwych serves a Charlie and the Chocolate Factory afternoon tea-themed tea.
In the heart of London's theatreland, it's a great treat before an evening at the theatre.
It's hard to describe how unique and slightly wacky this afternoon tea is.
Items include 'not quite as it seems beetroot macaron', 'violet and lemon choux', 'fabulous fluffy floss', and 'snozzberry' jam. Let me just say nothing is quite as it seems here.
You will feel like a child as you immerse yourself in Roald Dahl's iconic story. It's something really different and if you have children they will love it.
For a unique afternoon tea in London head here.
There are so many great things to do in Covent Garden, so plan to stay awhile!
Swan At The Globe, Bankside, To Experience Contemporary Tea In London
For an afternoon tea in London with a difference go to The Swan. The contemporary dining room is by the River Thames and has a great view.
Within Shakespeare's Globe, it is no wonder that this afternoon tea is Shakespear themed with their 'Romeo and Juliet' tea being an absolute dream.
The savory items include things like Neal's Yard Montgomery Cheddar and roasted squash tartlet.
The scones are sultana and orange blossom and the pastries have such names as A Rose By Any Other Name and My True Loves Kiss.
They also have one of the finest savory afternoon teas in London for those that don't like sweet things.
If you are after some culture, great food, and fantastic views this is the place for you. It is also reasonably priced for afternoon tea in central London.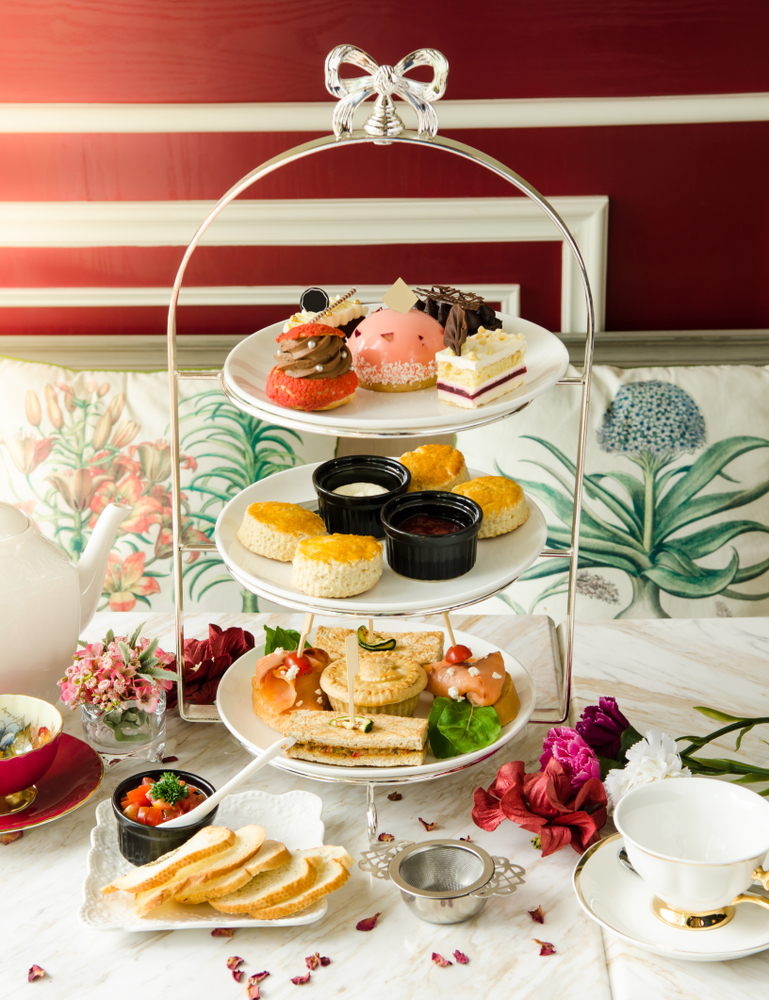 Whichever one of these establishments you pick I know you will have an amazing time. Afternoon Tea in London really is a treat.
If you have a week in London, consider exploring more than one of these locations!
Please come back and tell me all about your experience I can't wait to hear what you enjoyed the most.
All these restaurants were picked with great care and they all have something unique and different to offer. Some really must be experienced and some are just places you must consider.
Have a great time in London and come back and tell me what you love about this incredible city.
And if this is your first trip to London my 16 Things To Know Before Your First Time In London might be helpful.
Packing List For Having Tea In London
It is always a great idea to pack lightly using only a carry-on whether you are driving or flying into London.
A concealed travel pouch may be one of the most important items you bring with you when having high tea in London.
This unisex RFID-blocking concealed travel pouch is lightweight and comes in several colors.
It has lots of organization to give you peace of mind. You can keep your most valuable documents safe and secure next to your body.
If you have a pouch already, you may not want to or need to invest in a new one, like me.
If it does not come with RFID protection, these RFID sleeves would be handy to prevent identity theft.
This configuration comes with enough passport and credit card sleeves that the entire family would be protected.
They are slim too, so they will easily fit into your current pouch or wallet. These are the kind my family and I use not only when traveling but at home as well.
If you are planning on taking a lot of pictures with your phone you will definitely want to consider an external charging battery.
This Anker high-speed phone charging battery is the exact one I carry with me on all of my trips. It can be used on a variety of phones, not just an iPhone like I have.
My daughter gifted me with this FugeTek Selfie Stick and Tripod for my birthday. It has Bloothtooth connectivity so it is very easy to use.
I was never a fan of packing cubes until I tried them out! Now I am sold. These Bagail packing cubes are the exact ones I use whenever I travel.
I cannot believe how much more organized I am now! And I never leave without them anymore
I never leave home on a trip without my Bobble filtration bottle. The 18.5-ounce size is perfect for travel and it fits nicely in the pocket of a backpack or your purse.
Also when filled with water, it is not too heavy to carry.
Perhaps you are traveling a long distance and packing space is at a premium. Then this collapsible silicone foldable water bottle would work well for you. Would not take up much space in your suitcase at all.
You will want a backpack or daypack with you to store snacks, your water bottle, phone, extra clothes, etc. This foldable water-resistant backpack would be great.
—