Are you looking for the most historical and interesting places to visit in Malta? Perhaps you will be visiting during a Mediterranean cruise.  Or you will be arriving from other parts of Europe or the world. I recently visited Malta and I enjoyed it immensely. I liked it so much that I want to share my own experiences with you and offer you suggestions to enhance your own visit.
Malta can be found in the Mediterranean between Sicily and North Africa. There are so many things to do in Malta and places to visit in Malta it is no wonder this small archipelago's options are dizzying to the mind!
I do not know how long you have to spend exploring Malta. I am hoping though, that by following my suggestions, you will be able to make the most of every single moment you are there! I am listing my recommendations in no specific order to be followed. Depending on how you arrive in Malta and how long you will be spending there, please tailor these Malta sightseeing options to fit your specific needs and timetable.
Please be advised that Linda On the Run is a participant in the Amazon Services LLC Associates Program, an affiliate program designed to provide a means for sites to earn advertising fees by advertising and linking to Amazon.
There are other affiliate links in this post as well.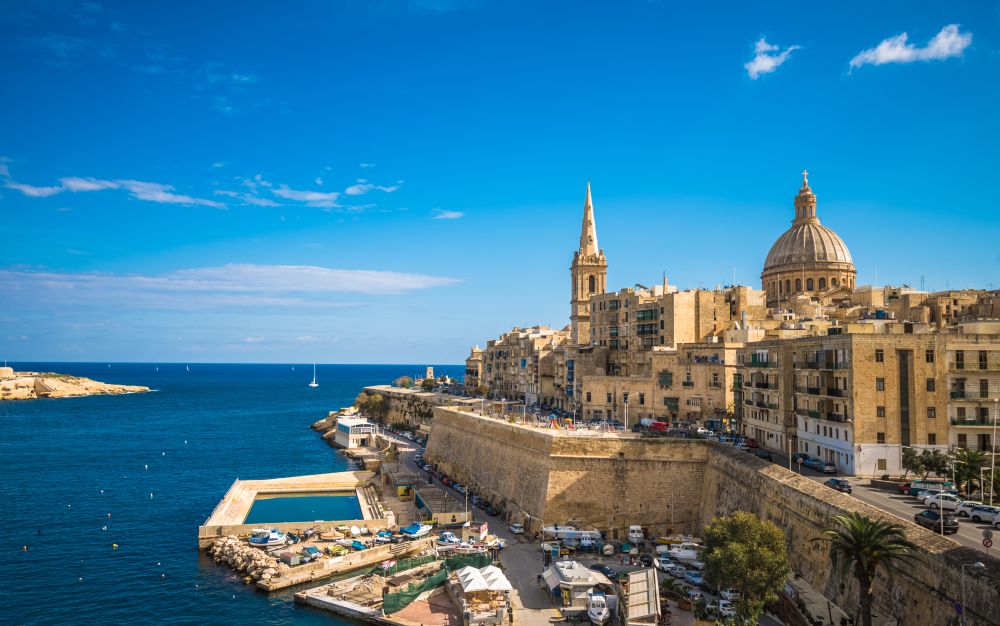 Valletta, Malta's new capital city.
15 Places To Visit In Malta You Should Not Miss
1) The Silent City Of Mdina, Malta's Old Capital
If you are visiting Malta on a European cruise, you will need to travel to Mdina from Malta's Grand Harbour. Either hire a taxi, Uber or take a bus. Either way, Malta is definitely worth the effort and one of the popular places to visit in Malta.
In the past, Mdina was the capital of Malta. It was known as the "Silent City" because it was located inland and protected by a fortified wall. Yet it was high enough to keep an eye on the seas and protect Malta. It was bustling and a hub of activity. Once the capital was moved to Valletta, not too many inhabit Mdina anymore.
Mdina is one of Europe's finest examples of an ancient walled city, a mix of both medieval and baroque architecture. Strolling through the streets of the fortified old city you can not only see but also feel the history and old-world charm.
Tickets Here: Mdina Old City 2-Hour Walking Tour
Tickets Here: Mdina City Walking Tour
Tickets Here: Malta: Hop-On Hop-Off Bus Tours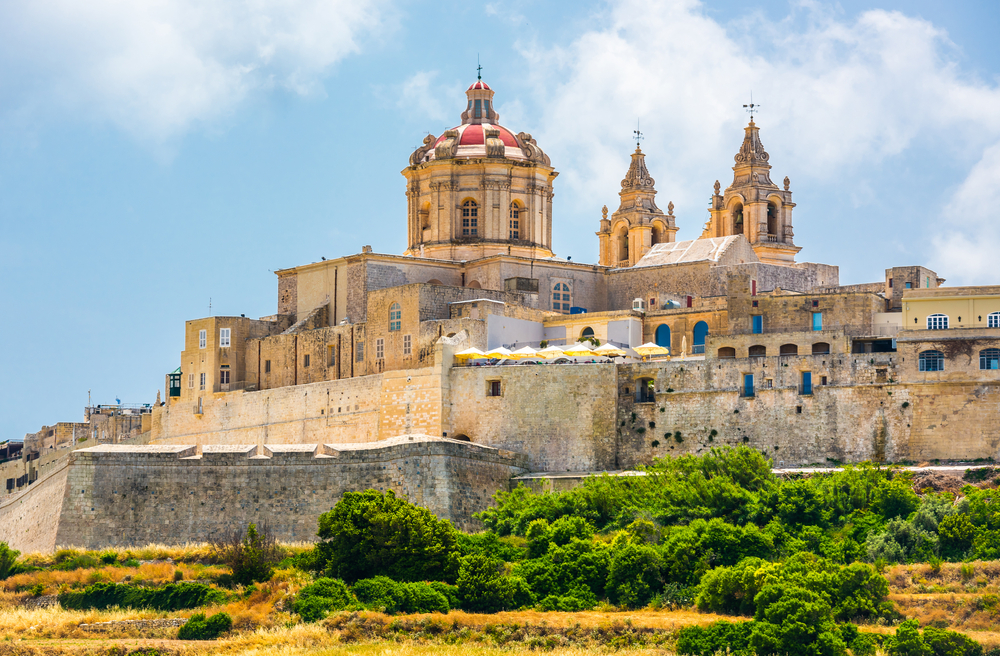 Malta's old capital, the fortified city of Mdina.
2) Marvel At The Game Of Thrones Filming Sites In Mdina
For all of you fans, you may notice Game of Thrones filming sites within the Mdina's fortified walls. You will recognize several different lanes and alleys that were in King's Landing,  in the first season of the series. Such as Copper Street.
3) Visit Mysterious St Paul's Cathedral
While walking through Mdina, you will undoubtedly arrive at the Baroque-style Roman Catholic church called St Paul's Cathedral.  It is Mysterious because its history is unclear and cannot be verified. There are several traditions attached to St Paul's and some say it is where the Apostle Paul (shipwrecked on Malta) baptized a Roman official. Unfortunately, the cathedral was not opened the day I visited and I was unable to see this one of Malta's attractions.
Wandering through Mdina is literally like taking a step back in time. The narrow streets provide examples of Malta's beautiful architecture and a great example of its history.
Tickets Here: Mdina Audio Tour with Map and Directions 
4) Triton Fountain Is A Touch Of Modern
Located just outside the City Gate of the current capital city of Valletta, is the spectacular Triton Fountain. This is one of the most popular places to visit in Malta, and where most tourists begin their exploration of Valletta.
This magnificent modern fountain has 3 Tritons (mermen, or fish-tailed sea gods) holding up a large basin while balancing on a smaller base. This fountain is one of the popular places to visit in Malta and it was extremely crowded on the day I was there. It is a favorite picture-taking spot!
Check This Option: Valletta and Mdina Full-Day Tour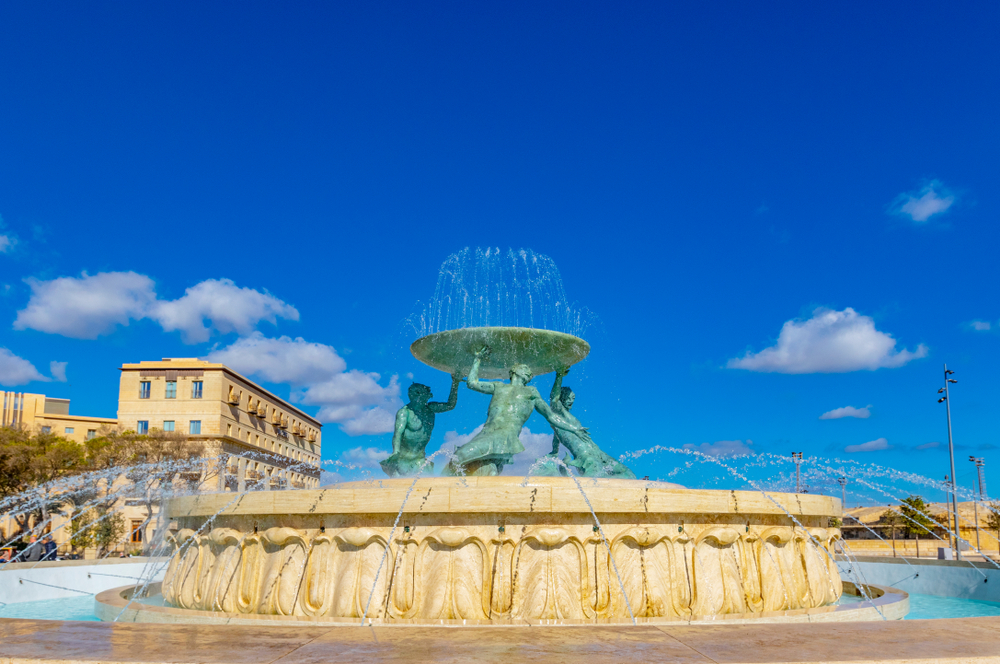 Triton Fountain in Valletta, Malta
5) Valletta, Malta's New Capital Is So Chic
Chic, cosmopolitan, sophisticated. All these words can be used to describe Valletta. Established in the 1500s by the Knights of St. John, a Roman Catholic Order, from various countries in Europe, Valetta is new and historical at the same time! and certainly one of the most popular places to visit in Malta.
Valetta's roads are very pedestrian-friendly so it is easy to explore on foot. During my visit to Malta, I spent most of my time in this lively city and I loved every exciting moment I was there.
Tickets Here: Valletta: Medieval Walking Tour & The Malta Experience 
Tickets Here: Valletta: Private Walking Tour From Grand Harbour
Tickets Here: Valletta: 3-Hour Walking Tour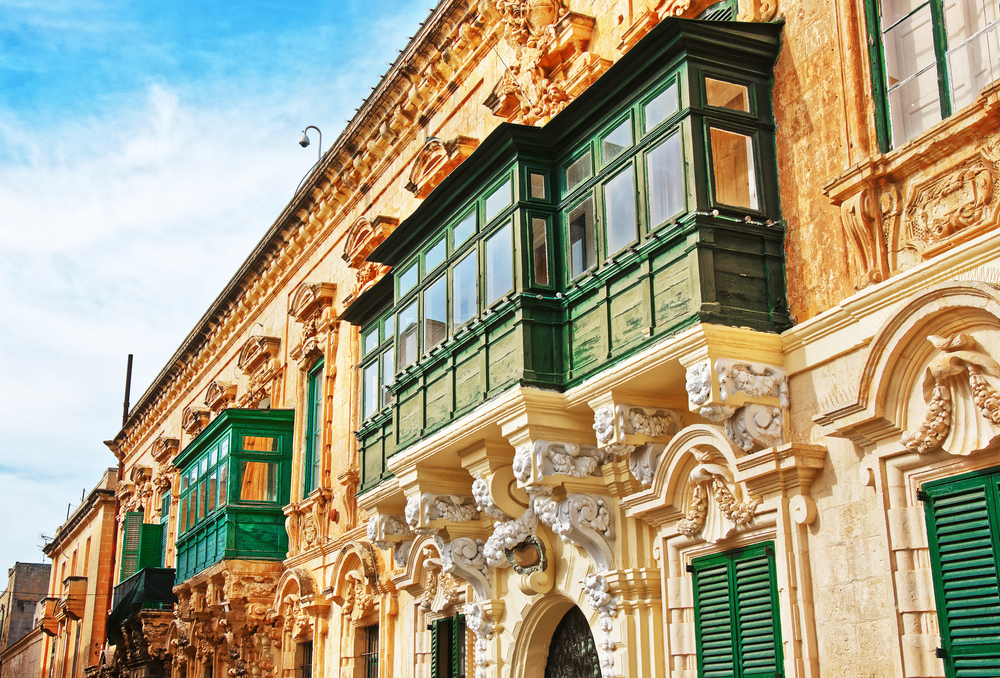 Here are the Maltese traditional green balconies in Valletta.
6) Valetta's City Gate
Not far from the Triton Fountain you will find Valetta's City Gate which ushers you into the chic capital of Malta, Valletta. It is a popular place to grab that Instagram shot or memorable picture to send back home.
Check This Out: Malta: Mosta, Crafts Village, Mdina & Valletta Full-Day Tour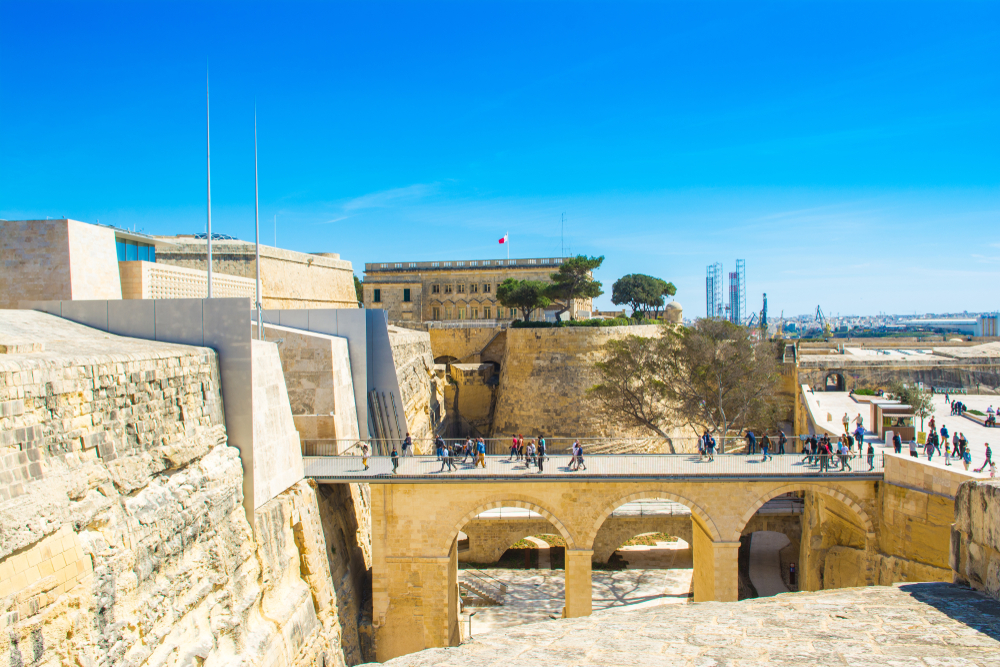 Entering Valletta through the city gates (on the left).
7)Visit Upper Barrakka Gardens For Jaw-Dropping Harbor Views
Spend some time walking through Upper Barrakka Gardens on the Valetta waterfront. If you do arrive via cruise ship, you will be able to ride the Barrakka Lift. It is a glass elevator which will transport you between levels. It is located at the harbor and will take you directly to the Upper Barrakka Gardens. Please note, it cost 1 Euro to ride the elevator up, but free to ride it back down.
Strolling through Upper Barrakka Gardens is one of the most beautiful things to do in Malta. Shaded paths display Malta's history with statues and plaques.
But some of the most spectacular Malta sightseeing can be done while enjoying the unbelievable panoramic view of Valetta's harbor below from the Upper Barrakka Gardens. You will never forget it!
Tickets Here: Valletta: Private Walking Tour From Grand Harbour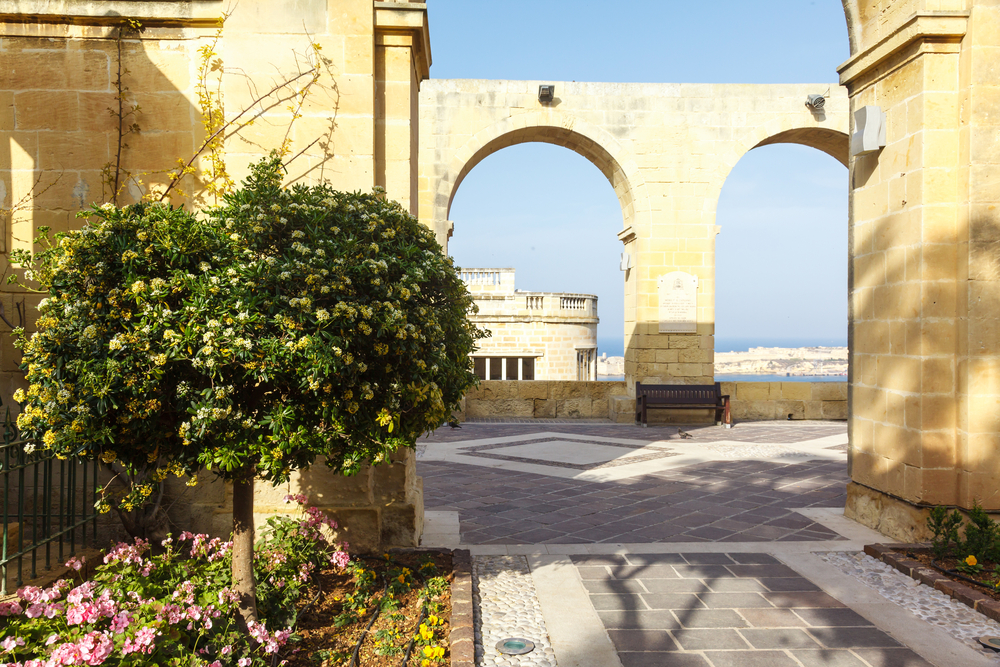 Upper Barrakka Gardens in Valletta is where to go in Malta for the most epic views of the Grand Harbor.
8) Stop By The Stunning St John's Co-Cathedral
One of the must-see places to visit in Malta is St John's Co-Cathedral in Valletta. It is an ornately Baroque Roman Catholic church that is centrally located and easy to find while you are Malta sightseeing. Please be advised: there is an entry fee.
Its interior is Baroque, which means stunning with a lot of gold gilding and gorgeous marbled mosaic floors!
Tickets Here: Valletta City Walking Tour
9) Visit St George's Square
Located in central Valletta, St George's Square is huge! There you will find the Grand Master's Palace and Armoury. I was fortunate enough when I was visiting Valletta that I was able to view the changing of the guard outside the palace.
Check This Out: Welcome to Valletta: Private Tour with a Local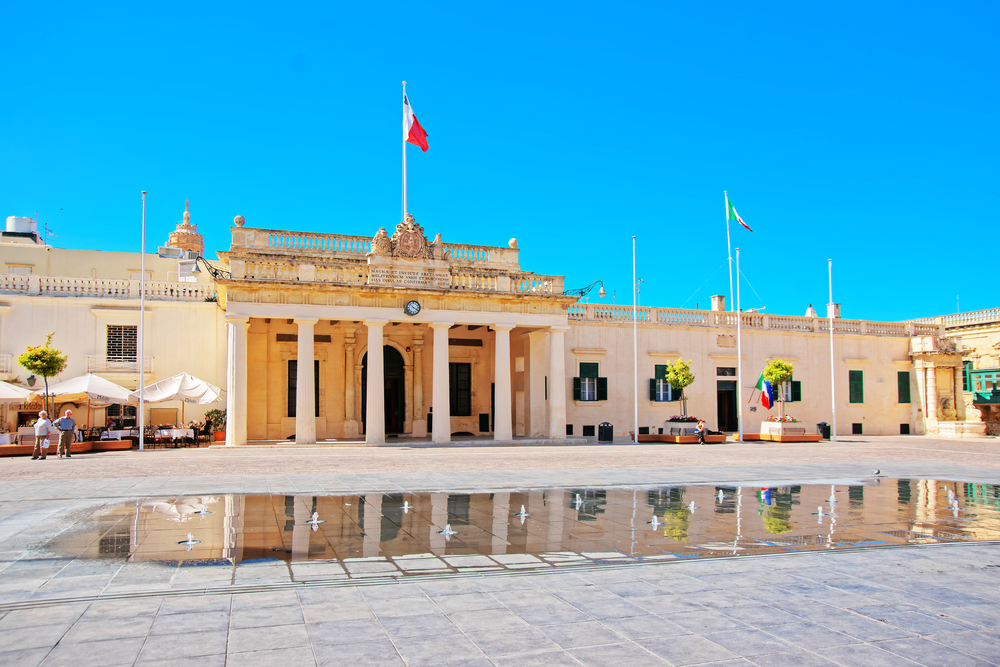 Malta's beautiful St. George Square
10) Auberge de Castille
Located not far from the Upper Barracca Gardens or Valletta's City Gate is Auberge de Castille, the office of the Prime Minister of Malta. It is a beautiful and ornate building. It really should be added your places to visit in Malta list.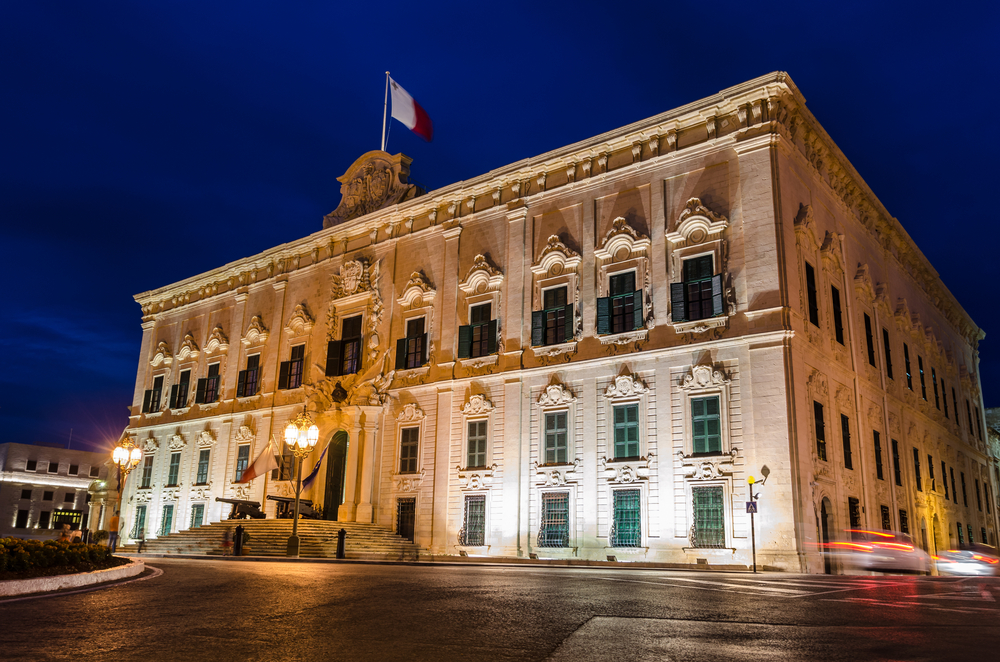 The Prime Minister of Malta's Palace in Valletta.
11) Stroll Valletta's Pedestrian-Friendly Streets
Republic Street and Merchants Street are the main pedestrian-friendly streets in Valletta where you will find chic boutiques and a wide variety of cafes, bars and restaurants squeezed into a few lovely blocks to tempt and tantalize you.
No matter the time of day, Valletta is busy and bustling. And very upscale.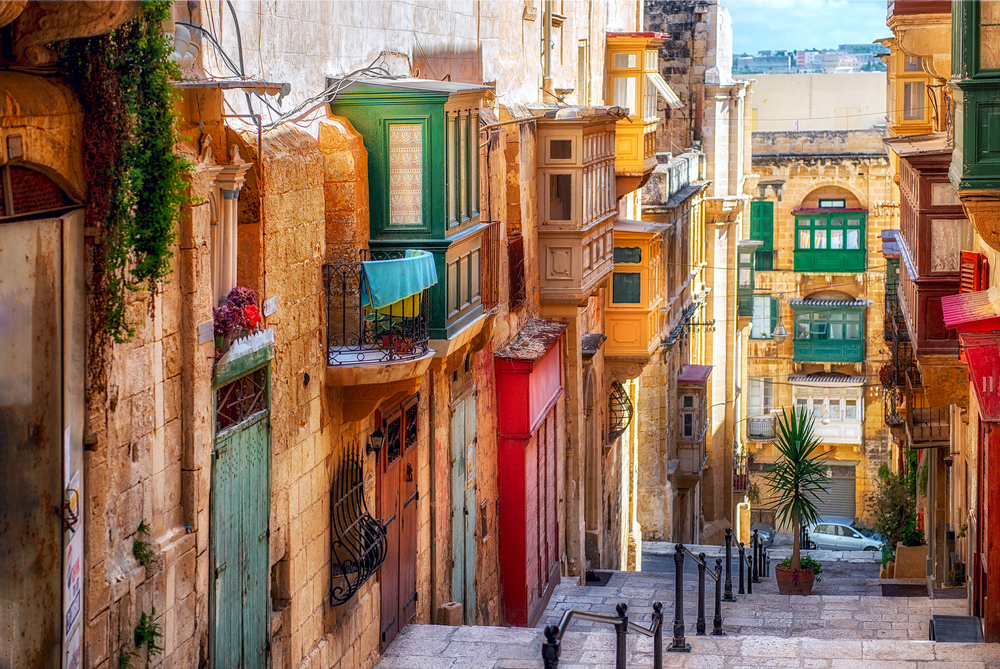 Be adventurous and meander through Valletta's side streets as well.
12) Marvel At Malta's Mysterious Megaliths
Travel back in time three millennium BC and explore the most ancient religious sites on our earth! Malta's prehistoric temples are designated a UNESCO World Heritage site. Hagar Quim's shrine to mother earth, and Mnajdra Temples some of the oldest free-standing stone structures in our world!
Malta's Hal Saflieni Hypogeum is made up of three levels of interconnecting rock-hewn chambers from approximately 4000BC.
You will view a historical movie at the visitor center before you enter the series of underground chambers and passages on the three different levels.
People have been visiting this UNESCO World Heritage site since the early 1900s and unfortunately, that has compromised some of the structures and the interior microclimate which has seriously affected the preservation of the chambers. The lovely red ochre wall paintings have been the most affected.
So, limited admission tickets are sold and the number of people entering per hour is restricted. So, if visiting these unique and historical architectural masterpieces are where you want to go in Malta, it is imperative that you purchase your admission tickets online beforehand.
Tickets Here: Prehistoric Temples of Malta Tour
Tickets Here: Malta Full-Day Private Sightseeing Tour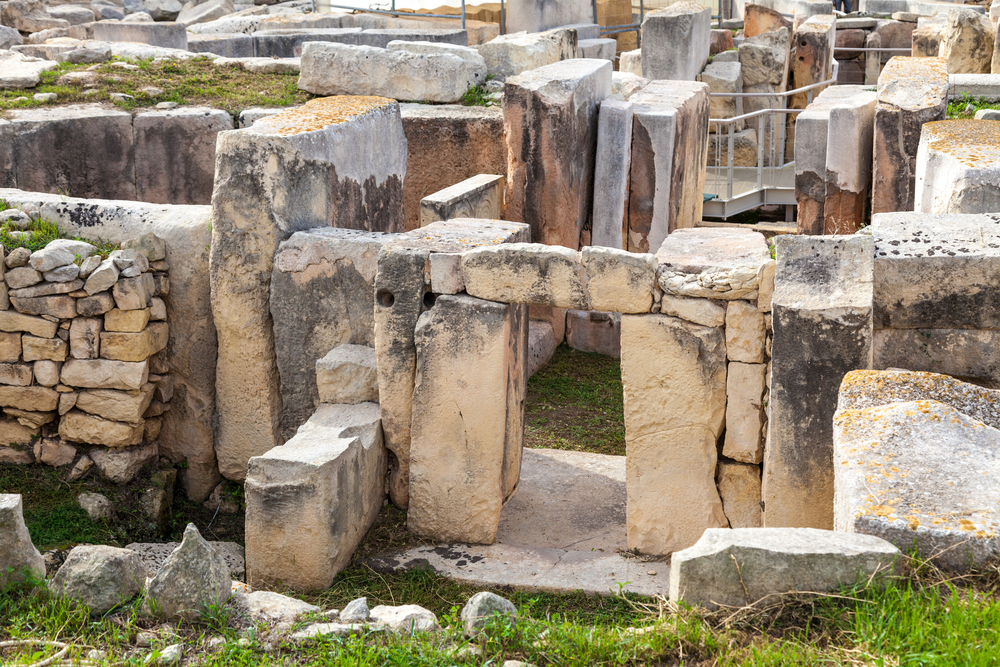 A UNESCO World Heritage site, Hagar Qim.  Seeing one of the ancient temples is one of the interesting places to visit in Malta. 
13) Explore Malta's 3 Cities For Historical And Contemporary Charm
If you journey a bit north of Valetta, you will reach Cottonera, the term the Maltese use for the 3 cities. Consisting of Vittoriosa, Senglea, and Cospicus, the area is rich in history as this is where the Knights of the Order of Saint John first made their homes in the 1500s. The historical charm from the fortified walls to the bastions is everywhere.
The area has become quite popular and is experiencing its own renaissance making it one of the most interesting places to visit in Malta. So alongside the historical features, you will find modern state-of-the-art homes and businesses. There are lots of cafes and restaurants for a refreshment break and maybe rest.
Tickets Here: Malta's 3 Cities Tour & Wine Tasting
Tickets Here: Valletta and 3 Cities Private 4-Hour Shore Excursion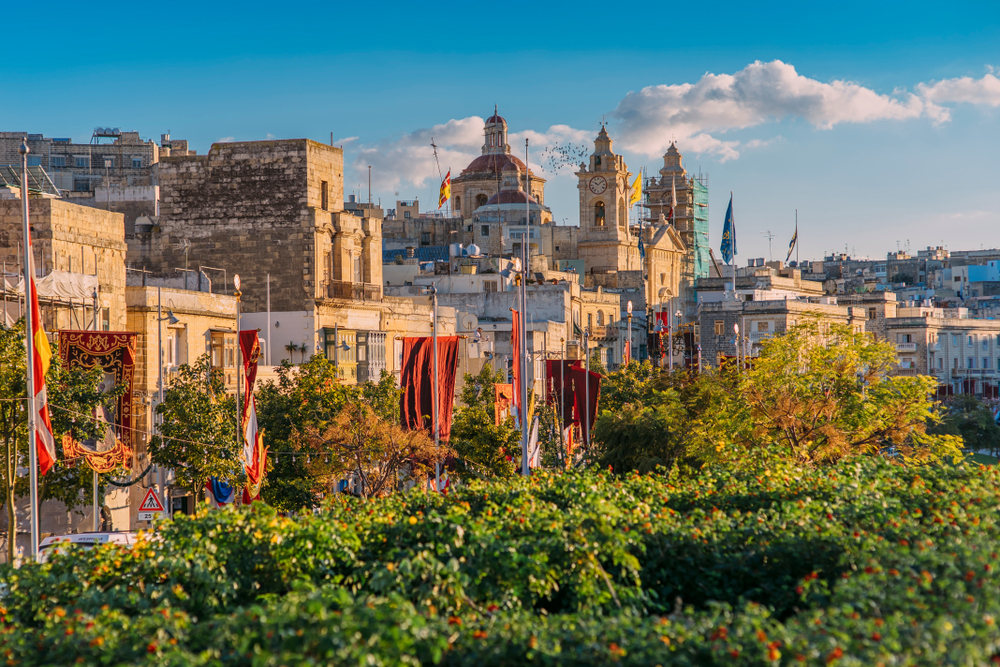 The 3 cities of Malta.
14) The Blue Lagoon Is Where To Go In Malta To See Caves
Located on the southeast coast of Malta, the Blue Grotto is one of the most popular places to visit in Malta.
The location of the caves along with the filtering of the sun's rays combine to form the most stunning shades of blue on the walls of the cave and the ceilings. Each cavern is as unique as is the experience of seeing them!
Tickets Here: Full Day Cruise to Malta's Famous Blue Lagoon
Tickets Here:  Comino, Blue Lagoon & Caves Boat Cruise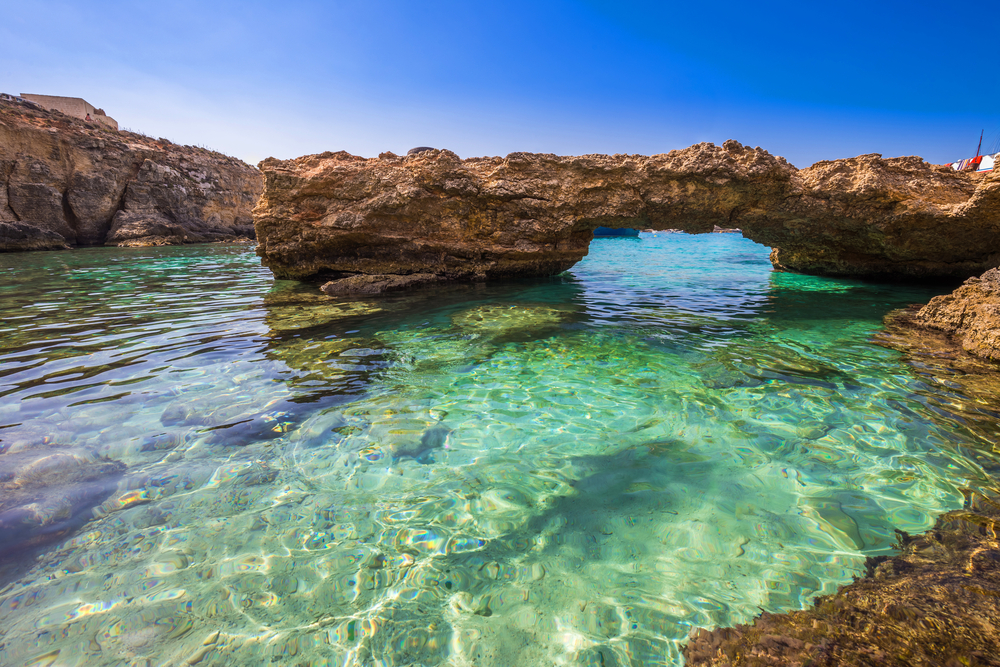 Malta's Blue Lagoon. Look at that water!!!
15) Visit Mosta And The Miracle Church
A short ways from Valletta is Mosta. There you will find the Mosta Dome. Neoclassical in its architecture, today it is the fourth largest unsupported dome in the world.
It has an interesting history because in 1942, During World War II,  a bomb fell through the dome during a Roman Catholic Mass, landed, but did not explode. To this day, the Maltese people consider this a miracle.
Look Here: Half-Day Tour of Mosta, Ta'Qali Crafts Village & Mdina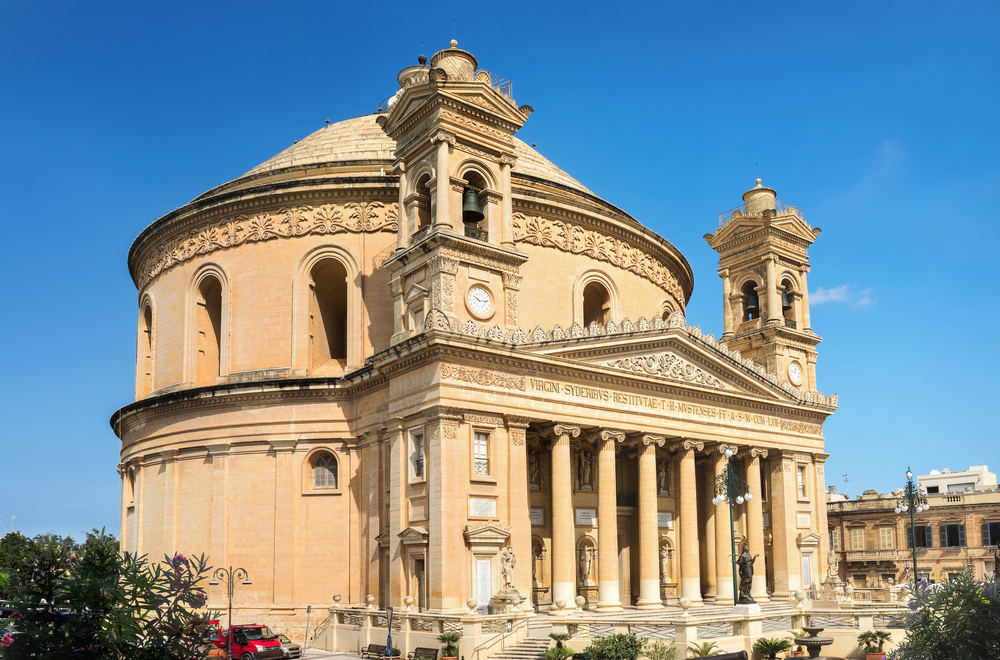 The Mosta Dome, the site of a miracle during World War II.
Packing Tips For Your Trip To Malta
I think that using these useful packing tips will enhance your trip to Malta and help you remain organized.
A concealed travel pouch may be one of the most important items you bring during your visit to Kotor.  This unisex RFID blocking concealed travel pouch is lightweight and comes in several colors. It has lots of organization to give you peace of mind. You can keep your most valuable documents safe and secure next to your body.
If you have a pouch already and you do not need to invest in a new one, like me, but it does not come with the RFID protection, these RFID sleeves would be handy to prevent identity theft. This configuration comes with enough passport and credit card sleeves that the entire family would be protected. They are slim too, so they will easily fit into your current pouch or wallet.
If you are planning on taking a lot of pictures with your phone you will definitely want to consider an external charging battery. This Anker high-speed phone charging battery is the exact one I carry with me on all of my trips. It can be used on a variety of phones, not just an iPhone like I have. And wow is it fast! I like that it holds its charging capabilities for several uses so I do not have to worry about it while out and about. And if I forget to recharge it at night, it will still be good to go the next day.
My daughter gifted me with this FugeTek Selfie Stick and Tripod for my birthday. It has Bloothtooth connectivity so it is very easy to use. It is made of durable aluminum and is very lightweight and easy to carry. I love mine and I think you will enjoy it too.
I was never a fan of packing cubes until I tried them out! Now I am sold. These Bagail packing cubes are the exact ones I use whenever I travel. I cannot believe how much more organized I am now!
Hydration is so important. When I visited Malta it was in the mid-90s and having water with me was very important. You want to remain hydrated to support your immune system which in turn will be stronger to fight off any germs you will encounter during your travels.  You will want to bring your own refillable water bottle with you.  I never leave home on a trip without my Bobble filtration bottle. The 18.5-ounce size is perfect for travel and it fits nicely in the pocket of a backpack or your purse. Also when filled with water, it is not too heavy to carry. And the Bobble carbon filter ensures fresh clean water whenever and wherever you fill the Bobble. You can find filter replacements here. 
Perhaps you are traveling a long distance and packing space is a premium. Then this set of collapsible silicone foldable water bottles would work well for you. Would not take up much space in your suitcase at all. And you will be receiving a set of two.
You will want a backpack or daypack with you to store snacks, your water bottle, phone, extra clothes, etc.. This foldable water-resistant backpack would be great. It is very affordable and is available in many color options for you to choose from. The fact that it folds down into a zippered pouch will make it easy to pack.
Perhaps you need a more substantial backpack for your international travel. This antitheft backpack has a charging port, is water-resistant and can comfortably carry up to a 15.6″ laptop.It comes in a range of colors to choose from and it is inexpensive as well.
You will be walking more than usual when visiting Malta. A sturdy and comfortable pair of walking shoes is a must-have. These waterproof all-season shoes are extremely affordable and yet fashionable.  Mostly everyone is familiar with the Skechers brand, and these Air Run high fashion sneakers come in a lot of colors to match your outfits and are still affordable.
And let us not forget the beach shoes for Malta's pebbly beaches. These quick dry slip on aqua shoes are a great selection. They come in a ton of bright colors for men, women, and children.
You will probably be visiting Malta in warmer weather, and you may want a pair of sandals to wear exploring.  I highly recommend these Vionics adjustable strap orthotic sandals. I have several pairs of these exact Vionic sandals in several colors that I bring with me *everywhere* I travel. They are very comfortable. I also sometimes bring along my Vionic Tides flip flops. The toe post is so comfortable which makes wearing these super comfortable.
Bring a lightweight scarf or shawl. Scarves and shawls are very popular in Europe and Malta is no different. Both men and women wear scarves, both decoratively and as a layering piece to keep warm. This cotton unisex lightweight scarf is versatile and can be worn in any season. And here's another option to consider: this lightweight sunscreen shawl scarf would do double duty to protect you from the sun in the warmer seasons as well as being a fashion accessory layering piece.
We all need to protect our eyes from the sun's harmful UVA/UVB rays. These unisex polarized sunglasses come in a lot of lens colors and frame designs and are extremely affordable too.
If you are fond of the aviator-style of sunglasses these polarized aviators may interest you. I like polarized sunglasses because they remove the glare off the water and help you to see things more clearly. This will be very helpful in Kotor.
Don't forget to bring along a universal power adapter on your trip to Malta.  This worldwide power plug is a great example and will charge your phone at the end of your busy days. And this world traveler adapter kit can charge several devices at the same time. This is what you will need when there are several people traveling in your group, or if you bring several electronic devices on your trip that require charging at the same time.
If you are in need of new luggage, this expandable soft side spinner luggage is affordable and comes in lots of colors. If you like hard-sided better, then you may favor this hard-sided luggage set better. Both sets come with TSA approved zippers locks and 8 wheels per piece. Either will be great for the plane or train or even your car depending on how you plan to travel to Malta.
Quick Tips For Your Visit to Malta
Here are some quick tips and tricks I've learned, along with the ones above, which will enhance your Malta trip. And hopefully, make it a bit less stressful.
Before you leave home, contact your credit card company and check to see if your credit card does or does not have foreign transaction fees. If it does, inquire about the possibility of applying for one that does not carry foreign transaction fees attached to it (the small fee charged you whenever you use your card out of your home country.) Also, remember to notify your bank of the dates you will be out of the country.
When you visit an ATM in Malta, check to be sure it is on the same network as your bank, so you are not charged a transaction fee every time you withdraw cash. Withdrawing larger amounts of money will help you limit bank transition fees. Malta's form of currency is the Euro.
Purchase advanced tickets to attractions whenever possible. Admission tickets purchased online are usually offered at a discount, and you will save a lot of time waiting in lines to buy tickets at the individual attractions. Your places to visit in Malta list will flow more effortlessly when you have your plan and can pace yourself and not have to worry about the availability of tickets at each location you wish to visit.
These are my top suggestions to aid you in selecting places to visit in Malta, and tips for a safe and organized trip! If you are on a cruise and have only a limited amount of time to see Malta, I believe my recommendations will please you.  You will be able to cover a lot of territory and see a great many sights if you use them as a reference when planning your time.
Have you ever visited Malta? What did you think? Do you have any additional suggestions on where to go in Malta? Please leave your comments and suggestions below.
Please be advised that Linda On the Run is a participant in the Amazon Services LLC Associates Program, an affiliate program designed to provide a way to earn fees by advertising and linking to Amazon.
There are other affiliate links in this post as well.
Pin this post: