There are so many amazing places to visit in Washington DC and if you are planning a trip, you will not be disappointed.
As United States' capital, people from all over the country, and the whole world, make it a point to visit this beautiful and historic city. There are limitless tourist attractions perfect for all interests.
If you are an American, coming to Washington DC is life-changing because you will finally see many of the monuments and buildings you have seen on TV and in textbooks. It is so cool to see them in person while you experience one of the most beautiful cities in the USA.
DC is known for its pretty cherry blossoms in the spring, but no matter what time of the year you plan your vacation you are going to have a wonderful time.
There is no way to list all of the best Washington D.C. attractions, but we have narrowed it down to the top twenty!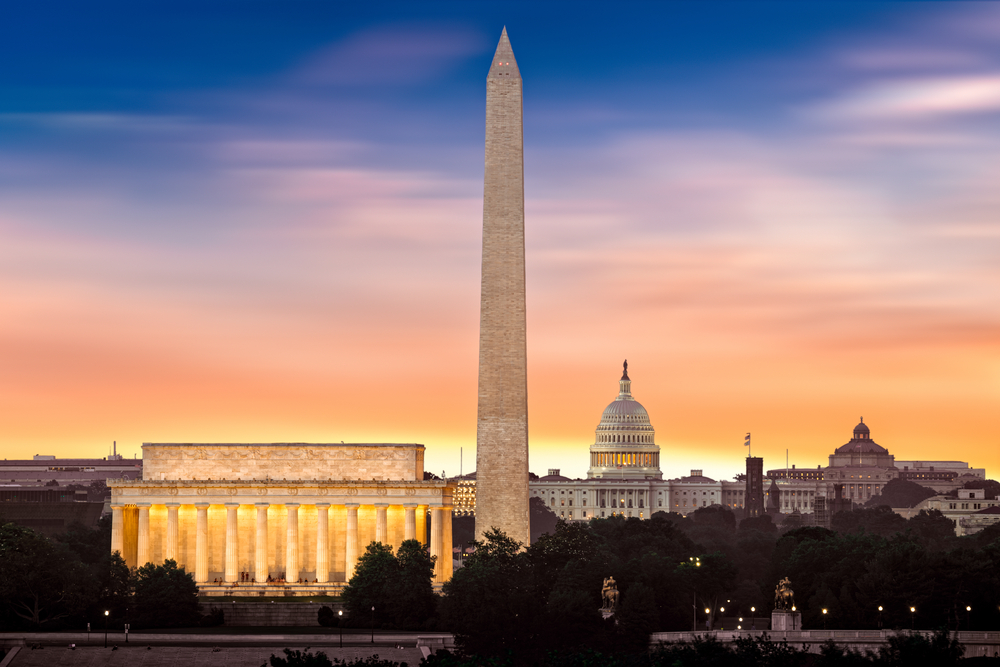 20 Best Places to Visit in Washington DC
National Mall
When you visit Washington DC, you will want to explore the National Mall. There is no question about it. From the Capitol Building on one end to the Lincoln Memorial on the other, this epic park is just under two miles long.
This is where you will find many of the city's best museums, statues, gardens, and more. Simply walking the Mall is a great activity because it allows you to soak in the lively atmosphere of the city. It is a great place to go sightseeing in Washington DC.
When you tire of the crowds, find a secluded spot in one of the pretty gardens to enjoy some peace. Pack a picnic and bring a ball to throw with your kids on the lawns. For a snack, grab some lunch or ice cream from a food truck.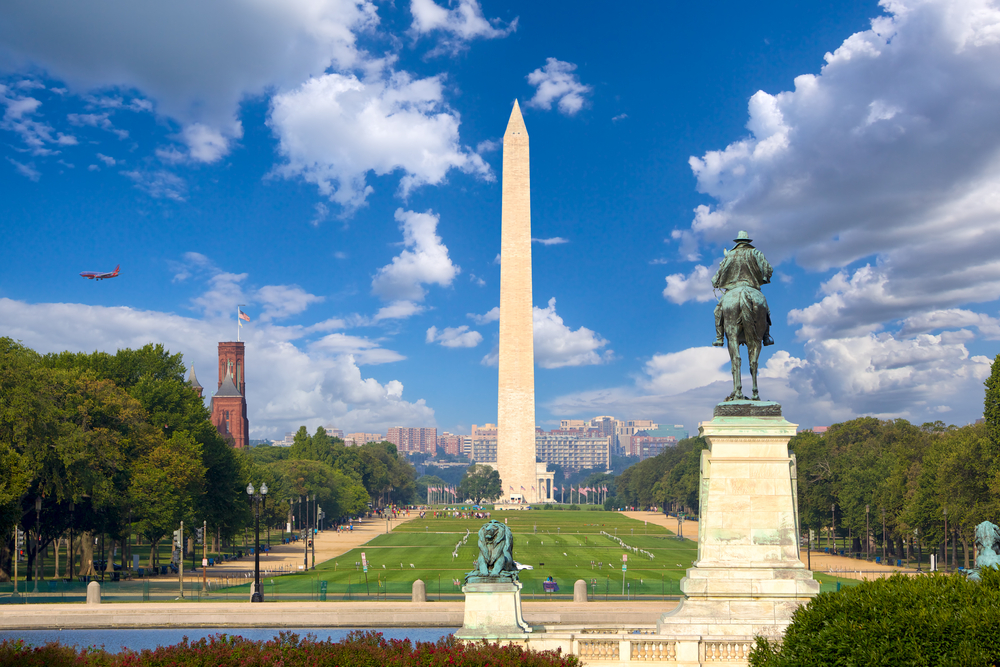 Some Of The Best Places To Visit In Washington DC Are The Smithsonian Museums
There are over a dozen Smithsonian museums in Washington D.C. and listing them all individually would overtake this list! From art to history to science, these world-class museums hold exhibits that will spark an interest in anyone.
The National Museum of Natural History will fascinate visitors as they walk the halls of the ocean, fossils, and human origins. The National Air and Space Museum will cause you to look to the skies.
You will love all the art in the Hirshhorn Museum, the American Art Museum, and the National Museum of African Art. There is such a wide variety of styles and mediums that showcase different cultures and perspectives.
Of course, there are so many more! Visit as many Smithsonian museums as possible and pick your favorite. Also, all the Smithsonian museums are free! They are the perfect places to visit in Washington D.C. on a budget.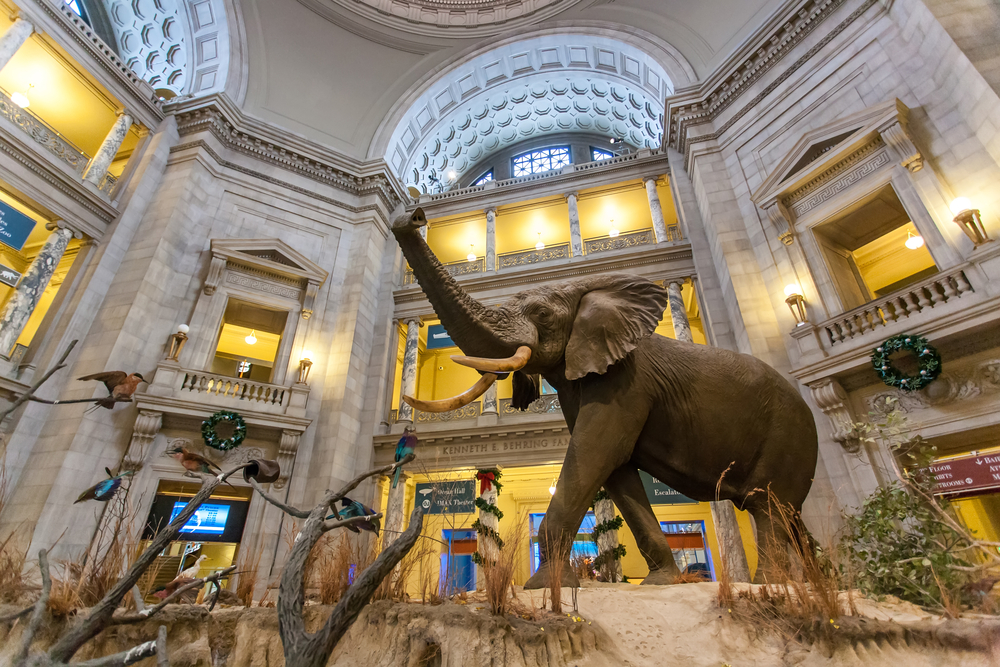 National Gallery of Art
Another epic museum on the National Mall is the National Gallery of Art. Though it is not a Smithsonian, it is also free of charge to visit. Even if you are not an art aficionado, you will love wandering this museum.
With over 150,000 artworks, you will see famous pieces you recognize and also find new favorites. There are pretty gardens where you can rest your feet after walking the large museum.
The National Gallery of Art is split into two buildings and there is also a sculpture garden to check out. You can eat lunch at one of the museum's cafes. This is a perfect place to visit in Washington DC if you have a free afternoon!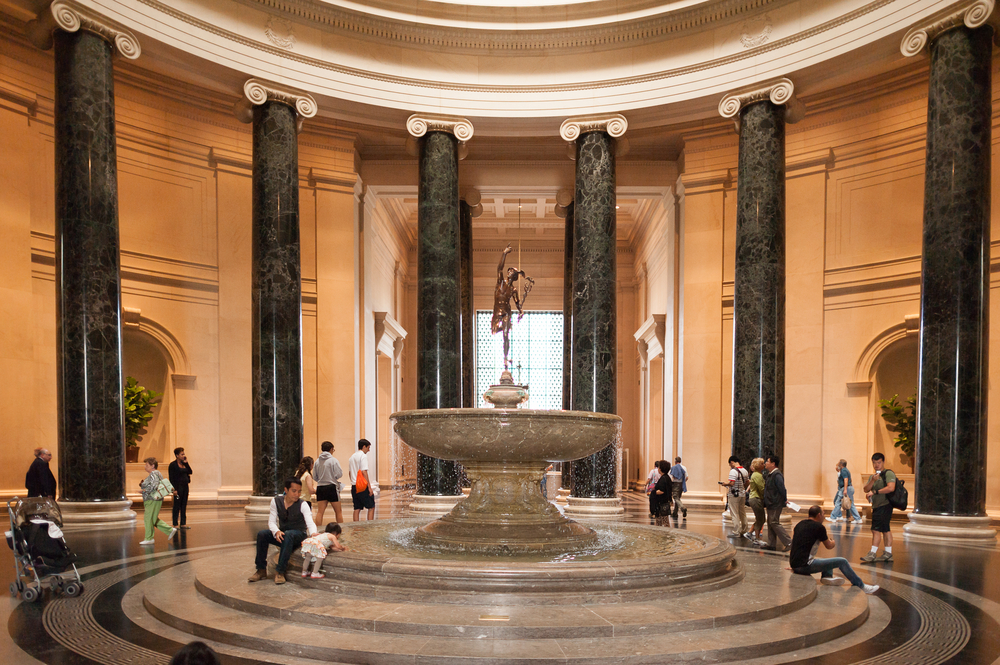 Georgetown
The Georgetown district is unarguably one of the best places to visit in Washington D.C. This is a historic area along the Potomac River best known for its outstanding university and pretty houses.
Walking through this picturesque neighborhood will show you why celebrities and politicians have chosen to live here. There are great museums, historic homes, boutique shops, a pretty canal, and delicious restaurants where you can enjoy a magical DC food tour.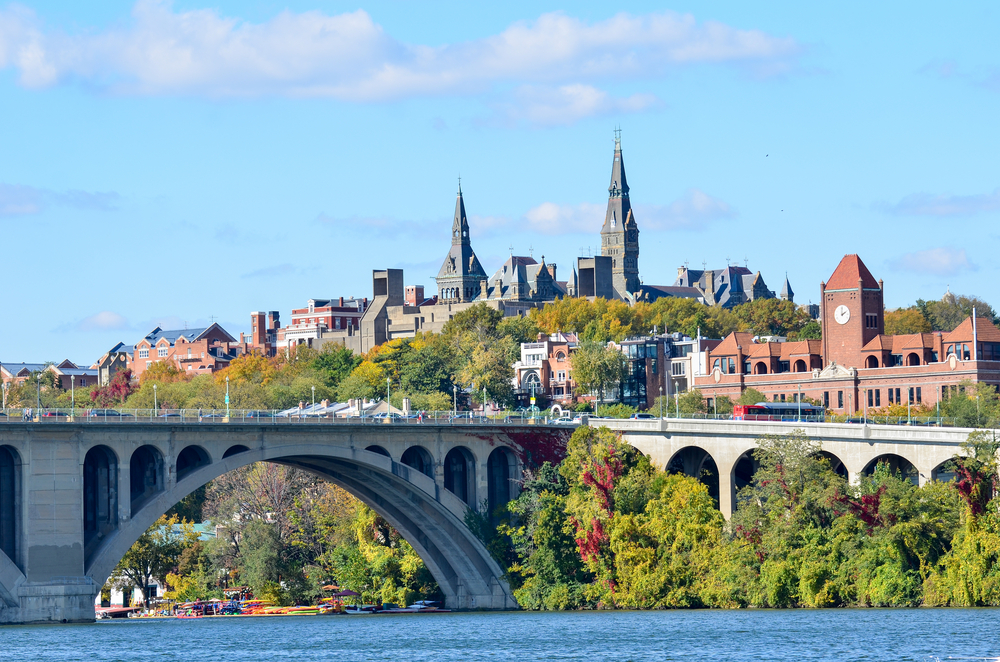 Library of Congress
The Library of Congress is not just for researchers and book lovers. This Washington D.C. attraction is a great thing to do for anyone interested in history and architecture.
The building dates back to 1800 and is absolutely gorgeous inside with its tiled floors, arched ceilings, and marble details. You will see books once owned by Thomas Jefferson, a 15th-century Gütenberg Bible, and so much more.
Different exhibits on a number of topics will open your eyes to new cultures, perspectives, and time periods. This is another place with free entry.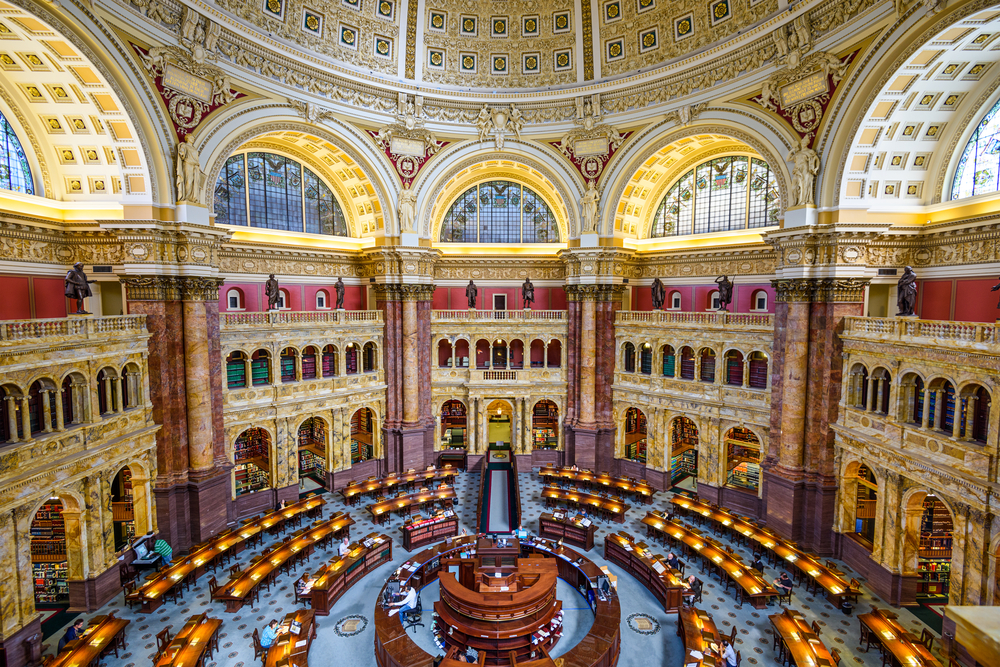 White House
When you tell people you have been to Washington D.C., they are going to ask you if you have seen the White House, so you might as well add it to your D.C. itinerary.
The White House is where the President of the United States lives and works. While seeing the White House from the outside is easy, it takes a little more effort to tour the inside.
To book a tour, you have to make a request months in advance. If you are a U.S. citizen, you must make the request through a member of Congress. International travelers will have to do it through their country's embassy.
Of course, there is top-notch security, but once you are inside, you will be able to walk rooms where history was made.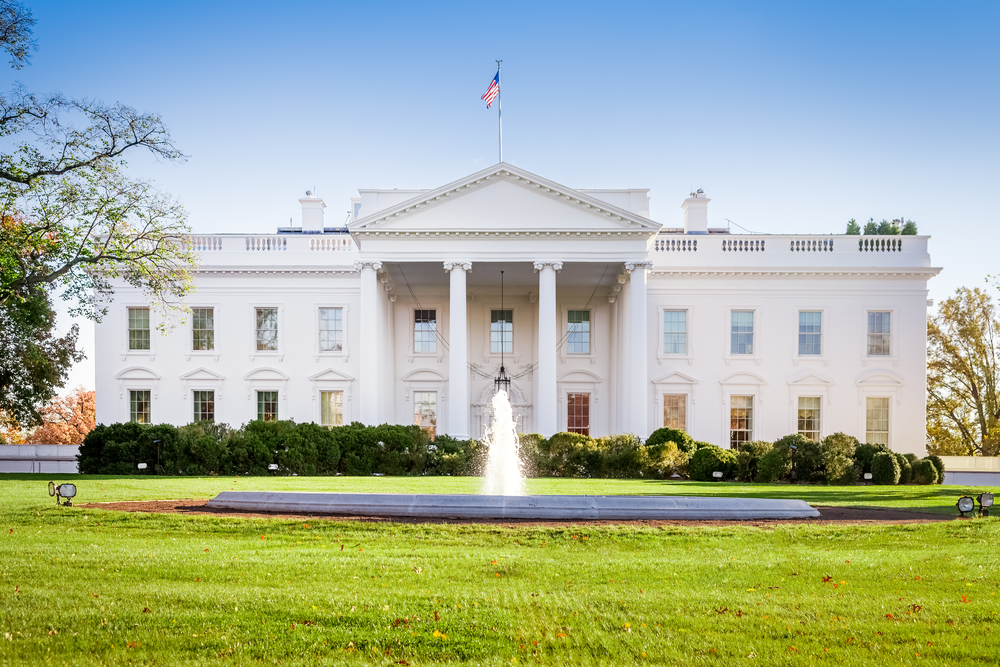 Arlington National Cemetery
The Arlington National Cemetery has been the final resting place of veterans from the Civil War to today. There are also two presidents buried here, William Howard Taft and John F. Kennedy.
Though it is a somber experience, the cemetery is one of the prettiest places to visit in Washington D.C. The simple. white gravestones are lined up evenly and in spring the trees bloom brightly.
The cemetery is a ten-minute drive across the river from the National Mall. If you do not have a car, you can take an Uber, ride the metro, or book a tour that includes it.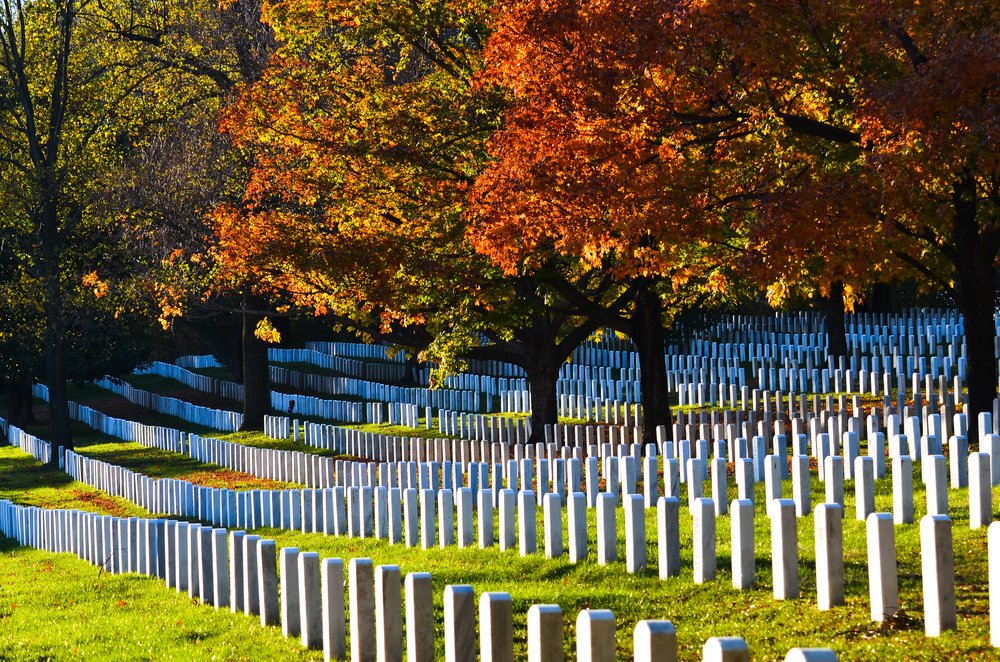 Theodore Roosevelt Island Is One Of The Best Places To Visit In Washington DC
If you are looking for a nature escape in Washington DC, then you can go to Theodore Roosevelt Island. This forested island is in the Potomac River just northwest of the National Mall.
The entrance to the island is on the Virginia side of the river and you must either drive or take the metro and walk about fifteen minutes. There are no roads on the island.
The island is dedicated to President Theodore Roosevelt and his love of nature and conservation. There are three trails that will take you through the serene nature.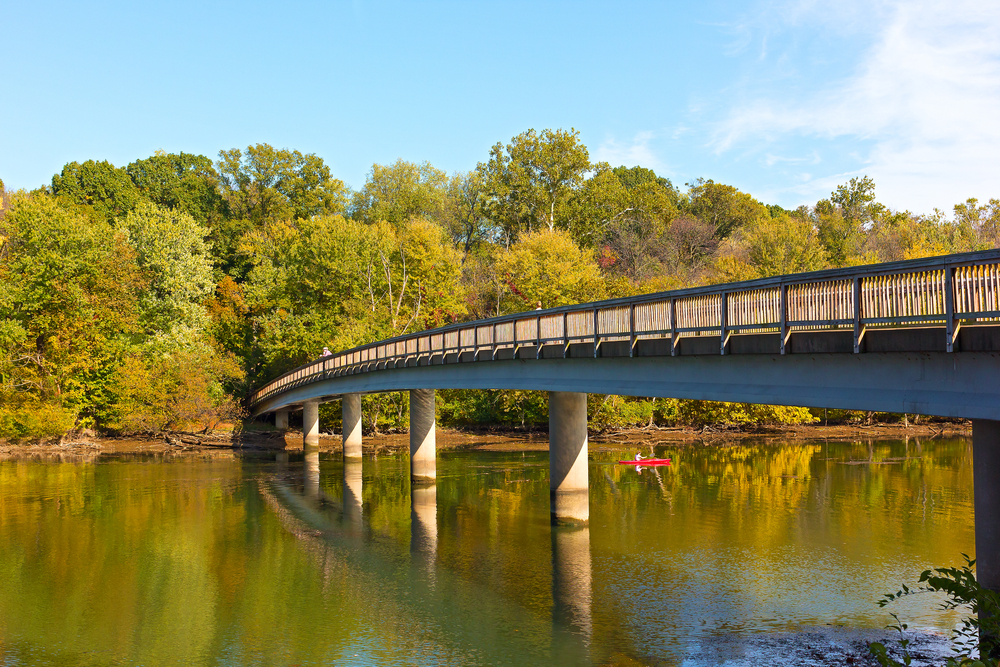 U.S. Botanic Garden Is A Popular DC Destination
Another one of the best natural places to visit in Washington DC is the U.S. Botanic Garden. This D.C. attraction is found on the National Mall near the Capitol Building.
This is the oldest botanic garden in the country and is a wonderful place to explore if you love plants. There are outdoor gardens as well as a conservatory and they are all free to access.
The gardens are themed with beautiful landscaping. There are common and rare plants from all sorts of climates. This is one of the best Instagram spots in Washington DC.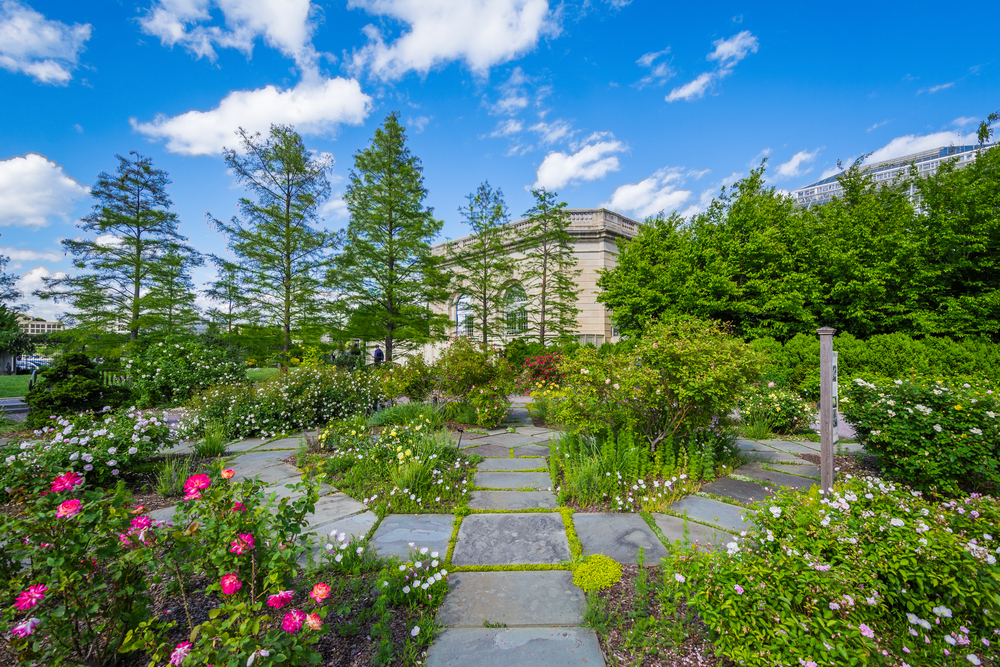 Smithsonian Castle Is One Of The Beautiful Places To Visit In Washington DC
Another awesome place to take pictures is the Smithsonian Castle, or Smithsonian Institution Building, on the National Mall. This inspiring building was completed in 1855 and holds the Smithsonian Visitor Center and Castle Cafe.
Make sure to walk around the entire castle to see the pretty gardens and all the best photo spots.
The building's dark red color and amazing architecture really make it stand out when compared to the other buildings on the Mall.
This is truly a beautiful place to visit in Washington DC.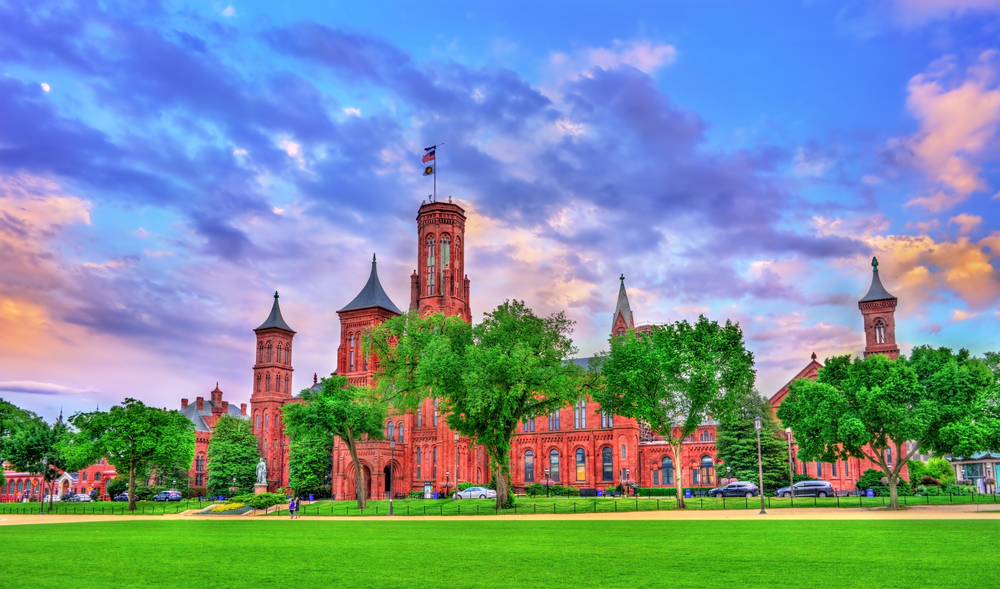 Tidal Basin
The Tidal Basin reservoir is one of the prettiest places to visit in Washington D.C., especially in spring when the cherry blossoms turn it into a dreamland. You couldn't find a more romantic area for a stroll!
Walking around the Tidal Basin will bring you to many statues and monuments as well as beautiful views of the water. Another great way to experience the Tidal Basin is by paddleboat which you can rent by the hour.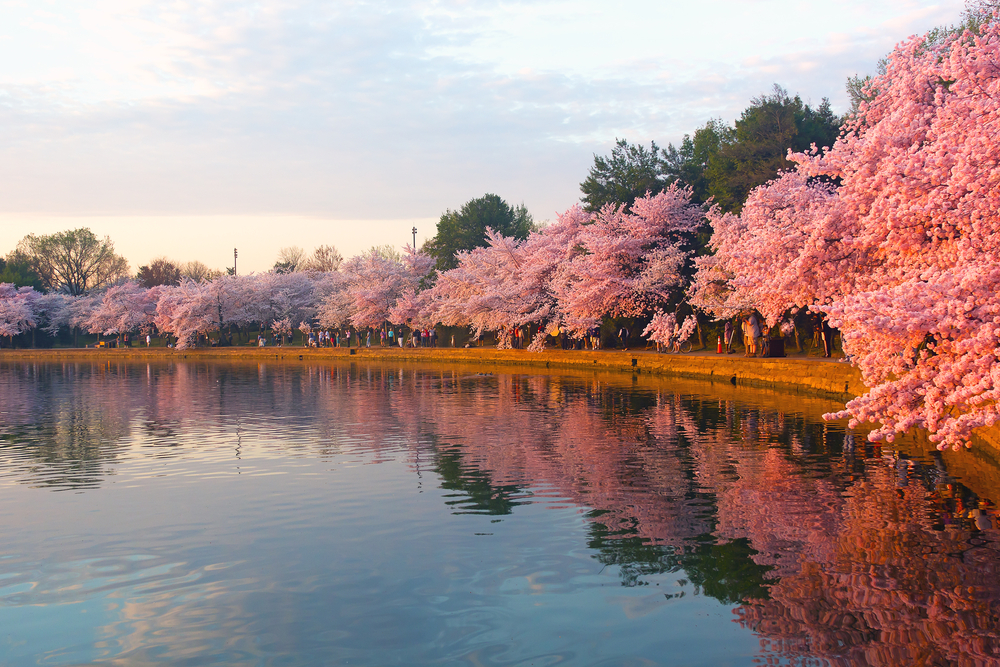 U.S. Capitol Building
The U.S. Capitol Building is a must-see place in Washington DC whether you are interested in history, government, or architecture. You can't miss this imposing building marking the eastern end of the National Mall.
This neoclassical building dates back to 1793 when George Washington laid the first stone. The U.S. Congress meets in this building.
A tour of the Capitol Building will lead you to the beautiful Rotunda under the dome, the Crypt with forty columns holding up the Rotunda, and the National Statuary Hall which is full of statues.
This is a very popular DC destination!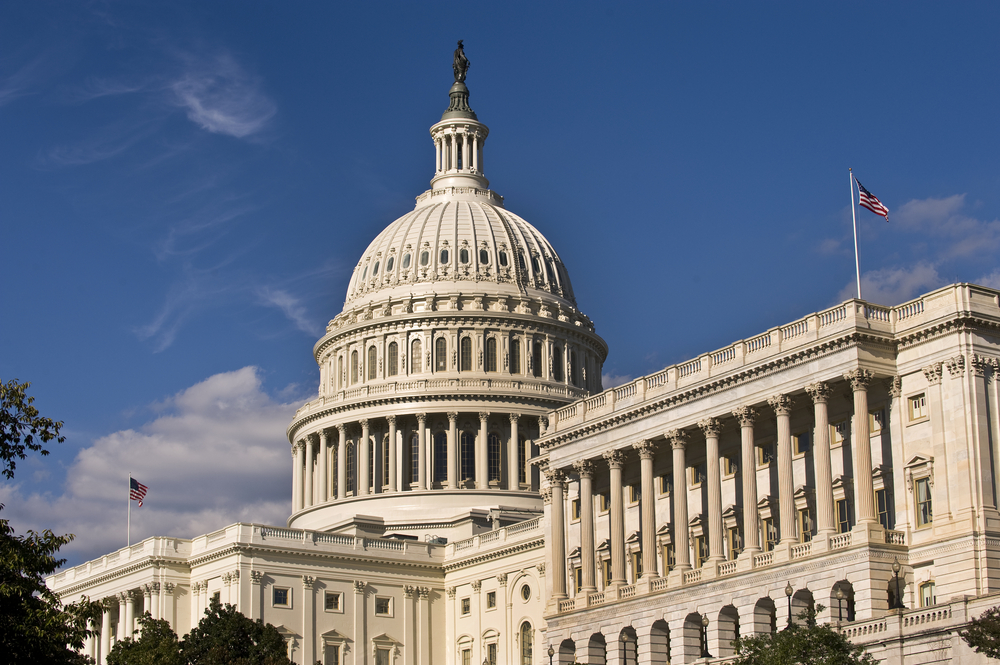 United States Supreme Court
If you are interested in government or law, then you should visit the U.S. Supreme Court, the highest court in the country. This DC attraction is next to the Library of Congress and looks like a Greek temple.
The Supreme Court has been in session here since 1790. If you visit, you can do a self-guided tour of the public areas. You will be able to see the courtroom, exhibitions, and artwork dedicated to former justices.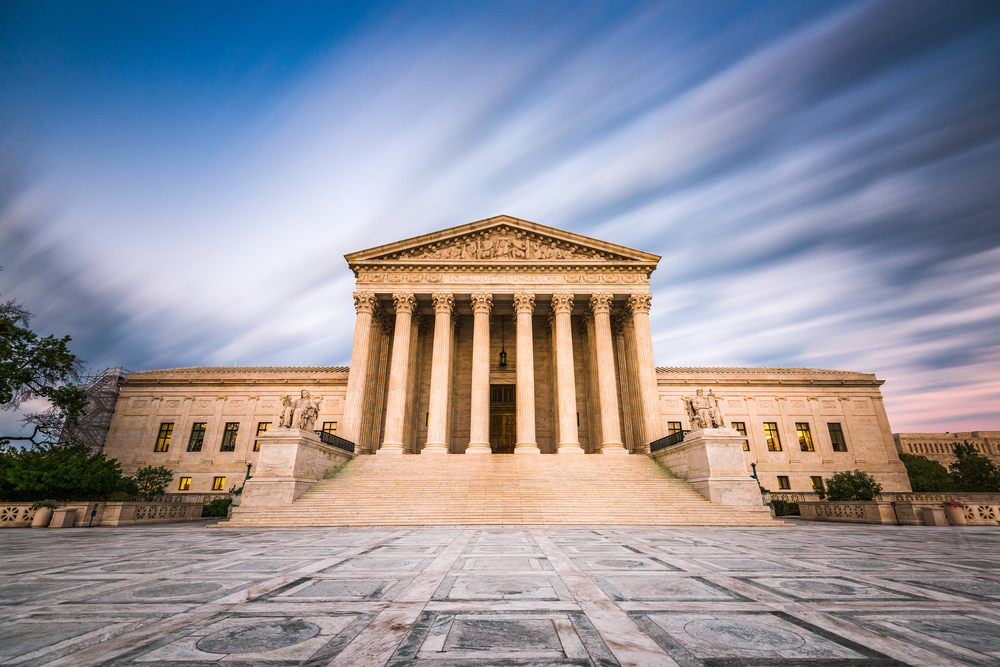 Lincoln Memorial Is One Of The Most Popular Attractions In Washington DC
The Lincoln Memorial stands at the eastern end of the National Mall and is one of the most iconic buildings in Washington DC. Looking like a Greek temple, this memorial honors President Abraham Lincoln.
The twenty-foot sculpture is a sight to behold. Below the memorial is the Reflecting Pool and a great view of the Washington Monument.
It is free to enter, and it is open twenty-four hours. Arrive early for amazing sunrise views and the chance to avoid the crazy crowds at this popular DC destination.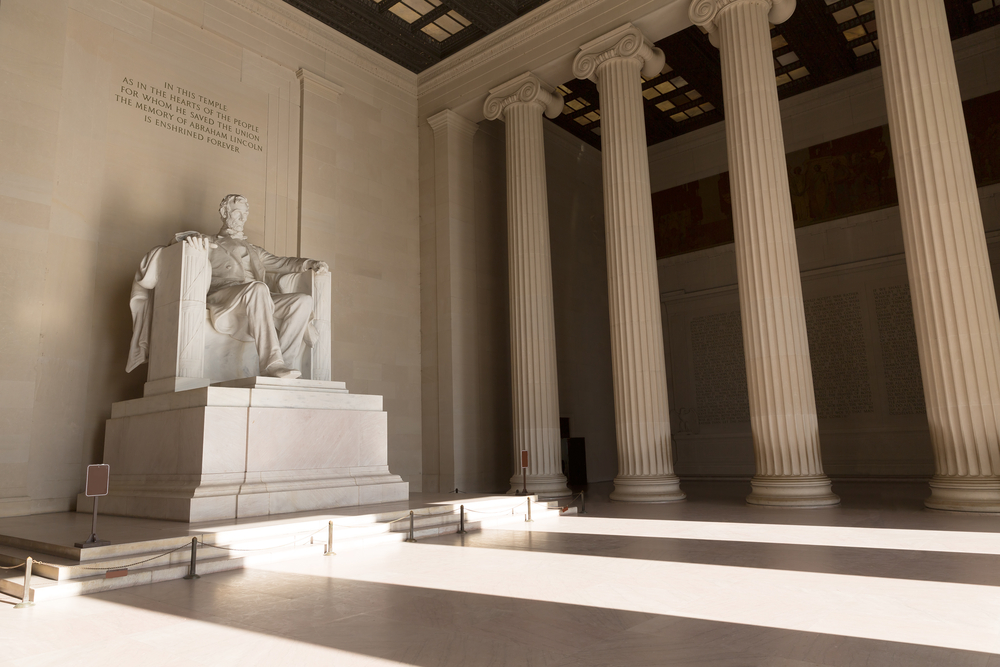 The Washington Monument Is One Of The Most Iconic Locations In Washington DC
The Washington Monument is one of the best places to visit in Washington DC. This 555-foot tall obelisk was the tallest building in the world when construction was finished in 1888.
The view from the top of the Washington Monument is probably the best in the city. You get to see all of the National Mall from the 492-foot viewpoint.
Unlike many Washington DC attractions, this one is not free, but hopefully, the $1 reservation fee does not set you back too much. You must get your ticket in advance or you may not get to ride the elevator to the top.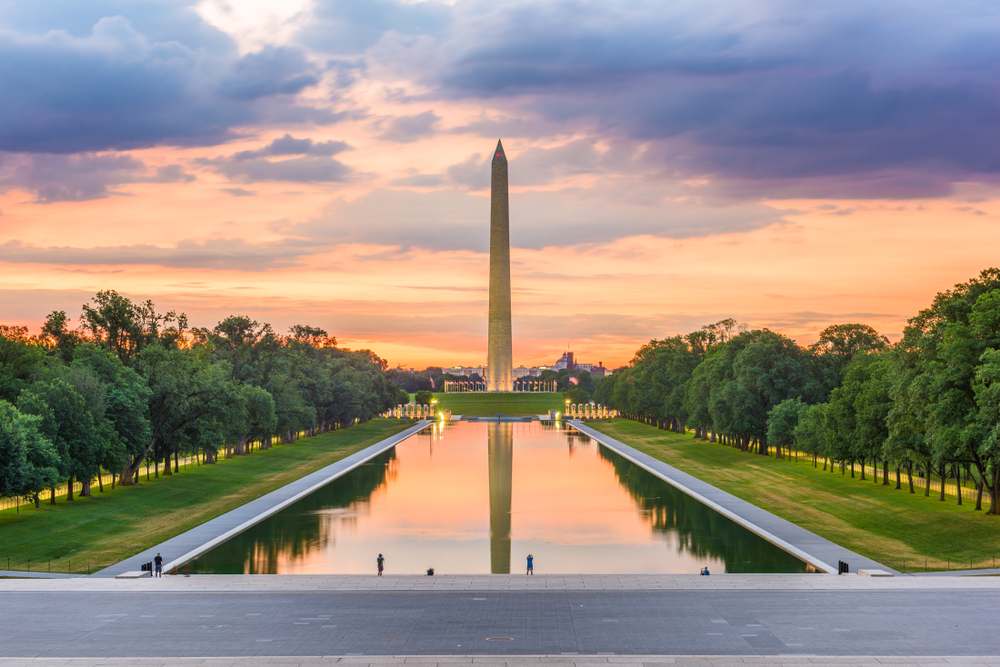 Jefferson Memorial Is One Of The Best Places To Visit In Washington DC
Yet another presidential memorial found in D.C. is the Jefferson Memorial. Along with being president, Thomas Jefferson was also an architect. His memorial is based on the Roman Pantheon, which he was a fan of.
This Washington DC attraction is found on the Tidal Basin and looks picturesque with its neoclassical columns and 128-foot tall dome. Inside, you will find a twenty-foot statue of Thomas Jefferson.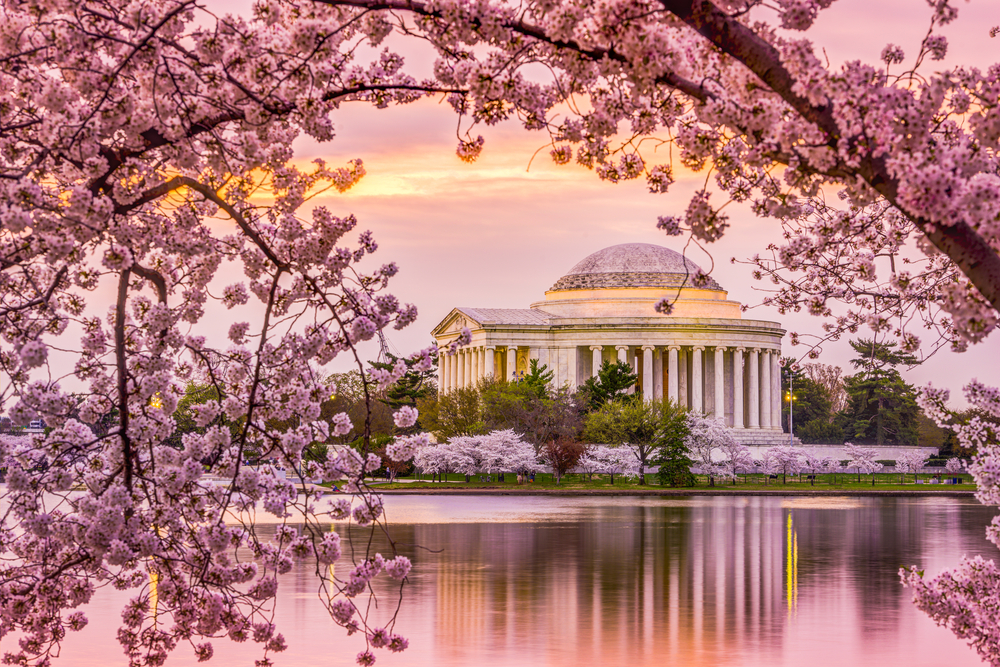 Martin Luther King, Jr. Memorial
Another of the best memorials in Washington DC is the one dedicated to Civil Rights activist Martin Luther King, Jr. It is found on the opposite side of the Tidal Basin from the Jefferson Memorial.
The memorial features a carving of MLK emerging from a 30-foot stone. The idea behind it is based on a line from his famous "I Have a Dream" speech: "…out of the mountain of despair, a stone of hope."
This is one of the newer memorials in the city, having only opened in 2011, and it is one of the best places to visit in Washington DC to be inspired.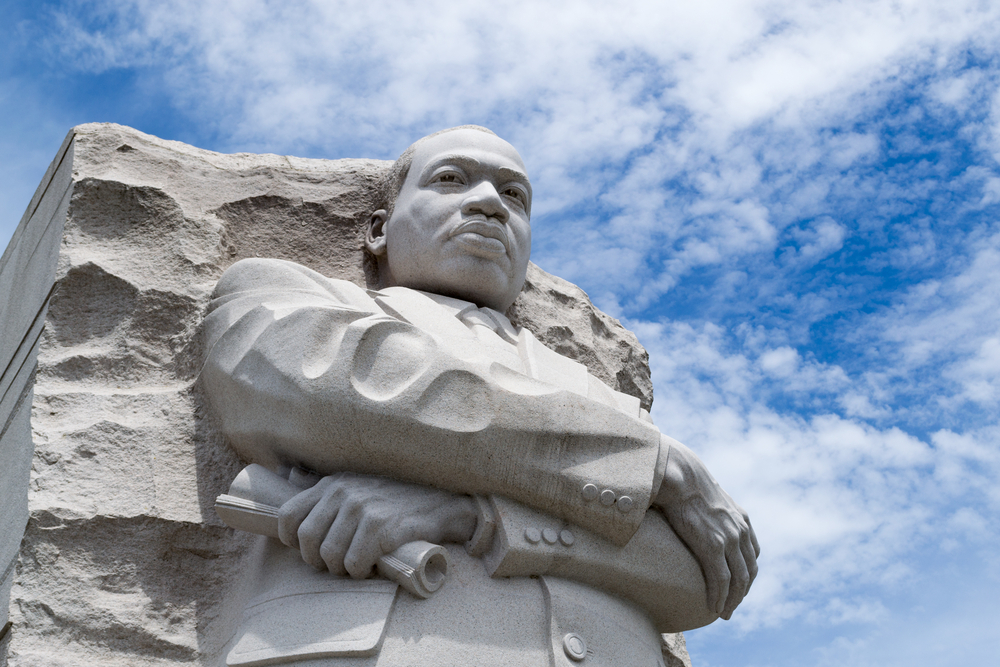 Vietnam and Korean War Memorials
There are many war memorials throughout Washington DC honoring those who have fought and given their lives for the United States. Two of those memorials are on either side of the Reflecting Pool.
The Vietnam Veterans Memorial is found on the north side of the pool and is a humbling place to visit in Washington D.C.
There are three parts to this memorial, the Three Soldiers, the Vietnam Women's Memorial, and the Vietnam Veterans Memorial Wall. The wall has the names of fallen soldiers.
The Korean War Veterans Memorial is on the south side of the pool. Nineteen seven-foot statues depict a platoon of soldiers as they march towards the Pool of Remembrance.
Both are very somber yet humbling places to see in Washington DC.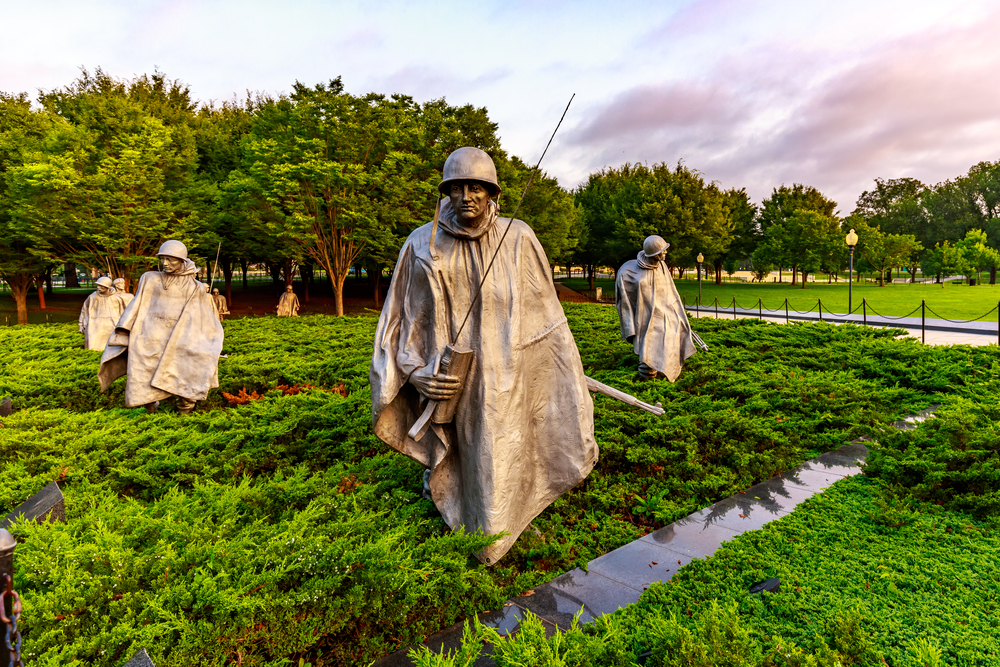 Washington National Cathedral Is One Of The Best Places To Visit In Washington DC
Whether you are religious or not, you will be awed by the Washington National Cathedral. This is yet another attraction not found on the National Mall.
You will need to drive about fifteen minutes northwest of the Mall to find this amazing neo-Gothic building. It is also surrounded by pretty gardens, woods, and nature paths.
While attending a church service is free, if you want to tour the cathedral, there is a fee. The sightseeing hours vary by day, so make sure to check them ahead of time.
A simply stunning Washington DC destination.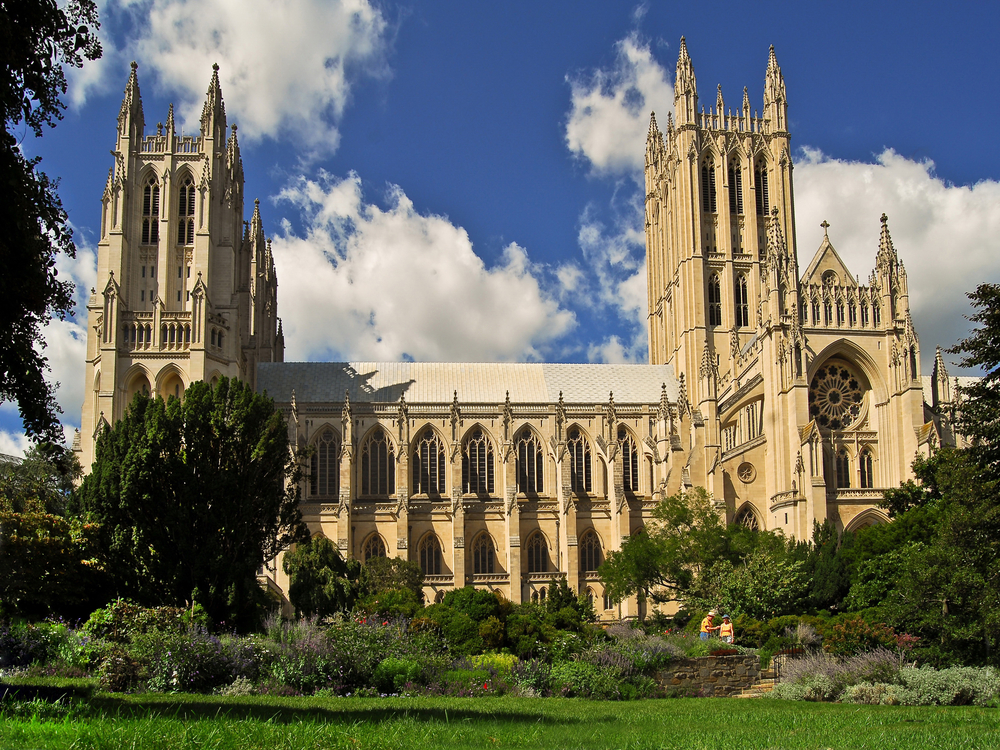 Basilica of the National Shrine of the Immaculate Conception
The Basilica of the National Shrine of the Immaculate Conception might be quite the mouthful, but this gorgeous building is definitely one of the best places to visit in Washington D.C.
This is the largest church in the country and is dedicated to the Virgin Mary. With its distinctive Romanesque and Byzantine styles and beautiful blue dome, you will be in awe.
The church is a fifteen-minute drive from the National Mall. It is worth the drive since this Washington D.C. attraction is free of charge to visit.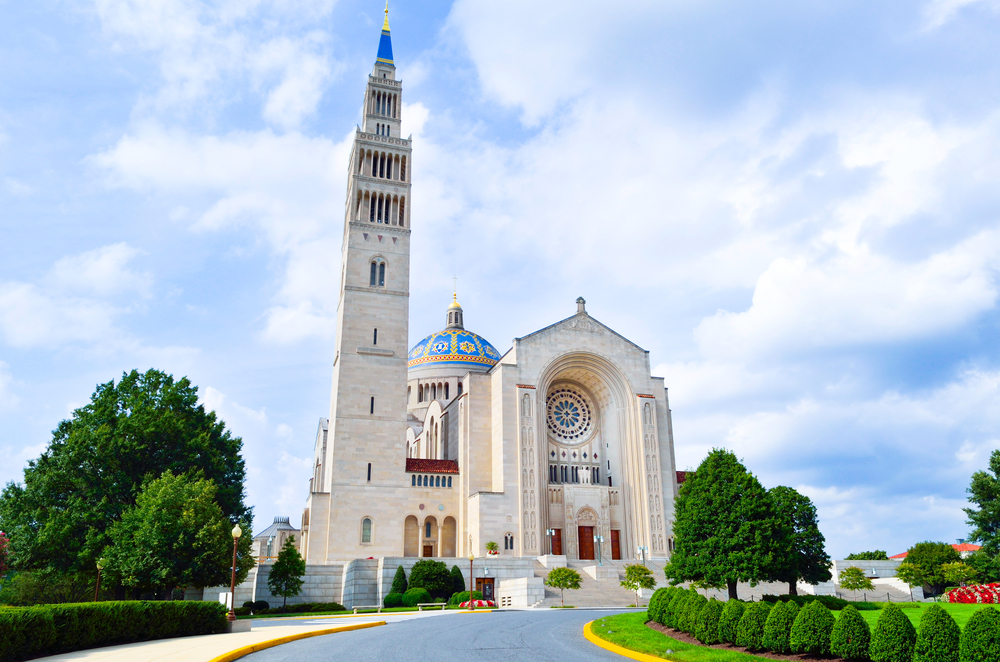 Packing List For Visiting Washington DC Attractions
If you will be traveling, either by plane or by car to Washington DC, here are some tips on how to pack lightly.
A concealed travel pouch may be one of the most important items you bring along when visiting DC attractions. It is always important to protect your personal information. Identity thieves are everywhere.
This unisex RFID blocking concealed travel pouch is lightweight and comes in several colors. It has lots of organization to give you peace of mind.
You can place it under your hiking clothes next to your body to carry your ID safely.
If you have a pouch already that does not come with the RFID protection, as I do, these RFID sleeves are the perfect solution.
This configuration comes with enough credit card sleeves that the entire family would be protected. They are slim too, so they will easily fit into your pouch or wallet.
If you are planning on taking a lot of pictures with your phone you will definitely want to consider an external charging battery. This Anker high-speed phone charging battery is the exact one I carry with me on all of my trips.
It can be used on a variety of phones, not just an iPhone like I have. And wow is it fast!
I like that it holds its charging capabilities for several uses so I do not have to worry about it while out and about, and if I forget to recharge it at night, it will still be good to go the next day.
My daughter gifted me with this FugeTek selfie stick and tripod setup for my birthday. I absolutely love it! It is made of lightweight aluminum and is so easy to use.
It has Bluetooth connectivity and is a breeze to use for taking selfies when staying in one of the best Airbnbs in Illinois.
Hydration is so important when traveling. You want to remain hydrated throughout your travels to support your immune system which in turn will be stronger to fight off any germs you will encounter during your travels.
You will want to bring your own refillable water bottle with you.
I never leave home on a trip without my Bobble filtration bottle. The 18.5-ounce size is perfect for hiking and it fits nicely in the pocket of a backpack.
When filled with water, it is not too heavy to carry. And the charcoal filter ensures fresh clean water whenever you fill the Bobble.
Perhaps you are traveling a long distance and packing space is a premium in your suitcase, or in your car.
Then this set of collapsible silicone foldable water bottles would work well for you. Would not take up much space at all.
You will want a backpack or daypack with you to store snacks, your water bottle, phone, extra clothes, etc.. when hiking This foldable water-resistant backpack would be great
It is very affordable and is available in many color options for you to choose from. The fact that it folds down into a zippered pouch will make it easy to pack.
—
There are so many amazing and interesting places to visit in Washington DC You could stay in the city for a month and still not see it all.
Washington DC activities include amazing museums, beautiful memorials, and historically significant buildings. No matter how you plan your DC itinerary, you will have a great vacation!