Are you looking for the best restaurants in Vienna? You are in the right place.
In this article, I will walk you through the top restaurants in Vienna and tell you everything you need to know about the food in this incredible city.
Vienna is an incredible city known for its imperial palaces, historic and contemporary buildings, and incredible food.
It's a city that brims with artist flair, opulence, and echoes of times gone by. Nowhere is this more evident than in the restaurants and cafes that line the streets.
The cuisine here is diverse, often innovative, and always delicious.
From Michelin-starred restaurants to rustic family-owned bistros the city really does have something for everyone. Vienna restaurants cater to every taste and sensibility.
So are you ready to see which I feel are the best restaurants in Vienna? Pull up a chair grab a drink and let me walk you through the best places to eat in Vienna.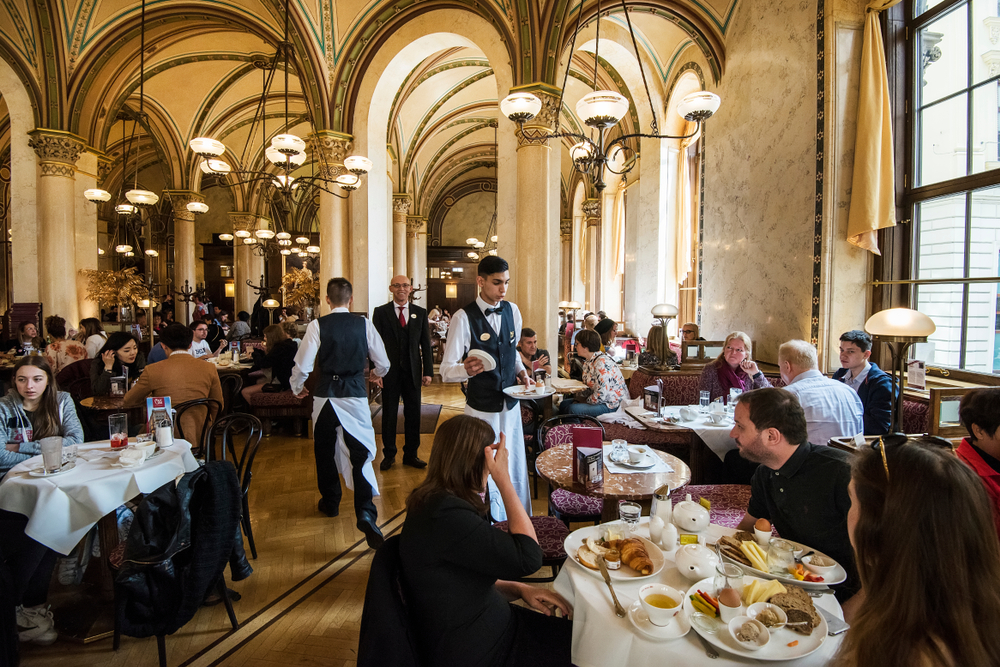 15 Best Restaurants In Vienna You Must Try
The Jausen Station
if you are looking for brunch in Vienna then head to The Jausen Station. This seasonal restaurant is set in the Schönbrunn Palace gardens and is perfect for families.
It's a pavilion-style cafe that serves some of the best food in Vienna. The veranda is a wonderful place to eat all decked out with colored tables and chairs.
The Pavillion is a place where the Emperor's children once played and the fenced-in play area will ensure your children are entertained.
The menu is full of dishes made from organic produce, delicious pastries, and some great milkshakes.
This is a great place to stop with your family after exploring the gardens and have a leisurely brunch or lunch.
Oben Kitchen and Bar
Breakfast in Vienna normally consists of ham, cheese, eggs, bread, and jam, and nowhere does it better than the Oben Kitchen and Bar.
Just above Vienna's Central Library, it's a stylish place with a huge roof terrace.
Breakfast comes in many forms here including vegan options. If the European options are not for you they do have pancakes.
Their philosophy here is that 'Enjoyment is a way of life and an art' which I love.
And this comes through with everything they do from their high-quality produce used to thinking about their customer well-being.
This restaurant in Vienna should be top of your list. They also do a great Sunday brunch here, they serve some of the best Vienna food.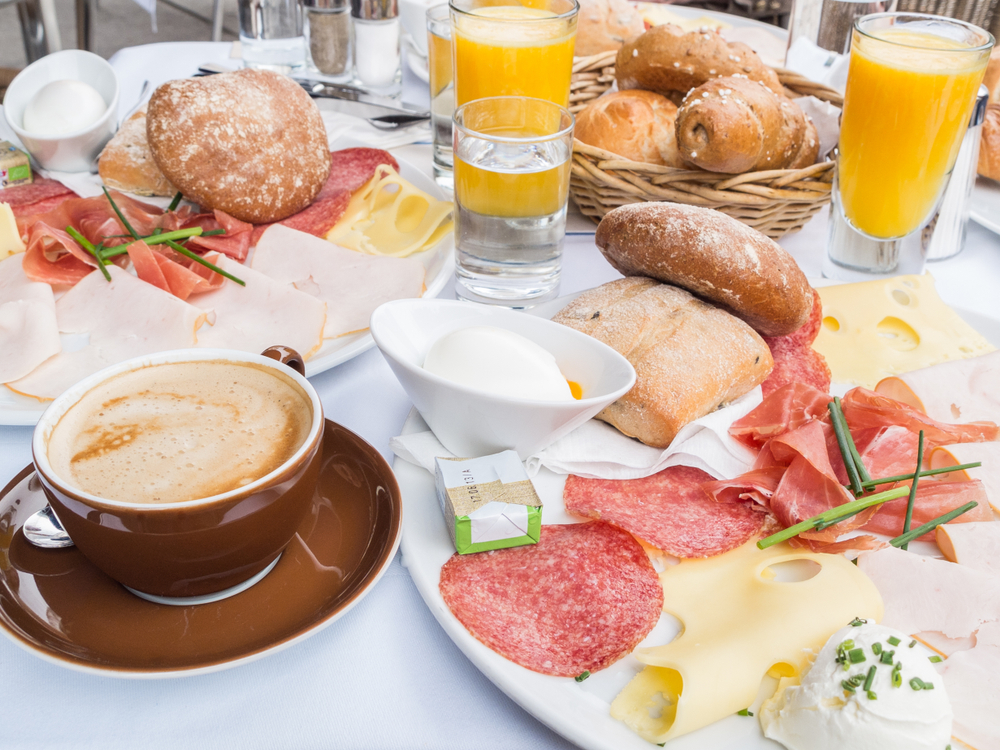 Amador
This three-Michelin-star restaurant in Vienna is a must-visit for that special occasion. On the edge of the historic district, it might have you rethinking what a Michelin-star restaurant is.
Here everything is parred back. The vaulted cellar is simple yet elegant and the creative cooking pulls from many influences.
Chef Juan Amador has a unique approach to cooking. It's a rustic yet simple style with Juan himself referring to his cooking as the parred-back little black dress.
And indeed the kitchen is open and everyone can see what is happening.
Food changes with the produce available, but there are heavy Asia and Mediterranean influences.
This is one of the top restaurants in Vienna and a great place to take a special someone.
Skopik And Lohn
If you looking for the best Schnitzel in Vienna then head here. If you don't know, schnitzel is a slice of meat thinned by pounding and then breaded and fried.
The food is great quality and seasonal and many praise how helpful the staff is here.
Inside it looks somewhat like an art installation with a black and white spiraled painted ceiling giving way to wood and crisp white tablecloths.
The Schnitzel here is so popular there was a local uproar when they tried to take it off the menu.
It's served with a choice of potato salad or cucumber salad in a dill yogurt sauce and it is oh-so-delicious. The portion is big and the meat is so tender you can cut it with a fork.
If you are looking for that ristorante Vienna feeling come here. Book in advance if you can as it does get busy.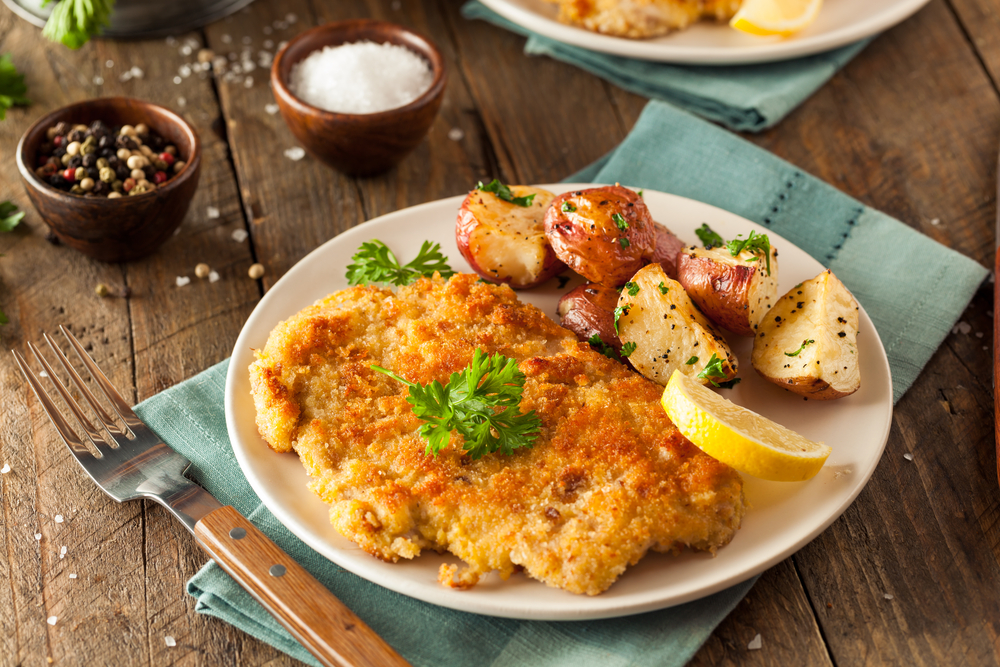 Rollercoaster Restaurant
If you are looking for a truly unique experience then head to the Rollercoaster Restaurant it's one of the best places to eat in Vienna.
Situated next door to Madame Tussaud's on the second floor of an unassuming building is a restaurant like no other.
When you walk through the door you are greeted with something that is hard to describe.
Small neon-lighted tracks snake around the building and tables, it has that futuristic feel that wouldn't look amiss in a virtual reality world.
Here you order on an electronic tablet, and you can watch robot arms shake drinks. Food is delivered on mini 'rollercoaster' type carriages. Children will love it here.
The menu is diner-type food with some vegan options but you really do come here for the experience. This is a great place for a fun lunch.
Vollpension For Brunch In Vienna
if you are looking for brunch in Vienna then head to Vollpension. Set in the 4th district there is something so homely and comforting about this place.
Vollpension is the German word for pension and this restaurant is known as 'granny's' cafe because its aim is to unite the young and the elderly.
The cafe is staffed by senior citizens who pass on their knowledge of baking and life to their customers.
It's truly unique and a wonderful venture. It has that living room feel inside and the menu is as wholesome as the cafe.
It's a delightful place to spend some time and serves some of the best food in Vienna.
Crème de la Crème For Breakfast In Vienna
This family-run patisserie serves the best breakfast in Vienna is the most delightful surroundings. Inside it's a delightful mix of gold and white with an elevated feel.
Here they take their patisserie seriously.
It's just a short walk from the University of Vienna in Josefstadt and is the place to come for pastries like no other. Many believe here is where you find the best croissant in town.
Everything is french inspired with Mousse au Chocolat and Tarte à la vanilla being popular choices although perhaps not for breakfast.
Breakfast items include pastries, traditional Austrian Breakfast, avocado on toast, and the like.
This is a beautiful little establishment and perfect for the last morning breakfast. It's one of the best restaurants in Vienna Austria.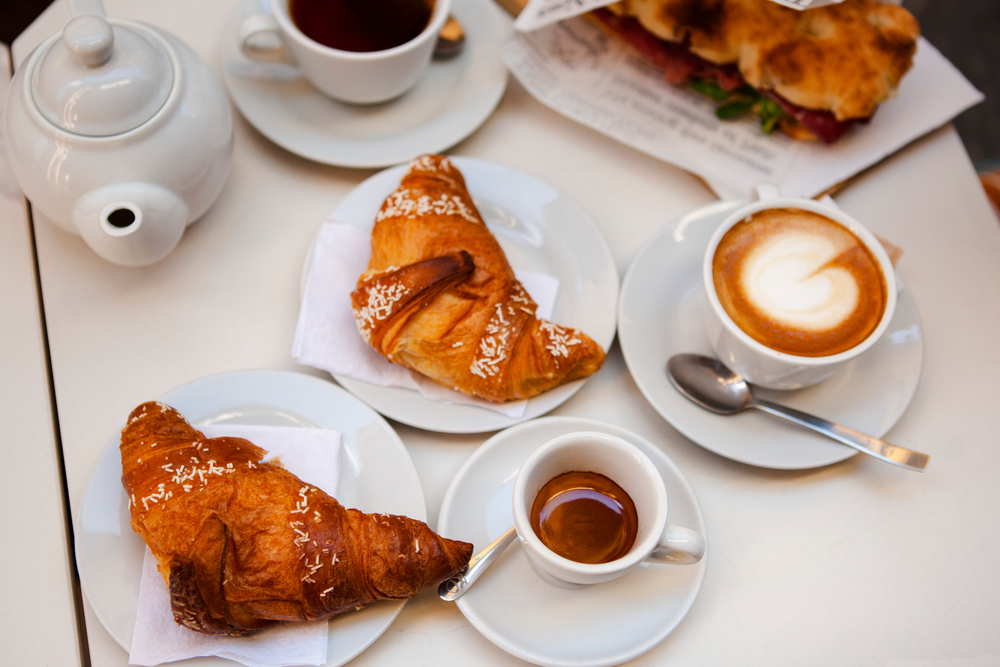 Pfarrwirt
Pfarrwirt serves some of the best Schnitzels in Vienna. It is known as the oldest tavern in Vienna and is in the 19th district garden.
In summer you can dine in the garden and in winter inside the historic house. It's a great place to bring guests and has a wonderful feel about it.
The menu changes with the season but the famous Schnitzel stays put. Here the batter is light the meat tender and is served with a side of potato salad.
This is one of the best restaurants in Vienna, Austria.
Restaurant Steirereck
Restaurant Steirereck serves Austrian cuisine in a contemporary setting and both will blow you away.
Within the Stadtpark, this restaurant is a stunning metal building that has an incredible interior. This is a restaurant that makes a statement before you even enter.
When it comes to Michelin-star restaurants in Vienna they don't get much better than this. It has been named one of the top 100 restaurants in the world.
The food is fresh and they serve traditional and contemporary Austrian dishes.
Menu items include such items as Tiger Trout with Golden Beet, Piglet´s Tail with Swiss Chard, Wild Duck with black Walnut, and Pompoen' Pumpkin with Red Beet.
If you are looking for a great restaurant in Vienna for a special occasion then this might be right up your alley.
Plachutta Vienna
If you are wondering where to eat in Vienna then how about the world-famous Plachutta Vienna? It's the place to go in Vienna to get Tafelspitz.
Tafelspitz for those that don't know is a dish consisting of boiled veal or beef in broth, served with a mix of minced apples and horseradish.
It's a classic Viennese dish and this is the place to come for it.
If you love beef this is the restaurant in Vienna to come. The Plachutta family has six similar restaurants all equally as good.
At Plachutta for your Tafelspitz, you first choose your cut of meat, and then it is cooked at the table in a copper pan.
You are first served the broth from the pan with vegetables and the meat is taken out for your main. It's a unique and delicious experience.
If you are looking for great food in Vienna this is the place to come.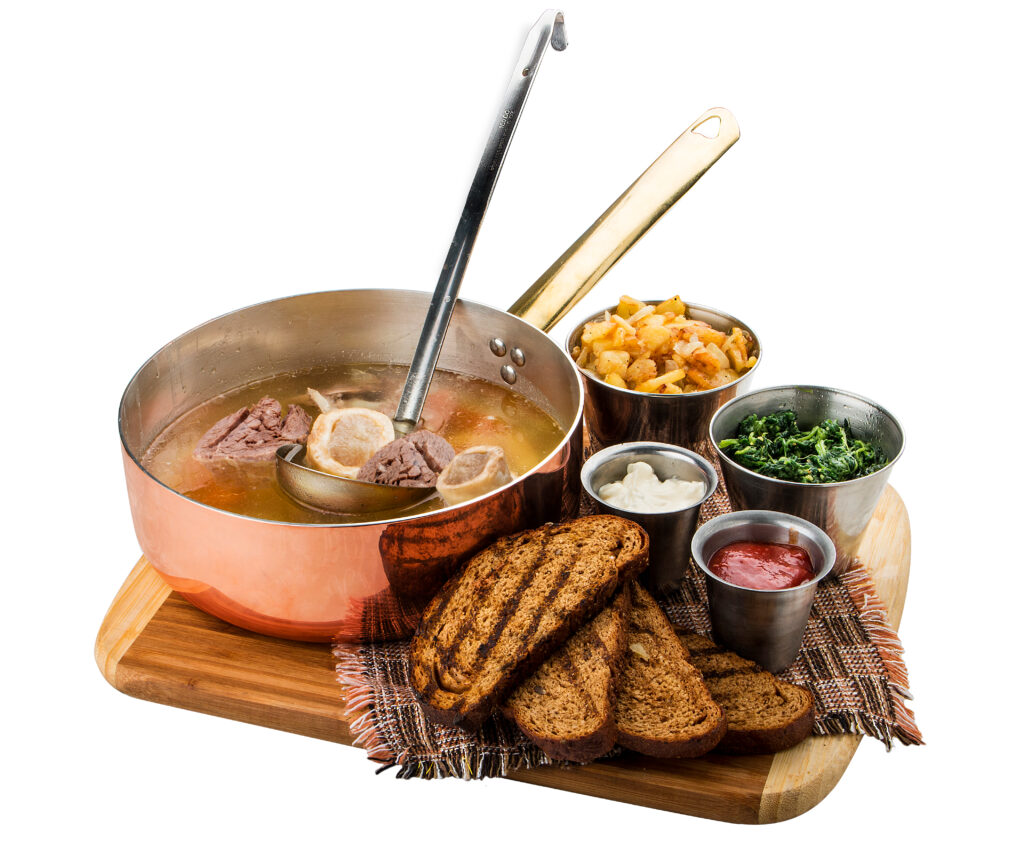 Mama Liu And Sons
If you looking for Chinese food in Vienna then Mama Liu And Sons might be the place for you. This trendy yet simple restaurant serves great food at decent prices.
The hero of the show here is the fried and steamed dumplings coming in a variety of flavors. Their Hot Pot is also delicious with a vegan option. They are large enough to feed two.
The menu isn't huge but it's thoughtful with something for everyone. You can have a full meal or just drinks and a dim sim at the bar. Whatever you choose you will enjoy it here.
Pepper And Ginny Is A Great Vegan Restaurant In Vienna
If you are looking for great vegan food then you are going to love this place. Everything here is plant-based and it's a great place for lunch.
They serve bar and bistro classics including an incredible vegan lox which many say is the best they have ever tasted.
On Saturdays, they do an amazing brunch which includes vegan egg dishes, cheese, and other delights.
This place is a delight for vegans. It's elevated vegan food that really will make you happy you are choosing to eat plant-based.
They serve some of the best food in Vienna here. You will love it.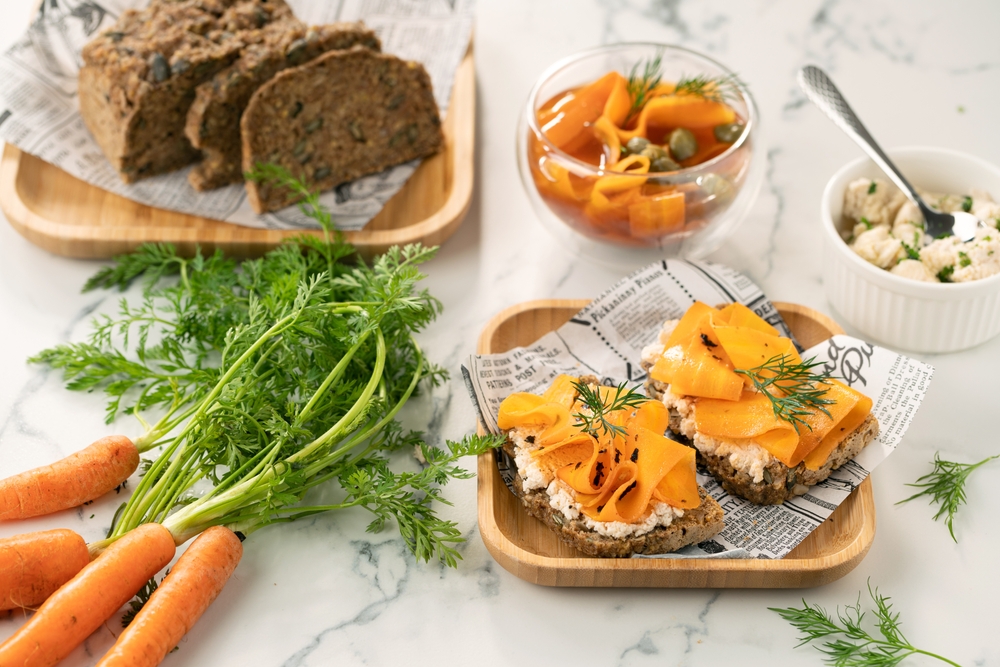 Pizzi's And Cream
Looking for the best vegan pizza in Vienna you have found it. Whatever kind of pizza you want you will find it here all plant-based.
Pizza comes in all sorts of flavors including ones made with vegan tuna, vegan pulled pork, and cashew mozzarella. Whichever you choose they are all delicious.
You can buy the slice and everything here is made in-house including the dough and cheese. And make sure you save some room for dessert as this vegan ice cream is delicious.
A great place to get a quick lunch while enjoying the sights in Vienna.
Vevi Is One Of The Best Vegan Restaurants In Vienna
This low-key vegan restaurant in Vienna serves some of the best vegan Vietnamese food you will find.
The menu is full of vegan takes on Vietnamese dishes. Expect Vietnamese spring rolls, Bánh Mi, and Pho which are all delicious.
The food is so elevated here many can't believe it is all plant-based and locals love this place. And the best part is it's so reasonably priced that you will definitely leave with a smile on your face,
This Vienna restaurant is perfect for a quick lunch for those on a plant-based diet.
Café Central
When it comes to Vienna restaurants none are as grand as Café Central.
It is located inside Palais Ferstel, a palatial mansion house inspired by Venetian Trecento-era architecture. Many famous people have frequented this eatery.
Trotsky and Freud both were frequent customers and the line outside is a testament to this place's mark on the city. It's pricey and busy but this place has to be experienced.
There are no words to describe the beautiful interior and the historic atmosphere. You have to see it to believe it. Do yourself a favor and visit it.
The menu includes classic Viennese dishes, sweet treats, and traditional coffee, and I'm told the apple strudel is out of this world.
This place will leave you with memories to savor and is the perfect venue. It's open from 9 until early evening and is the perfect place for breakfast.
It's one of the best restaurants in Vienna Austria.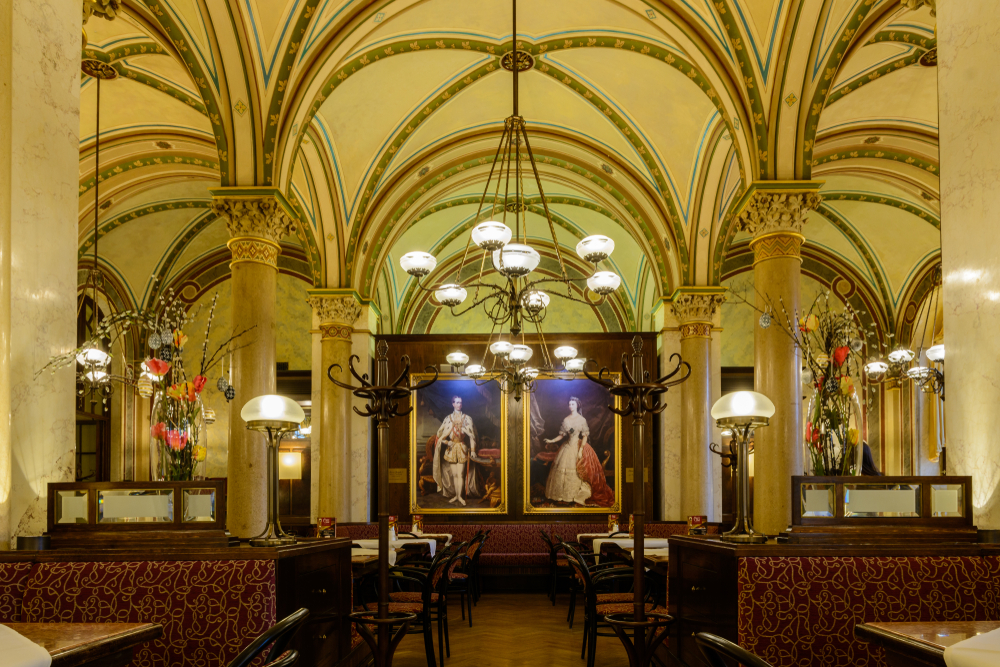 Packing List For Visiting Vienna Austria
It is always a great idea to pack lightly using only a carry-on when visiting Vienna.
A concealed travel pouch may be one of the most important items you bring with you when you are exploring the best restaurants in Vienna.
This unisex RFID-blocking concealed travel pouch is lightweight and comes in several colors.
It has lots of organization to give you peace of mind. You can keep your most valuable documents safe and secure next to your body.
If you have a pouch already, you may not want to or need to invest in a new one, like me.
If it does not come with RFID protection, these RFID sleeves would be handy to prevent identity theft.
This configuration comes with enough passport and credit card sleeves that the entire family would be protected.
They are slim too, so they will easily fit into your current pouch or wallet. These are the kind my family and I use not only when traveling but at home as well.
If you are planning on taking a lot of pictures with your phone you will definitely want to consider an external charging battery.
This Anker high-speed phone charging battery is the exact one I carry with me on all of my trips. It can be used on a variety of phones, not just an iPhone like I have.
My daughter gifted me with this FugeTek Selfie Stick and Tripod for my birthday. It has Bloothtooth connectivity so it is very easy to use.
I was never a fan of packing cubes until I tried them out! Now I am sold. These Bagail packing cubes are the exact ones I use whenever I travel.
I cannot believe how much more organized I am now! And I never leave without them anymore.
I never leave home on a trip without my Bobble filtration bottle. The 18.5-ounce size is perfect for travel and it fits nicely in the pocket of a backpack or your purse.
Also when filled with water, it is not too heavy to carry.
Perhaps you are traveling a long distance and packing space is at a premium. Then this collapsible silicone foldable water bottle would work well for you.
Would not take up much space in your suitcase at all.
You will want a backpack or daypack with you to store snacks, your water bottle, phone, extra clothes, etc. This foldable water-resistant backpack would be great.
—
As you can see when it comes to the best restaurants in Vienna there are so many to choose from.
In this article, I have included what I feel are the best places to eat in Vienna but obviously, it's all subjective.
Vienna food is amazing and all these restaurants are great in their own way. Whichever you choose I know you will have a fabulous time.
Come back ad tell me all about it and have a great vacation in Vienna.