If you're looking for the best pubs in Dublin, then you've come to the right place!
Dublin was my first solo adventure and it's still one of my favorite places to visit.
There are tons of exciting things to do in Dublin, and one of the top attractions are the Dublin pubs.
In fact, I don't think you can travel to Ireland, and especially Dublin, without visiting at least one pub.
For those who don't like to drink alcohol, almost all of these Dublin pubs also serve a full food menu.
That means you can still get to experience the magic and experience of a classic Dublin Irish pub.
Even if you aren't a drinker, it's a really cool experience.
Many of the pubs in Dublin are practically ancient, especially to Americans.
Within the city limits, there are pubs that date back all the way to the 12th century.
But, there are modern pubs to visit too if historic pubs aren't your thing.
So, let's take a look at 15 of the best pubs in Dublin that you absolutely have to visit!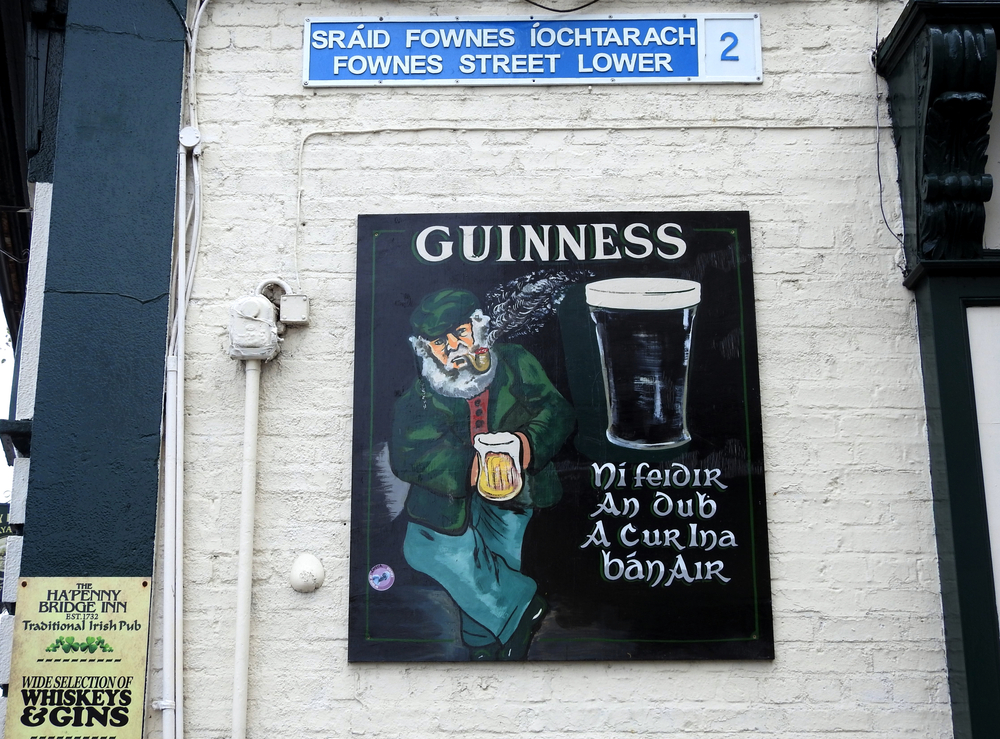 15 Best Pubs In Dublin You Must Visit
Temple Bar Is Dublin's Most Popular Pub
When you start your search for pubs in Dublin, there are a few places you'll see over and over again – and for good reason!
One of those is the Temple Bar, which is the most popular pub in Dublin.
On Google alone, the Temple Bar has over 27k reviews and an average score of 4.6 stars. That's pretty impressive!
Temple Bar originally opened in 1840 and is partially so popular thanks to its colorful past.
When it opened, it was the go-to place in Dublin for a night of debauchery.
Today, it's best known for having the largest collection of Irish whiskey in Ireland. The collection currently includes over 450 kinds of rare whiskey.
When you walk through the door, you'll be greeted by live traditional Irish music. So, you can fully immerse yourself in Irish culture while you sip your whiskey.
If you want to sample rare whiskey then you have to make a stop at Temple Bar, Dublin's most popular pub.
So even if you only have one day in Dublin, put this on your list!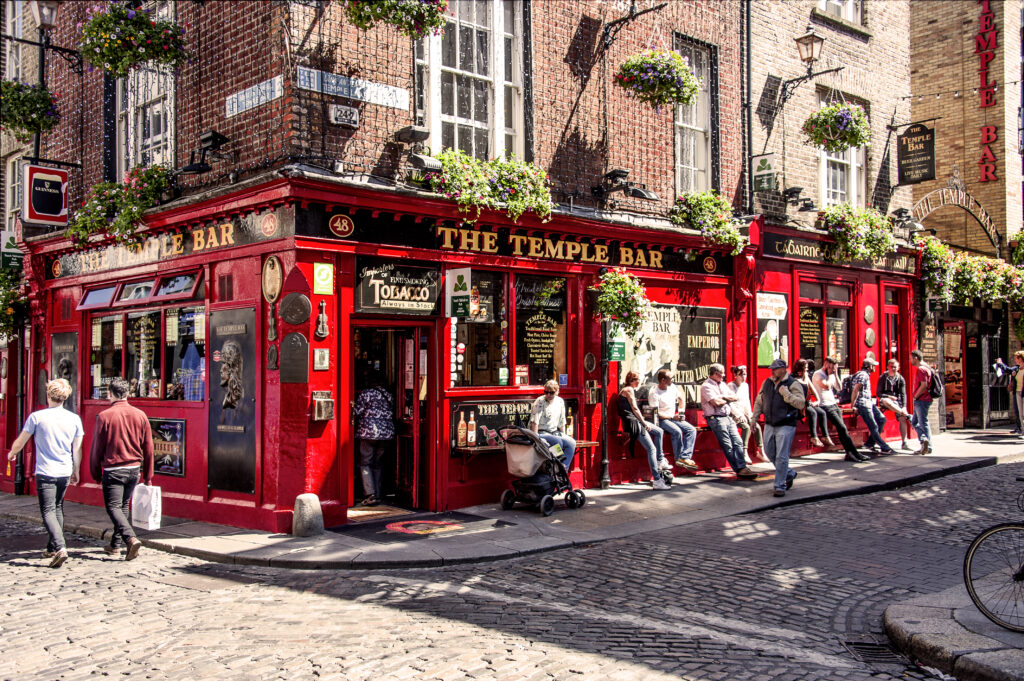 Try Irish Classics At The Celt
One of the best pubs in Dublin if you want the full immersive Irish experience is The Celt.
The Celt is located in northern Dublin and is open for lunch and dinner daily.
Also daily, starting at 9:30 pm they have a live band that plays traditional Irish music.
What makes it the full experience is the pub's vast menu. When you visit The Celt, you'll get to try not only Irish beer and whiskey, but Irish food too!
The Celt might be the best pub in Dublin for food thanks to its classic Irish menu.
On their menu, you'll find dishes like beef and Guinness stew, bangers and mash, and chowder with smoked haddock, salmon, and cod.
Their bar menu is also full of Irish classics like Guinness and Smithwicks on tap.
The Celt is definitely one of the best pubs in Dublin!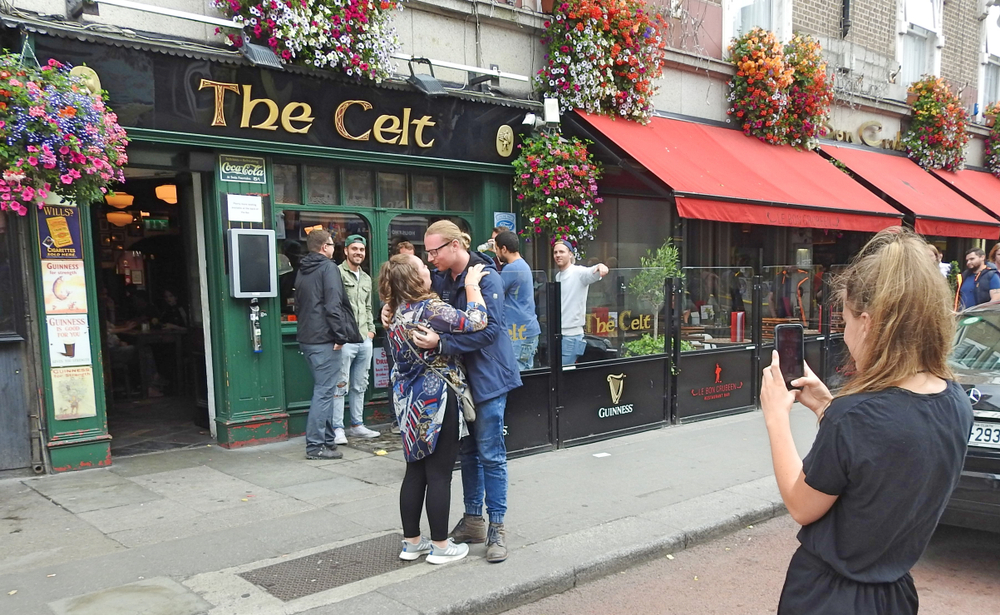 Kehoes Heritage Pub Is A Traditional Dublin Pub
If you want to visit a traditional Dublin pub, consider a trip to Kehoes Heritage Pub.
Kehoes Heritage Pub started building in 1803 and was finished towards the end of the 19th century.
It's full of classic Victorian charm with beautifully stained glass doors, partitions, and old Irish snugs.
Kehoes is one of the Dublin city center pubs that has become a popular establishment for both locals and tourists to visit.
Part of that is because of its charm, but partially because it's also known to have the 'best pint in Dublin'.
You can visit Kehoes daily from lunch until well into the night. They have different closing times depending on the day of the week.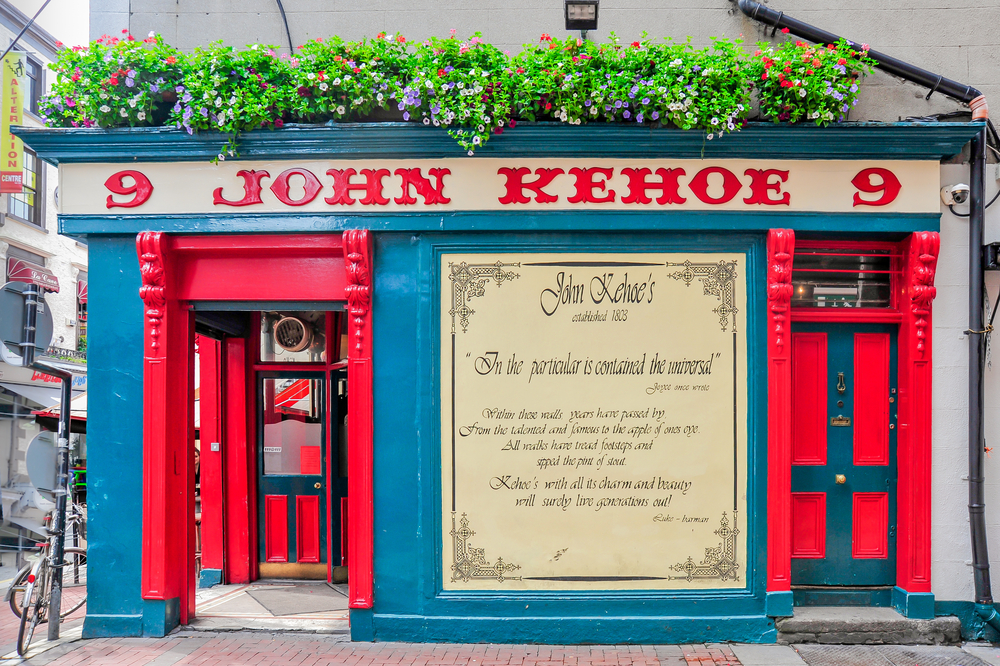 The Stags Head Is One Of The Best Pubs In Dublin
The Stags Head is a traditional Dublin pub that was established in 1770.
At the time, it was a different pub under a different name, but in the same building.
In the 1830s, The Stags Head really became what it's known for today, under the name 'John Bull's Albion Hotel and Tavern'.
It was close to all the theaters in Dublin and fashionable stores.
So people traveling to Dublin to experience the theater and shopping would stay there.
It quickly gained a reputation for excellent food, a good pint, and a nice place to stay!
Today, that reputation continues to draw visitors from all over the world to The Stags Head.
So, stop in The Stags Head for Dublin's best pub food and a refreshing pint of Guinness!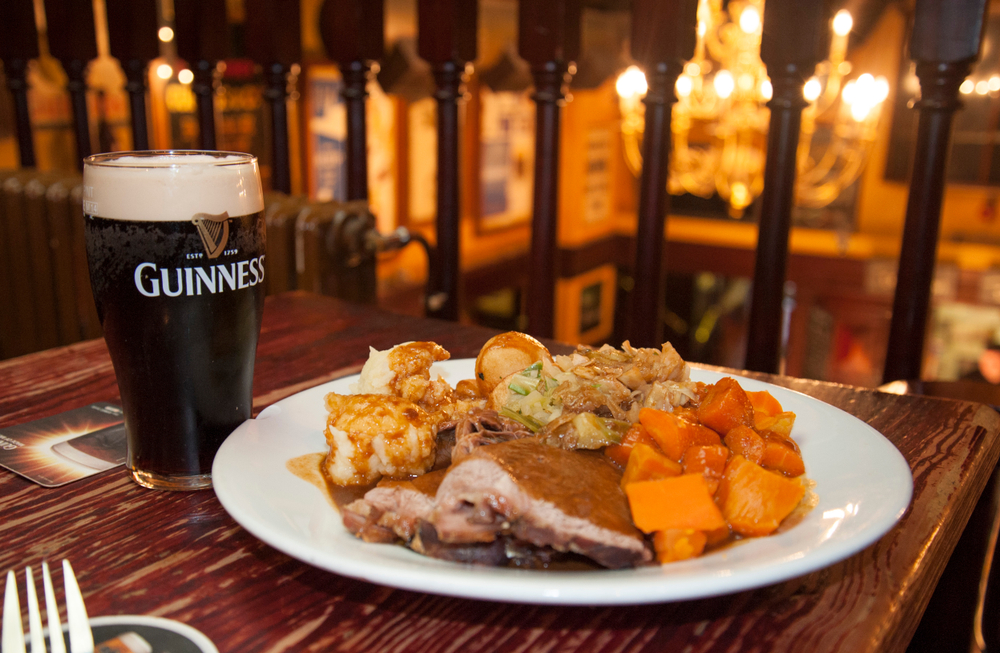 The Brazen Head Is Dublin's Oldest Pub
Dublin's oldest pub can be found on Bridge Street. The Brazen Head has been in its current building since 1754 and was a coaching inn.
However, there are documents referring to this pub in Dublin as far back as 1653.
Plus, since 1198, there has been a hostelry of some kind on the property.
So, The Brazen Head's roots are deep in Dublin's history.
Brazen Head Dublin is open Monday through Sunday, from 12 pm until 'late'. They serve food in the bar until 9 pm.
It's an iconic Dublin city center pub and has been for a very long time.
So you definitely want to take the time to visit, grab a pint, and enjoy a traditional Irish meal.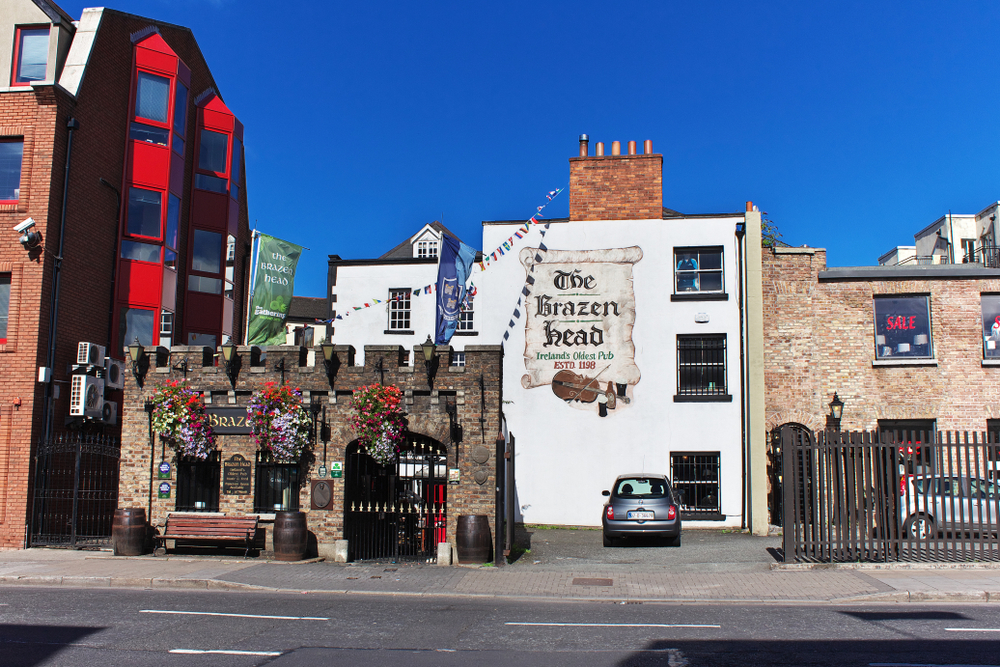 Hear Traditional Irish Music At The Cobblestone
The Cobblestone describes itself as 'a drinking pub with a music problem'.
That's because they're known for their nightly traditional Irish music sessions.
The family that owns The Cobblestone is a group of renowned traditional Irish musicians, and they play nightly in the pub.
They start are different times, depending on the day of the week.
The Cobblestone is located in the historic Smithfield neighborhood in Dublin.
So it's a great place to stop for the night after exploring Dublin.
If you want a unique experience at a Dublin Irish pub, then head to The Cobblestone.
There are many places to have brunch in Dublin the next morning!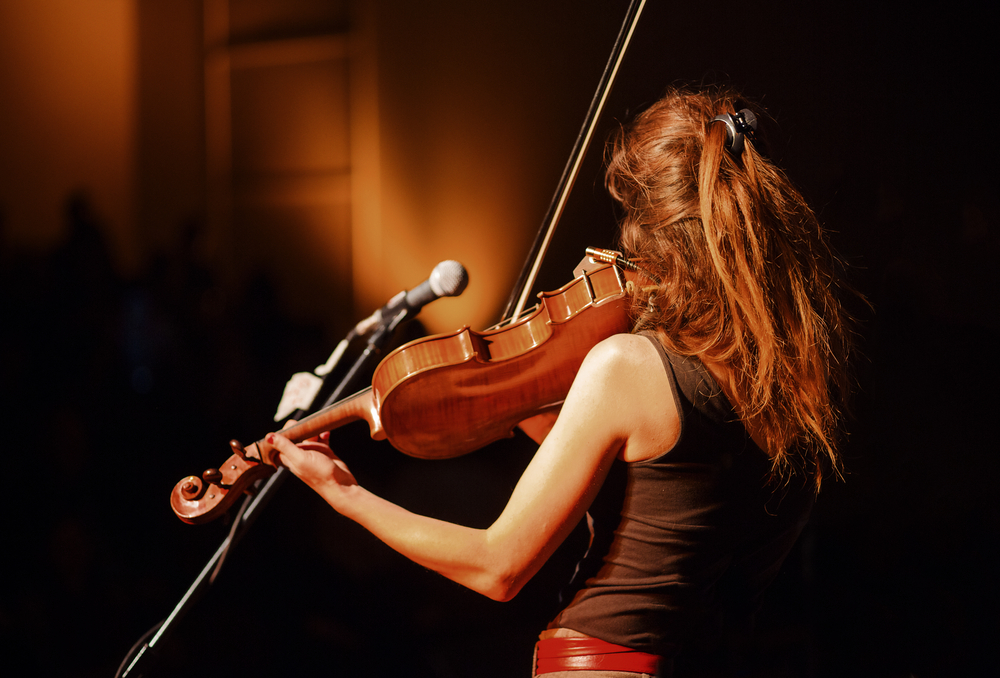 Mulligan's Is An Iconic Dublin City Center Pub
Mulligan's Pub is just a two-minute walk away from Dublin's main thoroughfare.
It's one of the best Dublin City center pubs and has been open since 1782.
Mulligan's is famous for a number of reasons.
The pub of course serves classics like Guinness and Irish whiskey. But it's long attracted famous writers to sit and enjoy a pint.
Irish author James Joyce was a regular at this Dublin bar and in the mid-1950s John F. Kennedy visited the pub when he was a journalist for Hearst Newspapers.
That's just to name a few of the bar's famous visitors!
Inside you'll find an elegant and simple pub reminiscent of the 18th century, thanks to some of its original decor.
You can also see where James Joyce sat for hours and pay tribute to the iconic Irish writer.
If you are spending the weekend in Dublin, you should definitely visit this pub!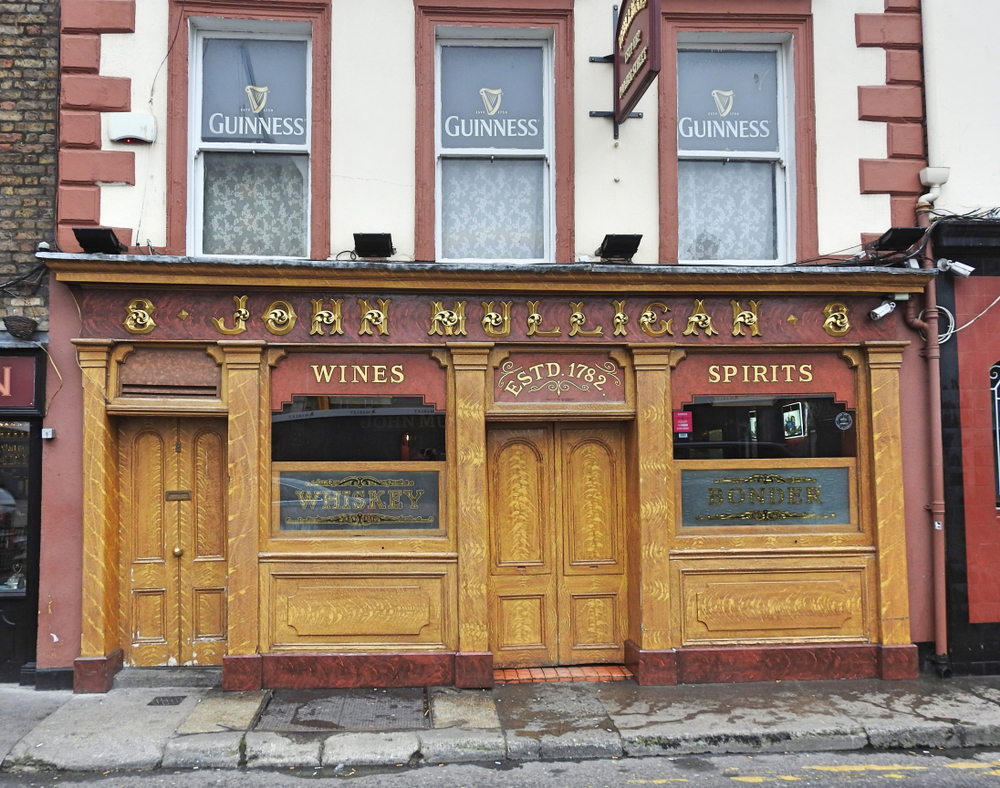 Try A Traditional Irish Meal At O'Donoghues Bar
O'Donoghues Bar is another one of the best pubs in Dublin's city center.
Unlike most of the pubs in Dublin, O'Donoghues is actually open 7 days a week, starting at 9 am.
That's because they serve a full Irish Breakfast daily from 9 am to 3 pm.
O'Donoghues' full Irish Breakfast includes a ton of food, so you can start your day exploring Dublin with a full stomach.
There is sausage, bacon, black pudding, white pudding, fried egg, roasted tomato, hashbrowns, beans, and toast.
No matter what time of day you're enjoying the full Irish breakfast, you can enjoy it with a pint of classic Guinness.
Throughout the week, they also have live music and other events.
It's truly one of the best pubs in Dublin's city center!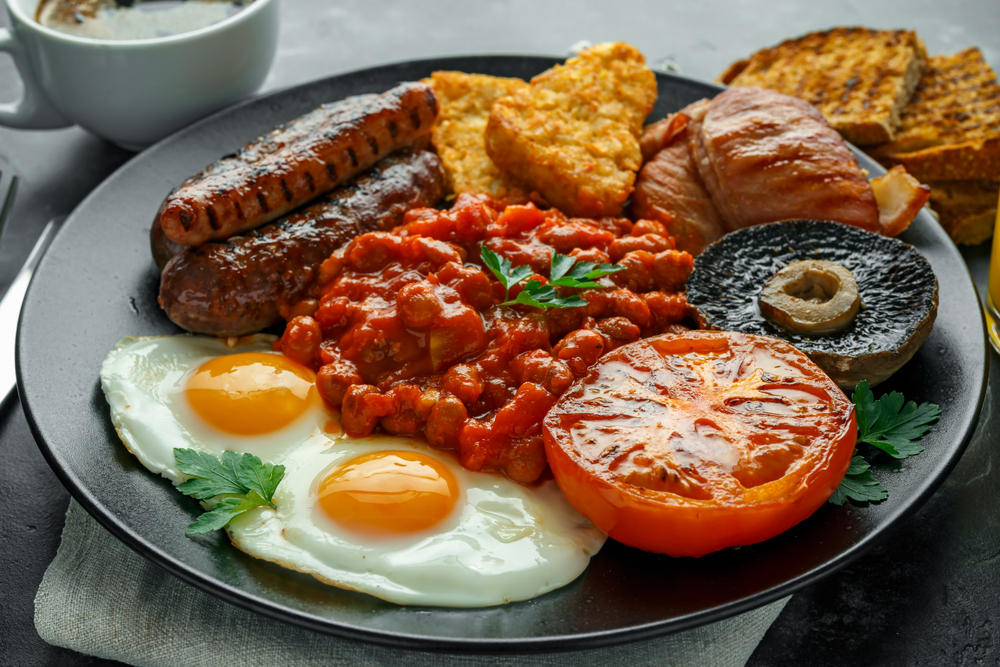 The Palace Bar Is A Victorian Era Pub In Dublin
The Palace Bar is a small and cozy Dublin pub that was established in 1823.
It features tons of stained glass, Victorian wooden booths, and a bar with over 100 varieties of Irish whiskey.
It's in the Temple Bar neighborhood, right around the corner from the famous Temple Bar pub.
But unlike the Temple Bar, The Palace Bar is mostly full of locals looking for a quiet place to enjoy a pint or dram of whiskey.
So, it's not your typical 'tourist trap' style pub in Dublin.
It's perfect if you're looking for a quiet spot to have a drink with friends, away from all the more touristy areas of Dublin.
You'll of course find Guinness on tap, but they also are known for championing local Irish breweries that maybe aren't so well known.
So lovers of craft beer will definitely want to make a stop in The Palace Bar.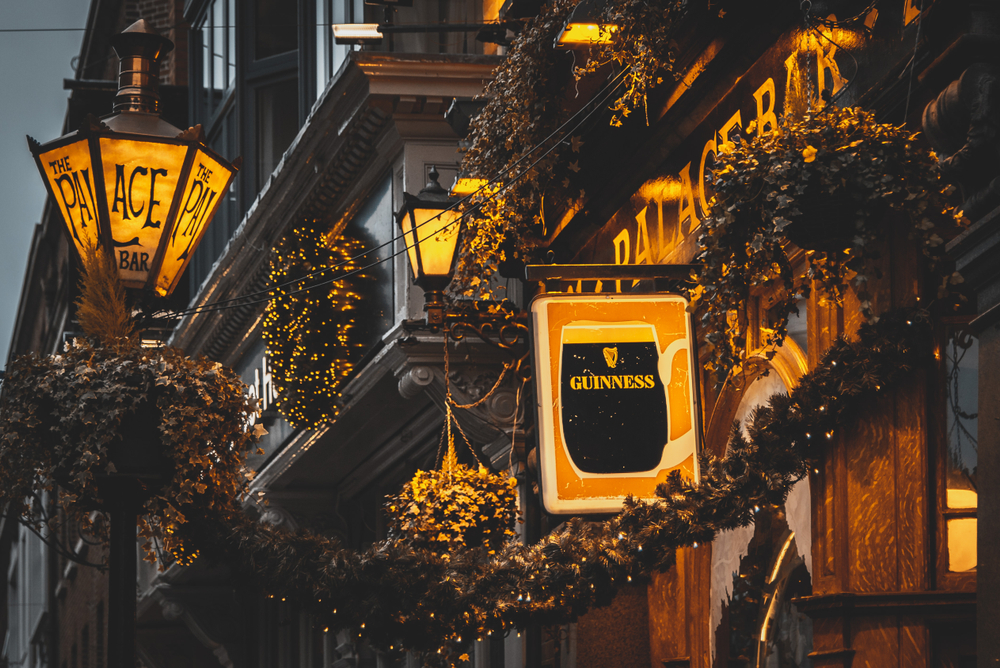 Murray's Bar Is A Modern Dublin Pub
One of Dublin's newest pubs is Murray's Bar. Murray's has been open in Dublin for over 20 years and has become a staple in Dublin's pub scene.
If you're looking for a more modern Dublin Pub, definitely visit Murray's.
The pub is full of TVs playing a variety of sports, they have live music on the weekends, and classic pub food.
Their pub menu includes burgers, bangers and mash, fish and chips, and steak and Guinness pie.
Murray's is open six days a week and everyone of all ages is welcome to stop in for a delicious meal and a good drink.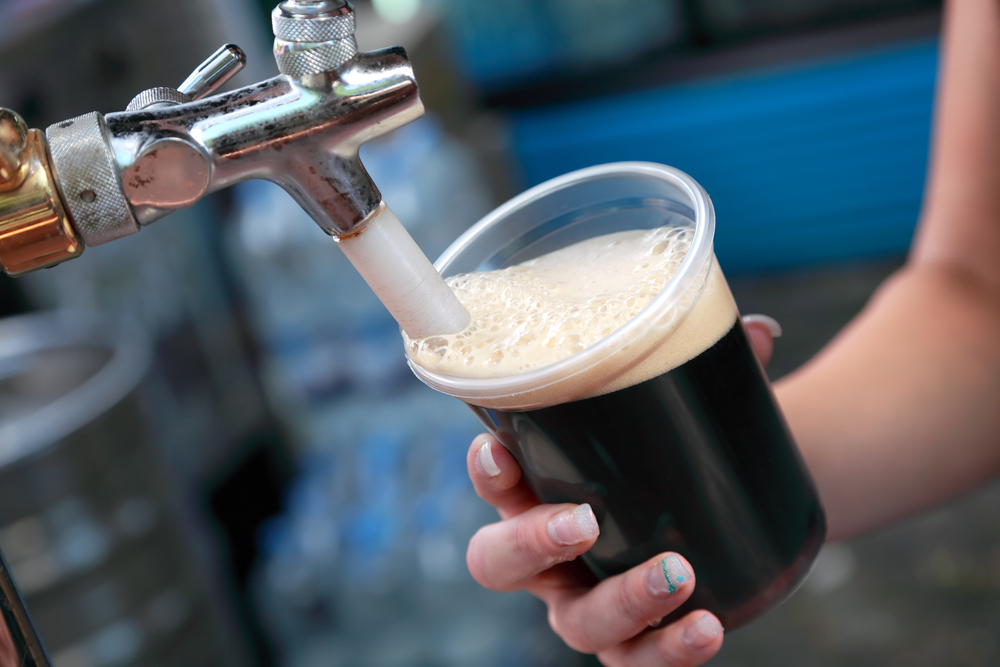 Doheny & Nesbitt Is One Of The Best Pubs In Dublin
Doheny & Nesbitt has been open since 1867 and is located smack in the middle of some of the most historic landmarks in Dublin.
It's by the House of Parliament, Trinity College, Stephen's Green, and Landsdowne Road, just to name a few.
Because of its location, it's long been a popular Dublin pub. It's also one of the oldest family-owned pubs in Dublin!
Doheny & Nesbitt is open daily for breakfast, lunch, and dinner.
Their menu is full of traditional Irish food along with some more modern classics like burgers and sandwiches.
The pub itself is full of unique Victorian architectural features, which is another reason people love to visit.
You can hang out at the bar or in one of the two original snugs, which were rooms that only women could use during the Victorian period.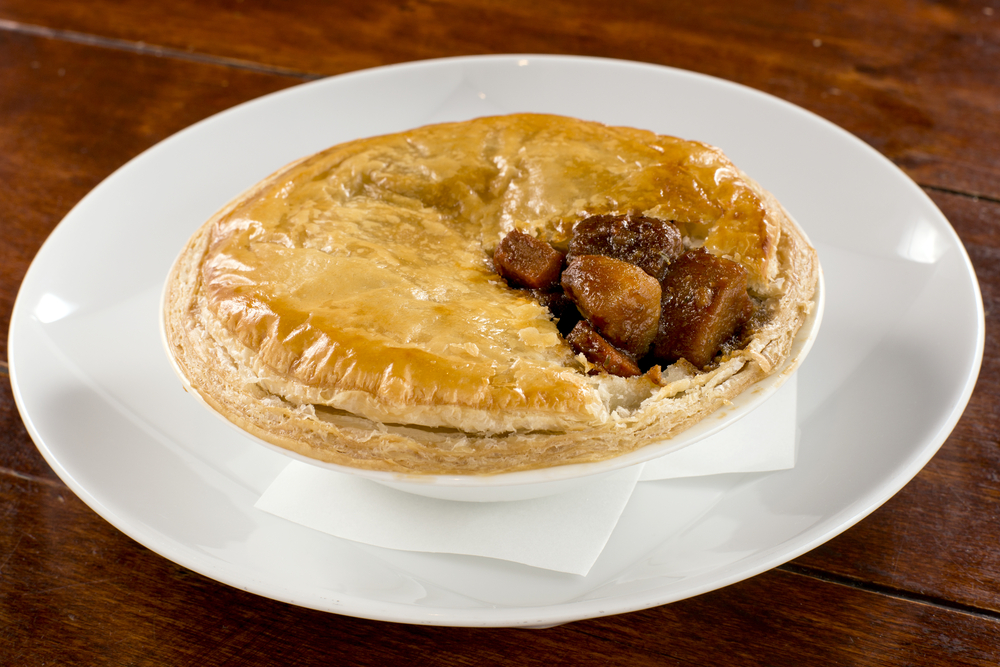 The Long Hall Is A Classic Dublin Irish Pub
The Long Hall is another beautiful Victorian-era pub in Dublin.
It backs ups to the Dublin Castle and originally opened in the 1860s.
At that time the pub became a popular spot for Fenians at the time to gather.
Inside the pub, you'll find authentic Victorian decor, art nouveau glasswork, etchings of famous people who gathered there, and more.
This pub in Dublin serves a wide variety of drinks and food. They also have their own line of traditional Irish whiskey that you can sample when you visit.
If you're looking for a beautiful Dublin pub with a great bar menu, head to The Long Hall.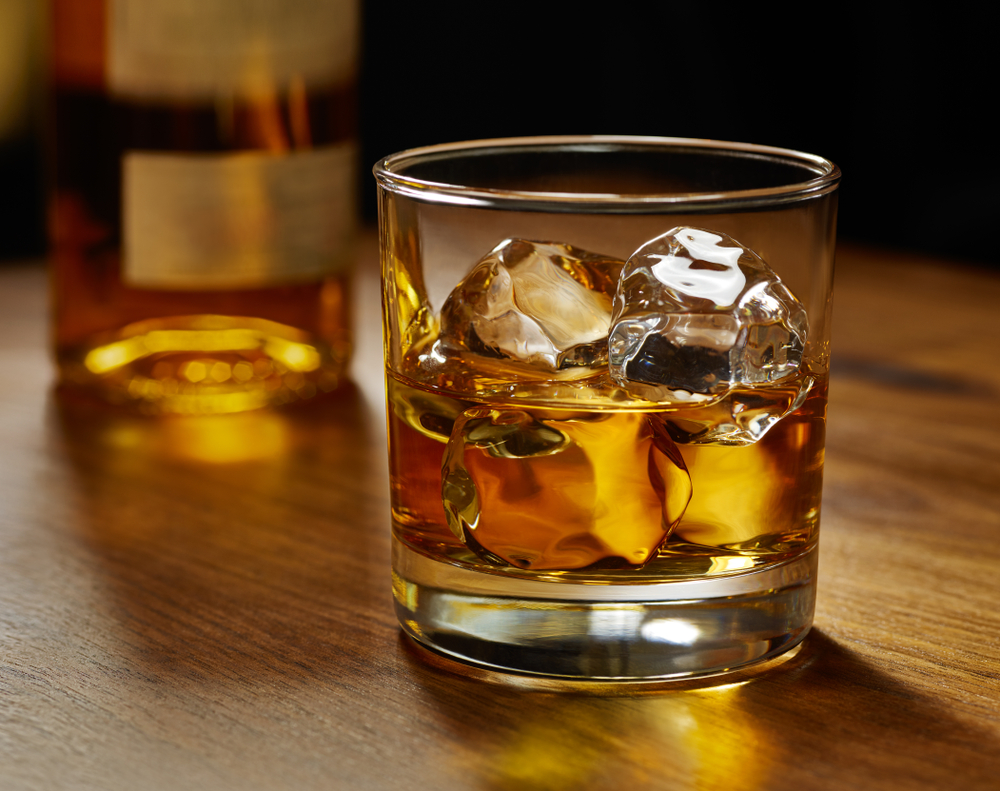 Toners Is One Of Dublin's Oldest And Most Famous Pubs
Toners opened in Dublin in 1734 and since then, has become a popular Dublin pub.
Today, it's especially popular with the younger crowd.
The atmosphere in Toners can be fairly rowdy, especially if they happen to be hosting a sports event viewing party.
So if you want to enjoy a sporting event while you're in Dublin, Toners is probably one of the best pubs in Dublin to visit.
However, if you want some quiet, they also have a super charming snug at the front of the pub.
It's a good place to sit and enjoy a pint in peace.
They also have a pretty decent-sized beer garden in the back of the pub that's popular in the summer months.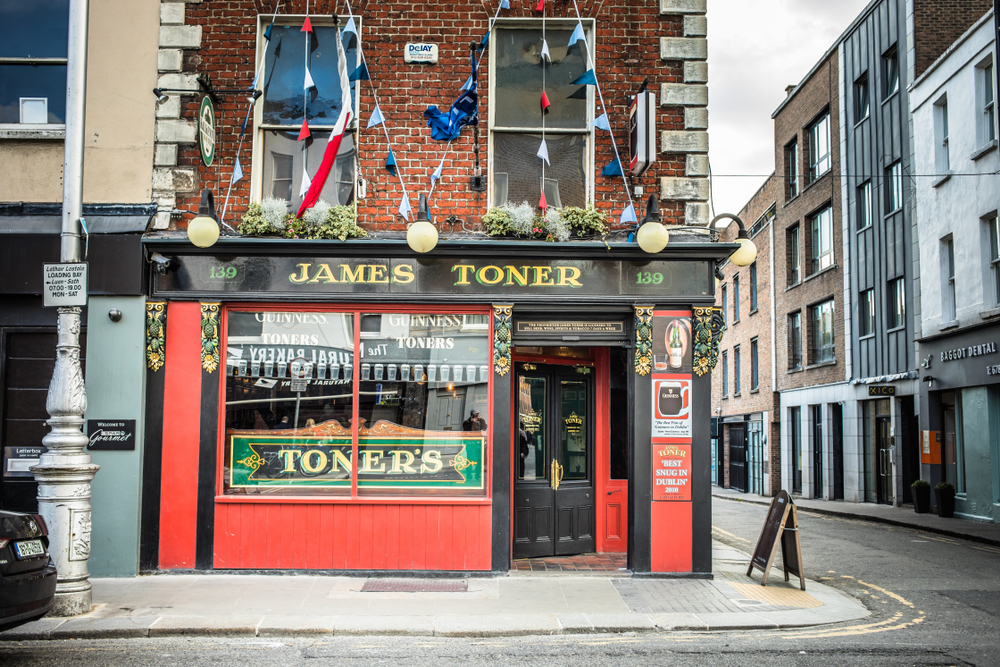 The Gravediggers Is A Classic Pub In Dublin
At The Gravediggers, you won't find large TVs with sports playing. You might not even find music playing.
What you will find is a welcoming atmosphere, a good pint, and excellent conversation.
The Gravediggers was established by the Kavanaugh family in 1833. Today, the Kavanaugh family still owns and operates The Gravediggers.
In fact, it's normal to find three generations of Kavanaugh's behind the bar serving up pints and good conversation.
You'll find Gravediggers in a quiet area of North City Centre Dublin.
It's one of the few historic businesses still located in that part of Dublin.
So if you're looking for a good atmosphere and a good pint of Guinness, head to the Gravediggers.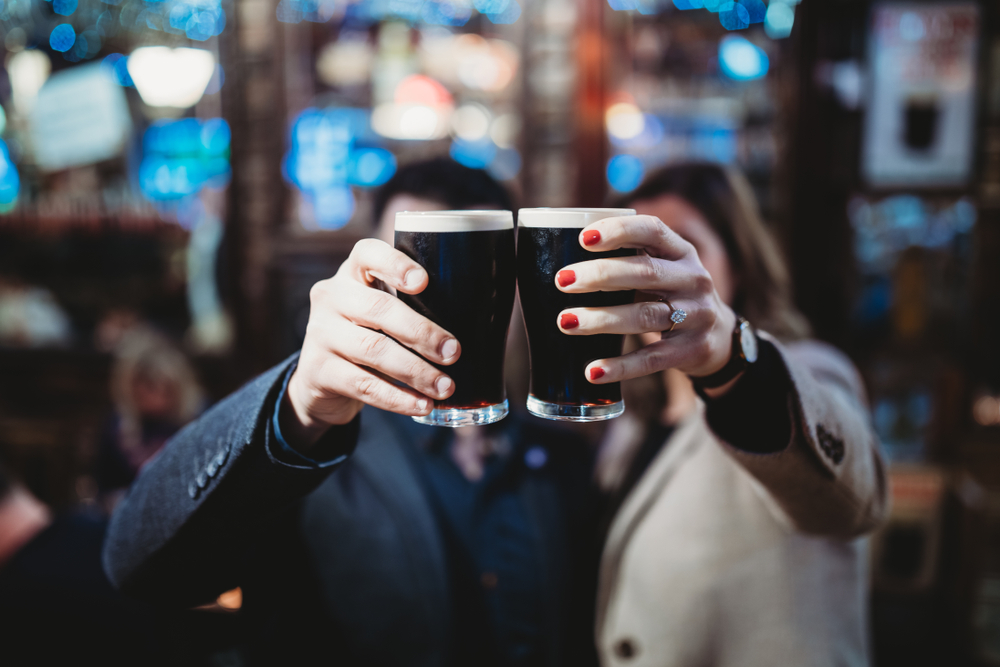 Johnnie Fox's Pub Is 'Ireland's Highest Pub'
Johnnie Fox's Pub is famed for being 'Ireland's Highest Pub', thanks to its location perched on a mountain.
You'll find Johnnie Fox's at the Glencullen Mountains, in Dublin County. So it's not technically in the city of Dublin.
But people travel the 45 minutes to take part in one of Johnnie Fox's famous Hooley Nights.
Hooley Night is super popular at this Dublin pub.
You'll see traditional Irish dancing, hear traditional Irish music, and get to enjoy a traditional Irish meal.
Johnie Fox's is also a living history museum thanks to its almost entirely authentic building and relics within the pub.
If you're up for the 45-minute drive, you have to visit Johnnie Fox's Pub.
It is one of the coolest restaurants in Dublin to experience.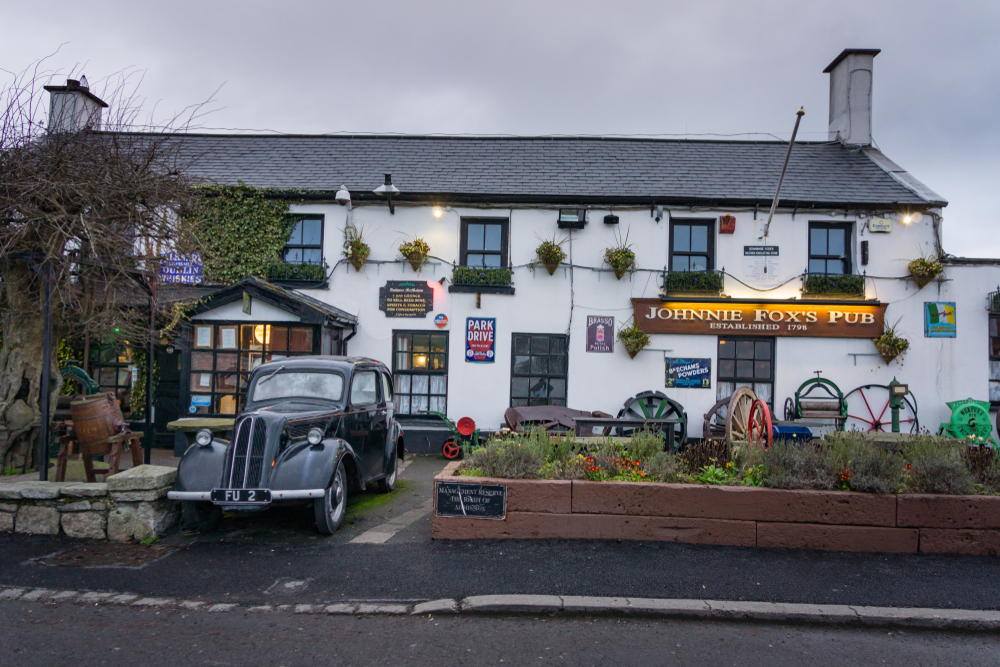 Packing List For Visiting Pubs In Dublin
It is always a great idea to pack lightly using only a carry-on when visiting Ireland.
A concealed travel pouch may be one of the most important items you bring with you when you are exploring pubs in Dublin.
This unisex RFID-blocking concealed travel pouch is lightweight and comes in several colors.
It has lots of organization to give you peace of mind. You can keep your most valuable documents safe and secure next to your body.
If you have a pouch already, you may not want to or need to invest in a new one, like me.
If it does not come with RFID protection, these RFID sleeves would be handy to prevent identity theft.
This configuration comes with enough passport and credit card sleeves that the entire family would be protected.
They are slim too, so they will easily fit into your current pouch or wallet. These are the kind my family and I use not only when traveling but at home as well.
If you are planning on taking a lot of pictures with your phone you will definitely want to consider an external charging battery.
This Anker high-speed phone charging battery is the exact one I carry with me on all of my trips. It can be used on a variety of phones, not just an iPhone like I have.
My daughter gifted me with this FugeTek Selfie Stick and Tripod for my birthday. It has Bloothtooth connectivity so it is very easy to use.
I was never a fan of packing cubes until I tried them out! Now I am sold. These Bagail packing cubes are the exact ones I use whenever I travel.
I cannot believe how much more organized I am now! And I never leave without them anymore.
I never leave home on a trip without my Bobble filtration bottle. The 18.5-ounce size is perfect for travel and it fits nicely in the pocket of a backpack or your purse.
Also when filled with water, it is not too heavy to carry.
Perhaps you are traveling a long distance and packing space is at a premium. Then this collapsible silicone foldable water bottle would work well for you.
Would not take up much space in your suitcase at all.
You will want a backpack or daypack with you to store snacks, your water bottle, phone, extra clothes, etc. This foldable water-resistant backpack would be great.
—
There are so many beautiful pubs in Dublin.
Whether you're looking for a historic atmosphere, a more modern vibe, or something in between, Dublin has it.
Have you had the opportunity to visit a Dublin pub? If you have three days in Dublin, there are many iconic pubs to explore!
If so, I'd love to hear about your experience in the comments!