If you're looking for the best things to do in Vienna, then you've come to the right place.
Vienna, Austria is one of my favorite European cities to visit!
Yet, it occasionally gets overlooked. Often people choose to visit other major European cities like Paris, London, and Rome.
But, I'm certain that with one trip to Vienna and you'll fall in love with this beautiful Austrian city.
In fact, Vienna has been frequently voted the most liveable city in Europe!
There are so many incredible and unique things to do in Vienna.
From stunning palaces, unique museums, a night at the opera, and so much more.
You can spend your day sightseeing in Vienna, sampling Viennese coffee, and exploring the roots of classical music.
Vienna Austria is perfect for lovers of classical music, opulent architecture, and coffee.
But even if none of that interests you, you'll still find plenty of sights to see in Vienna.
So, let's take a look at 15 of the best things to do in Vienna to add to your bucket list.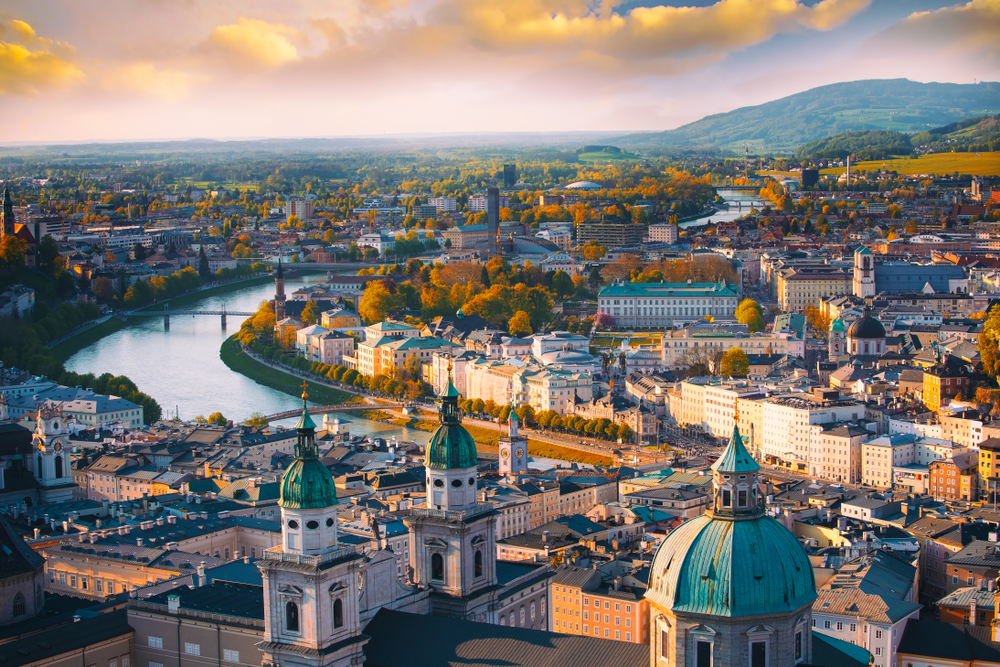 15 Best Things To Do In Vienna For Your Bucket List
Schonbrunn Palace Is A Must-See Palace In Vienna
One of the best places to visit in Vienna is the beautiful Schonbrunn Palace.
The Schonbrunn Palace was the summer home of the Hapsburg family, who were at one point the rulers of Vienna.
It is a stunning example of Baroque architecture, and it's one of the most visited palaces in Vienna and Europe.
The palace itself dates back to 1642 and was originally built by the wife of Emperor Ferdinand II.
Today it's a registered UNESCO site, thanks to its unique design, floorplan, and world-famous architecture.
There are over 1,440 rooms and you can visit 45 of them.
They each have a different theme and house some of the most stunning Rococo-style furnishings in existence.
No matter what you do in Vienna, Austria, you absolutely have to make a stop at the Schonbrunn Palace.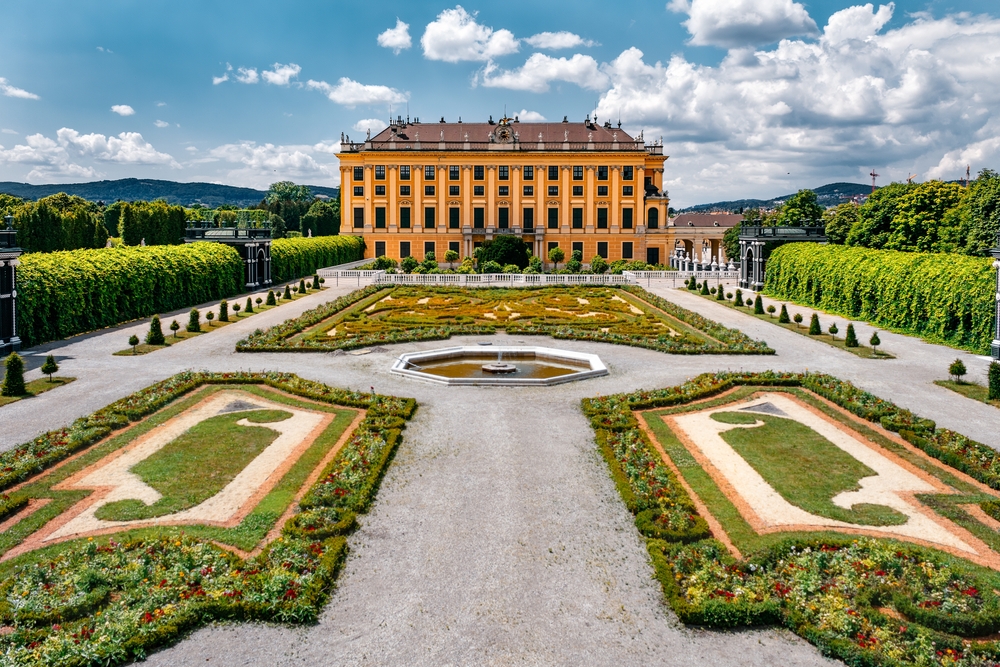 Attend A Classical Concert At St. Peter's Church
Austria is where some of the most famous classical pieces of music were written.
So many of the unique attractions in Vienna center around the city's musical history.
It's no surprise that one of the best things to do in Vienna is to attend a classical concert at St. Peter's Church.
Throughout the year, St. Peter's Church puts on a performance featuring the Vienna Quartet.
They play a variety of classical pieces, by composers like Mozart and Vivaldi.
The concert typically lasts around an hour.
You'll get to experience beautiful music and the natural acoustics of this stunning Baroque-era church.
This concert is likely to sell out, so make sure you purchase your tickets ahead of time!
It's a Vienna must-see experience that you won't forget.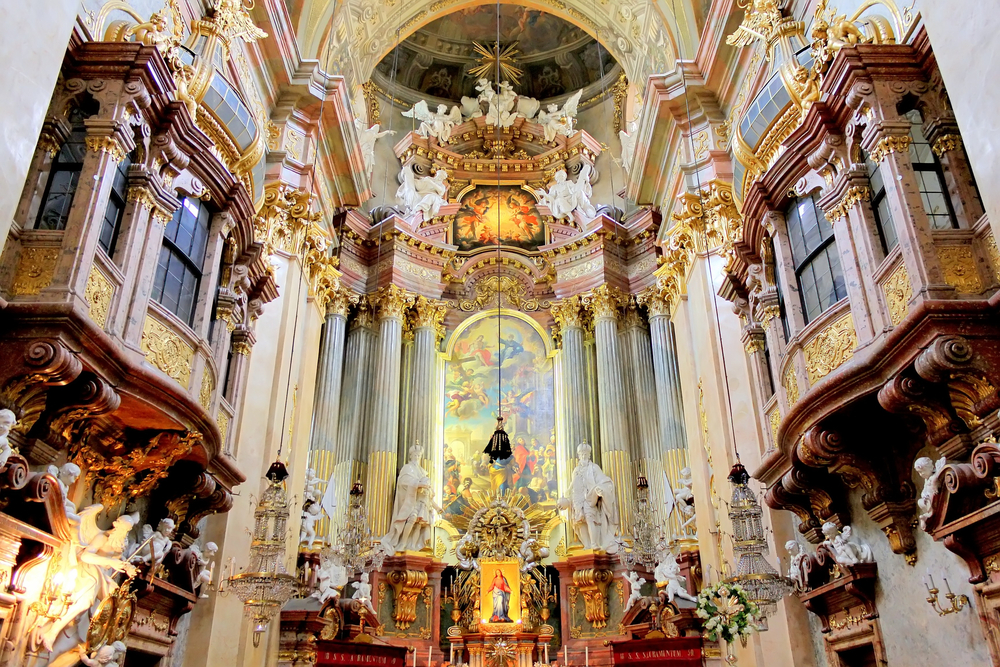 Explore One Of The Imperial Palaces In Vienna, The Hofburg
The Hofburg is another Imperial palace in Vienna, and it's actually one of the biggest palace complexes in the world.
In fact, the oldest part of the palace dates all the way back to the 13th century!
Inside the palace, you'll find a series of museums.
The museums range in topics from historic musical instruments, a collection of armor and arms, and several antiquities museums.
You'll also be able to tour some of the many rooms as they would have originally looked within the Imperial Palace.
This palace in Vienna is absolutely massive.
So, if you plan on exploring all of the different museums and attractions, you'll want to plan to spend a full day at The Hofburg.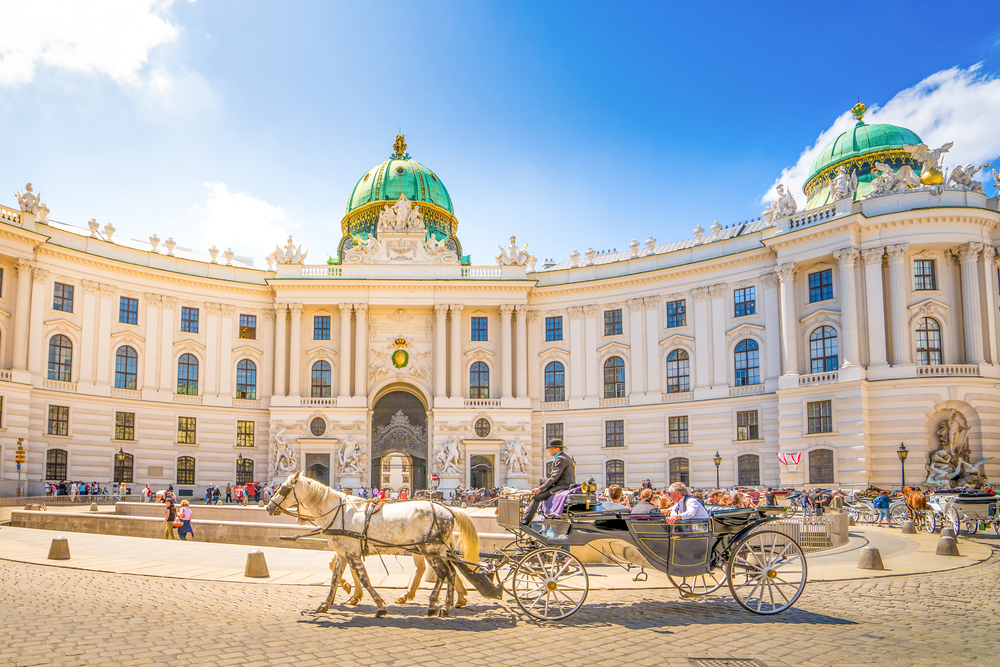 The Rathaus Is One Of The Top Sights To See In Vienna
The Rathaus, also known as the Vienna City Hall, is one of the most popular Vienna sightseeing destinations.
It is a municipal building for the city and province of Vienna.
So what makes it so special?
Like most sights in Vienna, it's the architecture.
The Rathaus is a 19th-century neo-gothic design that has a town square in front of it.
Throughout the year, the town square host a variety of events.
Like the Christkindlmark or the open-air ice skating rink.
It's also one of the biggest and tallest buildings in the city. So you'll be able to see it from just about anywhere in the city.
If you are walking past it while you're sightseeing in Vienna, make sure you take a few minutes to admire the beautiful architecture of the Rathaus.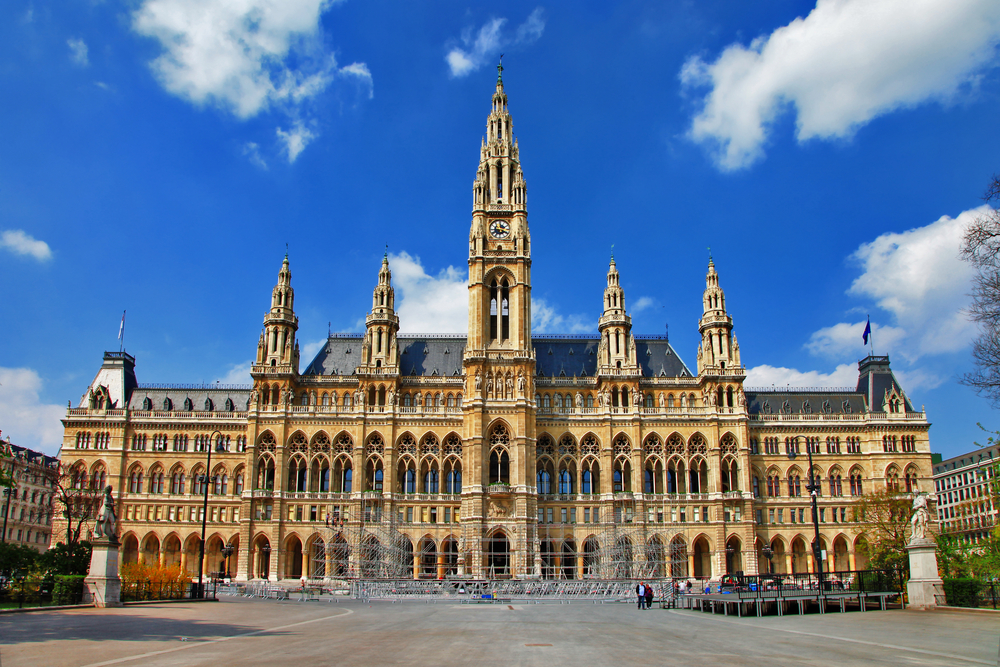 Learn About Music History At The Haus Der Musik
The Haus Der Musik is the first museum in Austria that focuses on sound and music.
It opened in 2000 and features over 54,000 square feet of exhibits.
These exhibits include a wide range of interactive presentations that introduce you to the world of music.
You'll learn about the earliest forms of music and instruments all the way to modern music theory.
The museum is open daily from 10 am to 10 pm and you'll want to buy your entry ticket ahead of time.
On the first floor of the museum, you'll find exhibits on the Vienna Philharmonic Museum.
The second floor is dedicated to sound phenomena where you'll be able to experiment with different sounds.
The museum's third floor is all about the great masters of Vienna.
You'll be able to explore exhibits on Mozart, Beethoven, and Shubert to name a few.
The fourth floor is where you'll find the 'Virtual Conductor', a super popular immersive attraction in the museum.
That's also where you'll find the museum gift shop.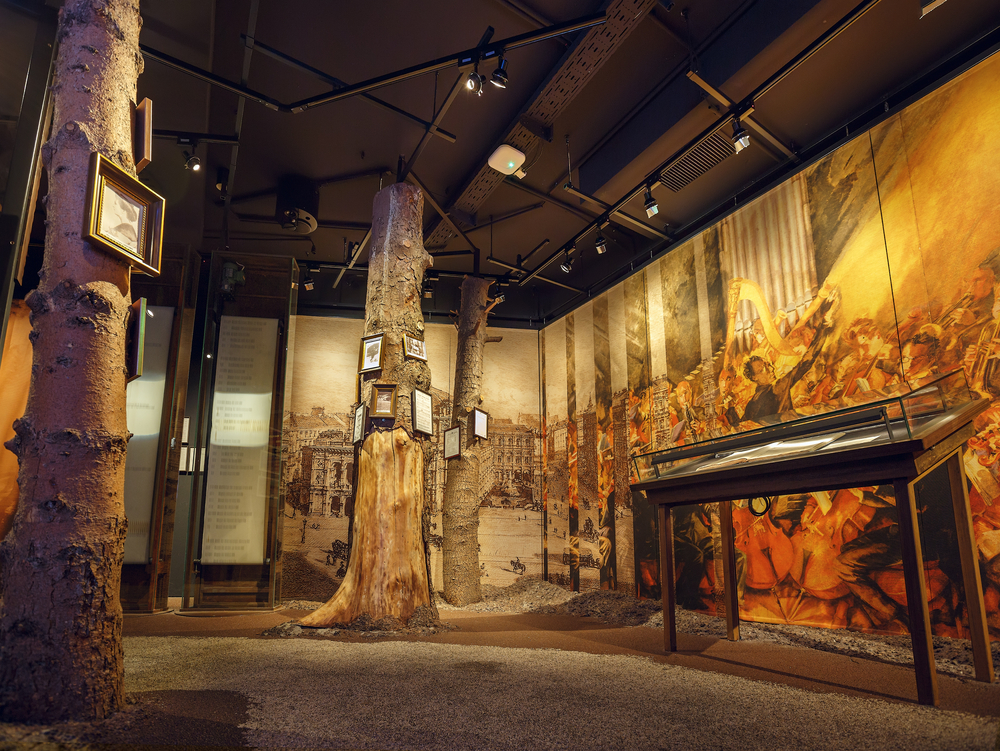 Tour The Imperial Crypt
If you're looking for something a bit more on the macabre side when you're in Vienna Austria, consider touring the Imperial Crypt.
The Imperial Crypt, also known as the Capuchin Crypt, is one of the most unique things to do in Vienna.
Within the crypt, you'll find the remains of over 400 years of Hapsburg rulers.
Throughout the centuries, some of the greatest artists have designed the burial rooms and the sarcophagi of the Hapsburgs.
Today, the Imperial Crypt is open daily and for a small fee, you can tour the crypt.
During the summer months and into the fall, the crypts do offer a guided tour a few days a week.
However, at this time, the tours only take place in German.
The Imperial crypt is one of the best things to do in Vienna Austria that's a bit different.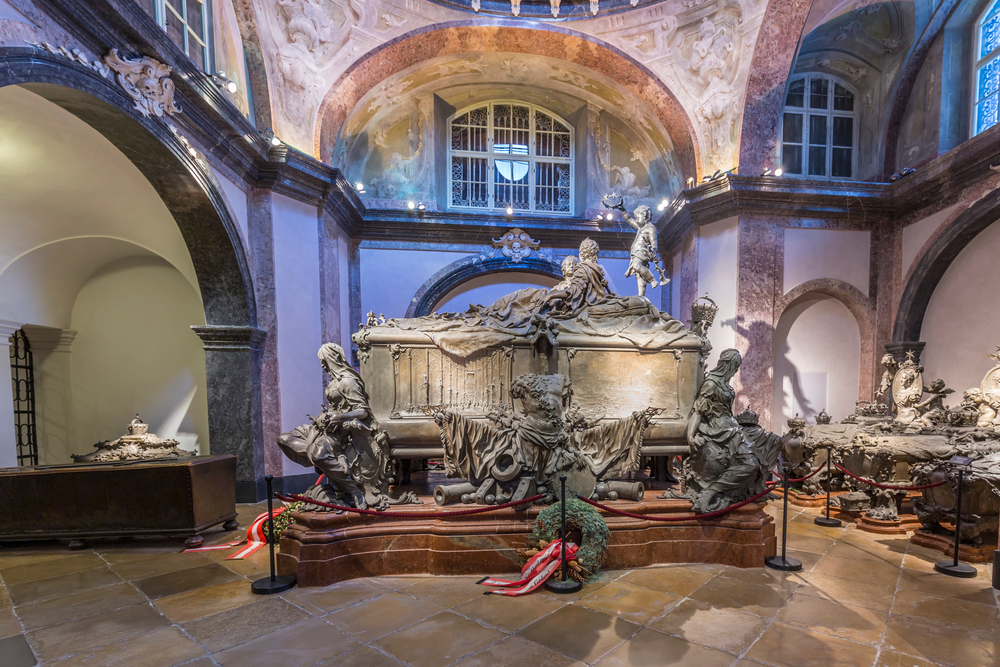 Enjoy A Cup Of Coffee At The Cafe Gloriette
Vienna is known for its 'coffee culture' and one of the best places to experience that is at Cafe Gloriette.
Cafe Gloriette is a beautiful and airy cafe that serves a wide variety of Viennese classics from breakfast to sunset.
You'll find the cafe in the gardens of the Schonbrunn Palace, which makes it even more of an experience.
They offer an Imperial breakfast service and a buffet.
But, if you want to have coffee and a sacher-torte, you'll want to book a reservation at least four weeks in advance.
Unsurprisingly, the Cafe Gloriette is a Vienna must-see cafe.
So you absolutely have to book a reservation in advance if you want to enjoy Viennese coffee at Cafe Gloriette.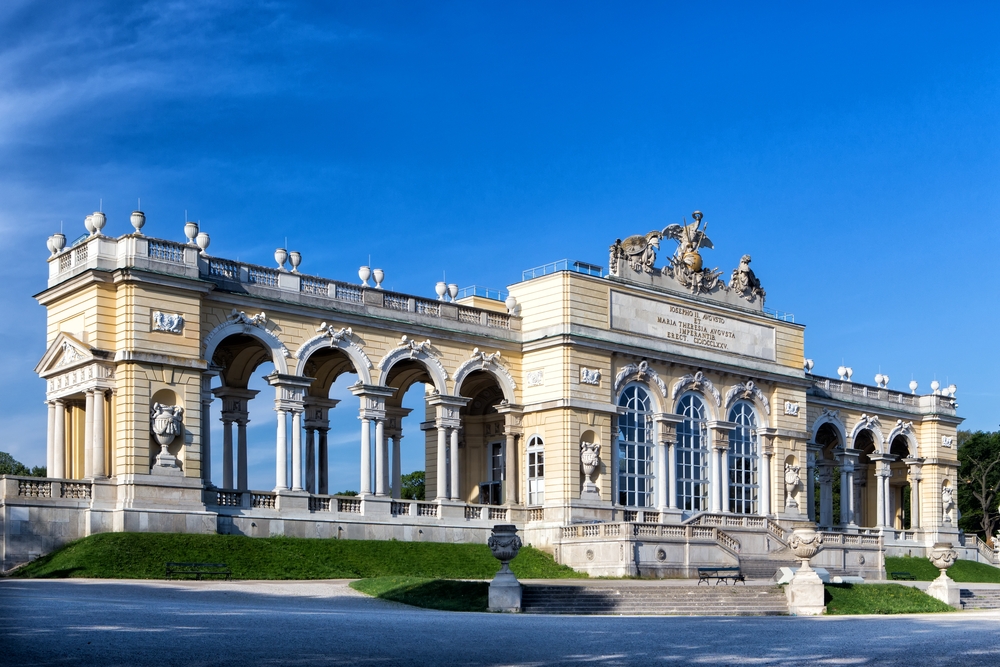 Explore The Stalls At The Vienna Naschmarkt
The Vienna Naschmarkt is Vienna's best-known market.
It has over 120 vendors and features culinary offerings from around the world.
You can try Italian, Indian, Vietnamese, and everything in between at the Nashmarkt.
It's also a spot where more adventurous and unique pop-up restaurants in Vienna are finding a home too.
So if you want to try some of Vienna's up-and-coming chefs, this is a great place to visit.
As you walk the colorful stalls you'll also find a variety of fresh goods, like locally sourced fruits and vegetables.
Every Saturday, the Naschmarkt hosts a Flea Market that has garnered a huge following.
You'll find tons of antiques and trinkets. Even if you don't buy anything, it's a cool place to explore.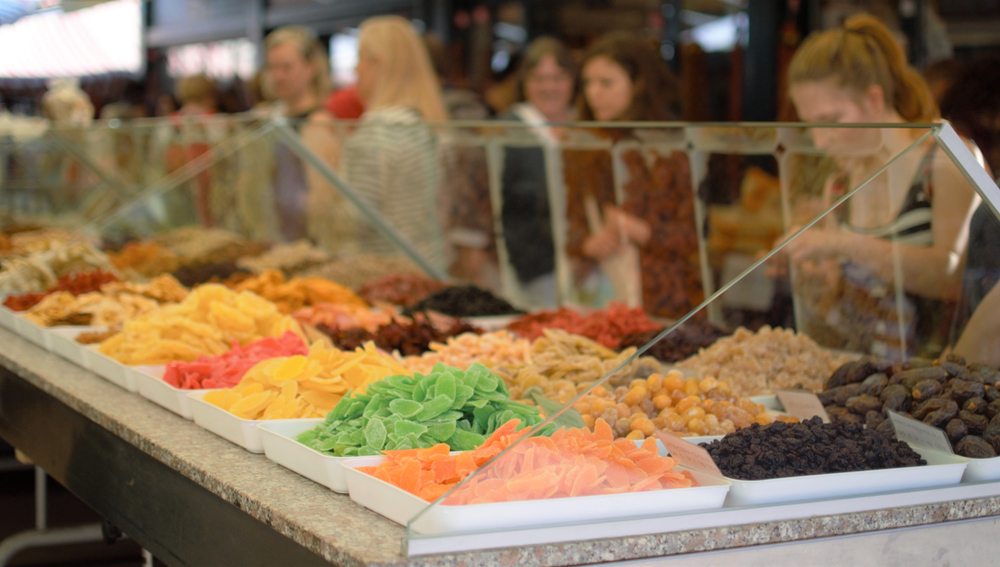 The Danube Tower Is Vienna's Highest Landmark
One of the coolest things to do in Vienna is the Danube Tower.
The Danube Tower is the highest landmark in Vienna at over 252 meters high.
It's also the 68th tallest tower in the world.
The tower originally opened in 1964 along the north bank of the Danube River.
When you visit the tower, you'll ride the elevator up 150 meters to the 360-degree viewing platform.
Higher up the tower, you'll find the Turm Restaurant, which is a revolving restaurant 170 meters in the air.
There you'll get to enjoy an incredible meal with stunning views of Vienna Austria.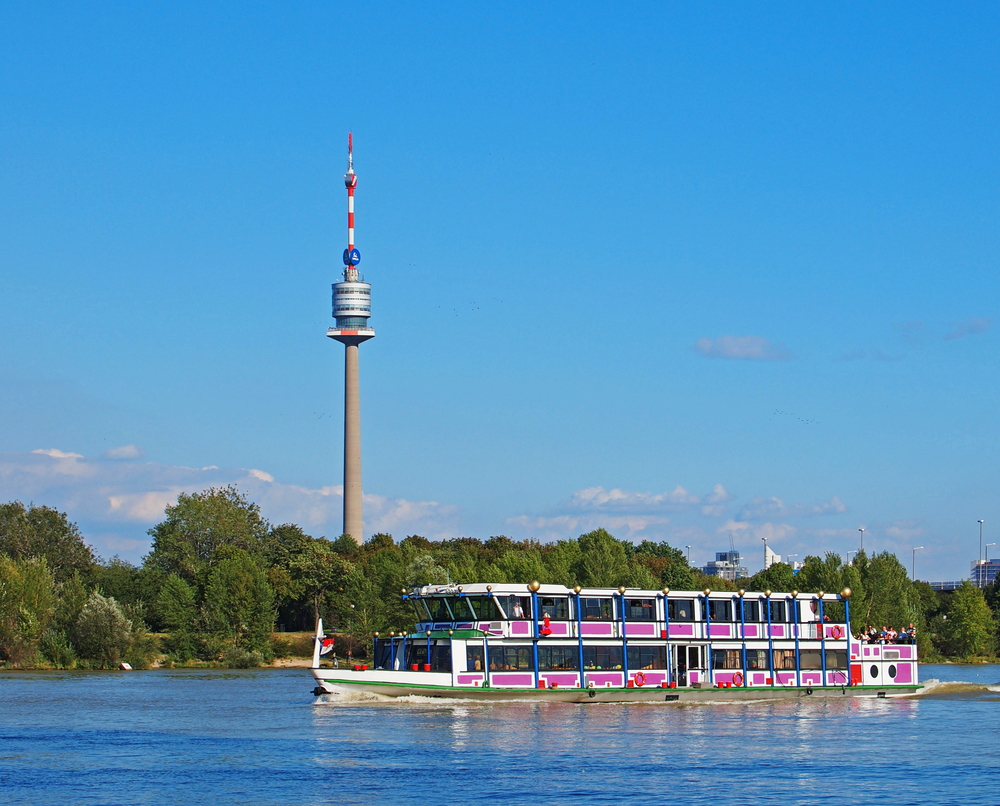 Explore The Albertina Museum
Another one of the best places to visit in Vienna is the Albertina Museum
The Albertina has one of the largest and most important print rooms in the world.
Inside, there are over 65,000 drawings and approximately 1 million old masters prints.
There is also a branch of the Albertina, the Albertina Modern, that houses more modern pieces of art.
You can visit the Albertina daily and there is an entrance fee.
In their collection, you'll find works by Monet, Picasso, and Rembrandt.
The museum also has pieces by Austrian artists like Gustav Klimt, Otto Wagner, and Egon Schiele.
All of them lived in Vienna at some point during their lives and careers.
The Albertina Museum is one of the many Vienna must-see museums.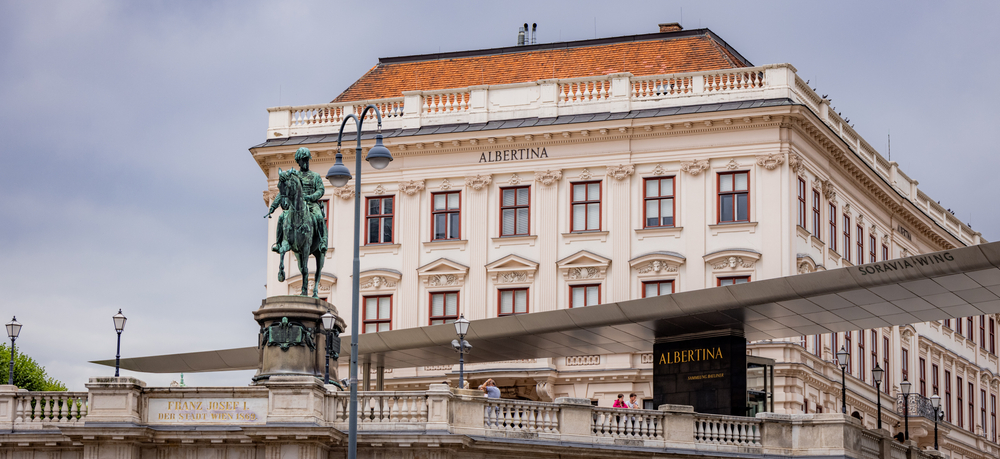 See An Opera At Volksoper
Volksoper is one of the many opera houses in Vienna.
The opera houses season runs from September through June.
During that time, the opera house puts on over 300 performances of 25 different German-language productions.
Those productions range from plays to musicals, operas, and ballets.
If you're interested in seeing one of these productions, make sure you check out Volksoper's schedule.
Every week, they typically perform two to three different productions.
So if you're visiting during their season, you'll have a variety of productions to choose from.
It's one of the best places to visit in Vienna!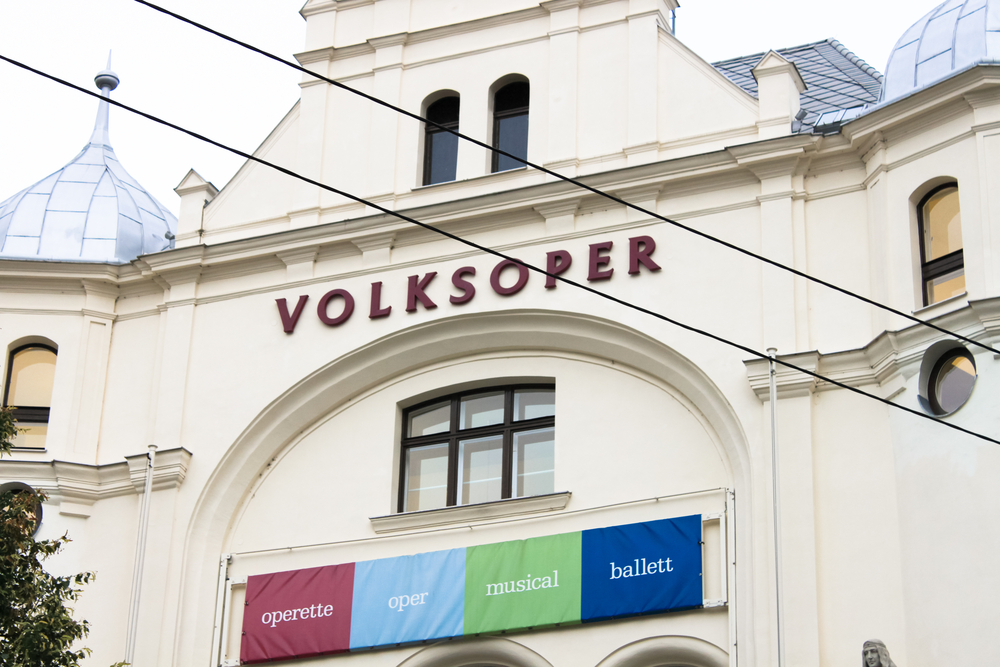 Ride The Wiener Riesenrad
I've been to Vienna twice, and one of my favorite memories is riding the Wiener Riesenrad.
Wiener Riesenrad is a giant ferris wheel at the entrance of the Prater amusement park.
The ferris wheel is 212 feet tall. As you make your way to the top, you'll get to experience one of the best views in the city.
That's one of the many reasons why it's one of the top attractions in Vienna.
To many, it's a symbol of the city, especially since you can see it from just about anywhere in the city.
You can ride the ferris wheel daily, and tickets are 13 euros for adults and 9 euros for kids.
When you're visiting Vienna, make sure you take a ride on the Wiener Riesnrad!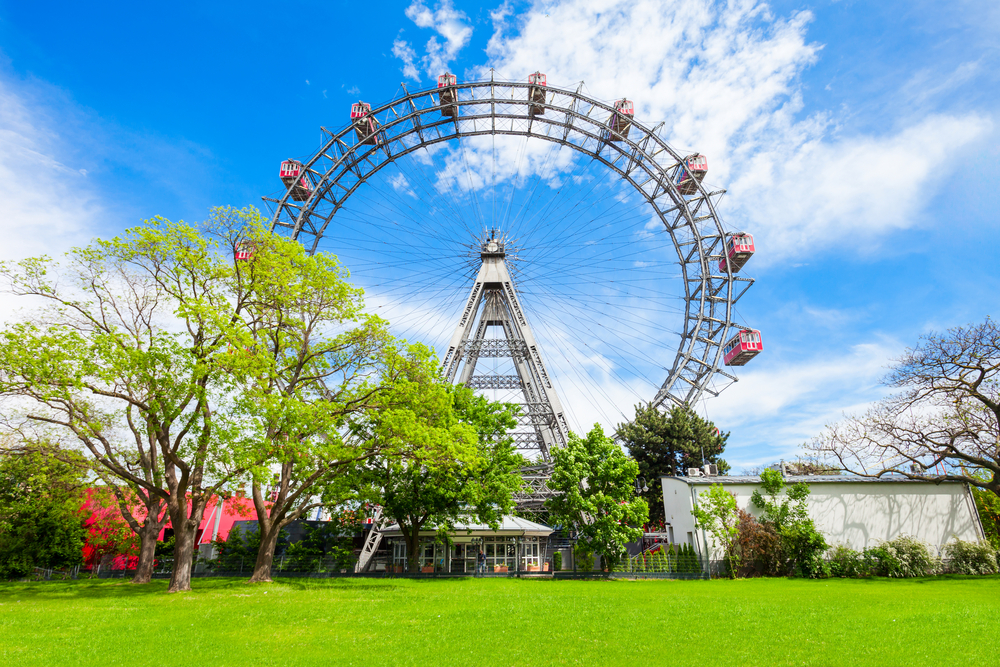 Admire Art At The Kunsthistorisches Museum In Vienna
Art lovers have to visit the Kunsthistorisches Museum, one of the best things to do in Vienna.
The Kunsthistorisches Museum is a huge art museum in Vienna's city center.
It's a huge palatial building with stunning architecture and is full of some of Europe's most famous artwork.
You'll be able to see the dazzling Imperial crown and works by van Dyck, van Rijn, and Vermeer.
That's just to name a few of the incredible pieces that art on display at the Kunsthistorisches Museum.
The museum is open daily and there is an admission fee for adults and children, but it's well worth it.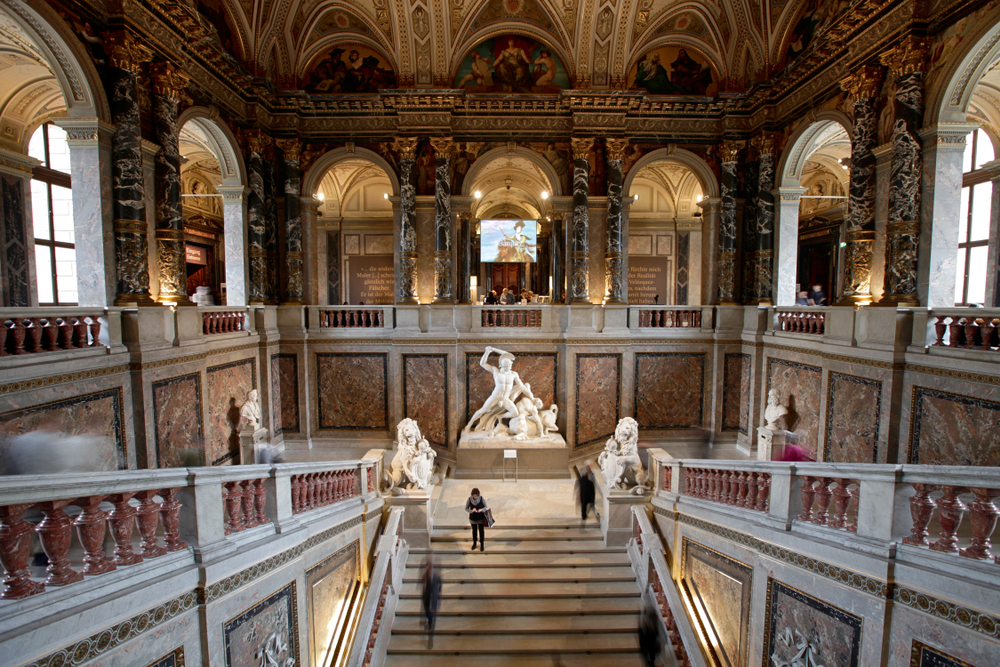 Visit The Historic Center Of Vienna
The Historic Center of Vienna is a registered World UNESCO site, for a variety of reasons.
Vienna was the capital of the Austro-Hungarian Empire and played a crucial role in the development of the surrounding area.
The City Center of Vienna is full of rich history.
From stunning architecture, like Baroque castles and gardens, and a late 19th-century Ringstrasse with beautiful parks and buildings.
It's hard to not visit the City Center of Vienna, simply because it's where some of the best things to do in Vienna are.
But still, you should make an effort to explore the hidden areas and beautiful parts of Vienna's City Center.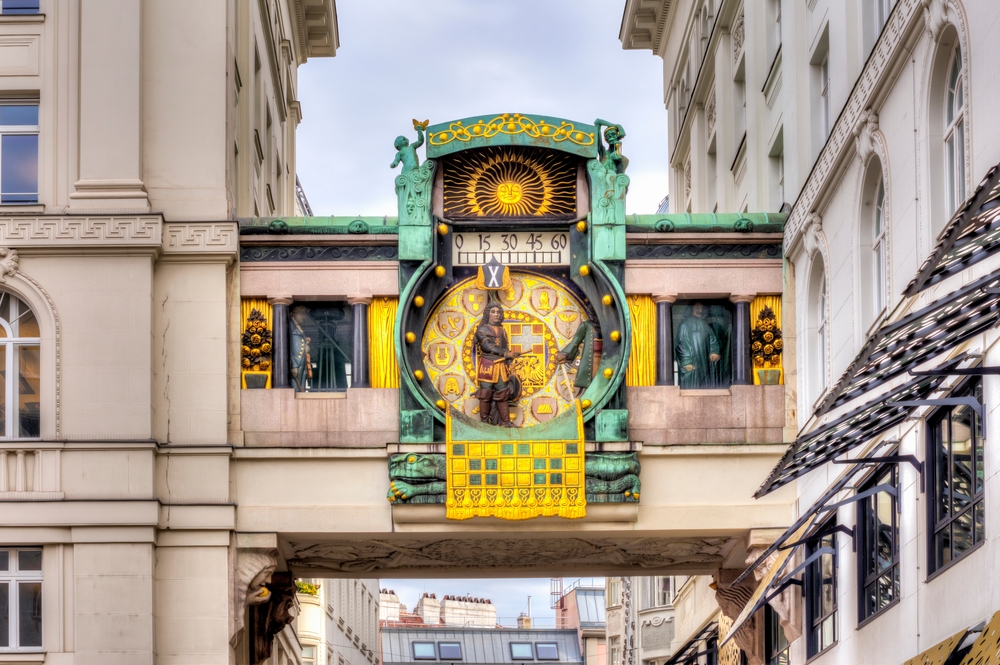 The Belvedere Palace Houses One Of The Best Modern Art Collections In Europe
Vienna has always been one of the most popular cities for artists and musicians.
So, it's no surprise that the city is full of incredible museums. Especially art museums.
The Belvedere Museum is a set of two Baroque palaces that now contains an extensive art collection.
What makes the Belvedere special is that it focuses on Viennese artists.
The Upper Belvedere is where you'll find the permanent exhibit highlighting Viennese Modernism.
There, you'll get to see Gustav Klimt's most famous work, Kiss, along with others.
In the Lower Belvedere, you'll find the museums changing special exhibits.
The Belvedere Museum is the go-to place to visit in Vienna if you want to admire Viennese masterpieces.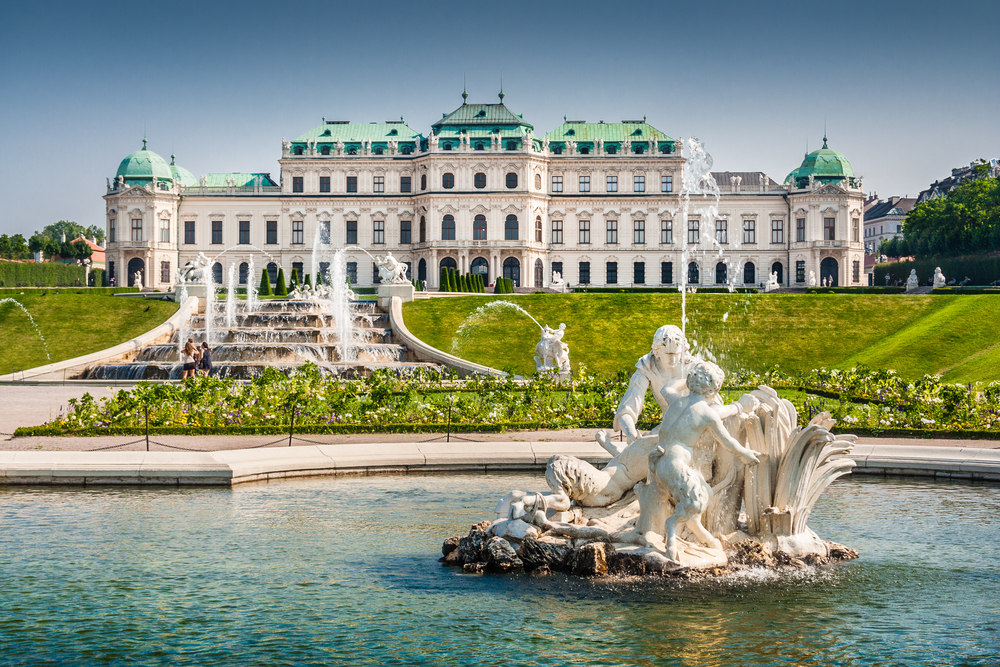 Packing List For Visiting Vienna Austria
It is always a great idea to pack lightly when visiting Vienna Austria.
A concealed travel pouch may be one of the most important items you bring with you when you are exploring the best Vienna attractions.
This unisex RFID-blocking concealed travel pouch is lightweight and comes in several colors.
It has lots of organization to give you peace of mind. You can keep your most valuable documents safe and secure next to your body.
If you have a pouch already, you may not want to or need to invest in a new one, like me.
If it does not come with RFID protection, these RFID sleeves would be handy to prevent identity theft.
This configuration comes with enough passport and credit card sleeves that the entire family would be protected.
They are slim too, so they will easily fit into your current pouch or wallet. These are the kind my family and I use not only when traveling but at home as well.
If you are planning on taking a lot of pictures with your phone you will definitely want to consider an external charging battery.
This Anker high-speed phone charging battery is the exact one I carry with me on all of my trips. It can be used on a variety of phones, not just an iPhone like I have.
My daughter gifted me with this FugeTek Selfie Stick and Tripod for my birthday. It has Bloothtooth connectivity so it is very easy to use.
I was never a fan of packing cubes until I tried them out! Now I am sold. These Bagail packing cubes are the exact ones I use whenever I travel.
I cannot believe how much more organized I am now! And I never leave without them anymore.
I never leave home on a trip without my Bobble filtration bottle. The 18.5-ounce size is perfect for travel and it fits nicely in the pocket of a backpack or your purse.
Also when filled with water, it is not too heavy to carry.
Perhaps you are traveling a long distance and packing space is at a premium. Then this collapsible silicone foldable water bottle would work well for you.
Would not take up much space in your suitcase at all.
You will want a backpack or daypack with you to store snacks, your water bottle, phone, extra clothes, etc. This foldable water-resistant backpack would be great.
—
There are so many incredible things to do in Vienna.
You'll definitely want to take your time and explore as much as possible!
Whether it's admiring the sites in old town Vienna, grabbing a cup of coffee, or seeing a masterpiece, Vienna is a magical city.
I'd love to hear about your favorite sights to see in Vienna in the comments!