Are you looking for boutique hotels in London? You are in the right place.
There are so many fun things to do in London, and in this article, I will walk you through the coolest hotels in London. I've picked some of the best to make your London vacation even more special.
Planning your trip to London last minute?
Make sure to book ahead! Hotels and tours often sell out the closer you get to your trip. Here are our top pics for London!
Top Experiences and Tours In London:
Best London Hotels:
London is an incredible city, there is so much to see and do. It's an eclectic mix of history, cultures, and the wired and wonderful.
Whether you are here to experience a London Afternoon Tea or see some of the many historic sights, London will keep you very busy.
As well as being invigorating London can be exhausting and you will want to make sure wherever you decide to stay is relaxing.
In this article, I've picked some of the best boutique hotels in London that will make you feel welcome and looked after.
They all have that personal touch that will make your vacation that much more special.
So pull up a chair and let me walk you through some of the best hotels in London, England.
If this is your first visit to London then take a look at my article on 25 Hidden Gems In London Not To Miss. It's a great place to start planning.
Best Boutique Hotels In London: 15 For Your Bucket List
Treehouse Hotel London, Westminster
When it comes to boutique hotels in London I'm not sure they get much better than Treehouse Hotel London. This hotel is unique and stylish and the treehouse inspiration runs throughout the hotel.
It has a cozy feel with lots of wood, plant-adorned ceilings, and window seats. There is something slightly playful about this place that is bound to please everyone.
The rooms have rainfall showers and contain lots of other gems including mushroom cushions and Paddington Bear. The suites are also beautifully designed.
If you are looking for hotels in London with the best views then this hotel delivers. The 16th-floor rooftop lounge offers spectacular views.
There is also a great cafe/wine bar and an upscale Mexican restaurant.
But the best thing about this hotel is its location. Just 500 meters from Oxford Street in the Marylebone area. This hotel in central London is perfect for sightseeing.
This is one of the London boutique hotels that is perfect for making your vacation extra special.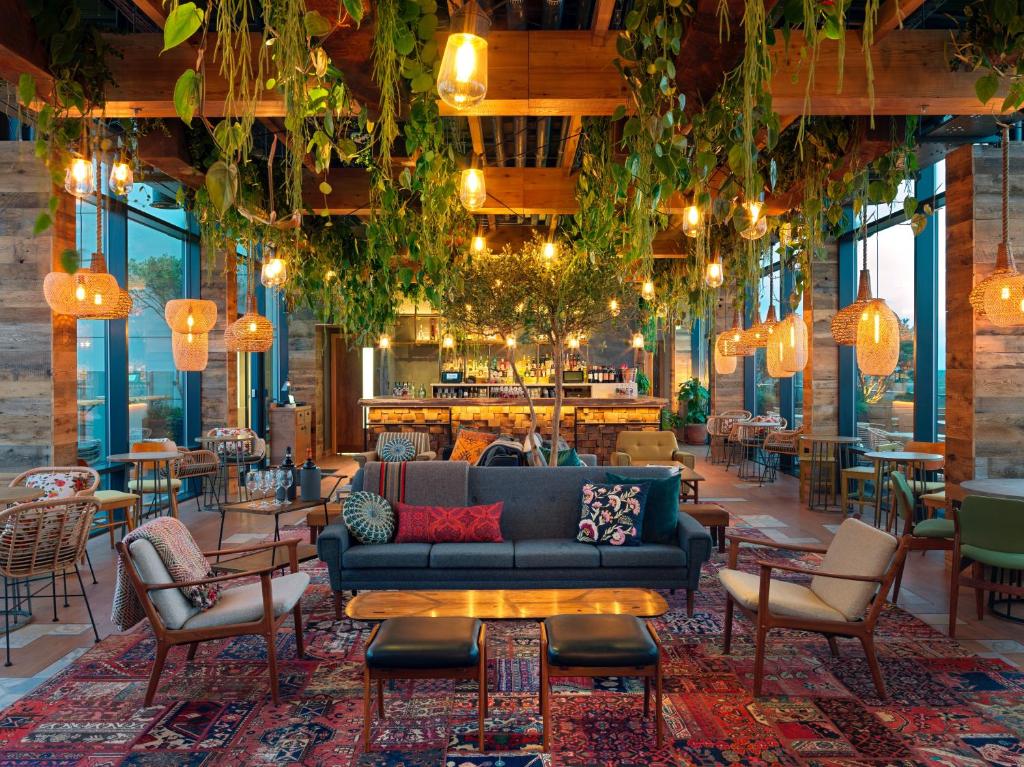 The Exhibitionist Hotel, Kensington and Chelsea
Set in Kensington and Chelsea The Exhibitionist Hotel wins if you are looking for a quirky boutique hotel in London.
It feels more like a cool art gallery dotted with interesting pieces than a hotel which is what it set out to do.
The luxurious and hip hotel is dotted everywhere with contemporary art. Wherever you look including the bedrooms there is something of interest.
Set in restored 18th-century townhouses this stylish hotel is only minutes from South Kensington Underground Station and the famous museums in the area.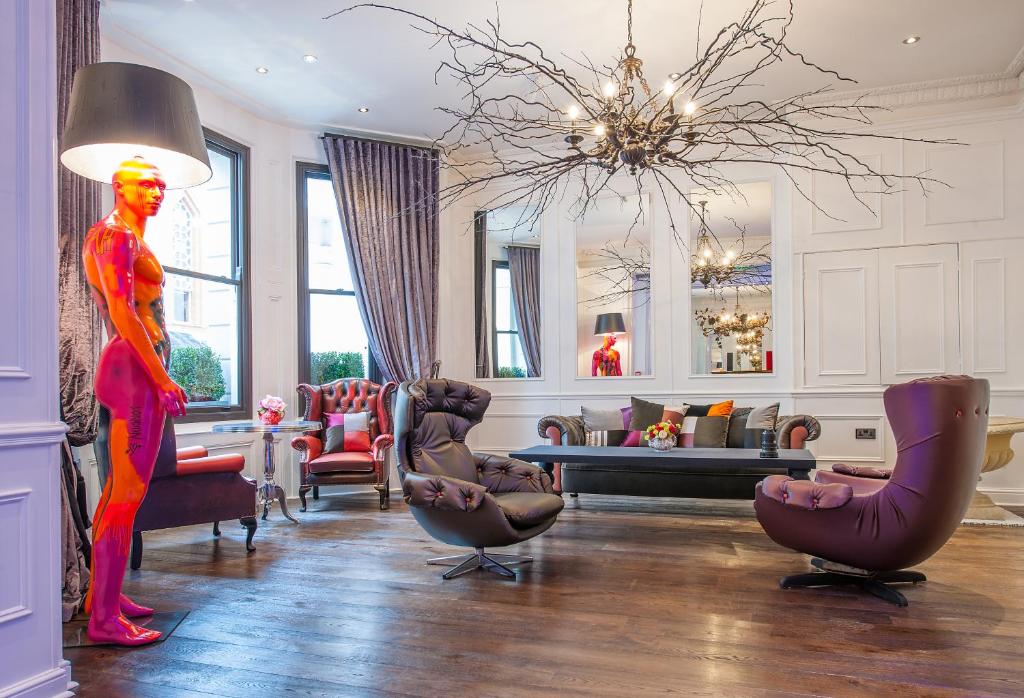 Good Hotel London, Newham
If you want to stay in a London boutique hotel and give back to the local community then the Good Hotel London is for you.
This hotel re-invests all its profits to train long-term unemployed local people in London.
This is one of those hip hotels in London. Not only is it a floating hotel but its industrial chic interior screams Millennial style.
It's simple yet stylish and very unique. The views from the rooms are of the city or the water, the rooftop bar overlooks the city and the food and drink are locally sourced.
This is one of the boutique hotels in London that will just make you feel great about yourself inside and out. If you are looking for hotels in London with the best views this is one of them.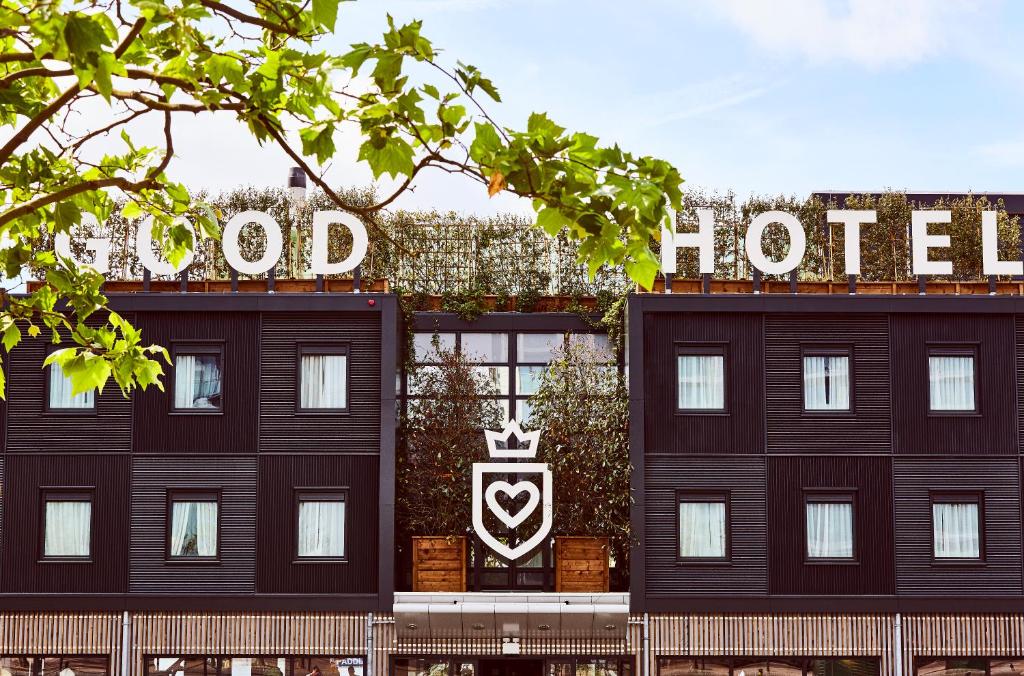 Blakes Hotel, Kensington and Chelsea
If you are looking for London luxury hotels then Blakes might be just what you dreaming of. It's all symmetry and luxury with an old-world feel that is just breathtaking.
This hotel was created by acclaimed interior designer and former James Bond actress Anouska Hempel and style just oozes from it.
It's one of the most famous hotels in London for that very reason.
The rooms are wonderfully appointed with everything you could need and many rooms have four-poster beds.
An Asian-style restaurant serves creative cuisine and the Chinese Room and Bar serve incredible cocktails.
Located in a quiet area in South Kensington it also offers easy access to all London attractions and nightlife.
If you are looking for a boutique hotel in London to surprise a loved one this is it.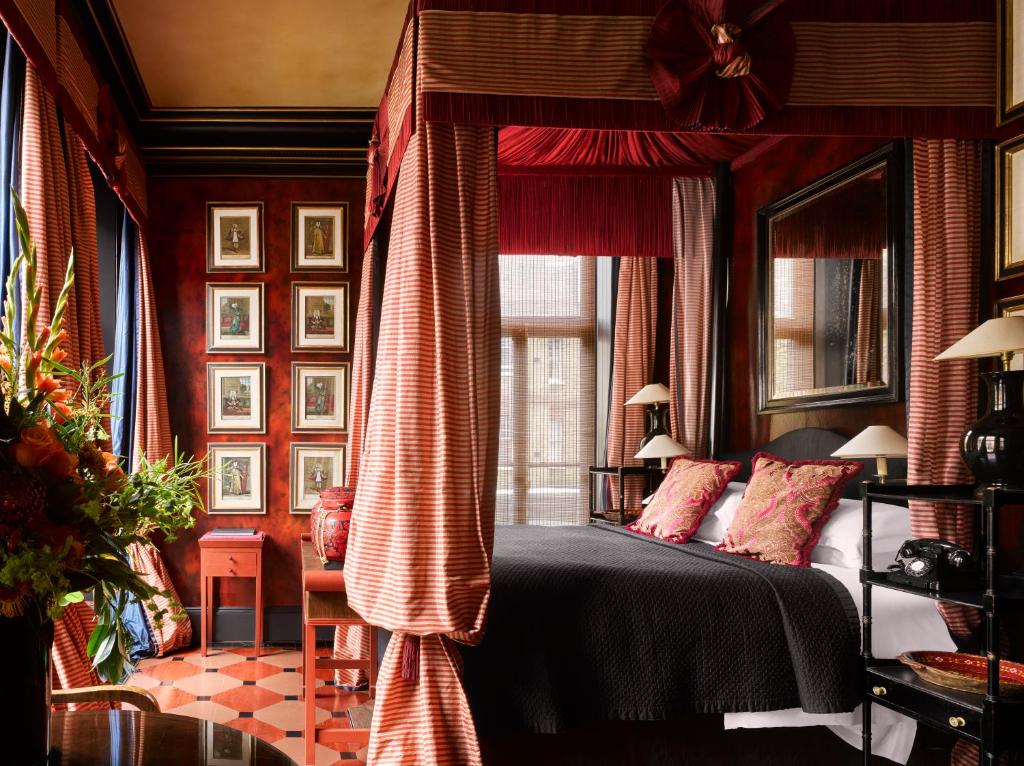 Megaro Hotel, Camden
The Megaro Hotel has to be one of the coolest hotels in London. Opposite Kings Cross and St Pancras International it offers quirky accommodation at a reasonable price.
This hotel is artistic and eclectic each room and space has a different feel. Ever wonder what it was like to sleep with a gold ceiling or shower surrounded by gold well now you can.
Nothing about this space feels normal and I love that. This is a hotel with a statement to make.
If you are after accommodation that is a little different in a great location this one is for you. And if you are looking for unusual things to do in London I have you covered.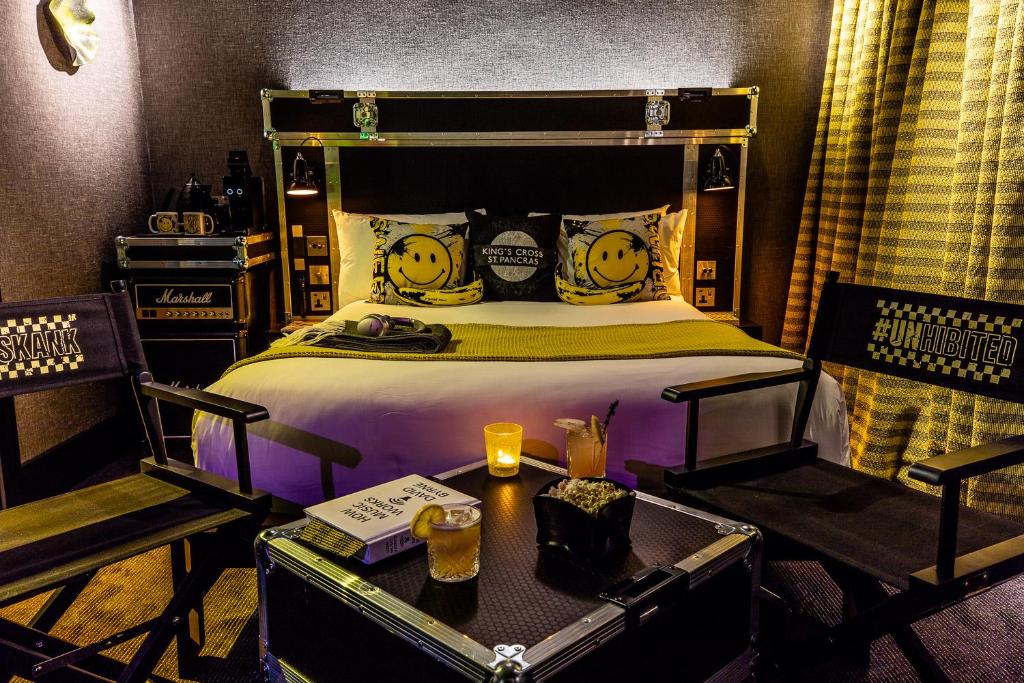 The Corner London City, Tower Hamlets
This place has to be one of the most fun hotels in London. Based on the Cubi all-in-one 'Qbi' pod concept these rooms feature modular furniture which contains everything you need.
The Corner London City is simple, stylish, and fun with lots of quirky pieces. The basins are on top of bicycles to give you an idea.
There is a restaurant on site but you are only 10 minutes' walk away from Shoreditch so get out and explore.
Shoreditch offers some of the best brunches in London.
Best of all this is a budget hotel so even those on a budget can go boutique. You won't find all the facilities you will find at more expensive hotels.
And some rooms will not have windows but honestly, this place is great.
This is one of the best hotels in London England for those wanting something quirky and affordable.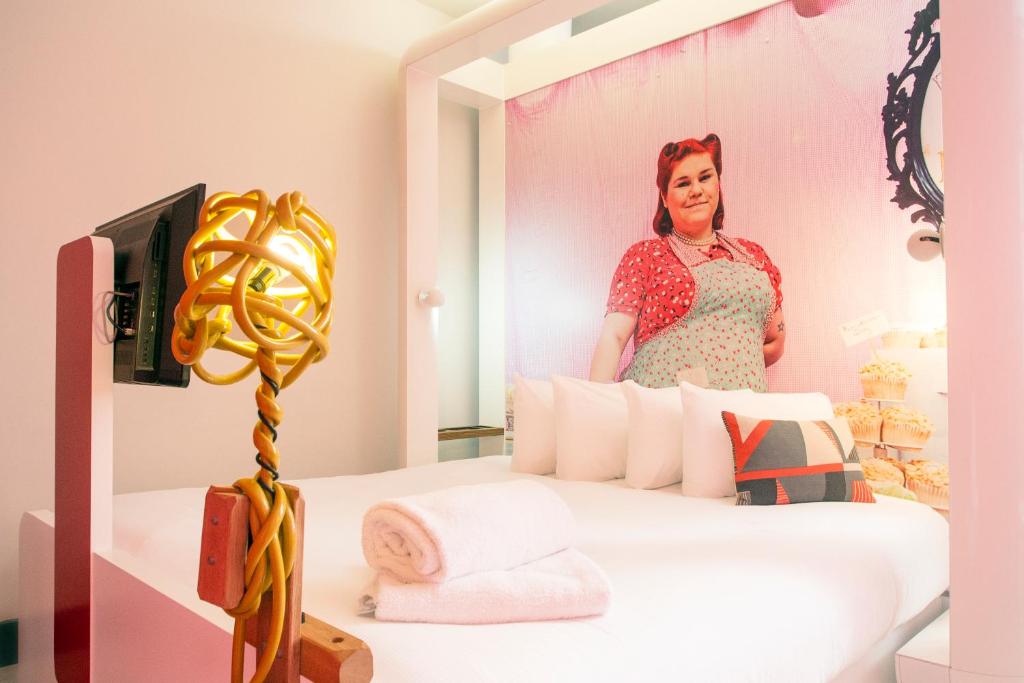 The Montague On The Gardens, Camden
The Montague On The Gardens is one of those rare boutique hotels in London that manages to mix luxury and hother to create something rather special.
This hotel has two restaurants, 2 sunrooms, an on-site gym, and private secluded gardens. And to top that all off it's a 4-minute walk from the nearest tube station.
The rooms are all individually decorated and very stylish all luxurious in their own way. Each has character and all the amenities you would expect.
In the summer you can dine or take afternoon tea in the garden and in the colder months, the luxurious inner rooms beckon you.
If you can often find luxurious hotels a little intimidating then this is the place to come. It would make a perfect location for a romantic getaway.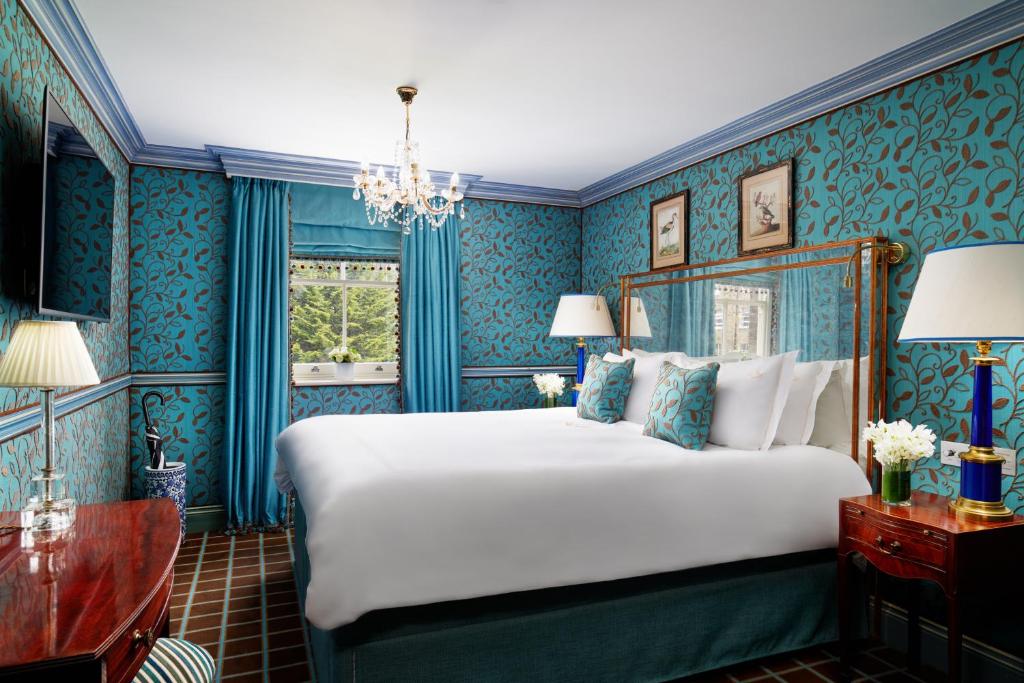 Sanderson London, Westminster
Chairs that are lips, loungers with swans on, and eyes on the back of bar stools are what await you at Sanderson London. This is one of the most unique hotels in central London and it's stunning.
The rooms are simple and stylish while the communal areas do all the talking. It was designed by Philippe Starck and is designed to bring calm.
The dining is as innovative as the design and the 30-yard-long bar serves some incredible cocktails. This hotel manages to mix luxury and modernity and create something that has real character.
And this 5-star hotel in London is only 5 minute's walk away from Oxford circus so is a perfect location for seeing all the sights.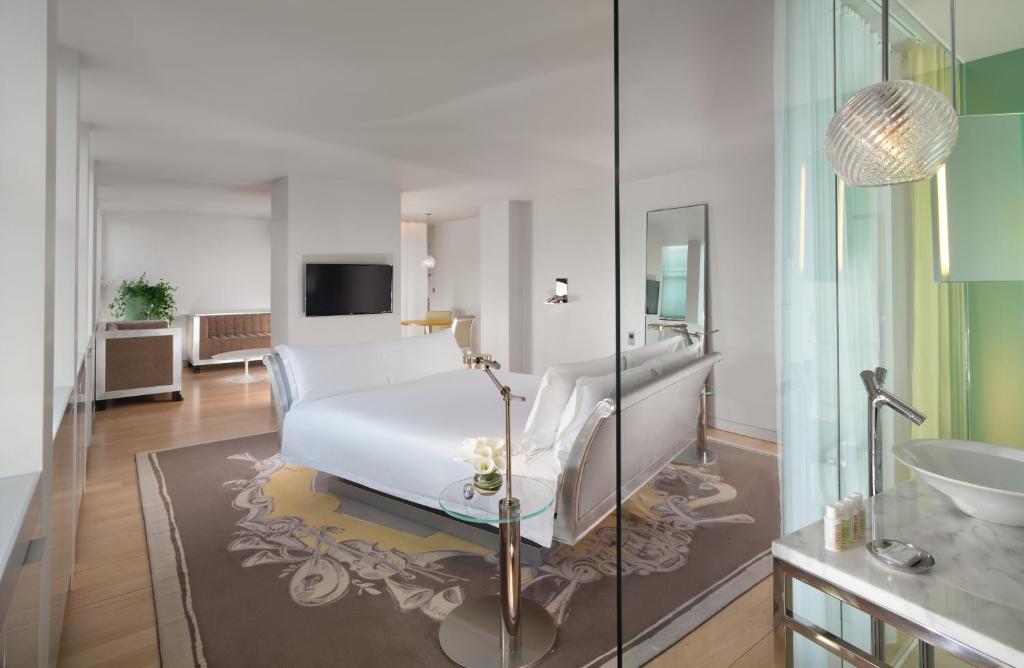 The Rookery, Islington
I'm not sure how else to describe this than Tudor modern glam. This entire place is charming with period furnishing somehow delivered in a way that feels magical.
The Rookery is all about civilized surroundings, old-fashioned hospitality, and friendly efficient service. All the rooms are individually styled and just delightful.
Breakfast is served in the conservatory and guests can relax in the library or in front of an open fire in the oak-paneled lounge.
Located in London's fashionable Clerkenwell area the hotel is just over 1 mile from South Bank's Tate Modern gallery and 1/2 mile from St. Paul's Cathedral.
The nearest tube station is five minutes walk away.
Walking in here you feel like you have entered another world. The hustle and bustle of the outside could be a million miles away which is exactly what you need in London.
This is one of the best boutique hotels in London.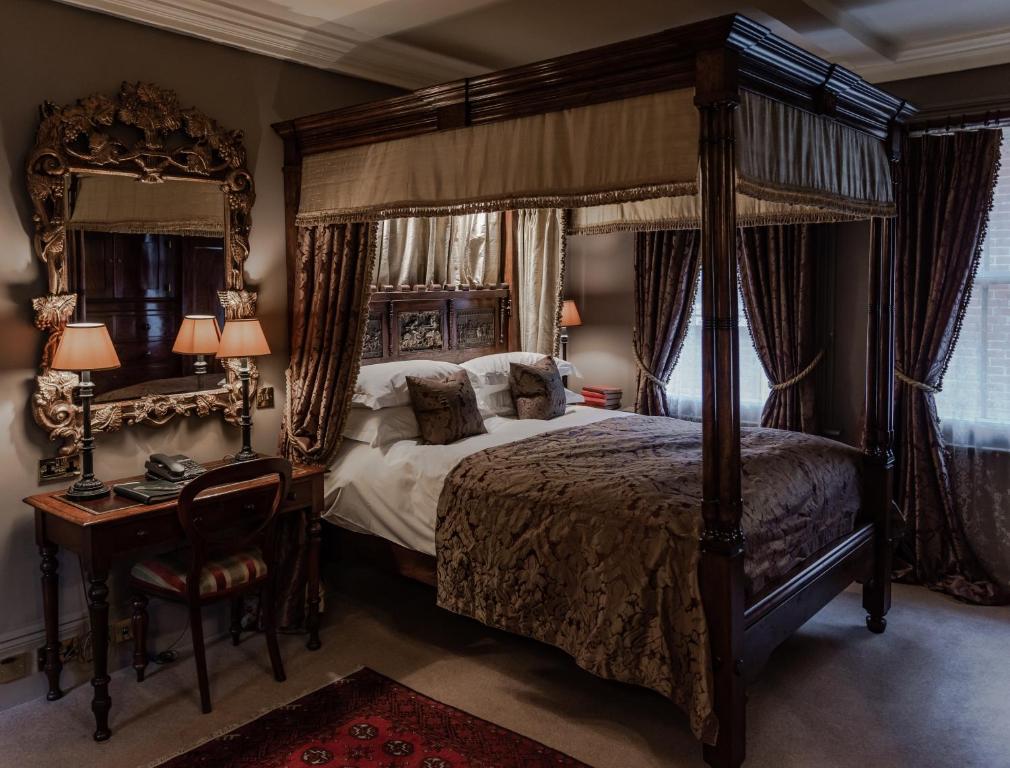 Chateau Denmark, Westminster
Something about this hotel makes my Wes Anderson-loving heart very happy. Just 200 meters from Dominion Theatre Chateau Denmark offers upscale stylish accommodation in a central area.
They have rooms and apartments all individually decorated with something to suit everyone.
Some are lavish with four poster beds and open fires, others more modern with contemporary art, and others with red baths and gratified beds.
It's really hard to describe how unusual this 5-star hotel in London is. If you love stylish accommodation that offers something different then this is for you.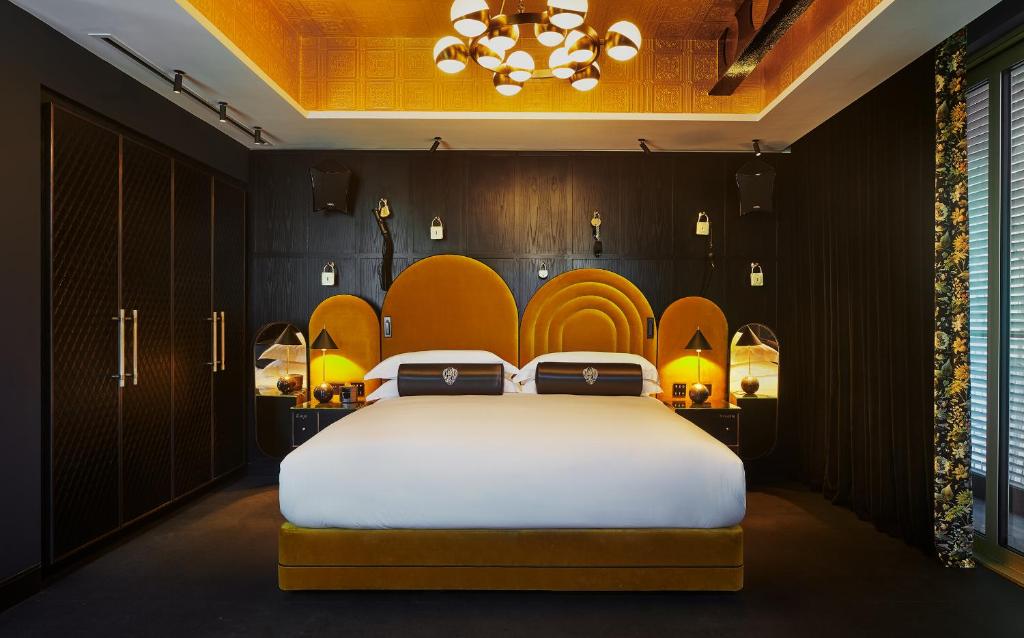 Lime Tree Hotel, Westminster
If you are looking for a London boutique hotel that feels like home and is in a great location then Lime Tree Hotel is it.
Just 650 yards from Victoria Train Station it's in a perfect location to see all the London sights.
Each room at The Lime Tree Hotel is individually decorated and bright and airy. All rooms have a flat-screen TV, a private bathroom, bed linen, and towels.
This welcoming hotel gets praised a lot for how helpful and accommodating the staff is. It's a great hotel for couples.
This is one of the top hotels in London.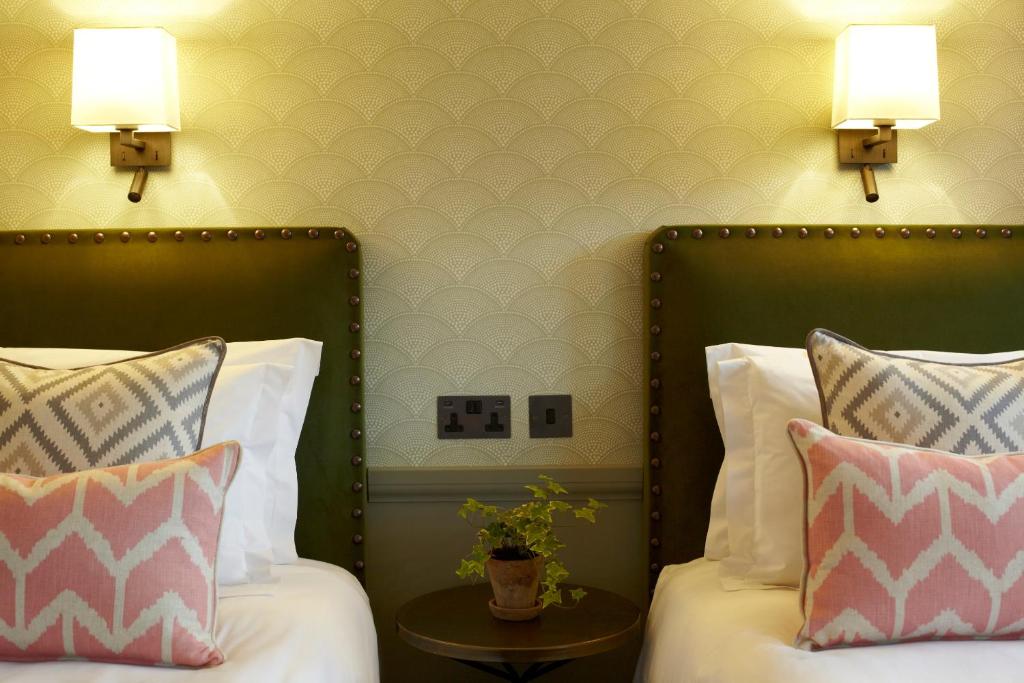 The Zetter Townhouse Clerkenwell
If you are after a luxury hotel in London then this 13-bedroom Georgian townhouse is perfect for you. The Zetter Townhouse Clerkenwell is truly unique and original.
Each room is individually decorated and eclectic. Let's just say these rooms are bold and different.
This place feels like a secret hideaway hidden behind an unassuming front door. The Zetter also has an award-winning cocktail lounge.
This whole place is stuffed full of oddities and curios it's more like an adventure than a hotel stay.
Rooms have a gourmet snack tray, complimentary still and sparkling spring water, tea, and coffee-making facilities, a flat-screen TV, and a hairdryer.
This top hotel in London is a 6-minute walk from Farringdon Train Station and less than a mile from the Barbican Centre.
If you are after a truly unique hotel in London this is it.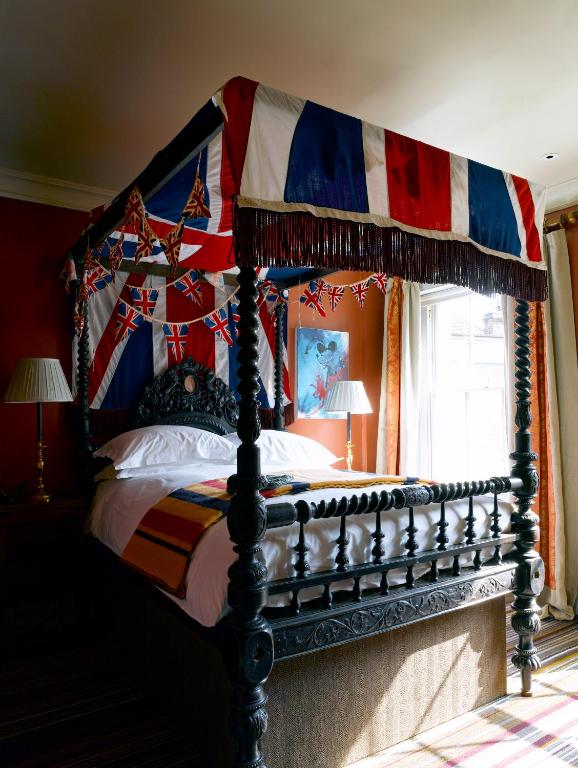 The Hoxton, Southwark Is One Of The Well-Known Boutique Hotels in London
The Hoxton, Southwark is located by the Blackfriars Bridge in London, within walking distance from the South Bank. The Hoxton is a well-known boutique London hotel.
This hotel is where industrial style meets luxury to create something truly outstanding.
Concrete ceilings and bare brick walls give way to luxurious textiles and large plants and it's so pleasing to the eye.
Each room includes free tea, coffee, water, and milk, 1-hour free international calls, and a mini fridge. And the rooftop here is truly spectacular.
If you are looking for a stylish and cool boutique hotel in London that has a casual yet luxurious vibe then this is it.
The Hoxton is one of the best boutique hotels in London.
41, Westminster Is A Post Boutique Hotel In London
Behind Buckingham Palace sits the stylish and luxurious 41. The rooms are striking, the staff incredible and there is a generous supply of free snacks and canapés offered all day.
This is one of the best London luxury hotels.
The hotel has a stylish black-and-white theme that is akin to a gentleman's club. Everything here is the top end from the Bose music systems to the handmade mattresses.
The hotel is just 500 meters from London Victoria Tube and Train Station so it's in a perfect location. It's like a little oasis in the heart of London.
Definitely one of the coolest hotels in London.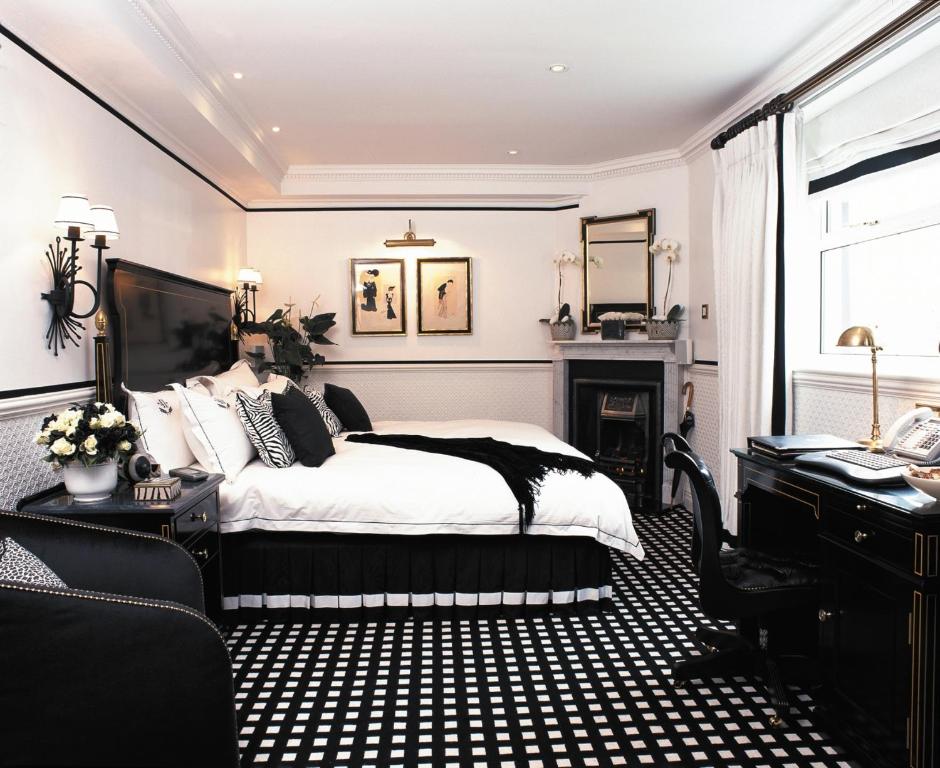 San Domenico House, Kensington, and Chelsea Is One Of The Best Boutique Hotels In London
If you looking for a fancy hotel in London that looks more like a palace or stately home then this is it. San Domenico House is incredibly beautiful.
The rooms are incredible with antiques, paintings, and classical furniture, collected from around the world. Some rooms have a balcony and all rooms have Penhaligon's toiletries.
Victoria Station, Buckingham Palace, and Hyde Park are all just one mile away and Harrods is a fifteen-minute walk.
If you are after a luxury hotel in London then you have found it. If you love beautiful things here are some London landmarks you won't want to miss.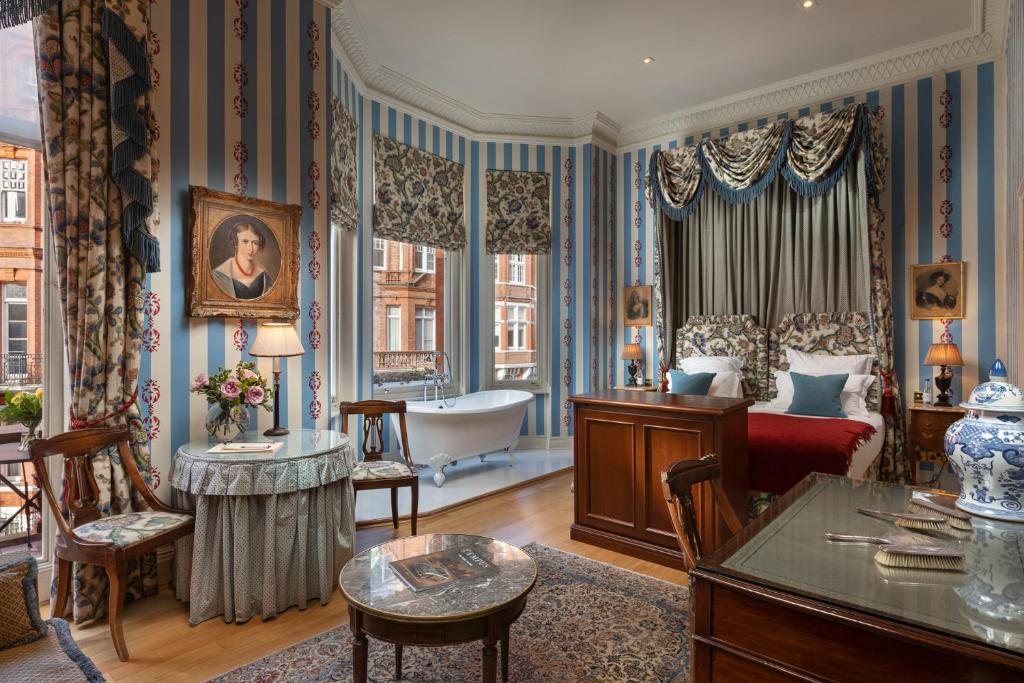 Packing List For London Boutique Hotels
It is always a great idea to pack lightly using only a carry-on whether you are driving or flying into London.
A concealed travel pouch may be one of the most important items you bring with you when staying at London boutique hotels.
This unisex RFID-blocking concealed travel pouch is lightweight and comes in several colors.
It has lots of organization to give you peace of mind. You can keep your most valuable documents safe and secure next to your body.
If you have a pouch already, you may not want to or need to invest in a new one, like me.
If it does not come with RFID protection, these RFID sleeves would be handy to prevent identity theft.
This configuration comes with enough passport and credit card sleeves that the entire family would be protected.
They are slim too, so they will easily fit into your current pouch or wallet. These are the kind my family and I use not only when traveling but at home as well.
If you are planning on taking a lot of pictures with your phone you will definitely want to consider an external charging battery.
This Anker high-speed phone charging battery is the exact one I carry with me on all of my trips. It can be used on a variety of phones, not just an iPhone like I have.
My daughter gifted me with this FugeTek Selfie Stick and Tripod for my birthday. It has Bloothtooth connectivity so it is very easy to use.
I was never a fan of packing cubes until I tried them out! Now I am sold. These Bagail packing cubes are the exact ones I use whenever I travel.
I cannot believe how much more organized I am now! And I never leave without them anymore
I never leave home on a trip without my Bobble filtration bottle. The 18.5-ounce size is perfect for travel and it fits nicely in the pocket of a backpack or your purse.
This replaceable carbon filter ensures fresh water!
Perhaps you are traveling a long distance and packing space is at a premium. Then this collapsible silicone foldable water bottle would work well for you. Would not take up much space in your suitcase at all.
You will want a backpack or daypack with you to store snacks, your water bottle, phone, extra clothes, etc. This foldable water-resistant backpack would be great.
—
As you can see there are so many boutique hotels in London. Whether you are looking for luxury, hip, trendy, or something a little different boutique London hotels offer it all.
Whichever of these unique hotels in London you choose I know you will have an amazing time. Please come back and tell me all about your stay.
Have a great London vacation and I hope you stay in one of these hotels boutique London.
Here are 16 Things To Know Before Your First Time In London.