Are you looking for the best breakfast in Amsterdam? You are in the right place.
In this article, I will walk you through the best breakfast places in Amsterdam and tell you everything you need to know about breakfast in the Netherlands.
Amsterdam is an incredible city with so much to see and do. You will find incredible museums, fantastic galleries, amazing nightlife, and spectacular restaurants.
When it comes to breakfast Amsterdam leaves no stone unturned serving up everything you could possibly imagine. Baked items are especially good here and waffles and pancakes are very popular.
What is becoming even more popular is brunch in Amsterdam with the leisurely meal having a resurgence. Stylish cafes are a perfect place to enjoy a great brunch before an afternoon of sightseeing.
While the best breakfast places in Amsterdam are always up for debate depending on what you enjoy this list includes my favorites.
So are you ready to see the best places to go for Breakfast in Amsterdam? Grab a seat, get a hot coffee, and let me walk you through some of the best breakfast places in Amsterdam.
And if this is your first time traveling here my 18 Things To Know Before Traveling To Amsterdam will help you plan and enjoy your trip.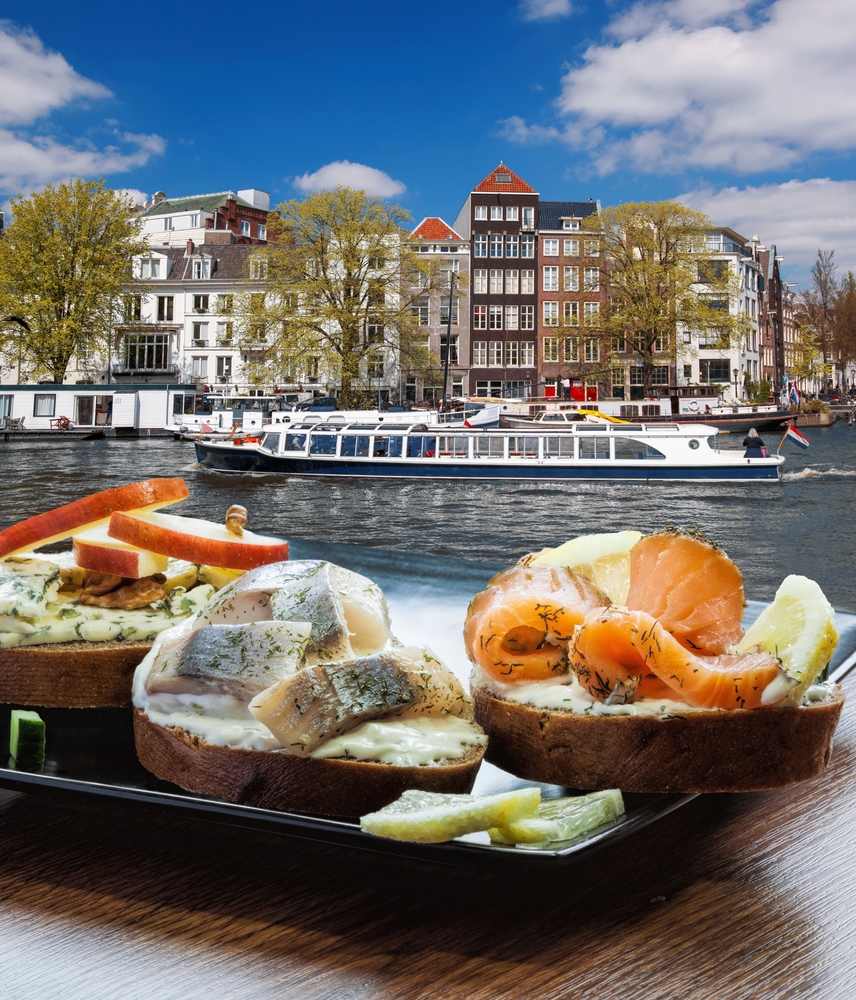 15 Best Places For Breakfast In Amsterdam
The Happy Pig Pancake Shop
If you are looking for Dutch pancakes in Amsterdam then head to The Happy Pig Pancake Shop. Here you will find authentic Dutch pancakes in the heart of the city.
The pancakes here are thinner than you may be used to and tend to be cut/twisted into strips. But let me tell you they are light, crispy, and oh-so-delicious.
The menu options are huge. You pick your pancake which can be vegan, gluten-free, or regular, and then choose your topping. Toppings can be sweet or savory.
Personally, the vegan chocolate sauce looks like a winner as does the homemade apple mix and maple syrup. They do also serve waffles here.
For the best pancakes in Amsterdam come here it is one of those places everyone should visit once.
Greenwoods
If you are looking for English Breakfast in Amsterdam then Greenwoods is the place to go. This all-day breakfast, brunch, and lunch room serves classic breakfast dishes all day.
The menu is extensive and full of delicious breakfast items like eggs benedict, french toast, and breakfast burgers. There are also vegan, vegetarian, and gluten-free options.
Everything is freshly homemade and delicious and you will find the best brunch in Amsterdam here.
They have two locations in Amsterdam and both are just as good as the other. These places are always busy and often there is queueing outside but it is worth it. They are the best breakfast places in Amsterdam.
The Breakfast Club
For the best breakfast in Amsterdam head to The Breakfast Club. It's a trendy spot that is perfect for breakfast or a lazy brunch.
They have five locations throughout the city all serving a variety of food that is bound to please everyone.
There are plenty of boutique hotels in Amsterdam as well.
From their city-themed breakfasts to granola to buttermilk pancakes this really is a diverse menu. The juices and smoothies are also worth a mention too.
if you are looking for an English Breakfast in Amsterdam you will find it here. Whatever you love to eat will be on the menu.
Brunch in Amsterdam doesn't get much better than this.
Staring At Jacob For The Best Brunch In Amsterdam
For the best brunch in Amsterdam head to Staring At Jacob. Here you will find American-inspired comfort food that is delightful.
The Brunch menu is divine containing such items as Banana Bread French Toast, Shrimp Tacos and
Nashville-Style Hot Chicken Sandwich.
Vegans and vegetarians are catered to well here. The star of the menu though is the fried chicken with buttermilk waffles.
The atmosphere is cozy, the food is hearty, and the cocktails complement everything perfectly.
It does get busy so if you can book a table, it's ever so popular and you won't want to miss out.
Rum Baba
If you have a sweet tooth and a penchant for pastries and other baked goods this is the place to come. Rum Baba serves delectable sweet treats and the most wonderful coffee.
The menu is a delight of freshly baked pastries and cakes and there are sugar-free, gluten-free, and vegan options available. This is a great spot for a quick breakfast in Amsterdam.
And if you love the decor here, which you will, guess what you can take it home with you. Yes, everything is for sale here.
Furniture, books, plants, and other home accessories are all available to buy.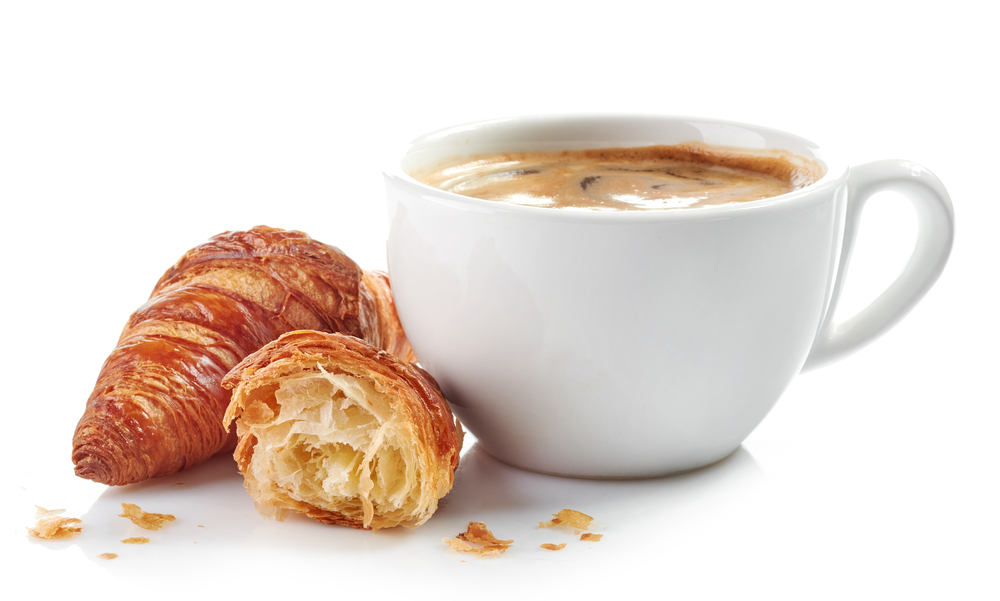 G's Brunch Boat
If you are after brunch in Amsterdam that is a little different then how about brunch on a boat? I mean the city is famous for its canals so it seems fitting right?
The boat sails every weekend whatever the weather. The menu isn't huge but contains delightful-sounding fare.
Smores Waffle, poached eggs on an English muffin, and smoked salmon on toasted brioche all feature. There are also vegetarian and vegan options.
The cocktails also come as you would expect in unlimited options and they all sound delicious. For a late leisurely breakfast in the Netherlands, a trip on the boat is perfect.
You will need to book and the boat doesn't run all season so check before you go.
If you are looking on planning a trip to Amsterdam then take a look at my Ultimate 1 Day In Amsterdam Itinerary.
Coffee And Coconuts Offers Healthy Breakfasts in Amsterdam
If you are looking for a healthy breakfast in Amsterdam then this is your place. Vegans will just go mad for the vegan juices and their green coconut bowl.
The menu is just a healthy delight of unusual options a lot containing coconut milk and the coffee menu is large. Breakfast is served until 1 pm so it's perfect for the late riser.
I feel like the decor of this place deserves a shout too. Think elevated chic beach hut, it's honestly sublime adding to the amazing atmosphere.
There are two locations but the De Pijp eatery is housed inside a former 1920s cinema and is just divine.
Here they serve the best breakfast in Amsterdam in one of the most amazing surroundings.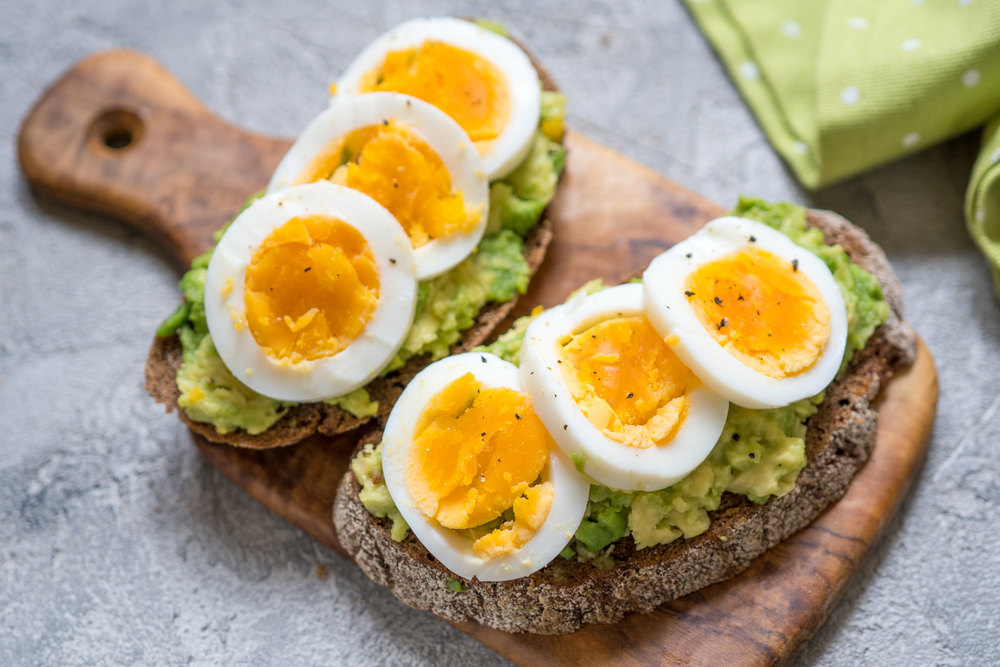 Conservatorium Brasserie
If you are looking for somewhere special for breakfast in Amsterdam then head to the Conservatorium Brasserie.
Located inside the Conservatorium Hotel in the Museum Quarter, this restaurant is bright, airy, and ever so trendy.
It is found in an internal courtyard with huge windows and a spectacular glass ceiling.
It is a perfect place for a spot a of breakfast or lunch.
The breakfast and brunch offer items like Lobster Omelette and other a la carte options.
This is a place where beautiful champagne comes in crystal glass and the buffet includes an 'ice table' with delicious fresh fish.
If you are celebrating then this is the place to come. It's a perfect place for breakfast or brunch in Amsterdam.
Pancakes
If you are looking for the best pancakes in Amsterdam then Pancakes can deliver. With several locations in Amsterdam, it's the perfect place for your pancake fix.
They serve Dutch pancakes and American pancakes but when you are here you must try the Dutch kind. They're flat and thin, kind of like crèpes, and can be ordered gluten and lactose-free and vegan.
The savory pancakes consist of items such as ham and cheese and cheese and apple and sweet pancakes come with apples and almonds. Or try a mix of bacon, banana, and chili. The options are endless.
This is one of the best places for breakfast in Amsterdam.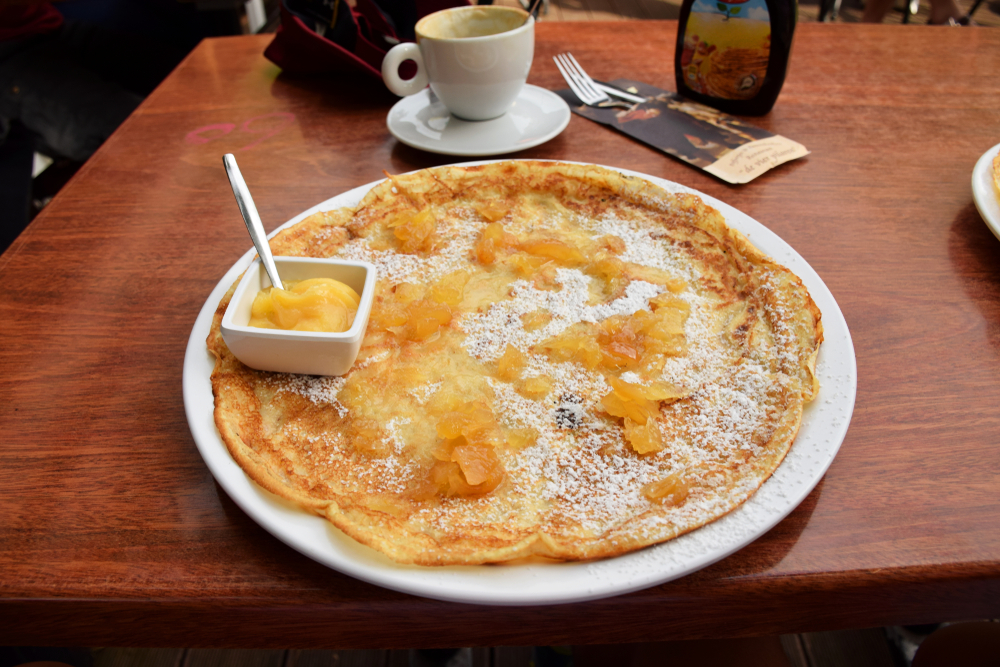 Omelegg
This family-run business is one of the best places for breakfast in Amsterdam. They obviously specialize in omelets and are often called 'the Netherlands' first omelettery'.
If you can imagine an omelet they serve it here. They also have great names like Greek Wedding, Popeye, Viking Fisherman, and The Italian Job.
If you love omelets and want a lovely filling breakfast in Amsterdam this is the place for you.
Lanskroon For Breakfast In Amsterdam
If you are after a truly Dutch breakfast experience then head to Lanskroon for king-size stroopwafels. They are tasty crisp and oh-so-delicious.
Stroopwafels are thin, round waffle cookies. They are made from two layers of sweet baked dough held together by caramel filling. They are the best Dutch pancakes in Amsterdam.
Here the stroopwafels are about 5 inches in diameter. There are two flavors, honey and coffee/caramel. If you haven't had one before you really need to try one.
The tearoom is daily open and they also serve other baked products. These are the best waffles in Amsterdam.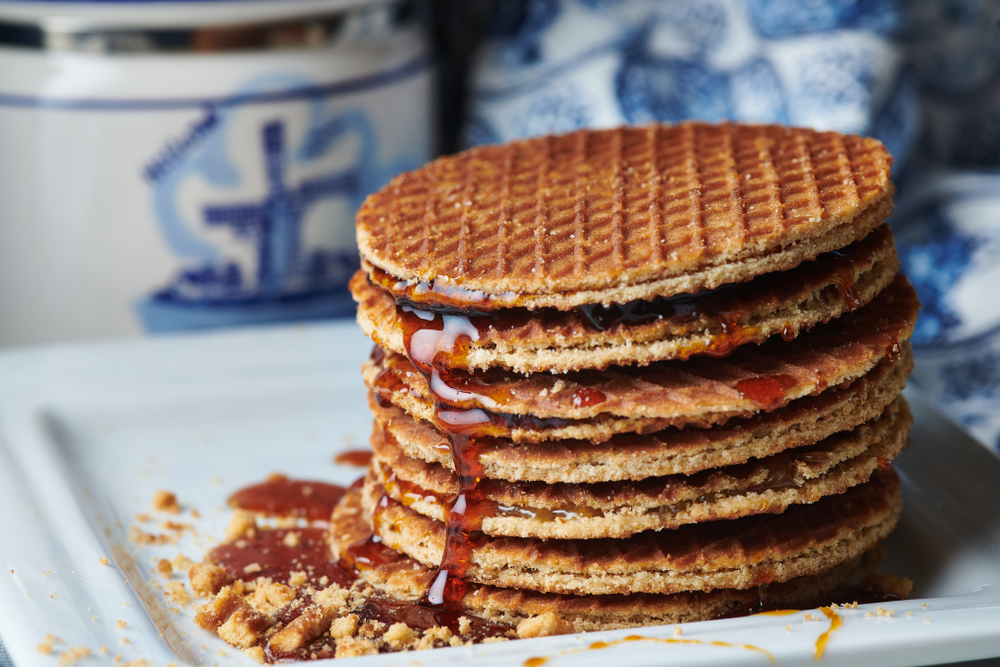 Meram Osdorp For Turkish Breakfasts In Amsterdam
If you are looking for a Turkish breakfast in Amsterdam then Meram Osdorp is the place to come. With a waterfront terrace and a casual vibe, it's the perfect spot for breakfast or lunch.
They offer a buffet breakfast that is reasonably priced and offers you so many options. Expect grilled vegetables, fresh fruit, eggs heated in yogurt, pancakes, and an array of other delights.
All served of course with Turkish Tea.
It's the perfect spot to try something a little different and the view makes it all the more pleasant.
Scandinavian Embassy
For a Scandinavian-style breakfast head to this eatery. The breakfast is healthy and the coffee is delicious.
They take their coffee very seriously here even offering coffee workshops.
It's a cozy place with a Scandinavian feel that serves a great breakfast and brunch full of Nordic goodies.
Expect items like bear sausages and home-cured salmon with roe and poached eggs, an array of porridge, and hearty soups.
They also do some really great sweet treats if you have the time and room.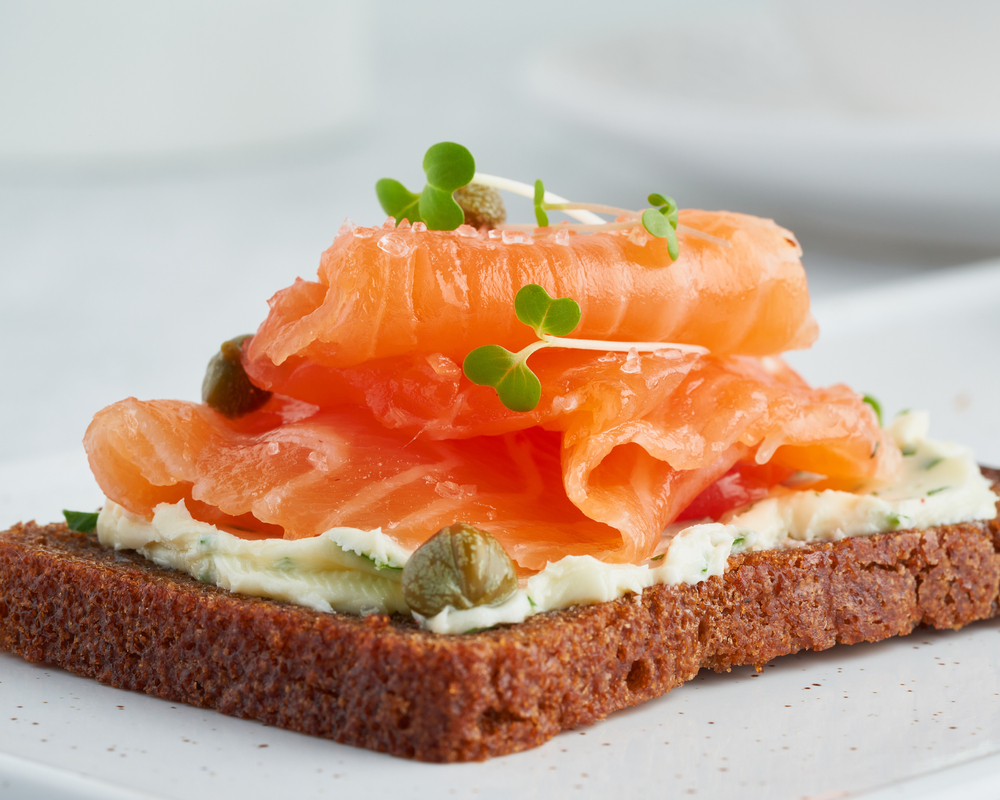 Anne And Max
Think of this place as a friend's living room in the middle of town. This is the vibe they are going for and it works so well. Think lounge chairs, a great book, and a fantastic cup of coffee.
Fitting with the vibe you can order a breakfast platter for two and share a delicious array of breakfast items with a friend.
Or you can order oatmeal, fruit and grains, banana bread breakfast, or eggs and bacon.
The food is simple yet elevated and wholesome. And anywhere that calls their coffee slow coffee is my kind of place.
There is something welcoming and nurturing about this place and it's definitely one of the best breakfasts in Amsterdam.
Bakers And Roasters
Bakers And Roasters offer something a little more lively. In their own words, it's a 'New Zealand-style café served with a heavy dose of Brazil'.
This restaurant is what you get when a young Kiwi and a young Brazilian decide to serve tasty street food and delicious coffee.
Here the breakfast/brunch items come with a kick of something different, huevos rancheros, eggs florentine, and Kiwi brekkie all feature.
Whatever breakfast food you like it is on this menu.
It's a fun menu and a fun place guaranteed to fill you up and leave you smiling.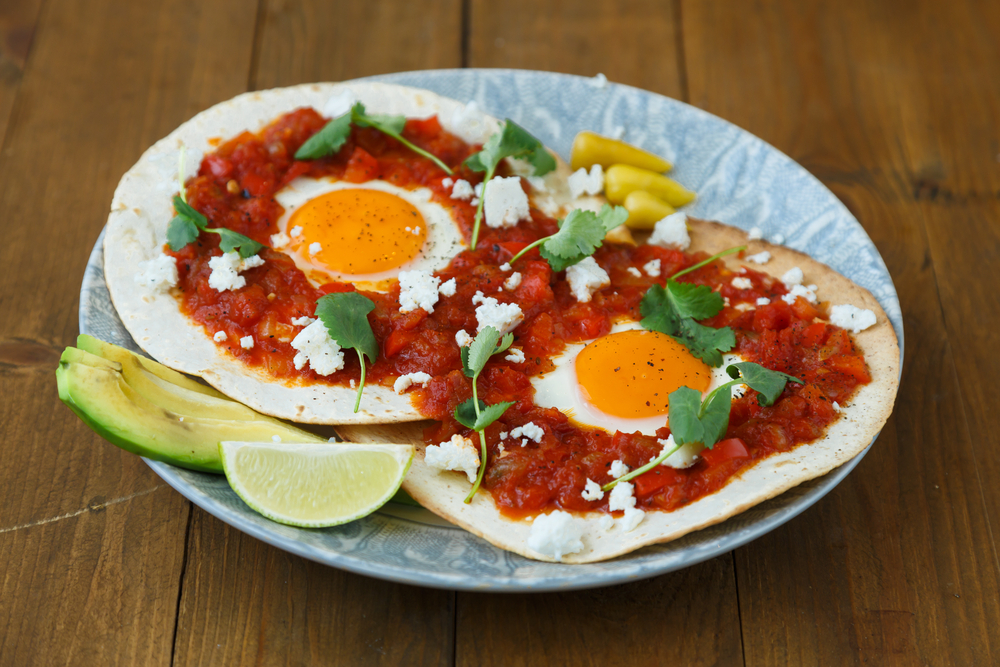 As you can see when it comes to breakfast in Amsterdam the options are endless.
Whether you are looking for an English Breakfast in Amsterdam or a Turkish breakfast you will find it. And when here you really must try Dutch pancakes in Amsterdam they really are delicious
I feel these are some of the best breakfast places in Amsterdam and I hope this list helps you in choosing where to go.
If you try any please come back and let me know how it went. I hope you have a great time in Amsterdam and I hope you have a great vacation.
If you need more help planning my Ultimate 2 Days In Amsterdam Itinerary might help.
Packing List For Having Tea In London
It is always a great idea to pack lightly using only a carry-on whether you are driving or flying into Amsterdam.
A concealed travel pouch may be one of the most important items you bring with you when visiting the Netherlands.
This unisex RFID-blocking concealed travel pouch is lightweight and comes in several colors.
It has lots of organization to give you peace of mind. You can keep your most valuable documents safe and secure next to your body.
If you have a pouch already, you may not want to or need to invest in a new one, like me.
If it does not come with RFID protection, these RFID sleeves would be handy to prevent identity theft.
This configuration comes with enough passport and credit card sleeves that the entire family would be protected.
They are slim too, so they will easily fit into your current pouch or wallet. These are the kind my family and I use not only when traveling but at home as well.
If you are planning on taking a lot of pictures with your phone you will definitely want to consider an external charging battery.
This Anker high-speed phone charging battery is the exact one I carry with me on all of my trips. It can be used on a variety of phones, not just an iPhone like I have.
My daughter gifted me with this FugeTek Selfie Stick and Tripod for my birthday. It has Bloothtooth connectivity so it is very easy to use.
I was never a fan of packing cubes until I tried them out! Now I am sold. These Bagail packing cubes are the exact ones I use whenever I travel.
I cannot believe how much more organized I am now! And I never leave without them anymore.
I never leave home on a trip without my Bobble filtration bottle. The 18.5-ounce size is perfect for travel and it fits nicely in the pocket of a backpack or your purse.
Also when filled with water, it is not too heavy to carry.
Perhaps you are traveling a long distance and packing space is at a premium. Then this collapsible silicone foldable water bottle would work well for you. Would not take up much space in your suitcase at all.
You will want a backpack or daypack with you to store snacks, your water bottle, phone, extra clothes, etc. This foldable water-resistant backpack would be great.
—