Will you be spending 1 day in Amsterdam? Are you looking for things to do and places to see?
Well, you have certainly come to the right place because I have visited Amsterdam and fell in love with this delightful European capital city instantly.
I am here to share my best advice on what to do when you will be visiting Amsterdam in a day.
When you think of the Netherlands, don't you visualize canals and windmills? Perhaps even wooden shoes, bicycles and brightly colored tulips?
Well, Amsterdam is all of those things and even more! Being the capital of the Netherlands, Amsterdam is lovely if not provocative, with its 'red light' district.
There is a lot to do, and much to see in Amsterdam, and if you rely on my 1 day in Amsterdam itinerary, you will be well prepared.
For tips on healthy travel, read How To Avoid Getting Sick on a Plane.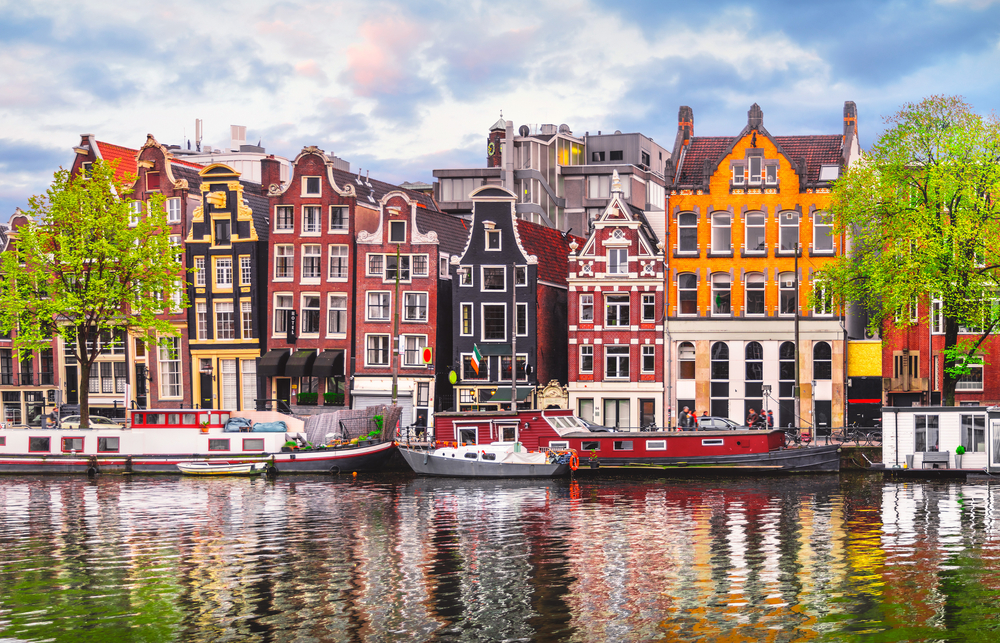 The Ultimate 1 Day In Amsterdam Itinerary
Stop 1: Visit the Anne Frank House.
Visiting the former hiding place where the Frank family lived, and where Ann wrote her diary is usually a top priority of those visiting Amsterdam and an interesting way to begin your 1 day in Amsterdam.
No matter how familiar you are with the Anne Frank story, a visit to the secret annex where the Frank family hid from the Nazis will be unforgettable for you and those traveling with you.
Anne Frank's diary is on display, along with absorbing and thought-provoking exhibits. But it is not until you see the starkness of the hiding attic, that the real tragedy is so profoundly felt.
For packing tips read How To Pack Light On Your Next Trip
You must purchase tickets online beforehand. If you do not already have a pre-purchased ticket when you arrive it is likely you will not gain entrance to the attraction.
This is what happened to me, and I do not want you to be disappointed as well during your 1 day in Amsterdam.
After you complete your tour, plan a pleasant stroll through the quaint neighborhood of Jordaan and enjoy the ivy-covered buildings.
Walking Tour Tickets: Amsterdam: Life of Anne Frank Walking Tour (Does not include entrance into the Anne Frank House, but extremely interesting and thought-provoking nonetheless.)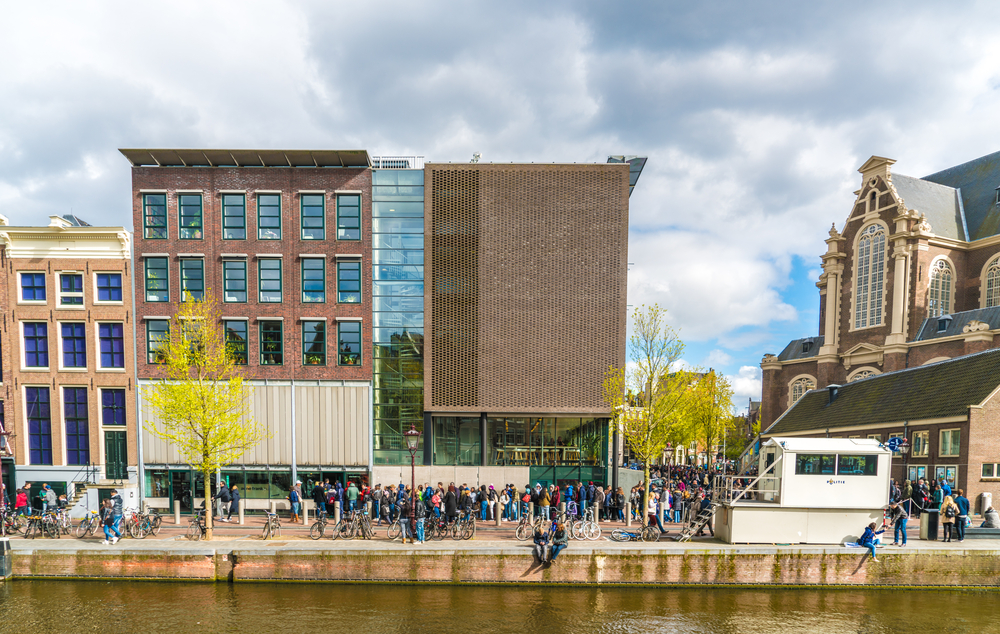 Stop 2: Rent a Bike to see Amsterdam as the Dutch do during your 1 day in Amsterdam
When you think of Amsterdam, you probably think of bicycles, right? For good reason, Amsterdam is consistently rated as one of the most bike-friendly cities in the world.
And with good reason. There are more bikes in Amsterdam than there are cars. Four times the number of bicycles than cars, to be exact.
Do as the locals and tourists do, and grab a bike to tour around the city.
There are many bike tours to choose from,  to match your budget and personal tastes, whether it be an adventure, visiting historic sights or perhaps a food tour.
Fun fact: you can ride your bike through a museum! Yes, you can cycle (or walk, of course) through Rijksmuseum in Amsterdam.
If you have more time in Amsterdam read my Two Days in Amsterdam Itinerary.
When I visited Amsterdam, we walked through the museum. It is a very popular spot for locals and tourists alike, with street performers galore.
You will probably want to wear closed-toed shoes when you cycle during your 1 day in Amsterdam.
These Skechers breathe easy fashion sneakers are lightweight and would be perfect. I like them because they are inexpensive, come in lots of colors to choose from, and best of all? No laces to tie.
These are the socks I wear when running and walking long distances when on vacation, that will pair perfectly with any walking or athletic shoe you will be bringing to Amsterdam.
They are Feetures high-performance compression socks.
The compression will aid in the circulation of your feet, which will provide comfort and allow you to walk and bike around Amsterdam and enjoy yourself.
Get Tickets Here: 2-Hour Bike Tour of Amsterdam
Riding a bike, either independently or with a guide, is a must do to place on your 1 day in Amsterdam itinerary.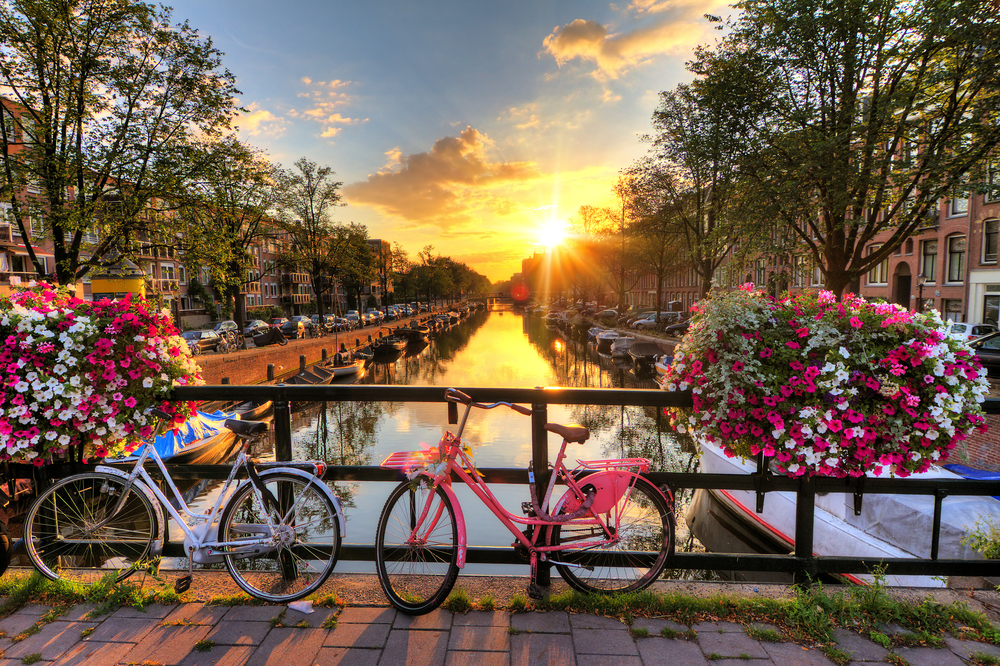 Stop 3: Take A Canal Cruise To Learn About Amsterdam's Past Flooding
Another popular activity to consider doing during your 1 day in Amsterdam is cruising the canals to get another view of the city. And learn about how the Dutch prevent flooding nowadays.
The Dutch canal system was created in the 1600s to combat the perennial flooding the Netherlands endured. The frequent flooding wreaked havoc with the Dutch, causing loss of life, loss of incomes and creating financial hardships for its citizens. Today, Amsterdam is 10 feet below sea level!!
For inspiration here are 7 Tips For Surviving Long Haul Flights
Fun Fact: Amsterdam's canals, the epicenter of many of Amsterdam's activities, have earned the UNESCO World Heritage Site designation, as a location so unique it must remain protected for generations to come.
There are many kinds of canal cruises to select from, depending on your budget and how much time you have to devote to it. The most popular ones last one hour.
There are hop on hop off selections, and romantic candlelit evening canal cruises. Amsterdam takes on a magical aura in the evening with her twinkling lights everywhere.
Get Tickets Here: City Canal Cruise
Get Tickets Here: Amsterdam: 1-Hour Canal Cruise
Get Tickets Here: Amsterdam Evening Cocktail Cruise
Canal cruising is the perfect way to learn about Amsterdam's water history and see the city and attractions in such an informative and interesting way. I suggest adding a canal cruise to your 1 day in Amsterdam itinerary.
It will probably be a bit chillier sailing on the canal waters, no matter the season you visit Amsterdam. I love this lightweight waterproof rain jacket Just toss it in your backpack when not using it.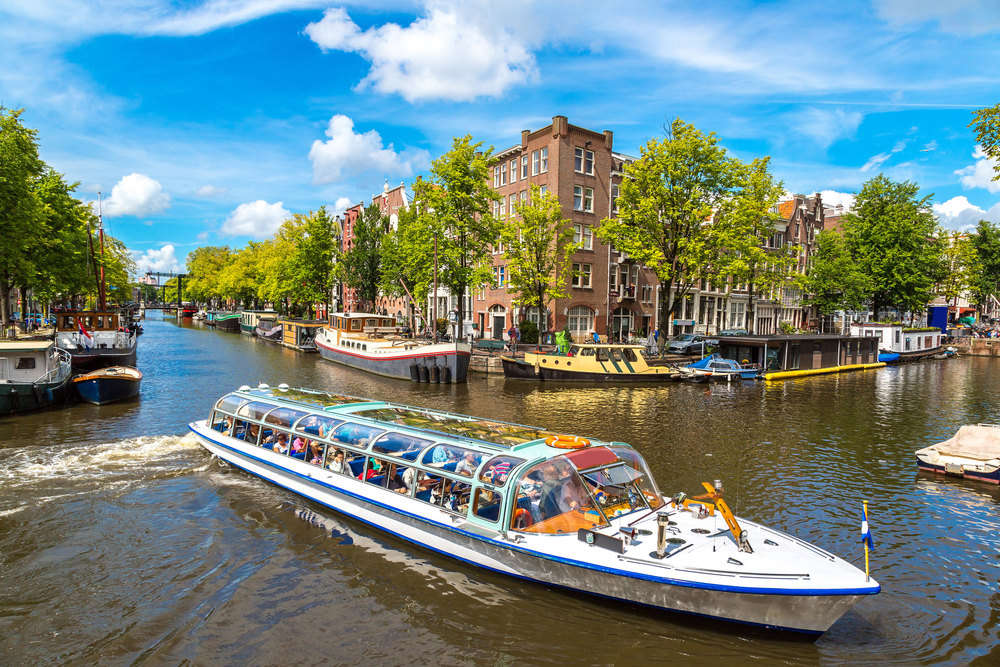 Stop 4: Soak Up Amsterdam Culture At Museumplein
Museumplein is the unofficial cultural center of Amsterdam. It is where the top museums of Amsterdam meet: the Rijksmuseum, the Van Gogh Museum and the Stedelijk Museum meet.
The Rijksmuseum holds 800 years of Dutch history. The Van Gogh Museum houses the largest collection of Van Gogh paintings, drawings, and letters.
The Stedelijk Museum displays contemporary art and designs. These are by far the three most popular museums in Amsterdam.
All three of these museums require admission. As I always suggest, it is better to have prepurchased entrance tickets beforehand for all the museums and attractions you wish to visit.
Since you only have 1 day in Amsterdam, you do not want to spend time in line waiting to purchase your tickets on the day of your visit. Plus, buying tickets online often are discounted and have skip-the-line perks.
Get Tickets Here: Rijksmuseum: Skip-the-Ticket-Line Entry and Booking Fee
Get Tickets Here: Combination Ticket: City Canal Cruise and Rijksmuseum
Get Tickets Here: Van Gogh Museum Ticket
Get Tickets Here: Amsterdam: Van Gogh Museum Ticket and City Canal Cruise
How many museums, if any, that you visit is totally up to your tastes and the amount of time you have to dedicate to them during your 1 day in Amsterdam.
Museumplein is the open square space between the buildings that house these three very popular museums. When I visited it was crowded with locals and tourists alike as it is quite popular.
There are always activities and in the warmer months exhibits and markets. So depending on the time of year you visit, will depend on what is occurring at the Museumplein.
Make sure to take a picture in front of the iconic I Amsterdam letters. They are HUGE and you cannot miss them.
Depending on the time of year you visit Museumplein or any Dutch museums in Amsterdam, you may need to bring a sweater to layer to keep warm. This flowy cardigan is so pretty and fashionable and cheap too.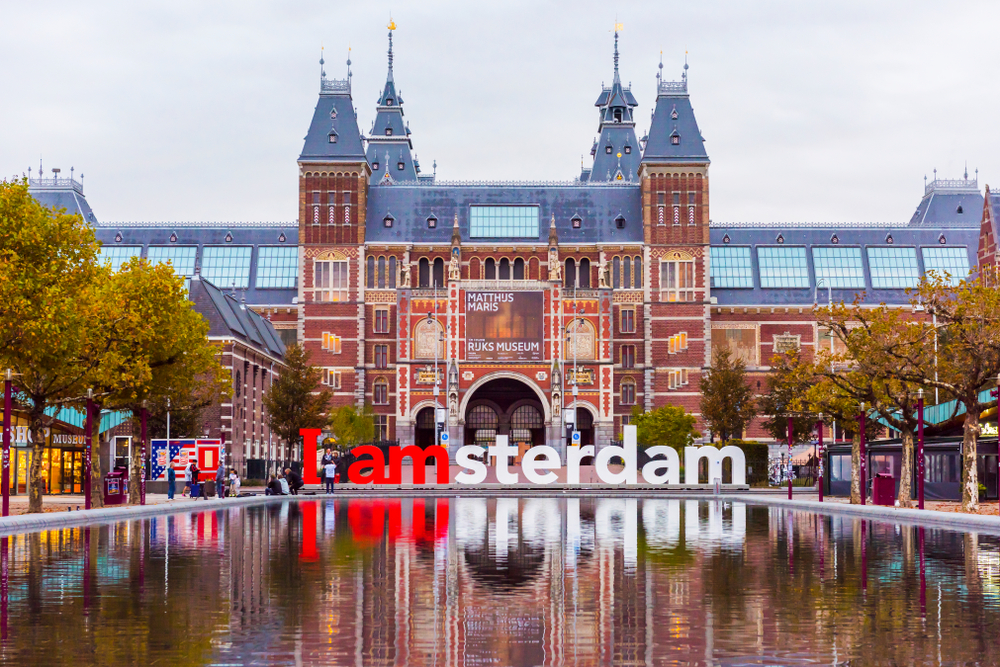 Stop 5: Visit The Amsterdam Flower Market
When you think of the Dutch, you think of flowers, especially tulips, right? Me too. The Amsterdam Flower Market, Bloemenmarkt, is where you can find blooming tulips of every single color.
And tulip bulbs to bring back home with you to enjoy later.
If you do plan to take flower bulbs out of the country, make certain they have a customs-cleared stamp on them, ensuring you will not have any difficulties when leaving the Netherlands.
Whether you plan to purchase flower bulbs to bring back with you or not, Bloemenmarkt is a colorful and interesting place to visit during your 1 day in Amsterdam.
The flower market is literally housed in about a dozen or so flower stalls on one of Amsterdam's canals. Yes, it is a floating flower market.
Depending on the time of year you visit, will depend on the kinds of flowers available. But there are always blooming flowers for you to see and smell.
While walking along the canal to get to the flower market stalls you may want some sunglasses to protect your eyes from the sun's harmful rays. These unisex retro-trendy polarized sunglasses would be perfect. They come in tons of colors and are very cheap!
Amsterdam offers so many fabulous eateries to enjoy breakfast in Amsterdam.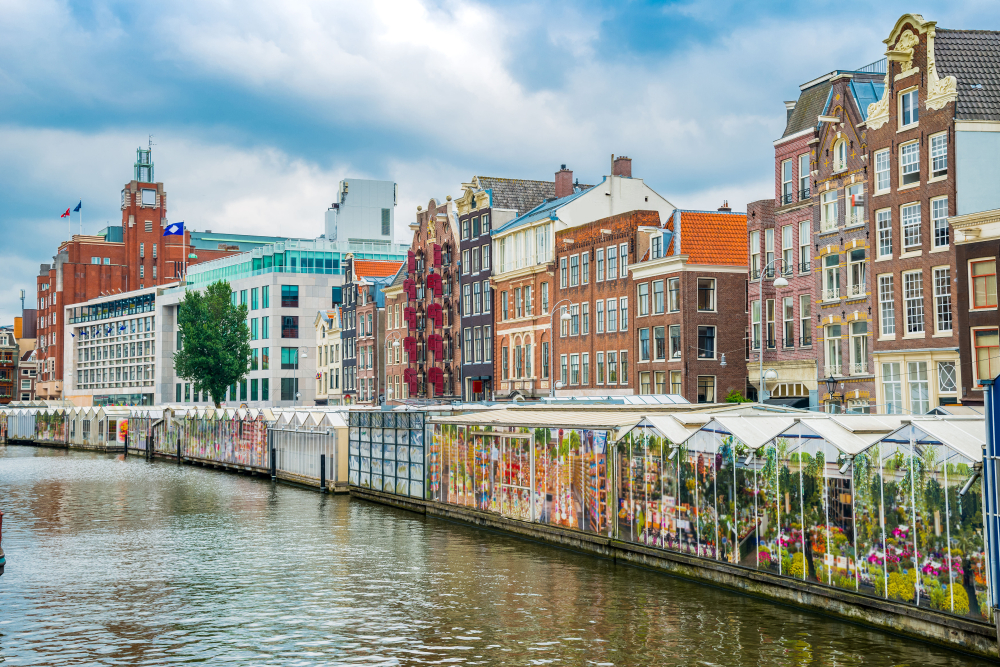 Stop 6: Get Your Shopping On At The 9 Streets
The 9 Small Streets area is the trendy Amsterdam location to be. It is where even the locals go to see and be seen. 
Three streets cross over two canals, forming the 9 small streets. Great place to check out during your 1 day in Amsterdam.
You will find everything you desire in this fashionable district. There are lots of swanky shops, coffee shops and cafes, bookstores and of course restaurants and bars. The area is literally overflowing with fashion and food.
I like to bring my own reusable bags along when I travel. Less trash to throw out and really convenient. Some stores will charge you for a sack.
These lightweight yet heavy-duty reusable shopping sacks are so cool and fold down into themselves to a tiny size to pack away. When traveling, I am all about avoiding bulk. So neatly folding these into a tiny size is a great perk!
This is a great destination to take memorable photographs of your 1 day in Amsterdam to post on Instagram or to show family and friends back home.
The colorful shops and bars and the Amsterdam canals make for very colorful backdrops.
There are so many boutique hotels in Amsterdam in this trendy area.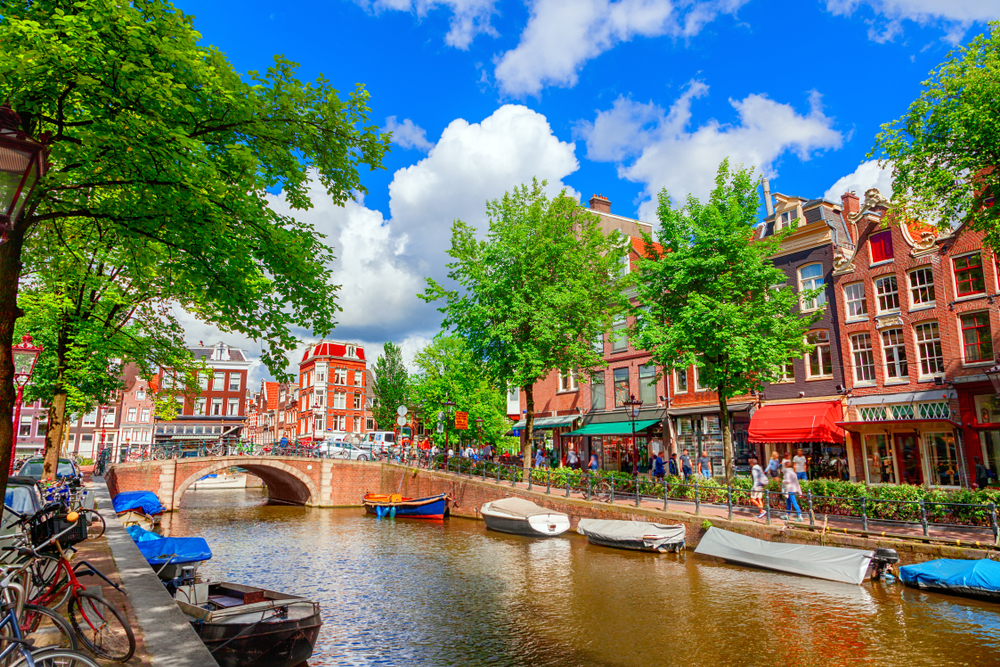 Stop 7: Check Out The Red Light District- If You Dare
Amsterdam's infamous red-light district is not for the faint of heart. DO NOT BRING YOUR CHILDREN HERE!
I visited the naughty red light district during the day during my 1 day in Amsterdam. I am no prude, but it is a very provocative and erotic district.
You MUST be aware of this if your intention is to visit the red light district. This is where Amsterdam's legal prostitution takes place.
Tickets Here: Amsterdam Red Light District 2-Hour Walking Tour
Tickets Here: Amsterdam: Red Light District 1.5–Hour Night Walking Tour
In the evenings, sex workers attempt to lure visitors from behind windows lit with red lights. Although no picture taking is not permitted, visitors are welcome.
If you intend to make this part of your 1 day in Amsterdam, know there is a strong police presence to keep the neighborhood safe.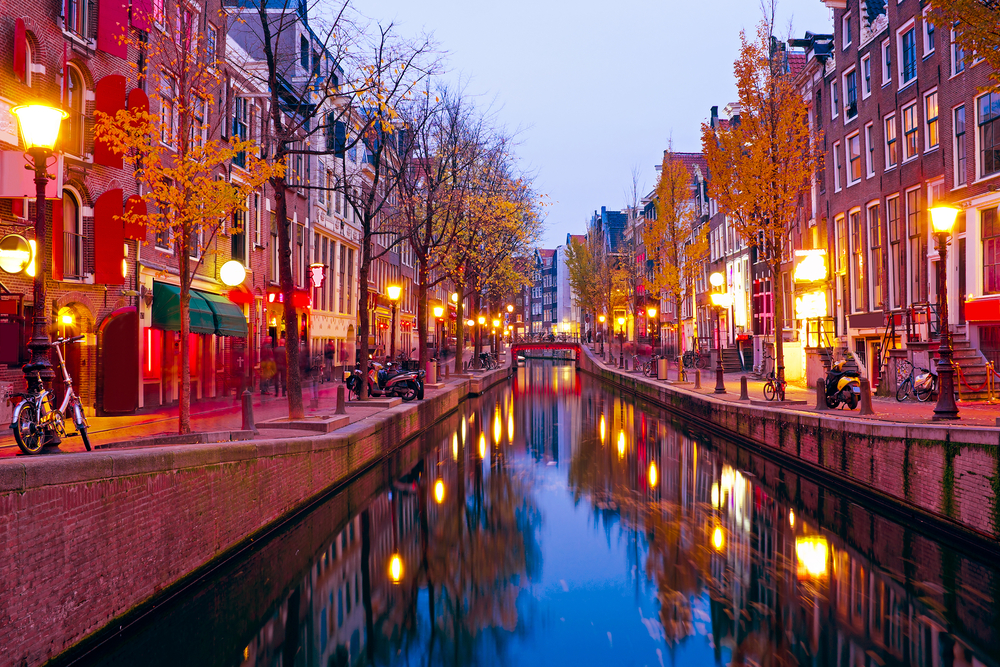 Packing Tips For Your 1 Day In Amsterdam Itinerary
You may be spending 1 day in Amsterdam on your way to another European city. Or perhaps as part of a convention.
Whatever your reason, using these useful packing tips will enhance your 1 day in Amsterdam itinerary and I hope help make it more stress-free!
A concealed travel pouch may be one of the most important items you bring during your 1 day in Amsterdam itinerary. This unisex RFID blocking concealed travel pouch is lightweight and comes in several colors.
It has lots of organization to give you peace of mind. You can keep your most valuable documents safe and secure next to your body.
If you have a pouch already that does not come with the RFID protection, these RFID sleeves would be handy to prevent identity theft.
This configuration comes with enough passport and credit card sleeves that the entire family would be protected. They are slim too, so they will easily fit into your current pouch or wallet.
I was not a fan of packing cubes until I started to use them! This is the exact set of packing organizers I use whenever I travel. I cannot believe how much they really do help with organization. If you have not considered packing cubes, I would recommend giving them a try.
Don't forget to bring along a universal power adapter on your 1 day in Amsterdam itinerary. This worldwide power plug is a great example and will charge your phone at the end of your busy days. And this world traveler adapter kit can charge several devices at the same time.
This is what you will need when there are several people traveling in your group, or if you bring several electronic devices on your trip that you would like to charge at the same time.
If you are planning on taking a lot of pictures with your phone you will definitely want to consider an external charging battery. This Anker high-speed phone charging battery is the exact one I carry with me on all of my trips. It can be used on a variety of phones, not just an iPhone like I have.
And wow is it fast! I like that it holds its charging capabilities for several uses so I do not have to worry about it while out and about, and if I forget to recharge it at night, it will still be good to go the next day. And it is able to charge two devices at the same time.
Hydration is so important. You want to remain hydrated to support your immune system which in turn will be stronger to fight off any germs you will encounter during your travels. You will want to bring your own refillable water bottle with you.
I never leave home on a trip without my Bobble filtration bottle. the 18.5-ounce size is perfect for travel and it fits nicely in the pocket of a backpack or your purse. Also when filled with water, it is not too heavy to carry. And the charcoal filter ensures fresh clean water whenever you fill the Bobble.
You can find filter replacements here.
Perhaps you are traveling a long distance and packing space is a premium. Then this set of collapsible silicone foldable water bottles would work well for you. Would not take up much space in your suitcase at all. And you will be receiving a set of two.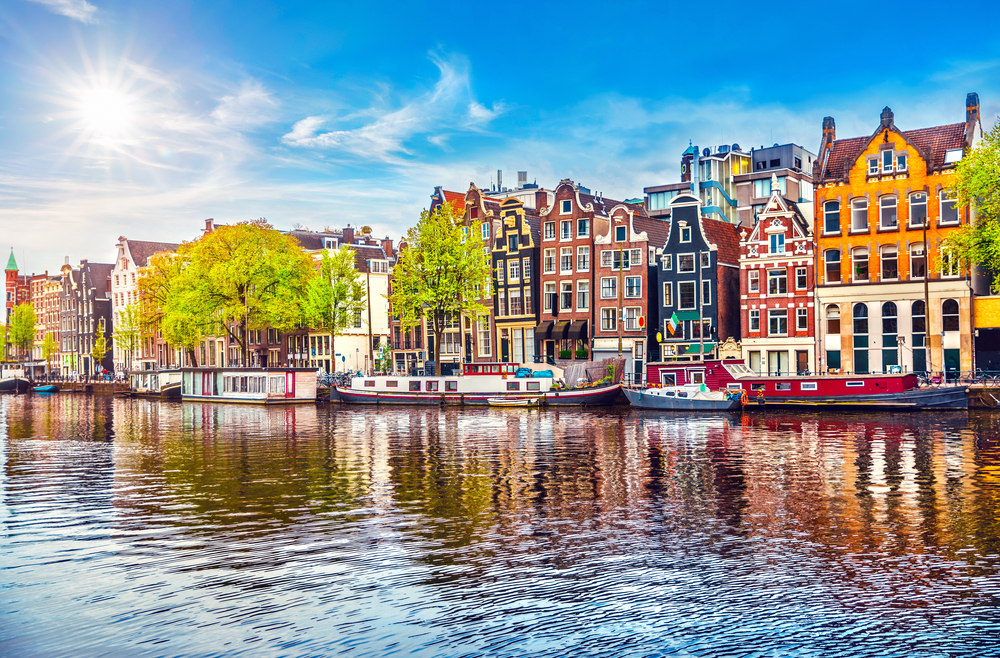 You will want a backpack or daypack with you to store snacks, your water bottle, phone, extra clothes, etc.. This foldable water-resistant backpack would be great.
It is very affordable and is available in many color options for you to choose from. The fact that it folds down into a zippered pouch will make it easy to pack.
Perhaps you need a more substantial backpack for your international travel. This antitheft backpack has a charging port, is water-resistant and can comfortably carry up to a 15.6″ laptop.
You will be walking more than usual during your 1 day in Amsterdam itinerary. A sturdy and comfortable pair of walking shoes is a must-have. These waterproof all season shoes are extremely affordable and yet fashionable.
Mostly everyone is familiar with the Skechers brand, and these Air Run high fashion sneakers come in a lot of colors to match your outfits and are still affordable.
If you are visiting Amsterdam in warmer weather, maybe you want a pair of sandals to wear to dinner or to the local cafe, I highly recommend these Vionics adjustable strap orthotic sandals. I like them so much I purchased another pair in a different color.
These flip flop Vionic Tides are another style I have several colors of. I bring several colors when I travel. I never have to worry about my feet aching. Highly recommend Vionics.
Bring a lightweight scarf or shawl. Scarves and shawls are very popular in Europe and Amsterdam is no exception. Both men and women wear scarves, both decoratively and as a layering piece to keep warm. This cotton unisex lightweight scarf is versatile and can be worn in any season.
And here's another option to consider: this lightweight sunscreen shawl scarf would do double duty to protect you from the sun should you visit Amsterdam in the warmer seasons as well as being a fashion accessory layering piece.
We all need to protect our eyes from the sun's harmful UVA/UVB rays. These unisex polarized sunglasses come in a lot of lens colors and frame designs and are extremely affordable too.
If you are fond of the aviator-style of sunglasses these polarized aviators may interest you.
f you are in need of new luggage, this expandable soft side spinner luggage is affordable and comes in lots of colors. If you like hard-sided better, then you may favor this hard-sided luggage set better.
Both sets come with TSA locks and 8 wheels per piece. Either will be great for the plane or train or even your car depending on how you plan to travel to Amsterdam.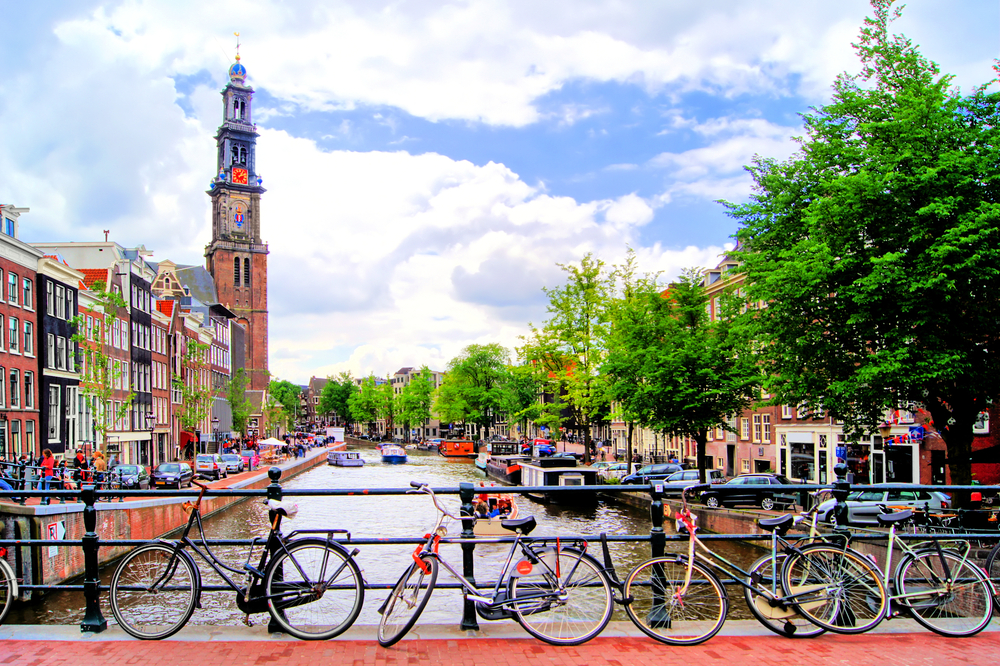 Quick Tips For Your 1 Day In Amsterdam
Here are some quick tips and tricks which hopefully will enhance your 1 day in Amsterdam and make it less stressful and more enjoyable.
UPDATED: Stay vigilant! During our last trip to Paris, our family of four was robbed 3 times. We discussed at great length how we had to remain vigilant to protect ourselves against pickpocketers.
However, we were not successful. My daughter had her brand new Olympus camera stolen in the broad daylight in a McDonald's Restaurant in the Montmartre District of Paris while we were having afternoon refreshments.
My thief was caught red-handed with her arm up to her elbow inside of my backpack. While I was walking along a busy Parisian boulevard. Lucky for me my daughter apprehended her, and I was carrying my passport and credit cards on my body.
She wore better clothes, better shoes and more trendy sunglasses than I did. She did not "fit" our idea of what a pickpocketer was. (I still do not understand how she could unzip my backpack while I was wearing it, without me knowing or feeling it.)
Finally, my daughter's boyfriend had his backpacked unzipped while on the very crowded Paris subway. The burglar had his hand inside an outer pocket but was foiled by a Good Samaritan seated nearby.
Please do not have any preconceptions of who can violate you by stealing your possessions. Stay vigilant and alert. Hope you have more success than we did.
Remember to always stay hydrated. Bring a nondisposable refillable water container and refill it often! Not only will you hedge the odds against getting sick, but you will also be saving a lot of water bottles from being sent to the British landfills.
Call your credit card company for two reasons: 1) to notify the bank that you will be out of the country and give them your exact travel dates.
2) to check to see if the bank charges foreign transaction fees every time you are out of the country and use your card. If it does, inquire about applying for a credit card that does NOT charge such fees.
When using an ATM in the Netherlands make sure it is in your bank's network, so you do not incur a transaction fee every time you use an ATM to withdraw money.
Also, consider withdrawing larger amounts of money, fewer times, to limit the transaction fees by your bank.
Whenever you can, purchase advanced tickets to Amsterdam attractions whenever possible during your 1 days in Amsterdam. Tickets purchased online, in advance, are mostly always discounted, and many times come with a "skip the line" perk.
You will have more time to spend at the attraction since you will not be waiting in the entrance line. Also, you can better pace yourself during your busy days.
1 day in Amsterdam really is enough time for you to visit many of her most iconic monuments and attractions.
Using this Ultimate 1 day in Amsterdam itinerary will maximize your planning ensuring you see the most during your time in Amsterdam. Please feel free to rearrange my suggestions to suit your own schedule.
Please be advised that Linda On the Run is a participant in the Amazon Services LLC Associates Program, a program designed to provide a way for sites to earn fees by advertising and linking to Amazon.com
There are additional Get Your Guide affiliate links in here as well.
I have listed for you an itinerary for your 1 day in Amsterdam. In my opinion, these are the highlights of what every tourist wants to do and wants to see when visiting Amsterdam.
Have you been to Amsterdam? What was your favorite thing to do? What would you add to my list of things to do for 1day in Amsterdam? Please add your suggestions below.